Can it get any more delightful than a vegan wedding with Disney vibes… just dreamy! As with lots of couples Covid definitely through a spanner in the works when it came to wedding days, and this couple were no exception, with 4 cancelled wedding dates and then a bout of Covid for their photographers on their wedding day, Skaii & James faced a fair few challenges, BUT, with an outcome like this, all was well in their fairytale ending. As their original photographers Bailey & Mitchell couldn't be there on the day, they decided to do a second special wedding shoot for this beautiful couple and we're so glad they did! Skaii fills us in on how they met and how they got their fairytale ending, with this intimate vegan wedding…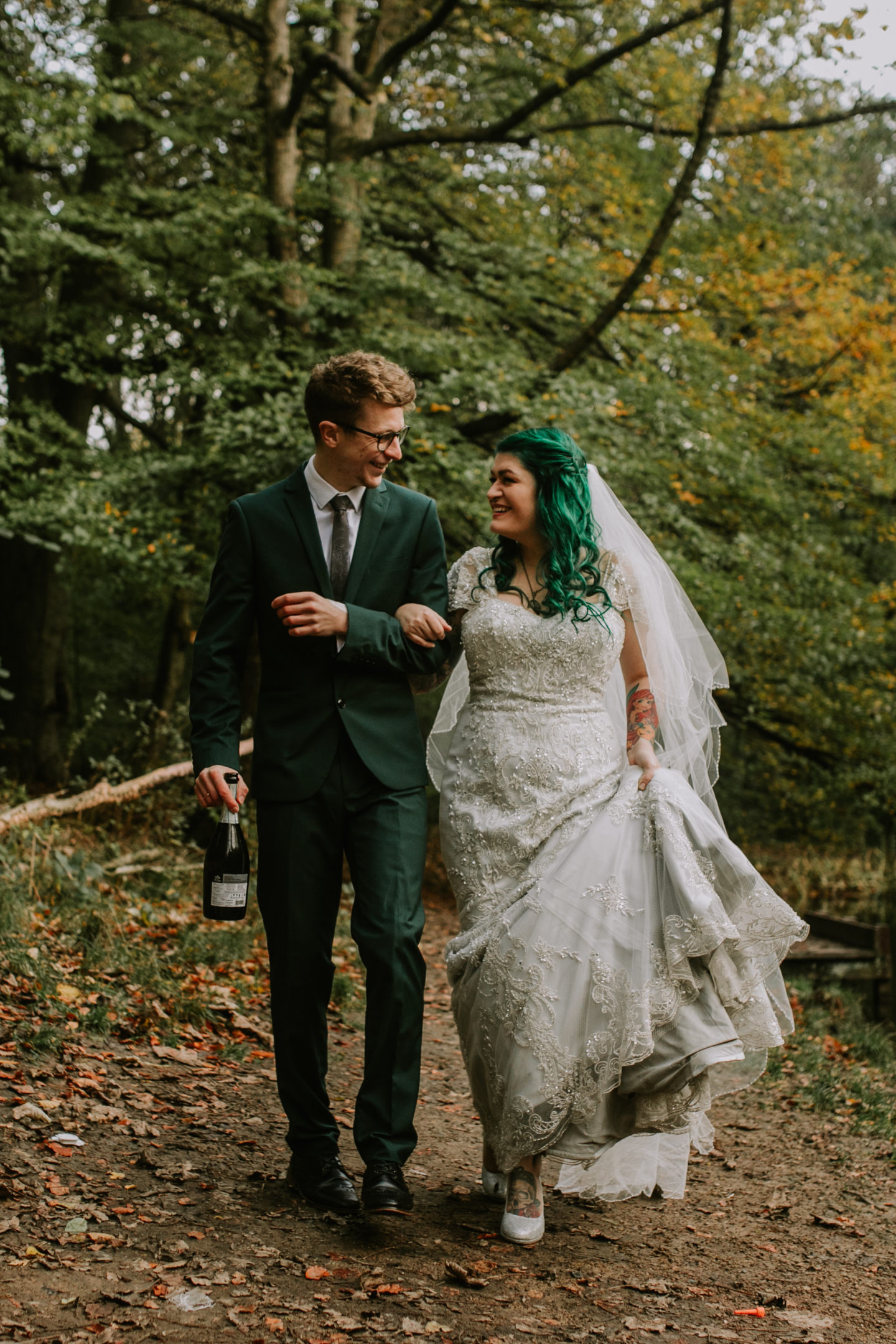 How did you and James meet?
"We actually went to the same playgroup as toddlers – our mums became friends there and we used to play together. My mum would dote on James and say how gorgeous he was! We actually have a photo of us together when we were tiny! From there, we went to separate schools and ended up meeting again many years later at a drama group where we became friends, and ended up together before James left for Uni and we parted ways! Over the years we would see each other at events/shows, the occasional night out or when I was hanging out with his sister (as she and I are friends). James was a musician on cruise ships in the USA & Caribbean and I had just been travelling when we both found ourselves single. When he got back to England, we began exchanging long texts, catching up on life, and I arranged to go to his band's gig (The Good Citizens) on New Year's Eve at a bar I used to work at, and the rest is history!"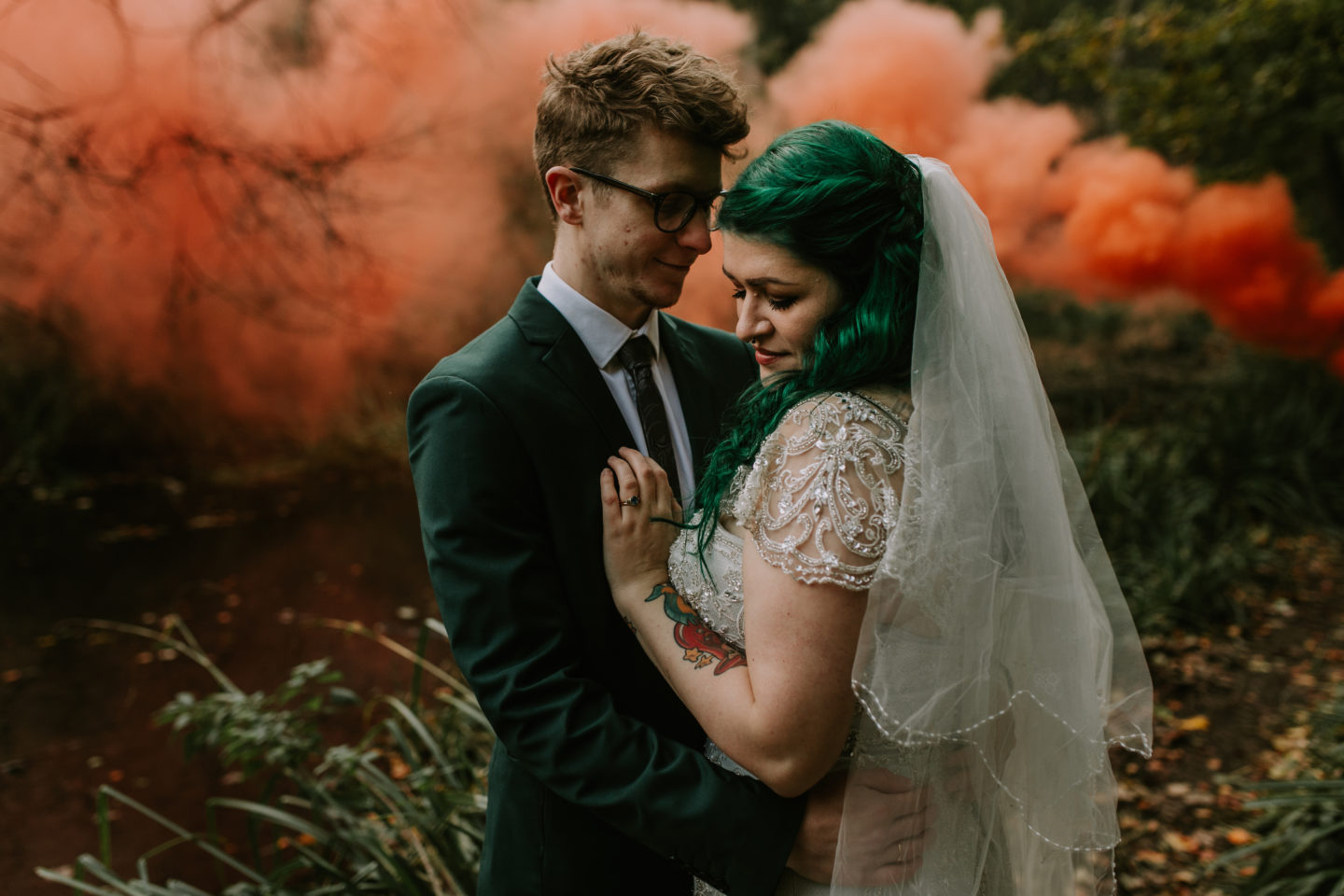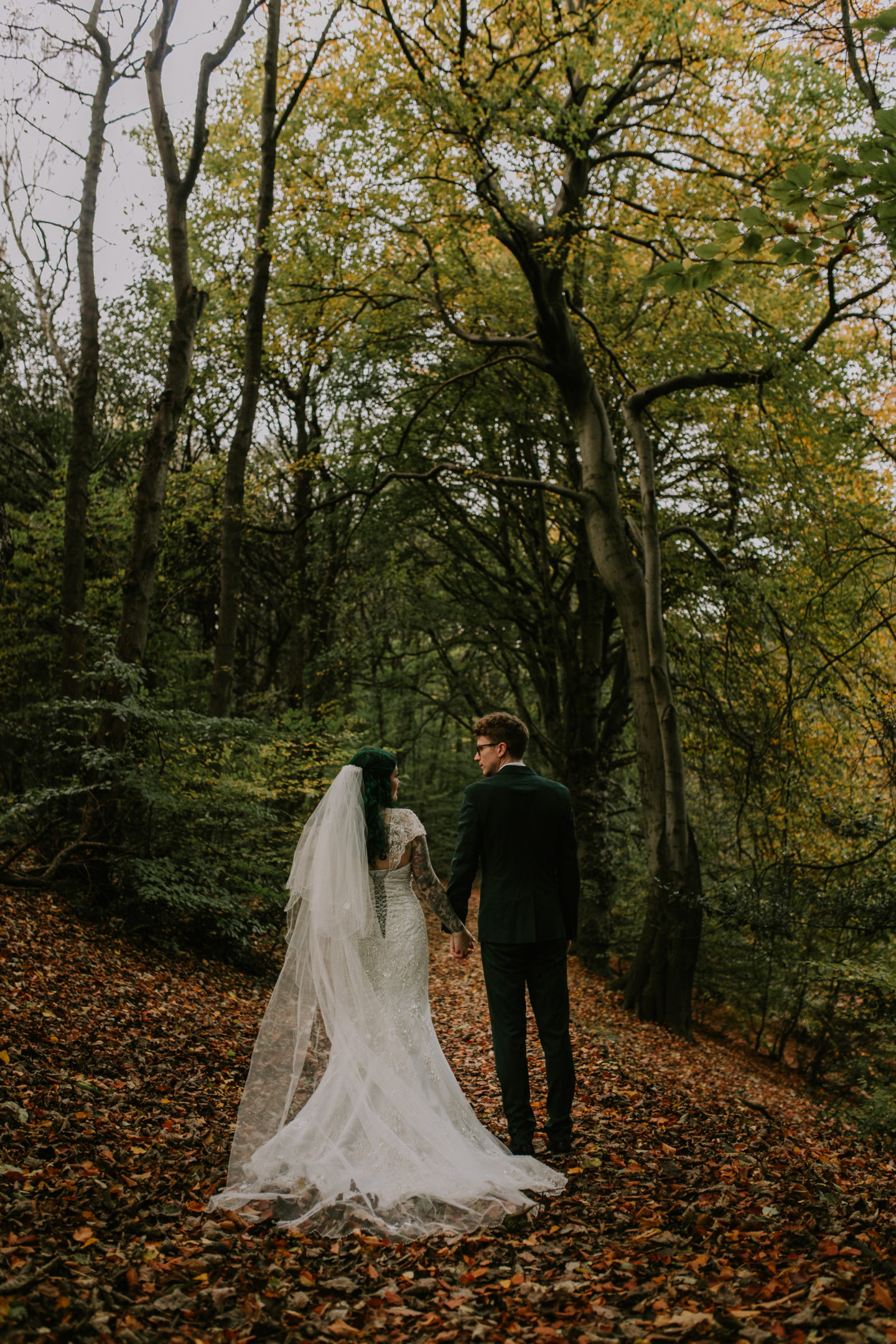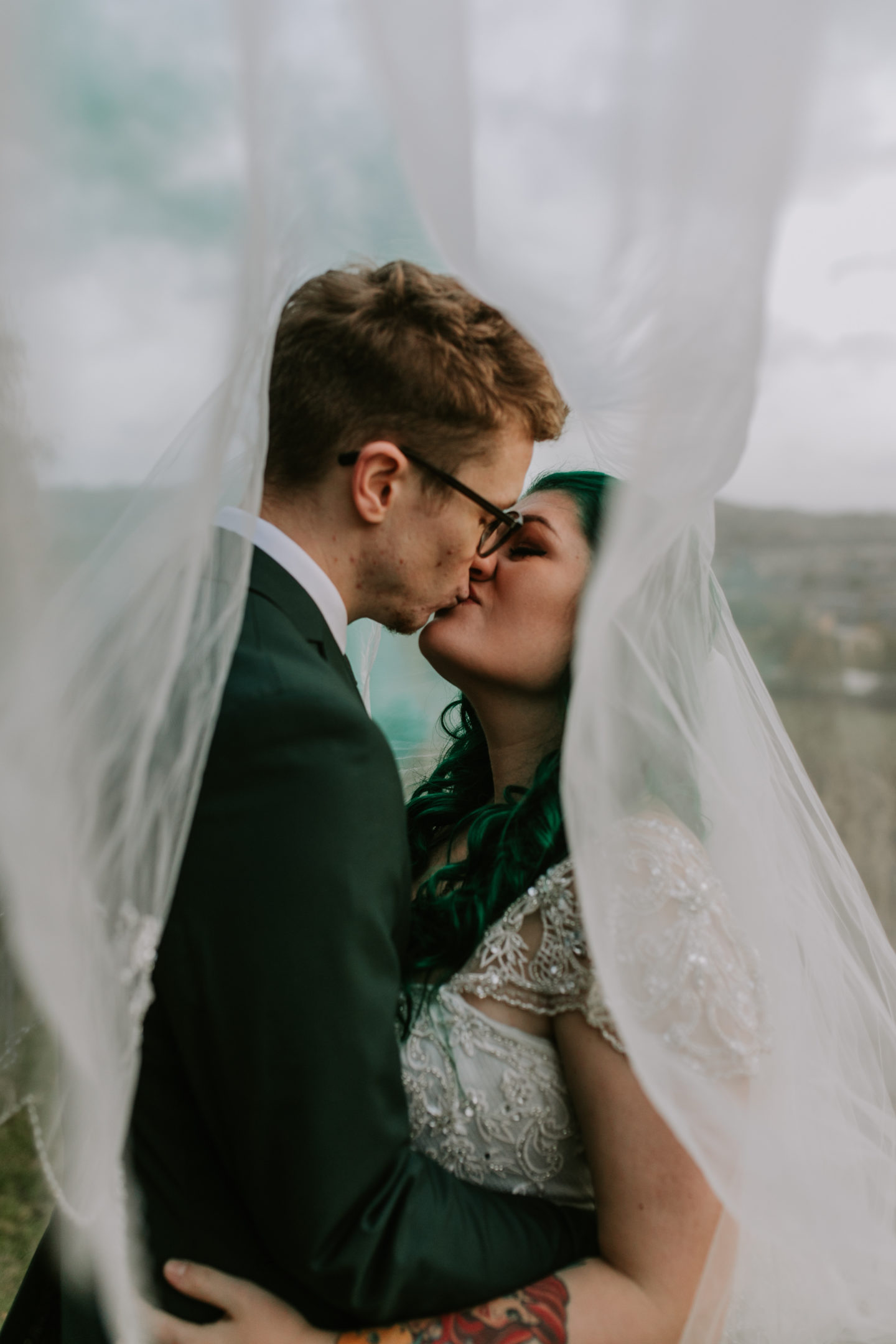 The Proposal
"James proposed at Niagara Falls at night, with the bright lights and beautiful displays – I was taking photos of my dinosaur figurine (Dinosaur Dave) – and when I turned around, James was on one knee. Literally, the first thing to come out of my mouth was, "are you taking the piss?" He then declared his love and popped the question, holding out the most beautiful ring, to which I of course said "YES!"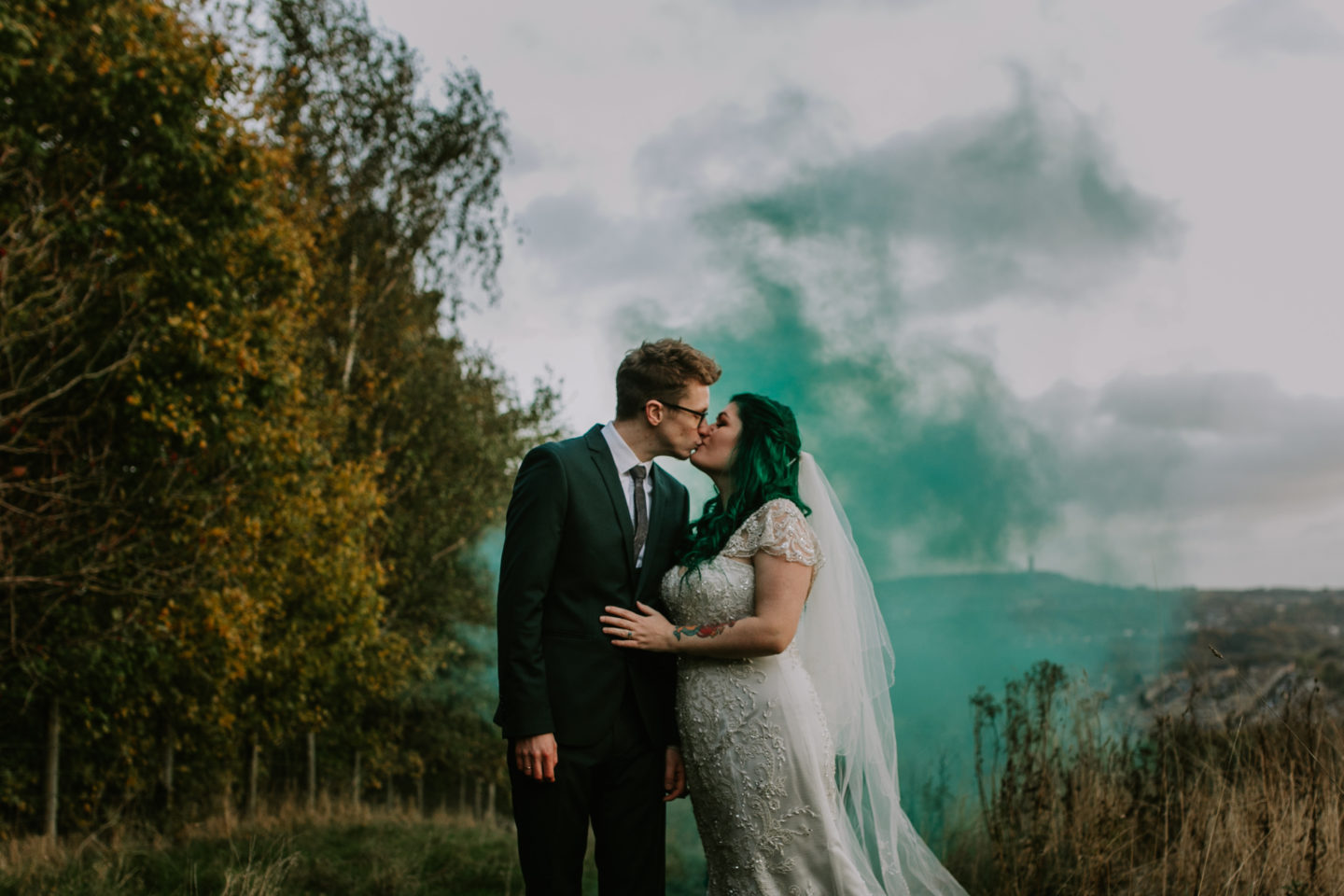 Planning The Wedding
"Planning our vegan Disney wedding during Covid was certainly challenging! Our actual wedding day (08.08.21) was the 4th date due to Covid (the original date was 26.07.20), so it was certainly stressful, but I loved it nonetheless! I had Pinterest boards and folders of inspiration galore and we went to loads of wedding fairs to get inspiration and meet vendors! I tried to do as much as I could myself, from hand-making Disney confetti, centrepieces (including Disney lanterns), aisle lanterns, flower arranging, memory ladder, flower-covered bike and making activity booklets for the daytime so guests could fill them in throughout the day (crossword, word search, "find someone who…", Disney quote match, wedding facts etc.).
Planning a vegan wedding also has its challenges, as we wanted to make sure everything was ethical and of course, vegan friendly. Our stunning (and delicious!) cake was made by The Peppercorn local vegan cafe and we had the amazing Honey Bee Sweet Shop who supplied a fully vegan sweet cart!
Due to covid our photographers sadly ended up being a big challenge too because they couldn't make it on the day. After planning, rescheduling, meeting up and shooting a pre-wedding shoot together…they caught covid and became very ill. Their AMAZING associates shot for us and Bailey & Mitchell edited the gallery but they felt they had missed out on our wedding day and so suggested that we meet for this post-wedding shoot which is where the images here were created!"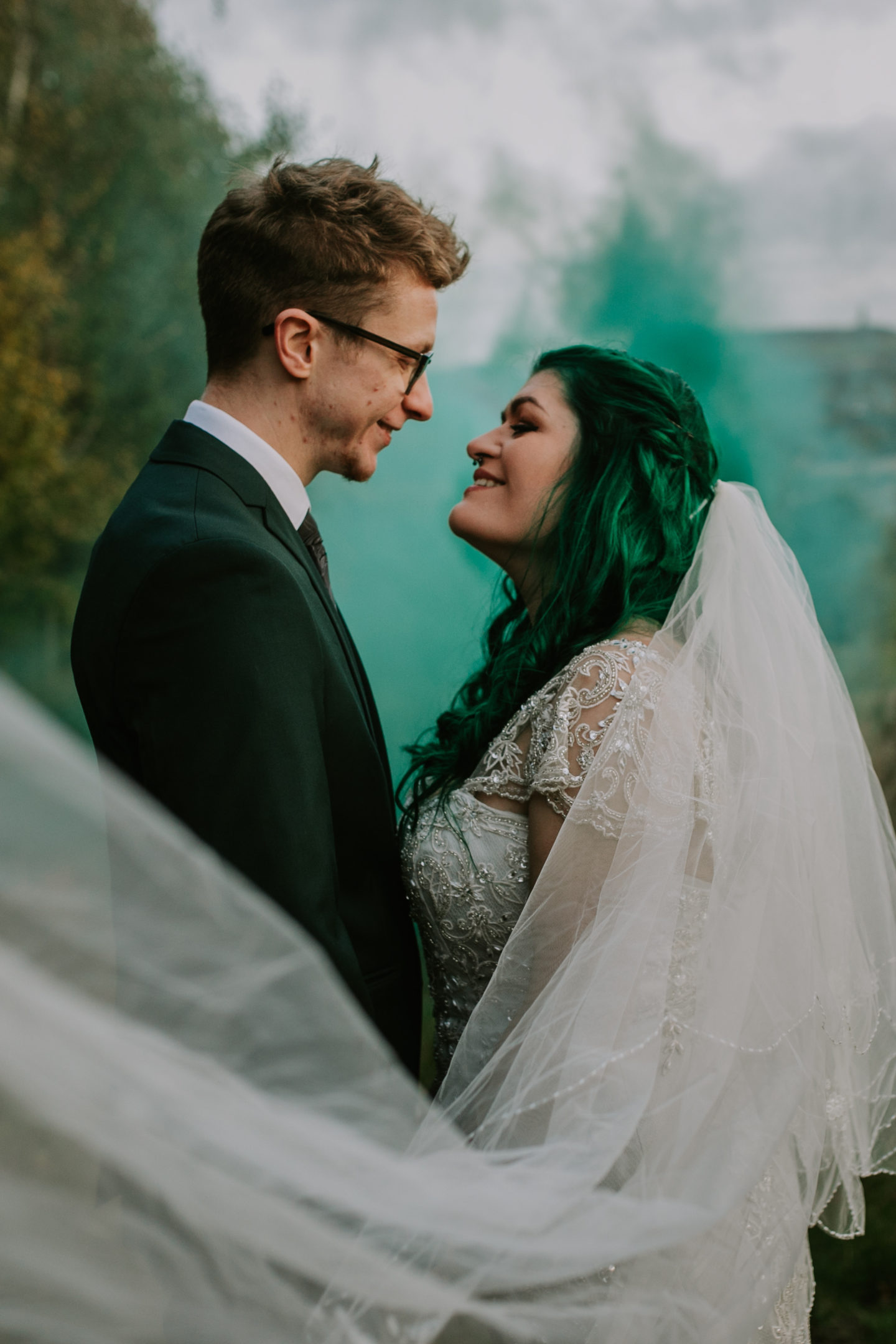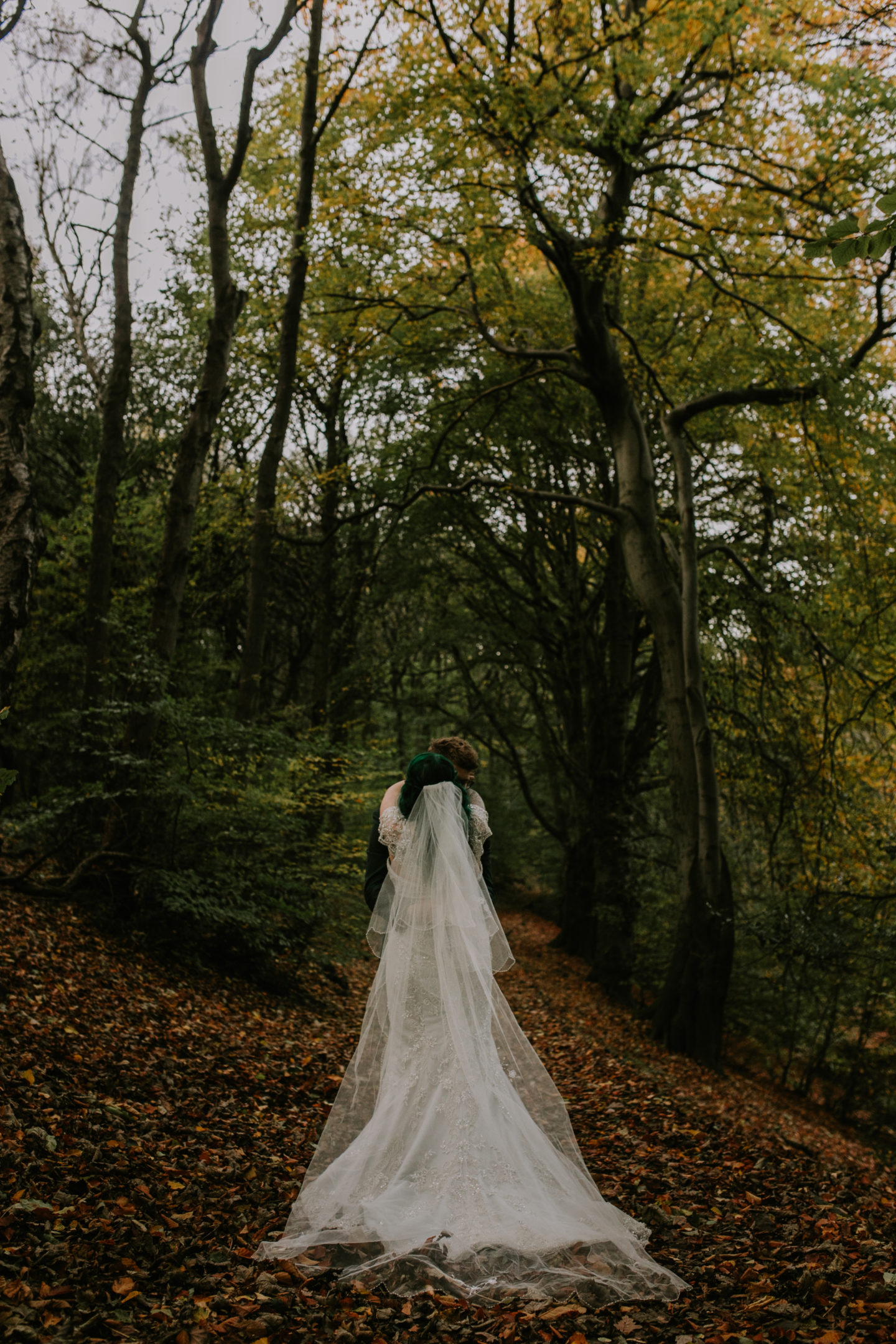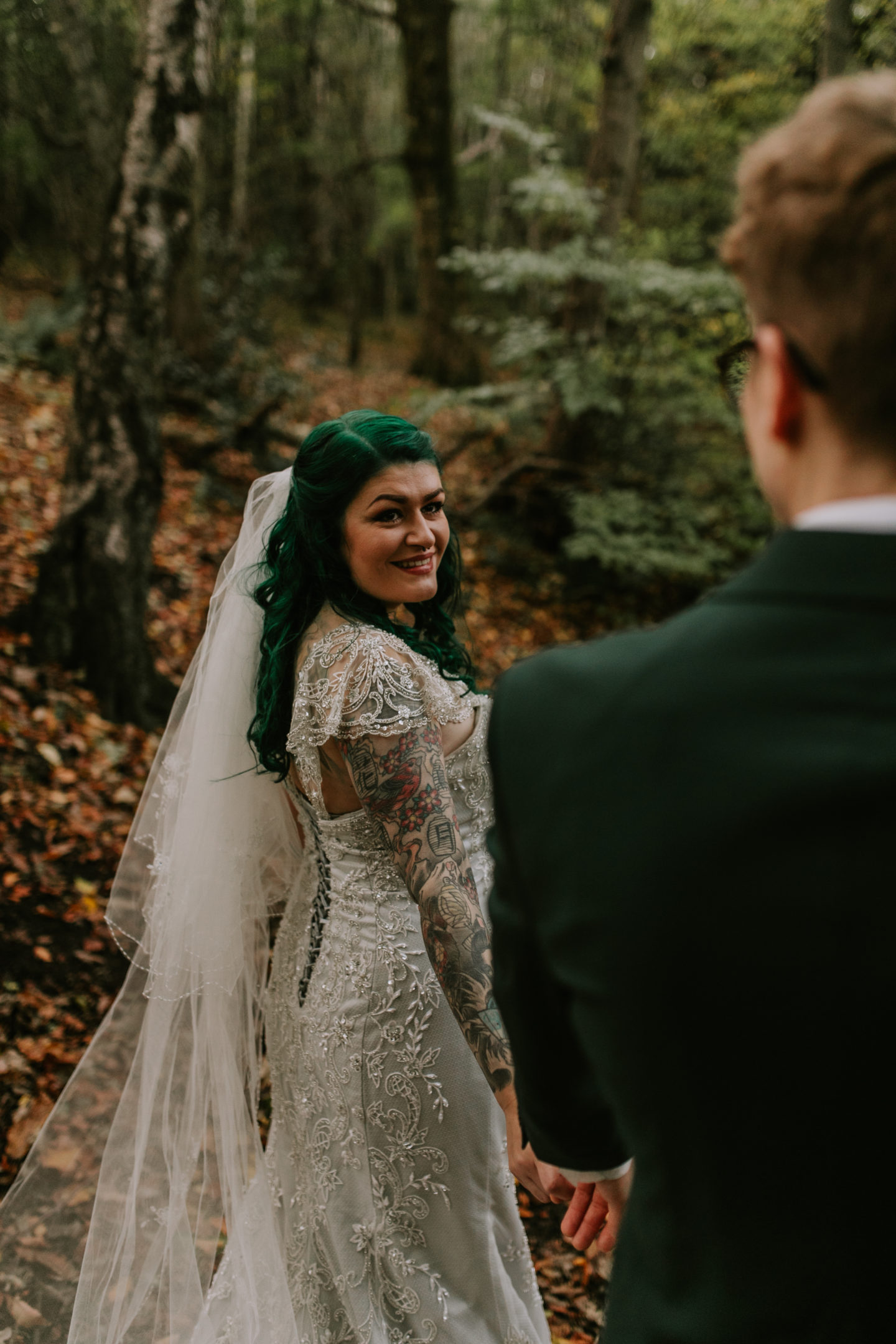 The Venue
"Our original venue was the Headley Golf Club in Thornton. It was fantastic and supplied Vegan afternoon tea, wines and sausage and bacon sandwiches for the evening! For this post-wedding photoshoot, we met at Gledholt Woods with our photographers. It is a local spot and a lovely, quiet area where we could all have fun, decorate and enjoy the time we had to get the images…we even had the odd dog walker come by and shout congratulations! It was like getting married all over again!"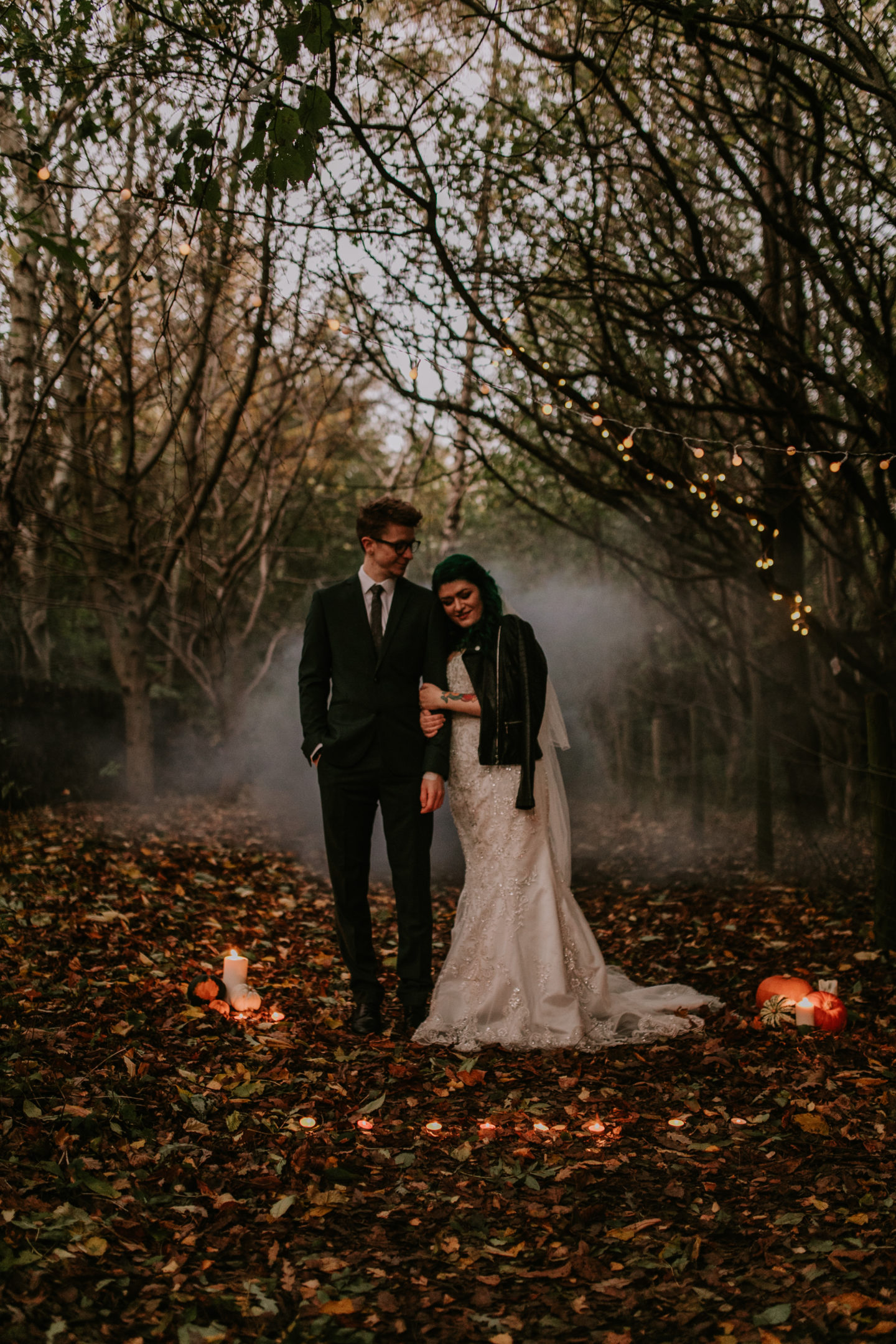 The Dress
"When trying on wedding dresses, I would say to keep numbers of people to a minimum – I had my mum, Nanna, chief bridesmaid and bridesmaid with me. I chose people who would be (brutally) honest but supportive. Too many opinions can be stressful and confusing. I went to, in total, around 5 wedding dress shops, which got quite overwhelming. An added stress was that I left it quite late to get a new dress – I went wedding dress shopping in January 2020 so I could shop the sales, but this meant not enough time to order some dresses (usually 9 months to order and it was 7 months before the original wedding date). I needed to look at the sample sale which reduced availability. Try to shop for your dress around 10-12 months before the wedding to allow for ordering and alterations. Don't be afraid to go home and think about it. Take lots of photos of each dress (some shops will not allow you to do this)."
"My advice; Make a day of it – some dress shops do an experience with Prosecco and nibbles etc. Don't leave too long between shops (don't make appointments months apart) as you may forget what the previous ones look like. Don't settle! Make sure you're 100% sure you love the dress! Try on every style – I was convinced I wanted a certain type of dress, but I found other styles suited me best when actually trying them on! You can always try to get a better price, but be kind and understanding – you won't get a £2k dress for £100, so be realistic. You tend to get a better deal with sample dresses."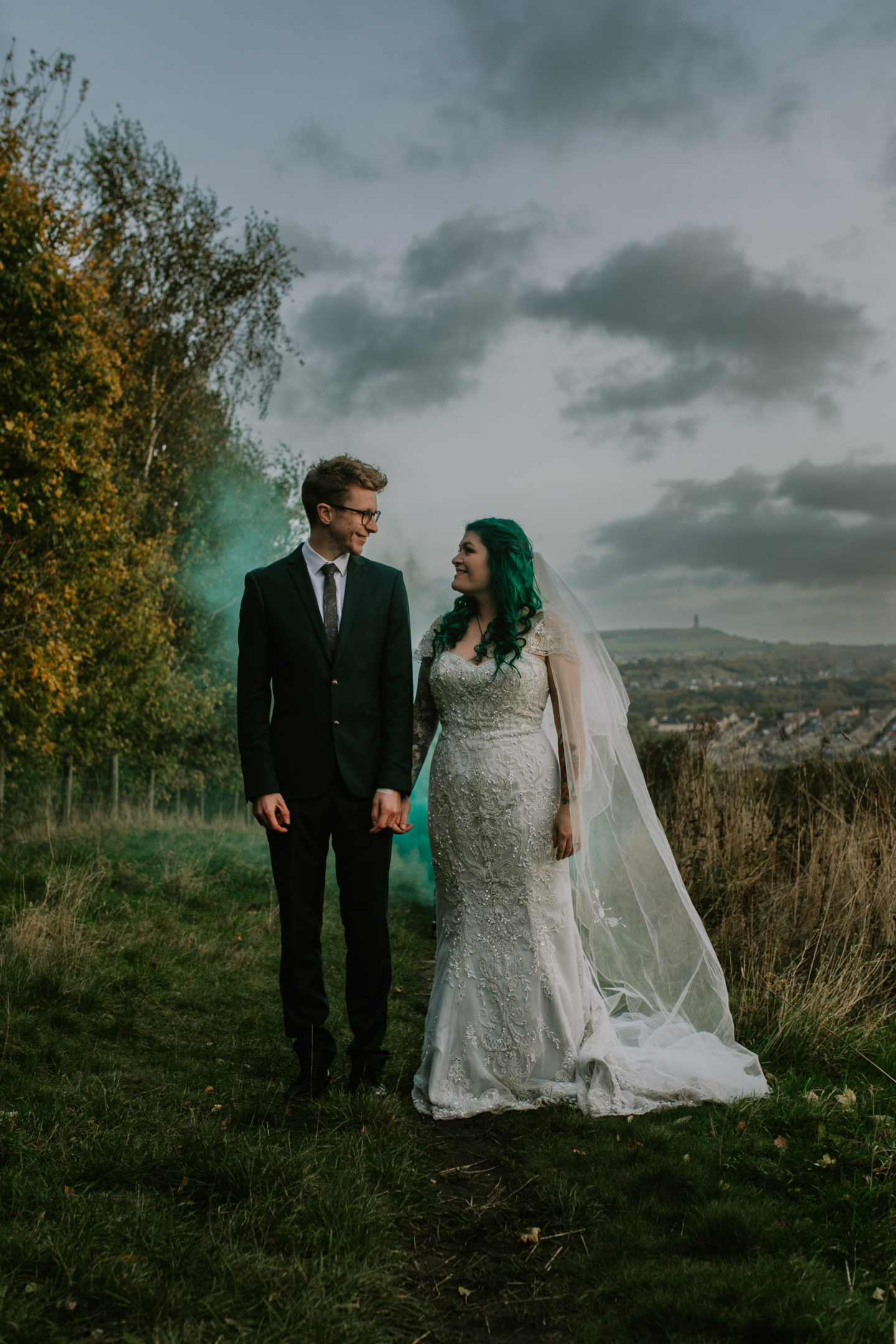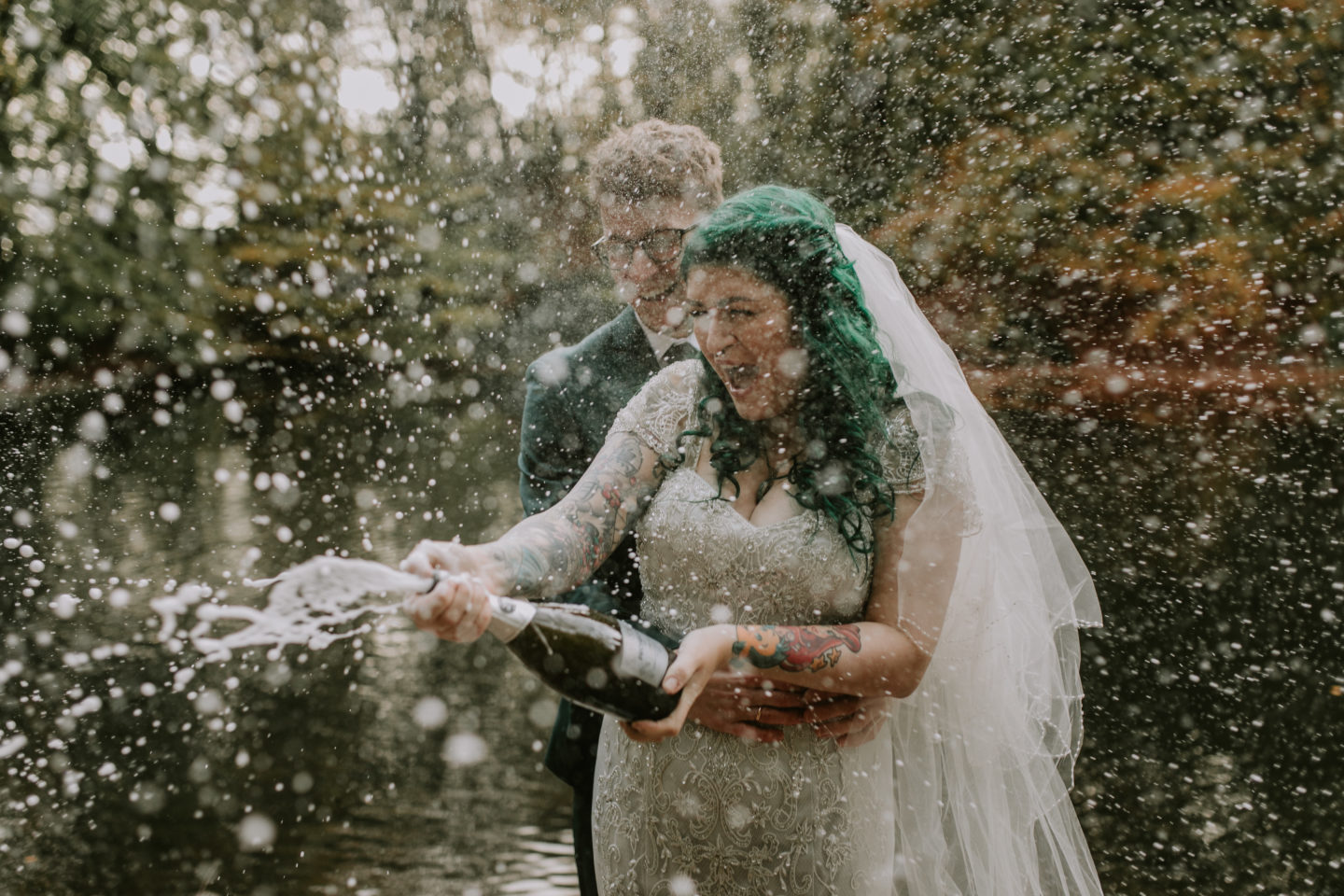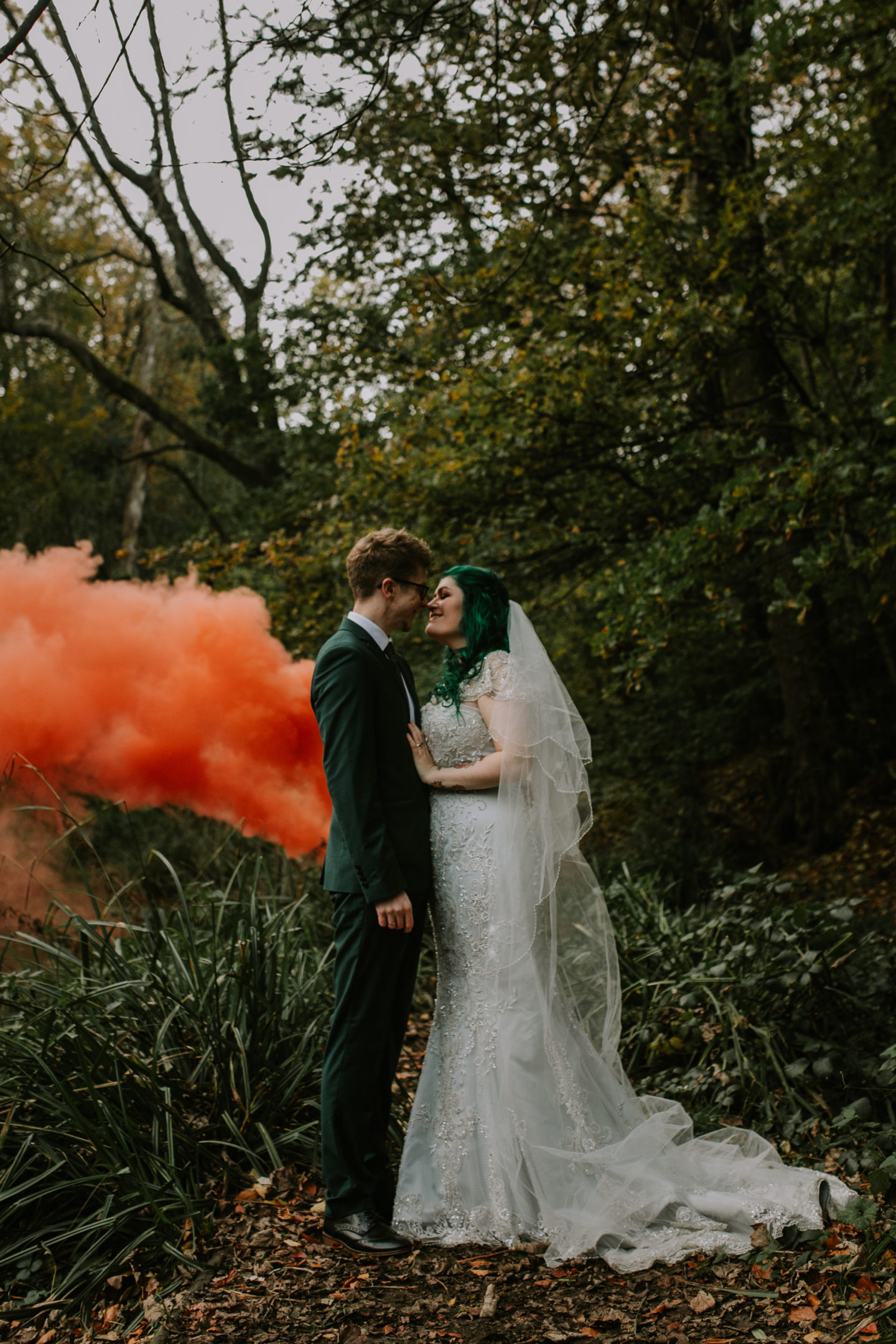 The Suit
"For the wedding suit, we wanted a dark green suit which was hard to find. We were really lucky and ended up getting a designer suit from ASOS in the sale – we got the jacket, waistcoat and trousers for £113 (down from £500). Although I saw the suit online, it was important to me that I didn't see it on James until the wedding itself. Always look for discount codes, sales and check for the same brand in other stores if you can. See if your friends have a student card, Blue Light card, refer friend schemes or other discount codes or cards for various shops. The longer you have to prepare, the better your chance of finding a good deal."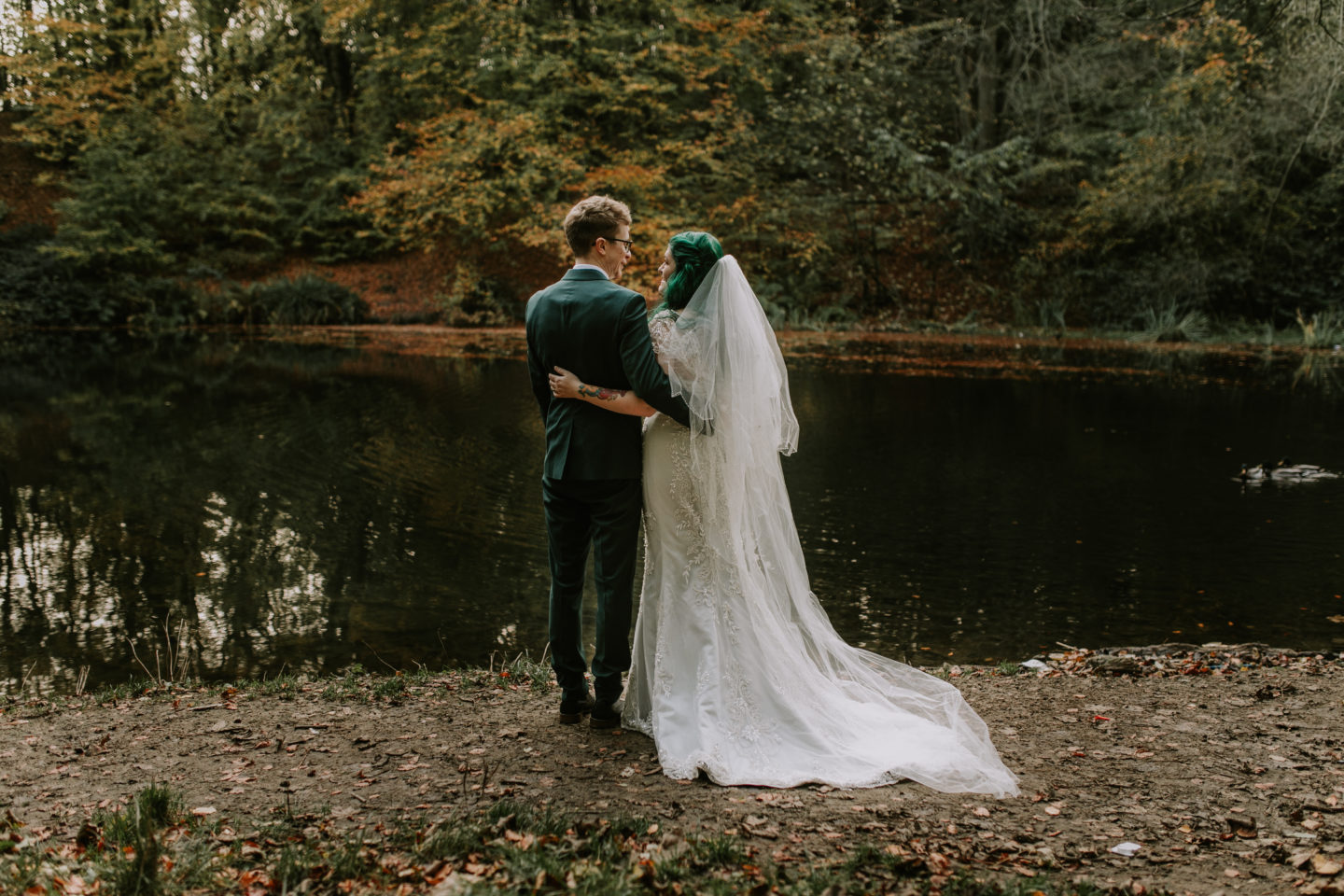 Ethical Elements?
"On our main wedding day, our stunning (and delicious!) cake was made by The Peppercorn vegan cafe in Huddersfield. It was especially appreciated by our vegan photographers who we dropped some off for in a care package as they couldn't be there on the day! We had some fantastic vendors who were happy to change dates and the most amazing friends and family who helped out. The whole wedding was vegan and we wanted to use as many local suppliers as possible! For favours, rather than buying gifts/tat that people would throw away, we chose 3 charities that mean a lot of us, and gave each guest a rose gold plectrum which they posted into the charity of their choice."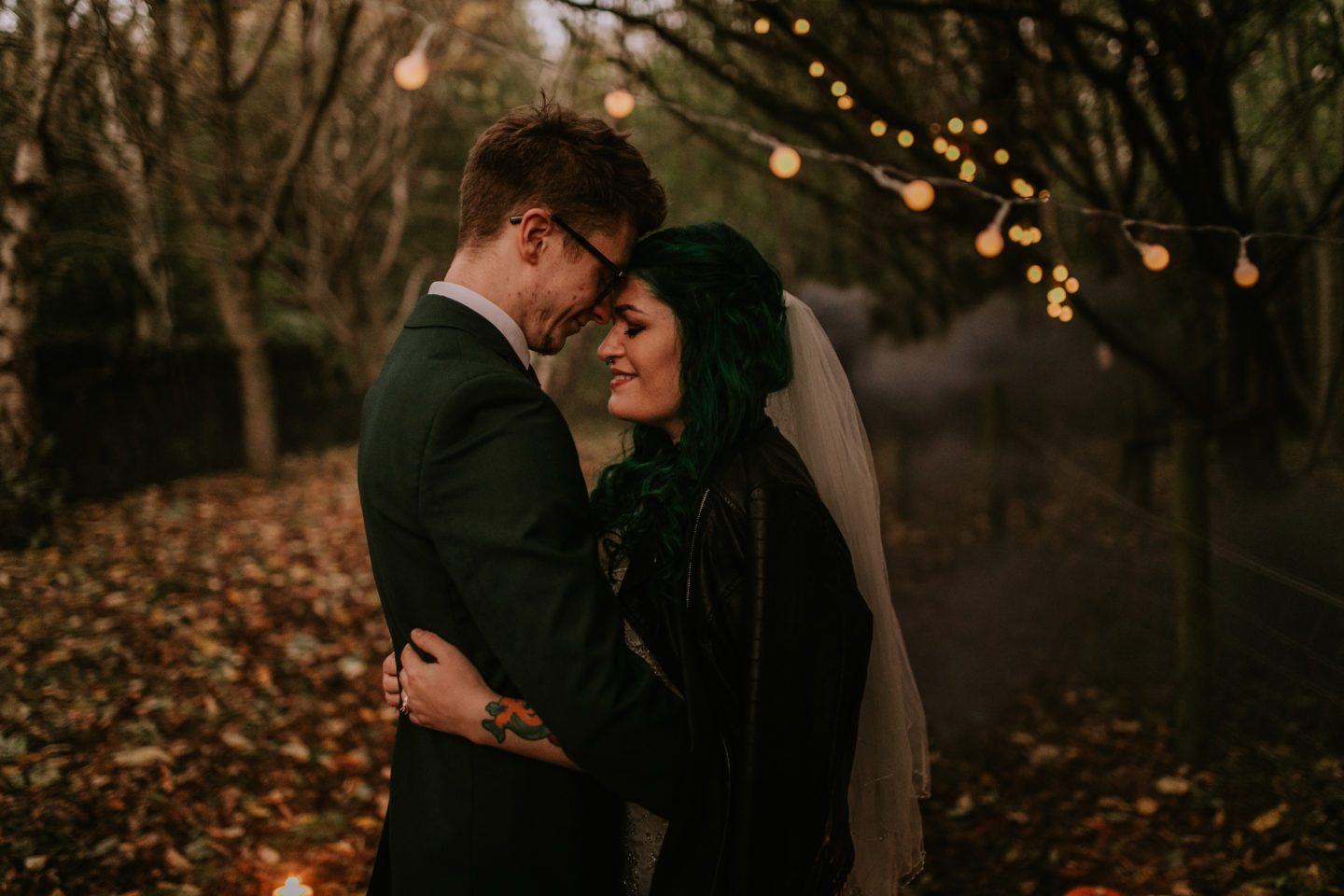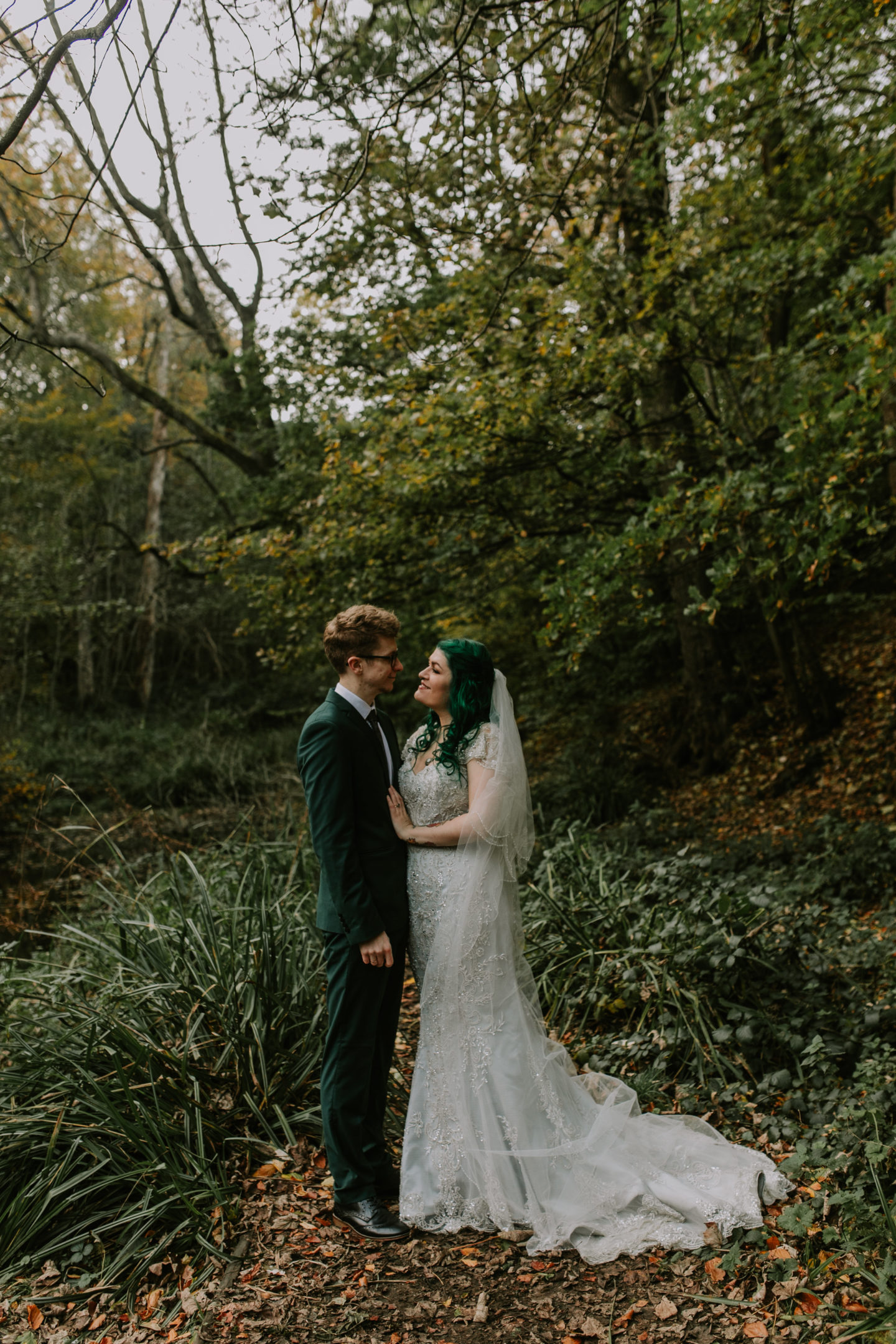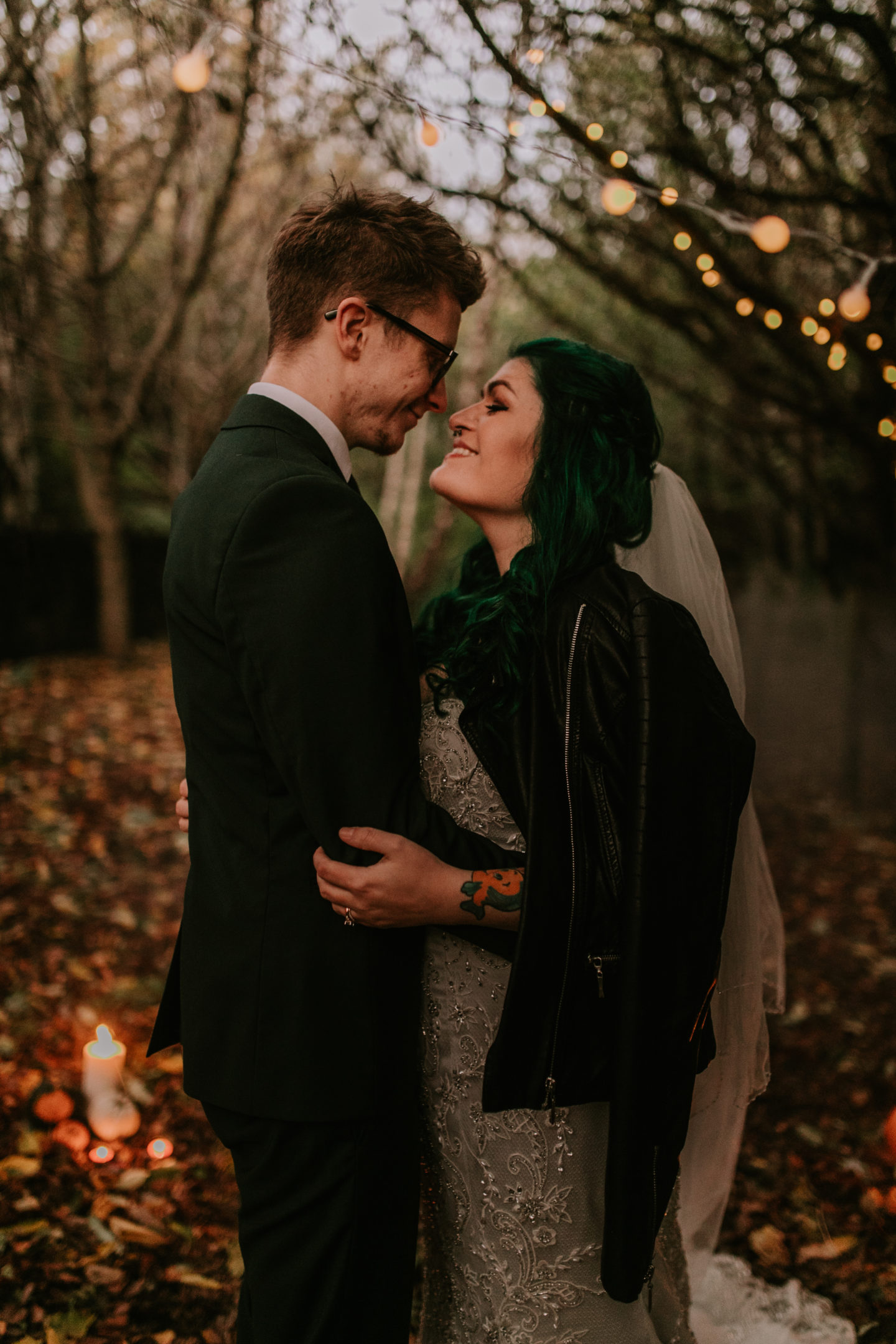 The Best Part of The Day
"We both wrote our own vows to say before the exchanging of rings, so planning that was lovely but nerve-wracking! It was such a meaningful touch."
Words of Wisdom
"I would say 'to-do' lists are key – try to organise things into manageable chunks with time restrictions/priorities. Try to delegate tasks where possible/needed – I'm a control freak, so I struggled with letting other people do jobs, but I needed the help! Use people's skills to do relevant jobs."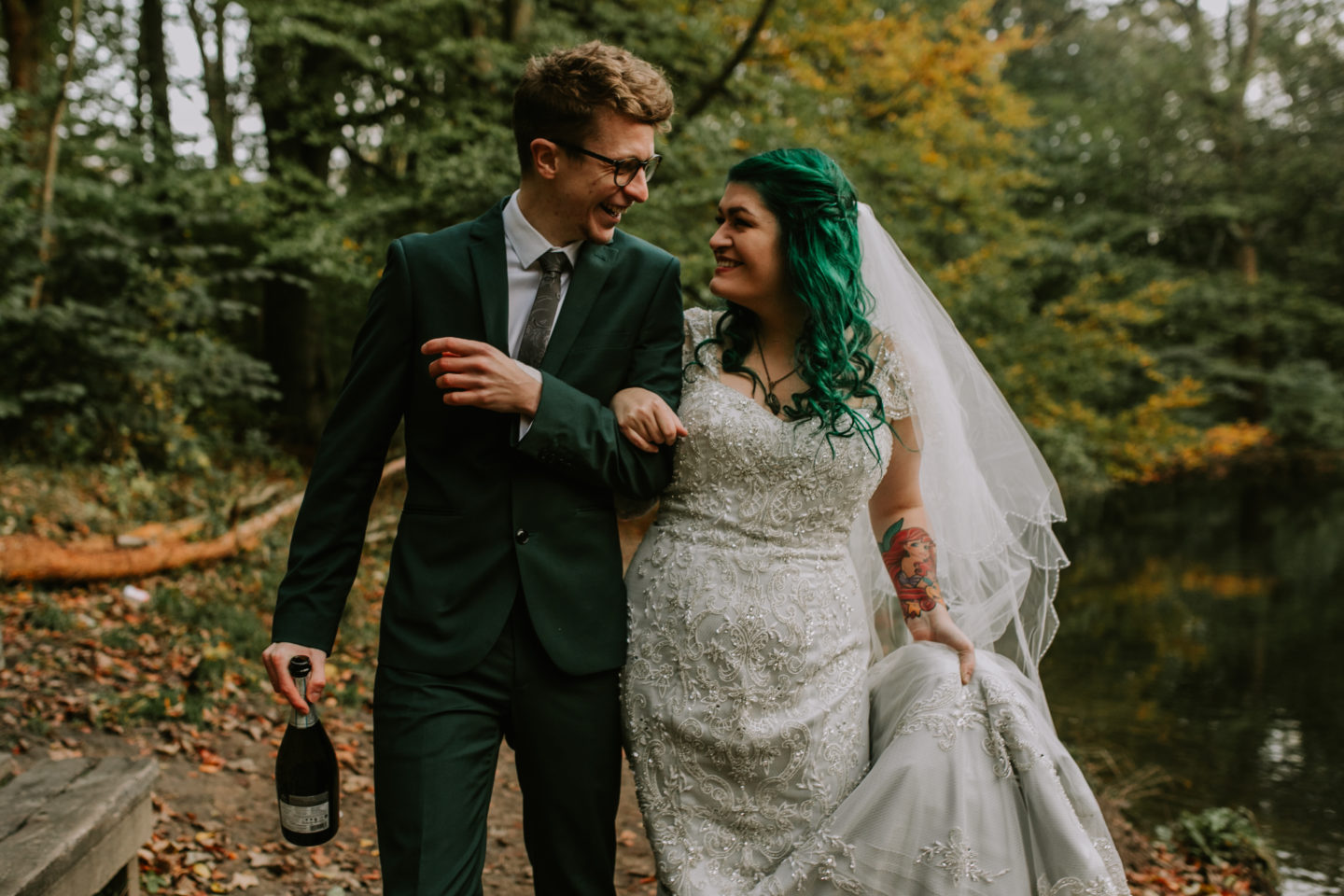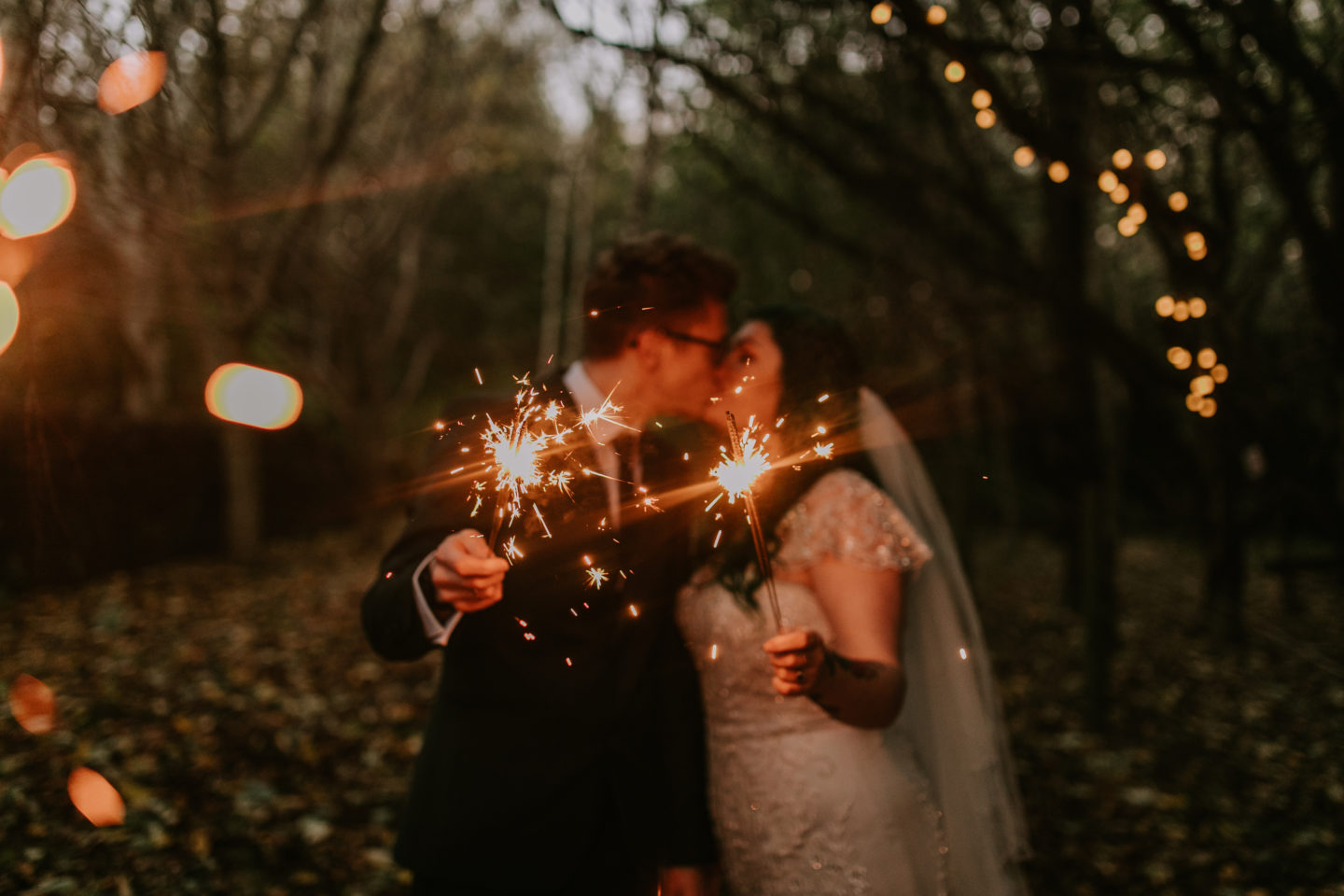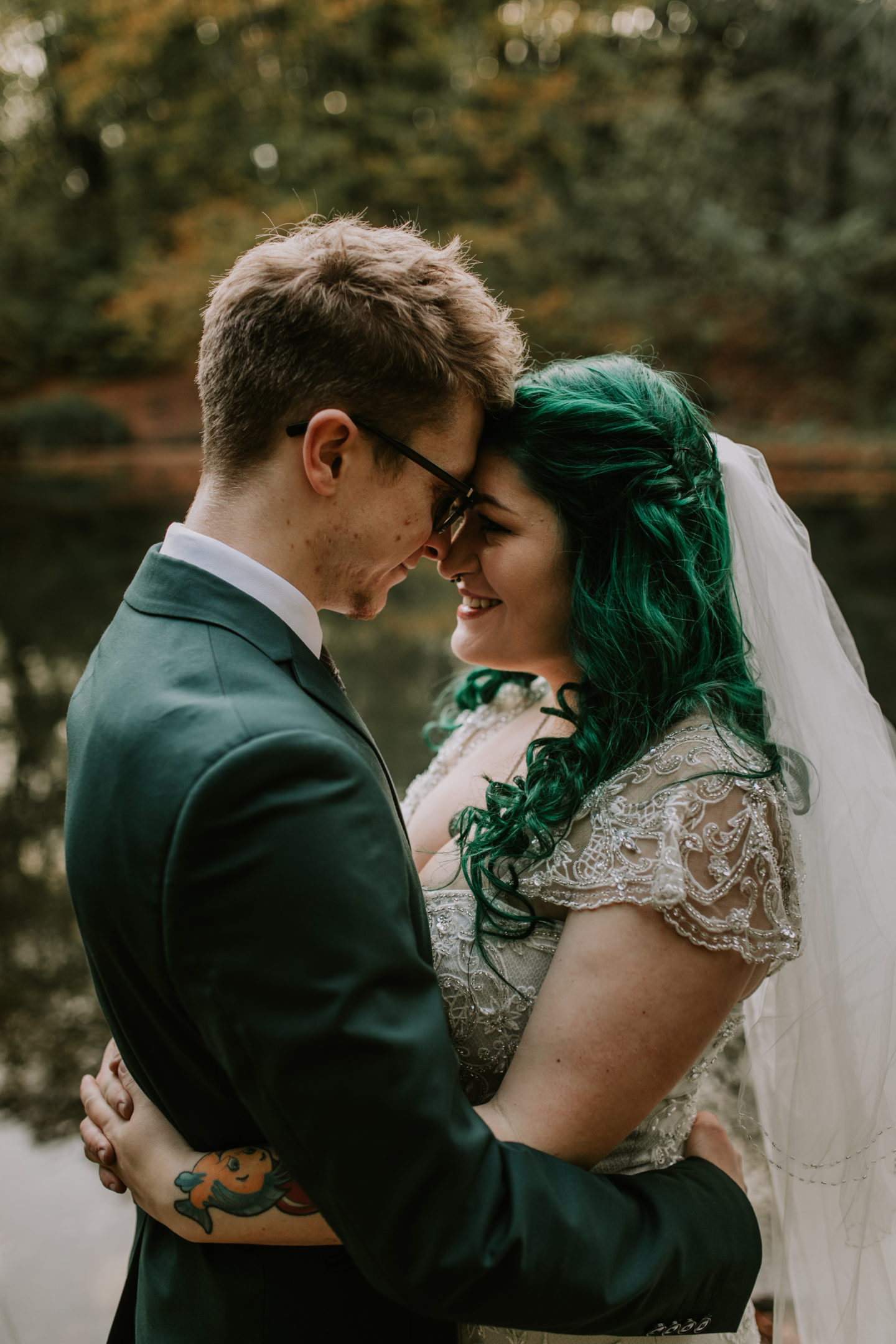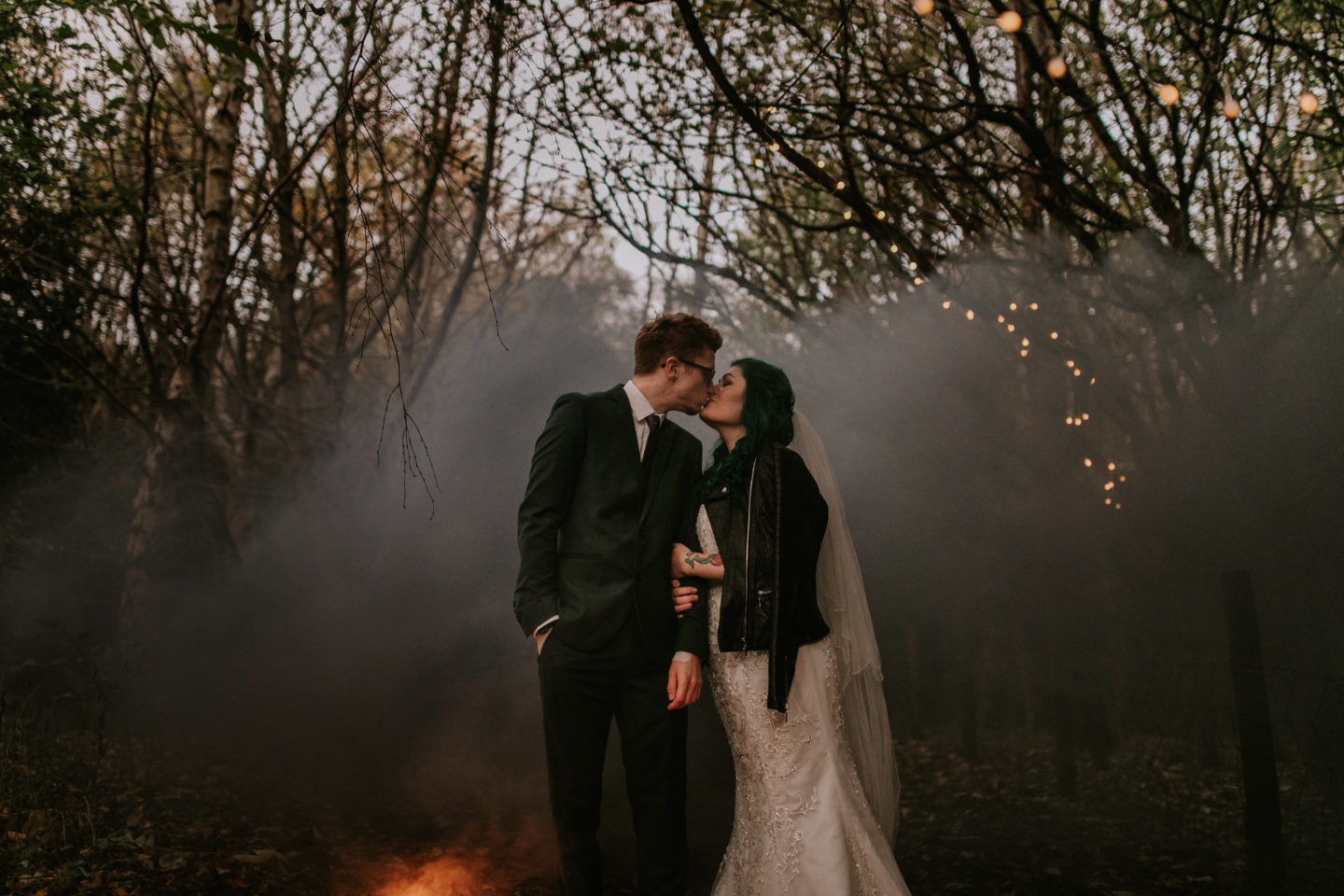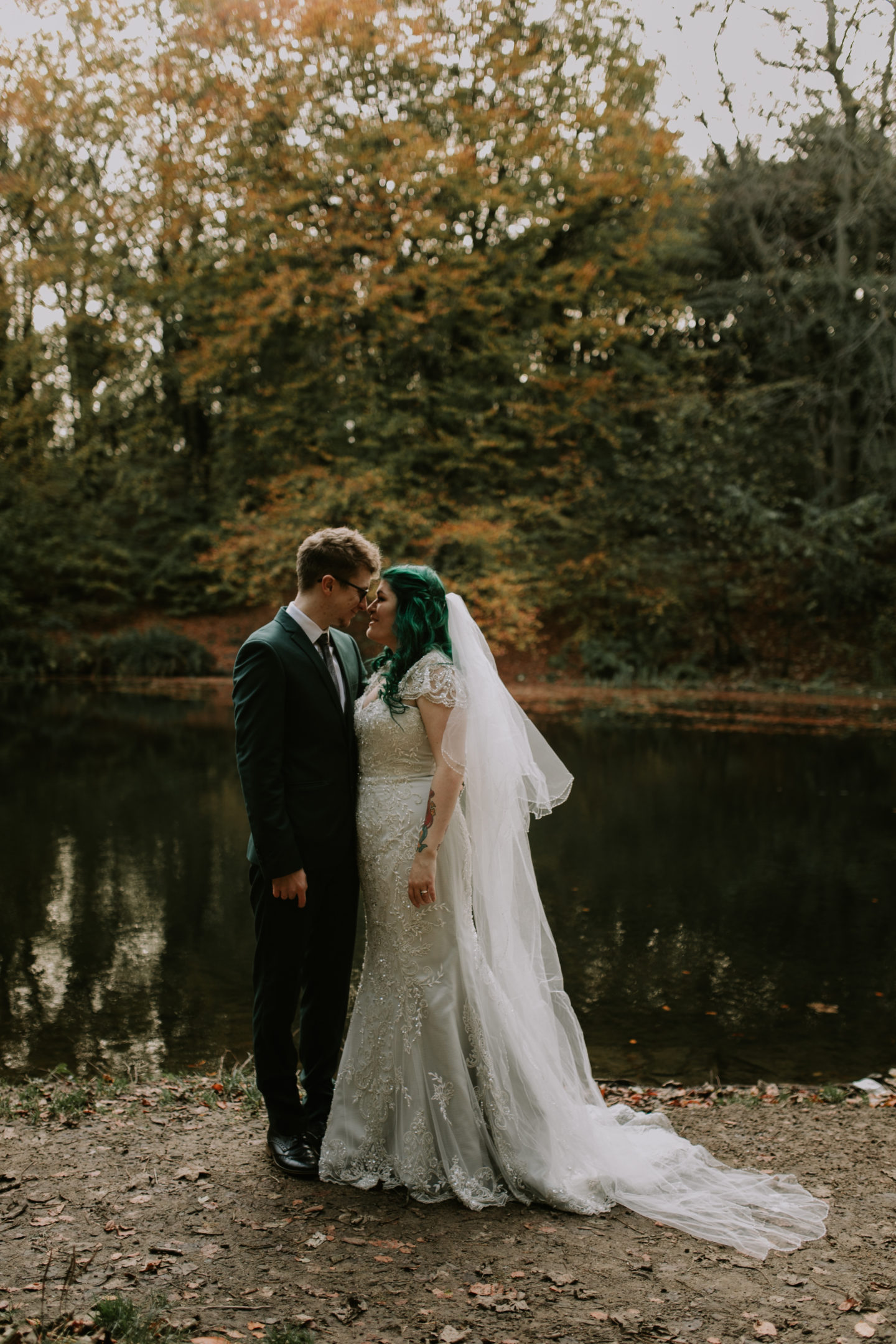 The Team – Intimate Vegan Wedding With Disney Vibes at Gledholt Woods, Yorkshire
Photographer Bailey & Mitchell @baileyandmitchellphotography
Dress, shoes and accessories Isla Loux Bridal Boutique @isla_loux_bridal_boutique / Groom suit and accessories ASOS @asos / Cake
The Peppercorn Cafe @thepeppercorncafe
IF YOU LOVED THIS VEGAN WEDDING PIN IT TO YOUR WEDDING BOARDS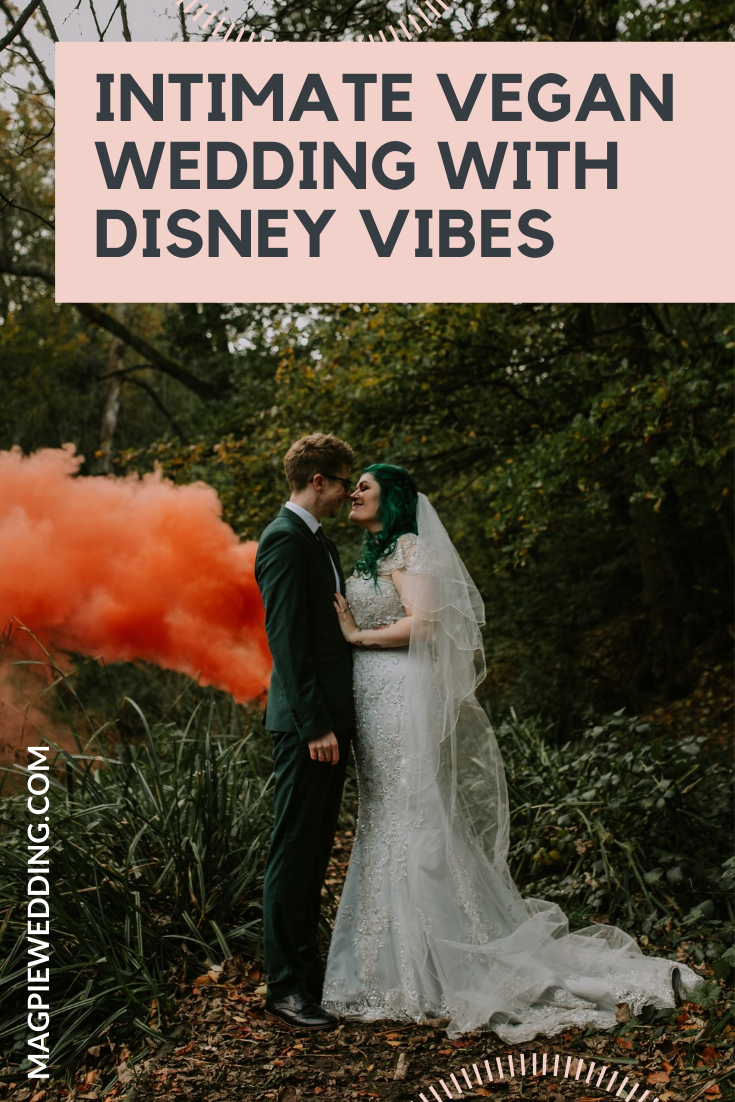 If you loved this intimate vegan wedding you may also like;
Eco Weddings – How To Create A Vegan Wedding
8 Vegan Food Treats For Veganuary & Your Wedding Day
10 Vegan Beauty & Wellbeing Treats For Veganuary & Your Wedding Day