I love colour, and am loving all the pastel wedding dresses that are popular right now so I was so excited to hear that one of our favourite bridal designers, Katya Katya Shehurina has launched a new candy coloured collection called Candy Shop. They are perfect for a bride but also a bridesmaid and even a guest – everyone will look amazing in these frocks! And they could be worn again – bonus! They all have fabulous sweetie names – have a look at their descriptions and let us know which are your favourite.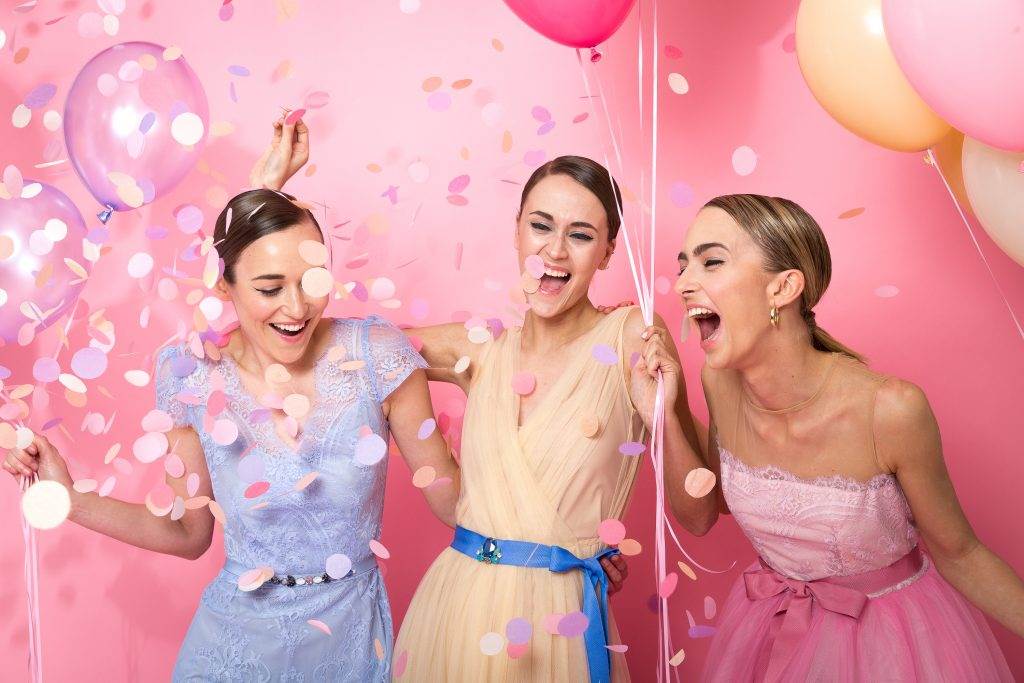 A show stopper for any wedding occasion "Skittles" layers wonderfully soft candy pink tulle creating an ethereal finish to this summer loving dress. A matching microfiber slip is incredibly breathable, adding comfort and ease to this already light and airy piece. Finished with one Katya's signature Swarovski belt which are hand embellished in our studio.
"Smarties" is a fun and free pastel wedding dress, for those who wants to dance the day away and let their personality shine through. Sleeveless with an illusion tulle neck line, this is the kind of dress which will make you stand out from the crowd. Mid-calf in length the skirt embraces a soft powder blue tulle which drops delicately. To finish a delicate Swarovski hand embellished belt made in our showroom.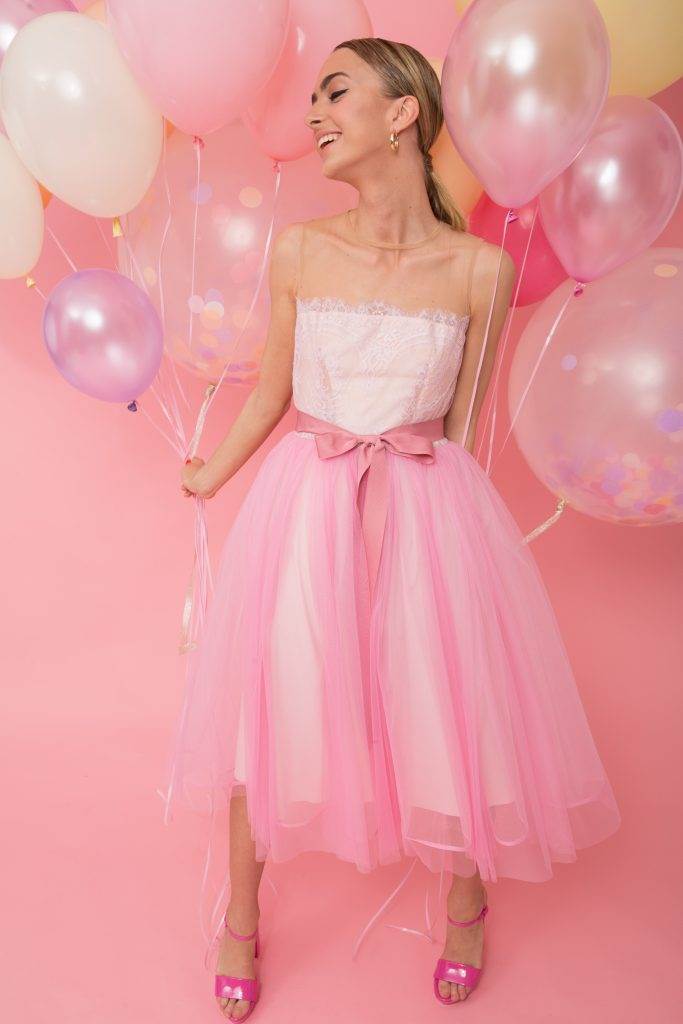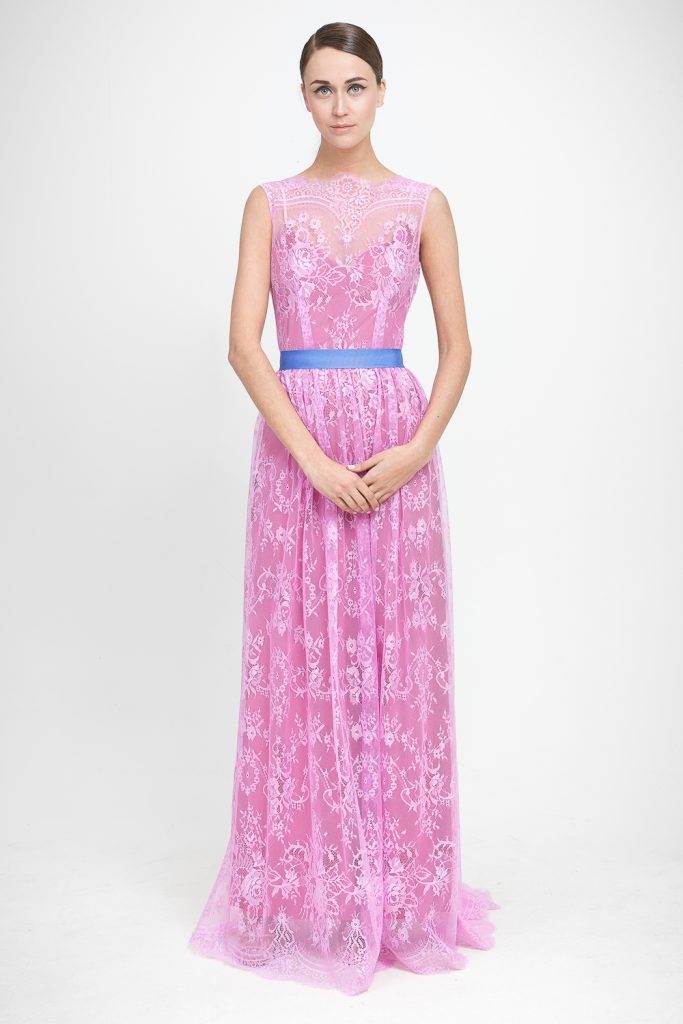 Full of romance & beauty this delicate Italian lace dress called "Mousse" is a show stopper with its intricate scalloped trim and high neck line, offset by a sleeveless appearance. The gathered skirt adds slightly more voluminous feel to the dress, creating freedom of movement and comfort throughout. Completed with a bold ribbon sash which creates a wonderful bow at the back.
An ever popular style throughout Katya's collections, this candy inspired dress called "Creme Brulee" mixes together two beautiful Italian laces creating a fun loving dress for the outgoing. Cute little cap sleeves meet a respectable knee length skirt, completed with a pink Swarovski embellished belt to finish.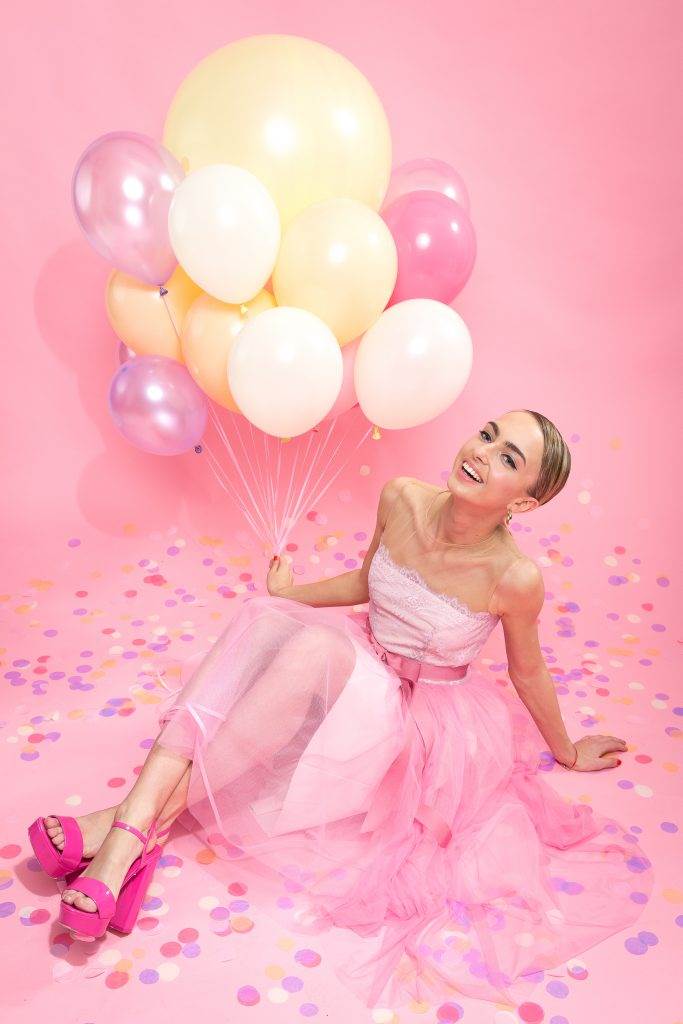 Nothing says summer has arrived quite like "Tiramisu" with the combination of soft layered tulle adding to an A-line skirt. Defined by a sleeveless top a V-neck to reflect the beautiful simplify and freedom which this dress incorporates. Clenched in at the waist is a statement blue sash to finish.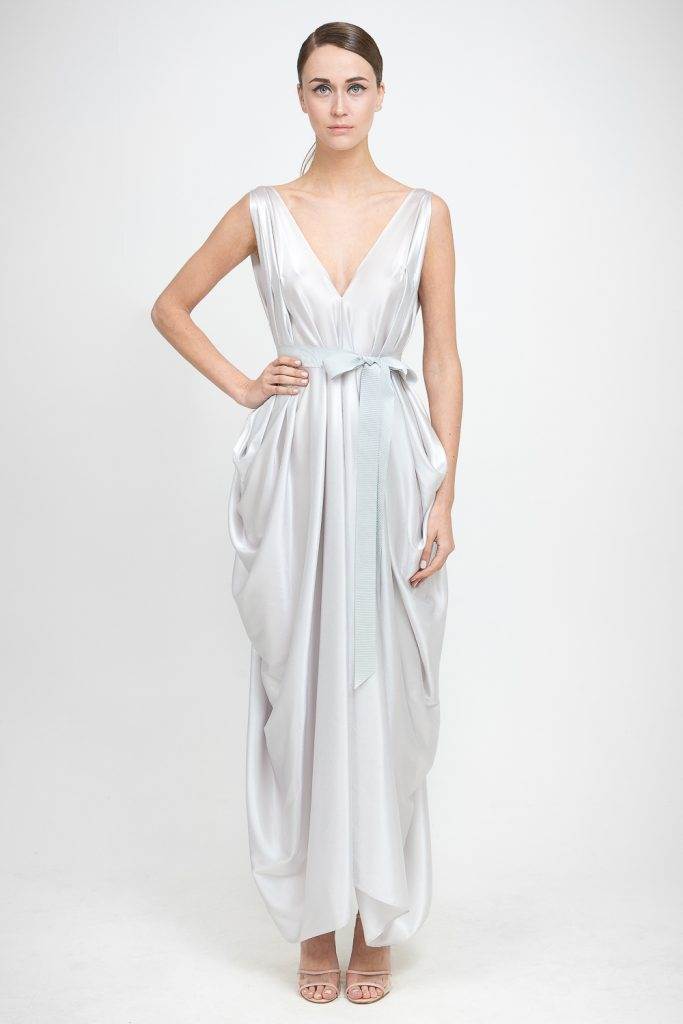 "Milky Way" is the perfect statement piece to attend lavish parties and weddings, due to the super stylish overall look of which this dress encompasses. Draped silk ads to the illusion of layers, whilst the defining V-neck helps balance the silhouette. Soft & sensual on the skin, this dress demands attention.
"Dove" has a stunning soft tulle creates a relaxed feminine feel to this midi length dress, with match cape at add ultimate style & movement. Offset by a striking blue hand embellished Swarovski belt, made to clinch in the waist and flatter from all angles.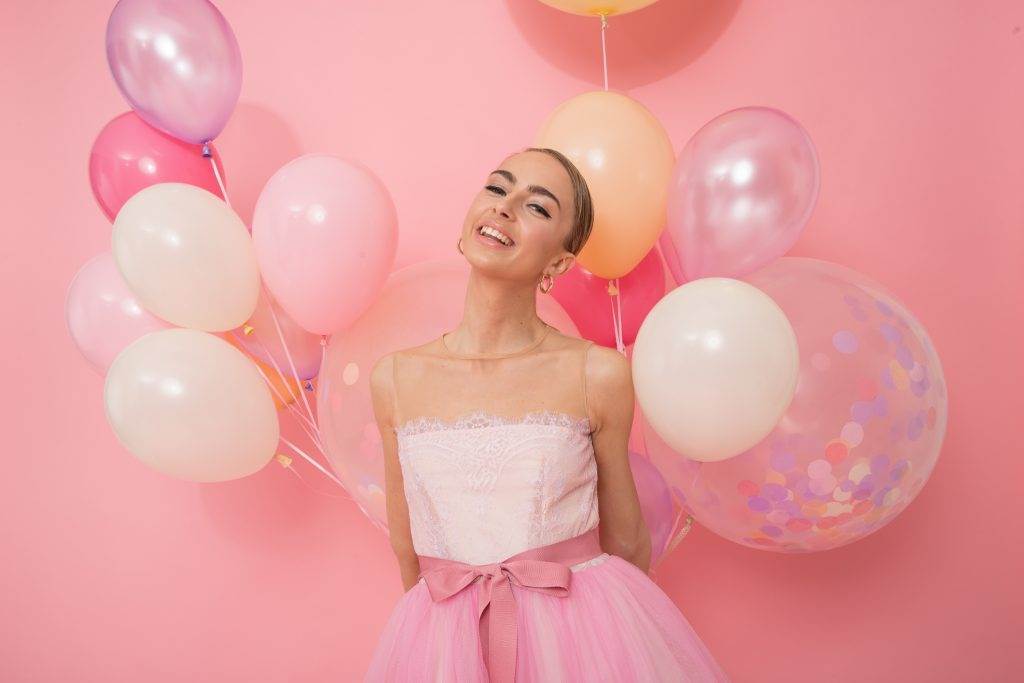 This glamorous halter neck blush Italian silk called "Caramel" drapes perfectly off the silhouette. Tied together in a neat off centre bow which rests delicately on the shoulder. Perfect for those weddings and occasions which demand a sophisticated dress to make an entrance in.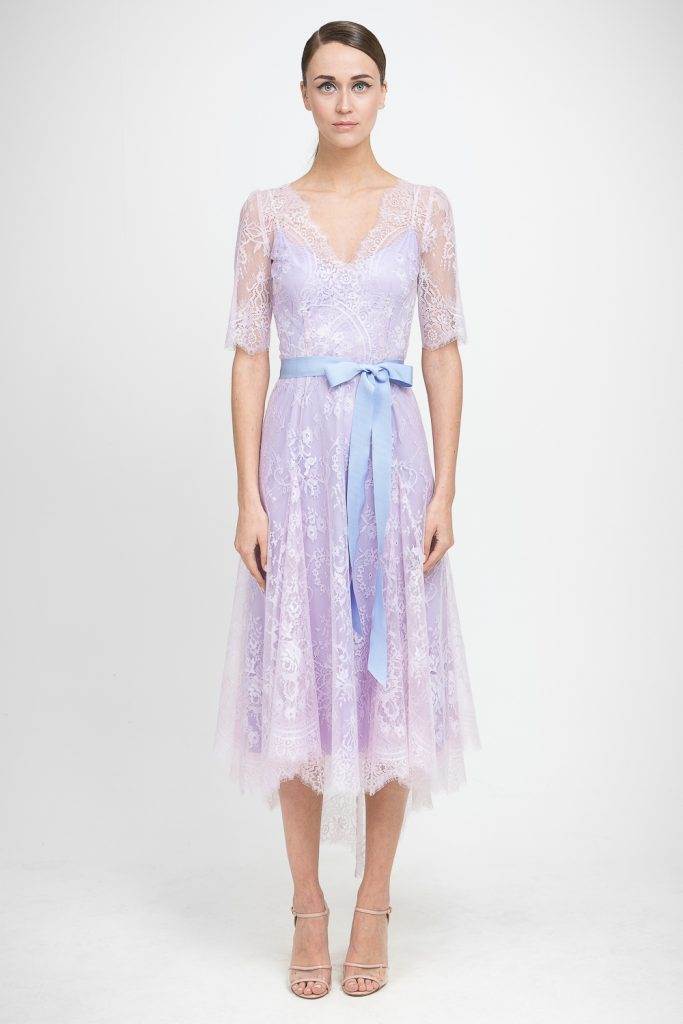 "Marshmallow" has a delicate scalloping which defines this dress adding a soft feminine appeal to the Italian lace. Perfect for those late summer evenings with the flattering midi sleeve length complimenting the dress perfectly. A light detachable microfiber slip adds to the cool breathable feel of this dress. Defined by a sash belt to clinch in the waist to give the desired waist line.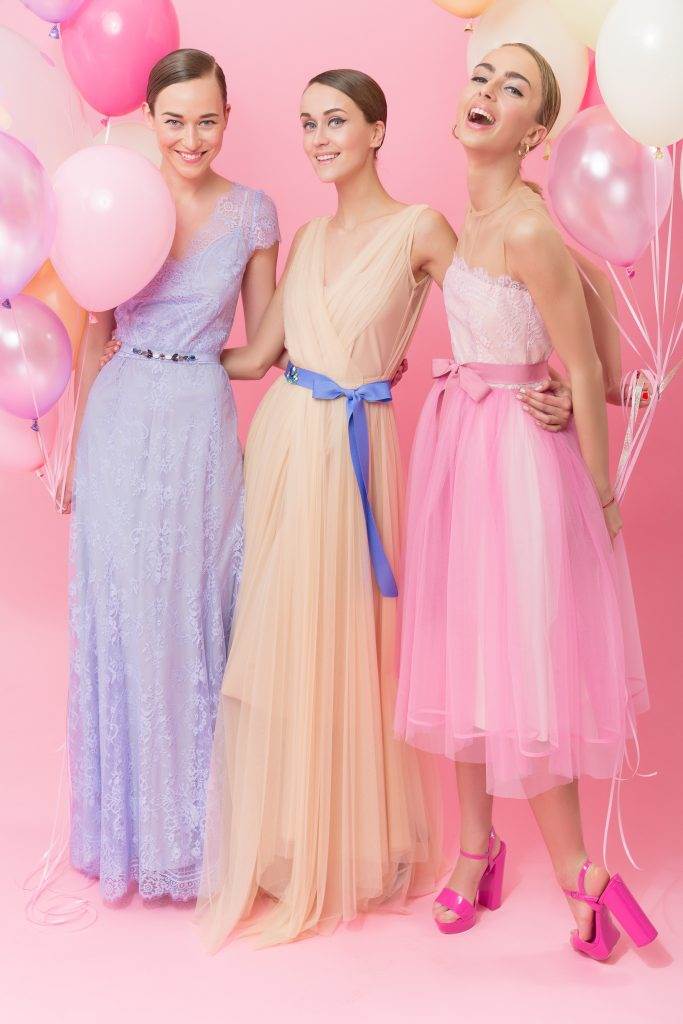 "Bounty" is made from a feminine floral decorative Italian lace, creates a more than captivating gown for those summer seasons. A Finely scalloped V-neck is teamed up with butterfly cap sleeves, which balances out the gown beautifully. Forks in the skirt allow movement and freedom, whilst the sash clinches in the waist to finish.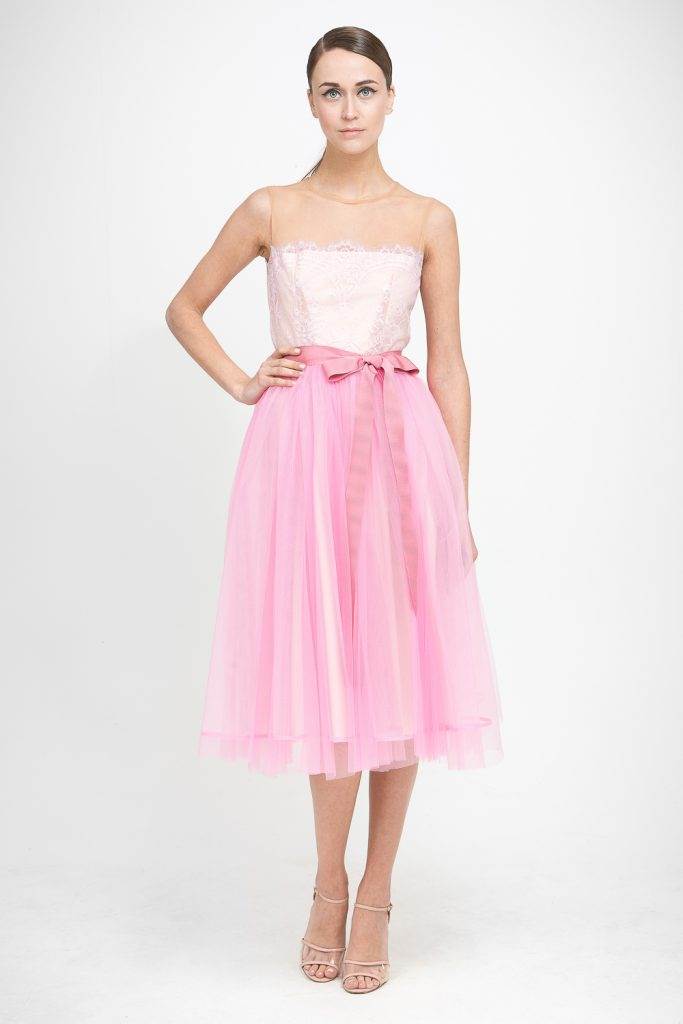 For a one-of-a-kind and full of femininity "Panna Cotta" will add a new lease of life to your closet. Sleeveless with a tulle illusion neck line creates a structure-less bodice defined by a scalloped edge. A knee length skirt embraces the candy cotton pink tulle with a detachable petticoat to create a tea cup shaped skirt. Finished with a pick ribbon sash to create the desired waistline.
"Souffle" is a beautiful Italian lilac lace meets soft pink tulle to create this elegant beauty. Delicate scalloping shapes the cap sleeves and bodice whilst transparent tulle creates an illusion neck line. Summer has never looked so feminine with pastel tones working together in perfect harmony. Finished with one Katya's signature Swarovski belt which are hand embellished in our studio.
This "Banana Split" dress could not be any sweeter if it tried, with pastel tones and frills creating that perfect summer vibe. Mid-calf in length the skirt embraces a soft pastel powder tulle which drops delicately. Attached is a petticoat to embrace the teacup shaped skirt and to finish a delicate Swarovski hand embellished belt.
Summer would not be complete without this two tone illusion dress created by soft layered tulle and a detachable cool microfiber slip which discretely sits under the outer layer. This free spirited dress called "Sorbet" is finished with a beautiful pink sash embellished with Swarovski crystals.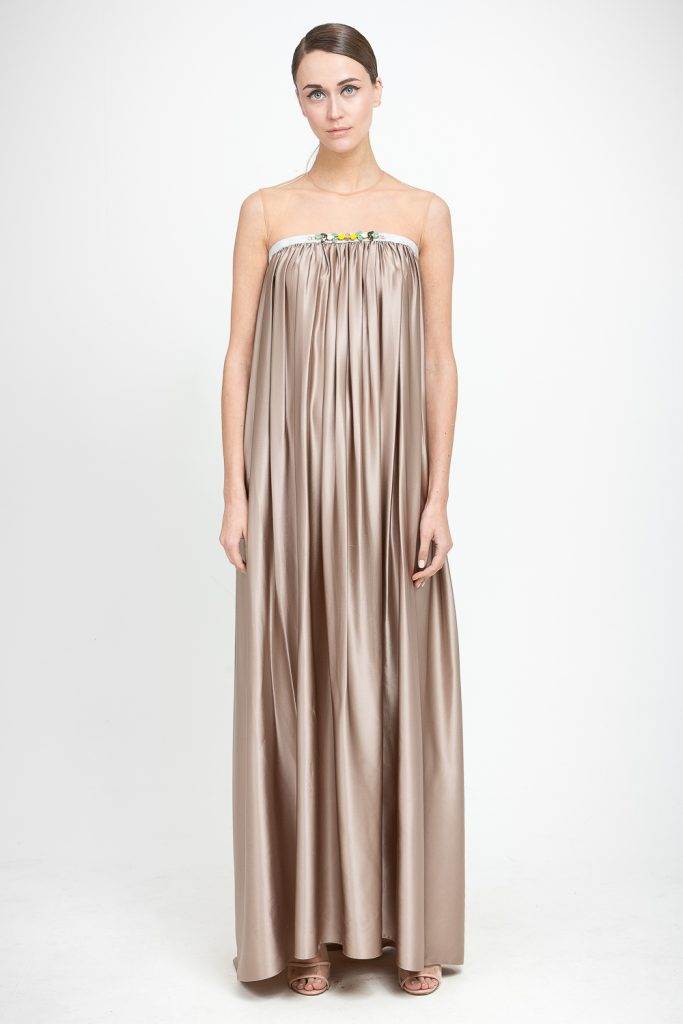 Gliding over the silhouette with ease, this beautiful Italian silk mocha dress called "Twix" falls gracefully to the ground ready to move at any given moment. Sleeveless with an illusion tulle neckline, which is brought together by the Swarovski engraved belt joining the silk & tulle together as one piece.
I love them all! Which is your favourite pastel wedding dress here?