Floral bridal accessories doesn't have to mean a flower crown, and these swoon-worthy eco wedding headpieces by Glorious by Heidi prove that and they're made from recycled vintage brooches! What more could you ask for? If you're looking for an alternative crown, a complimentary piece to a coloured veil or you just want the most amazing Avant Garde look for the big day, then this accessory designer should definitely be at the top of your list!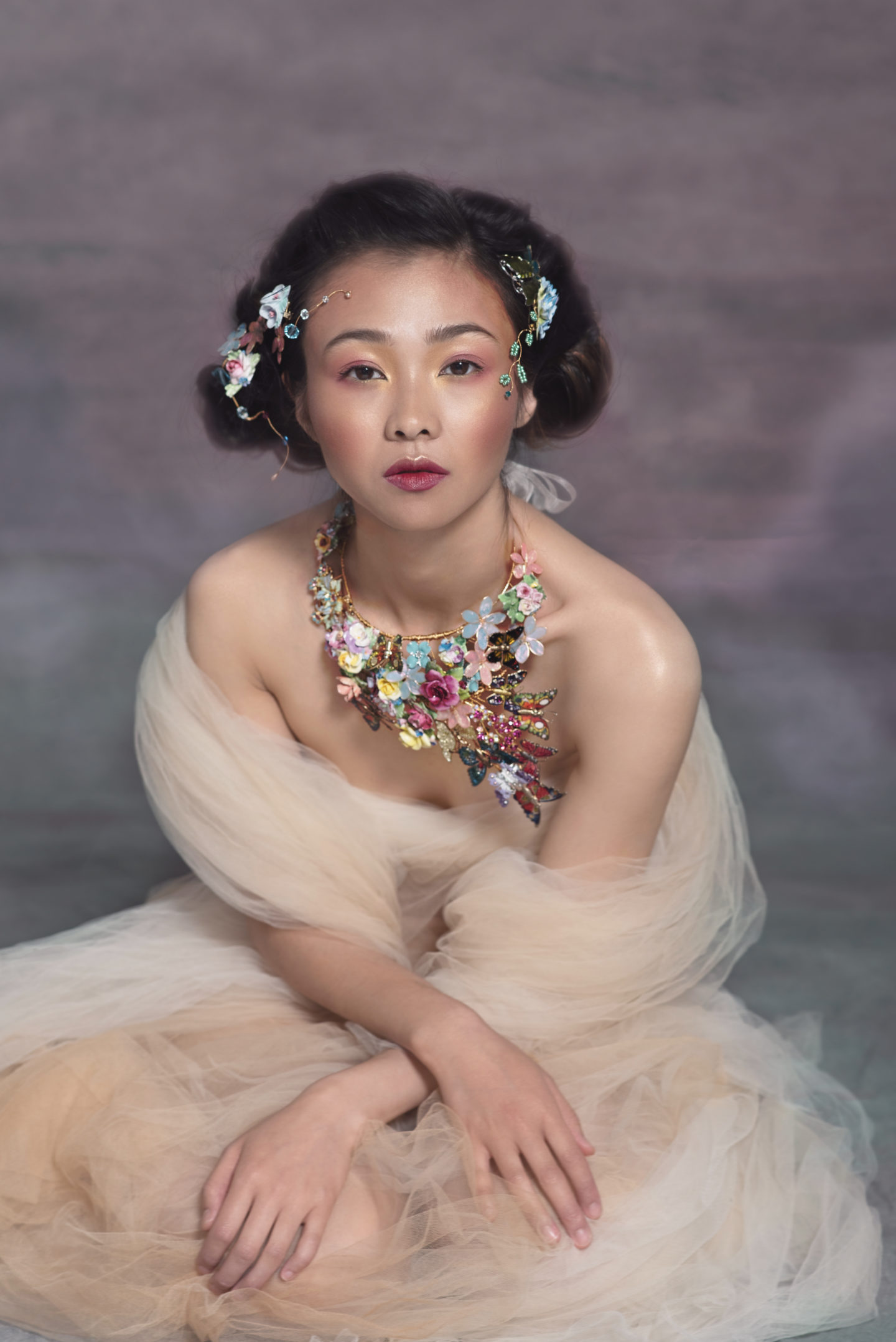 This particular piece Heidi was made from a collection of vintage Staffordshire brooches, and after a quick social media post, for opinions on what she should make from them, Alison of Alison McMath Photography volunteered both her idea of a headpiece and her services as an amazing photographer to create the images that we see before us! Experimental, alternative and creative bridal and a true Avant Garde wedding look.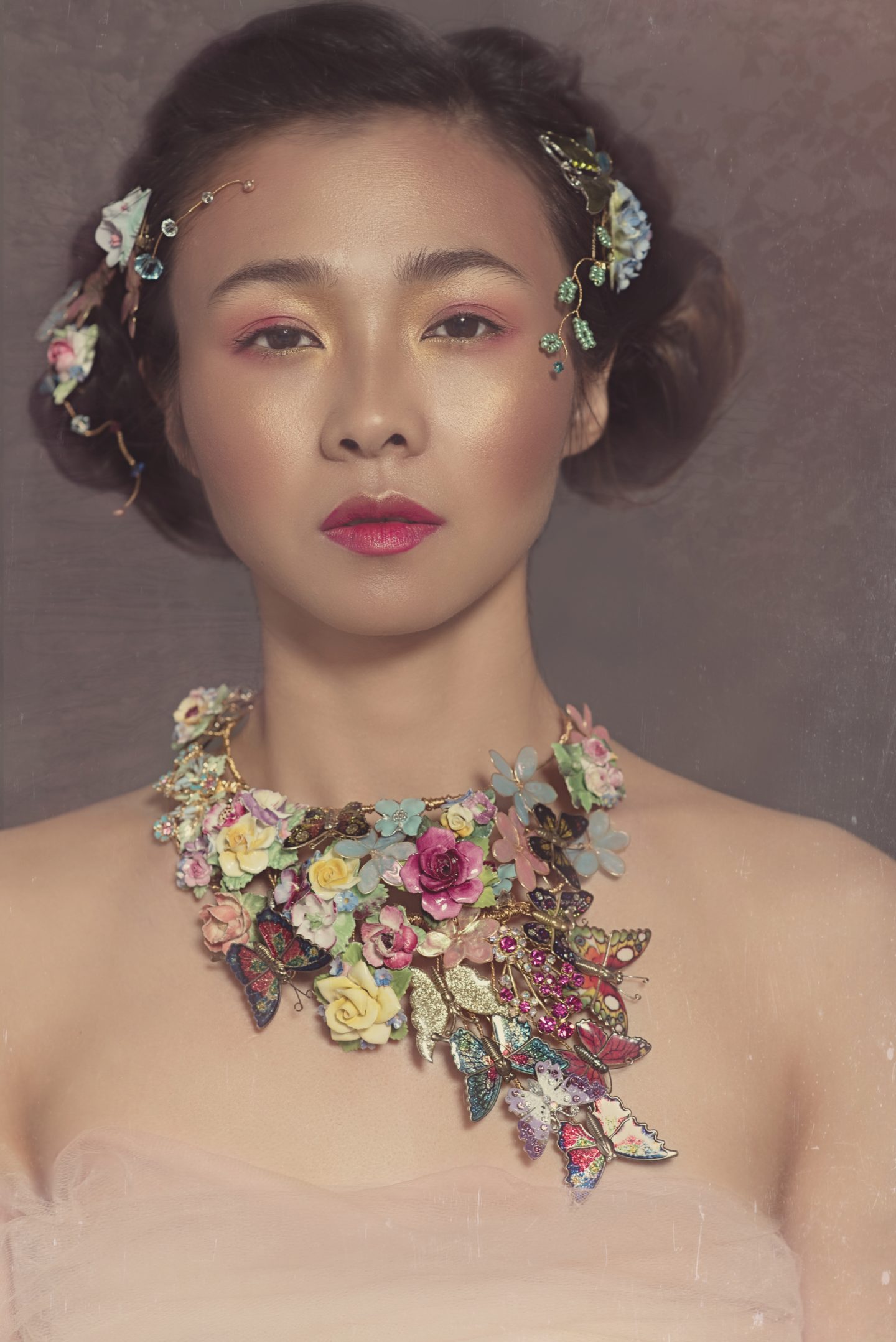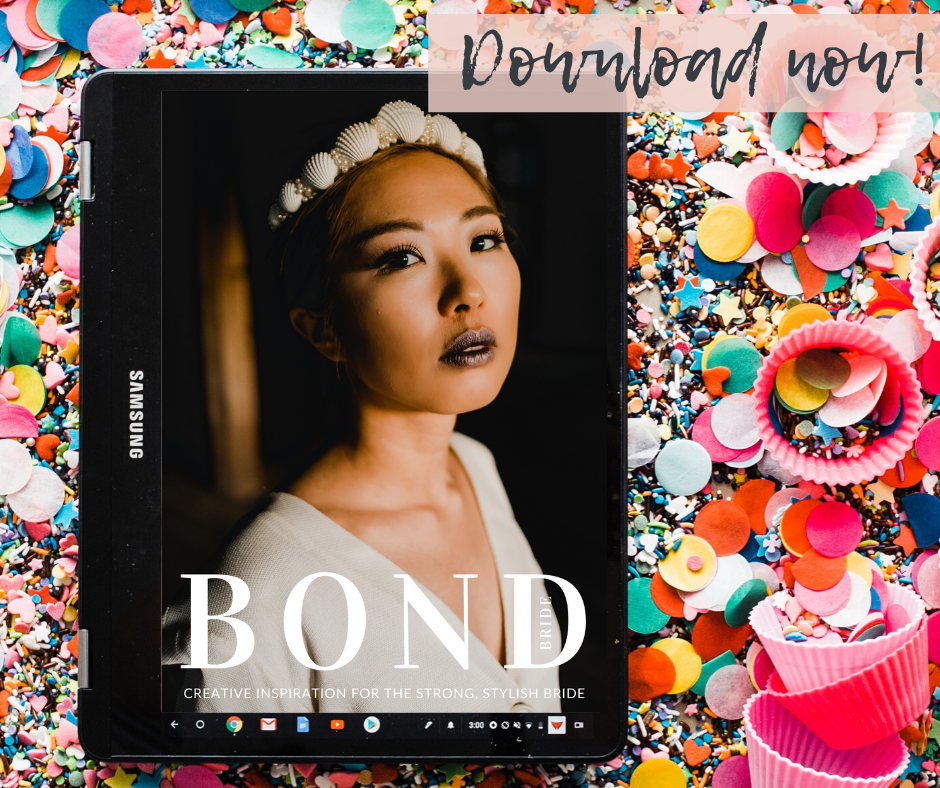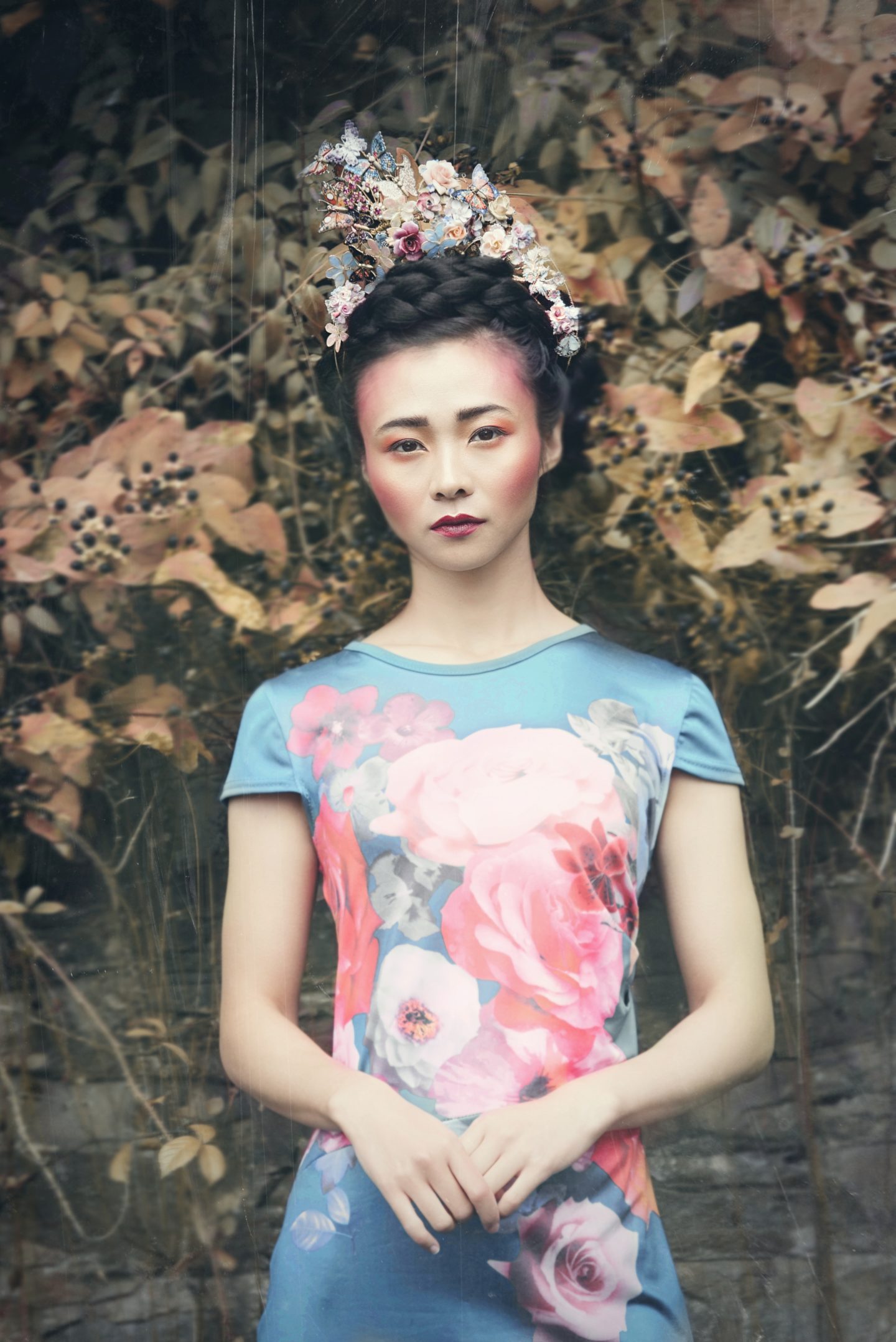 Heidi says; "Alison just happens to be one of the most exciting photographers around, and as I'd often cooed over her work it took me all of 5 seconds to private message her to say I'd be over the moon to have the chance to collaborate with her on a shoot. For me, the most important thing about the main accessory that I wanted to create for this shoot was that the finished piece, true to the tradition of tiaras worn by ladies of note throughout history, would be a transferable accessory – one that could be worn as a headpiece, or as a necklace, depending on the occasion."
Heidi also wanted to create a piece that looked as though the beautiful butterfly brooches woven through it, were fluttering their brightly coloured wings, and taking flight.
"I wanted it to be a piece that did justice to the skill and creativity of the women who worked within the Staffordshire Pottery factories, hand-painting the exquisite ceramic brooches that make up the main part of the finished accessory."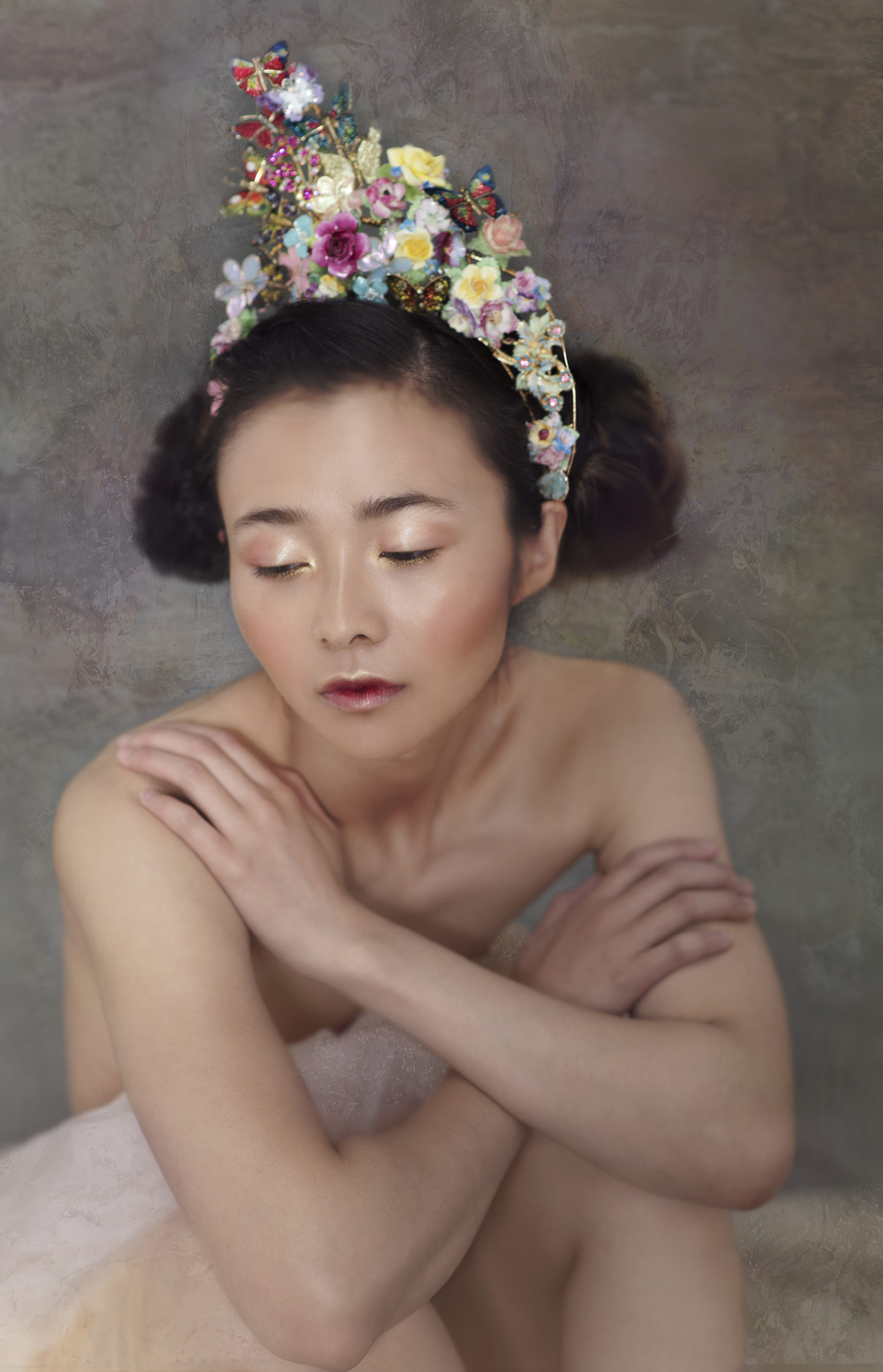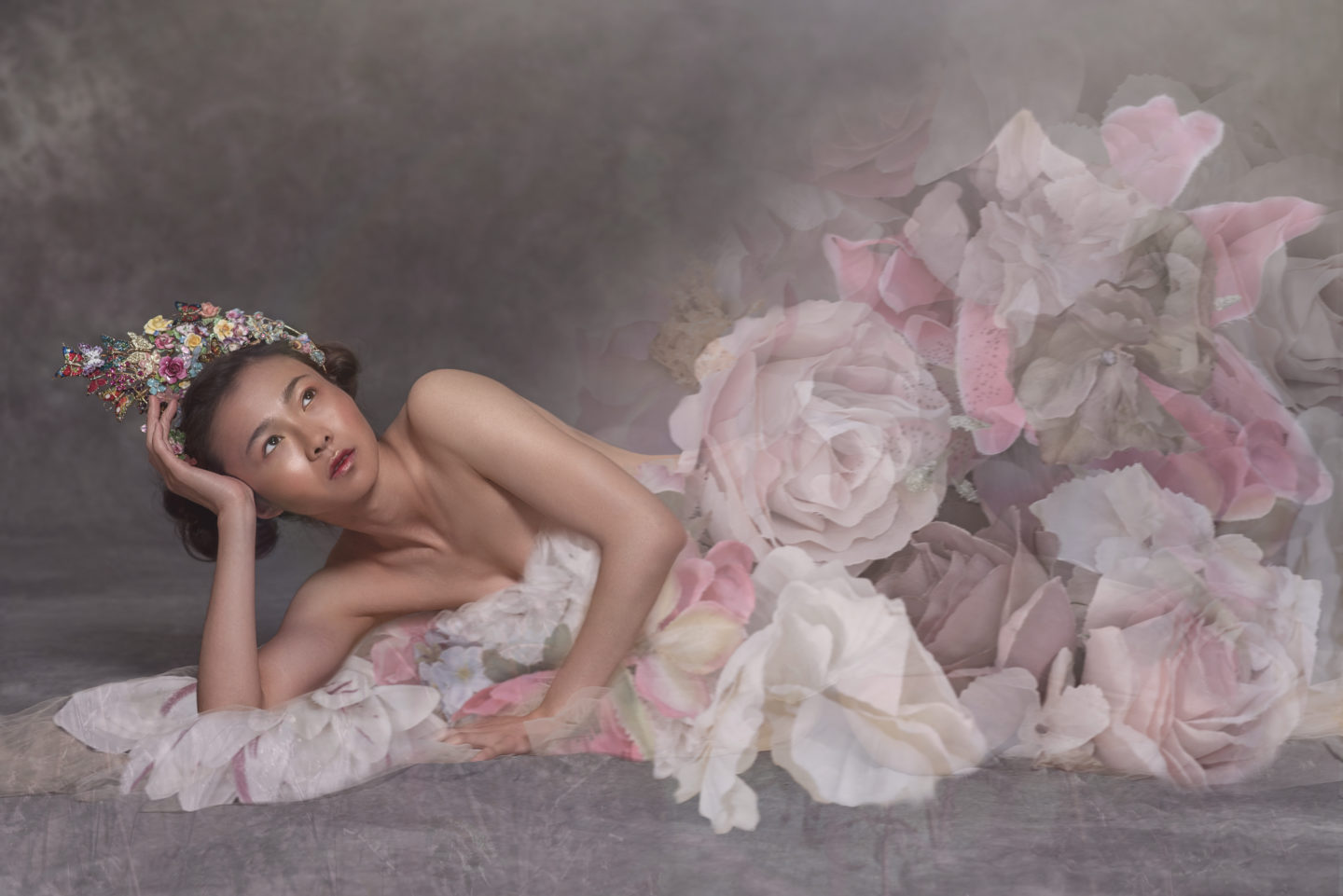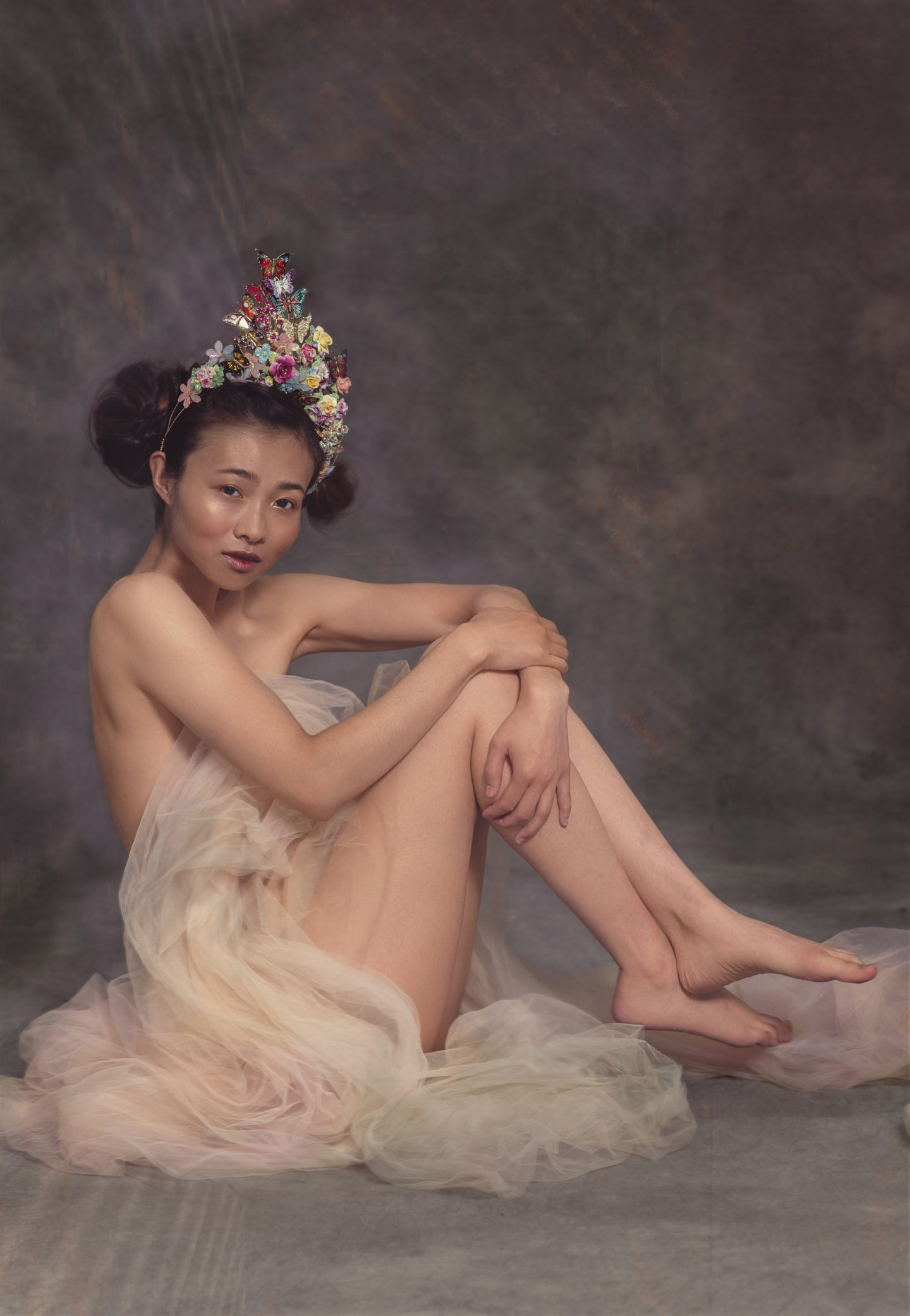 "Once we'd secured the enchanting face of Chinese model Janette Cheng for our shoot, I was inspired to research the shapes and styles of traditional Chinese wedding hair accessories, the height and drama of which encouraged me to use those elements in the final design of the headpiece."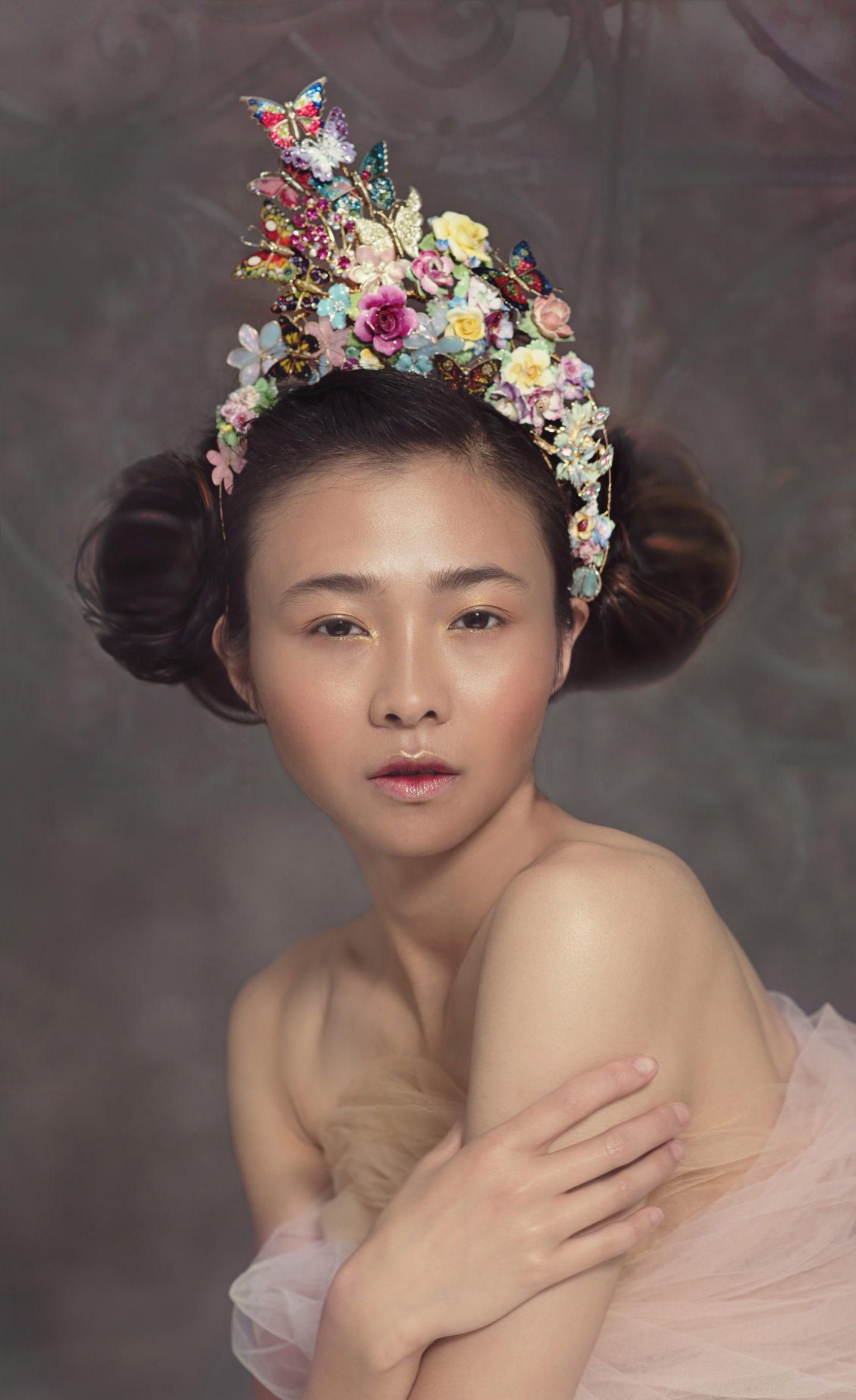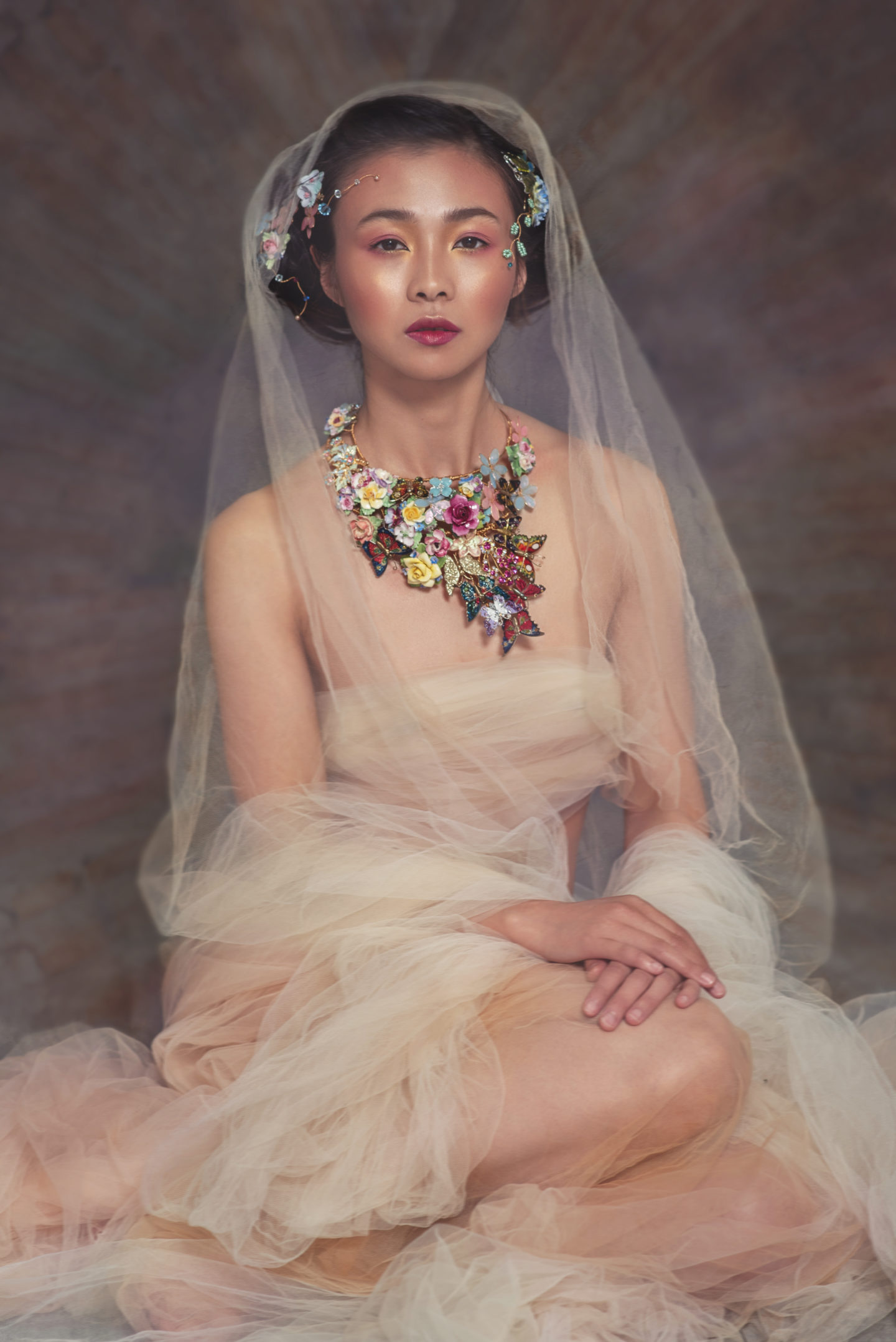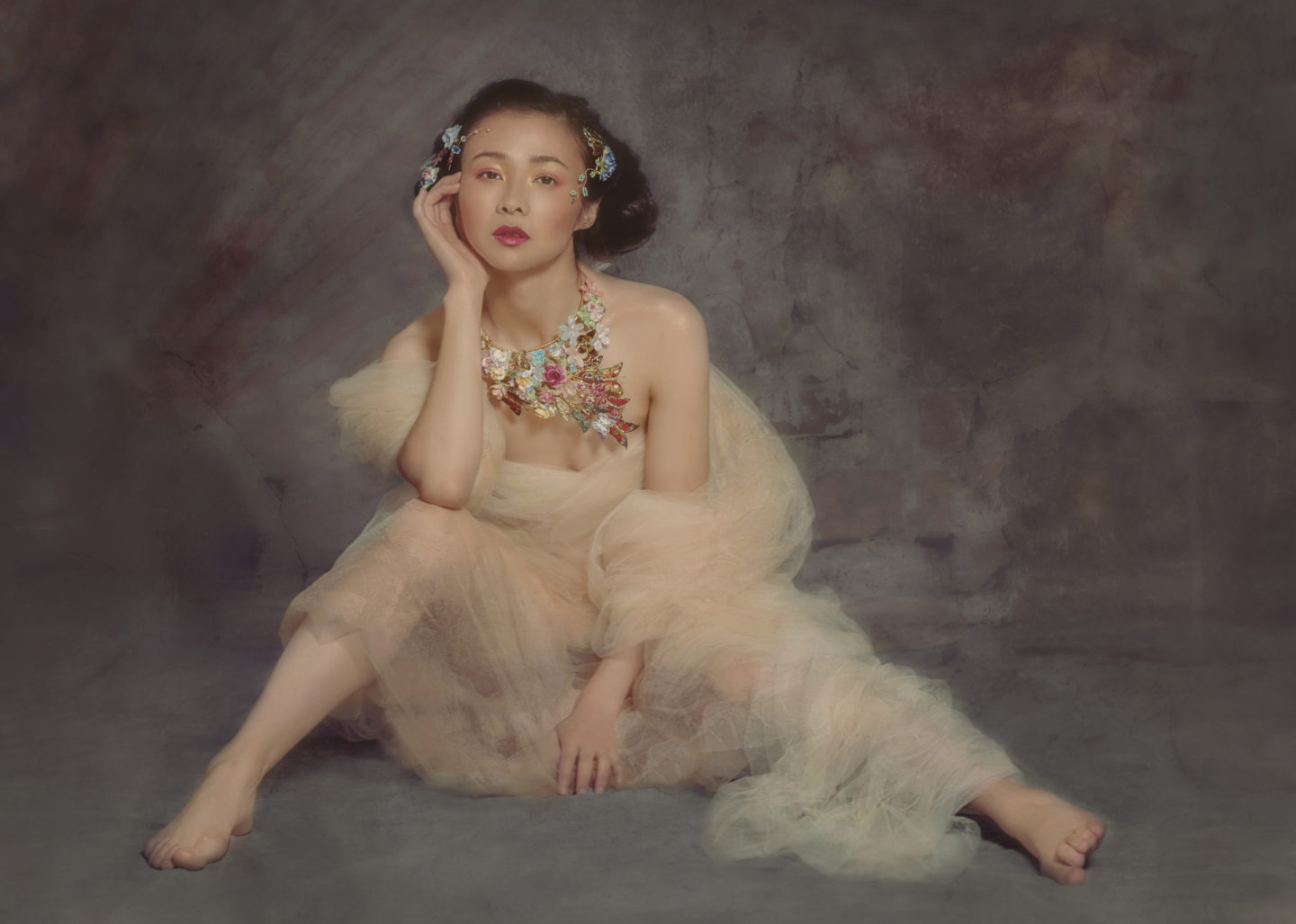 "To tell you that I'm 'proud' of the final images captured by Alison, would be the biggest of understatements. These images quite literally make me feel like I have butterflies fluttering around my insides, and I'm clearly not alone as a 'Highly Commended' from the Societies of Photographers for one of the central images attests to. But probably the best thing about working alongside Alison and Anya on this shoot, was the push to match their huge creativity with my own, meaning that we have this set of totally inspiring images; I have a breath taking butterfly headpiece on display in my Cheshire studio, and you can see the magic that happens when this accessory designer gets to spread her wings and fly!" And we totally agree, these images and the piece itself is truly beautiful and the perfect piece to make those heads turn on your wedding day… the alternative regal vIsion.
The Team- Alternative Floral Bridal Accessories For An Avant Garde Wedding Look
Photographer – Alison McMath Photography @alisonmcmath
Accessories – Glorious by Heidi @gloriousbyheidi / Hair and Make Up – Anna at Anya Makeup Artistry @AnyaMakeupArt / Model – Janette Cheng @chng_mnyng
IF YOU LOVED THESE BRIDAL ACCESSORIES PLEASE PIN THEM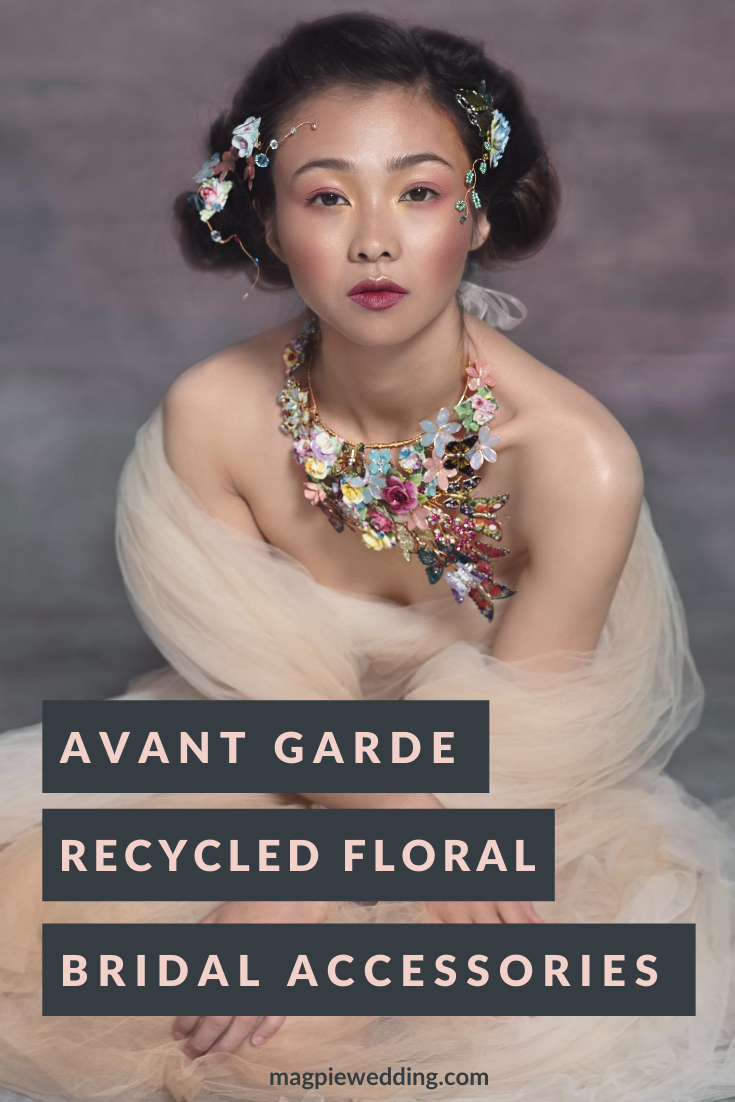 If you love these Alternative Floral Bridal Accessories you may also like;
Choosing bridal accessories – vintage inspiration for modern brides
Post Covid Wedding Dress Shopping – Tips To Find Your Dress, Safely
Boho Chic Festival Picnic Wedding With Eclectic Styling, Glitter and Groom Veils