Another British designer to celebrate on the blog today with our designer spotlight. Modern, couture bridalwear designer Lee Klabin not only creates beautiful pieces but the company is also eco-friendly and sustainability is always at the forefront of their mind when it comes to designing and making their bridalwear. Here we catch up with Lee herself to find all about the company, her sustainable wedding dresses, what inspires her designs and her proudest moments.
"Hello, my name is LEE KLABIN and I am a wedding dress & womenswear designer who is redefining what the modern bride can be. Sustainability is an important aspect of that but we do but our focus is first on making our brides look gorgeous and then making their outfit sustainable. My studio is based in SW London."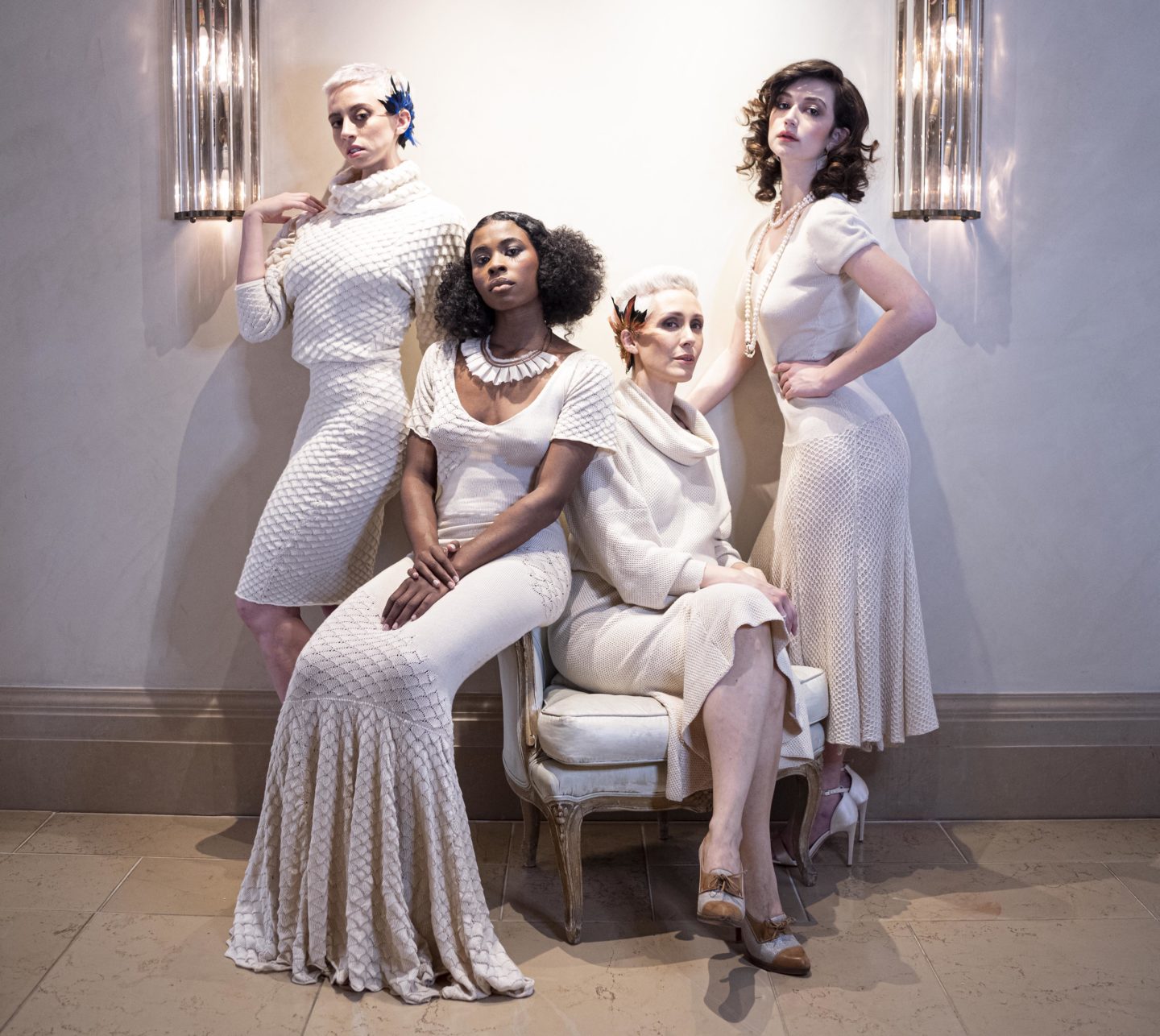 Tell us about your range?
This coming AW is knitted out of silky soft yarns such as seacell, peace silk and merino plus UK based baby alpaca. The dresses are a modern ode to the glamorous 20's with the types of stitches we chose, like dragon stitch and tuck stitch. We have also made a limited edition jewellery collection to complete the season, which is made with reclaimed feathers and leathers. Naturally, all our dresses are designed with our brides future in mind and to accommodate this, they can be styled in infinite ways to become a beautiful part of their future wardrobes and no one would guess they were ever your wedding dress!
What are your influences when you design?
"I am utterly seduced by the yarns and materials that our amazing suppliers make. The feel of the yarns absolutely must be the softest most alluring around and they all must be earth friendly and people friendly, i.e sustainable in every way. These are very basic non-negotiables for me."
"Then, when selecting which silhouettes to use- well, I'm obsessed with 3D texture, so stitches that add the kind of depth to a finished piece that make everyone want to touch are sure fire winners. As for silhouettes- you can never, ever go wrong with celebrating what you've got personally- I try to make all my pieces have some element of 'celebrate & disguise', so that each woman can enjoy flaunting the parts she's most confidant about and cleverly draping over the parts she's less comfortable with. Most importantly and equally non-negotiable, is comfort. I mean, how can any woman really look seductive and gorgeous when she's uncomfortable…unless she's wearing heels and is sat down, but that doesn't count!"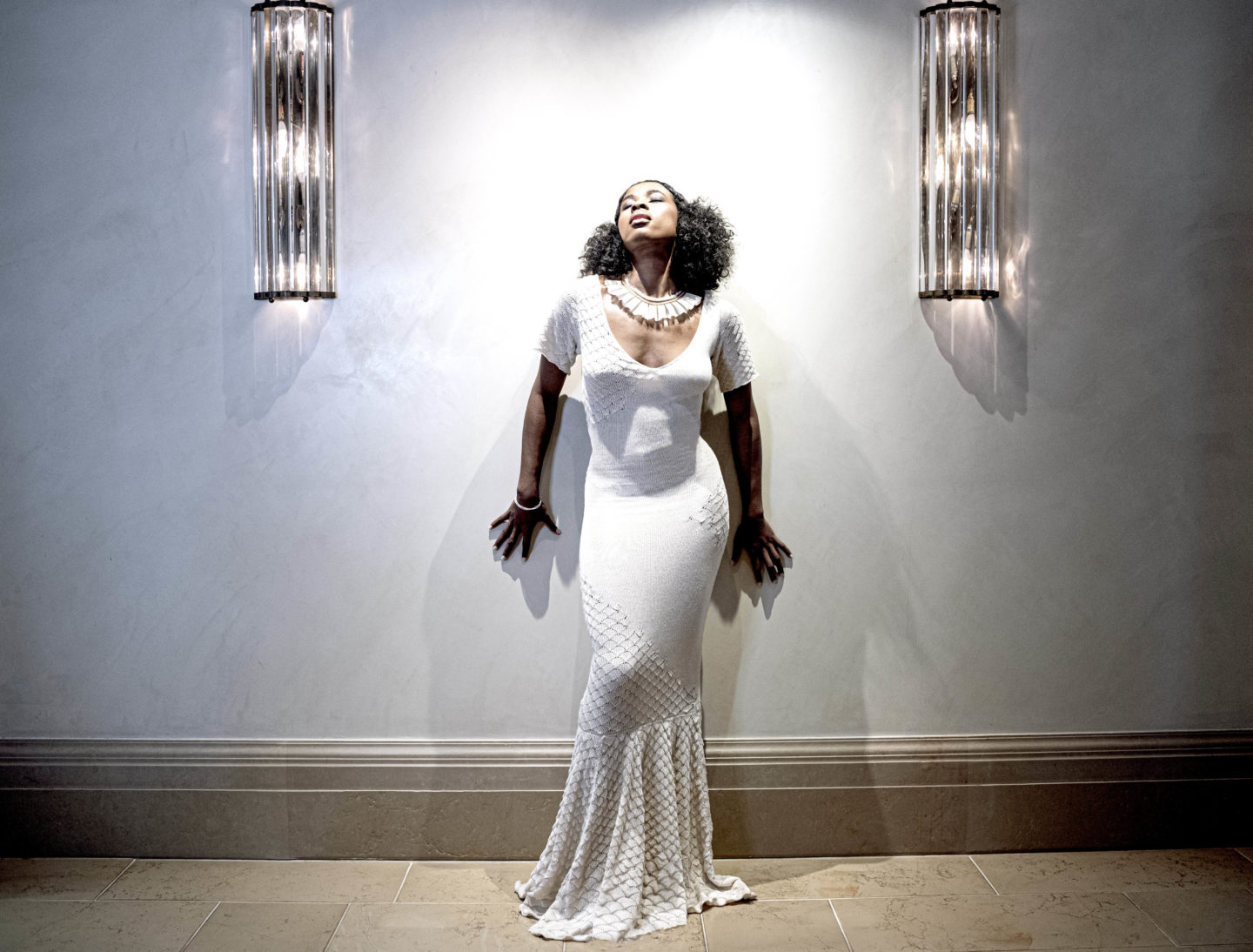 Who is your typical bride?
"I would say typically, our brides range really from late 20' to mid 40's in age. They all have careers they care about, ethics that are important to them and a set of their own important factors that they want embodied in their wedding dress. After all, this is a big day. They are publicly celebrating a pretty major decision to spend the rest of their lives with their chosen partner. Naturally, they want the dress they wear to reflect as much about them as possible rather than fall back onto some very old traditions about how a bride "should" look, when they really don't feel that chimes with them in this day and age. Quite a few of them also opt for a very chic town hall ceremony or an elopement dress too."
How important is being ethical?
"So, when I mentioned before some "non-negotiable" this is what I mean. The bridal industry is usually rife with synthetics and cheap labour that doesn't feel right to plenty of people and that number is only growing."
"First of all from an aesthetic point of view- we know that wedding dresses help launch a journey. A journey that will hopefully be filled with love, life and laughter. Wouldn't you want a wedding dress that could actually go with you on that journey? Become a beautiful, practical and sentimental part of your growing life together (all without looking like you're re-wearing your wedding dress)? So that's where I went into the history of the best selling and most popular silhouettes throughout history and came up these chosen for Autumn/Winter. They will serve our brides through a whole host of occasions, from special to smart casual- and when styled properly, they will never let you down."
Secondly- The decision of how and from what our dresses are made had to be put together with complete consideration for the domino effect every decision has in life really: What are the consequences? In our case, what would the consequences be of using synthetics over natural? New over recycled? Cheap foreign labour versus local, fairly paid labour? On all of these, I felt from the deepest part of me- that the ripple effects I want to be responsible for are only positive ones. Ones that help and contribute towards love, collective growth and positivity through all our channels. So from there on, it was a no brainer how we were going to design and produce."
"We use only natural or recycled materials and strictly manufacture in the UK with factories that have 'sedex' or 'fast forward' certification proving their staff are paid the national fair living wage or above depending on their skills."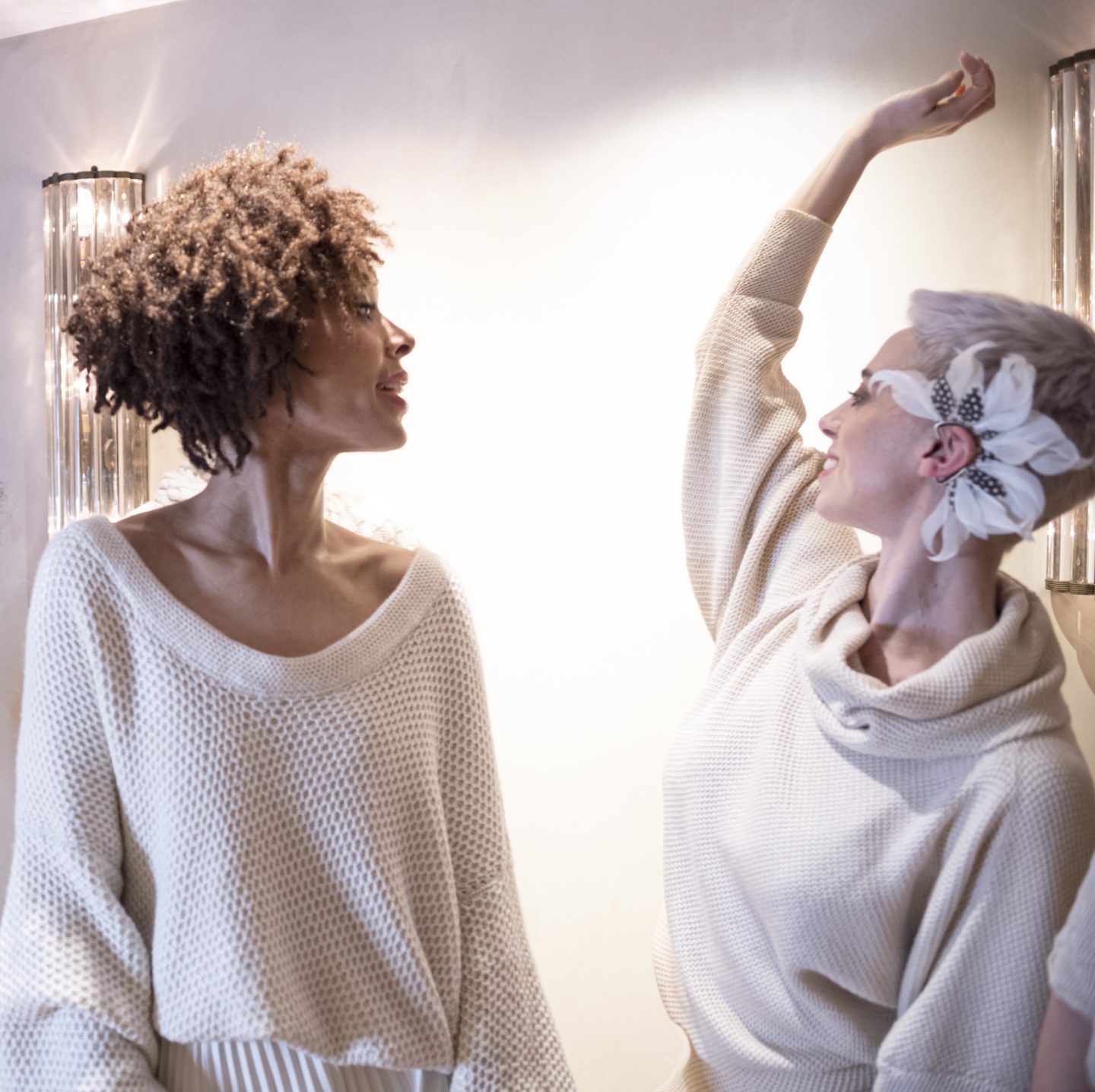 What are you most proud of so far?
"I am most proud that I've been able to combine modern chic aesthetic with uncompromising sustainability. Too often sustainability is associated with over baggy yoga style, lentil-coloured clothing that doesn't really appeal aesthetically. Not the case with us. No one guessed that we are 100% sustainable until we told them and people are always gob-smacked. I like that. Of that, I am very proud"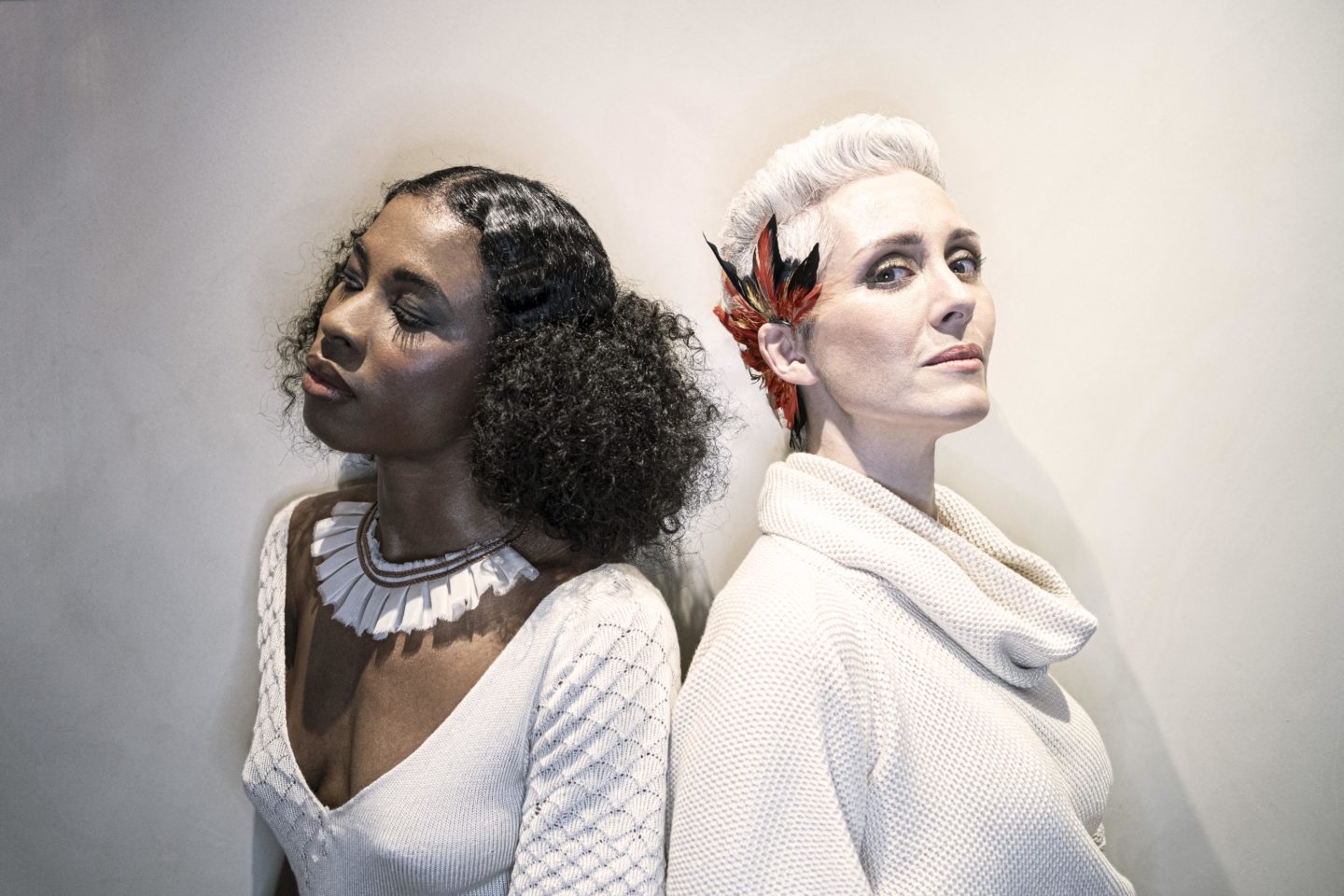 Any news on what is next for you – any exciting plans?
"Well, I think we are all, as an industry going through a combination of bracing ourselves for a rapidly changing uncertain future, whilst also trying to forge new and innovative ways to engage with and inspire our audience through this and beyond. The world will most likely be a very different place when we all come out of this. Climate change and sustainability will be right up towards the top of people's agenda and customers will rightfully be more discerning about who they buy from and the questions they want answered before they do. And they should be. The legacy we leave behind for the next generation needs to be far better than it has been so far, for us and more importantly for them."
How can we get in contact with you?
Our phone or email works best- T: +44 203 560 9945
Instagram: @Leeklabincouture
IF YOU LOVED THIS PLEASE PIN IT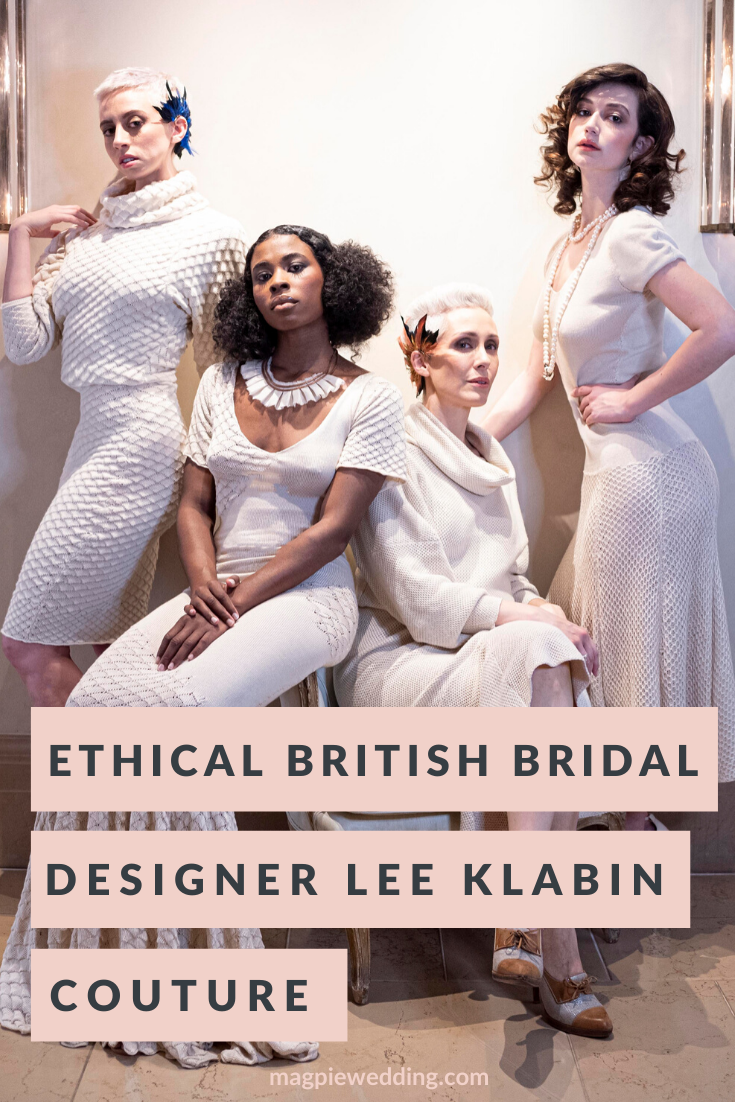 If you want a sustainable wedding then have a look at some of our other ethical suppliers:
How to find a truly sustainable, eco-friendly and ethical wedding venue
How to find the perfect sustainable, eco-friendly and ethical wedding dress
10 sustainable wedding ideas with our free ethical wedding guide