A childhood sweetheart romance, for today's real sustainable wedding of Lauren & Javier At Born To Run Farm, New Jersey. With a rustic luxe vibe set in the beautiful countryside, it's full of beautiful personal details, muted tones, and shows just how a sustainable wedding can be done so beautifully! We catch up with the couple to find out all about their first meeting to their first dance and how their history and fate brought them back together for a 'meant to be" romance…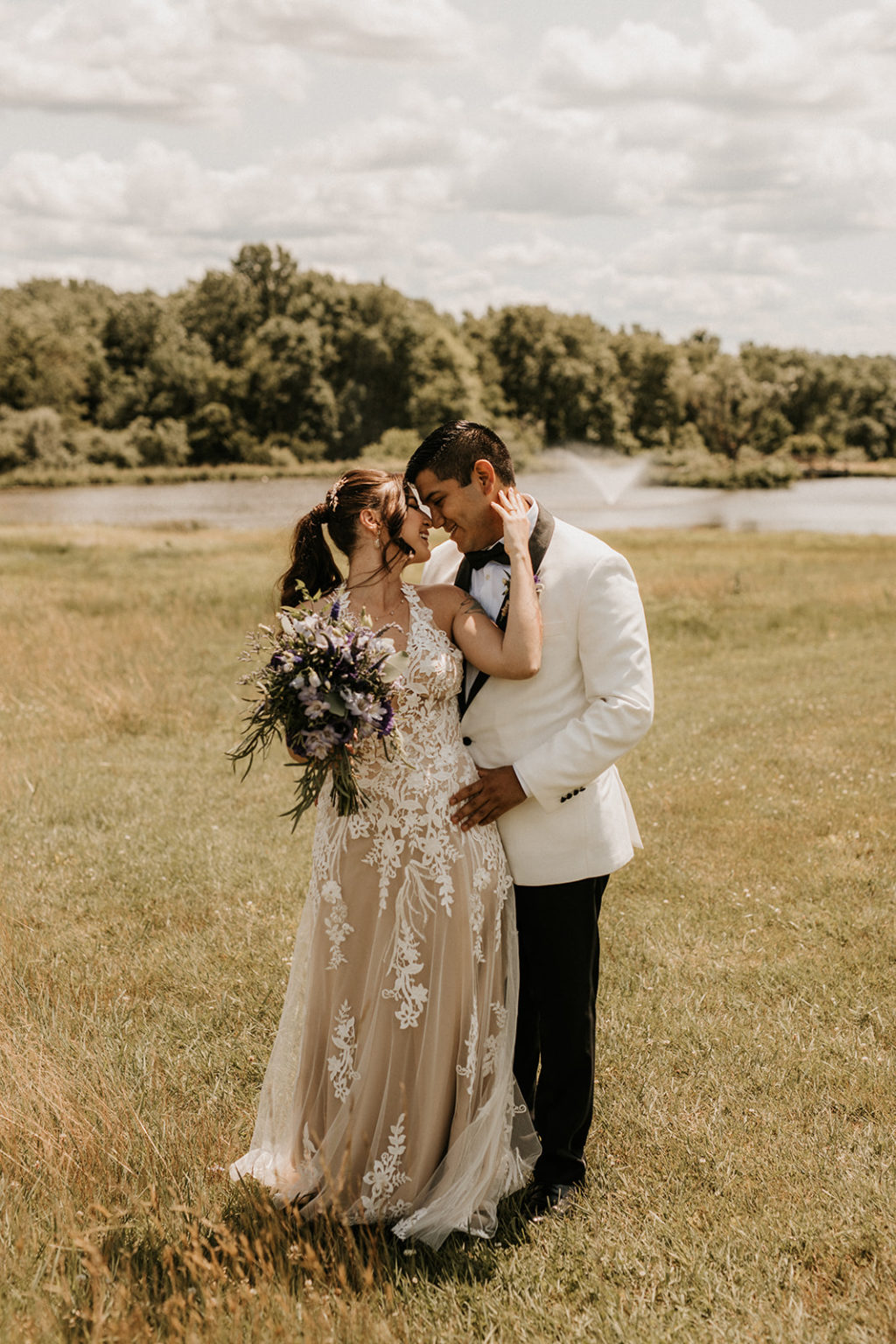 How Did You Meet?
"Me and Javier met at the young age of 13 working at a Summer camp in our town. We quickly became close friends and I quickly developed what would become a lifetime crush. After we got to know each other, we learned that we had actually gone to the same elementary school in 3rd-5th grade and just didn't remember one another. We went to separate schools until junior year of high school when he ended up transferring to my high school. Our history had a lot of getting separated and brought back together again."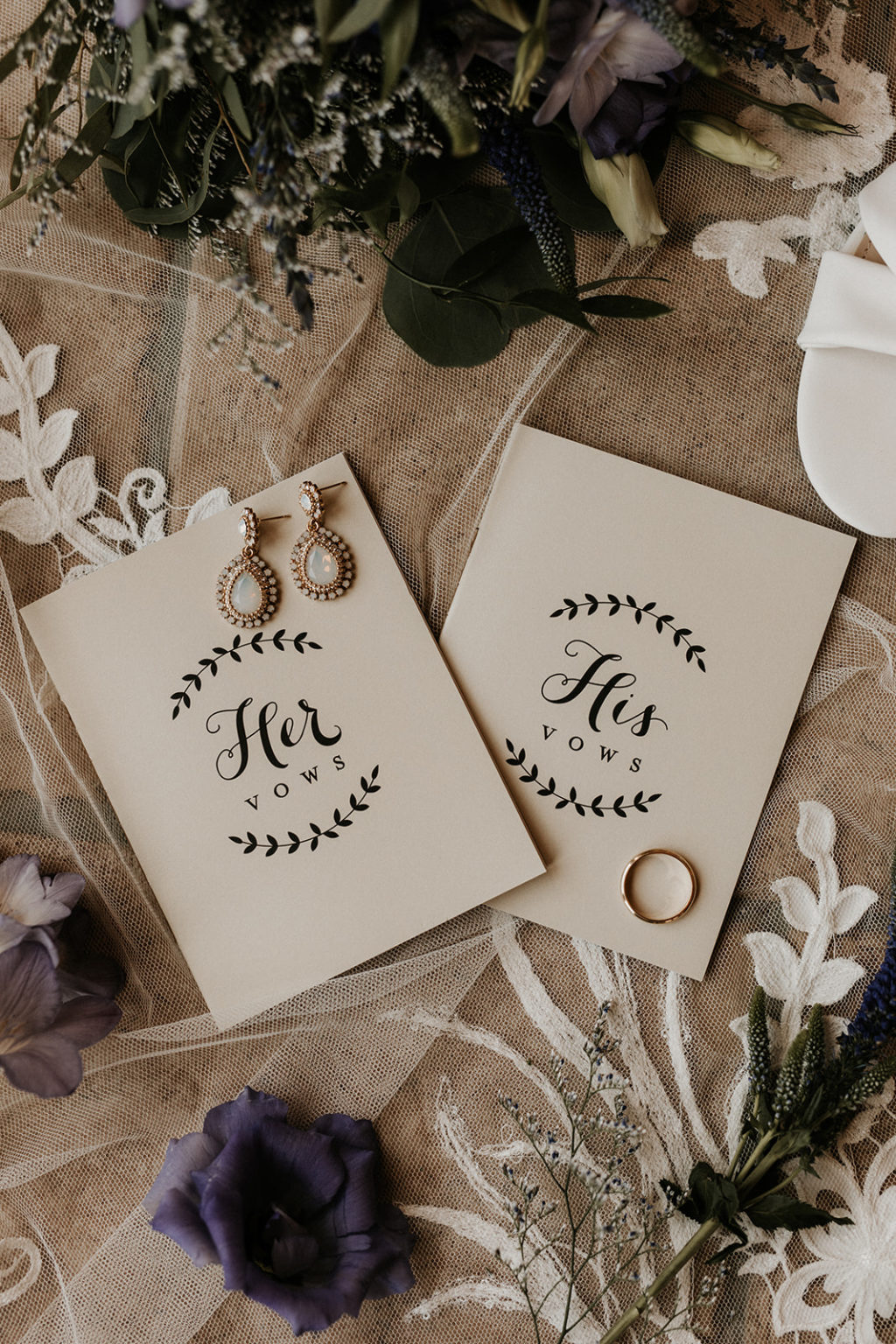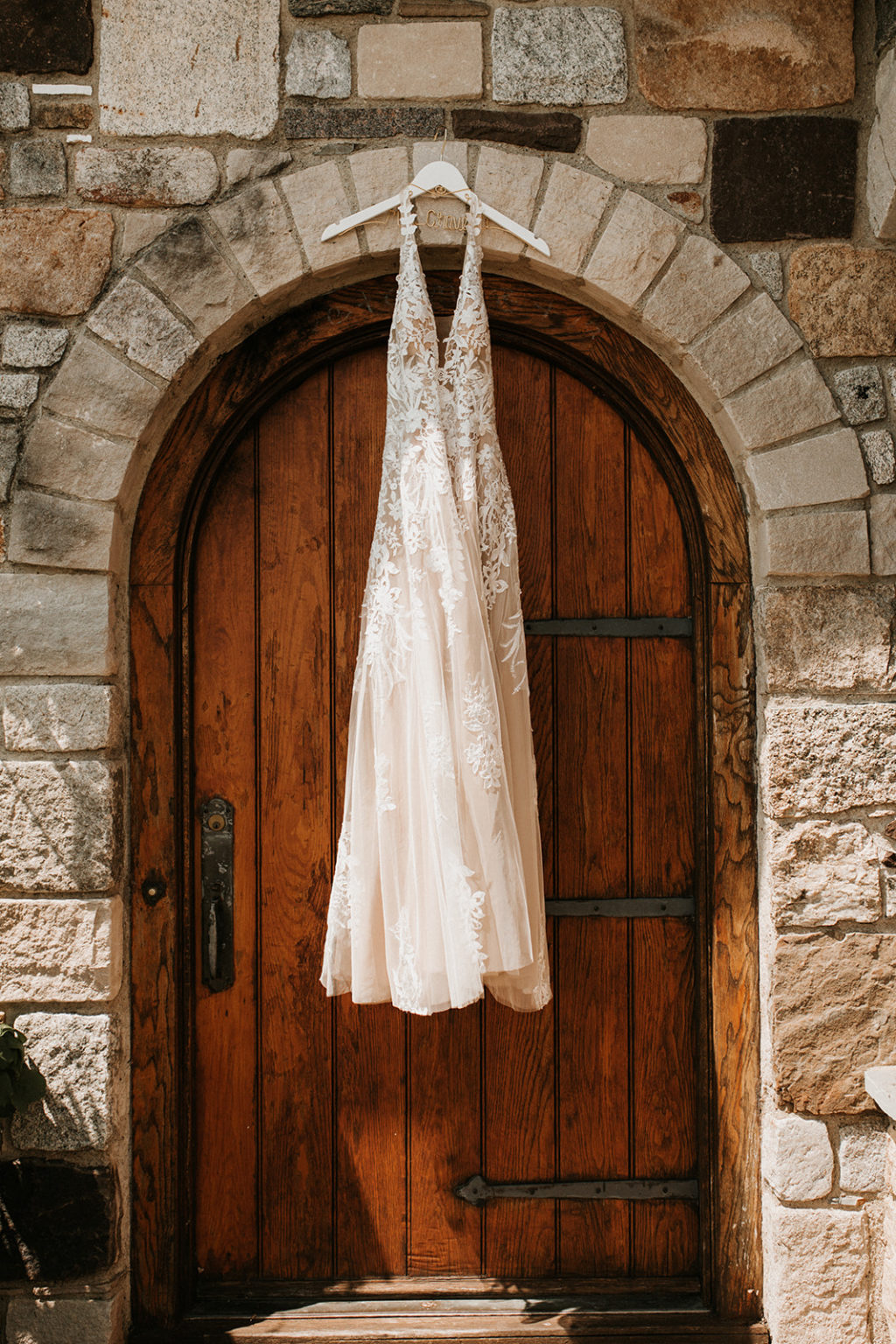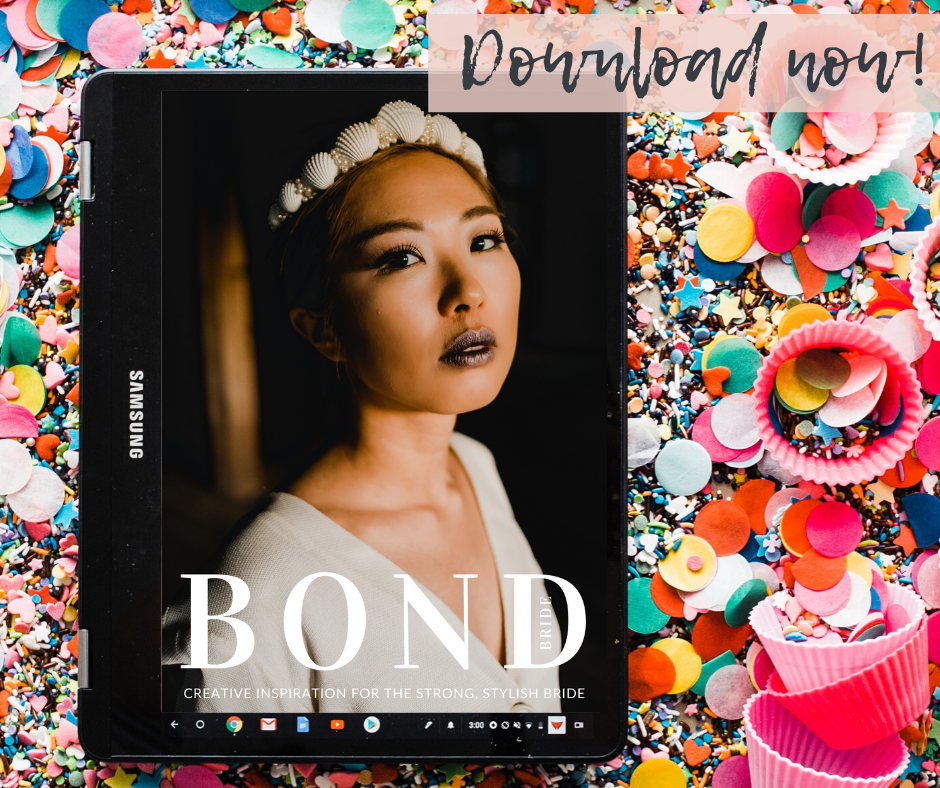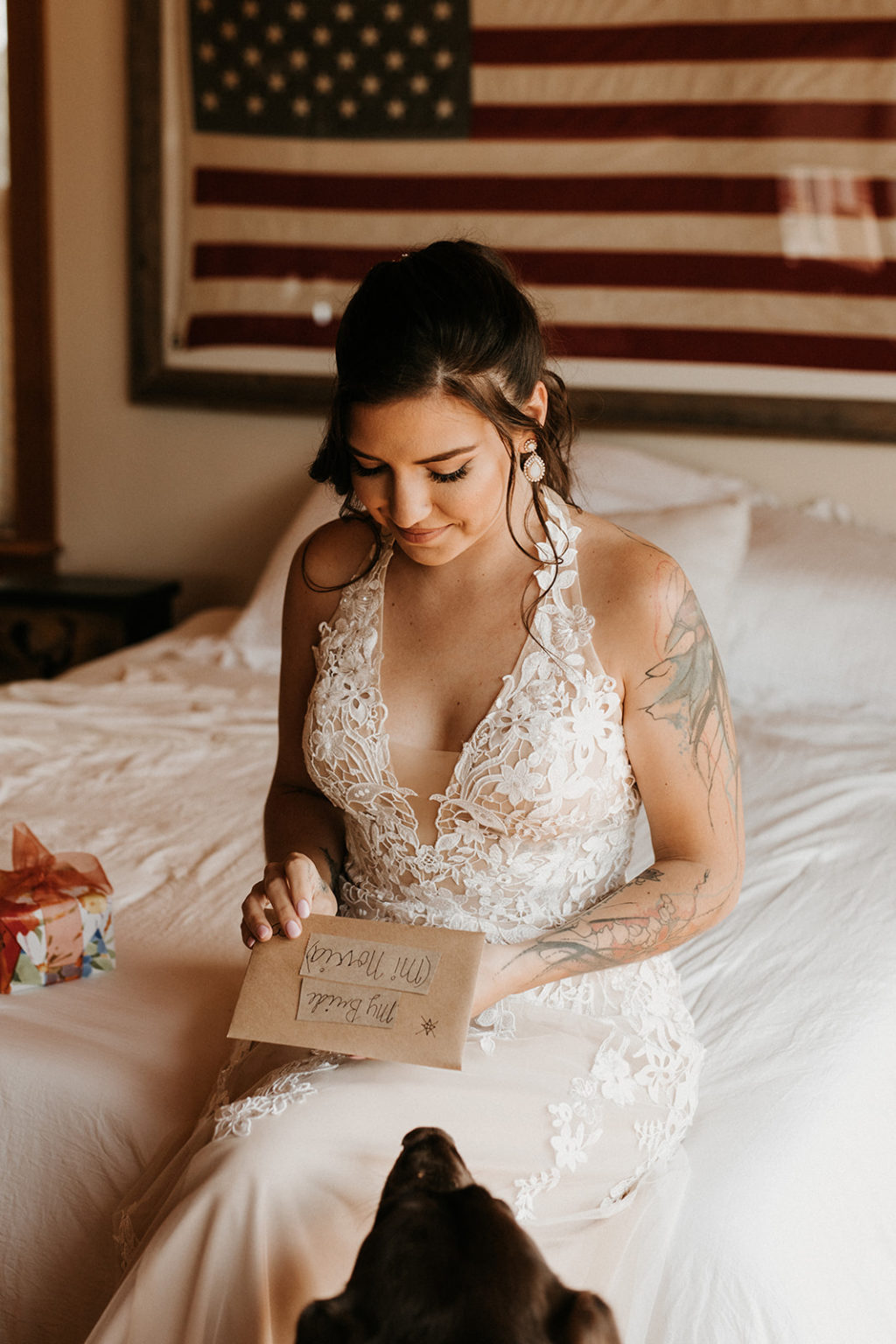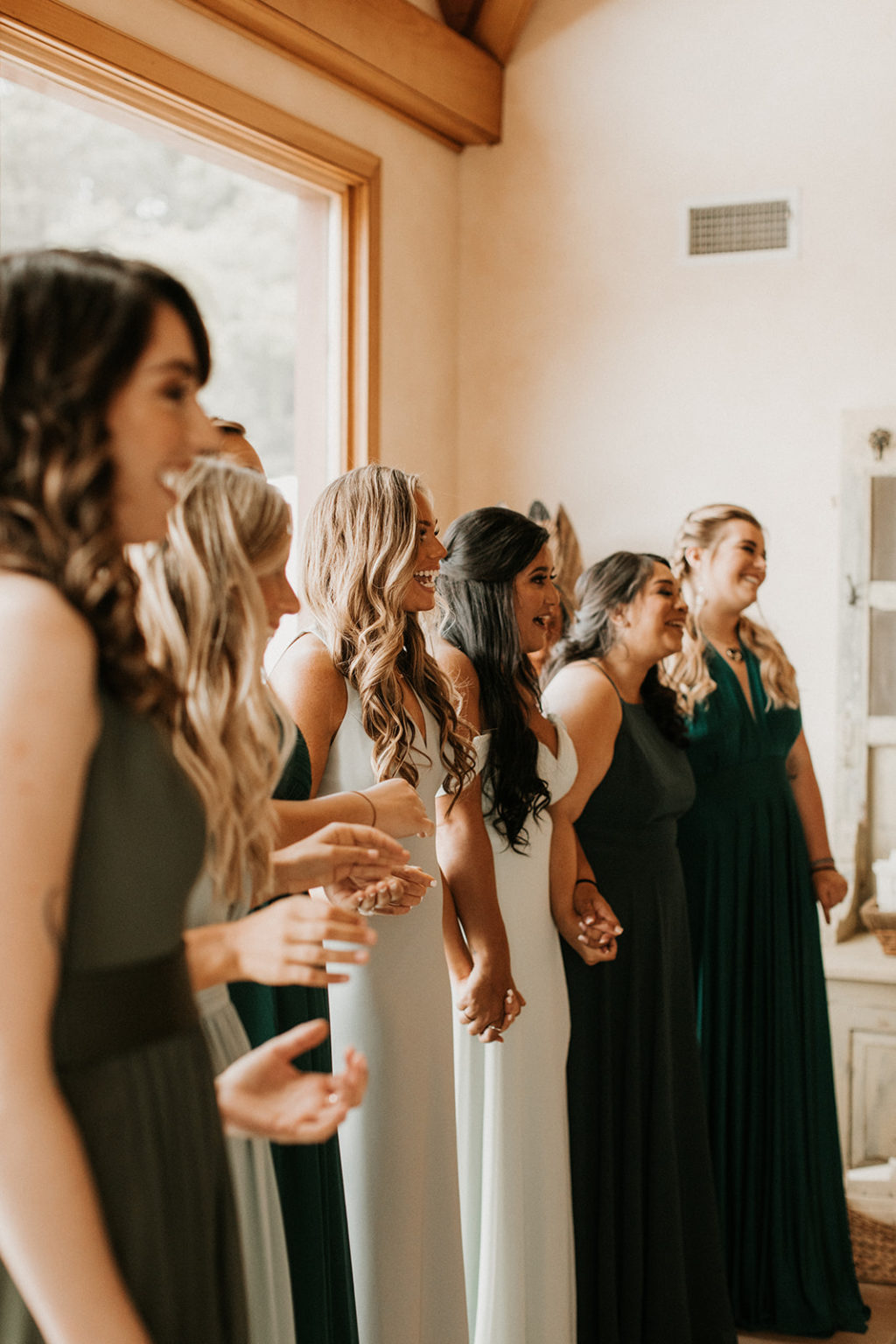 The Proposal
"Our proposal was totally representative of our relationship. By the night he proposed, we had already been talking about spending our lives together. We went out to a fancy vegan restaurant in NYC, Ladybird, and Javier was acting totally strange all night. He could barely hold a conversation. We ate amazing tapas and drank delicious cocktails and once I got a bit buzzed I blurted out that I was ready to marry him already! And at that moment Javier pulled out a ring saying if you're ready then let's do it, and asked me to marry him."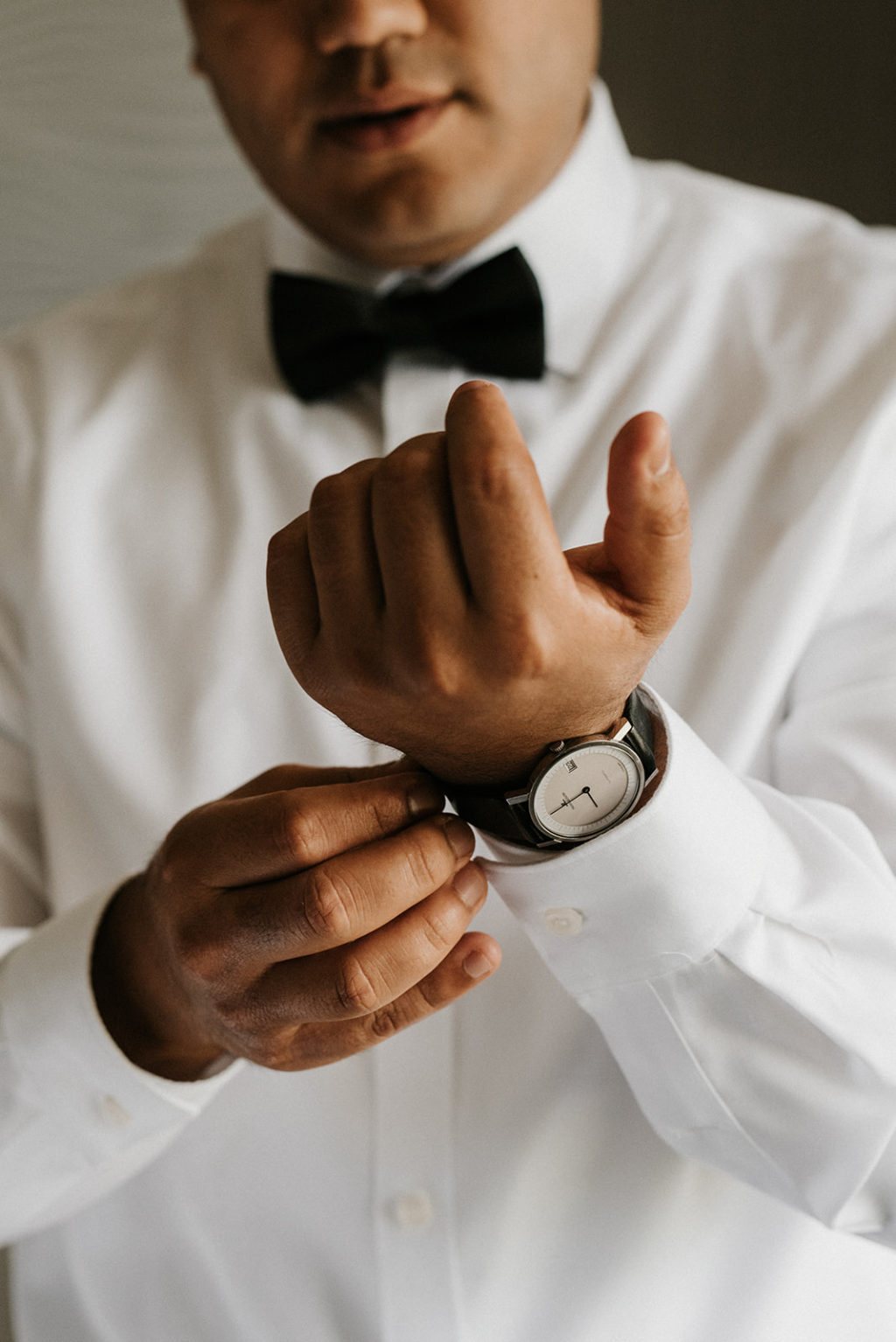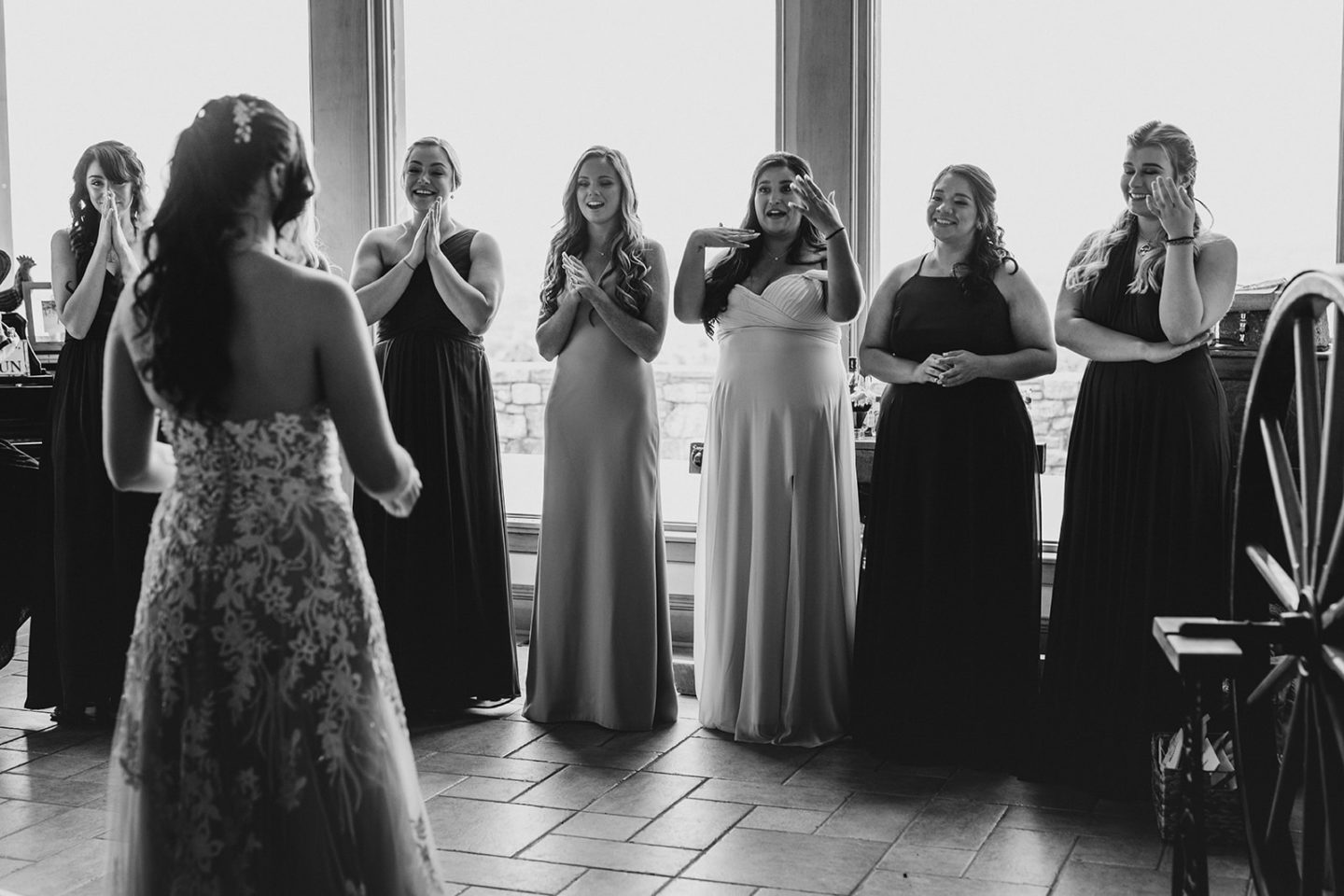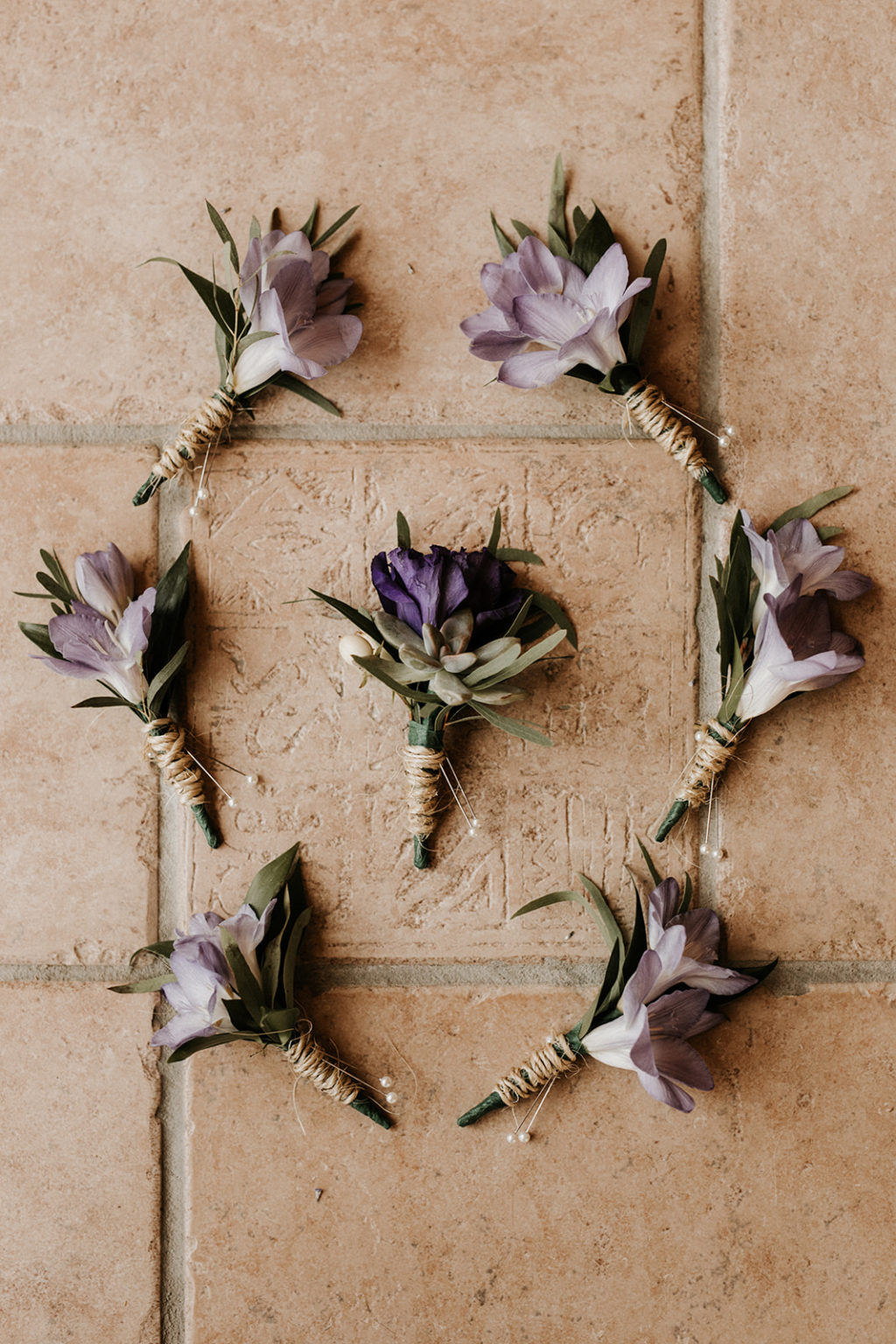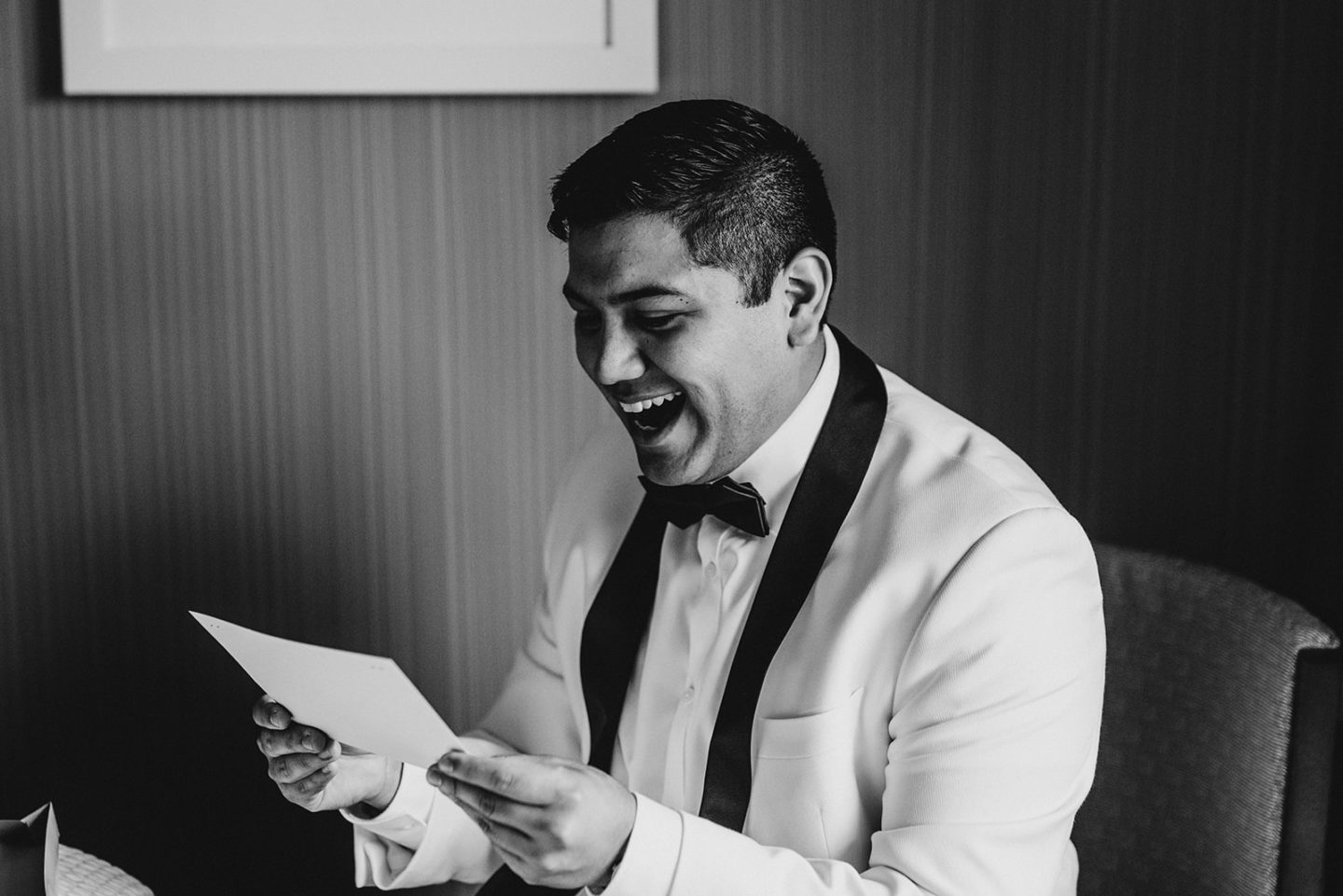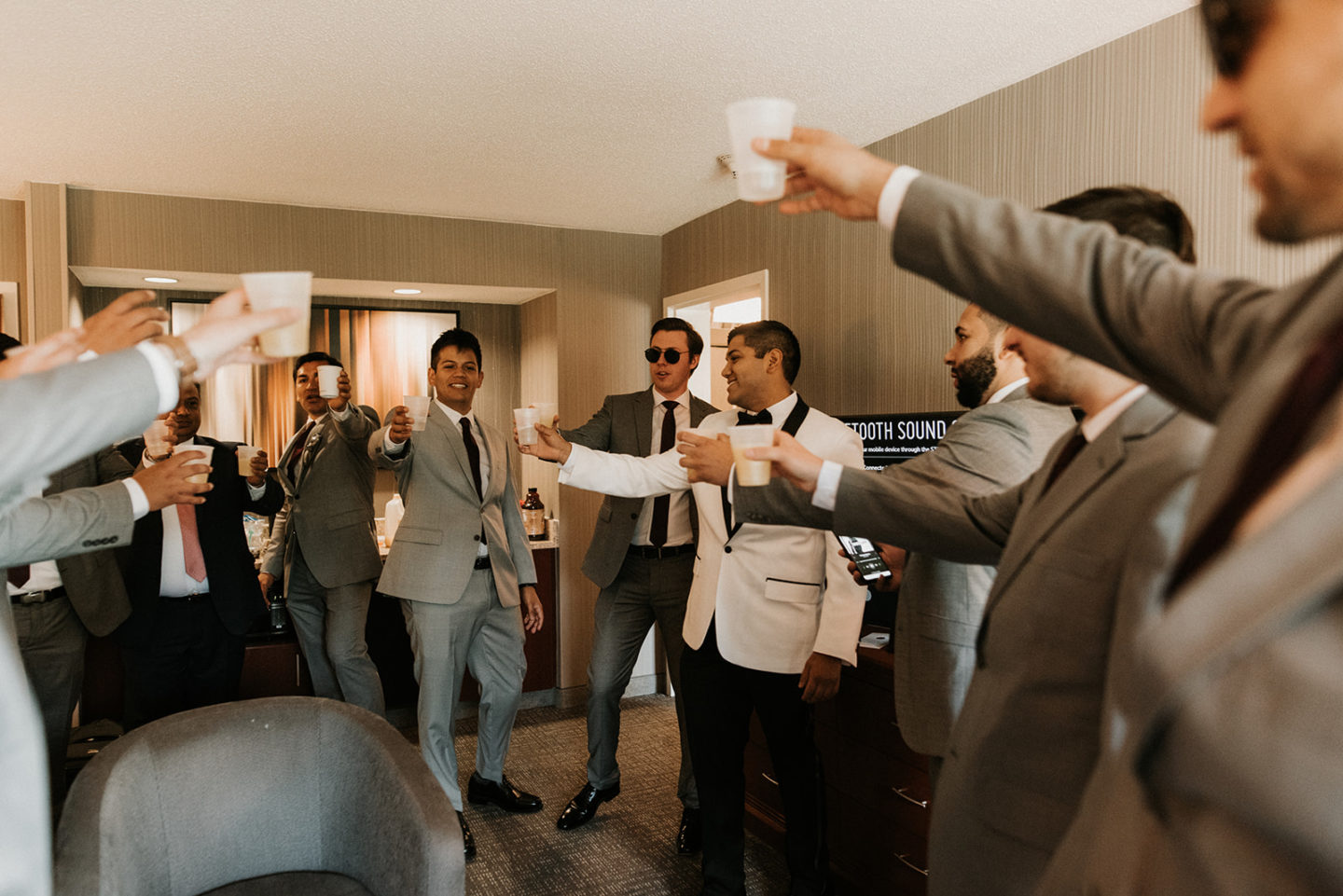 Planning The Wedding
"While planning our wedding, we knew we were going to make it entirely vegan from the food and the decor, to the favors and the clothes. We also knew we wanted something more laid back and earthy, to share with our loved ones our true personalities in our relationship. It was challenging finding a caterer that we felt would really impress our (mostly meat eating) family and friends, but we ended up finding someone who made incredible food! Everyone really seemed to rave about our whole wedding, and I think it's because it truly reflected our relationship."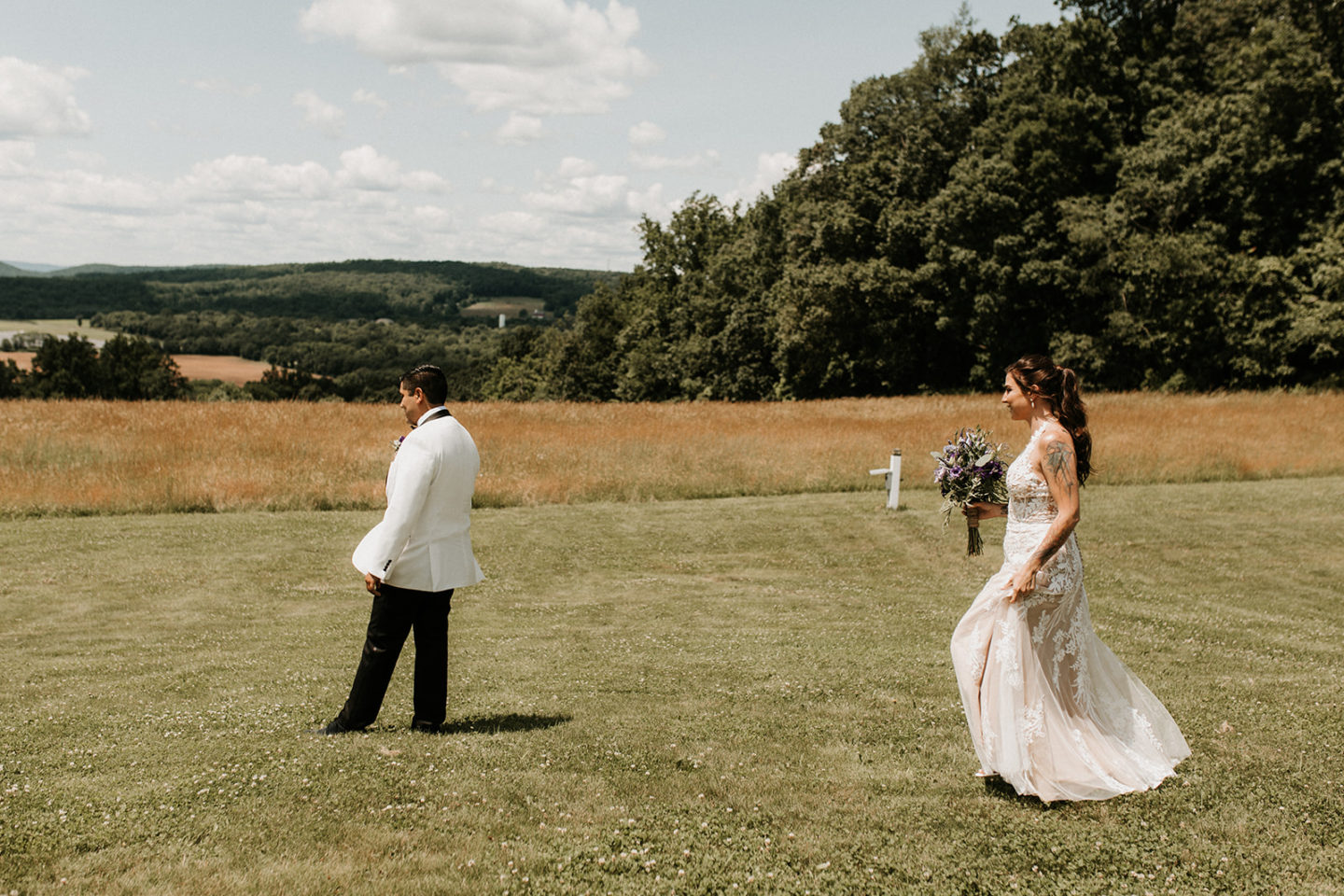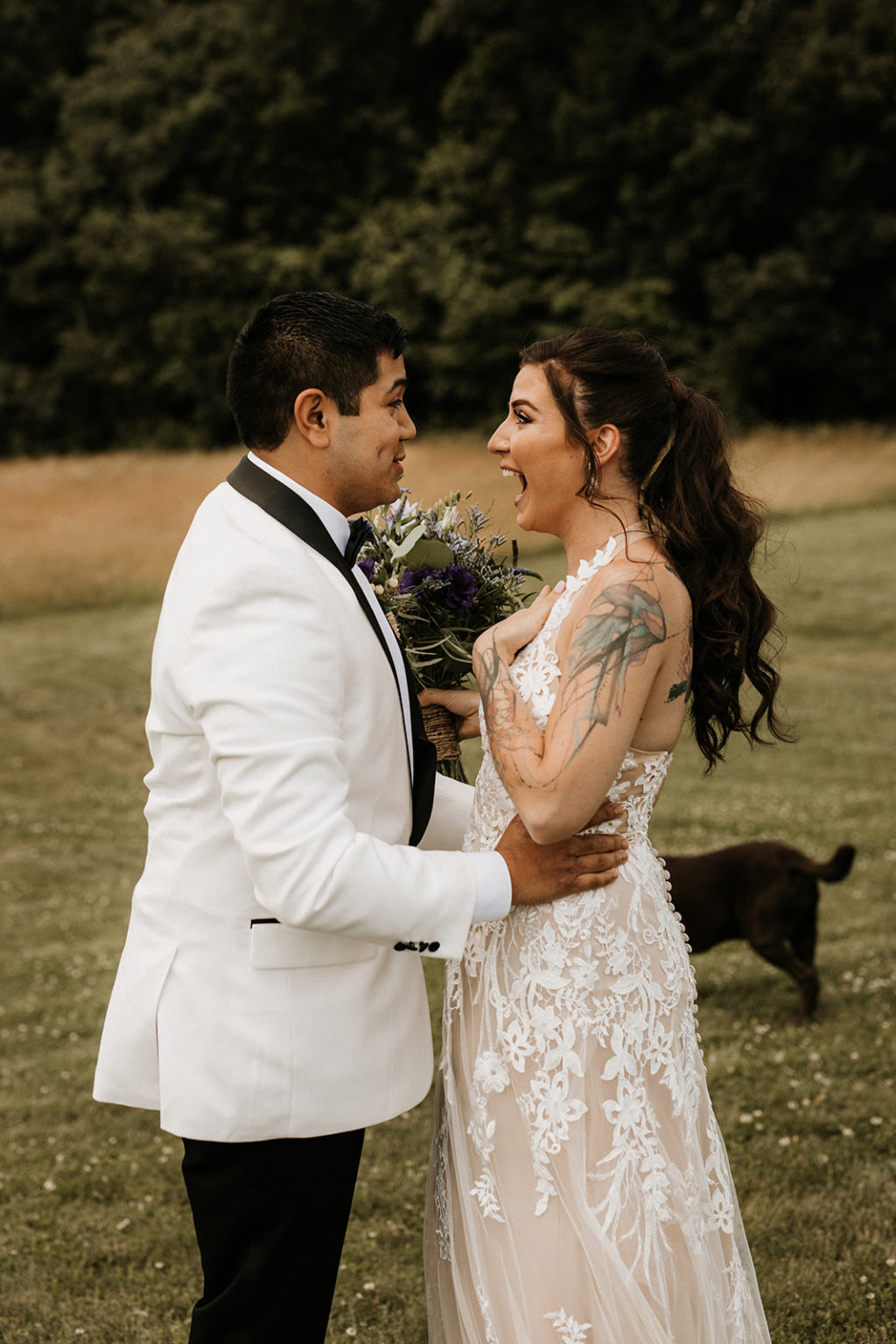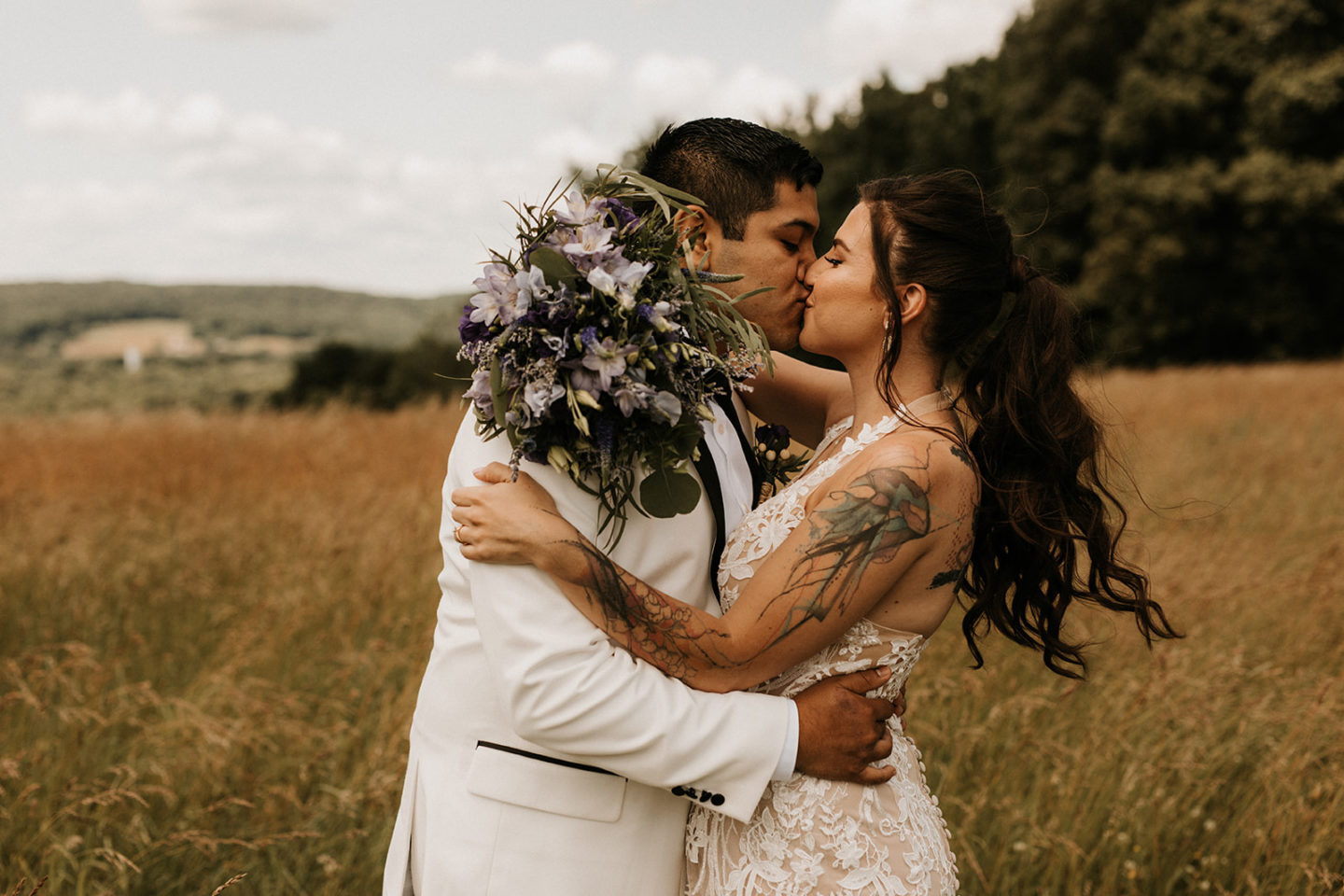 The Location
"We got married at Born To Run Farm in Glen Gardner NJ. It's a horse farm (I think) turned animal sanctuary where cows, pigs, sheep's, etc. get to live out their lives in peace. It's on top of a beautiful mountain overlooking gorgeous hills and it was just the most perfect place in the world. We really didn't have a rain plan, as they don't have an indoor spot to move to, so we were lucky to be blessed with the most perfect of days on our wedding day."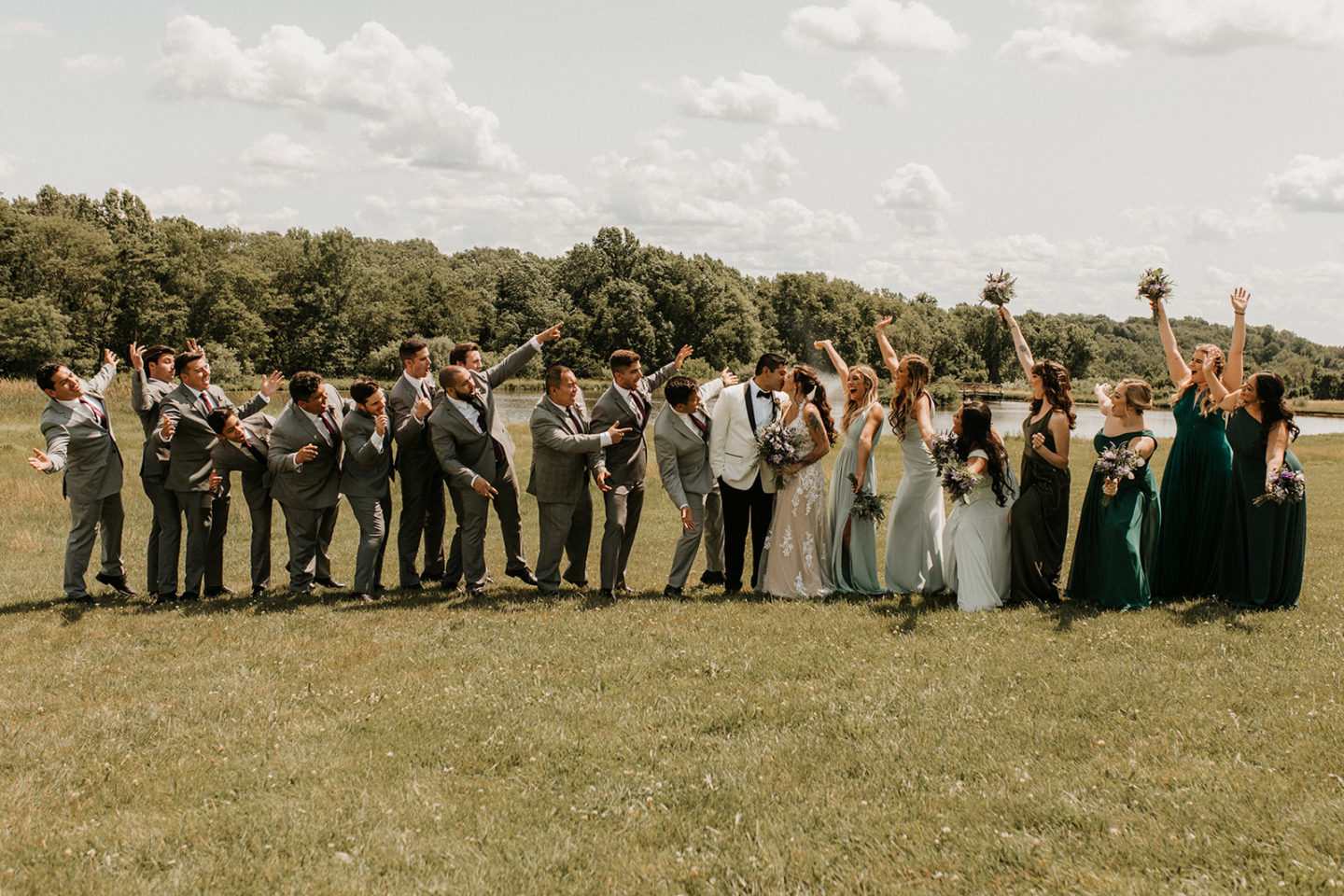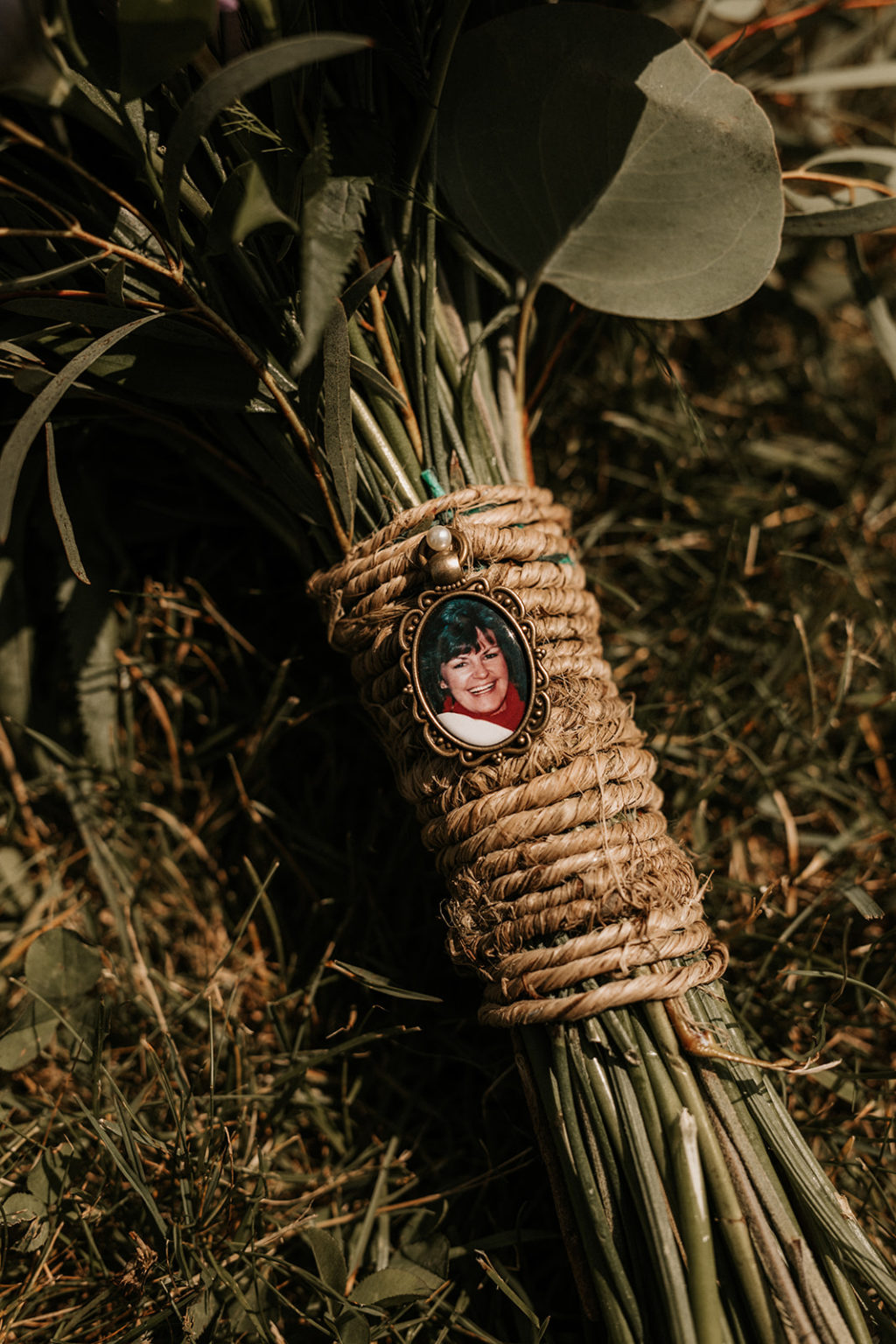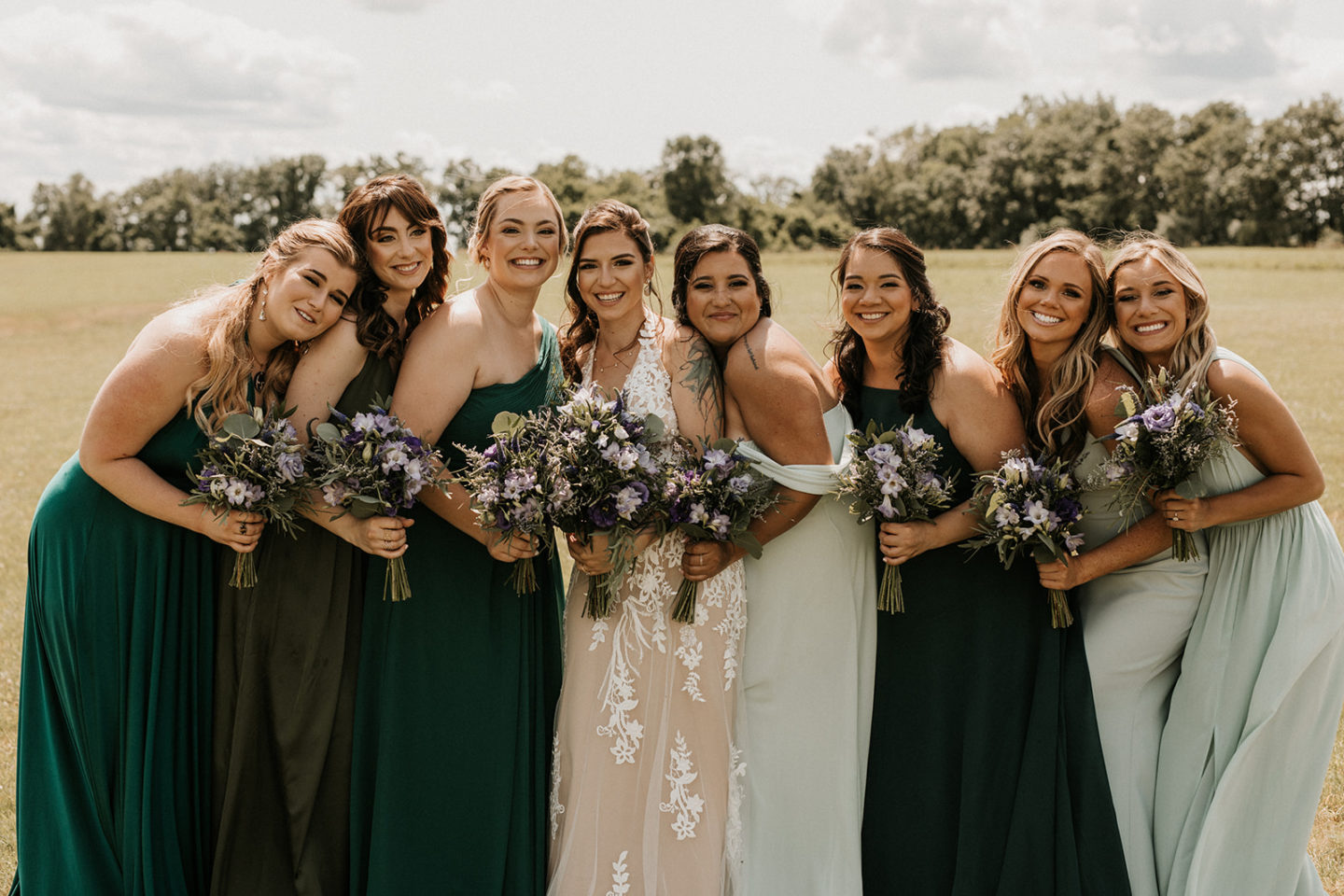 The Dress
"My gorgeous dress was from I Do I Do in Morristown. I think I tried on over 40 dresses before deciding on this one. To be honest, I never had that "this is it" moment when trying on dresses. And other brides should know if they don't either then that's okay. Not everything is fairytales and romance movies. When it came down to it, I was between two dresses and the one I picked was the one that I could get in time for my wedding- and it was perfect!"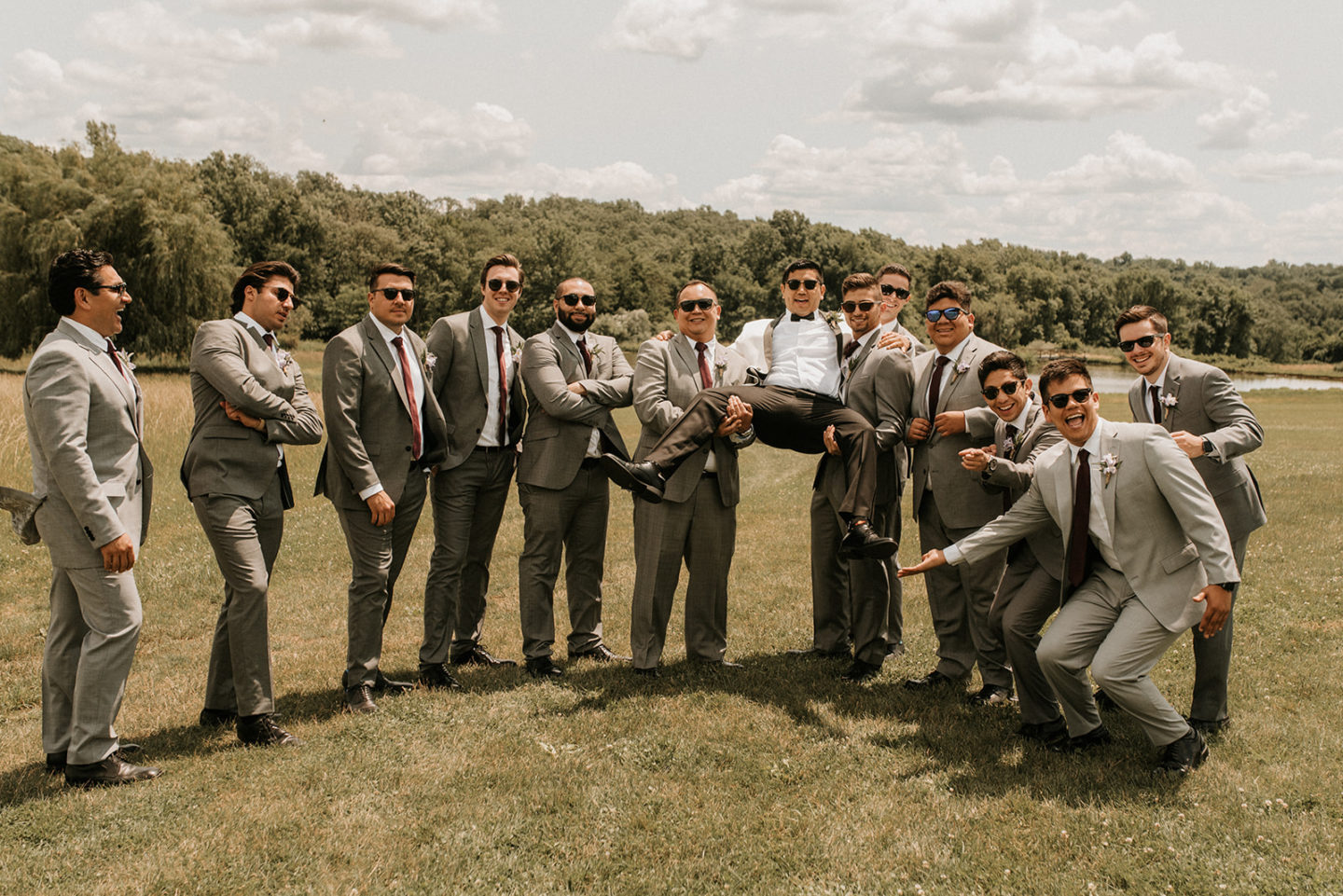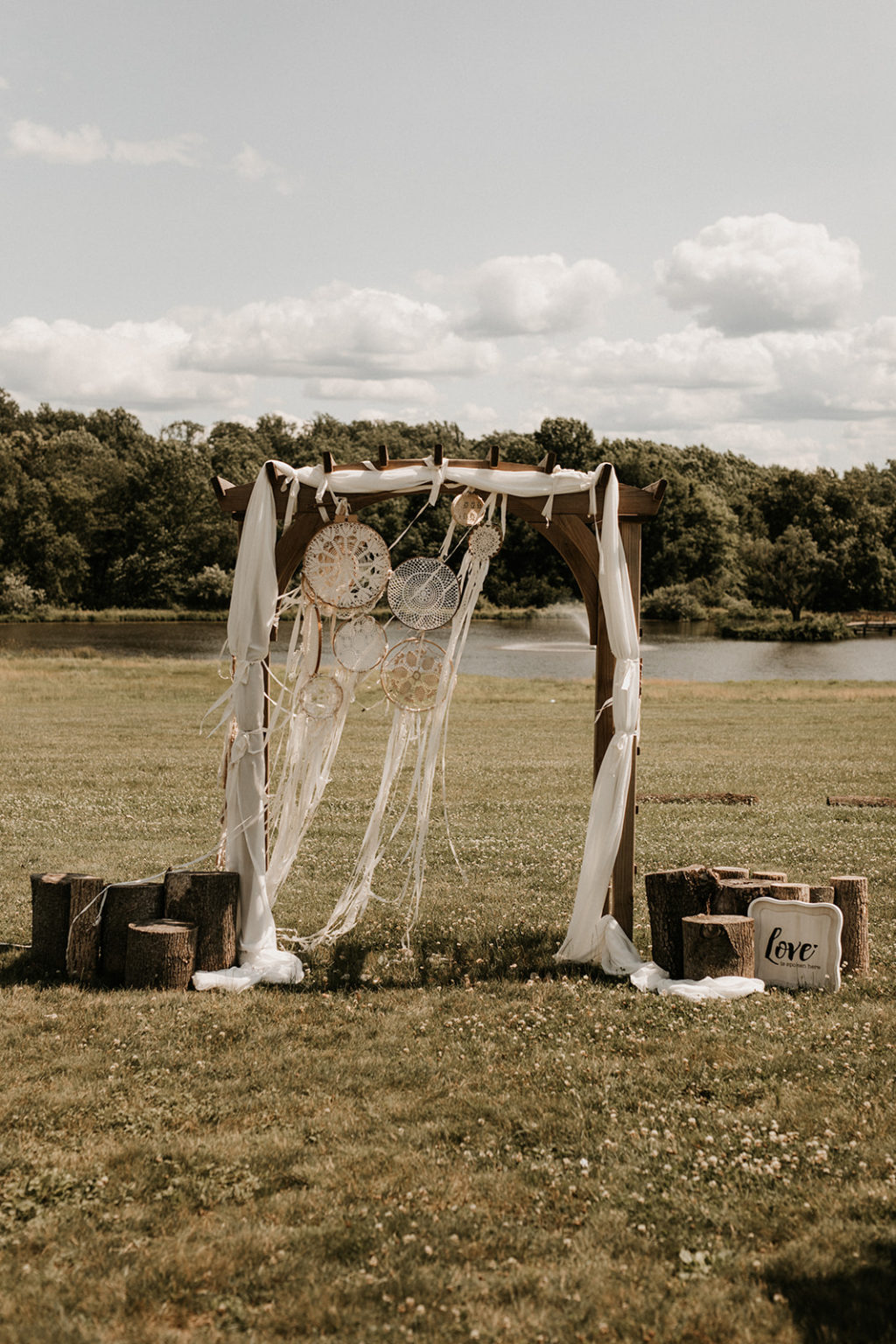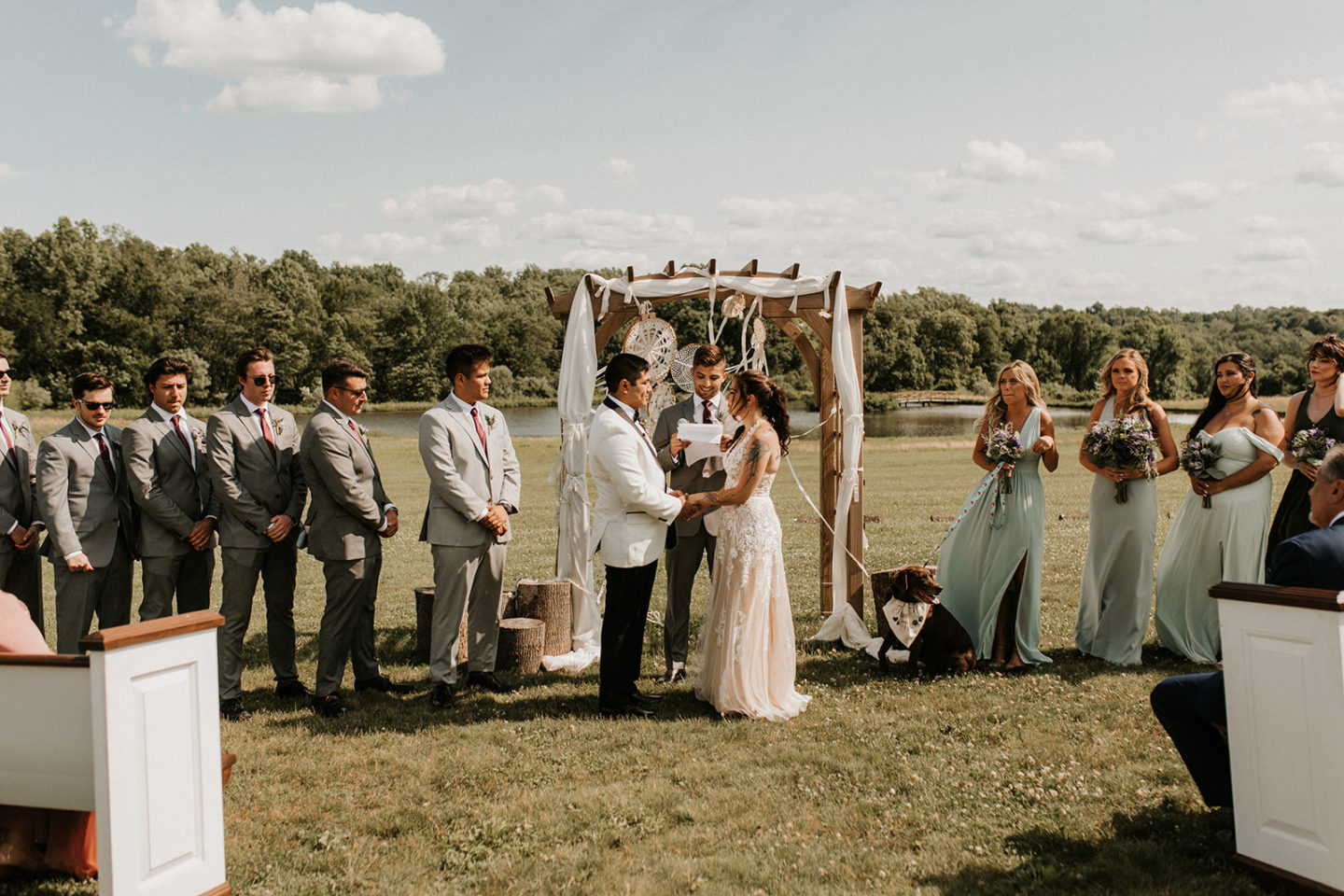 The Suit
"Javiers suit was just as difficult. Being that we wanted a wool-free vegan suit, we had to search tons of stores to find the perfect suit. We actually bought a cheaper, poorly made tuxedo from a store at the mall because we felt we had no where else to turn. When we were going to get his suit tailored, we ended up stopping at Lord & Taylor's and at the entrance was this white Tux that just happened to be vegan. He decided to try it on and it was absolutely perfect. We returned the other one and with two months left before our wedding he finally found his suit."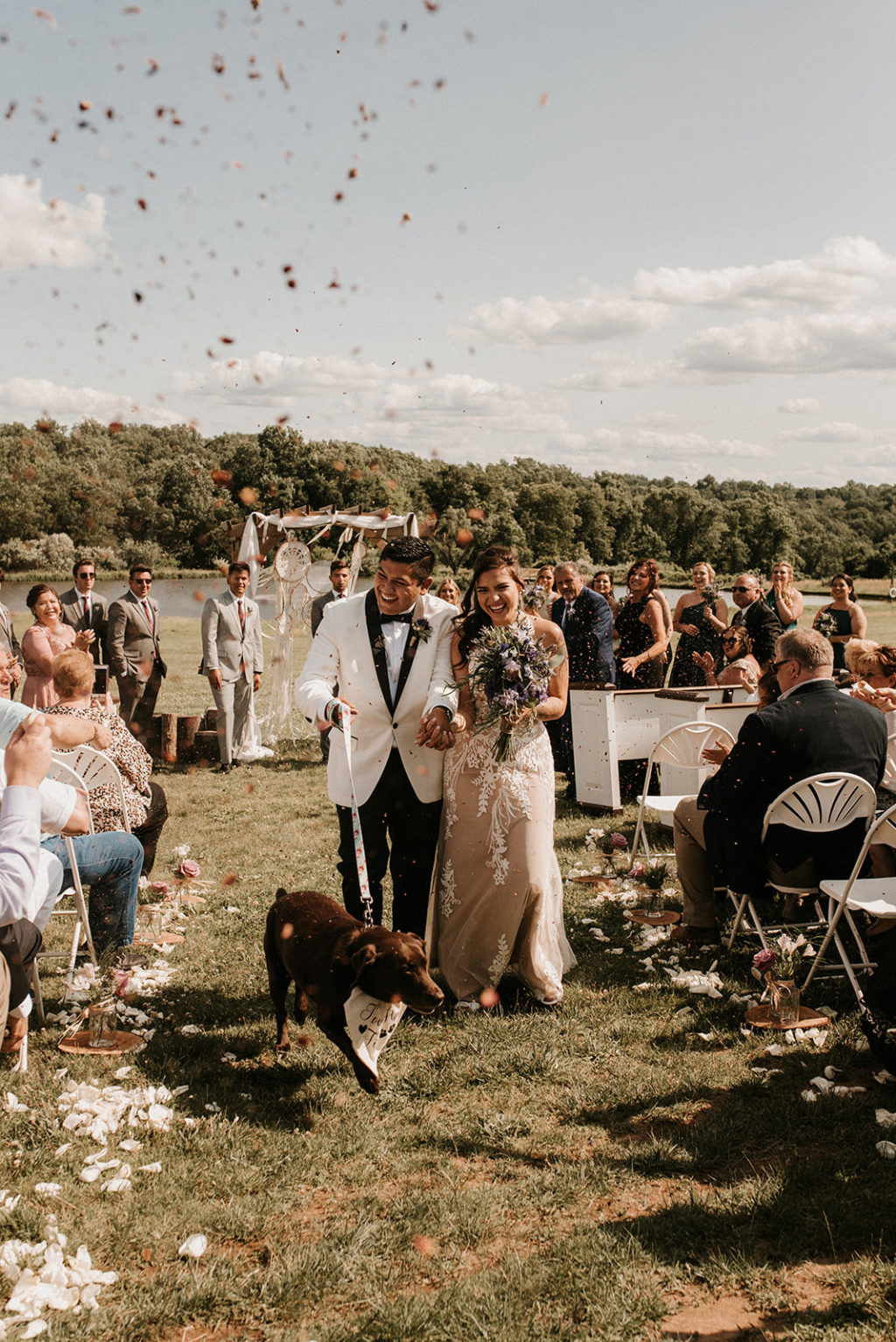 The Bridesmaids
"My bridesmaids consisted of my best friends and family. I really wanted them to be able to feel confident and free to express themselves, so I gave them "guidelines" on dress colors and let them take it from there! They were super helpful and excited for me during the whole process and I am just so grateful to have had all of them by my side during this crazy stressful beautiful experience."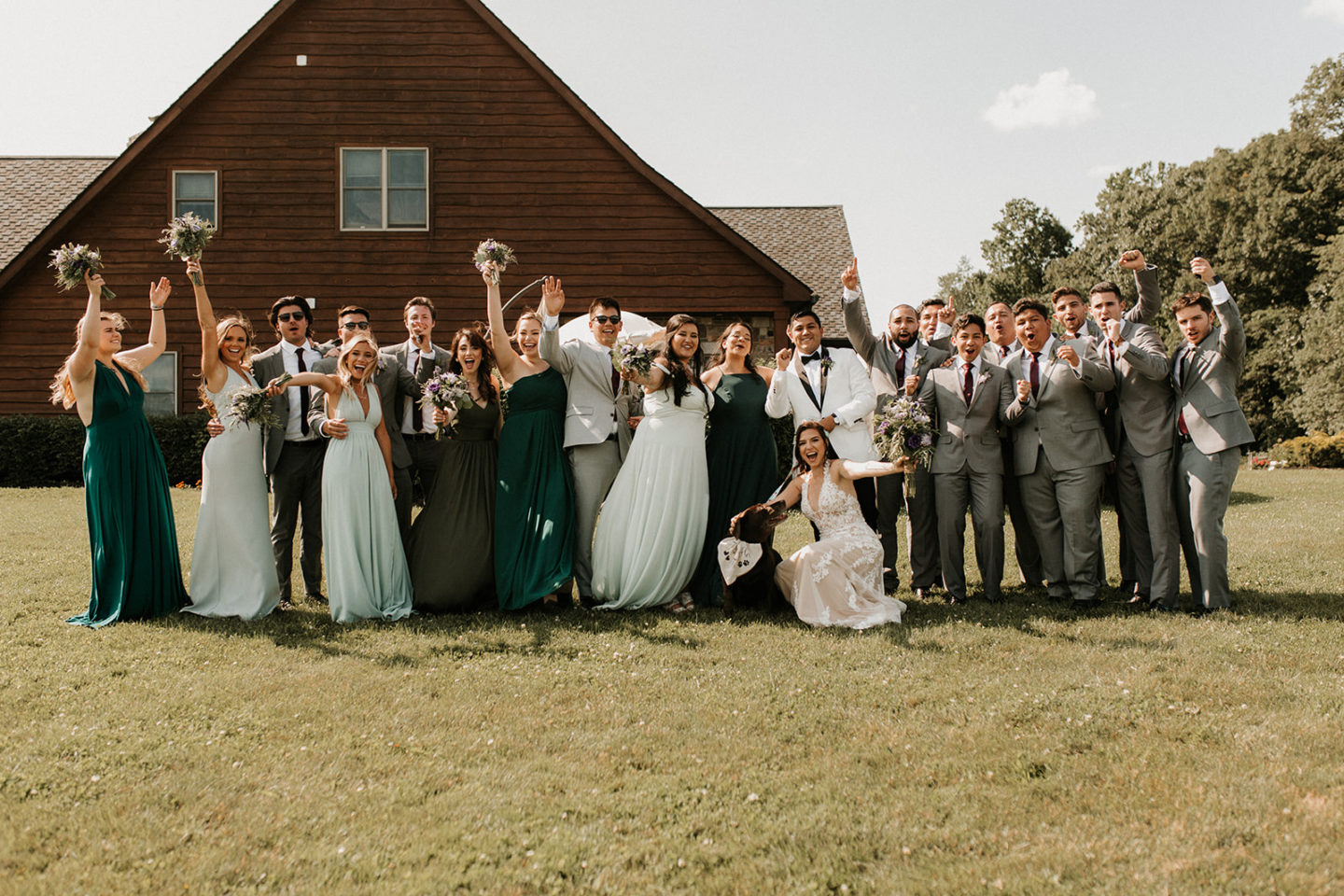 The Details
"While planning the wedding, the little details seemed overwhelmingly important. But the truth is, when the day was over with all I remembered was the laughter and the love and the spilled drinks on the dance floor. Looking at our photos and videos, I realized that a lot of the things I wanted and told my planner to set up never actually got done that way- and it was completely perfect anyway. I wish I had listened to the people that told me to not sweat the small things. We opted out of a cake, and instead had a whole table of different vegan desserts, because I'm really not a cake person and we decided we'd rather spend the money on tons of sweets than on a cake I'd never eat!"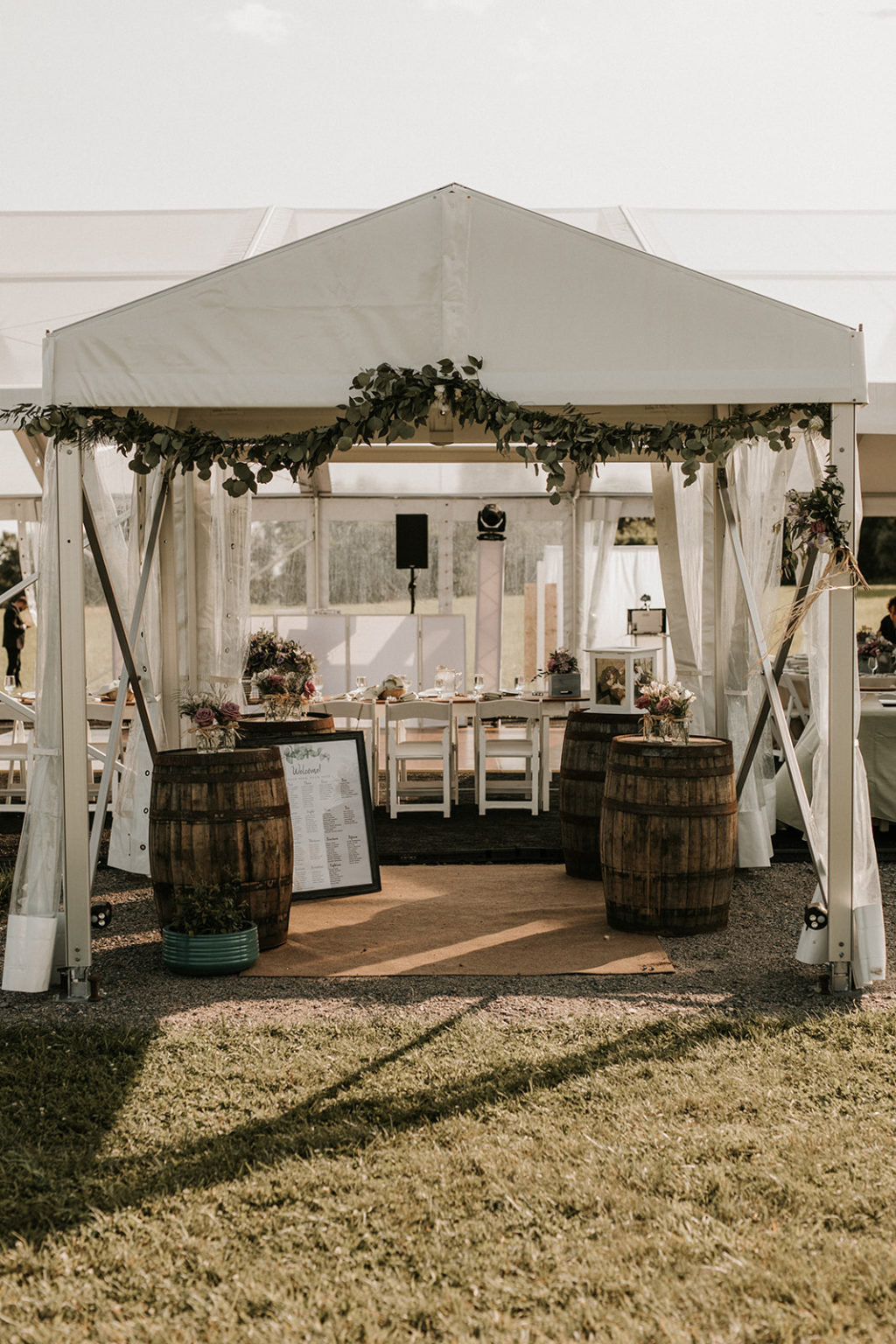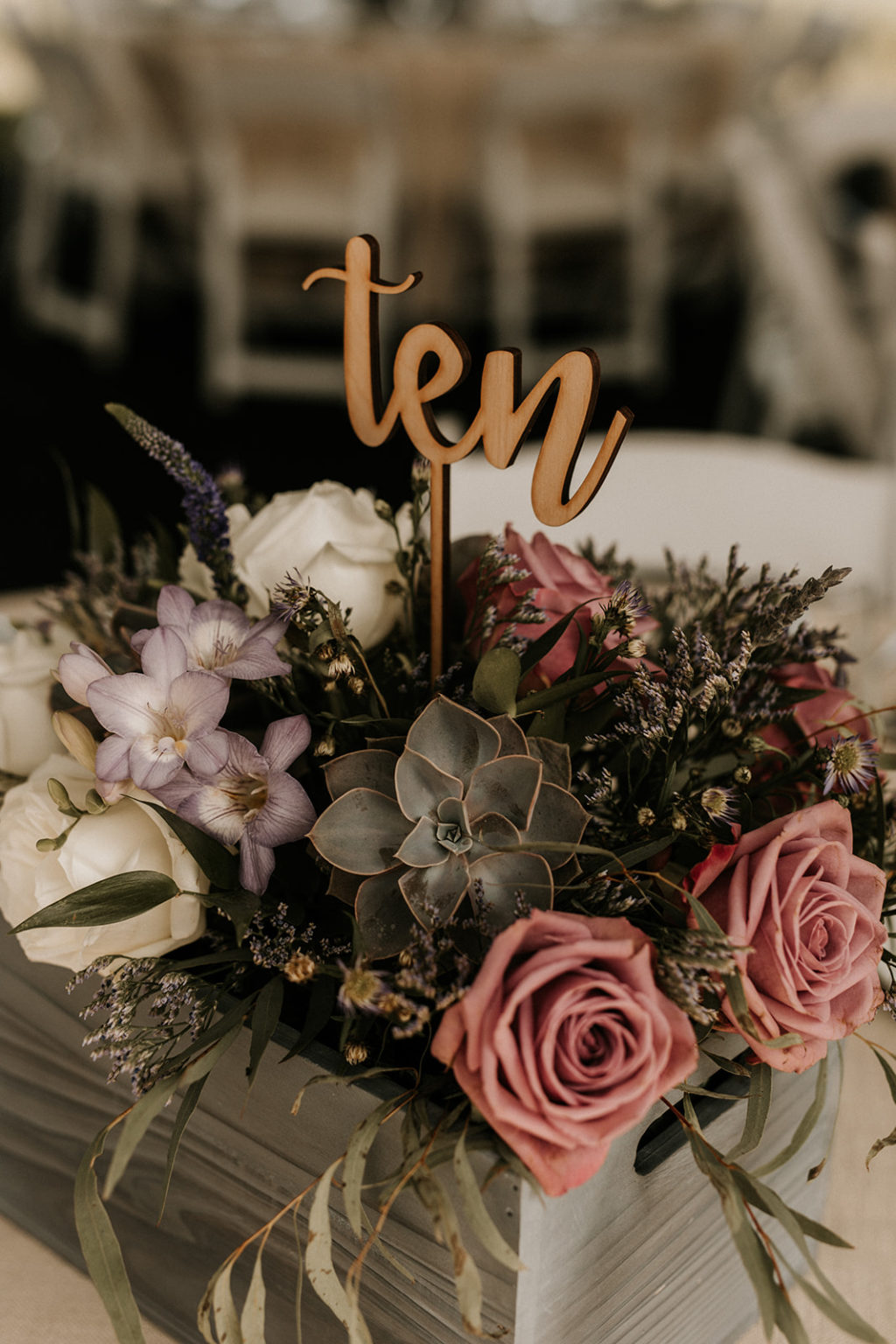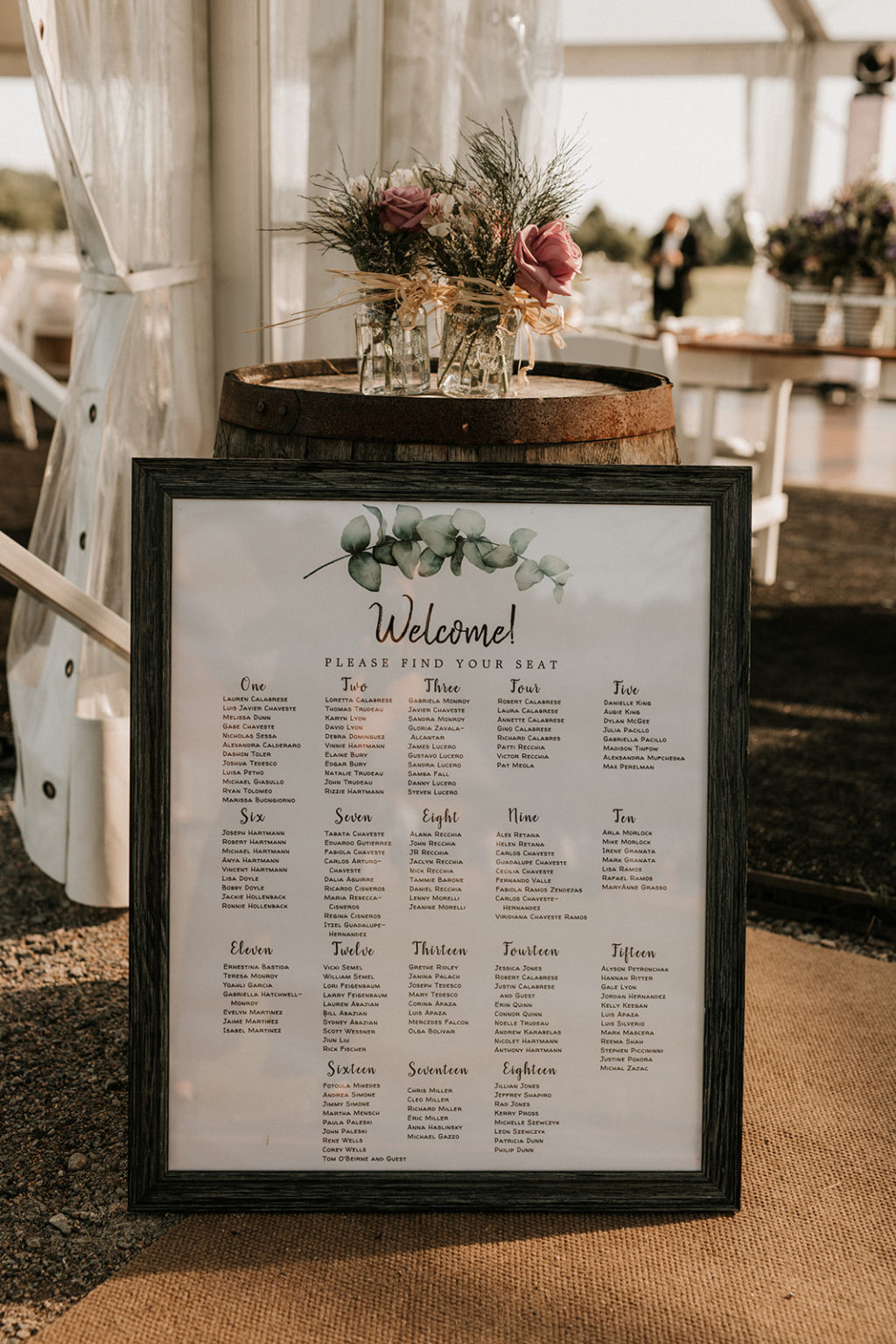 Any Ethical or Sustainable Wedding Elements?
"The whole wedding was vegan from start to finish. We are ethical vegans and it was really important that on our big day we got to share this part of our lives with our loved ones in a sustainable wedding. We got some push back because of it, but at the end of the day people raved about the food, and we didn't have to compromise our ethics or morals for our perfect day."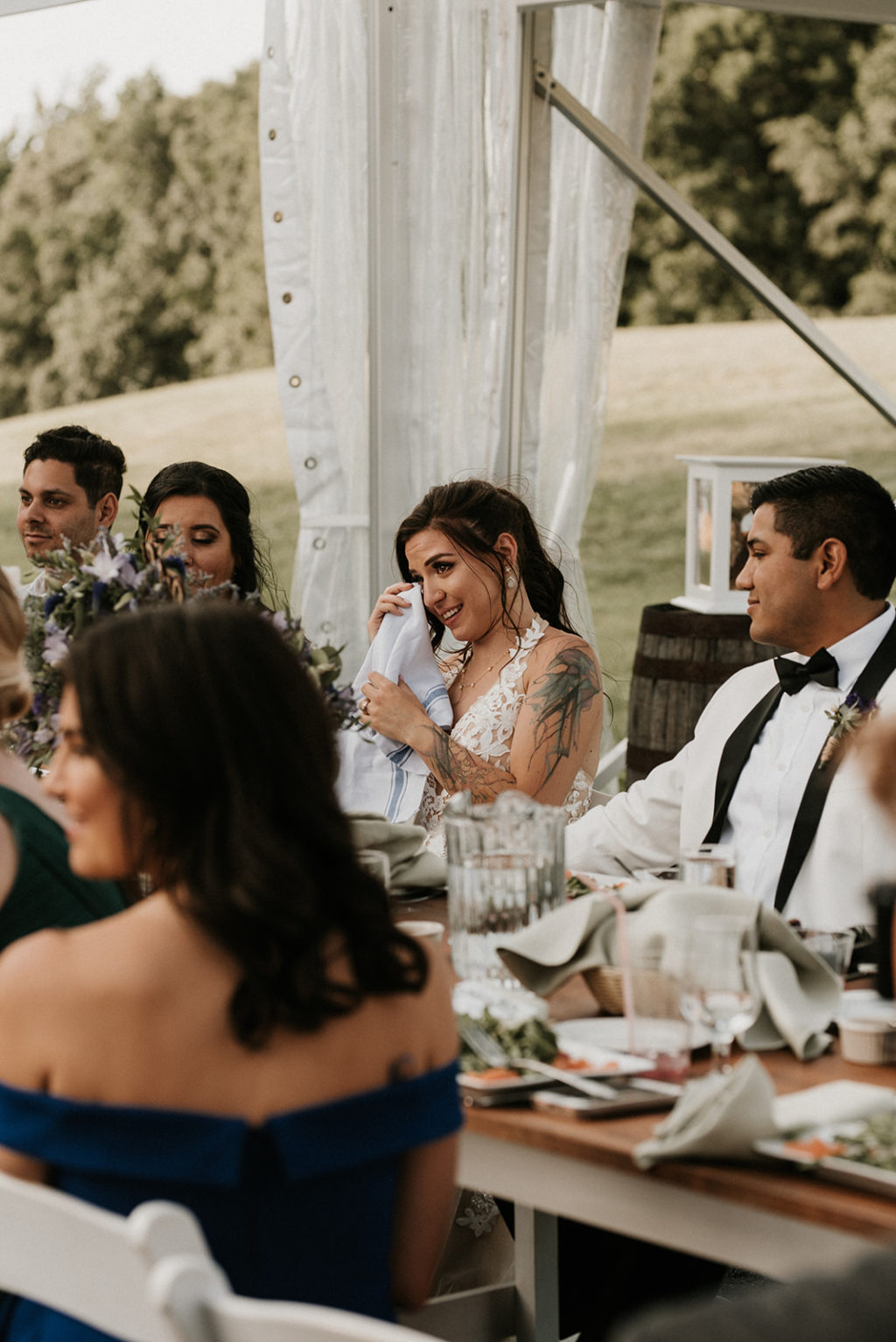 The Best Part of the Day
"The best part of the day is hard to pinpoint. Was it walking with my baby girl (dog daisy) down the aisle to my future husband? Javier lifting me in the air and kissing me after "I Do" was pretty magical. And dancing with my dad while we cried together was an emotional moment I never knew I needed. I also got to have my grandfather there (who recently passed) and he said some beautiful things to me that I'll never forget. The moments are endless, and you just can't pick one favourite."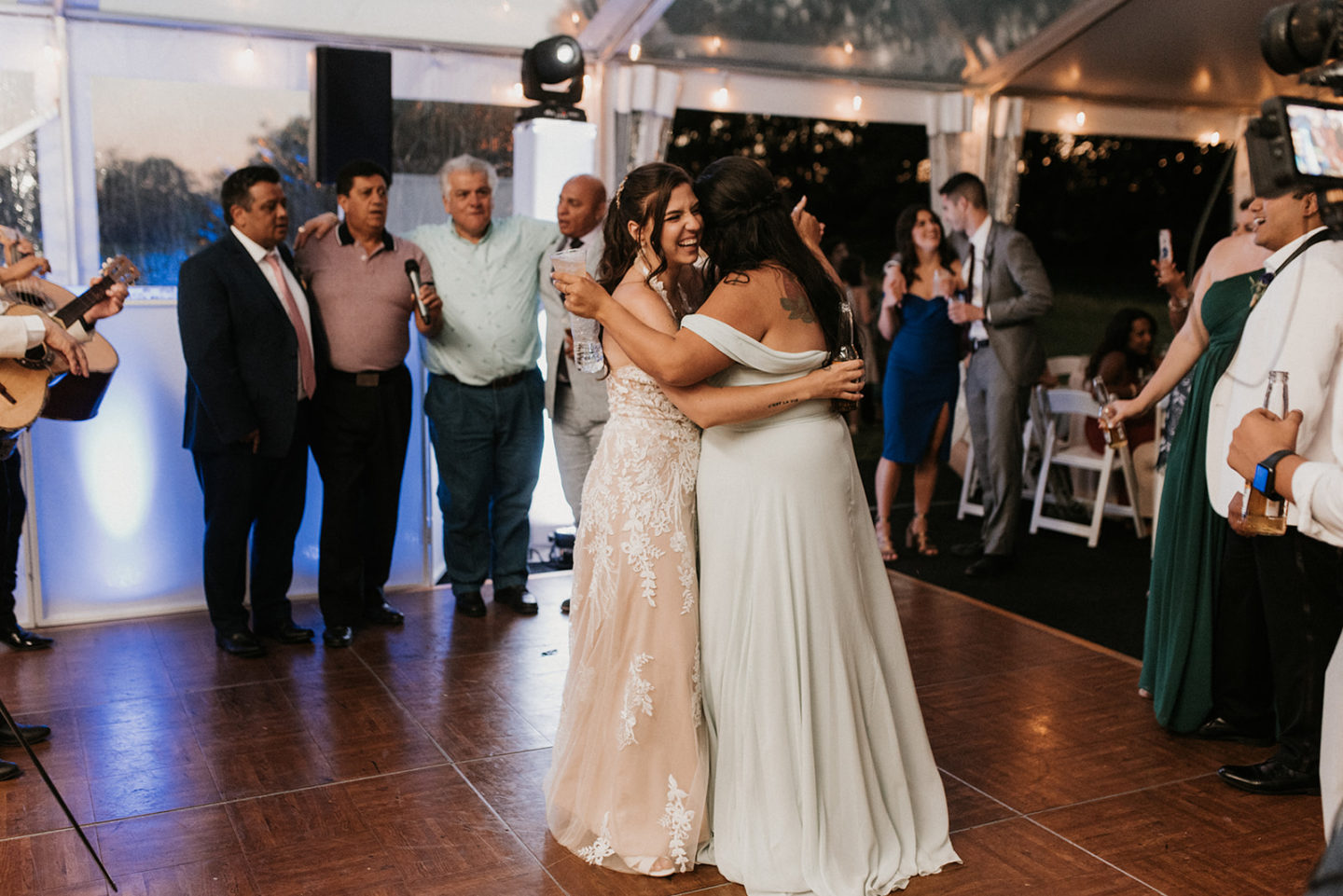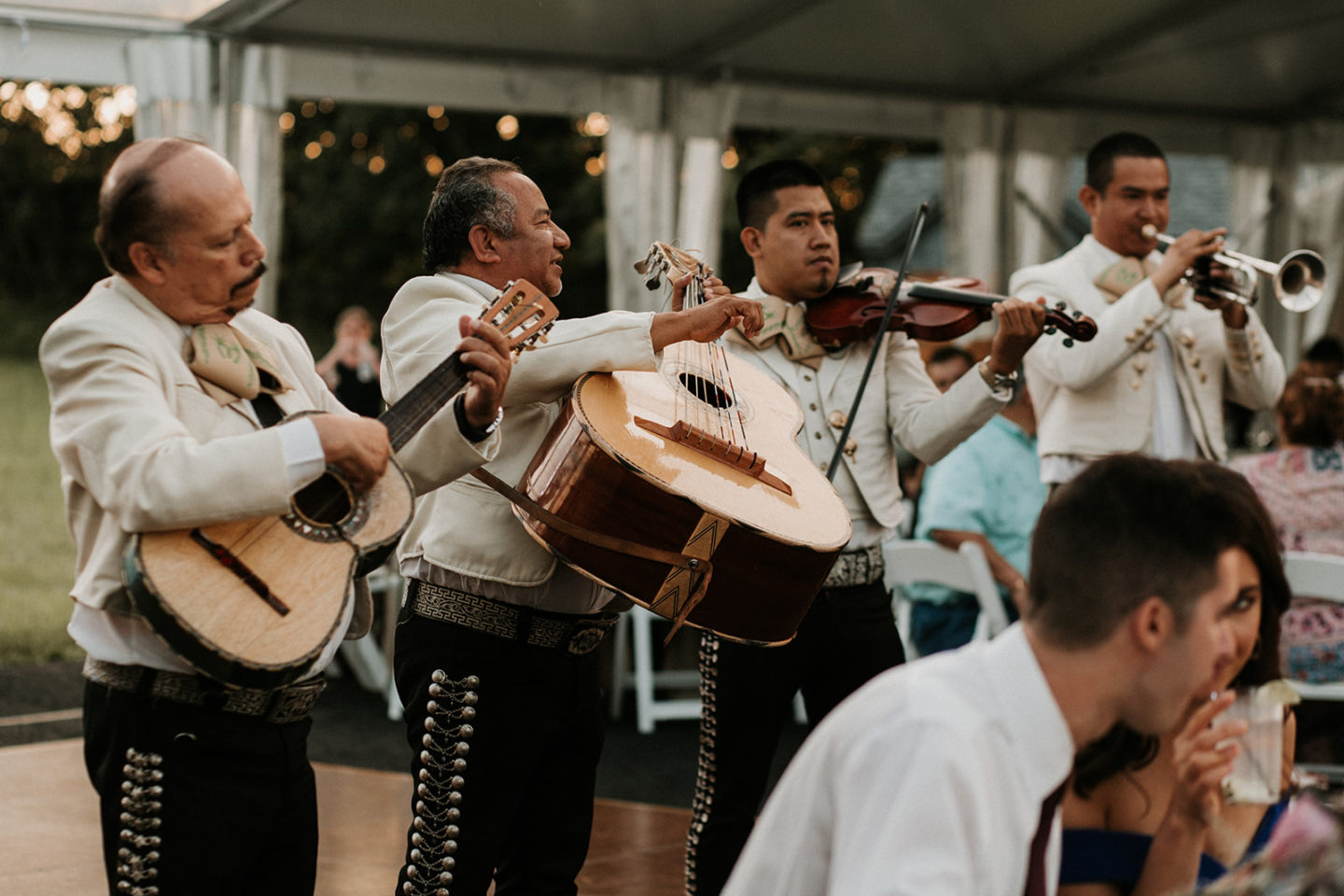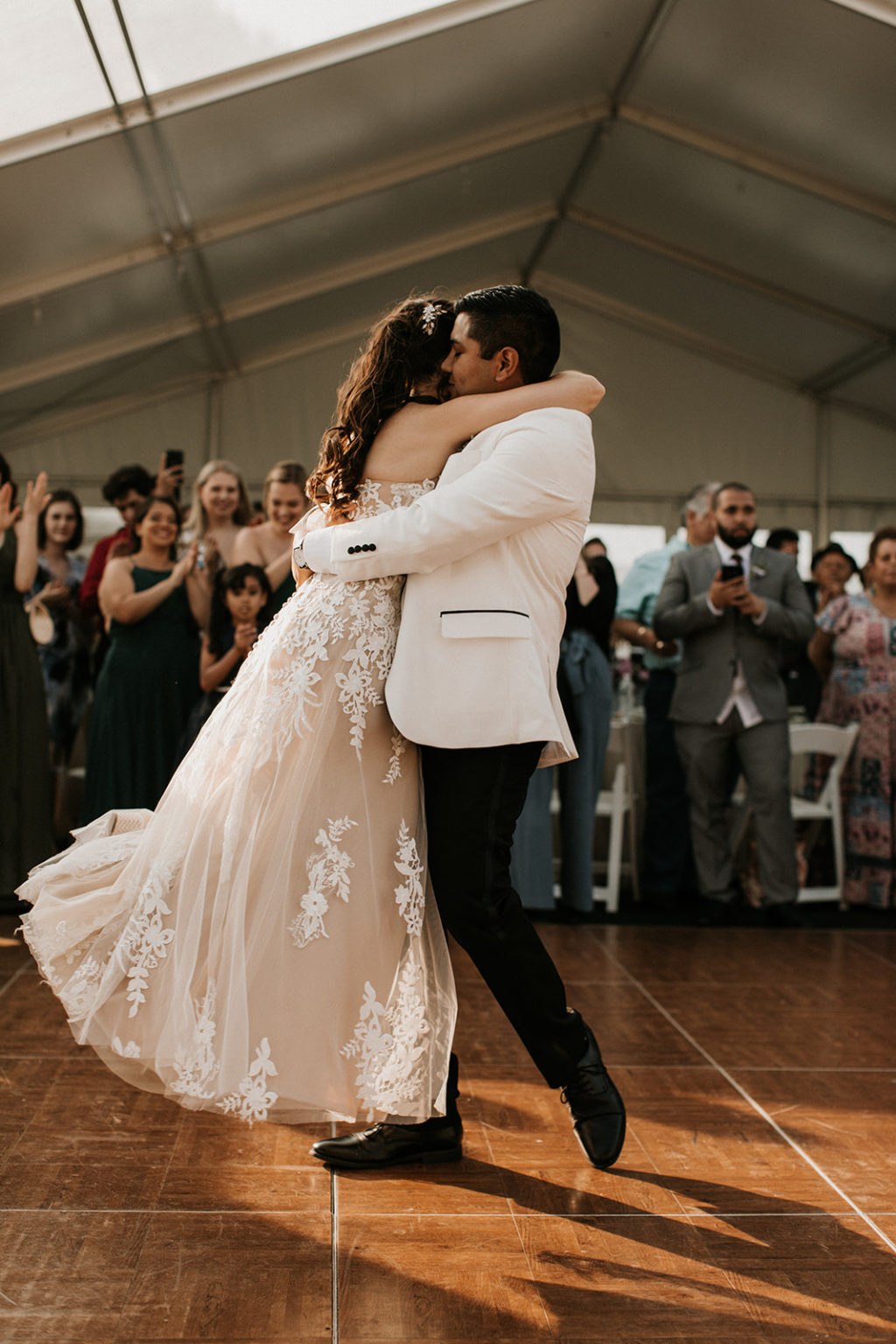 Words of Wisdom
"If I could give any advice for future brides, even though it's what everyone says, just slow down and enjoy this time. The planning could be so much fun, but also so stressful. Get help and let those helping take some of the stress so you can enjoy it. Also, please try your best to remember that even though your wedding day is one of the biggest days of your life, the people involved in your wedding have their own lives going on too- and you should not expect them to revolve all of their life plans around your wedding day in the months leading up to it. Let your wedding day and the days leading up to it be a symbol of your future marriage – loving, playful, patient, and most of all beautiful."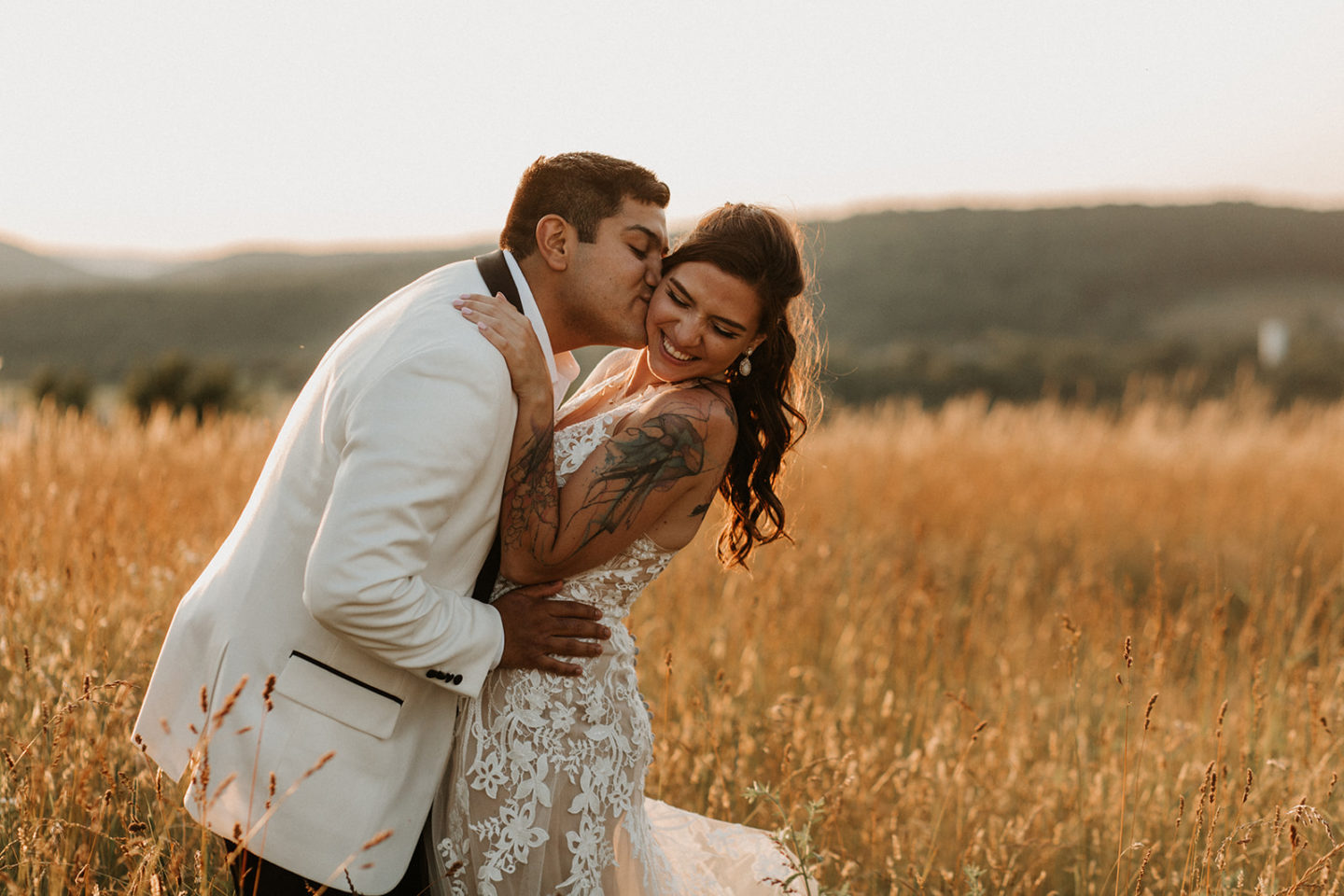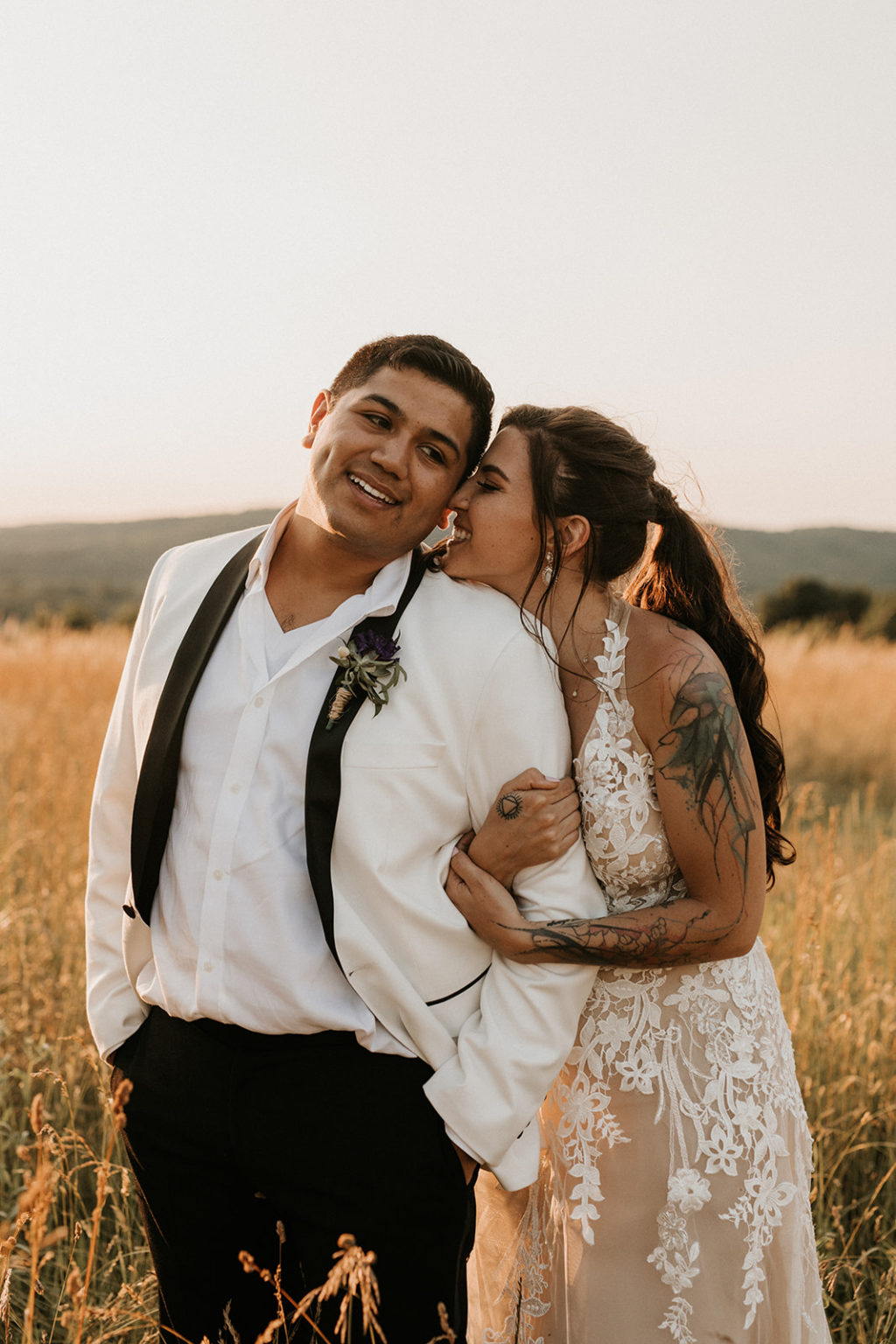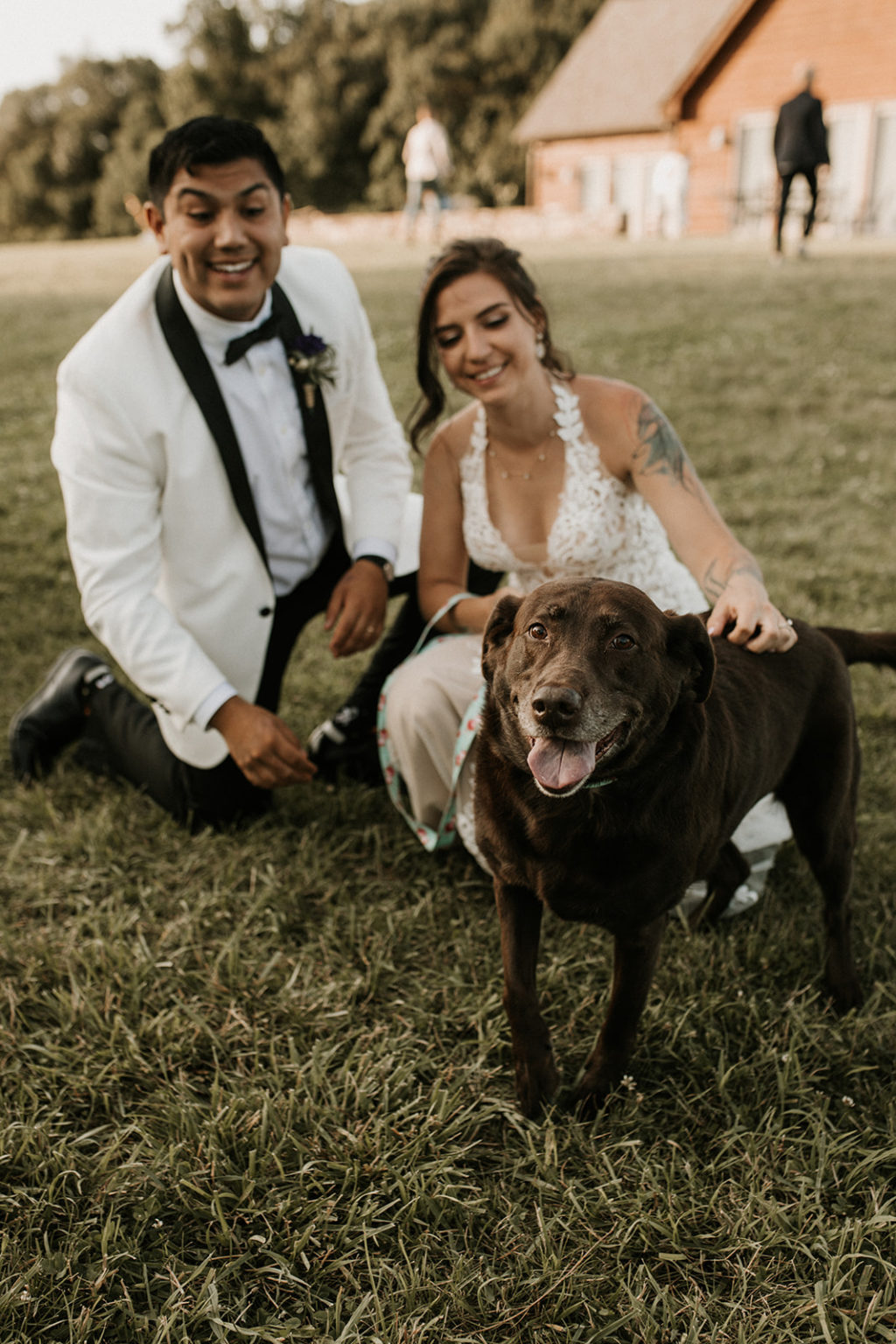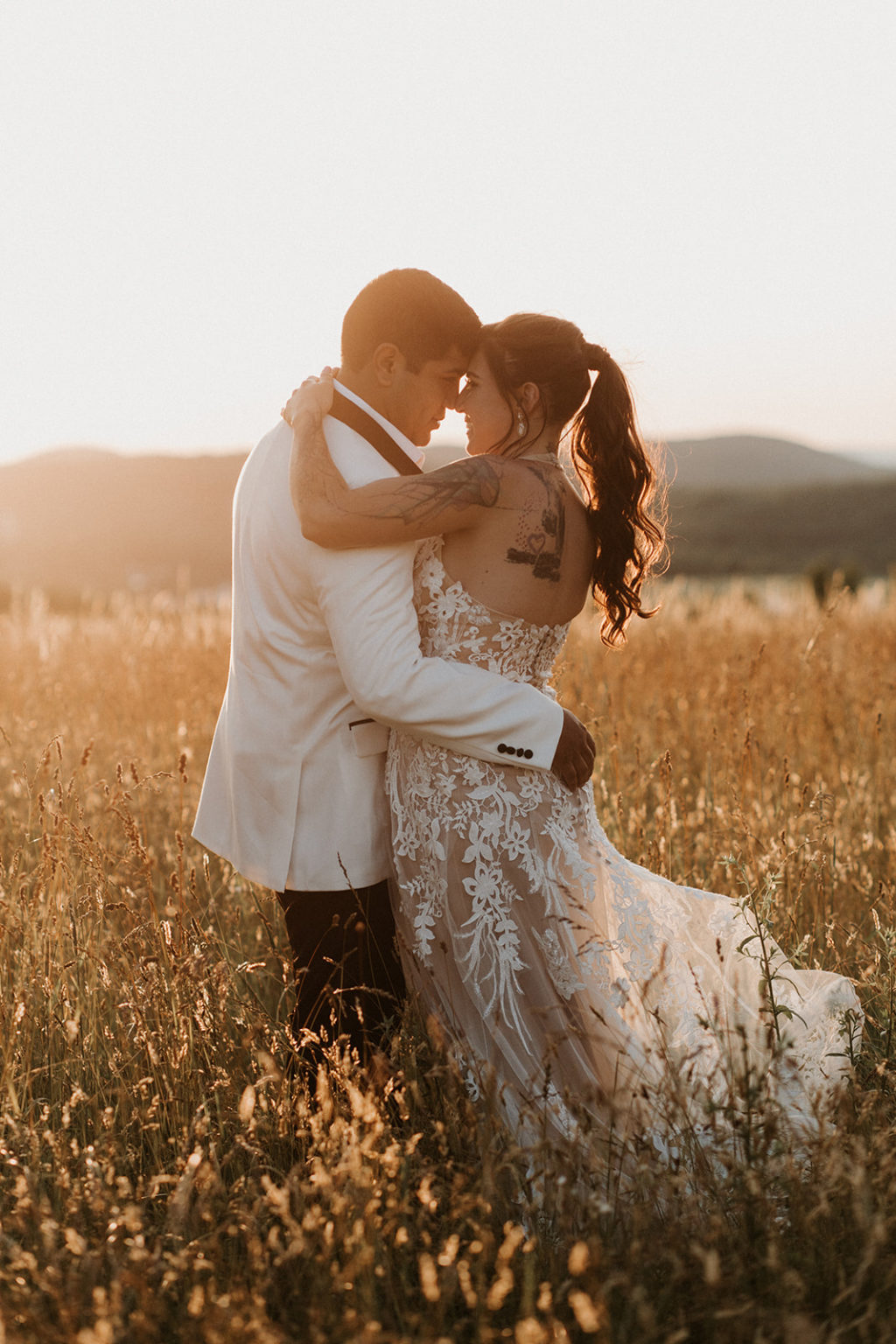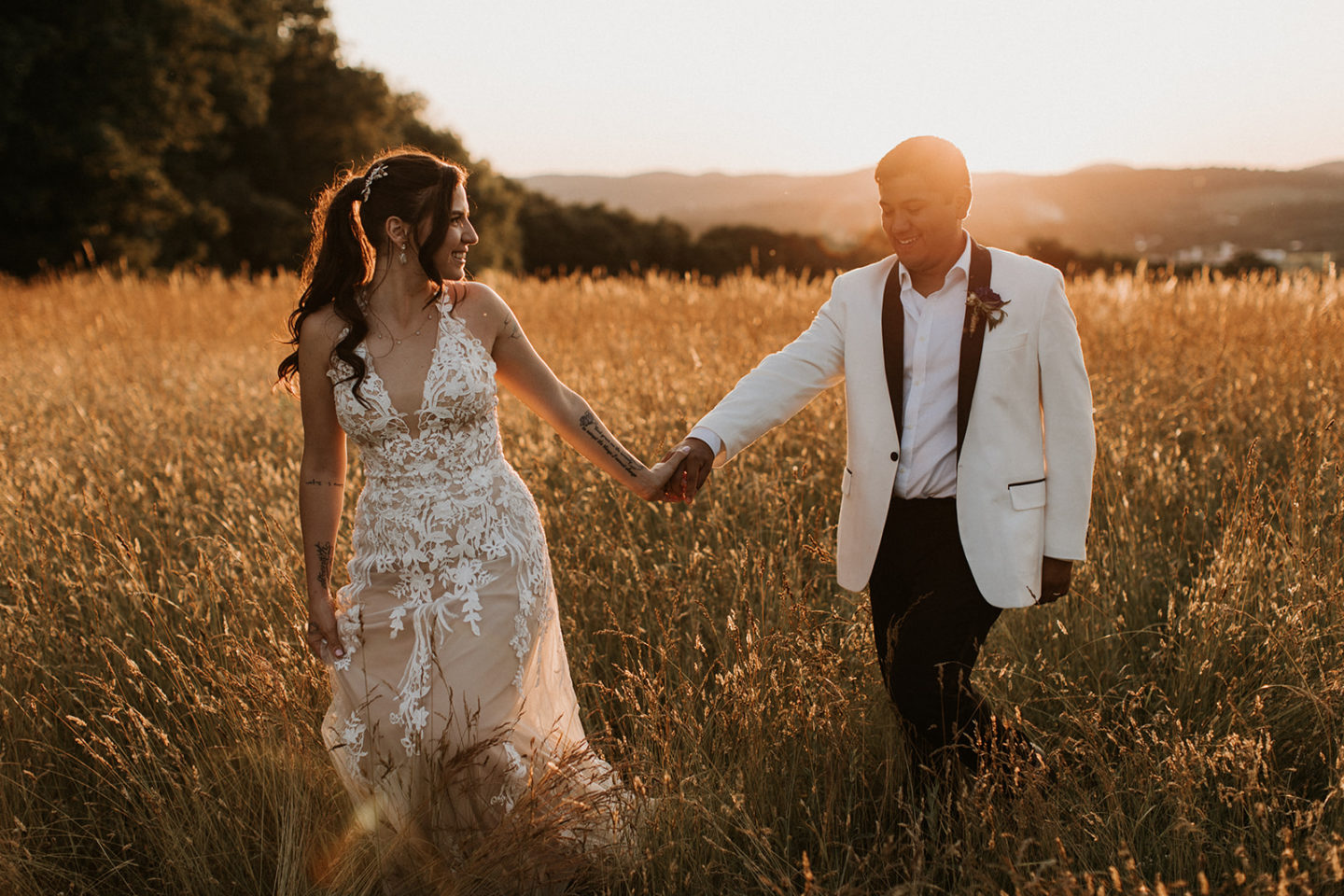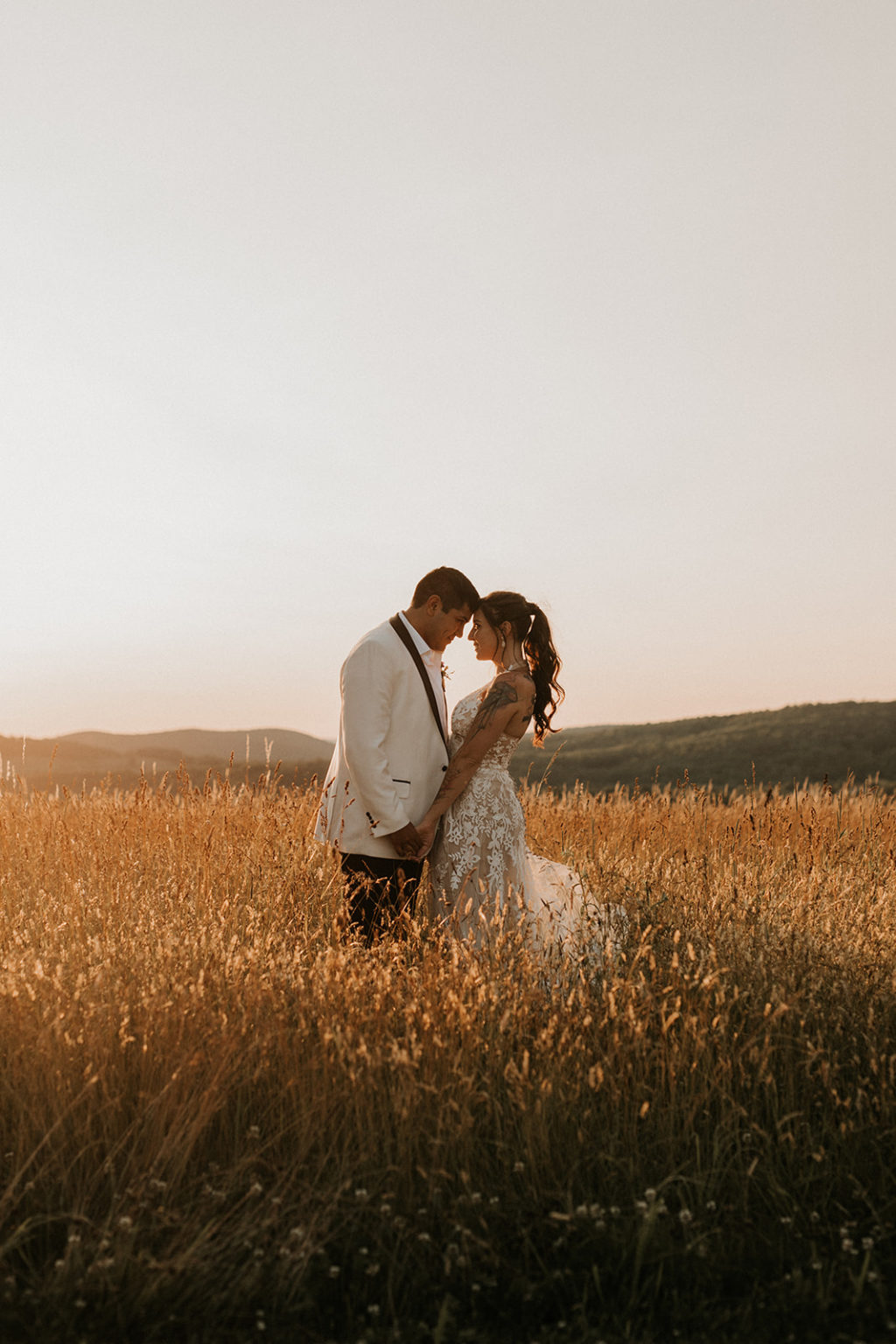 The Team – Rustic Luxe Sustainable Wedding At Born To Run Farm, New Jersey
Photographer – Tori Kelner @torikelner
Second Photographer – Jennifer Larsen @jenniferlarsenphoto / Photography Assistance – Jaclyn Steele @jaclynsteelephoto / Ceremony & Reception Venue – Born to Run Farm @borntorunfarm / Dress Boutique – I Do I Do @idoidonj / Shoes – Lulus @lulus / Hair Stylist – Pink Comb Studio @pinkcombbeauty / Makeup Artist – Makeup by Samantha Monize @makeupbymonize / Engagement Ring – Tiffany & Co. @tiffanyandco / Decor/Rentals – Starr's Party & Tent Rentals @starrspartyandtents / DJ – Shughes Entertainment @shughesentertainment / Florals – Calico Country Flowers / Videographer – Mountain Peak Studios @mountainpeakstudios / Groom Attire – Lord & Taylor @lordandtaylor / Invitation – Vistaprint @vistaprint & Minted @mintedweddings / Officiant – Joshua Tedesco
IF YOU LOVED THIS SUSTAINABLE WEDDING LOOK PLEASE PIN IT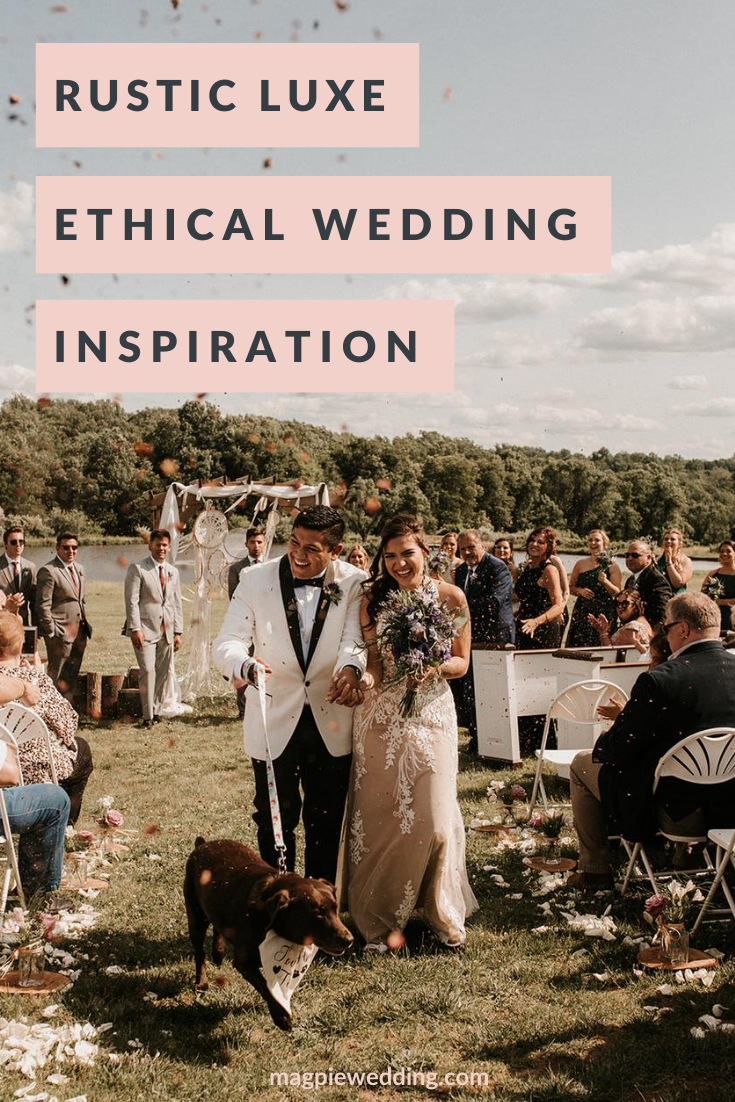 If you loved this Ethical Wedding you may also like;
The Beauty Edit: The Perfect Wedding Skincare Routine
Ethical Wedding Ideas With Spring Garden Styling At Kate's Garden Shropshire
Modern Botanical Wedding With Black Jumpsuit at Primrose Hill Farm, Oxfordshire