There are so many ways that sustainability can be incorporated into your wedding day, so whether you want to incorporate one or two eco-friendly ideas or make the whole day ethical, we've got your back! A great way of being eco-friendly is your wedding cake! We spoke to some of our talented cake-makers in our directory about how they make a sustainable wedding cake.
This is what Kate Tynan from Little Button Bakery told us:
'I try to source as much fresh produce as I can locally and from farms that I know have higher welfare standards – eggs, butter, milk, cream, etc. It's important to ask where your cake makers sources their fresh produce from as they could well be using something like cheap supermarkets eggs from caged hens. I would never eat an egg like that so why would I want it in any of my cakes?'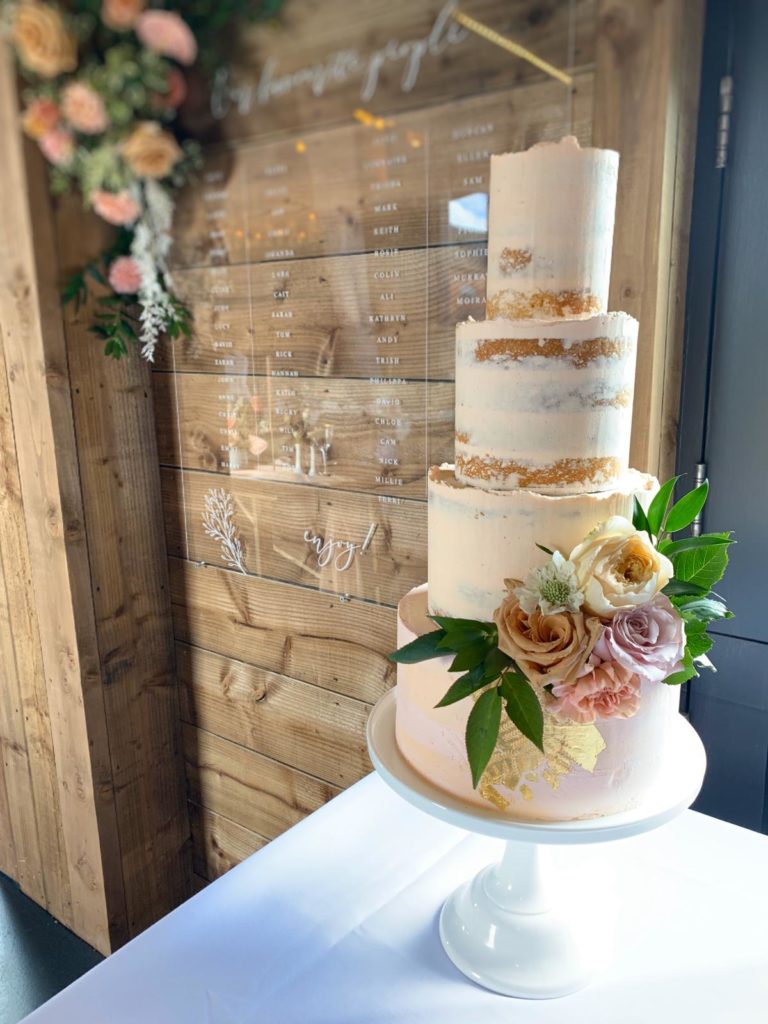 Cake by Little Button Bakery
Unfortunately not all cake makers have this outlook automatically; this is why we've created a Sustainable Wedding Cake Checklist, that includes 7 ways to make your wedding cake as eco-friendly and ethical as possible, which you can go through with your cake-maker to ensure all areas have been covered!
Sustainable Wedding Cake Checklist
Fairtrade Products
For Fairtrade Fortnight it was crucial that this was top of our list! Fairtrade supports 1.2 million farmers across 66 countries ensuring they are treated fairly and ethically! Choosing Fairtrade is a simple switch that your cake-maker can choose when creating your dream sustainable wedding cake. Hopefully they already do this on a regular basis but if not, it's worth asking them to make the swap for your cake – even if it costs you a little more!
Locally Sourced Products
Locally sourced is not only a sustainable option, but it also means better quality; local food often means better nutrition! And who wouldn't want that for their wedding cake? Plus you are supporting local, often small businesses rather than the big corporations.
Seasonal Fruits
Opting for fresh fruit or flowers on your sustainable wedding cake? Go seasonal: blueberries, raspberries and strawberries are a dreamy mix for summer weddings and blackberries and figs work well for autumn.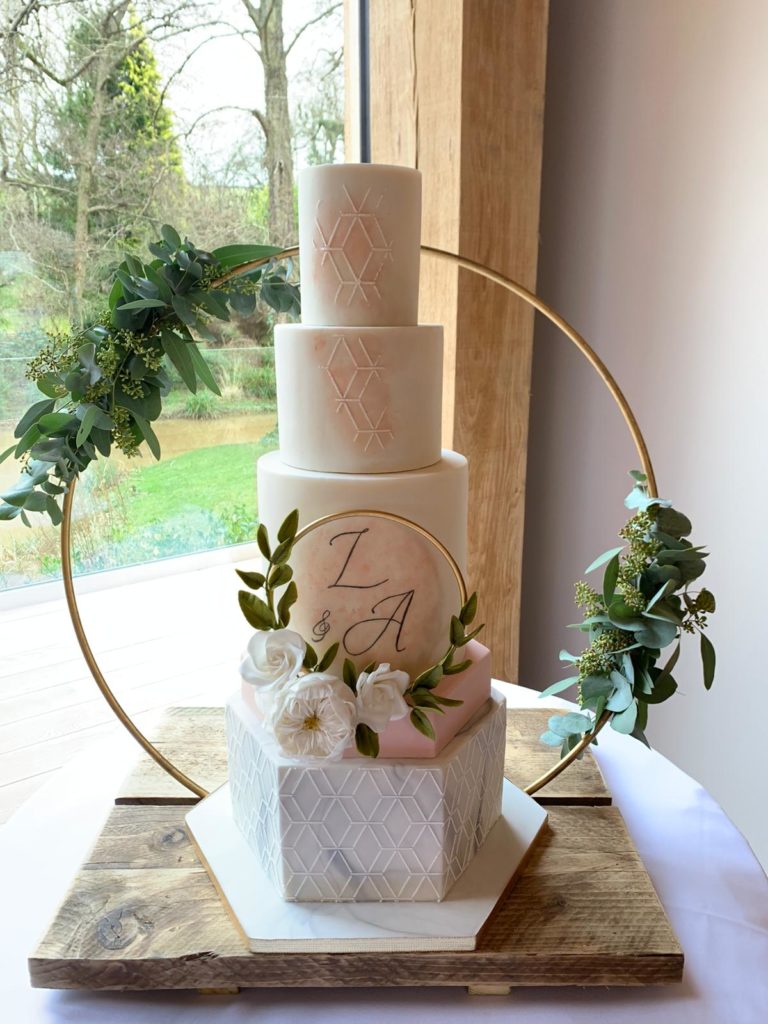 Cake by Little Button Bakery
Eco-friendly Cake Toppers
Choose a wedding topper that won't end up in the bin! This idea came from my sister's wedding, as a couple they chose a beautiful ceramic bride and groom, 5 years later they're still using this as decor in their house! Alternatively, for your "something old", ask a relative whether they still have theirs and use that to add a sense of nostalgia.
Vegan Cakes
Many don't realise how good vegan cakes can and do taste! Whether you're vegan yourself or have family/friends that are vegan, this is a brilliant way to include every single one of your guests! Just imagine the joy on the faces of your vegan guests when they realise they can enjoy the wedding cake too! And because a plant based diet has become so mainstream, its become so easy to find bakers who offer vegan wedding cakes, making it an easy and stress free swap for you to make!
Reduce Plastic
There are so many ways to reduce plastic intake when baking. Products such as tinfoil, parchment paper and piping bags can and should be reused when possible, or not used at all!
Consider The Shape of The Cake
We believe you should have whatever flavour, style and themed cake you'd like – it is your wedding after all! But when deciding, do consider how much may go to waste. Ask yourself whether the shape you're wanting is going to involve cutting half the cake off? If so, you can either opt for a different shape that avoids that or alternatively, ask your baker to make cake pops out of the leftovers! Also make sure you make the right amount of cake – here is some advice on how much to order.
IF YOU LIKED THIS BLOG, PINT IT!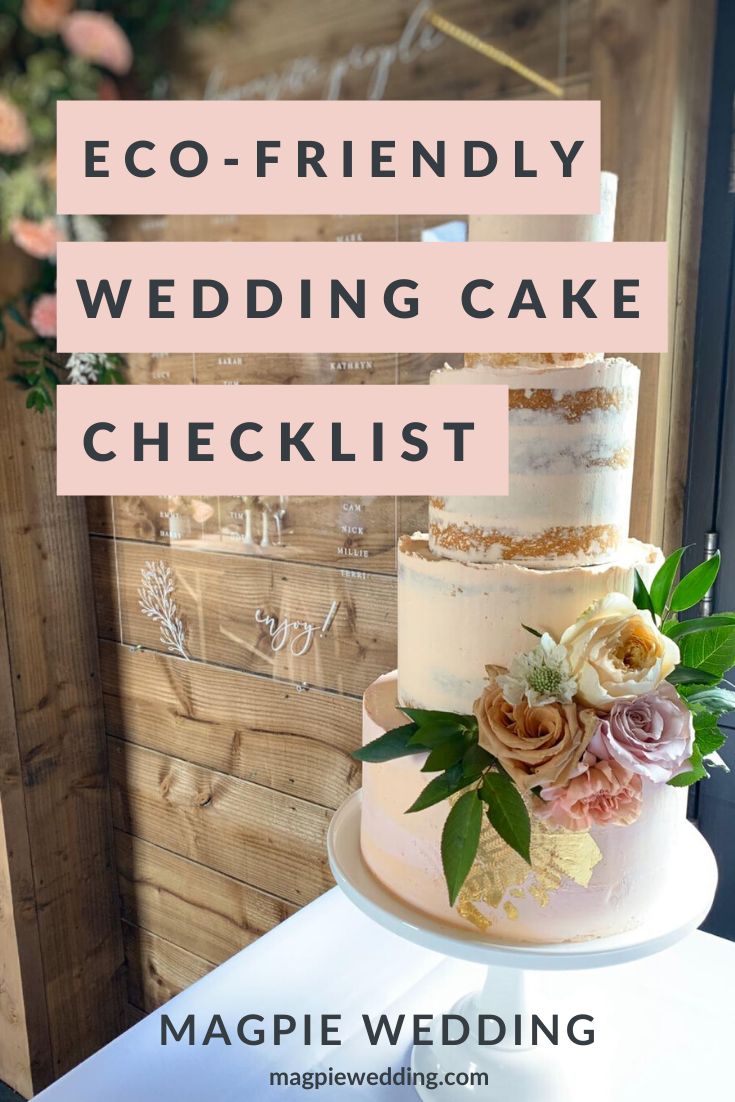 Have you read our most recent blogs?
Forest Winter Wedding Inspiration With Creative Alternative Wedding Dresses & Jumpsuits.
Magpie Wedding's Spotify Hen Party Playlist – Top 8 Tunes To Dance The Night Away!
A Winter Outdoor, Ethical, Eco-Friendly, Tea Party Wedding at That Amazing Place, Essex.
10 Sustainable Wedding Ideas – With Our Free Ethical Wedding Guide.