We love this styled shoot, shot at Pinewood Studios by the talented Claire Macintrye, for its 1930s glamourous feel.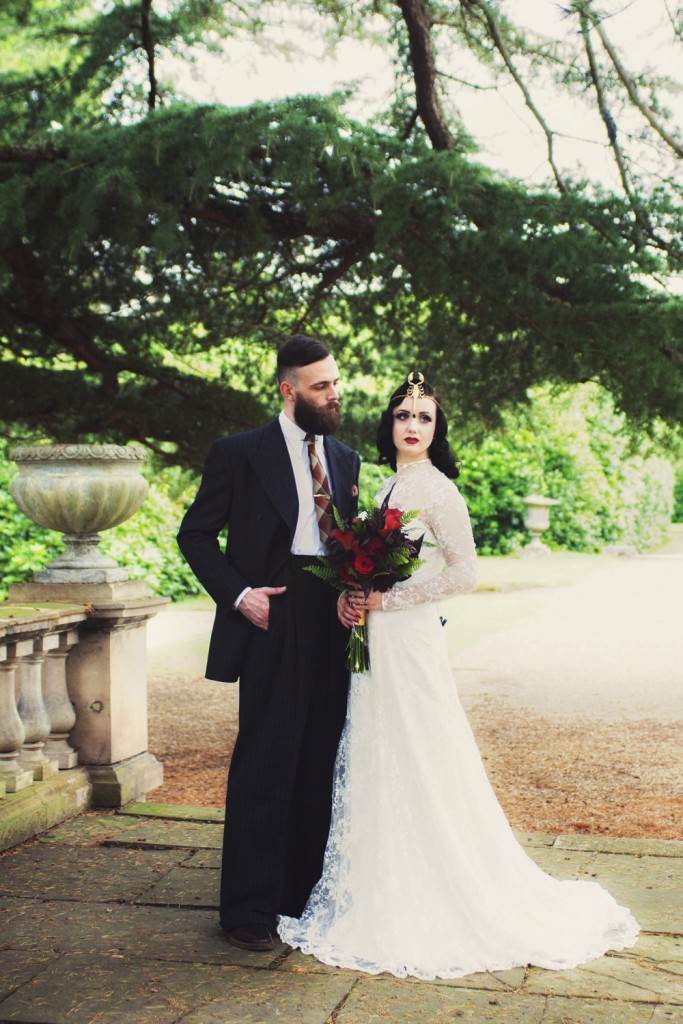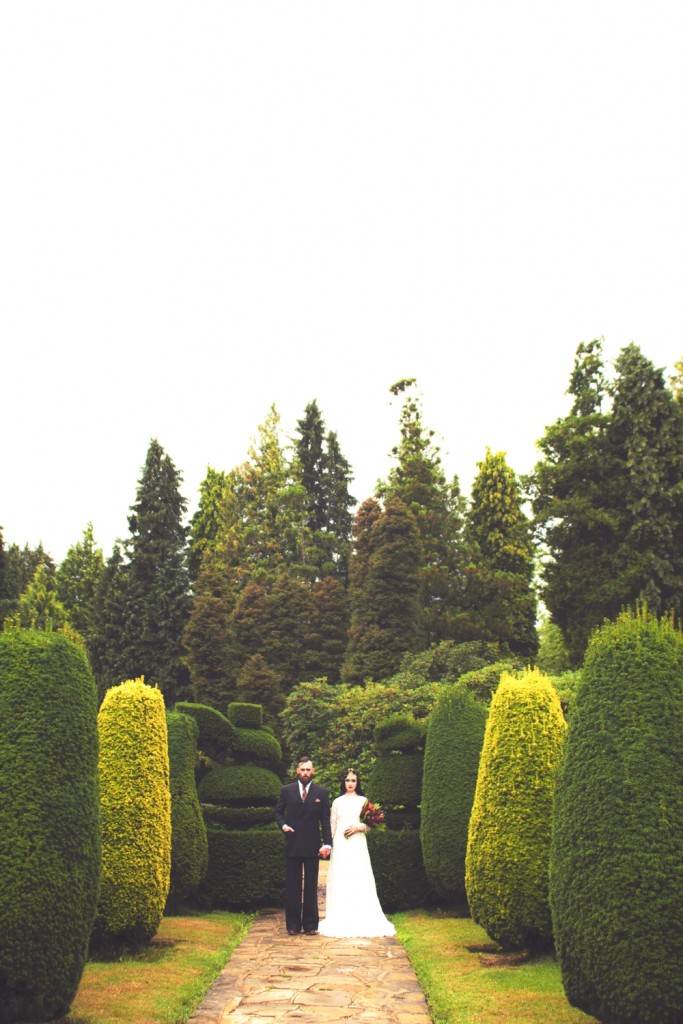 We caught up with Claire to find more about the inspiration for the day.
Heatherden Hall at Pinewood Studios is the most amazing venue. Its dark panelled dining room, high ceilings with twinkling chandeliers and its beautiful gardens, impressive location and the pure excitement that you feel being actually in Pinewood Studios, have, for the past year, left me screaming to produce a vintage style bridal shoot since the moment I found out about its use as a wedding venue.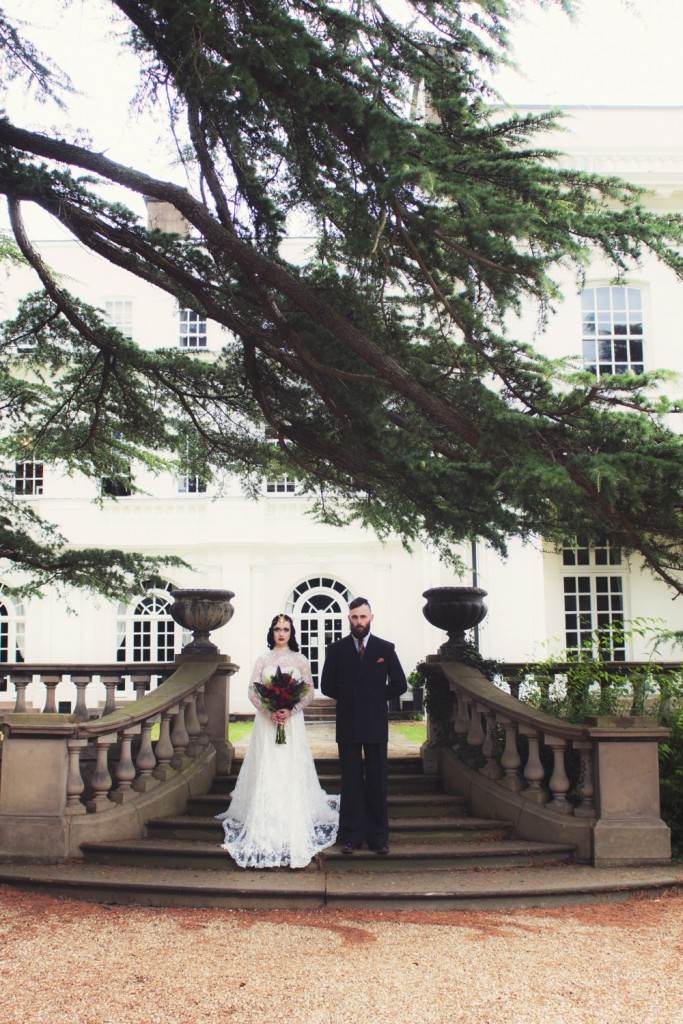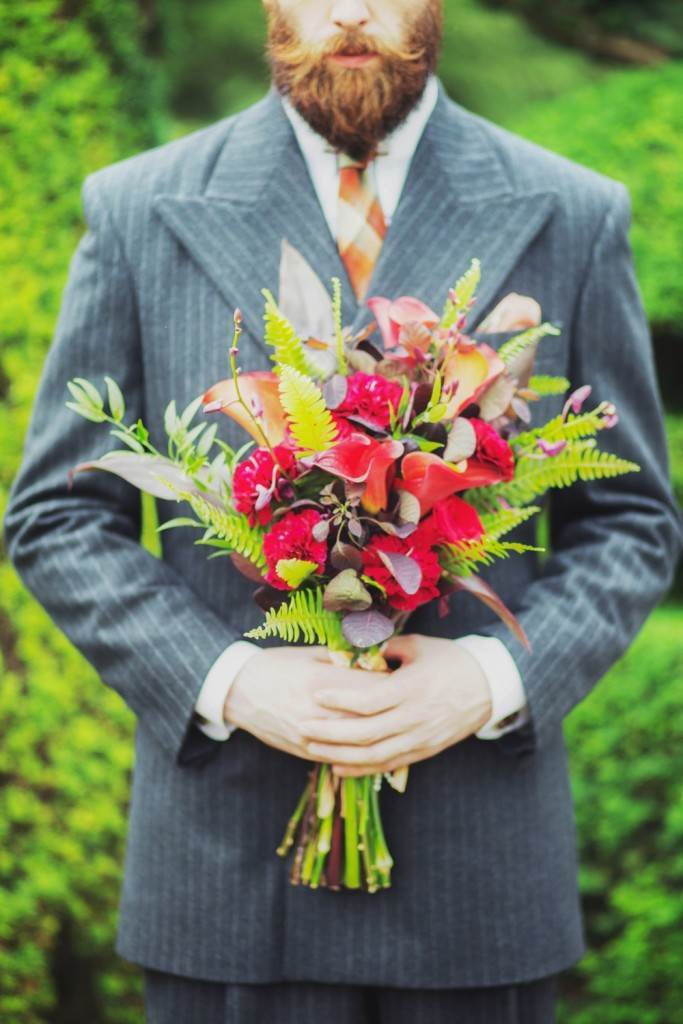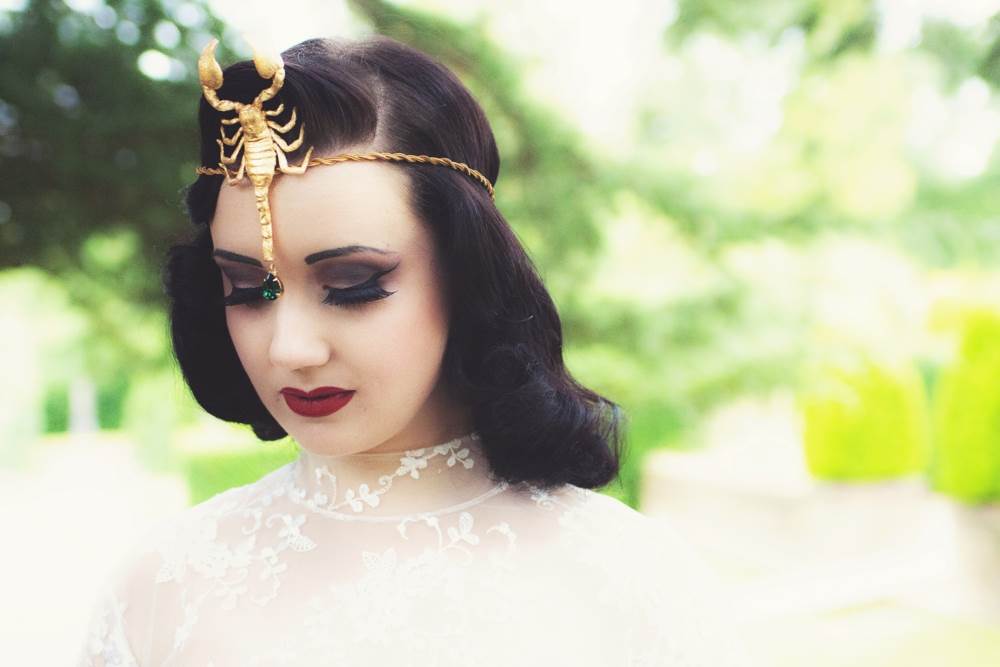 The wonderful creative mind of Georgina at Ruby Weddings and I started chatting about what style of shoot would be fitting for this glamorous and magical venue, and I had also been longing to shoot with the force of nature and British Burlesque superstar that is Eliza Delite for the last few years. A bolt of inspiration hit us both, Wallis & Edward. Surely one of the most glamorous historical couples to have graced the planet? And oh so perfect for such a location as this!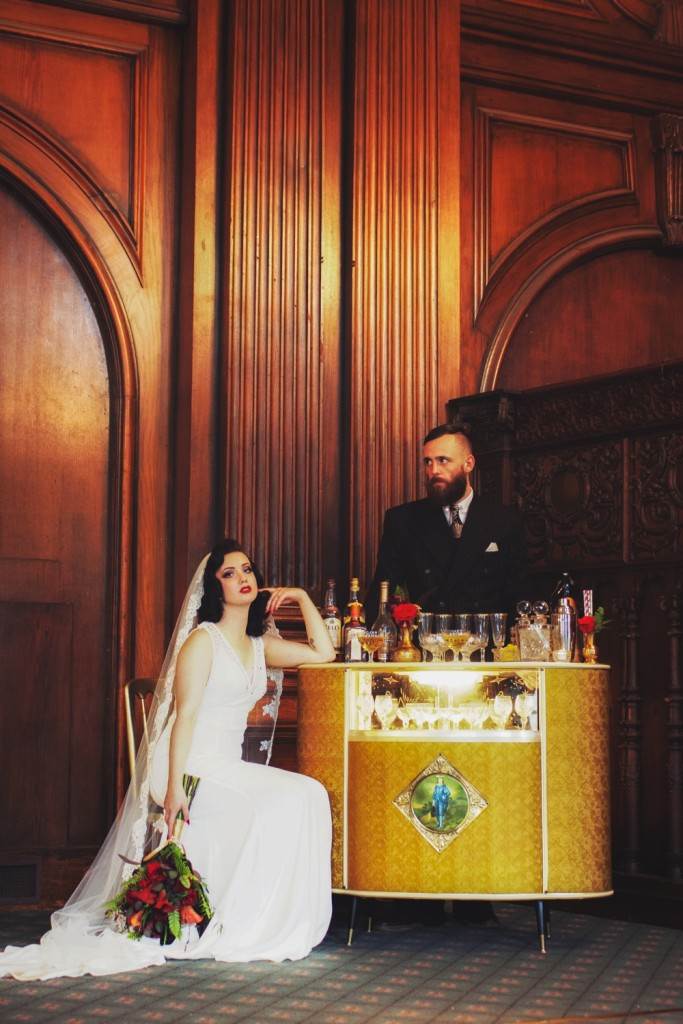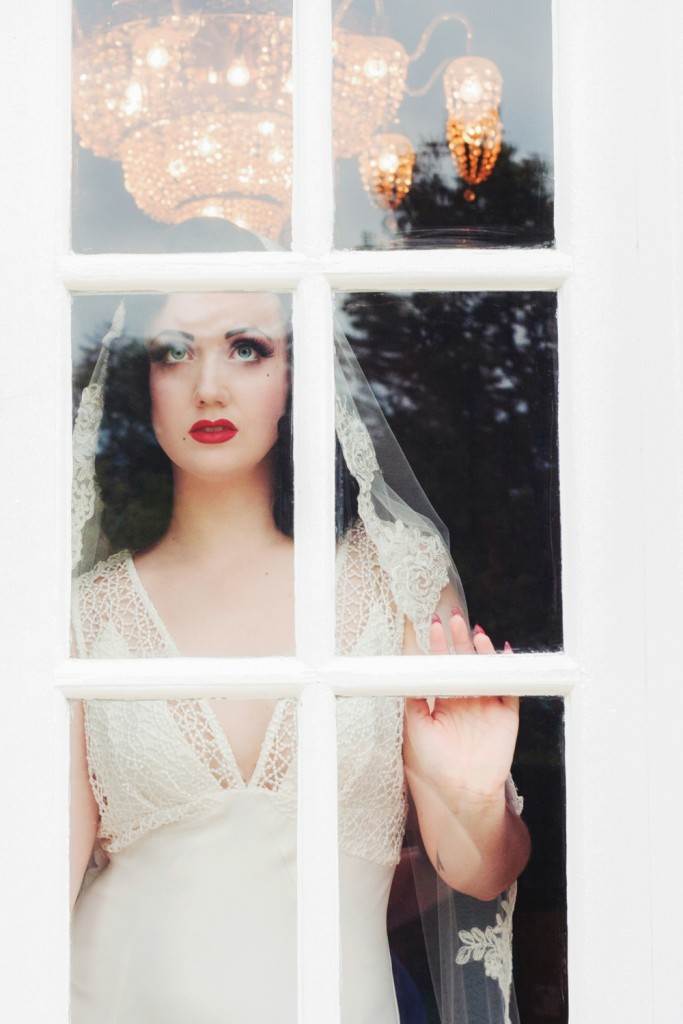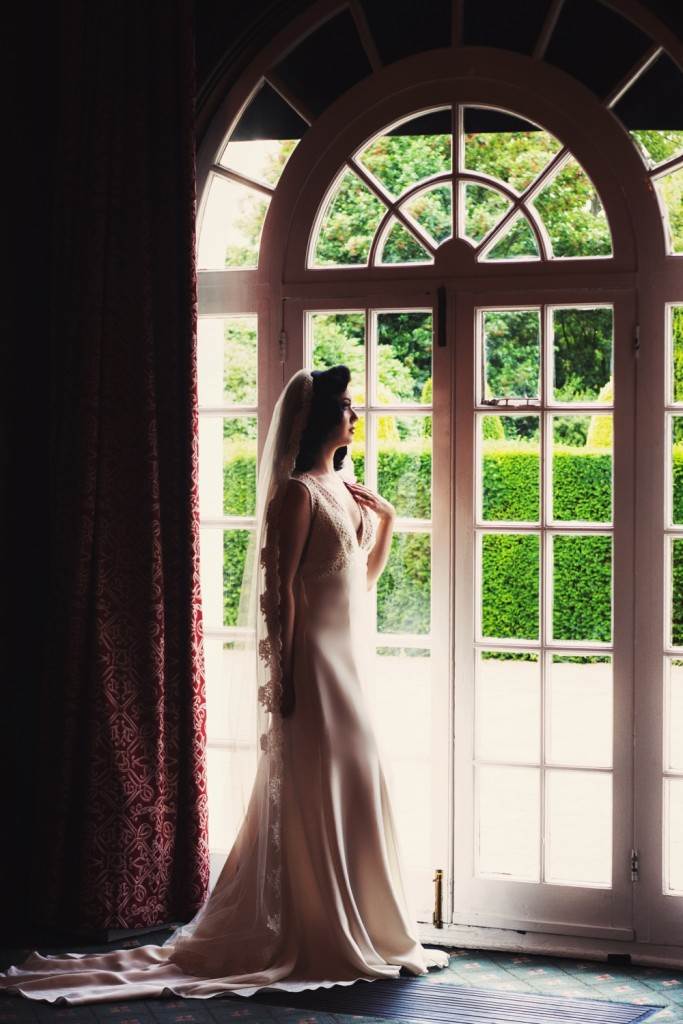 We wanted to create a feeling of warmth, light and darkness, opulence and also a little touch of melancholy. Not usually something you look for in a wedding shoot! But we felt that Wallis & Edward, for all their fabulousness, always seemed a little bored and melancholy. At least in their images anyway. The styling, by the way, absolutely was not meant to be era correct.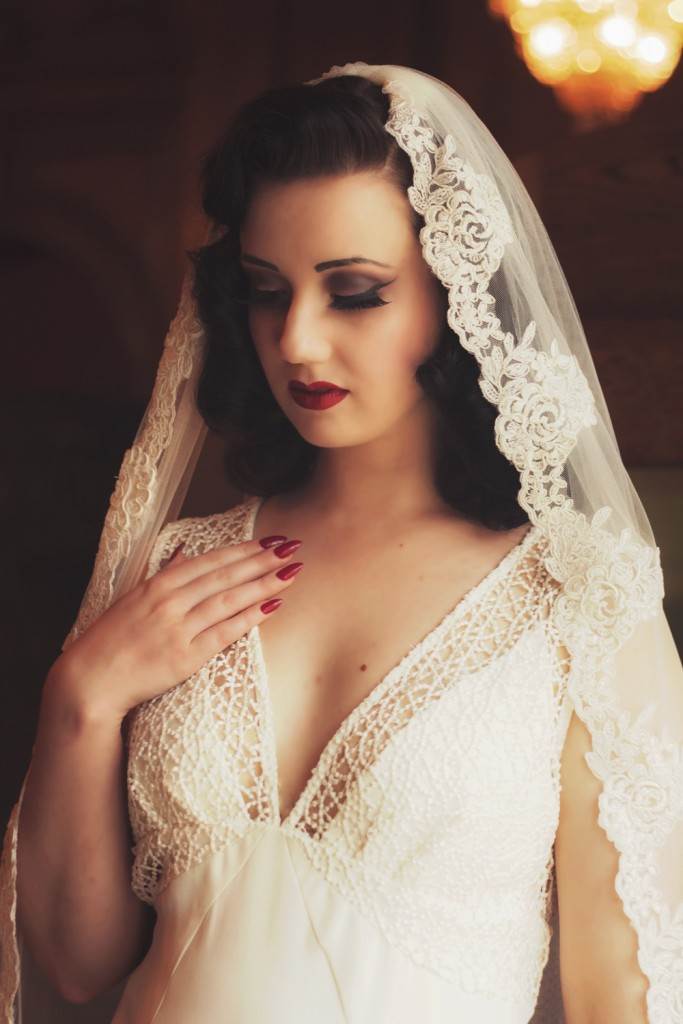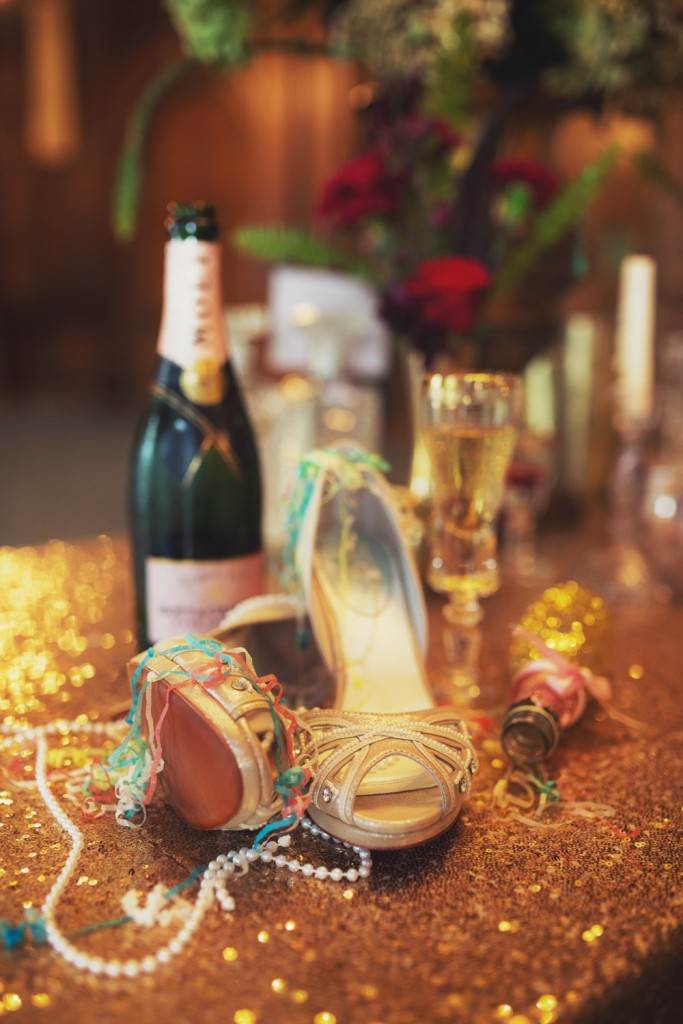 This is most definitely an Autumnal inspired shoot. And as we gear up to the subtle pastels of Spring and Summer weddings, we thought it fitting to salute and say goodbye (at least for another year) to the hues of gold, red, green, amber and browns that make Autumn and Winter weddings so stunning.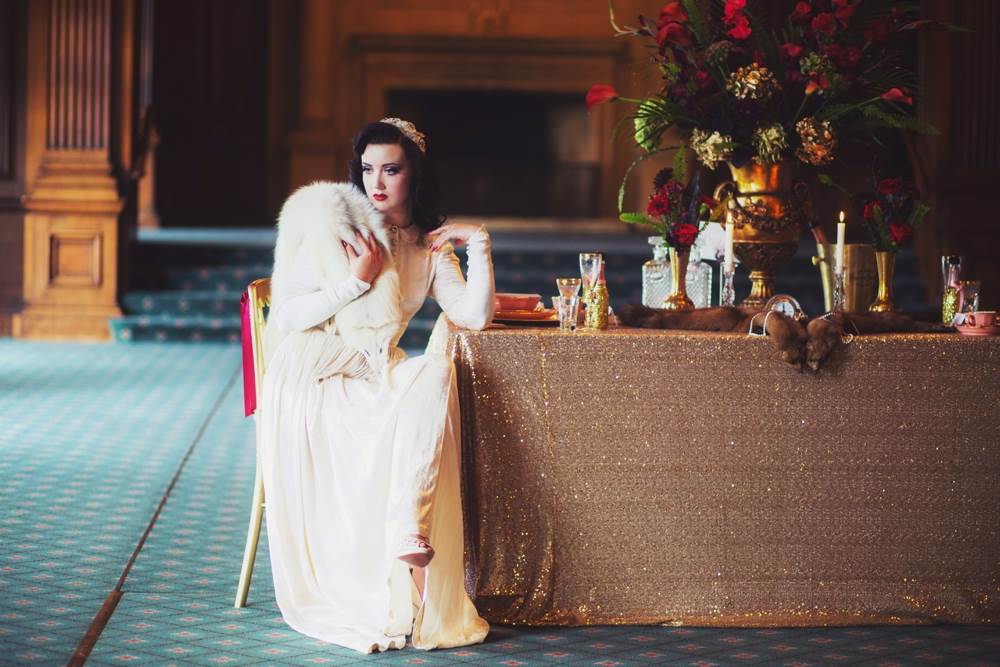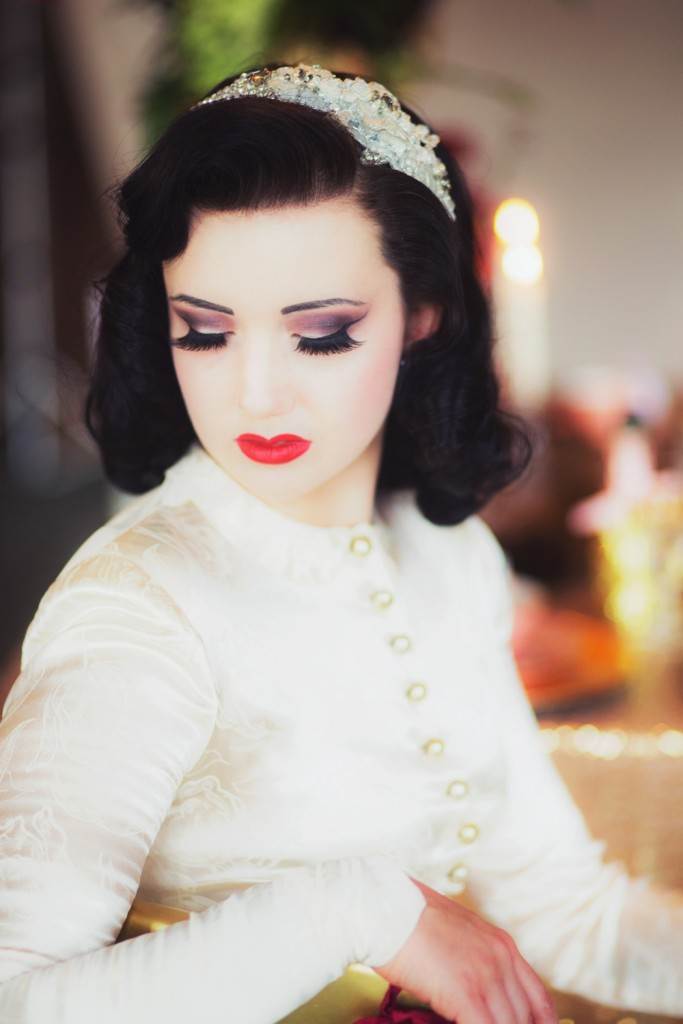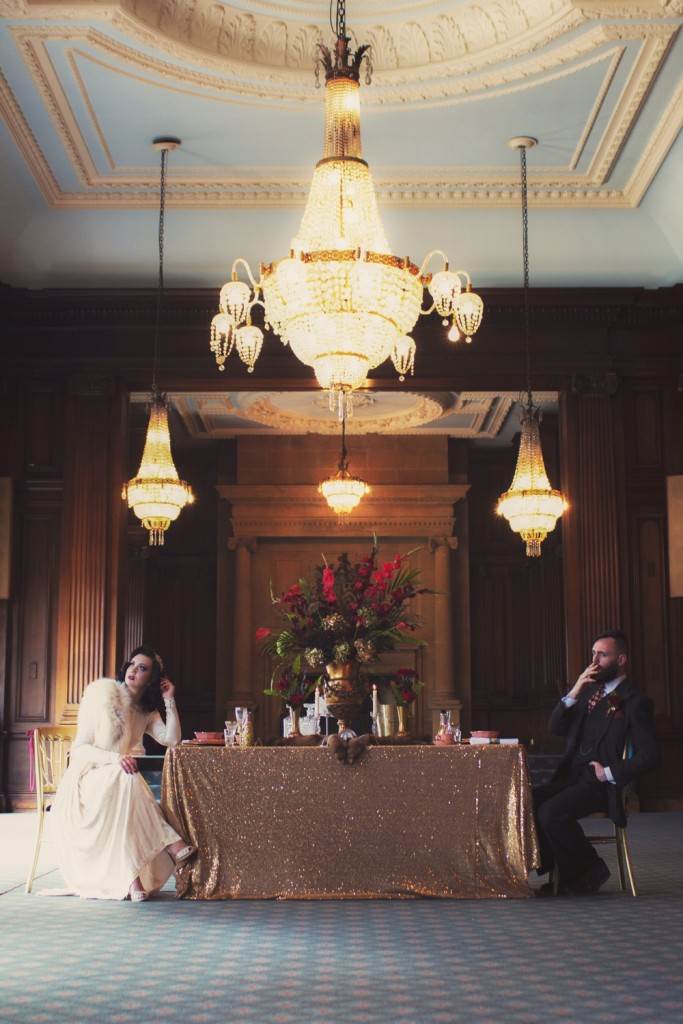 All the suppliers involved with this mammoth shoot were on my list of "Must Work With Creatives" for a long time. From Joanna Sheers at Death + Glory and her incredible mind that provided exquisite furs, beetle wing crown and the most stunning 24 carat gold leafed real scorpion headpiece, Karen at Rock the Frock Bridal and her truly immaculate taste in vintage and vintage inspired wedding gowns, to the beautiful floral arrangements from Flowers by Kirsty, and all the others on our cast and crew list.
Full Credits:
Photography and Concept: Claire Macintyre Photography and Lola Rose Photography// Venue: Heatherden Hall at Pinewood Studios, Iver.// Concept, Styling and Props: Ruby Weddings// Bride: Eliza Delite// Groom: Finn Miler// Gowns and Accessories: Rock the Frock Bridal// Grooms Suits and Accessories: Chester Cordite// Taxidermy and head pieces: Death + Glory// Flowers: Flowers by Kirsty// Cake: French Made// Stationery: Devotional Stationery// Brides Shoes: Merle & Morris// Table Cloths: Magpie Décor// Bar & Glassware and Bar accessories: Trawlergirl Vintage// Light Letter: Glow Love Lights// Brides Make Up: By model// Assisting Make Up: Verity at Vanity Box//