All weddings are magical, but crafting a cosy and romantic autumn wedding has a special and unique air about it! That's why you've chosen to get married in autumn right? Embracing this season is something you won't regret, with the crisp air, vibrant foliage, and a perfect natural charm it's the beginning of your warm and cosy marriage ahead. In today's article, we explore everything from choosing the ideal seasonal venue to selecting the perfect seasonal decor and crafting a menu of lush drinks and yummy food that celebrates the harvest. Here's how to plan your perfect autumn wedding…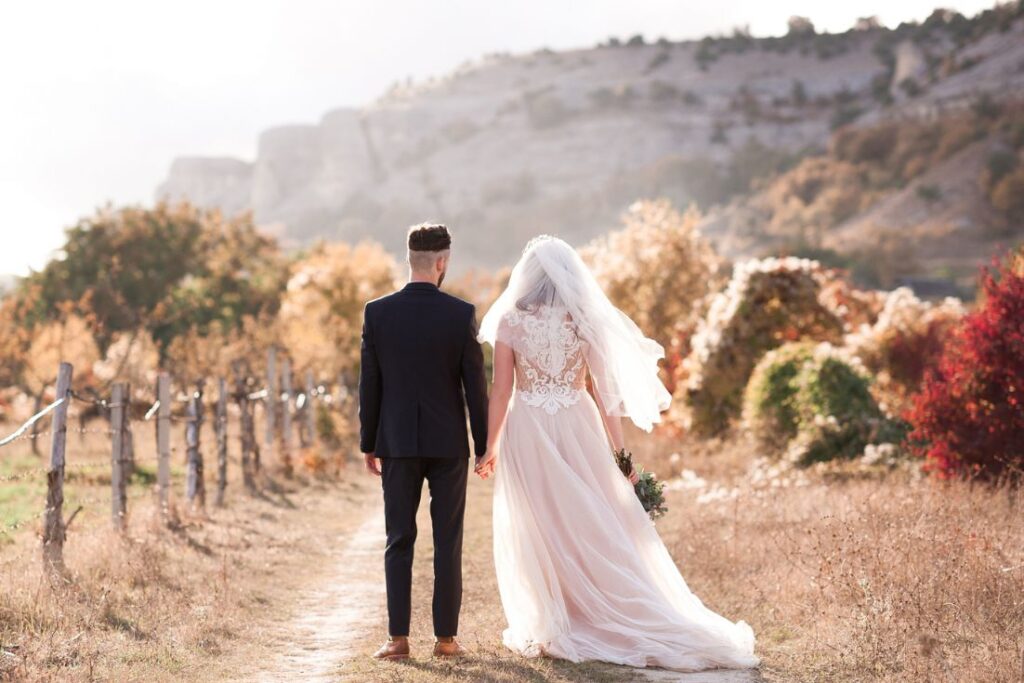 Choose A Seasonal Venue
There's no doubt that some venues shine brighter in certain seasons. A great autumn wedding venue will be surrounded by falling leaves, beautiful wilting foliage and have warming rustic vibes. Be sure to look around your venue, or at least see pictures of your venue in the season when you will be marrying. This will fill you with inspiration and will give you the perfect vision to plan your own special day. You could also consider hosting your wedding in a picture-perfect and seasonal apple orchard and you could have your guests pick apples with you as a unique activity too!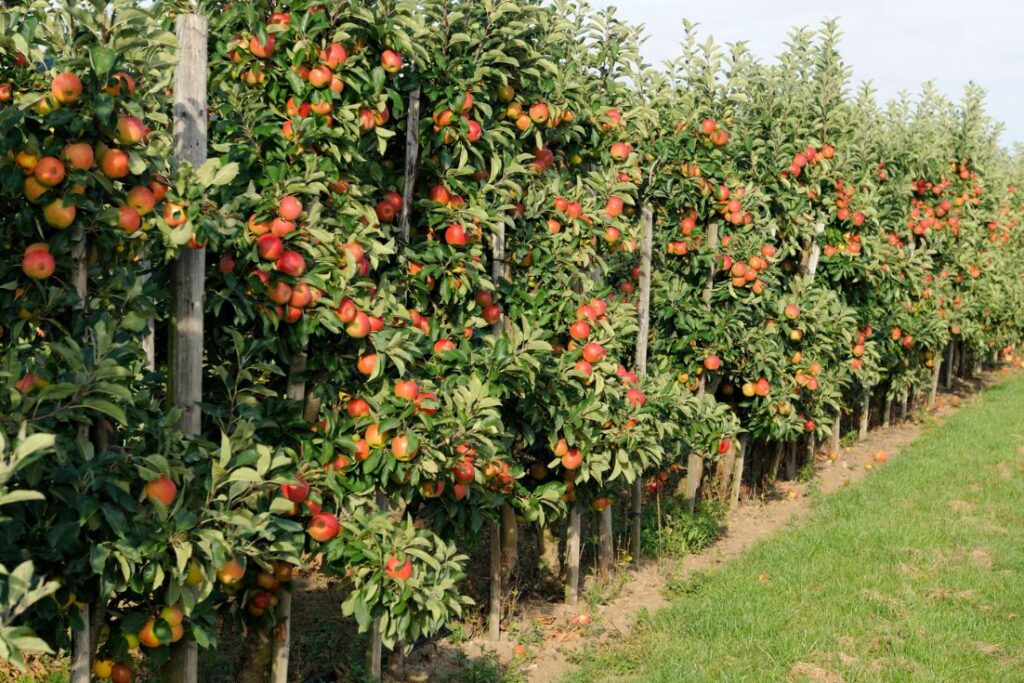 Go All Out With Your Autumnal Décor
If your venue is seasonal then the outside will speak for itself with a rustic and seasonal autumn wedding backdrop. A venue surrounded by colourful autumn leaves will make for a stunning natural backdrop. If you've chosen a less traditional autumn venue then you could recreate this with a custom backdrop. For your external or internal decor, it's time to go all out! Use pumpkins of various sizes and colours for creative decor elements, such as centrepieces or aisle markers. You could even paint them different colours to match your theme. Combine these with rustic elements like bespoke painted wooden signage and burlap with elegant touches for a beautiful aesthetic. Get creative with the other details and create personalised leaf place settings and name cards and depending on how rustic you want to go incorporating elements such as cornstalks, gourds, and wheat into your decor will set the autumnal vibe alight.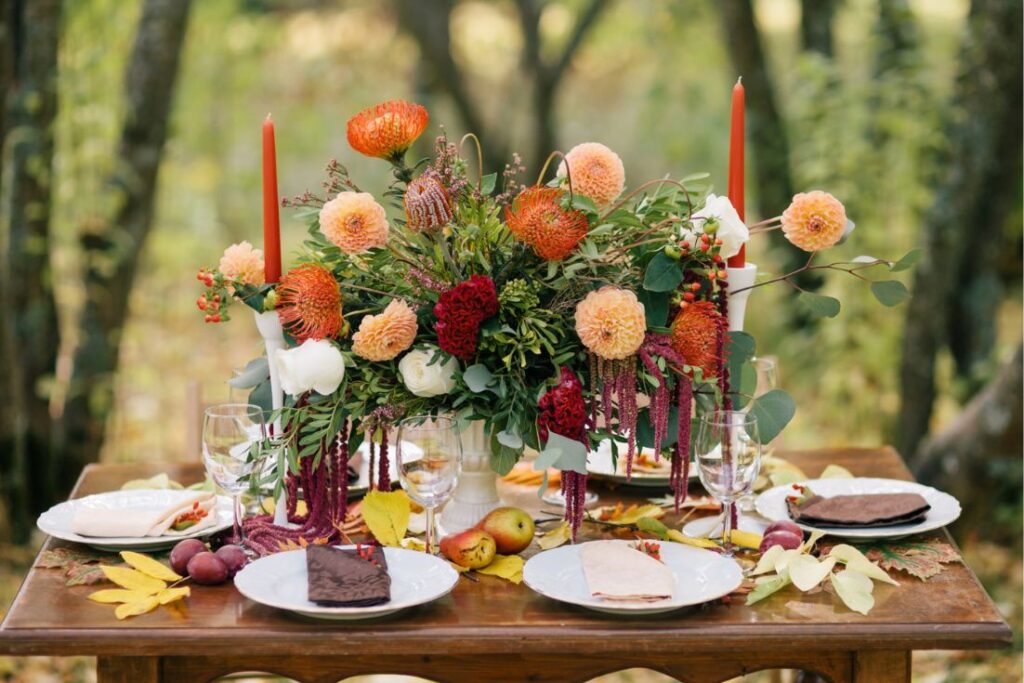 Have Seasonal Bouquets and Confetti
Autumn is a beautiful season for flowers and foliage and using both of these will make your bouquets and displays come to life! With rich tones that are wonderful on the eye, autumn flowers are warm and welcoming. Dried flowers also work extremely well with autumnal palettes so although you may have fewer florals to choose from when compared to summer you can make up your displays with beautiful ferns and foliage in deep and rich colours that will wow your wedding guests. Incorporate flowers like hydrangeas, marigolds, asters and roses into your bridal bouquet and floral arrangements. Seasonal flowers and foliage are also ethical and you can use dried, colourful leaves as your confetti for your ceremony exit or reception tables too!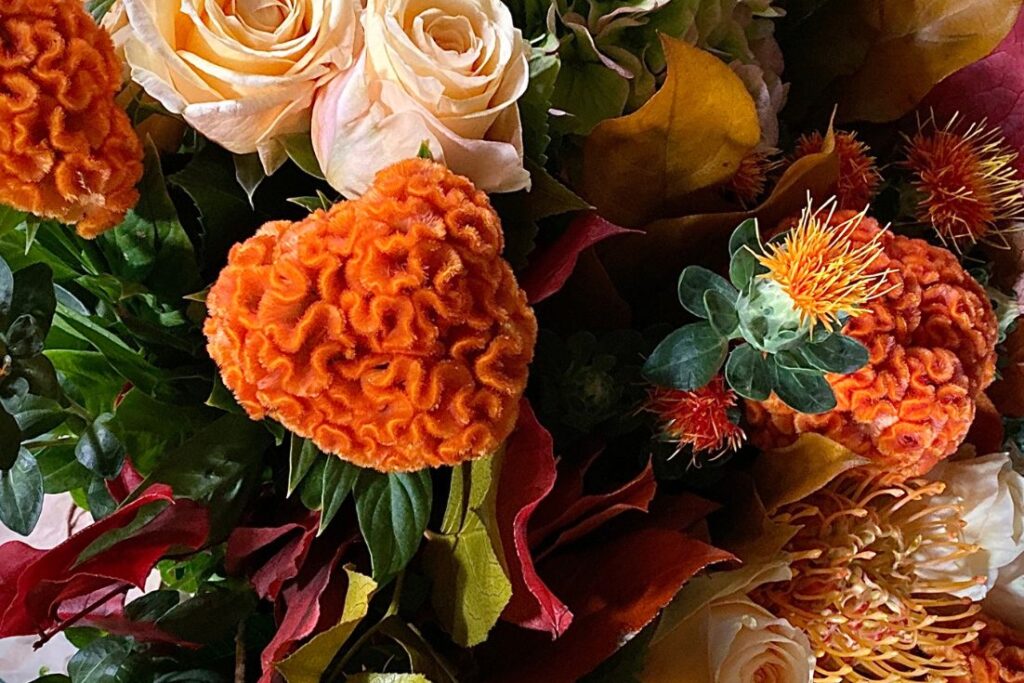 Tuck Into A Hearty and Rustic Feast
Trestle tables make a dramatic effect and they're perfect for displaying a harvest feast. Ask your venue or caterer about sourcing and using seasonal and local produce to create a scrumptious feast for you and your wedding guests. The colours of autumn food will sit perfectly on your autumnal-inspired tables.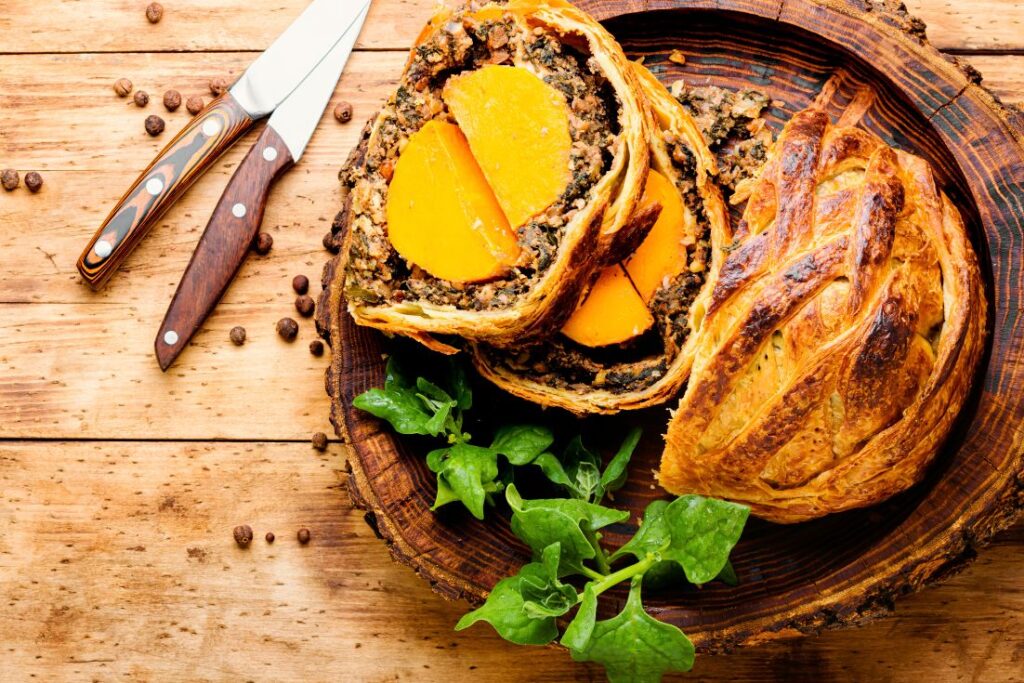 Create A Cosy Atmosphere
It's the perfect season for a warming and cosy atmosphere so make this a feature of your wedding day! Add a firepit so guests can huddle around it amongst nature. Provide blankets or pashminas for outdoor ceremonies or chilly evenings and create an outdoor lounge area with comfortable seating (or haybales) for your guests to watch the dreamy sunset from. Warm beverages at autumn weddings will also be a huge hit. Set up a cider bar with various types of apple cider and toppings like cinnamon sticks and caramel or serve warm drinks like hot chocolate, mulled wine, or spiced coffee during your cocktail hour.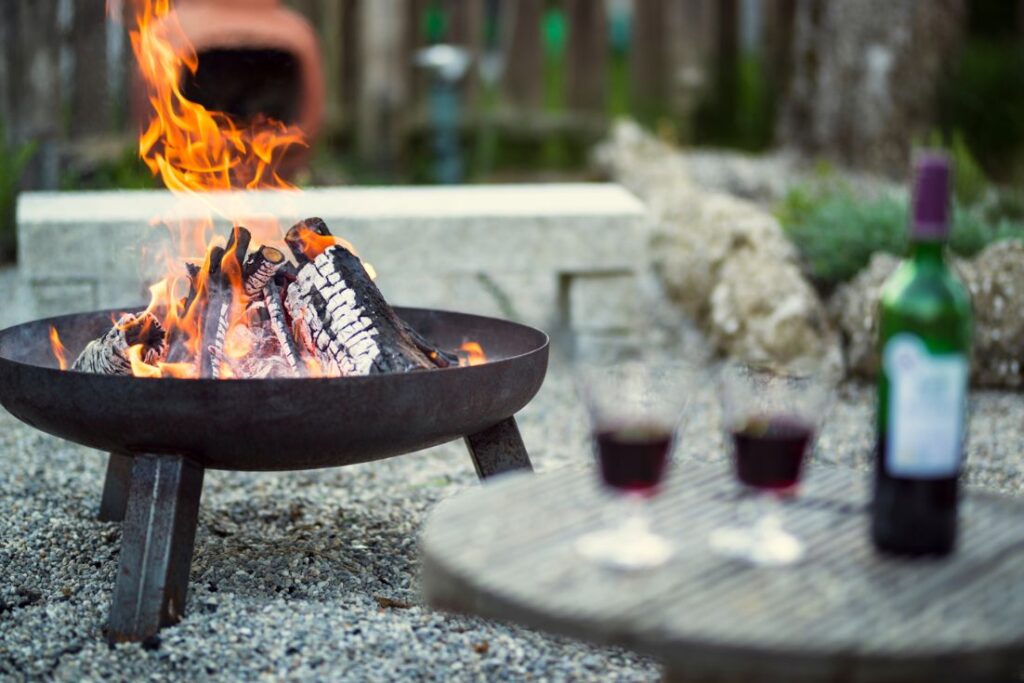 Choose An Autumn-Inspired Cake
Whether it's from the exterior or the cake flavours have a wedding cake that pays homage to the season. Decorate it with autumn elements like leaves, acorns, apples or edible metallic accents, or go for warming flavours such as apple and cinnamon, hazelnut and chocolate, or warming pumpkin spice.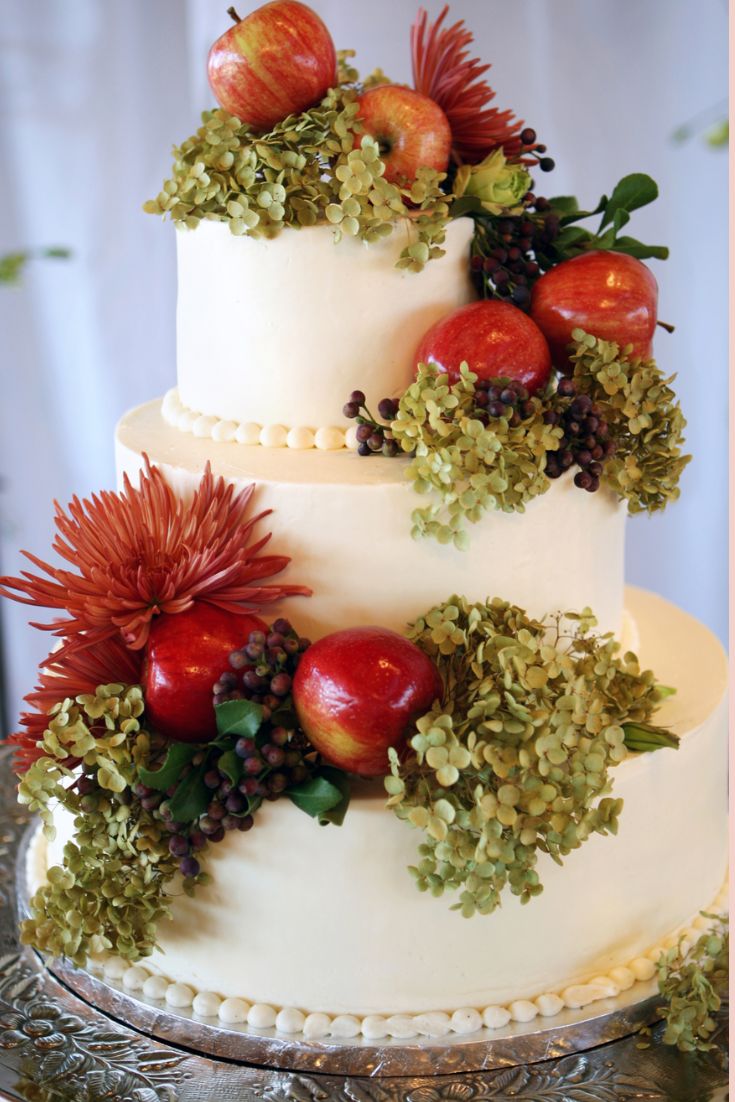 Add Autumnal Activities
There are so many autumn-inspired activities to complete your theme and add an alternative vibe to your day. A pumpkin carving contest is a great way for your guests to get creative and have a souvenir of the season to take home with them too. You can add a warm glow to your evening reception with a lantern-lighting activity which will get all your guests involved and illuminate your celebrations. If you plan to have a photobooth then make sure it's autumn-inspired with themed props and backdrops for memorable snapshots. All these activities are sure to keep your guests entertained and leave them with a lasting memory of your special day.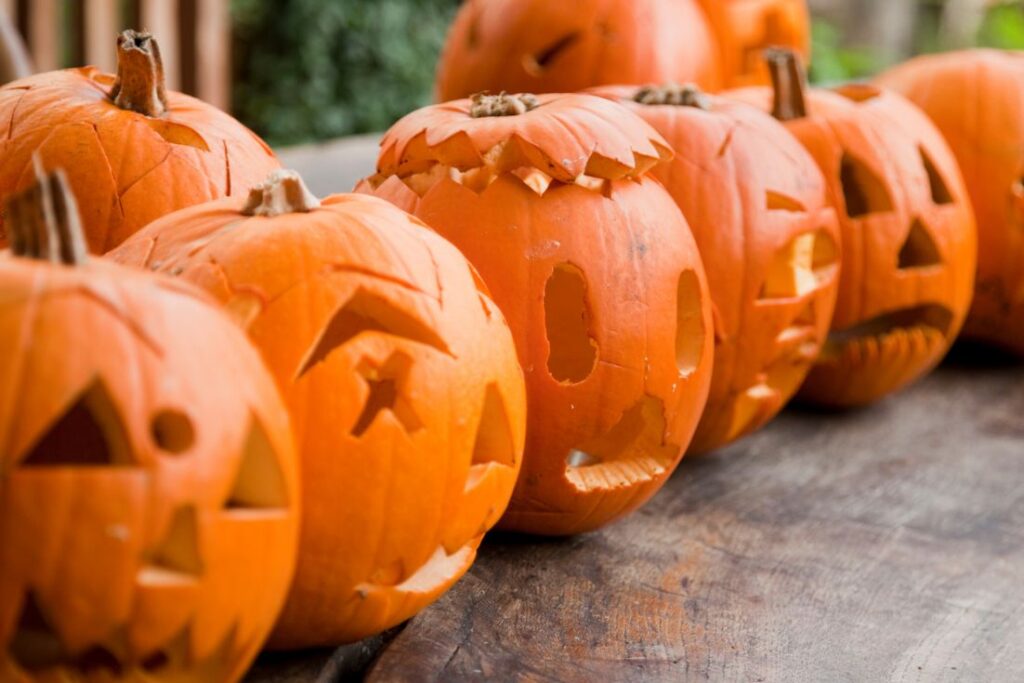 Add Some Costume Fun To Your Day
Now we don't just mean adding your latest Halloween costume to the mix, unless you want to of course. You could choose costume-inspired wedding party attire or accessories inspired by classic autumn characters like scarecrows or woodland creatures. You could also add a dress colour scheme for your day too! Either have this as an alternative all-day dress code or get creative at your evening reception and get people to change into their costumes for when the party starts!
The great thing about all wedding planning ideas is you can choose the ones which resonate with the two of you. You can also adapt most things to suit the tastes and style of your wedding too! Happy autumn wedding planning!
LOVE THESE AUTUMN WEDDING IDEAS? SAVE THEM FOR LATER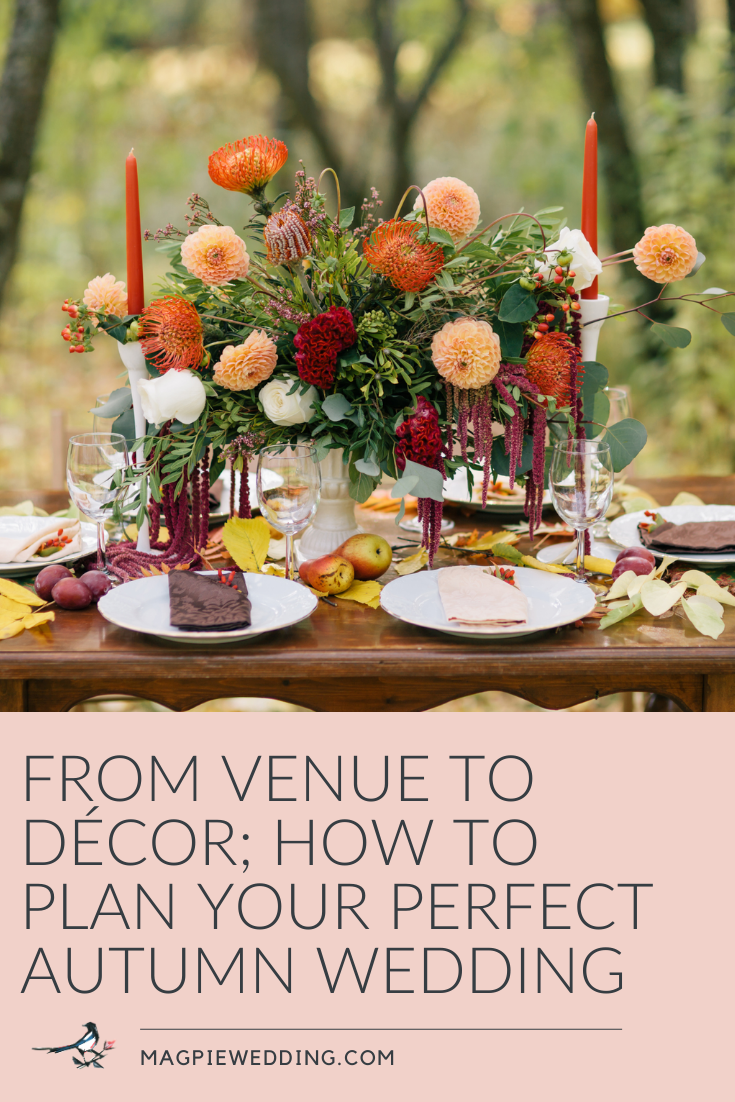 If you loved these autumn wedding ideas you may also like;
5 Autumn Wedding Styling Ideas For Your Creative Wedding
Intimate Autumn Wedding Inspiration At Euridge Manor and Orangery, Wiltshire
Outdoor Autumn Wedding with Luxe Styling at The Orchards at Chesfield