Back in the 1980's and early 1990's EVERYBODY had a wedding video. The videographer with a huge camera blocking everyone's view and slowing down the proceedings. Weddings had got bigger and more OTT and people wanted to record them with the newest technology…technology that at the time was big, heavy and needed its own big microphone!
Home video was a phenomenon. Cameras that had only been used in television suddenly became available to anyone who could afford them and the idea you could record your day from beginning to end (if you had enough tapes!) rather than just photograph it was incredibly appealing to the big brash 80's consumer.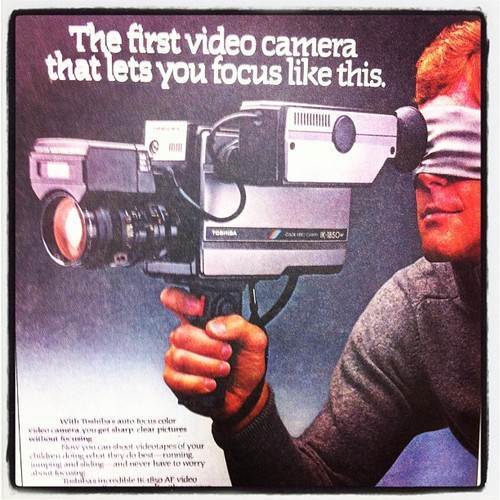 After the special effects, music and fading was added you were delivered a wonderful record of your day…but sometimes people ended up with a badly filmed, badly cut tape that didn't reflect their day at all. Videographers got more 'artistic' in a crowded market but the end result often dated really badly leaving tapes sitting getting dusty on the shelf. At least wedding photos could be framed and put on display.
Often after the wedding video was made it then sat on the shelf with all the other tapes and hardly ever got watched again…unless you were unlucky enough to be invited round someone's house to watch theirs. But by the mid 90's, with digital photography on the rise and exciting brand new format DVD being introduced the fad was dying out.
Now in the days of more inventive wedding photograph and the ability to record video on pretty much any smartphone, videos aren't so popular anymore. However there is now a resurgance of vintage looking film especially ones filmed on Super 8mm. These capture the spirit of your day while still having a nostalgic feel to them (but not in a 1980s way!). We love the ones filmed by We Love Wedding Film
Do you have any great wedding memories you'd like to see in this blog? Let us know your memories of things they just don't do anymore.
Are you going to be a vintage bride soon? Come visit one of our upcoming vintage wedding fairs in Harrogate on 21st September, Stoke Newington, London on 12th October and Chiswick, London on 9th November and find everything you need for your big day. For more details check the website – www.vintageweddingfair.co.uk.
Written by Sarah Gorlov