As excited as you surely are for your friend, being a pregnant bridesmaid can come with its own set of challenges, from finding a bridesmaid dress that fits your growing bump to getting through the hen party booze-free (even more difficult if you haven't yet gone public with your news!). Today we are joined by Zara Wakefield, bridesmaid specialist at Confetti Bridesmaid who shares her advice for brides to consider if one of her bridesmaids is pregnant. Many of these tips also work if you yourself are pregnant!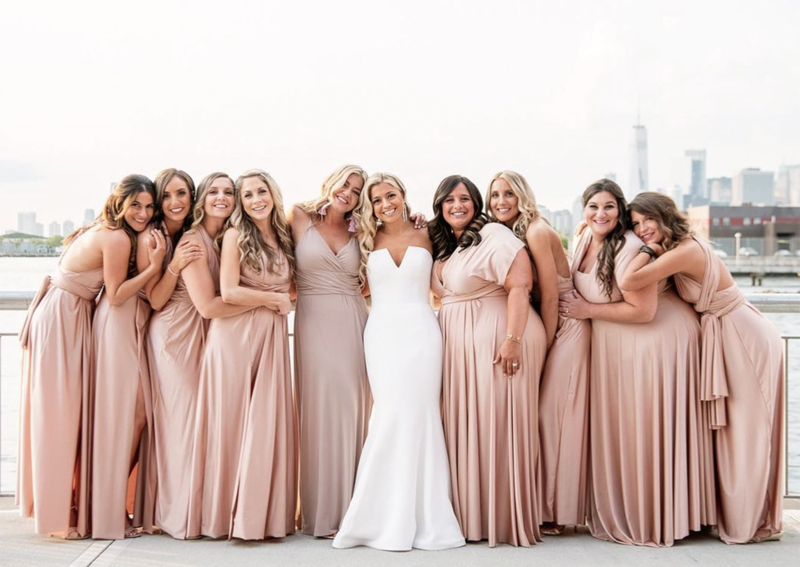 But first, what if she decides not to be your bridesmaid
First of all, tell her to not stress, being pregnant isn't any sort of taboo to have in a bridal party. If she has decided that the commitment is just too much, that's okay, too as there are many ways you can honour her on the big day.
Show her that she still holds a special place in the bridal party. If she does still want to attend your wedding as a guest which I am sure she will see if she can find a maternity dress in a similar style or colour to your other bridesmaids. Give her and her plus-one a seat of honour up toward the front near your family, and present her with a small bouquet or corsage is also a sweet touch.
Finding the right bridesmaid dress
Opt for a comfortable bridesmaid dress fabric – chiffon fabric is the best option for all your bridesmaids – particularly a pregnant bridesmaid. If you do choose a chiffon bridesmaid dress, order an extra yard of the liner.
Alterations can be hard at the best of times but depending on the bridesmaid's dress style and how far along you will be, will determine what can be done. A fuller skirt can typically be altered, but extra fabric may need to be ordered. Speak to a seamstress so they know what is happening as they can advise with timelines for any last-minute alterations that may be needed
As a rule, you will want to avoid ruching! You will also want to avoid designs that hug your midsection. These will not only be uncomfortable but will require a lot of alterations. If you do choose a more fitted bridesmaid dress through the waist and hips, you'll likely need to size up.
Consider footwear too – she may well not want to stand all day in heels and her feet may swell. Speak to her so she can inform you what works best for her.
On the day
With all the hustle and bustle on the day of the wedding, make sure she listens to her body and treats it well.
The number one thing she can do as a pregnant bridesmaid on the day of the wedding is to make sure she gets to rest. Consider the time of day the wedding will be taking place and plan accordingly. Being exhausted before the event even happens will surely put a damper on her experience. Make sure she knows that it is OK to rest and that you are there for her.
Regardless if it's summer or winter during the wedding, it's important to stay hydrated. The days leading up to the event are also busy. Staying hydrated before and during the wedding day will be beneficial to her and her baby. Hydration is key to having all bridesmaids especially the pregnant ones.
Talk to her about food too; is there anything that she wants or anything she needs to steer clear of – from forbidden food to items that makes her nauseous. Get her nice non-alcoholic drinks too; something special to enjoy while you are drinking the champagne!
Make sure she takes it slow – yes, everything is busy, busy, busy on the wedding day and everyone is in a tizzy. However, her sanity and stress levels are important to maintain. Take caution to not over-exert your bridesmaids or cause yourself or them any unnecessary stress.
If she is feeling overwhelmed, get her to take a break and walk away for a few minutes. Some meditations in the bridal suite or even in a bathroom stall can help recenter her. If she is further along in her pregnancy, ask another bridesmaid to keep an eye out for her, and give her a seat if and when needed!
Of course, everyone is different and every pregnancy is different but it is important that you consider the health and wellbeing of your friend to ensure she enjoys the day too.
IF YOU FOUND THIS USEFUL, WHY NOT PIN IT TO YOUR PINTEREST BOARD?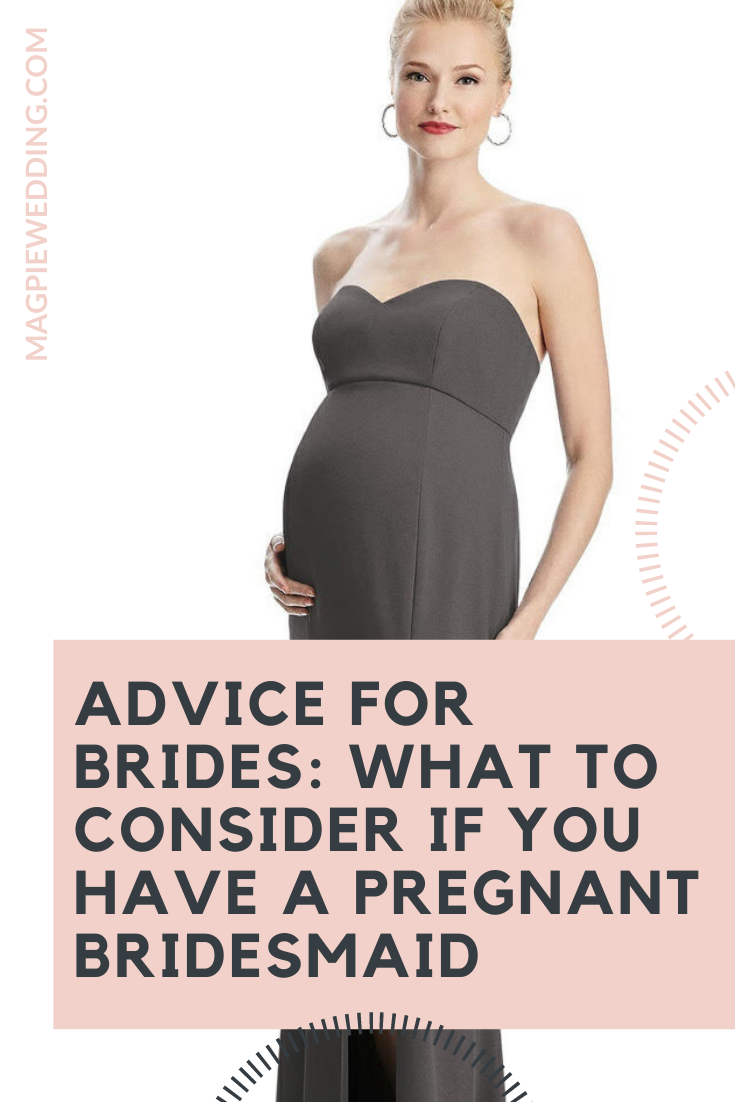 Have a look at our other useful blogs for bridesmaids:
5 ways bridesmaids can help the bride
Which bridesmaid dress to choose for your vintage wedding