If you're currently planning an eco-friendly wedding then you're not going to want to miss all the yummy details and info in today's post! This festival vibe wedding is set at Willow Grange Farm in Cambridge, home to our first ECO Wedding Show of the season and we're full of love for it. Hannah of Green Soul Weddings created this free-spirited summer shoot that shows you don't have to compromise on details because you are choosing a more ethical approach to wedding planning. We catch up with her and some of the team to hear all about how it was created…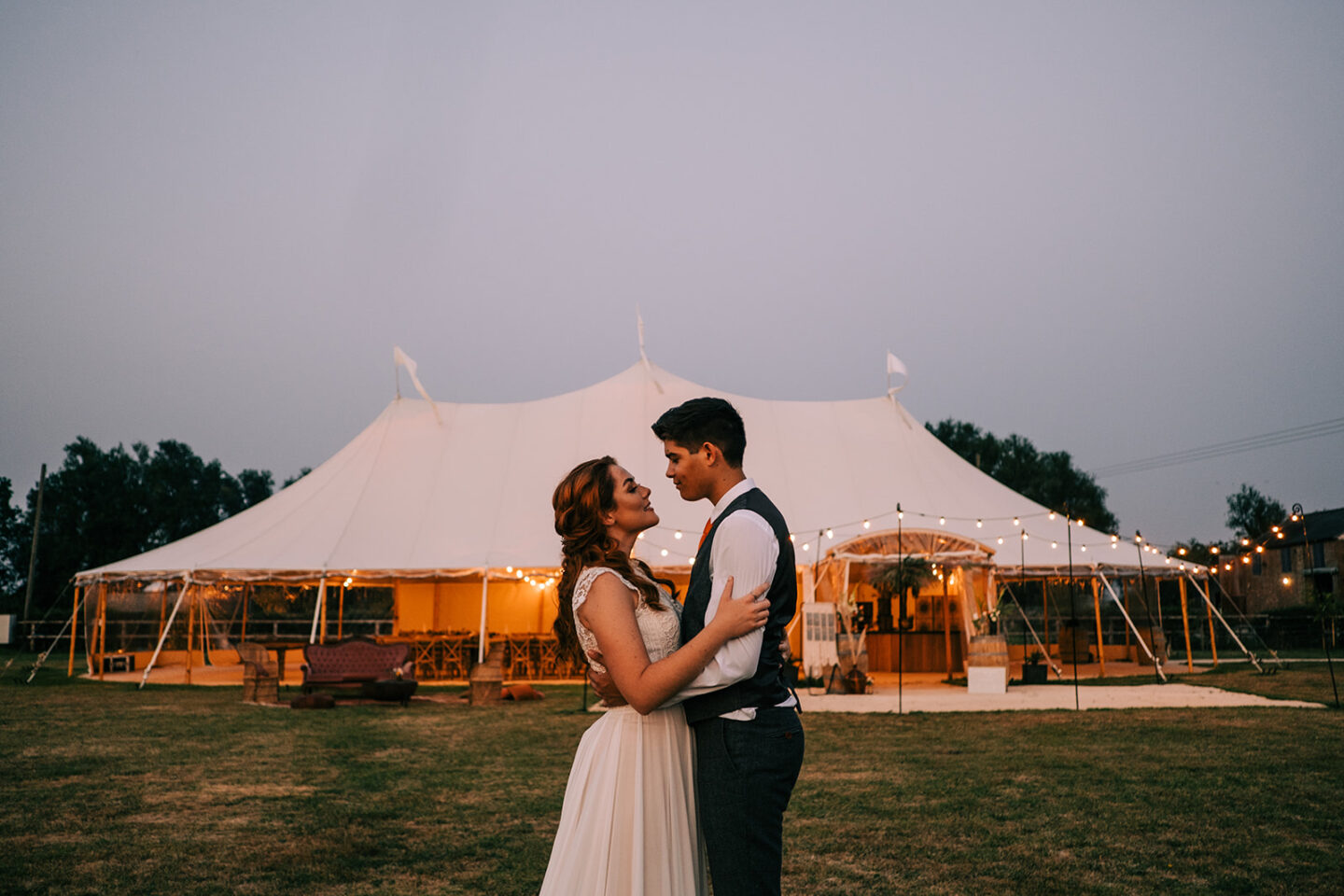 Inspiration
"This shoot was inspired by long hazy summer days and the laid-back free-spirited rural vibes of this up and coming venue. This provided the venue and local suppliers with an opportunity to work together and demonstrate their skills as well as showcase the ideas and potential of this venue. This shoot showed how an eco-friendly approach, a free-spirited and relaxed festival vibe, and luxurious touches could all combine into one cohesive style. To really capture that summer's haze and the laid back vibes we made the most of the long meadow grass areas at the venue and incorporated this into the décor through dried grasses and flowers as well as a warm colour palette of rust, peach and burnt orange."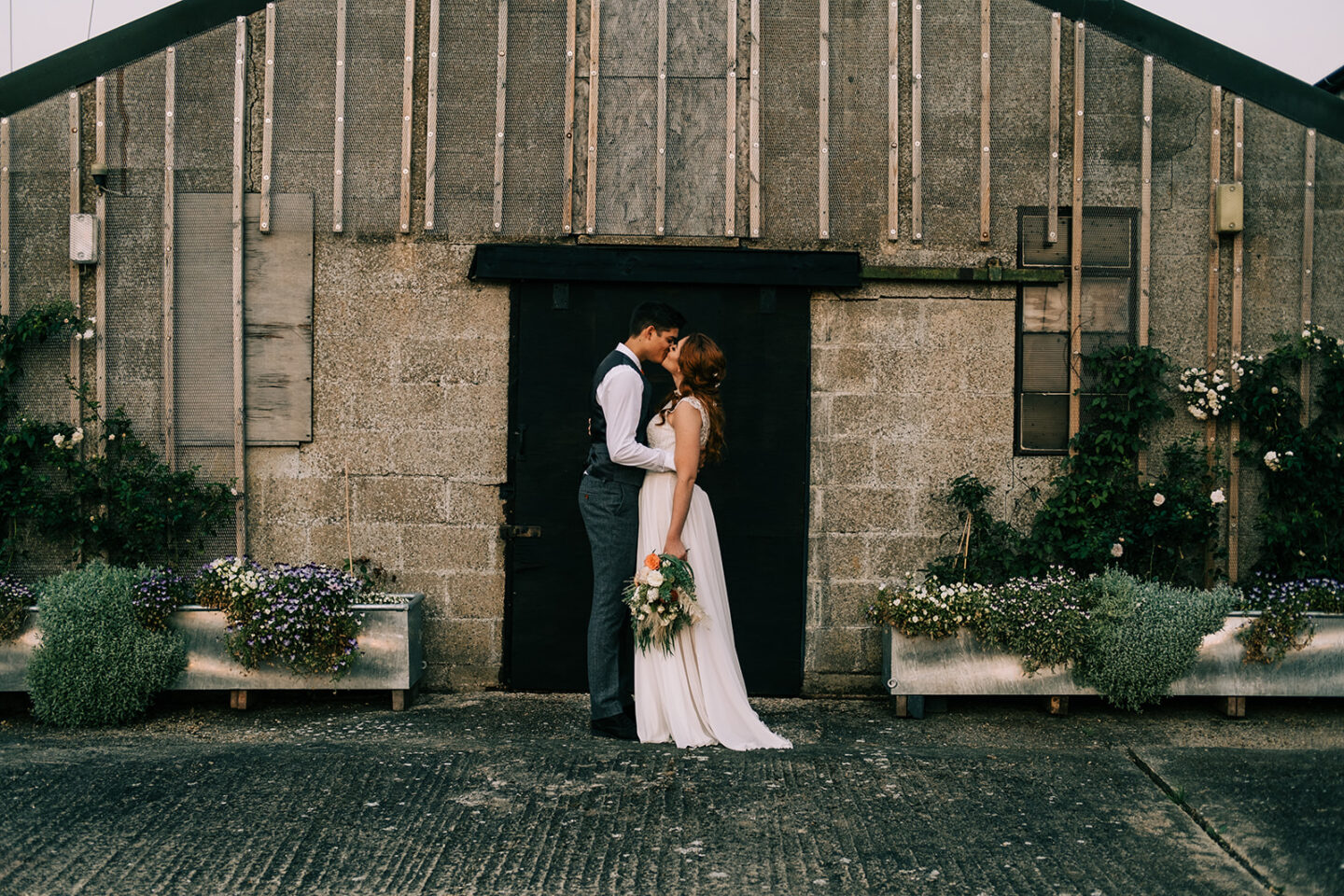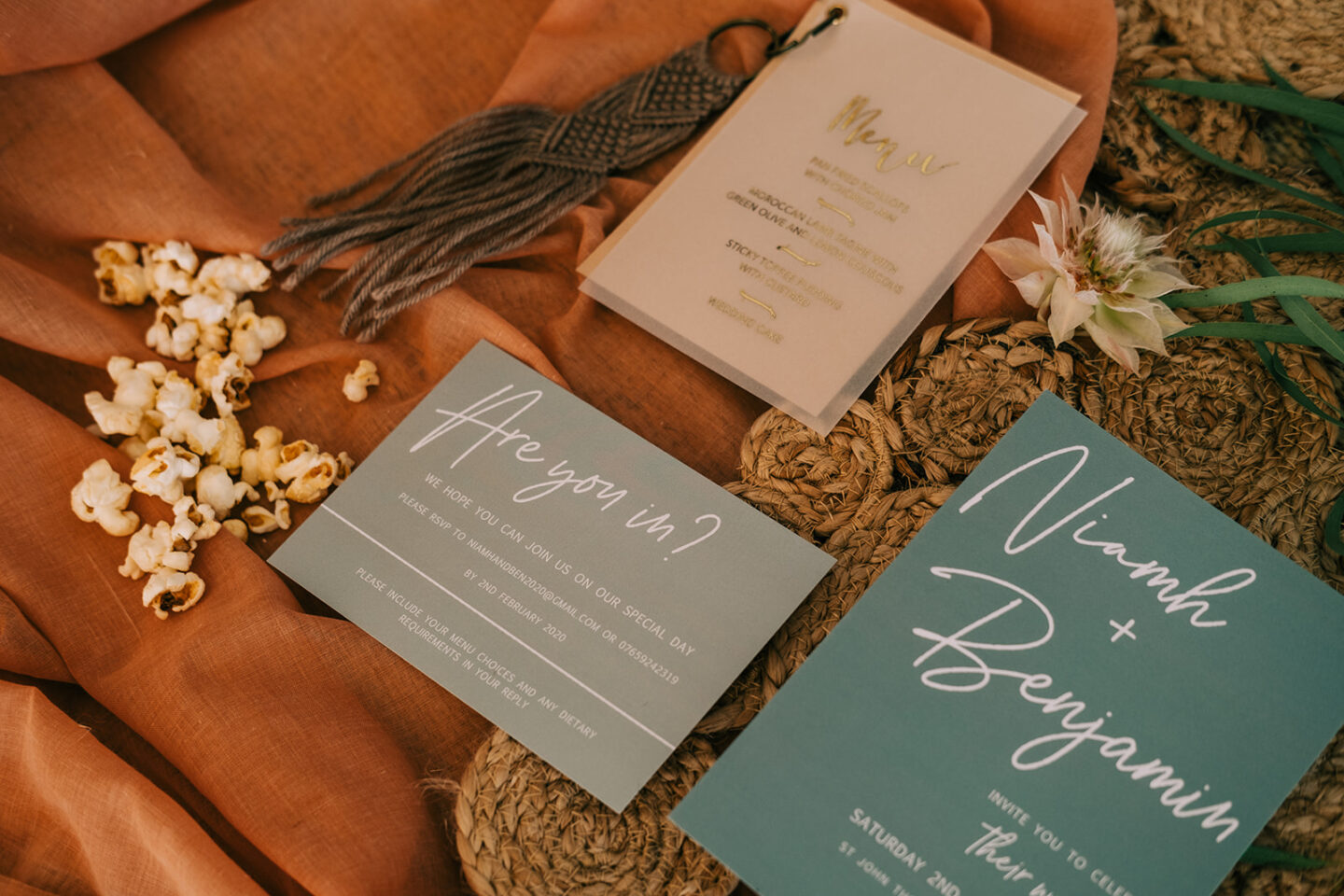 Venue
"Willow Grange Farm is a working family farm, situated between Ely and Cambridge. The venue includes a semi-permanent Sperry tent offering weddings for up to 200 guests. The venue boasts fabulous views; being located on the edge of the fens it is surrounded by flat land, perfect if you're looking for a venue that overlooks beautiful English countryside and gets the most incredible evening skies. The venue is luxurious yet rustic, with a relaxed festival vibe and the elegant Sperry tent taking centre stage. With amazing backdrops aplenty and something to suit everyone's photography tastes, we decided to focus our inspiration shoot on the long grass meadow, the woodland, the elegant Sperry and the rustic farm setting. With Willow Grange Farm's gorgeous view of the big open skies, we chose a warm palette of rusts, auburn, golds and pinks reminiscent of the rich golden light and fiery heat haze of a summer evening at the venue."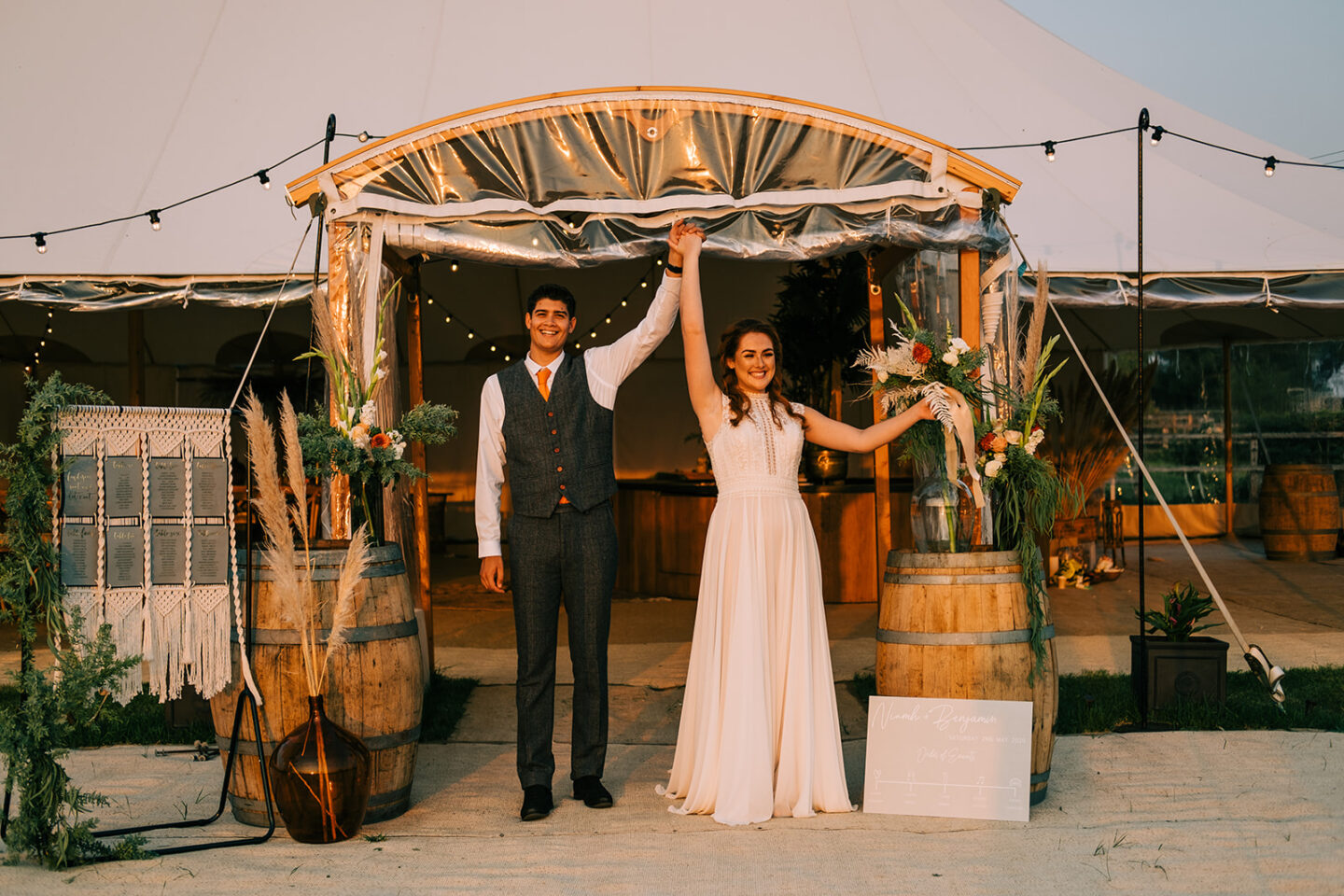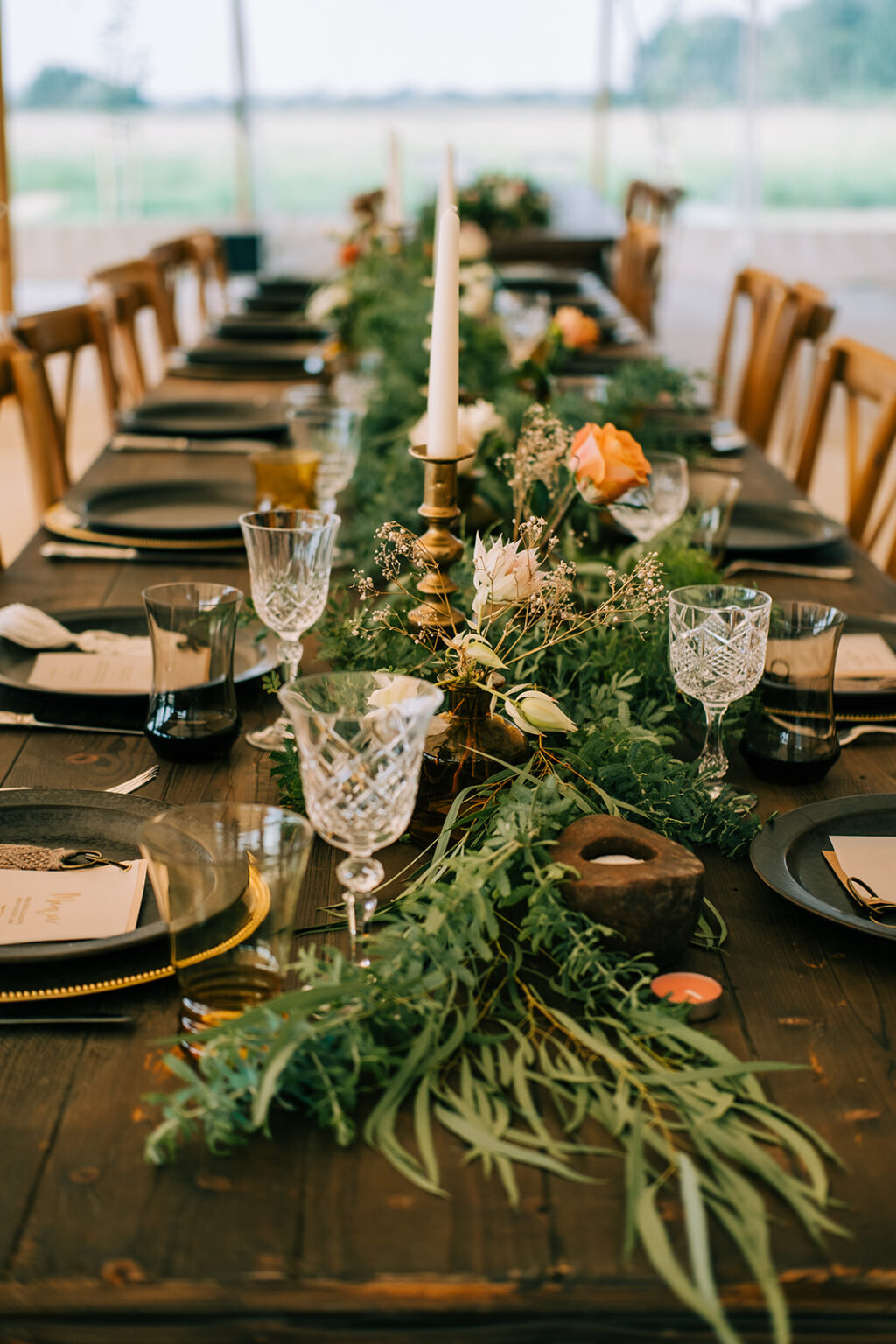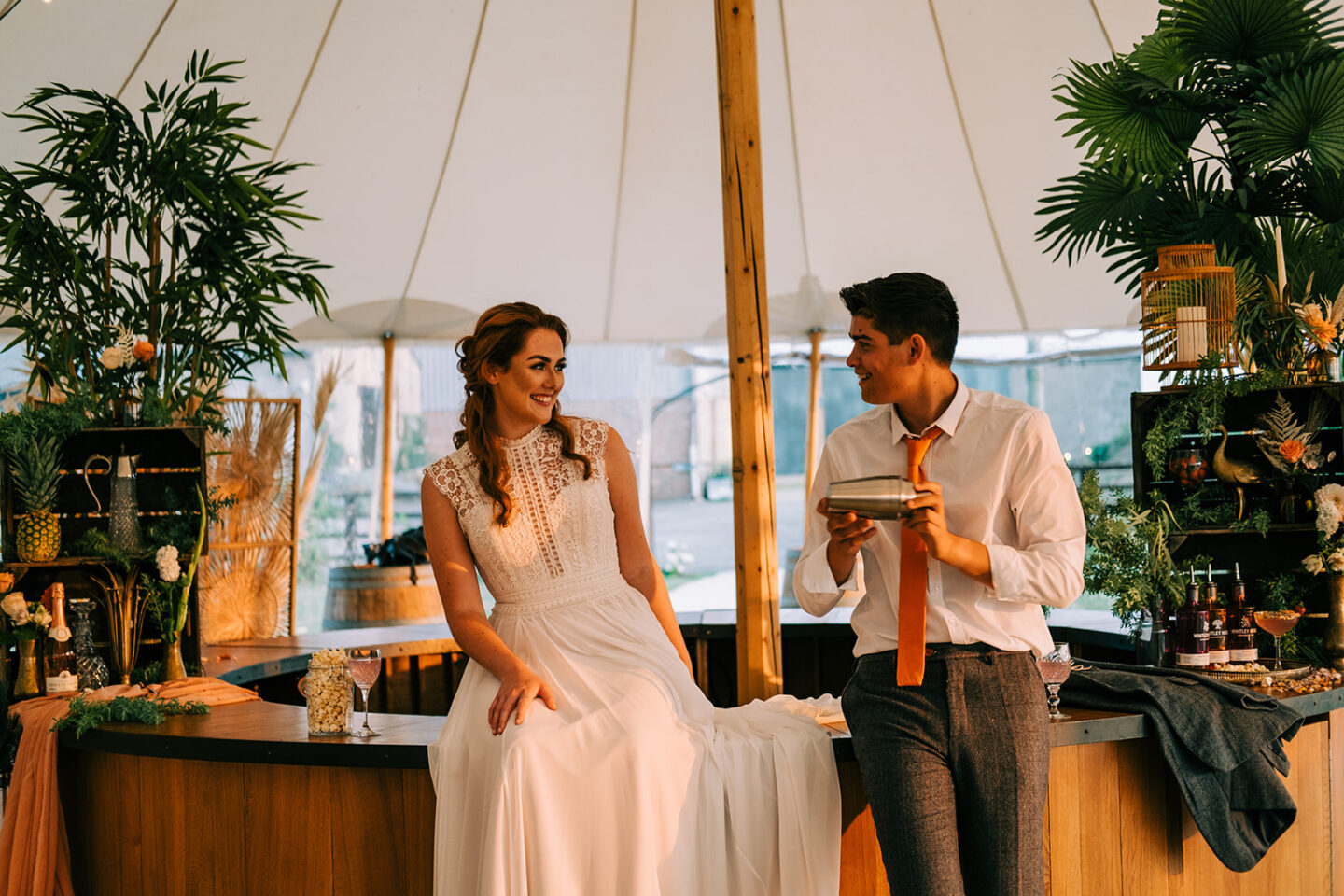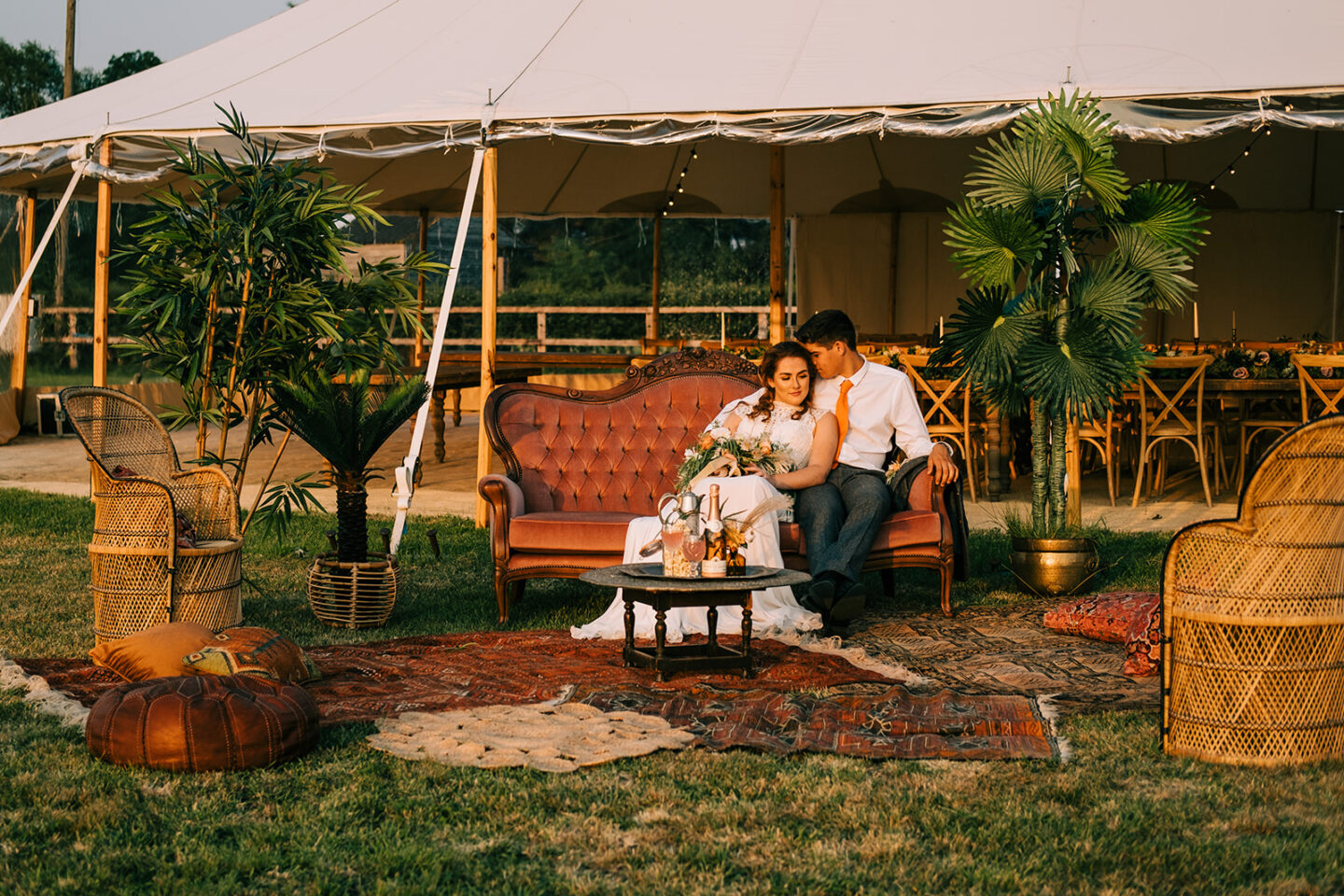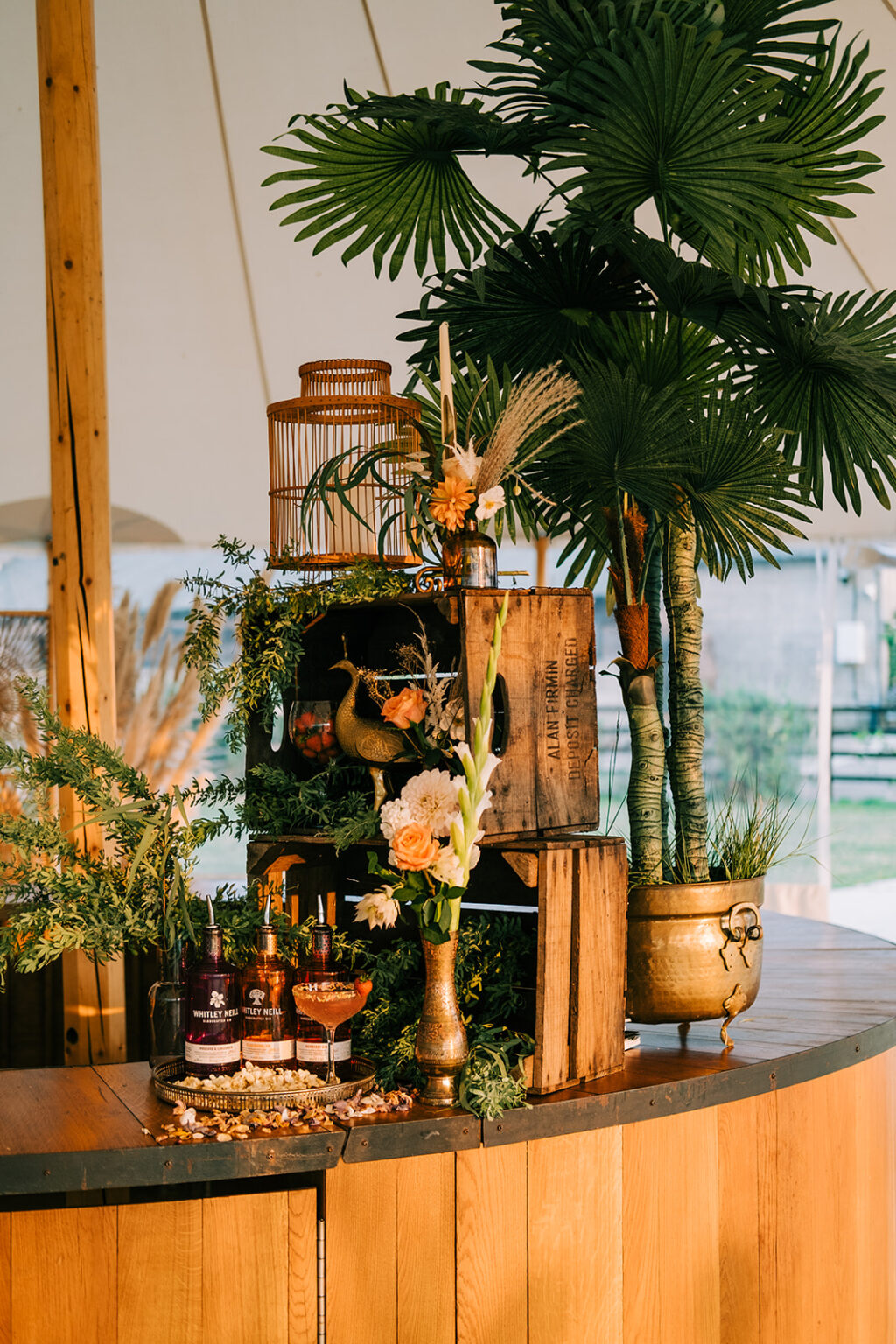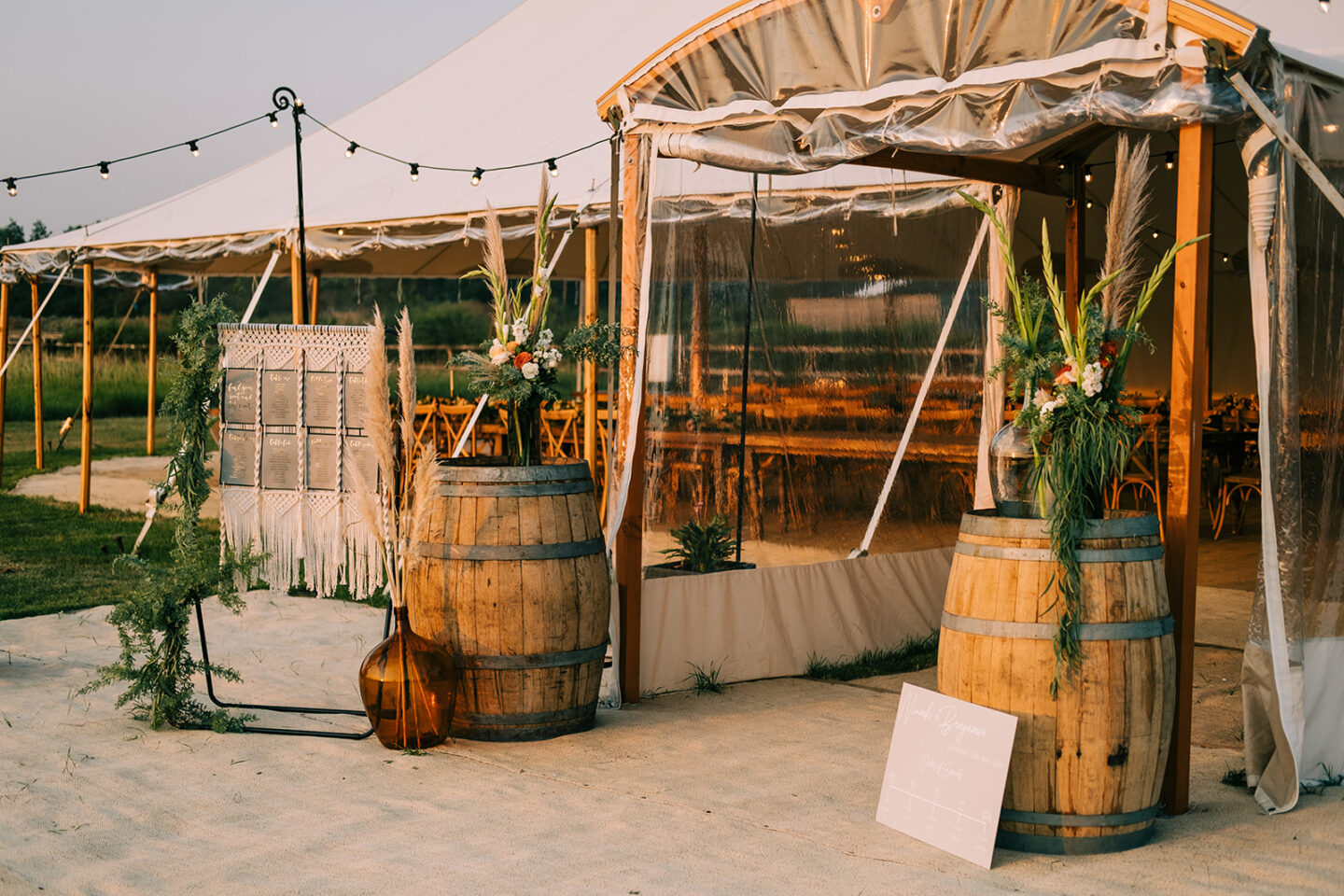 Styling
"Our ceremony setup was kept simple in order to keep the emphasis on the amazing intricate macrame backdrop provided by Lovely Little Lot of Knots. Situated in front of the long grasses, only minimal additions of burnt orange florals and natural hessian rugs were needed to make this ceremony location pop! In addition to the ceremony décor, Danielle from Array Wedding and Event Hire delighted us with an amazing collection of rugs, velvet sofas, throne-like chairs, endless unique accent pieces and some incredible tableware. With the sides rolled up around the Sperry tent and the beautiful, peaked ceiling of the tent, inside it felt spacious, airy and like a continuation of the beautiful surroundings. This lead our stylist, Daisy of Smoke and Wildwood, to keep our table décor natural with foliage runners, bud vases of vibrant blooms, gold candlesticks and gorgeous weathered brick tealight holders. To suit the festival vibe of this setup we decided to make the bar a real focal point, combining luxurious touches with natural flowers and foliage plus fun décor pieces such as popcorn and sprinkles!
A great tip for wedding styling is to think about the vibe you want to create and where your guests will spend most of their time. For this shoot that was the bar and outdoor chill area, so this is where the main styling décor was focused for the most impact."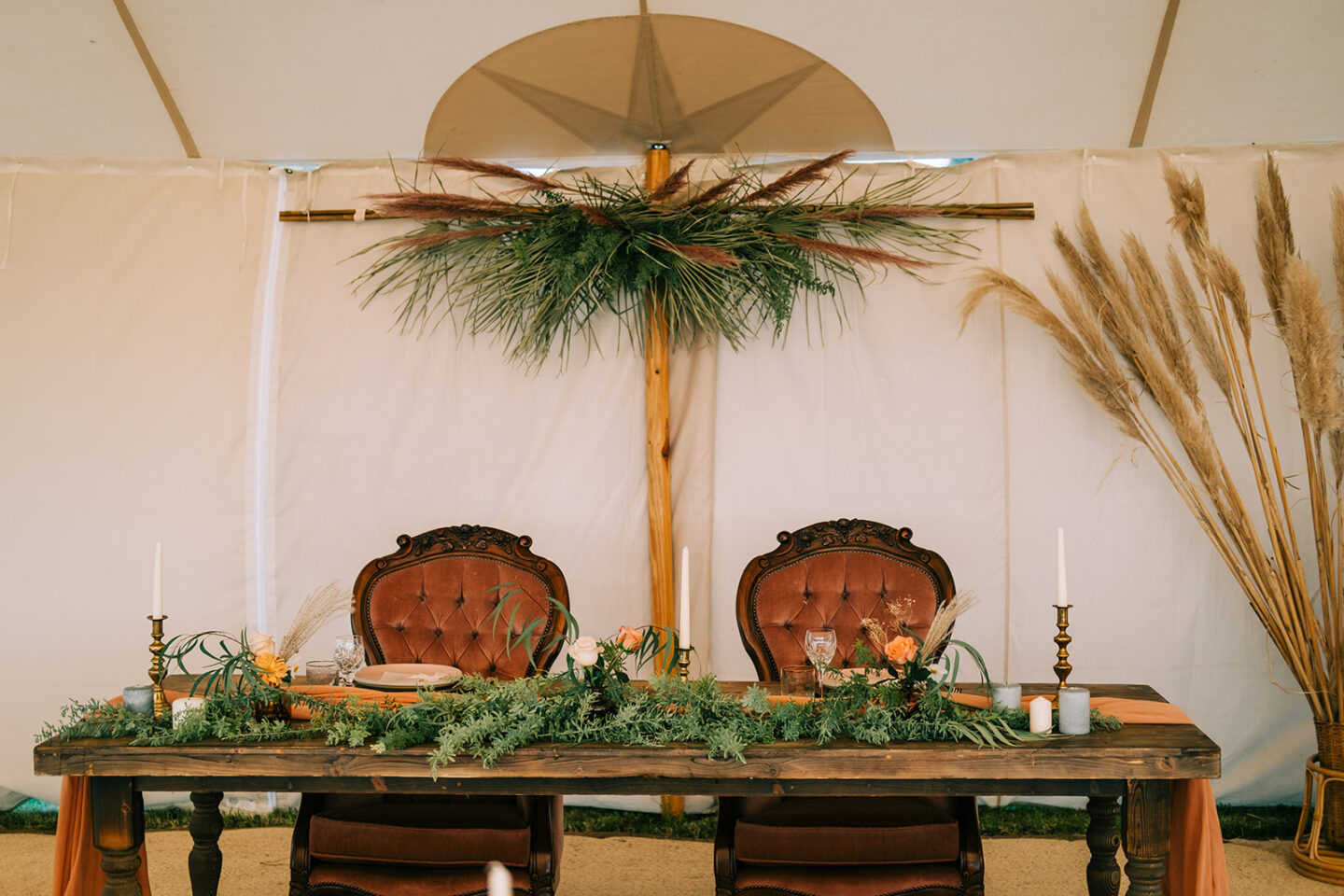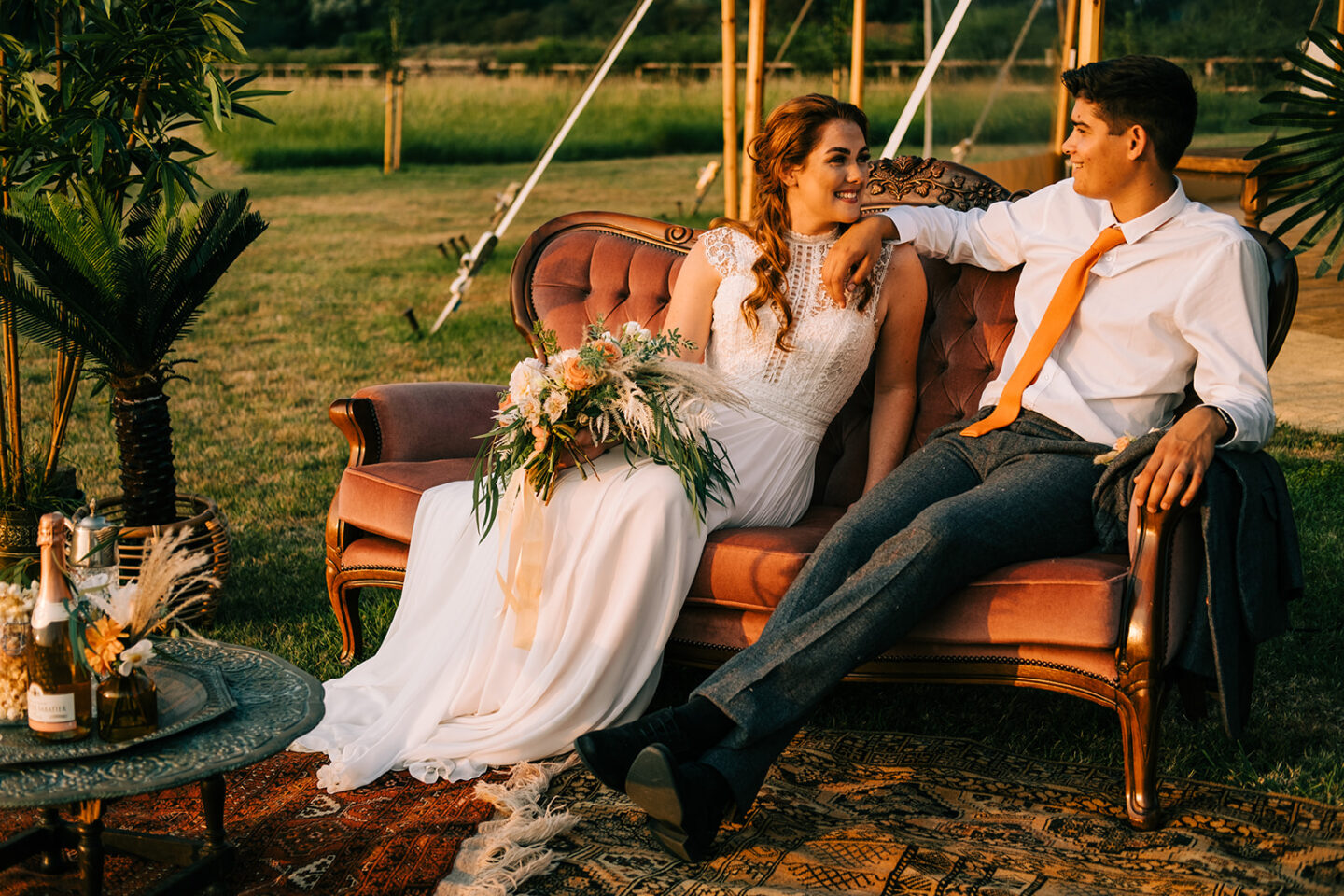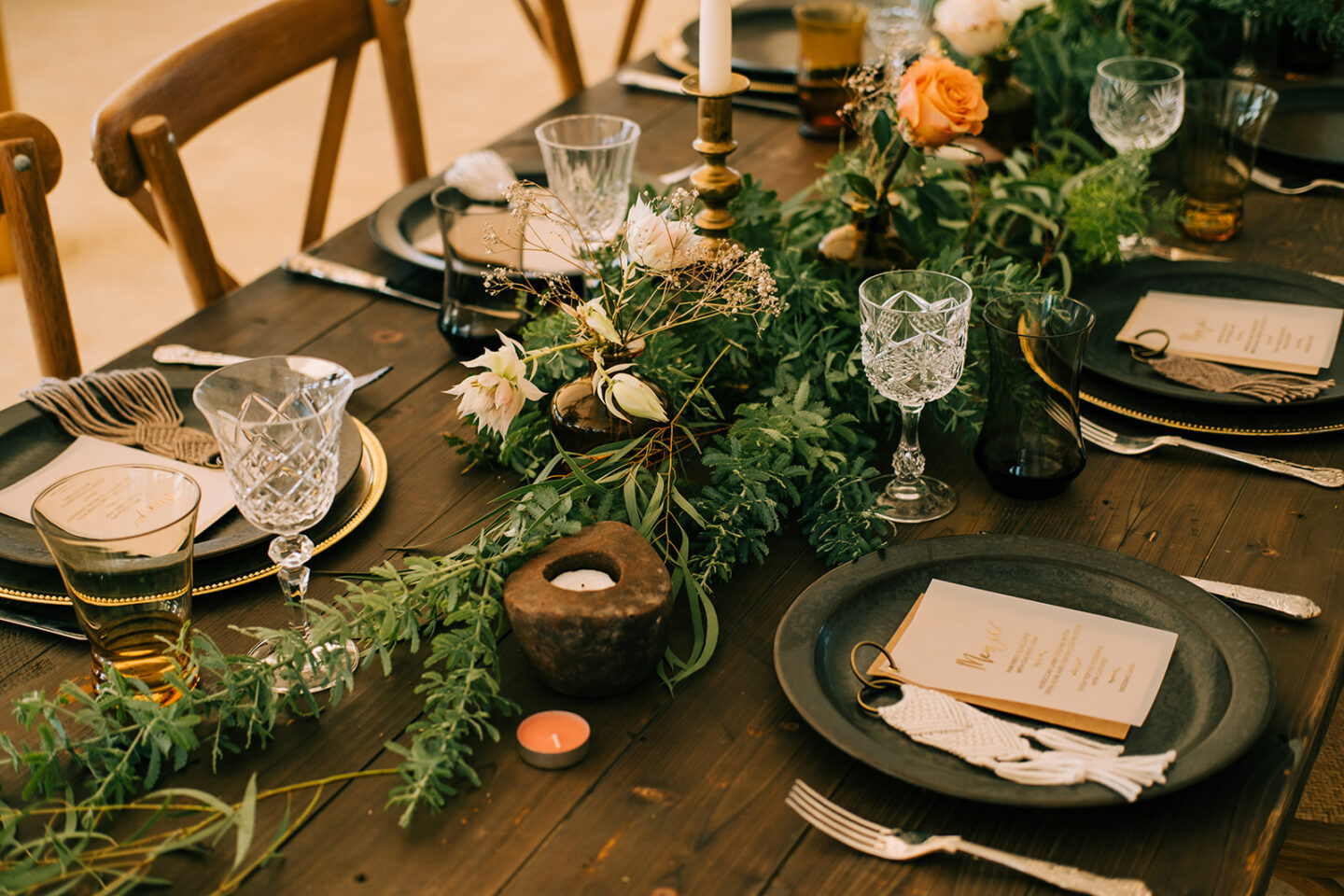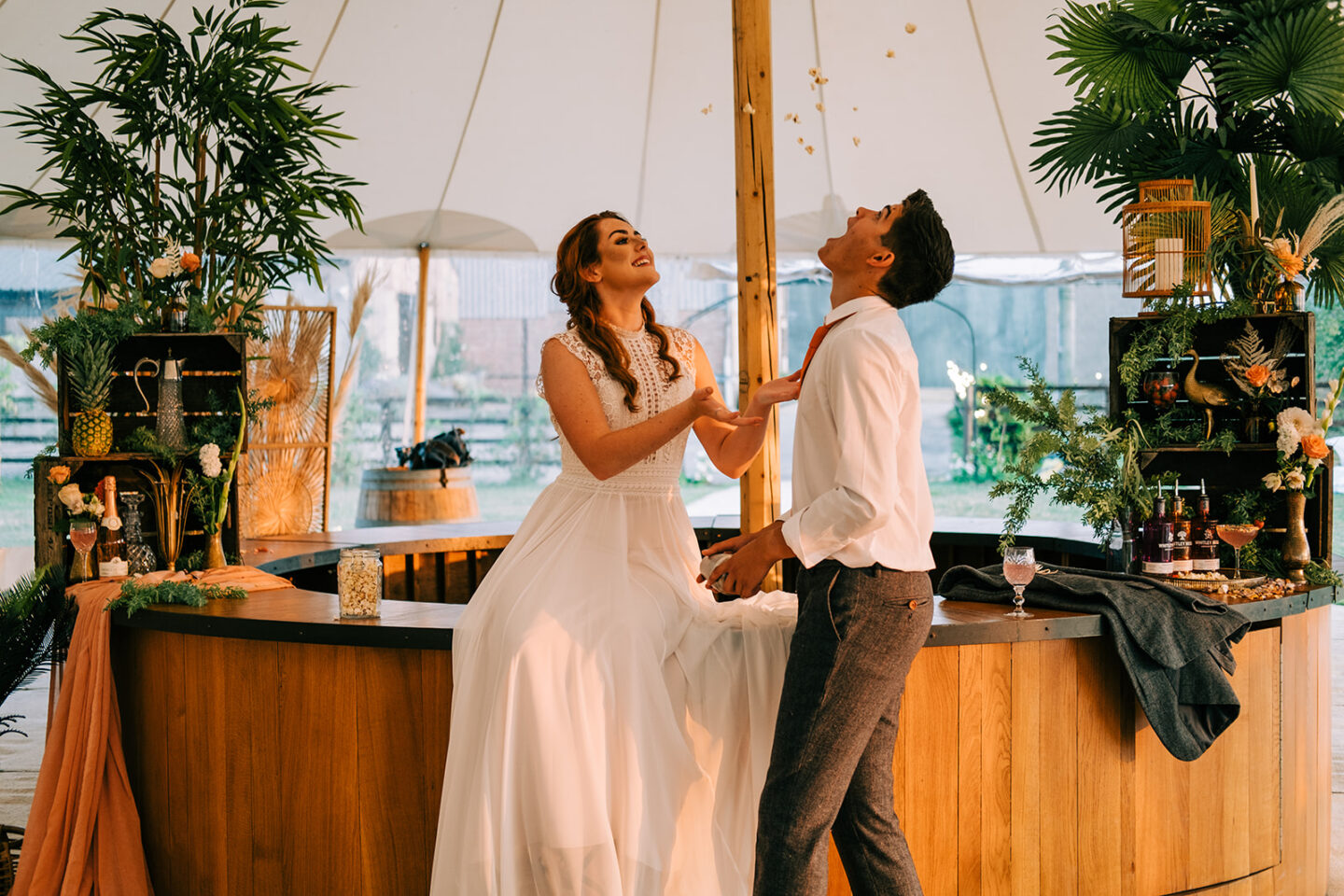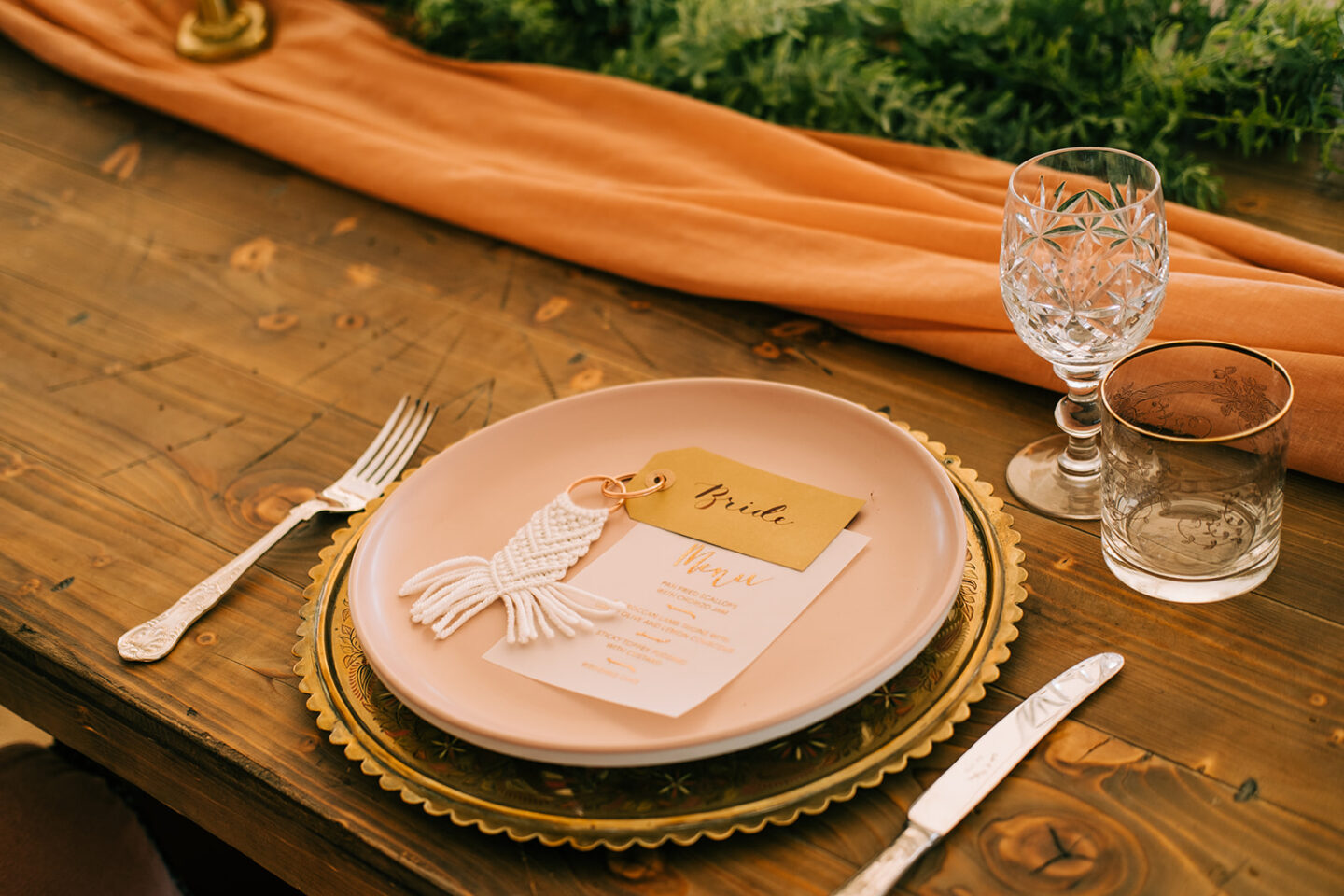 Photography and Videography
Lee Allison Photography and White In Motion
"Our photographer and videographer, Lee and Mark, optimised their use of shady areas around the venue for some gorgeous couple photos during the shoot whilst avoiding the harsh sun. Willow Grange Farm really offers every photo backdrop imaginable, with a lovely small woodland area and rustic farm barns providing the ideal locations with beautiful lighting. Once the sun began to lower Lee and Mark provided valuable photographer's insight on the ideal lighting locations and timing, capturing this beautiful set of images we are thrilled to share with you today. One big tip this shoot reinforced is the importance of listening to your photographer and taking their lead on your wedding day to make the most of the weather conditions you're given, especially when trying to get the best golden hour moments! The video really emphasises the stunning golden evening lighting, the texture and detail rich décor, and the true love between our real couple models."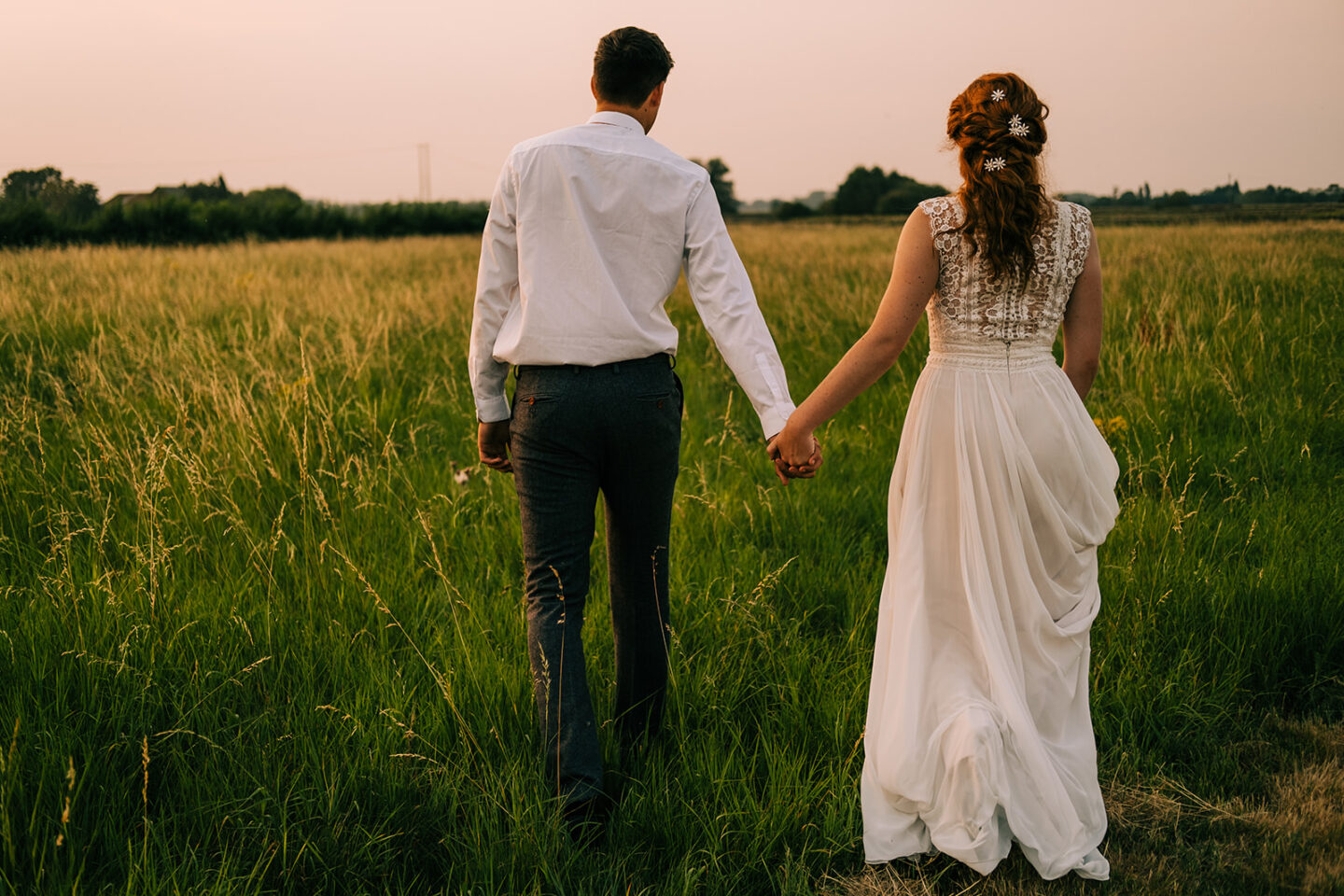 Bride and Groom
The Dress – Coco Couture Bridal Boutique
"The dress, provided by Coco Couture Bridal Boutique, had beautiful lace detailing and delicate capped sleeves, ideal for the hot weather. The luscious layers of silk no this dress danced as our bride floated around the venue and enjoyed sunset walks in the meadow. When planning a summer wedding, consider how you normally cope with the heat and factor that into your dress decision. Tight restrictive dresses can make you feel very warm, especially when your adrenaline is also high from the excitement of the day. It's easier to add decorative layers of warmth than it is to remove layers when you get hot on your wedding day!"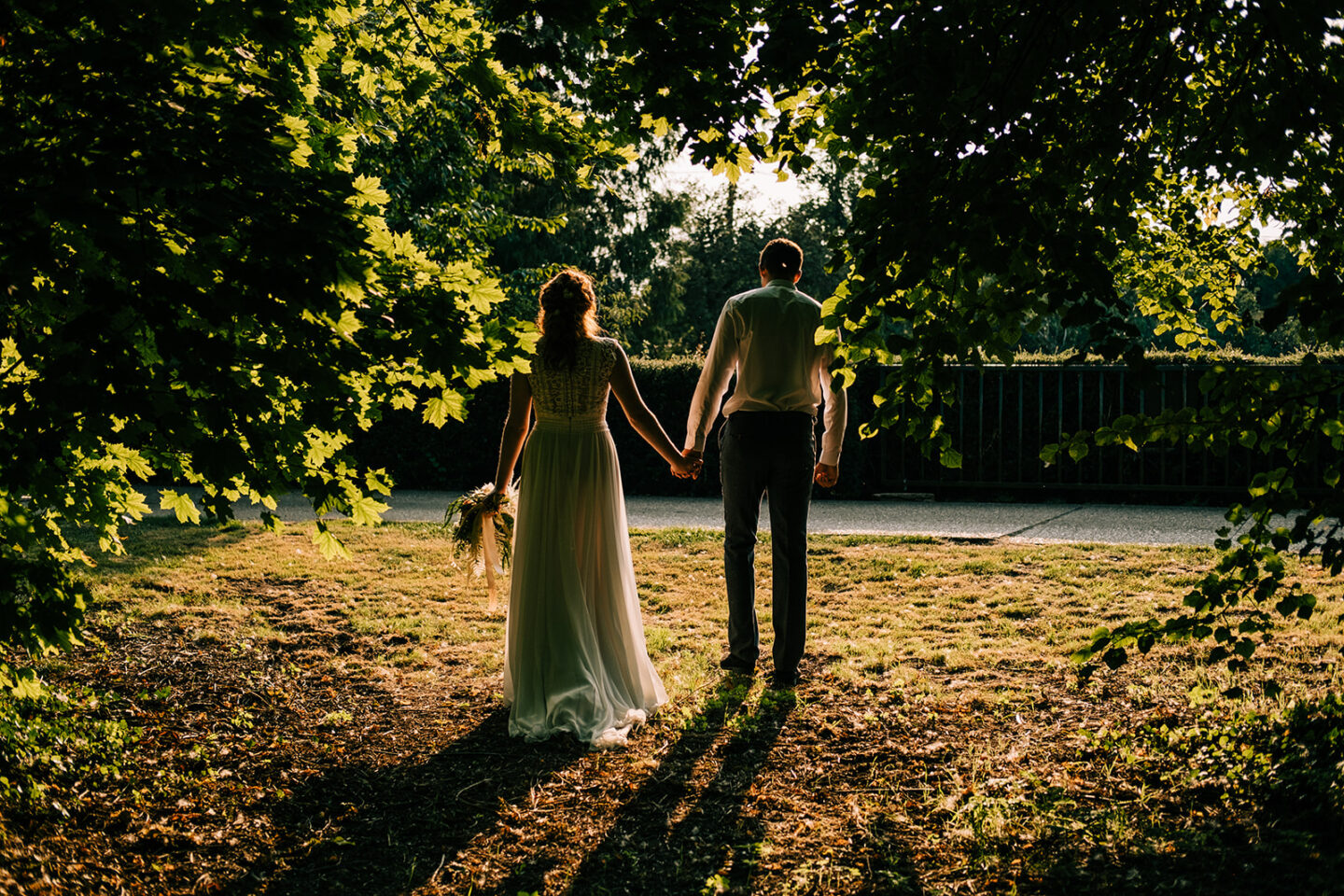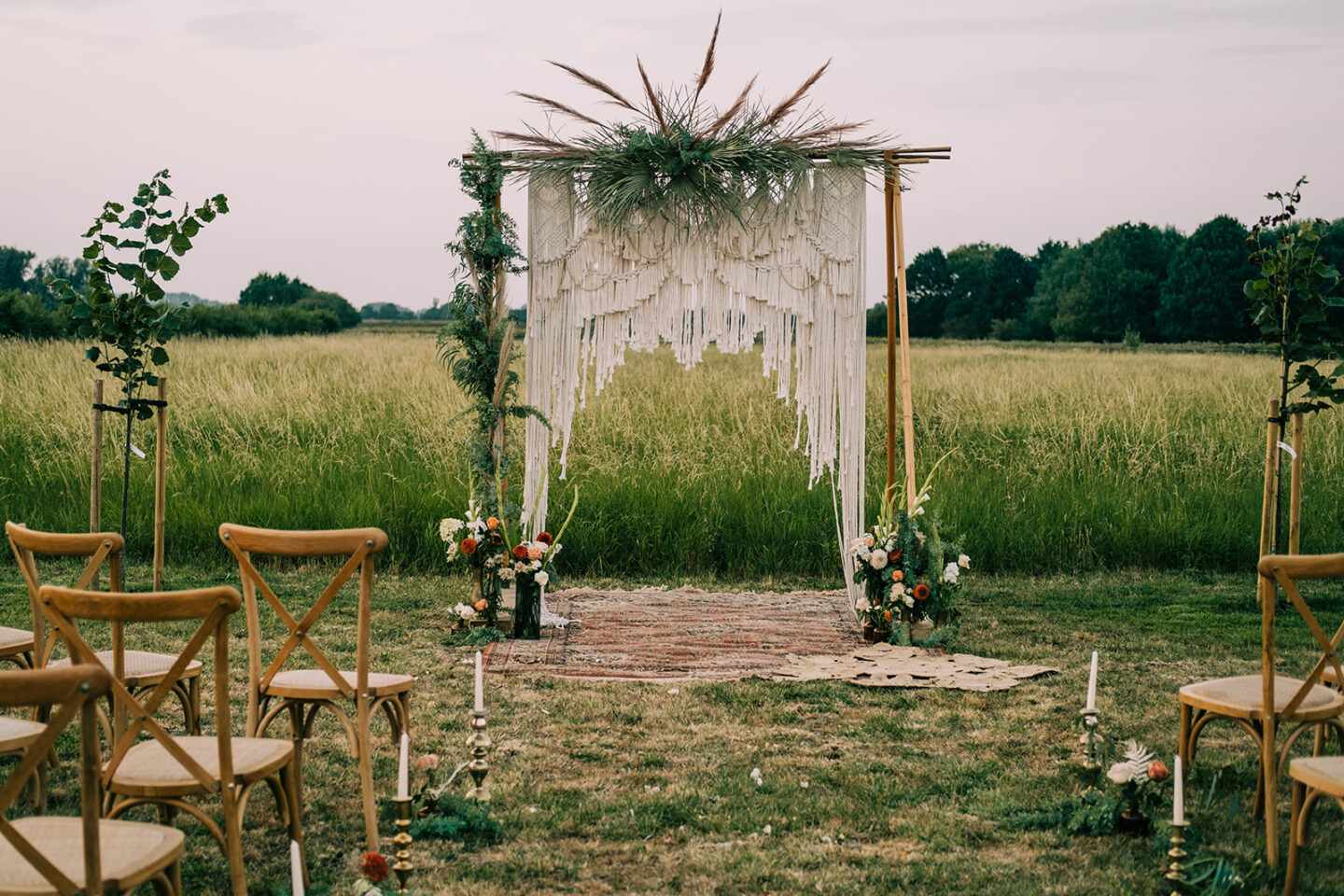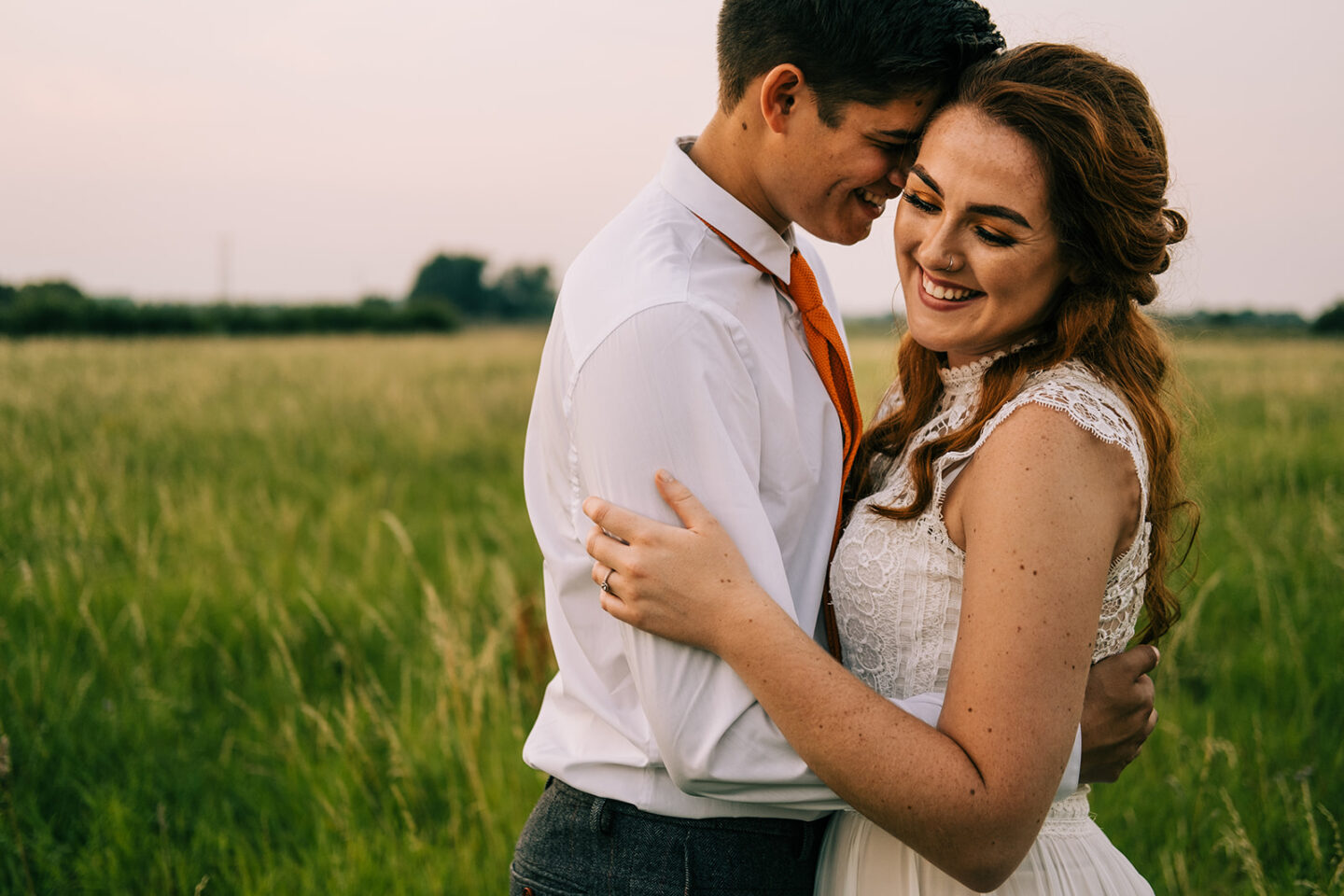 Hair and Makeup
"Our lovely bridal model applied her own makeup due to the covid regulations and restrictions at the time. For the bridal hair, Kerry from Cambridge Wedding Hair wanted to create a bespoke bridal hairstyle that captured the soulfulness of this free-spirited shoot. Soft waves and twists were used to envelop and accentuate the bride's beautiful auburn hair. Delicate bespoke bridal hairpins were clustered to give the finishing touch to the style."
The Suit – Vintage Suit Hire
Our groom wore a 3-piece tweed suit hired from Vintage Suit Hire which kept the look casual yet still incorporated those country vibes. An orange knitted tie completed the look and added a bright pop of colour along with the beautifully textured buttonhole, which beautifully complimented our bride's stunning bouquet.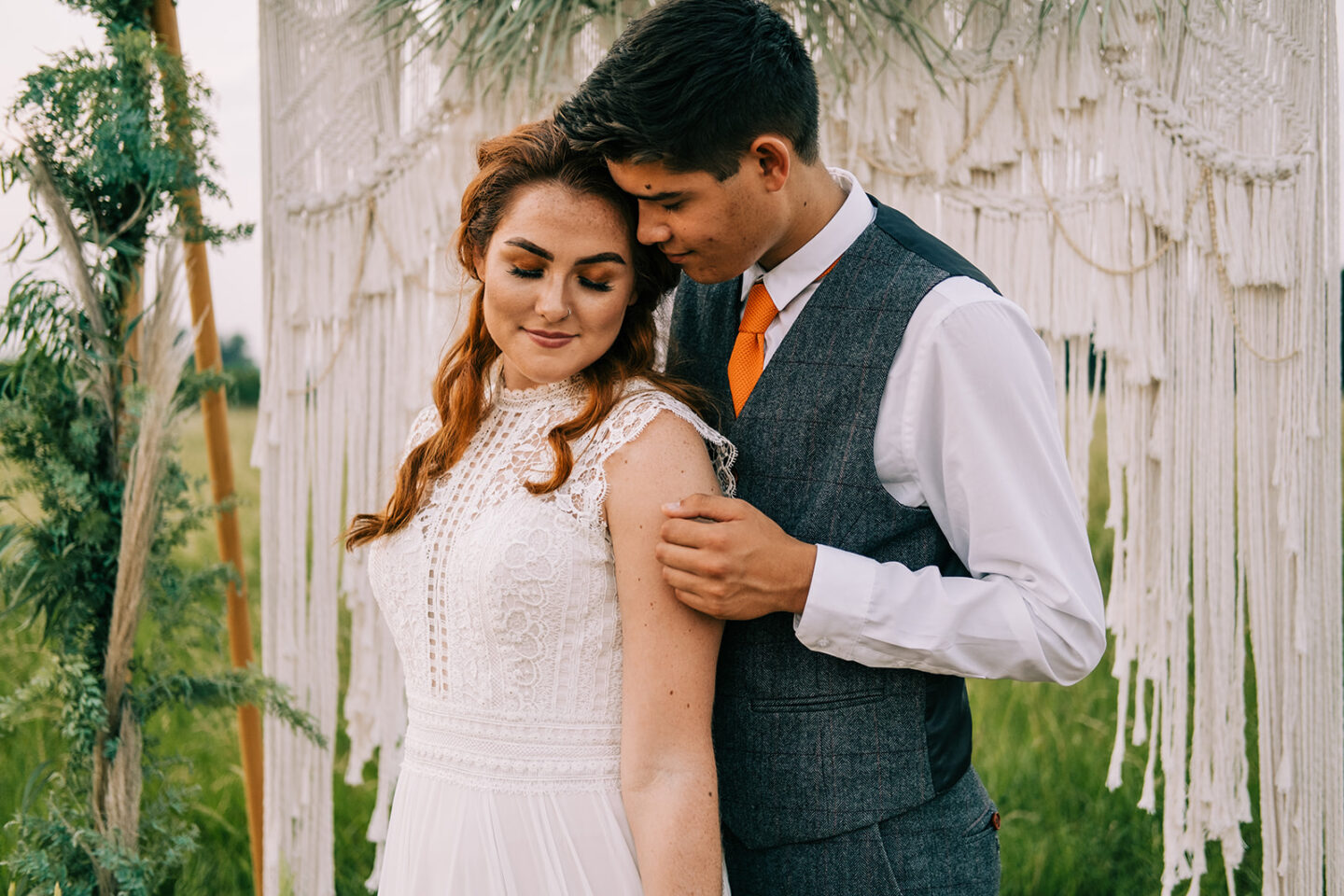 The Details
Flowers – Root
"As an eco-friendly florist, Amy worked to create all the arrangements foam-free and with environmentally friendly methods to create a natural, wild and foraged feel. In addition to focusing on foliage and flowers that were sourced locally and in season, Amy also incorporated dried elements to add extra texture and interest. The colour palette of warm tones; orange, dusky pink, peach and a touch of white tied the look together nicely with the golden sunset we were hoping to catch."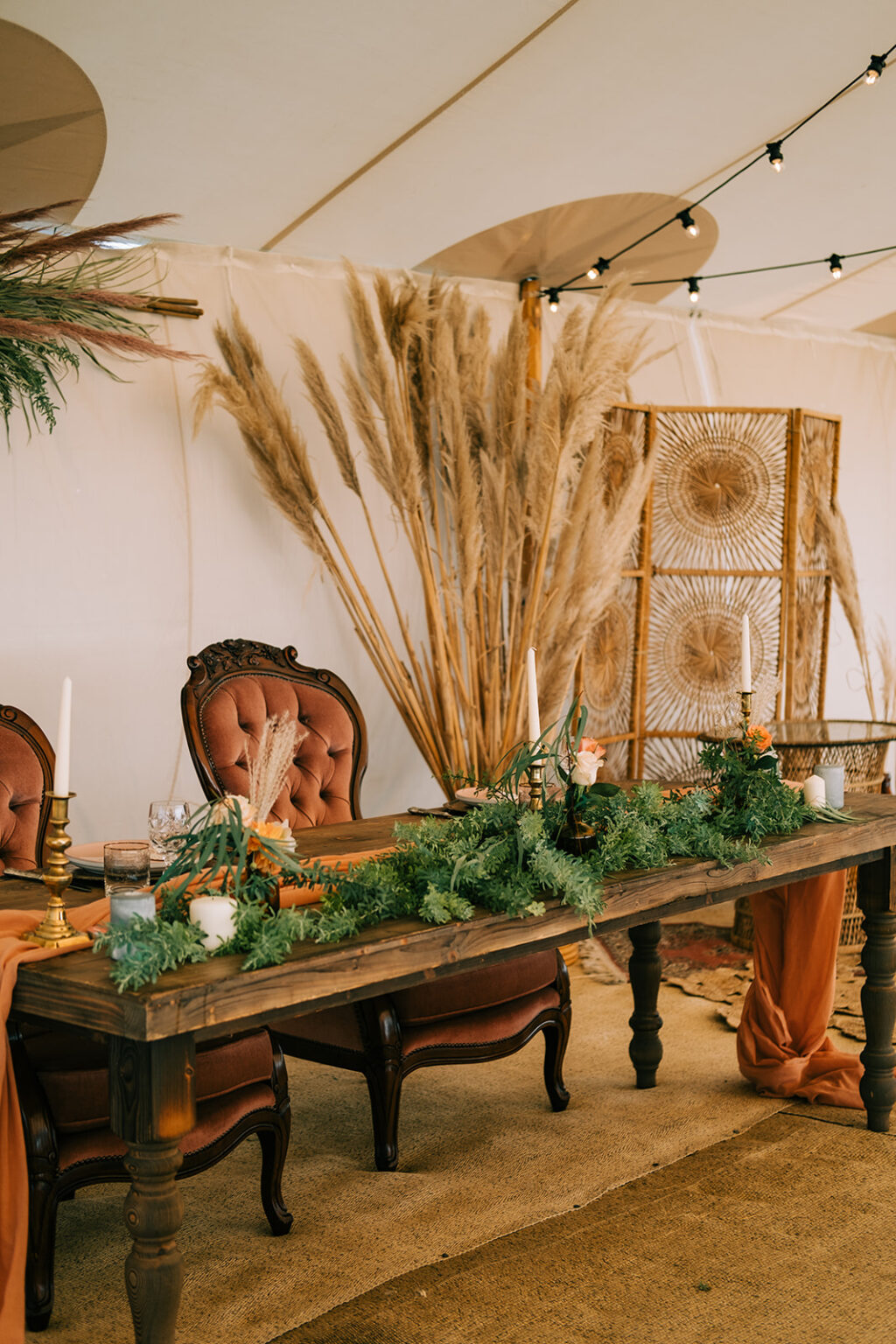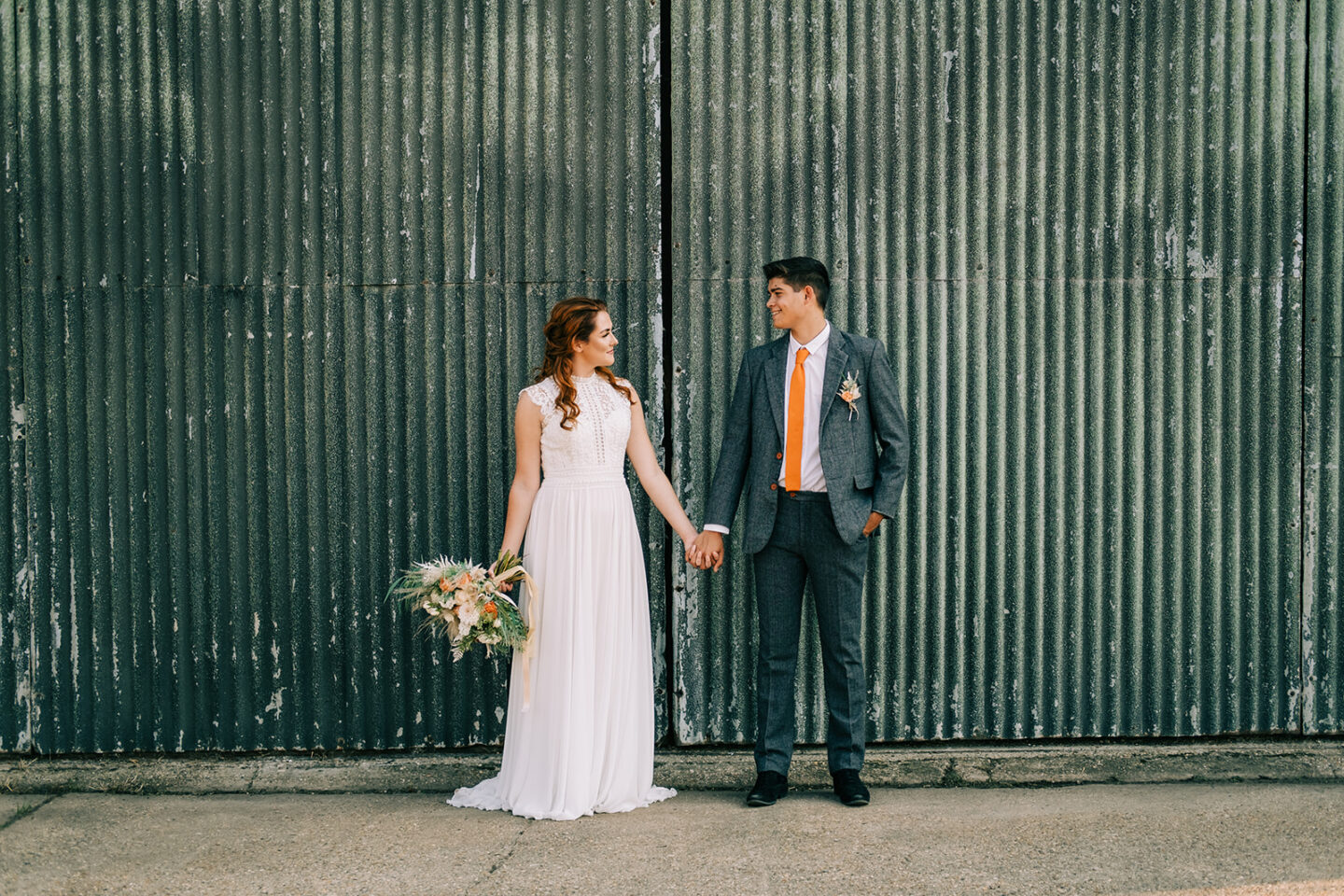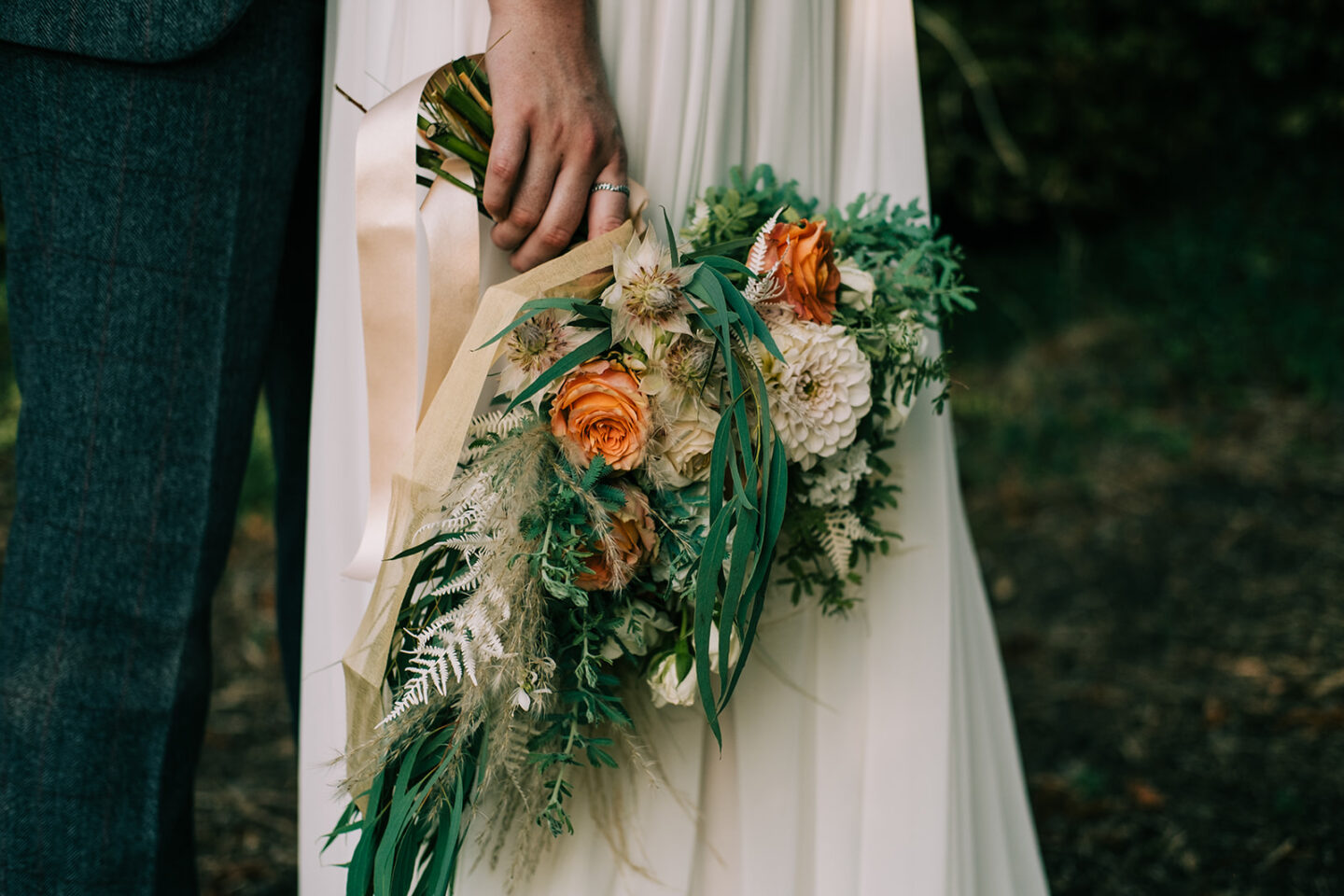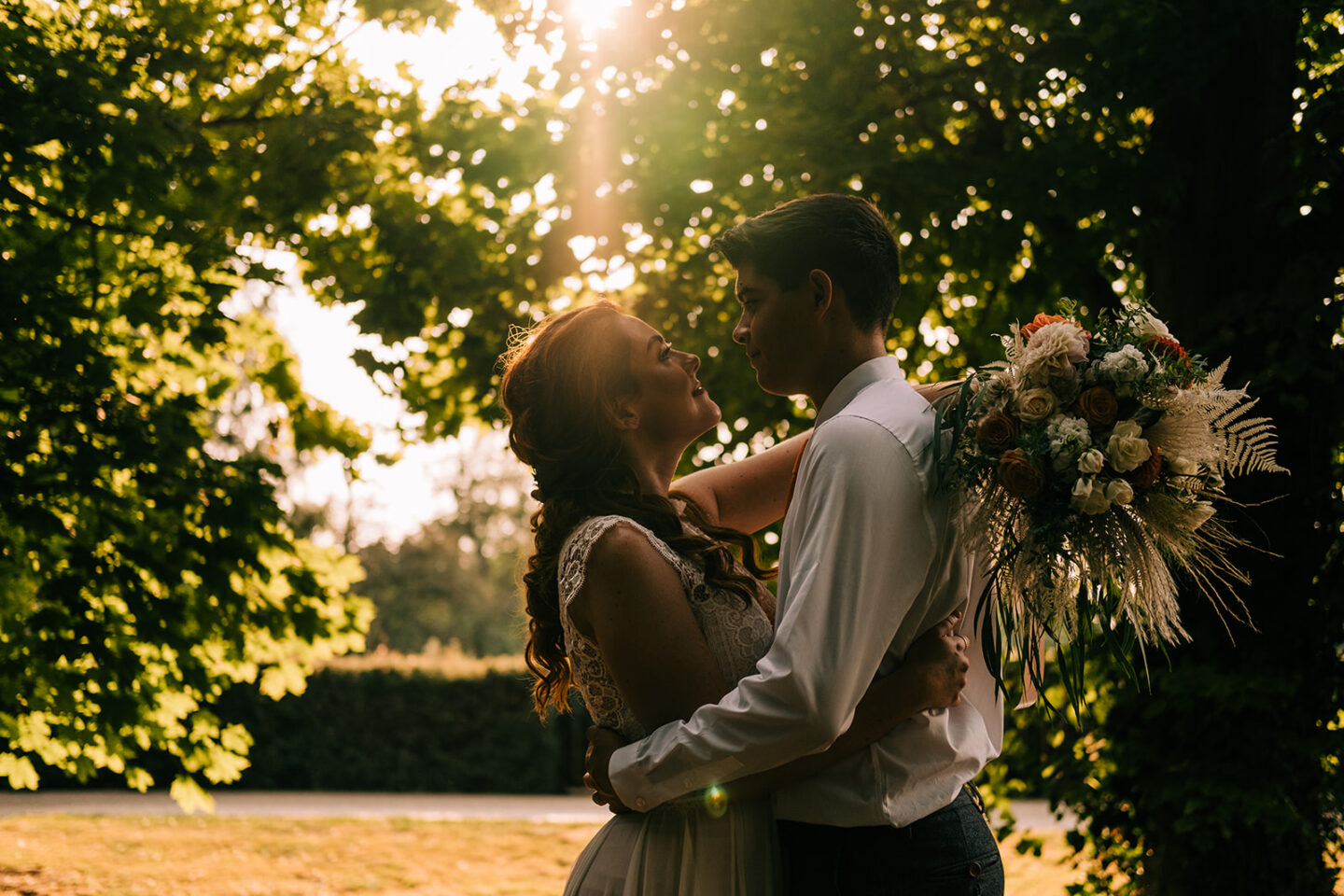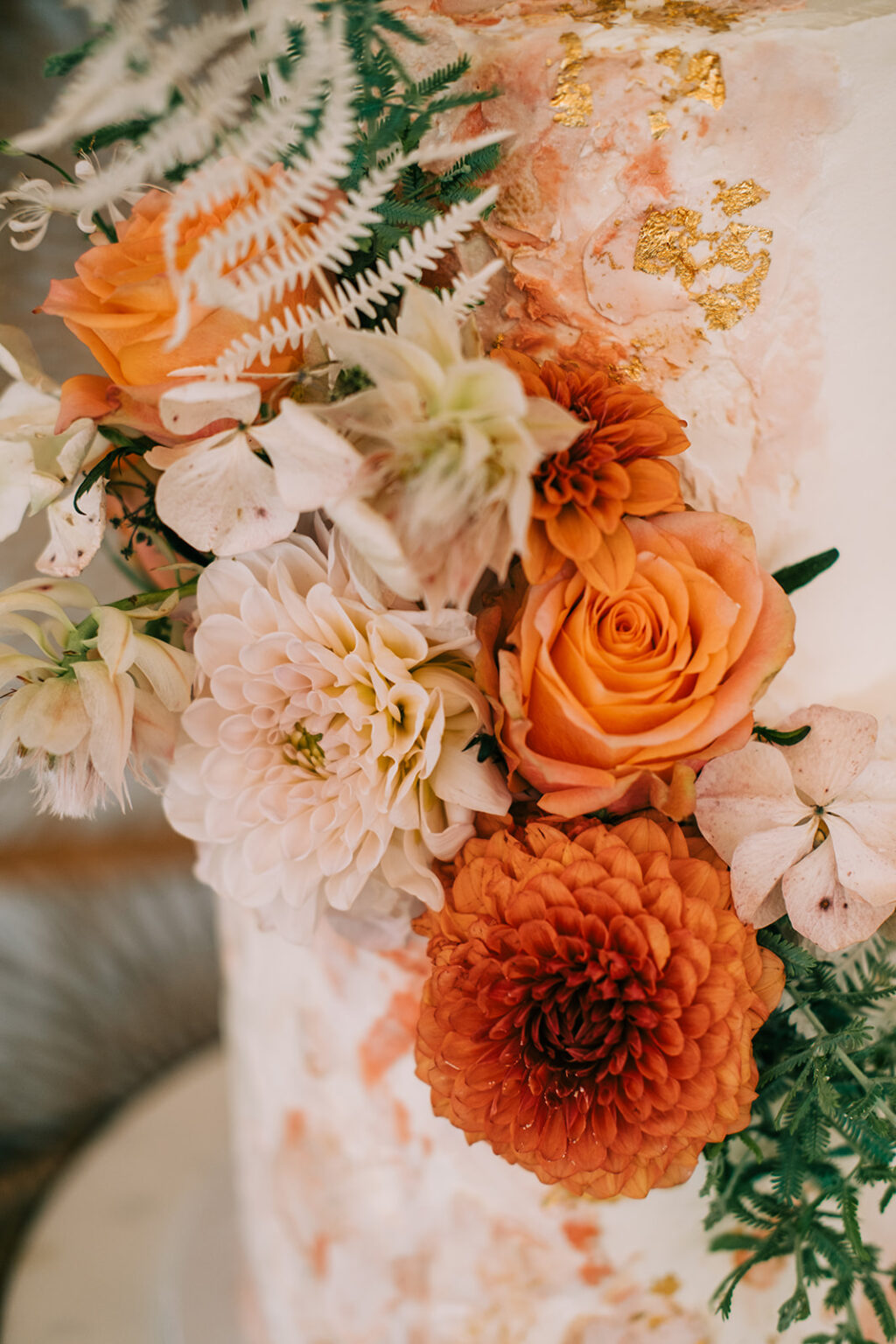 Cake – One Part Love Bakery
Jess from One Part Love Bakery produced a stunning hand-painted two-tier buttercream cake in marbled orange with flecks of gold leaf, perfectly reminiscent of the evening sun glistening on the tent canvas. With burnt orange florals and dried foliage providing the finishing touches, this cake sat perfectly amongst its surroundings.
Jess says; 'When it's such a hot day setting up wedding cakes can be a little stressful but the whole team did such a fantastic job supporting each other, and the cake survived the hottest day of the summer!'. It is worth bearing in mind the setup location for your cake, ensuring you avoid any direct sun or heat and ideally choosing the coolest area of your venue to ensure you minimise damage and maximise how long your cake can be on display and admired."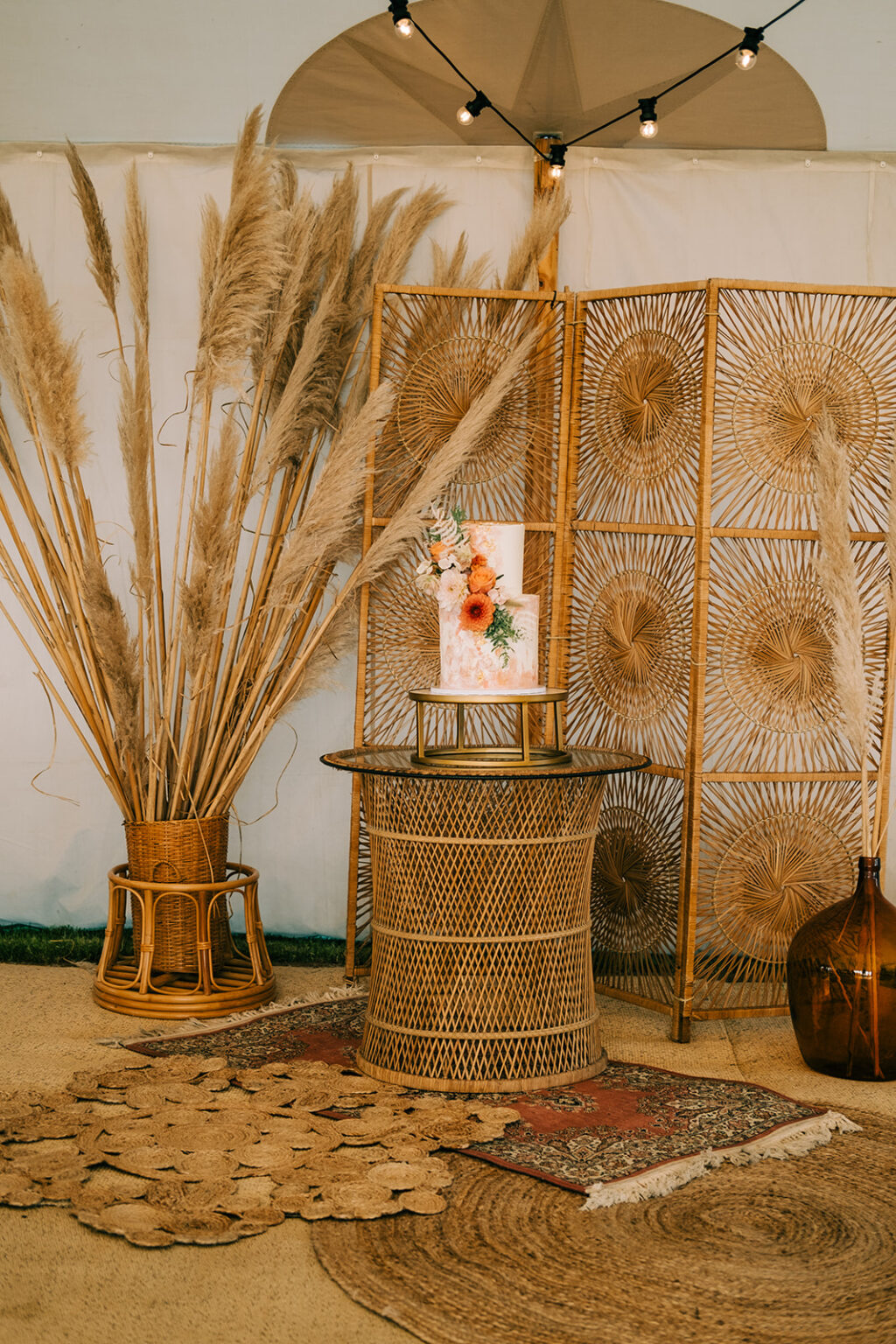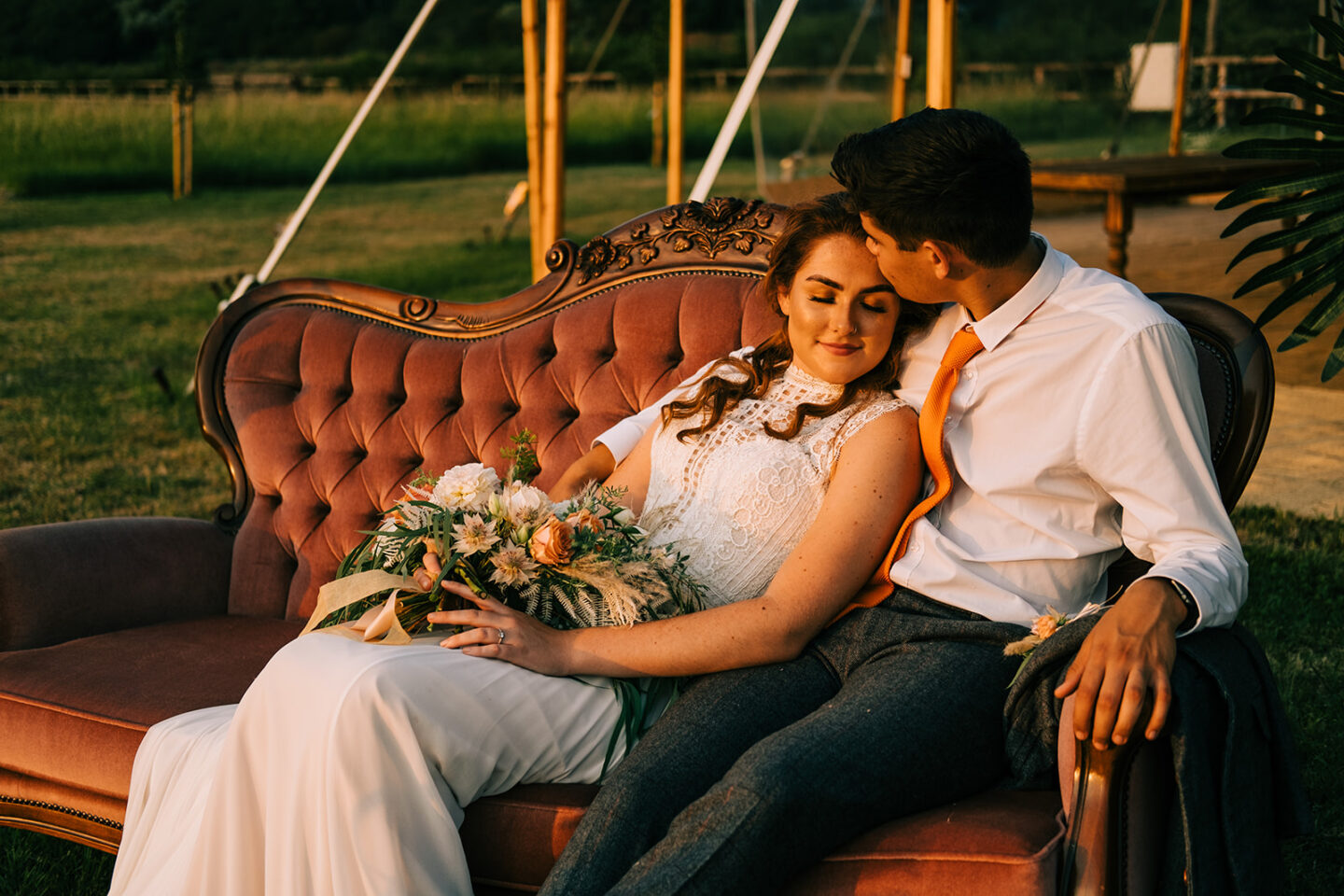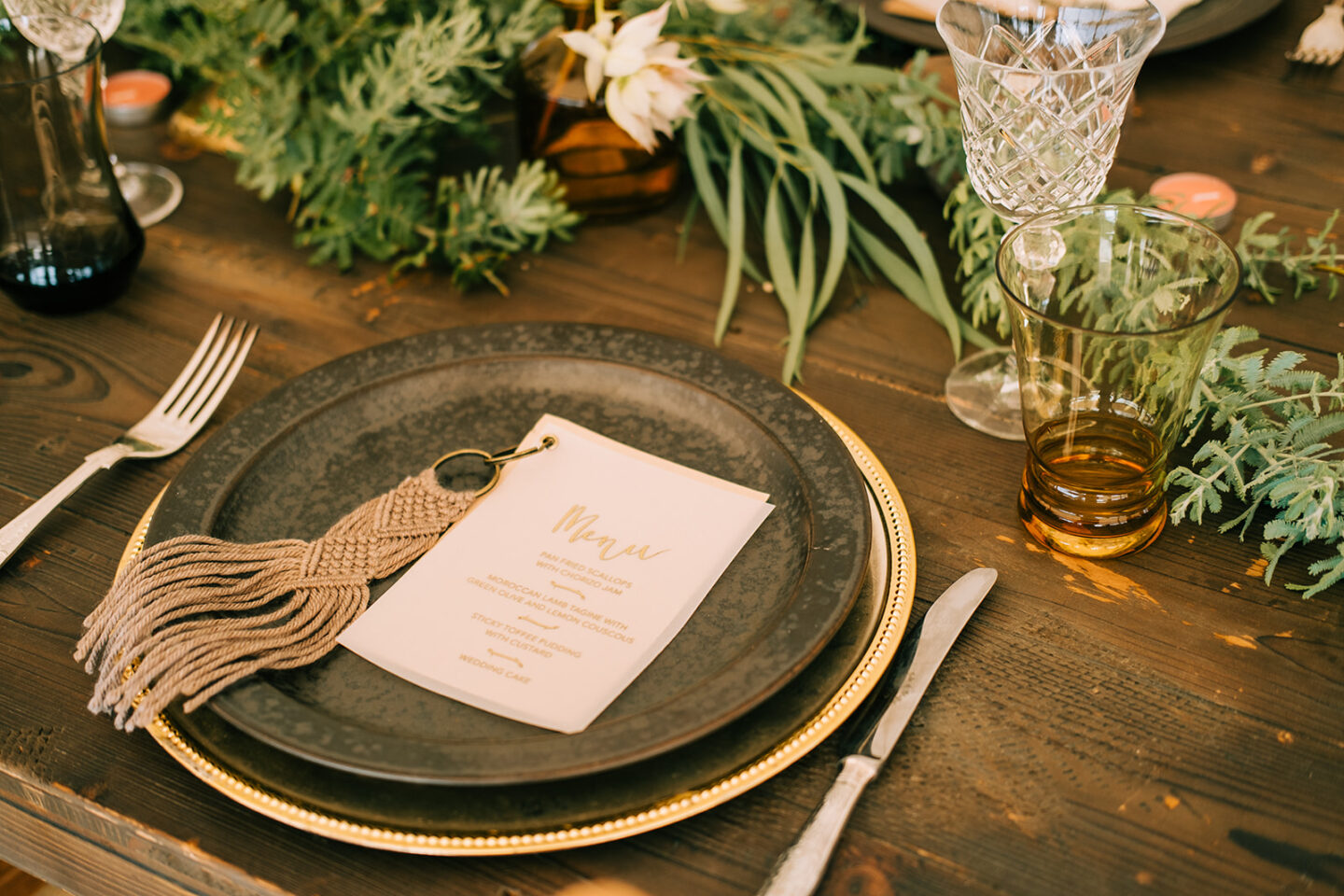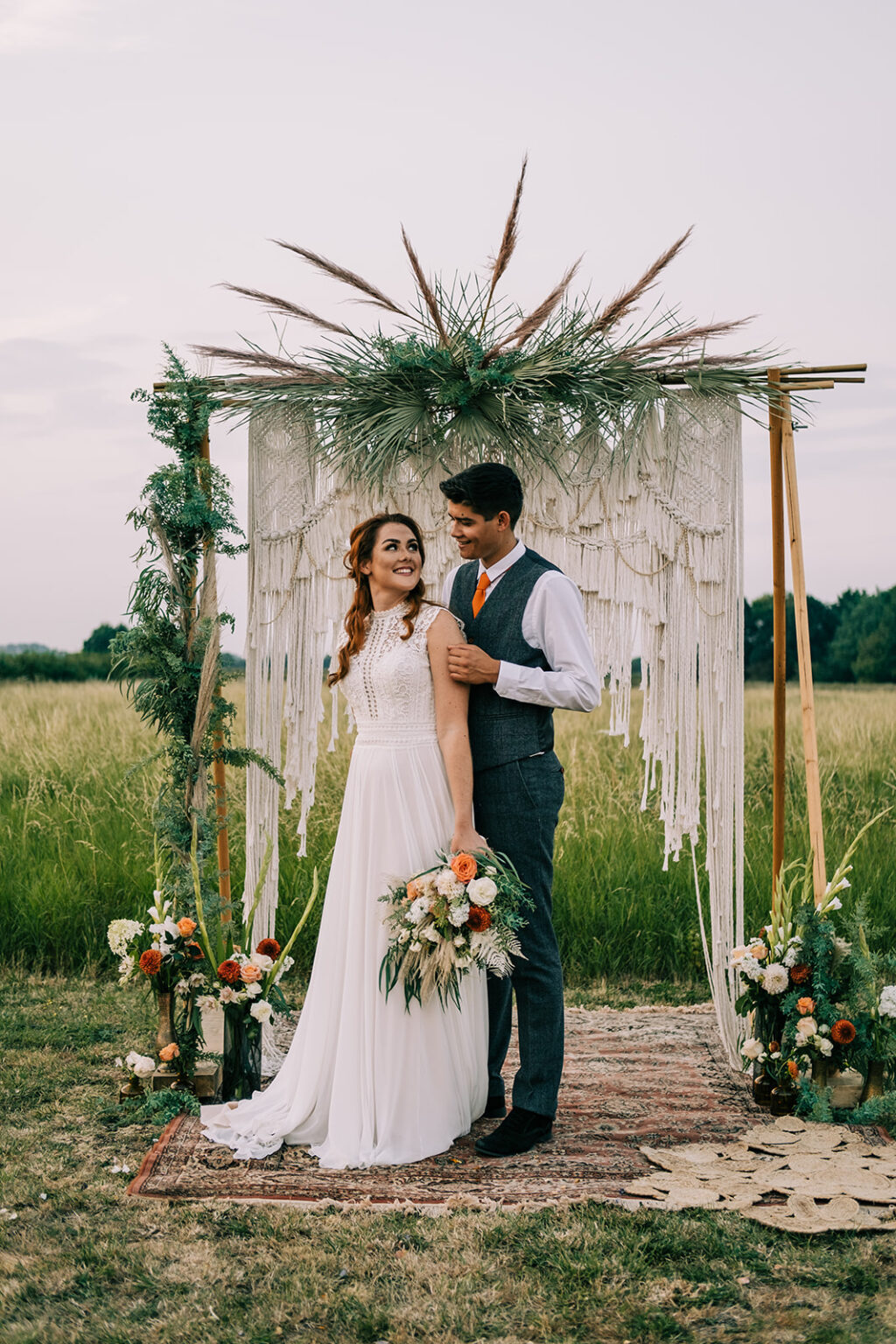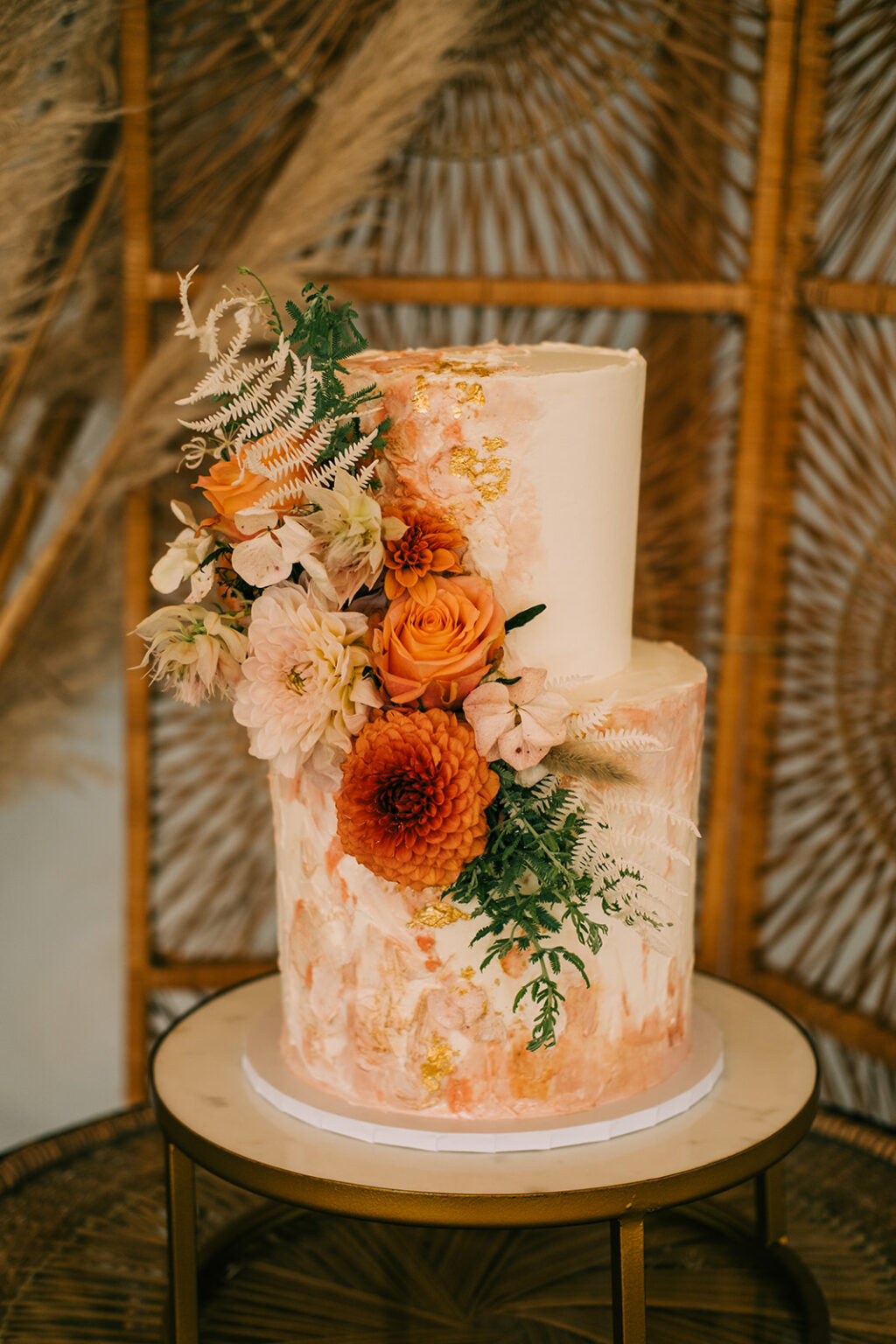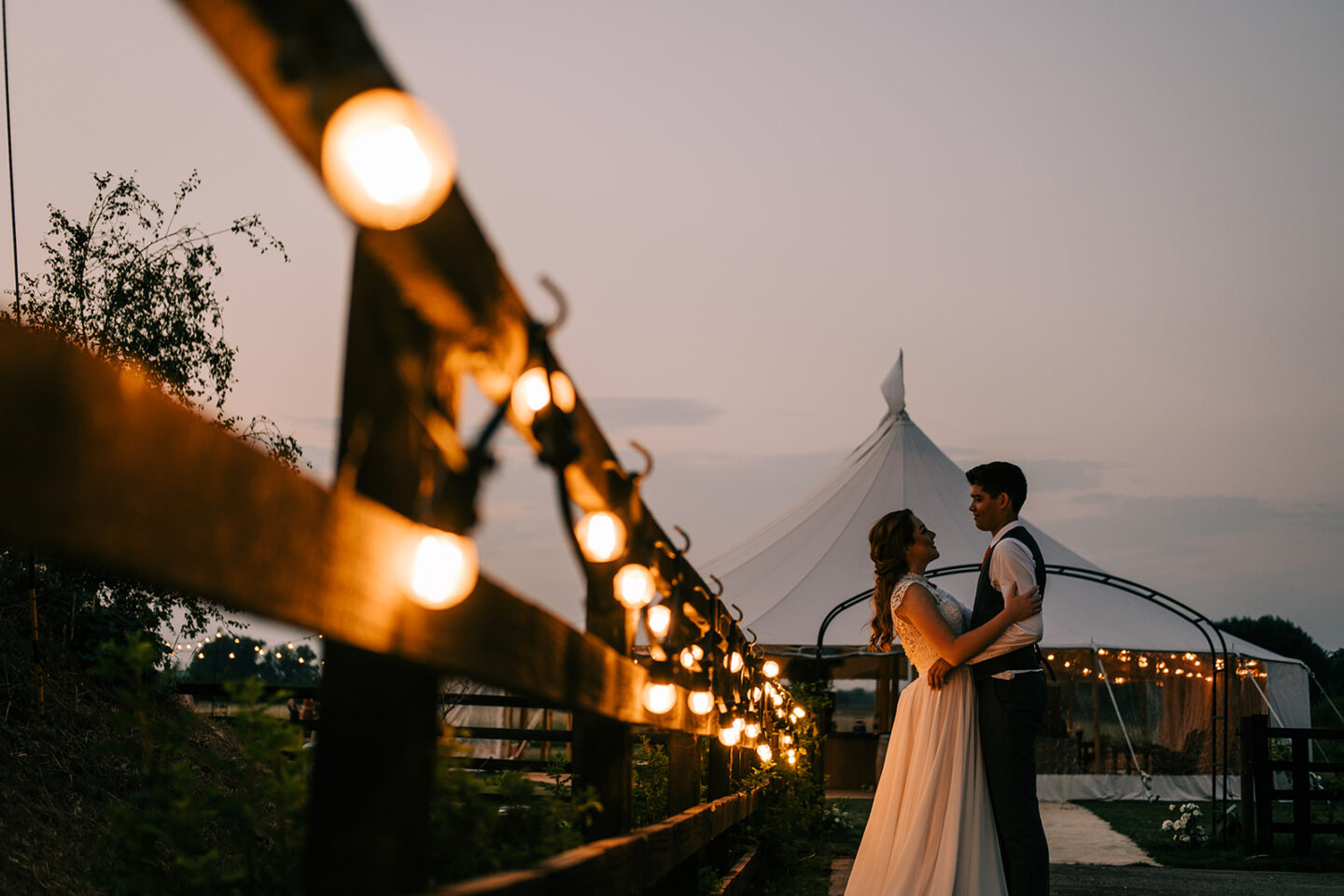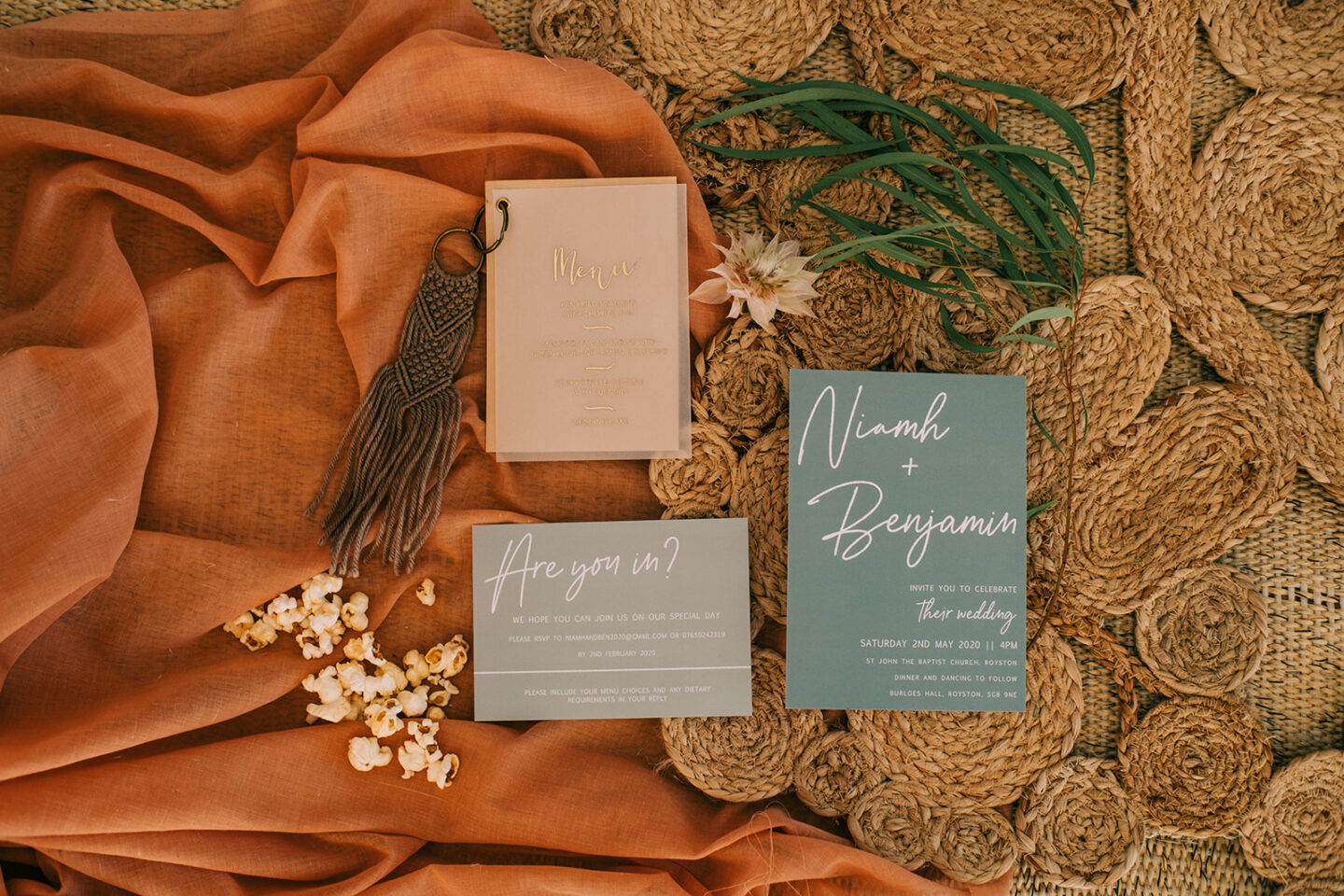 Stationery – Claire Gray Designs
To emphasise the free-spirited vibe and continue elements of the ceremony across into the reception, we were delighted to incorporate Clare's gorgeous macrame table plan and menus amongst the Sperry tent. The earthy tones of the menus with pops of recyclable gold foil matched the tablescape beautifully, plus the macrame keyring guest favours added to that relaxed yet stylish vibe and are the ideal keepsake for guests to remember the day by. We chose to showcase Clare's sage green Niamh invitation suite as part of this shoot which picked out some of the green shades of the luscious foraged foliage as well as being one of her eco-friendly suites too.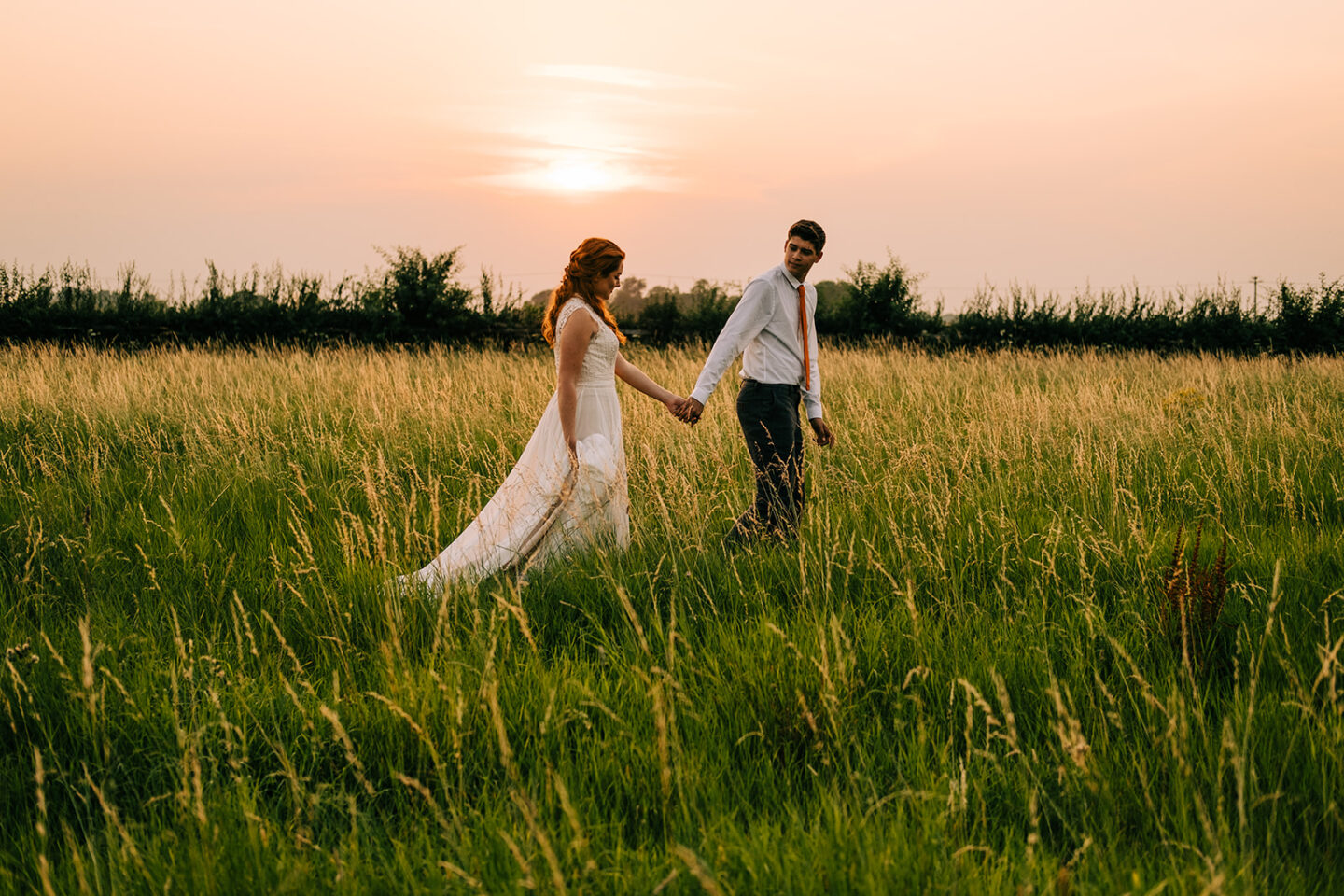 The Team- Eco-Friendly Wedding With Festival Vibes at Willow Grange Farm Cambridge
Photographer Lee Allison Photography @leeallisonphotography
Coordinator and planner Green Soul Weddings @greensoulweddings / Venue Willow Grange Farm @willowgrangefarm / Dress Coco Couture Bridal Boutique @cococouture_cambridge / Groom suit and accessories The Vintage Suit Hire Company @vintagesuithire Styling/Stylist Smoke & Wildwood @smokeandwildwood and Array Wedding and Event Hire @arrayweddingandeventhire / Florist Root @werootuk / Makeup models own / Hair – Cambridge Wedding Hair @cambridgeweddinghair / Cake One Part Love @onepartlovebakery / Videographer – White in Motion @whiteinmotionfilms / Macrame Décor Props – Lovely Little Lot of Knots @lovelylittlelofofknots / Macrame Table Plan & Macrame Favours Clare Gray Designs @claregray_designs / Models – @modelcouple_d.s_
IF YOU LOVED THIS WEDDING AT WILLOW GRANGE FARM PIN IT TO YOUR WEDDING BOARDS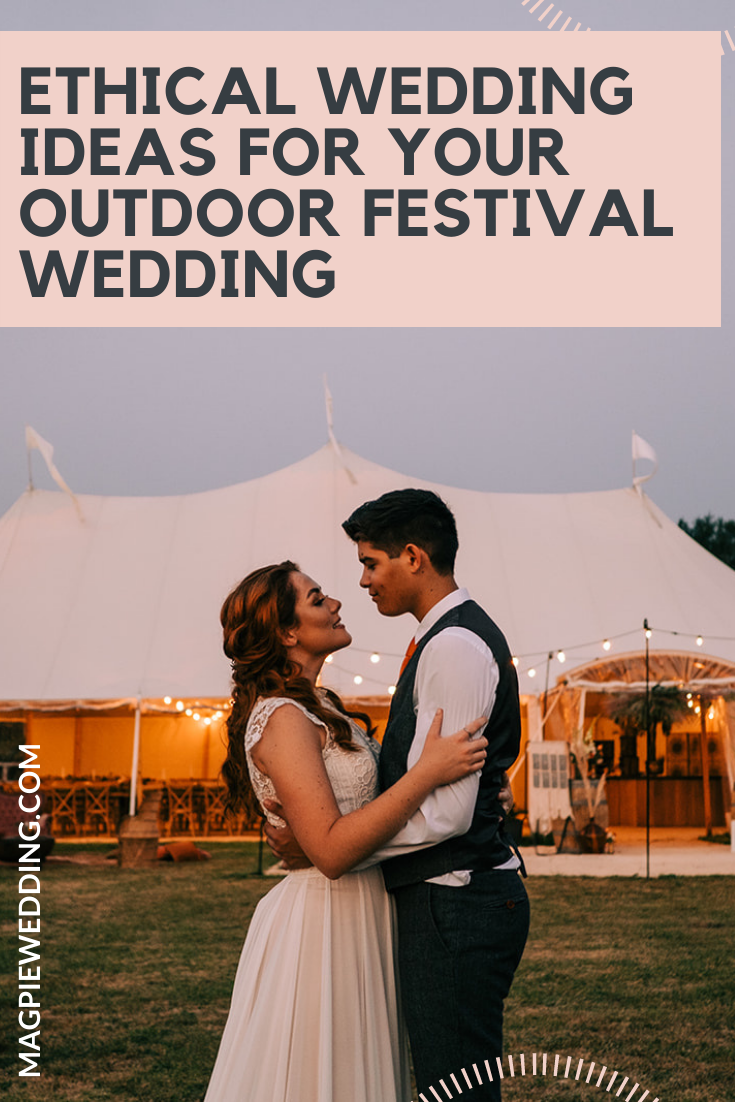 If you loved this Willow Grange Farm festival wedding you may also like;
Finding A Sustainable, Eco Friendly & Ethical Wedding Venue
10 Sustainable Wedding Ideas – With Our Free Ethical Wedding Guide
Ethical Wedding Inspiration With Sandra Jorda Wedding Dress In Barcelona, Spain