Are you eloping for your wedding? This beautiful ethical vintage elopement in Cambridge is intimate, romantic and timeless. With beautiful 1940's styling and ethical elements it's attention to detail is second to none, and if your looking to be more ethical on your wedding day then you're sure to get some top ideas from the suppliers involved. Siobhan Mulholland-Cox Founder, Cambridge Vintage Bridal took lead on the shoot and she's here with some of the other suppliers involved to tell us all about how this ethical vintage elopement at The Gonville Hotel Cambridge and Cambridge City Centre was created…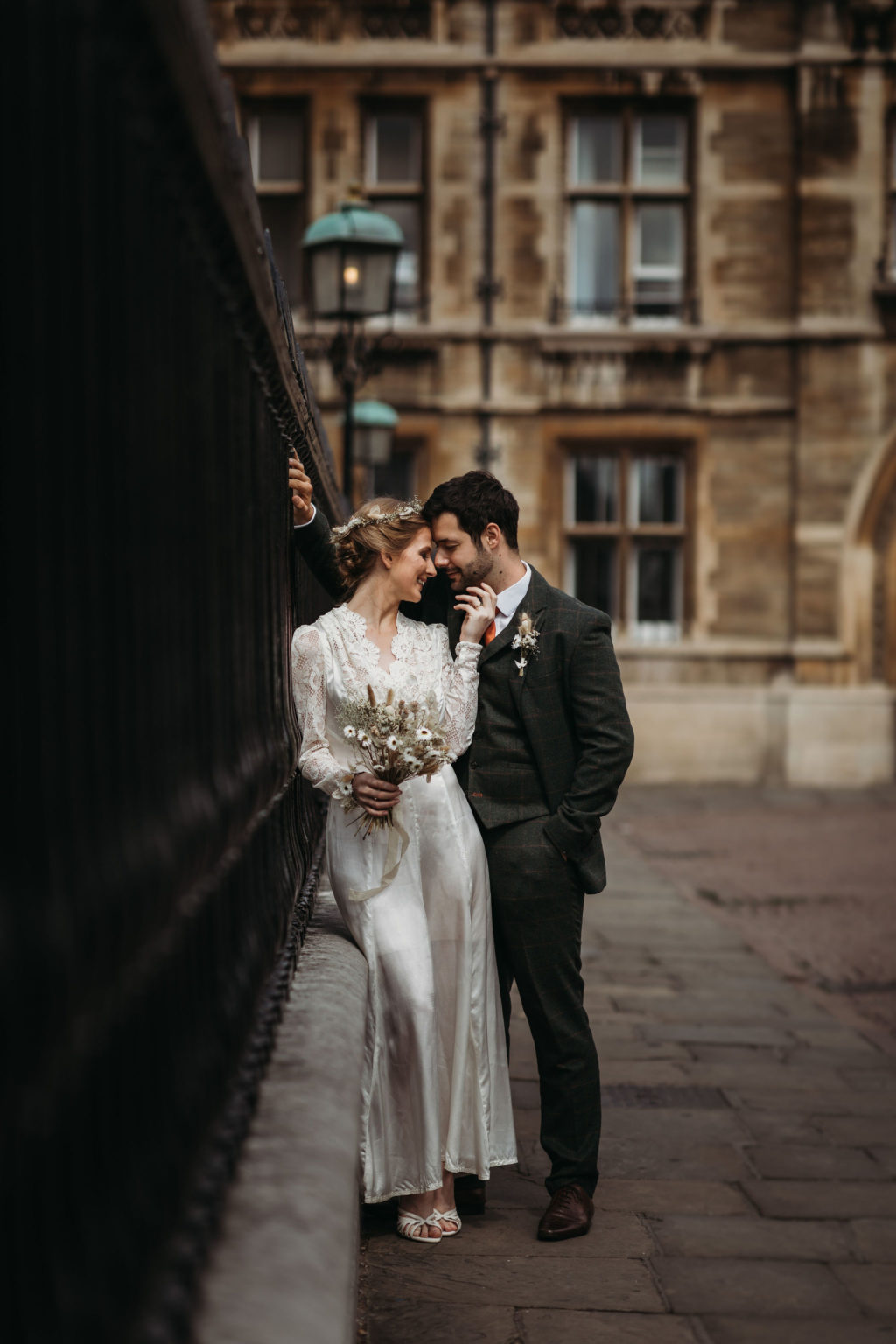 "I fell head over heels in love with the dress and its story. I wanted to showcase how something so simple and beautiful from the 1940s could work in a contemporary, modern city setting and inspire modern brides to consider the romance of a vintage wedding dress when planning and pinning wedding dress ideas."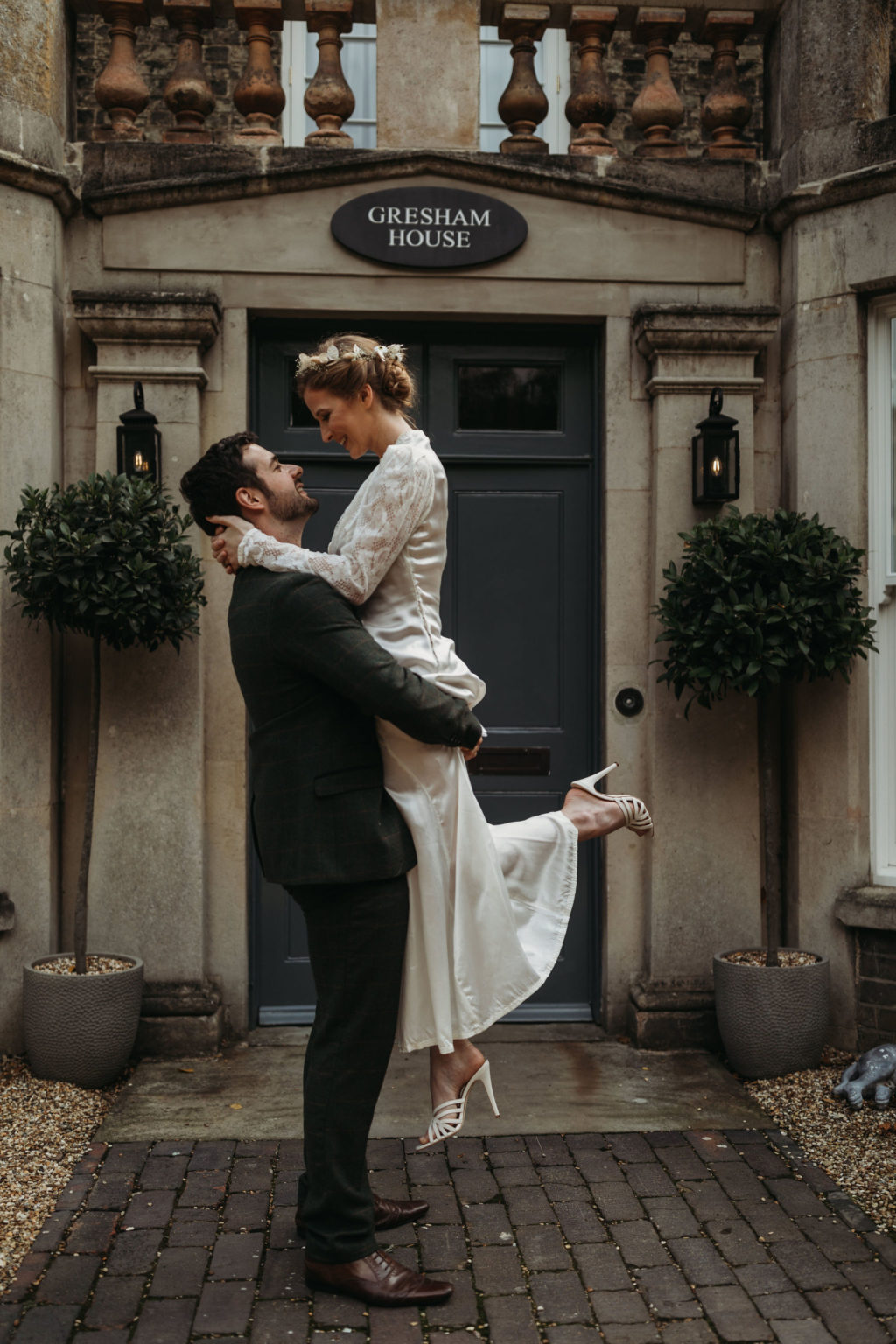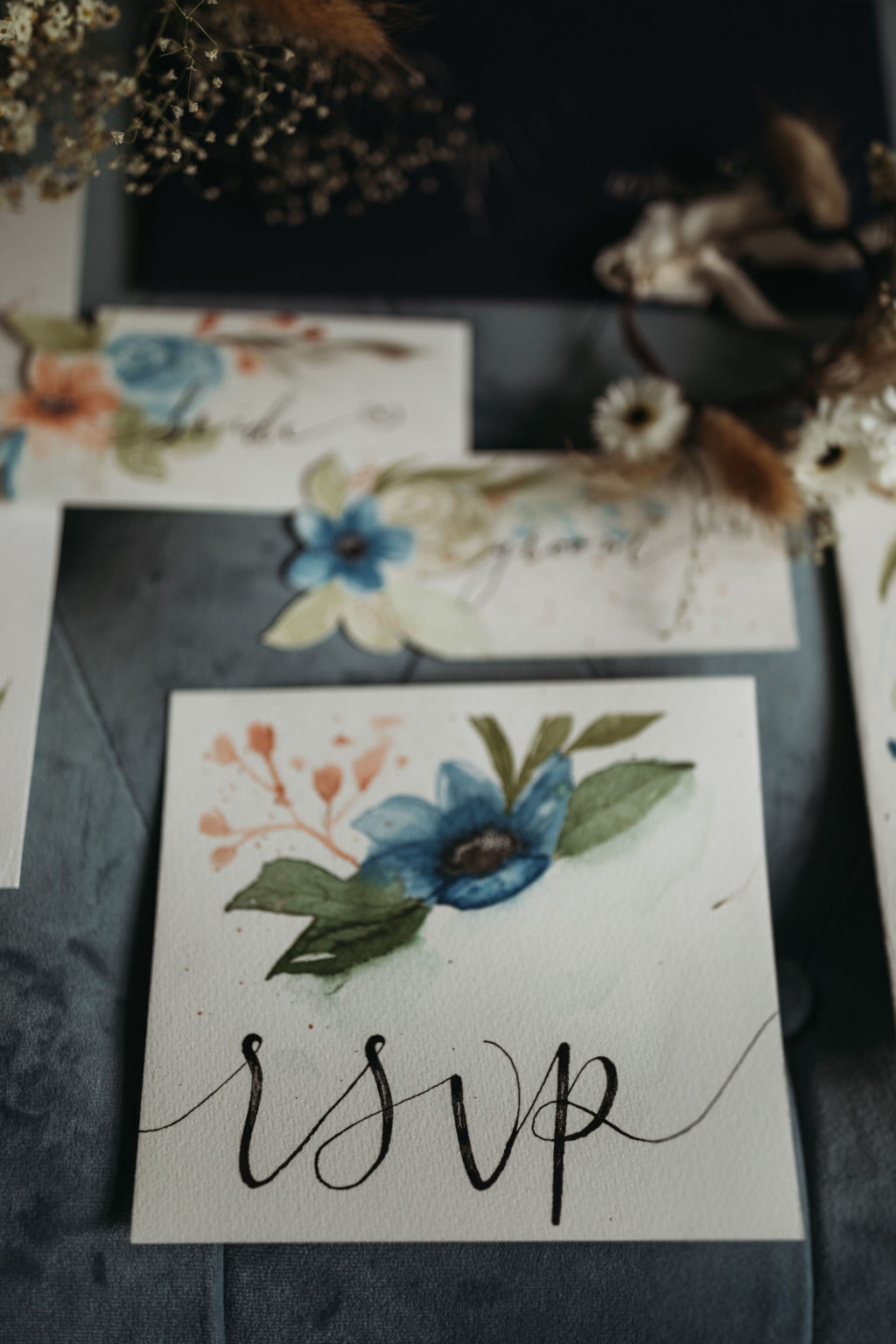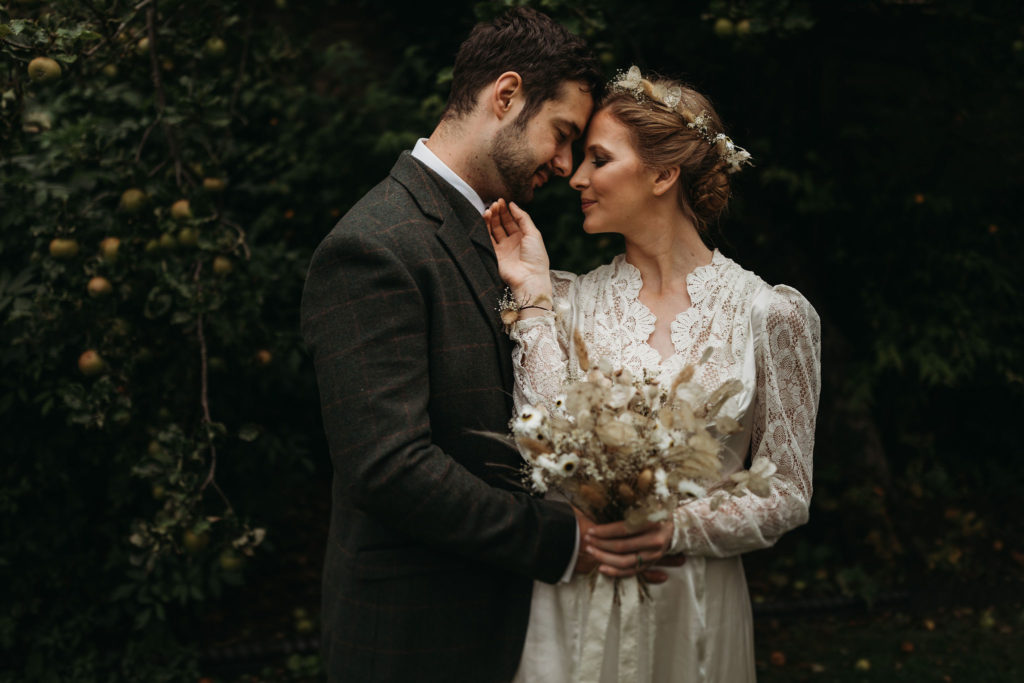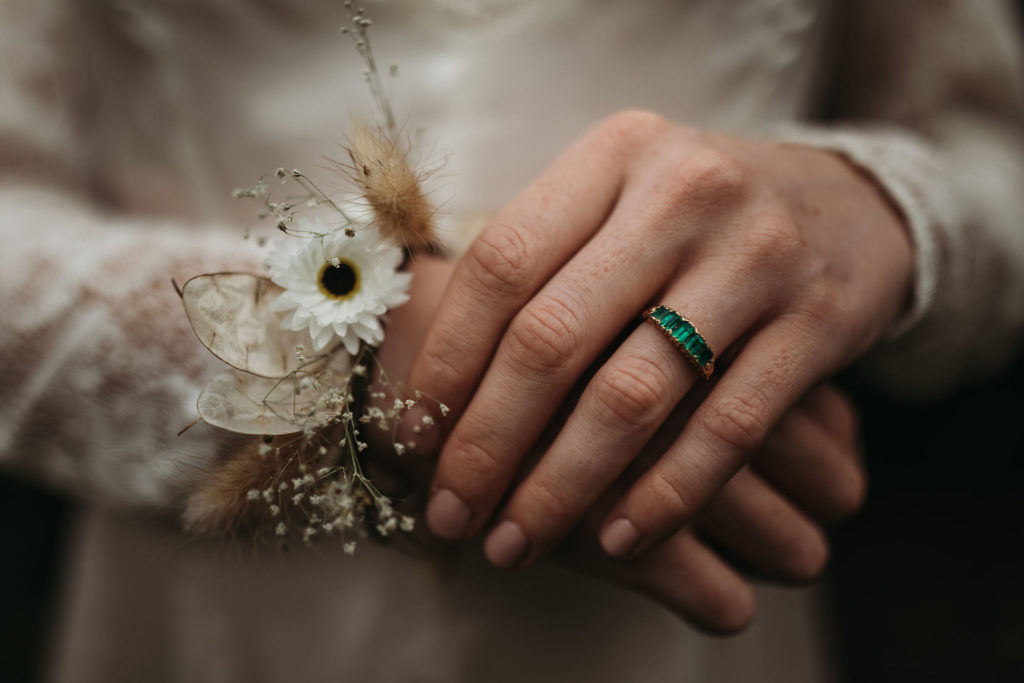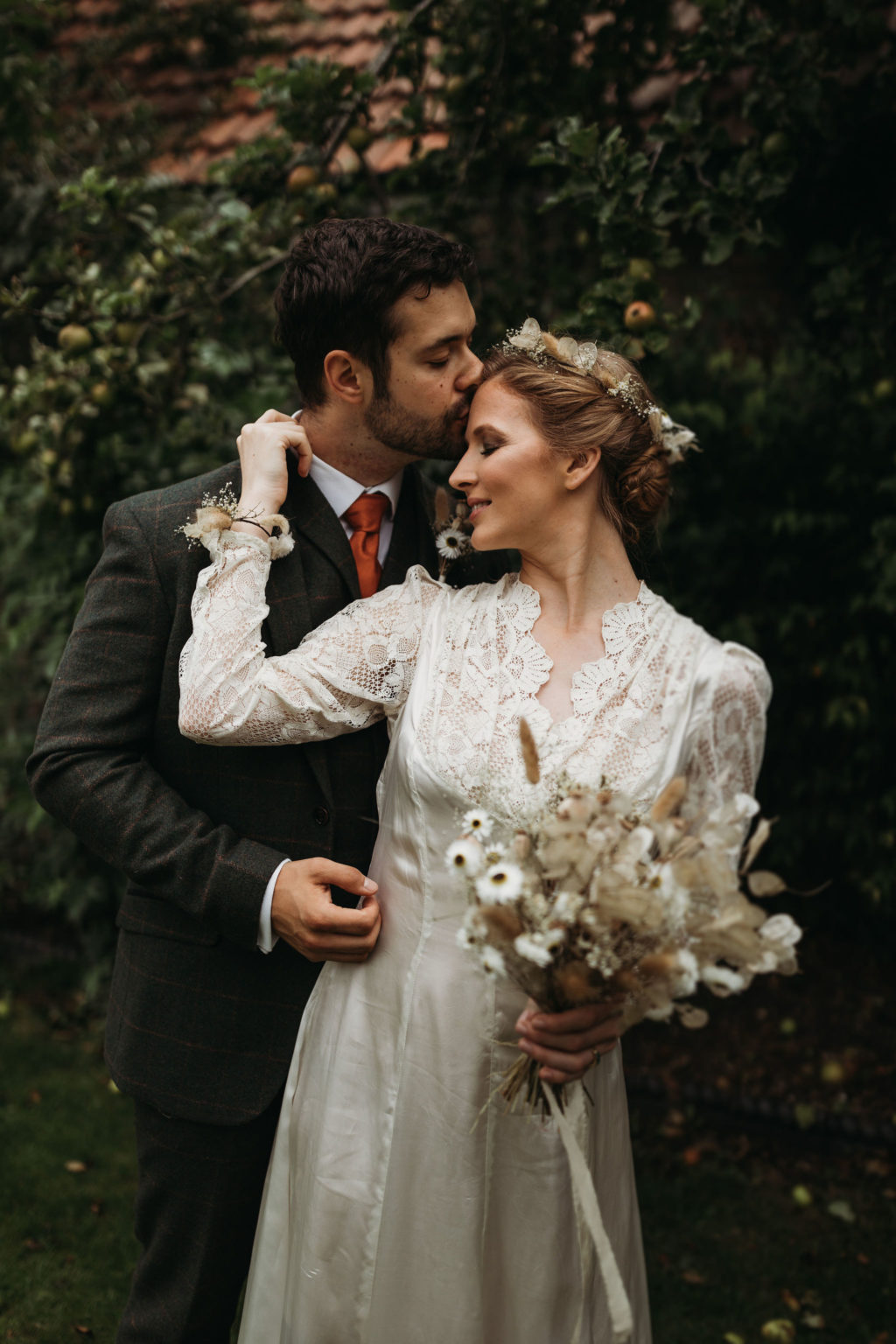 "I loved the idea of a city elopement; a very Cambridge elopement. One that draws on the colour palette of the city colleges and museums, botanicals, as well as a bit of homage to the sophistication of the 1940s AND a dollop of real romance, thanks to our real couple Cathy and Will, whose chemistry is just sensational and drew crowds! My working title for the shoot was 'Meet me at The Gonville' – something all collaborators could get behind and imagine er as the starting point and end point for this ethical vintage elopement shoot and how they were going to collaborate and bring it to life."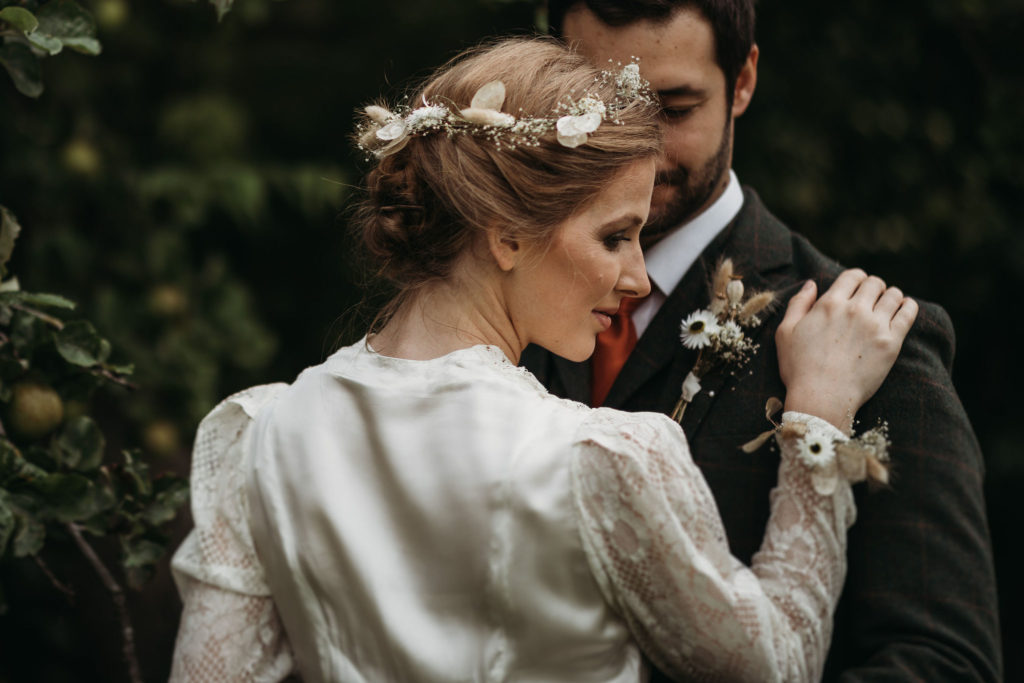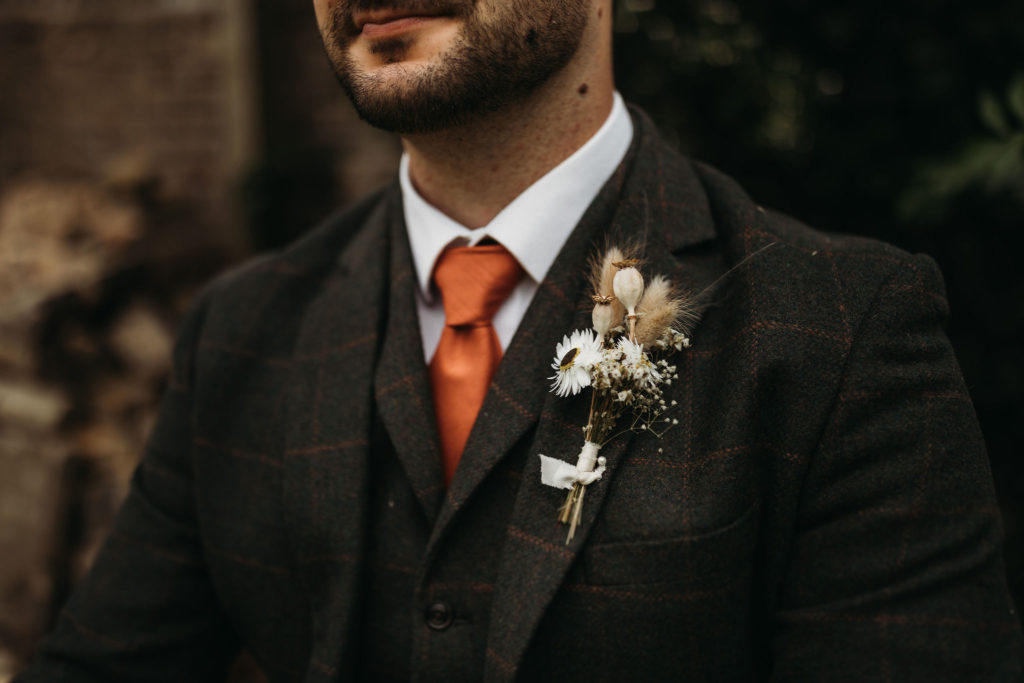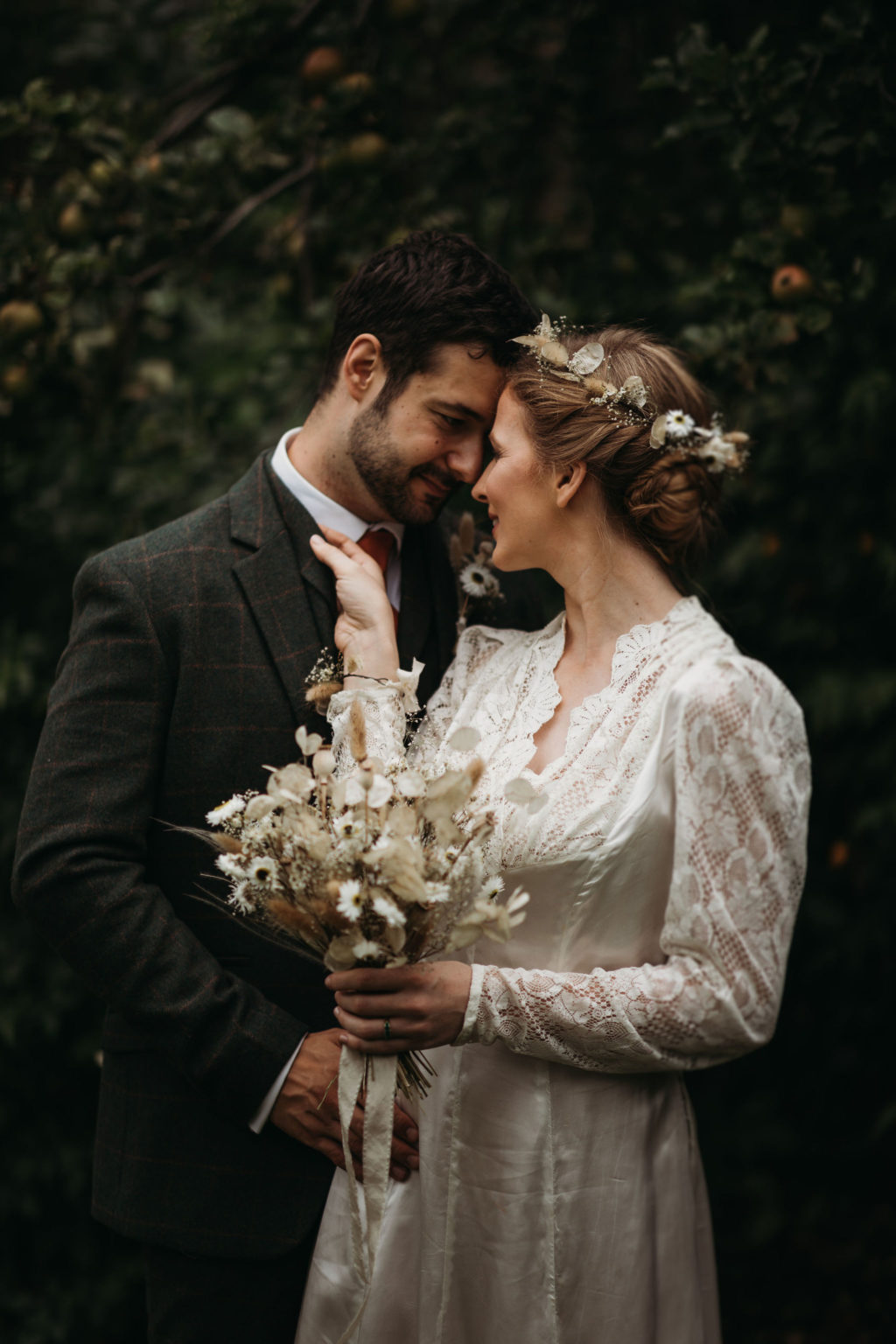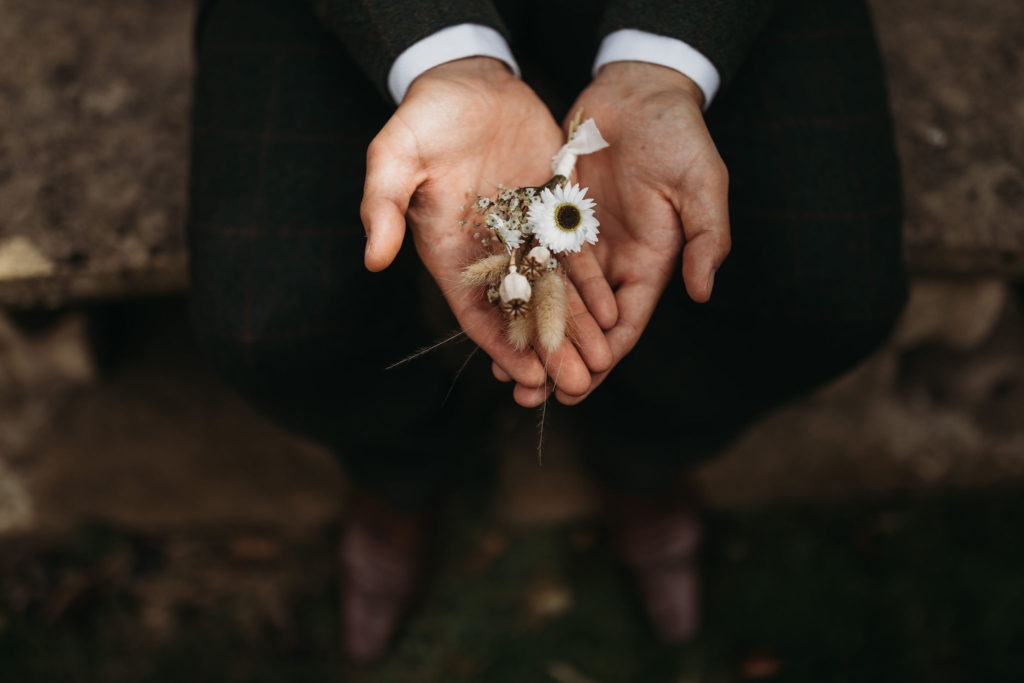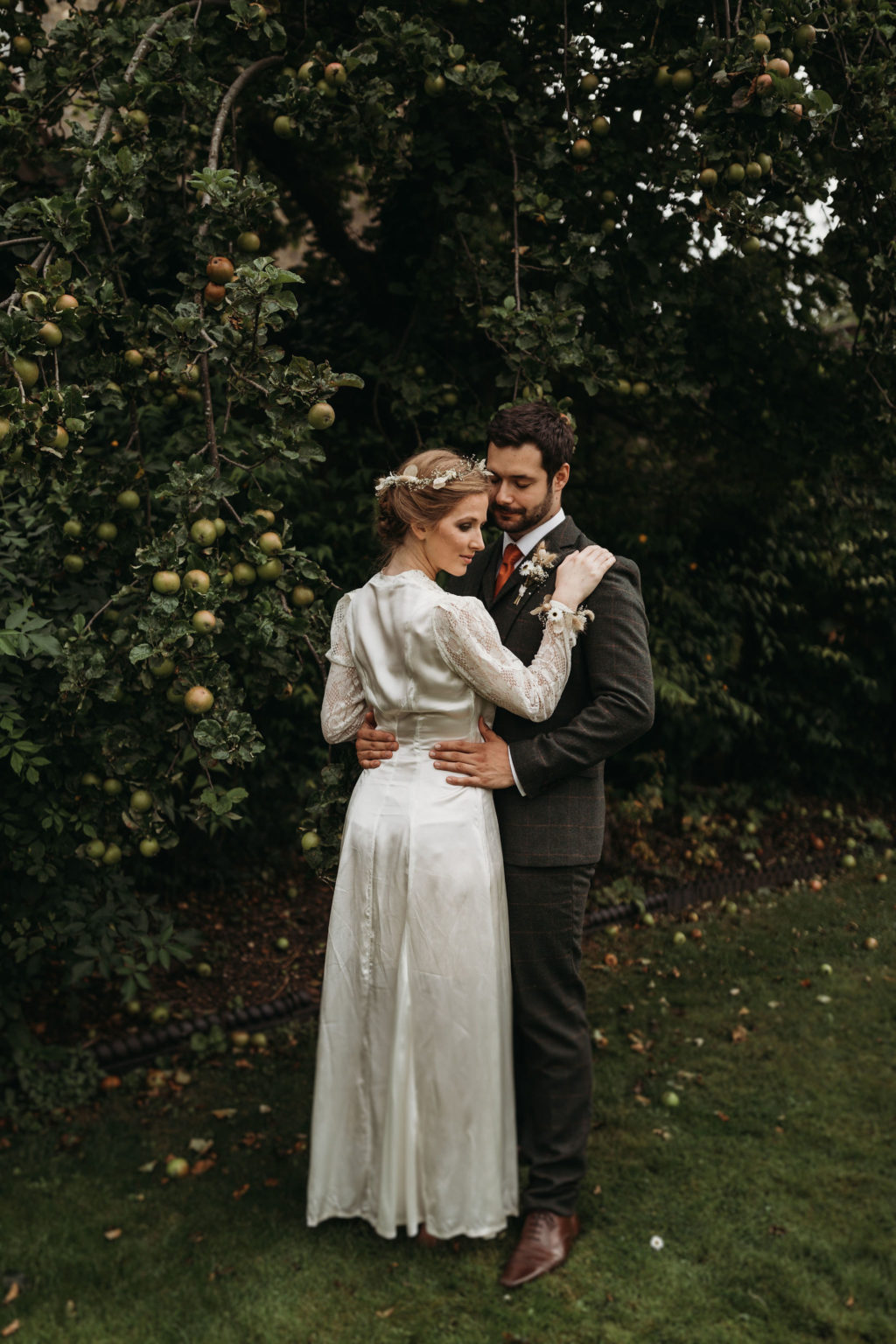 "I worked with the Gonville Hotel to create a narrative for the shoot because as a location, their gardens, enchanted cinema, spa and rooms in the Gresham House annex and spa were just the perfect backdrop for an intimate elopement shoot. City centre wise, we relied on the expertise of the Gonville's driver, who is well known for taking guests out in one of two vintage Bentleys and showing them the city sites. Cathy and Will managed to stop traffic and the tourists certainly enjoyed filming their every move!"
[line]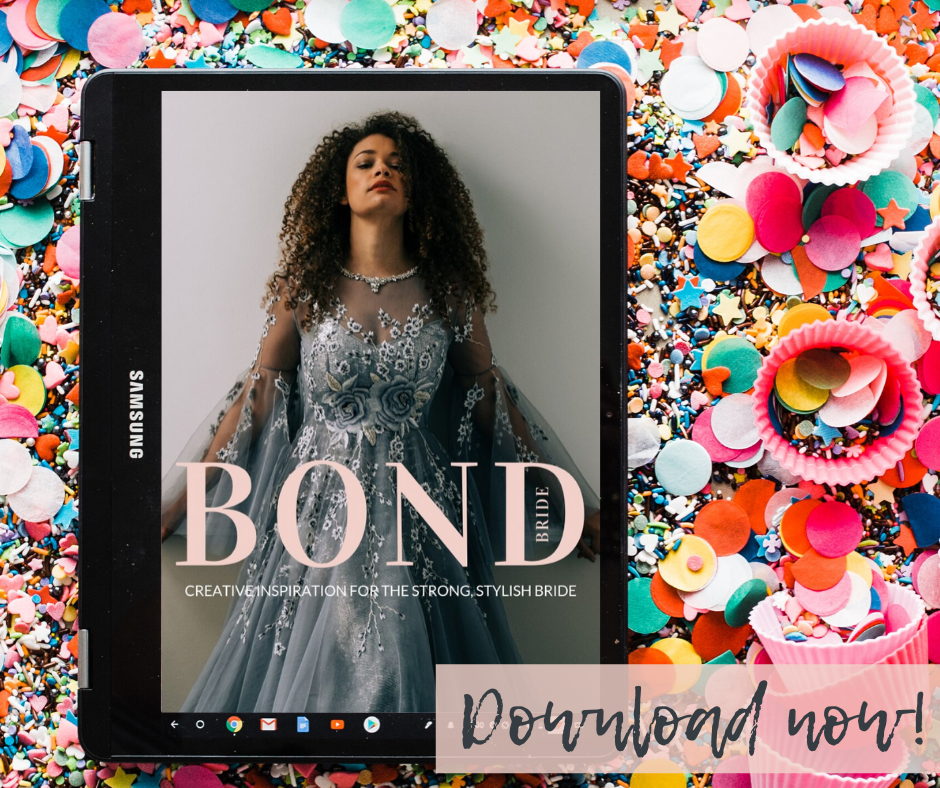 DOWNLOAD BOND BRIDE MAGAZINE ISSUE 2 HERE
[line]
"Styling Circling back to the influences, I wanted to style the shoot to the colours of the city but also the neutrality of greens and how well they would compliment the cream of the parachute silk. The Emerald ring, the hand-painted stationery on textured paper, the green ribbons, the mineral based green eye make-up as well as the beautiful green and neutral tones within the Gonville Hotel and Gresham House all worked so well together alongside the nude cake and dried flower cake wreath, corsage, crown, button-hole and bouquet."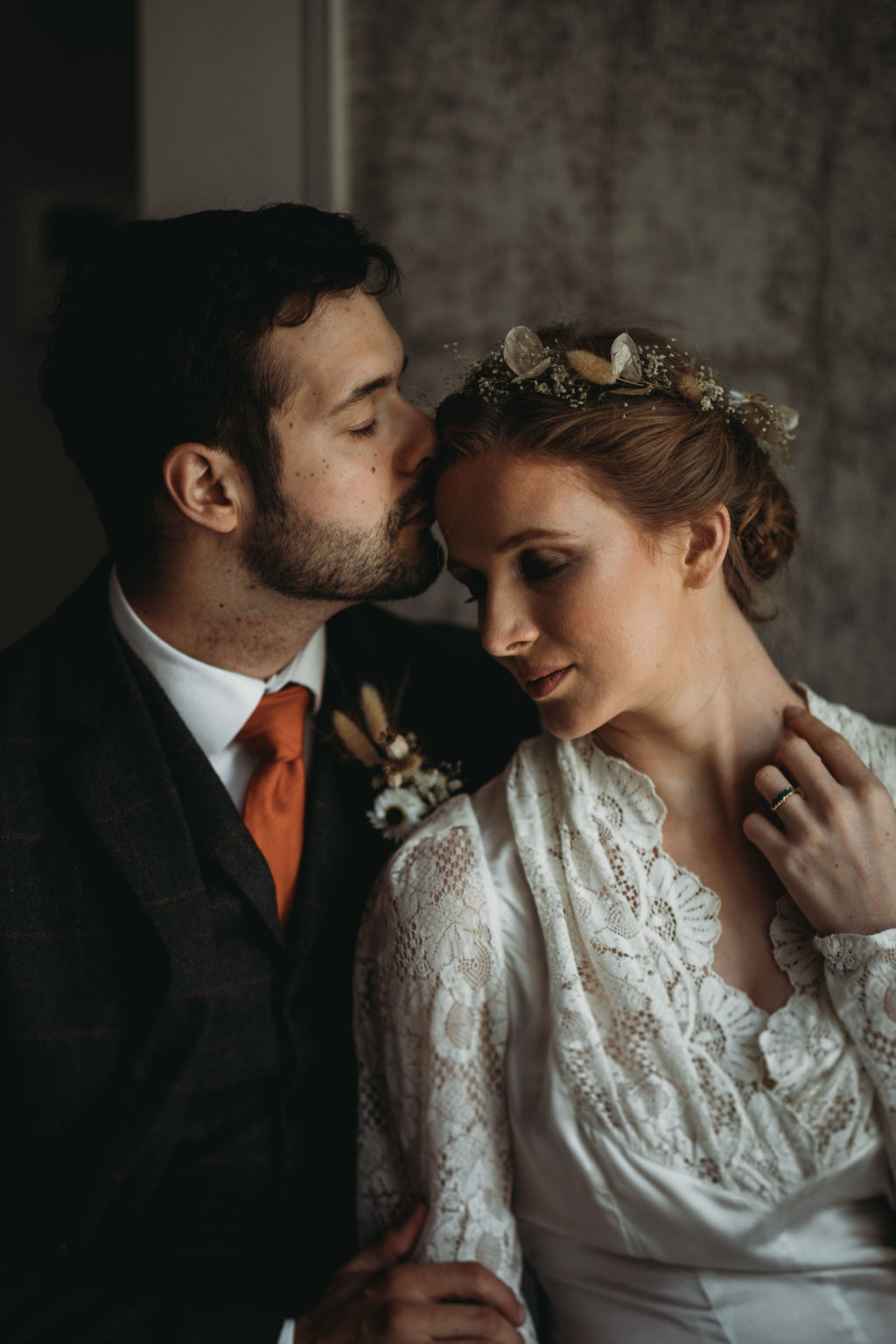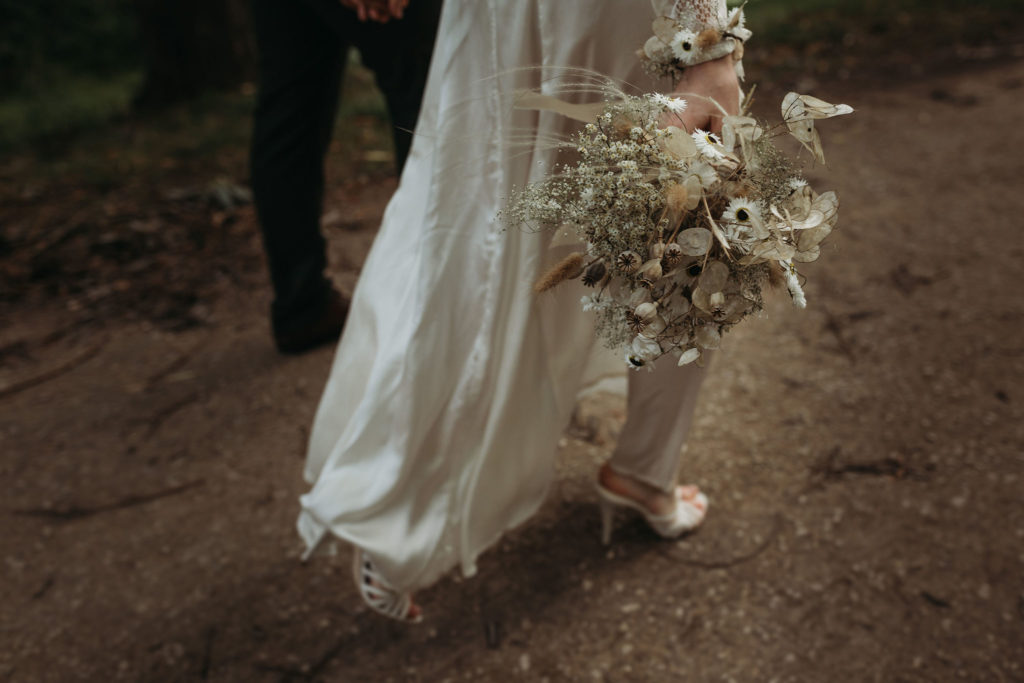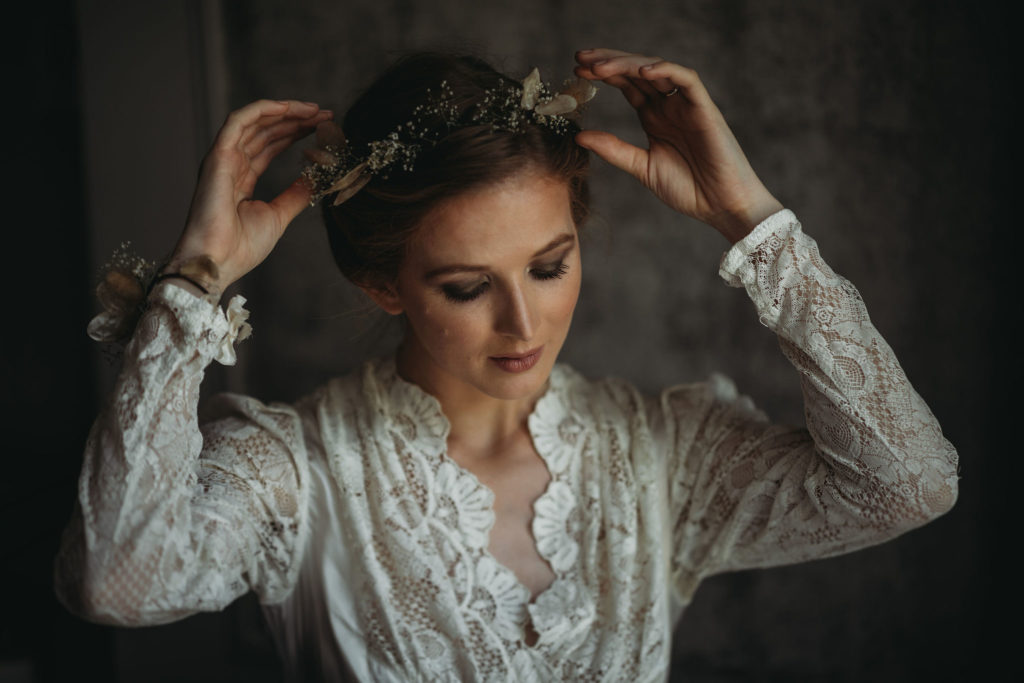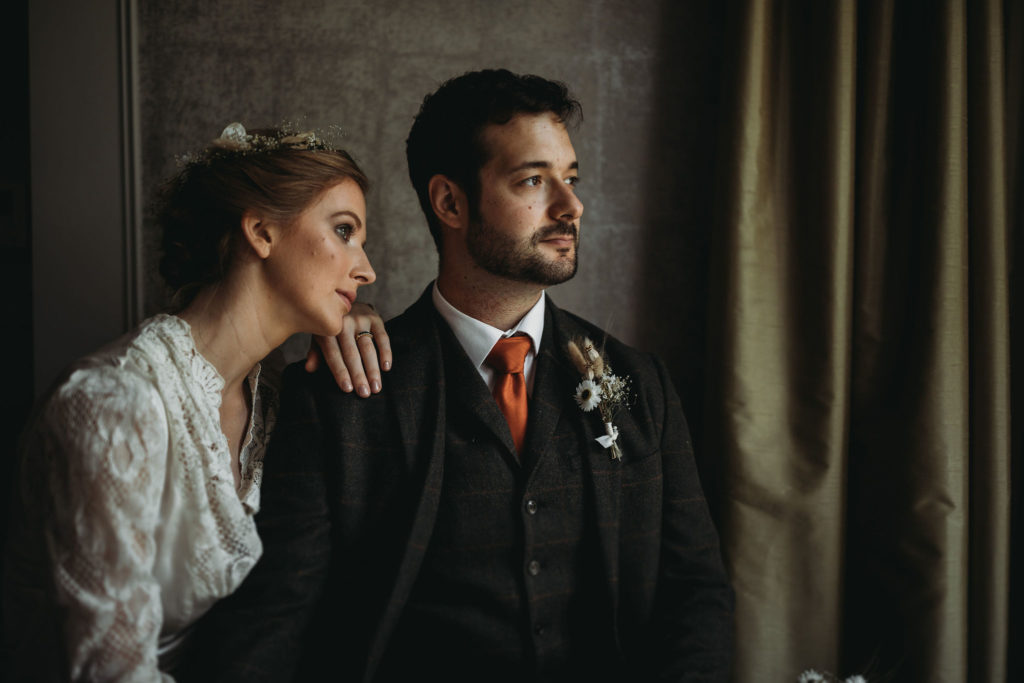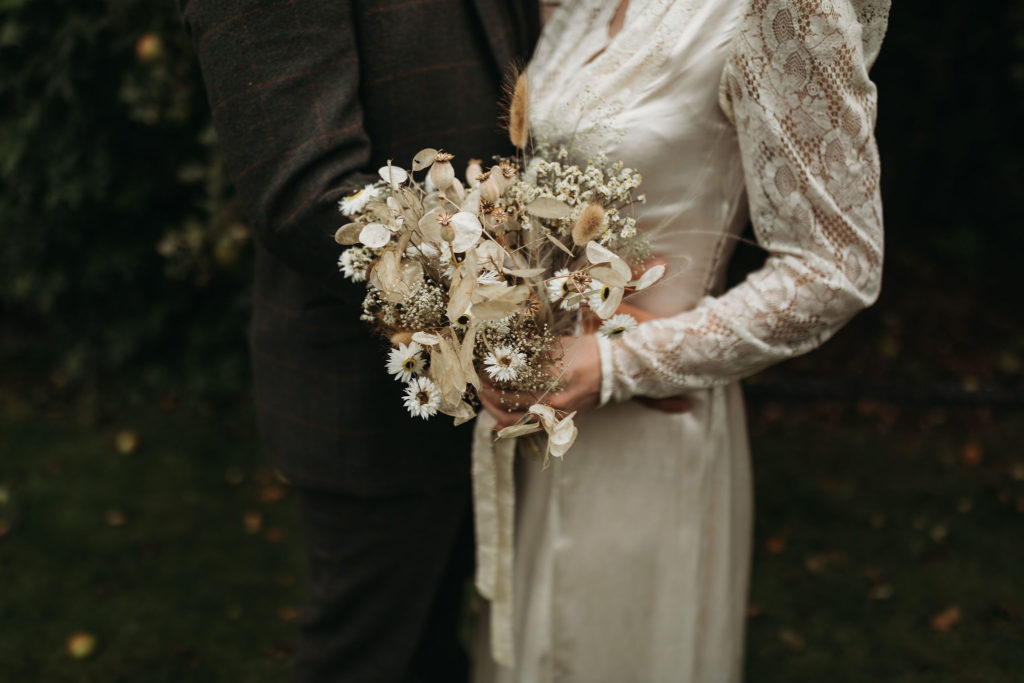 "Bridal Siobhan Mulholland-Cox, Founder Cambridge Vintage Bridal The bride is wearing an original 1946 parachute silk wedding dress, which had been hiding in a drawer for 70 years.
Parachute silk wedding dresses were popular in wartime because the luxurious fabric was in plentiful supply and parachutes were often used as part of a 'marriage proposal'. The 'groom to be', having been saved by this trusty parachute, would gift it to his bride as he proposed – so she could make her wedding dress from it."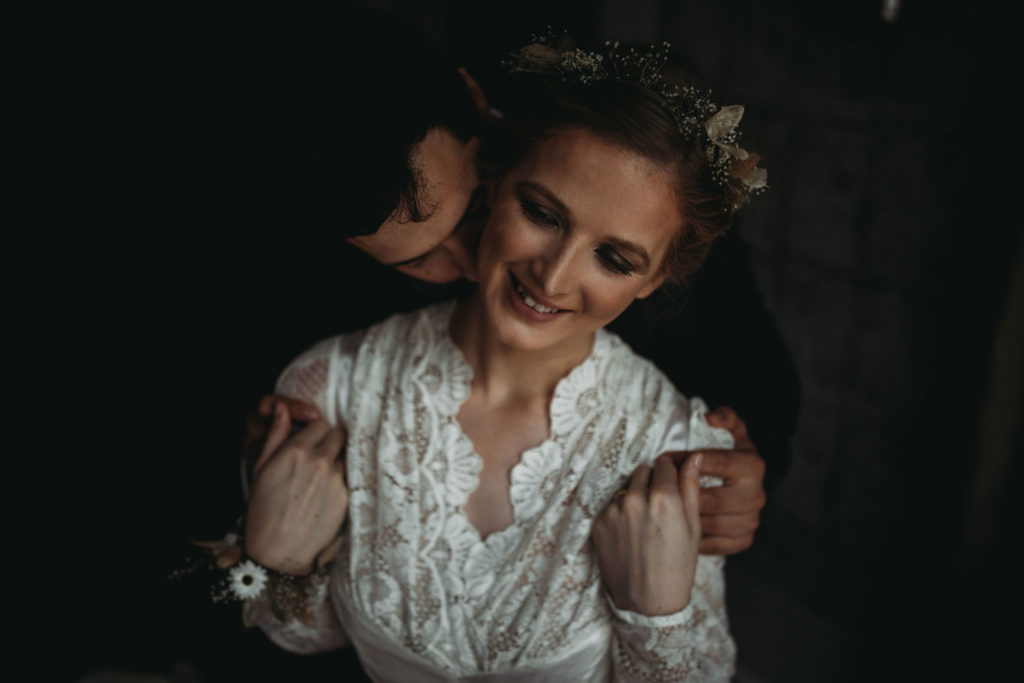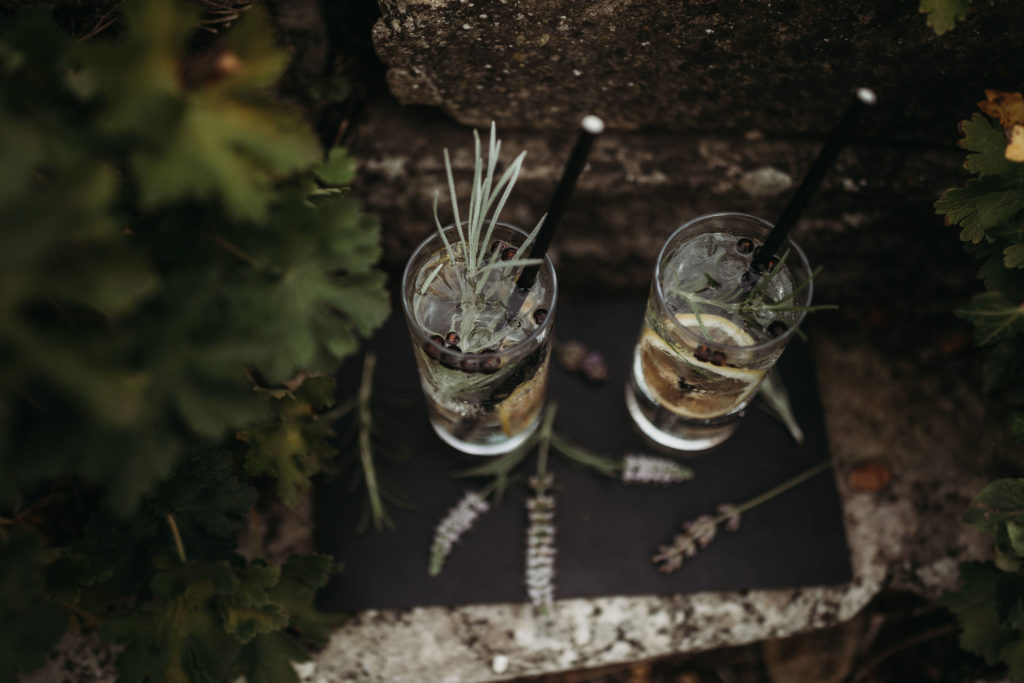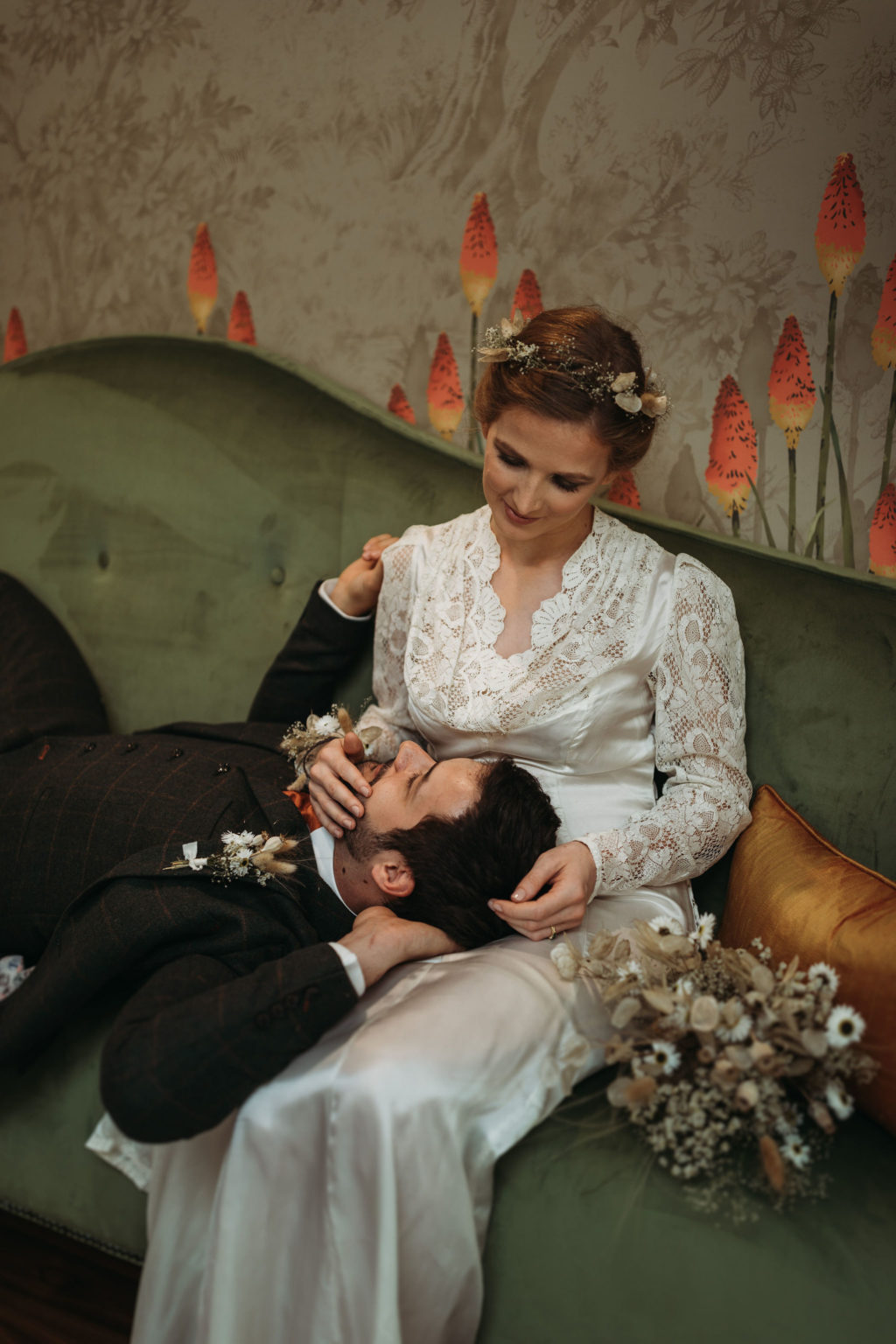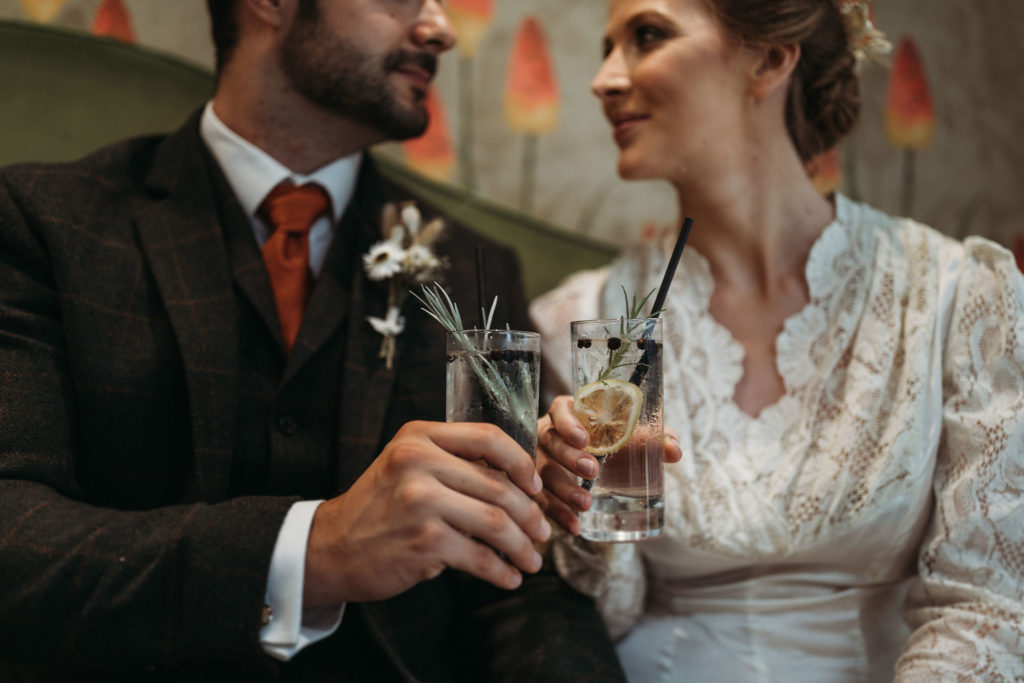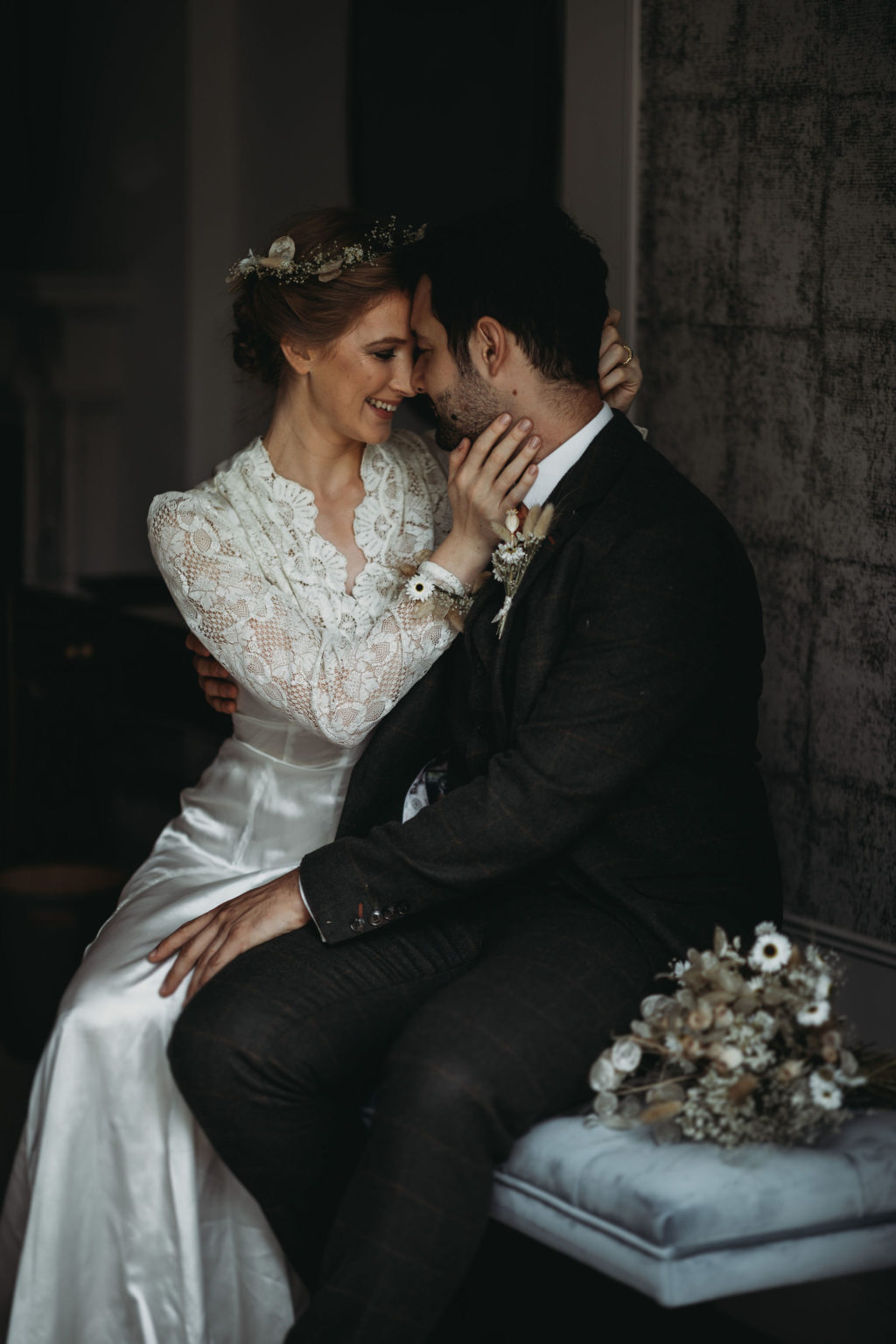 "This dress once belonged to a land army girl, it was her job to collect the full milk churns from local farms; take them back to the dairy; decant the milk into glass bottles; deliver the milk to the local homes; all in the same day. One of the farms she collected milk from was adjacent to RNAS Henstridge (HMS Dipper) – where her future husband was based. They met because he took pity on her and helped her with her deliveries. They were subsequently married on 2​nd​ March 1946."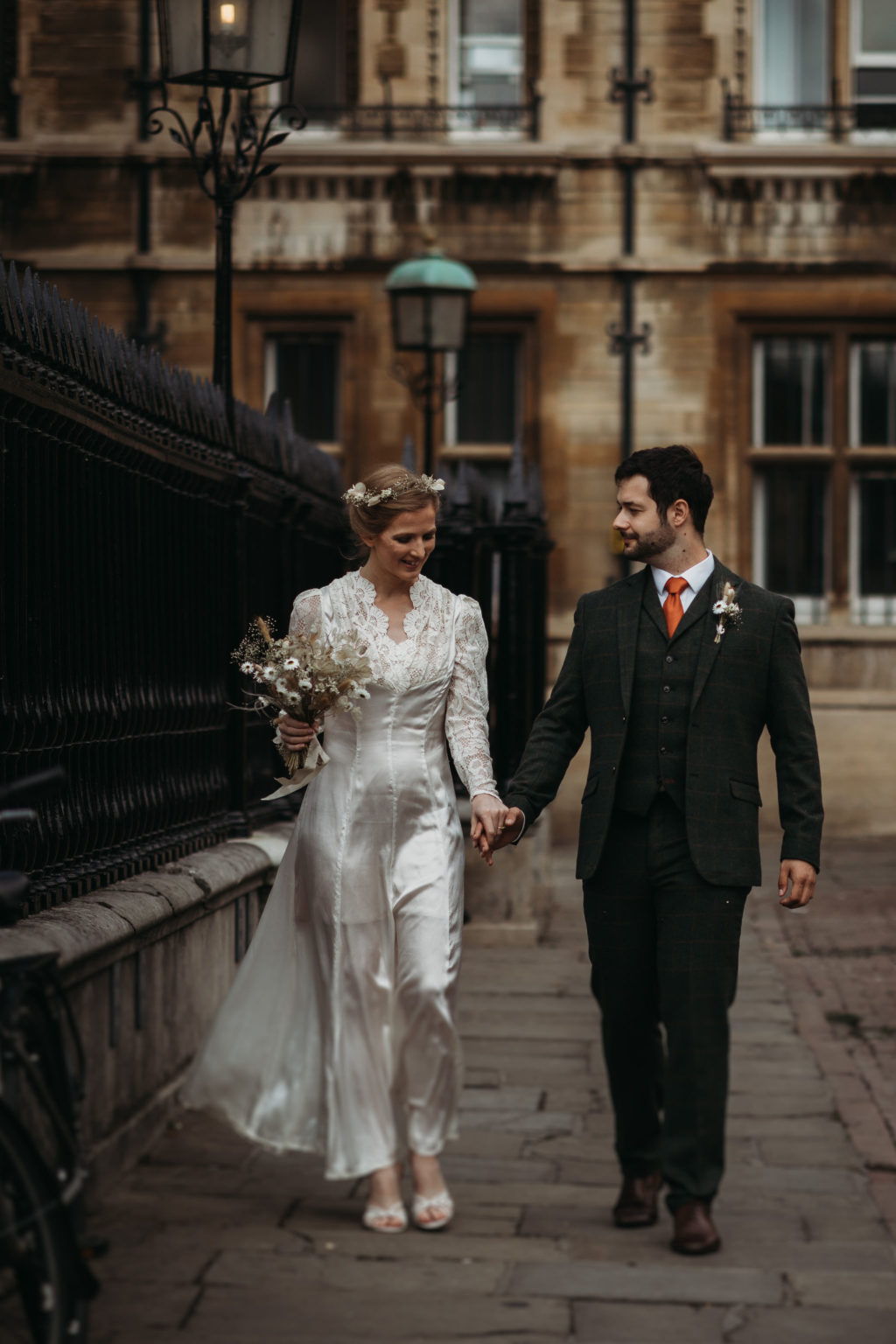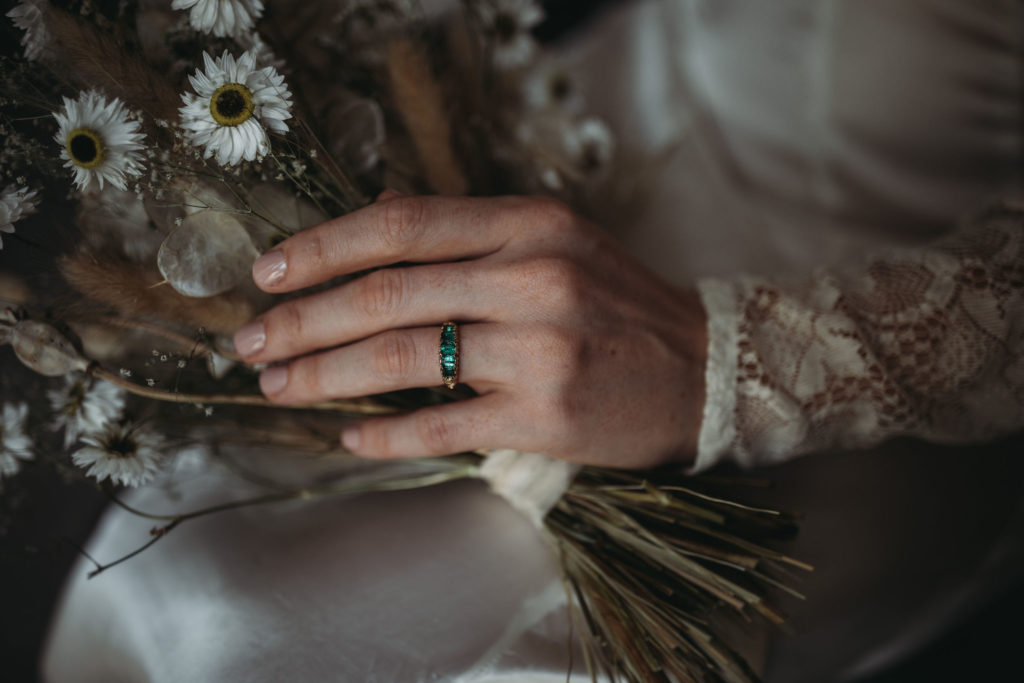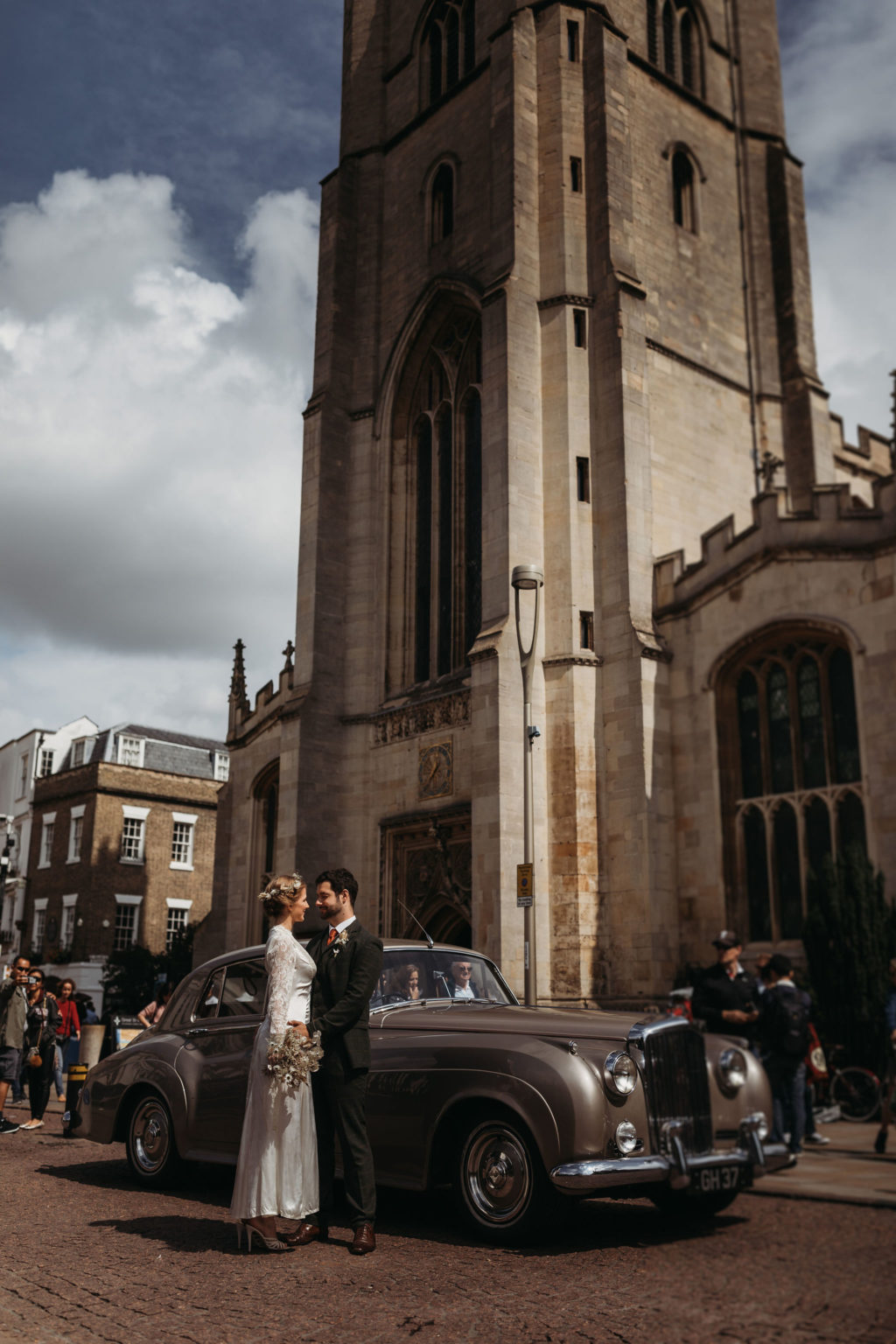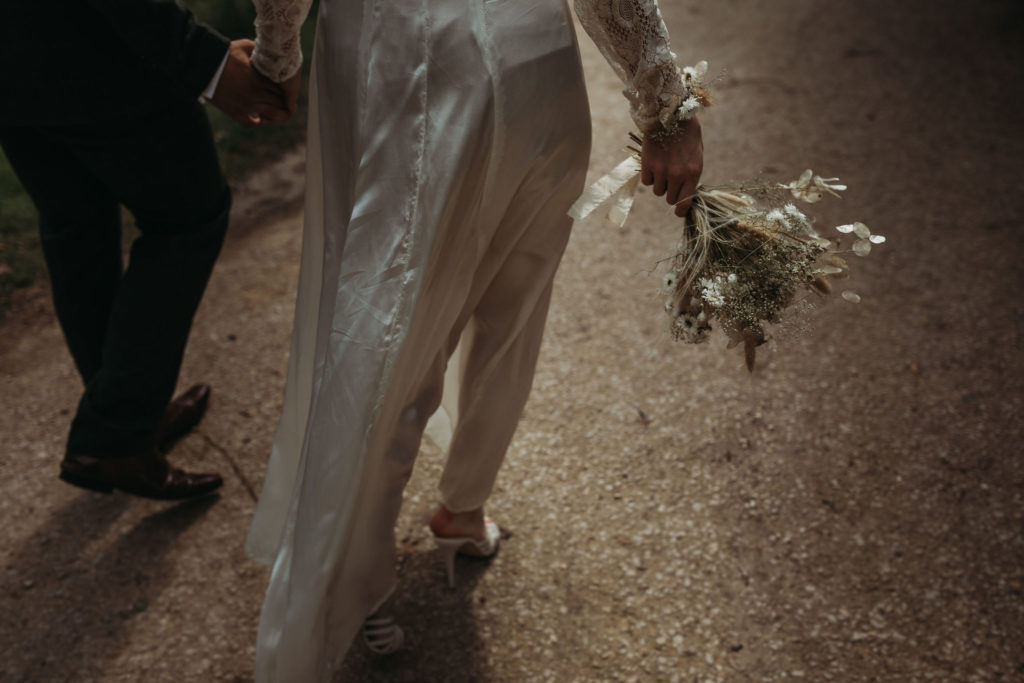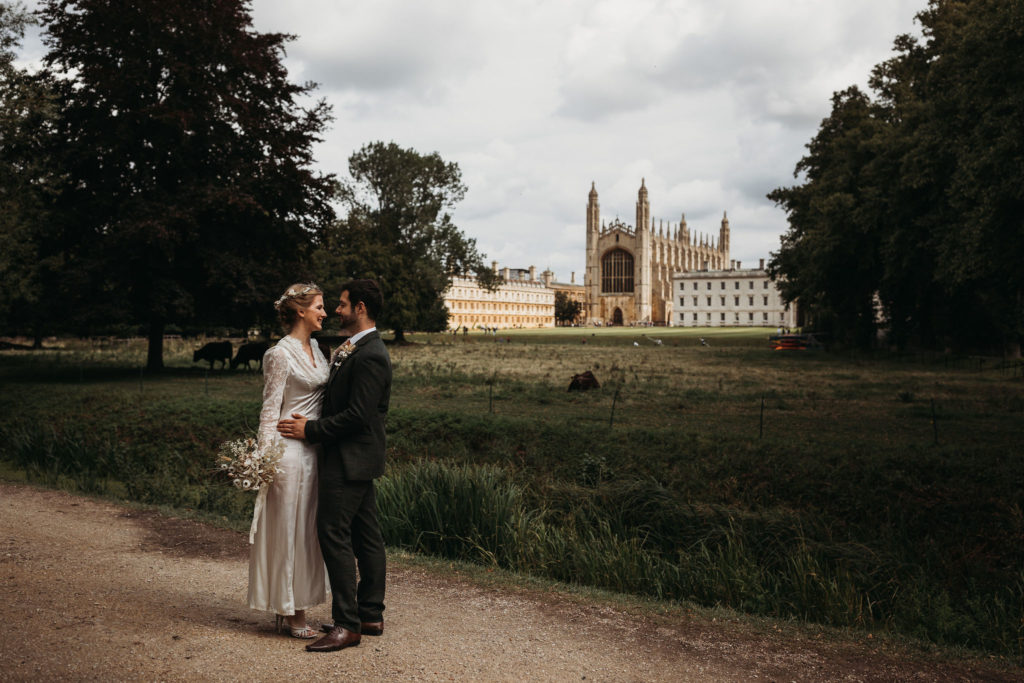 Photography- Thyme Lane Photography
"I love all things vintage and city elopements are very close to my heart. I wanted to capture the intimacy and excitement of the day for which the darker interiors were a perfect start. Also aimed to show the essence of Cambridge with significant buildings and colours. There are many pretty parks and green spaces available in Cambridge so definitely had to make use of this too."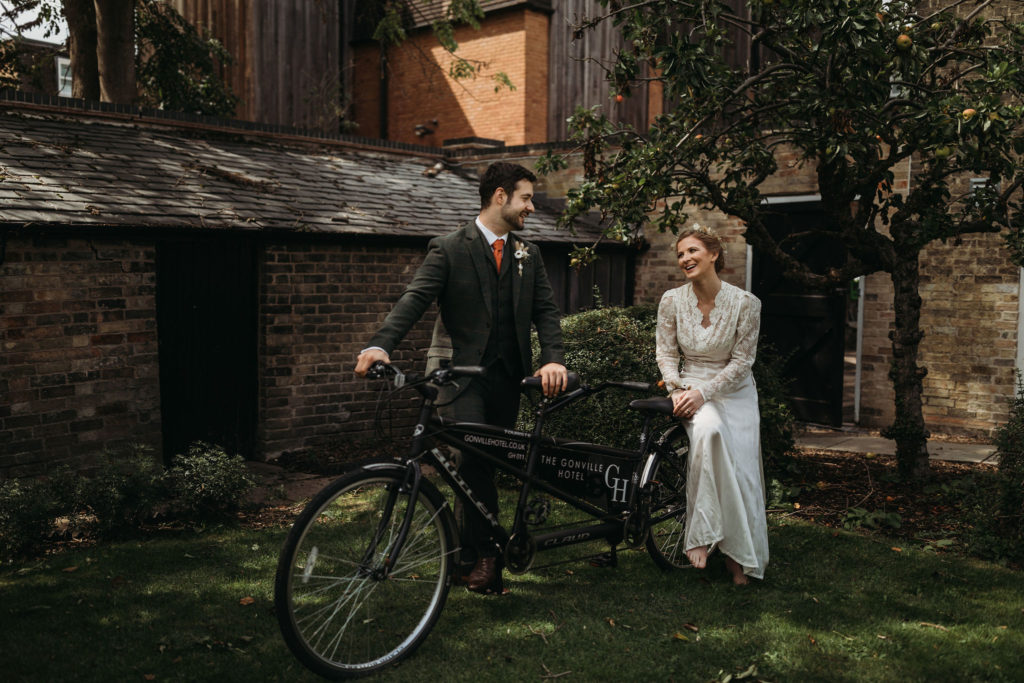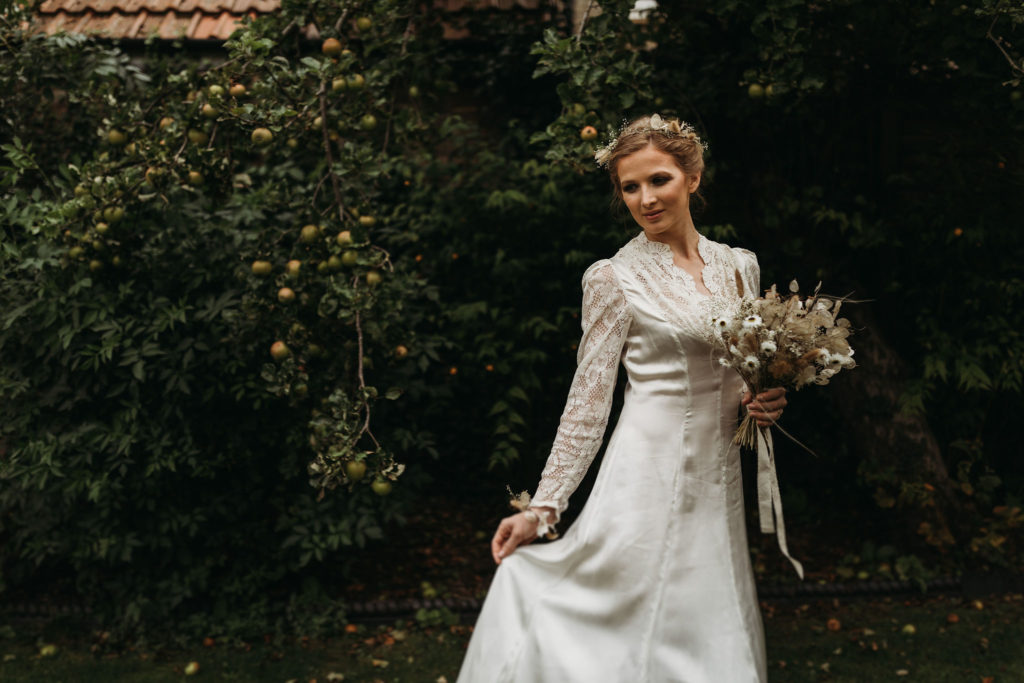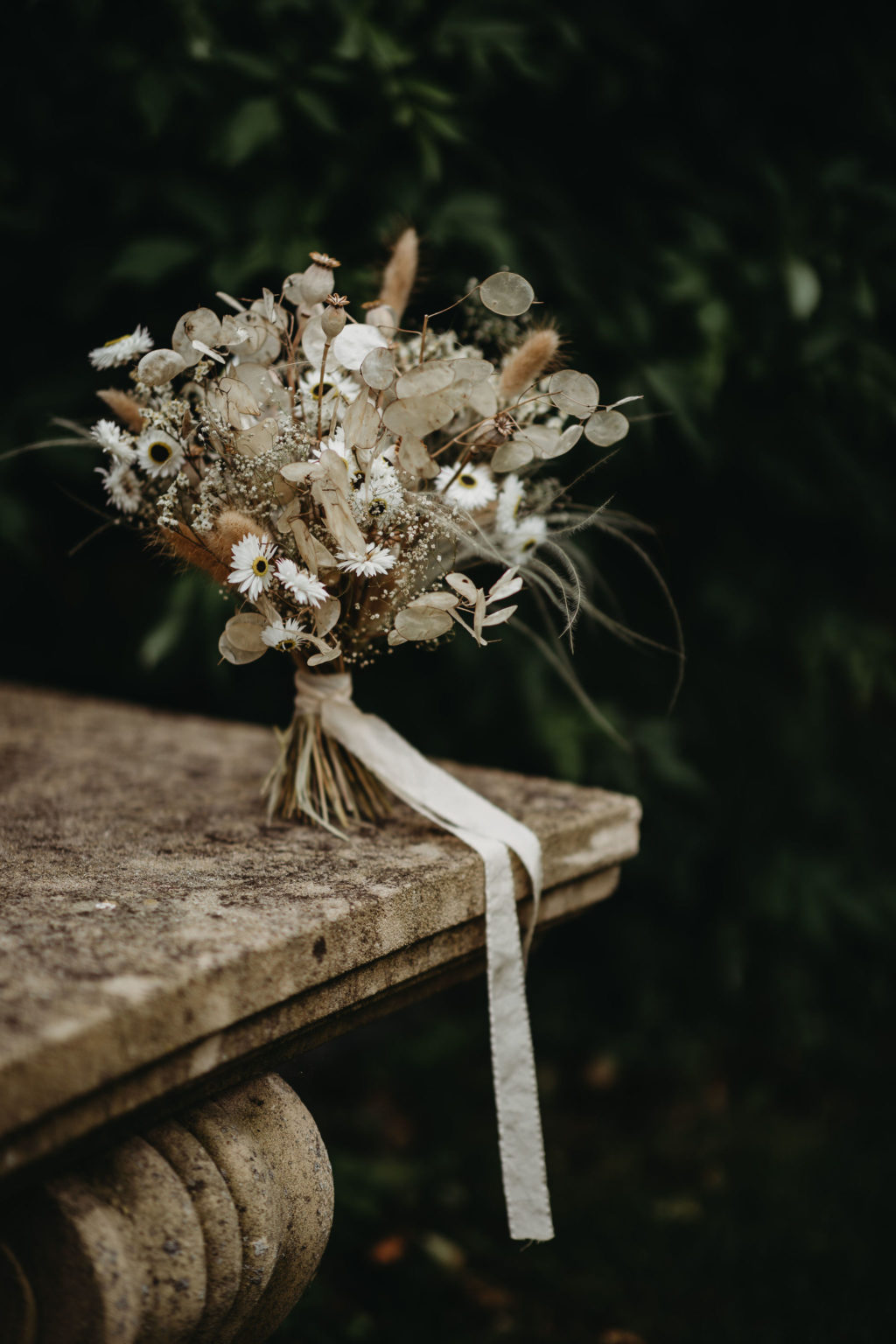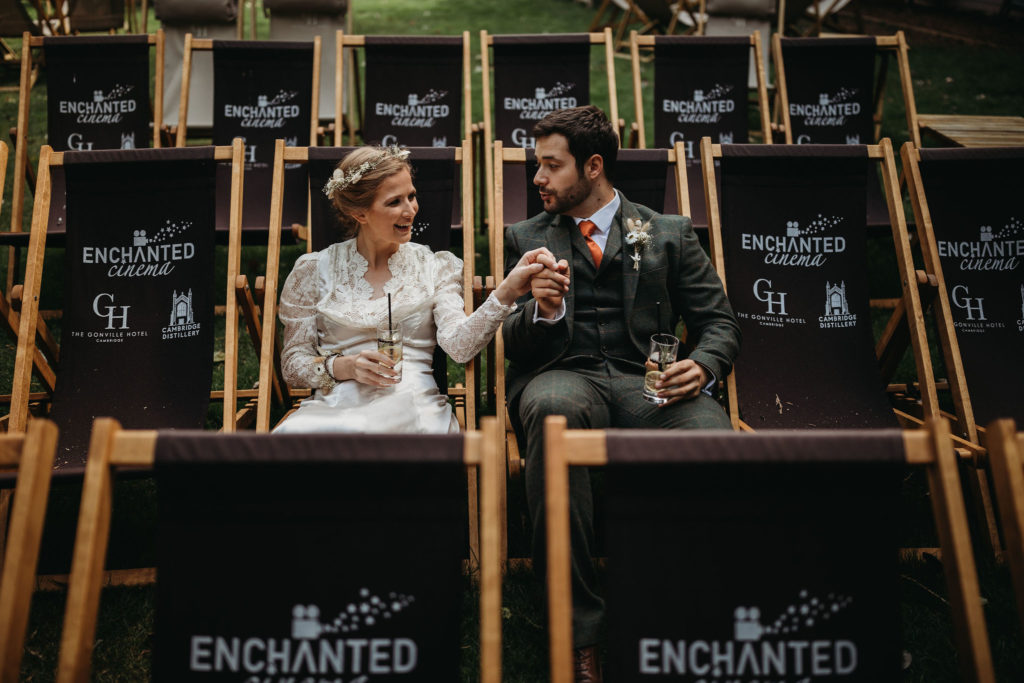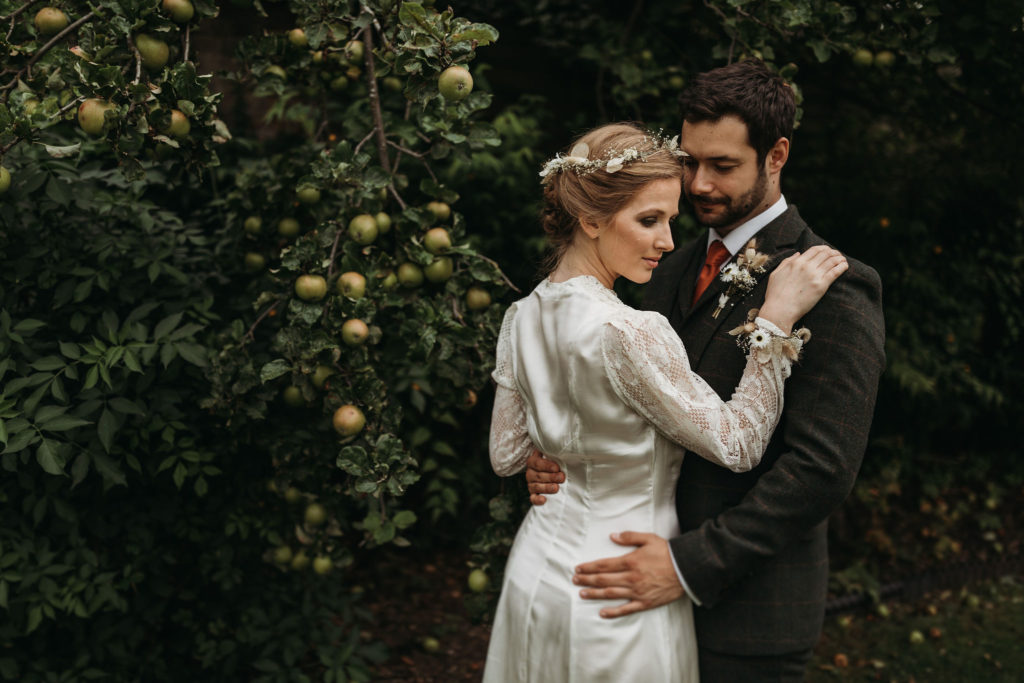 Flowers- Willow and Wolf
"My floristry style is quite natural and loose so I wanted to keep this feel for the shoot. Using minimal colour, I focused mainly on the textural qualities of the flowers, the overall look was light and ethereal."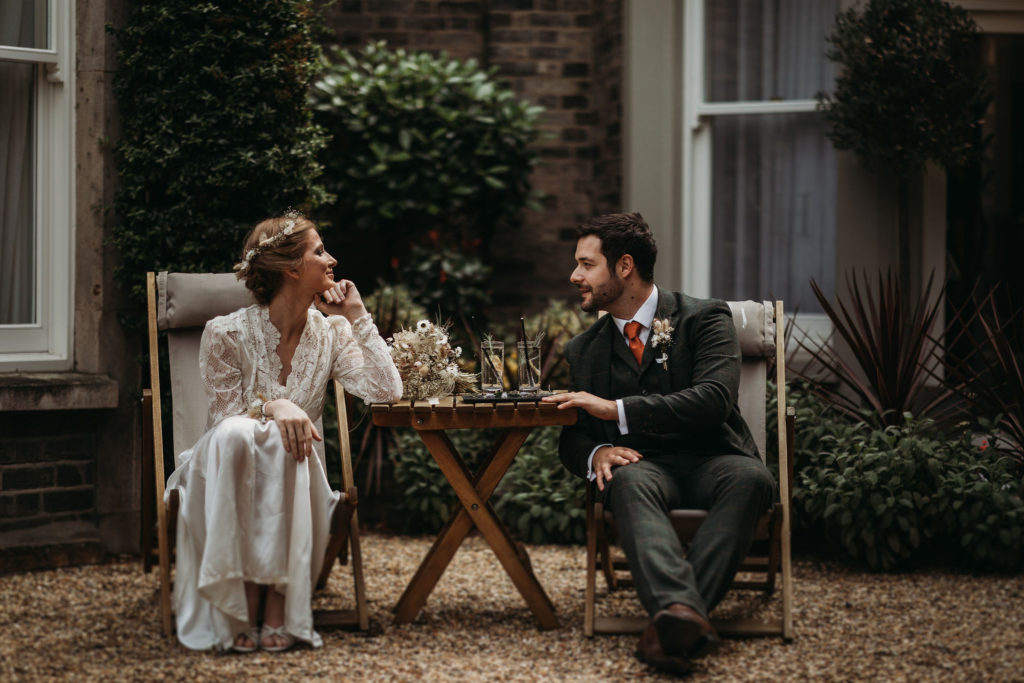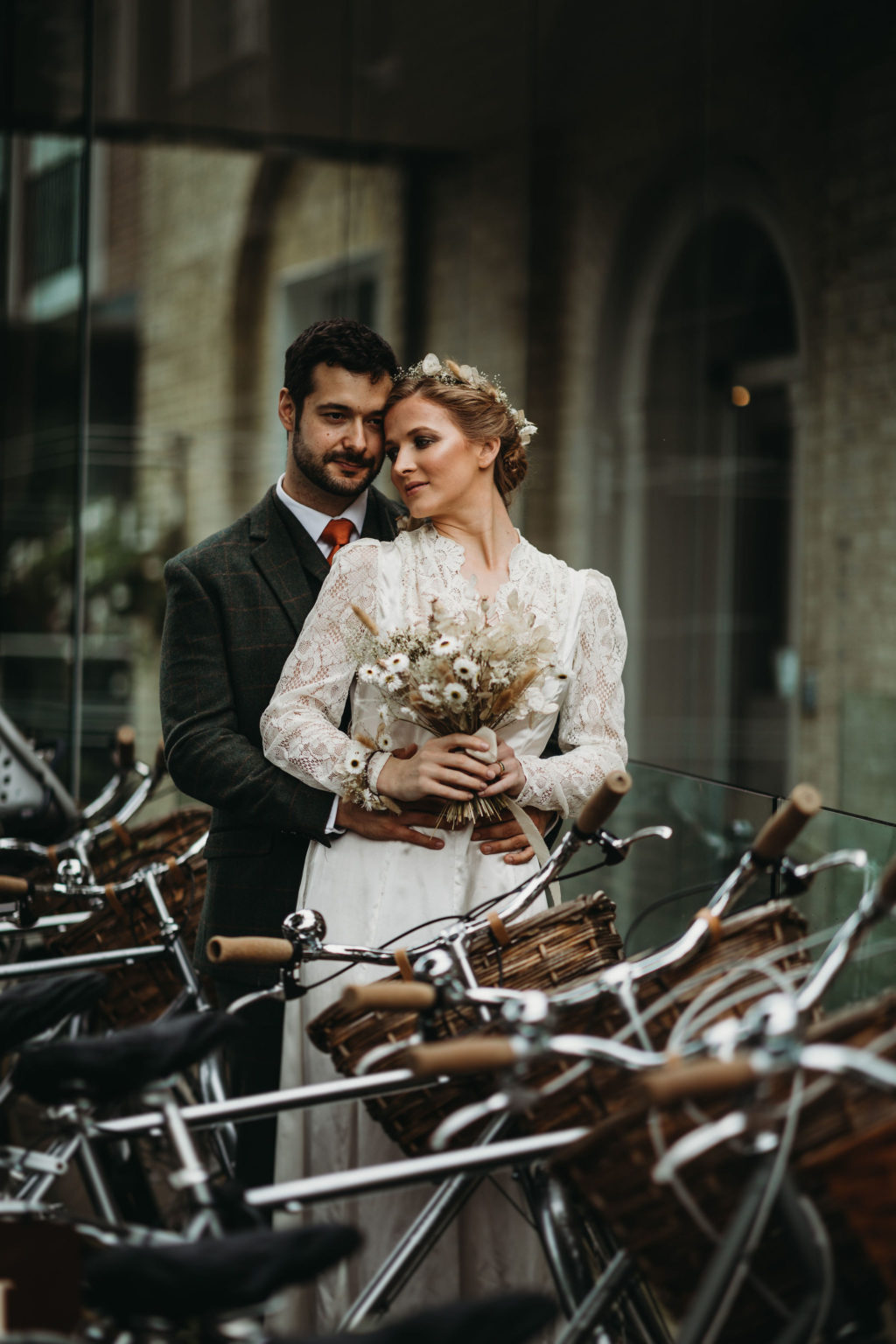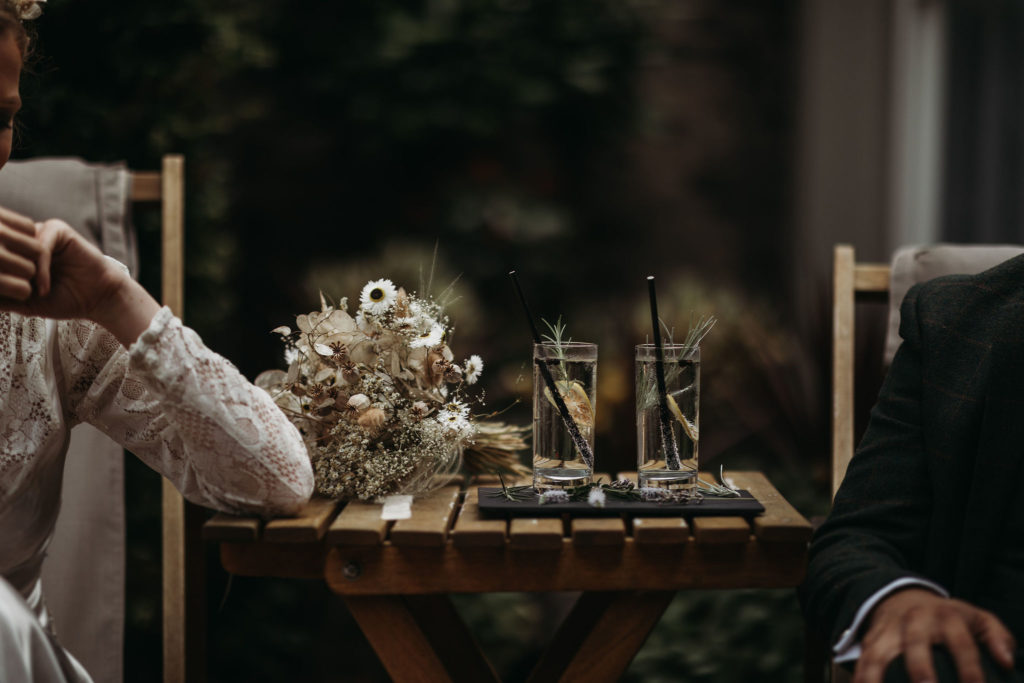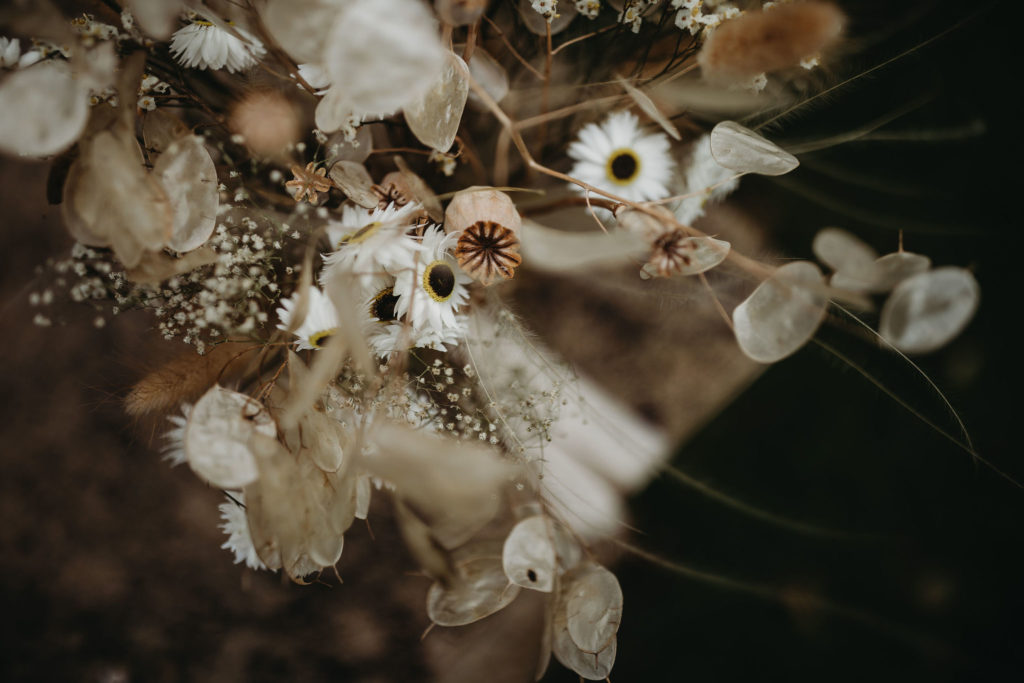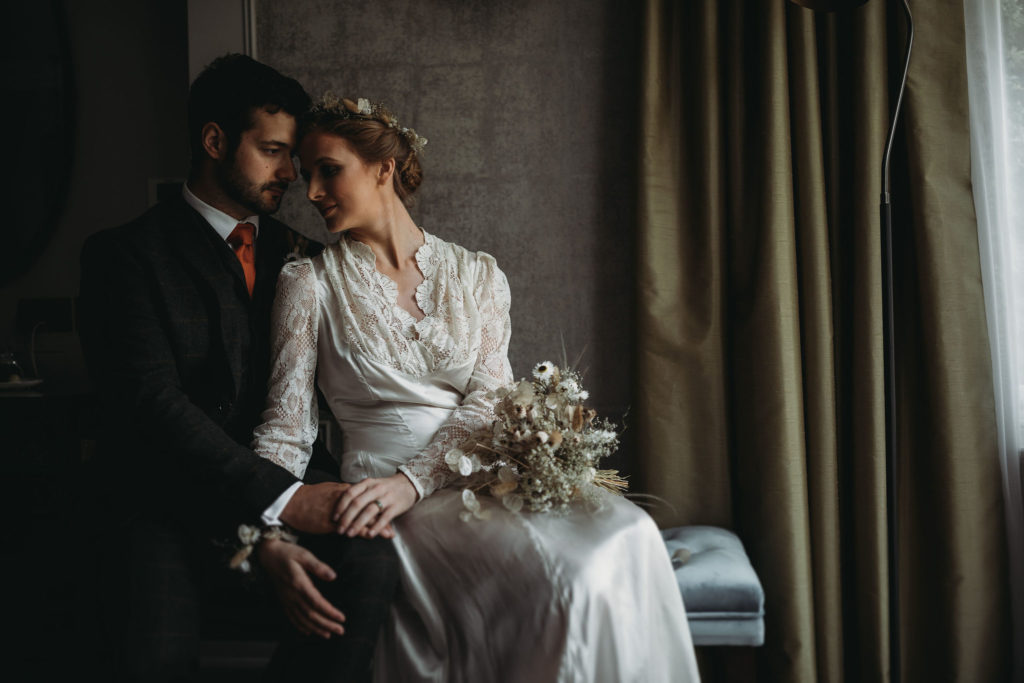 Cake- One Part Love Bakery
"I was instantly in love with the colour scheme of this shoot, the ideas and the minimalist qualities of the shoot. The cake was kept simple and elegant, with a dried flower wreath to decorate. Not only is this a completely unique way to decorate a cake but it is a beautiful keepsake to remember your wedding cake by. We also sourced all the ingredients locally where possible to make the cake as eco friendly as we could and in keeping with the shoot's ethos."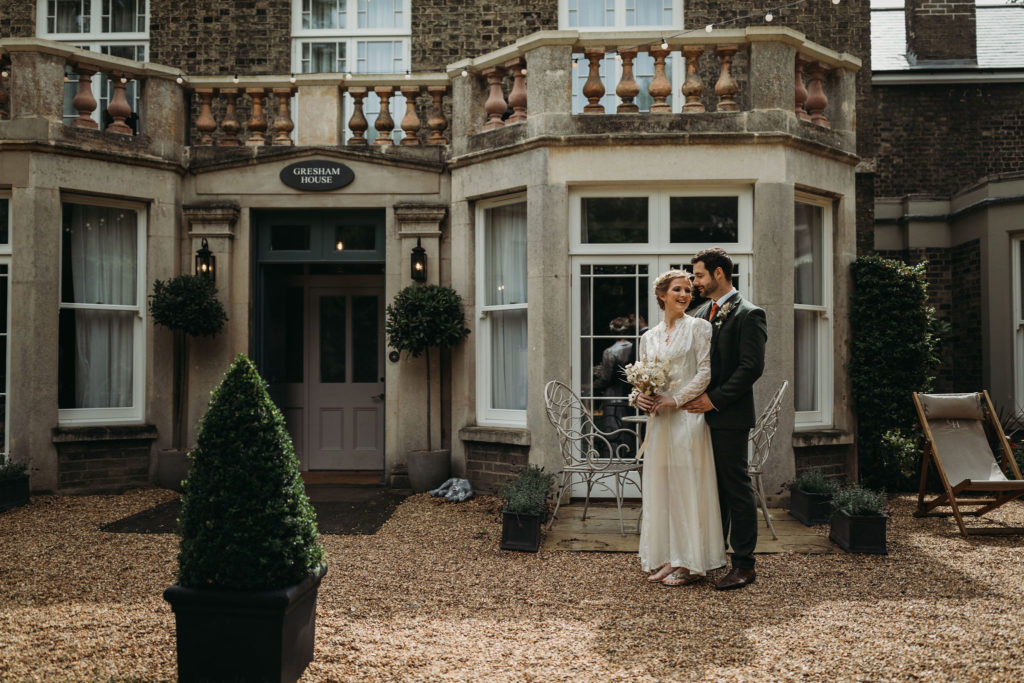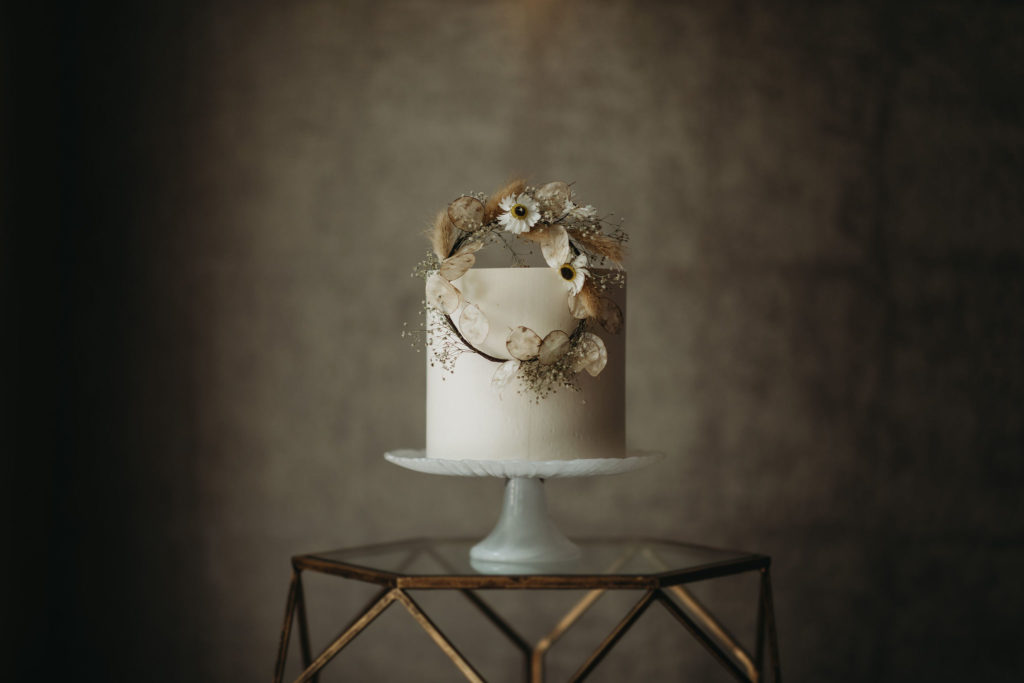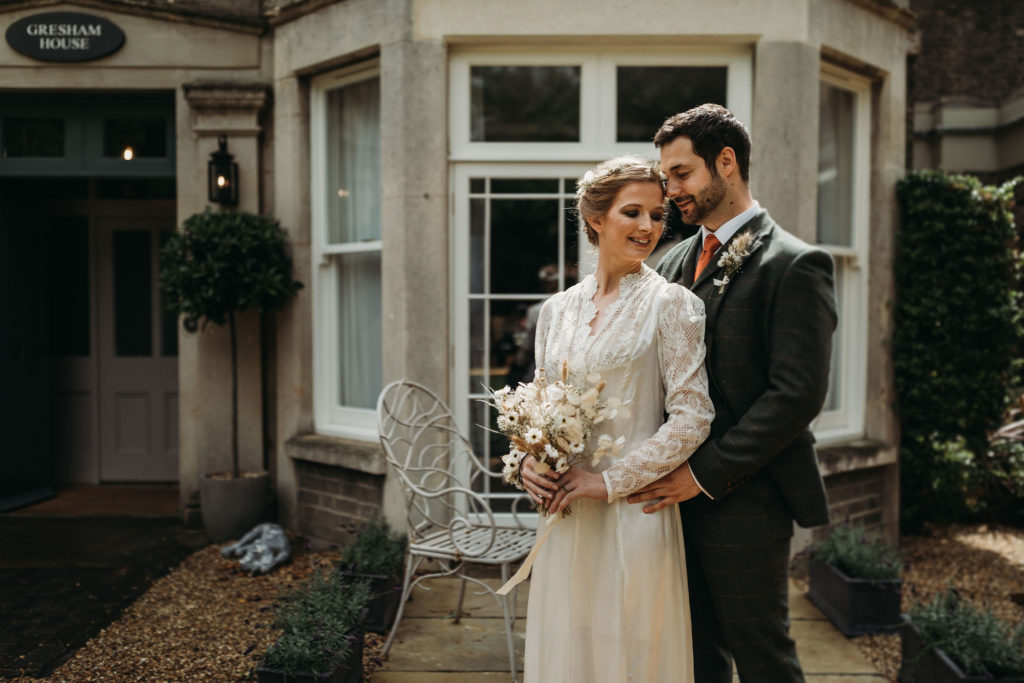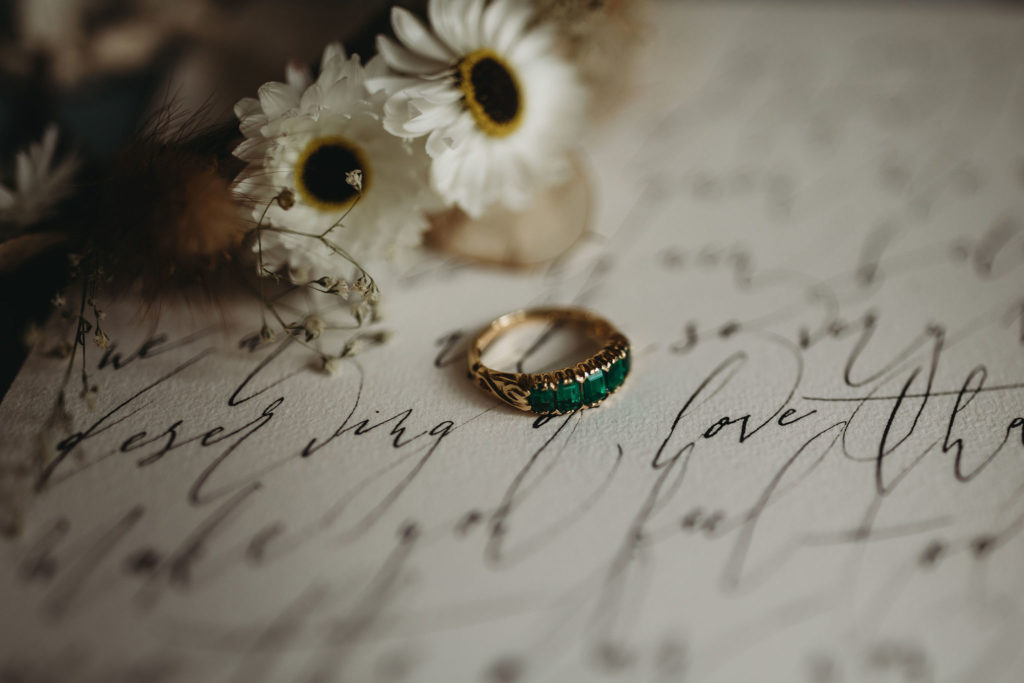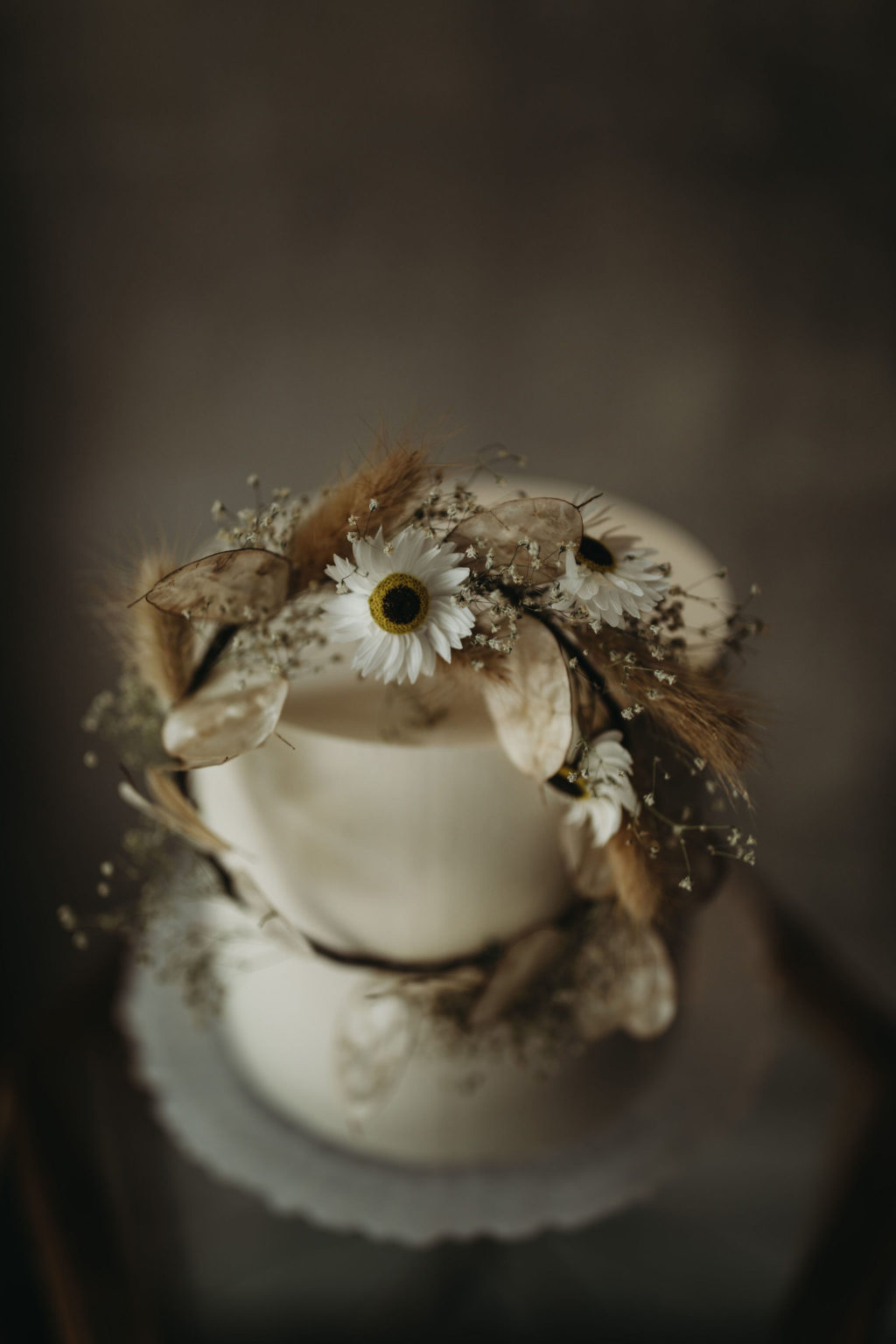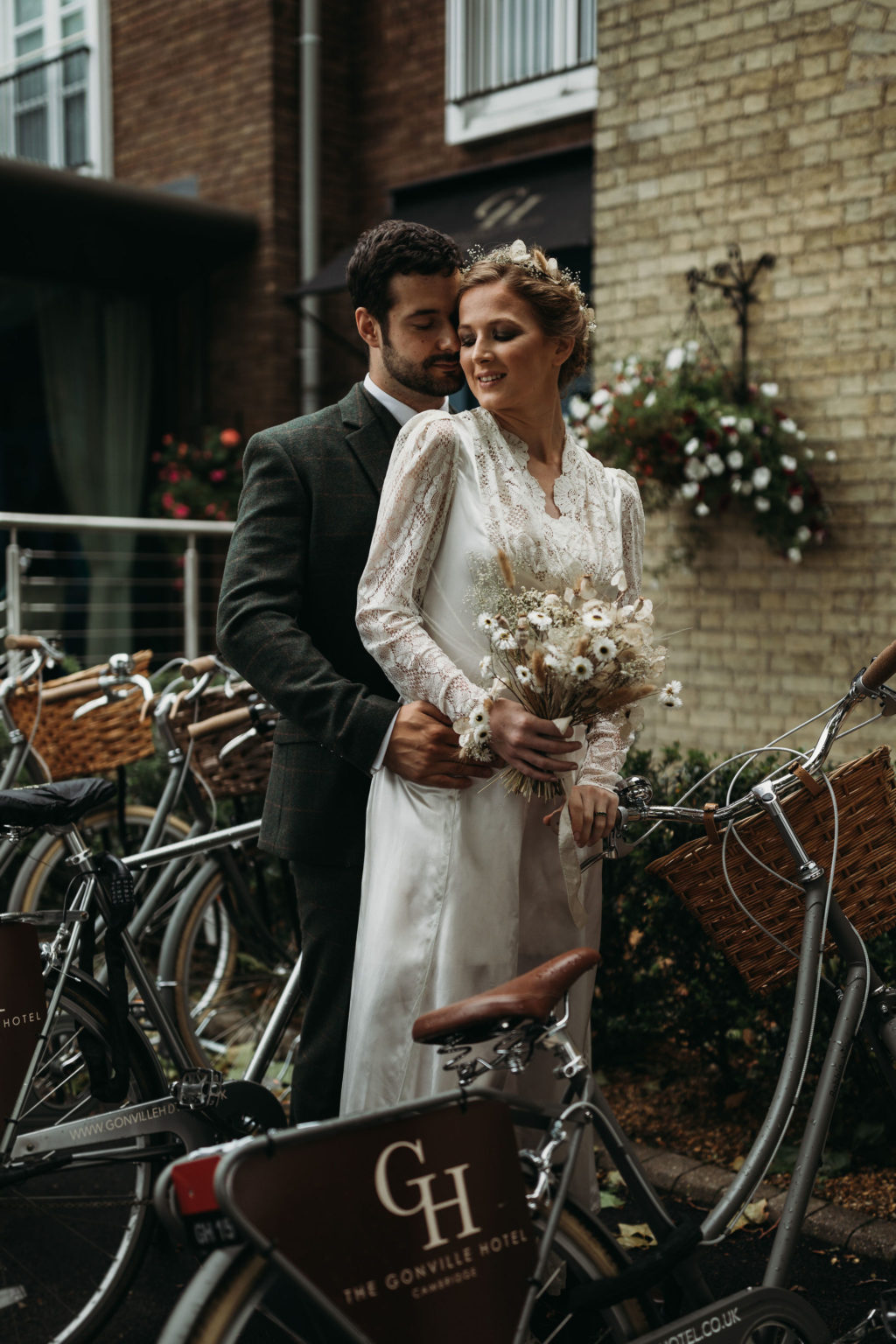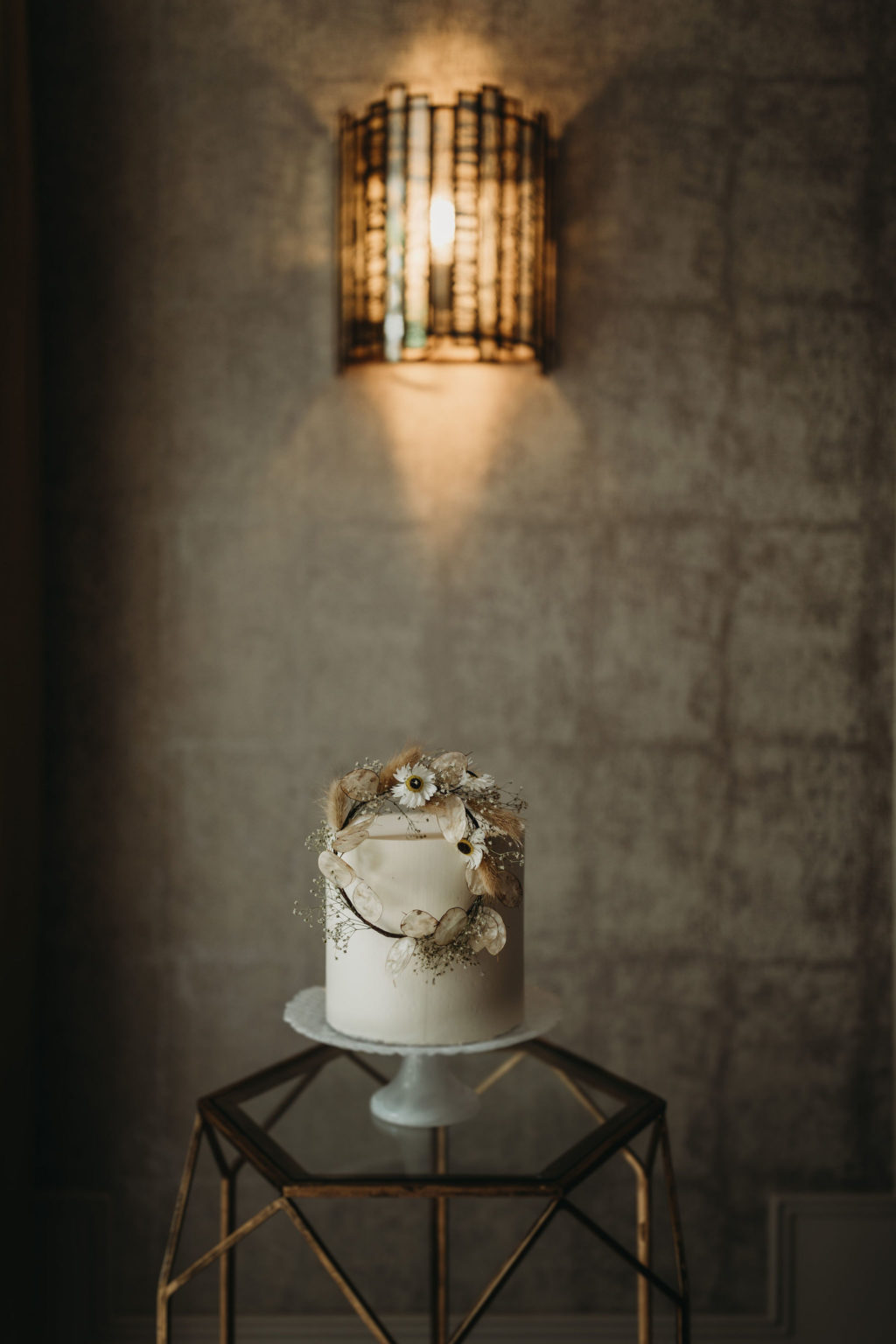 Hair- Kate Atalay Bespoke Hair
"The vintage theme was a joy to create a hairstyle for. The dress was exquisite, made from parachute silk and cobweb like lace it was one of the most romantic dresses I have ever seen. I decided to use braids for my main theme, tying them into the vintage feel by incorporating twisted rolls at the front. The style was perfectly set off by the beautiful, delicate headpiece. The green smokey eyeshadow set the models colouring off to perfection. All the elements with Noemi's skill behind the camera added together to create the perfect result."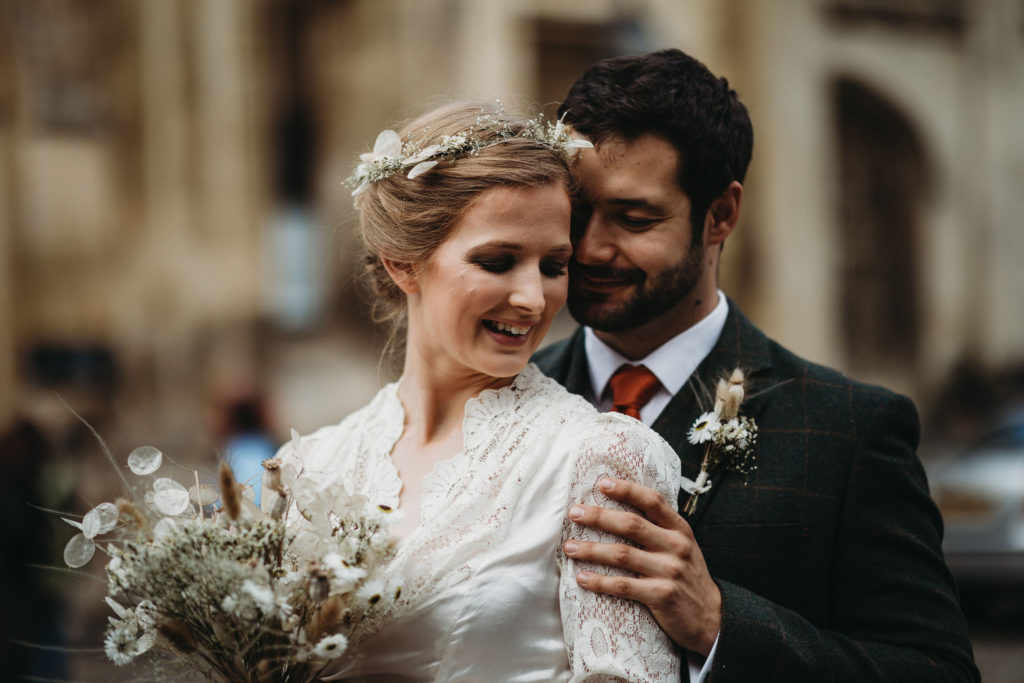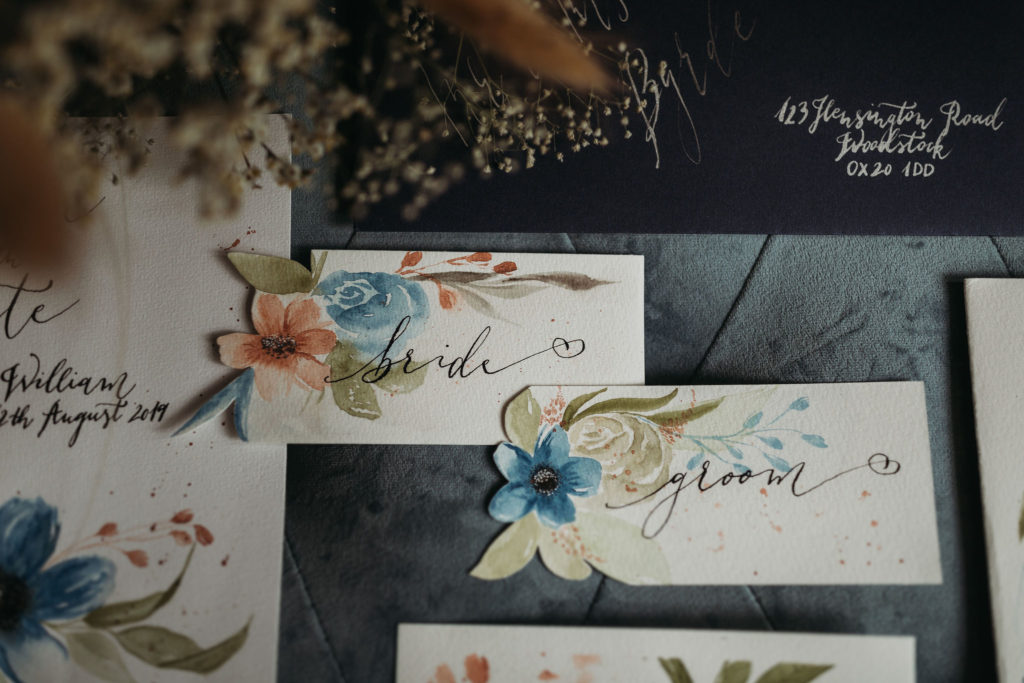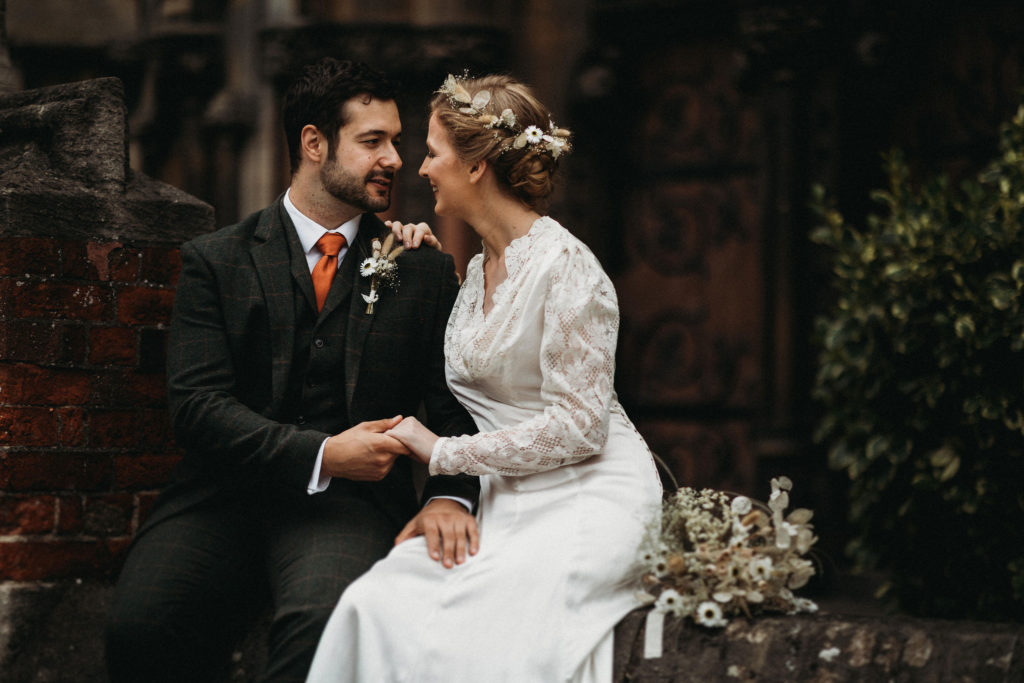 Make-Up & Location- Sarah Thorneycroft
"Gresham House Wellness is an oasis of calm in the centre of Cambridge. Set in the beautiful gardens of the Gonville Hotel, the Wellness centre offers 3 luxury treatment rooms where guests can relax, unwind and explore a luxurious range of treatments to take them away from their everyday. Our expertly trained therapists are dedicated to giving each individual client a luxury experience from the moment they arrive until they depart. Working alongside ESPA, Jessica and Mii, we offer a wide range of treatments including our luxury bridal packages and as featured in this shoot, make-up for your special day."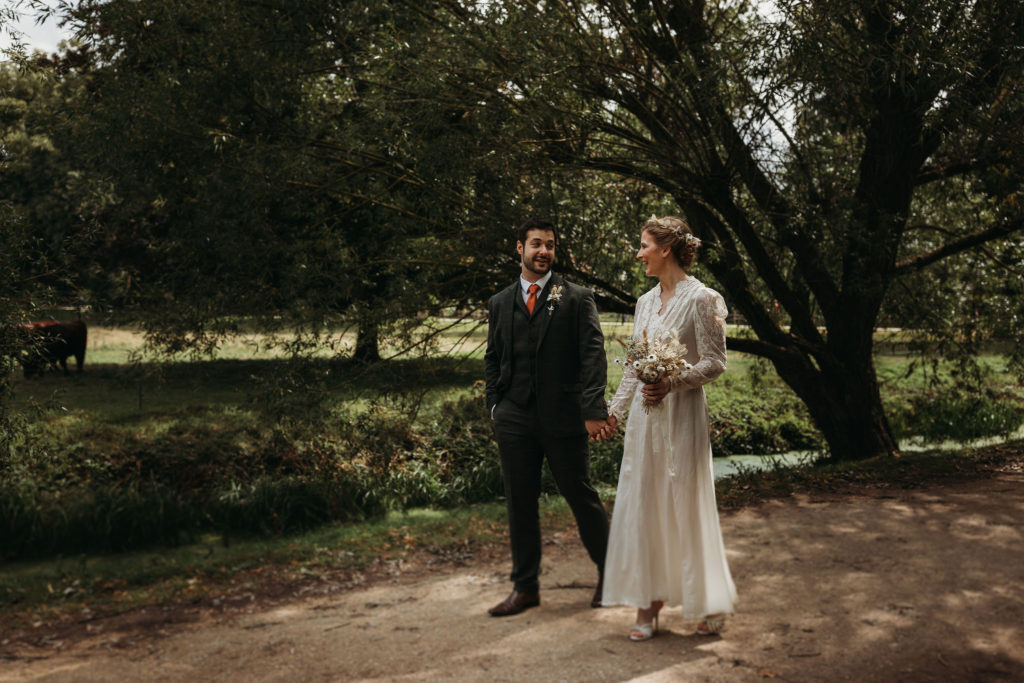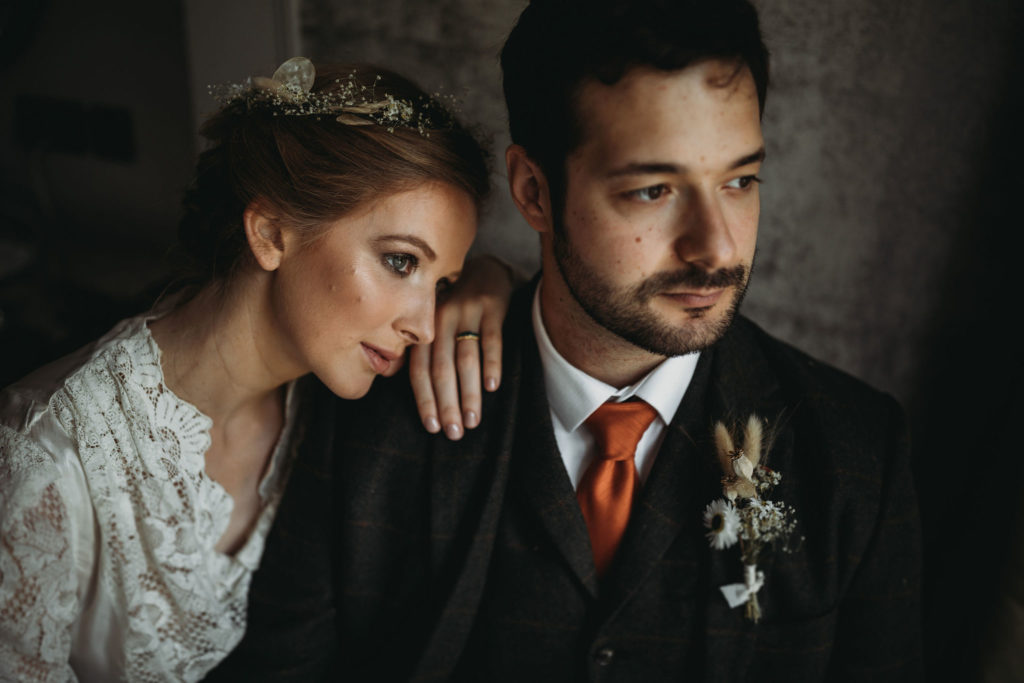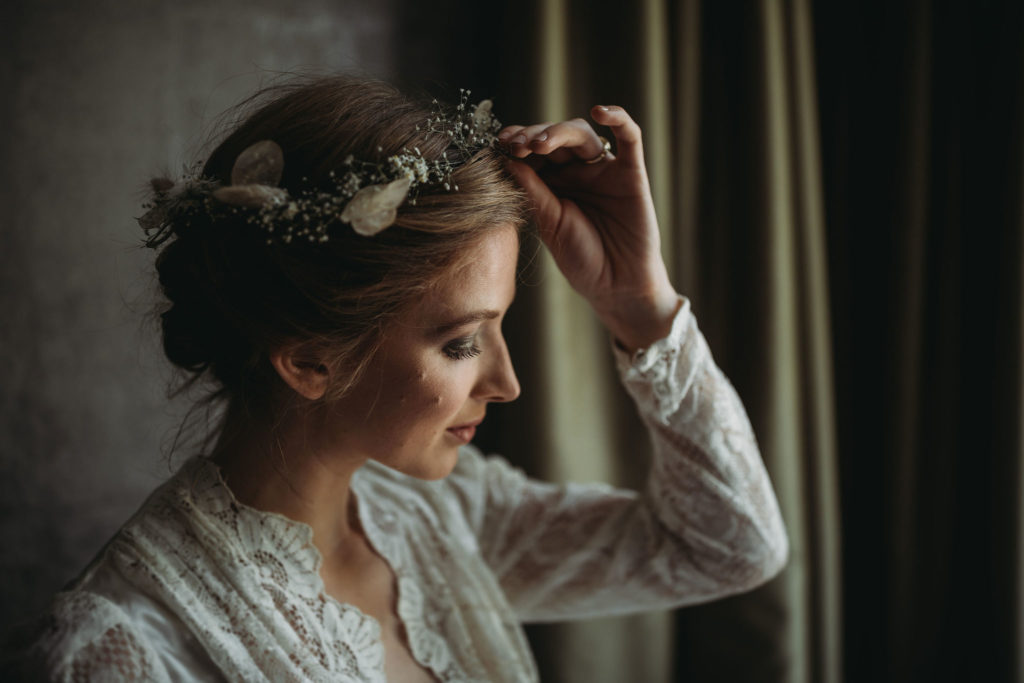 "The Gonville Hotel has a 'Green Committee' which is responsible for monitoring, implementing and moving forward with the ongoing action plan to deliver its Green Policy commitment.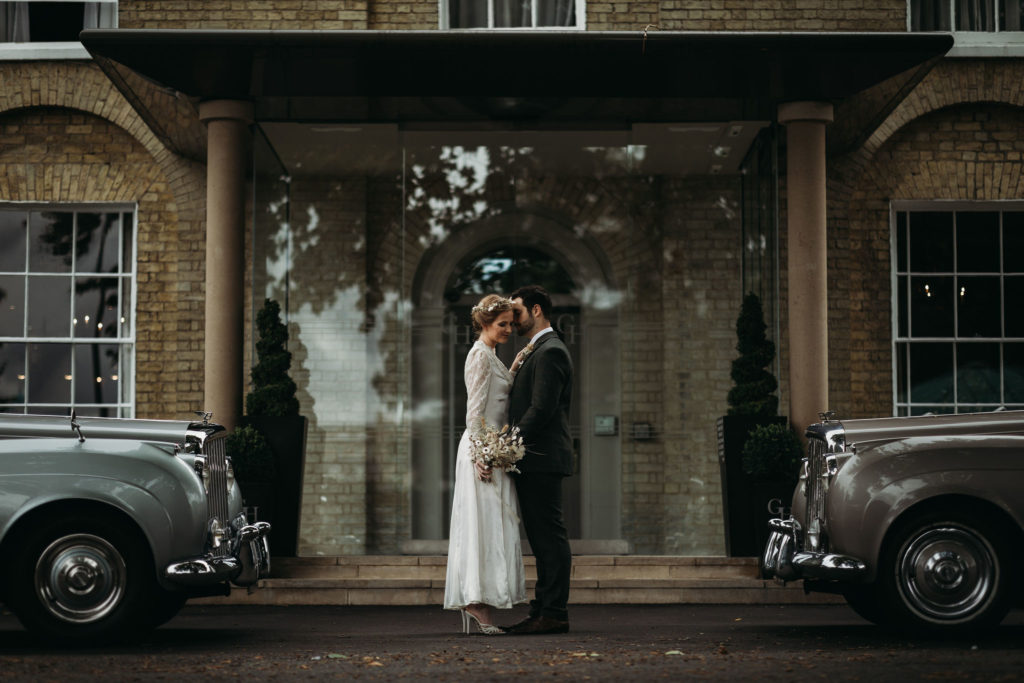 Groom- Chimney Menswear
"Contribution of a classic wool tweed suit in olive green provided a subtle, textured, stylish back drop for the elegant simplicity of the bridal gown. The suit was complemented by a matching waistcoat. Continuing the botanical theme, highlights of autumnal burnt orange within the check of the suit were echoed in the choice of a plain burnt orange tie."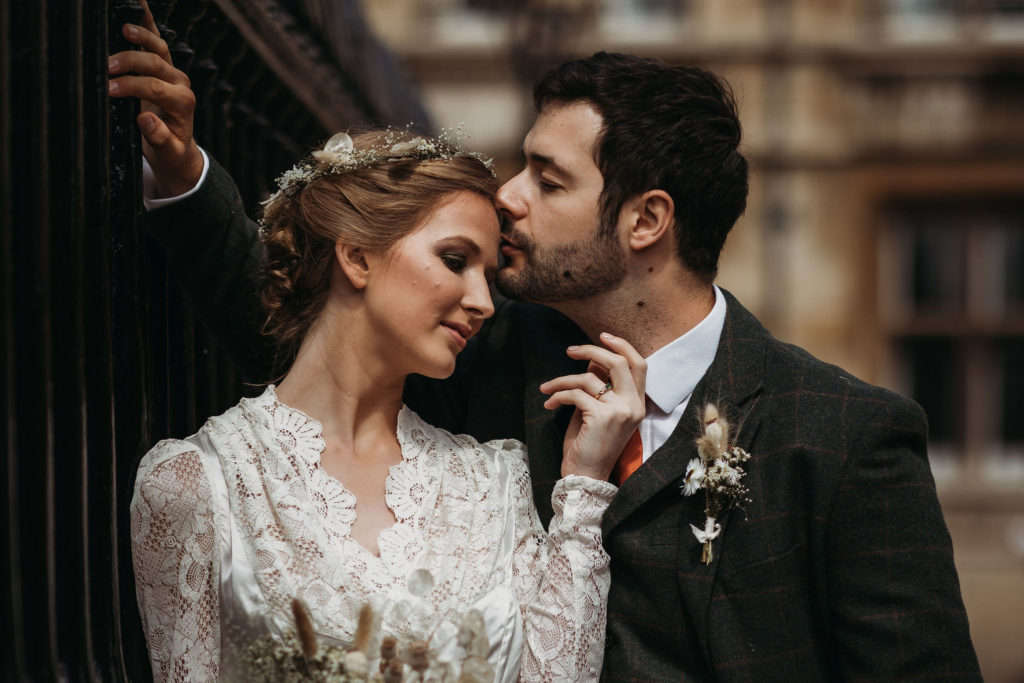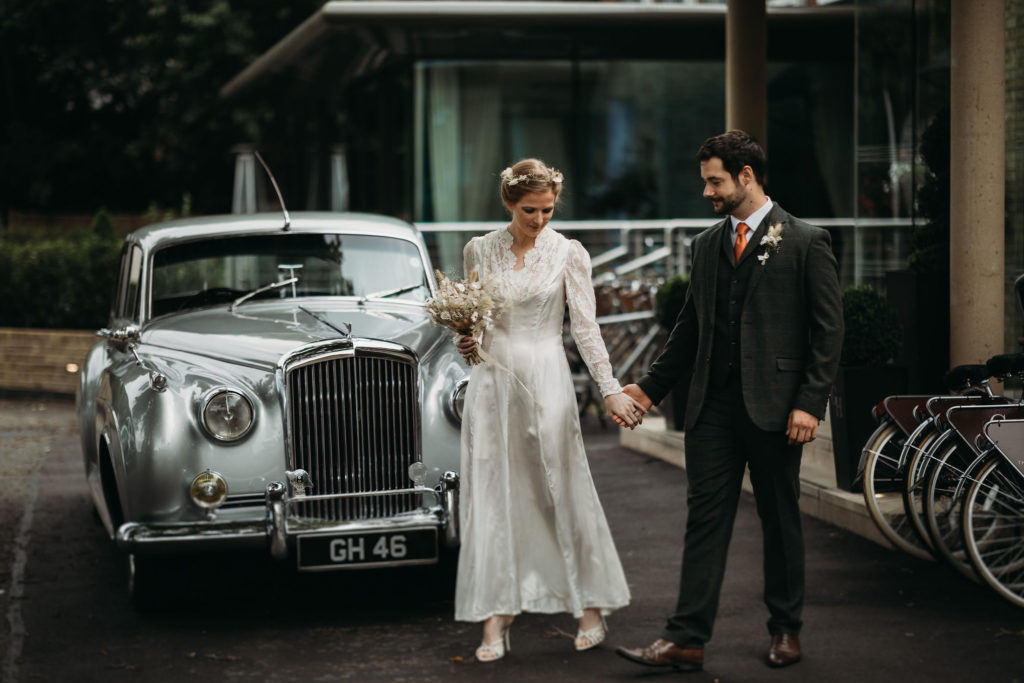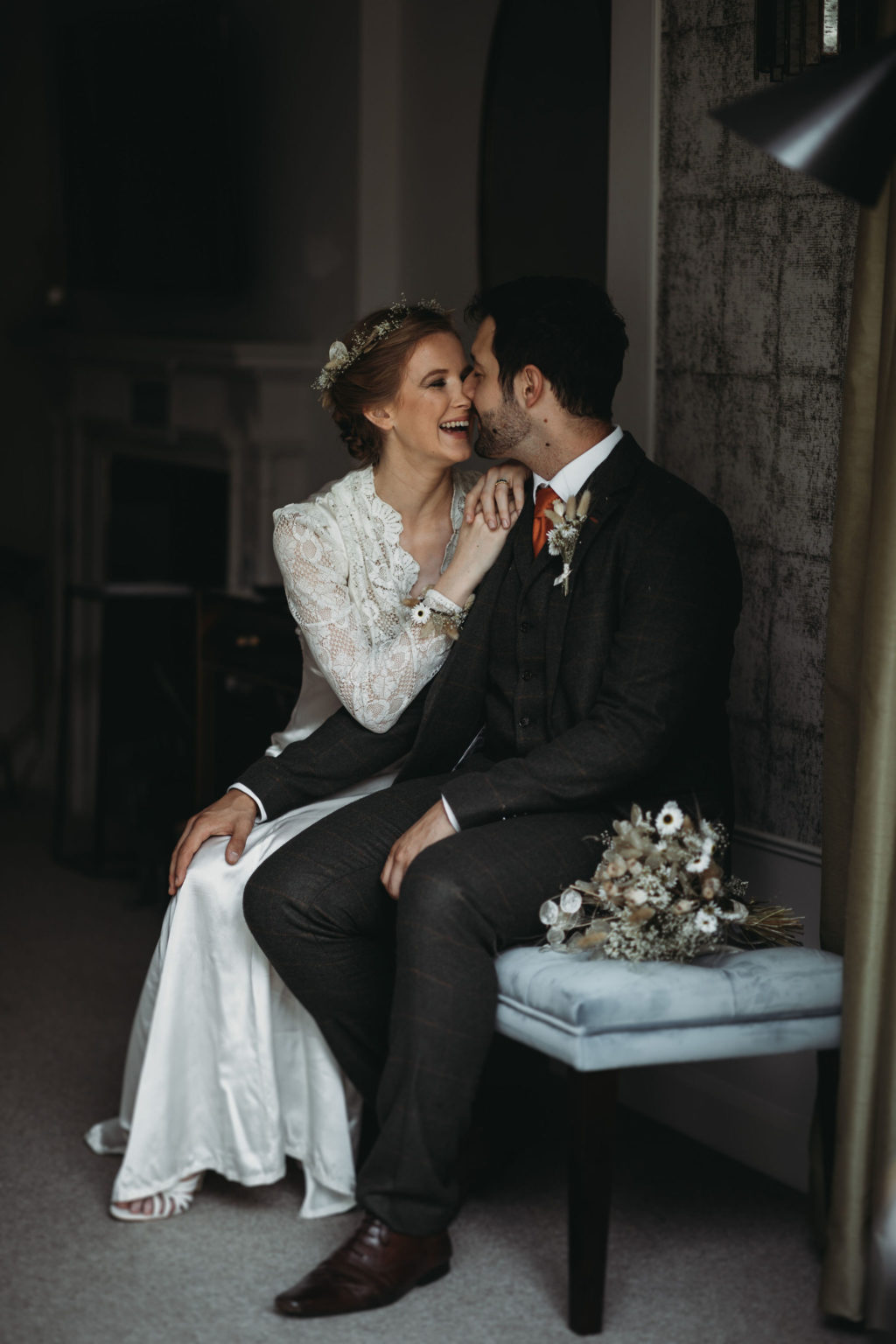 Shoes- Beyond Skin
"Elegant vegan bridal shoes are 100% recycled faux leather with a plant polymer coating, and the packaging is completely recyclable. Our sustainable and leather-free footwear is all ethically and beautifully handmade in Spain. Put simply, each time you purchase a new pair of leather shoes you are responsible for using as much water as having a bath everyday for over 40 years."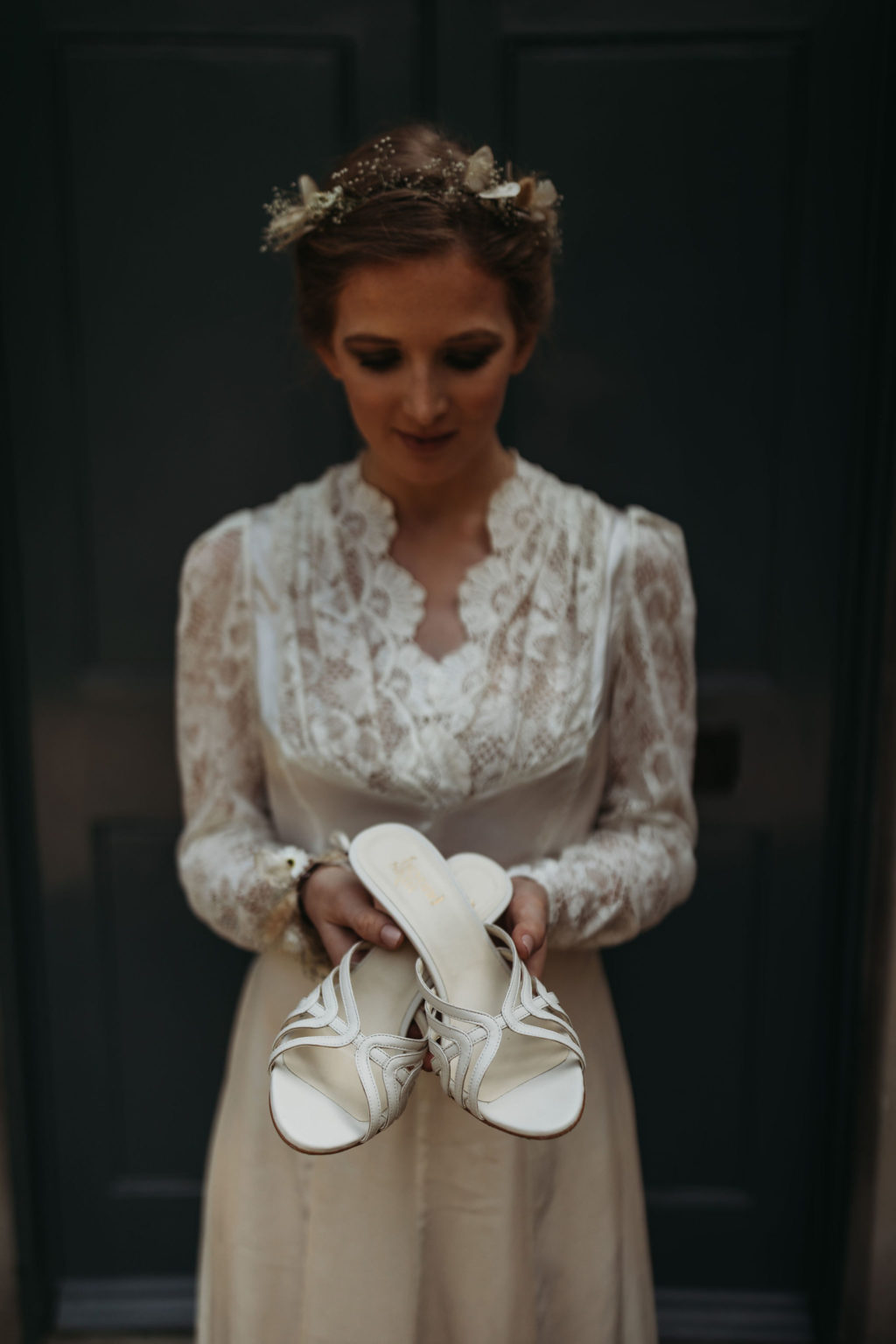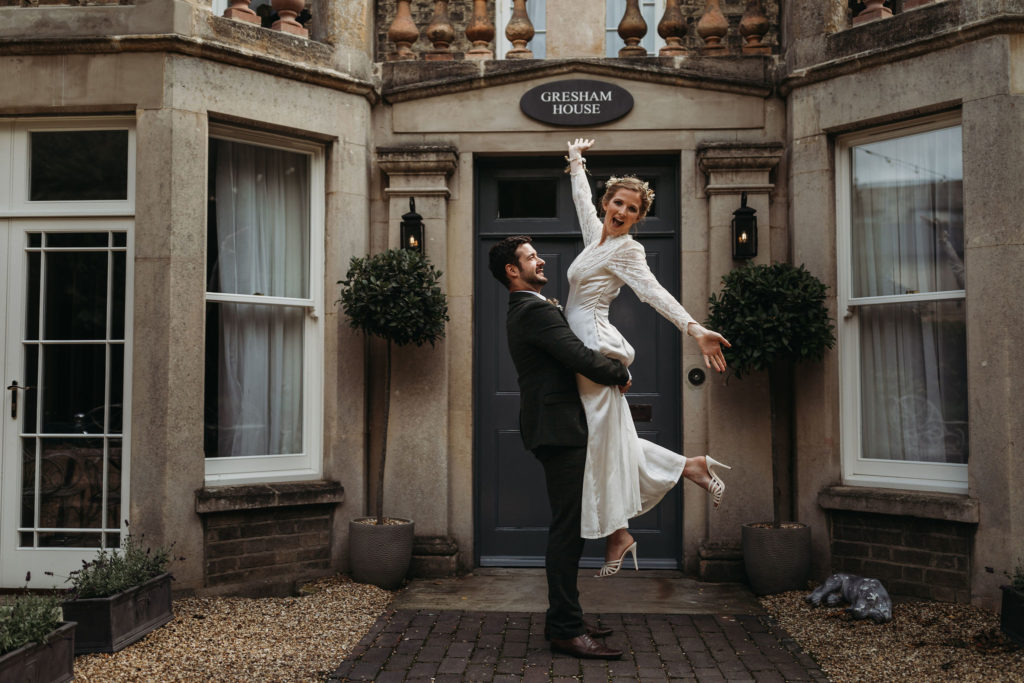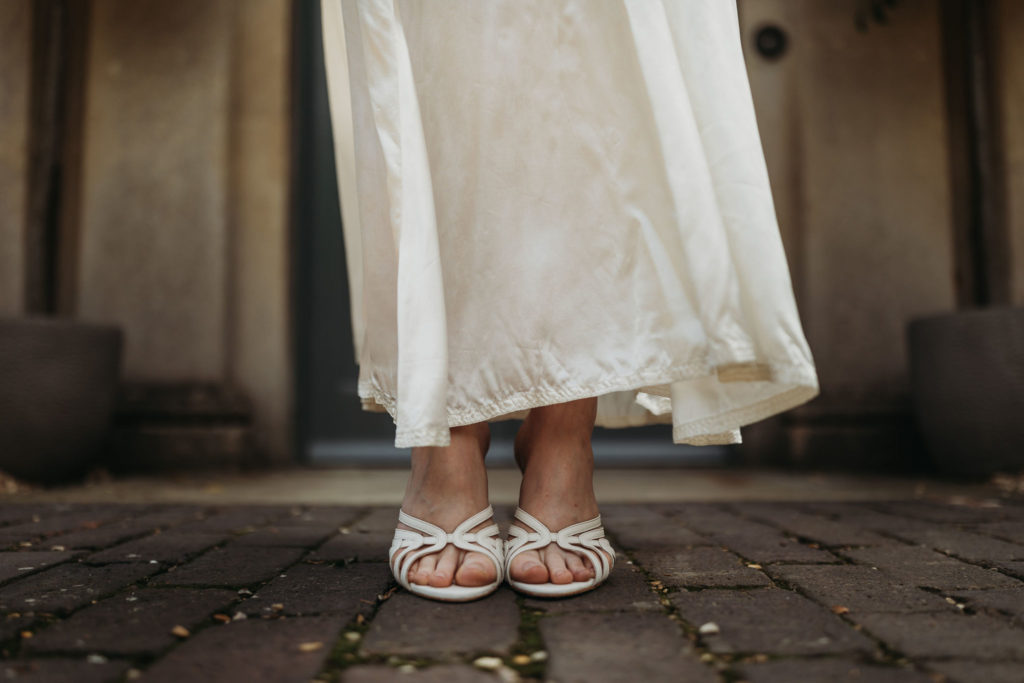 Jewellery – London Victorian Ring Co
"The emerald ring featured is made in recycled 18ct yellow gold, an environmentally aware choice. The emeralds have been expertly matched and graduated to give a beautiful visual effect. The shoulders of the ring are scrolled and carved in the late 19th century Victorian style. For our diamond jewellery, we require written warranties stating that the diamonds have been purchased from legitimate sources and have not been involved in the funding of conflict.
We only trade with diamond suppliers who belong to the World Federation of Diamond Bourses, an organization helping to implement the Kimberley Process so that conflict diamonds do not enter the legitimate diamond market."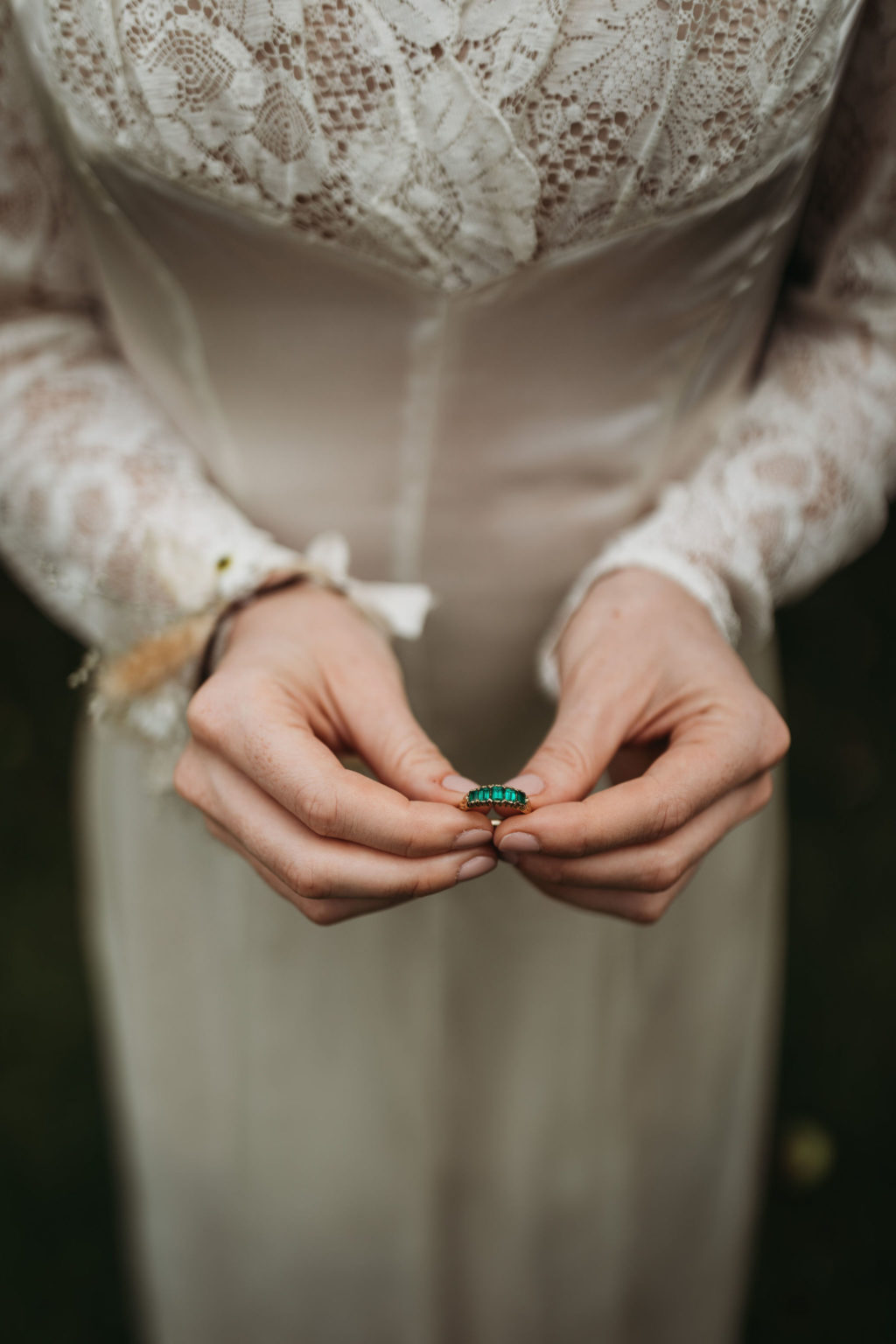 Stationery- Dorka
"I wanted to add to the elegance and harmony to the shoot with colours matching the botanical scheme. I have always loved pastel colours and the shades of nude and blue I used were my absolute favourites. The free flowing watercolour illustration suggests a light and airy feel and it's contrasted by the black ink used for the calligraphy itself. Every piece is unique, fully handwritten and hand painted on simple white paper."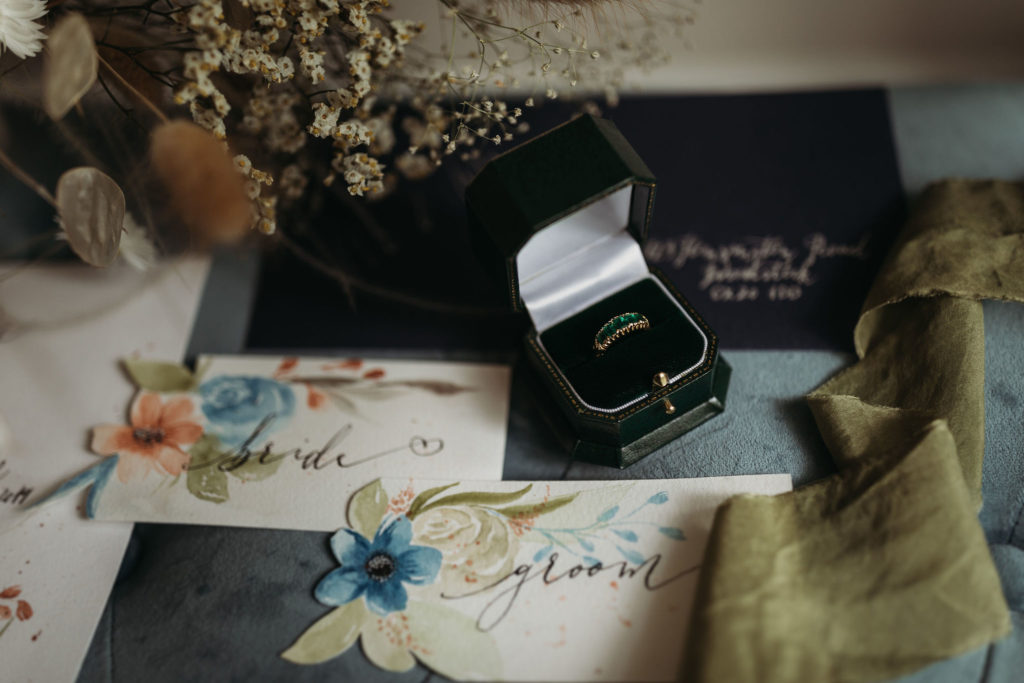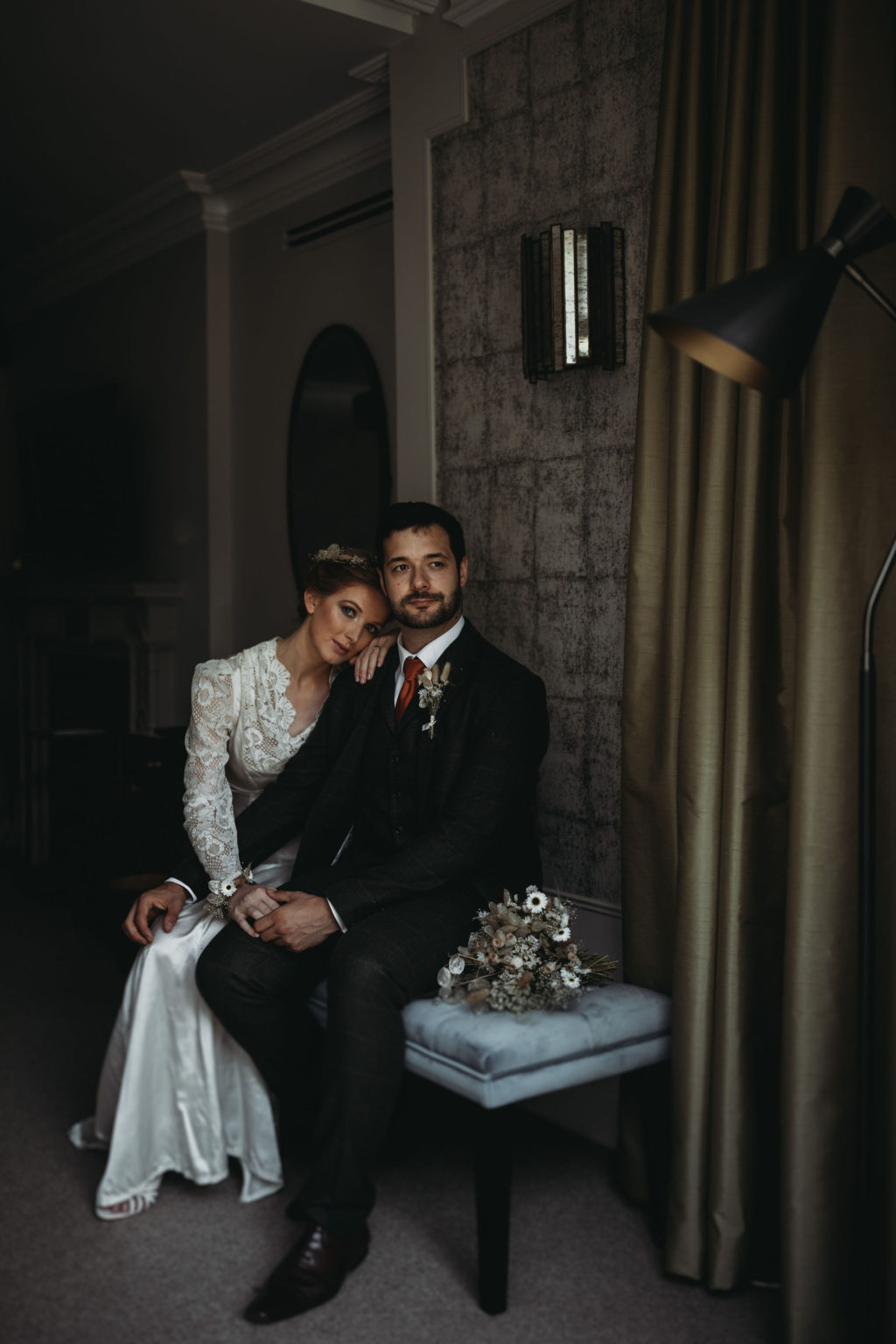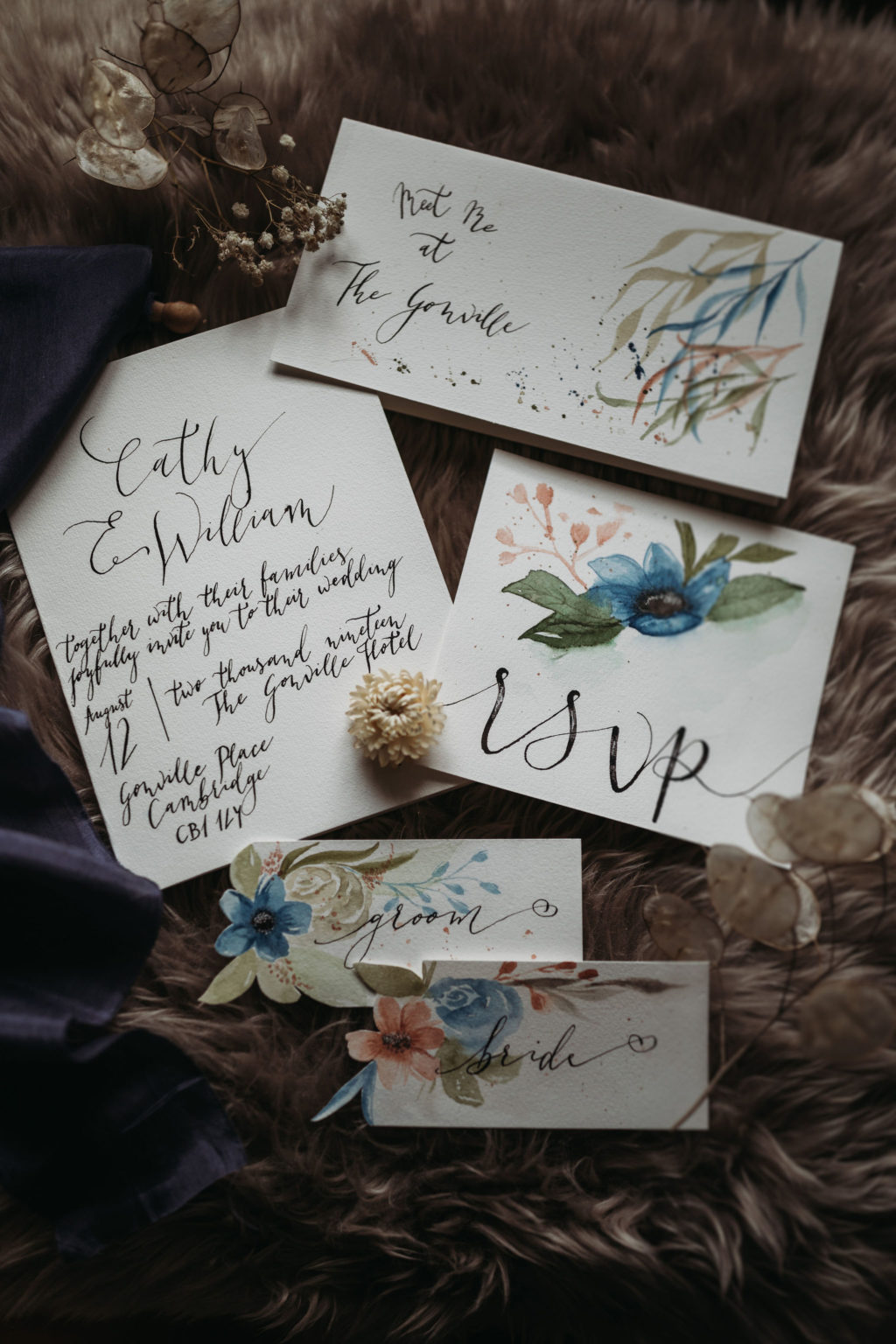 Ribbon – Bertie & Fred
"I make my botanical ribbons using plant based dye that I make myself. I grow as much plant stock as possible and buy from sustainable growers where needed. I buy all silks, papers
and materials from small indie sellers not mass produced companies. I water my plants with the old dye baths. I believe all the little thought-out details makes such a difference. Handmade from start to finish."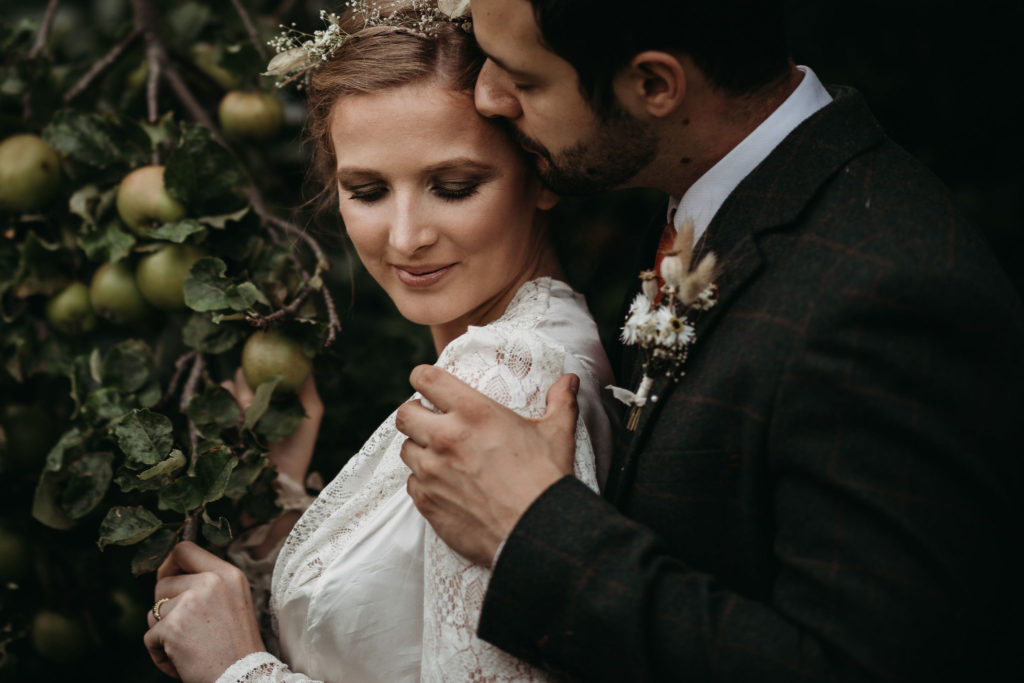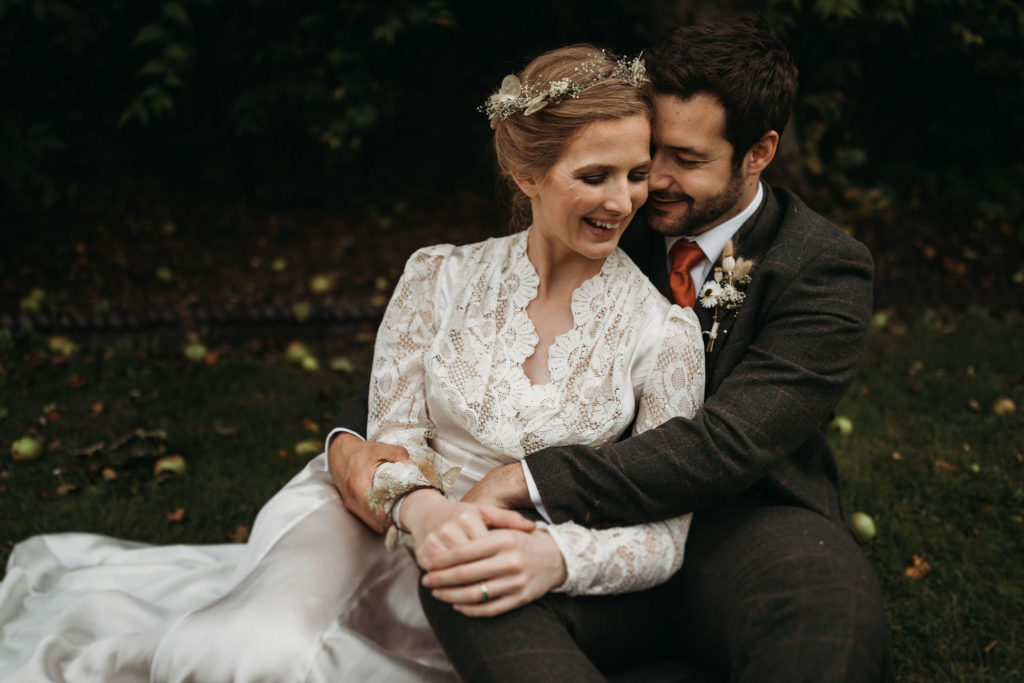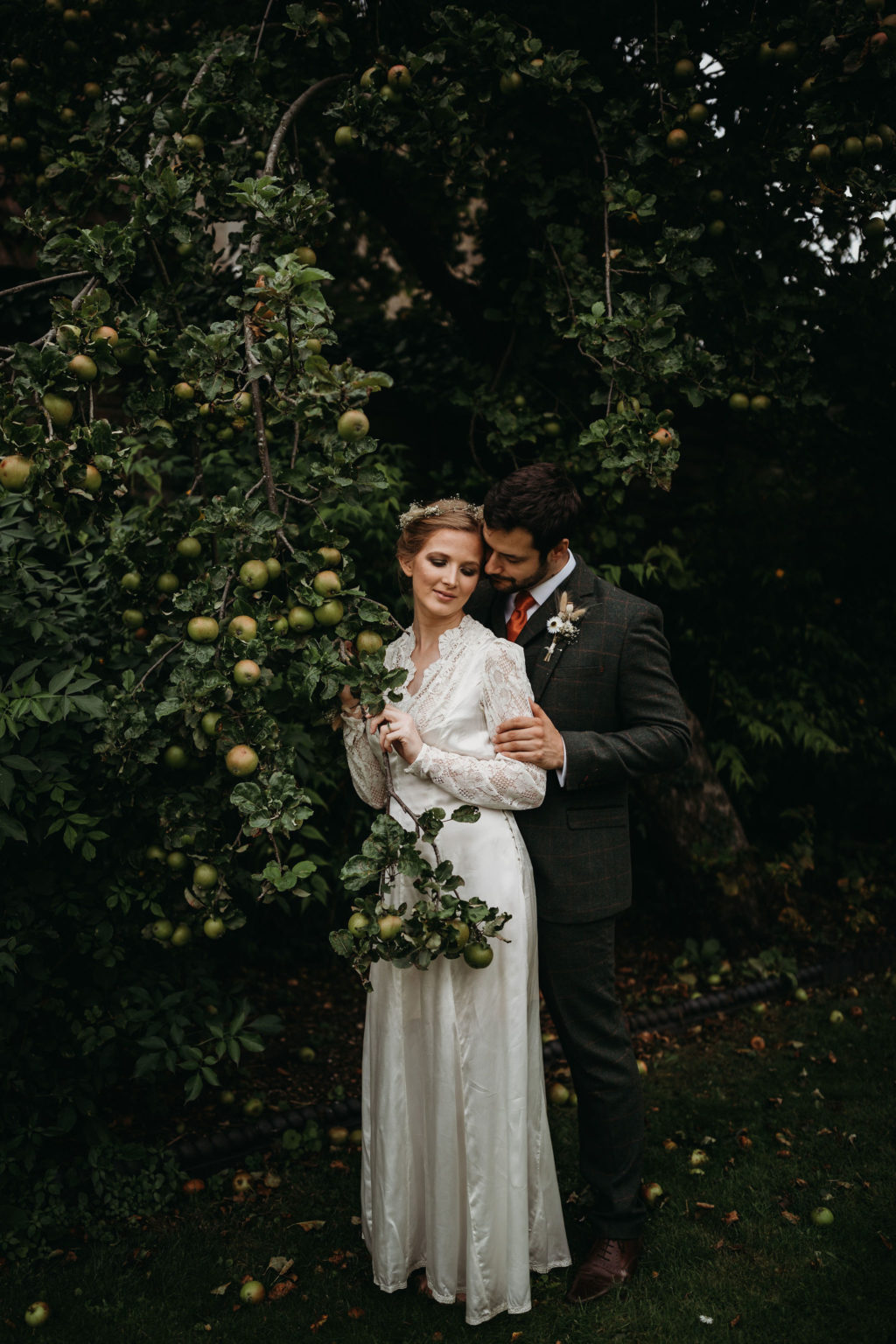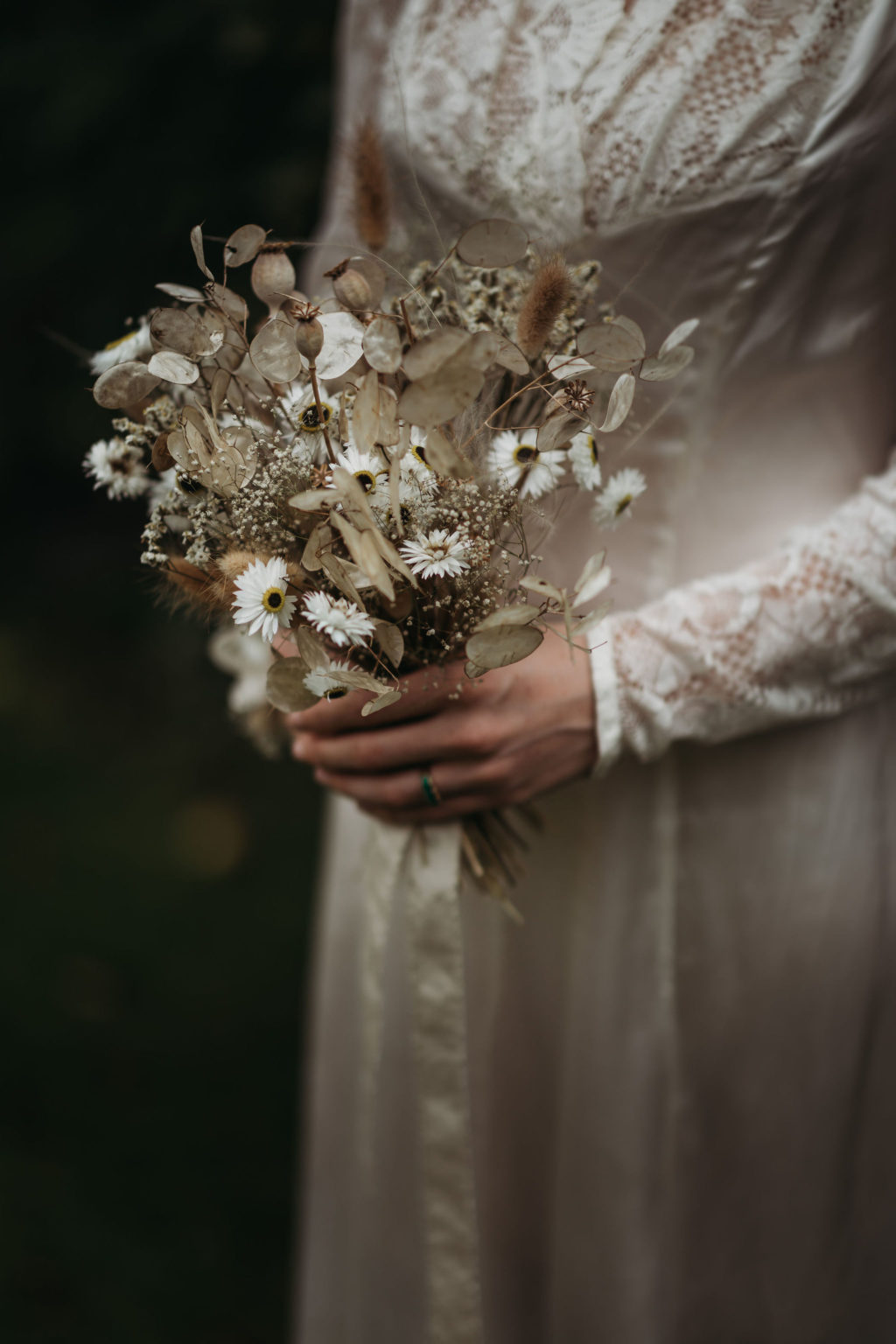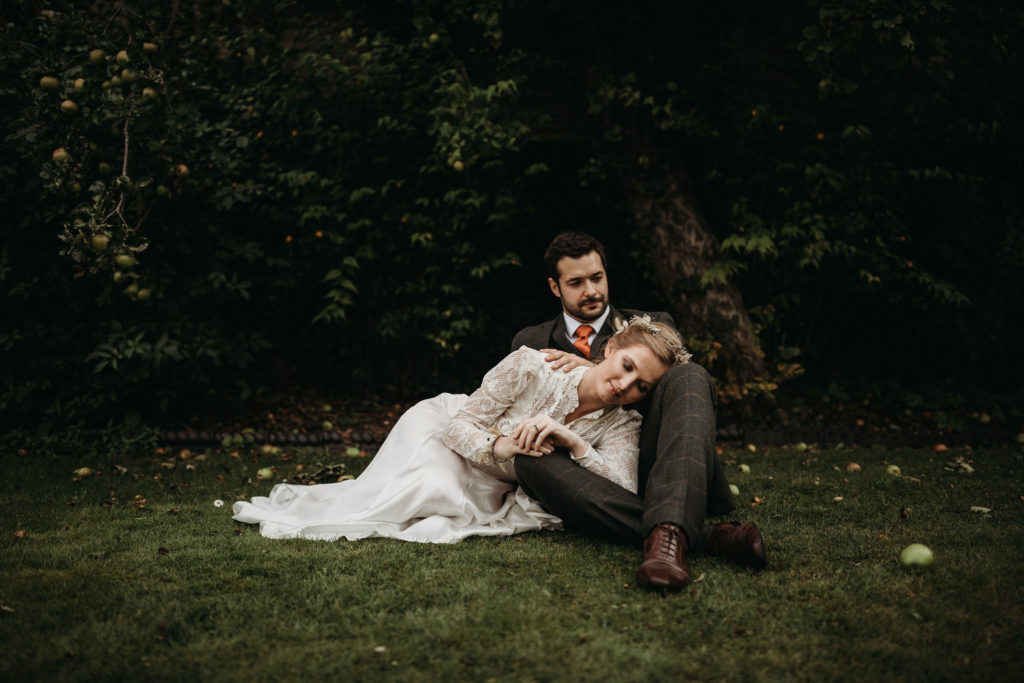 IF YOU LOVED THIS LOOK PLEASE PIN IT!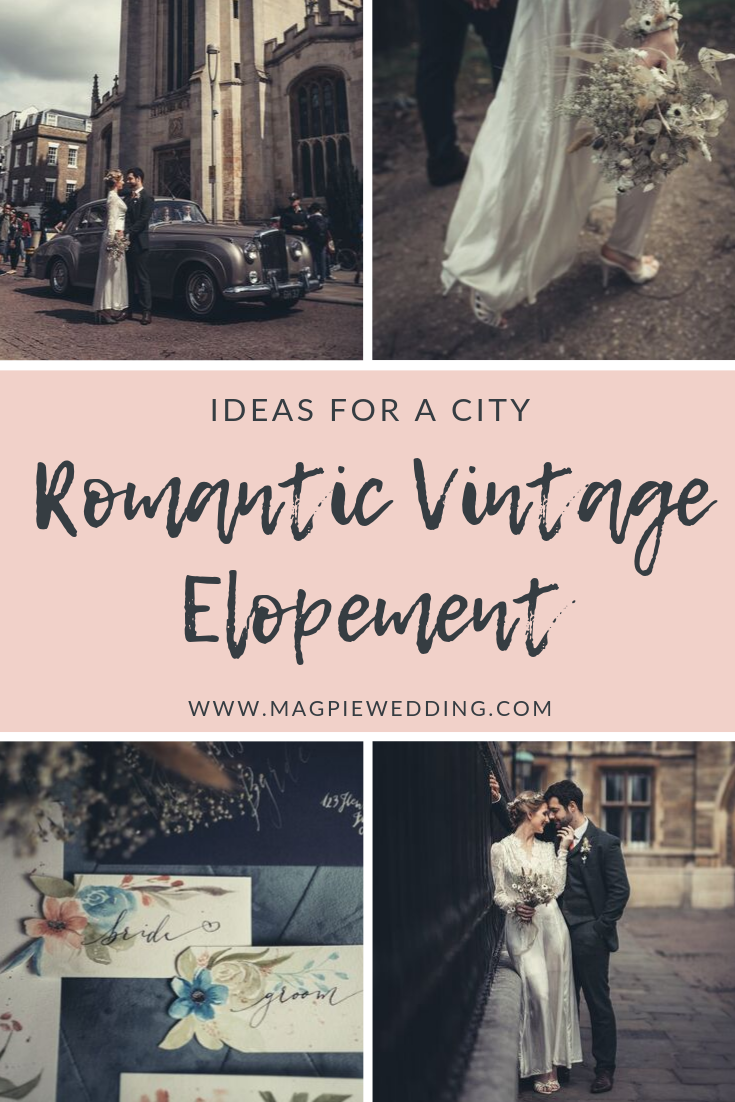 The Team- Ethical Vintage Elopement
Photography- Noemi Banhidi Thyme Lane Photography @thymelanephoto
Bridal and Shoot Coordinator Siobhan Mulholland-Cox Cambridge Vintage Bridal @cambridgevintagebridal I Flowers- Juliet McDowall Willow and Wolf @willowandwolfflowers I Cake- Jessica Baines One Part Love Bakery @onepartlove I Hair- Kate Atalay Bespoke Hair @kateatalaybespokehair I Location and MUA- Sarah Thorneycroft, Gresham House Wellness + The Gonville @greshamhousewellness I Groom Suit- Sharon Cousans Chimney Formal Menswear @chimneyformalmenswear I Shoes- Beyond Skin @beyondskin I Jewellery Chloe Johnston- London Victorian Ring Company @london_victorian_ring_co I Stationery Dorka @dorothys_workshop6 I Ribbon- Nicola @ Bertie & Fred @bertieandfred
Having a ethical vintage elopement? You may also like:
ELOPEMENT WEDDING WITH INTIMATE COUNTRY VIBES
TOP TIPS FOR PLANNING AN ELOPEMENT IN THE UK OR ABROAD