Natural inspiration was the drive behind today's creative ethical wedding look. Shoot coordinators Salsabil Morrison Photography and Natalie Boon of WildFolk teamed up to create ethical wedding inspiration for a seasonal and sustainable wedding in early February. The best home-grown seasonal flowers were used to create modern luxe inspo against the textural backdrop of Langley Abbey, and I think we can all agree, it's dreamy! We catch up with the team to find out more about this ethical wedding inspiration…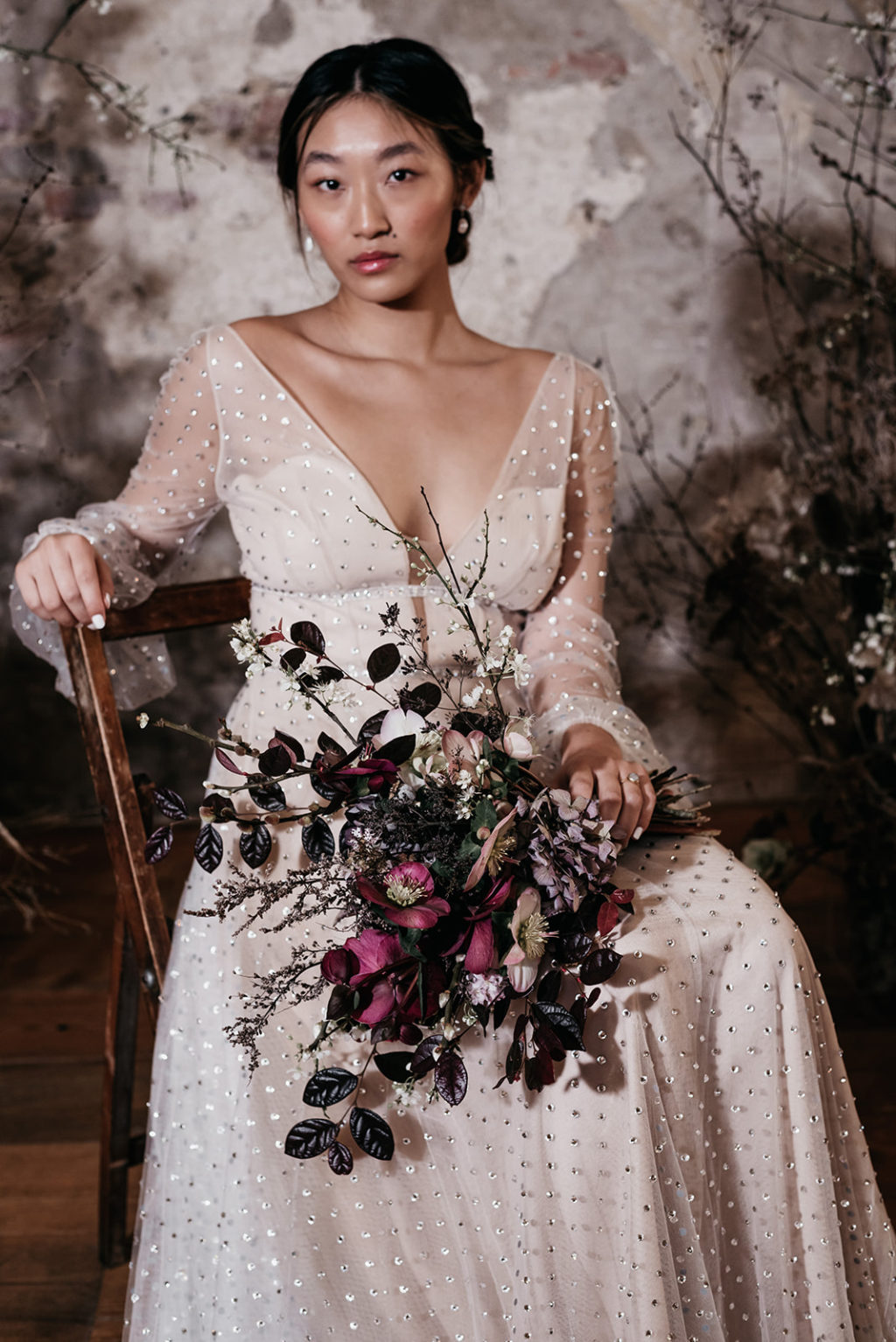 "This shoot is all about sustainability, using local suppliers and taking inspiration from the nature around us. We chose Langley Abbey because of the beautiful texture of the stone and the old ruins, reflected wonderfully in the cake by Sugar Buttons Cakes. We worked with a ceramist who reflected the Cromer cliffs in her plates and cups, an artist who illustrated the invitations with seasonal flowers. The textiles are all naturally dyed by The Way of Tea."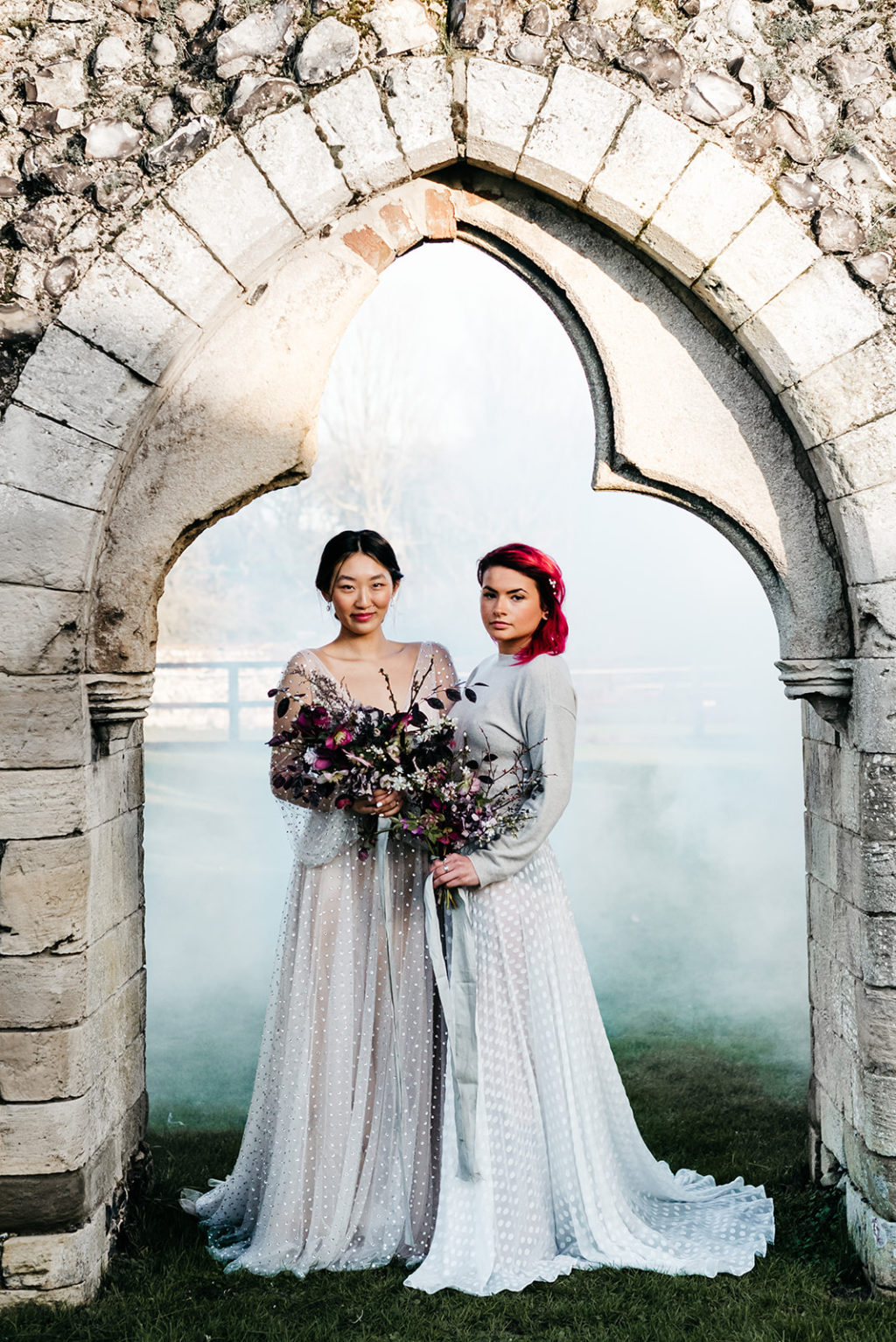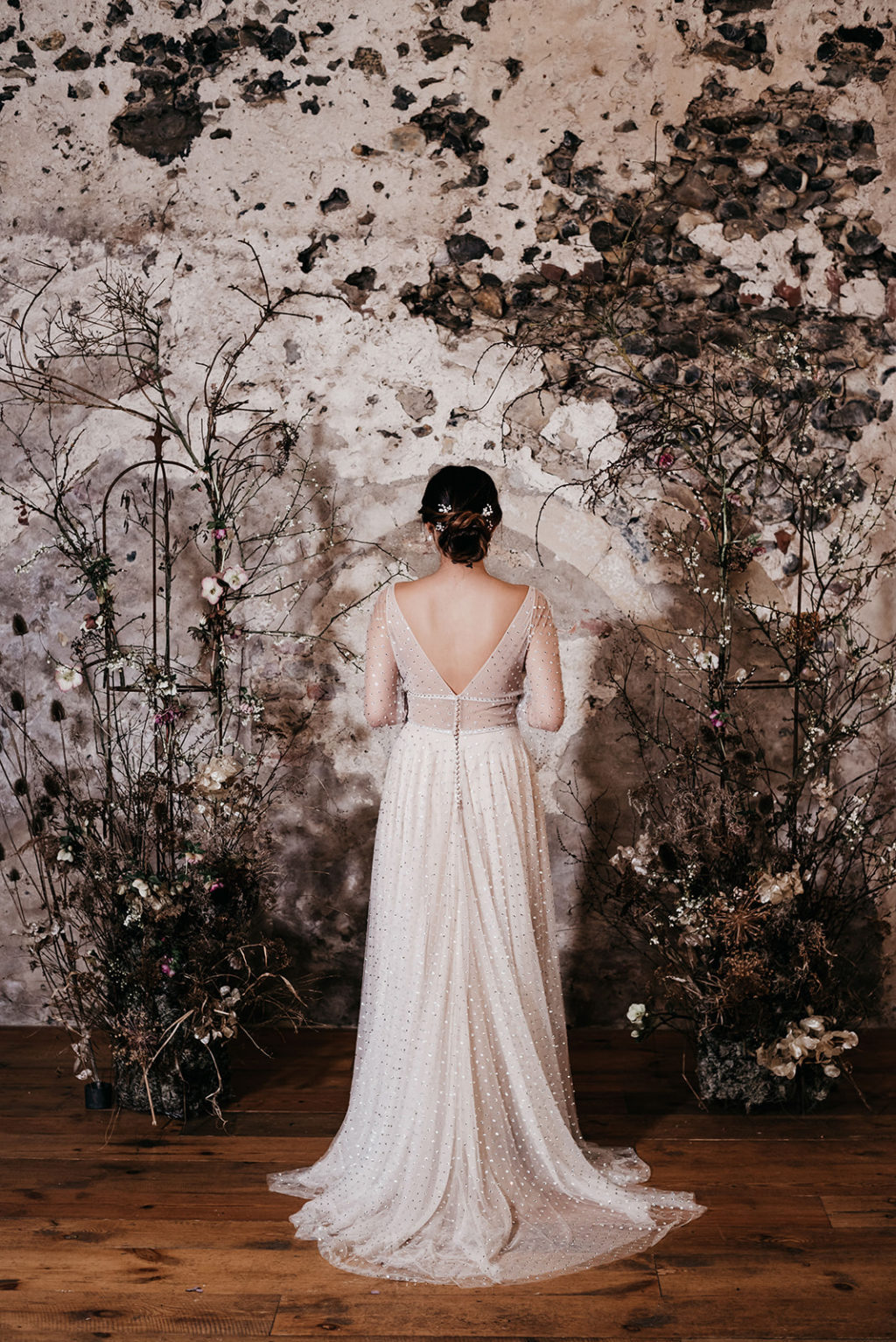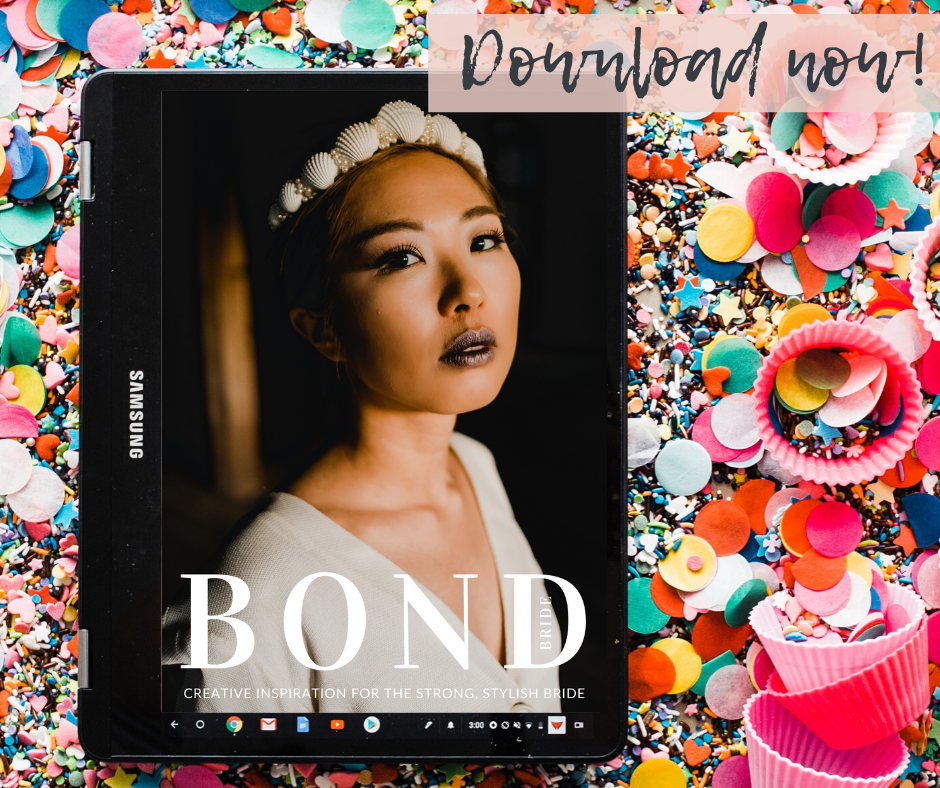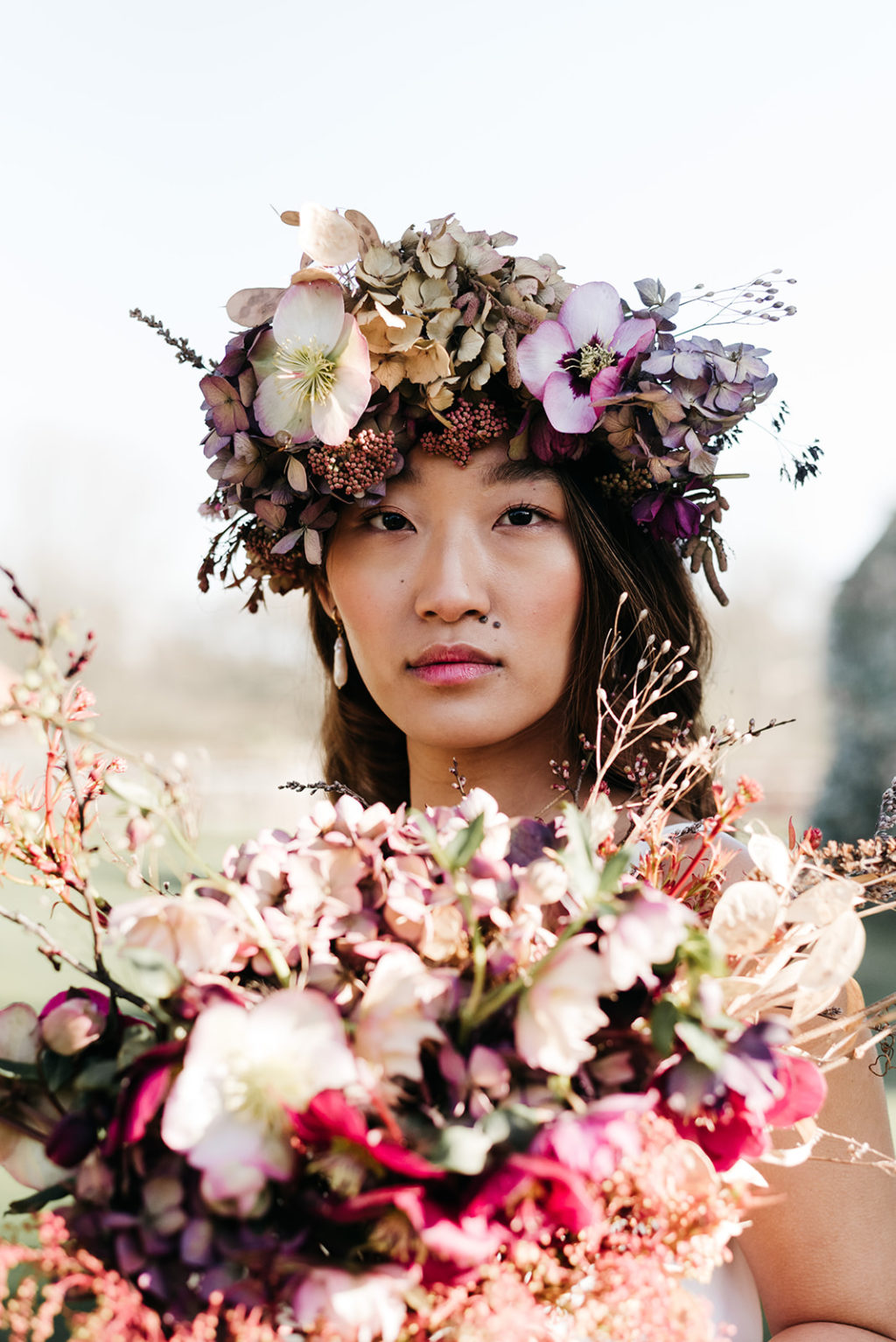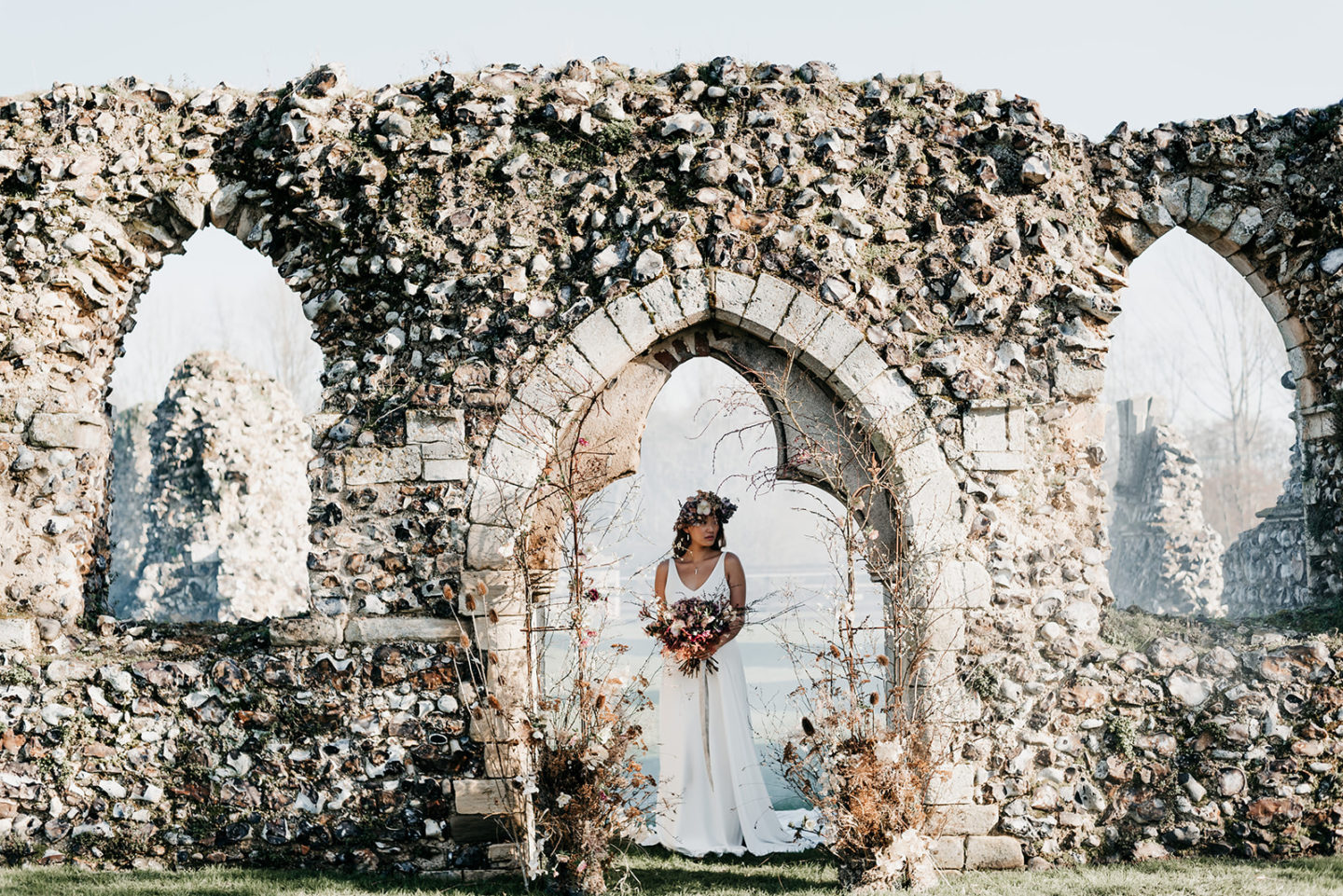 "We feel that this shoot is particularly relevant right now. Due to the ban on social gatherings, many couples are postponing their weddings to off-peak dates. It illustrates that having an off-peak wedding needn't mean you have to compromise on style – and you can still have British grown fresh and dried flowers. Having a wedding out of season also means you'll have the pick of the bunch when it comes to choosing wedding suppliers."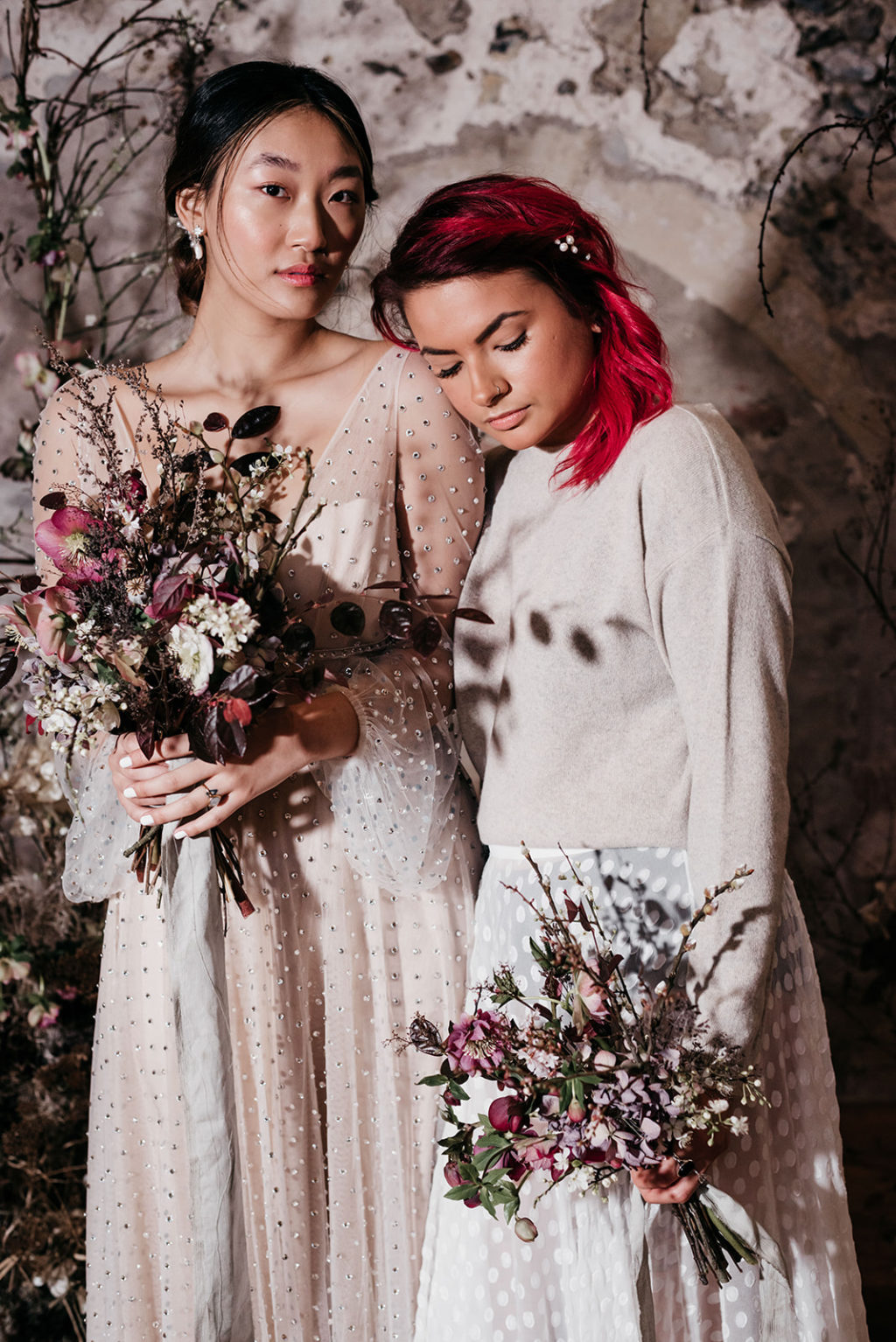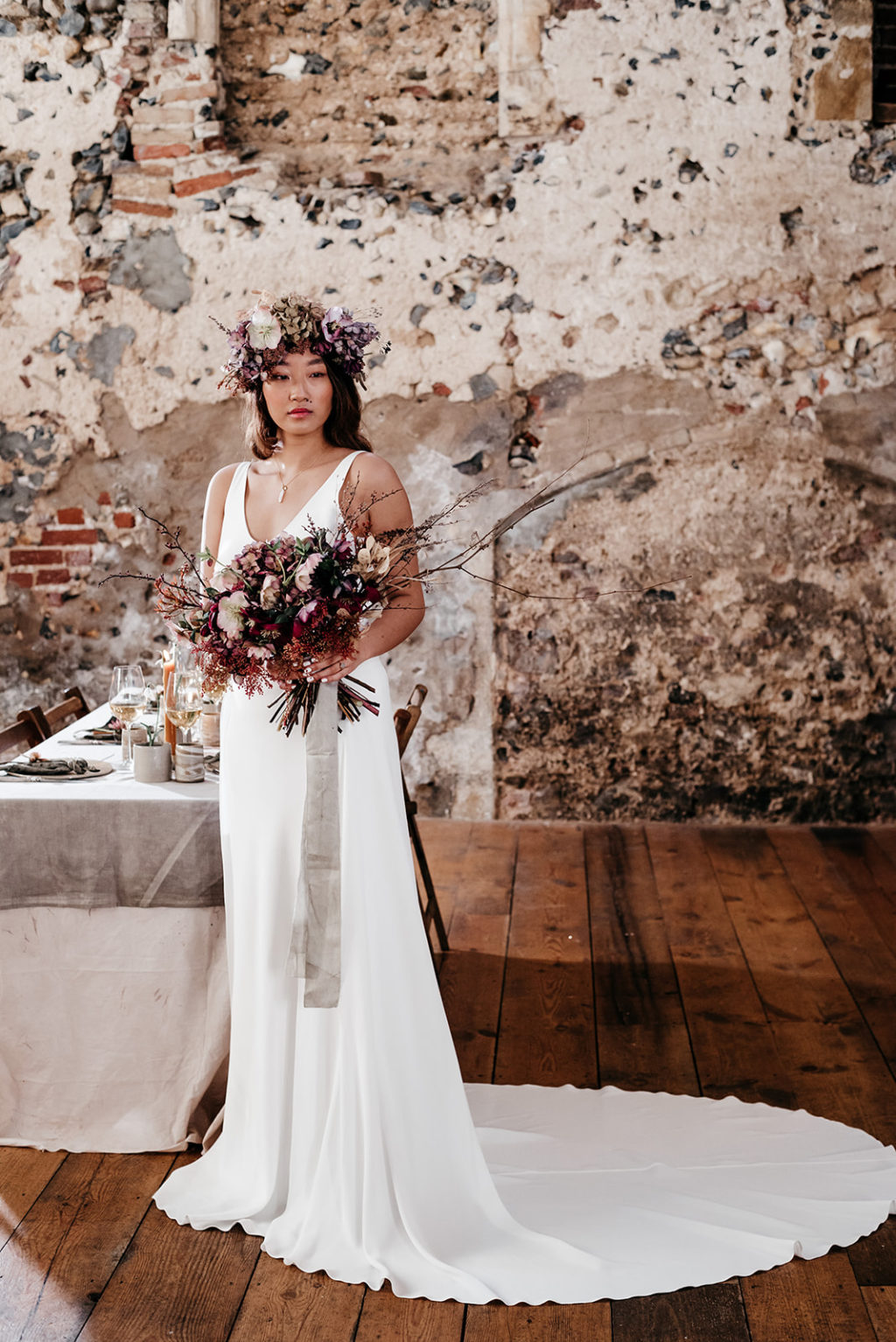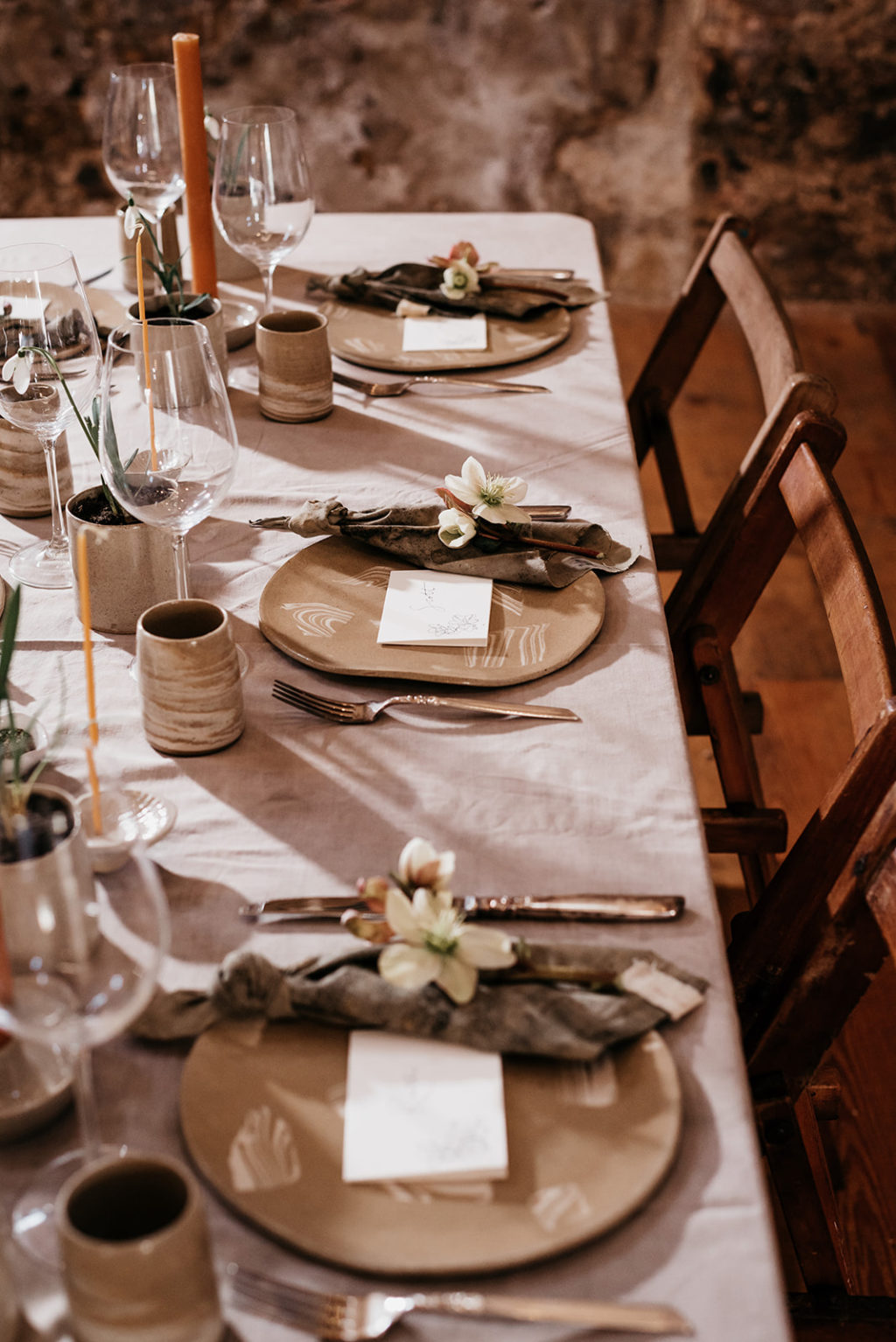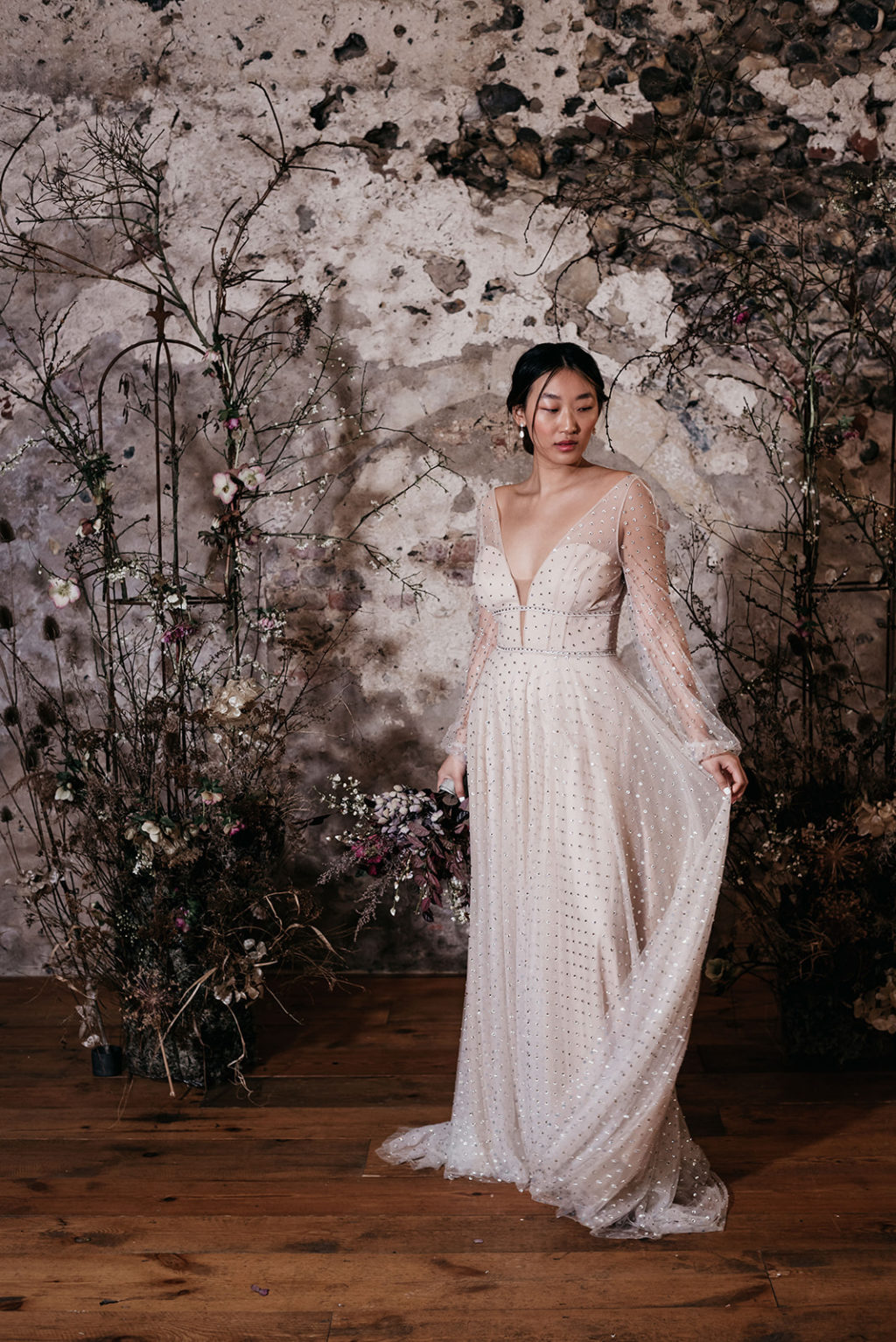 Ceramics – Eleanor Torbati
"Inspired by the North Norfolk coastlines and landscapes, local ceramist Eleanor Torbati forms, glazes and fires functional home and tableware in a collective studio using a traditional practice that reference organic aesthetics. Alternating between hand building and wheel thrown pottery, Eleanor produces minimalist pieces that reference slow living and one's ability to create a look that is conscious, intentional, mindful, and sustainable. Drawing on organic and natural colour pallets of the clay, white, creams, greys and beiges establish a neutral ambience. Ceramics pair perfectly with linen table runners and wild foliage, so whether its an old stoneware jar from a charity shop or a vessel hand fired by a local potter, focus on quality over quantity. Explore the concept of ethical living by simply reducing the use of single use plastic and replacing it with ceramic tumblers. Where you can, source local and in abundance."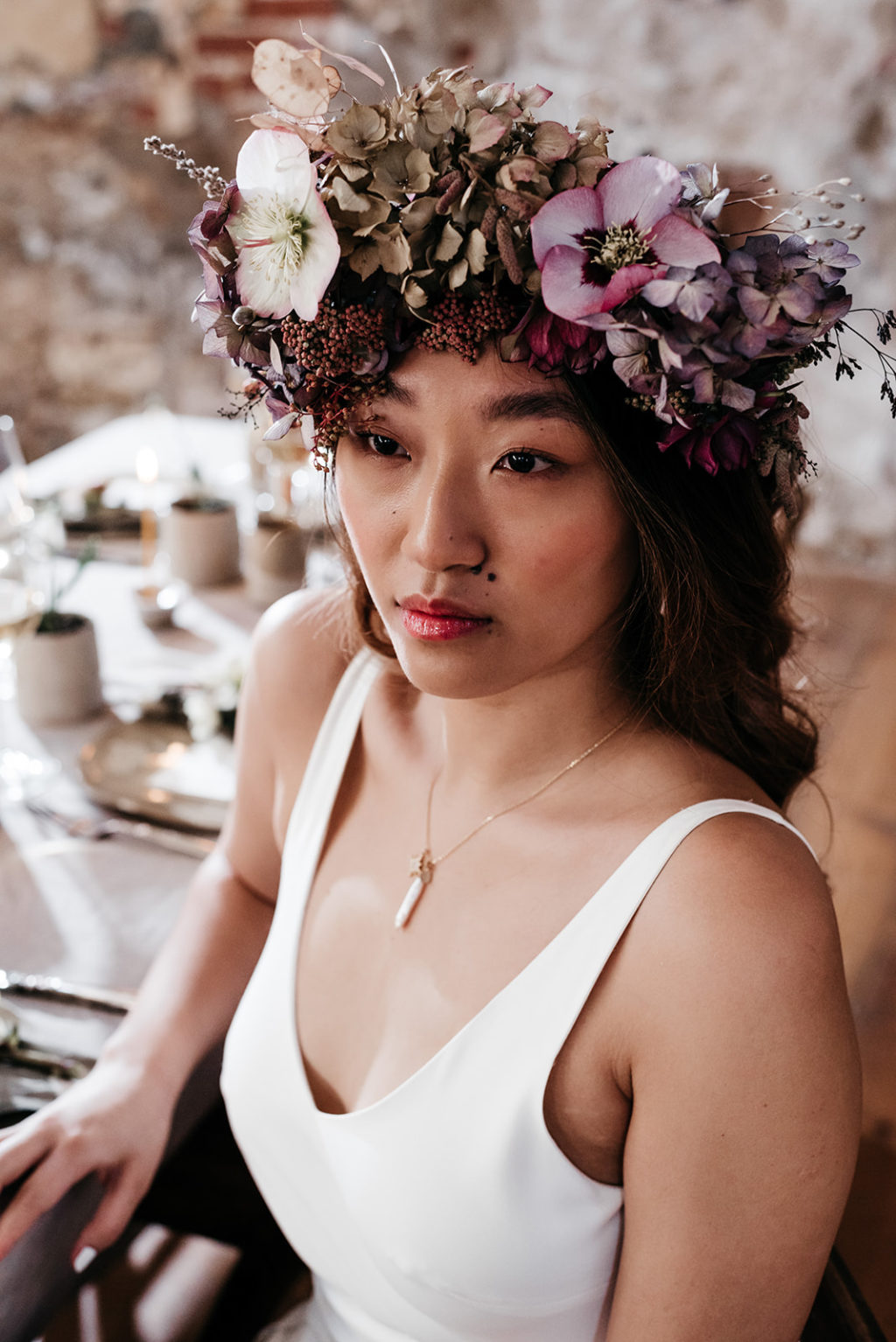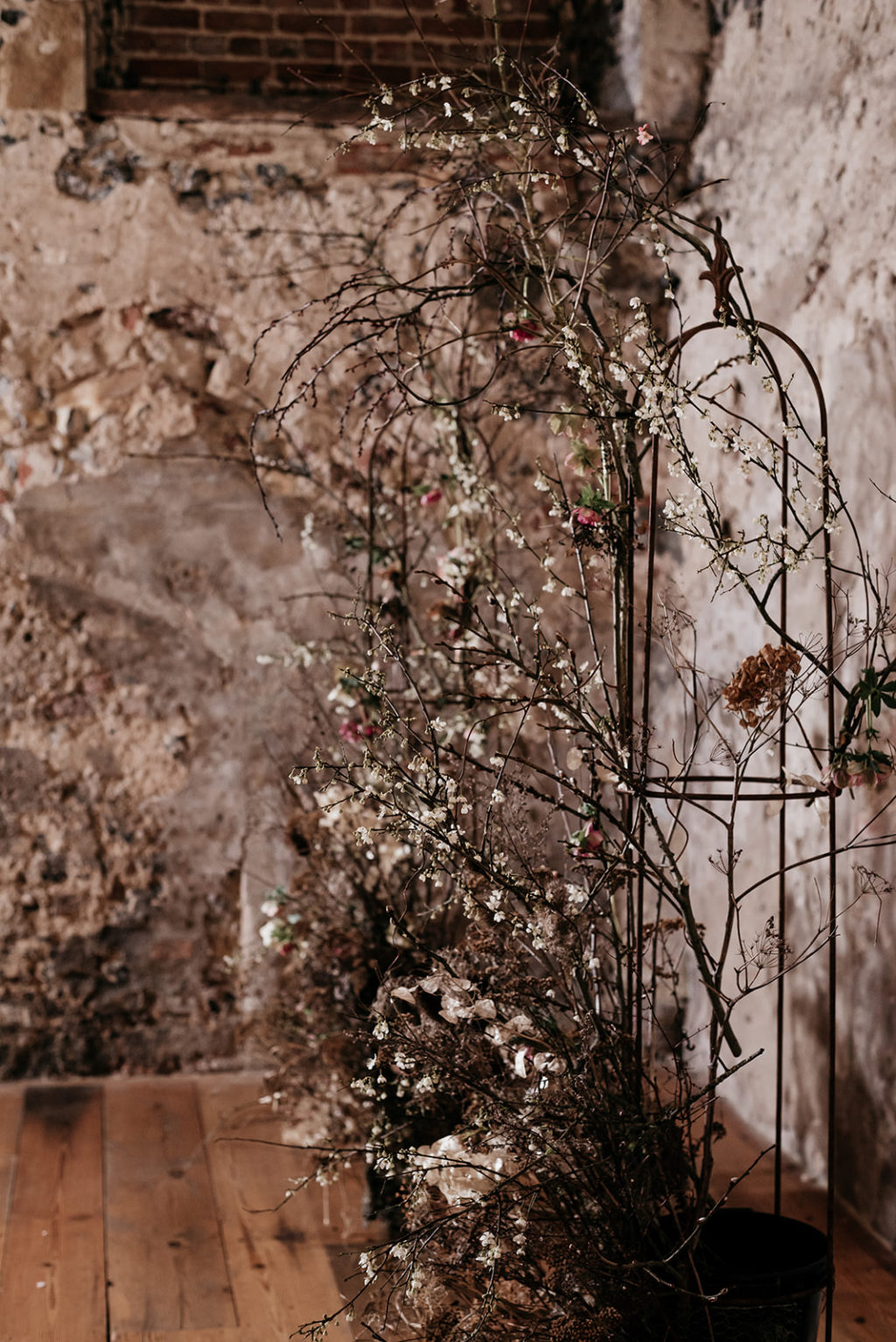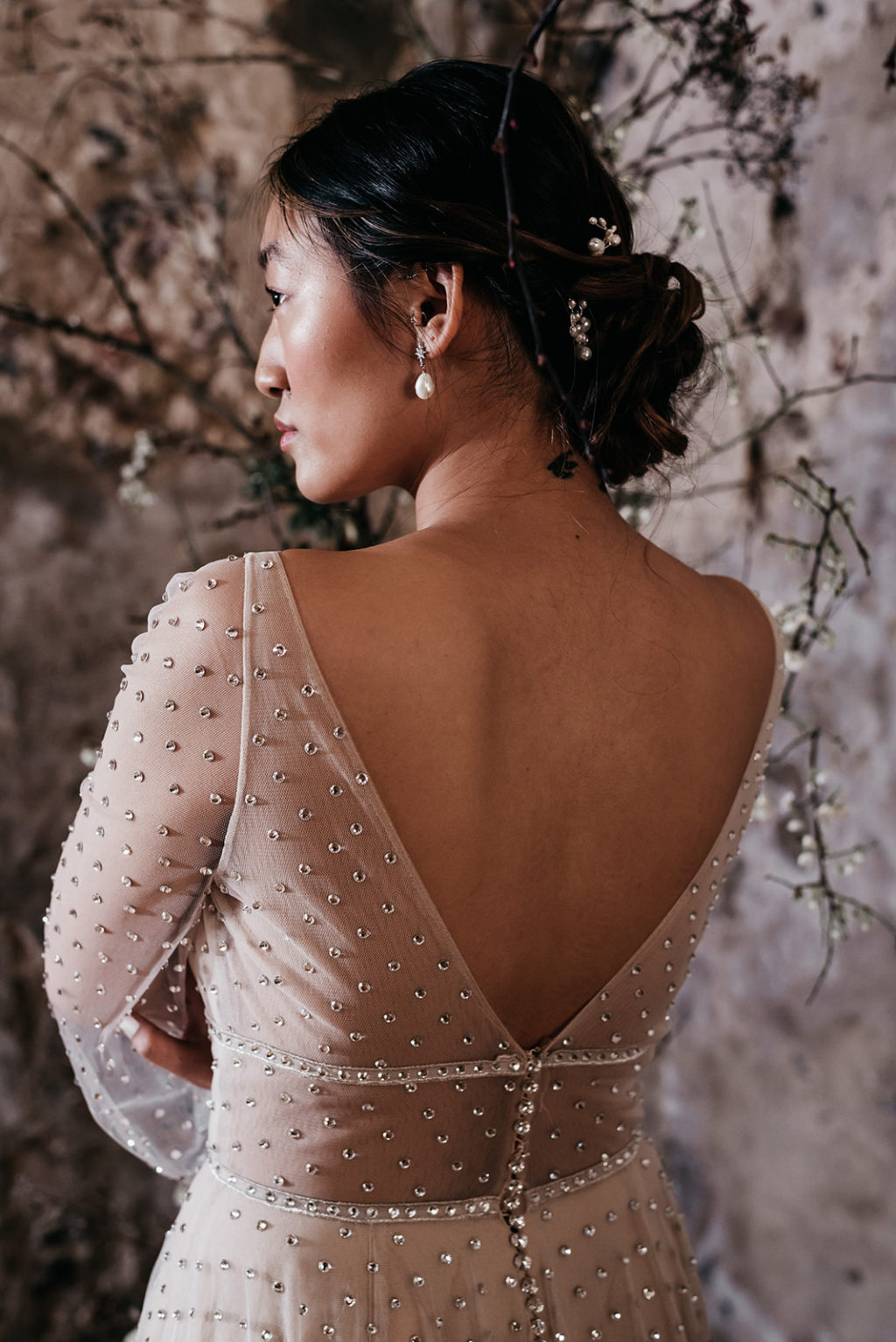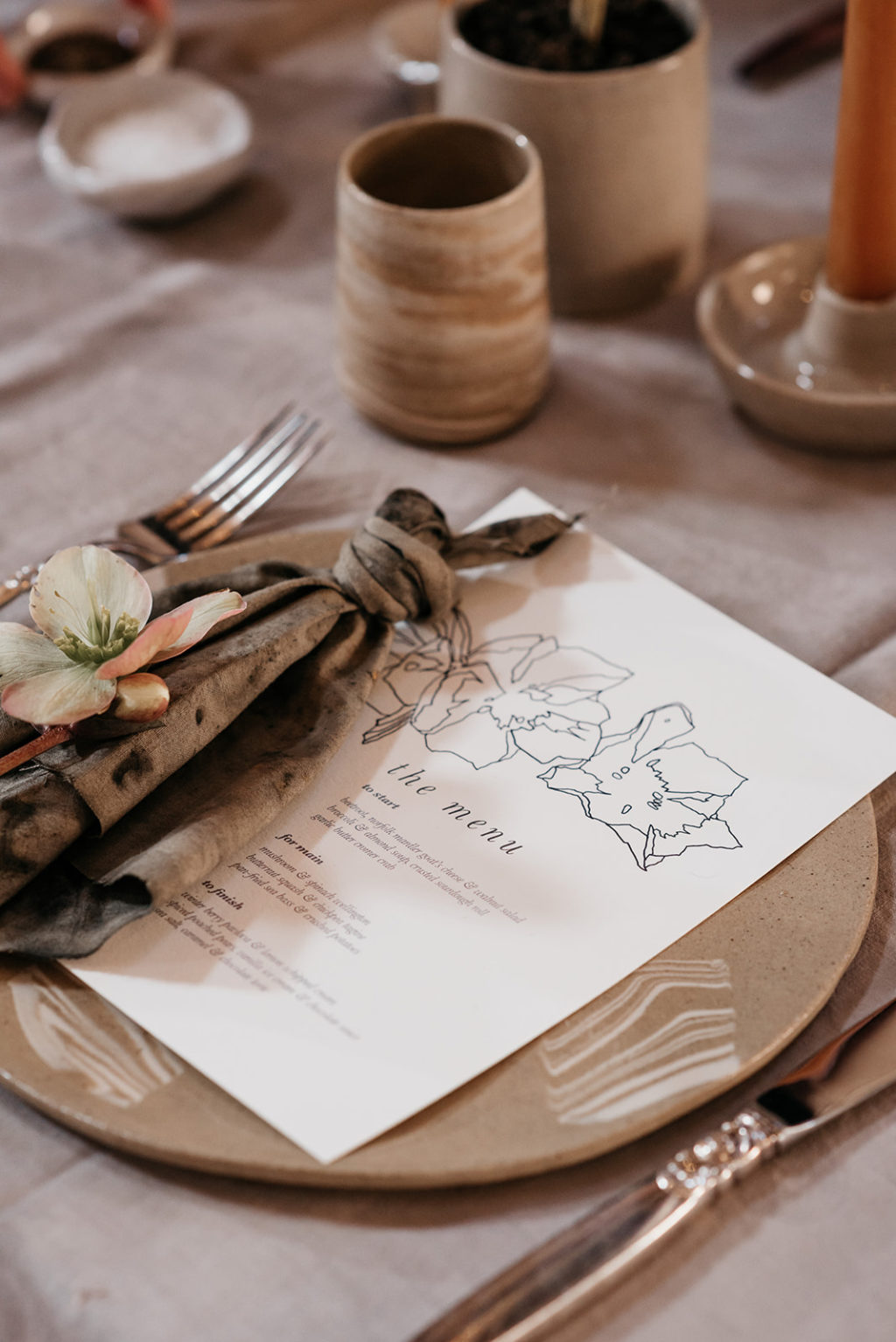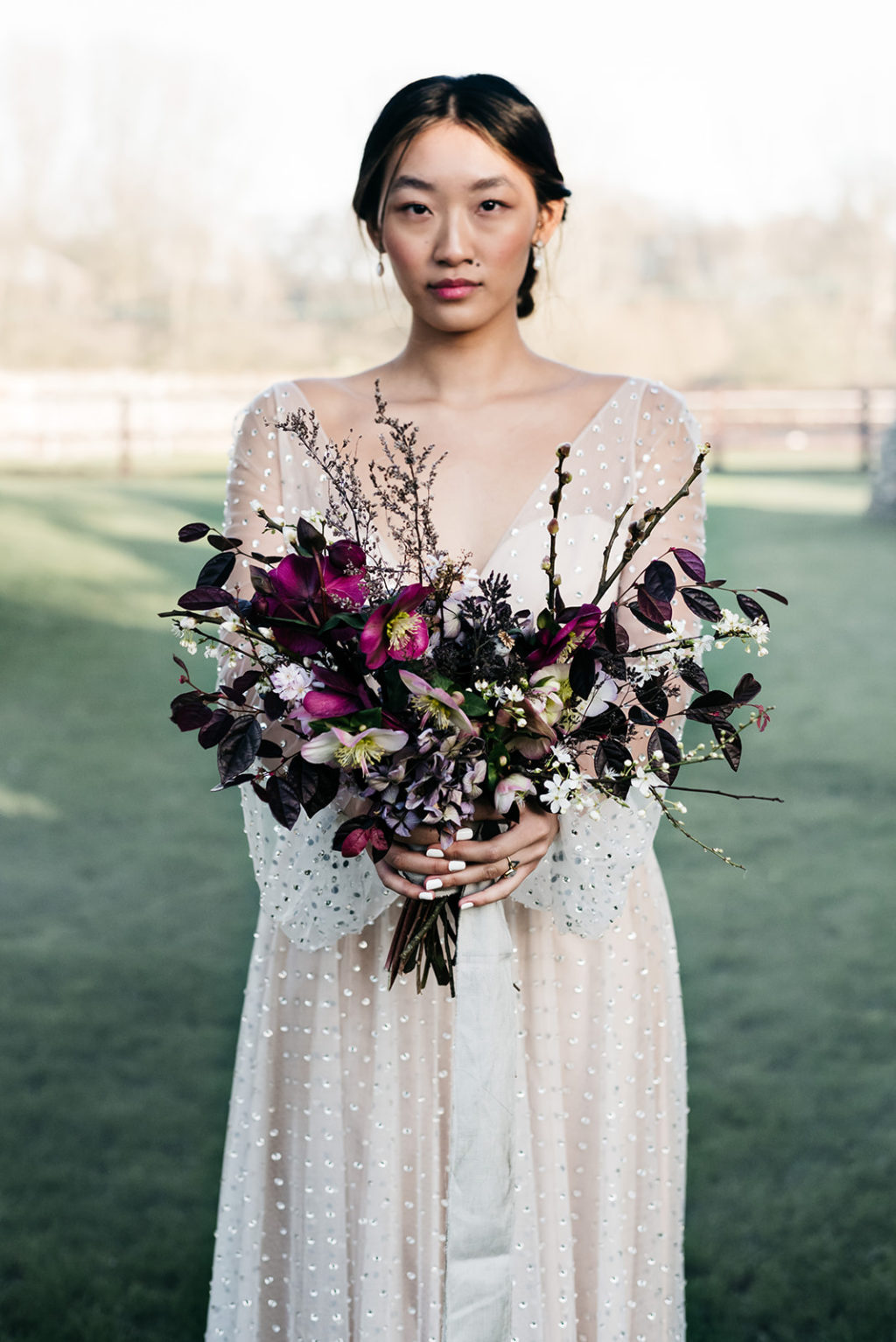 Florals – WildFolk
"WildFolk grow flowers for wedding arrangements in the heart of the Norfolk countryside. Their wild, romantic design reflects the British countryside. Growing blooms allows WildFolk to experiment with colour and texture, giving couples a bespoke set up for their wedding day. If you'd like to use British flowers for your wedding day, you won't be disappointed. Eco grown flowers smell incredible and are more unusual than the straight stemmed intensively grown flowers that are imported. However, it is worth being as flexible as possible. Before you go on a pinning frenzy, it is worth contacting a flower farmer florist to find out what will be in season. For example, it is possible to grow rust coloured flowers in June but the countryside is lush and full of life so the muted autumnal look will be hard to achieve. A great option for table decor and favours is to plant into pots. Small bulbs are a great option as they will come back every year, giving your guests a lovely way to remember your wedding day. They are also cheap and as sourcing beautiful pots can be difficult, you can put the bulk of the favour budget into the pots. And contrary to popular beliefs, British flowers are divine any time of year. In winter the most delicate of blooms has its moment – the heavenly hellebore – which was the inspiration for this shoot. Given enough notice, a winter wedding with British grown blooms is entirely desirable."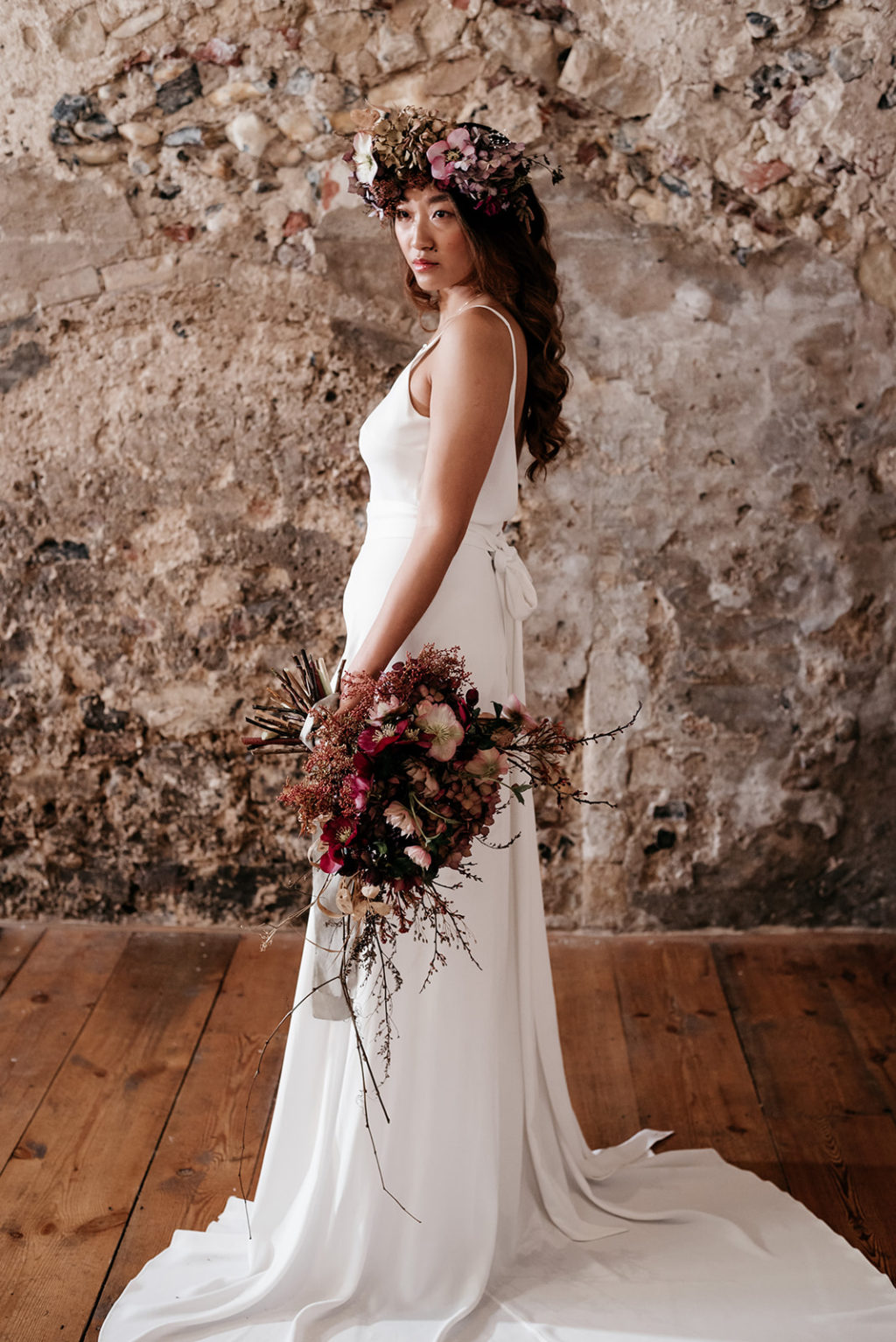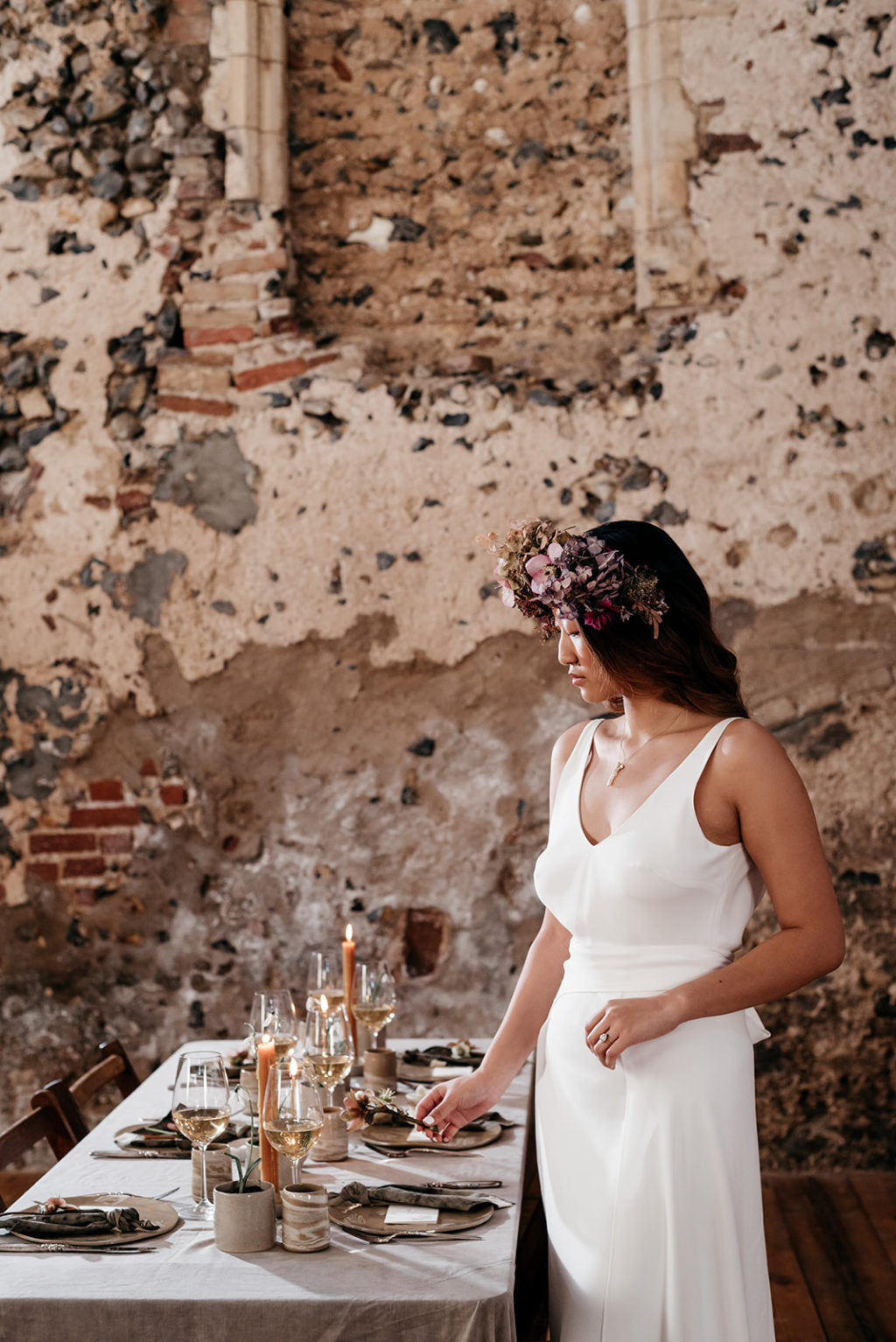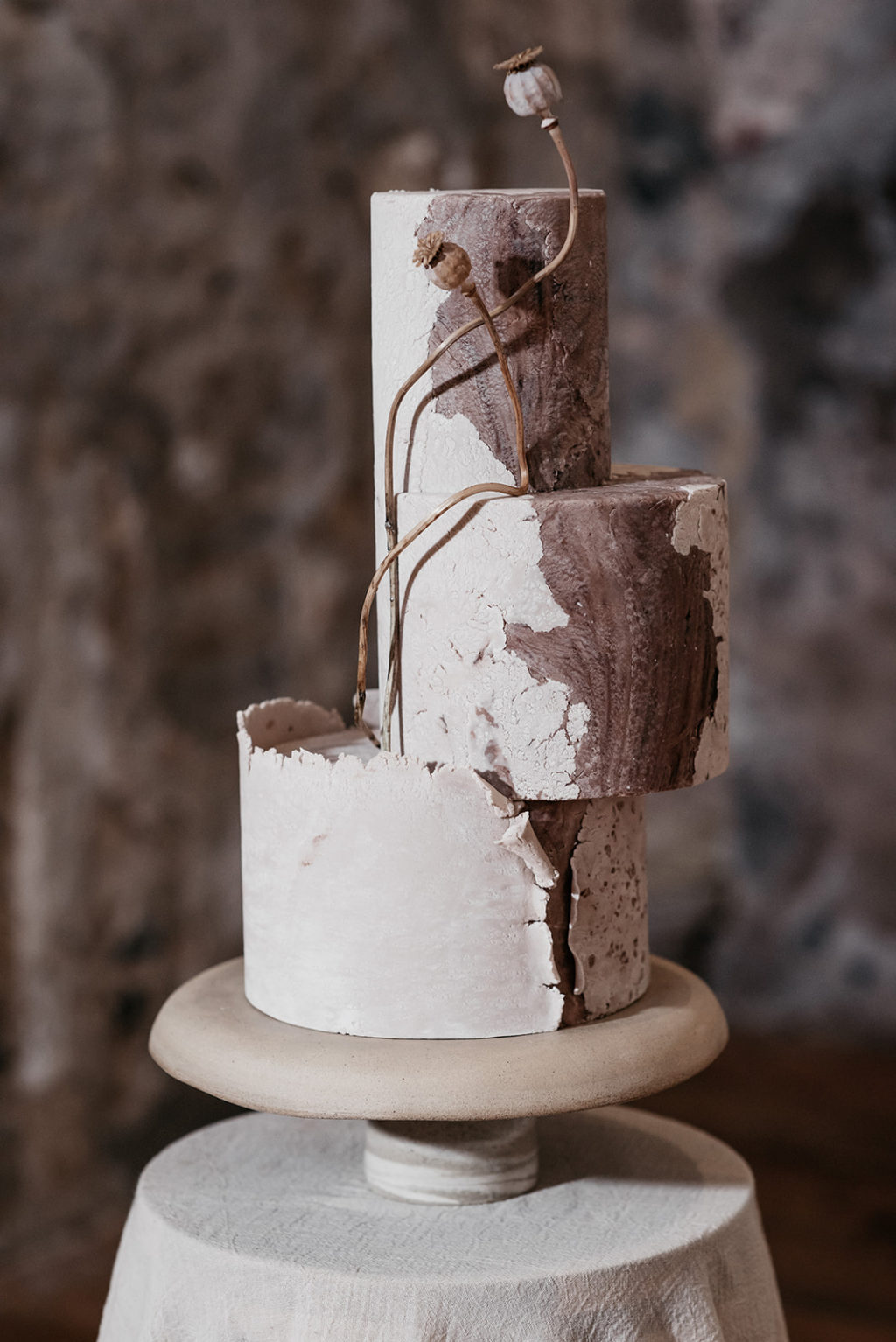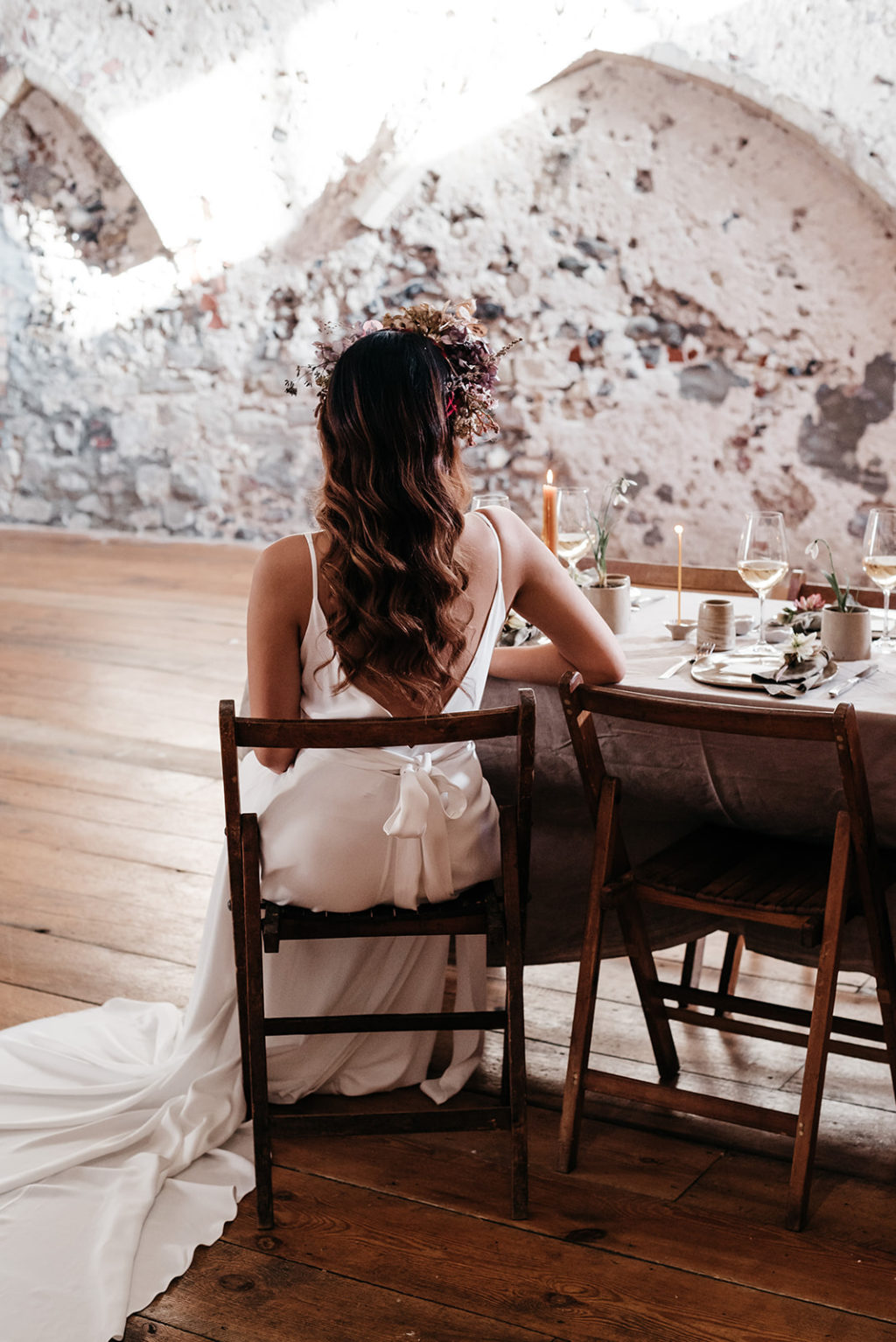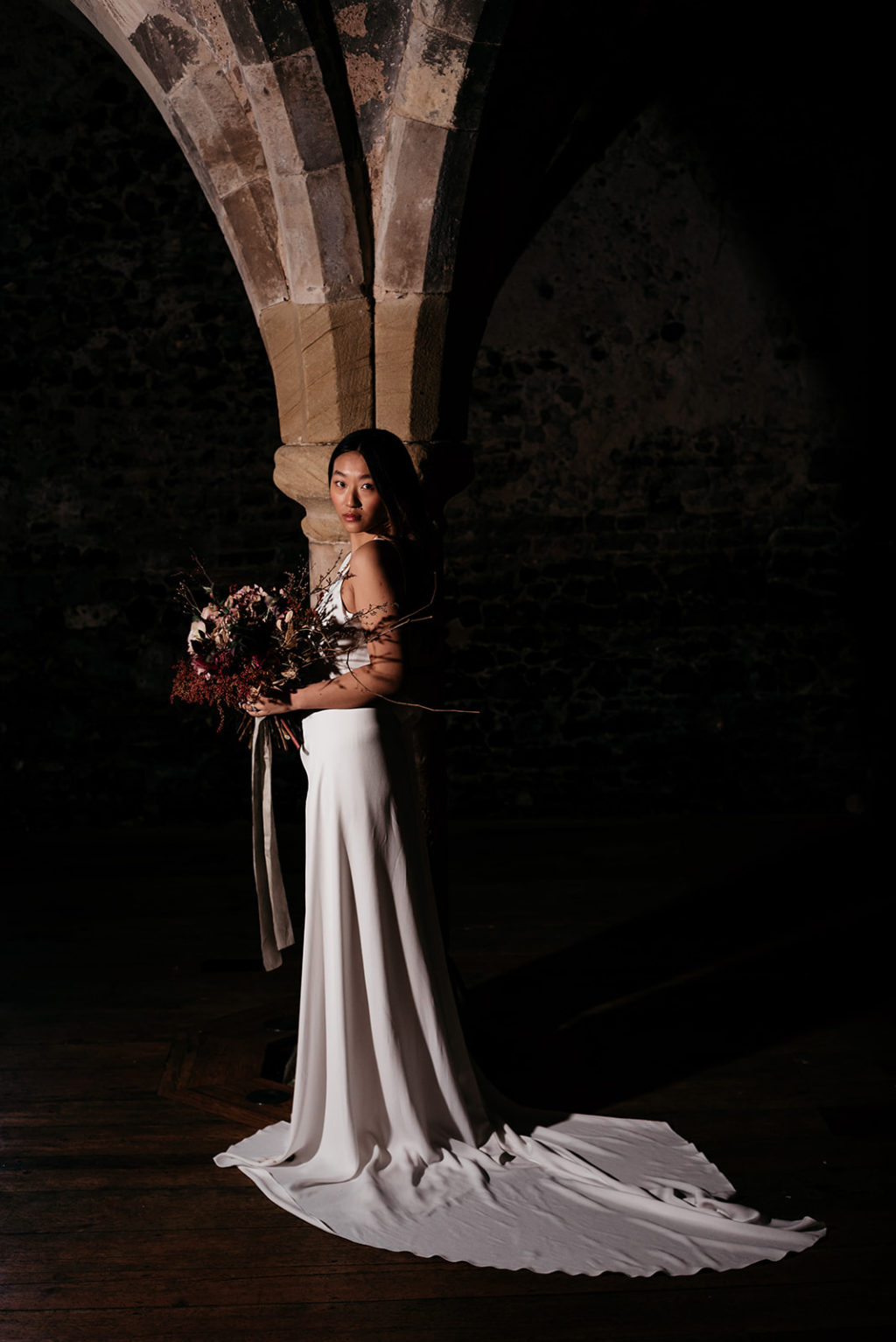 Cake – Sugar Buttons
"I took inspiration for my cake design from the weathered interior stonework of Langley Abbey and the subtle earthy tones of Eleanor's bespoke ceramic tableware. I chose an offset arrangement of the tiers to add a sculptural element to the design. To create the natural surface texture, I combined sugarpaste with cocoa and caramelised sugar. The flavours for this vegan, gluten free cake were a base of rich chocolate hazelnut cake with a top two tiers of zesty lemon and passionfruit."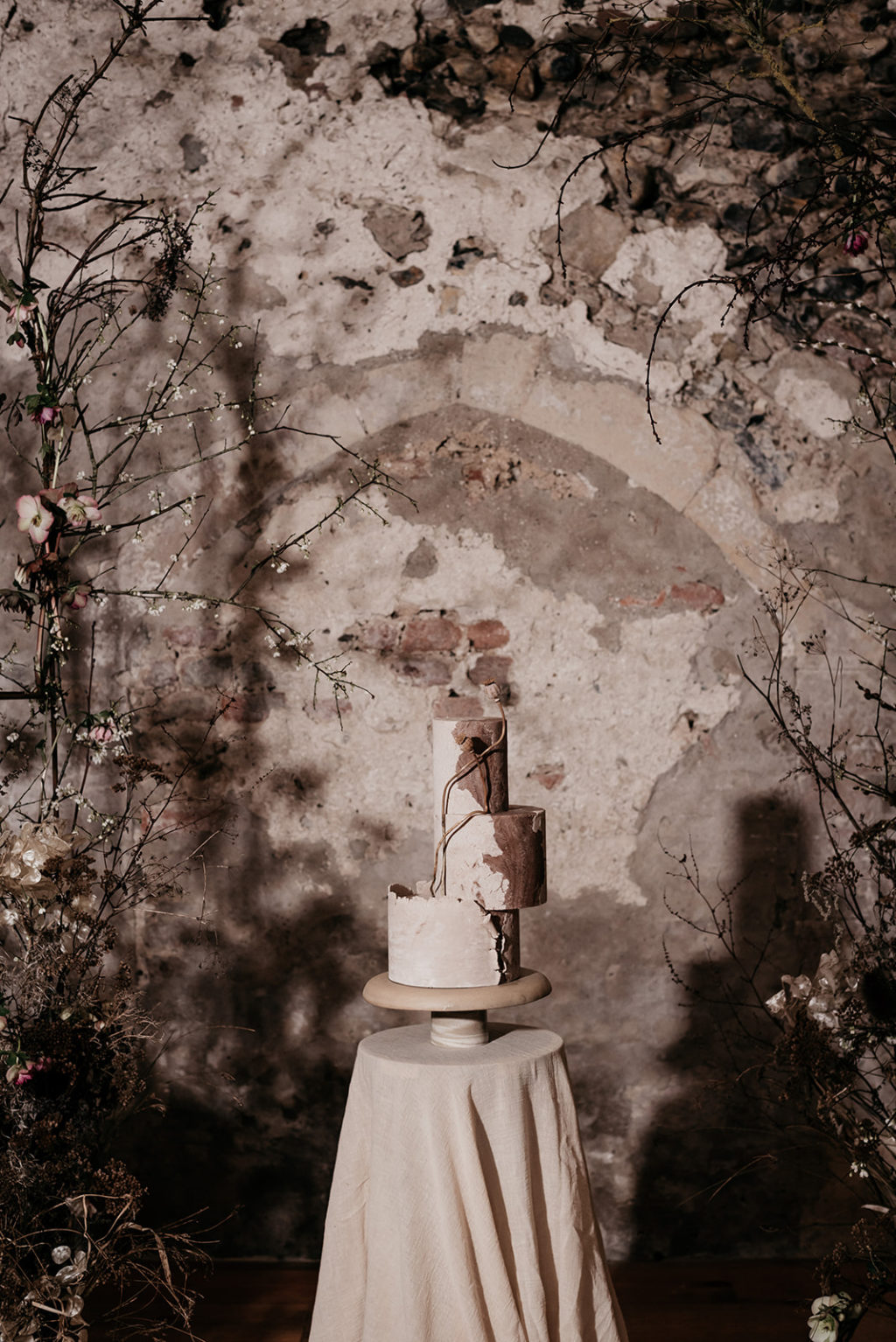 Stationery – Verity Burton
Verity Burton is an artist whose practice explores botanical forms. With a clear focus on seasonal and sustainable, she wanted to keep the stationery calm and understated. After
exploring which plants were in season locally she decided on hellebores in loose line drawing; so much life can be found in the UK even in the winter months and an out of
season wedding definitely need not be lifeless. It was important to Verity that the overall tone felt delicate and elegant to reflect the time of year, but not cold- the palette of greys and blues echoes steely Norfolk winter skies and the lightly textured stock creates tactility. This is a pared back look and would work well with a variety of themes. Colour, texture and
type convey mood and personality and she suggests working with local artists, illustrators and printers who can help advise you.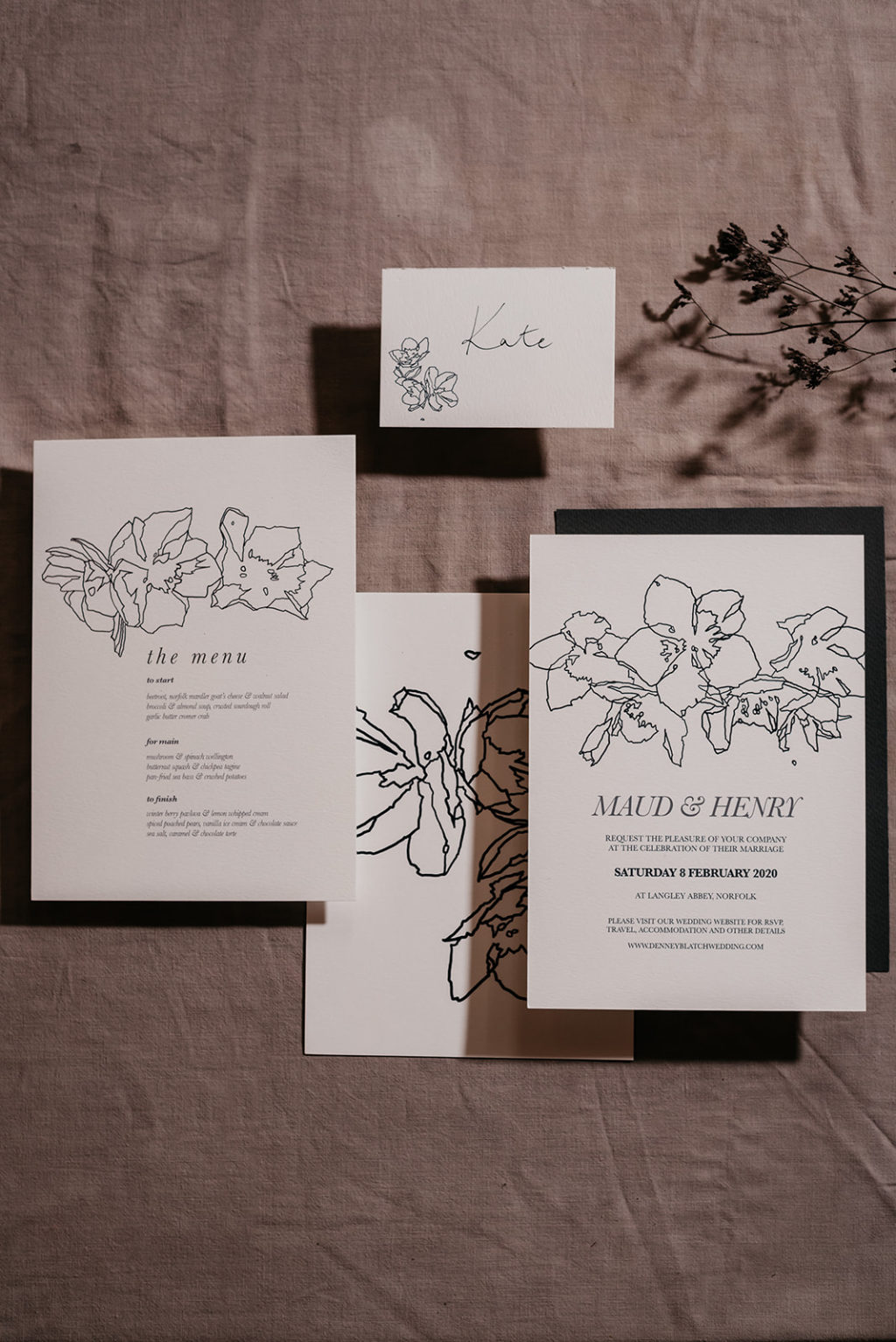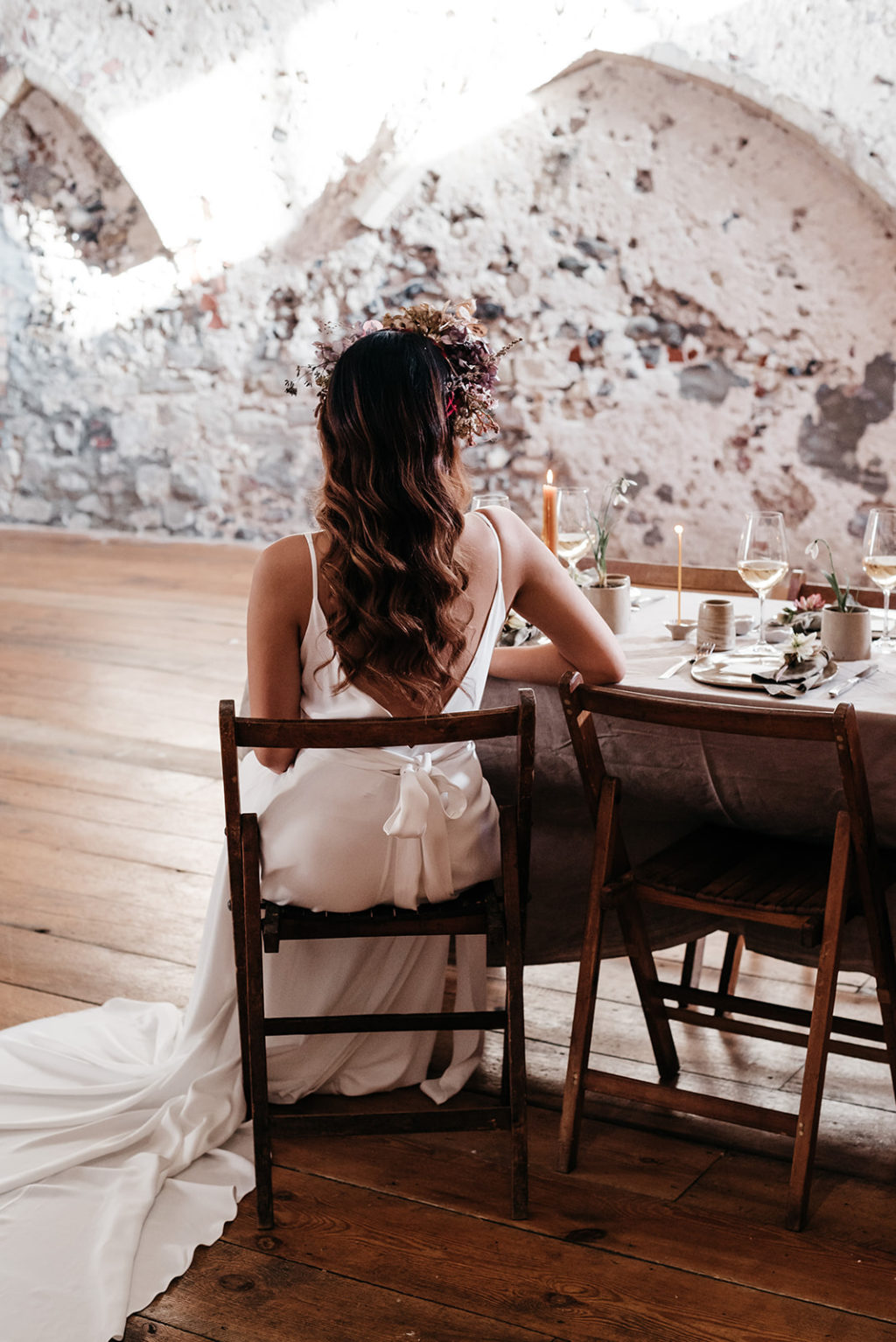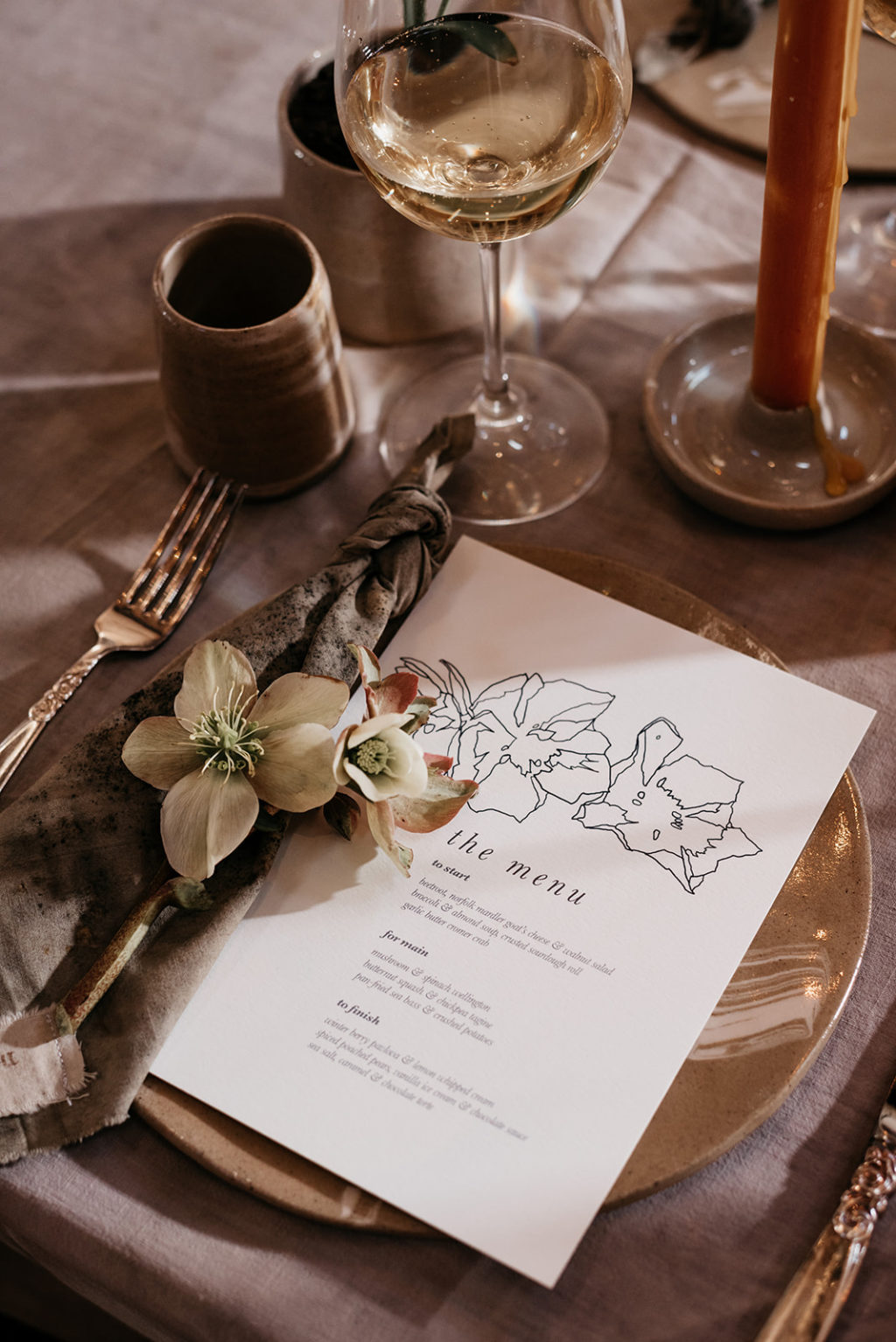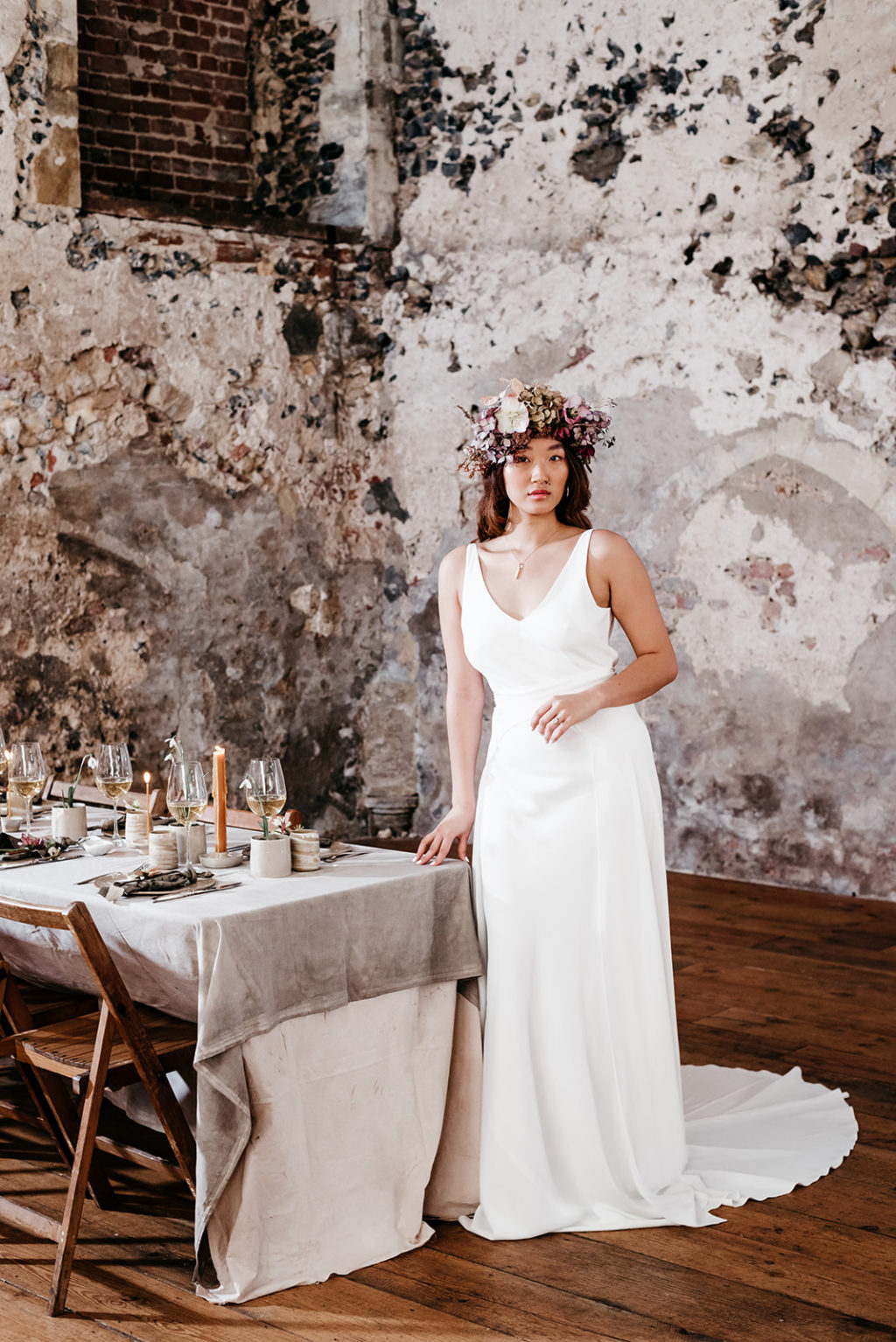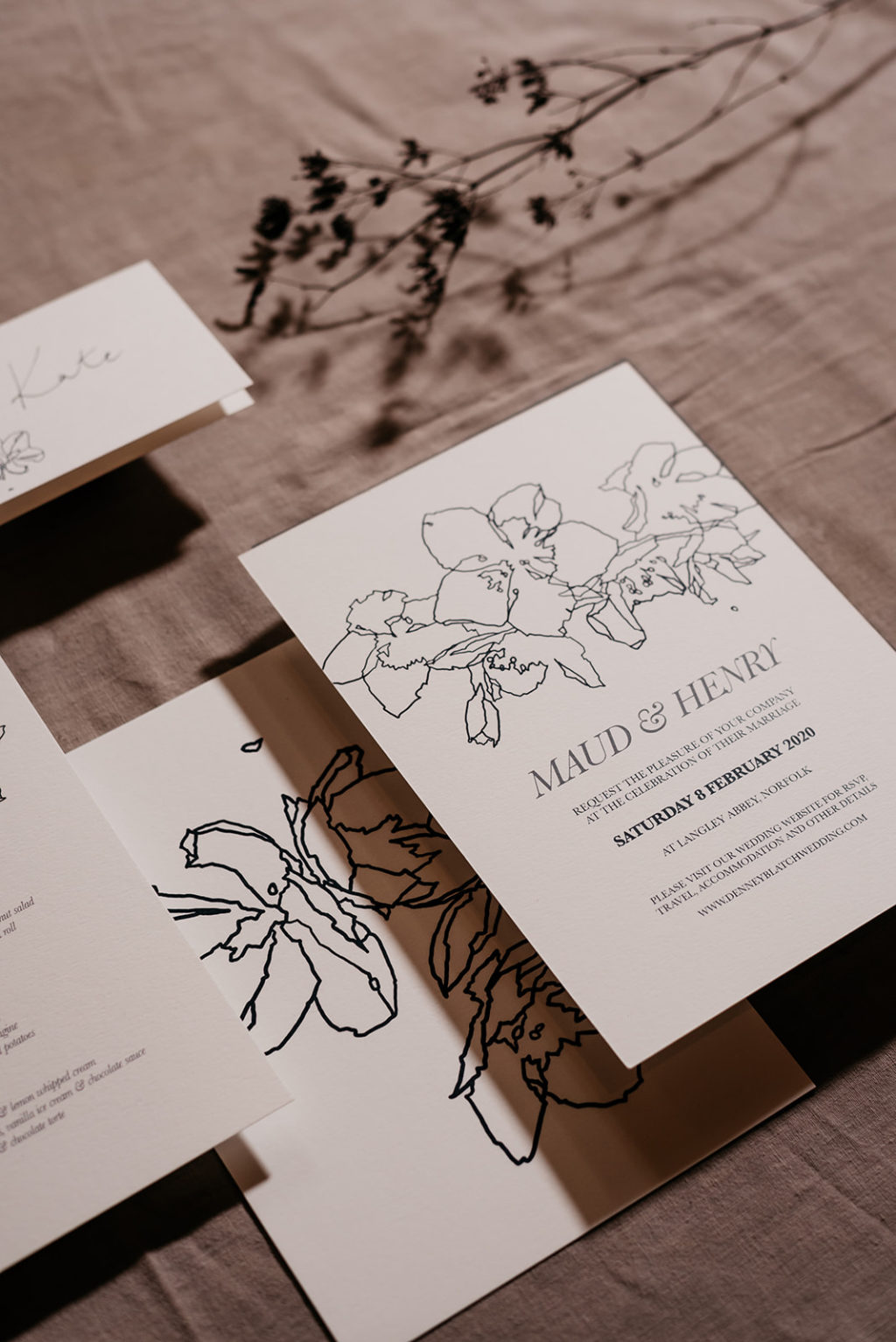 Textiles – The Way Of Tea
Choosing naturally dyed ribbons and table linens will add some beautiful hues to your colour palette and help protect the planet at the same time. Natural dyes are kind, toxin free and borrowed directly from Mother Nature herself, making them softer and easier on the eye. You could even have ribbons and linens dyed using the same flowers you choose for your bouquets. Natural dyes are as varied as nature itself. And each creation is different, meaning your linens for your special day will be truly exclusive to you.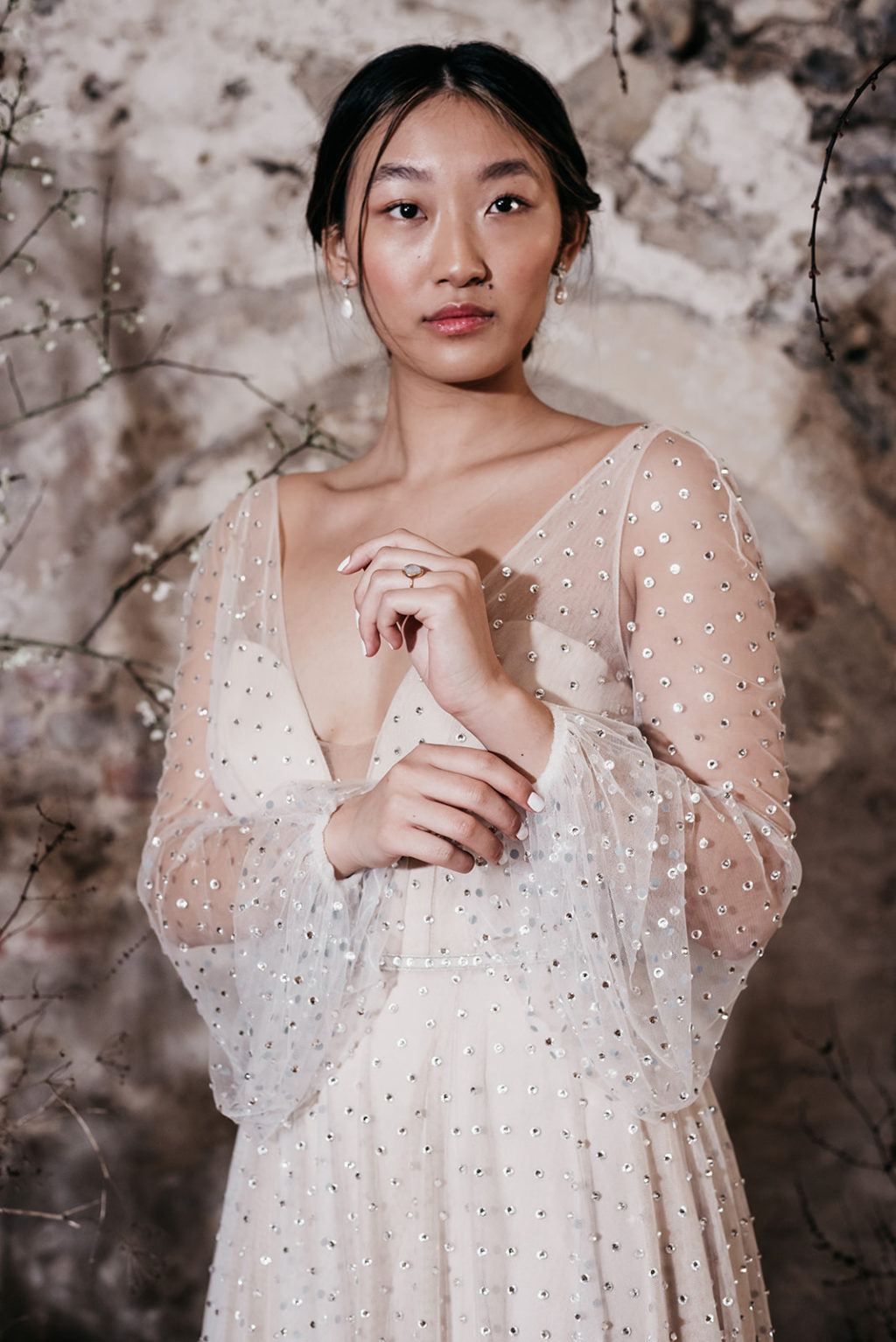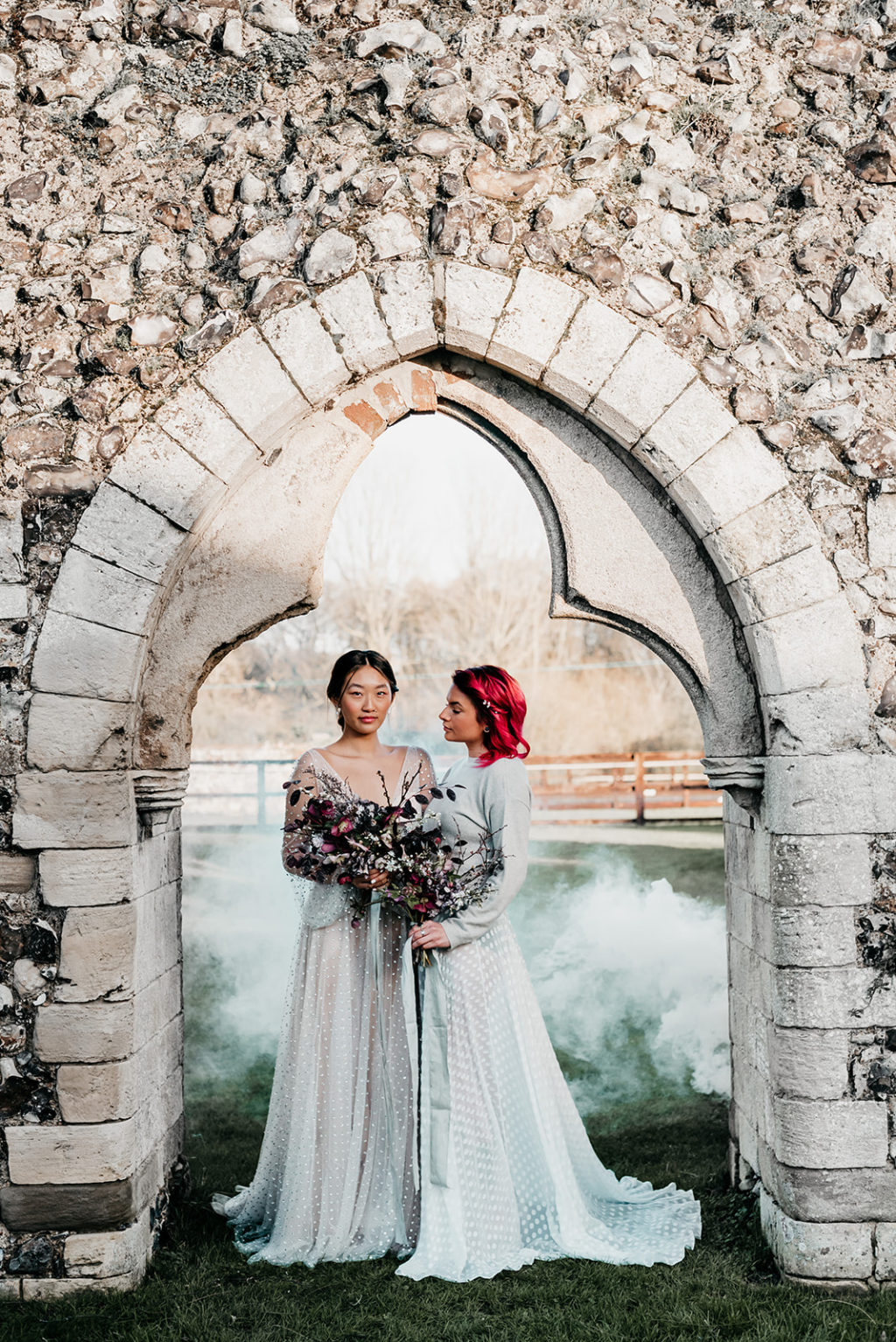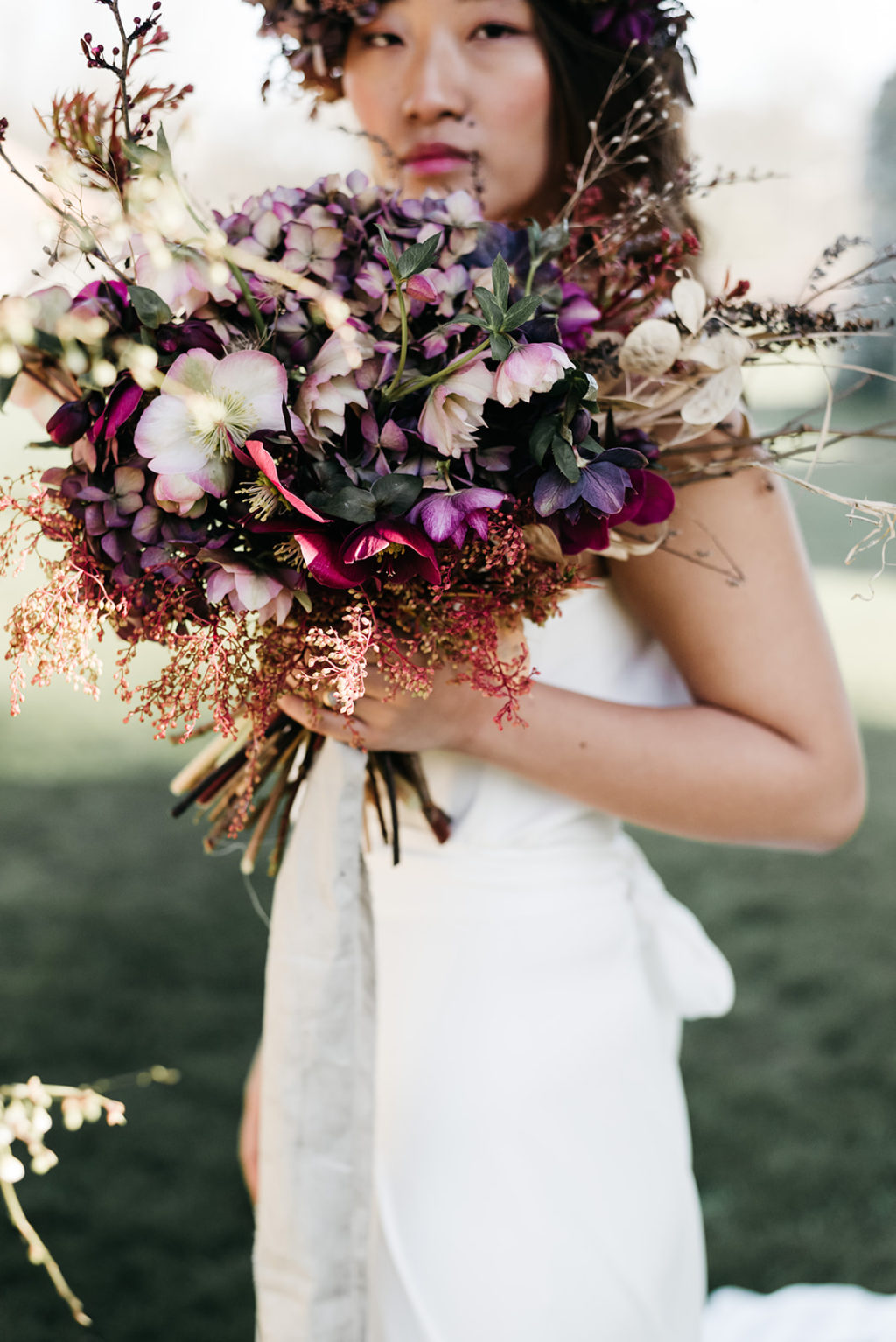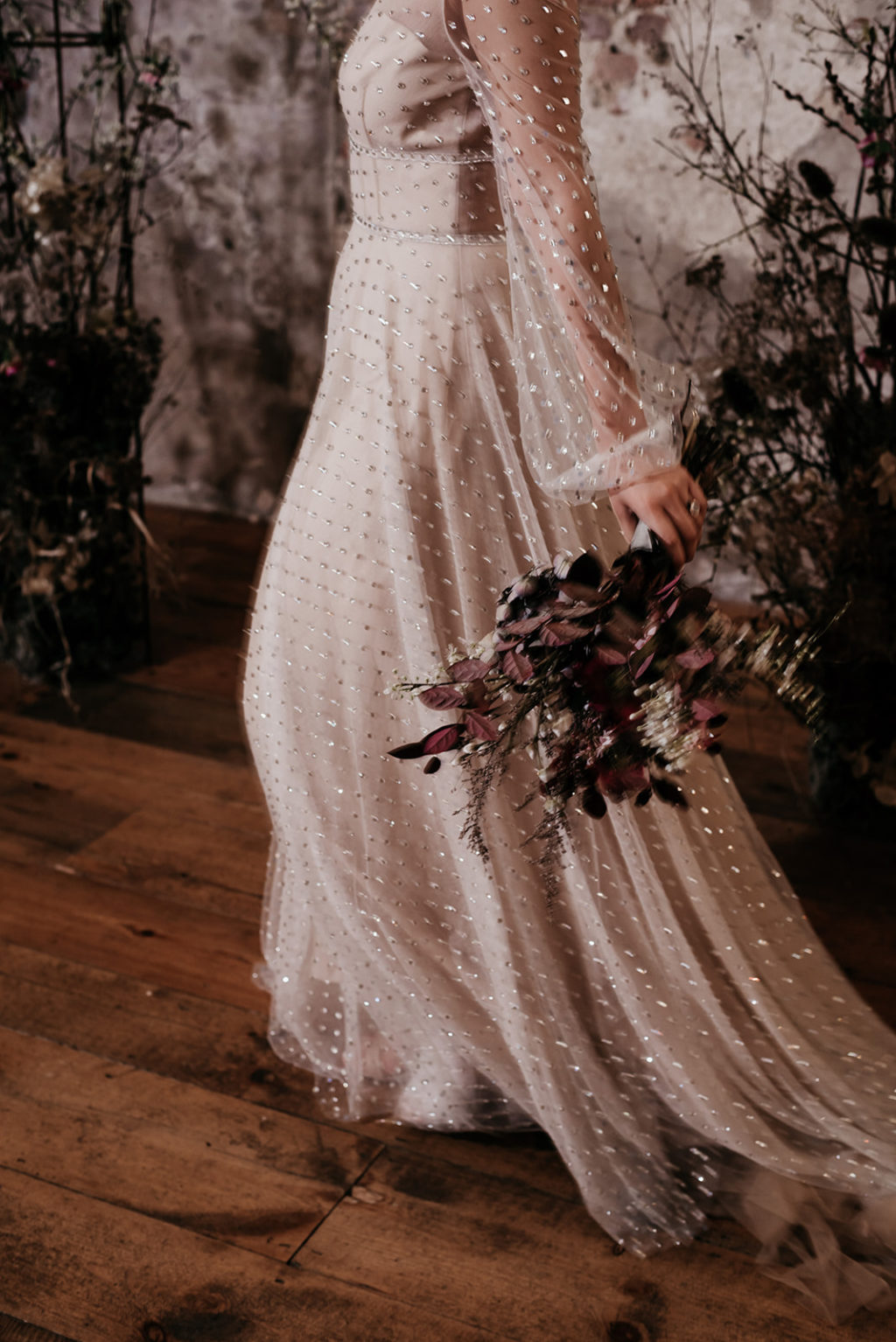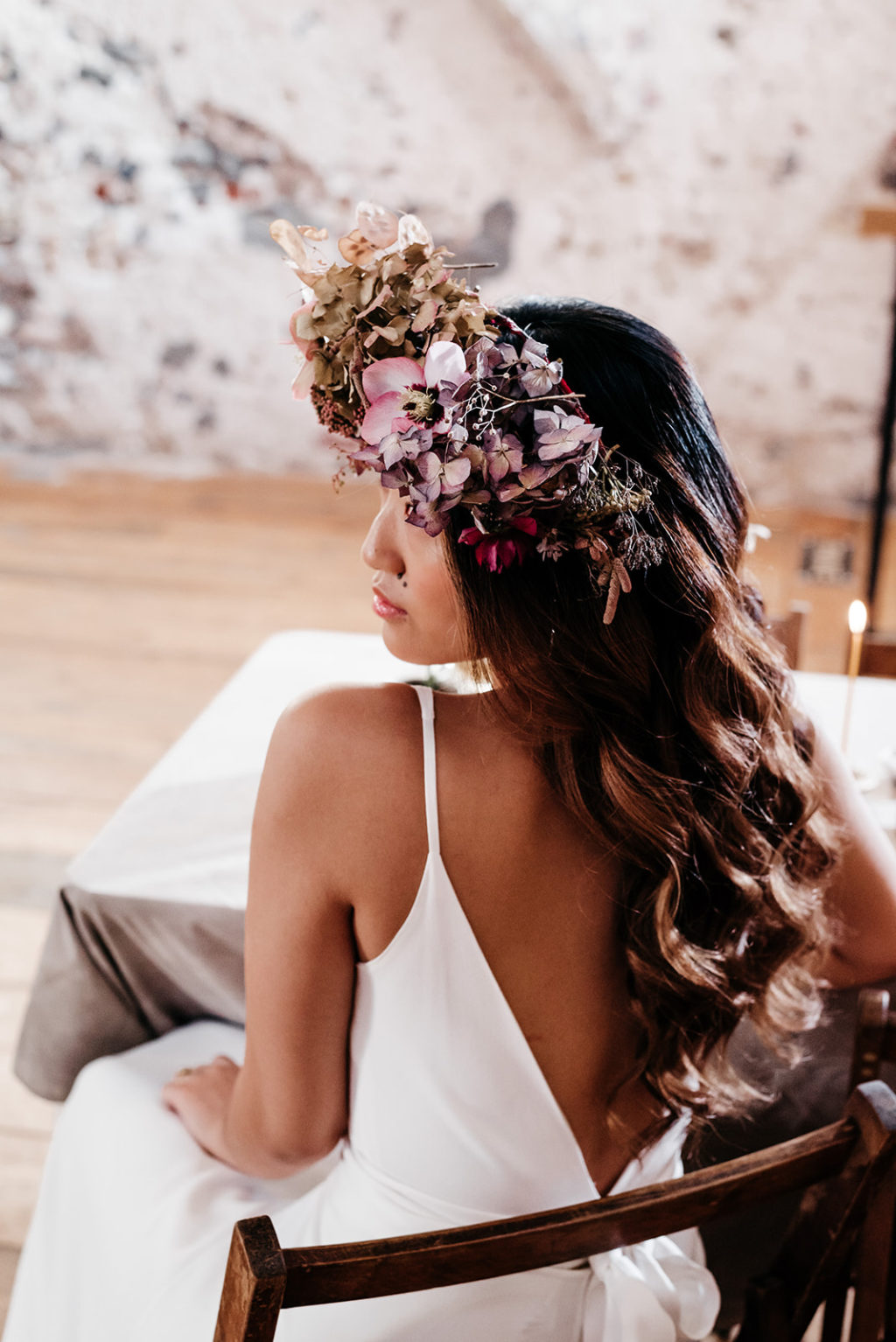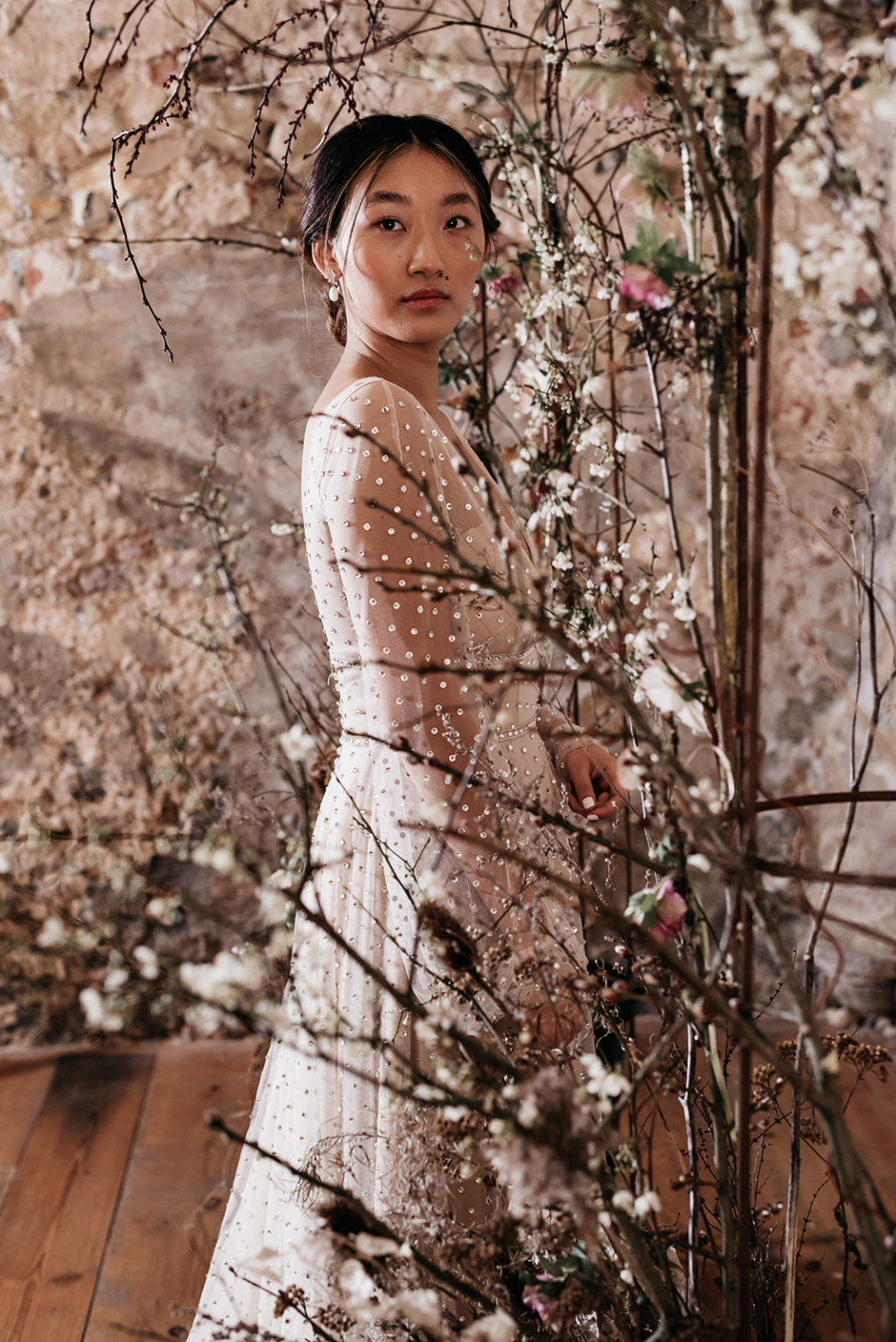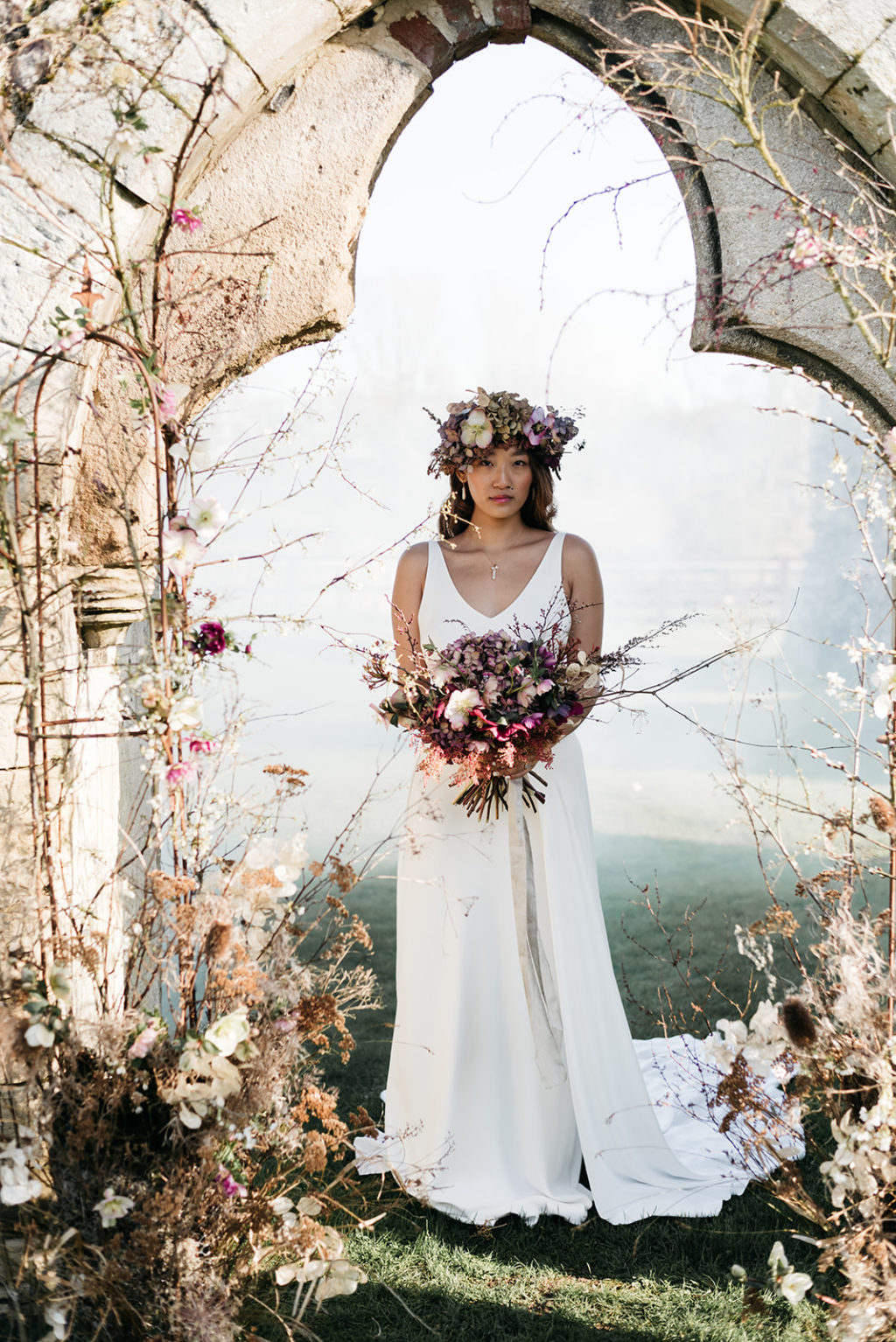 The Team- Nature Inspired Ethical Wedding Inspiration at Langley Abbey, Norwich
Photography Salsabil Morrison Photography @salsabilmorrisonphotography
Venue- Langley Abbey @brasteds / Flowers- WildFolk @thewildfolkflorist/ Cake- Sugar Buttons @sugarbuttonscakes / Stationery- Verity Burton @verityburton / Ceramics- Eleanor Torbati Ceramics @eleanortorbaticeramics / Textiles- The Way of Tea @thewayoftea / Dresses- Bud and Boe @budandboe_bridal / Jewellery- Miss Clemmie @miss_clemmie_accessories / Furniture: Rustic Hire – @rustichire / HMUA – Nikki Gutierrez @nikkigutierrez_hmua / Models: Xiaoxia Chen @callmexiaoxia & Nikki Gutierrez
IF YOU LOVE THIS LOOK PLEASE PIN IT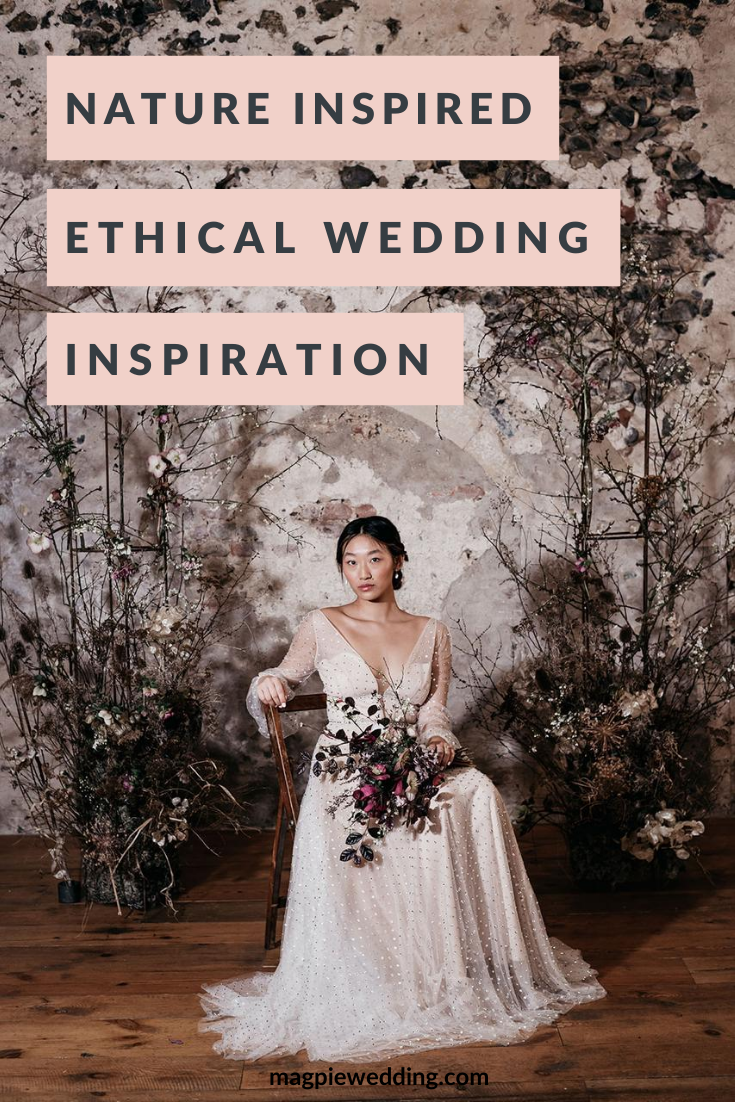 If you love this ethical wedding inspirarion you may also like;
Modern Botanical Wedding With Black Jumpsuit at Primrose Hill Farm, Oxfordshire
Sustainable Wedding Ideas With Spring Garden Styling At Kate's Garden Shropshire
Vintage 1920s Art Deco Wedding Inspiration At The Manor Rooms, Drewton