Modern 1920's wedding inspiration (or vintage) is always a firm favourite with us at Magpie Wedding and todays spectacular imagery is giving us all the feels! Brought to us by Hollie Freeland Creative Director and Stylist, who co-ordinated the shoot. Here we catch up with her, and some of the other suppliers involved to find out how this modern 1920's wedding inspiration with luxe art deco vibes was created…
"The 1920's is a beautiful era, and perfect to draw inspiration from for weddings; luxurious, opulent and playful! As a stylist and designer it is important to capture the essence, rather than imitate an existing style and therefore incorporate elements and motifs whilst adding a contemporary twist"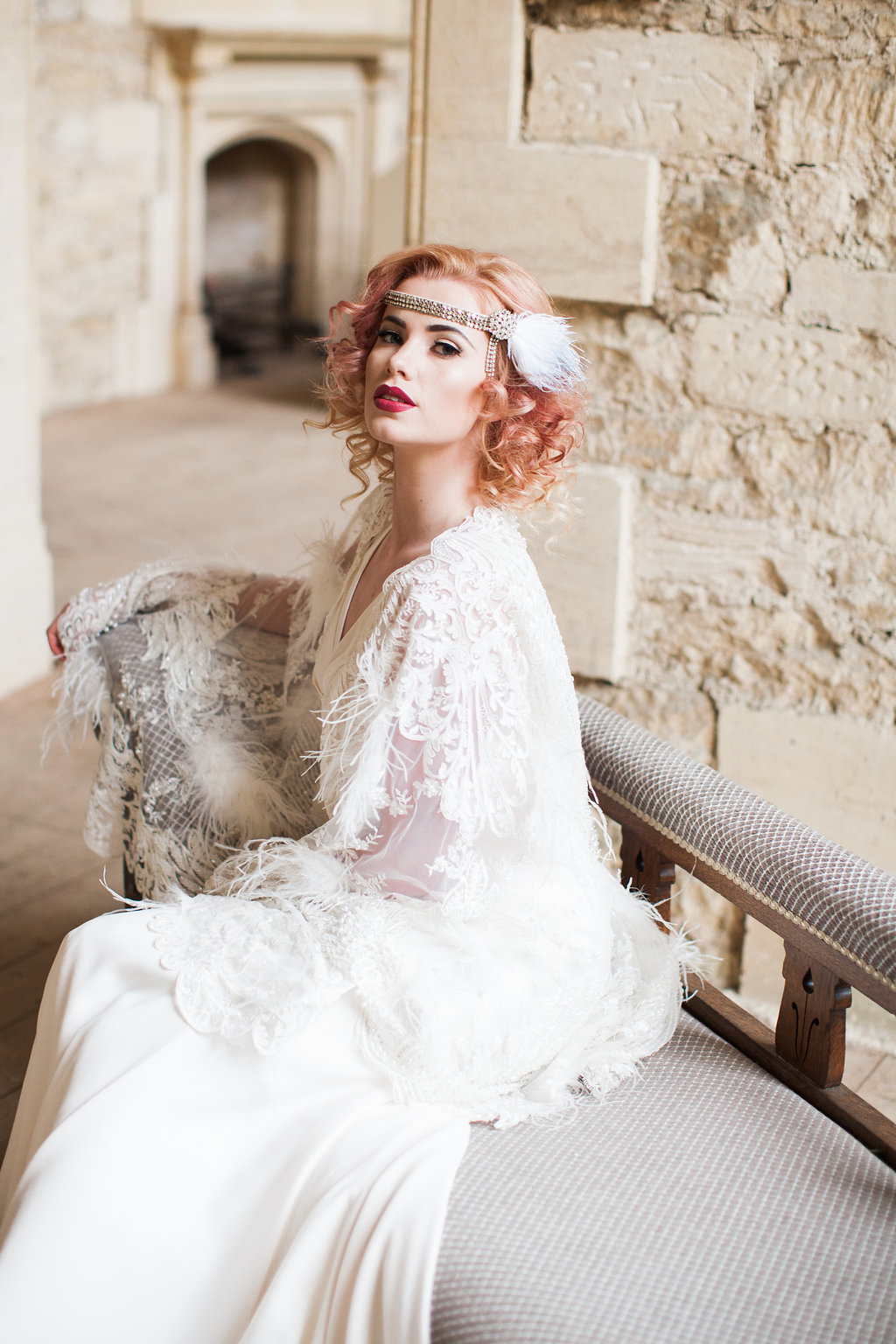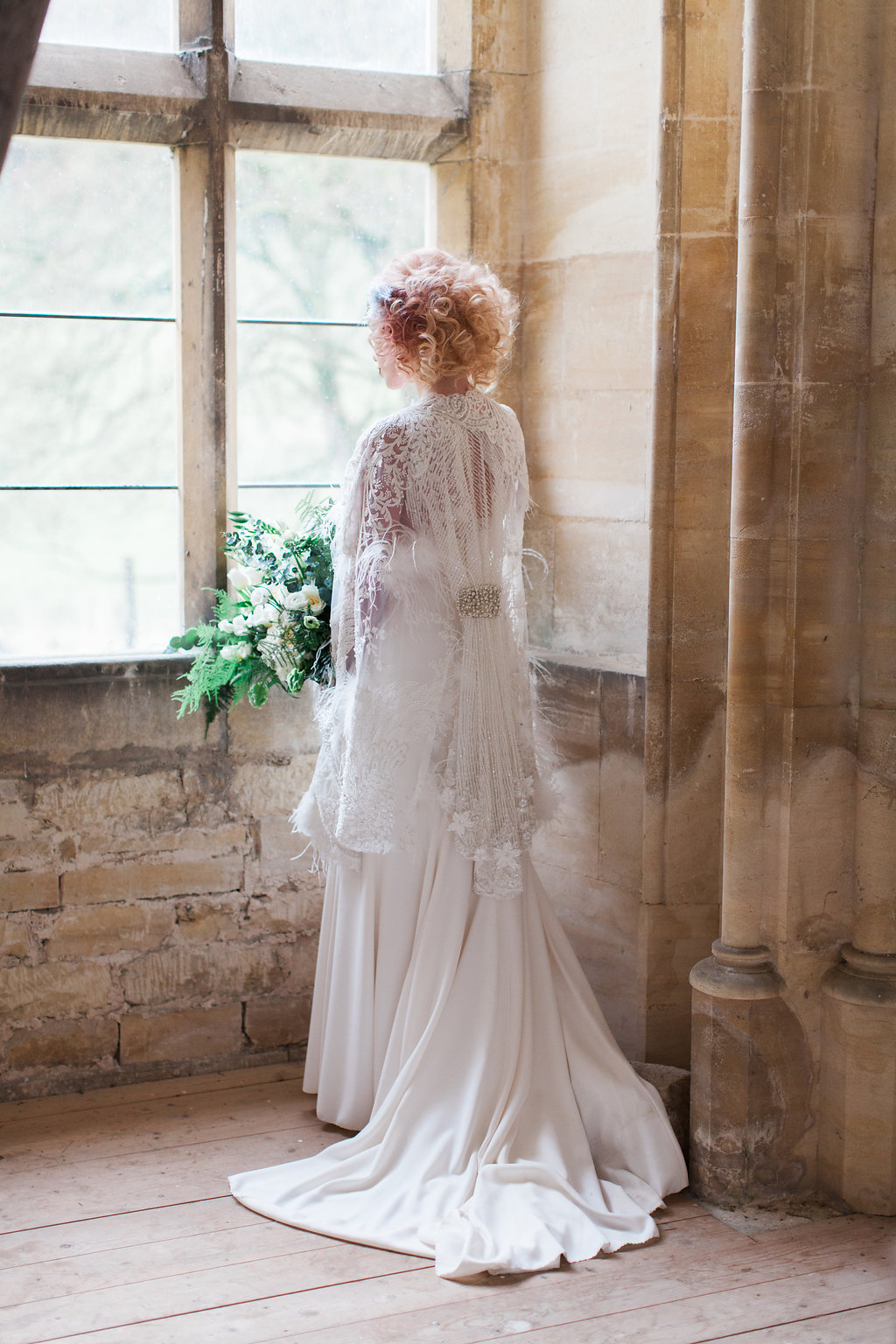 "Each supplier for this shoot was encouraged to approach their element with creativity but nothing was created in isolation which resulted in a style that seamlessly reflected through all the elements. I oversaw each aspect to maintain the overall cohesive design. It was such a beautiful shoot to work on and a real team effort."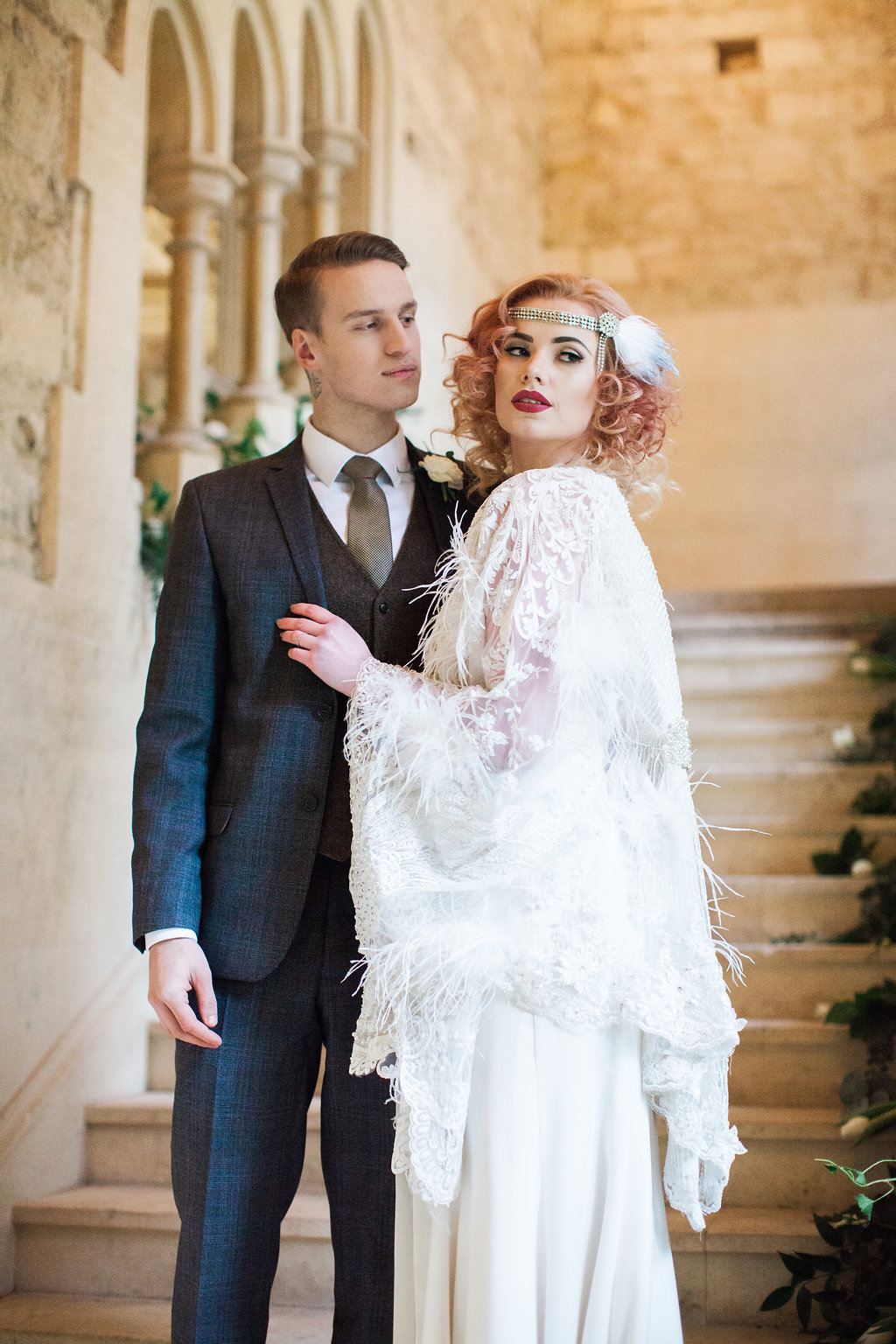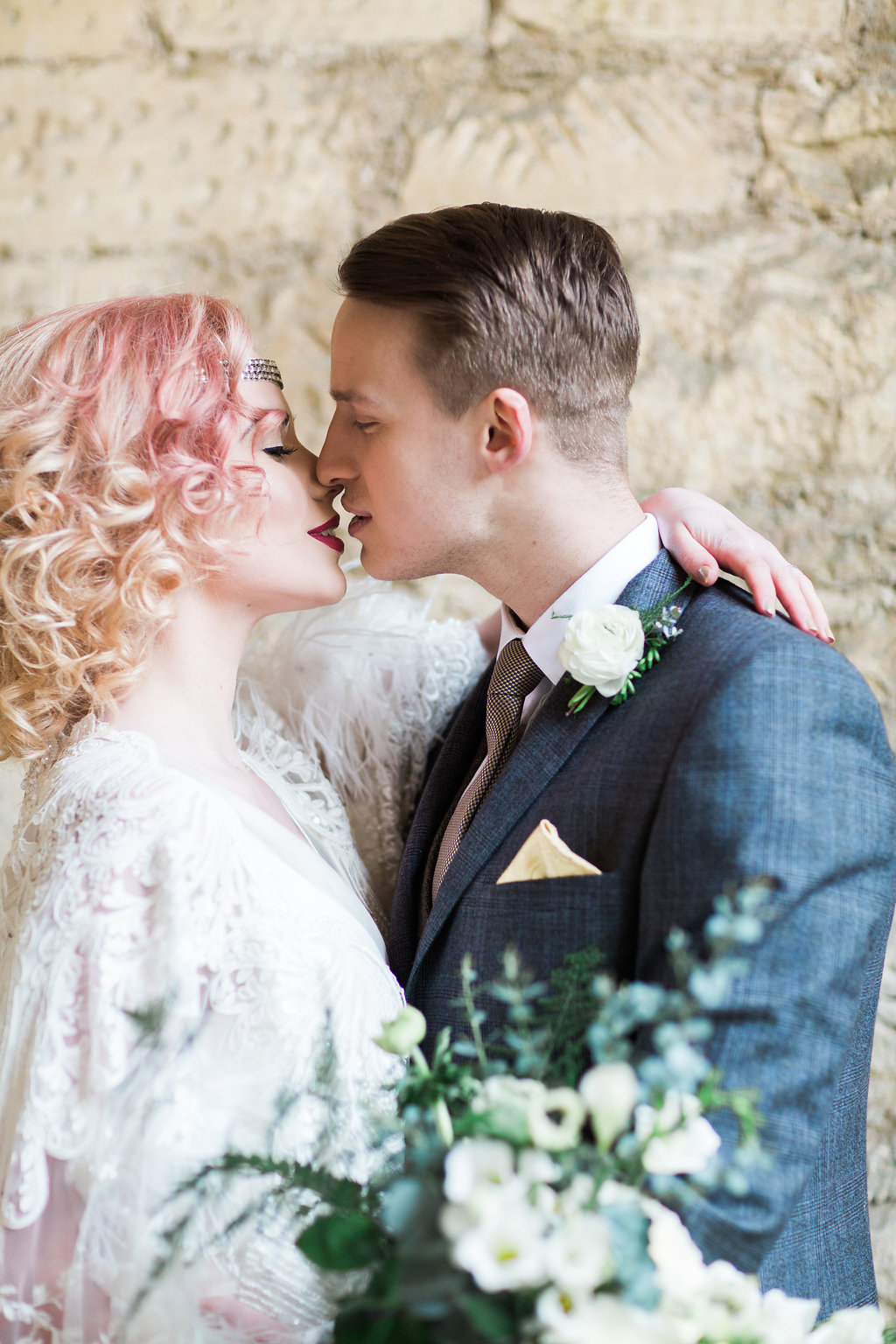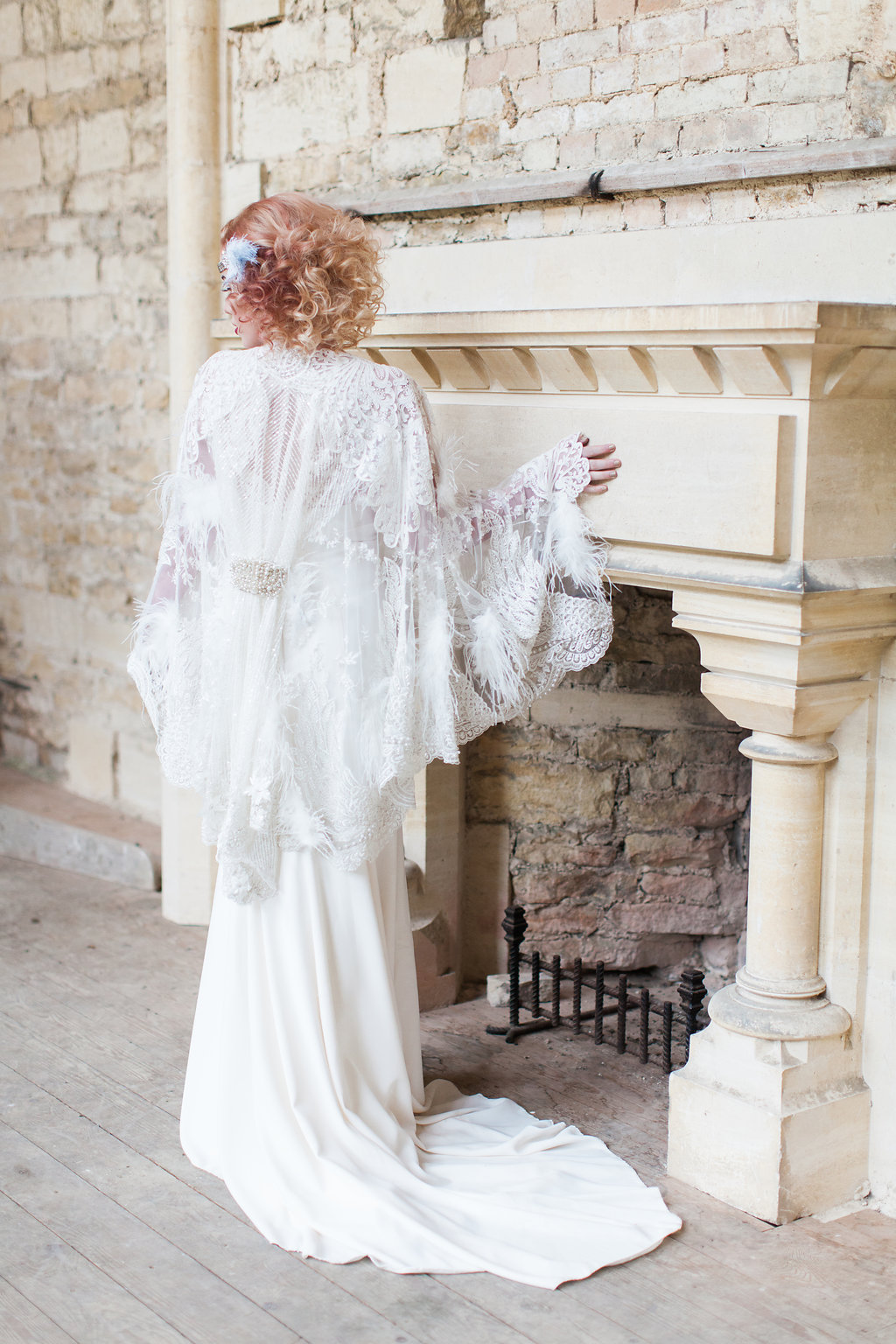 "Woodchester Mansion is an incredible unfinished Gothic Revival building and the perfect backdrop for our styled shoot, it has a truly unique character combining carved details and architectural arches with the unfinished spaces creating vast ceiling heights and contrasting scale. The mansion's solidity of its stone walls juxtaposed our smaller delicate details and its scale added a grandeur to the opulent theme."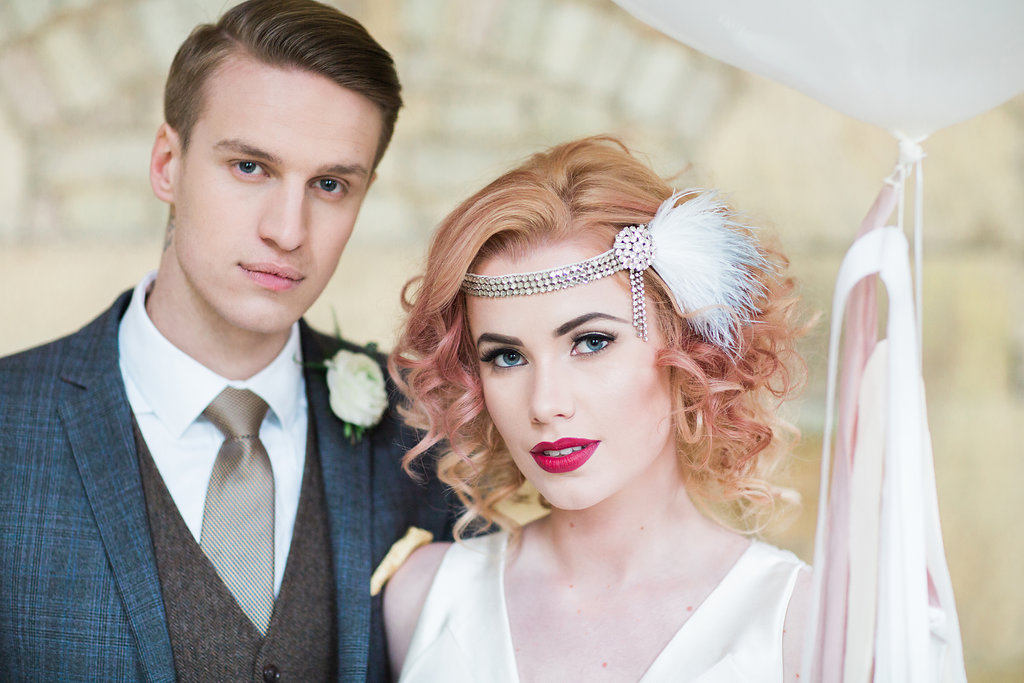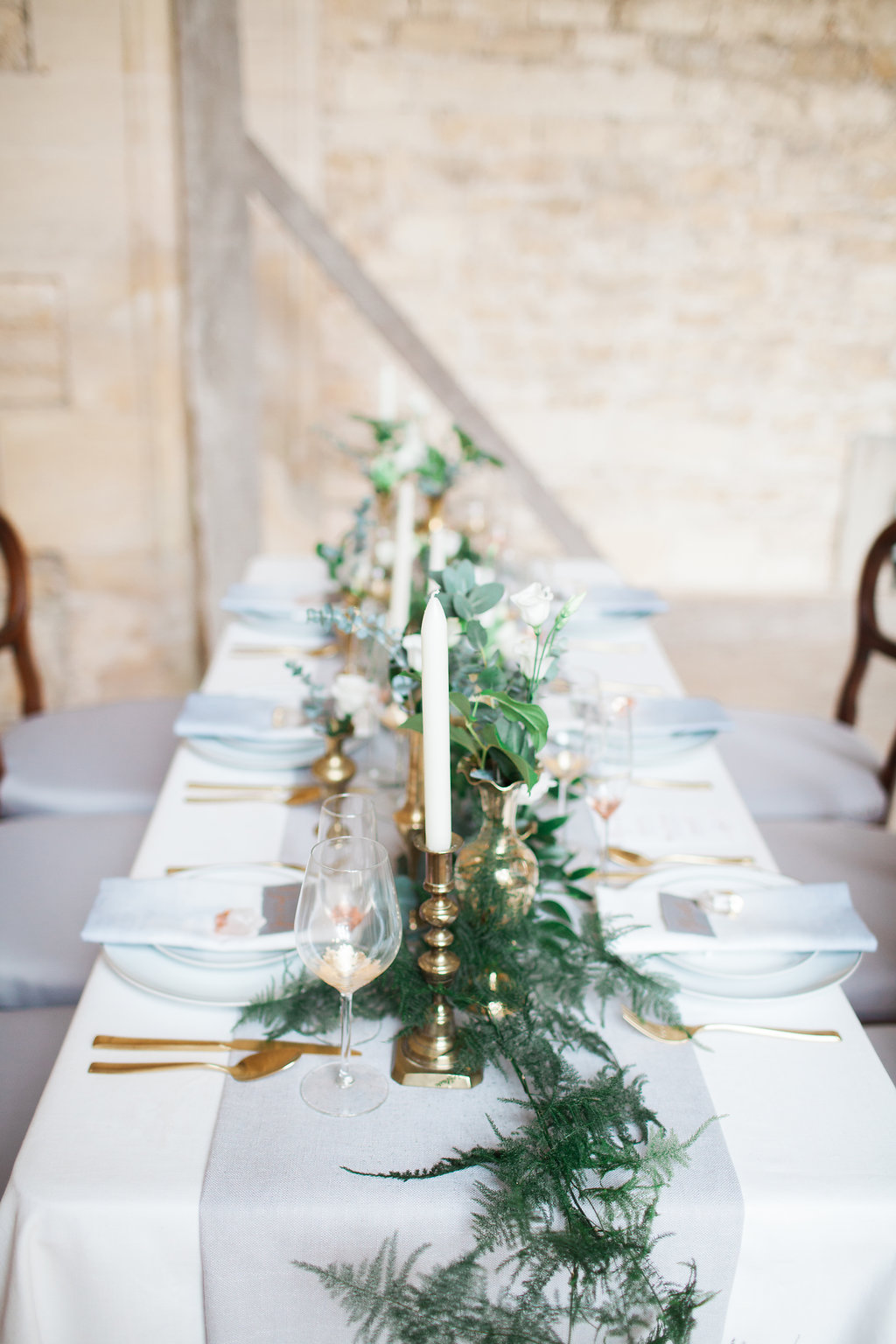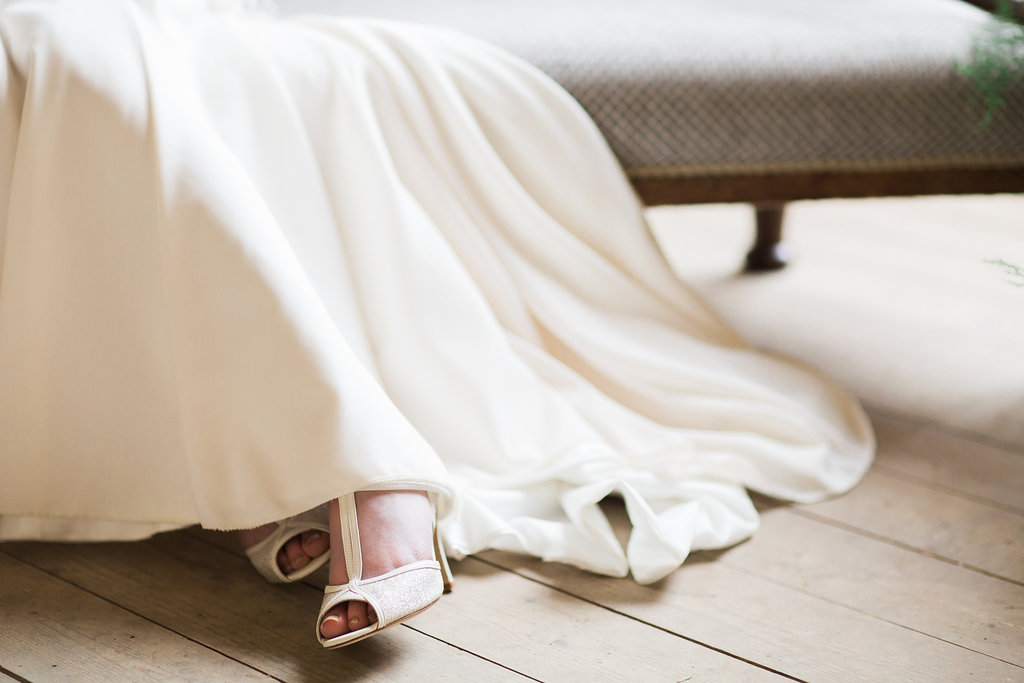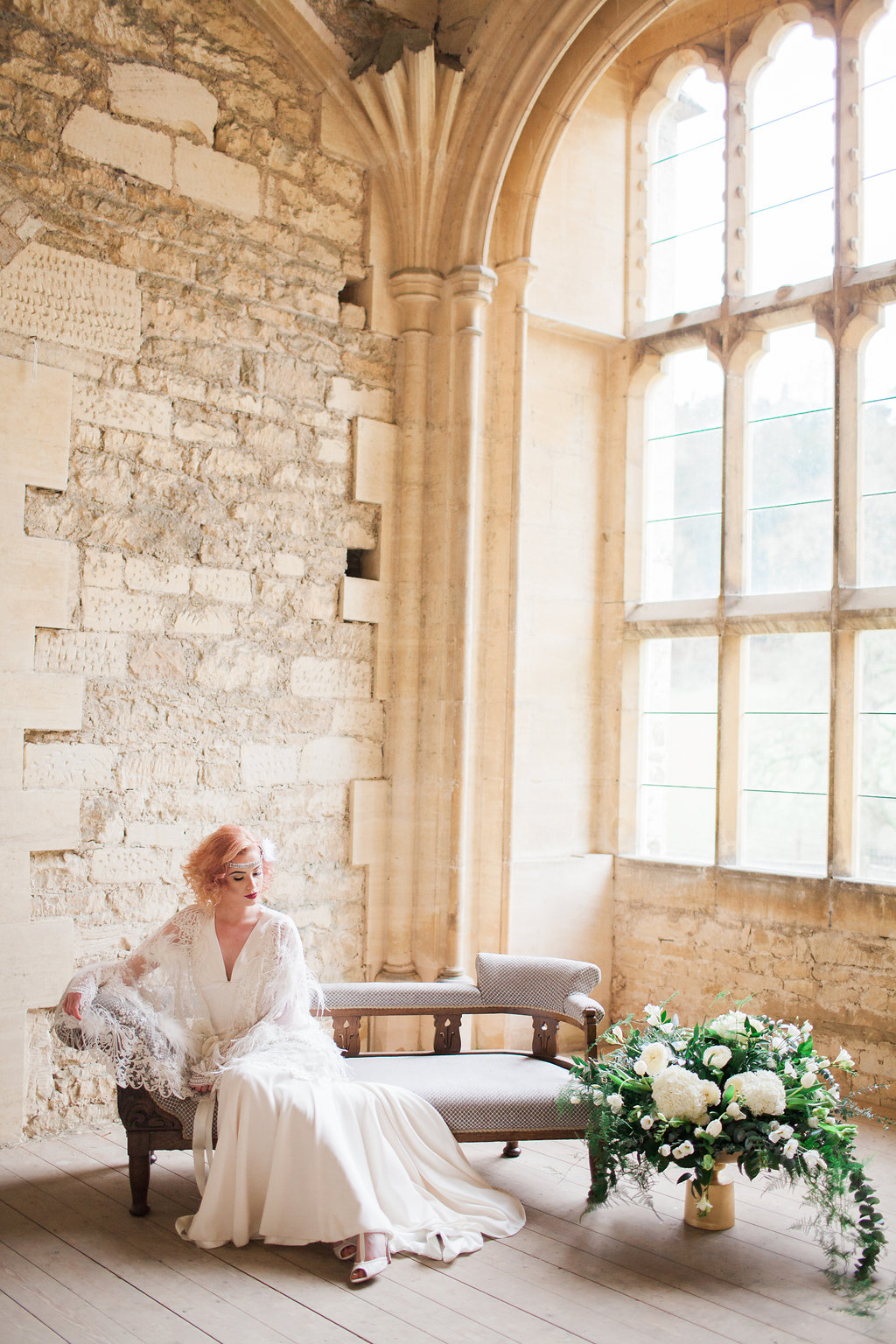 "The tablescape was positioned under a giant arch and created using a luxury linen 'snowdrop white' cloth and a textured grey runner, topped with lots of delicately trailing foliage including: Asparagus Fern, Fern, Ruscus and Eucalyptus. Beautiful floral arrangements by Esther from Flower Style Co of a gorgeous variety of white flowers in a selection of vintage and antique brass vases were nestled amongst the foliage. Brass candlesticks with a simple ivory candle were added to the foliage along the centre of the table."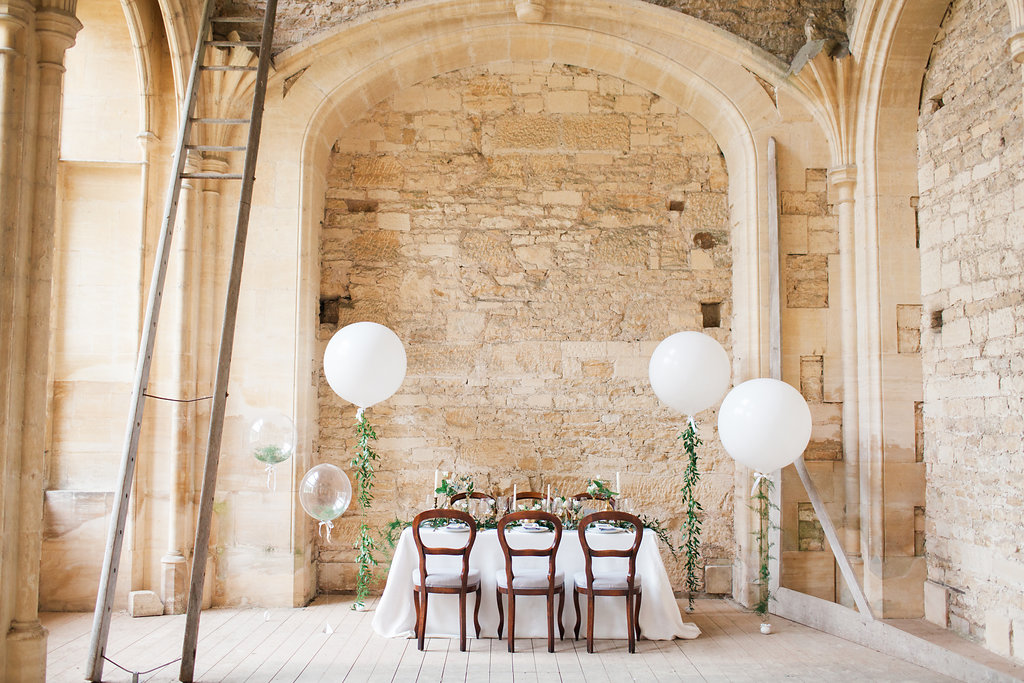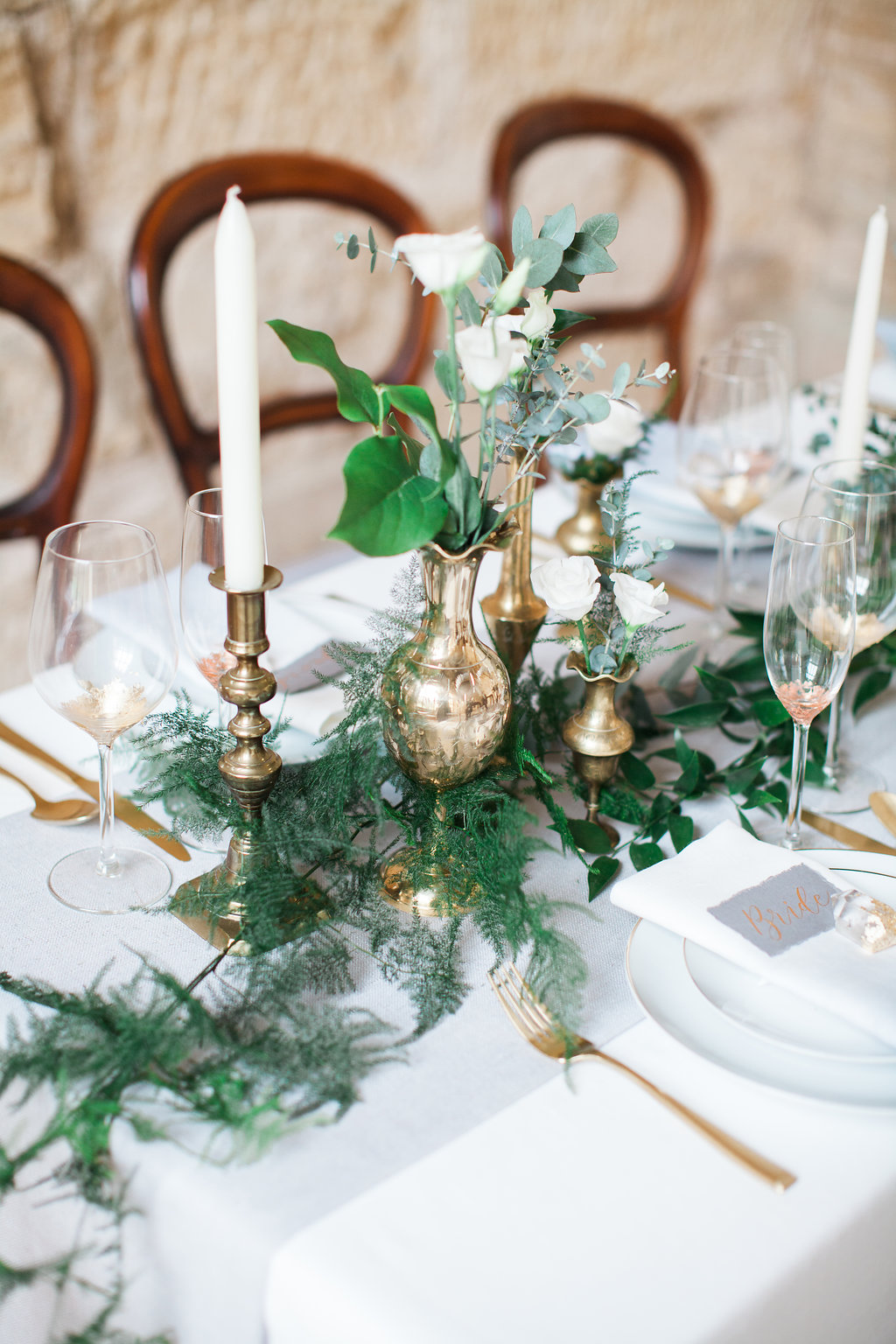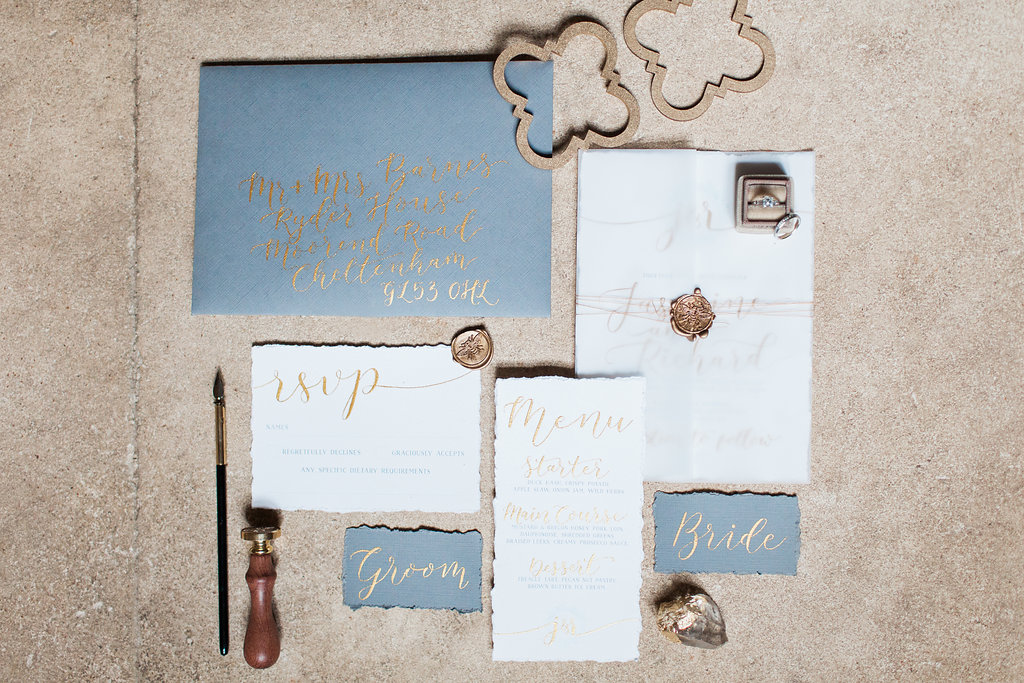 "Emerald Paper Design created a beautiful table number which was placed in a simple gold frame. Antique balloon back mahogany chairs upholstered in crisp grey fabric allowed the styling to stand out against the stone walls. Each place setting was styled with simple gold rimmed plates which were then layered with hand dyed ombre grey and white linen napkins, gorgeous grey torn edged place names with gold handwritten modern calligraphy by Emma from Emerald Paper Design and finished with a gold or rose gold leaf decorated crystal by Sarie Joynes. Sarie also used the same technique to sumptuously decorate the champagne flutes and wine glasses. Each setting was framed with elegant brushed gold cutlery from The Cutlery Commission."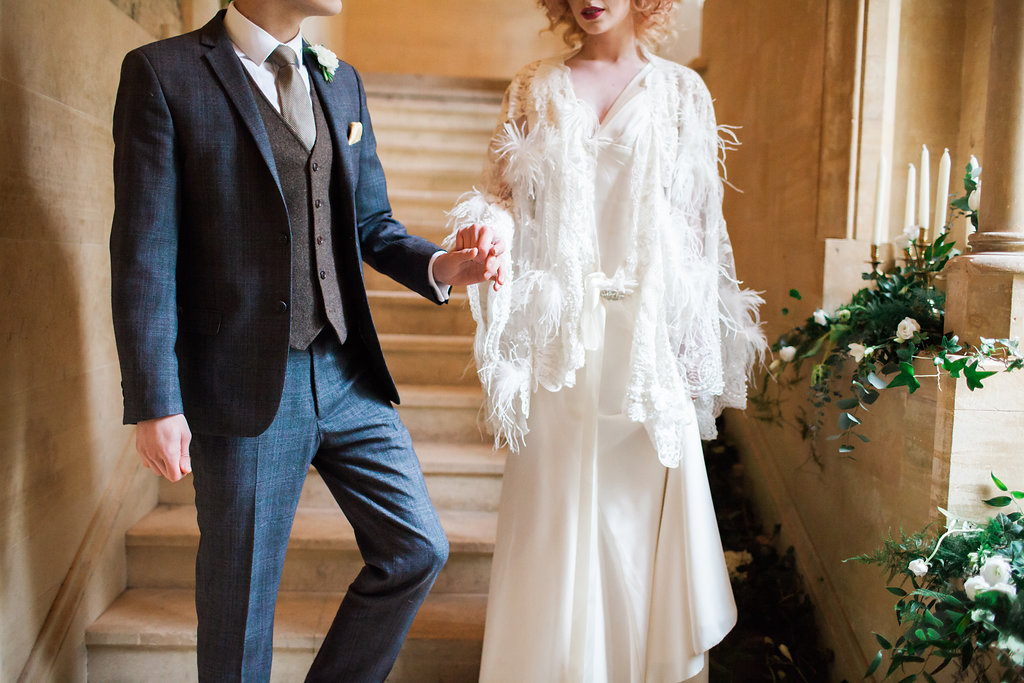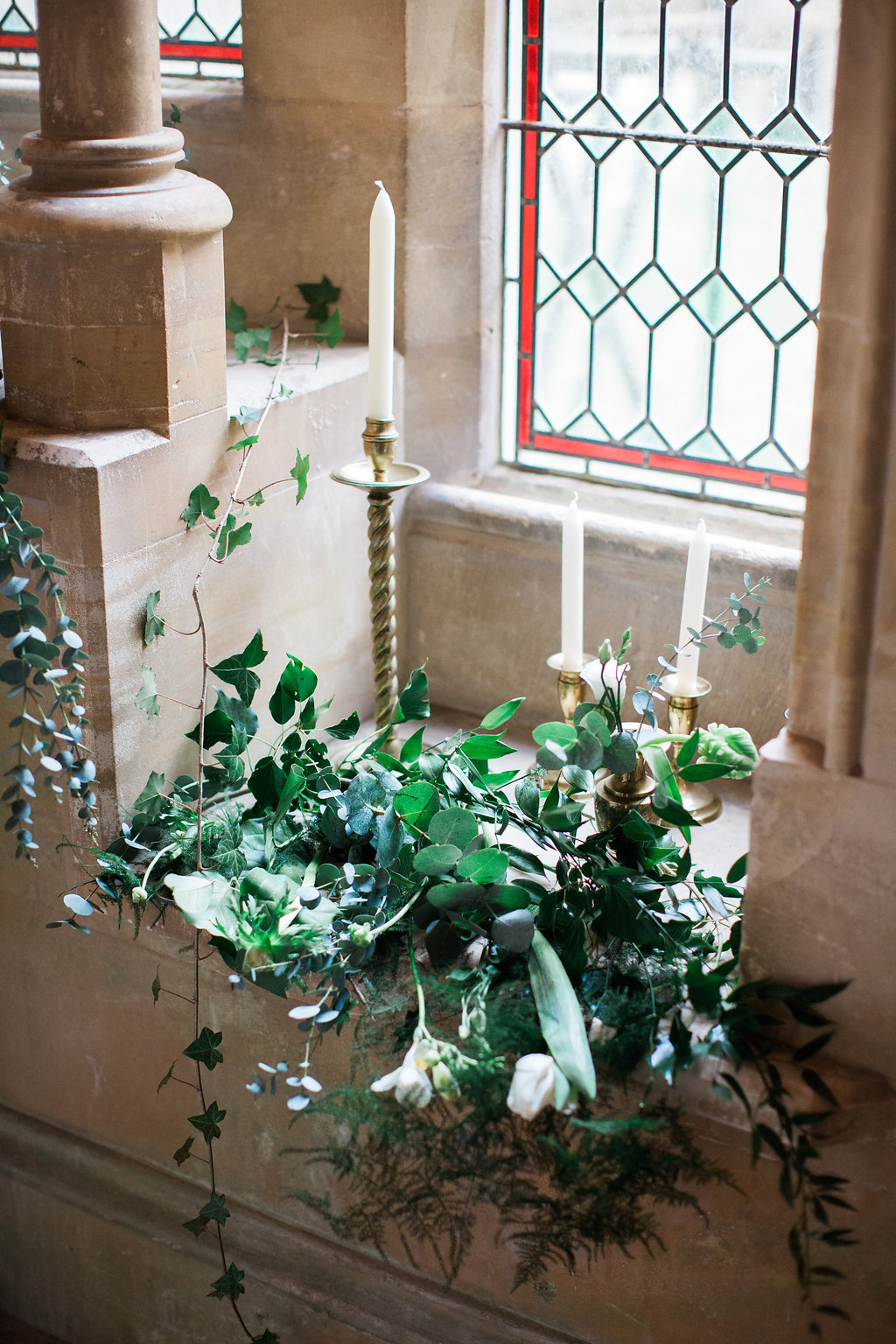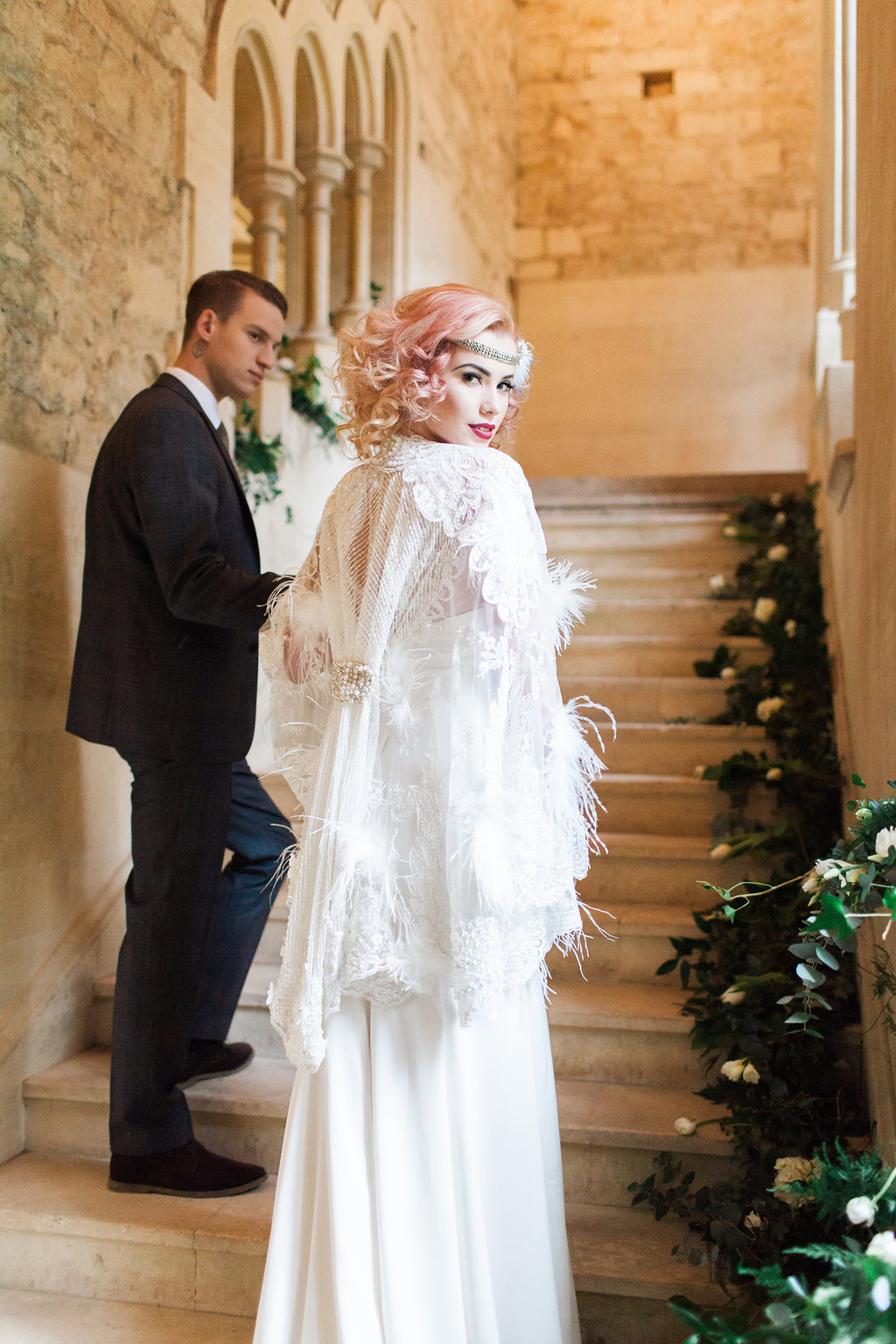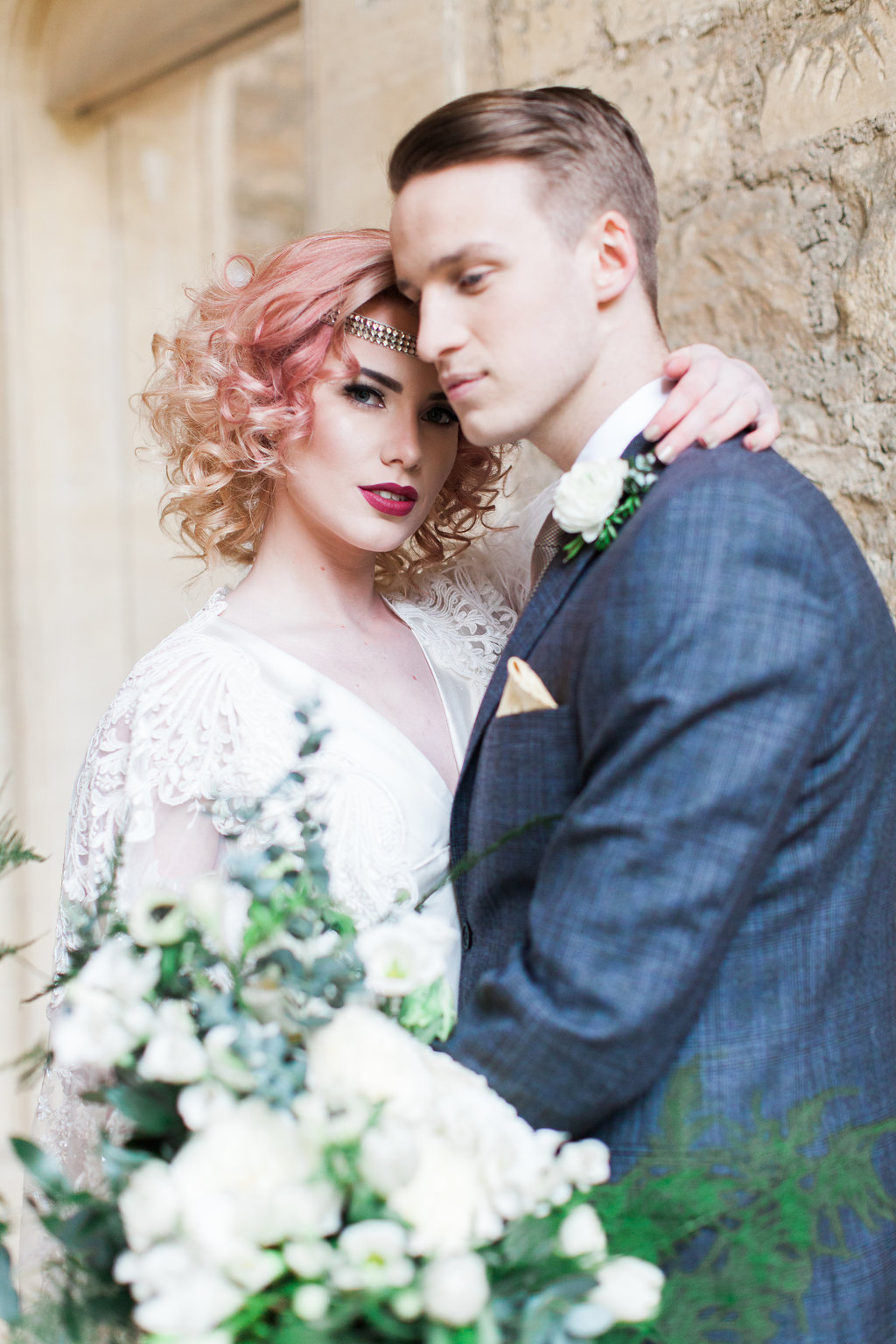 "The Giant Balloon Company provided an array of gorgeous balloons, some filled with feathers which reflected back to the 1920s beautifully, others filled with Asparagus Fern mirroring the other foliage used. Giant white balloons with blush and white tassels added a softness contrasting with the stone walls and the remaining balloons had greenery attached to them by Flower Style Co. The balloons were used in a variety of locations and stood boldly against the fragility of some of the elements, they were perfect with the high ceilings at Woodchester Mansion to draw the eye up into the space, highlighting the architecture further."
Florals- Flower Style Co.
"I designed a bouquet full of white and green flowers and foliage along with the balloon foliage and a large scale arrangement in a gold urn which was beautifully displayed on the bar and next to the chaise longue to bring nature into the absolutely incredible Woodchester Mansion. The table was laid with rich green foliage of different textures and brass vases with small white flowers. We also used these along with the foliage up the staircase to create a dramatic backdrop for the bride and groom. All the designs had a luxurious yet whimsical edge to compliment the 1920s feel. I loved being part of this shoot with some amazing suppliers, this look has proved so popular with many of my clients."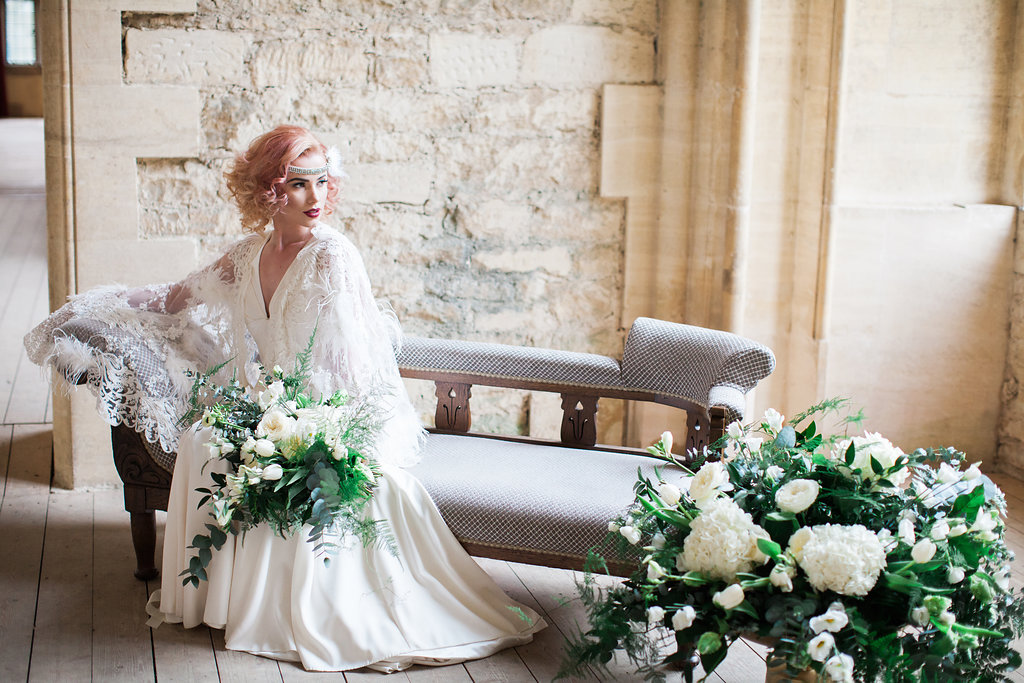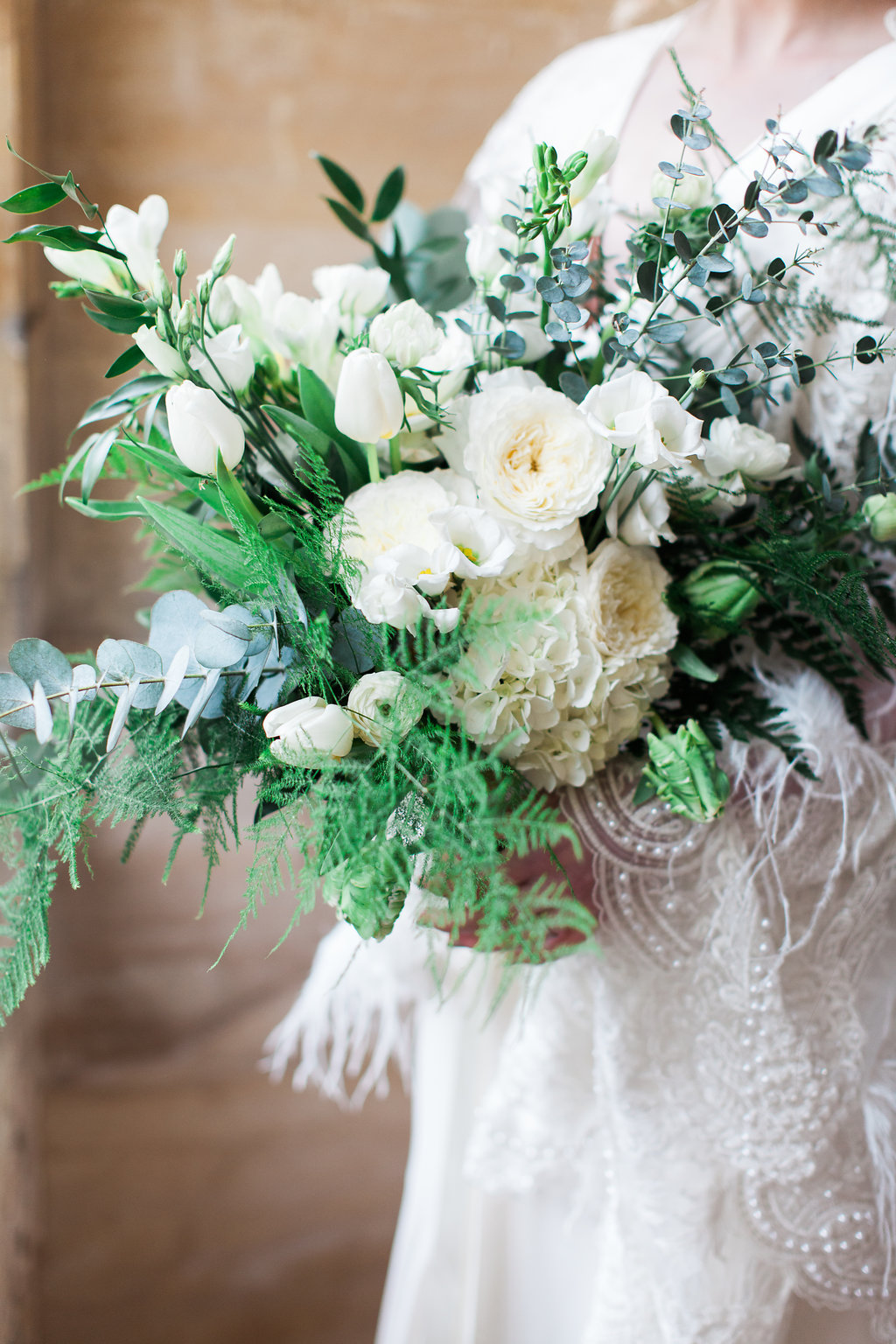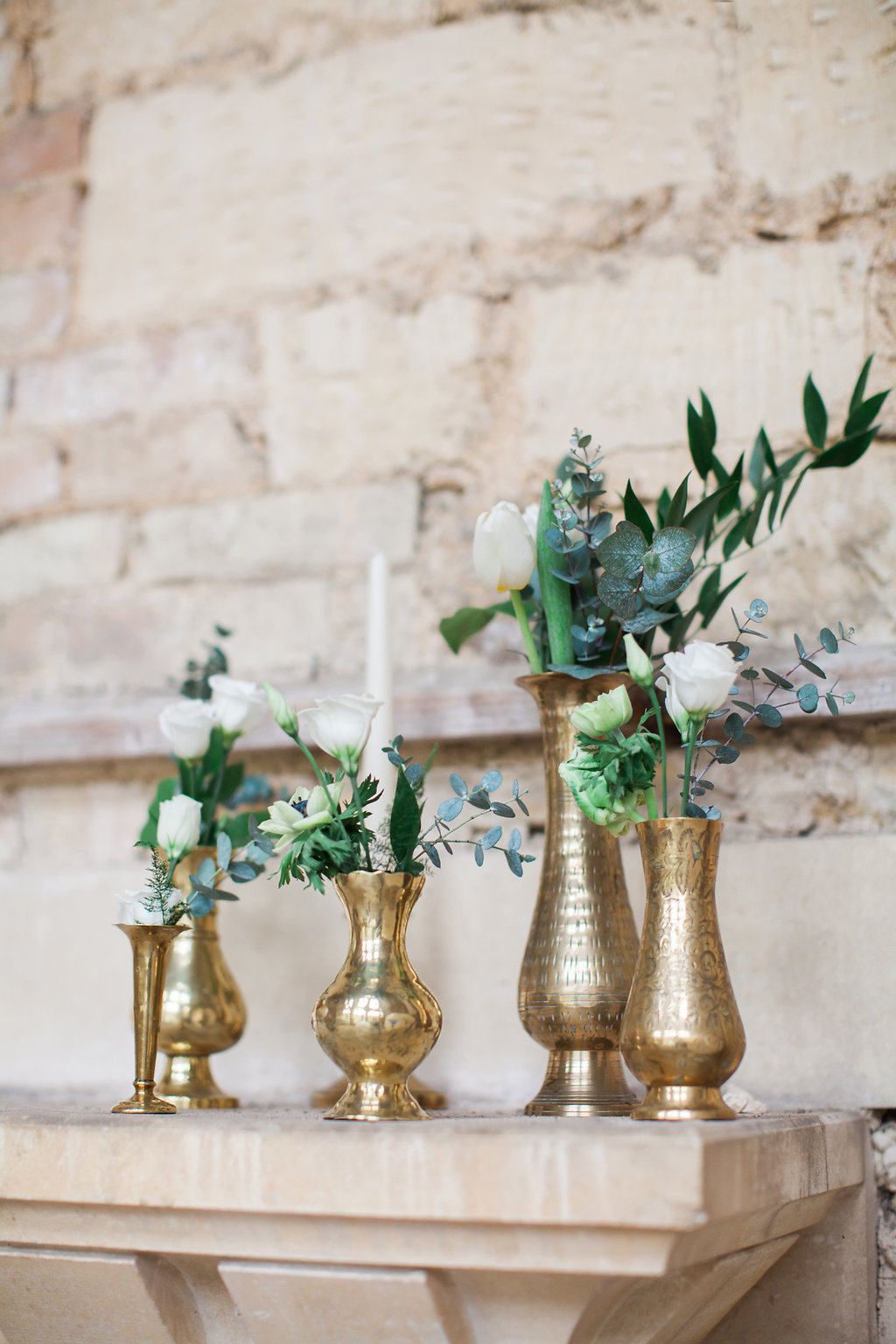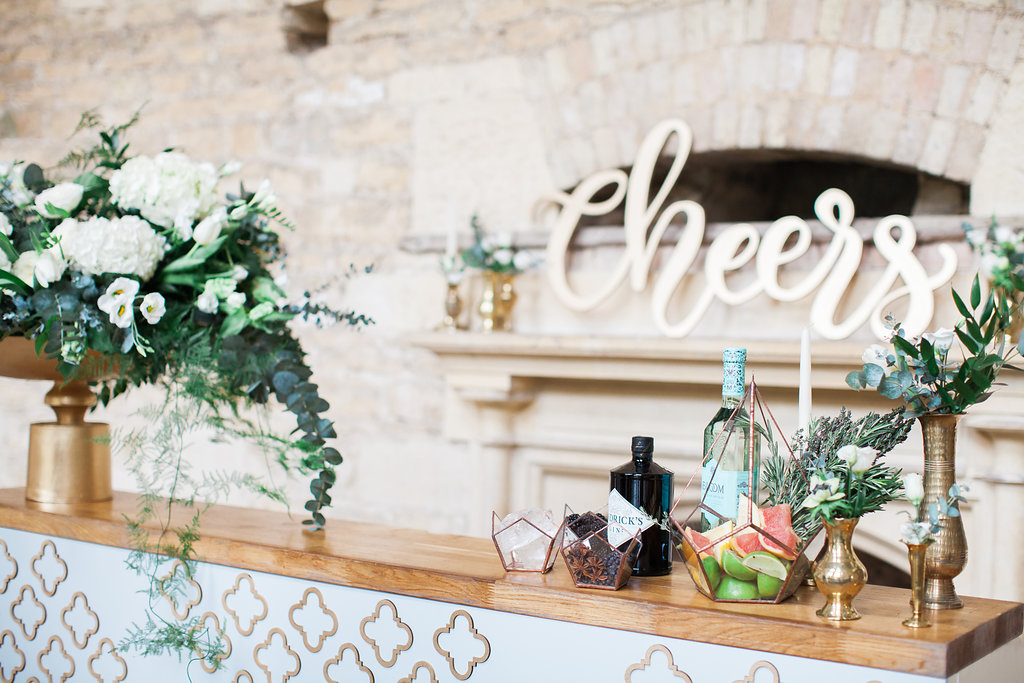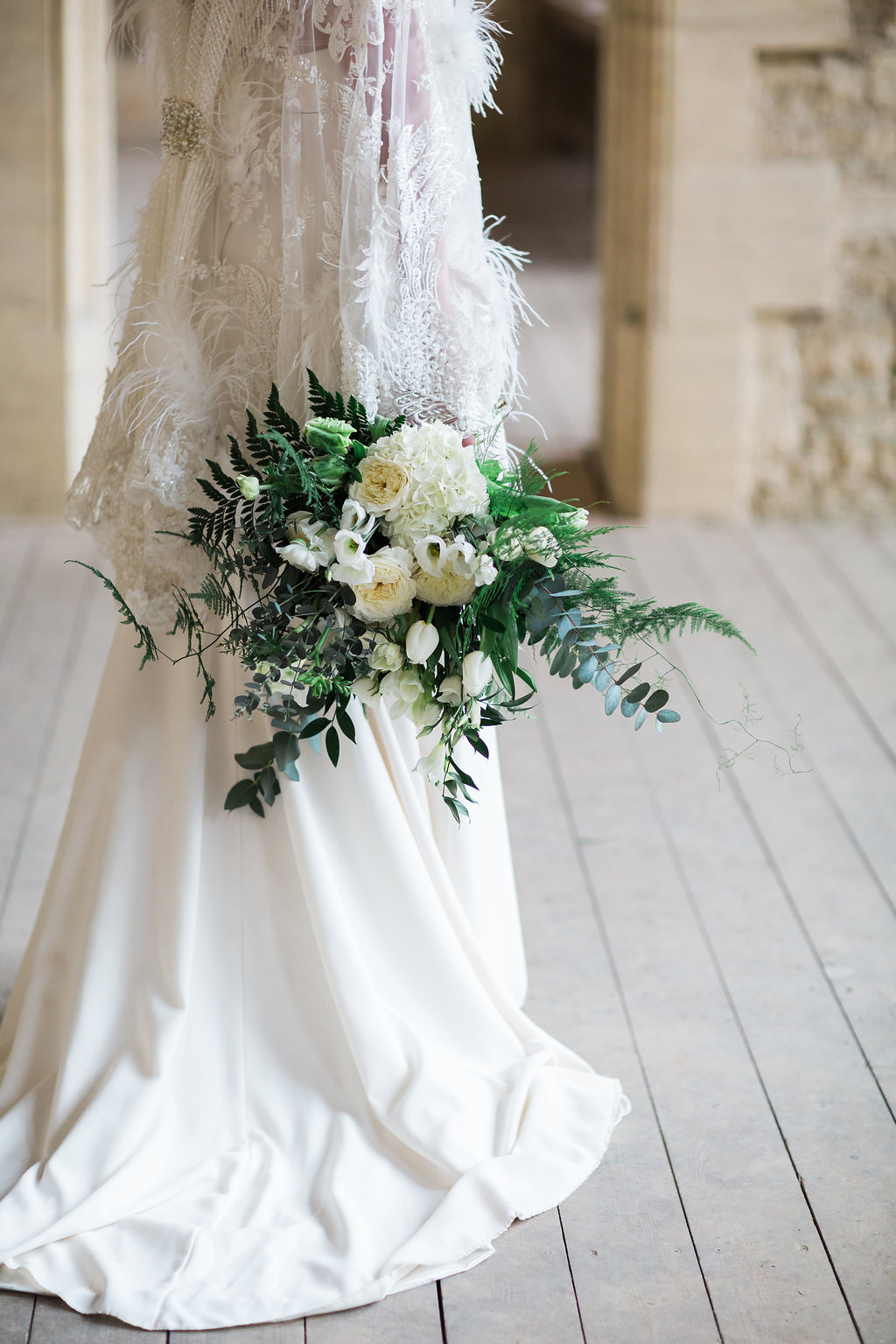 Stationery- Emerald Paper Design
"I really wanted to play on the luxurious, elegant style Hollie had spoken about when I met with her to discuss the stationery. After our meeting I knew that I wanted to create stationery which had an opulent, handcrafted feel to it, but understated. A key part to meeting this style, for me, was a limited colour palette, therefore we limited the stationery to soft grey, white and a metallic gold. I decided adding hand calligraphy to a large portion of the writing was a great way to include the rich gold across all the stationery. As well as the calligraphy I chose to introduce a gold wax seal to the cover for the invitation, which I used again on the table plan. This wax seal added a level of refinement and made the invitation more individual and personal to the recipient. As I was creating these stationery pieces I decided adding a hand torn edge to the work would be the perfect finishing touch."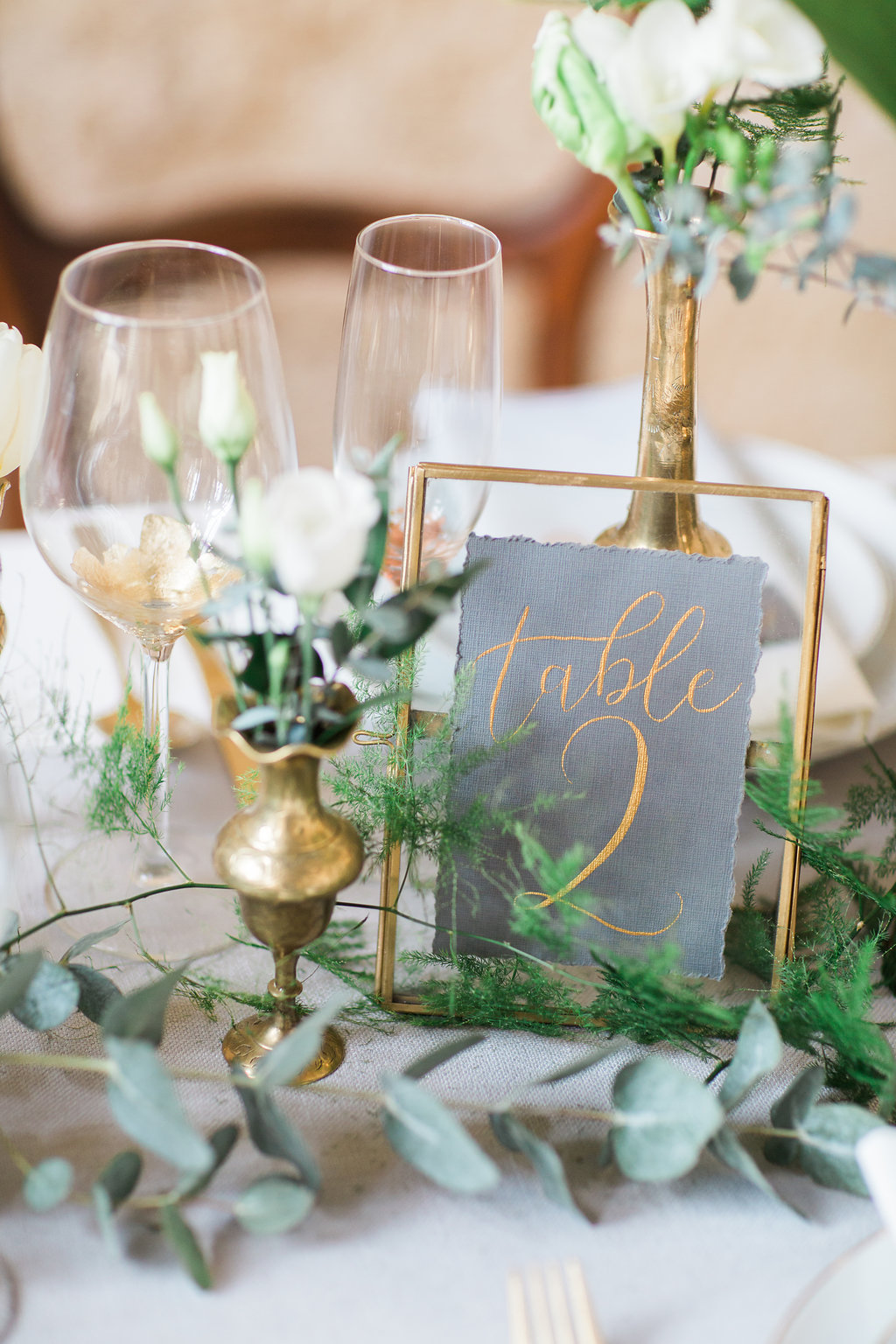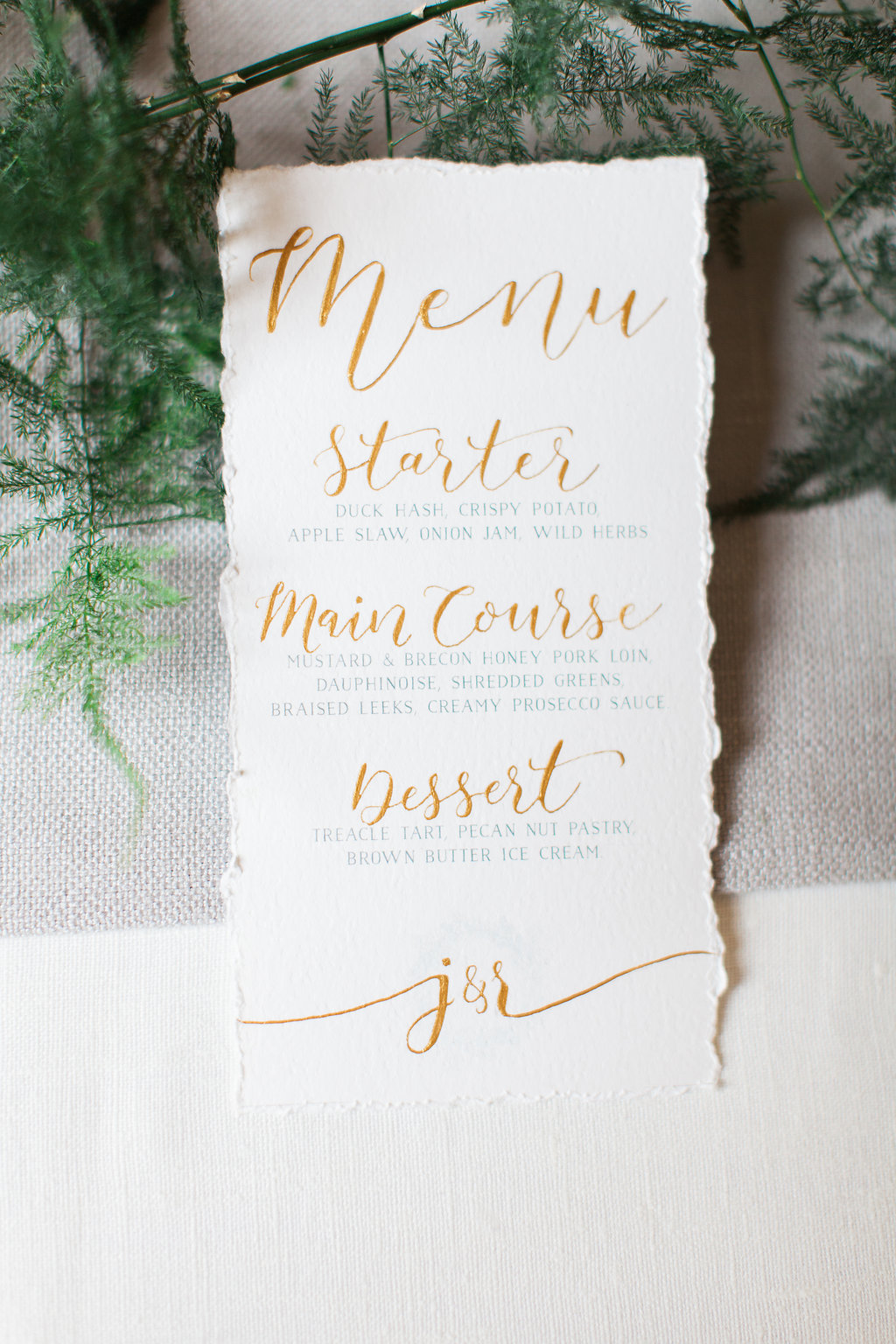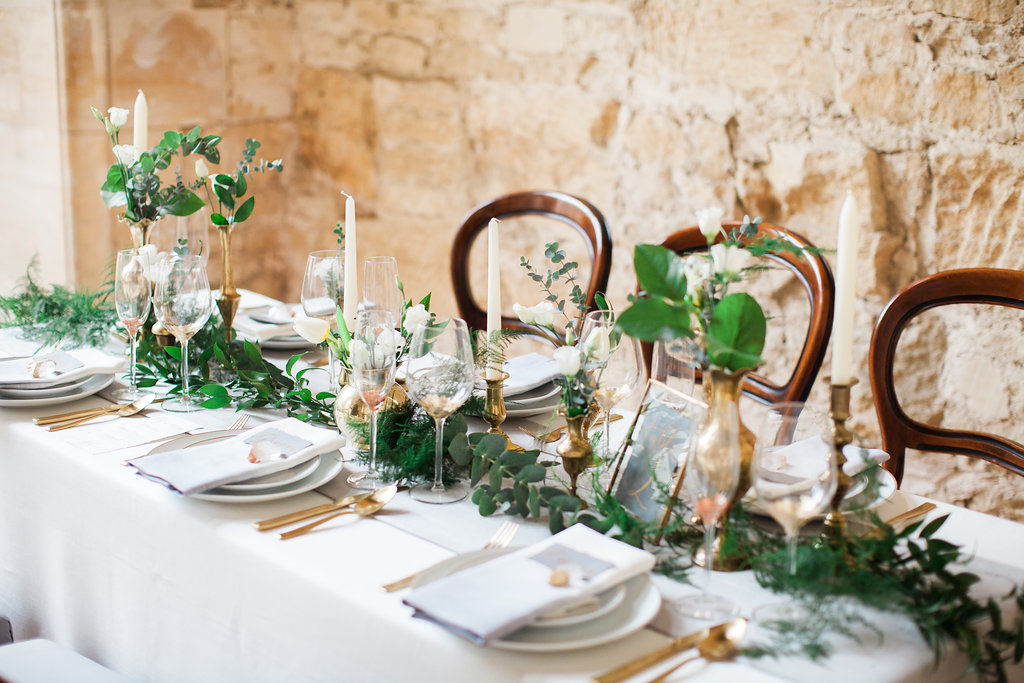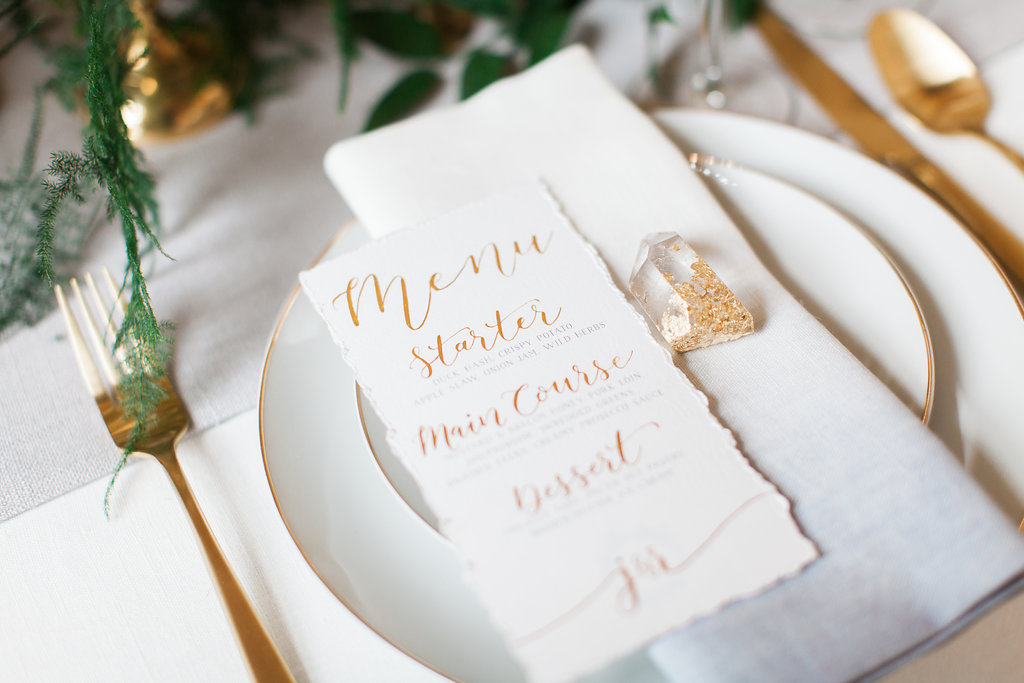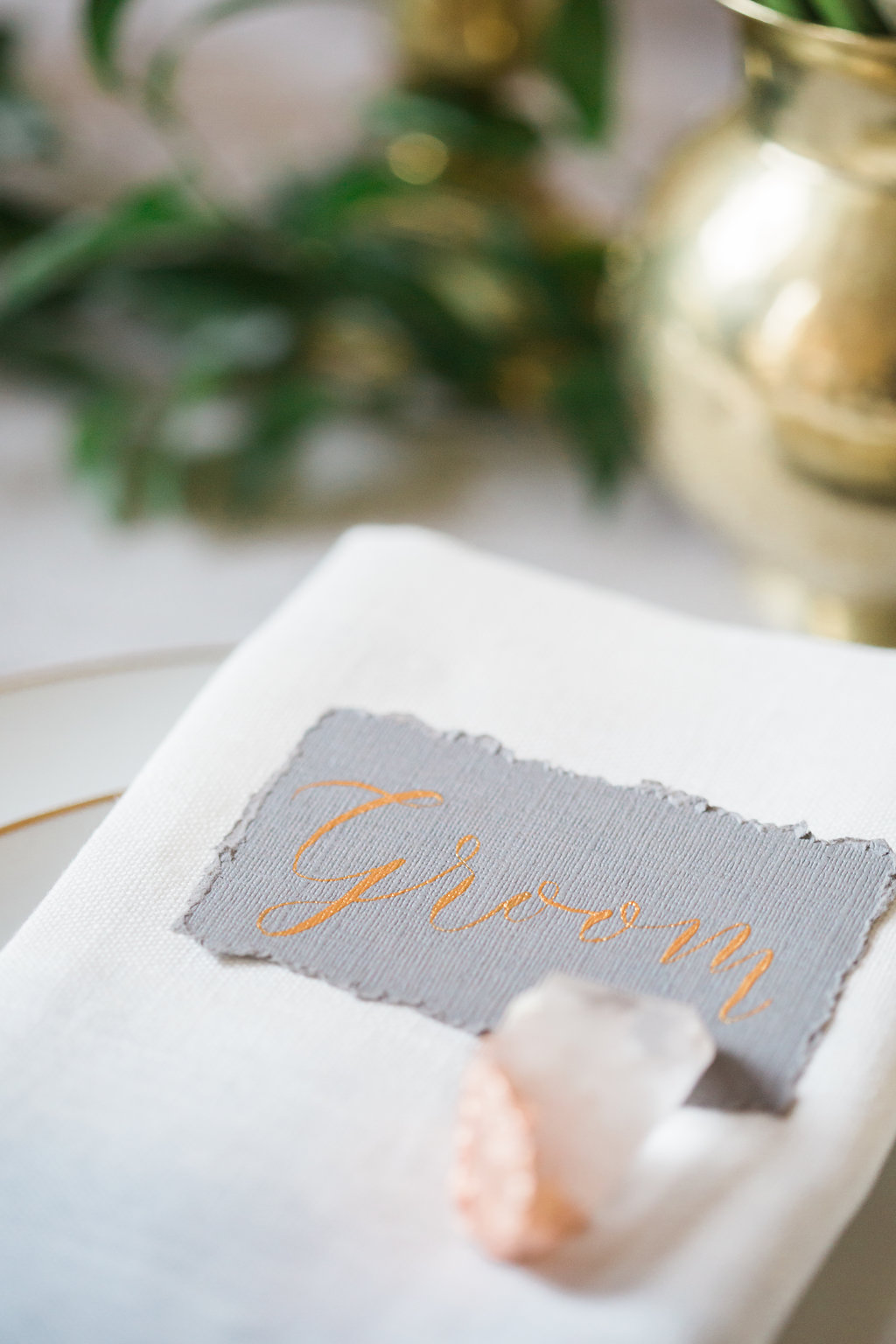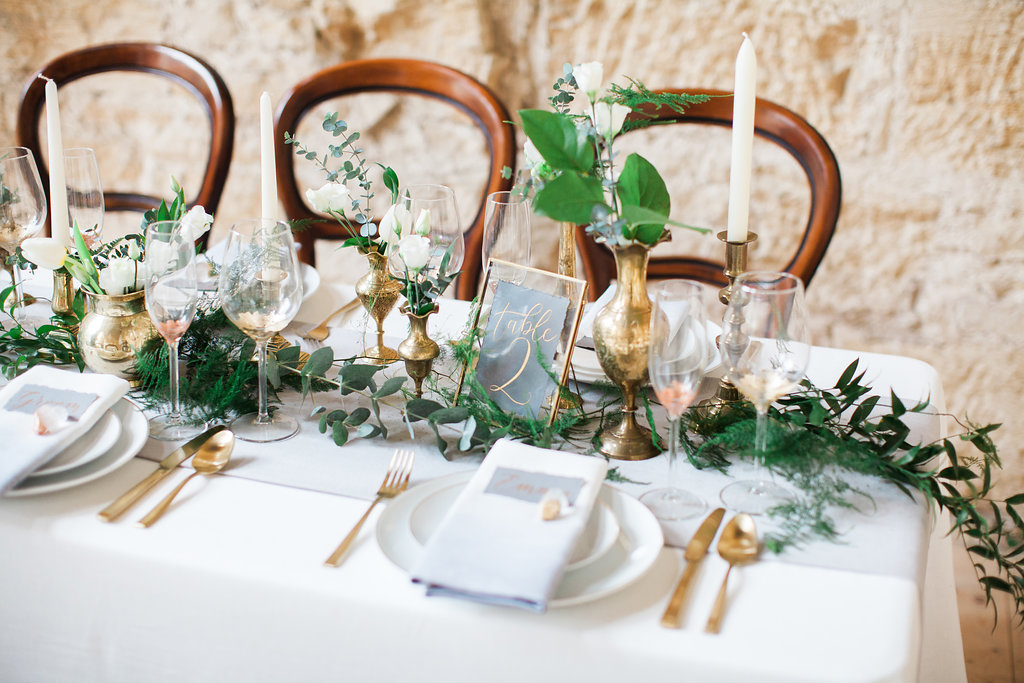 Balloons- The Giant Balloon Company
"We provided gorgeous giant balloons in an array of different styles from serene feather filled clear balloons, to simply stunning white round balloons, adorned with green foliage garlands provided by Esther from Flower Style Co. We also carried the foliage décor into our crystal clear bubble balloons that were filled with soft asparagus fern, giving a touch of tranquillity to the table setting."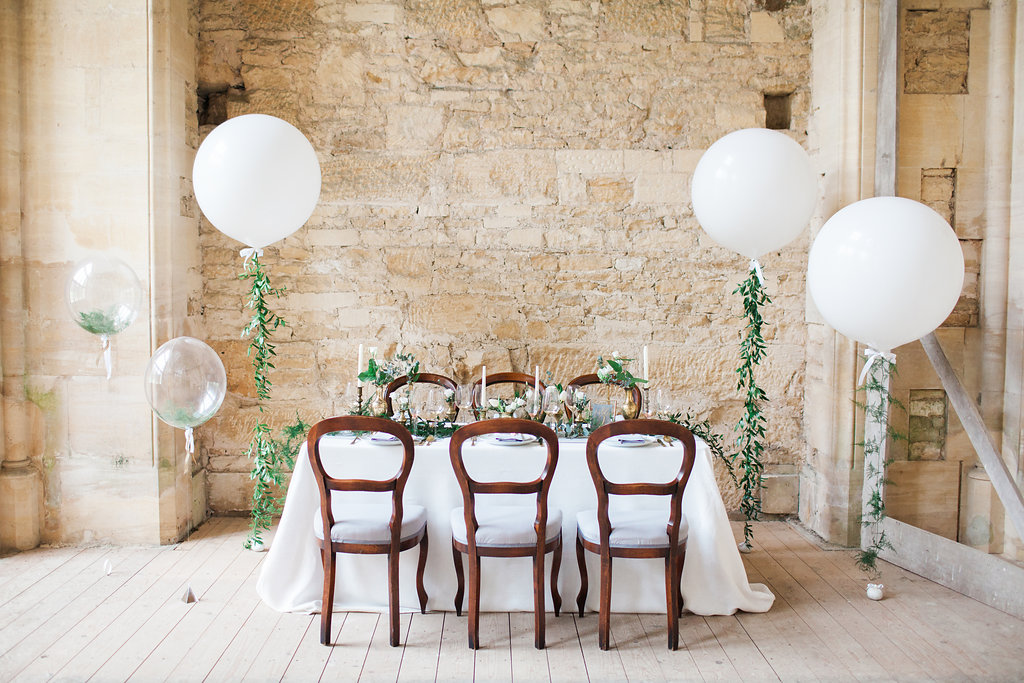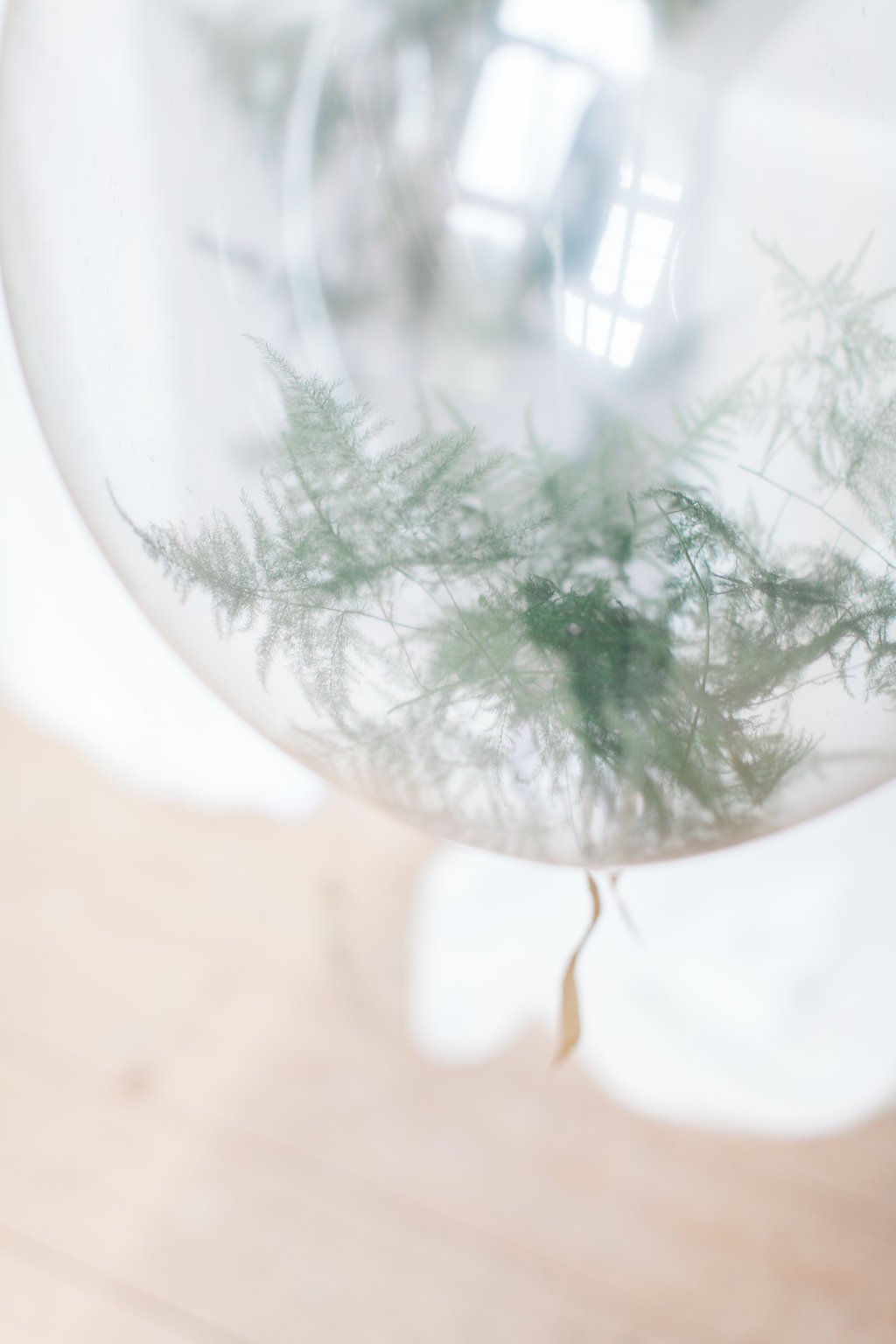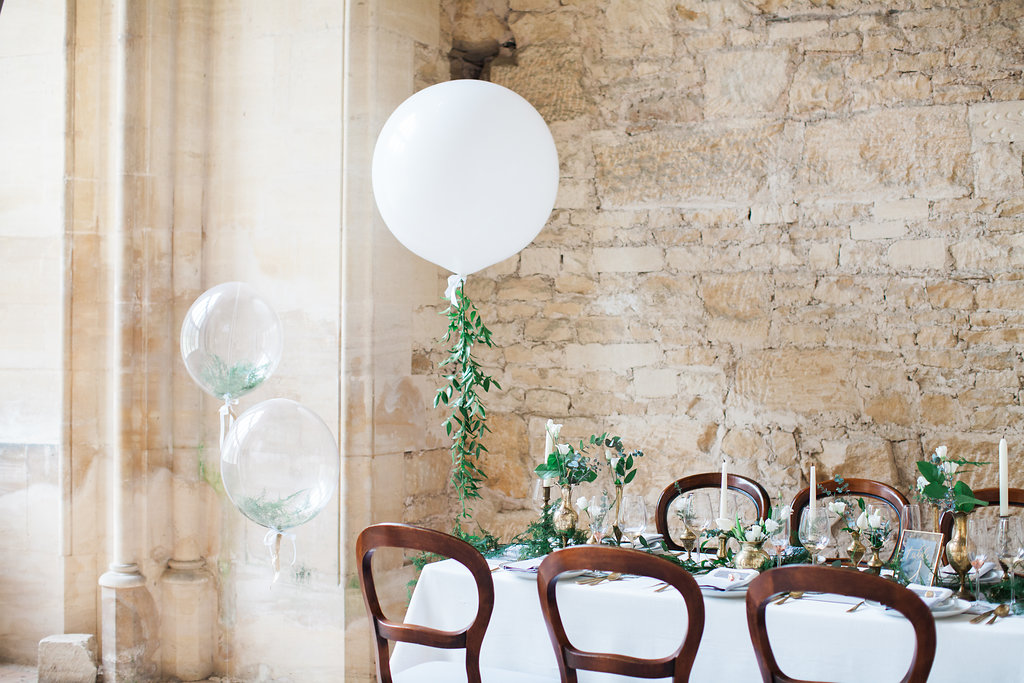 Cake- The Cheltenham Cakery
"Shying away from previous Art Deco styling of feathers, geometric motifs and the use of metallics meant designing & creating a softer looking cake with an Art Deco touch."
"Still wanting to create drama I added a double height middle tier, the soft grey made the cake contemporary and by using a watercolour technique to add texture and interest to the design. The bolder motif seen on many an Art Deco Cake was created using a lattice pattern in darker tone."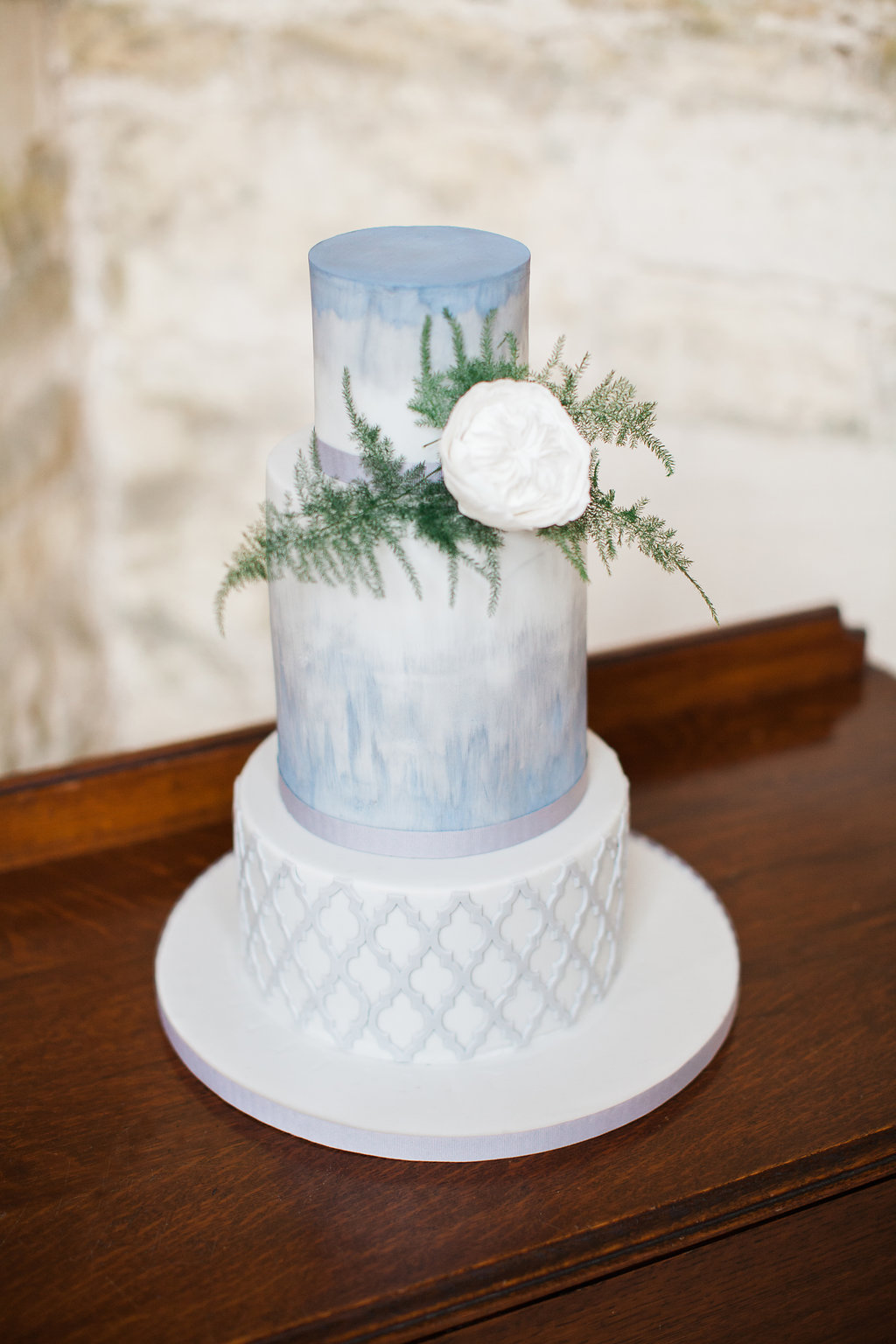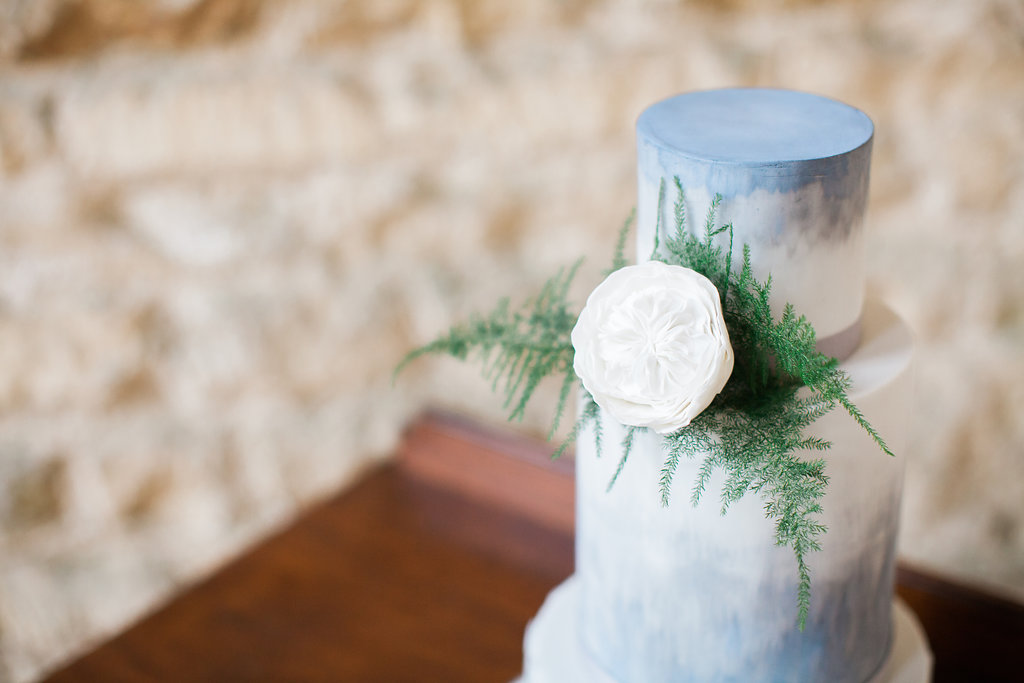 "The cake design was finished with a single white sugar David Austin rose and fresh feathered fern greenery was provided by Flower Style Co to soften the look and tie it in with the rest of the cake design."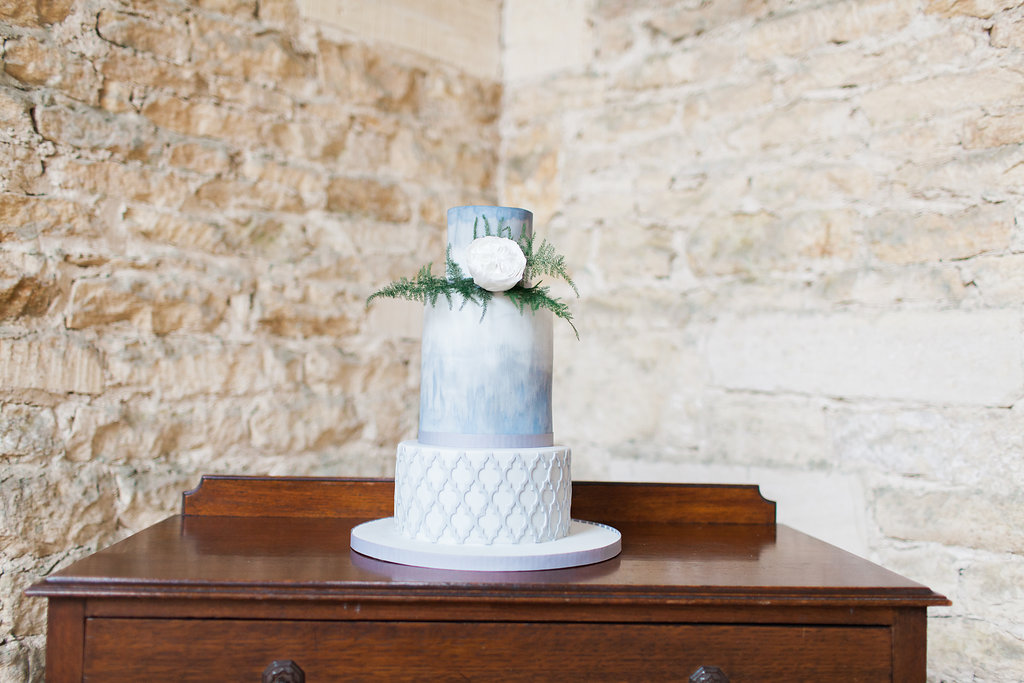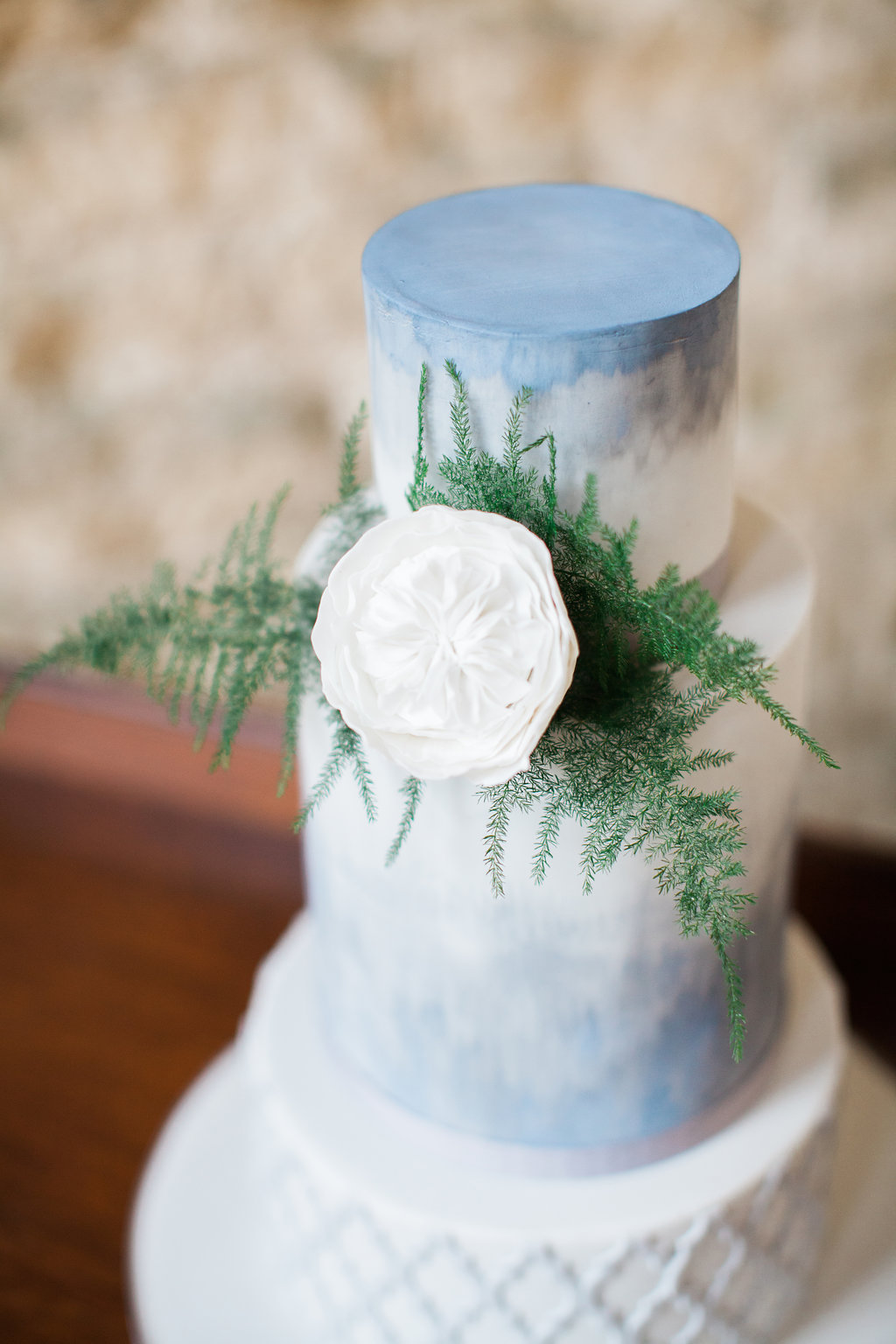 Hair Accessories- Gemma Sangwine
When Hollie mentioned she was putting together an Art Deco inspired shoot I was so excited to be involved as the 1920's is my favourite era. I use a lot of vintage materials in my work, and am always inspired by fashion from the past so this was the perfect shoot for me. We were instantly bouncing ideas around, and soon settled on taking the traditional flapper style diamante headdress but bringing it up to date for a 21st century bride. I use a lot of feathers in my work, they bring a softness and natural element, so I played around with dipping and painting the tips of the feathers with metallic paint for a contemporary touch."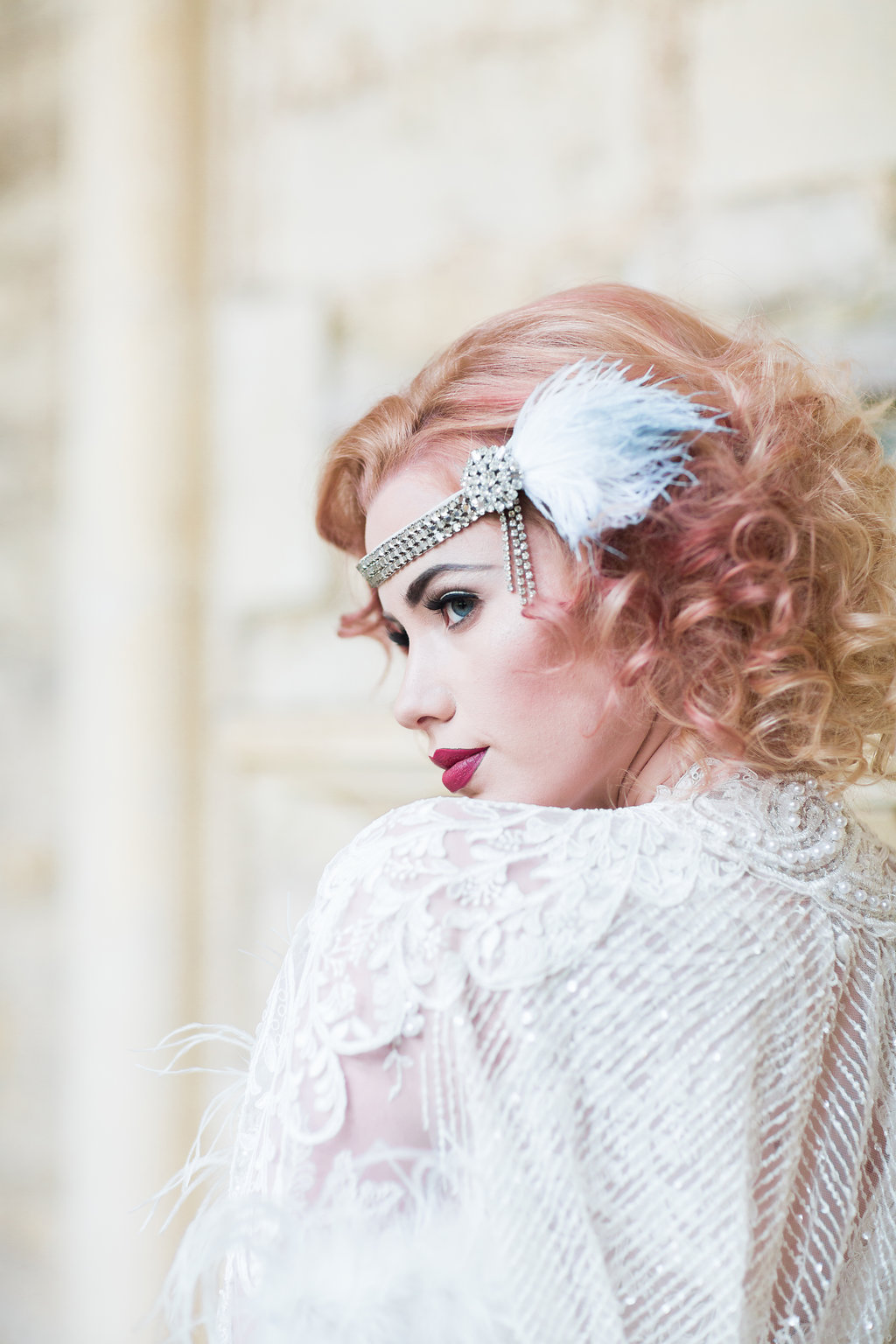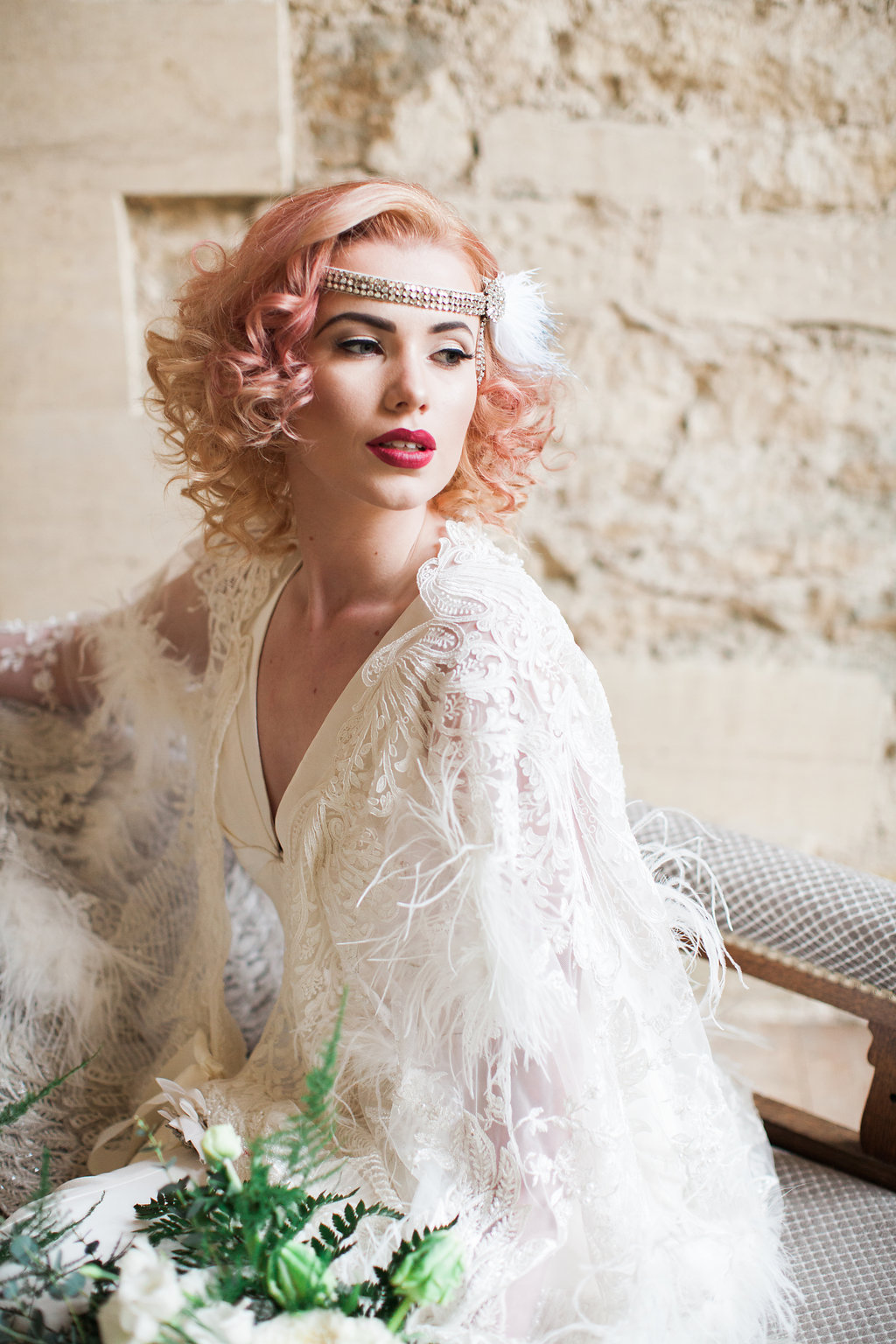 "The finished asymmetric piece is made with a strip of vintage diamante, which has a lovely, soft sparkle to it, stitched onto velvet ribbon with a droplet of diamante layered on top to one side and a plume of silver tipped ivory ostrich feathers."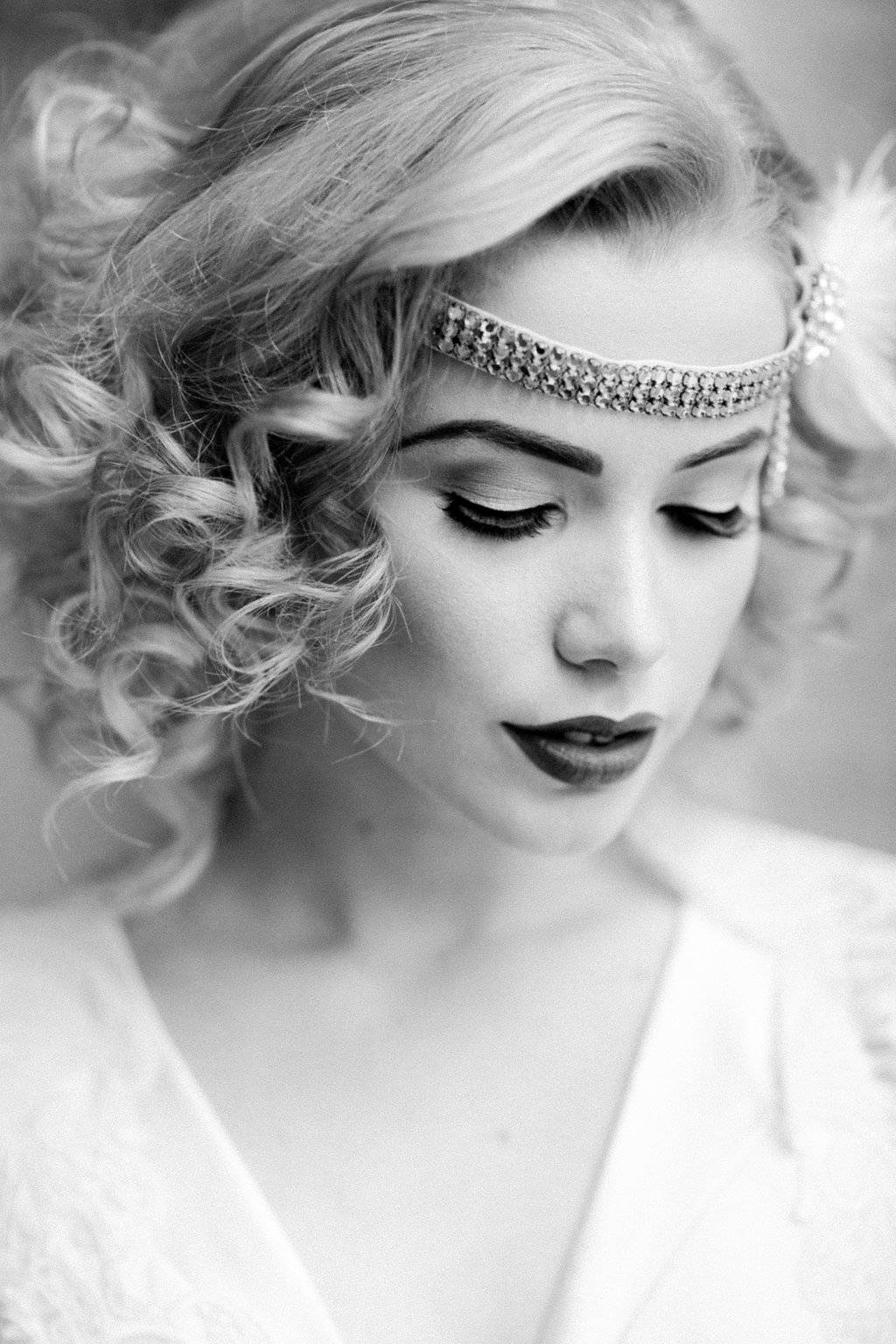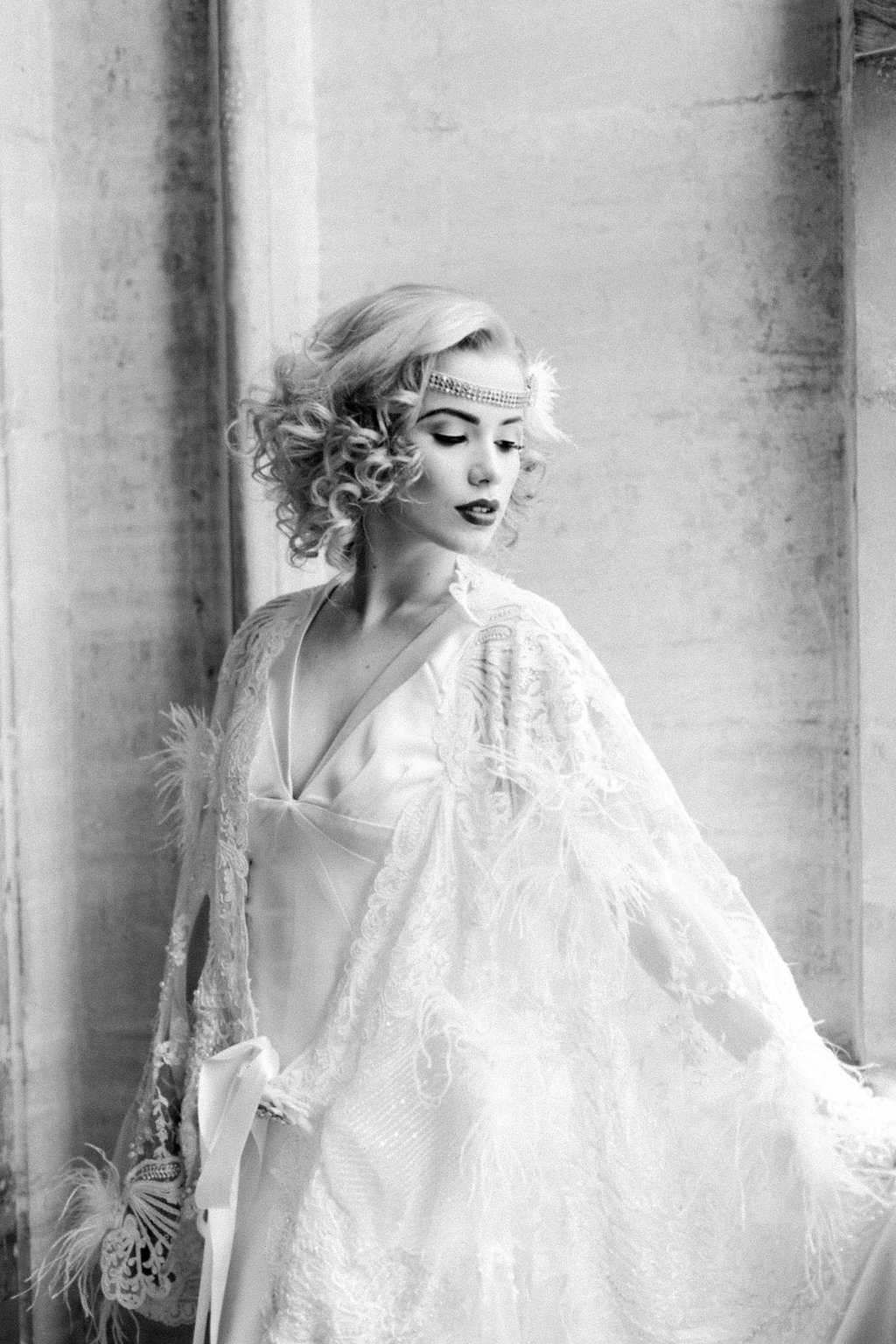 I didn't want to just settle on one hair accessory so we also discussed having a hair vine and a veil to bring to the shoot too, to show how more modern pieces could work within an Art Deco style. The hair vine is made with vintage embellishments on silver wire, and is long enough to be worn in different ways, we placed it around the front of the head to frame the face but it could equally be worn around the back or worked into a soft plait. The bandeau veil has original 1920's diamante dress clips reworked as hair clips on either side of the veil, it's such a simple shape, perfect for adding a bridal touch without too much fussiness.
Hairstyling- Honeystone Hair by Annie Russell
"The brief to style Sophie's long and straight hair, meant I was to construct curls and make it appear dramatically shorter. I pinned it up at the back and created all that texture with the wand, creating a shape that complemented her beautiful high cheek bones, and once I had finished with a shimmering mist, no one would guess her hair was long!"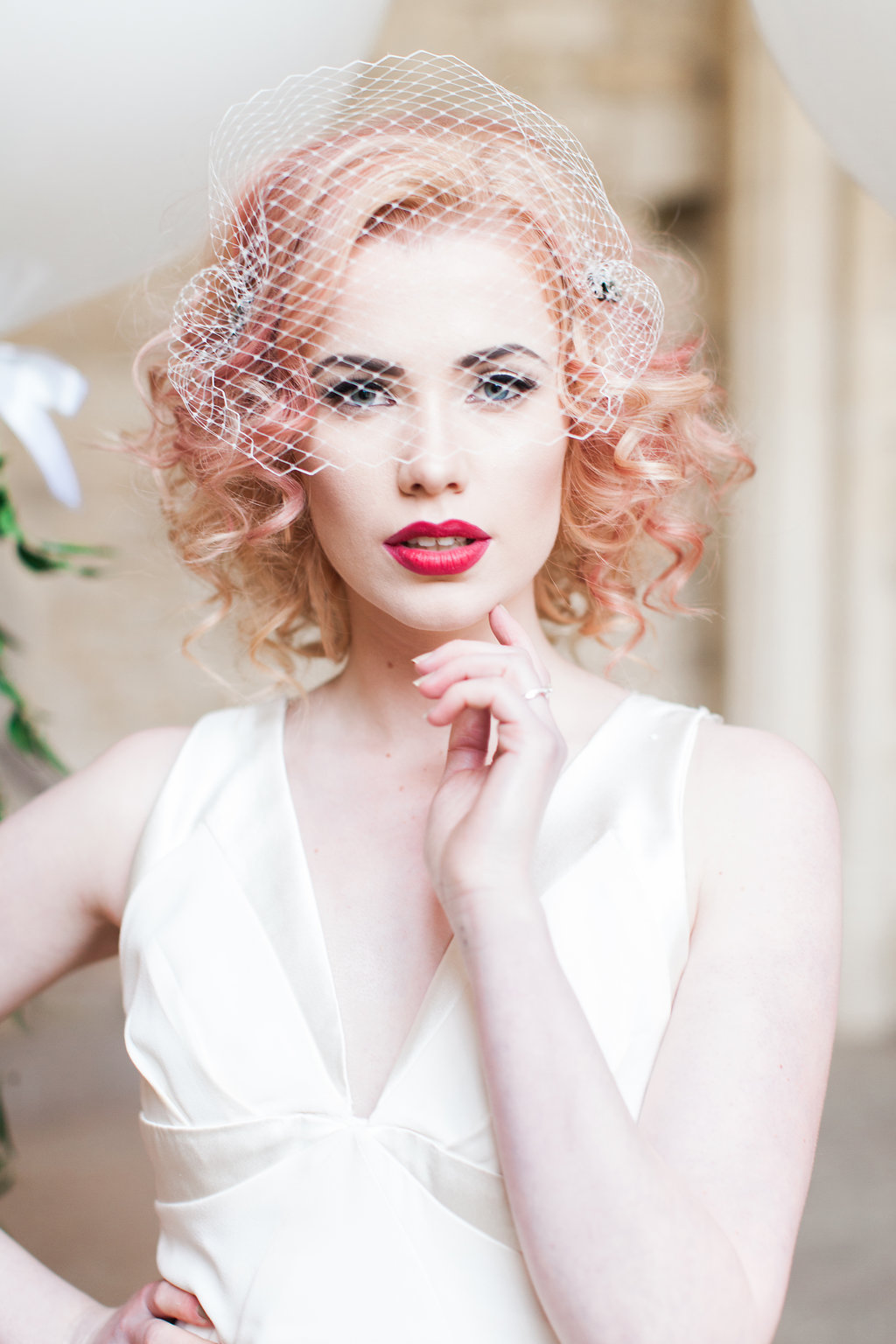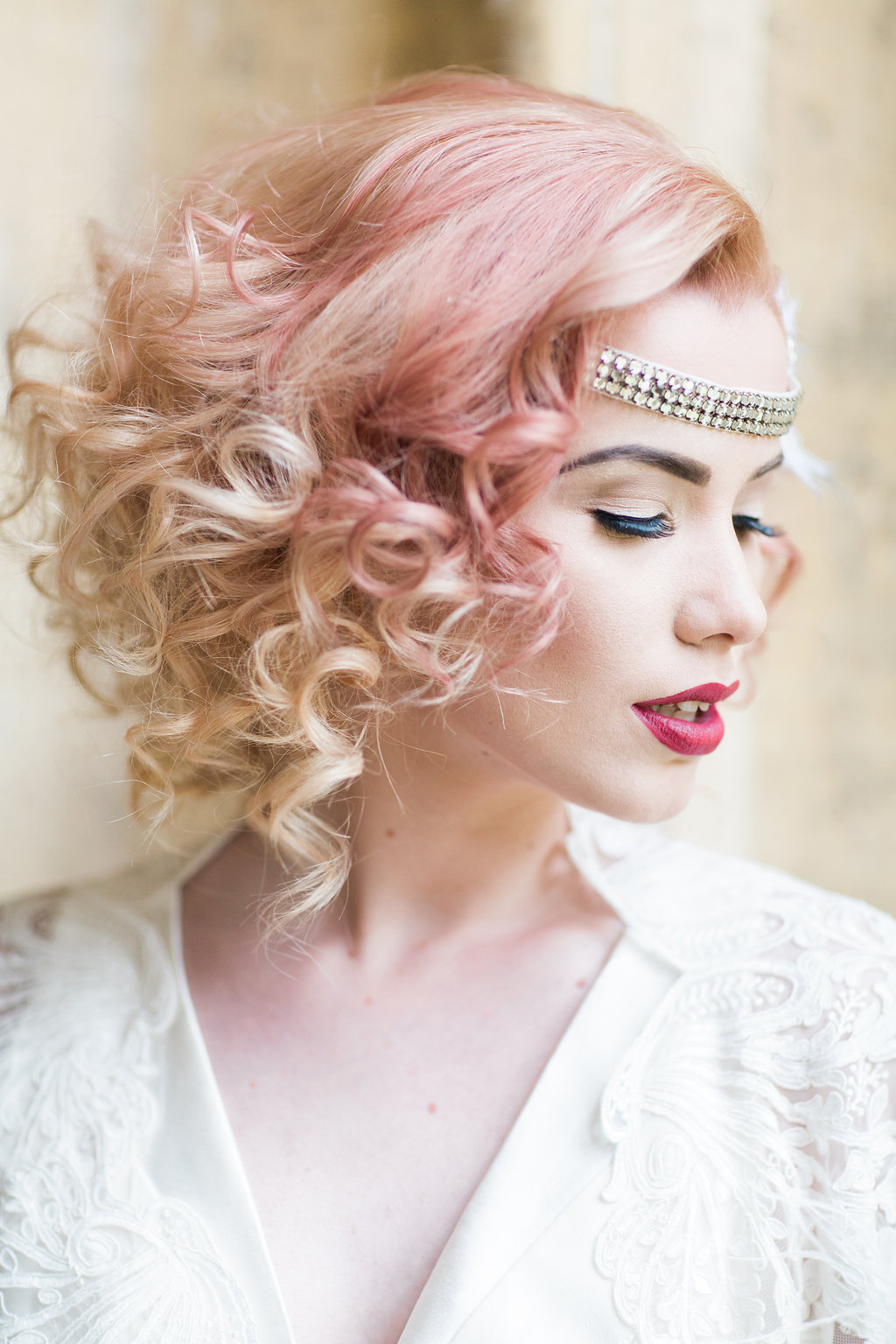 Make up- Charlotte Tillyer
"The make up style was classically inspired by the 1920s. A strong lip as our focal point with defined eyes and brows. To keep the look fresh, modern and bridal I kept the colour pallet for the eyes neutral to add definition without the look becoming like costume."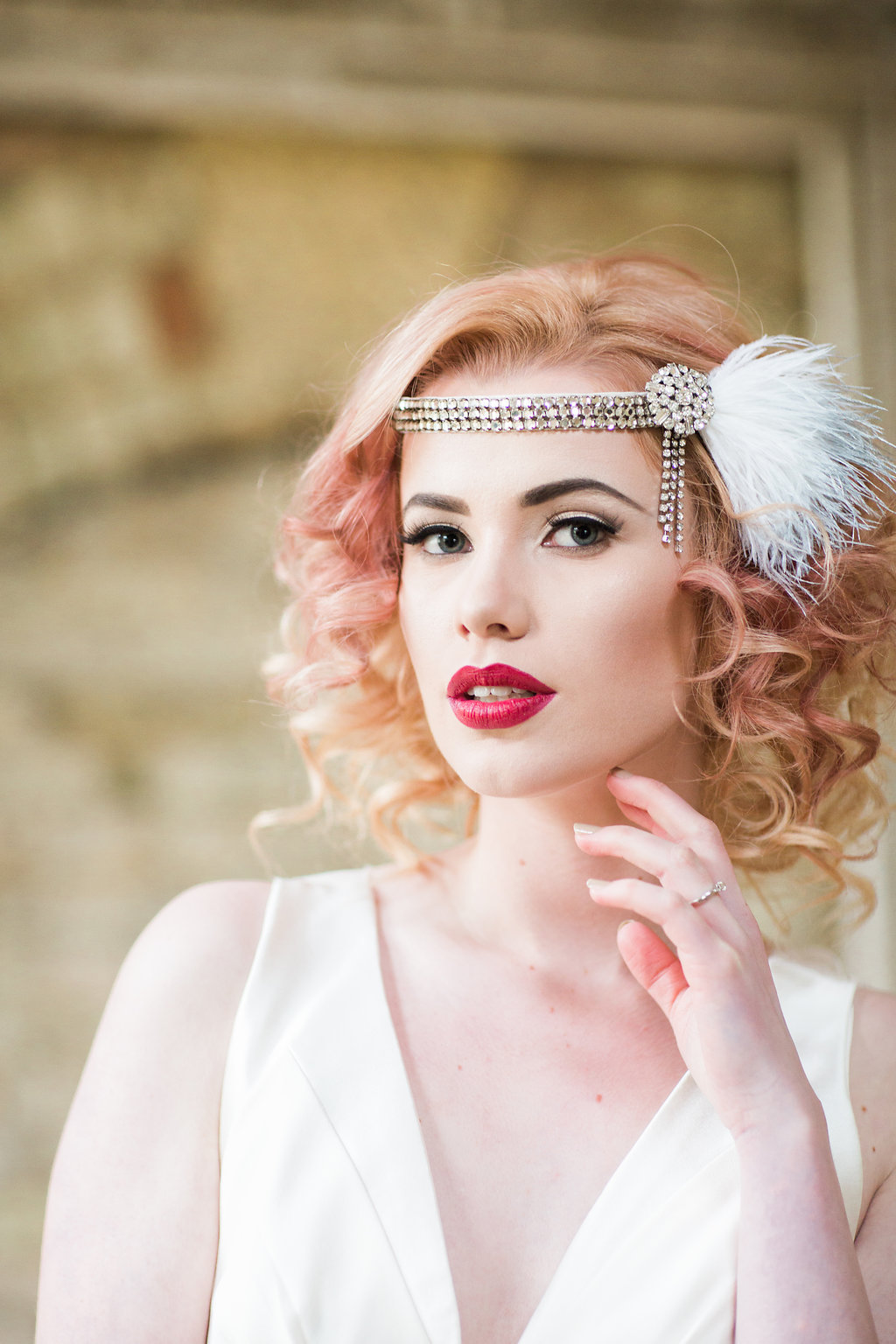 Photography
"Samantha and Thomas from Bowtie and Belle photographed the day exquisitely using their light and airy style, adding a Fine Art contemporary quality to the shoot. The styling was designed in discussion with Bowtie and Belle to ensure the beautiful natural light from the large windows was utilised fully. The romantic quality in their work echoes throughout the whole shoot from every detail to the beautiful couple shots."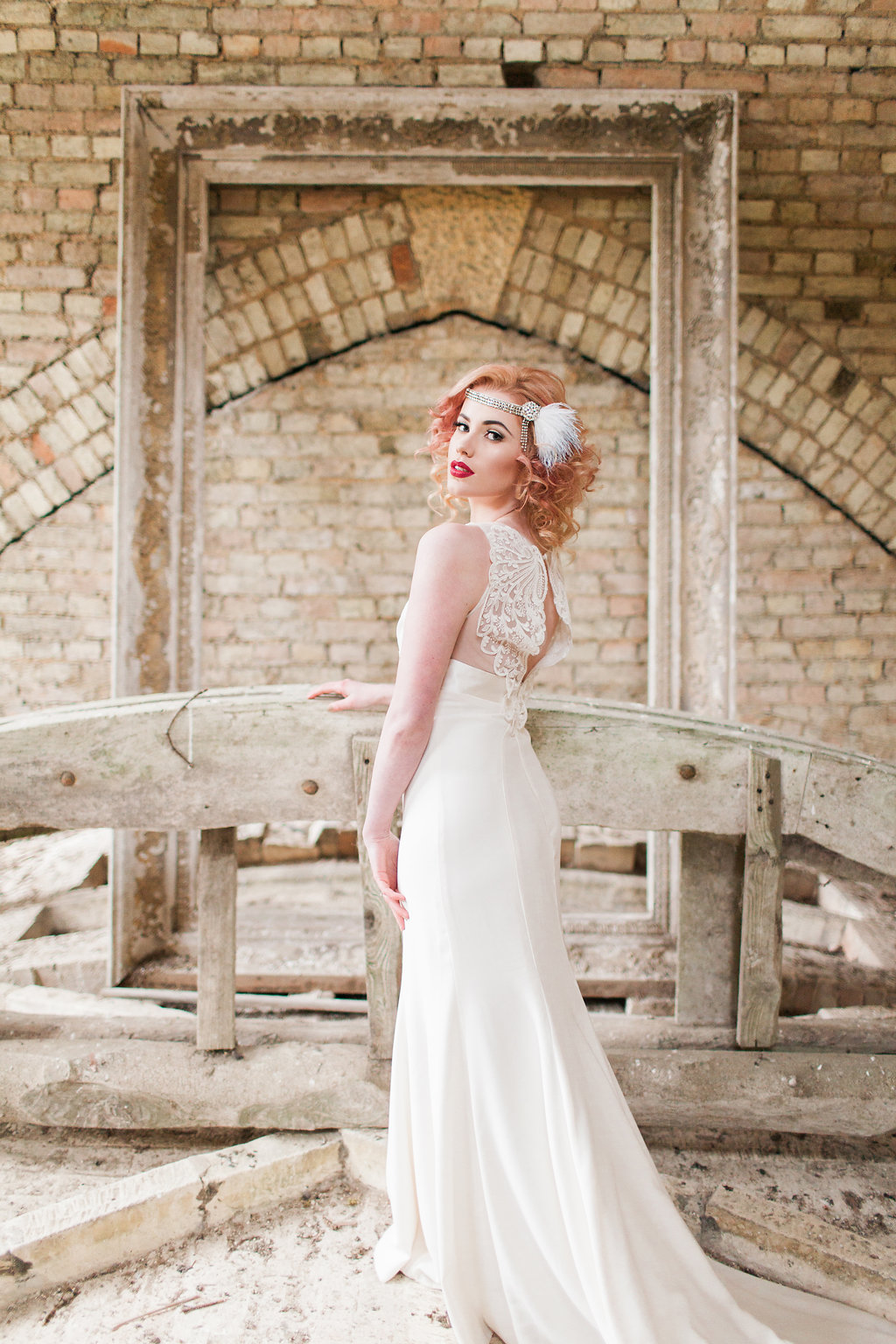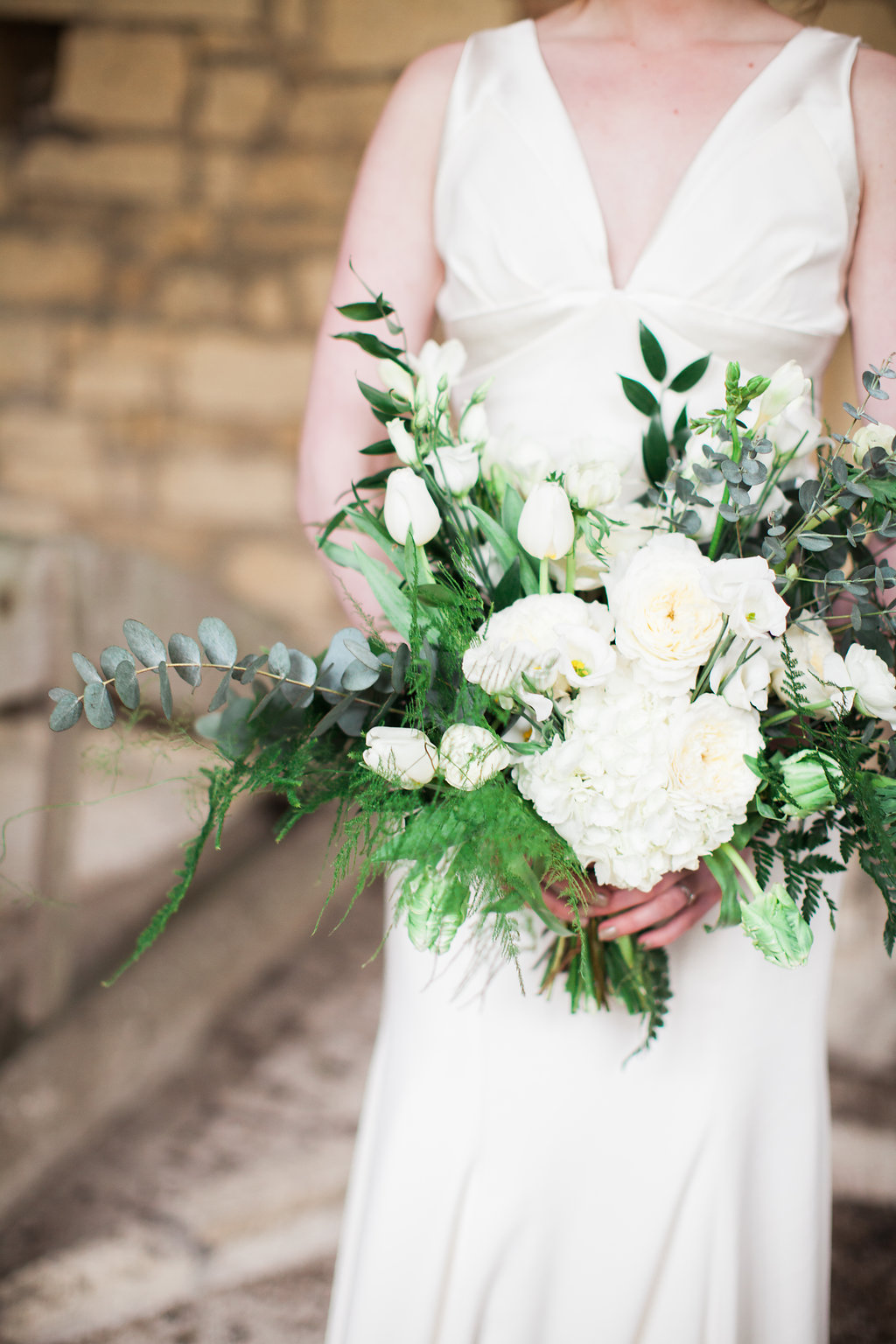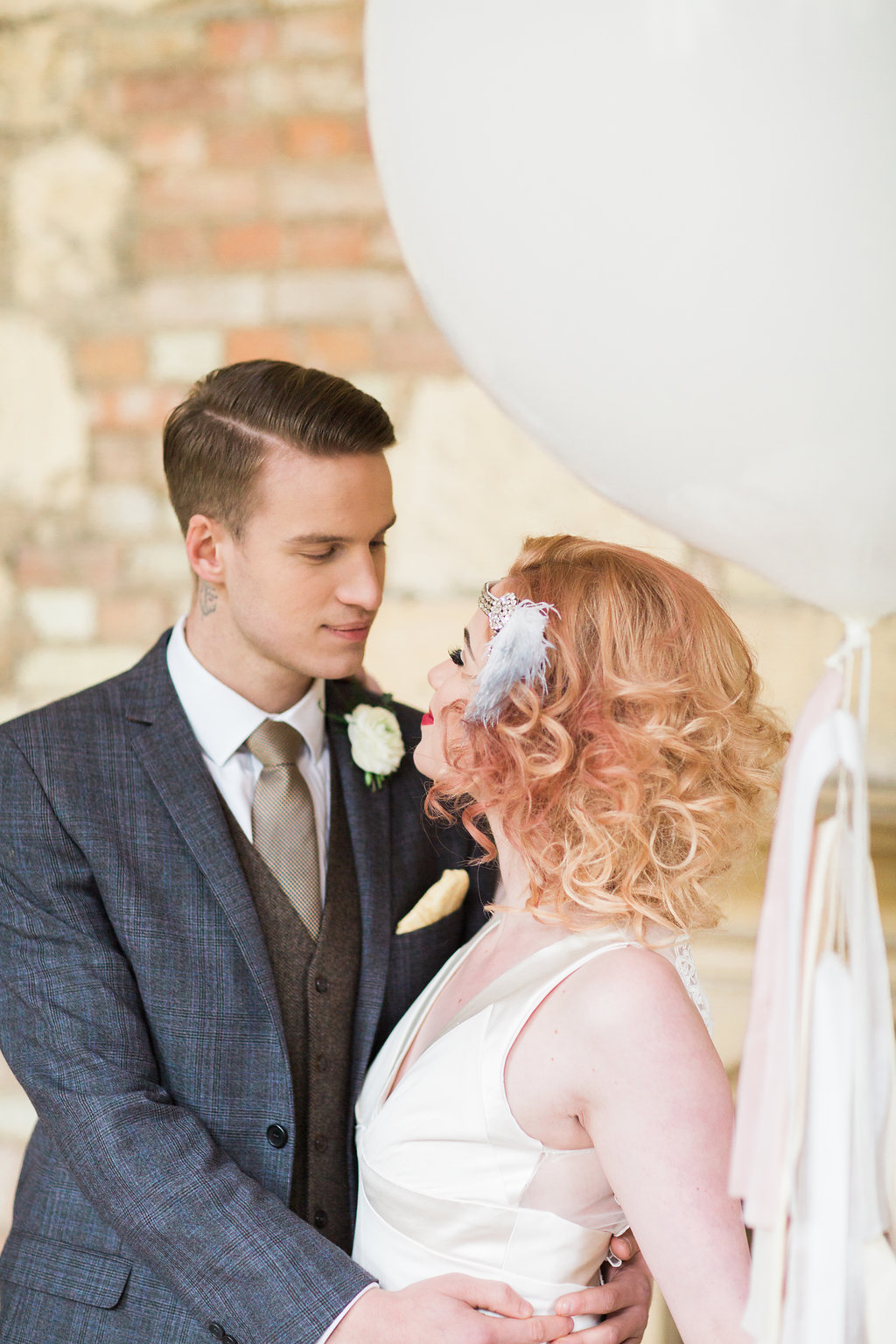 The Dress
Our 'bride' Sophie Organ exuded glamour in her bespoke full length fitted crepe and silk satin gown with Angel wing back detail designed and created by Lisa Keating. The deep plunge 'V' neckline added a contemporary feel whilst the full graduated train with bustle loop detail suggested opulence. The simplicity of the gown's silhouette contrasted with the detail and indulgence of the decadent beaded ivory tulle cape. Ostrich feather trim, scalloped edge, embroidered detail and peacock feathers enhanced a playful quality. The back finished with linear bugle bead detail, reflecting the 1920's era with pearl focus detail to accentuate the waist. The silhouettes that Sophie created with the cape were dramatic and striking, contrasting the transparency and delicate qualities of the cape which Bowtie and Belle captured beautifully."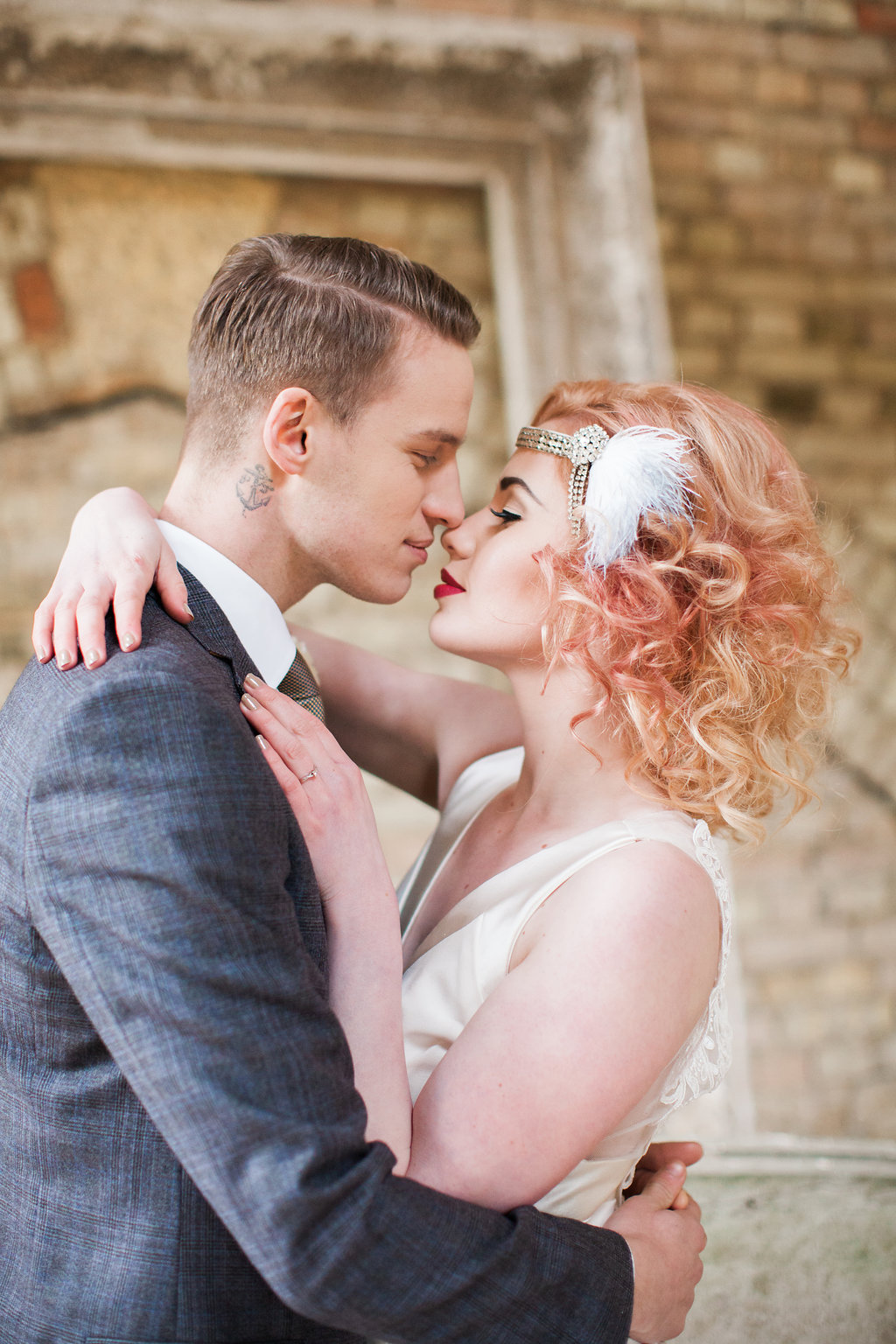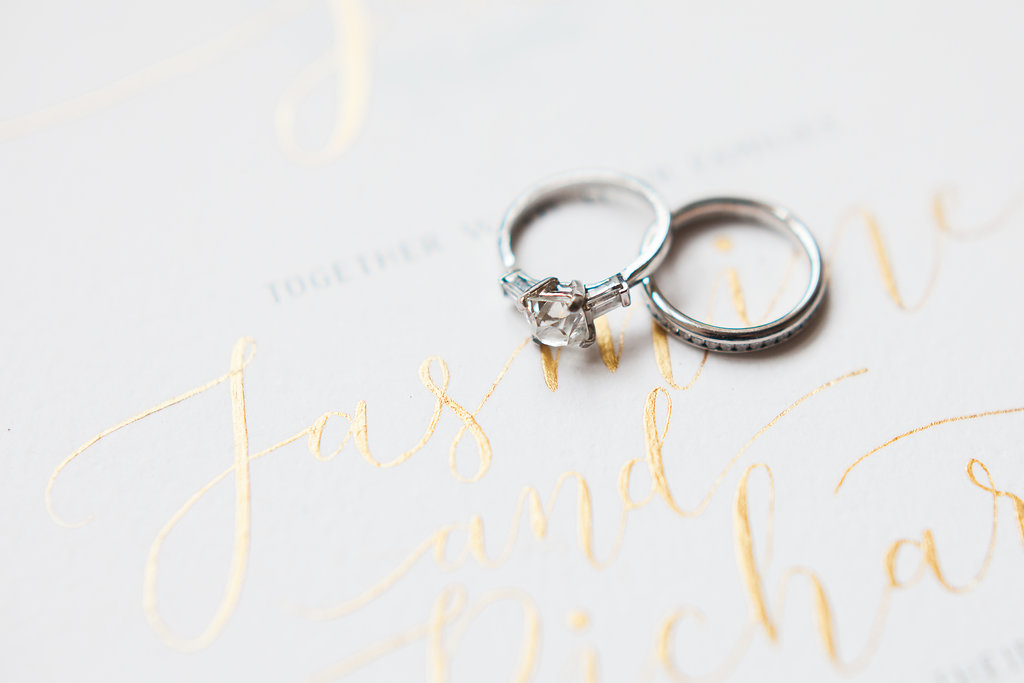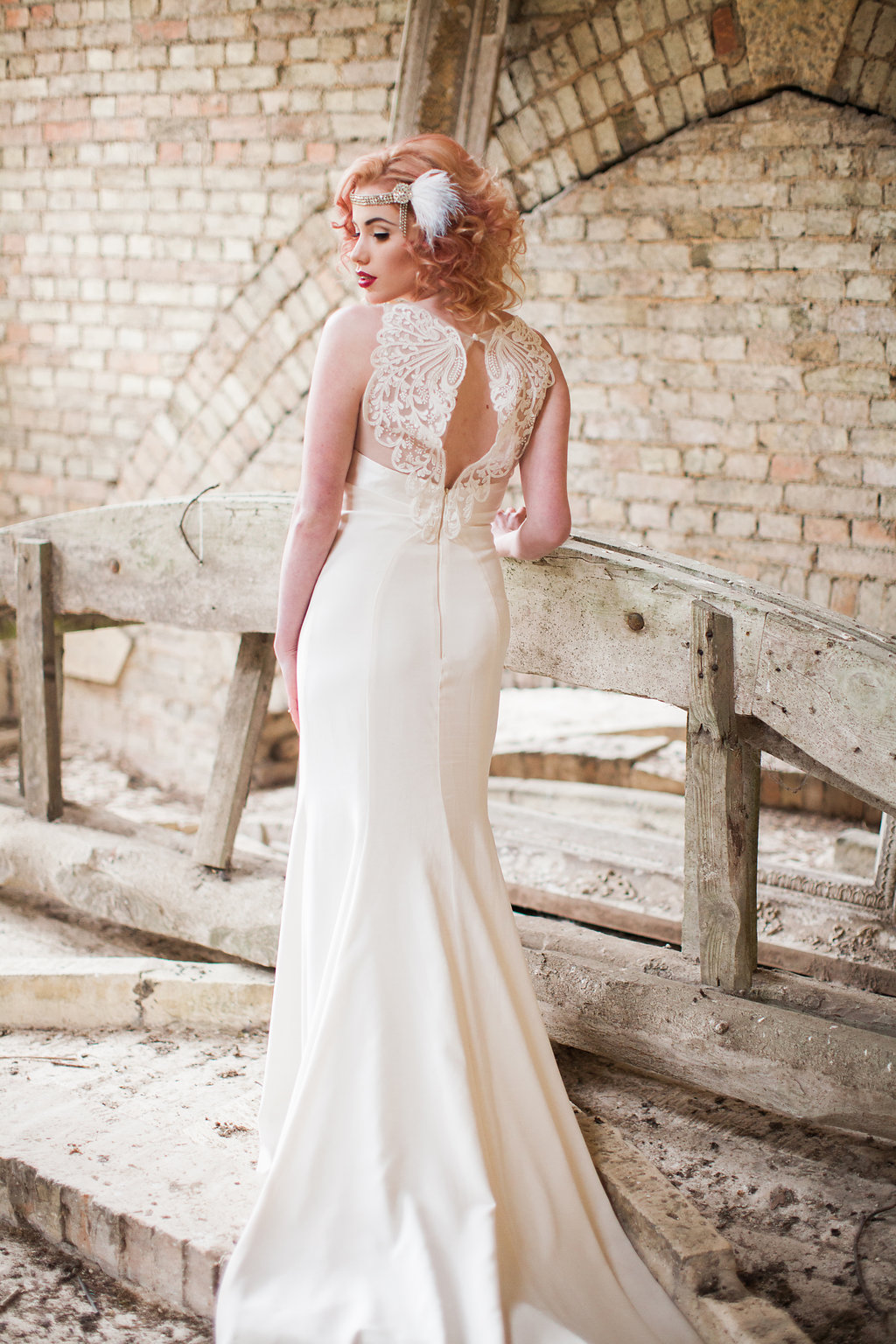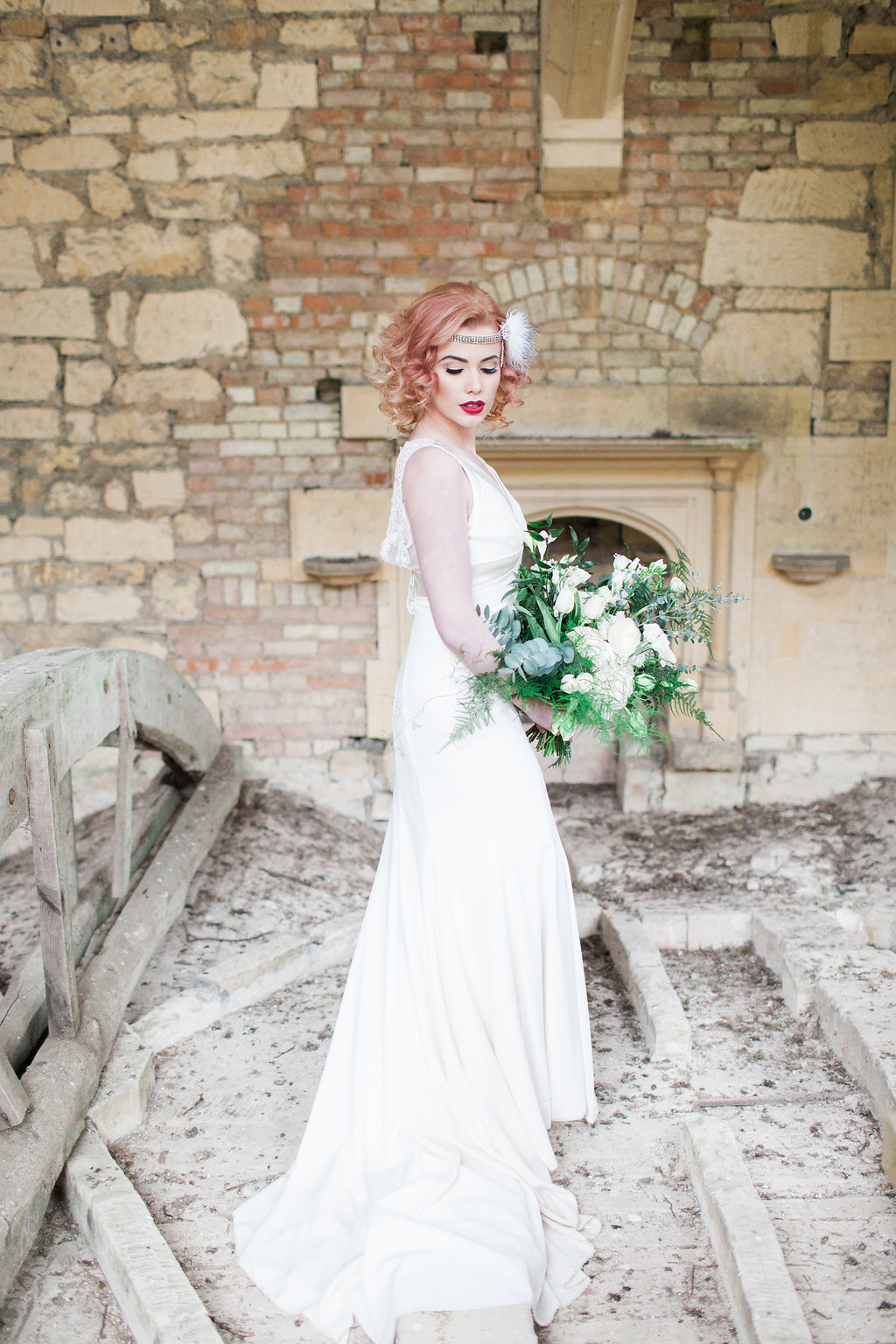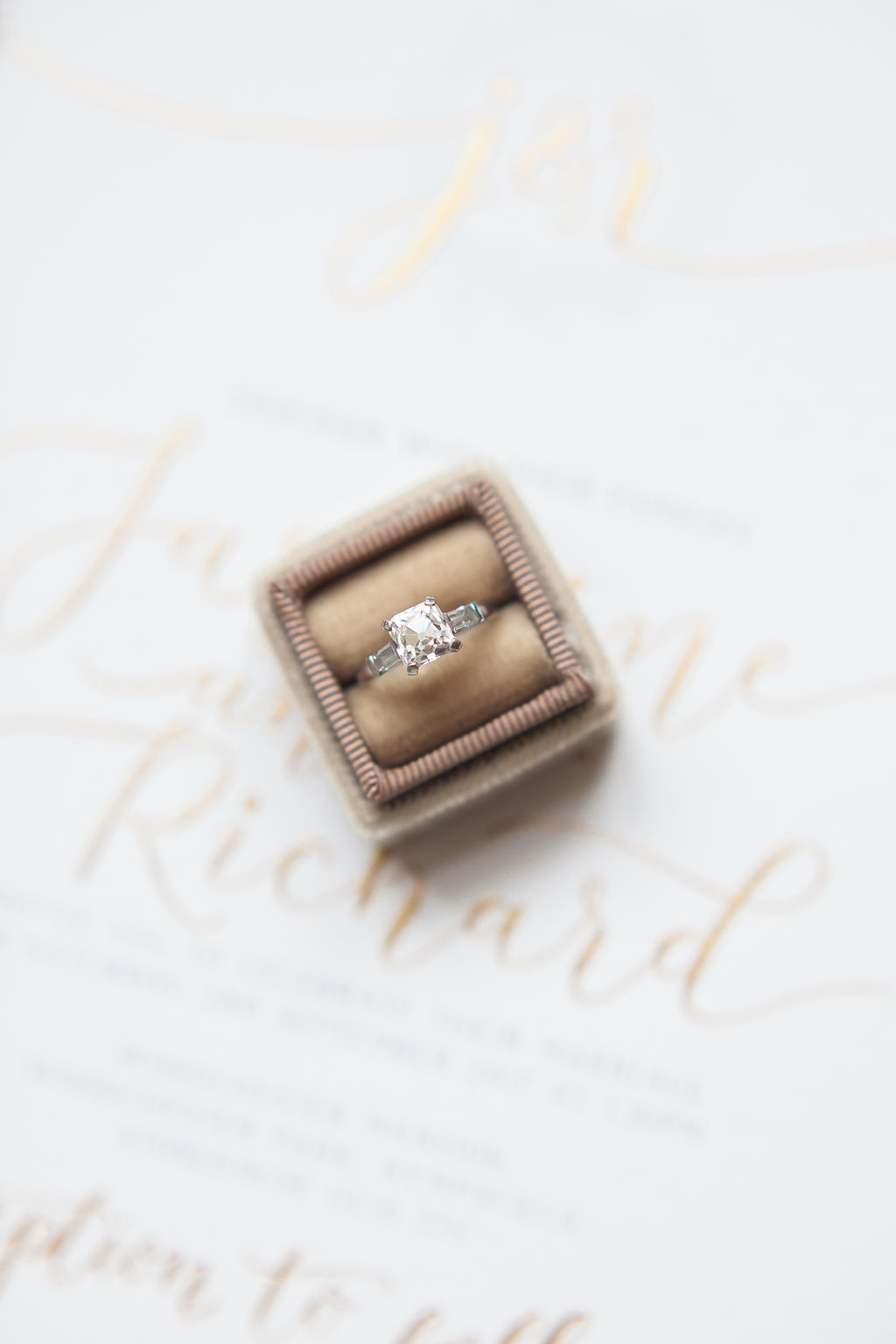 Jewellery
"Sarie Joynes Bespoke Jewellery created a bespoke platinum Art Deco diamond ring weighing 2.20cts with a platinum, channel set brilliant cut diamond wedding ring. An Akoya pearl bracelet with 18ct white gold and diamond beads completed the look."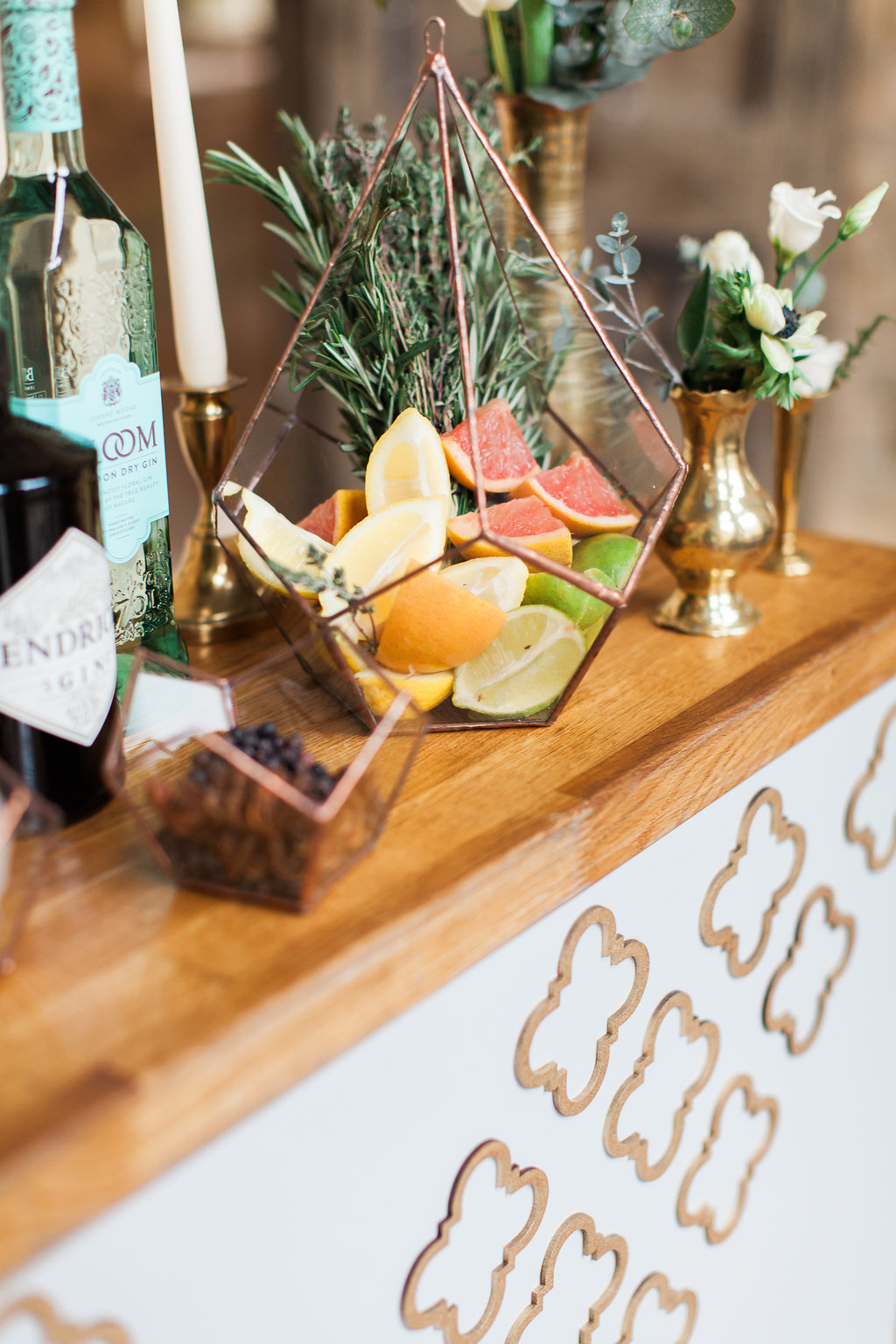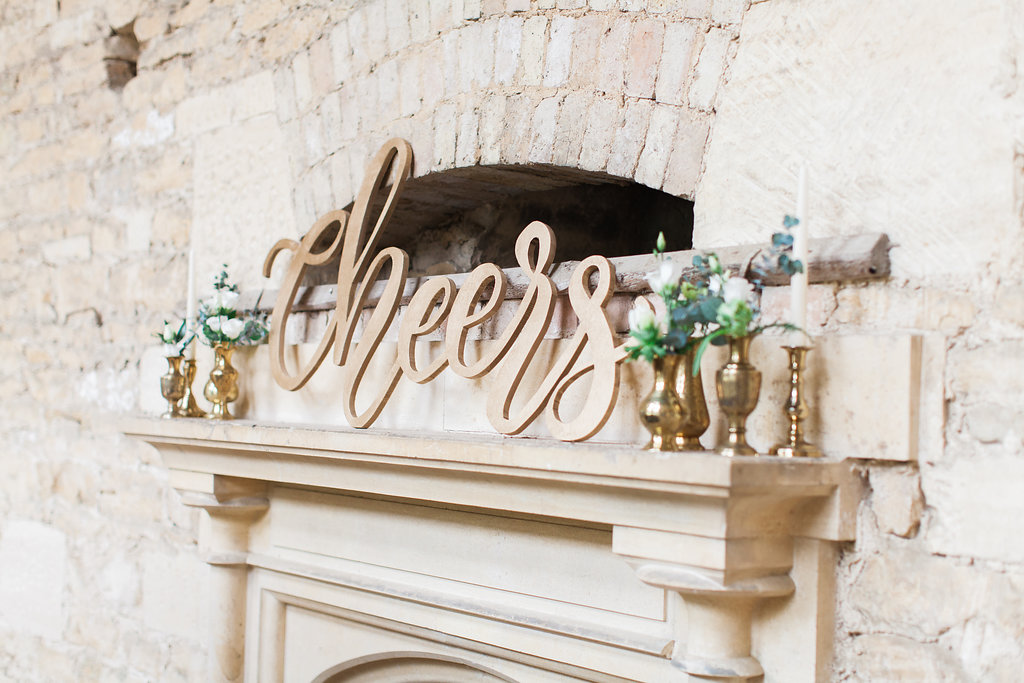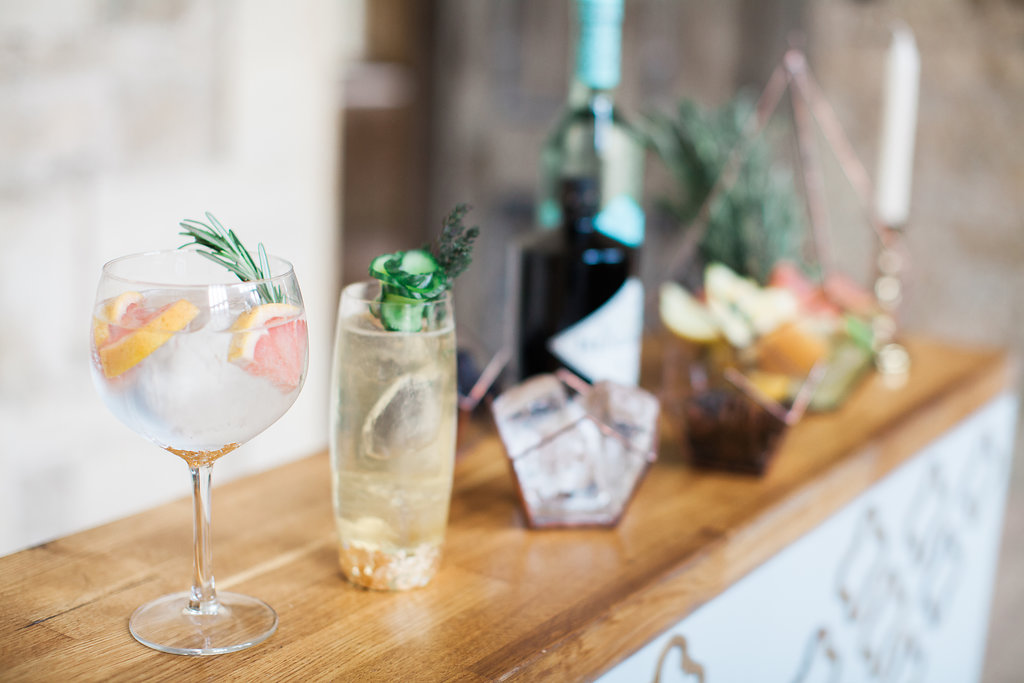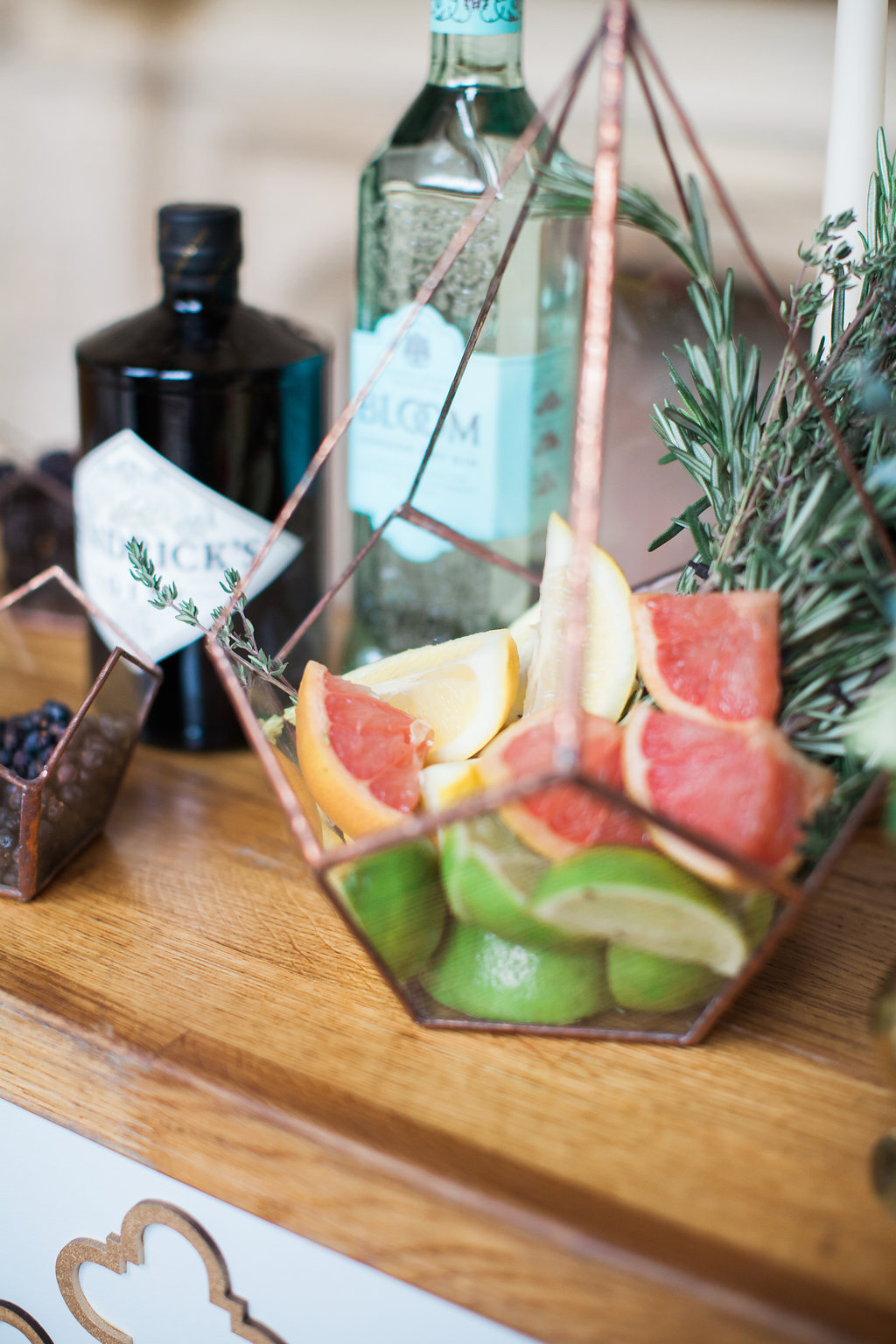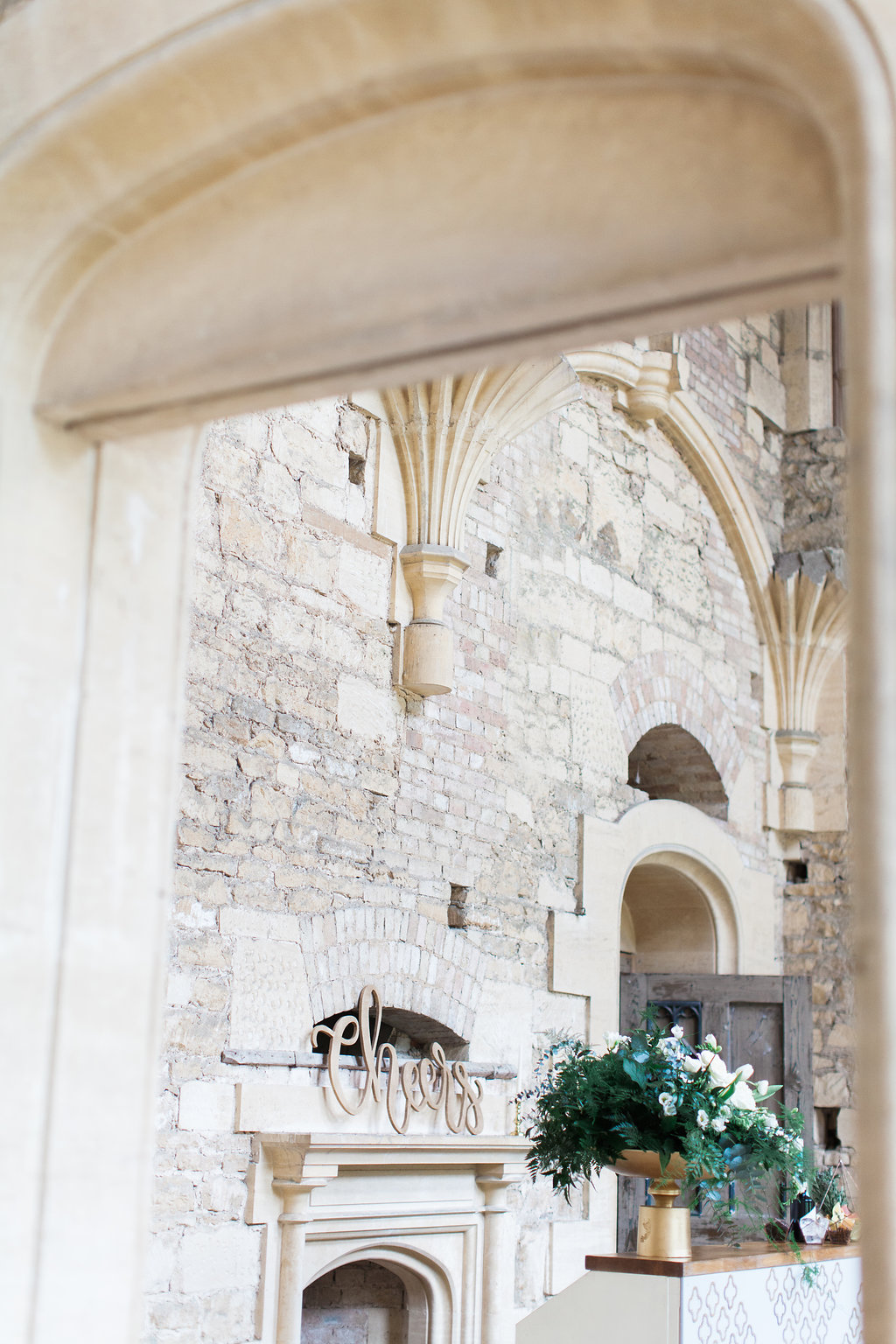 "Speakeasy Bar Hire was styled using a grey panel decorated in bespoke gold laser cut shapes reminiscent of the Art Deco era. A playful 'cheers' sign written by Emerald Paper Design and created by Daisy Says I Do was placed behind the bar. Sam from Speakeasy Bar Hire created a refreshing gin and tonic in a gold leafed glass garnished with grapefruit and rosemary along with a delicious gin cocktail called English Garden in a tall glass decorated with a cucumber rose and a sprig of thyme."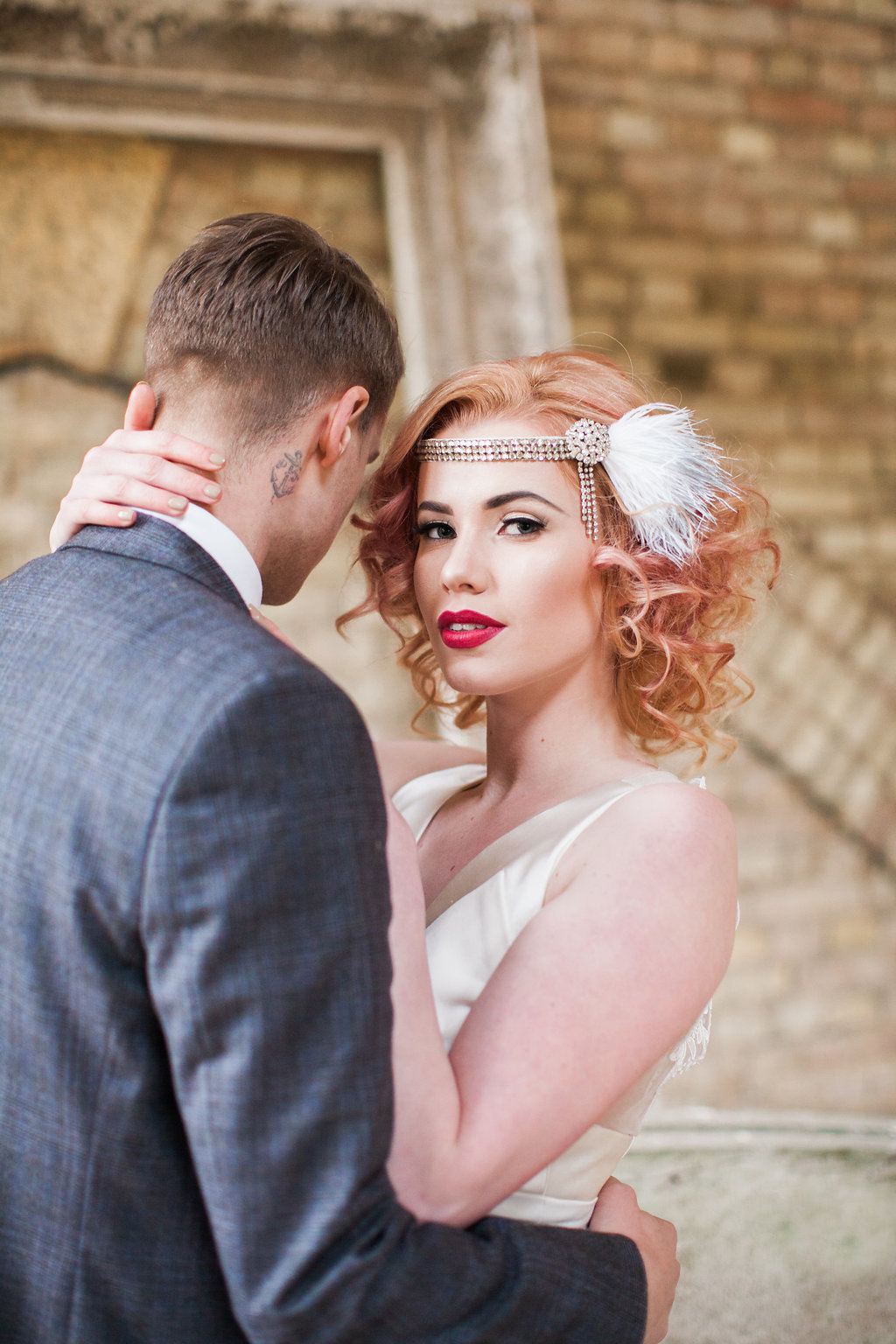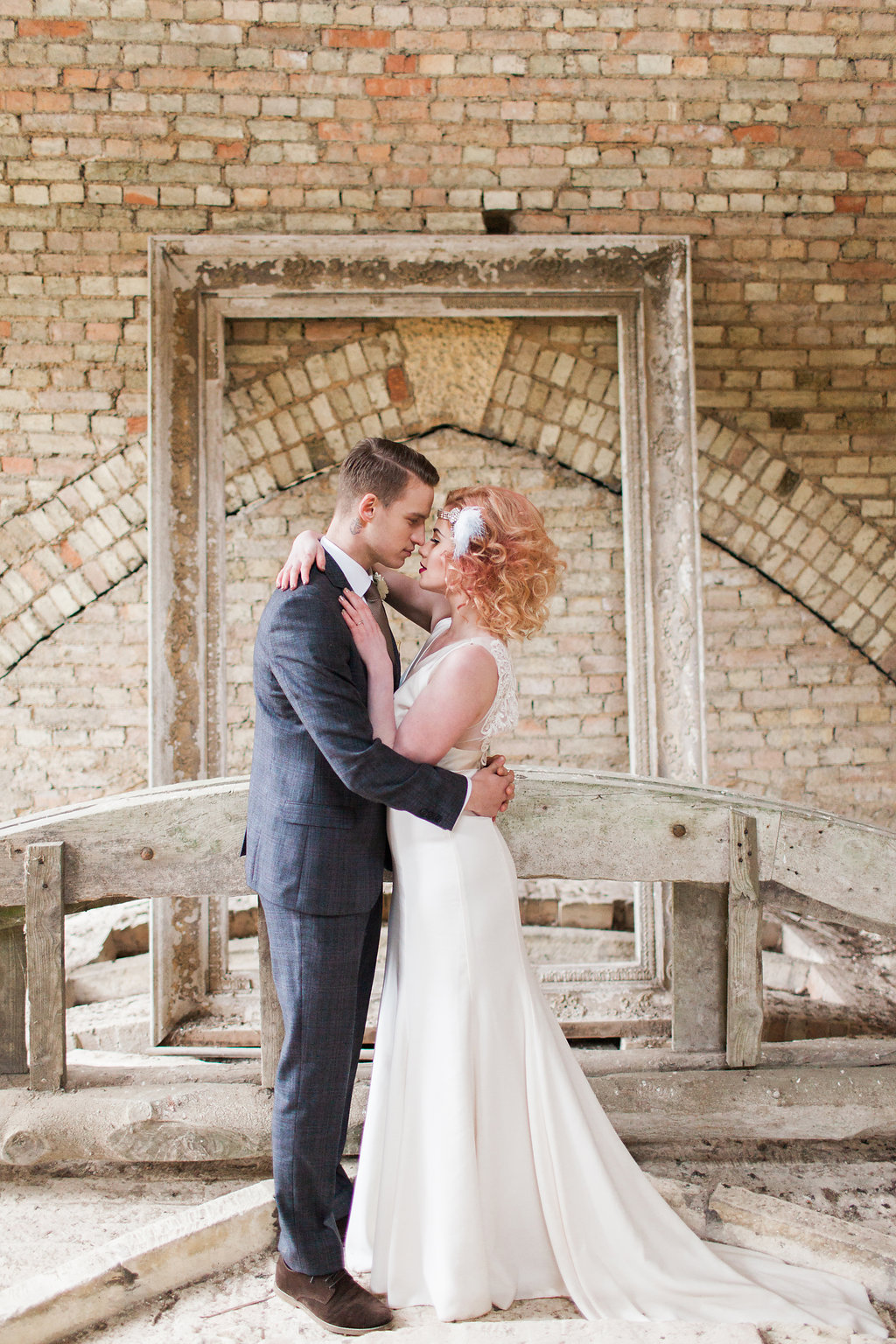 The Team:
Planning and Styling – Hollie Freeland @holliefreelandstyling
Photography – Bowtie and Belle Photography @bowtieandbellephotography
Props – Hollie Freeland – Daisy Says I Do @DaisySaysIDo
Stationery- Emerald Paper Design @EmeraldPaperDesign
Flowers- Flower Style Company @flowerstyleco
Balloons – The Giant Balloon Company @The Giant Balloon Company @GiantBalloonCo
Cutlery – The Cutlery Commission @thecutlerycommision
Cake – The Cheltenham Cakery @cheltenhamcakery
Dress – Lisa Keating Bespoke Bridalwear and Corsets @lkbespokebride
Shoes – Charlotte Mills @ charlottemillsshoes
Makeup –Charlotte Tillyer Hair & Make up @charlottetillyerhmua
Jewellery – Sarie Joynes Bespoke Jewellery @sariejoynes
Hair Accessory – Gemma Sangwine Millinery & Headwear @gemmasangwine
Bridal Hair – Honeystone Hair by Annie Russell @honeystonehair
Bar – Speakeasy Bar Hire
Venue – Woodchester Mansion @woodchester_mansion
Female Model – Sophie Organ @SophielouiseO_
Male Model – Liam Dunn @liamjamesdunn
FOR MORE 1920S IDEAS HAVE A LOOK AT THESE BLOGS:
A 1920s Gatsby Art Deco Inspired Wedding
A 1920s Wedding With Blue Touches