Planning an eco-wedding is like planning a normal wedding but with an eco-conscious heart in mind, and we're here to help make it easier for you! We are passionate about all things eco, things that reduce our carbon footprint and things that are all-around kinder on the planet. We are proud to support couples and wedding businesses alike. From helping couples with planning and inspiration for their wedding day to connecting them with eco-conscious suppliers who can make their vision a reality. For suppliers, we support them by connecting them with couples like you! The Magpie ECO Wedding Planner has been created with all those things in mind and we're here to tell you why you need it for your wedding planning journey.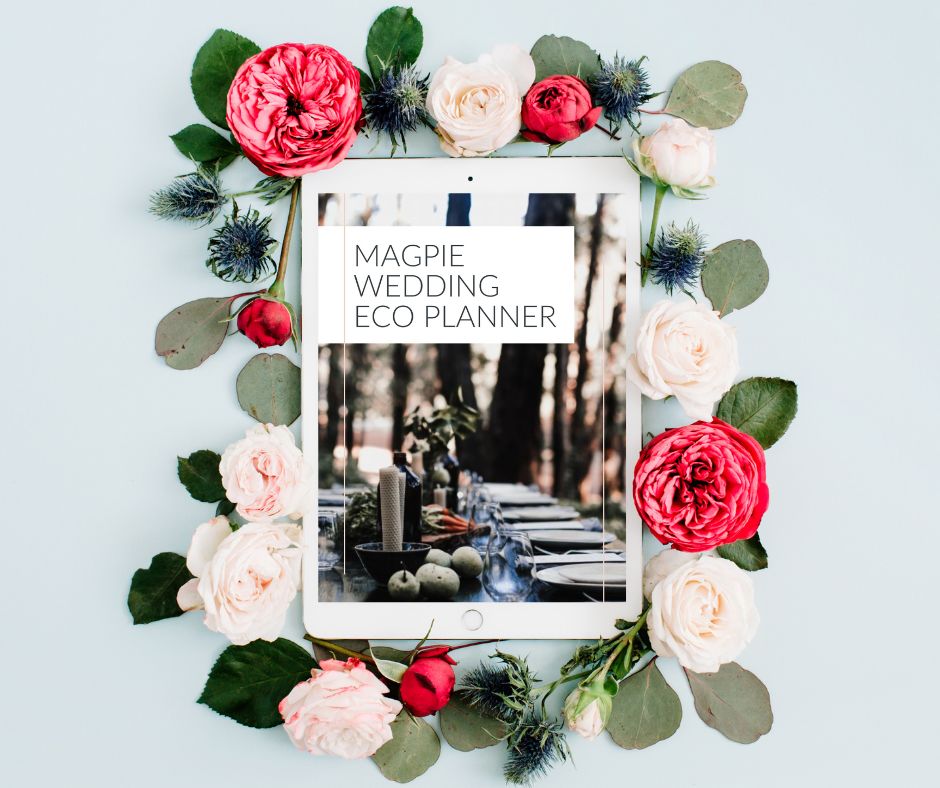 It's Clear and Easy To Use
No flicking of pages to find the right thing, no losing loose bits of paper with notes on them. The ECO Wedding Planner reduces paper too it's a digital downloadable PDF – which you can write on if you have an Apple pen or the like. You'll have everything in one place and can add it into a handy digital wedding file where you can keep all the important documents you need for your wedding day. With handy checklists and timelines, it's super clear and super easy to use. You can also access it wherever you go!
It Will Keep You On Track For The Milestones
Whilst everyone plans their wedding differently there are definitely some things you should do first and some milestones that you should be aiming for at the right times. For example, the first thing you need to do is find an eco-conscious venue. This is the main starting point for your wedding planning journey. The photographer generally tends to come next, good photographers get booked up quickly so it's essential to start with these things. The ECO Wedding Planner comes complete with a detailed timeline and checklist to keep you on track.
It Will Help You Find Suppliers With Ease
Finding the right suppliers can sometimes be like finding a needle in a haystack, especially when you need them to have eco-credentials and the planet at the core of what they do. In the ECO Wedding Planner, there are hundreds of questions to ask including eco-specific questions so that you can narrow down your suppliers more quickly and with ease. Plus there are handy tick boxes too so you'll know if you asked them! We want to connect ethical and eco suppliers with couples who care. We have added eco and ethical questions to ask in every section for every type of supplier, from photographers to florists.
You Can Share The Responsibilities Easier
It's digital which means you can forward pages with ease when you're sharing planning responsibilities! Especially when you are finding your suppliers or a shortlist of them. You can also share things with your wedding party too especially all the key information they may need to know
It Will Help You Have An ECO Wedding
Finally and the most important thing it will help you to get all the right suppliers for you on board to create the vision you have or to bring you the creativity that you need to plan a wedding that the two of you will love.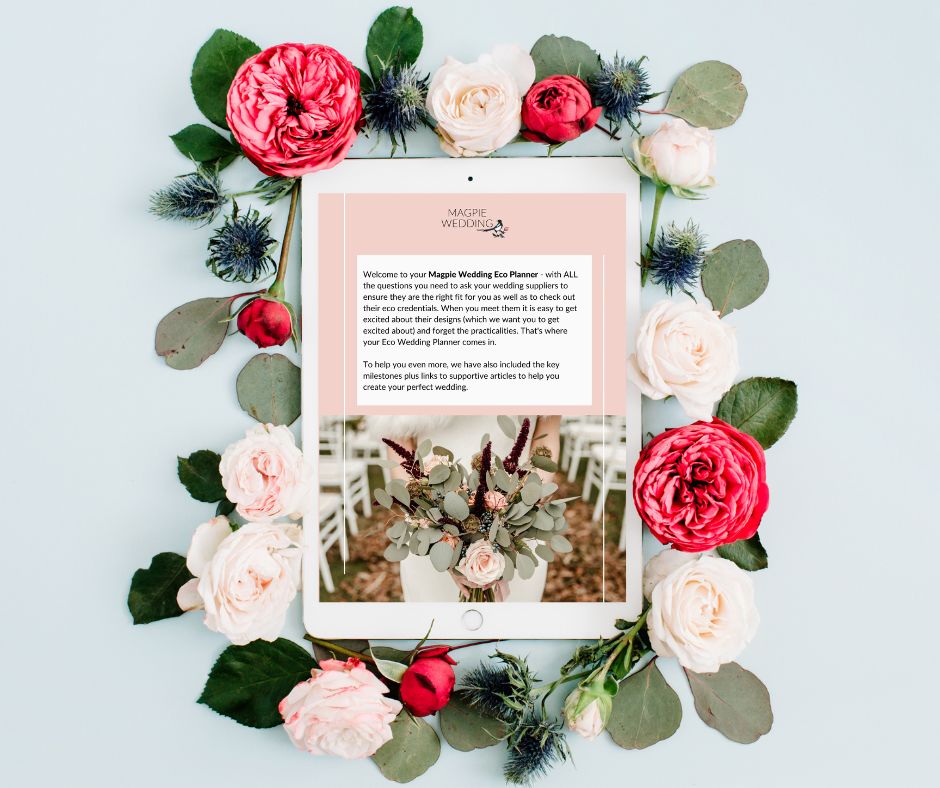 What It Includes…
🖤 A monthly wedding To Do list
🖤 A pre and post-wedding checklist
🖤 Questions for venues, catering, photography, celebrants, dress/suits, accessories, stationery, flowers, video, entertainment, planners and stylists
🖤 Followed by eco questions to ask everyone too.
🖤 Useful clickable links for advice and tips
All in a digital planner across 47 pages. And we have an introductory price to celebrate our launch!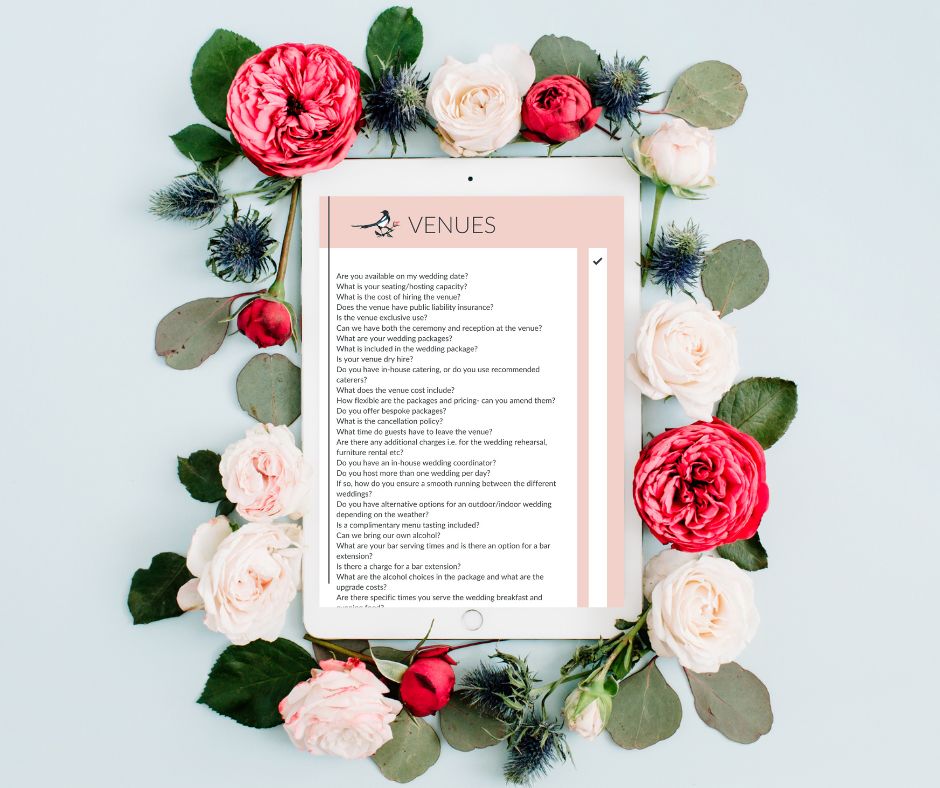 Remember, wedding planning should be exciting and fun (although we know it's not always the case), and using expert knowledge and planning tools to help you along the way will make sure that it can be as stress-free as possible on the lead-up to the incredible wedding day that's perfect for the two of you! Your day, your way. Happy wedding planning!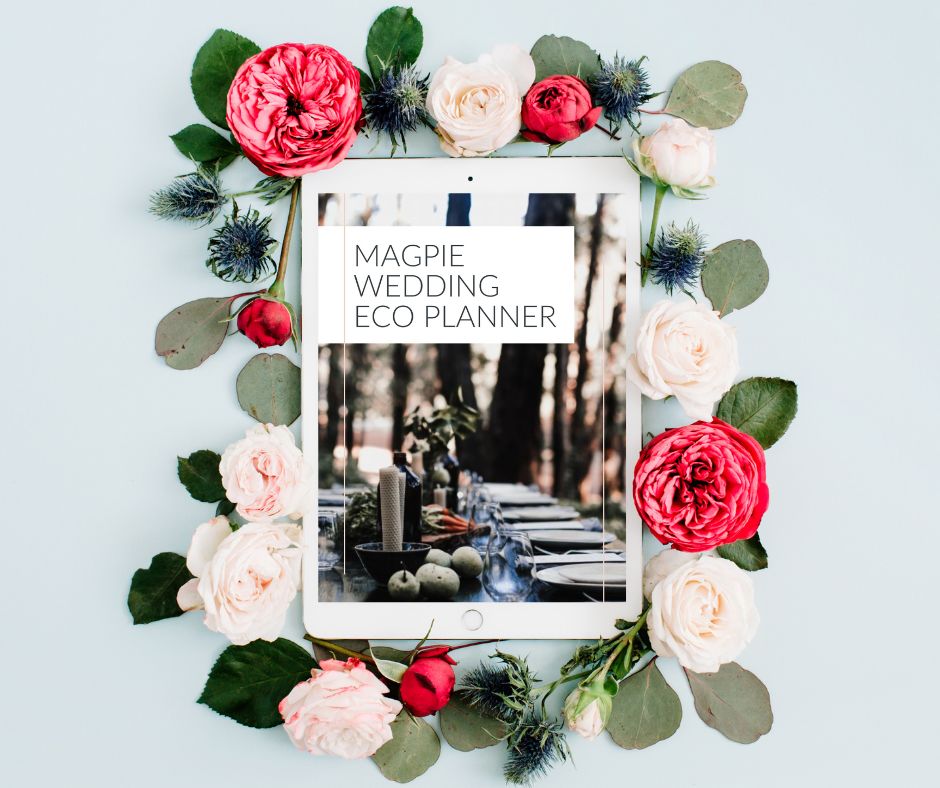 If you loved The Eco Wedding Planner you may also like;
Wedding Day Planning – Where To Start and What Should Be On Your List
Honeymoon Planning – How To Plan The Perfect Honeymoon
Hen Party Planning – 7 Practical Dos and Don'ts When Organising a Hen Party