Now if you're anything like us then your sixth wedding anniversary is going to be a good one! Who doesn't love something super sweet and sugary?! Taking us back to our youthful roots and reminding us of all the good memories in life sugar, for your sixth wedding anniversary represents your marriage getting sweeter by the year! Here are some of our top gifts to get for your loved one…
(This post contains affiliate links)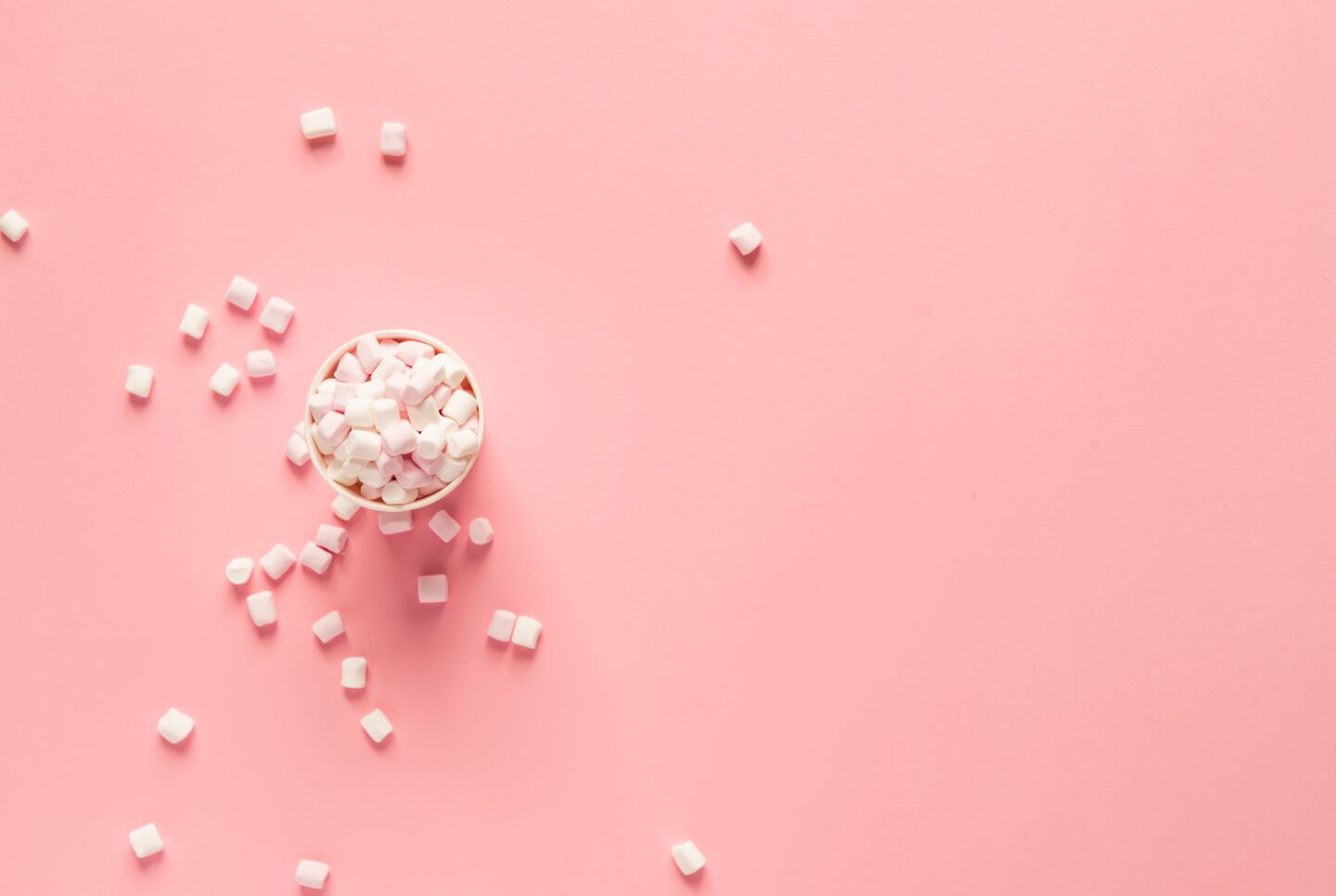 Sugar Sixth Wedding Anniversary – The History
Traditionally the gift given for your sixth wedding anniversary is sugar/candy, super sweet and just like your married years together. Your sixth year is all about the sweet stuff and remembering or reminding yourselves of the younger years of your relationship and all the super sweet things you did back then. It also represents the longer you are together the sweeter it gets!

Fondue Kit
The perfect gift for a cosy date night in! This chocolate fondue kit is full of yummy sugary treats that are perfect for cosying up by the fire with your loved one and tucking in. It includes 3 pots of melting chocolate in milk, white and dark, marshmallows, brownie bites, caramel shortcake bites, mini waffles and a pot of sprinkles. It also comes with wooden skewers for dipping heaven. what more could you ask for?!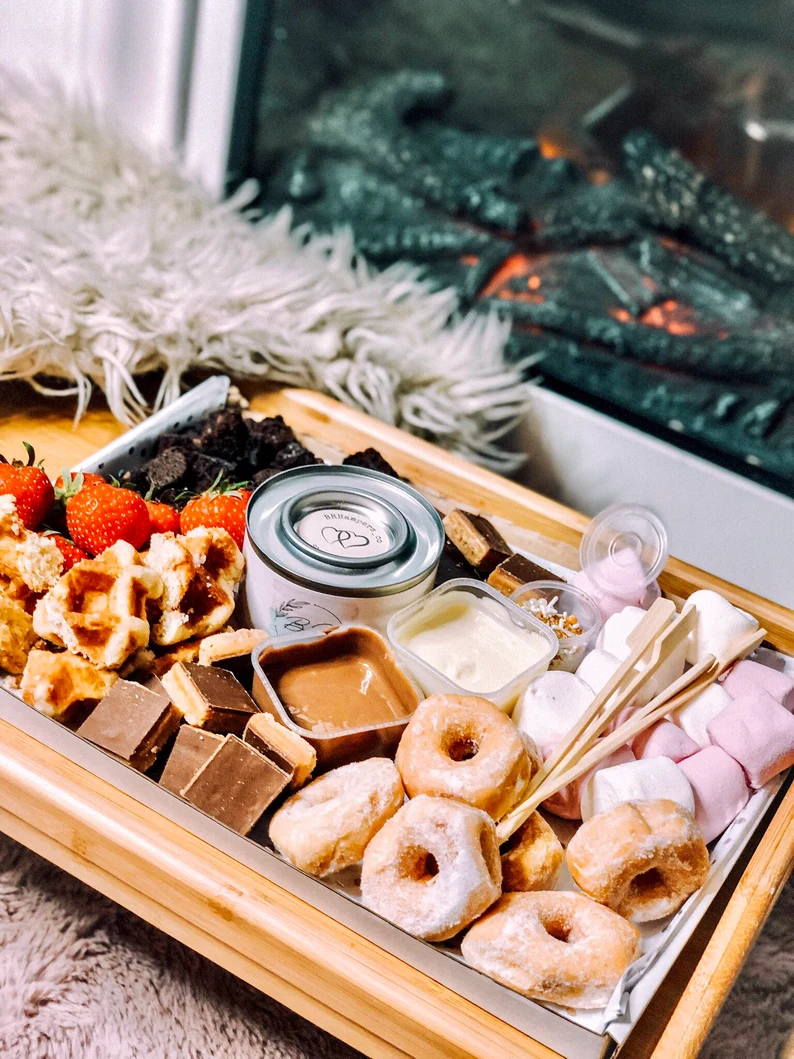 Gumball Cufflinks
A super sweet alternative if you wanted to get something that's sugar related. These mini gumball cufflinks are a cute and fun gift for your sixth wedding anniversary, and of course, they're useful too and can be worn at the next event you go to together!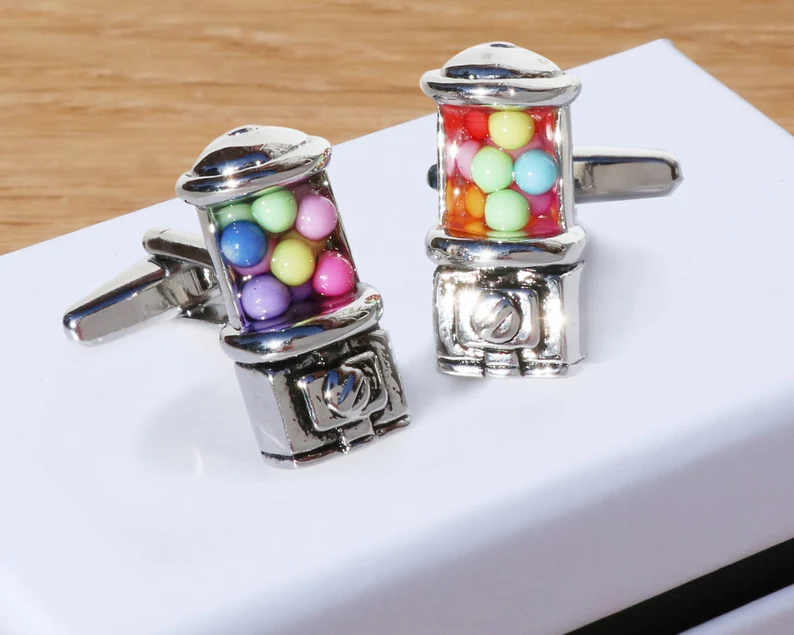 Personalised Biscuits
Tickle their tastebuds and add some personalisation to these beautiful biscuits. They come in a range of colours and designs and a packaged straight to your door! Maximum impact with minimal effort and great on their own or as a cheeky addition for you both to share on your anniversary!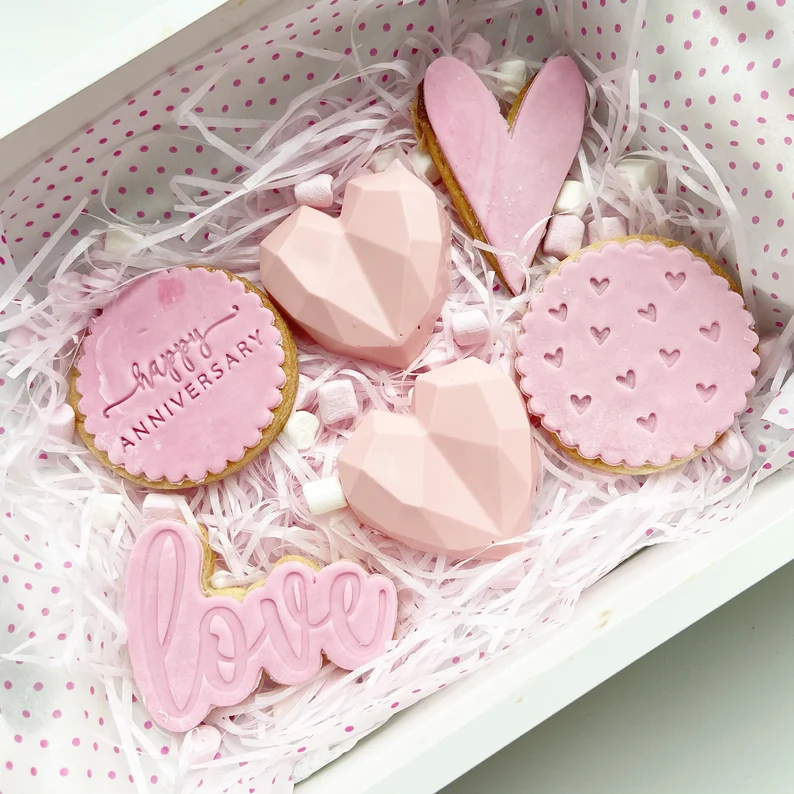 Cake Candles
They look good enough to eat and are perfect if your partner is a candle lover! These mini cake candles are made from soy wax, are handmade with love and come in a presentation box ready for gifting. They also smell amazing too, even when they're not lit!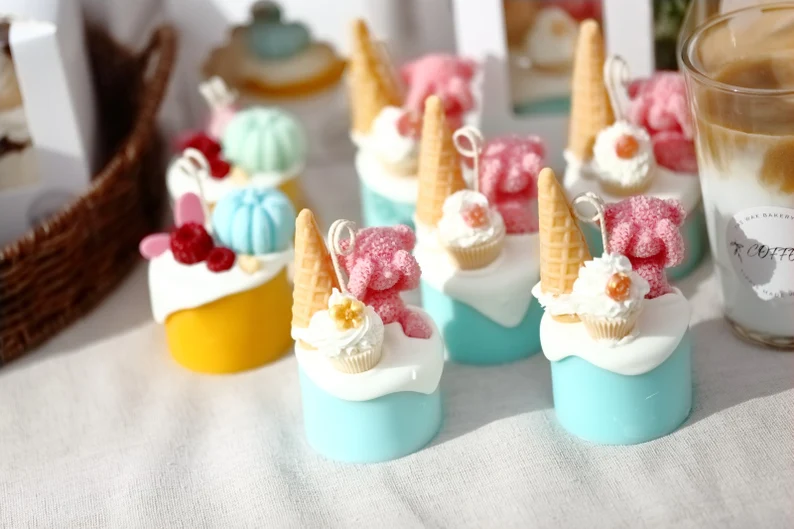 Loveheart Earrings
Super fun and express your love in a unique way! They'll also bring back childhood memories for most. These loveheart earrings are made from sterling silver and resin and you can choose from 3 phrases, 'HUG ME' 'BE MINE' & 'SWEET HEART' in seven different pastel colours. They also come presented in a gift box, making them the perfect alternative gift for your sugar anniversary!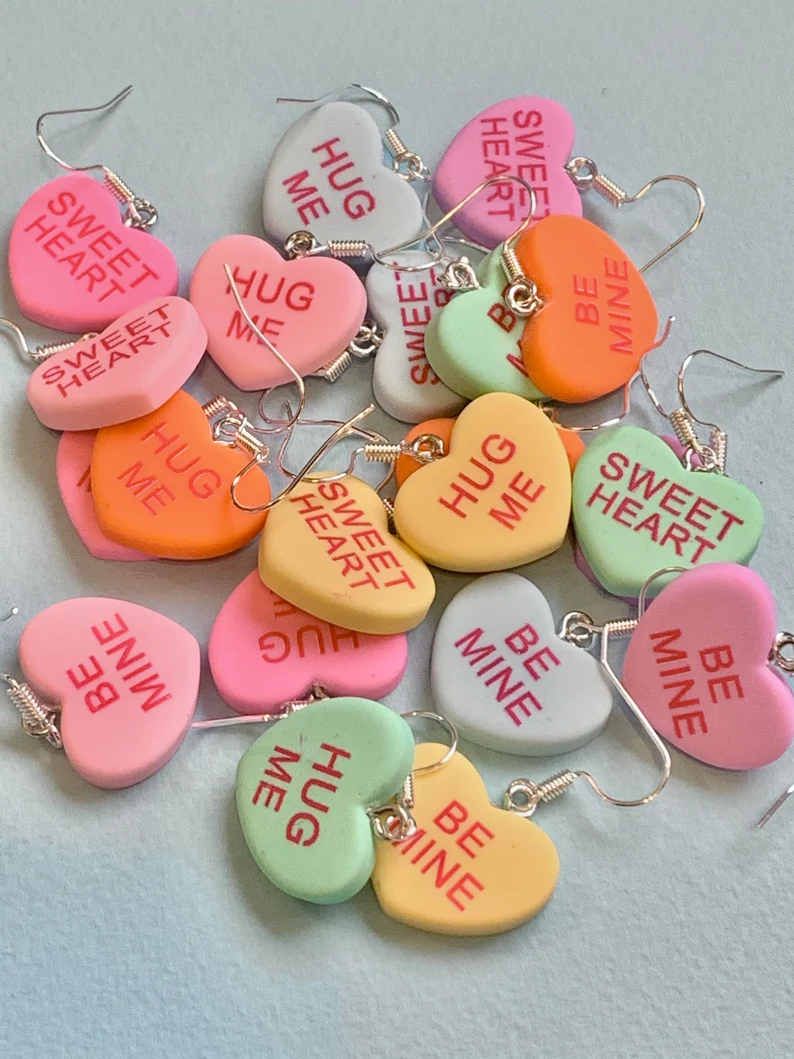 So Sweet Personalised Card
If you're looking for something simple to give your partner then this Personalised Card is perfect. It comes with your name and a choice of date and it's blank inside so you can write a personal message to your wife or husband on your sixth anniversary!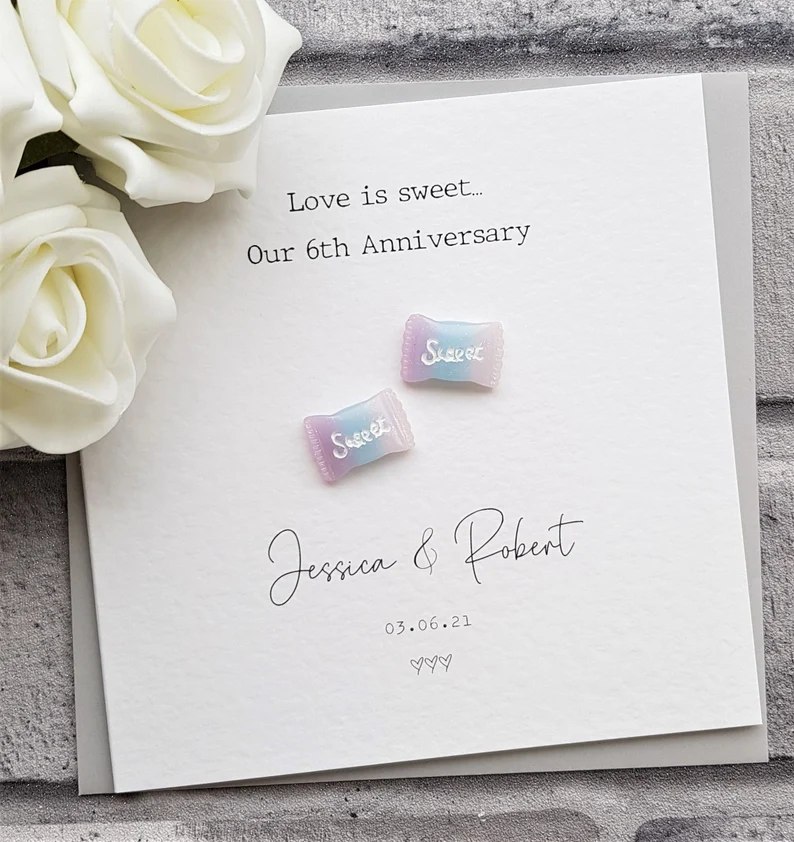 Sweet Tooth Date Night Box
The Sweet Tooth Emporium Date night gift box lets you relive the childhood magic of the sweatshop. Create your own yummy jelly sweets, chocolates and lollipops and compete and test your knowledge with the Sweet Tooth factory quiz. It includes snacks, sweets and even a Spotify playlist! The perfect way to celebrate your anniversary and have some fun. they're eco-friendly and vegan too!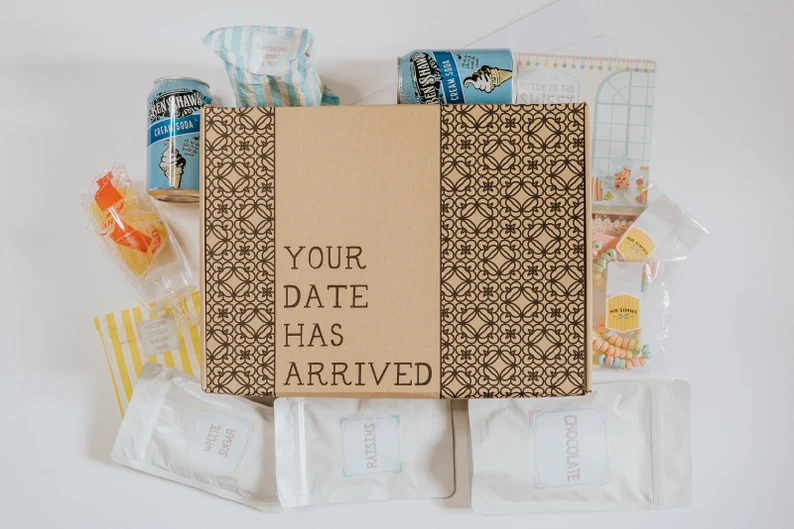 IF YOU LOVED THESE SIXTH WEDDING ANNIVERSARY GIFT IDEAS THEN PIN THEM TO YOUR BOARDS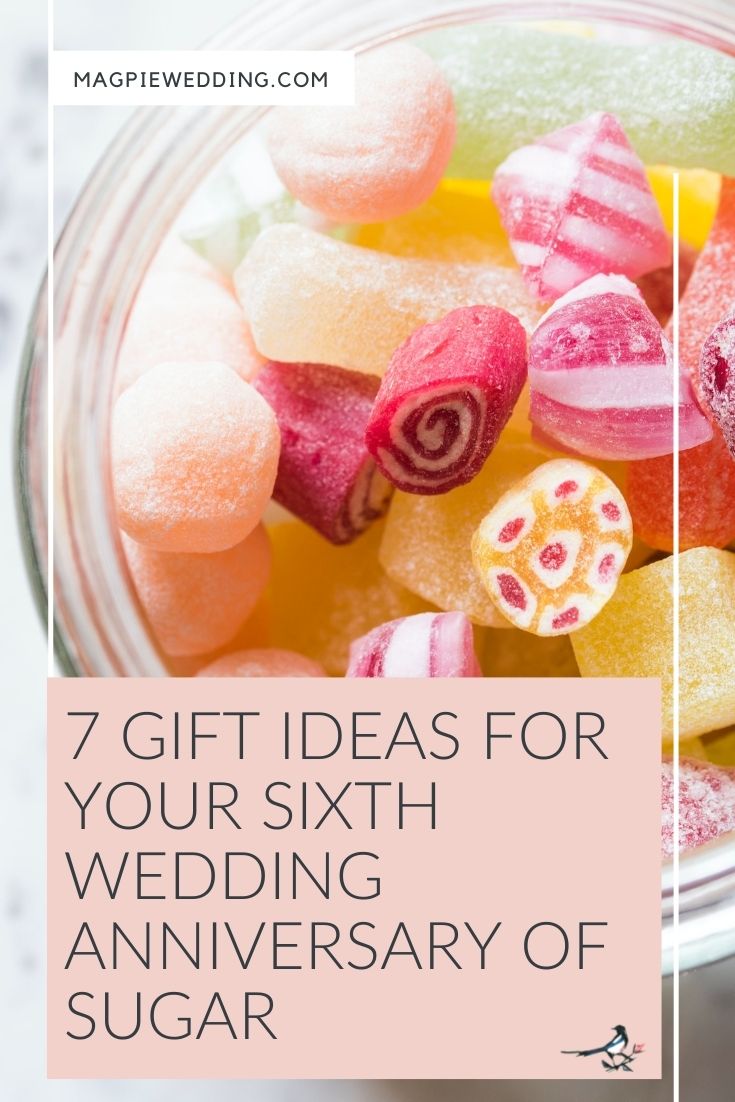 If you loved these sixth wedding anniversary gifts you may also like;
Wedding Anniversary Gifts – A Year By Year Guide
Marriage Matters: 17 Romantic Birthday Or Anniversary Wishes for Your Partner