Everybody knows that there are wedding anniversaries that have a special connotation to them, but do you actually know what the years are and their gift? Here is the start of a new series of articles to inspire you on gifting for each different anniversary year focusing on materials, stones, colours and flowers.
Wedding anniversaries are a really special time to be with your partner; to celebrate your lives together and reaching another milestone. Whether it is your first year anniversary or your 40th anniversary, there are some beautiful gifts you can give to reflect how many years it has been. Each year has its own traditional meaning and associated gift, with some also having wedding stones associated with them.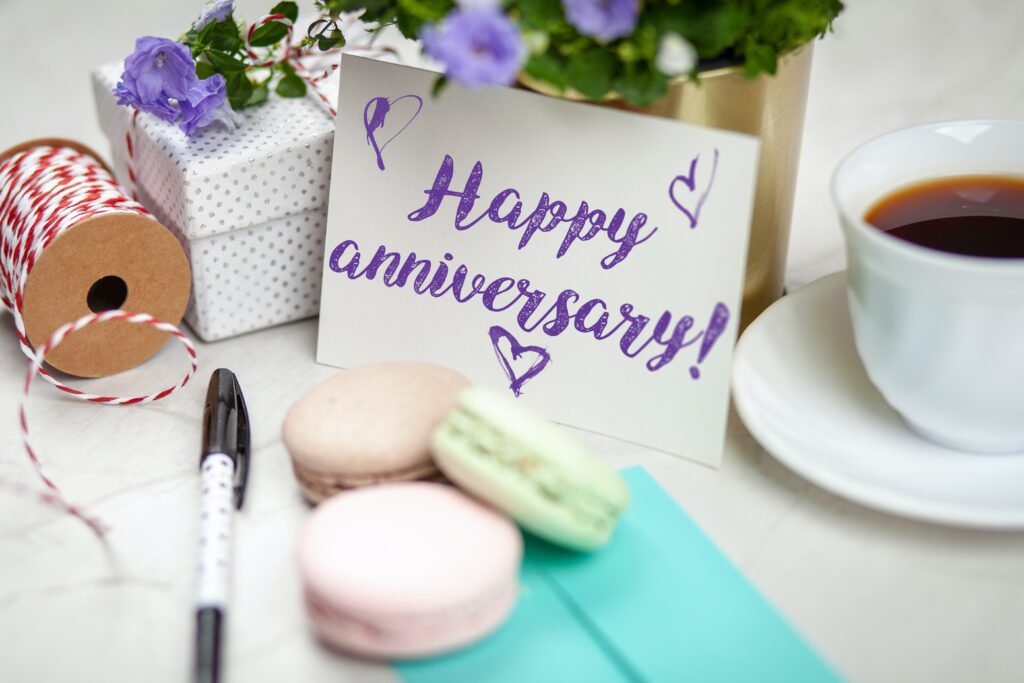 While researching we discovered that there are traditional gifting anniversary years but also modern associations that are more recent too. This list is based on the UK anniversaries and might differ slightly around the world. This tradition stems back to the medieval period when gifts were chosen for good fortune and prosperity for the couple and the marriage. It didn't really take off until the Victorian era, with the thought that the longer you invest in the marriage, the more you needed to invest in the gifts! Although it seems strange that the gifts for your 85th anniversary are wine but your 75th is diamonds!
What are the traditional and modern gifts?
1st: Traditional – Paper / Modern – Clocks
2nd: Traditional – Cotton / Modern – China
3rd: Traditional – Leather / Modern – Crystal / Glass
4th: Traditional – Flowers and Fruits / Modern – Linen / Appliances
5th: Traditional – Wood / Modern – Silverware
6th: Traditional – Sugar / Modern – Iron
7th: Traditional – Copper and Wool / Modern – Desk set
8th: Traditional – Salt / Modern – Linen and Lace
9th: Traditional – Willow and Pottery / Modern – Leather
10th: Traditional – Aluminium / Modern – Diamond
11th: Traditional – Steel / Modern – Jewellery
12th: Traditional – Silk / Modern – Pearls
13th: Traditional – Lace / Modern – Textiles / Fur
14th: Traditional – Ivory / Modern – Gold jewellery
15th: Traditional – Crystal / Modern – Watches
16th: Traditional – Wax / Modern – Silver Holloware
17th: Modern – Furniture
18th: Modern – Porcelain
19th: Modern – Bronze
20th: Traditional – China / Modern – Platinum
21st: Modern – Brass / Nickel
22nd: Modern – Copper
23rd: Modern – Silver plate
24th: Modern – Musical Instruments
25th: Traditional – Silver / Modern – Silver
30th: Traditional – Pearl and Ivory /Modern – Diamond
35th: Traditional – Coral / Modern – Jade
40th: Traditional – Ruby / Modern – Ruby
45th: Traditional – Sapphire / Modern – Sapphire
50th: Traditional – Gold / Modern – Gold
55th: Traditional – Emerald / Modern – Emerald
60th: Traditional – Diamond / Modern – Diamond
65th: Traditional – Sapphire / Modern – Sapphire
70th: Traditional – Platinum / Modern – Platinum
75th: Traditional – Diamond / Modern – Diamond
80th: Traditional – Oak / Modern – Oak
85th: Traditional – Wine / Modern – Wine
90th : Traditional – Stone / Modern – Stone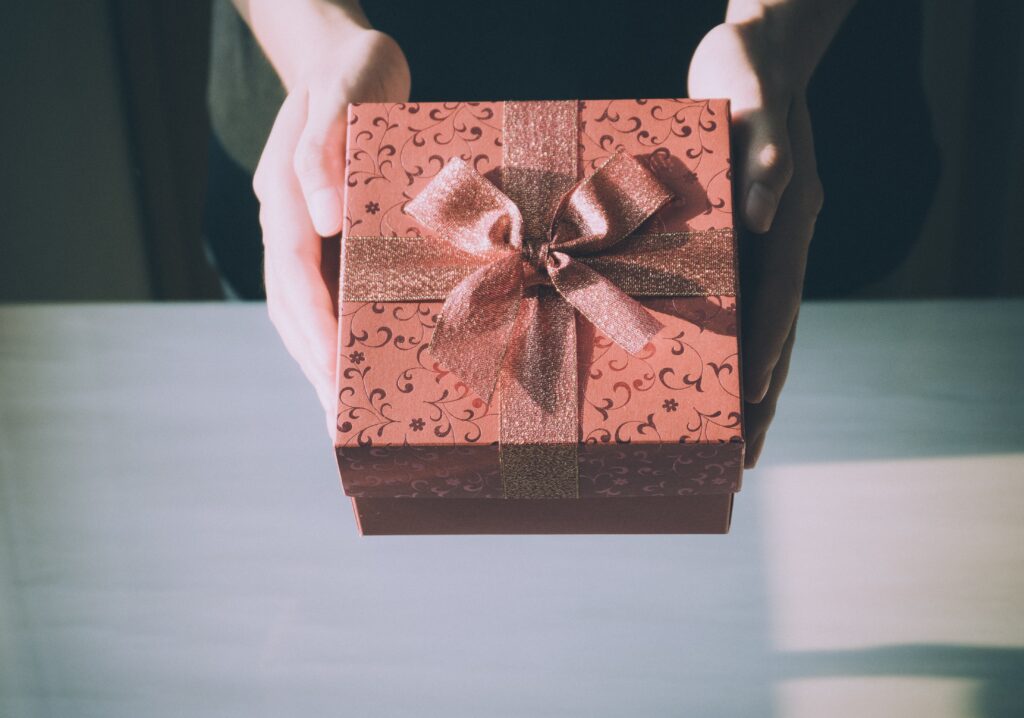 What are the colours linked to anniversaries?
1st: yellow or gold
2nd: linen white or red
3rd: jade green or white
4th: blue or green
5th: turquoise, blue or pink
6th: turquoise, purple or white
7th: yellow, onyx or off white
8th: tanzanite, bronze or tourmaline
9th: purple, green, terracotta, lapis lazuli
10th: blue or silver
11th: yellow or turquoise
12th: oyster white, jade or opal
13th: white or citrine
14th:: ivory or opal
15th: ruby red
16th: red, silver or emerald green
17th: yellow
18th: blue
19th: bronze
20th: white or emerald green
21st: orange
22nd: green
23rd: silver
24th: lavender
25th: silver
30th: green
35th: coral
40th: ruby red
45th: sapphire red
50th: gold
55th: emerald green
60th: diamond white
65th: sky blue
70th: platinum
75th: diamond white
80th: ruby red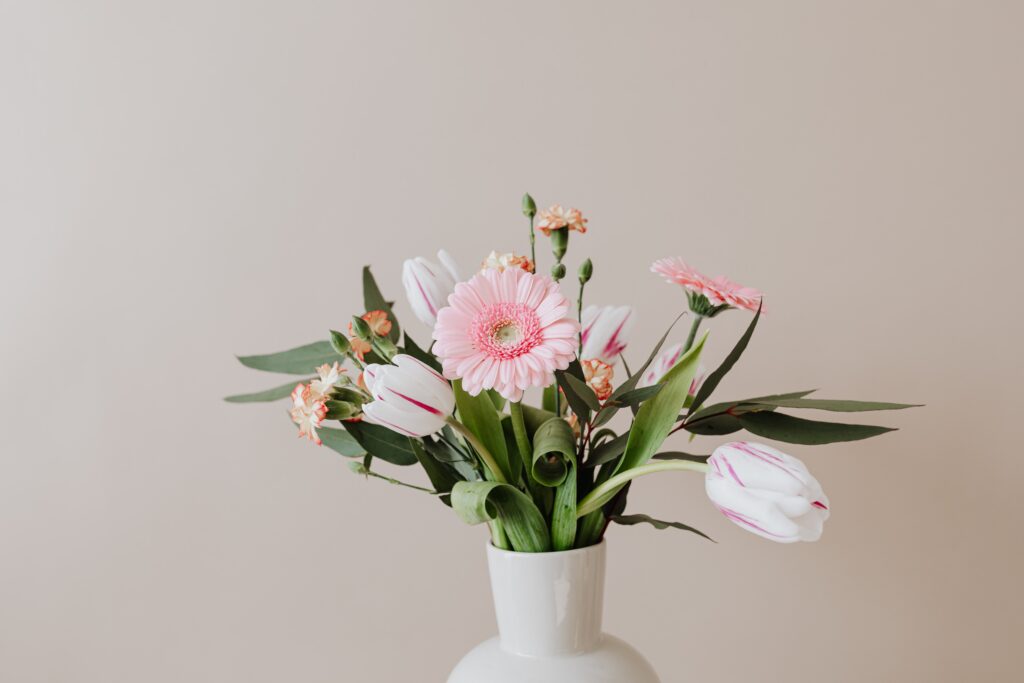 What are the flower gifts linked to anniversaries?
1st: Carnation
2nd: Lily of the Valley
3rd: Sunflower
4th: Hydrangea
5th: Daisy
6th: Calla
7th: Freesia
8th: Lilac
9th: Bird of Paradise
10th: Daffodil
11th: Tulip
12th: Peony
13th: Chrysanthemum
14th: Dahlia
15th: Rose
20th: Aster
25th: Iris
28th: Orchid
30th: Lily
40th: Gladiolus
50th: Yellow rose and violet
60th: Poppy
There you have the list of all of the wedding anniversaries from the 1st year to the 90th. Whatever you decide to do to celebrate your anniversaries, make it special and meaningful to you both. We hope this gives you a great idea of different gifting options too so keep a lookout for our top anniversary gifts for each year coming soon. We'll be also creating Pinterest boards too!
If you found this useful why not pin it!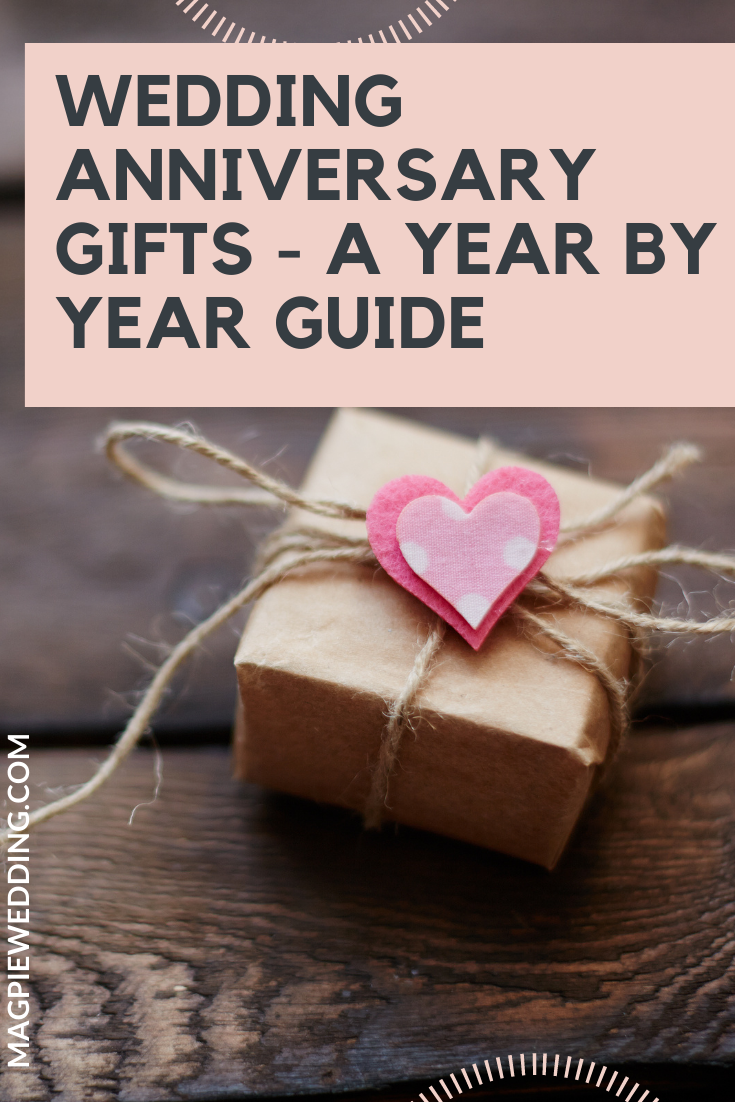 Get more gift ideas here: