Are you searching for the perfect way to celebrate a decade of love and commitment with your beloved? Your 10th wedding anniversary is a significant milestone, and finding the ideal gift can be a heartfelt expression of your love and affection for one another. Whether you looking for something small as a token of your love or a more extravagant gift we've got you covered with our aluminium gift ideas, we have something for every couple. Let's dive in and make your 10th anniversary a remarkable and memorable day to cherish…
(This post contains affiliate links)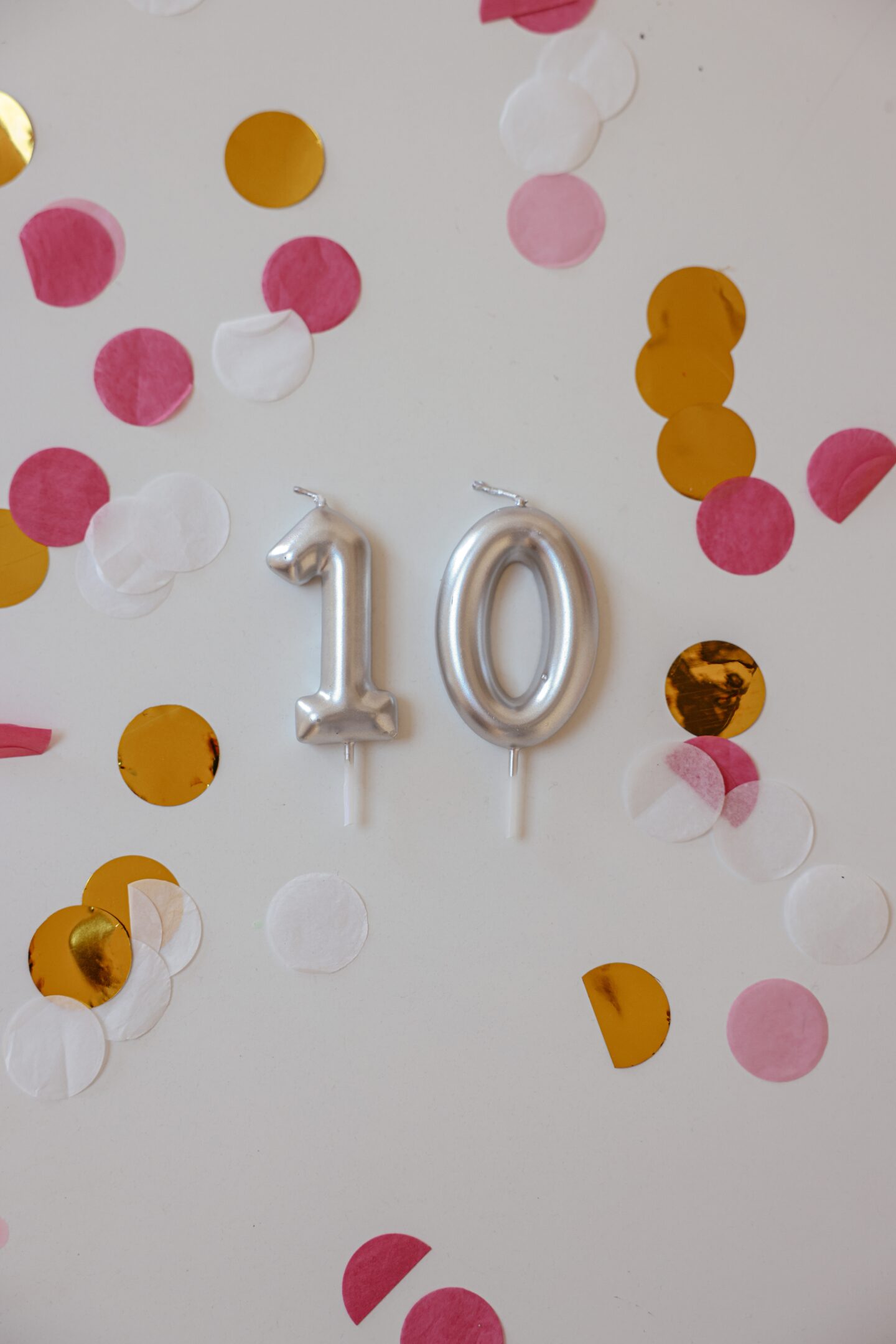 Aluminium 10th Wedding Anniversary – The History
The 10th wedding anniversary is traditionally celebrated with gifts made from tin or aluminium. This custom dates back to the Victorian era. During this time, couples would often exchange gifts to commemorate each year of marriage, and the 10th year was associated with tin, which was a symbol of preservation and the ability to endure through time. Tin, being a malleable and durable metal, represented the flexibility and resilience needed in a lasting marriage. Couples exchanged tin or aluminium gifts as a reflection of their relationship's strength and ability to withstand the test of time. In more recent times, the modern 10th-anniversary gift is often associated with diamonds or other precious gemstones, which symbolize the enduring strength and value of a marriage. Some couples choose to combine the traditional and modern approaches to gift-giving by presenting each other with both tin or aluminium items and gemstone jewellery.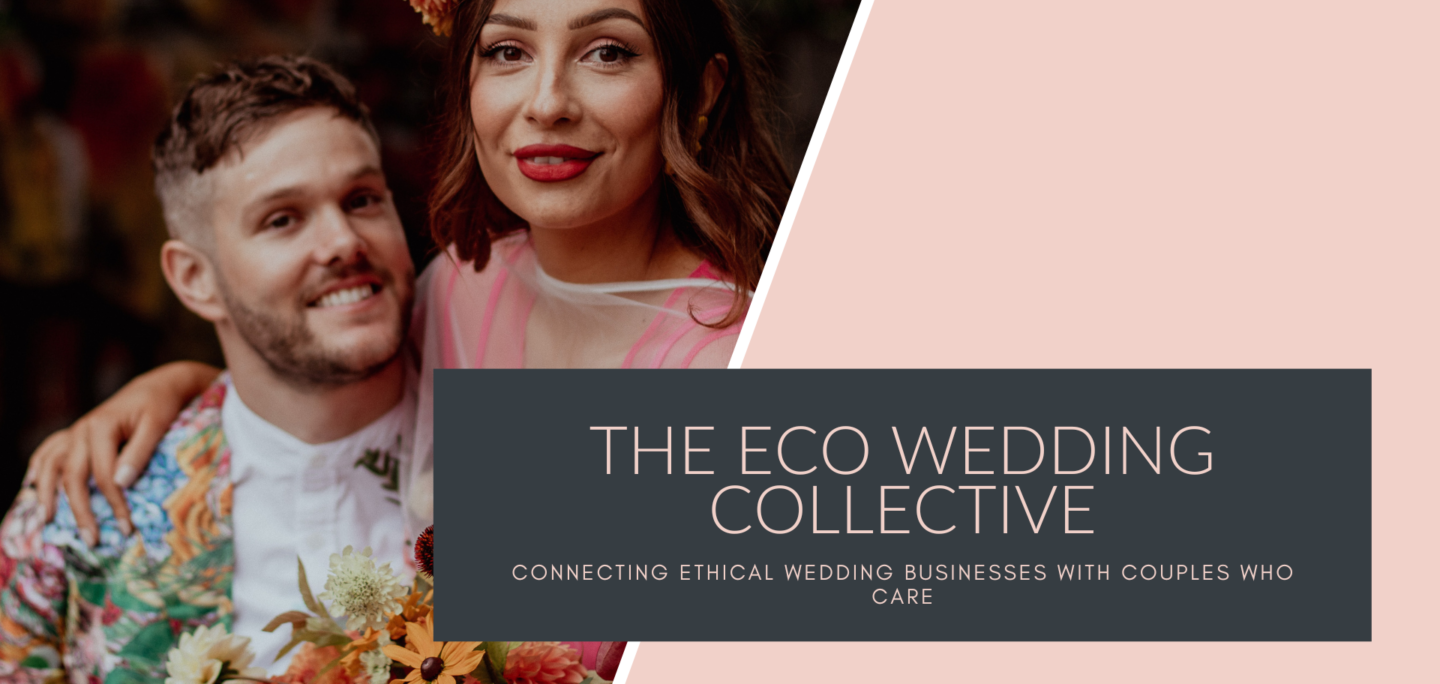 Love Story Bookmark
One for the book lover this Love Story Bookmark is bespoke made and hand stamped with your choice of personaliation. If you're looking for something personalised and unique then look no further than this. This fab supplier also does other gifts too and can make to order a product that's one of a kind!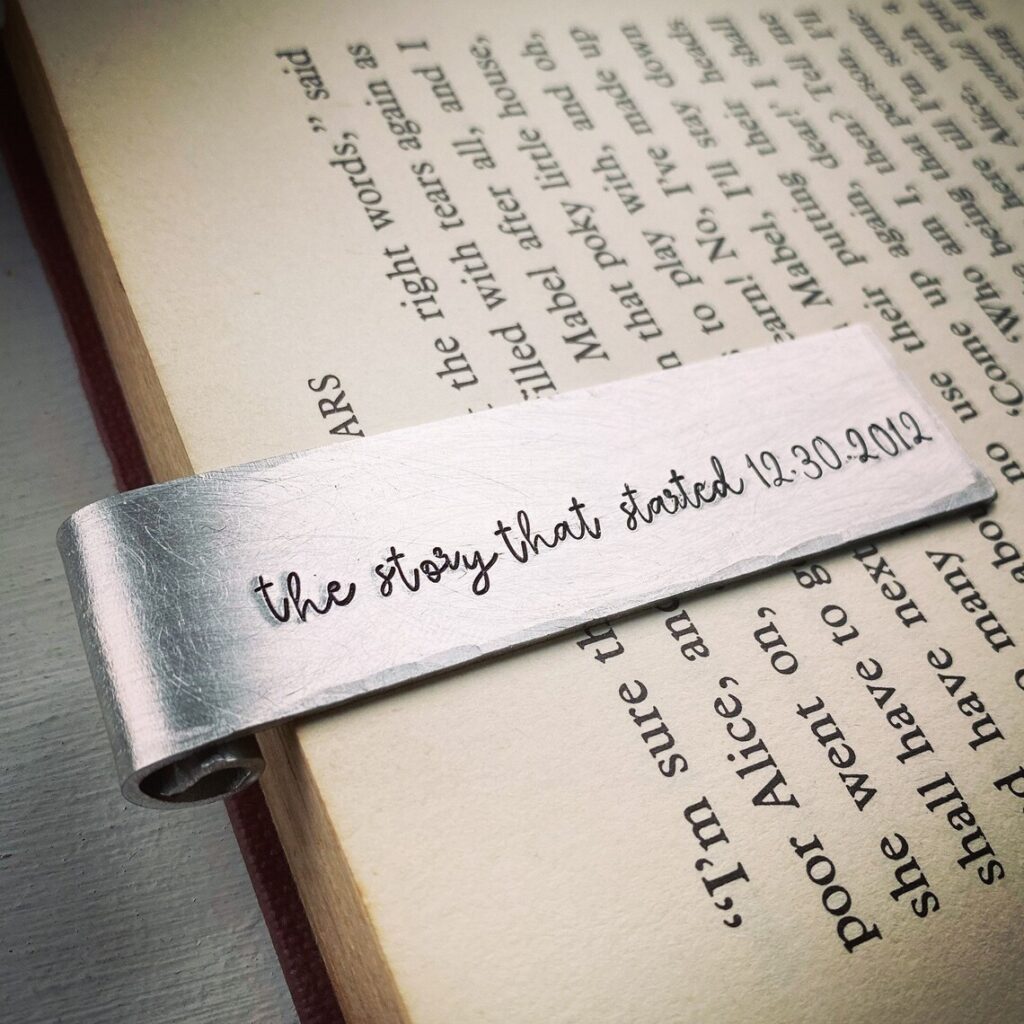 Slogan Keyring
If you share the same warped sense of humour then this Slogan Keyring is sure to get a laugh from your partner. Made from solid aluminium each piece is hand-stamped and completely unique. They also have a deal on too if you want one each; purchase a pair for 20% off! A funny keychain that will make a great keepsake and they come with a gift bag too!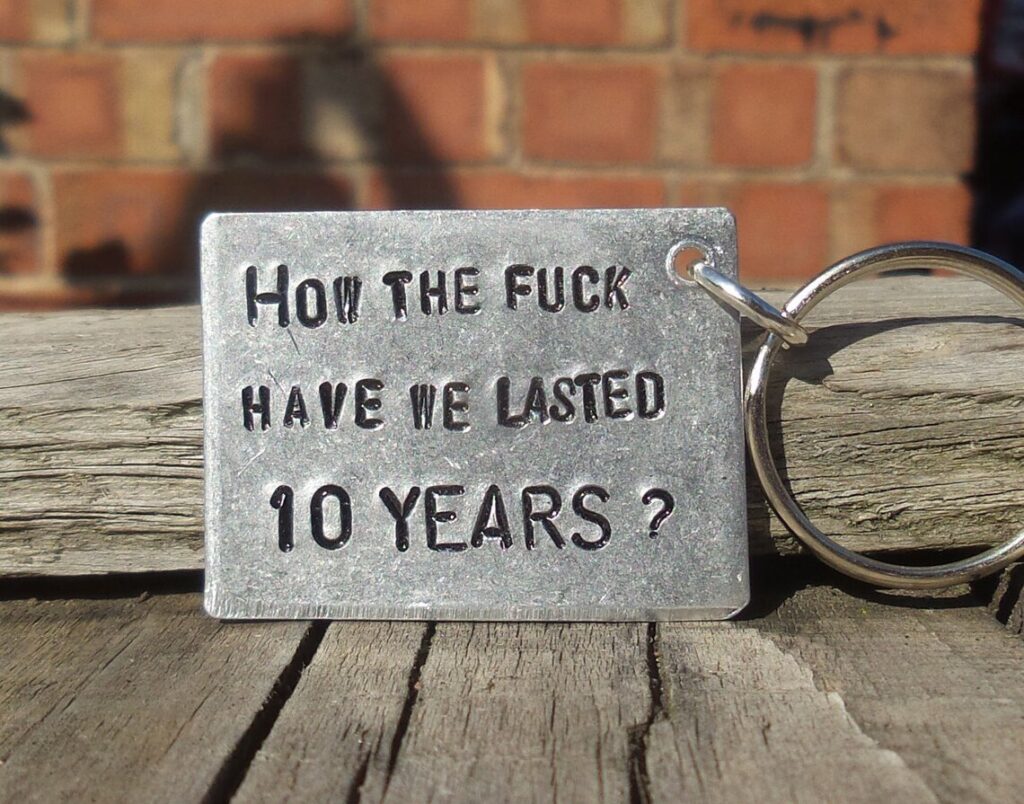 Personalised Dish
This versatile Personalised Aluminium Dish is perfect for a 10th-anniversary gift! It's 100% aluminium and is handmade in this company's Country Forge. Great for keeping everyday things safe or keeping your desk and office tidy. It's the perfect reminder of your love for your partner. The hammered metal combined with the polished metal inside the bowl gives a wonderful shine and would brighten up any room. You can also personalise it with your name and wedding date too!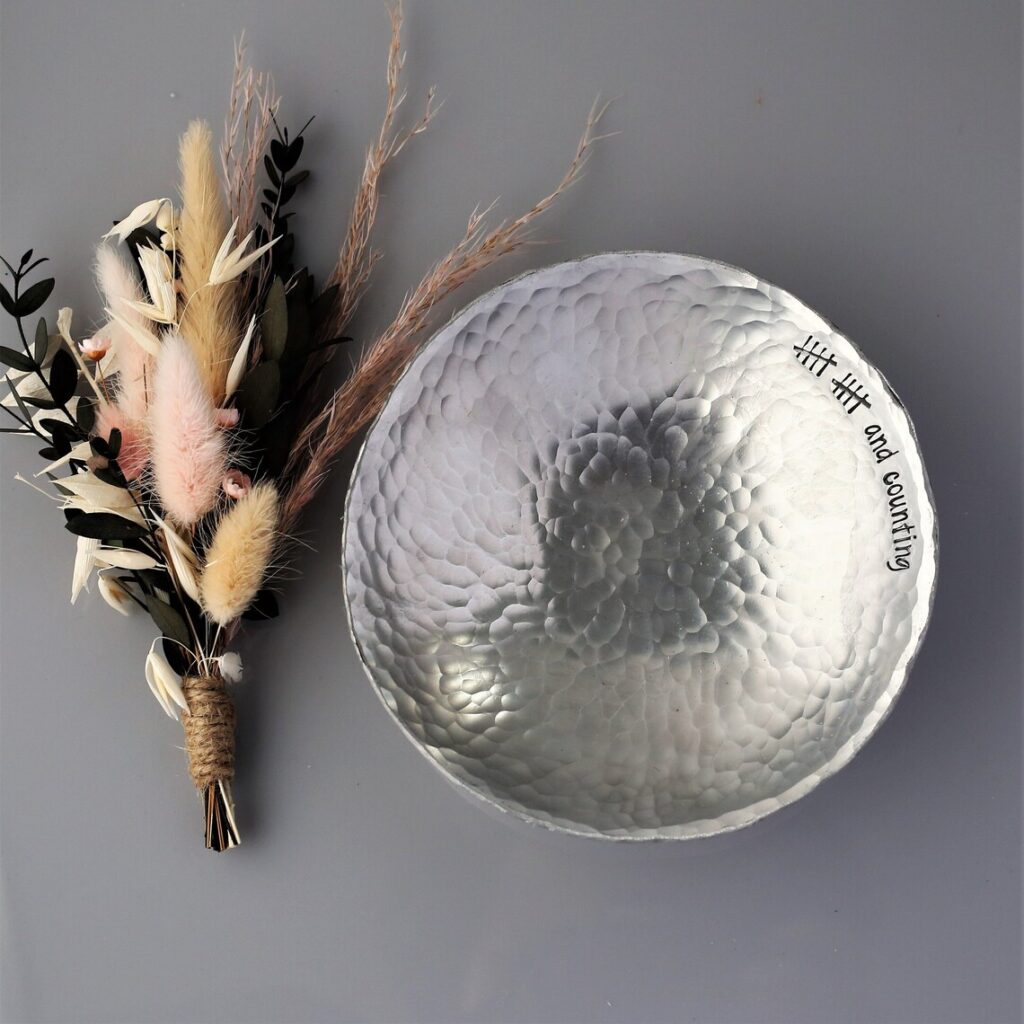 Aluminium Love
These stylish silver Aluminium Love Hearts sculptures are hand-hammered and finished on a chunky wooden base. These luxurious ornaments will perfectly tie in with any home space and any home decor, making it a unique and cherished gift for your loved one.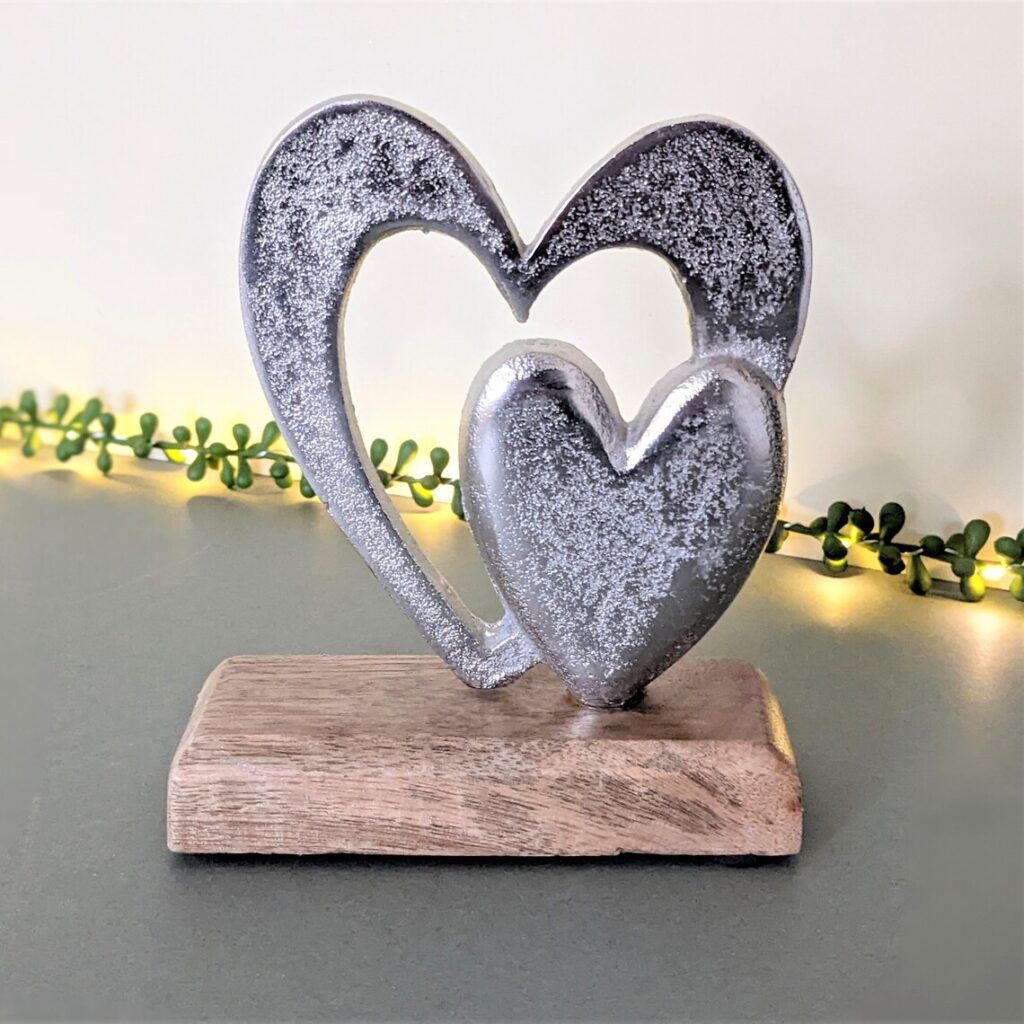 Wedding Map Art
Looking for a special gift to celebrate your love story? This unique Wedding Map Art is the perfect way to commemorate the day you tied the knot. This stunning map is printed on high-quality brushed aluminium, creating a lasting and durable piece that will be treasured for years to come. Each map is personalized with the couple's names and the date of the wedding, creating a one-of-a-kind piece that is as unique as their love story. You can even add a heart to showcase the exact location where you said "I do" too!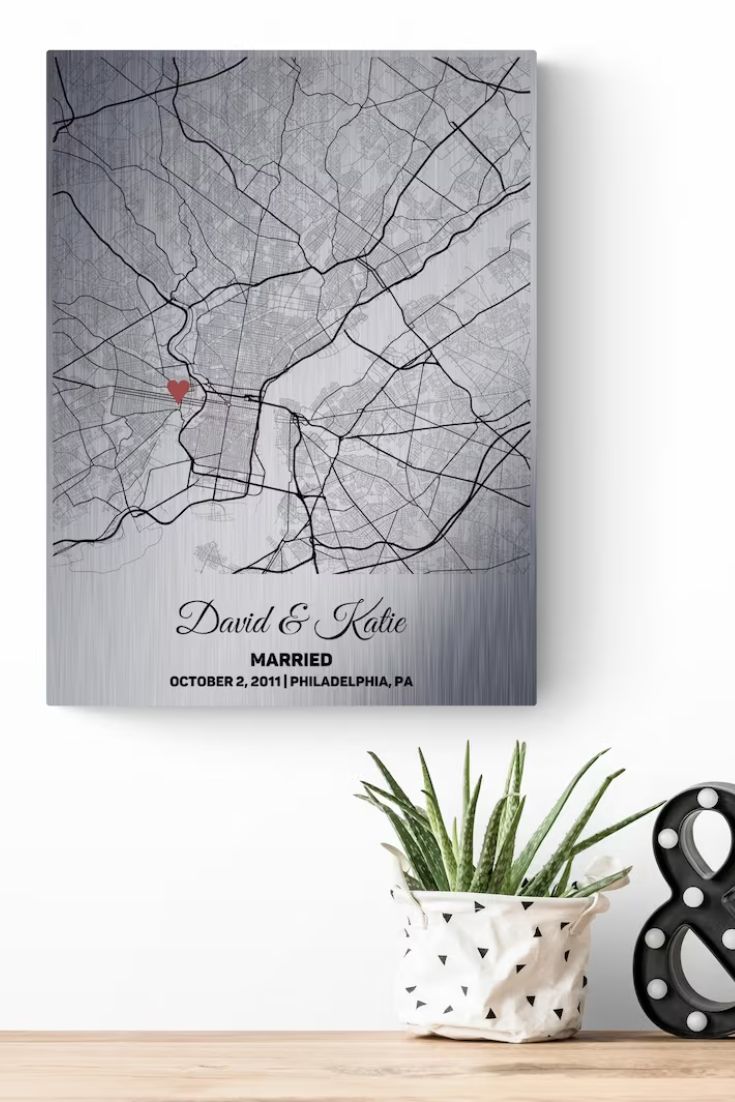 Etched Dice
A personalised dice of love! This hand-stamped solid aluminium Etched Dice is quirky and unique. Alongside the 'I Still Do' and ten tally marks to mark your ten years, sides 3 and 4 are fully customisable so you can go with the suggestion here or have something completely different on it if you wish!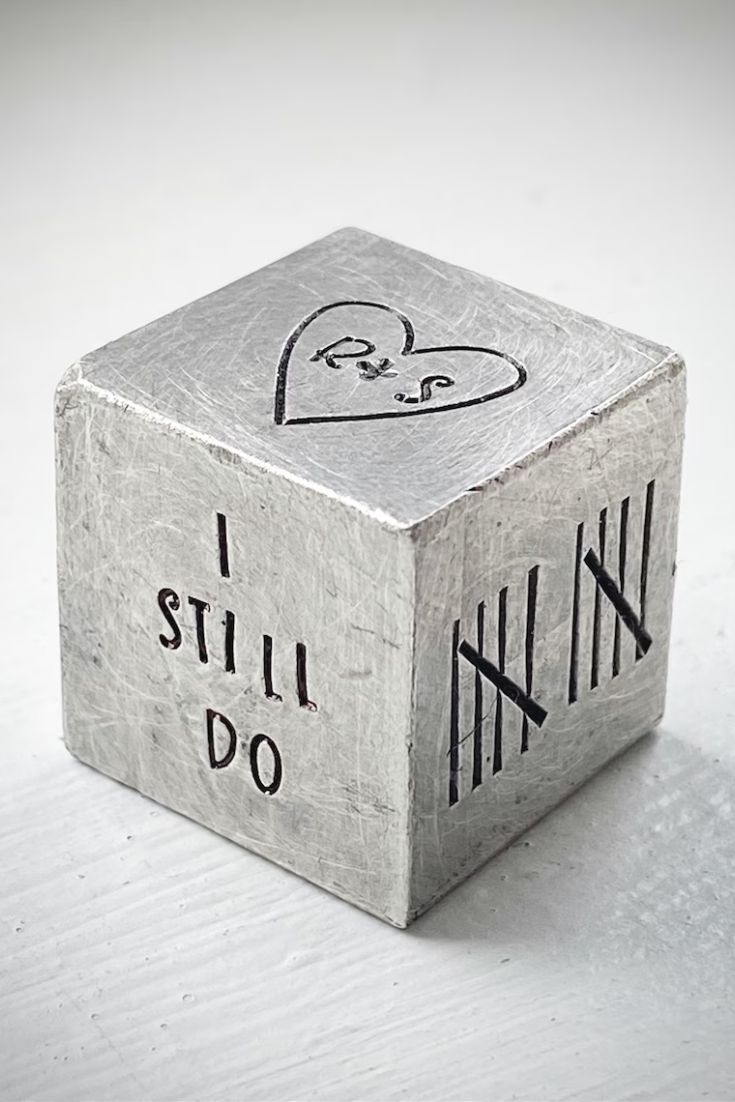 Love You Wall Wire
Do you want to send a simple message of your love? This Love You Wall Wire is the perfect anniversary gift. Made from aluminium wire in colour silver, it's sculpted by hand making it special and unique. It can be hung on your wall in a special place or placed somewhere that is significant to the two of you!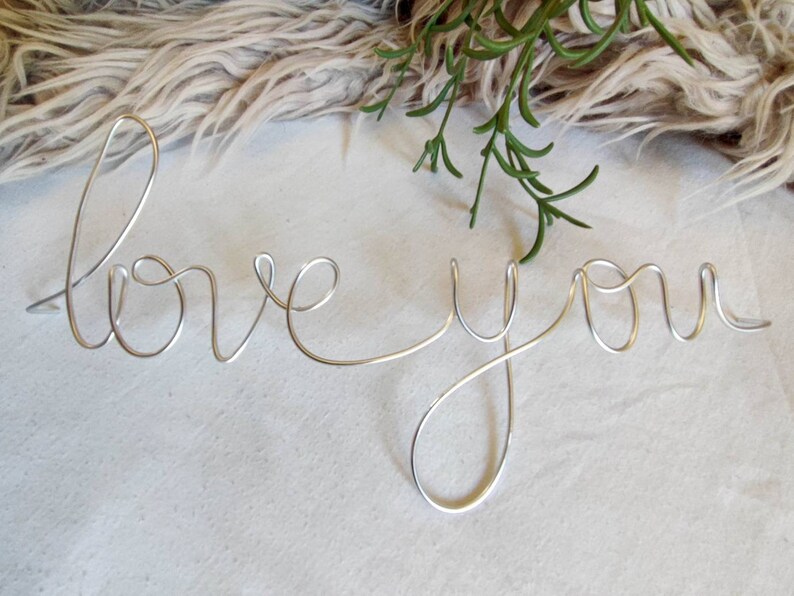 Happy shopping and Happy 10th Wedding Anniversary too!
IF YOU LOVE THESE ALUMINIUM GIFT IDEAS THEN PIN THEM TO YOUR BOARDS!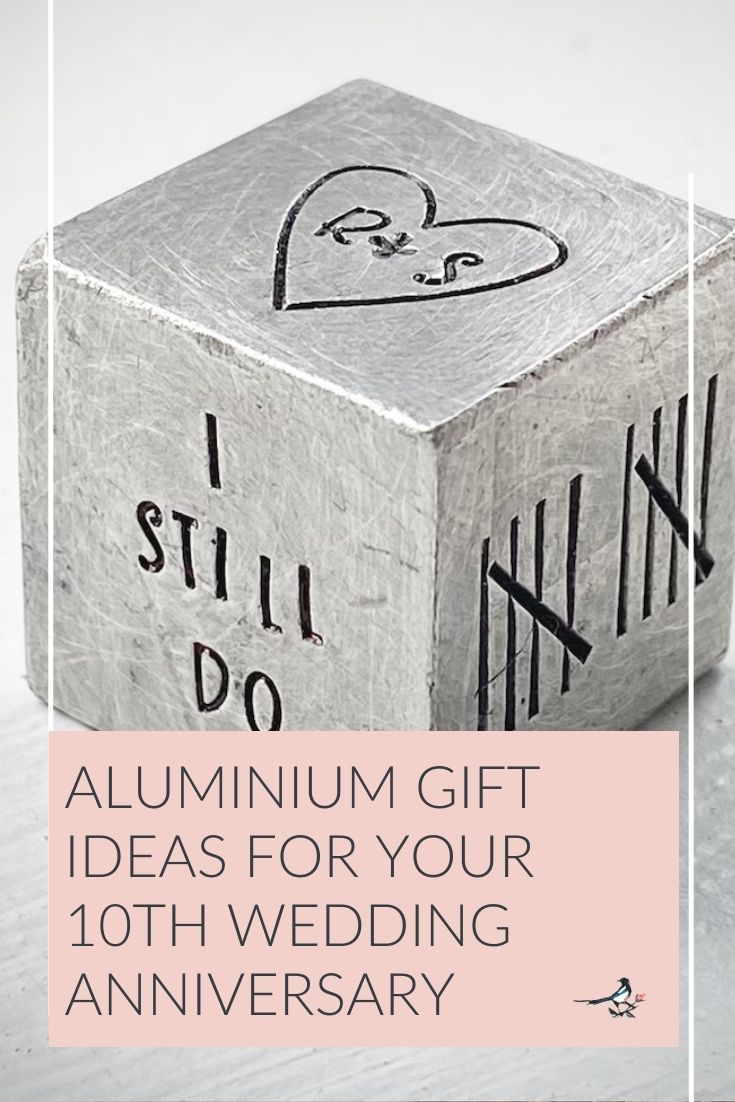 If you loved these willow and pottery gift ideas you may also like;
Wedding Anniversary Gifts – A Year By Year Guide
Marriage Matters: 17 Romantic Birthday Or Anniversary Wishes for Your Partner