Copper gift ideas don't initially get the creative juices flowing when it comes to thinking of something to get your partner, but fear not we're here to help! Copper gets better with age and by 7 years married you're now a seasoned pro when it comes to life with your loved one so your 7th wedding anniversary is always something to acknowledge and celebrate. Take a look at some of our top copper gift ideas to spoil your beau with…
(This post contains affiliate links)
Copper 7th Wedding Anniversary – The History
Traditionally the gift given for your 7th wedding anniversary is copper. It signifies luck and good fortune. One of the oldest metals copper is associated with romance due to its significance in the tale of Venus; the goddess of love and beauty. Copper is known to get more beautiful with age, just like your marriage!

Mini Copper Book
We love anything miniature so that obviously includes our first pic by Dogs and Hats. This keepsake copper book is personalised with stamps of your choice. From years married, to your wedding date, and it can be stamped inside too!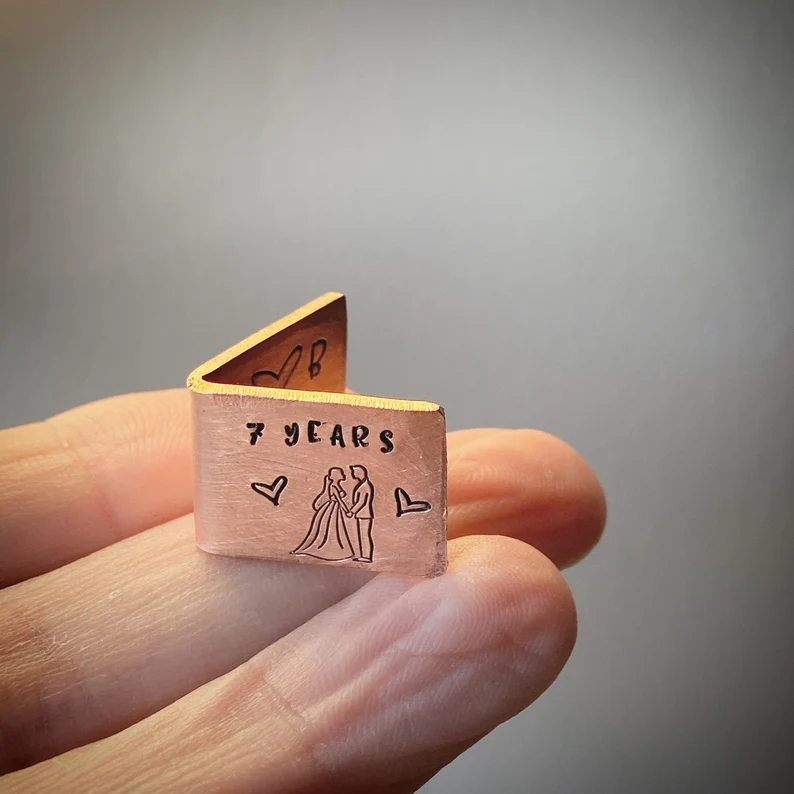 Personalised Leather and Copper Bracelet
Do you want something you both can wear to celebrate your 7th wedding anniversary? These leather and copper bracelets by Out of Cornwall can be personalised with your name, initials and wedding date. Perfect for a boho couple.
Copper Lego
Now, these are super cool and super cute, even if you're not a lego fan! They're by Concrete Deco Gifts and are handmade in the UK. They would sit perfectly as an interesting feature and a talking point in any house! We love them!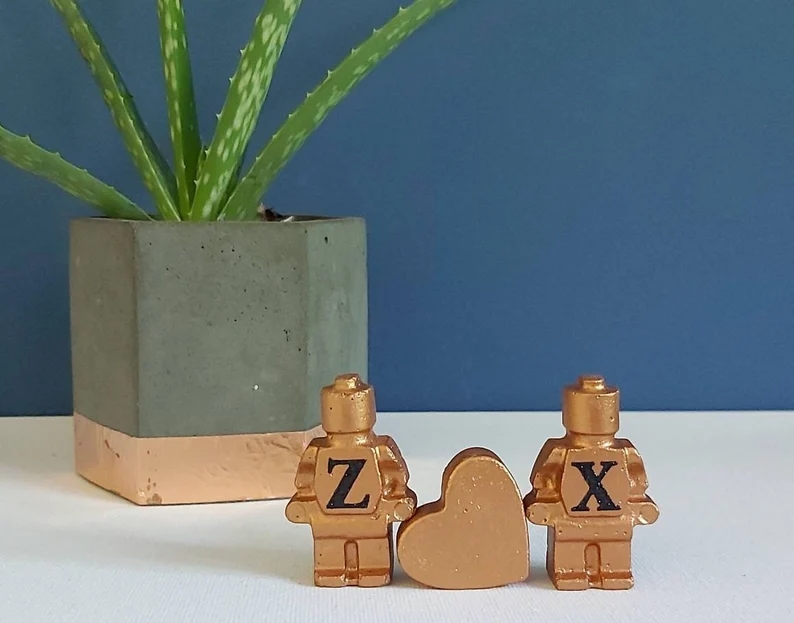 Copper Bookmark
This polished copper bookmark by Butterfly is great for someone who loves to read! How cute, every time they open their book they'll have a personalised message from you waiting. Any message can be engraved and it's finished off with a colour tag of your choice, and comes gift-wrapped too!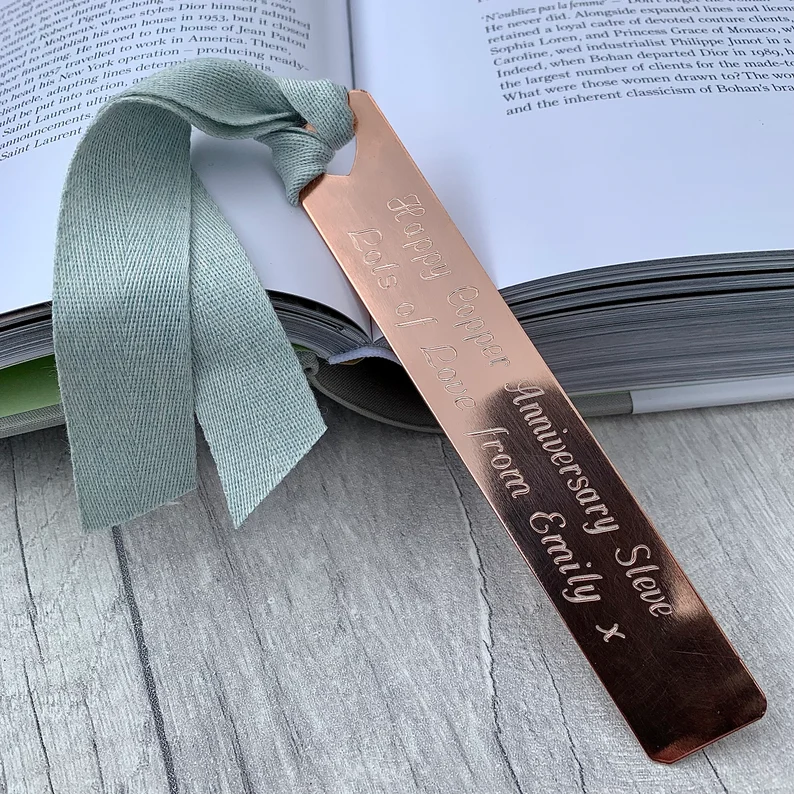 Copper Trinket Tray
Tally your 7 years together with this beautiful copper trinket bowl by West Store Portugal. It can be used to hold your wedding rings if you take them off, or for special pieces of jewellery. It's a wonderful daily reminder of the celebration of your marriage.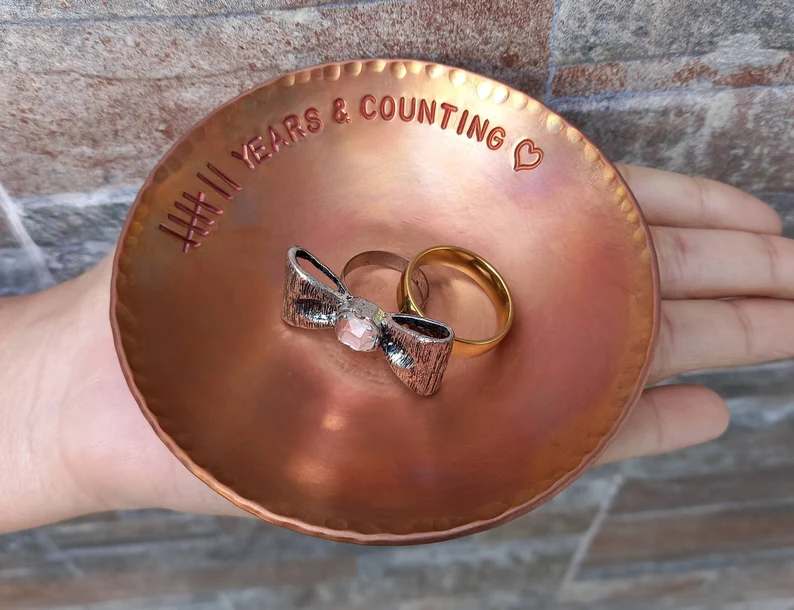 Copper Soundwave Art
Do you and your partner have a special song? It could be your first dance song or something silly that means something to the two of you. This personalised copper soundwave art by Print Koala is a thoughtful gift that they are sure to love.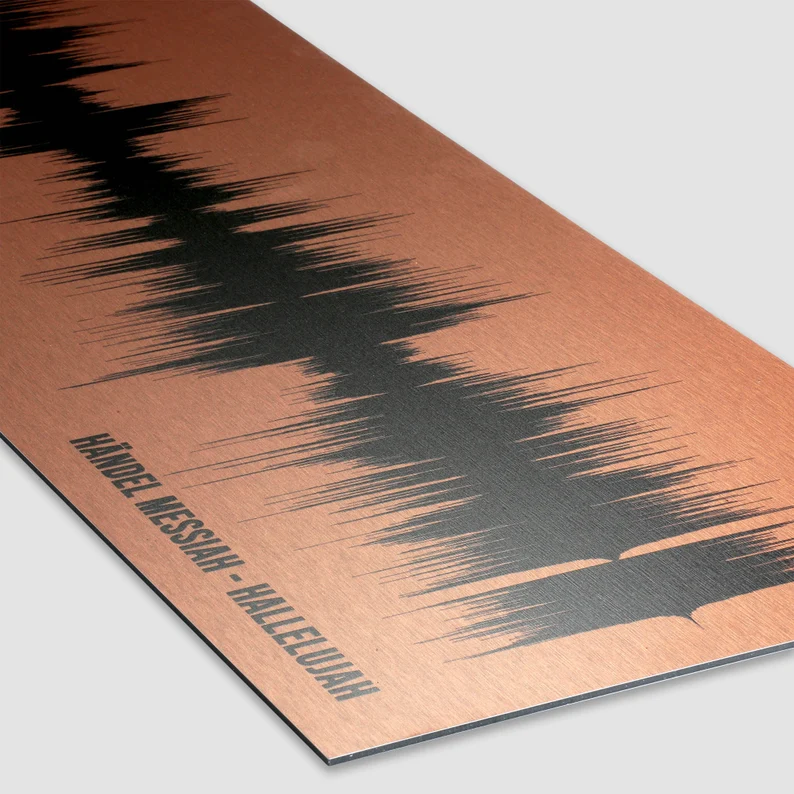 Kraft Slogan Card
Okay, so this one isn't copper but we loved it too much not to add it in! This slogan card by The Krafty Card Shop is the perfect card to send your loved one, as long as you share the same sense of humour and they won't get offended by it of course!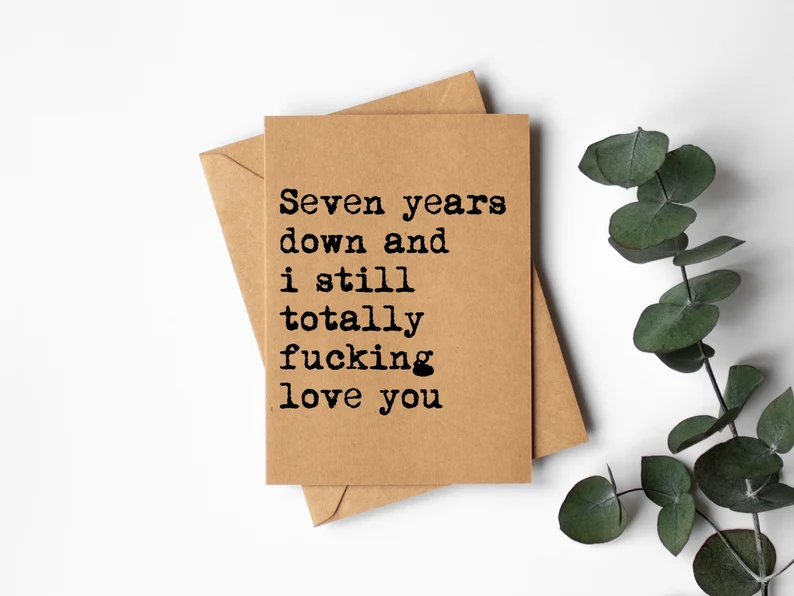 IF YOU LOVED THESE COPPER GIFT IDEAS THEN PIN THEM TO YOUR BOARDS!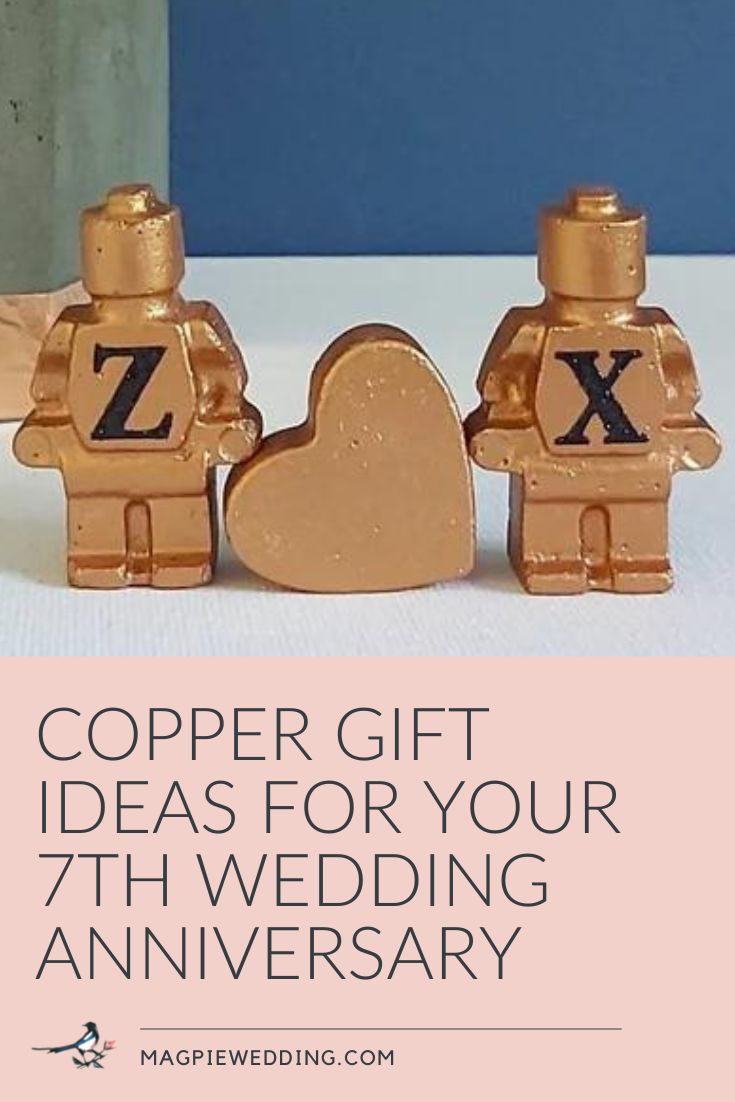 If you loved these copper gift ideas you may also like;
Wedding Anniversary Gifts – A Year By Year Guide
Marriage Matters: 17 Romantic Birthday Or Anniversary Wishes for Your Partner