A bride in a leather dress, with orange shoes…what is not to love? Sara and John's wedding in Bexley, Kent will brighten your day as well as show you that colour can really tie your look together. Especially when it is a colour that isn't always seen at weddings! (I must say that I love orange and even have an orange fridge!)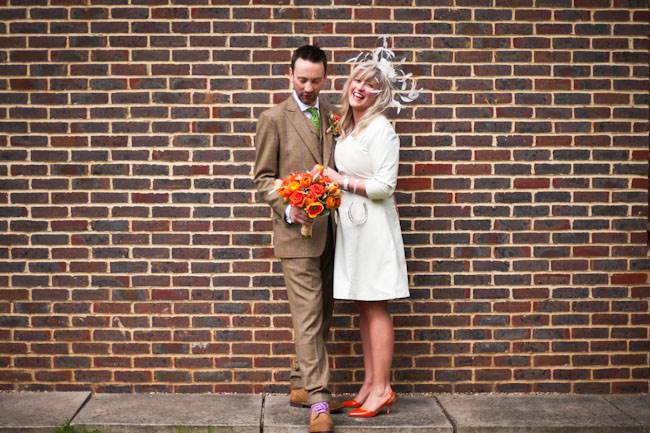 The happy couple wed in June 2013 at the Holiday Inn in Bexley Village. Sara describes how they first met and their style vision.
"We've lived within three miles of one another for about fifteen years (Bexleyheath & Welling) but actually only met for the first time in June 2012, at the Holiday Inn where my cousin was DJ-ing on a Soul Night special. We're both more into our guitar music or northern soul, but hit it off straight away and spent most of the evening on the sofas in the lobby talking.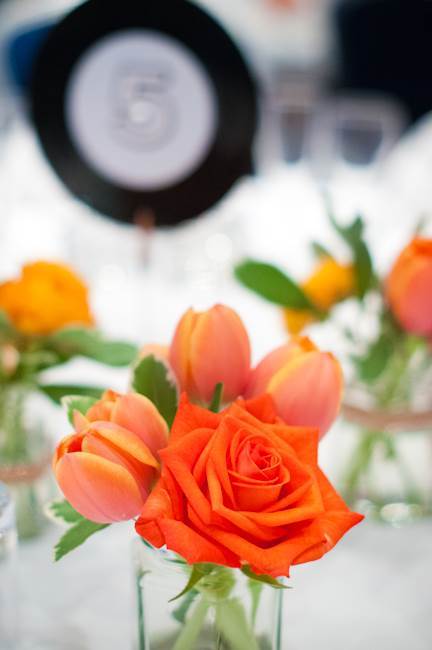 Seven months later, we'd moved in together and John proposed late on the first evening that we became shared house owners. I came out of the bathroom having removed my make up and with dishevelled hair, saying 'it's our first official night of living together', in total synchronicity he reached under the covers and pulled out the most beautiful sapphire & diamond ring saying 'and to make it more official, will you marry me?'. It couldn't have been more romantic. We both cried and called our respective families despite the late hour. John and I had looked at the ring back in October in a vintage jewellery shop and he'd made me try it on. It was a perfect fit. I was unaware at the time that after we'd left left the shop, he called them and had it put to one side until he could get back to buy it."
And just check out the ring: it's a vintage beauty!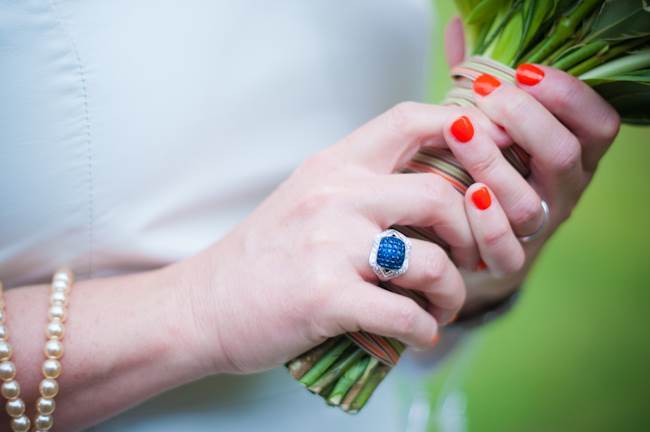 "John and I met quite late in life, we were both in our early forties and had not found the right person until that day in June. It felt perfectly natural and still does. He's an amazing man, kind, considerate, a real gentleman. I call him My Special Treasure, because it was just like discovering something incredibly unique & priceless that changes the past and the future. A one-off. And he's decidedly handsome & stylish to top it all off. And plays a mean guitar!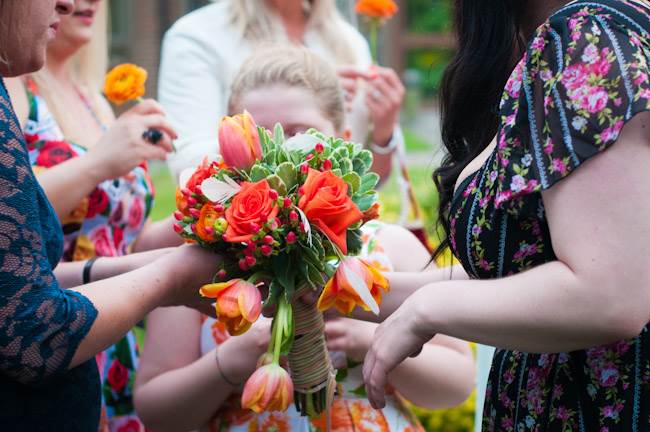 Despite my being a bit of a control freak, John said he'd like to arrange where and when we were to be married, and I agreed. It's amazing how being with the right person can make you let go of the reins a bit. The romantic that he is, he arranged for us to be married in the very same room that we met, exactly one year later to the day. The Holiday Inn isn't a castle or a lavish venue, but it was the right place to do it. Sometimes meaning is more important than location. I know it's a special place anyway, my aunt and uncle met there over thirty years ago and they're still going strong."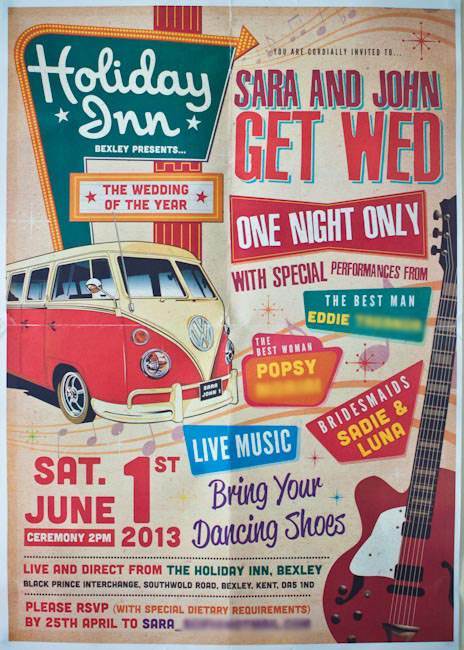 The wedding has a late 1960s vibe to it, which we of course love here at The National Vintage Wedding Fair.
"Once the venue was booked, we collaborated on every other detail. I think it's very easy to lose sight of what your special day means. We both wanted a simple, honest ceremony with a damn good knees-up in the evening. We share similar tastes, John is a snappy dresser with mod AND rocker influences (much like his music) and I'm quite curvy, so like to wear flattering shapes, with a vintage/rock/punky twist. John says I always bring an edge to my clothes, I'm not a massive fan of irons (for my clothes or my hair), I suppose I'm just fabulously rough and ready! The vision didn't change so much as evolve. Neither of us had set ideas of weddings as a child, I just wanted to meet the right man, and eventually did!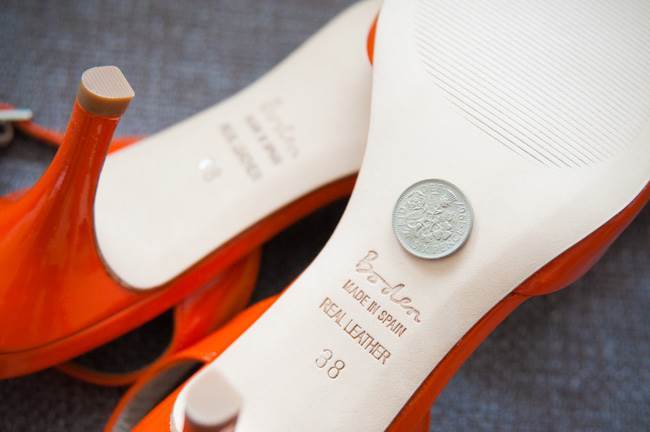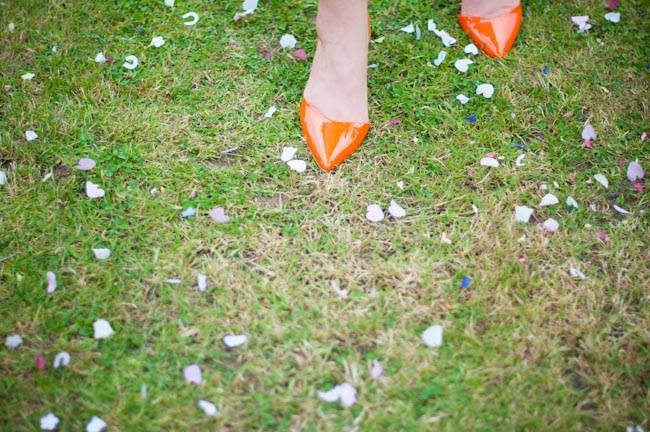 We were slightly curtailed by venue, the Holiday Inn is pretty corporate, but rather than trying to mask it with white lycra chair covers, red carpet & iridescent table displays, we decided simple and vintage was the way forward. We didn't have a budget as such, but both agreed that it was important to work honestly with the surroundings, but be as stylish and inventive as possible. I run my own company, Revamped by Sara, styling homes & people and enjoy upcycling and customising, so it was an amazing opportunity to find ways of doing things a little differently and sourcing things for less, whilst working with both our personalities."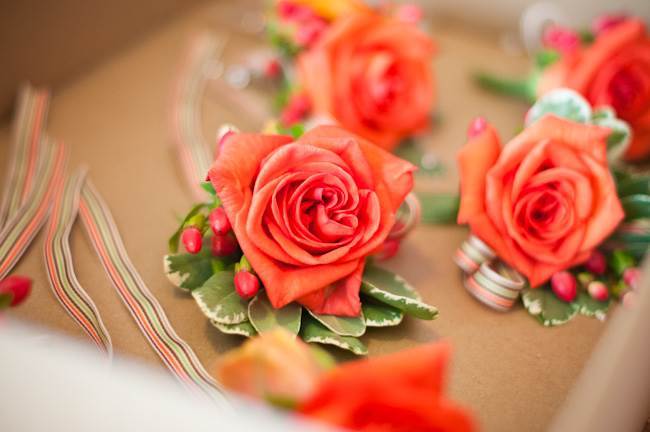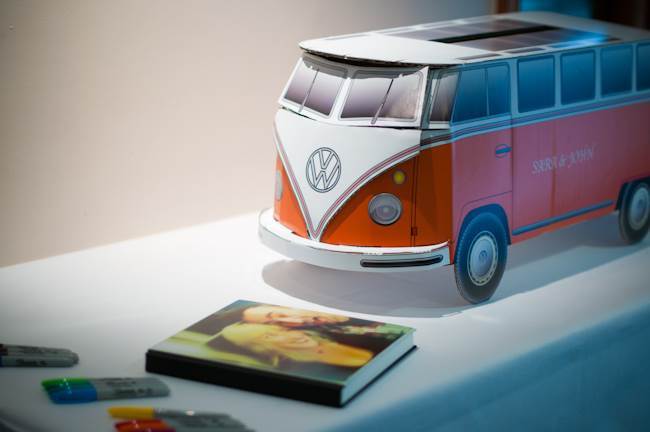 The style of the wedding is lovely, bright and fun:
"The wedding was more vintage 'style' than true vintage. John wore the most incredible three-piece suit in brown, ginger, orange & violet (my favourite colour) which was tailor-made by Nathan at Tweed Addict, his shirt was from Charles Tyrwhitt, green cufflinks & emerald silk tie from Thomas Pink and his boots were Redwing. He wore orange socks and tied his boots with laces in my favourite colour. He even wore the silk handkerchief I gave him soon after we met in his top pocket. My outfit was really inexpensive, I am an Ebay queen, so found an off-white leather dress I liked, asked them to add three-quarter length sleeves and reduce the skirt length slightly (all done remotely with a company in India I might add) I had no fittings, the dress arrived and it fit. As simple as that! I finished it off with a dark ginger velvet handbag from Furla that I'd had for a good few years, cumquat orange slingbacks from Boden, a really 'easy to move & dance in' feathered headband from John Lewis, and my husband-to-be's grandmother's pearls on my wrist. My entire outfit cost £350.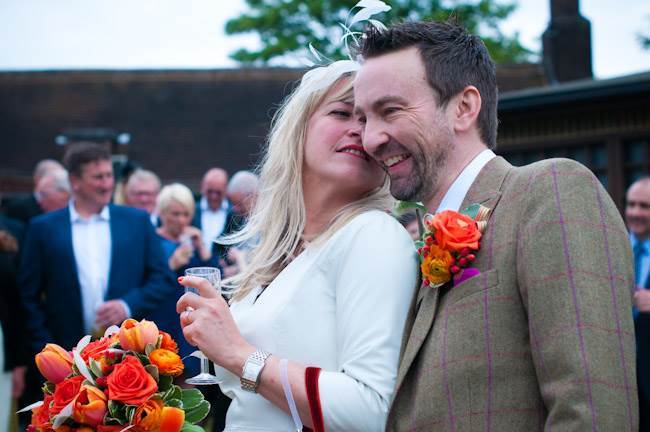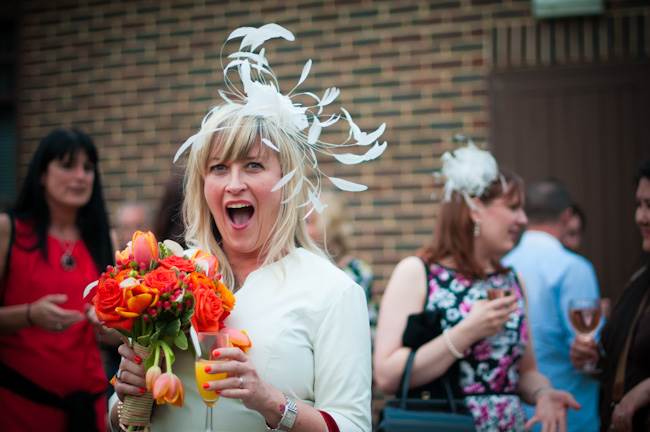 The bridesmaids were my two nieces and I wanted them in something fun that they could dance in too. I found the dresses again on ebay (an American shop) and had them both taken up when they arrived so they would echo the length of my dress. A little bit 50's I guess. They each wore lace fingerless gloves, lace-trimmed ankle socks and bright orange Converse All-Stars. Another nod to the style of the 50's.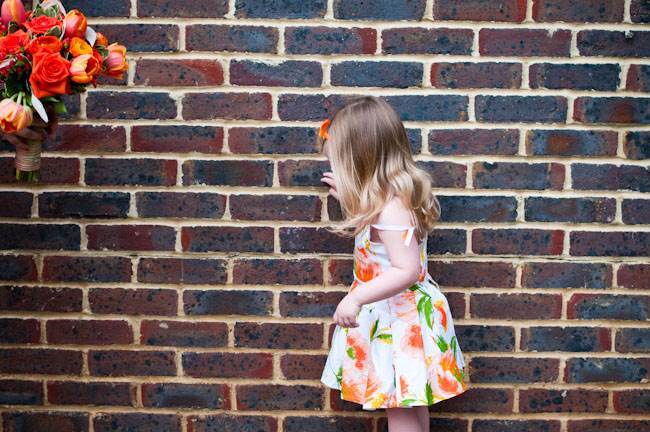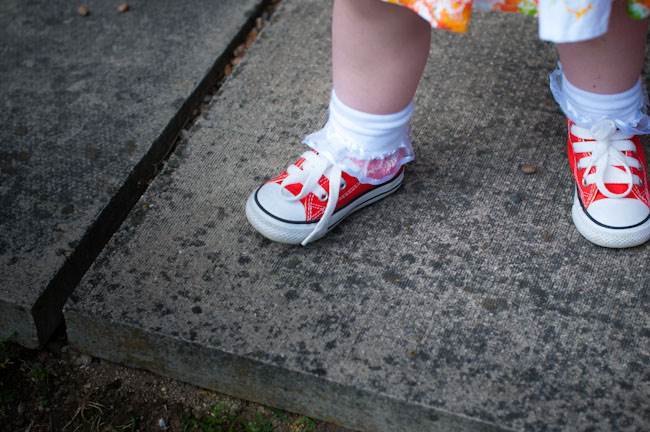 The bouquet, and all the buttonholes were created by Angela James. She also worked with me to create understated but vintage-style centre pieces. I found some fabulous cream, orange, brown & green ribbon (toning in with John's tweed suit & my shoes) and some hexagonal honey jars which Angela filled with seasonal orange flowers & berries. The result was stunning and all the women went home with one at the end of the day.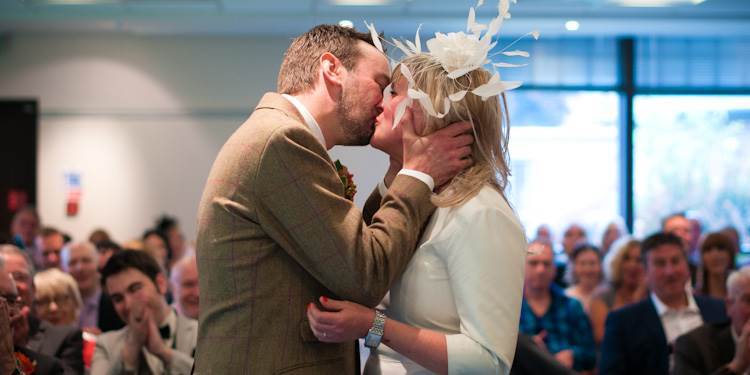 I did my hair and make-up myself. I wanted understated and sometimes you can only achieve that yourself.
I changed my footwear in the evening and found the most incredible pair of white leather cowboy boots (another fetish) with silver stitching and sequins. Changing out of my little heels enabled to me to dance the night away to the one surprise John had saved til last, a band called The Committed, a tribute band to the movie The Commitments. There's another bit of vintage for you! The music could not have been better!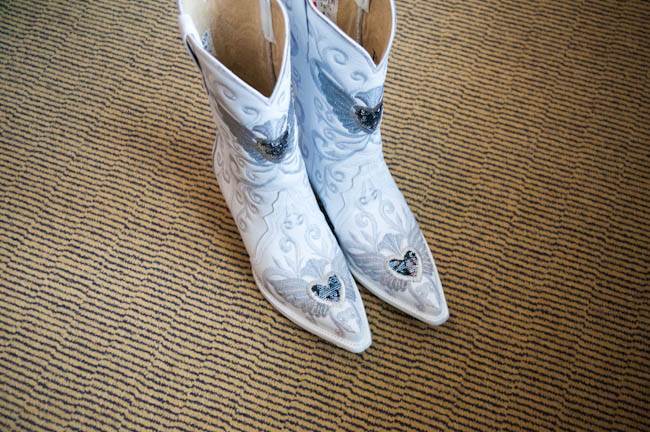 The theme was quirky, mid-century with a twist I guess. John arrived in our 1968 Volkswagen Camper (aka Eric), which looked resplendent in a little black and white bunting. I was already at the hotel, so didn't make my entrance until ceremony time.
Allanna Neville (my aunt!) is a blooming whizz at sugar crafting made both our cakes. The main cake was sleek and white with orange ribbon trim and pearlised engraving, she also made a fantastic orange camper van complete with a radio aerial. They both tasted incredible and looked out of this world.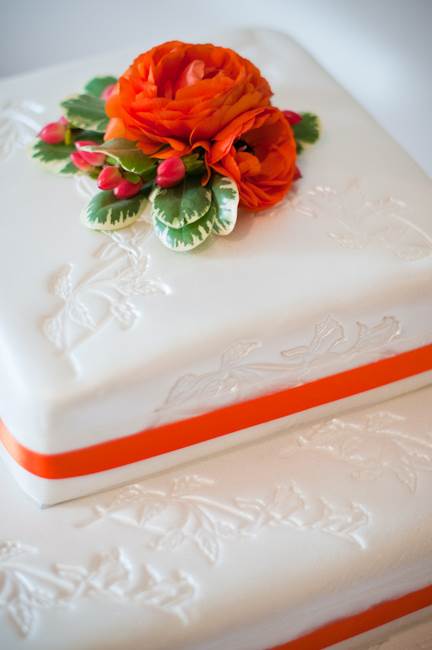 I had two best parts of the day, the first seeing John's face as I walked down the aisle towards him, knowing I was about to marry the man I'd spent 44 years waiting for and the second was dancing & laughing under the flashing dance-floor lights from Sweet Gene Vincent (our first dance) to the band belting out 'Try A Little Tenderness' at the very end of the night. Perfect.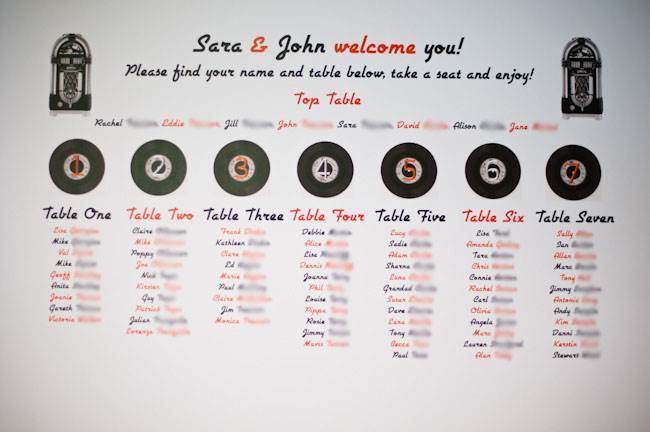 We're both big music fans and share very similar tastes. I'm sure that what you listen to, especially if it's older stuff (The Who, Elvis, Aretha Franklin) has an impact on the style you like. All the photographs of stars in their heyday and movies of those eras have definitely shaped John's and my sense of style. I suppose our wedding was a quirky, mid-century, vintage mish-mash, as that describes much of our vinyl collection. Incidentally, we used old 45's to create the table numbers and had just about the most fun wedding invite ever. A 50's style poster which everyone loved."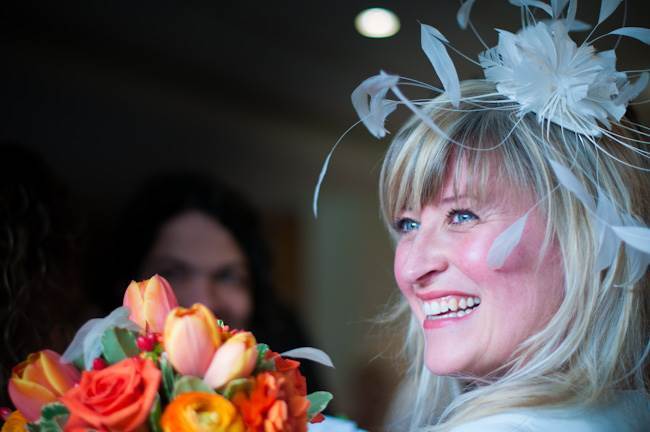 We caught up with barbara. k. photography to find out why she loves shooting this wedding so much:
"I absolutely loved photographing Sara and John's wedding. When we had our first chat about their wedding day, I remember them saying that 'they had nothing special planned'. So I was very surprised to witness a truly personal and unconventional wedding. For me, shooting their wedding was actually an epiphany! I enjoyed it so much that I decided to shoot only alternative weddings. It is so exciting to photograph couples who are not afraid to break conventions and do things their own way to celebrate the uniqueness of their relationship!"
Credits
Photographer: barbara k. photography
Dress: Ebay
Shoes: Boden
Accessories: Furla, Charles Tyrwhitt, Thomas Pink, Redwing & Converse All-Stars
Bouquet: Angela James
Cake: Alanna Neville
Make up/Hair: the bride
Grooms suit: Nathan at Tweed Addict
Bridesmaid dresses: Ebay
Venue:Holiday Inn, Bexley