In our real wedding blog we get the chance to share the utterly gorgeous vintage Sheffield wedding of Michael and Stacey Teng in September last year.
NVWF: Tell us about yourselves? How long have you know each other? When did you get engaged and when did you marry?
We are Michael and Stacey and we are both Biomedical Scientists at Doncaster Royal Infirmary. We met at work, with our paths crossing frequently there, and when he brought me a steak pie to work that he had made, he won my heart! We had probably known each other around a year before our first date, and we moved in together quite quickly after about 5-6 months of dating. We started going to the Whitby Goth Festival each year. and Whitby kind of became 'our place', and it was here in October 2011 that Michael asked me to marry him.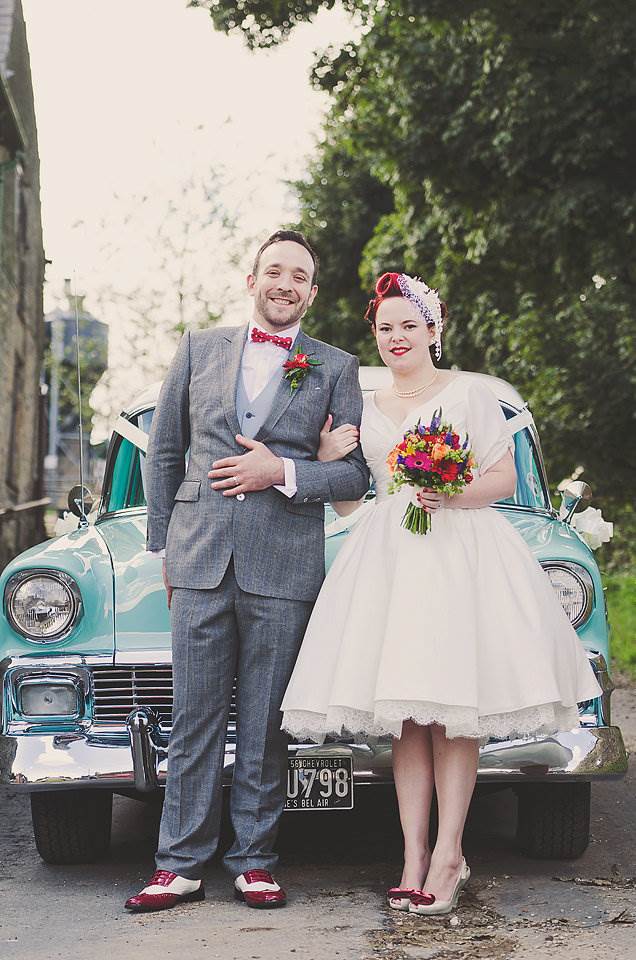 The proposal happened at the cliff top in the grounds of St. Marys church, just near Whitby Abbey. We had climbed the 199 steps and I turned round to see Michael acting a bit strangely and really out of breath. It was unlike him because he's a fit guy and plays a lot of sport. I kept walking round the edge of the cliff and when I turned round he was on one knee with the most amazing ring. I of course said 'yes!' It turned out that Michael had been to ask permission from my Dad beforehand too which really meant a lot to me, as I'm really close with my family. We got back to our apartment and he'd arranged flowers and champagne and a meal at a nice restaurant that night, he'd really put so much effort and thought in to it.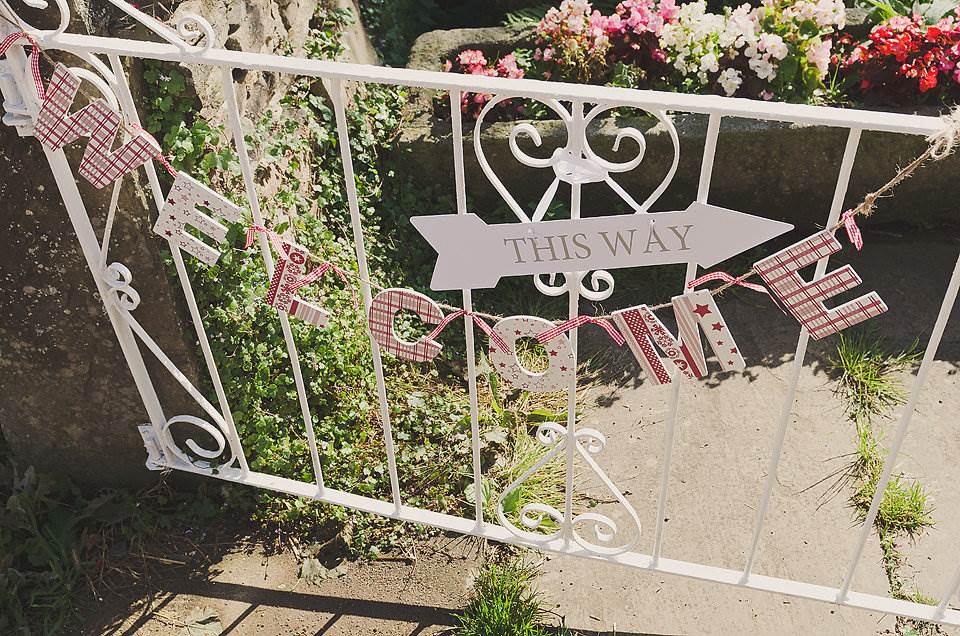 NVWF: What was your vision for your wedding when you were growing up: was it vintage or traditional?
I was never bothered about getting married when I was growing up, it all seemed a big waste of money and time to me -I obviously just had not met the right person! I've been in to the fourties and fifties era for about 10 years, but I started dressing in the 'vintage' style about 7 years ago. I didn't particularly focus on the wedding being 'vintage' as such, I just like that style and a lot of the things I chose fell in to that category. We wanted the wedding to be bright, laid back and fun. My Mum is a florist and I'm also very crafty so we made most of the decorations ourselves. We collected old crockery for the years leading up to the wedding, I already made teacup candles, so I knew I wanted to make those for my ladies favours. I wanted everything to be bright and not matching, I had polka dots, gingham and stripes all mixed on the tables and kept all the colours nice and bright.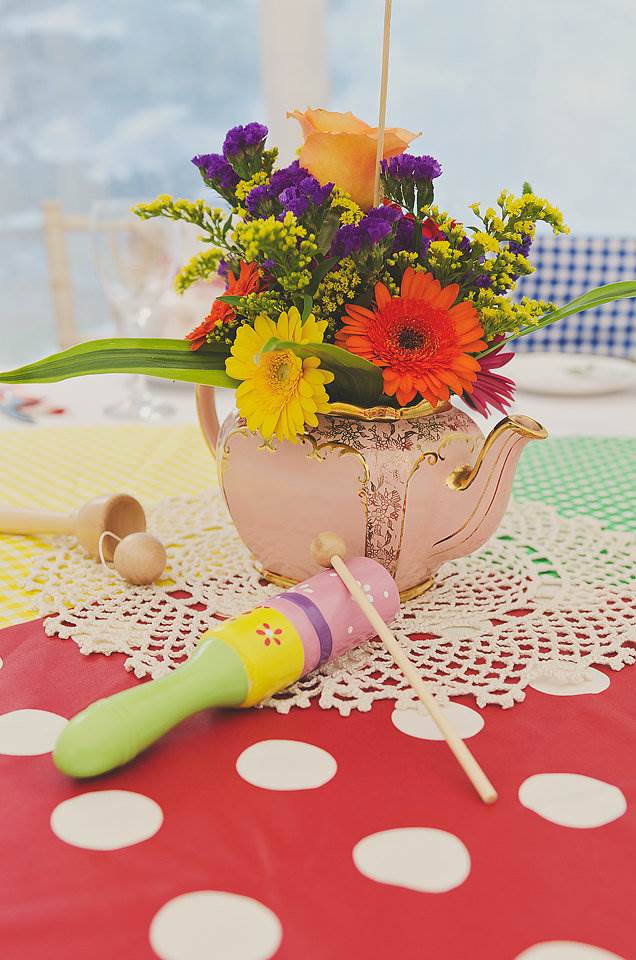 NVWF: Why did you want a vintage wedding? What elements were vintage?
My dress was fifties style but was a reproduction by Dolly Couture. We had a vintage American car, bunting, old crockery, my bridesmaids and I had victory rolls and fifties style make up. Our band 'Carmen Ghia and the Hotrods' are a rockabilly fifties style band. It was all quite 'rustic' with the mismatched materials and hay bales which all went along with the theme.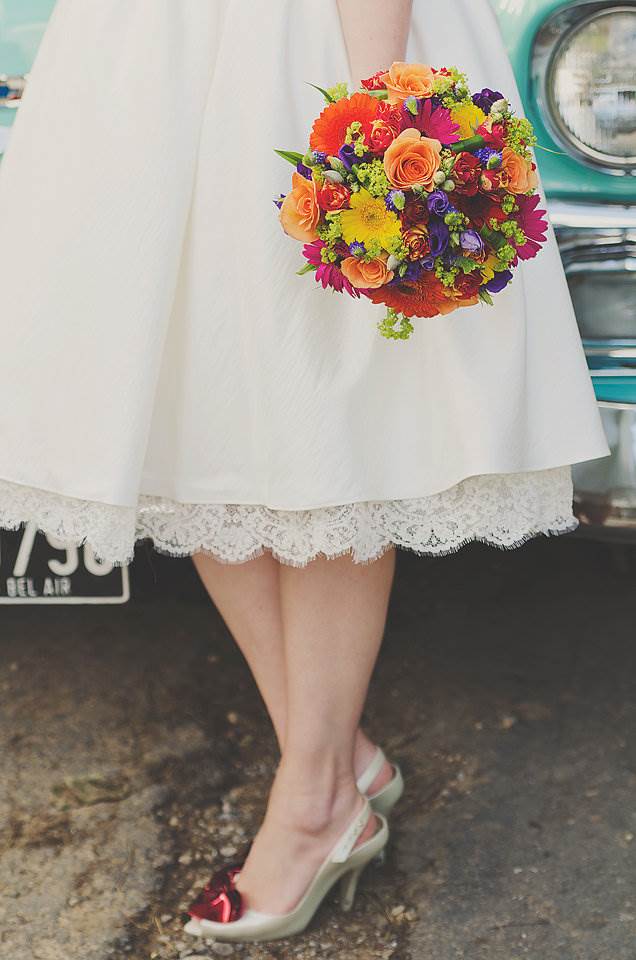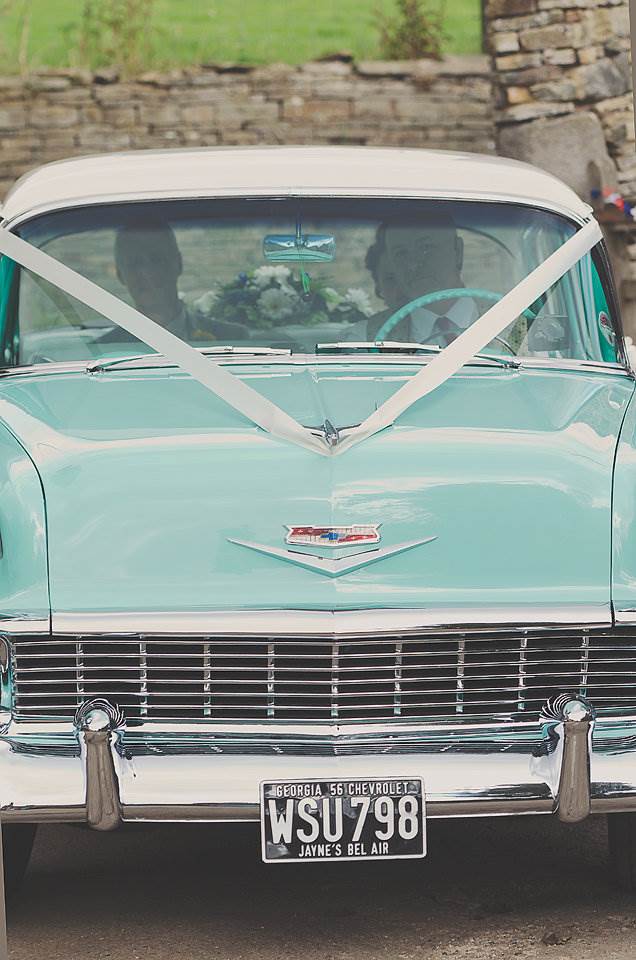 NVWF: How did you choose your venue?
Our wedding was at Whirlow Hall Farm in Sheffield on 7th September 2013. We had a humanist ceremony which meant we did the legal proceedings at the register office the day before with just our immediate family. We knew we didn't want a religious wedding in a church, nor did we want to get married in a hotel or where someone we knew had been married so we decided upon the humanist idea because it's none religious and means you can get married wherever you want. I quite liked the idea of having a ceremony outside, so we needed somewhere with enough outside space. We loved Whirlow Hall Farm straight away. We hired the Hall and gardens, which is an old cottage which has been converted to house kids on school trips, and a large garden with loads of trees to hang stuff in and plenty of space for a marquee. It has amazing views over the peak district too. When we were visiting a sheep even ran through the yard, I just loved it because there was so much potential. Michael has a lot of family from Cumbria so the bunk beds in the cottage meant they could all come and stay for free.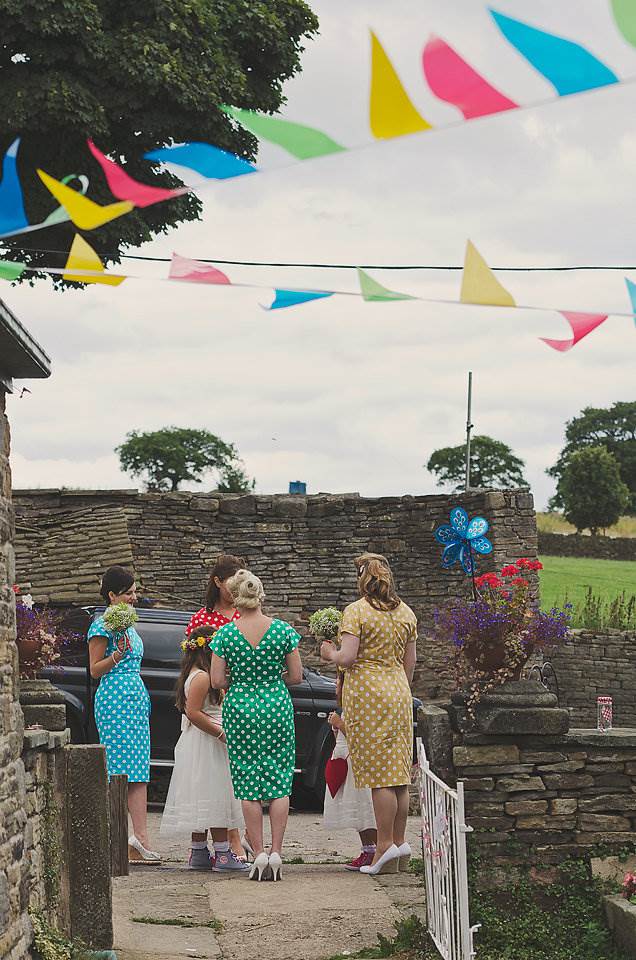 NVWF: How did you choose your dress?
I'd looked on the internet and seen the Dolly Couture brand. The only place in England at the time that stocked the dresses was in Bexley Heath, Greater London which is a long way from Doncaster! So my Mum, Helen and myself travelled all the way down there a lovely shop called 'Cutting Edge Brides' to try some on. The shop specialises in short wedding dresses and I definitely knew I wanted a short dress. I picked out a couple of dresses, and the lady in the shop picked out a couple too. The one I chose was only the 3rd I tried on, it fit me perfectly straight off the hanging and I knew it was the one before I'd even looked at myself in the mirror. The style was called 'The Beverlywood' and was much more simple than I originally had in mind but I loved all the pleating to the bodice and the simple lace that came from the underskirt.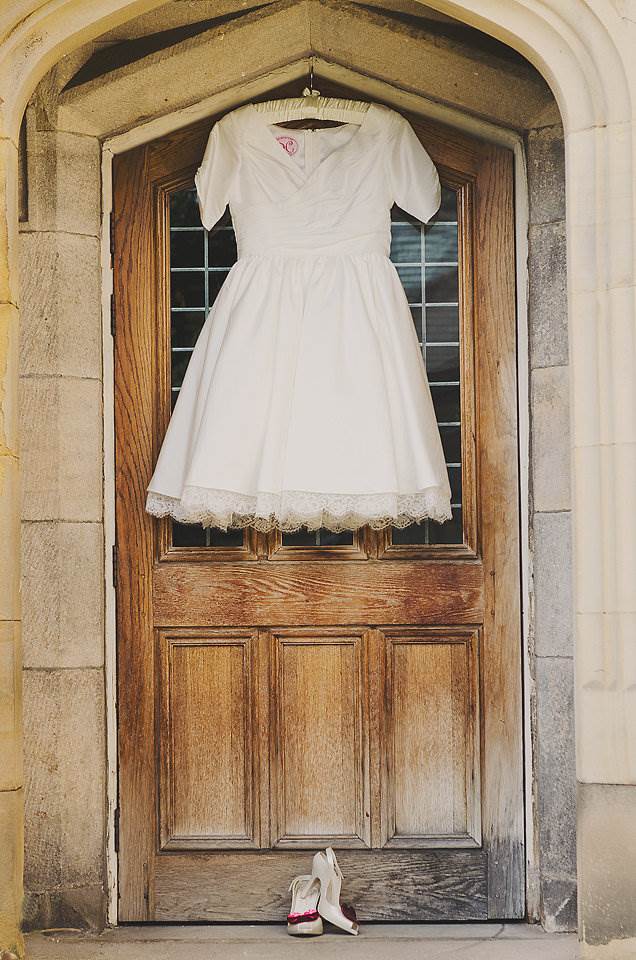 NVWF: Was there a theme to your wedding?
There was a bit of a tea party theme, the table centres were old teapots with flowers in and the favours were teacup candles for the ladies and biscuit shaped key-rings for the gents. But we mainly just wanted lots of bright colours – I love patterns, especially polka dots, so my bridesmaids were in different coloured polka dots and the men had polka dot ties and pocket squares. There was also a bit of a village fete feel to the day, my Dad had made a coconut shy and tin can alley, we had hook-a-duck and a golf game, plus small games on all the tables. We had a picnic style lunch that we prepared ourselves, most of the produce came from Doncaster Market and we made up hampers for each table so that everyone could share the food around and interact. The farm provided a hog roast for the evening. We had cheese instead of a traditional cake, so we cut that early so everyone could dig in as part of their lunch.
We did everything ourselves, after our registry office wedding we all headed to Whirlow and our closest friends all came out to help us set up. I finally left at 10pm the night before the wedding after decorating the marquee and gardens, Michael and some of his closest friends still had to sort out the hampers and move the hay bales the morning of the wedding. And my Mum was there sorting out all the flowers, it was all quite stressful, but totally worth it.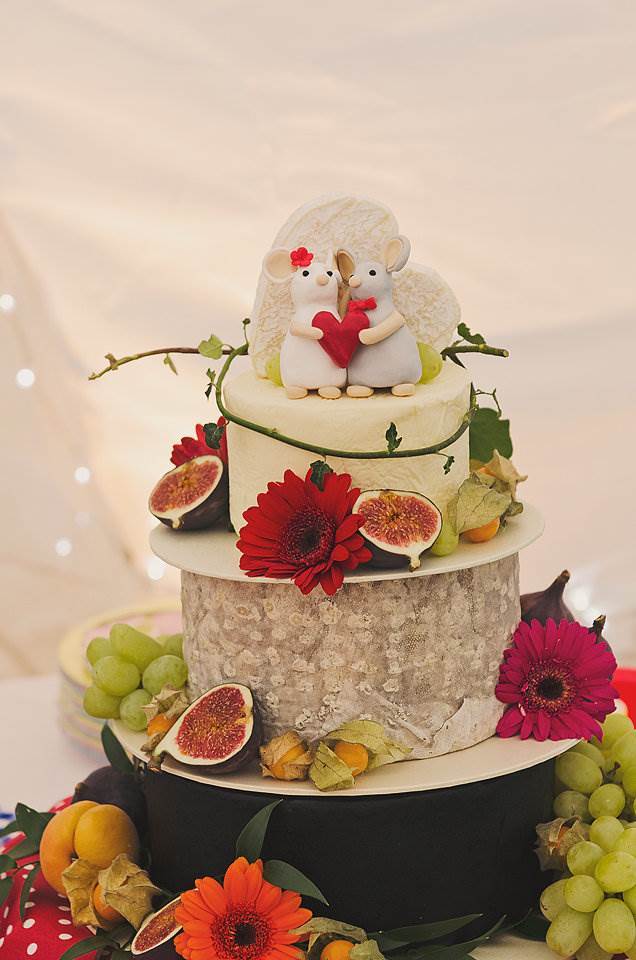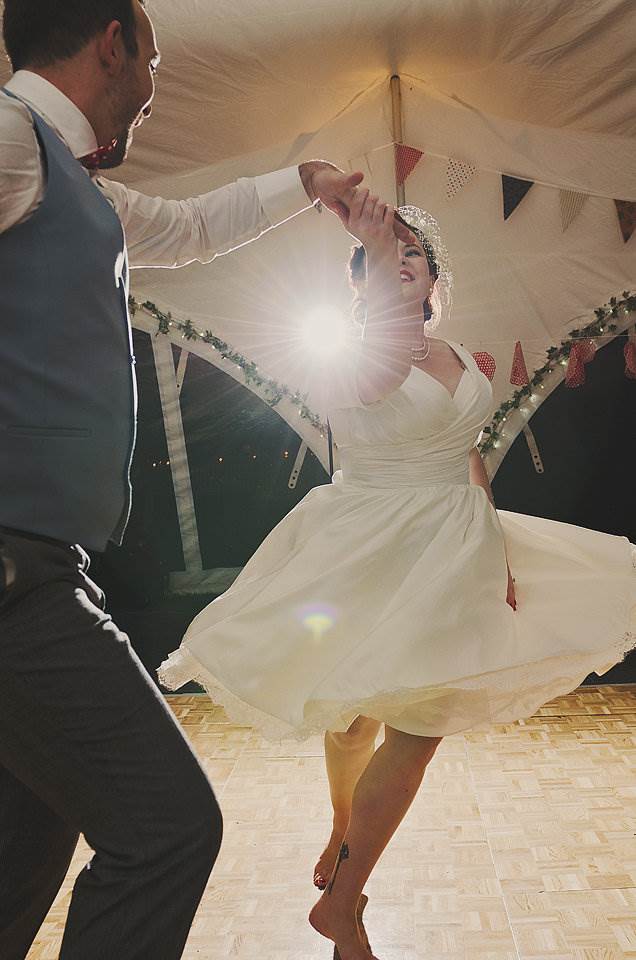 NVWF: What were your influences for the day?
I looked at loads of wedding websites to get ideas, but I think the day really reflected us and was exactly how we wanted it to be.
NVWF: How long did it take to plan?
We started planning pretty much straight away, but we knew it would take a while to save up, even though we were doing it on a budget. I was in the middle of my degree and working full time so we tried to space out the planning so I didn't get too stressed. That didn't work of course, we quite quickly sorted out the venue, marquee, table hire and bar hire but we forgot about a photographer! My Mum had told us about Sarah Folega when she met her at a wedding fair where they both had stalls. Mum gave me her leaflets but it totally slipped my mind, with a few months to go we still didn't have a photographer planned but luckily Mum had kept Sarah's number and she was still free on our date. It was meant to be!
I'd decided I wanted my bridesmaids to be in different bright colours and be in dresses that they all liked and could wear again if they wanted. Unfortunately, I bought 3 dresses under the premise that the fourth one would be in stock soon only to be told when I rang to check up on the order that it was no longer available. Helen's mum, Val, came to the rescue! We managed to find some material with the same polka dots and Val made a fourth dress to match the others. She saved the day!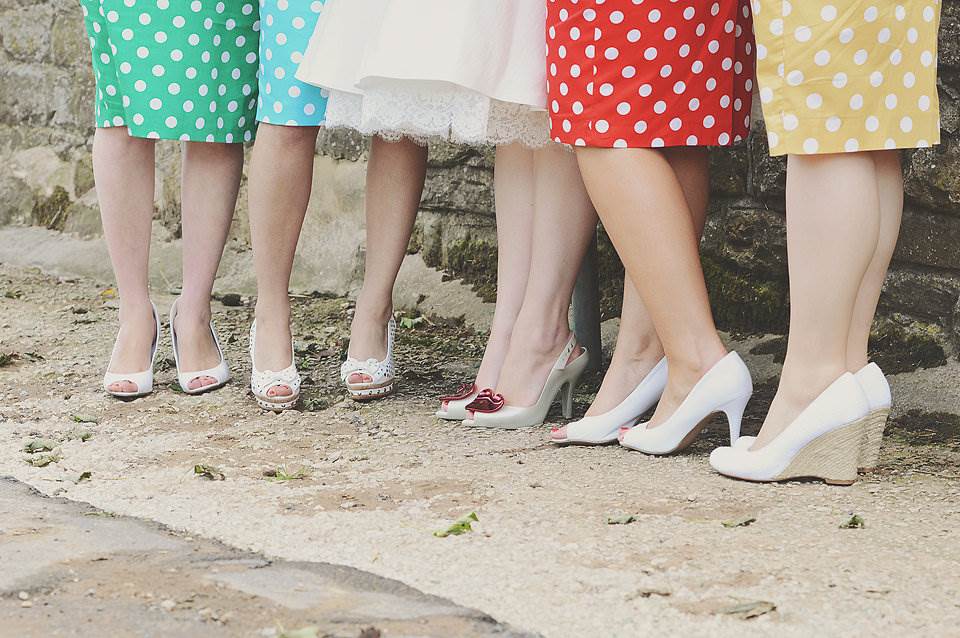 NVWF: And finally, what was the best part of the day?
There were a few really memorable moments. Walking down the aisle with my Dad was brilliant, when the music started to 'My Girl' I have never been so terrified, I thought my legs would give way or I was going to cry! Luckily I was fine once I got going and Dad clung on to me so I didn't wobble over! We sang 'I only wanna be with you' by Dusty Springfield as part of the ceremony, it was so lovely being stood at the front watching all our friends and family really going for it singing the song! The best men's speech was crazy, like slap stick humour mixed with Vic and Bob with everything that could go wrong, going wrong! It just made it all the more memorable! When we could finally relax and have a dance and a drink with our families without any of the worries of when things should be happening it was just great.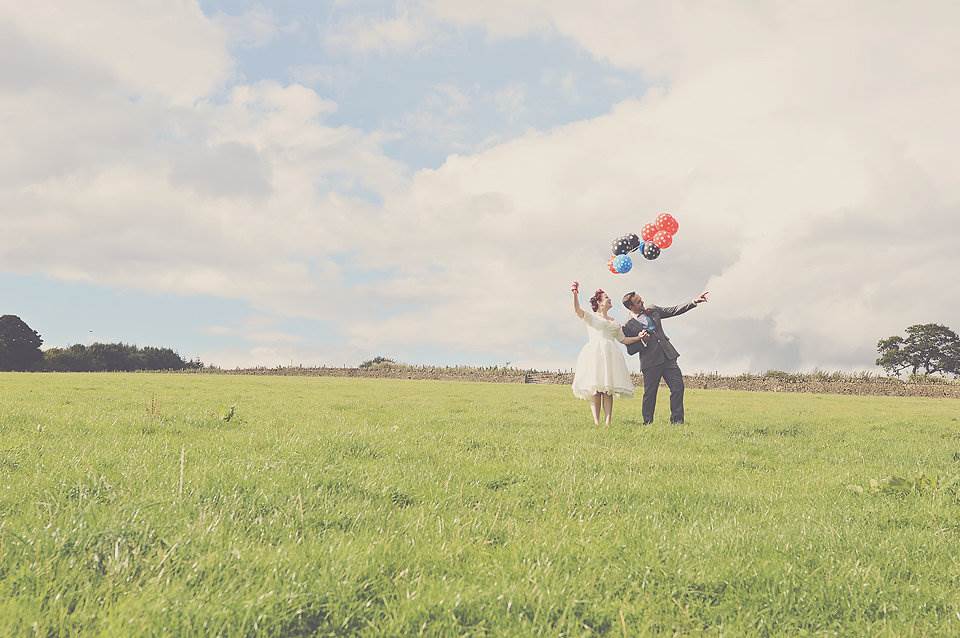 Unless stated otherwise all photography : Folega Photography
Photo Gallery –
Credits –
Are you going to be a vintage bride soon? For ideas and inspiration join our mailing list . Come visit one of our upcoming vintage wedding fairs in Cambridge on 14th September, Harrogate on 21st September, Stoke Newington, London on 12th October or Chiswick, London on 9th November and find everything you need for your big day. For more details check the website – www.vintageweddingfair.co.uk.
Written by Sarah Gorlov