Want to jump on the Barbie mayhem and be transported to a world glamour, nostalgia, and of course pink? We have THE BEST inspiration for you to do just that in today's article! Barbie is EVERYWHERE and we LOVE IT! So, we have a treat that's twofold, four fabulous Barbie-inspired drinks by The Cauldron and Fizzbox partnership perfect for a Barbie-themed hen party or wedding. Plus, did you know that Barbie and Ken actually did get married? We have proof from the amazing French photographer Beatrice of The Quirky who was there in person taking their personalised and exclusive shots of their big day…
Glamour In Pink
A cocktail that shows off Barbie's signature look with its stunning pink hues and classy foam top. This refreshing rum, vodka cherry and vanilla concoction topped with edible glitter is perfect for channelling your inner fashionista.
Ingredients
25m any Light Rum
25m Vanilla vodka
25m Supasawa Mixer (can use bartender lemon/lime juice as alternative)
100m cherry and vanilla syrup
1 x full pipette of Mrs Better's Bitters)
Directions
Measure out your ingredients and add them into your cocktail shaker. Dry stir the ingredients in your shaker for 30 seconds with your stirrer. Add a handful of ice, add on your shaker lid and get shaking! Using your cocktail strainer and hawthorn strainer, double strain and pour into your chosen cocktail glass. Add a sprinkle of gold, edible glitter for the finishing touches! If you want to go all out, you could even serve with a Haribo giant strawb on the side
Plastic Fantastic
Are you looking to experience the extraordinary will love "Plastic Fantastic", an innovative, bubbling cocktail that combines raspberry gin, cranberry and a splash of pink tonic that will be sure to wow!
Ingredients
75m cranberry juice
25m kwai feh
50m raspberry gin
20m pink tonic
Directions
Measure out all ingredients excluding the pink tonic into your cocktail shaker. Add plenty of ice and get shaking! Then, double strain and pour into your chosen glass. Top with pink tonic, and voila!
Mali-barb
A cocktail inspired by Barbie's beach vibes. Featuring tequila, blackberry liqueur and ginger beer, this drink will take you on a delicious journey of the senses – it's definitely giving us all those summertime feels!
Ingredients
50m Tequila
50m Creme de mure
25m Lime
10m Blue agave
150m Splash of Ginger Beer
Directions
Add all measured ingredients (excluding ginger beer) into a cocktail shaker and shake over ice. Strain into a highball glass and top with ginger beer garnish. Add some cinnamon on the table for effect.
Just Ken
This cocktail pays homage to Barbie's charming companion and on-off boyfriend, providing the perfect balance of fun and sophistication. Look forward to a tasty mix of Bourbon, Blue Curacao, sugar syrup, mint and lemon.
Ingredients
25m of simple syrup (made from equal parts sugar and hot water that you leave to cool – google is your friend!)
Two 1/4 lemon wedges
1 to 2 sprigs of mint (depending on how minty you like things !)
75m Bourbon of choice (can go 50m if dont like such a strong drink)
10m blue curacao (for colour)
Lots of ice!
Directions
Muddle the sugar syrup, the two ¼ lemon wedges and mint sprigs first of all into your cocktail mixing beaker. Then add your Bourbon of choice, (use a 50m if you don't like such a strong drink) the blue curacao and plenty of ice. Use your stirrer and stir for 30-50 seconds (taste as you go!) Then pour your cocktail through your strainer and into a chilled glass. Add ice to your liking and some mint to garnish
About Fizzbox: Fizzbox is a leading hen-do planning company, offering a wide range of thrilling activities and events to create unforgettable memories both in the UK and Abroad.
About The Cauldron: The Cauldron is a diverse and inclusive, magical themed tavern in Brighton, championing the rights and equality for LGBTQIA+ people and is a proud supporter of Mermaids, a charity supporting gender-diverse kids, young people and their families since 1995.
About The Quirky: Photography duo and couple Beatrice and Jeremie are worldwide photographers based in France. They love to capture fun and alternative weddings whether that be at the beach, up mountains or intimate romantic elopements.
LOVE THESE BARBIE THEMED HEN PARTY COCKTAILS? SAVE THEM FOR LATER!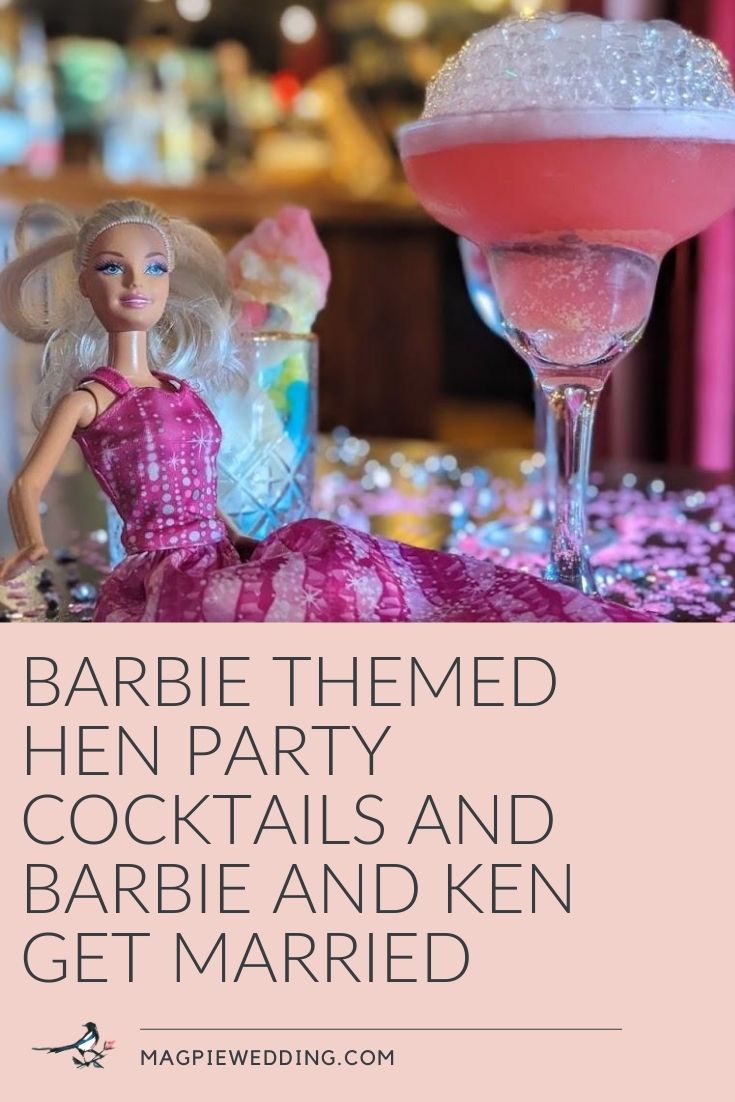 If you loved these Barbie themed hen party ideas you may also like;
Bright Pink Wedding Ideas For An On Trend Barbiecore Wedding
Hen Party Planning – 7 Practical Dos and Don'ts When Organising a Hen Party
Barbie Pink Retro Wedding Inspiration at Peggy Porschen London