Some dark and dreamy wedding inspiration at The Royal Exchange Theatre, Manchester on the blog today, showing a city centre wedding can be just as beautiful if you find the right venue, and this one is spectacular! Local supplier Stacey Hartley of To be Revealed came up with the concept behind the shoot, and we hear from her and the other suppliers involved on how this urban luxe wedding at The Royal Exchange Theatre was created…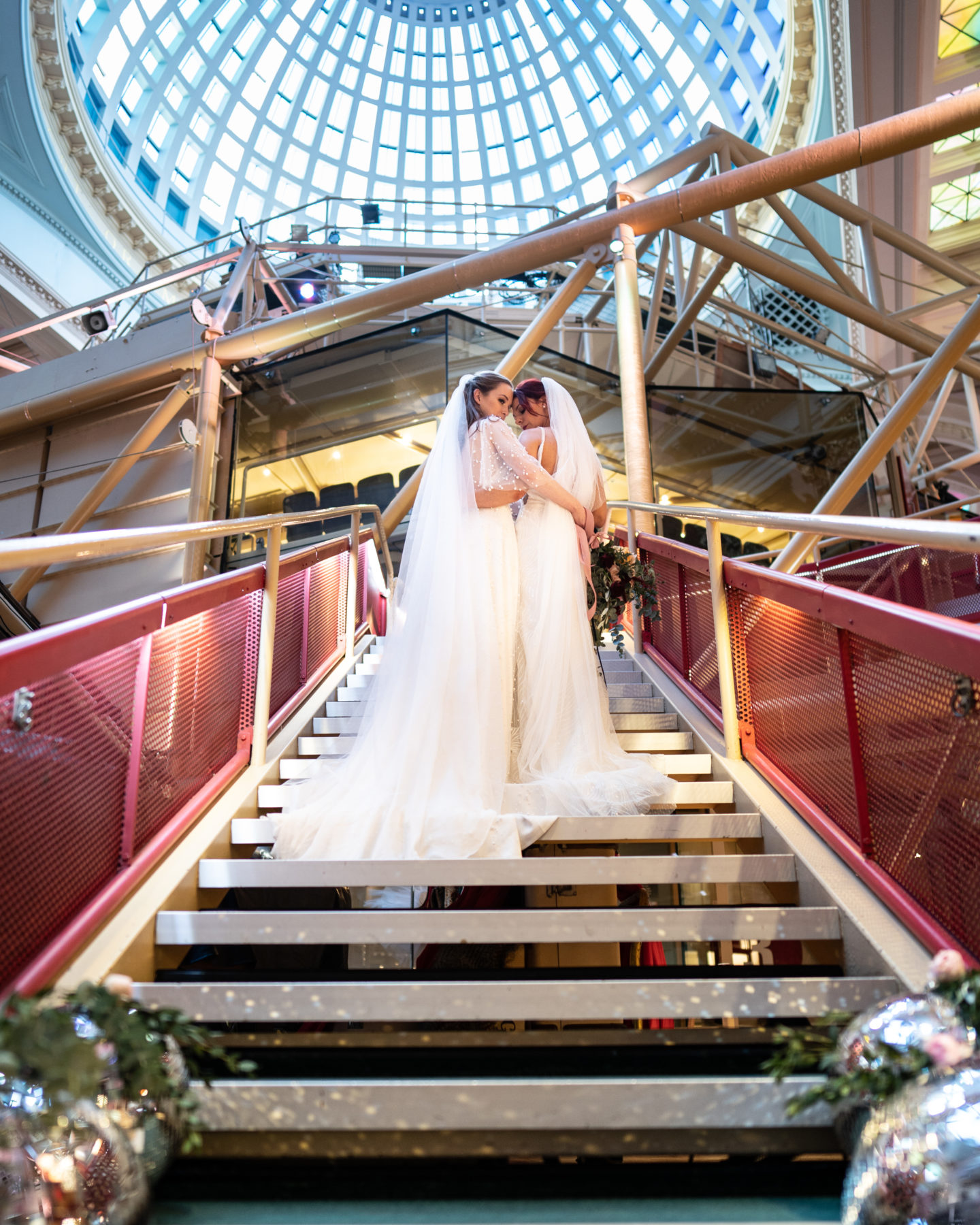 "This shoot came about from a conversation between myself and the events ladies at the Theatre. They were keen to showcase their incredible venue as an amazing, unique place to get married in the City centre. The building itself is steeped in history and has some of the best features in the city. It has a clash of old fashioned elegance mixed with modern architecture and of course the Theatre in the round space which provides a stunning backdrop! It gives something different to a city centre wedding and is a fab place for couples who want something a little bit unique."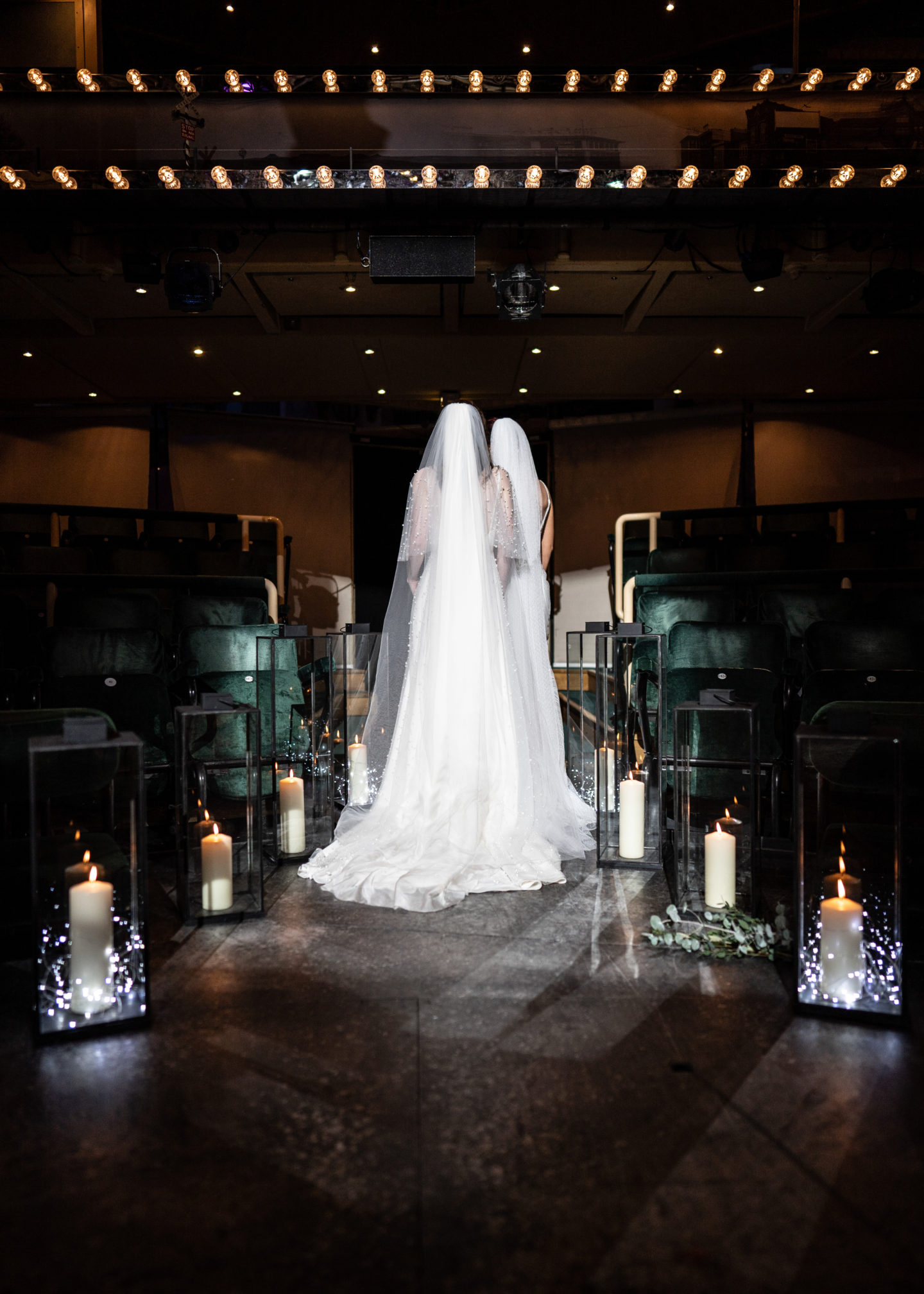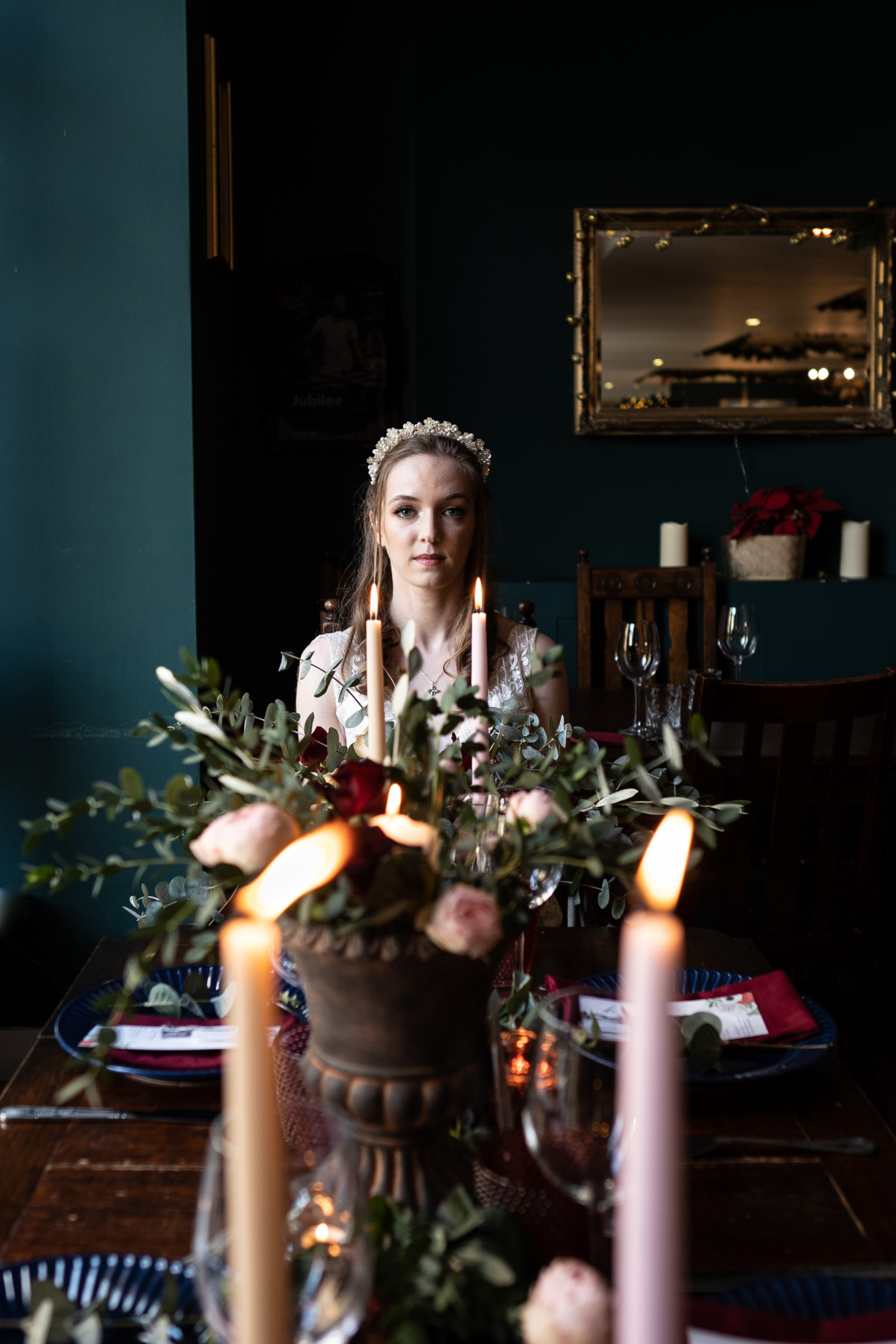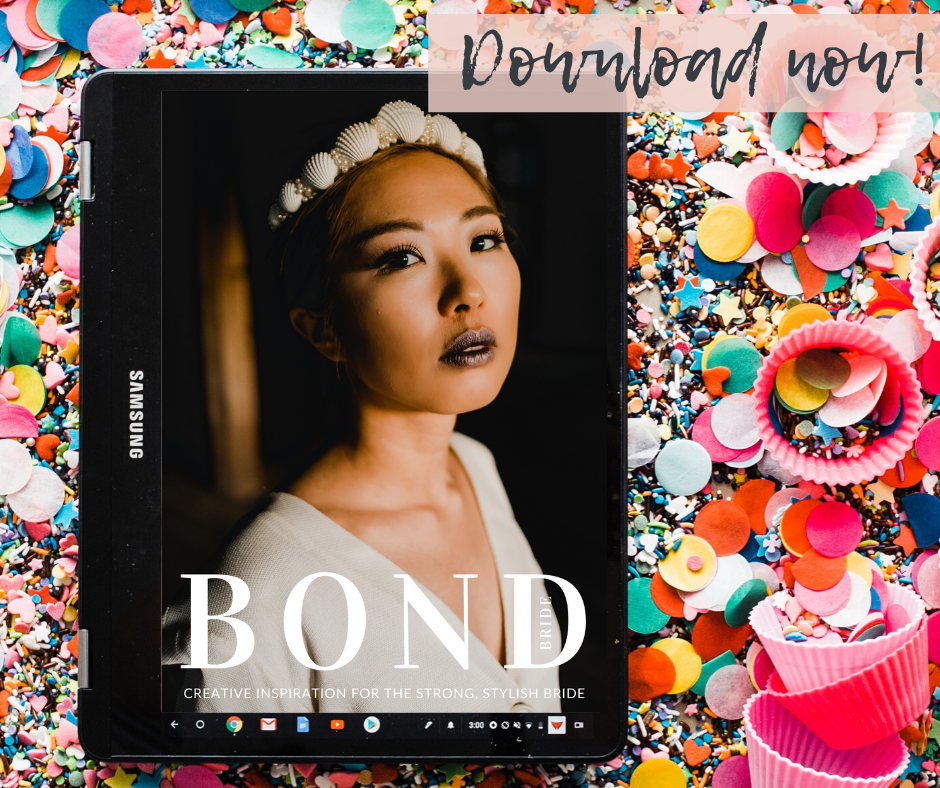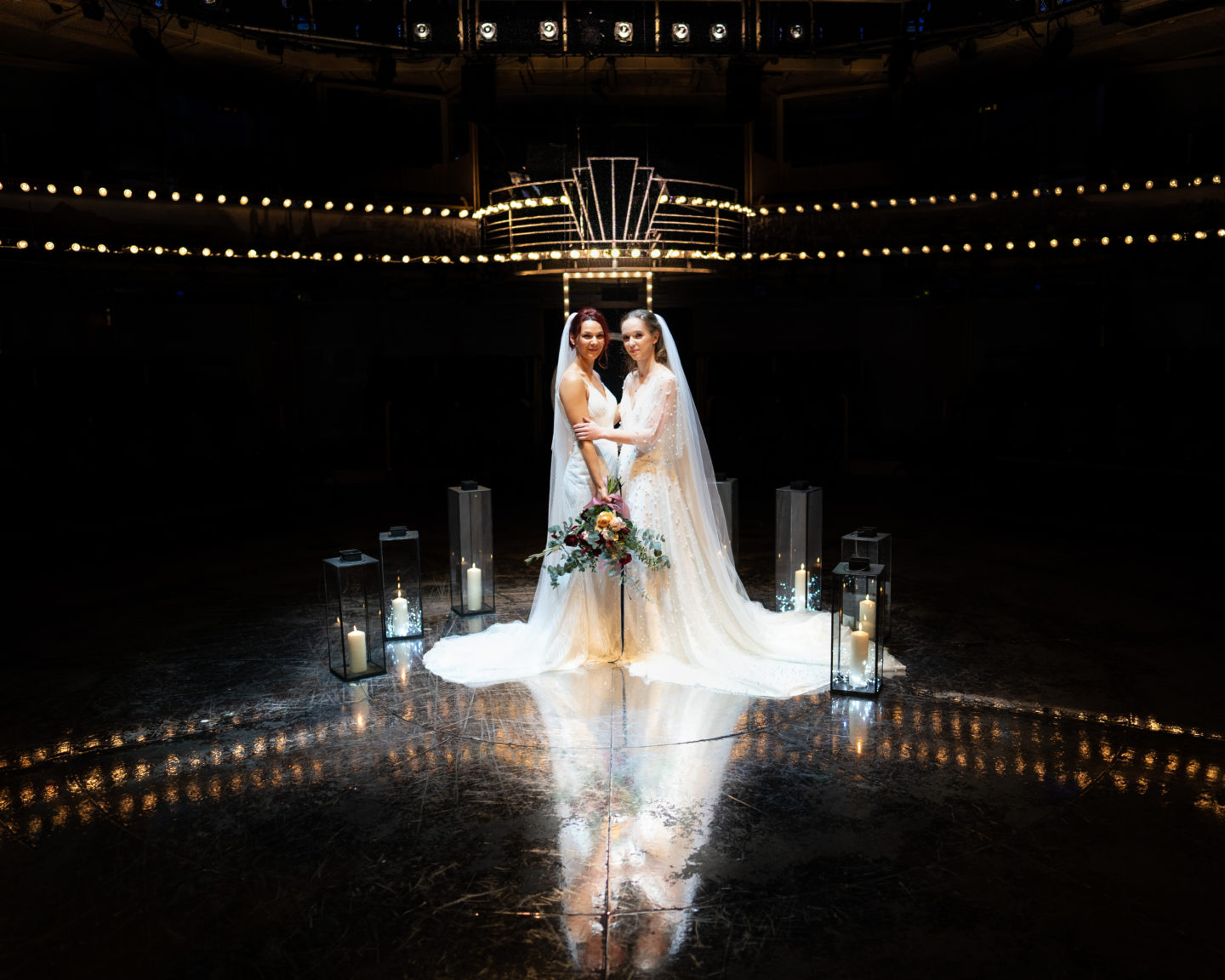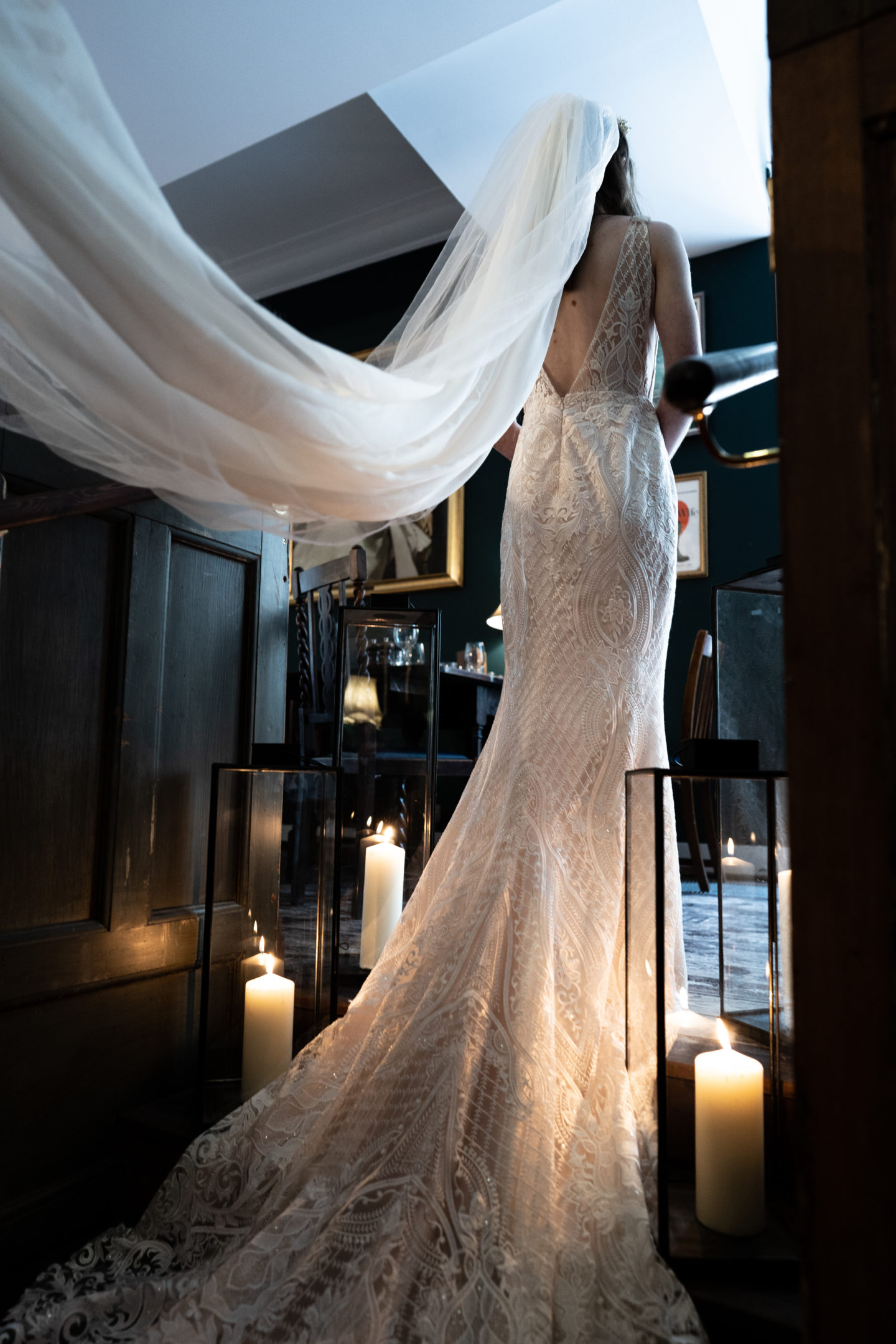 "The main inspiration behind the shoot was actually the venue itself. With so much bold architecture, I was inspired to create something that highlighted this. I am always inspired by texture and colour – and my love for interiors – and took my influence from the venues colours. Being in a theatre setting was a huge influence and I paid particular detail to creating a sense of theatricality without it being too overpowering. Being in the theatre setting meant I was inspired to create a storyline for the couple that transcended throughout the day. This made it feel real and honest rather than an almost 'staged performance'."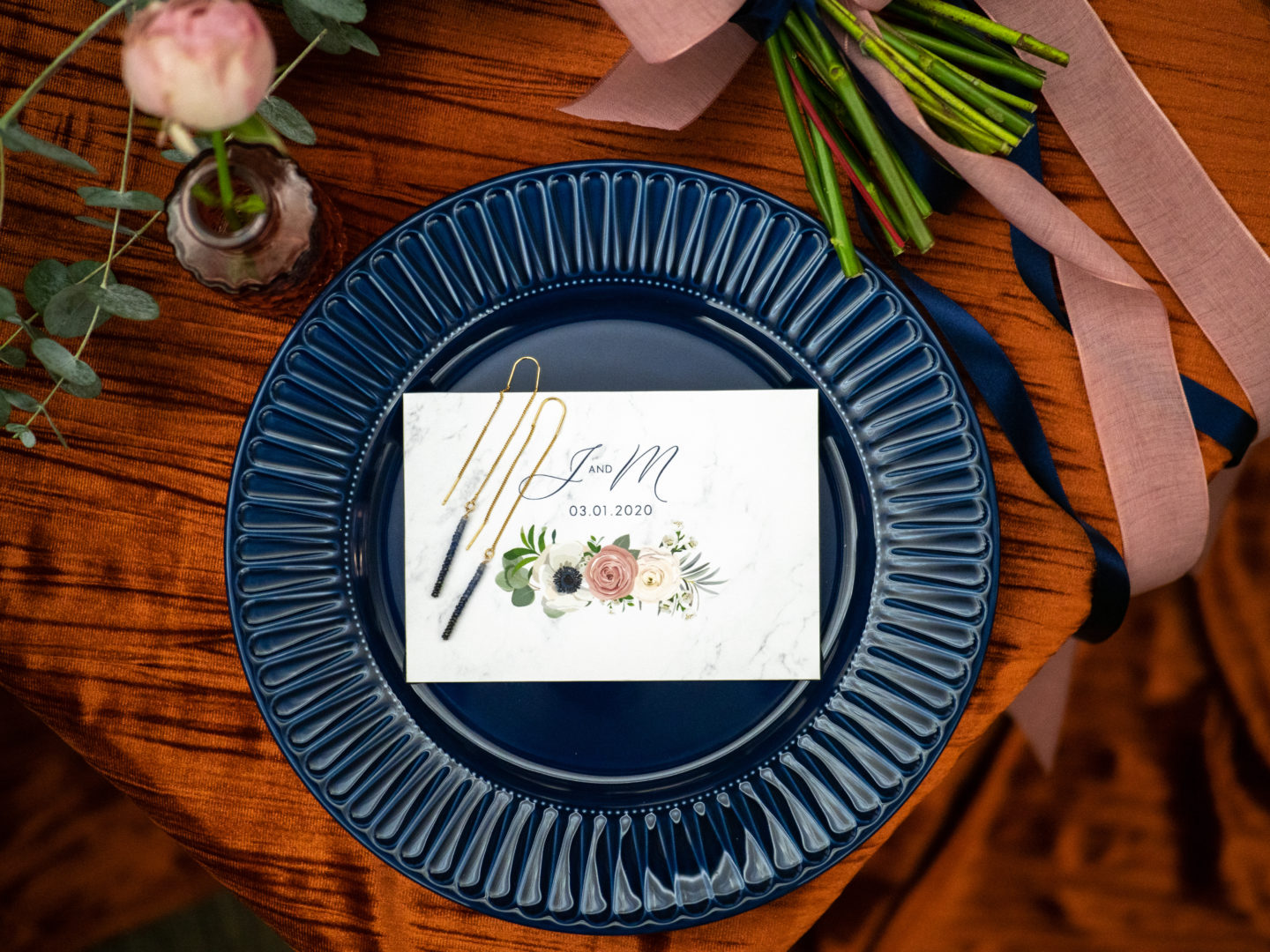 "The styling elements used are all multi use or recycled elements and elements that can be used over and over again. The styling decor was moved from ceremony to reception, and around each set up in the venue to show how to avoid waste. It also gives ideas of how to utilise what you have to best effect and that actually having decor that can be reused throughout the wedding is more ethical and efficient."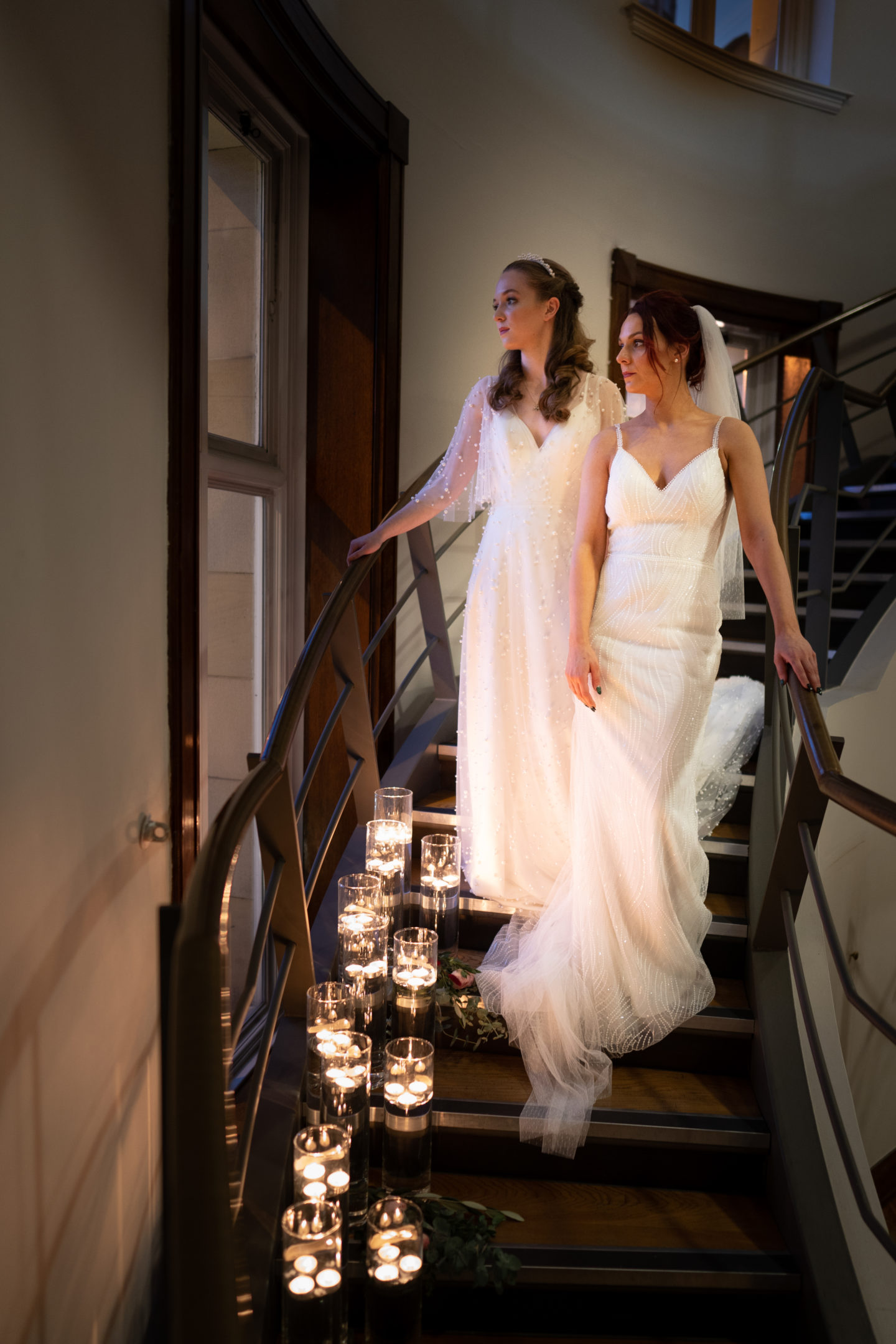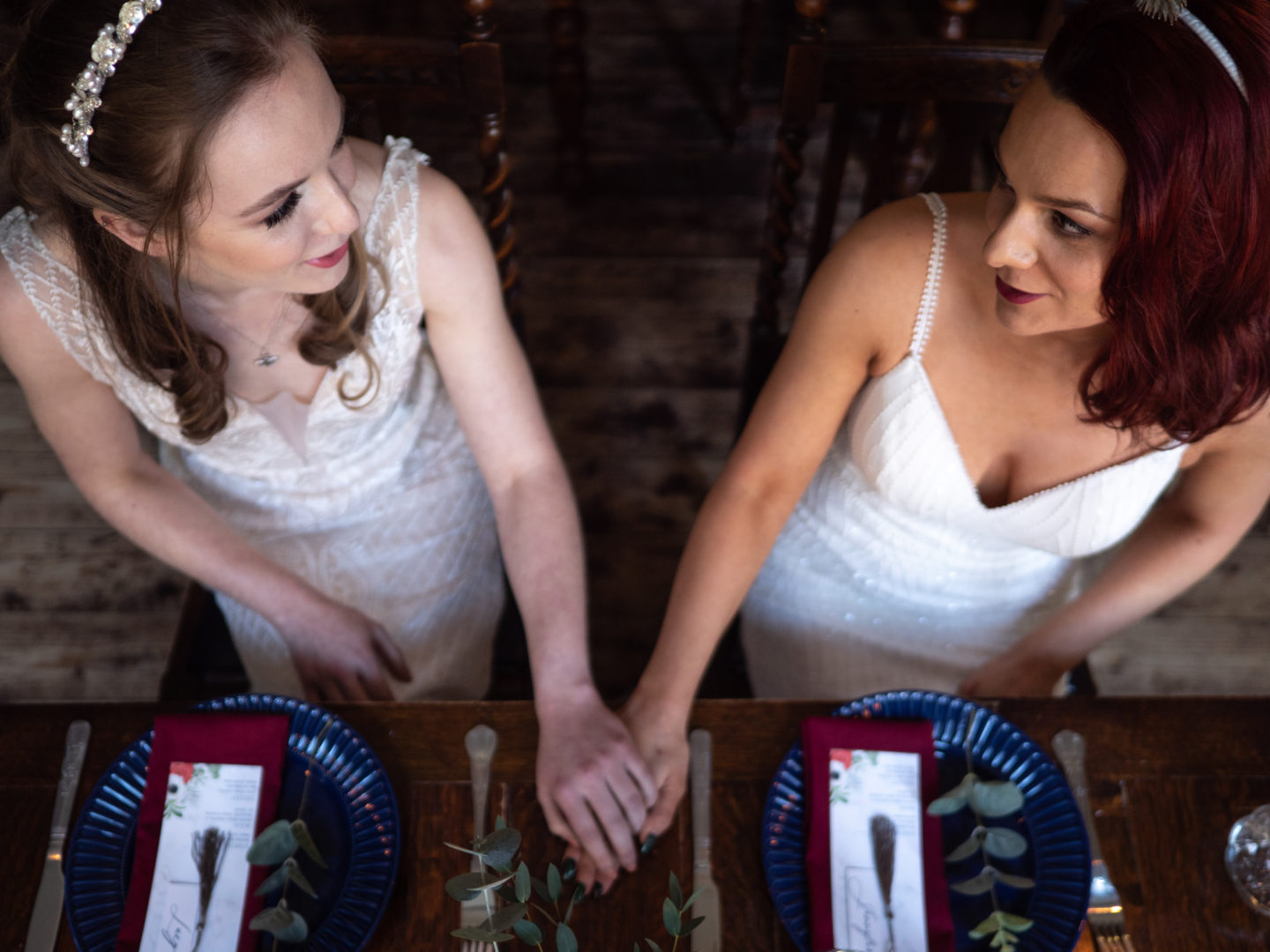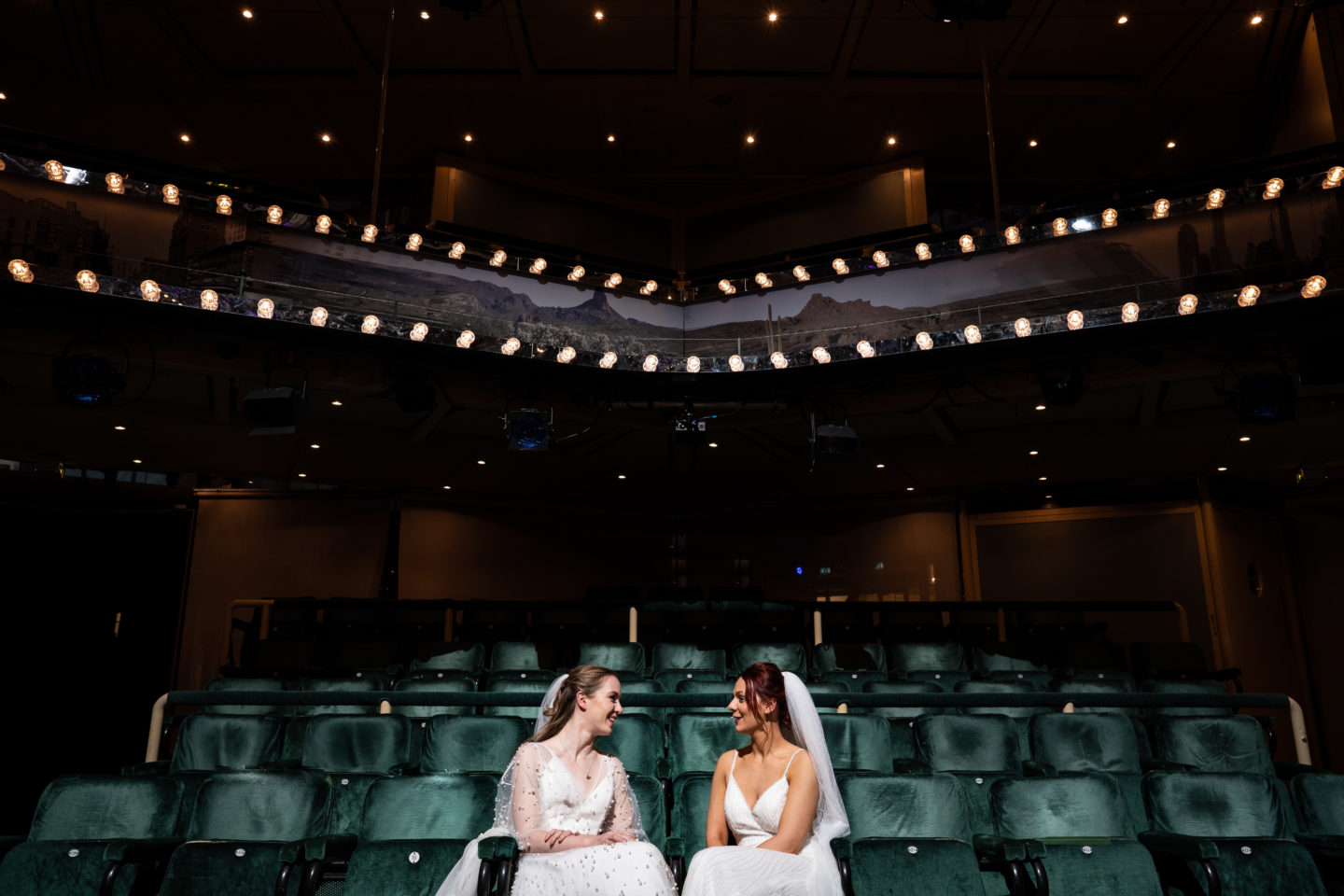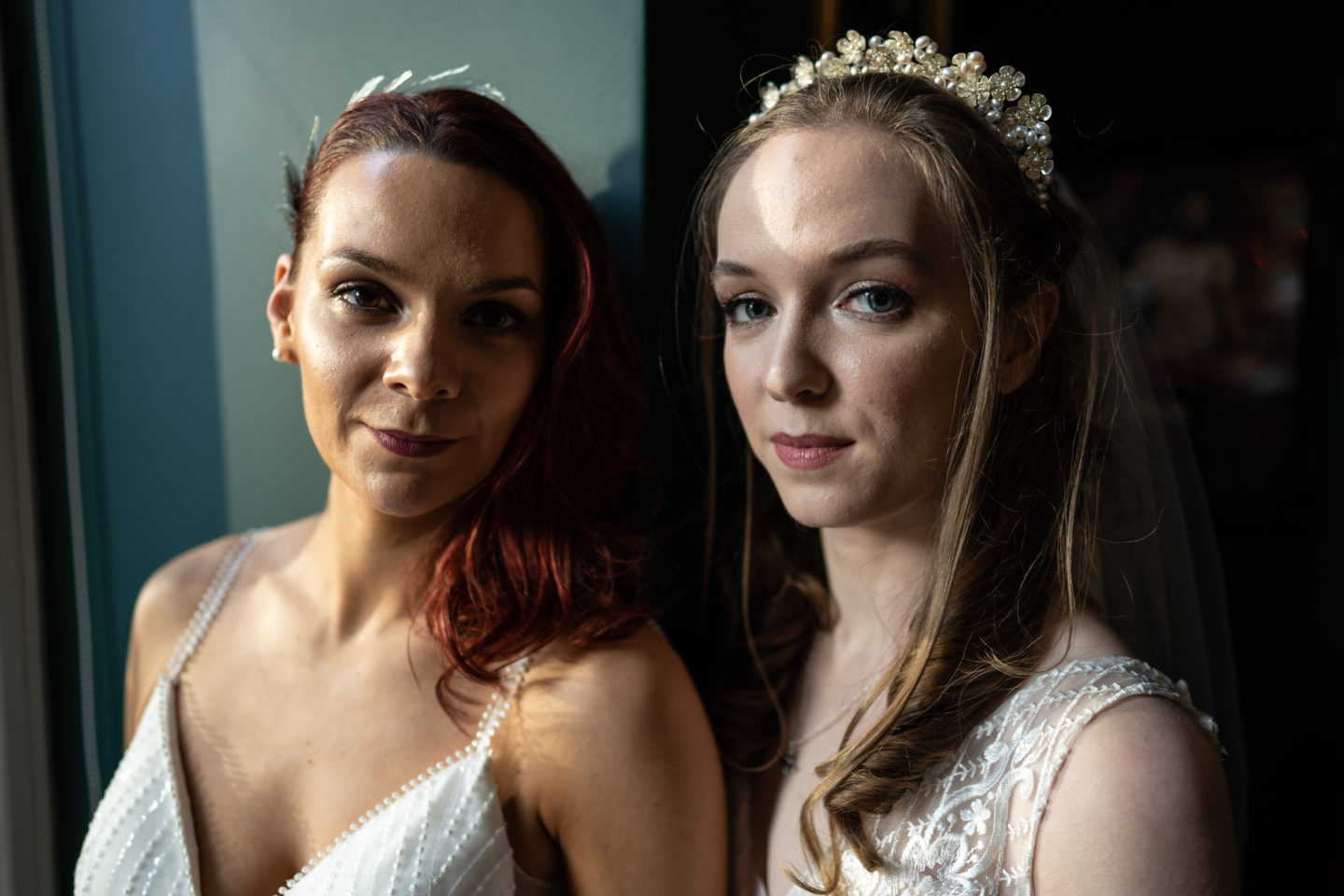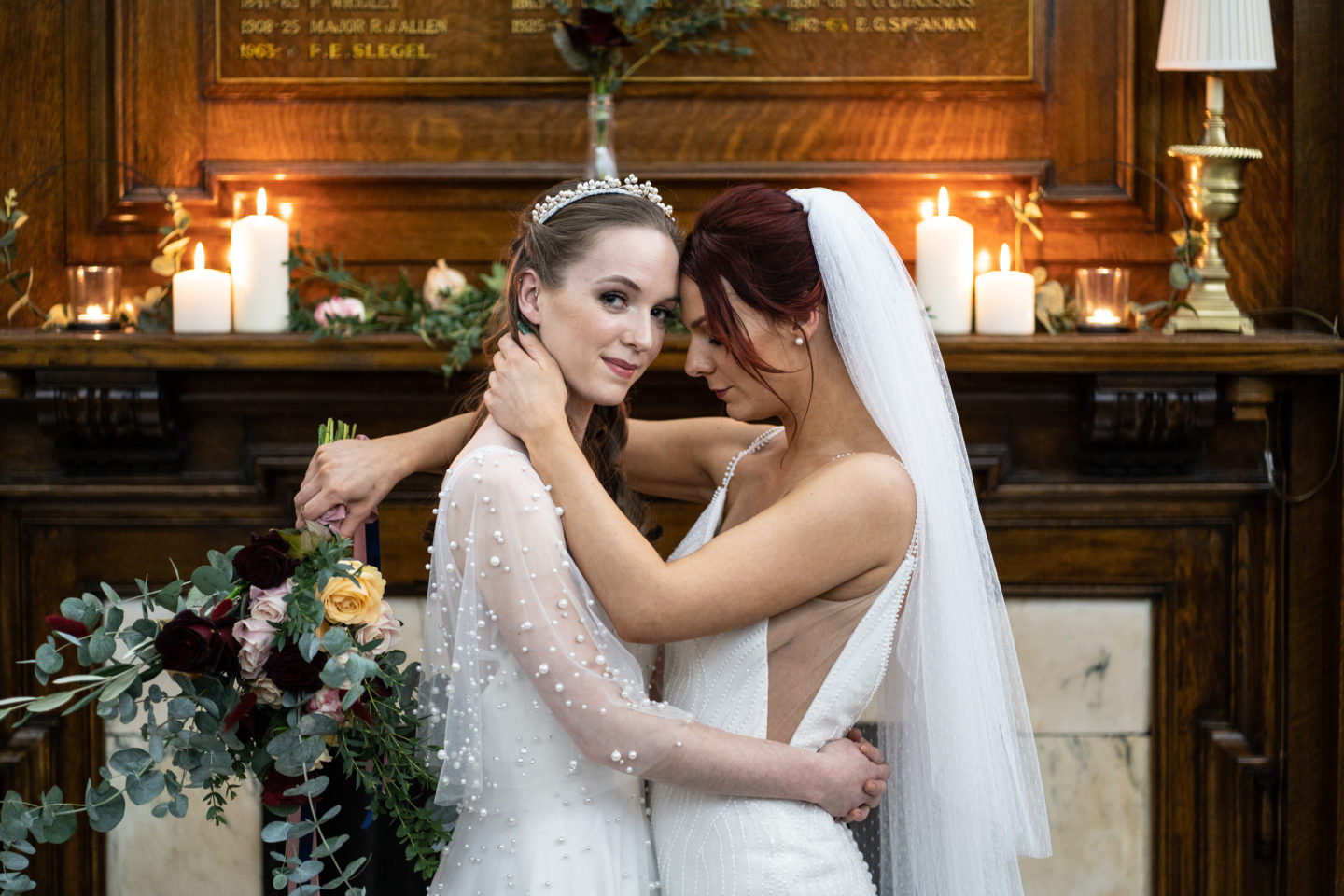 "The shoot was held at The Royal Exchange Theatre in Manchester city centre. The venue was one the old Stock Exchange and still contains many of it's old features such as the grand glass dome. The venue has a unique combination of olden day architecture with large stone pillars and intricate cut glass windows alongside modern day features such as the Glass entrance at St Ann's square and of course the Theatre itself. It is bold and colourful as a venue and perfect for couples who want something completely unique. Even the theatre itself is a theatre in the round so provides such a stunning space for a wedding ceremony as guests can be seated all around the couple."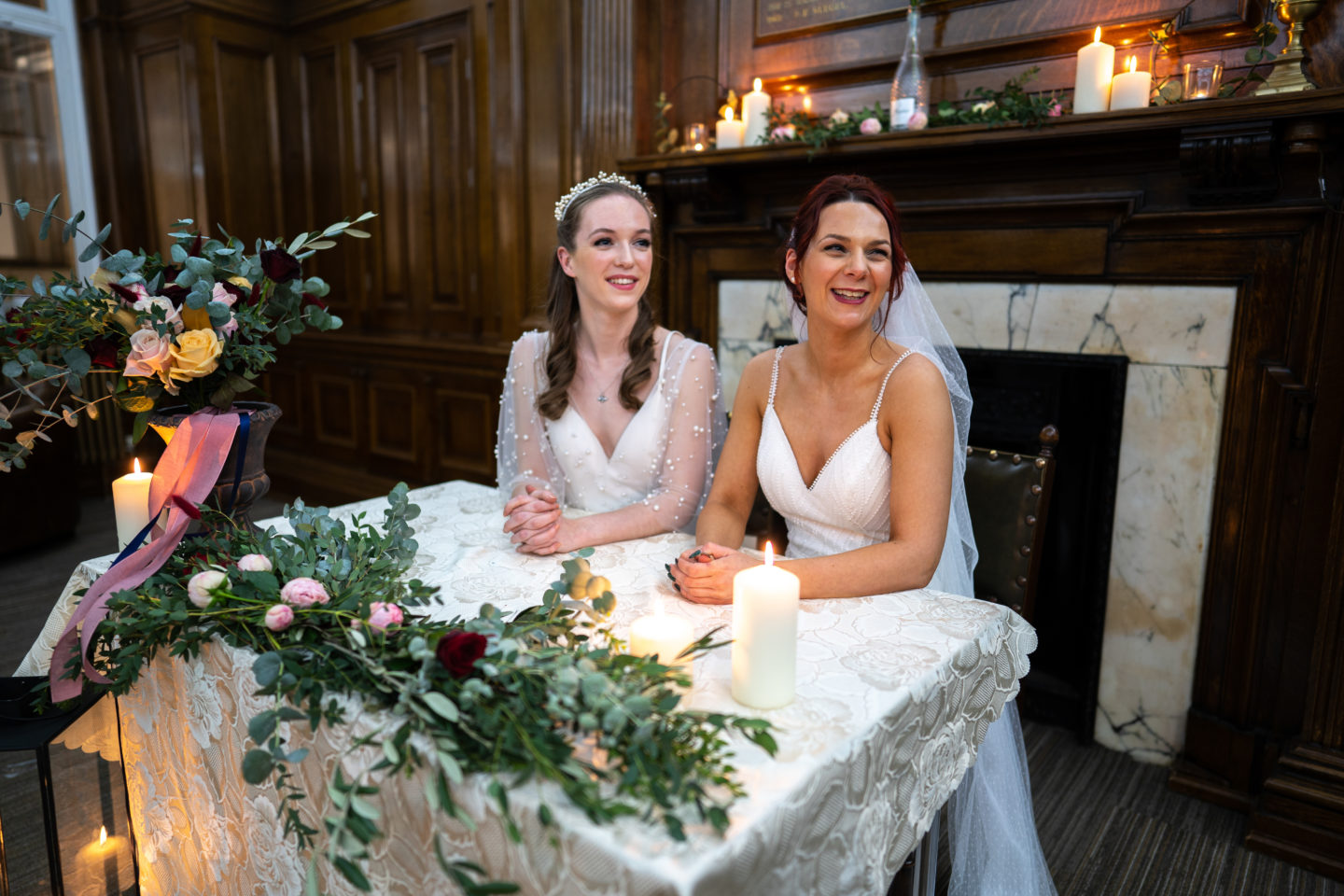 Styling – To Be Revealed Style
"Taking my inspiration from theatrical elements I love to consider really detailed approaches to my creations. Taking inspiration from costume design and interiors, I wanted to create an intimate yet warm feel that created atmosphere in every detail! With the venue having so much natural beauty, colour and style itself – I created styling that would highlight this and not overpower. It was about creating an atmosphere. The feeling of actually being there and sensing how the couple feel or how you would feel walking into the wedding. I think that is really important when creating any kind of wedding concept, particularly with a venue that is so unique. The theatre aspect creates an existing theatricality and we were very lucky to have been able to use the lighting from the show GYPSY which was showing at the theatre at the time."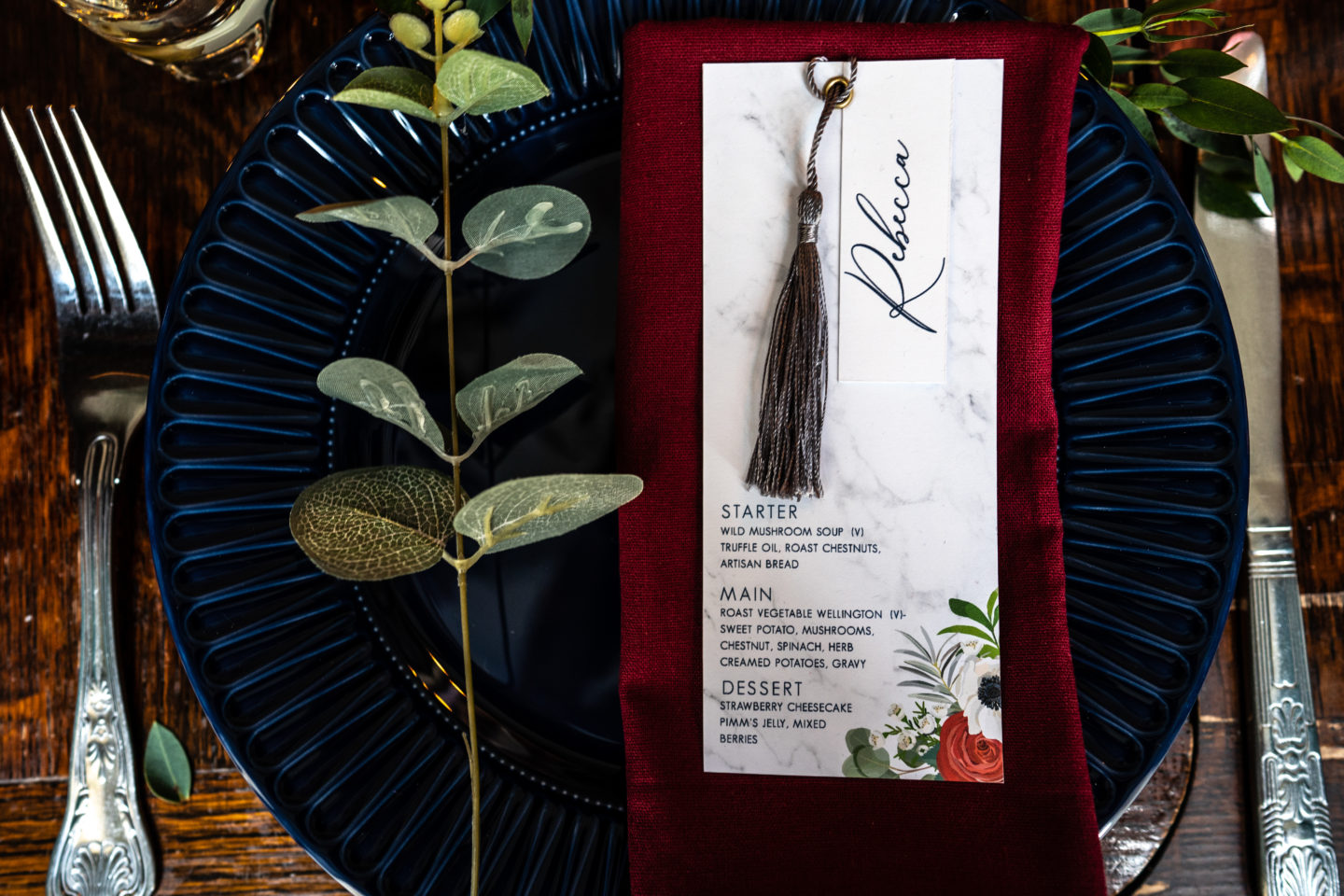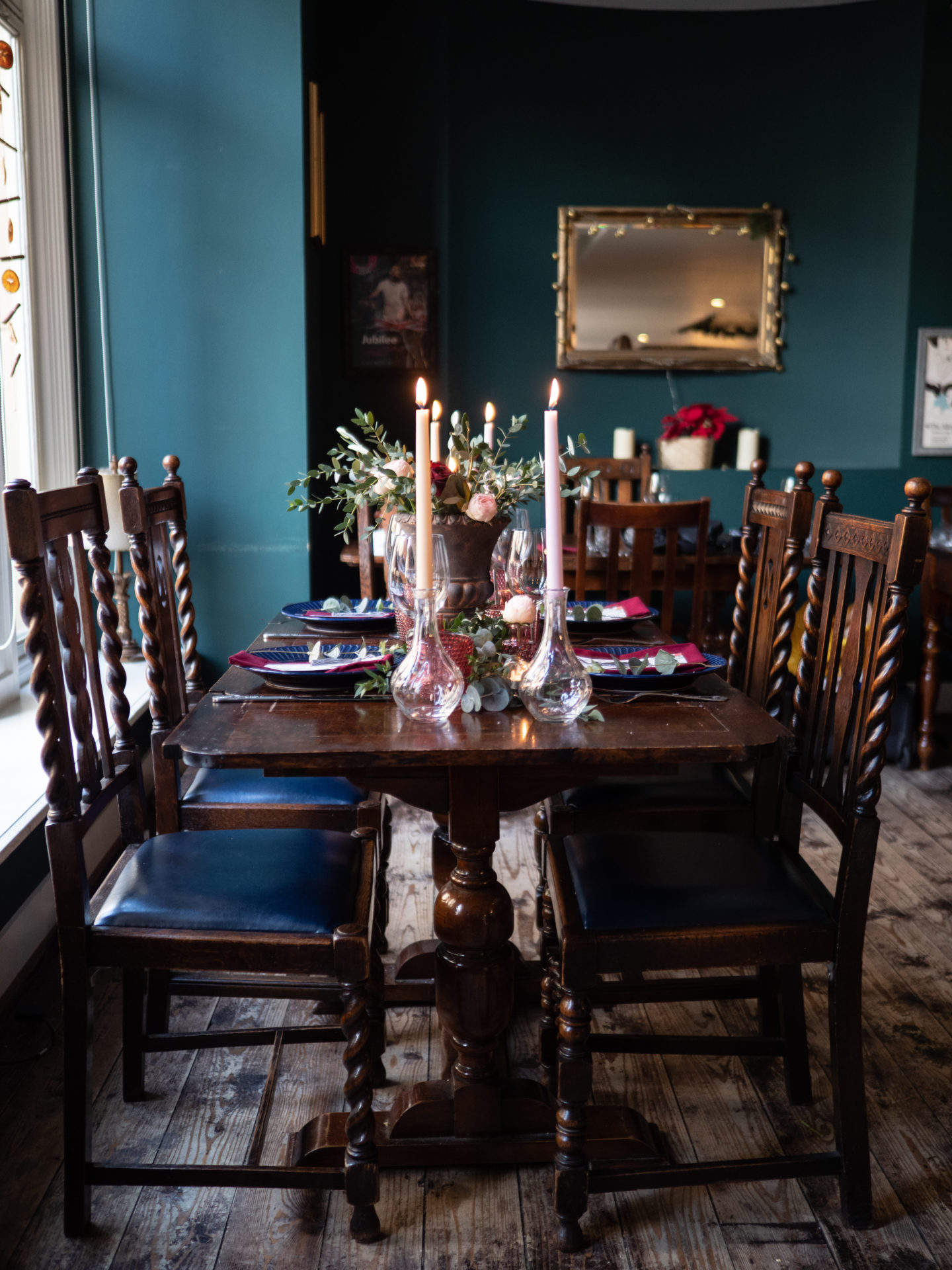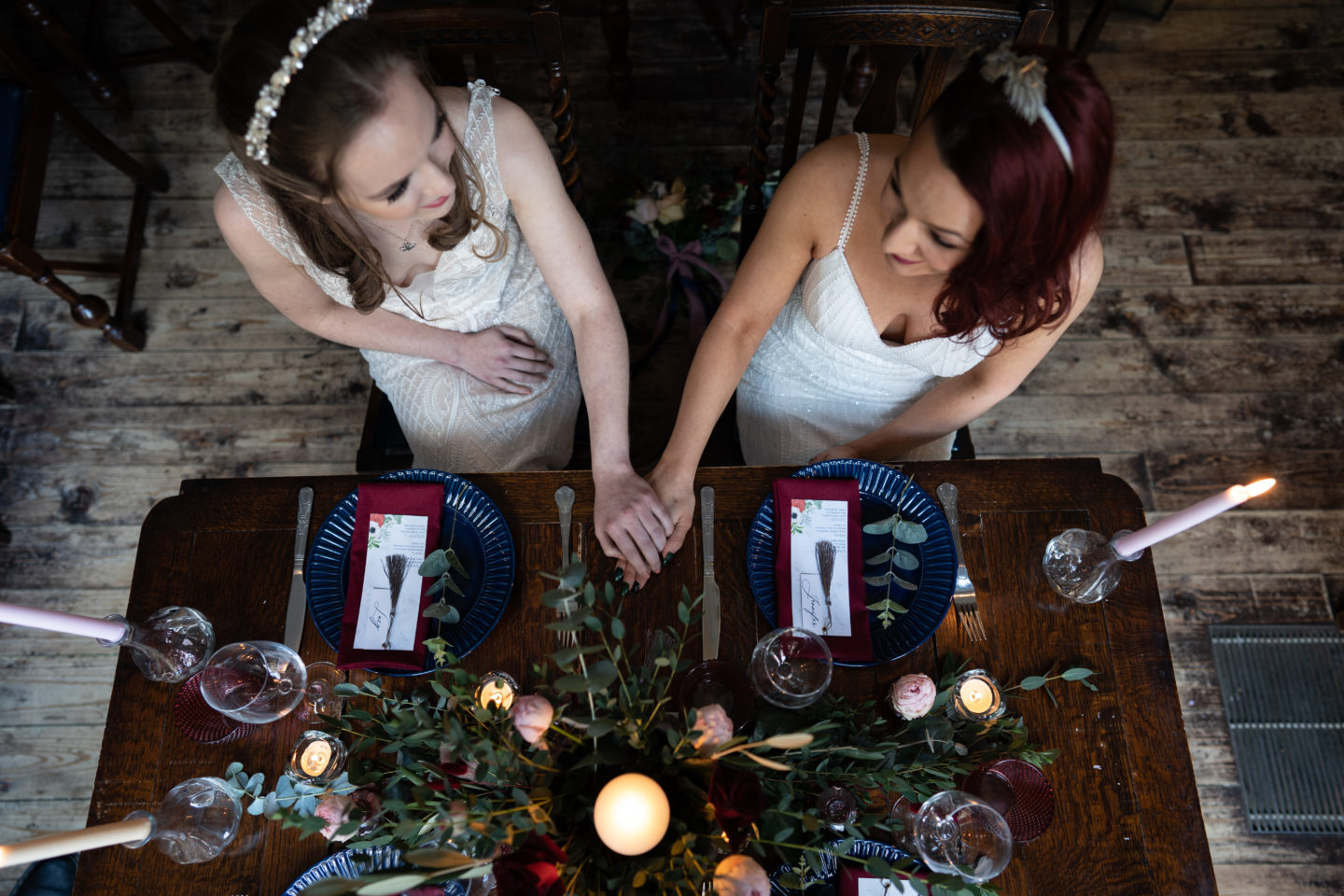 Styling Accessories – The Event Edit
"To Be Revealed Style asked us to come on board with some extra styling props & accessories to enhance the venue. The concept was to create a romantic, modern yet mysterious vibe so opted for our Vintage Black Lanterns with pillar candles which worked perfectly in the theatre creating a dreamy candlelit reflection on the mirrored theatre floor. For the cake table we opted for our Gold Hexagon stand to frame the cake and framed the table with candle lit lanterns. For the stairway we used our cylinder vases with floating candles to create a stunning walkway and build a romantic atmosphere."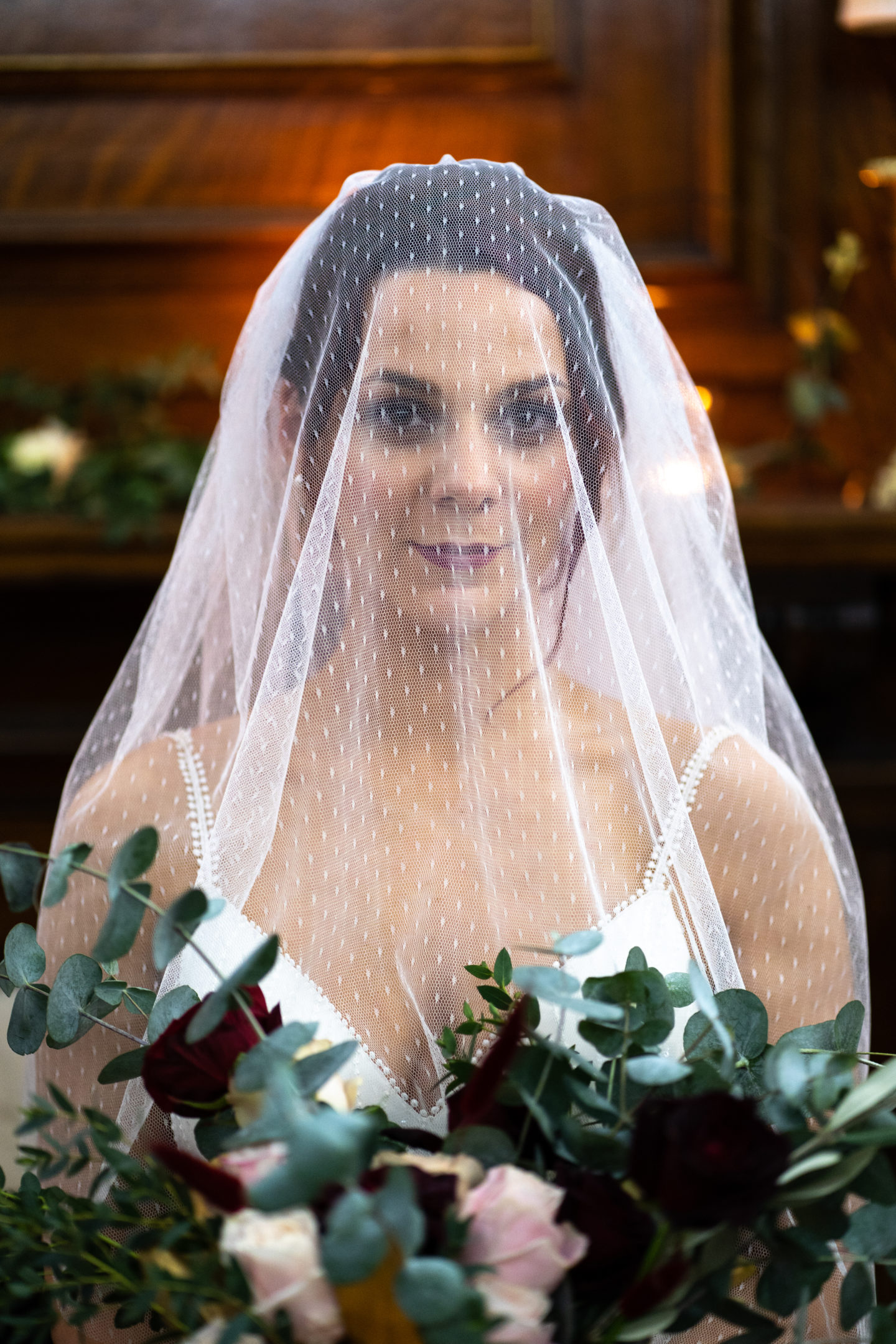 Photography – Chris Currie
" I have fond memories of the Royal Exchange Theatre from when I was a boy. I love the vast space and mix of architecture. I find the building to be a calming and peaceful place – you would hardly know that there was a busy city centre just outside. So when I had the opportunity to photograph a wedding there last October I was really pleased. Then after the Royal Exchange events team invited me back to photograph this brilliant styled shoot, organised by Stacey – I was really excited. I wanted to capture the feeling that I feel whenever i walk in the building and to create a romantic and intimate atmosphere. I brought enthusiasm and passion to the shoot as I wanted to do justice to all the brilliant local suppliers involved. I think together we helped to showcase what a brilliant alternative wedding venue The Royal Exchange Theatre can be."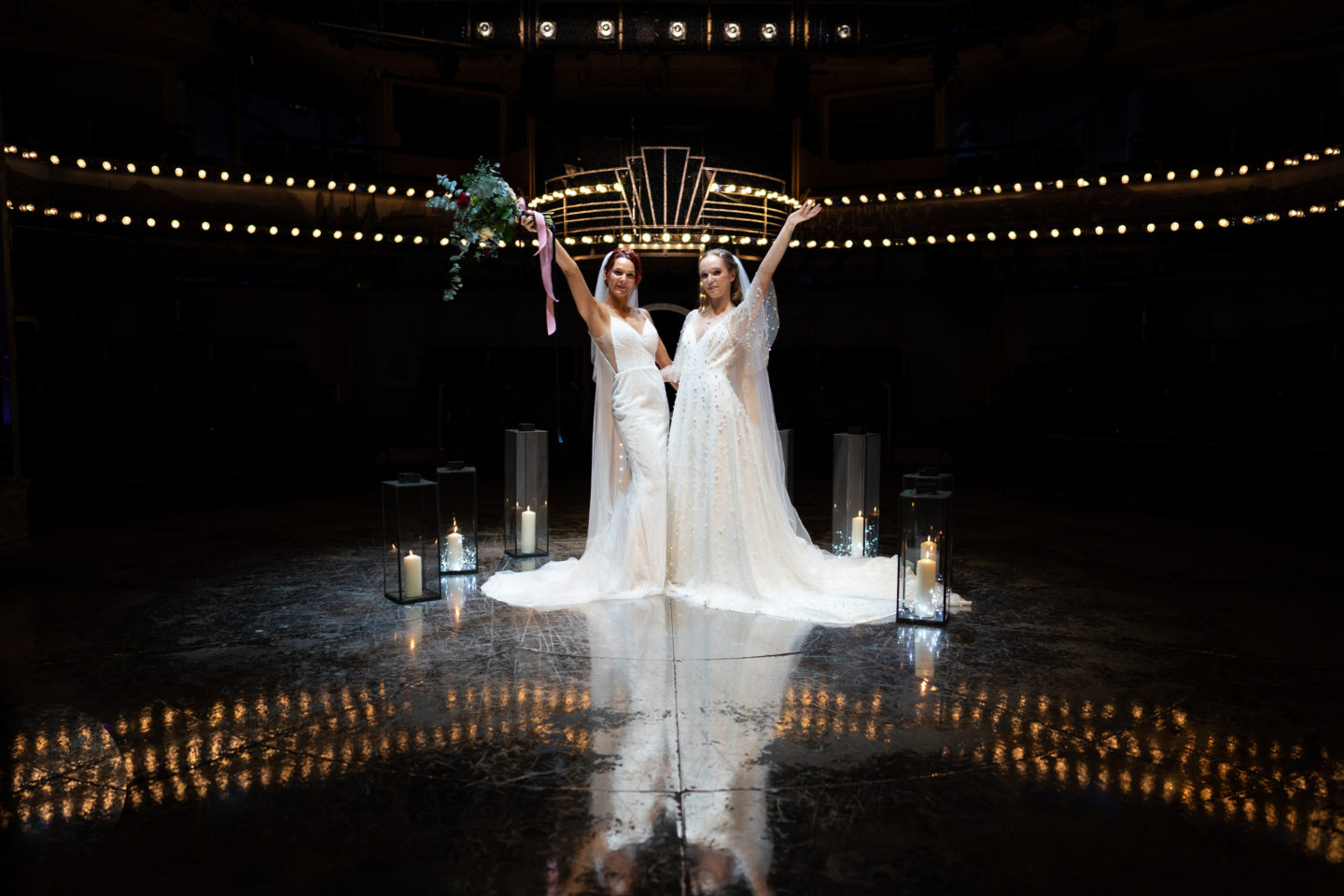 Bridal – Bridal Serendipity
We wanted dresses that were statement but without being too overwhelming or over powering with the rest of the shoot. Being in a theatre setting meant it had to be something special. Bridal Serendipity have the most gorgeous dresses and they brought along three stunning gowns from Stelfox by Shikoba bride. Each piece was a perfect statement and gave off a beautiful elegance. The details were incredible – especially the pearl number with it's floaty sleeves and delicate pearl beads all over. The trains on the dresses added a real wow, especially on the incredible mirrored theatre floor. They created all the drama we needed and show that details on a dress really do add some statement to your look!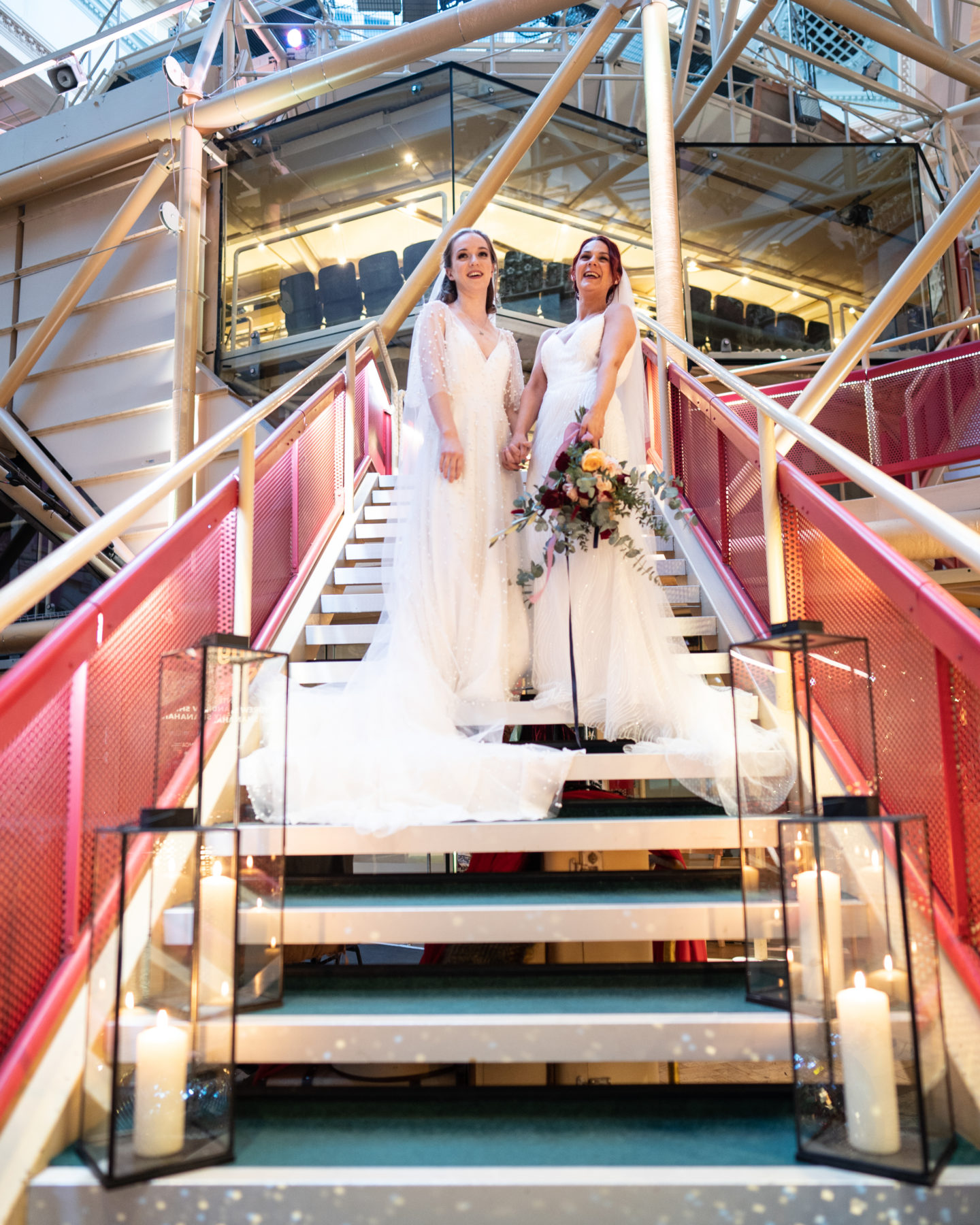 Flowers – The Flower Decorative
"I wanted to keep the florals fairly simple yet show how subtle colour can still create a wow. The flowers I chose reflect my relaxed wild style as a florist. As it was a winter shoot I used lots of eucalyptus with a touch of olive for a little contrast. The rest of the flowers are a mix of rich black baccara, quicksand and peach avalanche roses. A few other pale roses were added for a little contrast in tone. The florals were reused around the venue in several different locations to show how you can get maximum impact and use from your wedding flowers. Roses and eucalyptus dry beautifully so allow you to keep your bouquet after the wedding – It also gives a nod to the re-found love of dried flowers that has become so popular"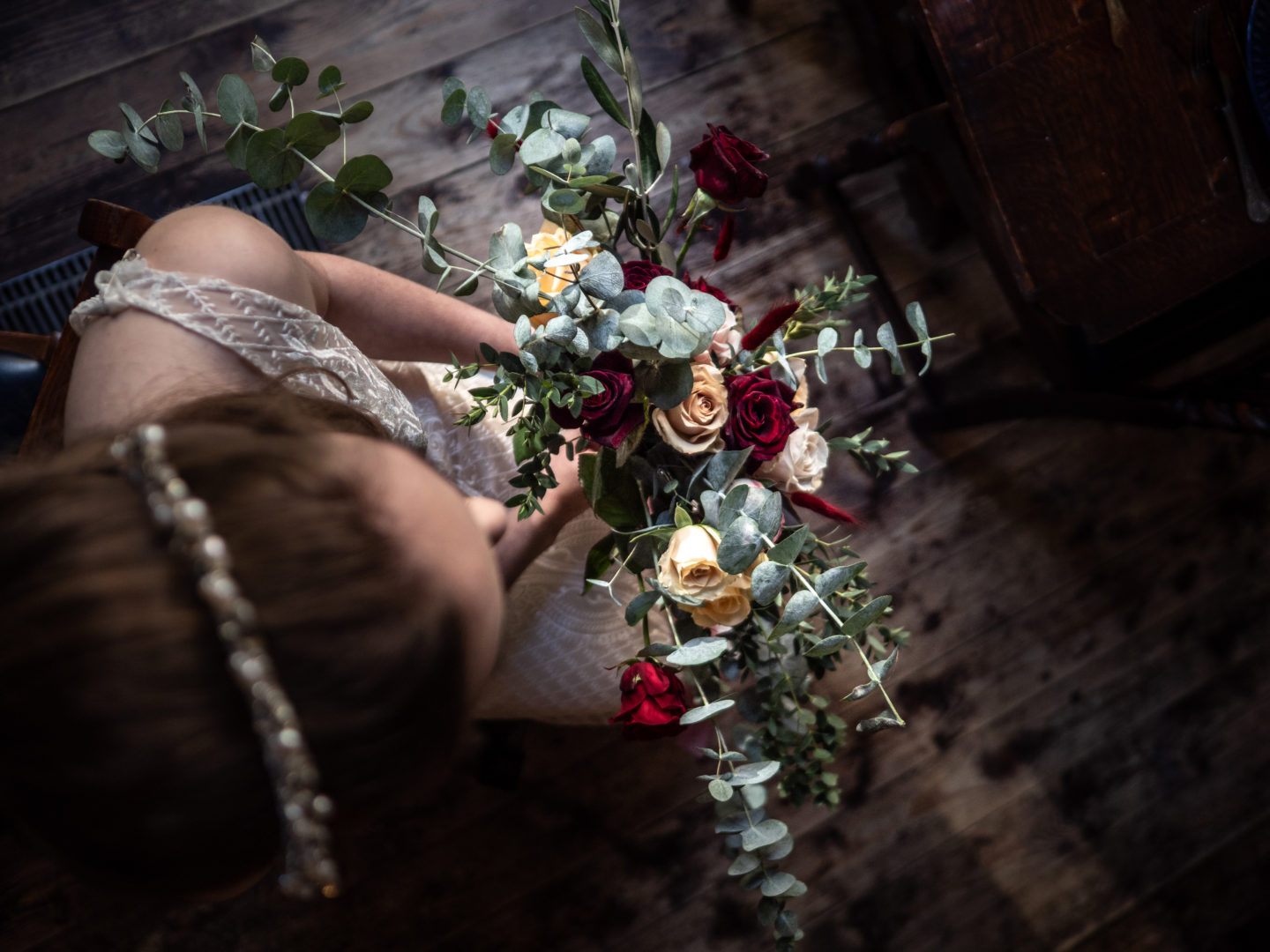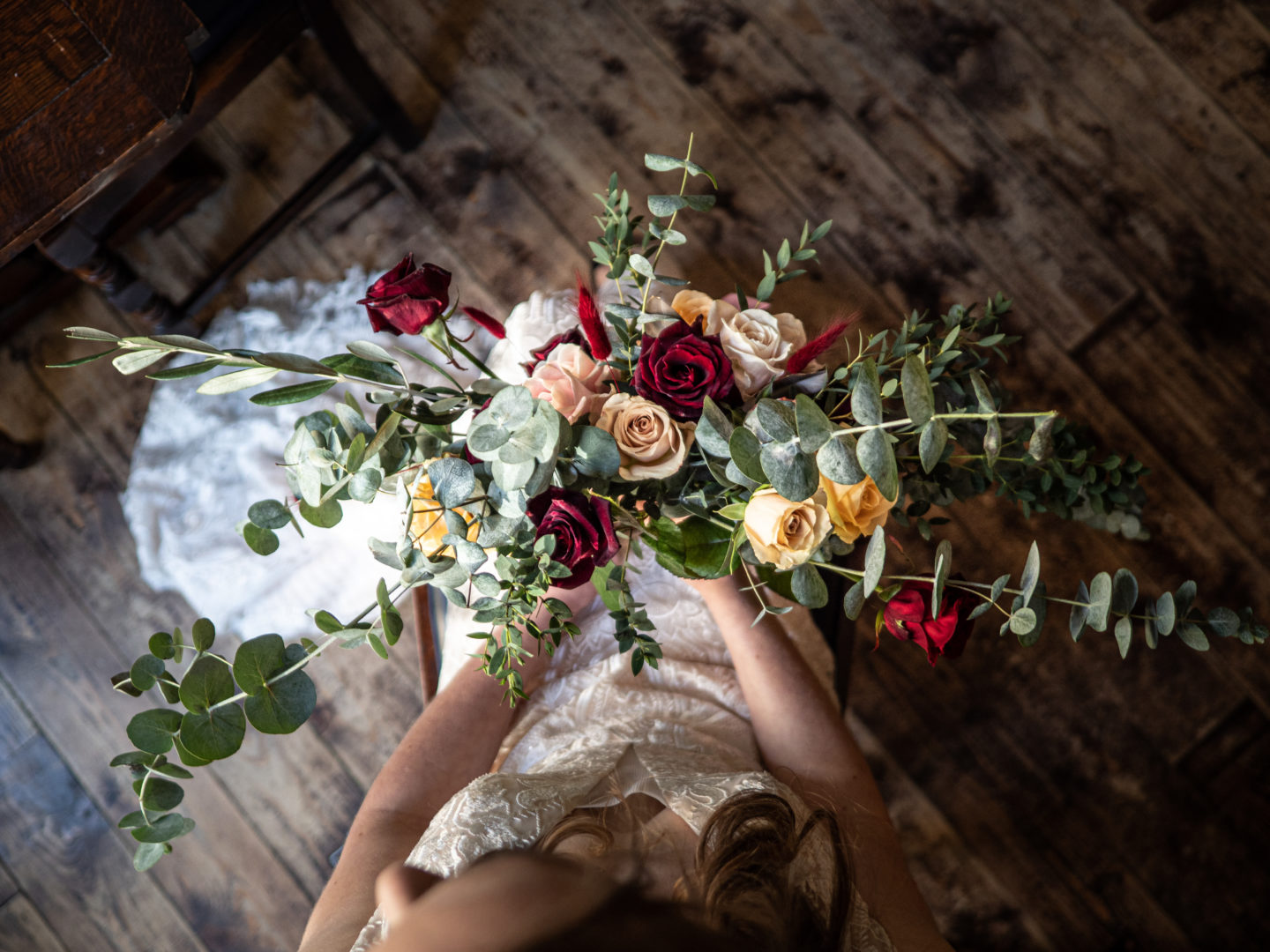 Cake – Cakes By P
"Paula from Cakes by P made a beautiful textured cake for the shoot to really fit with the vibe. We wanted the cake to have a subtle design but with added floral details to make the statement. The colours were paired back to match the beautiful flowers. Ribbon detail around the cake gave it a pop of colour and a slight traditional edge. We styled the cake to make it a bold centrepiece – allowing it to have it's moment and be seen in all its glory. Sat on a fab gold hexagon cake stand on top of a bold rusty coloured velvet tablecloth – it gave it a little edginess and regal concept – perfect for the setting in the Rivals Bar with it's deep wood and teal interior."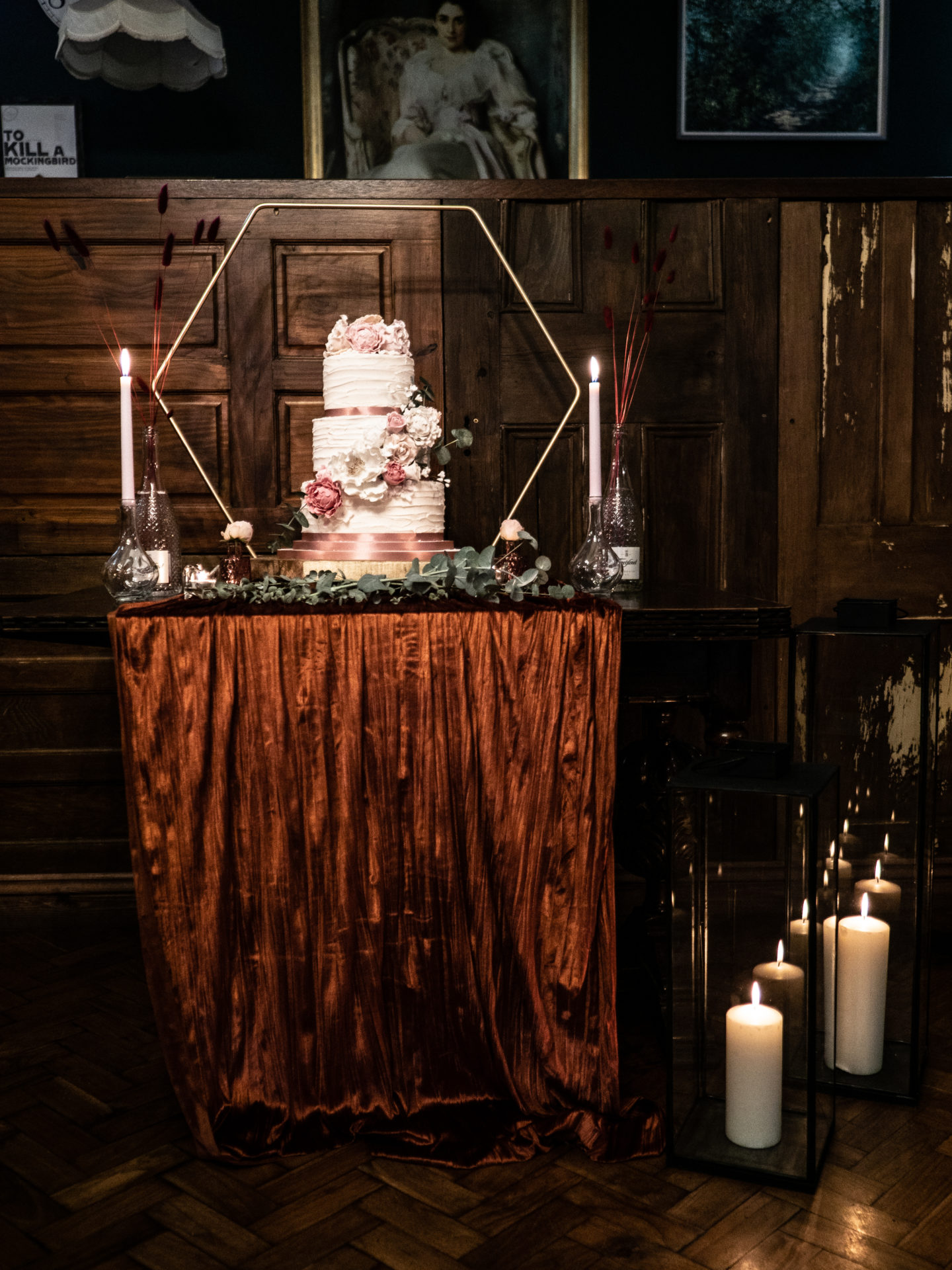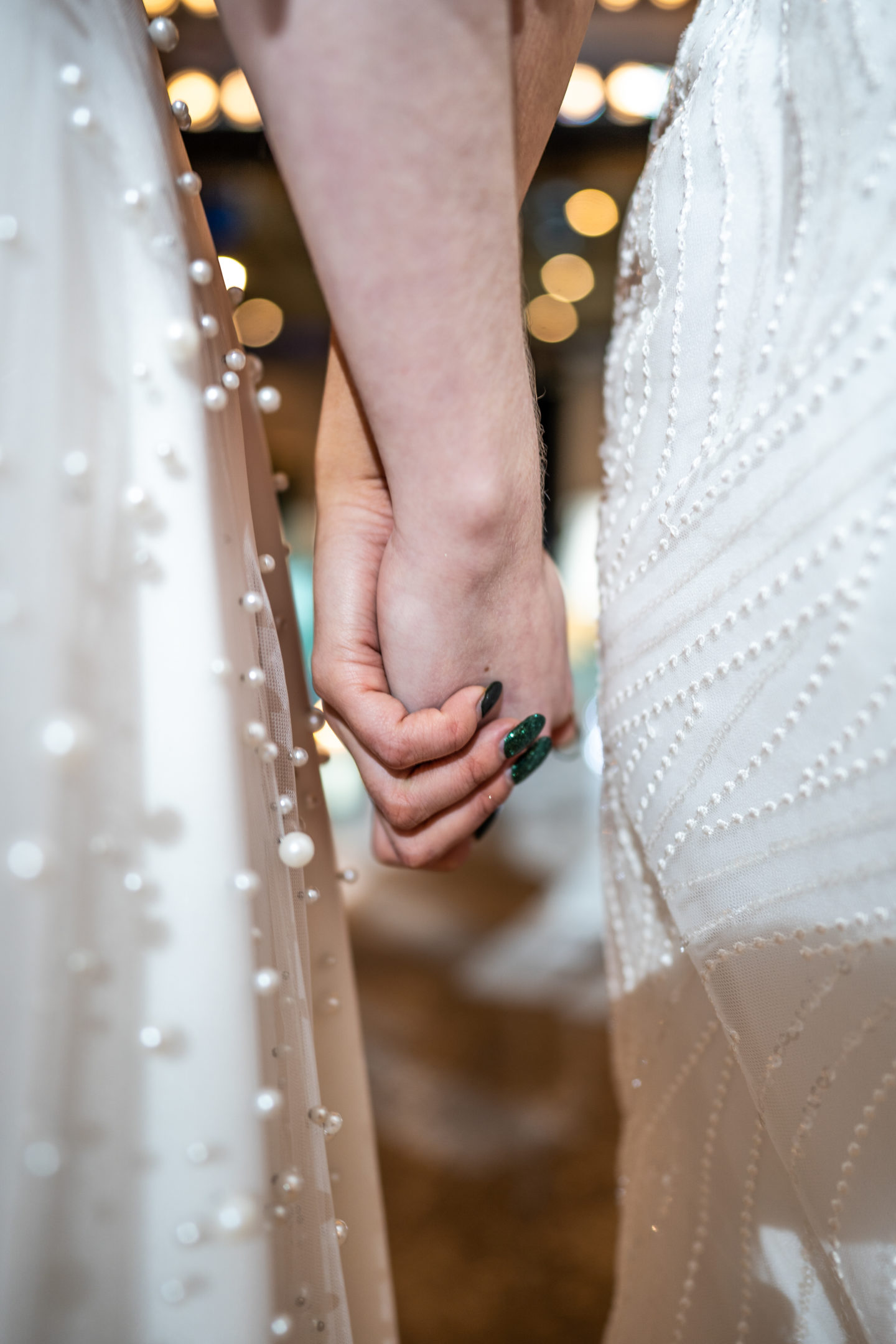 Hair and Make up – Jules Daniels
"We wanted the girls to have really simple and classic hair and make up. Fitting with the style of the gowns and allowing their natural beauty to shine through. Soft loose curls gave a vintage edge – almost adding in a touch of theatrical class. Playing with the looks was important to create that transition from ceremony into evening. Both the girls had soft make up which complimented their skin tones. Subtle eyeshadow to brighten the eyes and make them pop were what we aimed for and mixed with softer toned lips gave a classic feel that didn't overpower.
Headpieces – Rachel Chaprunne
"Rachel Chaprunne is a stunning designer and as a stylist i love using her bold pieces to complement my styling. I chose some stunning silver designs that would really work well alongside the dresses and match their features. They gave the look a slight theatrical vibe which works amazingly in the setting. The leaf and pearl features on the headpieces were the perfect statement – Especially with the stunning pearl beaded Stelfox dress.They added an elegant touch that took the styling up a notch."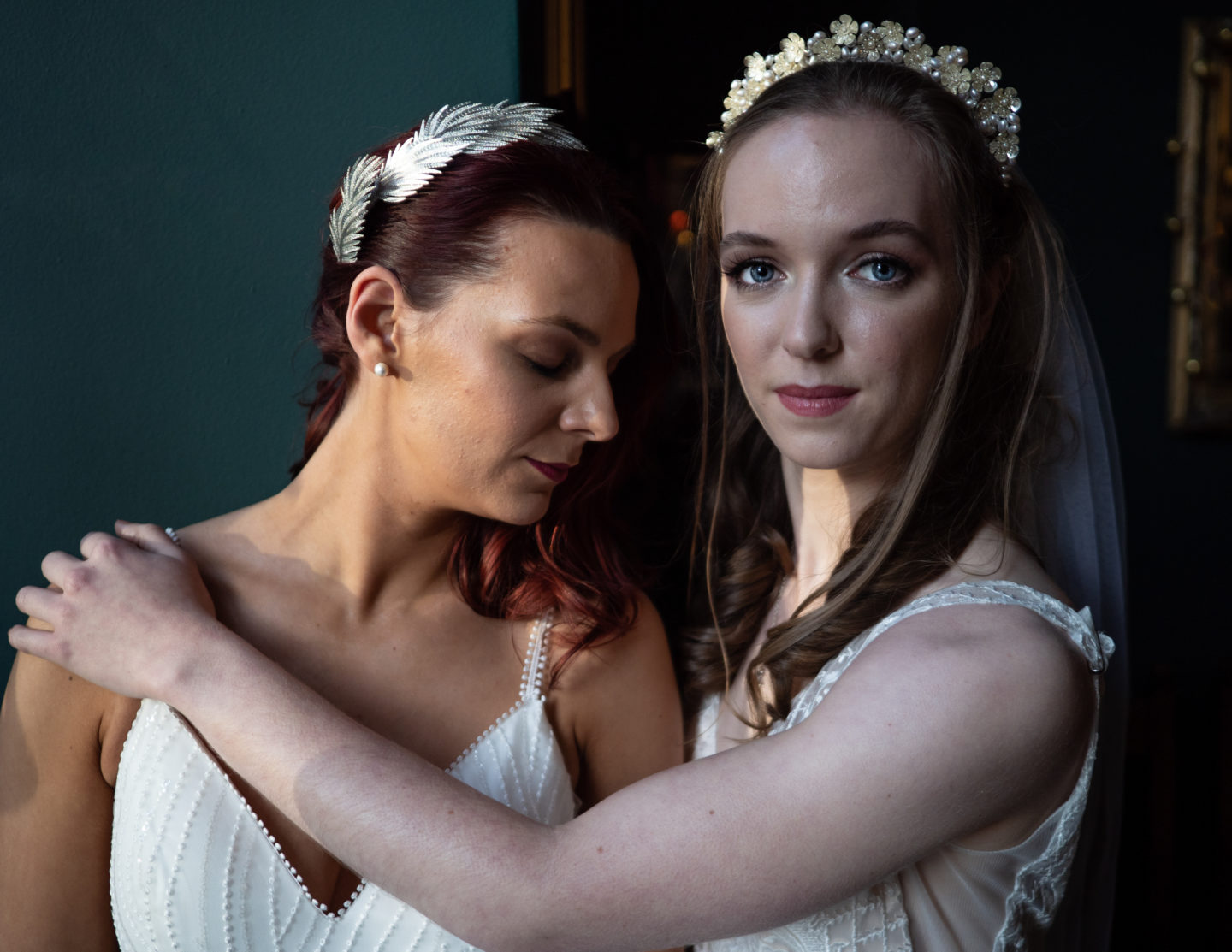 Veils/Earrings – Peacock and Pearl
"Our aim at Peacock + Pearl is to create beautiful, luxe, bridal accessories that give you something completely different. We wanted to include pretty details and unusual ideas, to show that ivory doesn't have to be traditional – It can be beautiful and bold when combined with unique details and texture."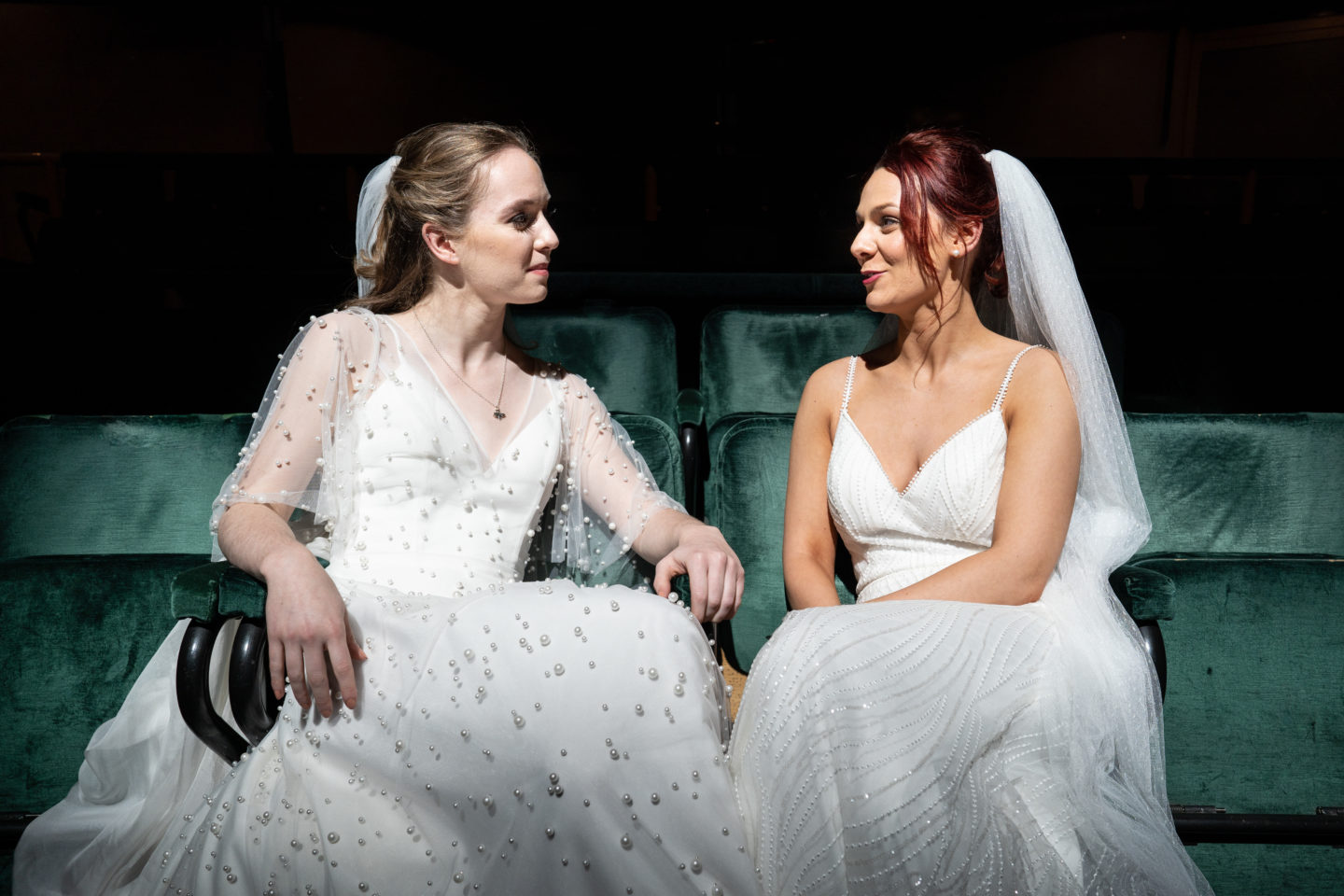 "The ivory double layer veil is made from two different fabrics; we love playing with textures! The bottom layer is a raw-edged silk, while the top is a shorter layer of fine tulle. It's unusual to have an opaque layer in a veil and we love how different it is. The second veil for this shoot was another double layer – this time made from a beautiful point d'esprit soft white tulle. This is when the polka dots are woven into the fabric as opposed to being added on top, and we think it really adds a pretty vintage vibe – especially with the blusher over the face."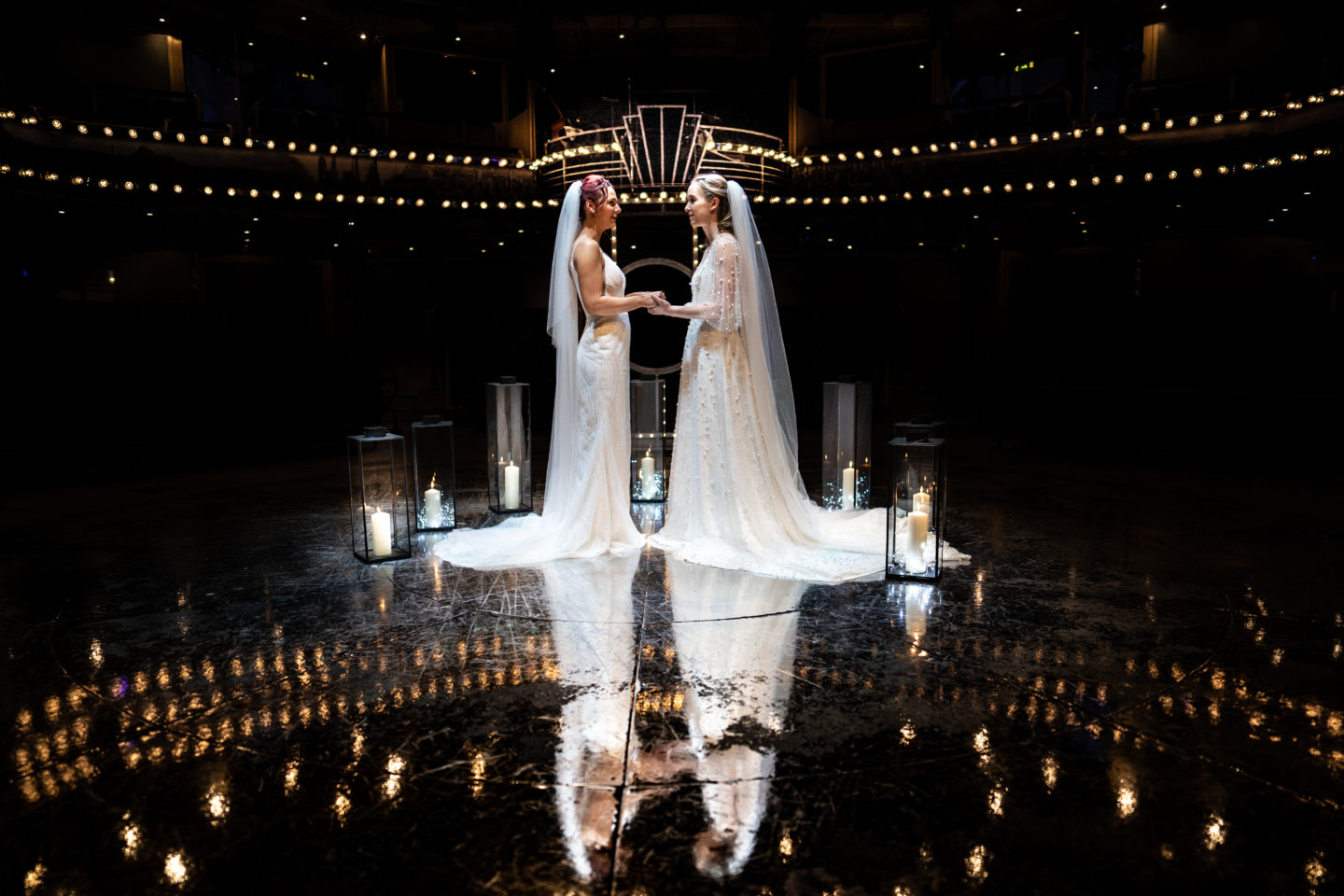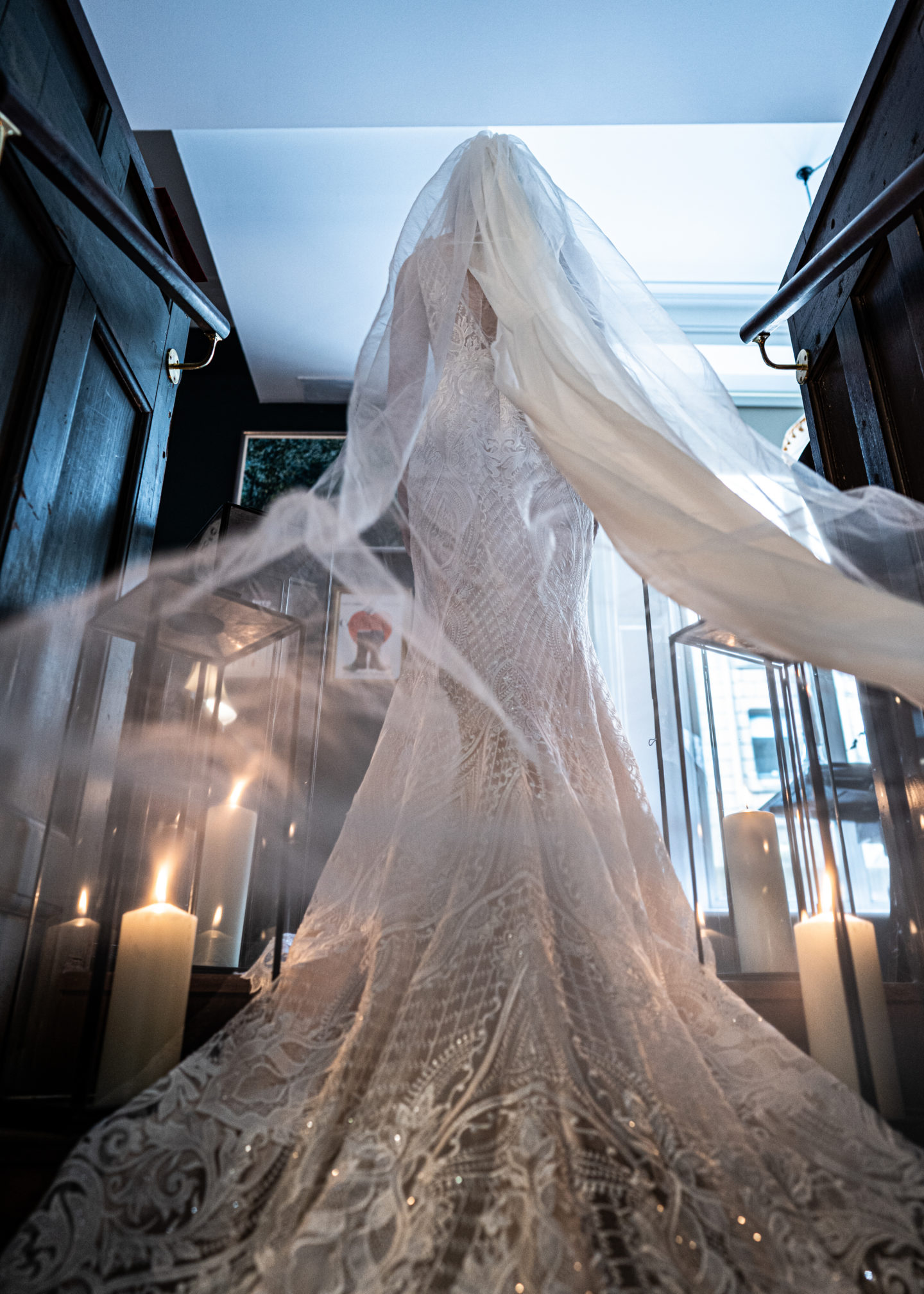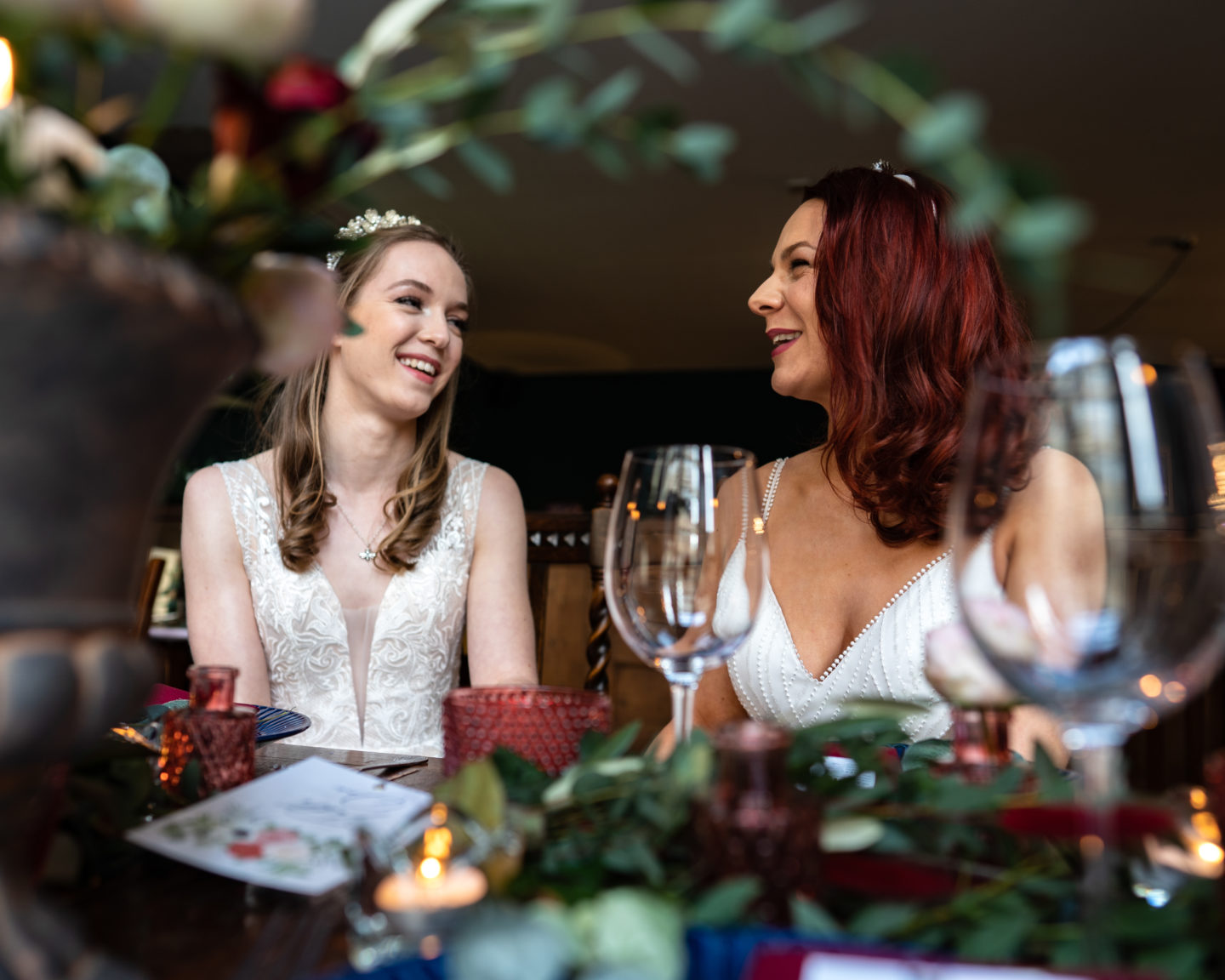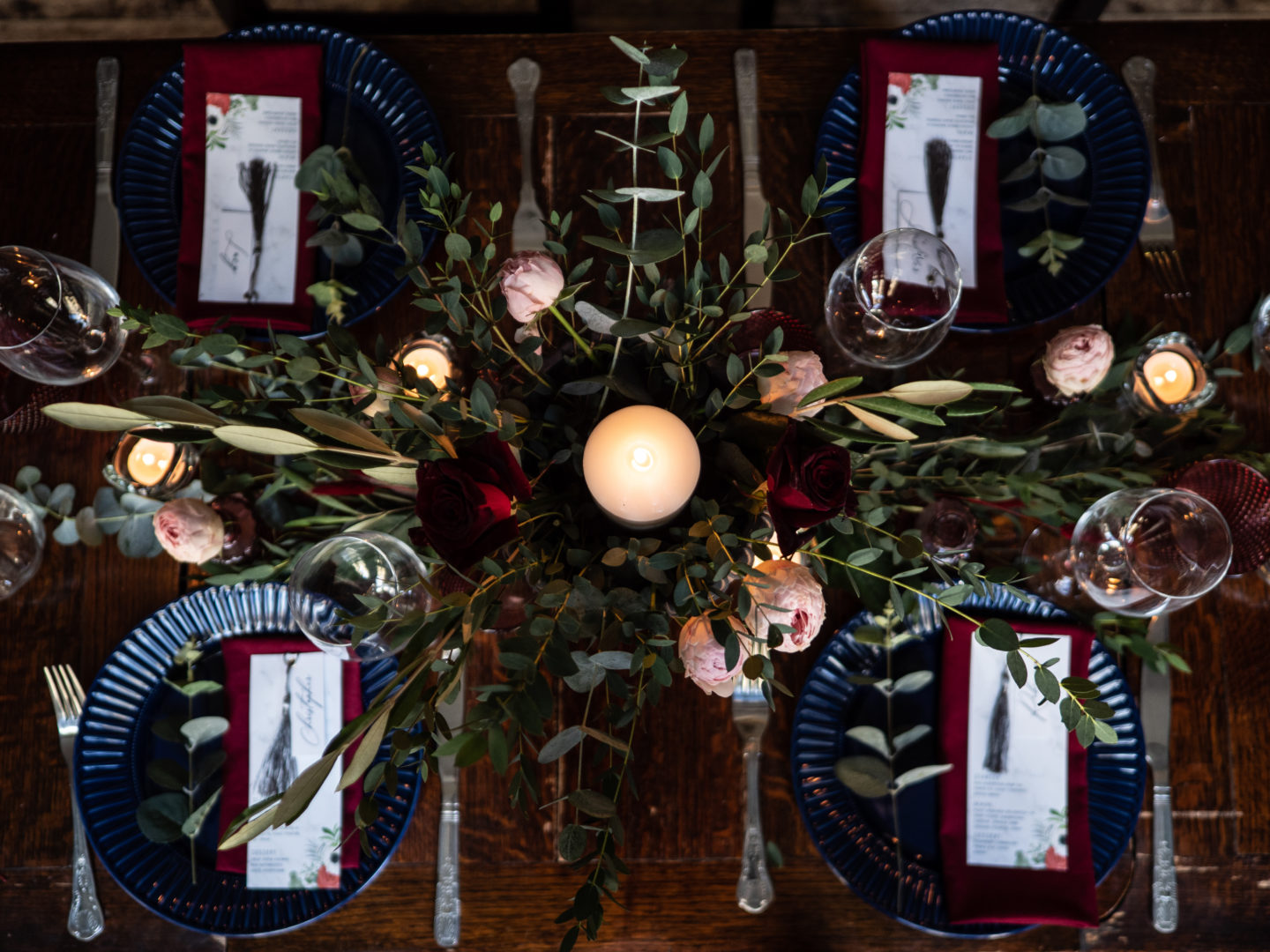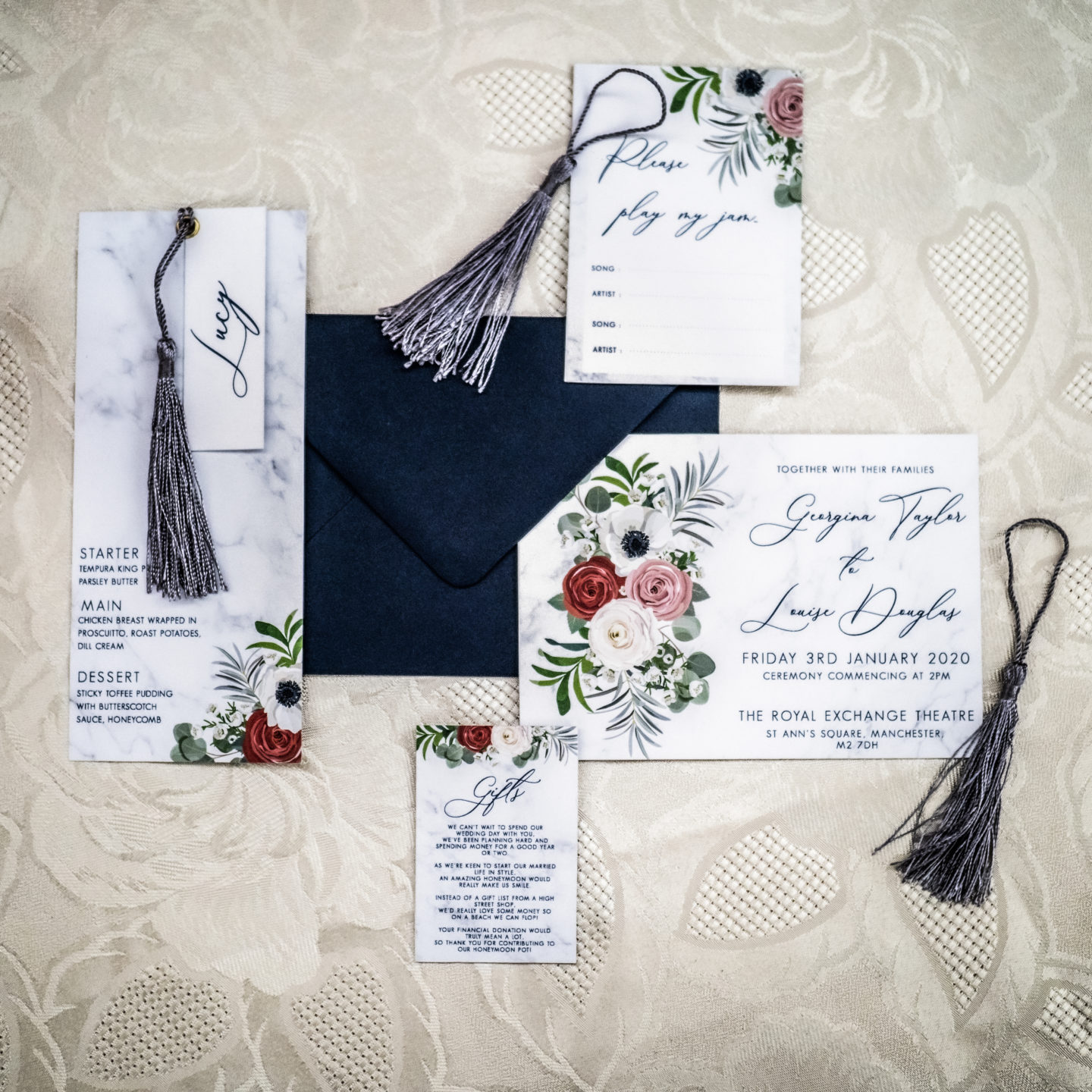 Stationery – Orena Stationery
Joanna from Orena – "I created the Stationery Suite to compliment and tie in with the theme, and floral aesthetic of the shoot and Stacey's beautiful vision for it. The suite included invitations, place names and table numbers and featured flowers from the arrangements, modern marble background and a luxe tassel to tie in with the dramatic setting, using a colour palette that complimented the whole look of the day. It was a pleasure to work with such a creative and talented team."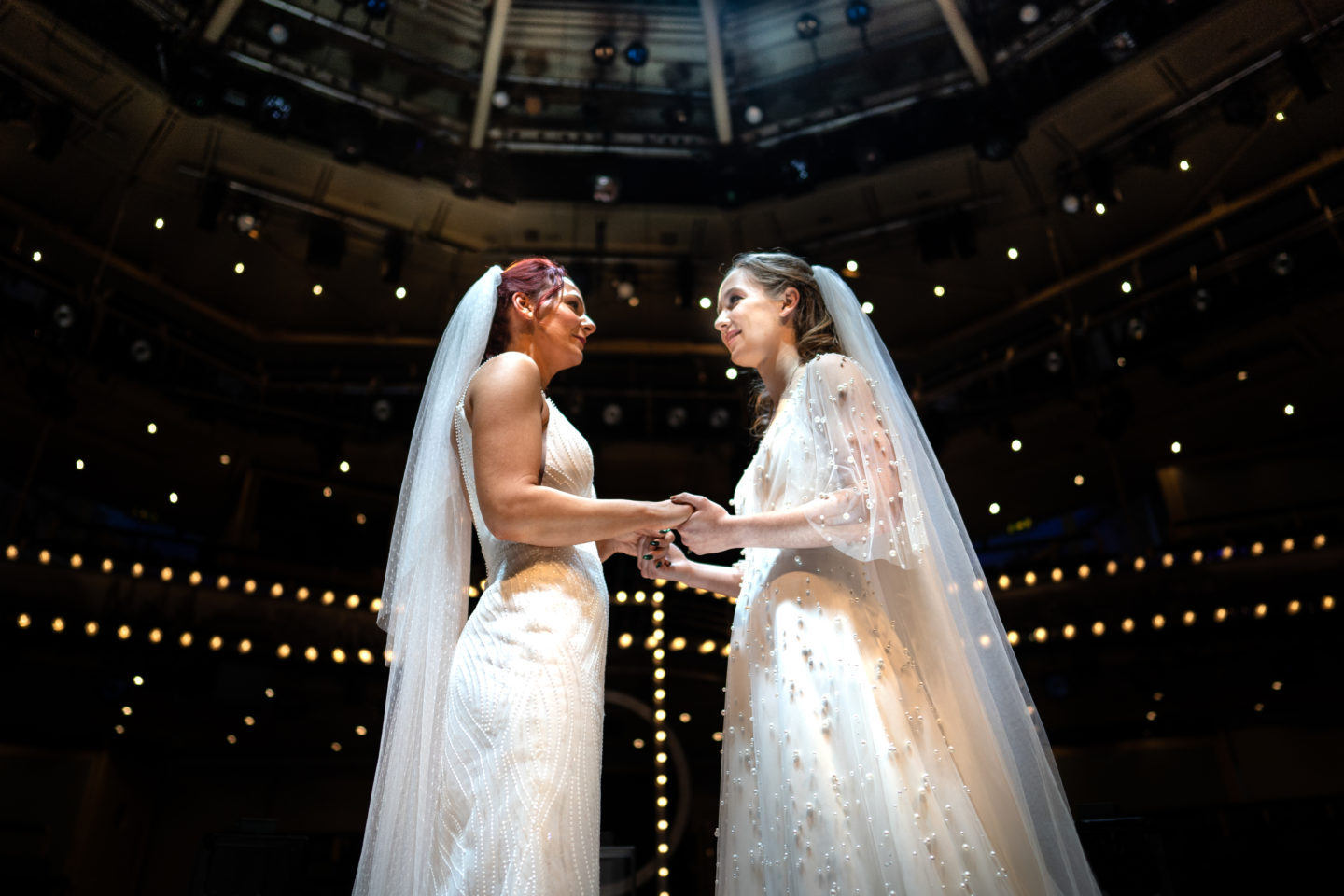 The Team – Same Sex City Wedding At The Royal Exchange Theatre, Manchester
Photography Chris Currie Photography @chriscurriephotography
Styling and Concept – To be Revealed @toberevealed_styling / Venue – The Royal Exchange Theatre, Manchester @rxtheatre / Cake Paula @ Cakes by P @cakesbyp / Headpieces Rachel Chaprunne @rachelchaprunne / The Flower decorative @theflowerdecorative / Stationery – Joanna from Orena Stationery @orenastationery / Veil and Earrings – Peacock and Pearl @peacock_and_pearl / Dress Designer Stelfox Bride @stelfoxbyshikobabride / Bridal Boutique Serendipity Bridal @bridalserendipity / Hair and Make Up Jules Daniels @julesdaniels_bridaluk / Props – The Event Edit @theventedituk / Shoot Assistant Monica Russo @dandelioncelebrations / Models Miriam Bowyer @mimbo21 / Paige Jones @paige__jones__
IF YOU LOVED THIS LOOK PLEASE PIN IT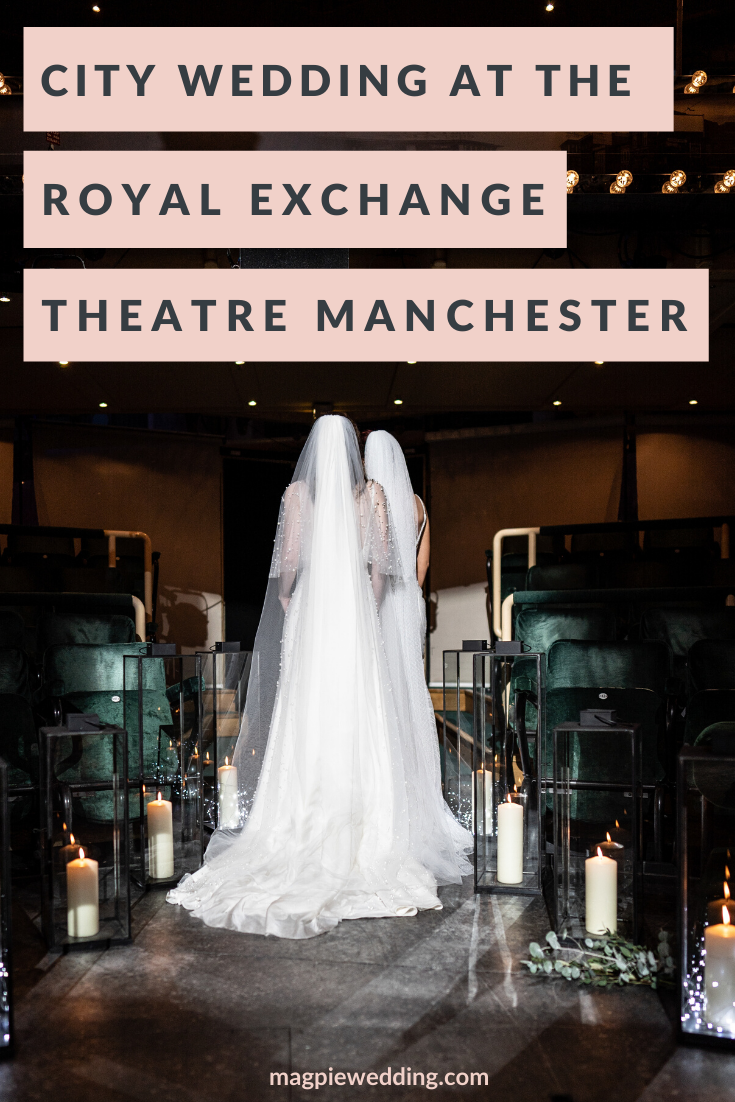 If you love this wedding at At The Royal Exchange Theatre you may also like;
DIY Tutorial – How To Dry Wedding Flowers To Keep Them Forever
Designer Spotlight: Sustainable Wedding Dresses by British Bridal Designer Lee Klabin Couture
Luxury Vineyard Pastel Wedding At Holmfirth Vineyard, Yorkshire