Ultimate Girl Power on the blog today with the most amazing free spirited, alternative bridal looks for your wedding day – who says you have to follow traditions? Carrie Courtney of
CC Millinery Creations
and her all woman team created magic in a field with this Sunrise To Sunset shoot, which is full of beautiful bridal style. We hear from her about how it came about, in a post lockdown creative flare of fabulous styling, amazing headwear and props galore to create epic scenes for five alternative bridal looks that will inspire.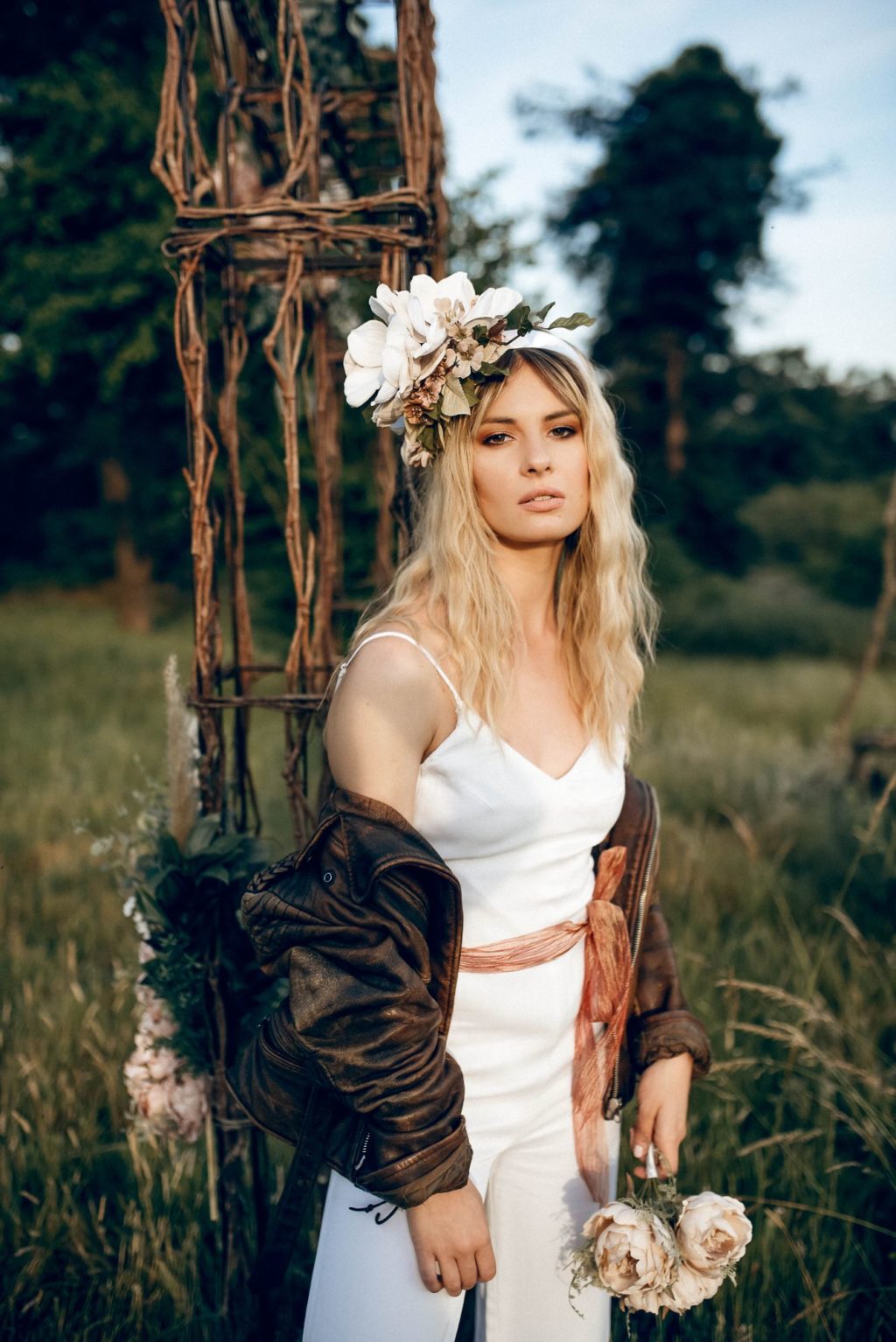 "Our sunny summer free spirit shoot of long grasses, textures and muted tones, with 4 awesome women and one at the end of the phone, in a large field all came together with the same goal in mind – to create magic. I miss more than anything creating styled shoots; we have always done these for pure fun, to meet new people and make friends along the way, so during lockdown, my life felt a little jaded as I missed everyone so much! But it didn't stop my ideas; we all need a little sunshine after all! Planning a socially distanced shoot outside takes a bit of re-thinking as we are so used to working in close proximity to each other; the model had to apply her own make up, and long strings were added to dress zips so the model could dress herself, headpieces are placed with us behind the model etc."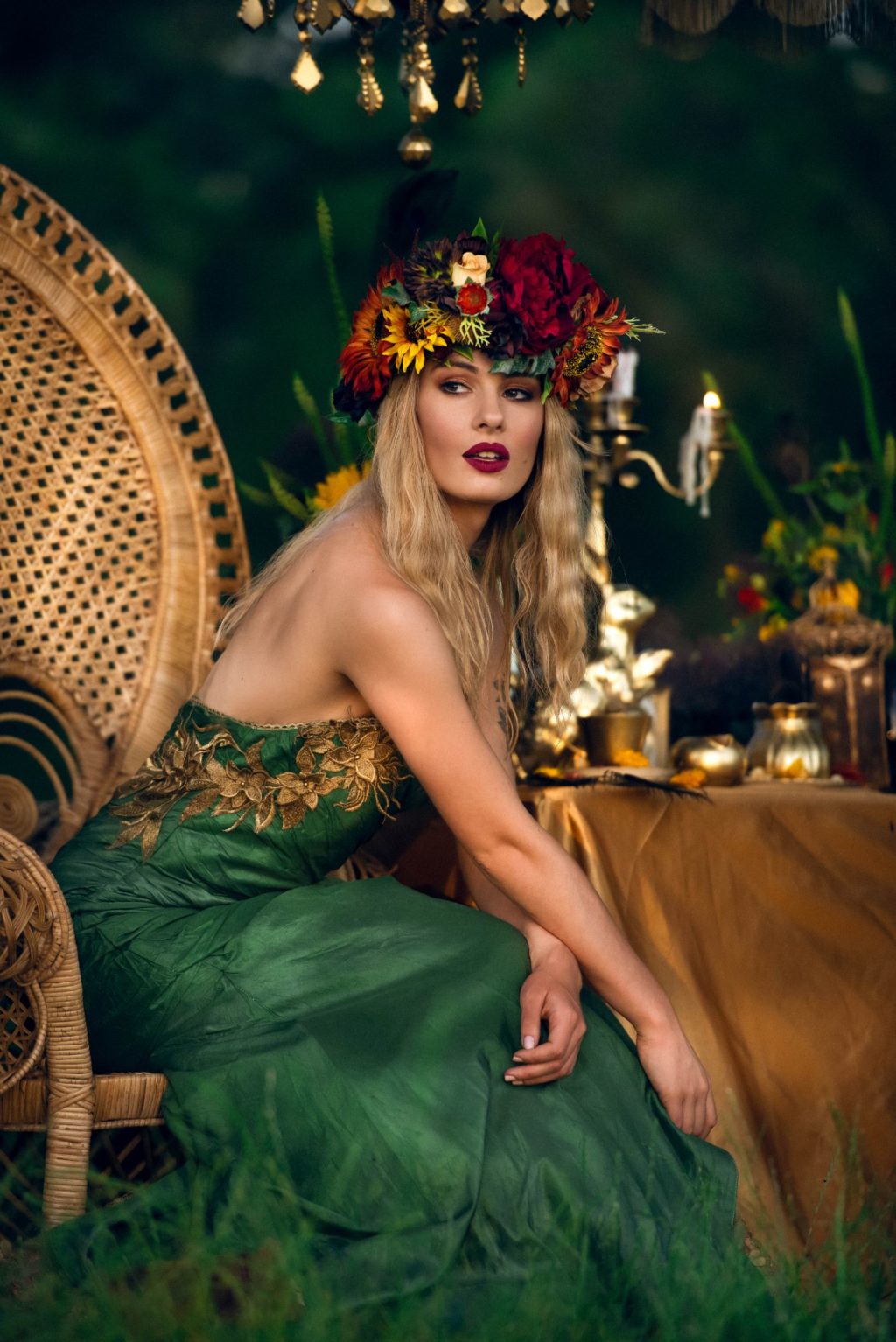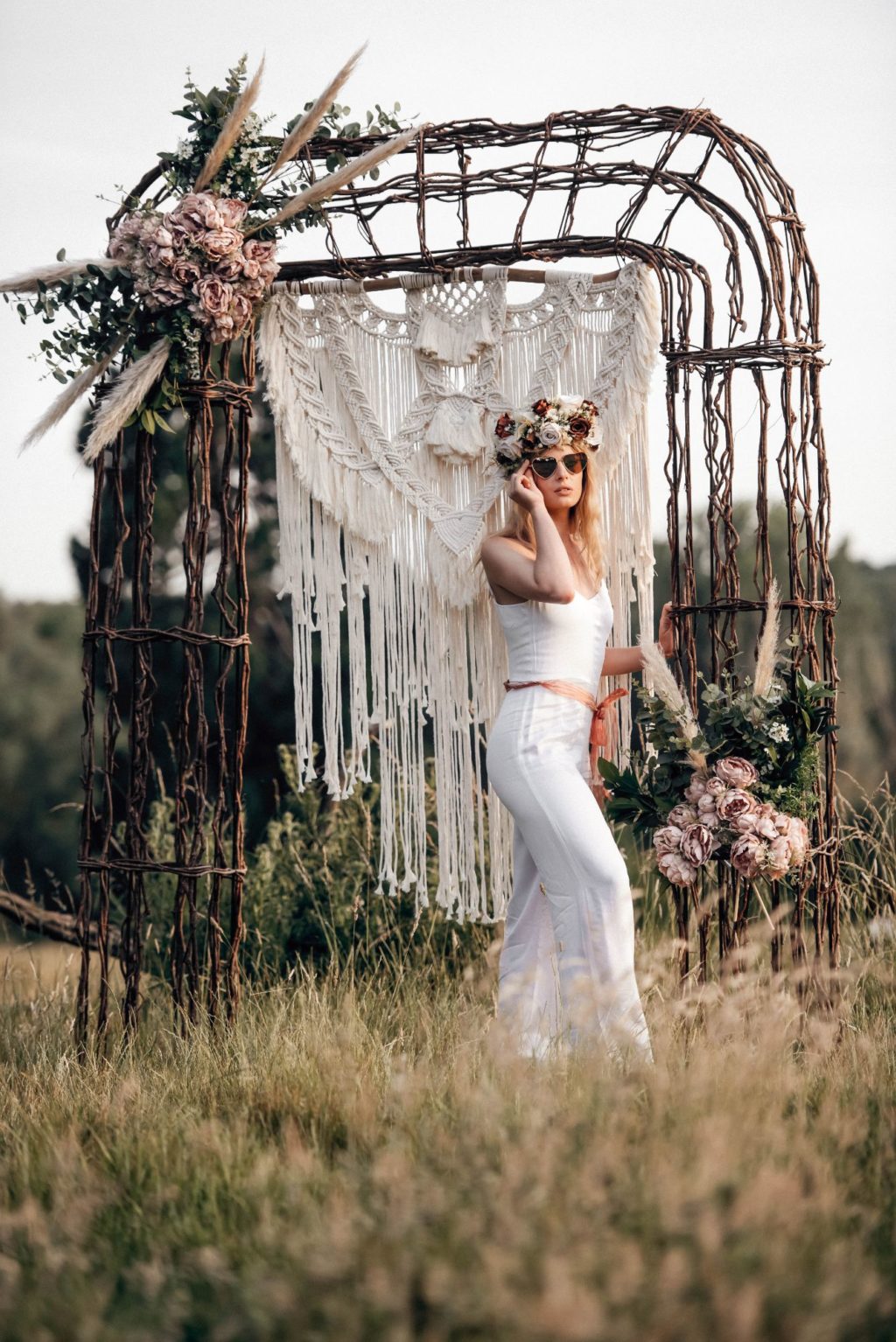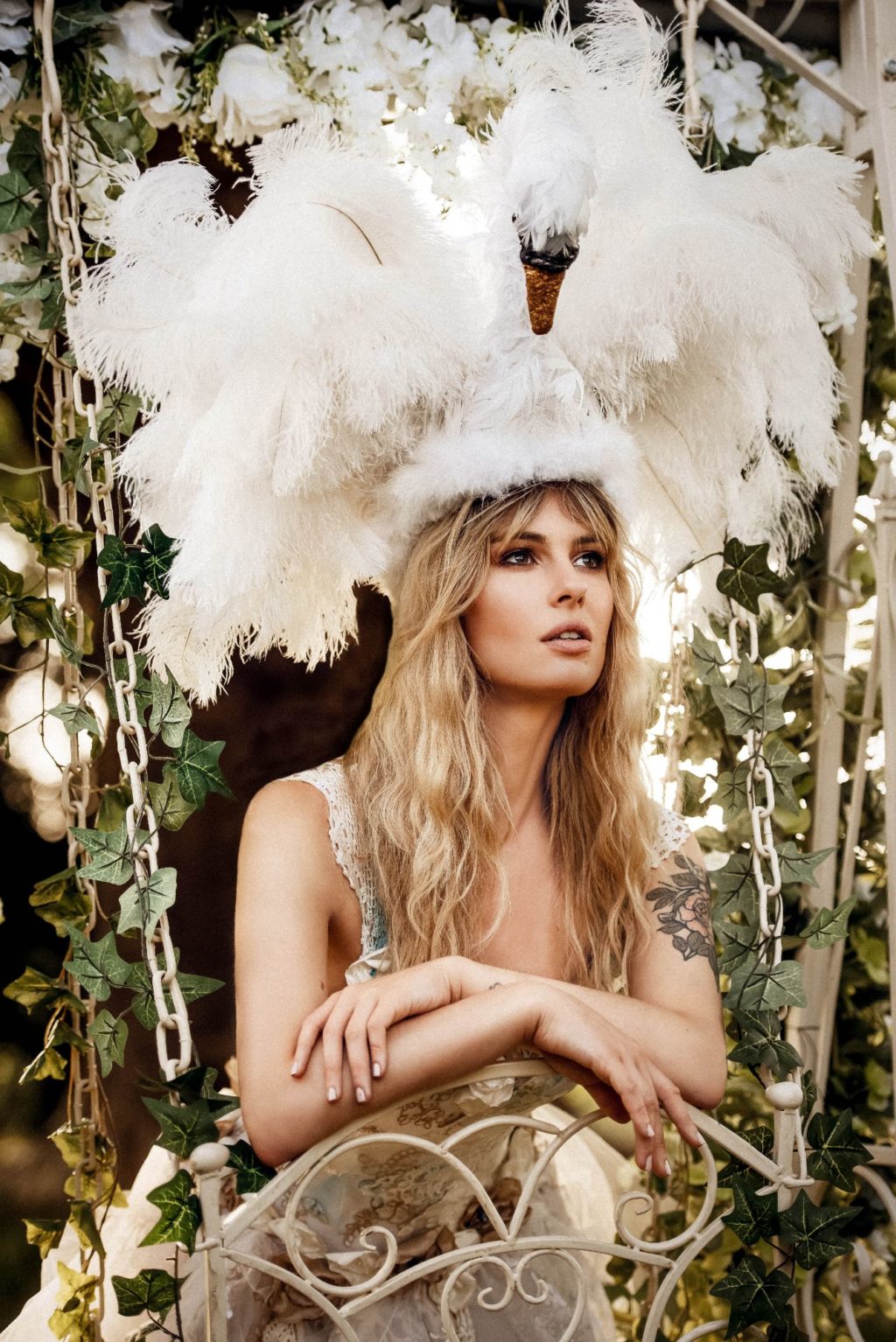 "We are lucky to have space to work, so with a picnic and a very hot sunny afternoon we created 5 full sets between us, until sunset. Samantha runs the The Vintage Iron Company, which provides luxury events, props & decor and is based in Essex. She provided us with the beautiful vintage iron arches, swings and carriages, and the stunning peacock chairs. Sam dresses these beauties to perfection, with her amazing eye for detail this absolutely made the shoot so perfect in every way."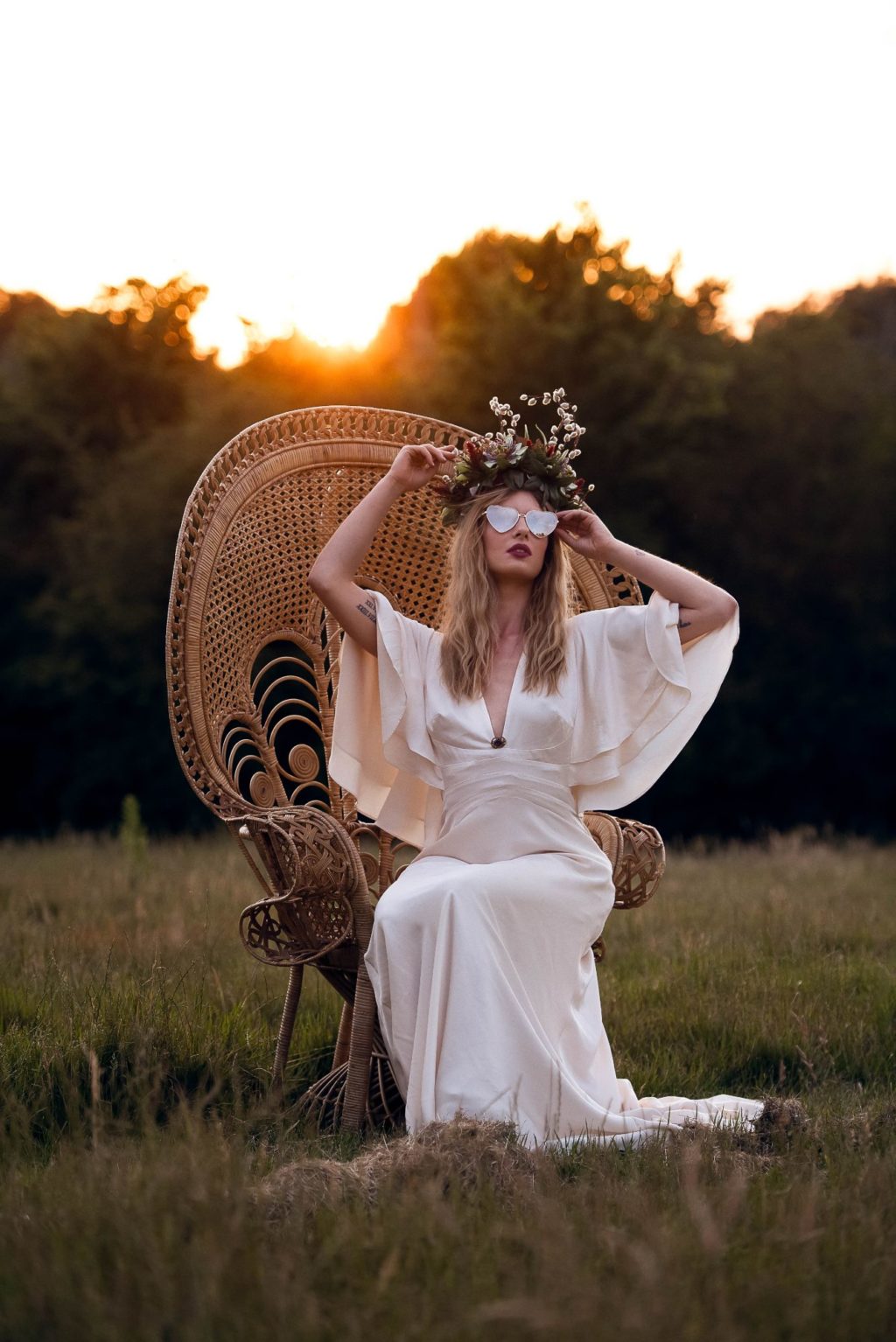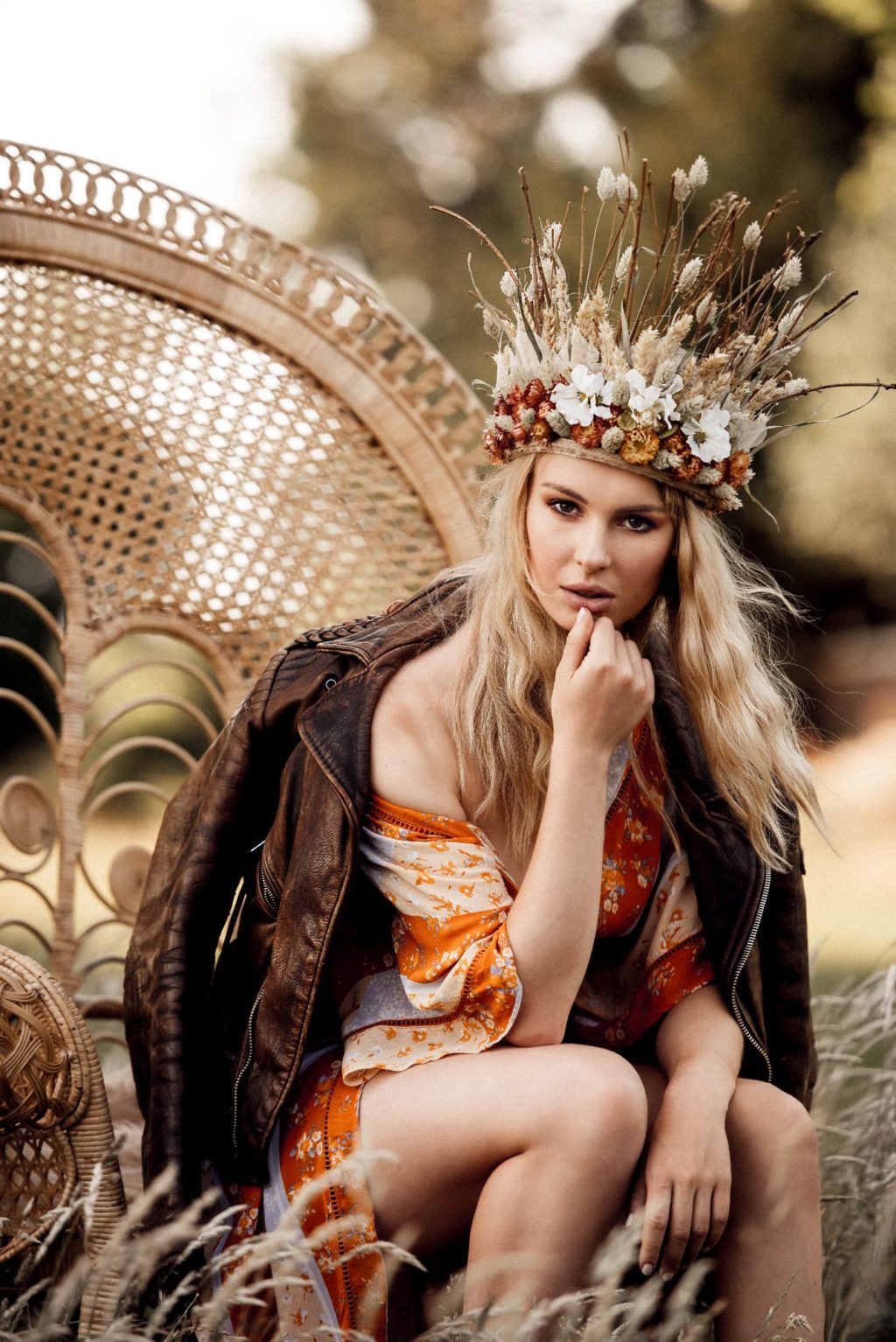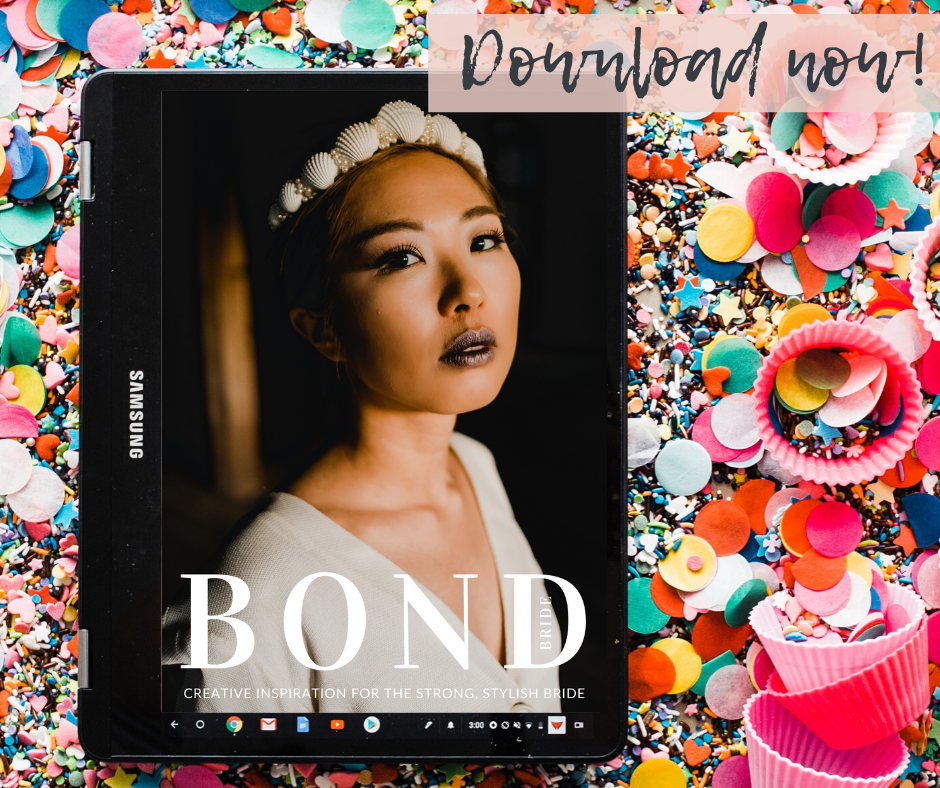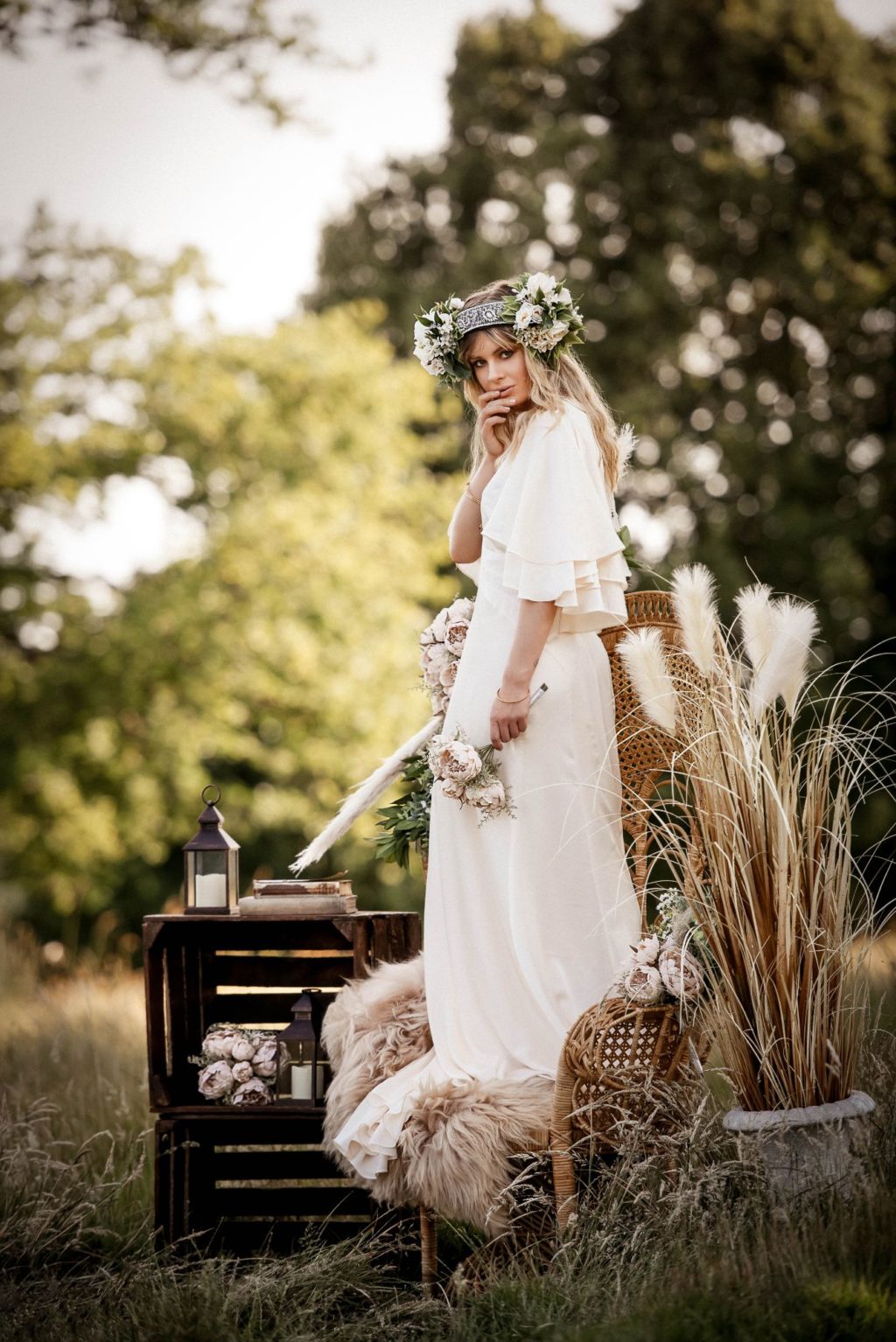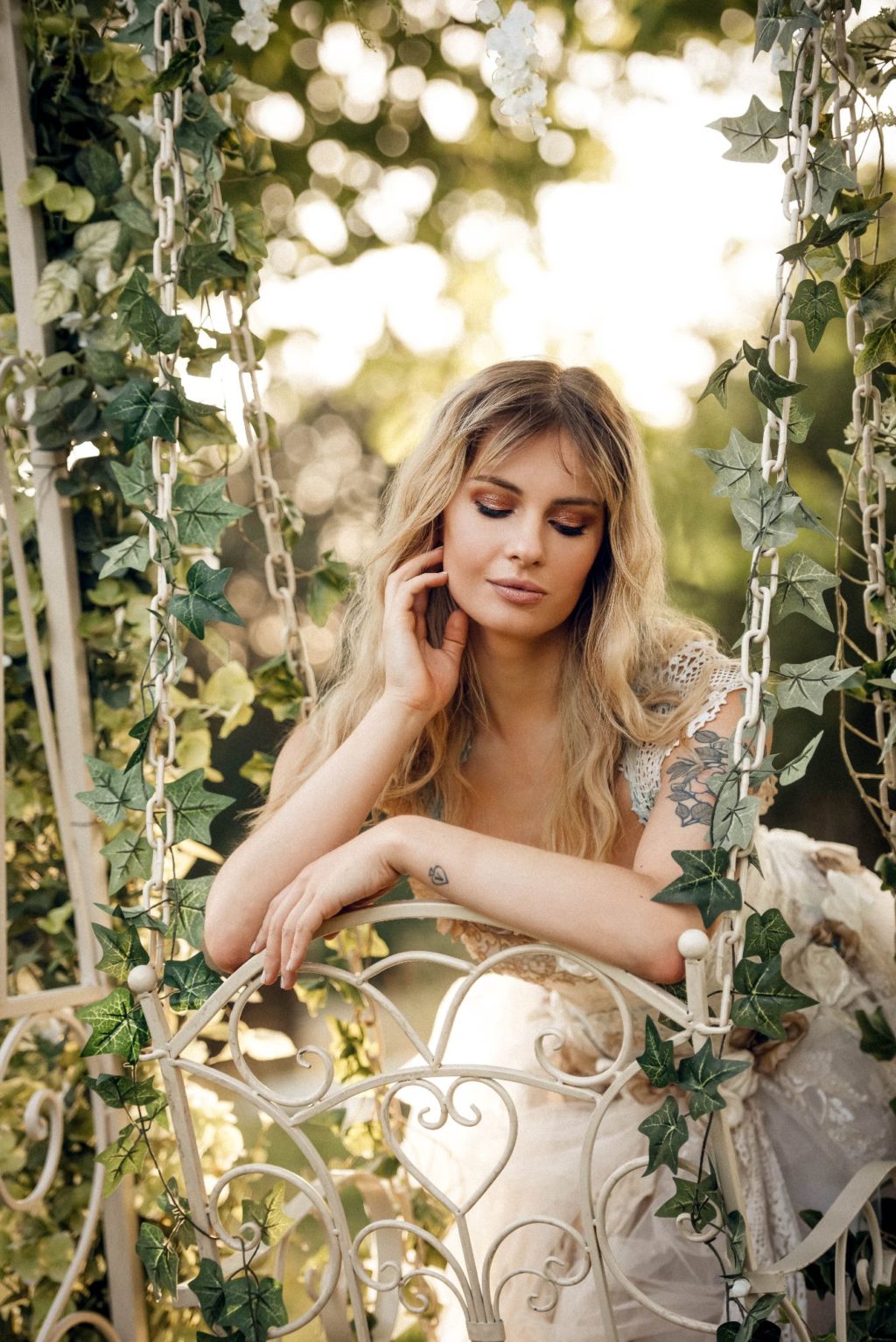 "I've been so lucky to work with Migle on several occasions who was my chosen photographer for this shoot; she has a natural eye and draws her inner beauty in to her wedding photography shoots."
"Pippa was our model for the day; she has endless energy, a happy go lucky attitude and a dance background which made her perfect for our shoot. We started with a late afternoon boho set with pampas grasses, natural and organic tones and the beautiful peacock chair set in long summer grass with a new style of crown I've been working on. These are very natural in appearance and style to replicate a traditional style of crown, which we teamed up with a simple maxi dress and vintage leather jacket."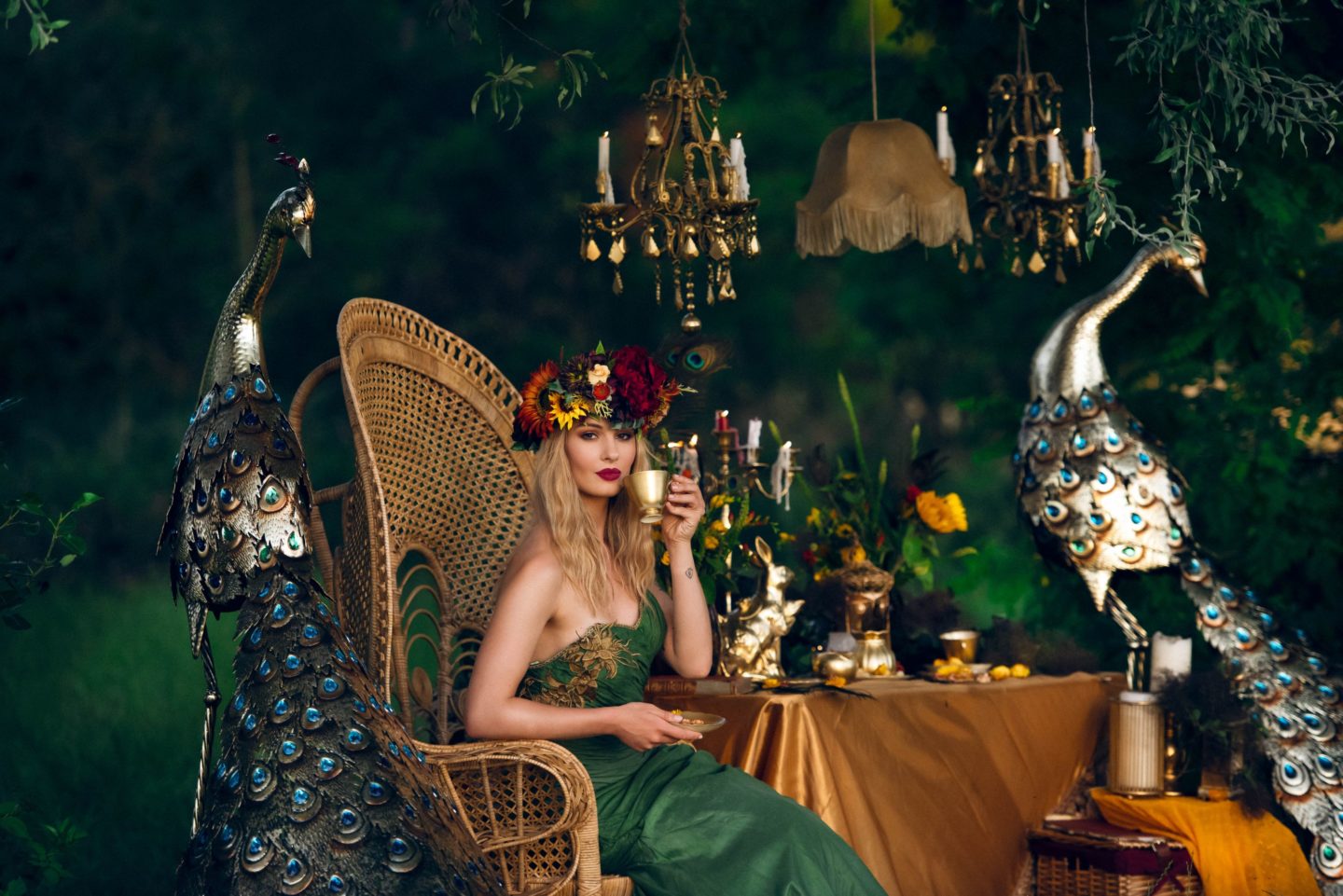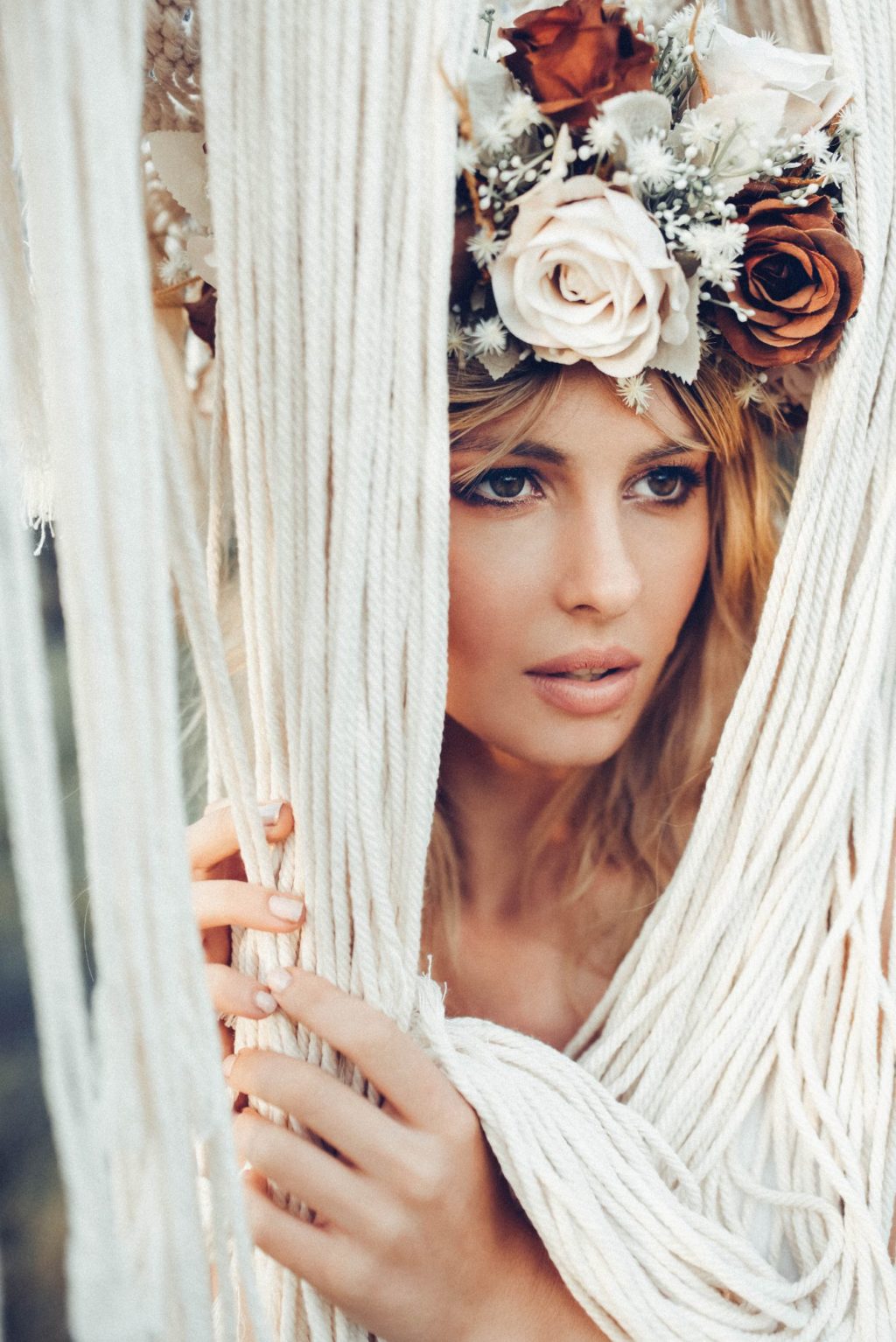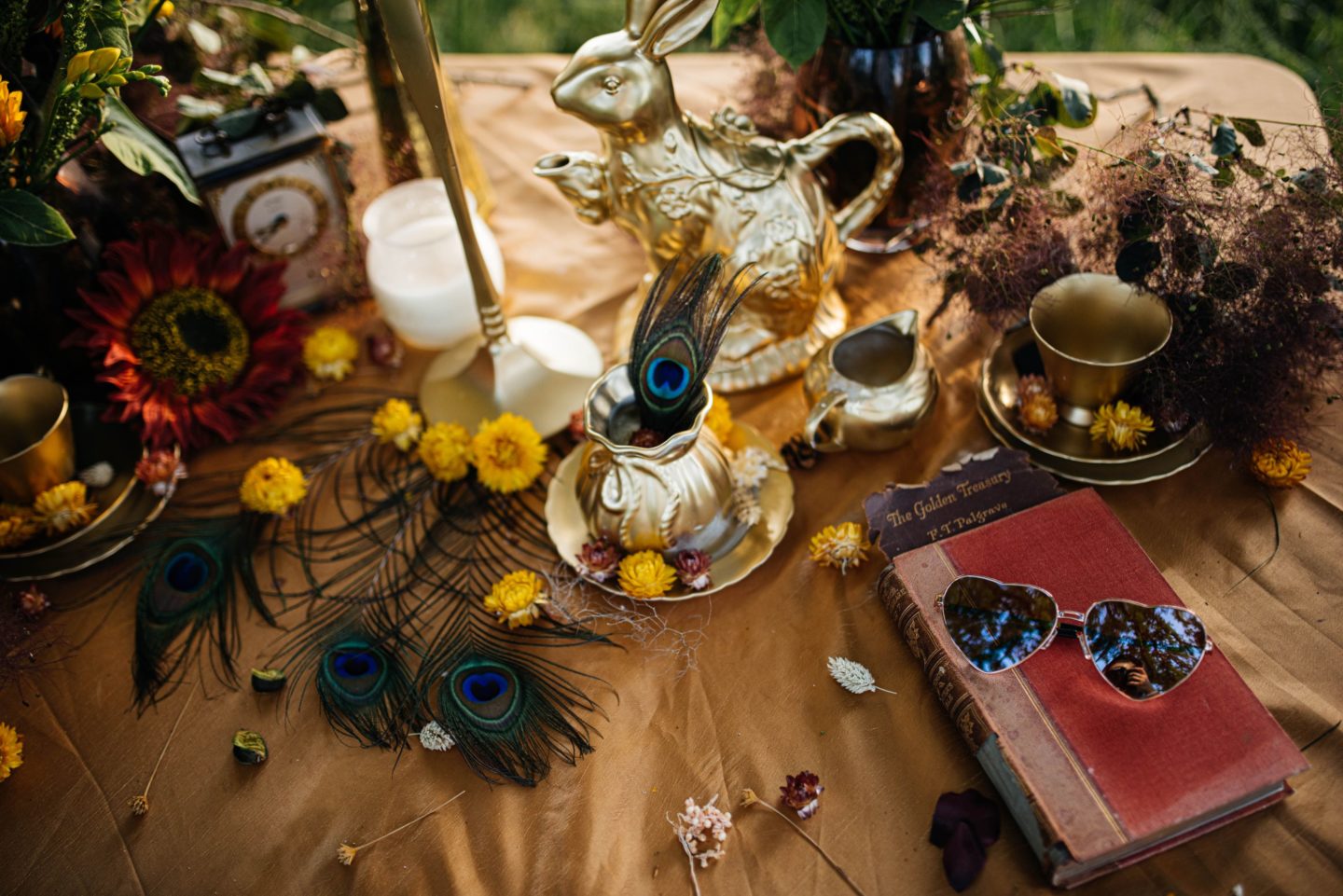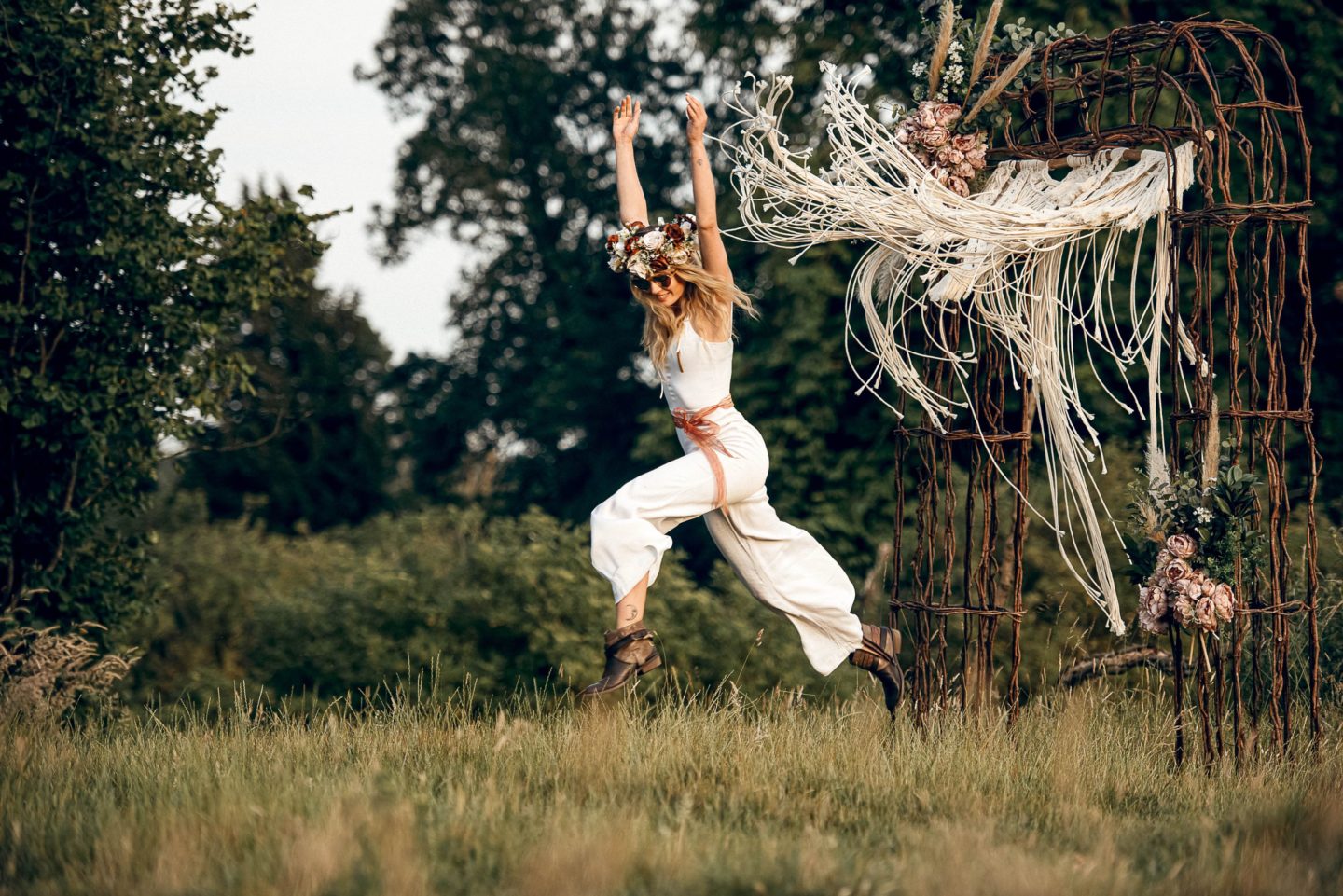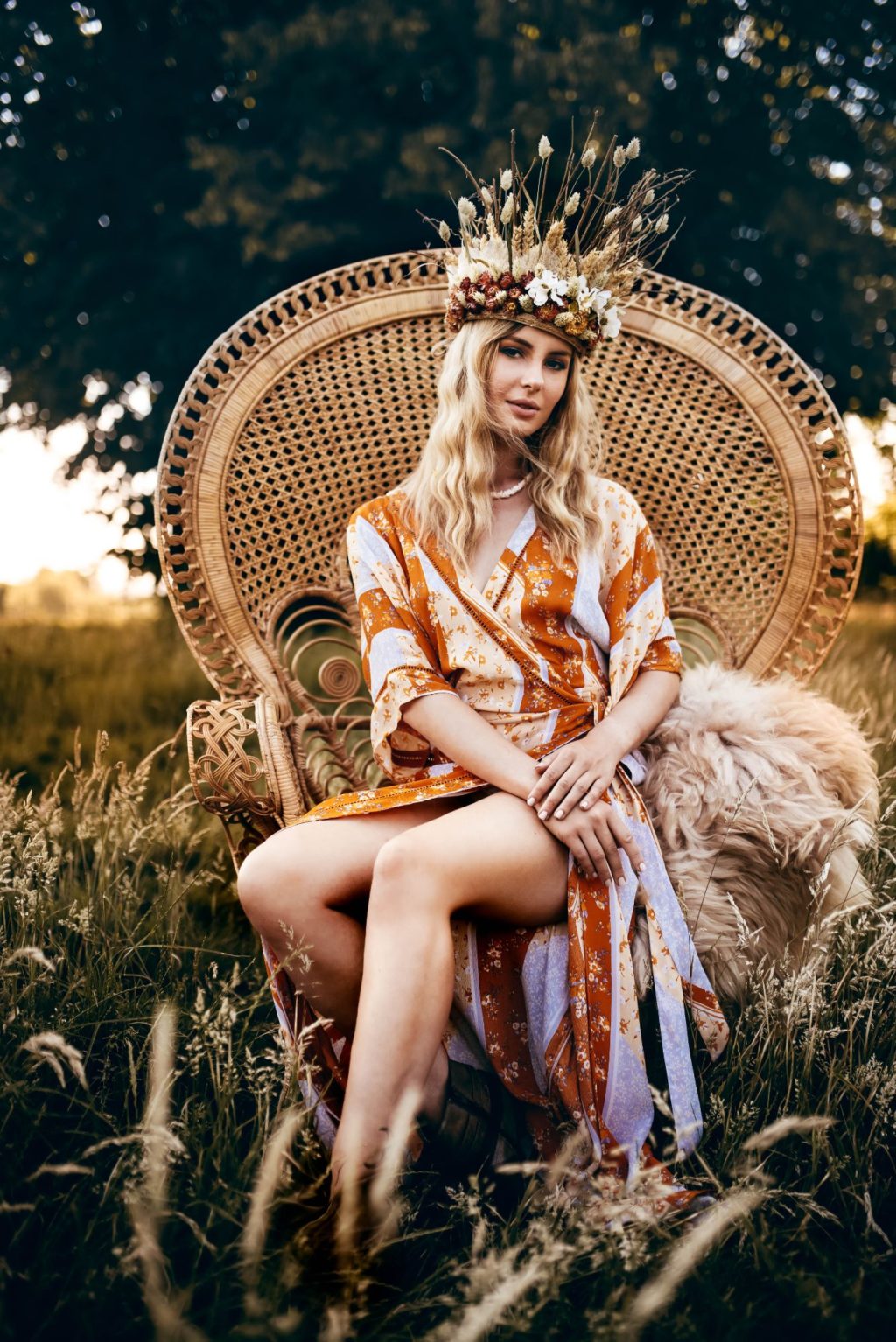 "We then moved on to a more styled set of gentle tones with a " bringing the inside outside" vibe styled with the Vintage Iron Company's stunning props of crates, table lamps, a faux sheepskin , jute rug and some smaller props. The dress is from ASOS which I purchased about 7 years ago, and the headpiece is a reworked saree with burnt orange florals and a vintage style.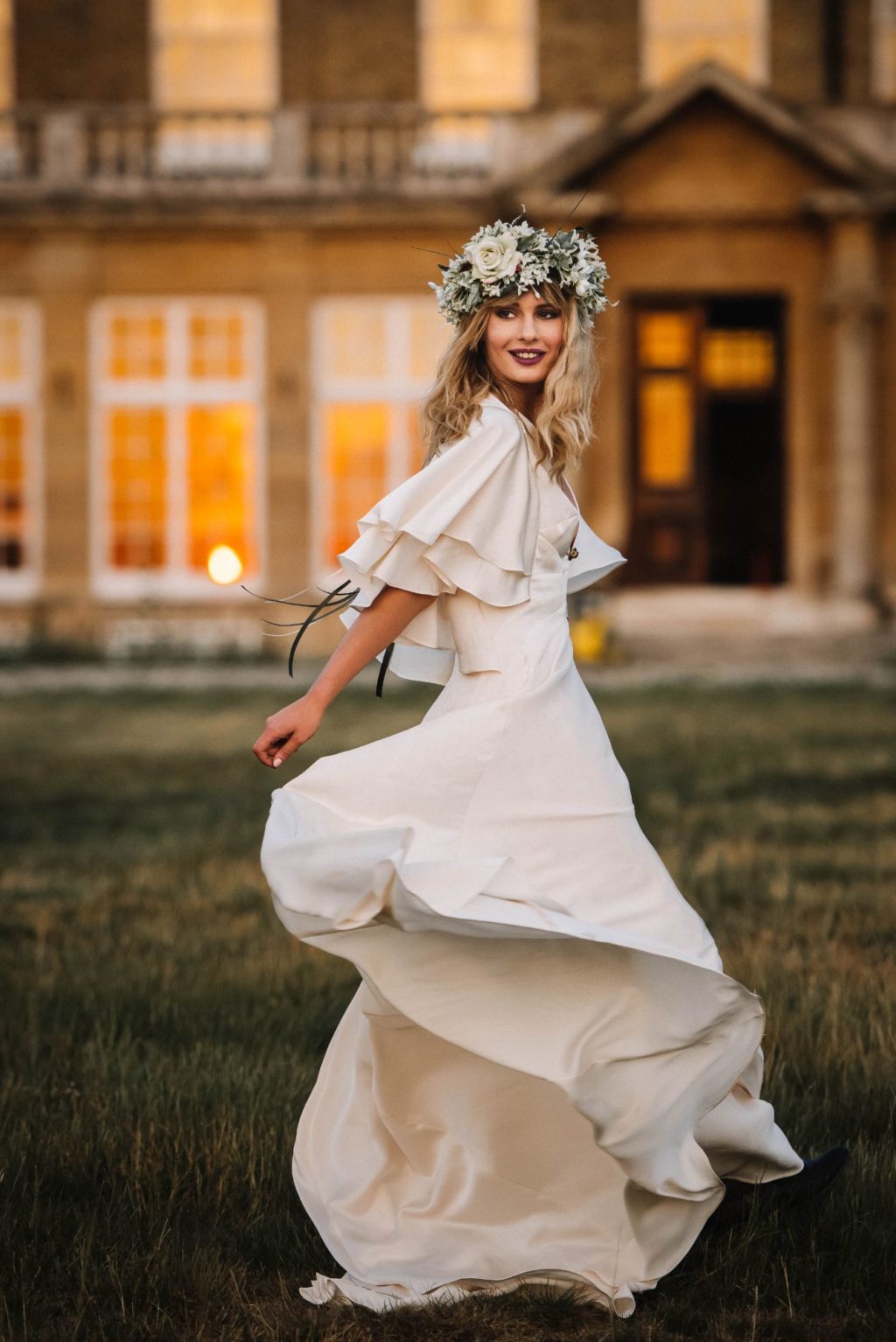 "Our next set was with the beautiful iron swing which Samantha assembled with seafoam green faux florals and with a swan headpiece and stunning reworked bridal dress from Lynsey Clark – this made for a fun look for every alternative bride. The rustic arch with Sam's macrame hanging worked so well with Pippa's enormous leap – I think this is my favourite image from the shoot, as it is just so free spirited."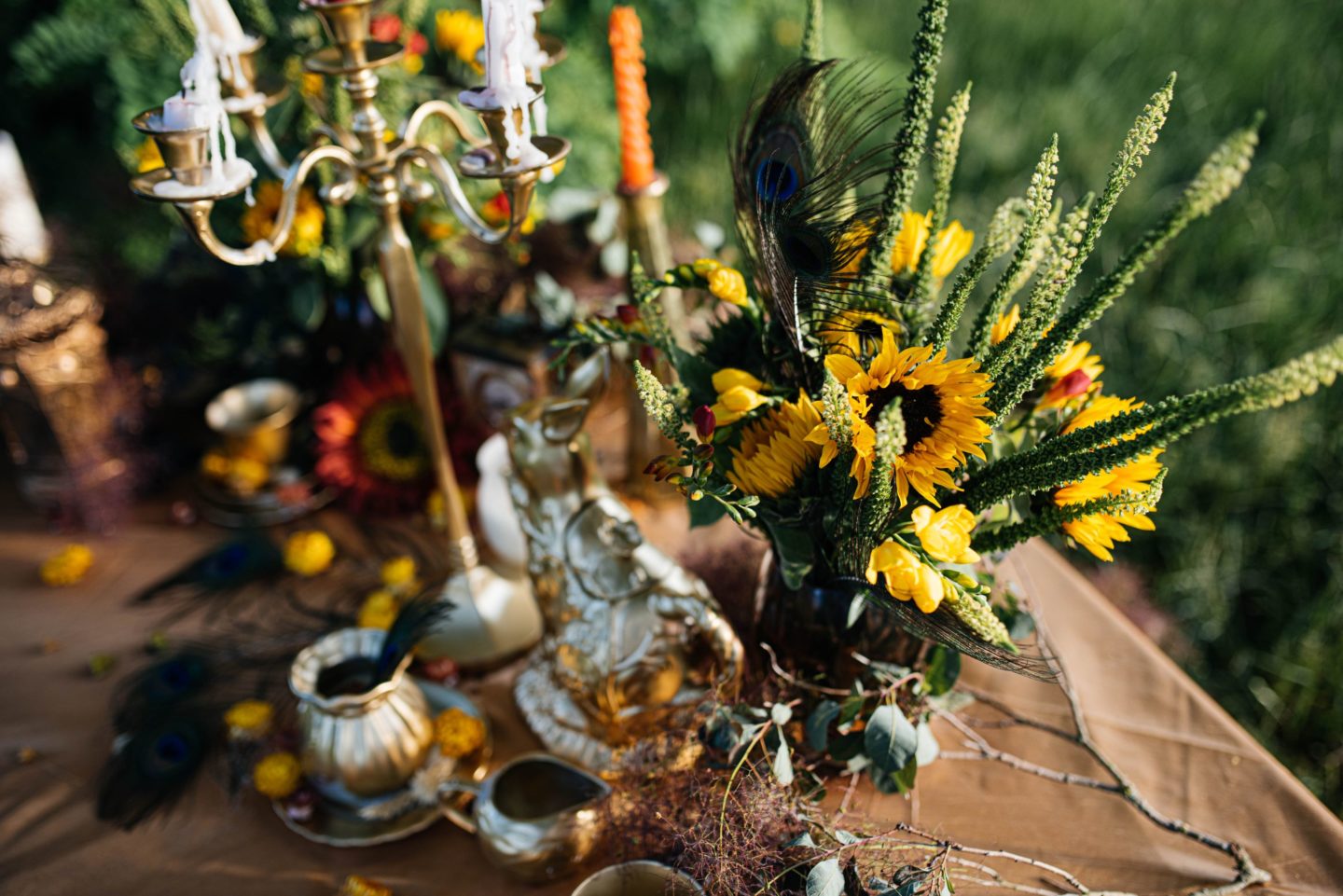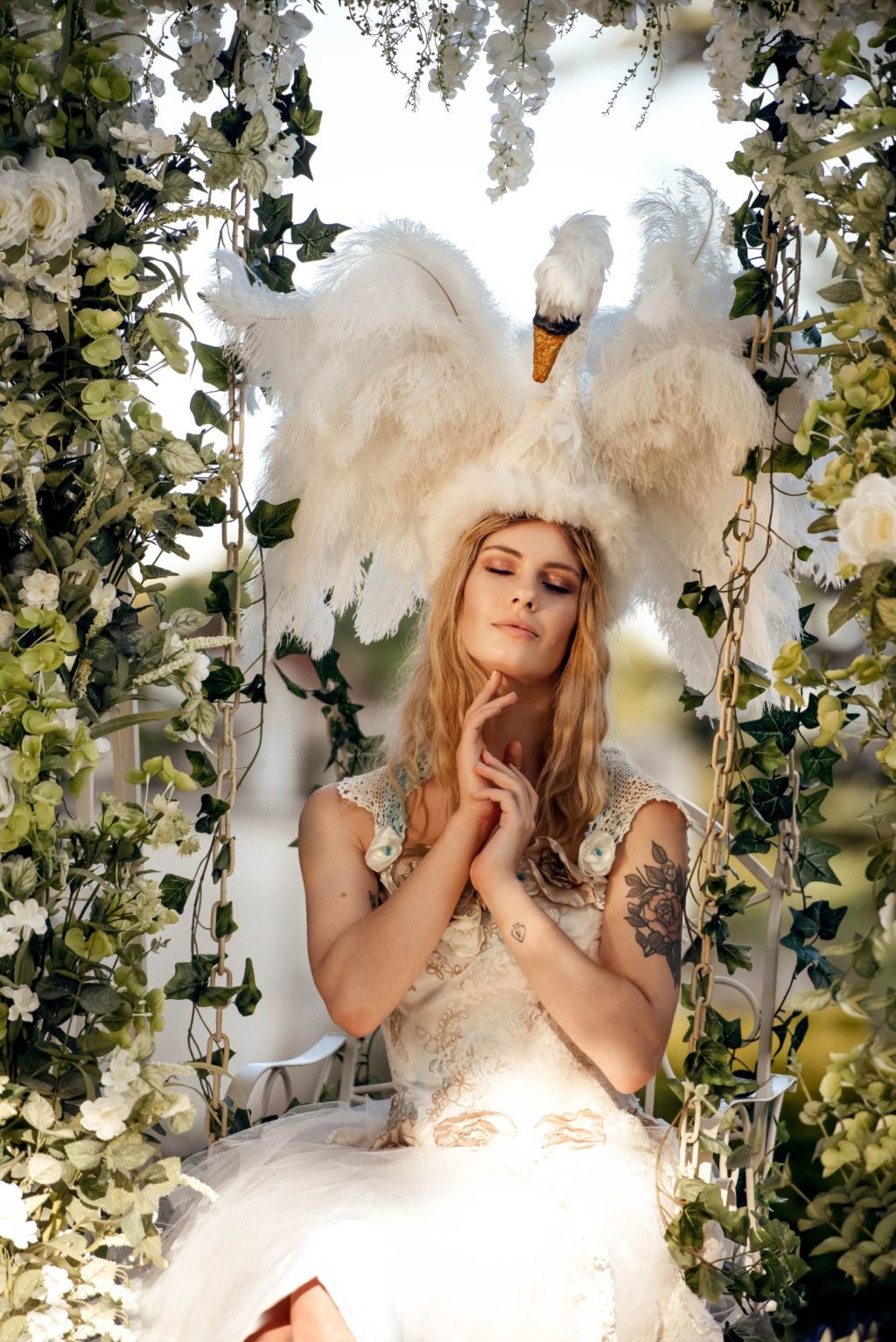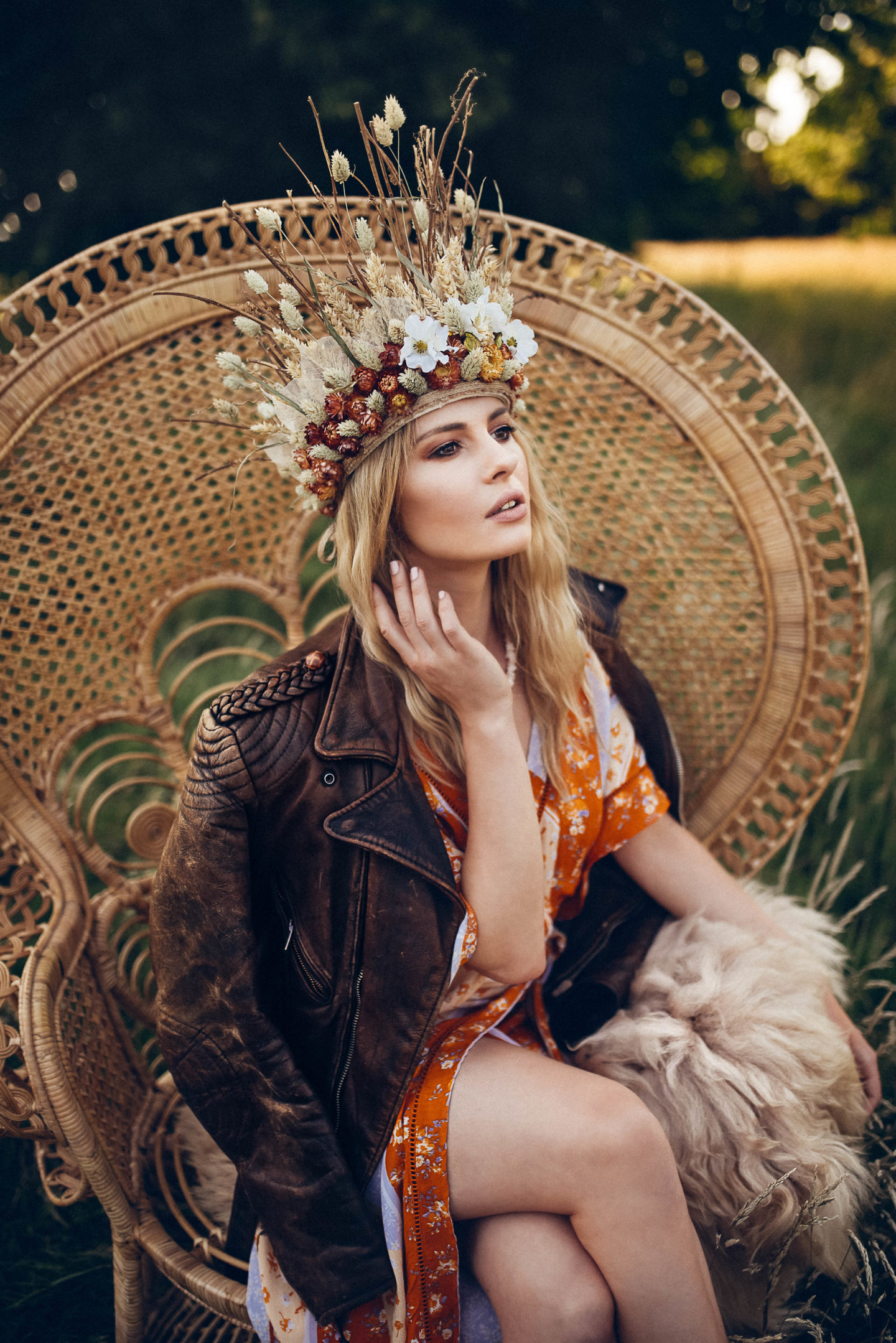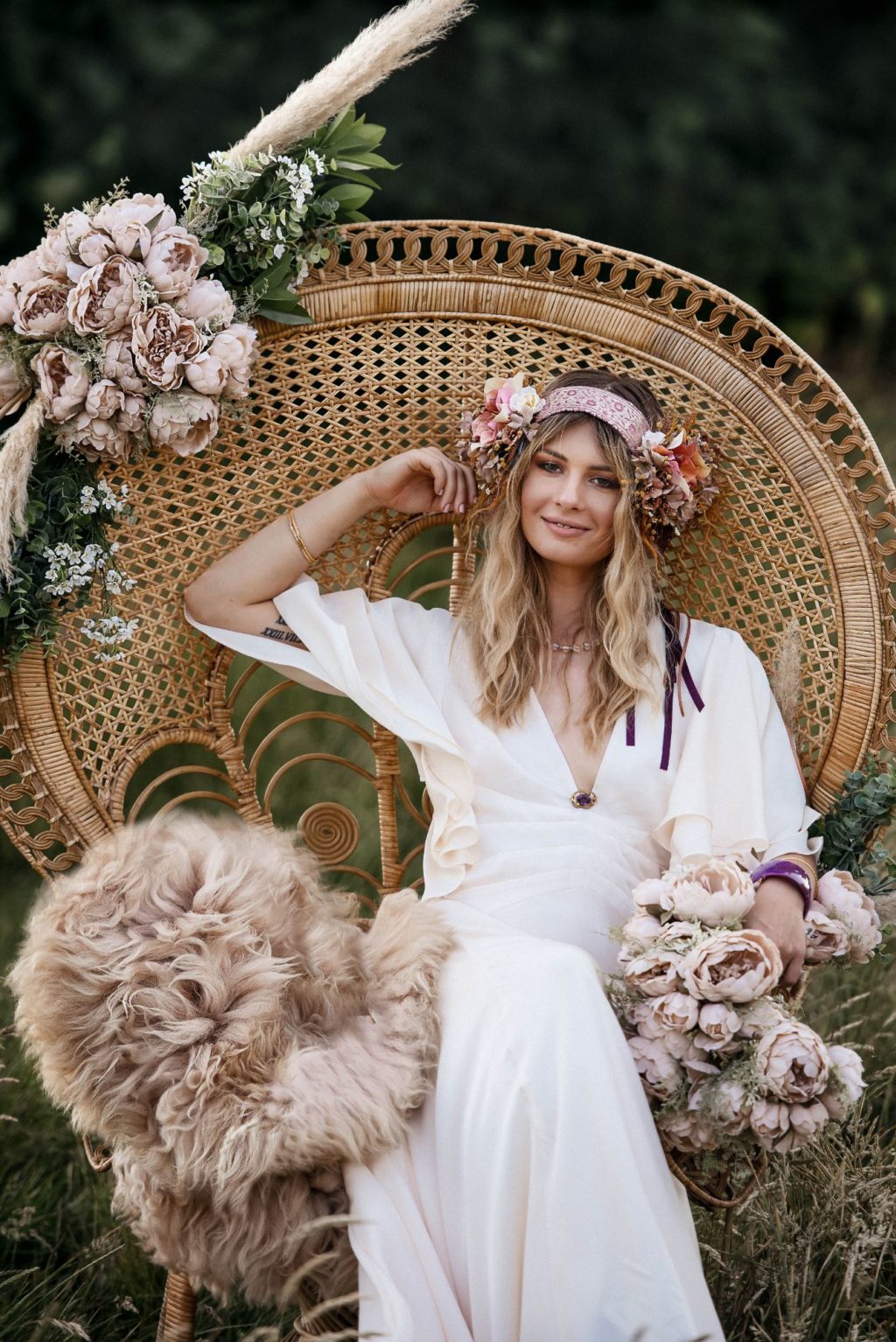 "With the time ticking towards sunset we moved to the tablescape and styled the table with the help of a remote web chat with Jo from
V V Raven
. I layered the table with velvets and satin in autumnal colours with sunflowers which are my favourite flower. We hung two chandeliers and a lamp shade, which I sprayed gold, on a rope for a simple effect. My table decorations were simple china sprayed gold, the flora I found on a walk and added sunflowers which brought the colours together, and with Sam's huge iron peacocks this was a stunning unique set. Pippa was dressed with Lindsey's stunning green reworked dress, and a sunflower crown by us."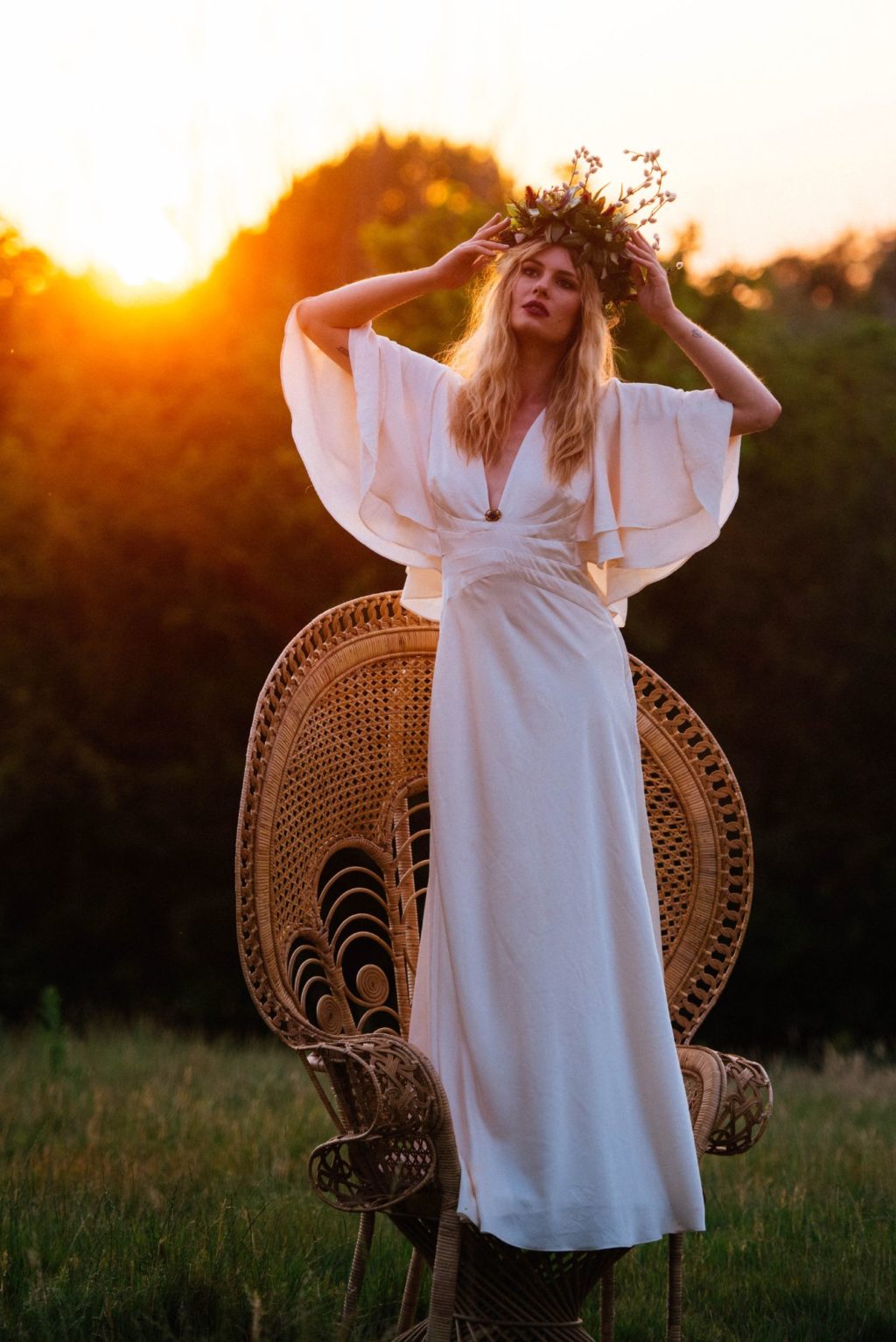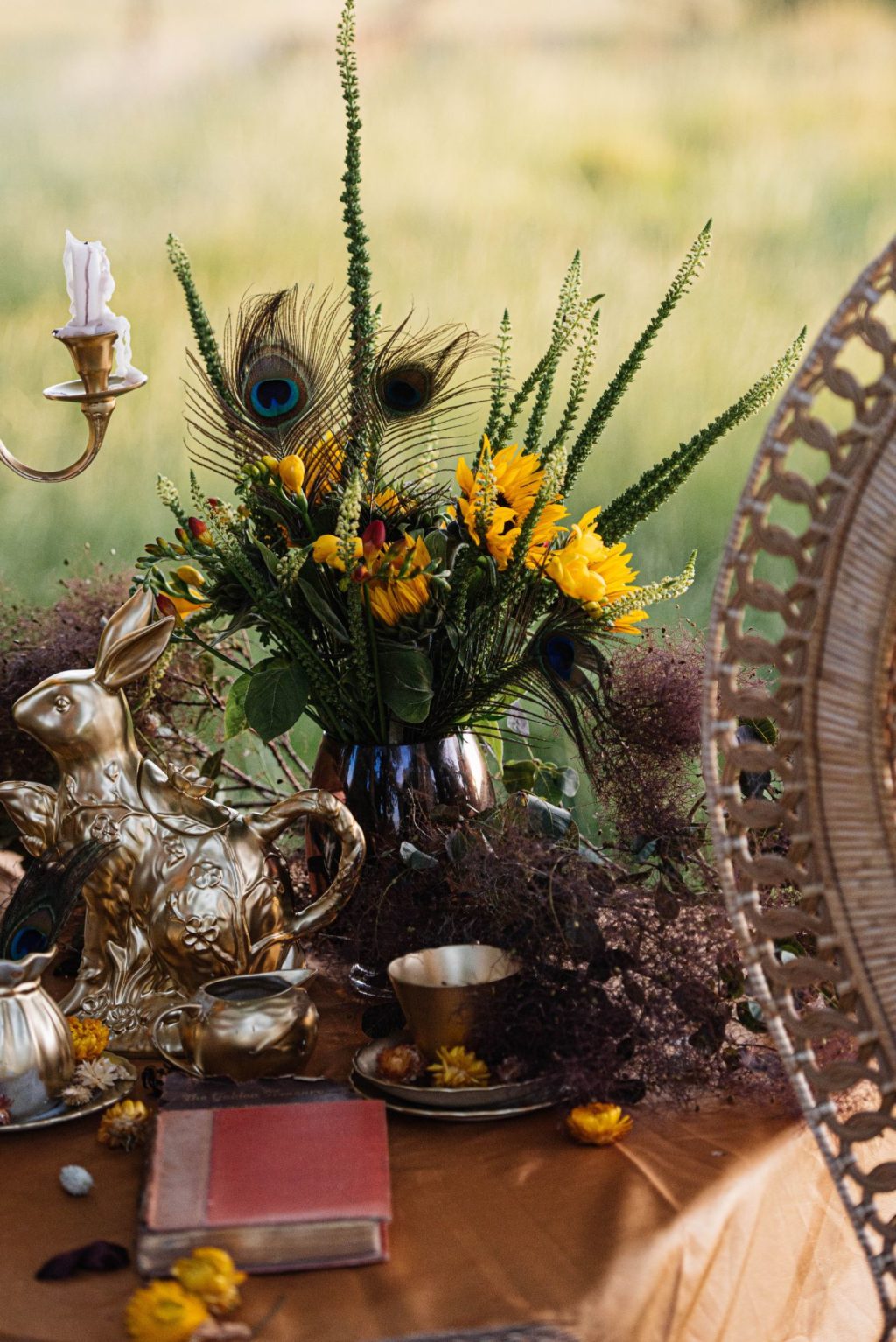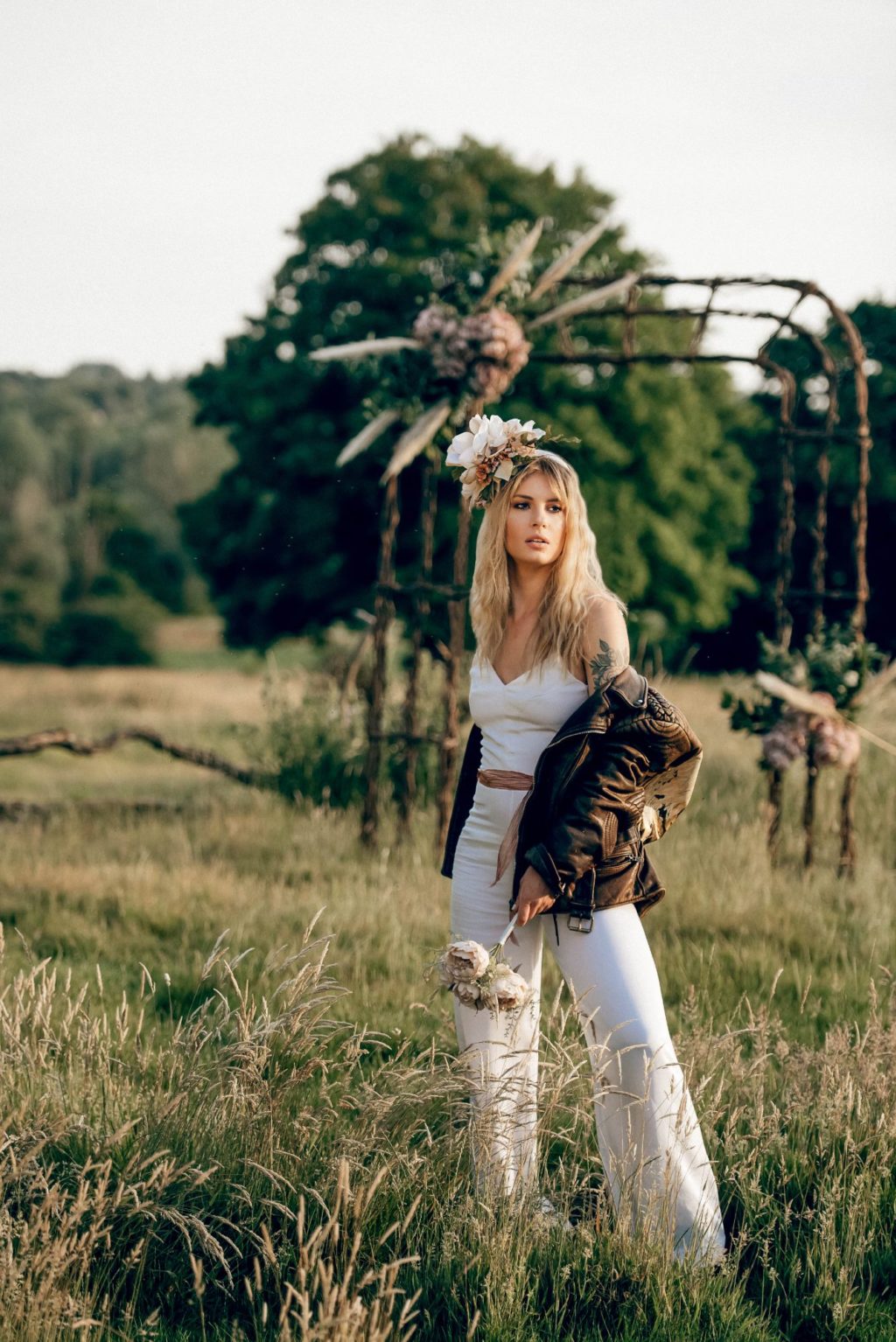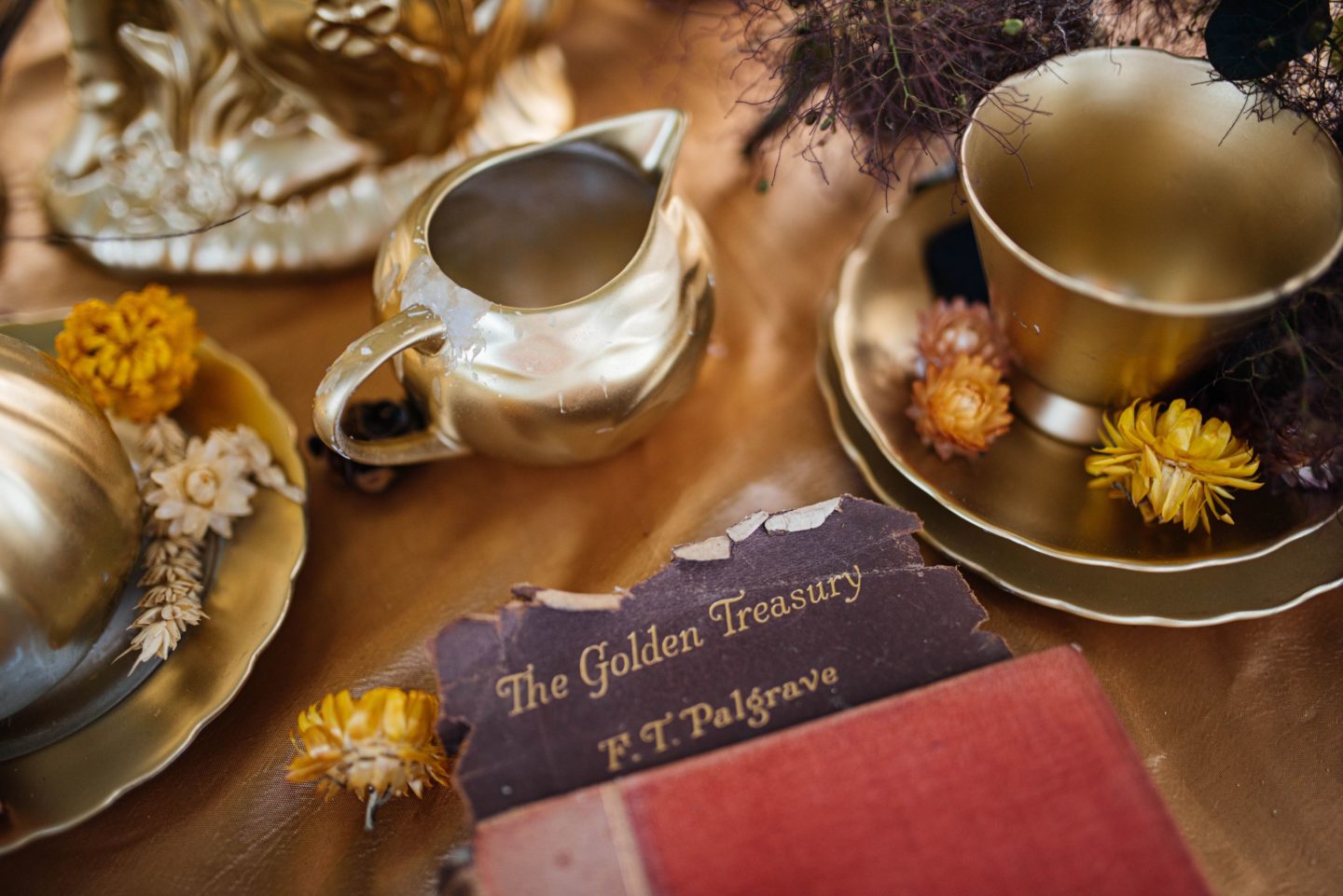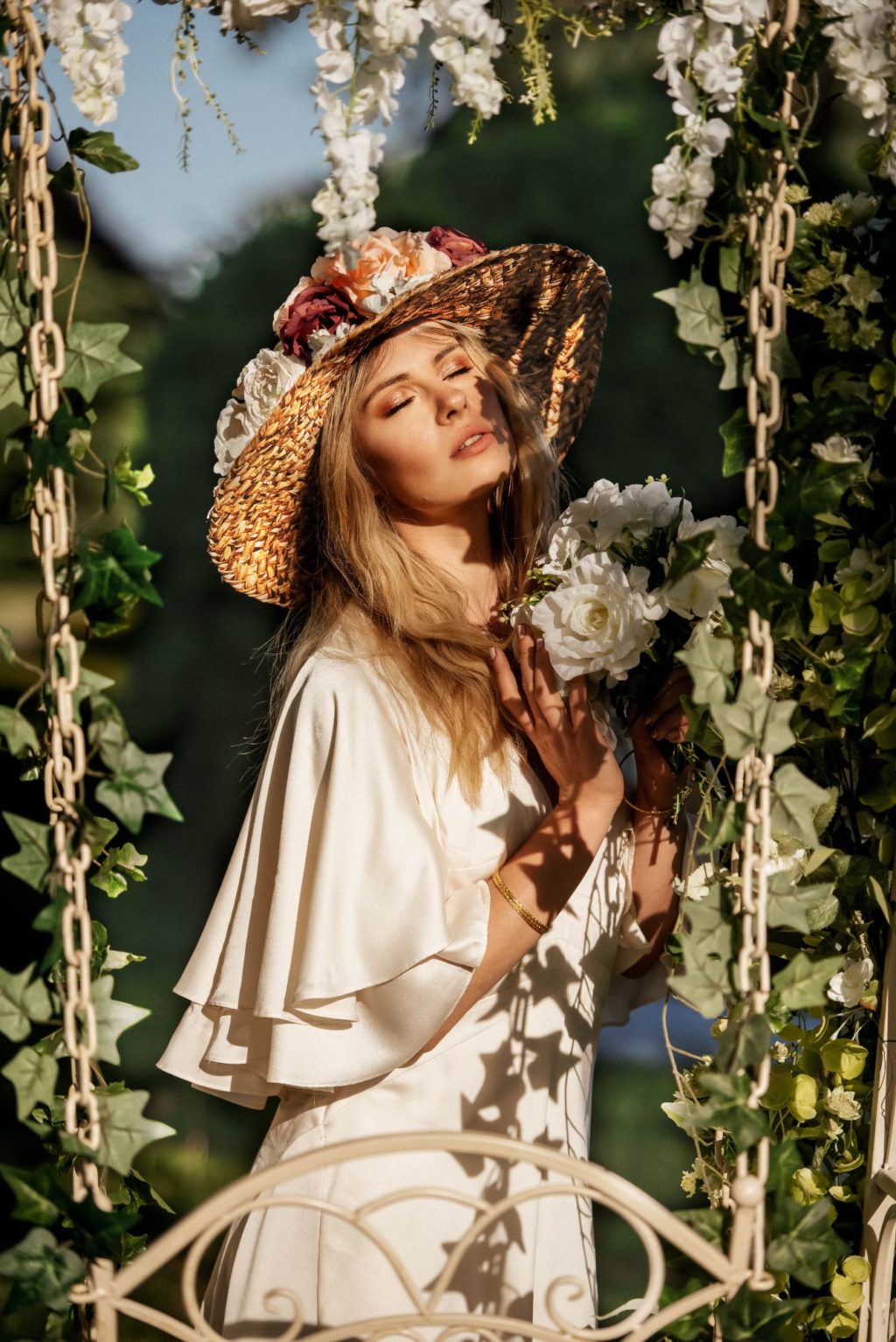 "As the sun started to set, we took our final set to the sunset. All felt quite right with the world that evening."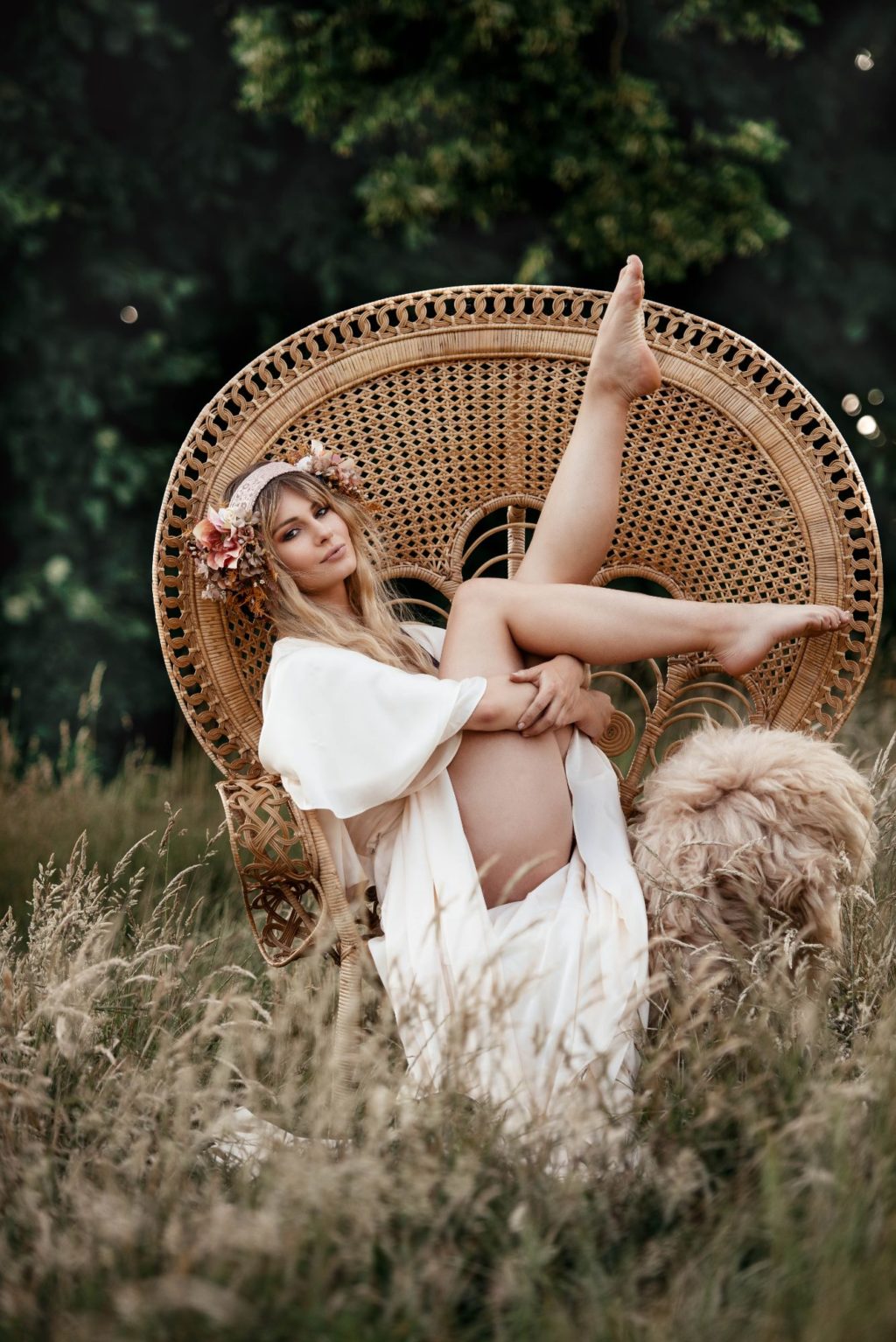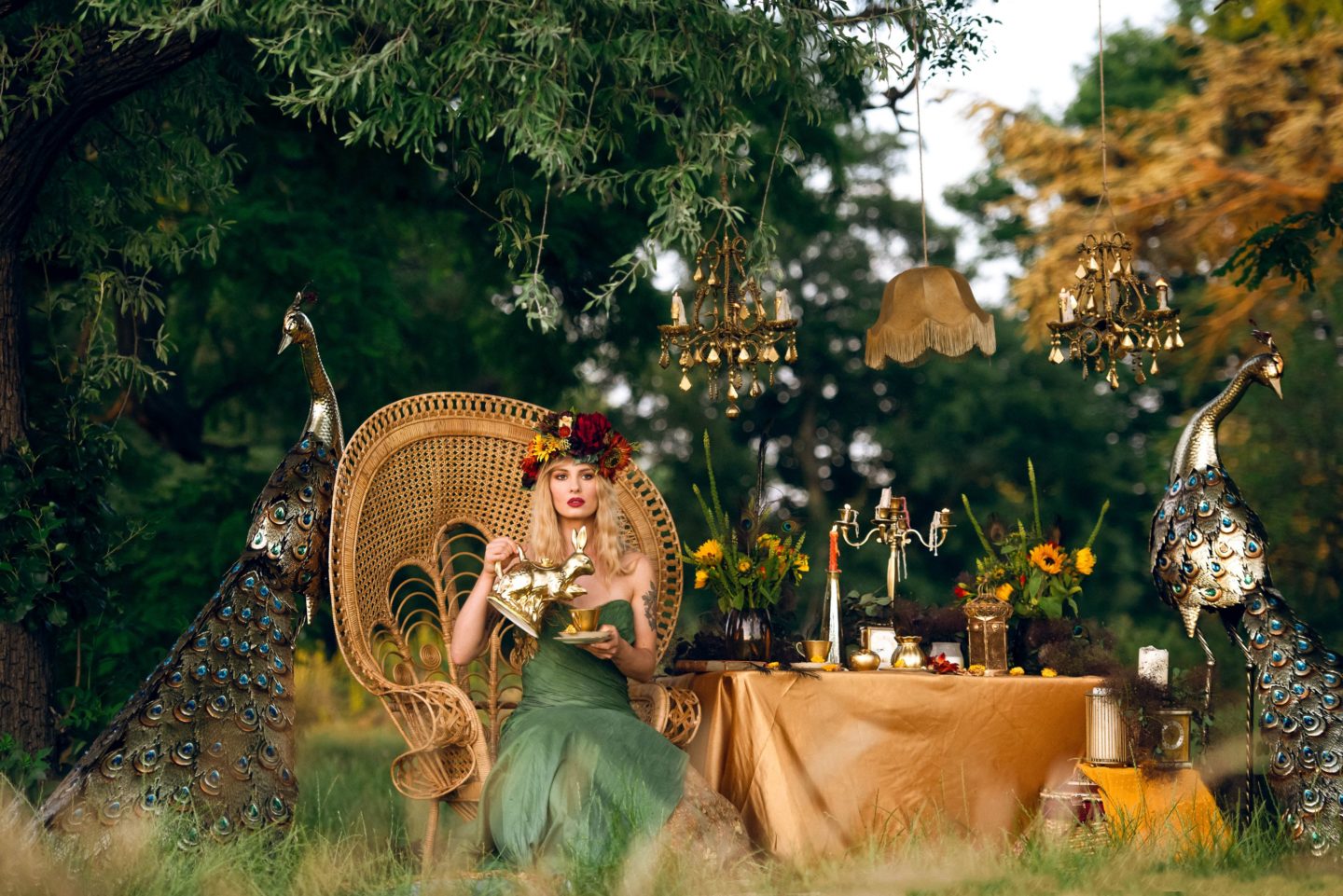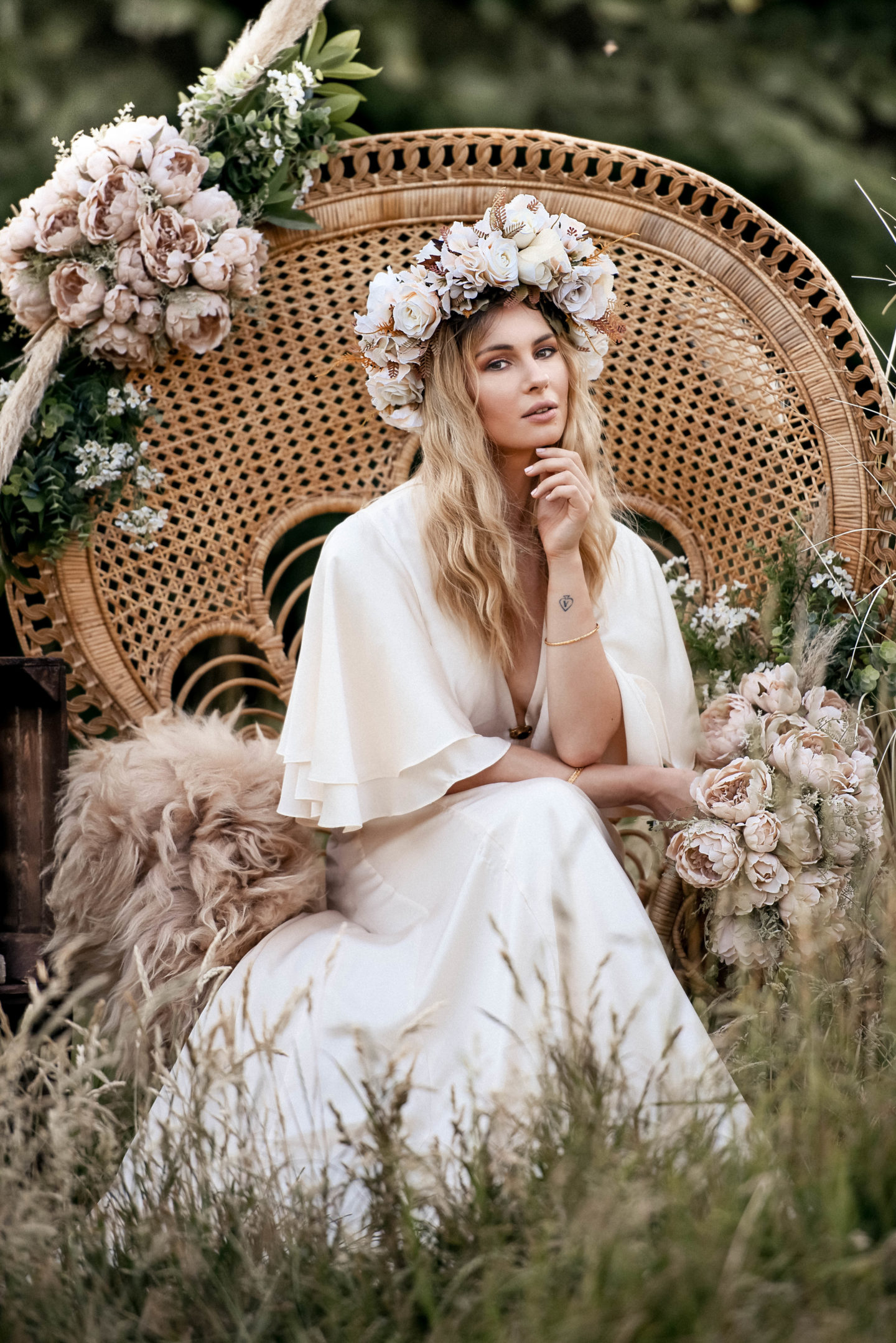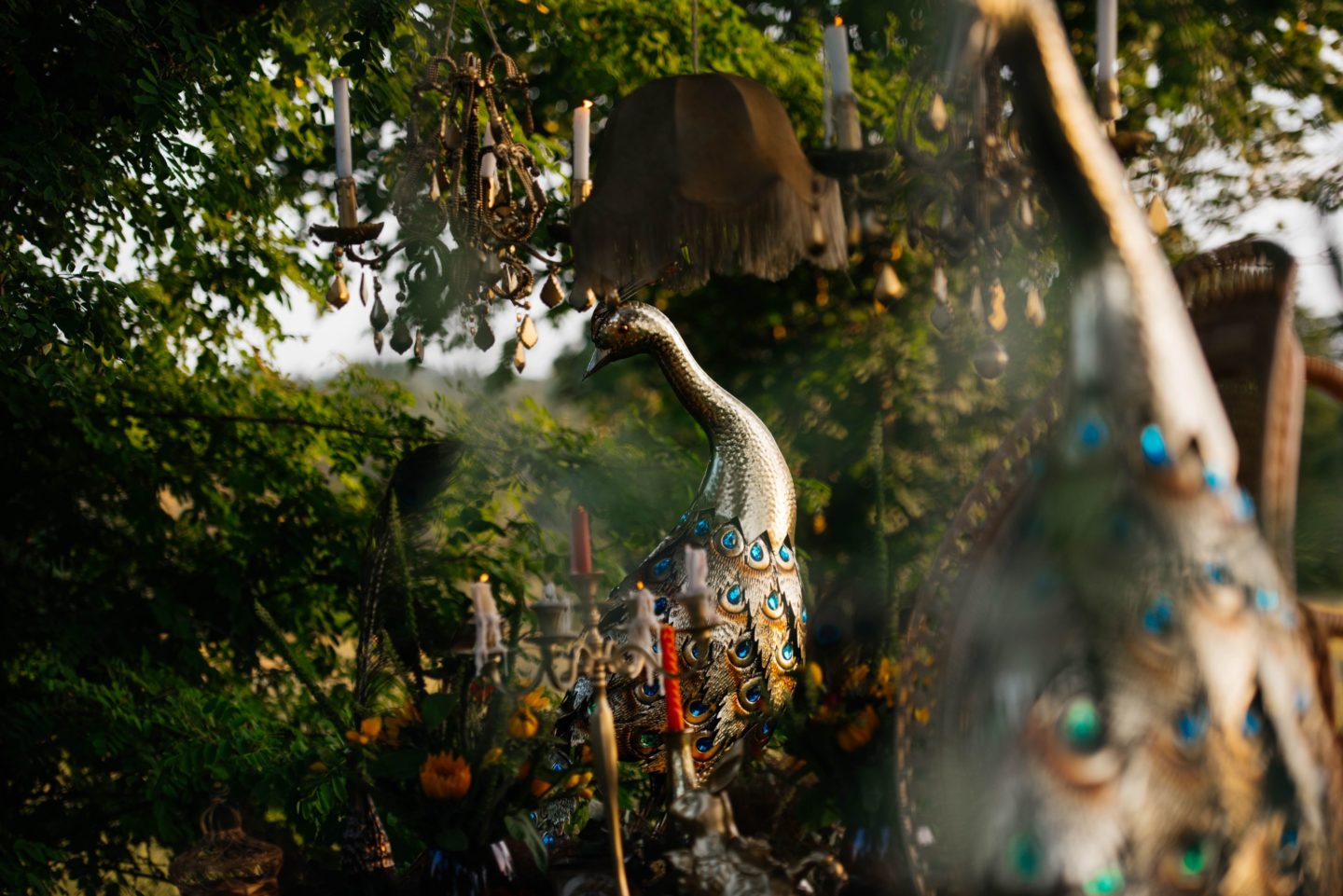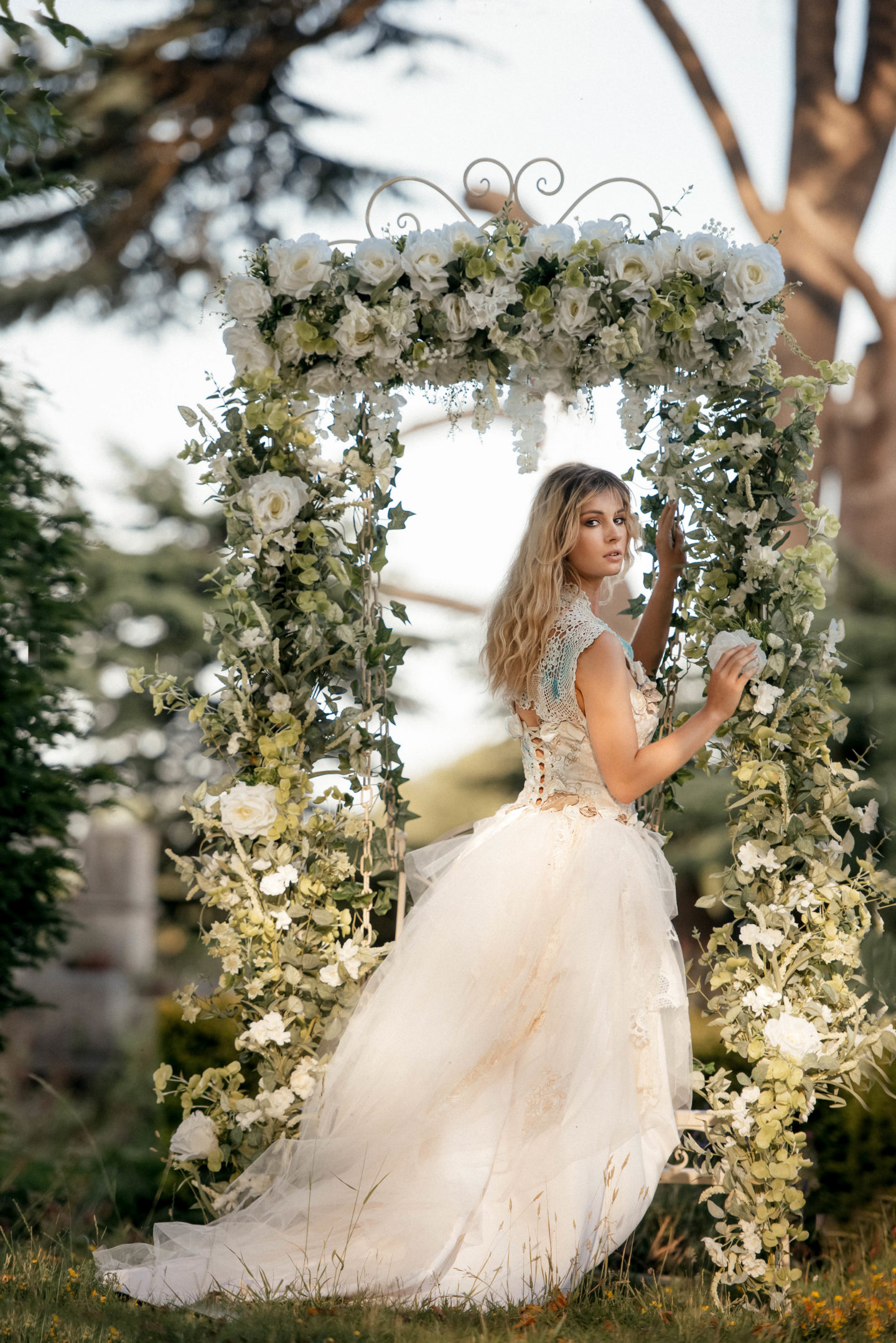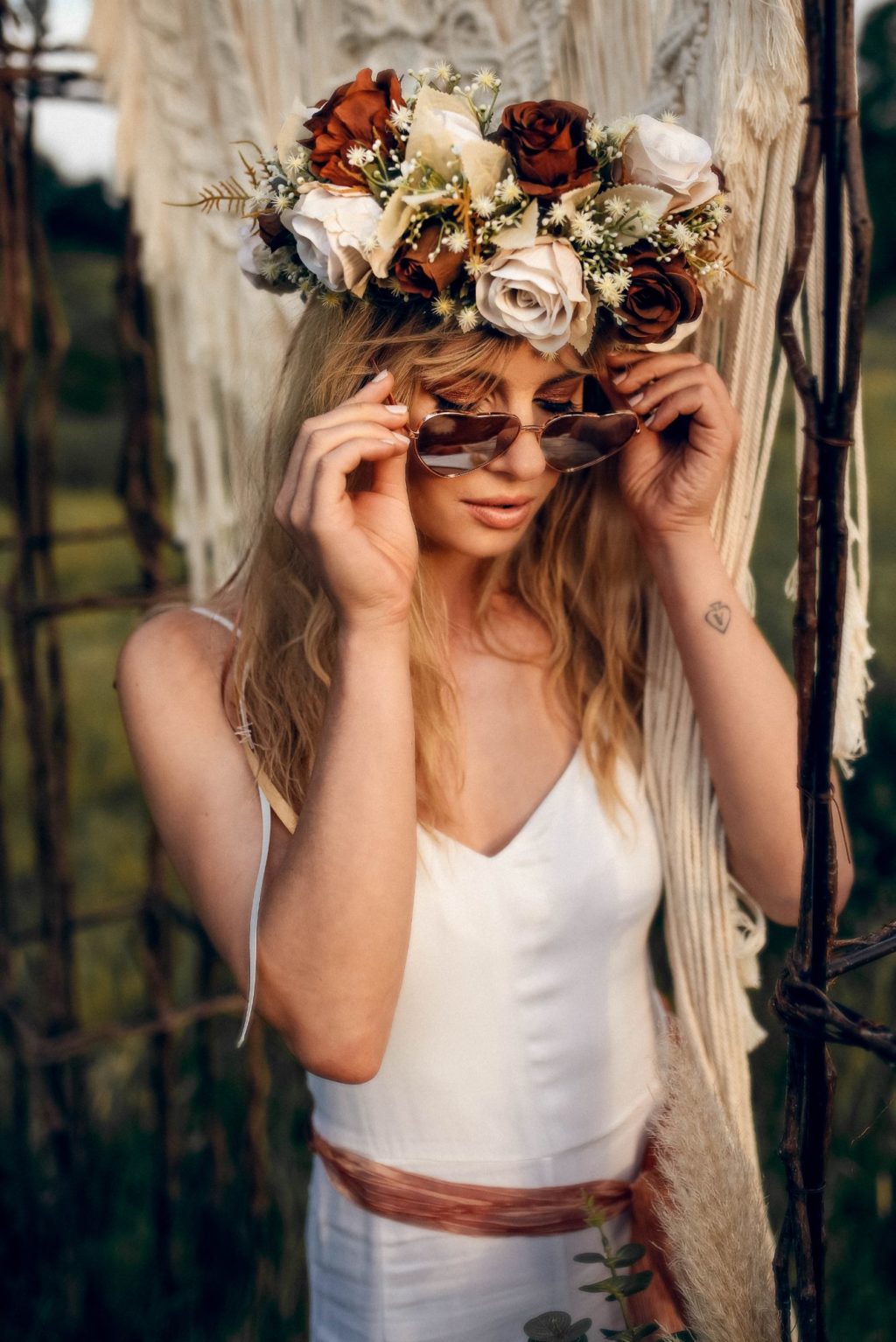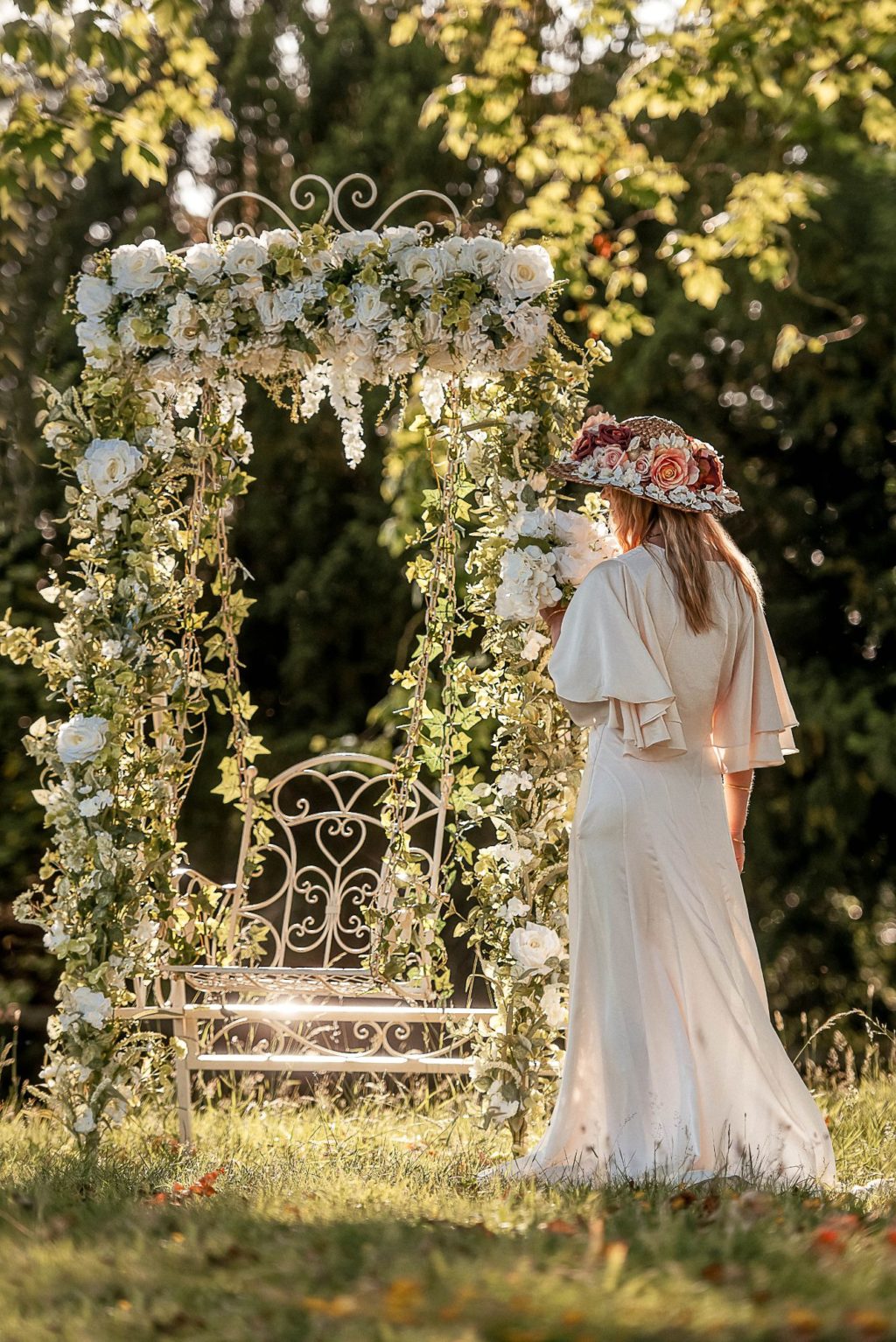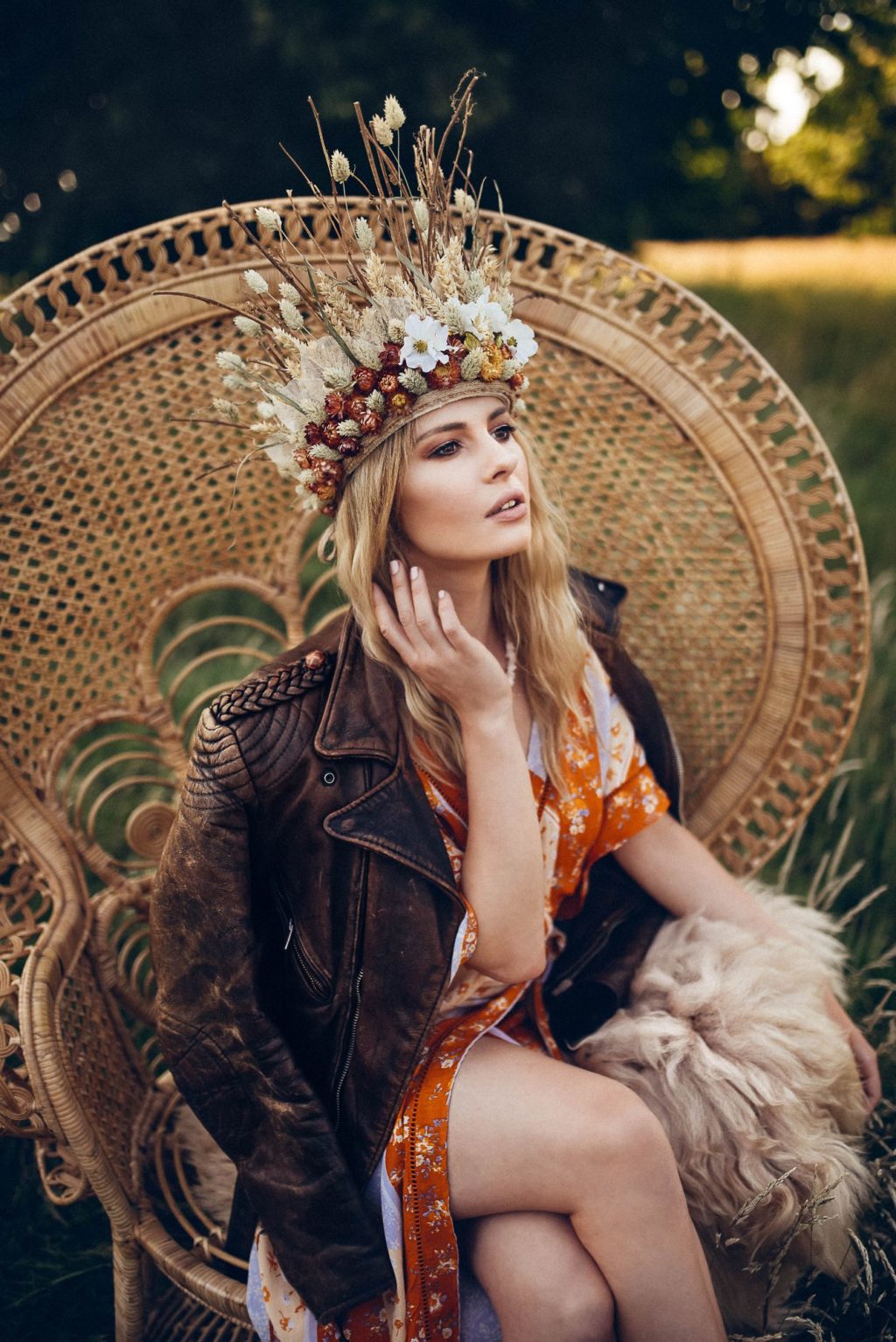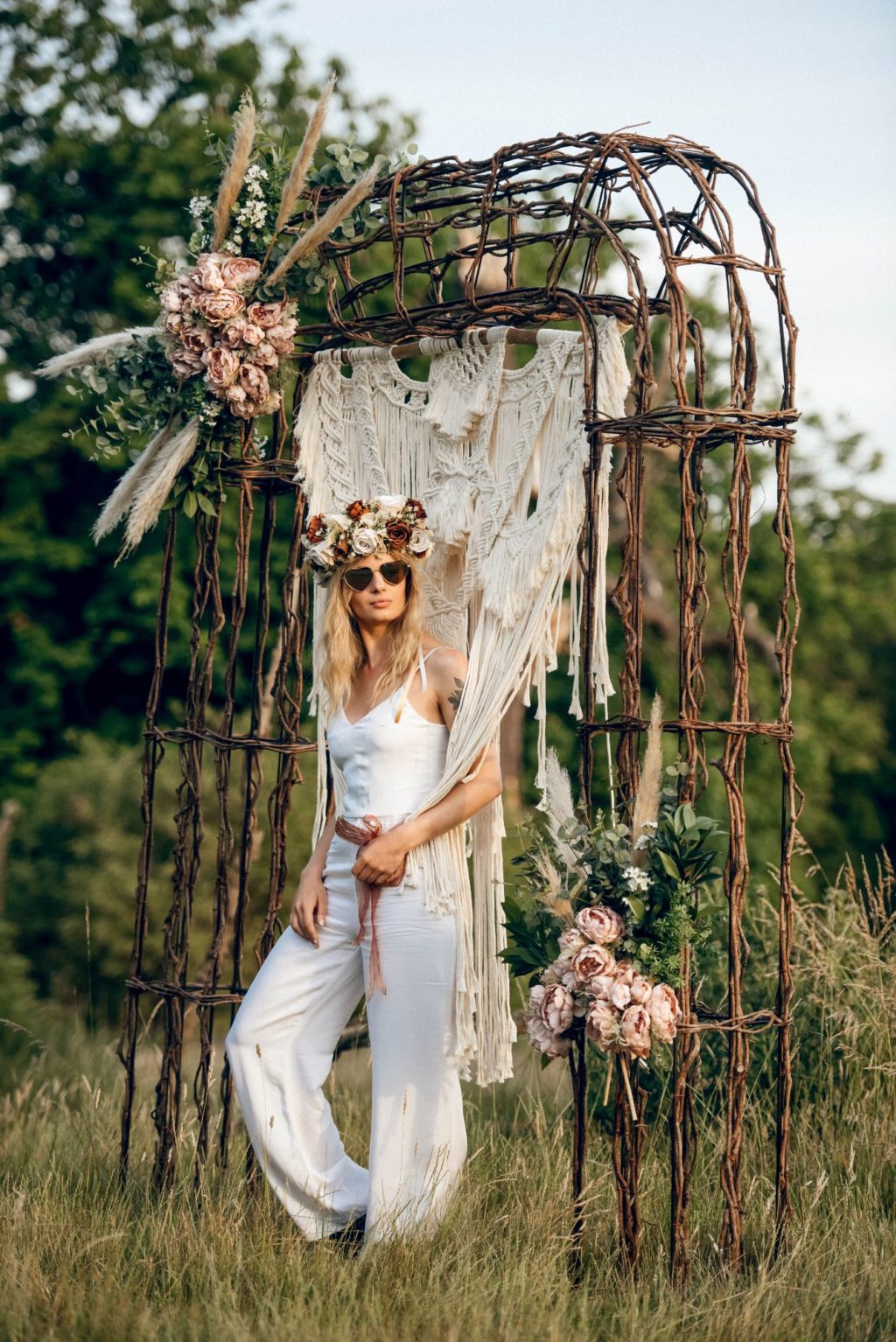 The Team – From Sunrise To Sunset; Five Alternative Bridal Looks For Your Wedding Day
IF YOU LOVED THESE ALTERNATIVE BRIDAL LOOKS PLEASE PIN THEM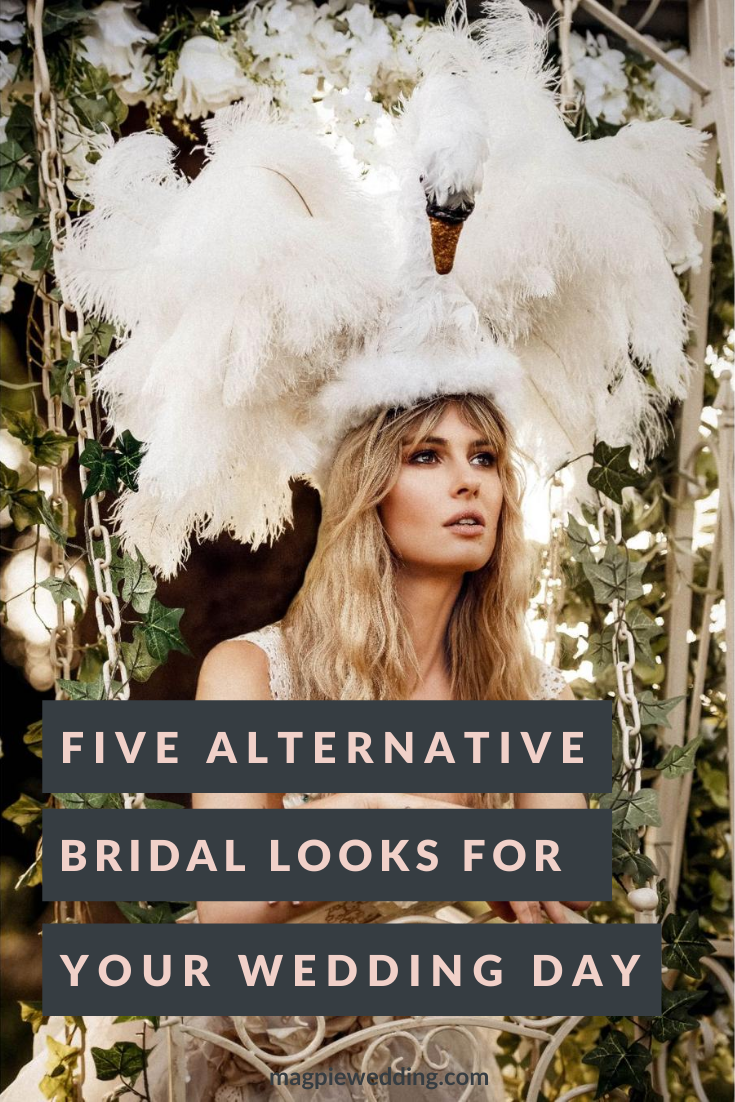 If you loved these alternative bridal looks you may also like;
Post Covid Wedding Dress Shopping – Tips To Find Your Dress, Safely
Recycled Floral Eco Wedding Accessories For An Avant Garde Wedding Look
City Rooftop Elopement Wedding Inspiration in Brno, Czech Republic