Here is our latest feature for Vintage Life magazine called Save The Date: the 1950s which some of our exhibitors contributed towards. A big thank you to all of them!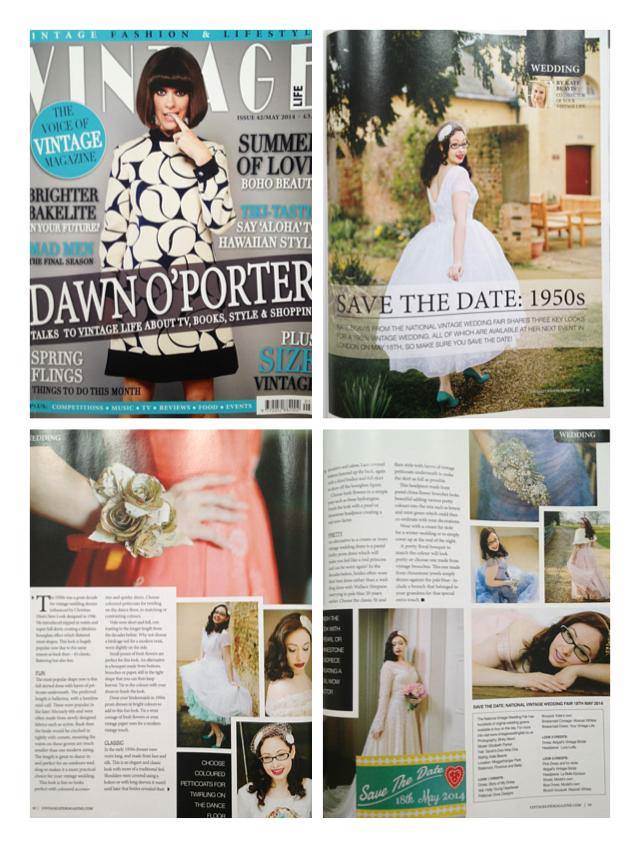 Save the Date: 1950s
Kate Beavis from the National Vintage Wedding Fair shares 3 key looks for a 1950s vintage wedding all of which are available at her next event in London on May 18th, so make sure you save the date!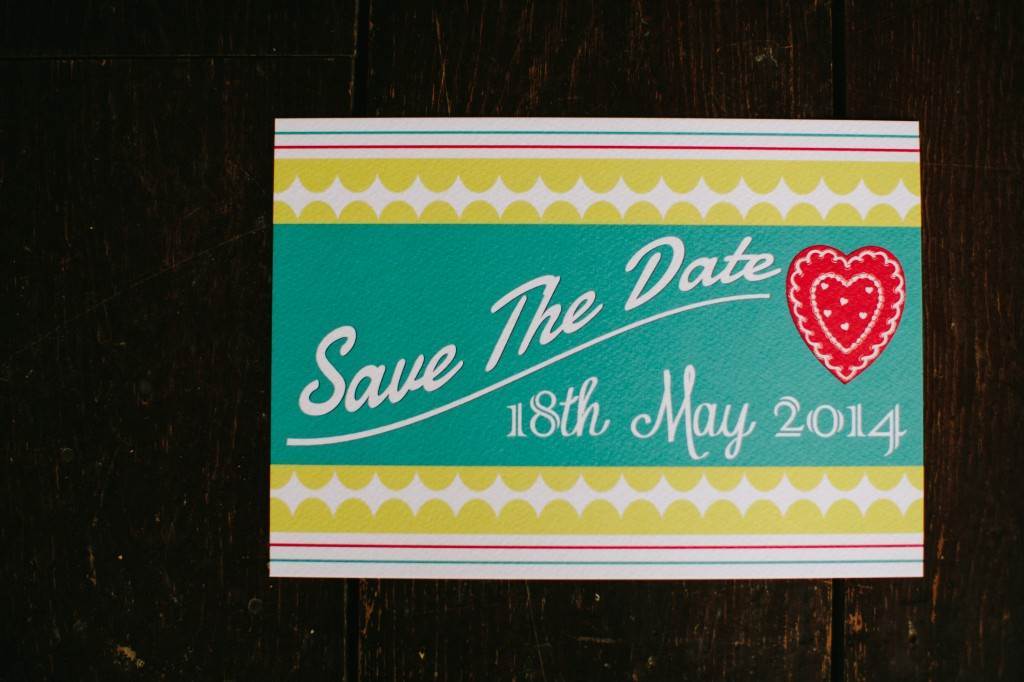 The 1950s was a great decade for vintage wedding dresses influenced by Christian Dior's New Look designed in 1946. He introduced nipped in waists and super full skirts creating a fabulous hour glass effect which flattered most shapes. This look is hugely popular now due to the same reason as back then – it's classic, flattering but also fun.
Fun
The most popular shape now is this full skirted dress with layers of petticoats underneath. The preferred length is ballerina, with a hemline mid-calf. These were popular in the later 50s/early 60s and often made from newly designed fabrics such as nylon. Back then the bride would be cinched in tightly with corsets, meaning the waists on these gowns are much smaller than our modern sizing. The length is great to dance in and perfect for an outdoors wedding so makes it a more practical choice for your vintage wedding.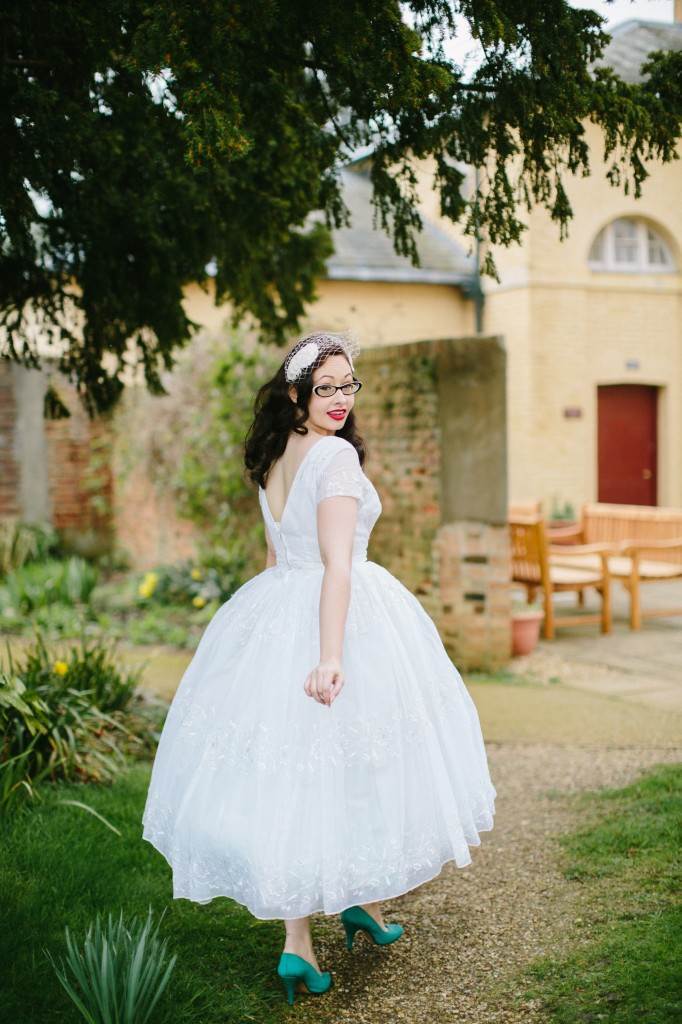 This look is fun so looks perfect with coloured accessories and quirky shoes. Choose coloured petticoats for twirling on the dance floor, in matching or contrasting colours.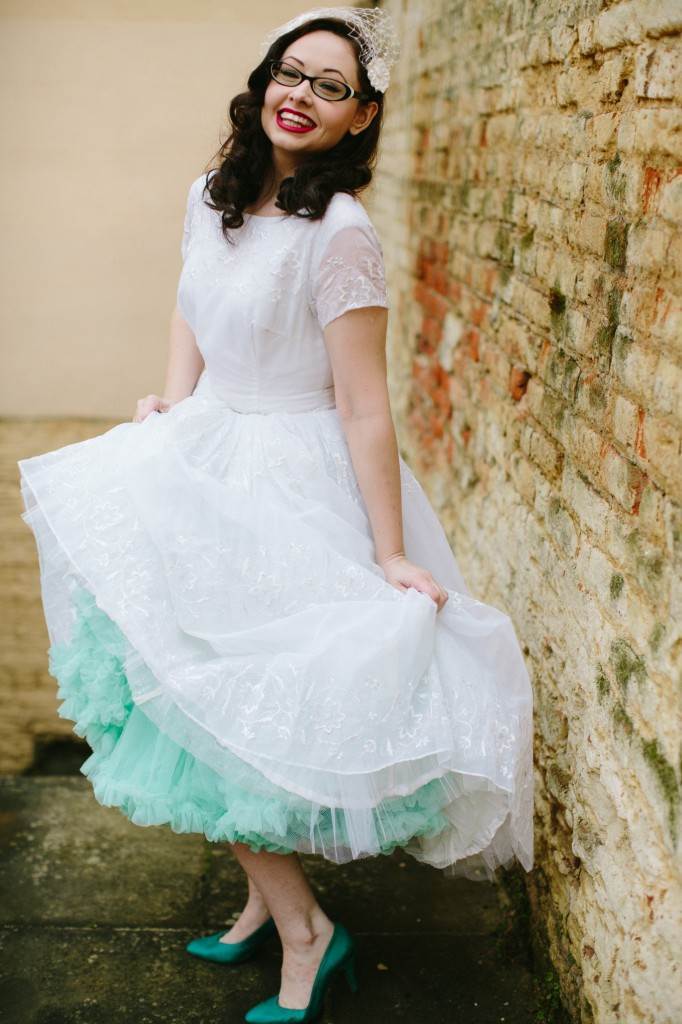 Veils were short and full, contrasting to the longer length from the decades before. Why not choose a birdcage veil for a modern twist, worn slightly on the side.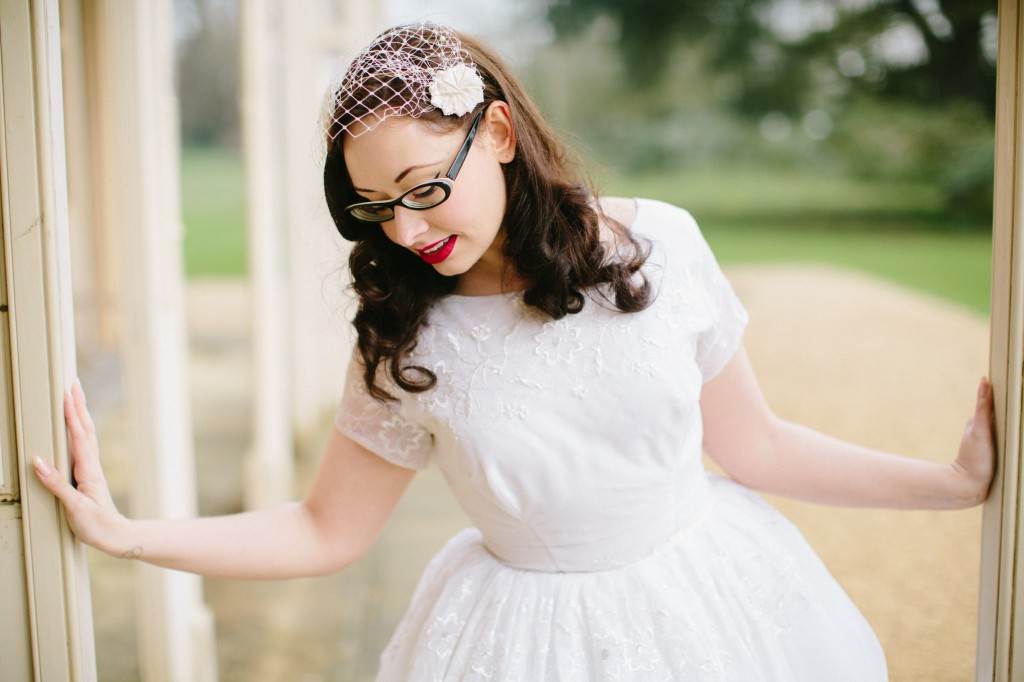 Small posies of fresh flowers are perfect for this look. An alternative is a bouquet made from buttons, brooches or paper, still in the tight shape which you can then keep forever. Tie in the colours with your shoes to finish the look.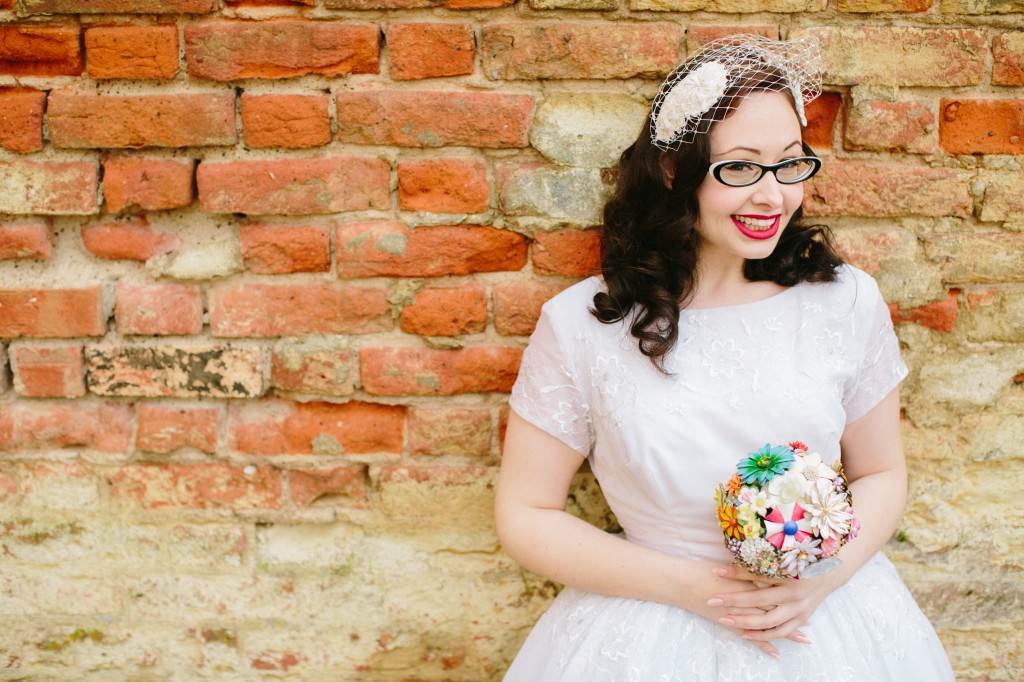 Dress your bridesmaids in 1950s prom dresses in bright colours to add to this fun look. Tie a wrist corsage of fresh flowers or even vintage paper ones for a modern vintage touch.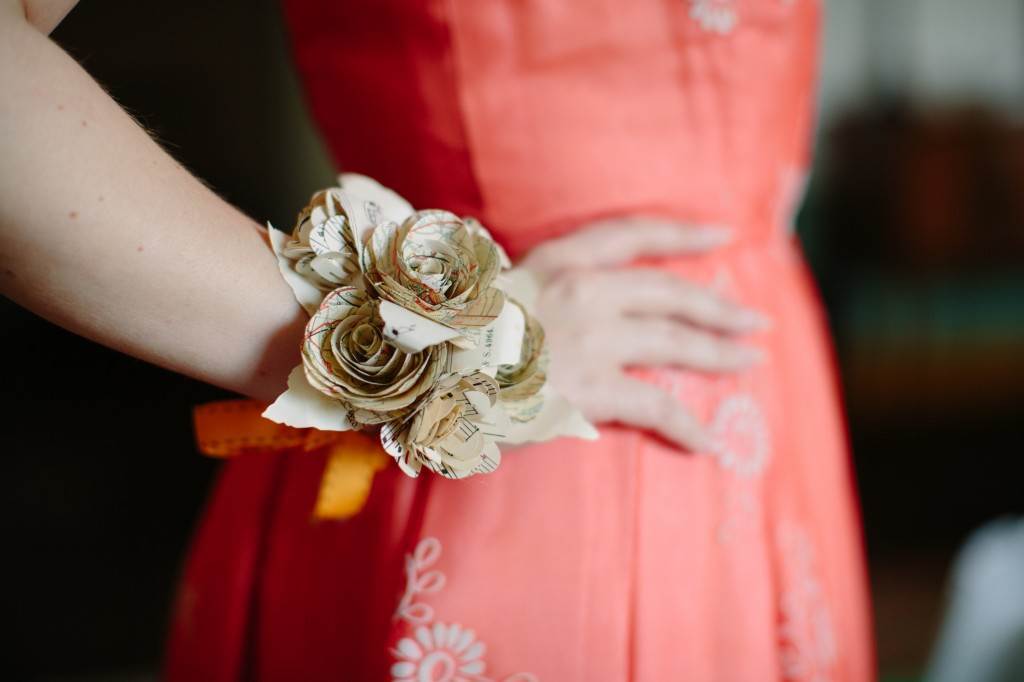 Classic
In the early 1950s dresses were worn long, and made from lace and silk. This is an elegant and classic look with more of a traditional feel. Shoulders were covered using a bolero or with long sleeves; it wasn't until later that brides revealed their shoulders and calves. Lace covered buttons fastened up the back, again with a fitted bodice and full skirt to show off the hourglass figure.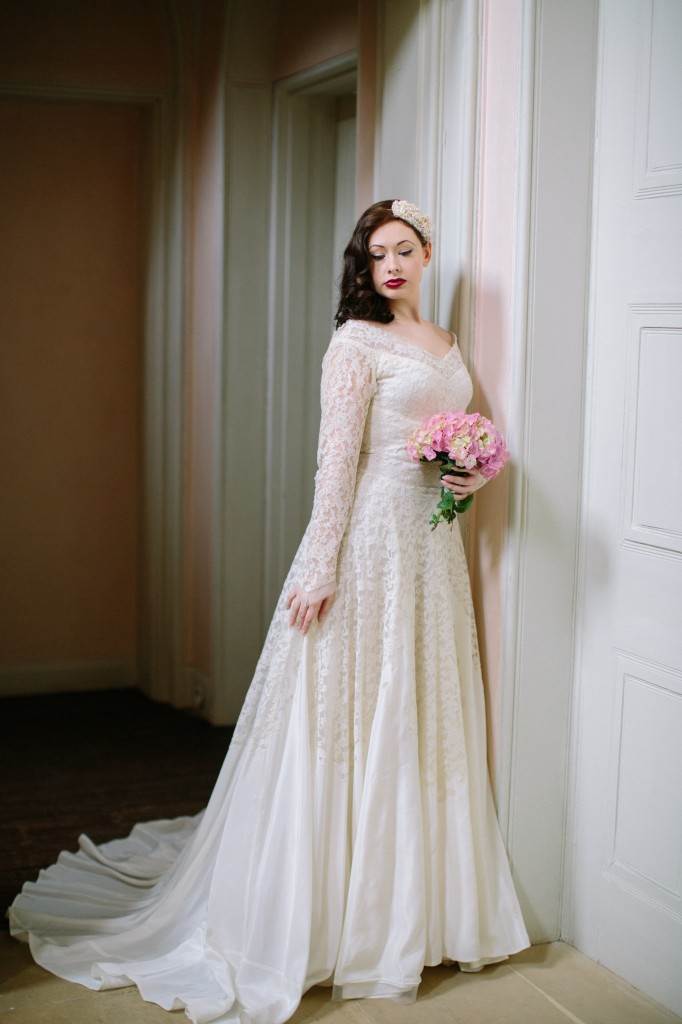 Choose fresh flowers in a simple posy such as these hydrangeas. Finish the look with a pearl or rhinestone head piece creating a real wow factor.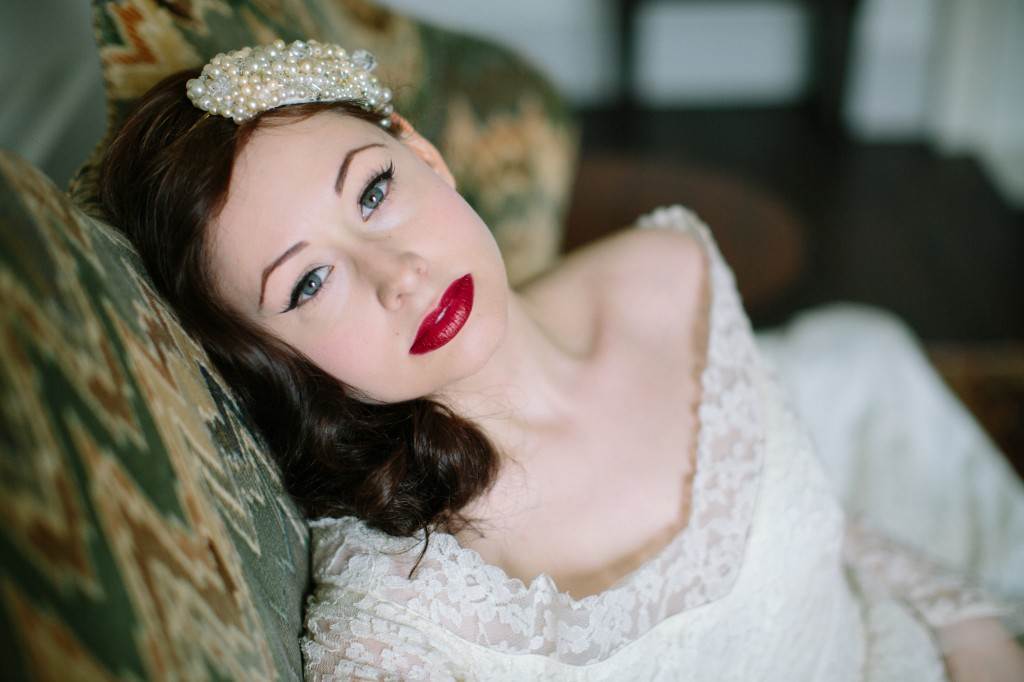 Pretty
An alternative to a cream or ivory vintage wedding dress is a pastel frothy prom dress which will make you feel like a real princess and can be worn again! In the decades before, brides often wore their best dress rather than a wedding dress with Wallace Simpson marrying in pale blue twenty years earlier. Choose the classic fit and flare style with layers of vintage petticoats underneath to make the skirt as full as possible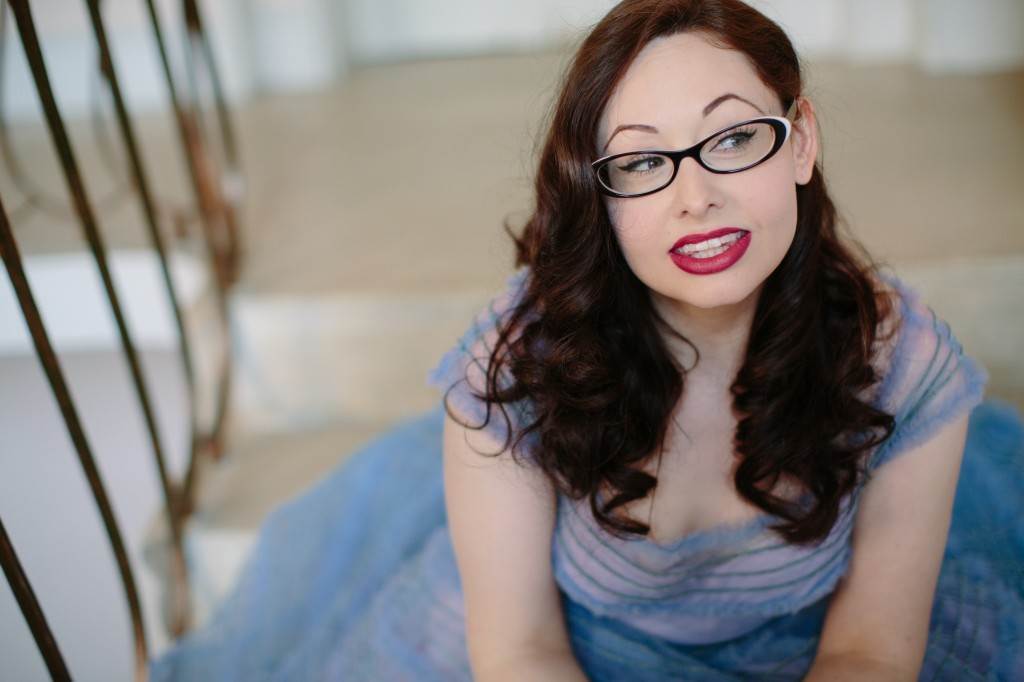 This head piece made from pastel china flower brooches look beautiful adding various pretty colour into the mix such as lemon and mint green which could then co-ordinate with your decorations.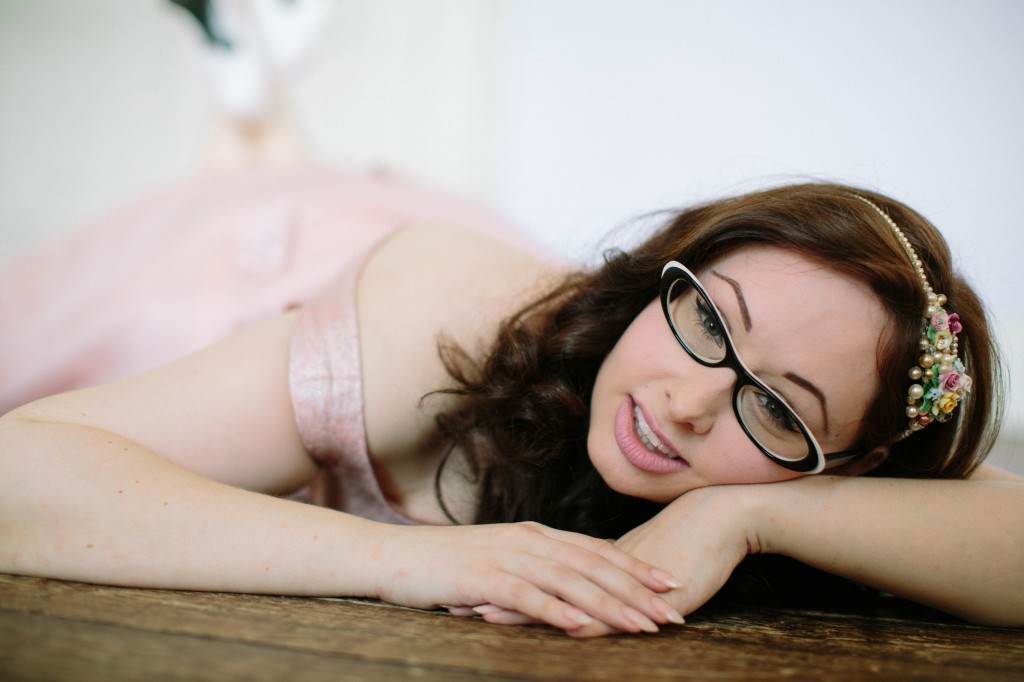 Wear with a cream fur stole for a winter wedding or to simply cover up at the end of the night.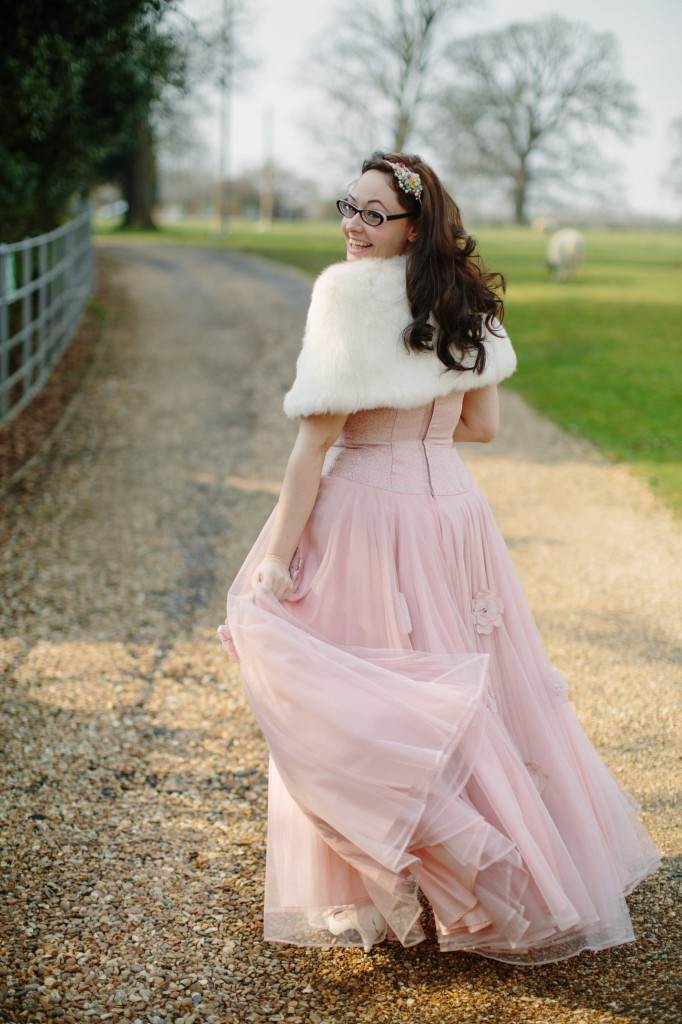 A pretty floral bouquet to match the colour will look pretty or choose one made from vintage brooches. This one made from rhinestone jewels simply shines against the pale blue– include a brooch that belonged to your grandma for that special extra touch.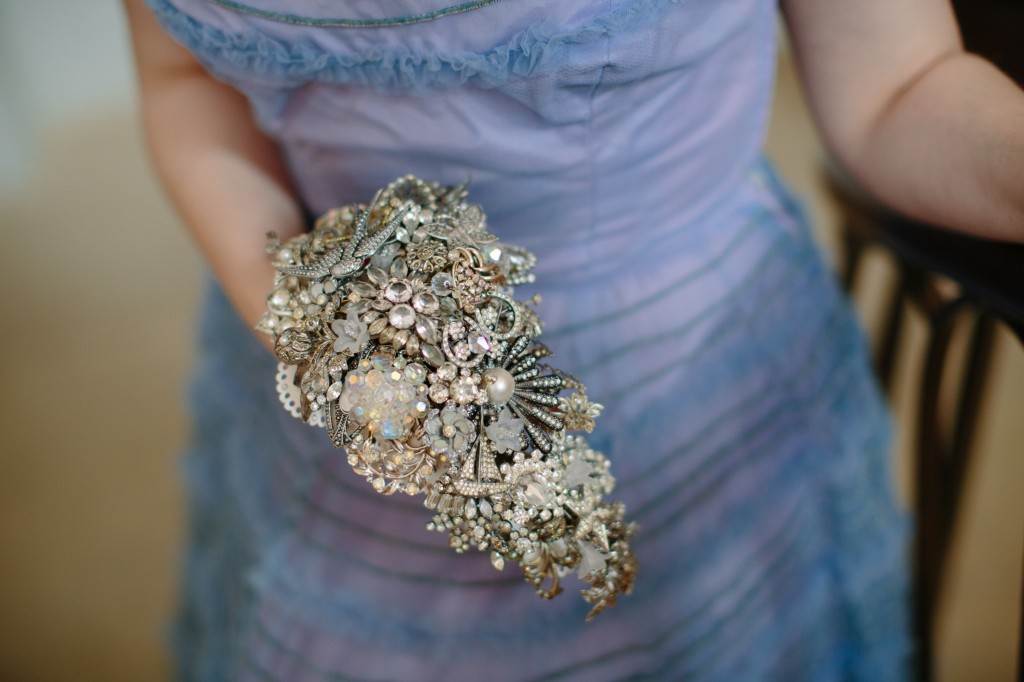 Credits as follows:
Photography: Binky Nixon
Model: Elizabeth Parker
Hair: Sarah's Doo-Wop Dos
Styling: Kate Beavis
Location: Moggerhanger Park
Stationary: Florence and Bette
Fun:
Dress: Story of My Dress
Veil: Holly Young Headwear
Petticoat: Doris Designs
Shoes: Models Own
Bouquet: Kate's own
Bridesmaid Corsage: Muscari Whites
Bridesmaid Dress: Your Vintage Life
Classic:
Dress: Abigail's Vintage Bridal
Headpiece: Lucy-Lotty
Pretty:
Pink Dress: Abigail's Vintage Bridal
Fur stole: Abigail's Vintage Bridal
Headpiece: La Belle Epoque
Shoes: Models own
Blue Dress: Models own
Brooch bouquet: Muscari Whites
Keep your eyes peeled in Vintage Life magazine for our future wedding features!