Relaxed, intimate Moroccan vibes for today's styled shoot at Gaddesden Estate, Hertfordshire. It's inspiration with two halves, two bridal looks and lots of dreamy details. Full of sustainable elements, it proves you can have a luxury day, your way, and still be pro-planet when it comes to your wedding day. Styled and coordinated by Fliss and Josie of The Boho Shack this eclectic shoot is edgy, modern and beautiful! We hear from the team behind the shoot…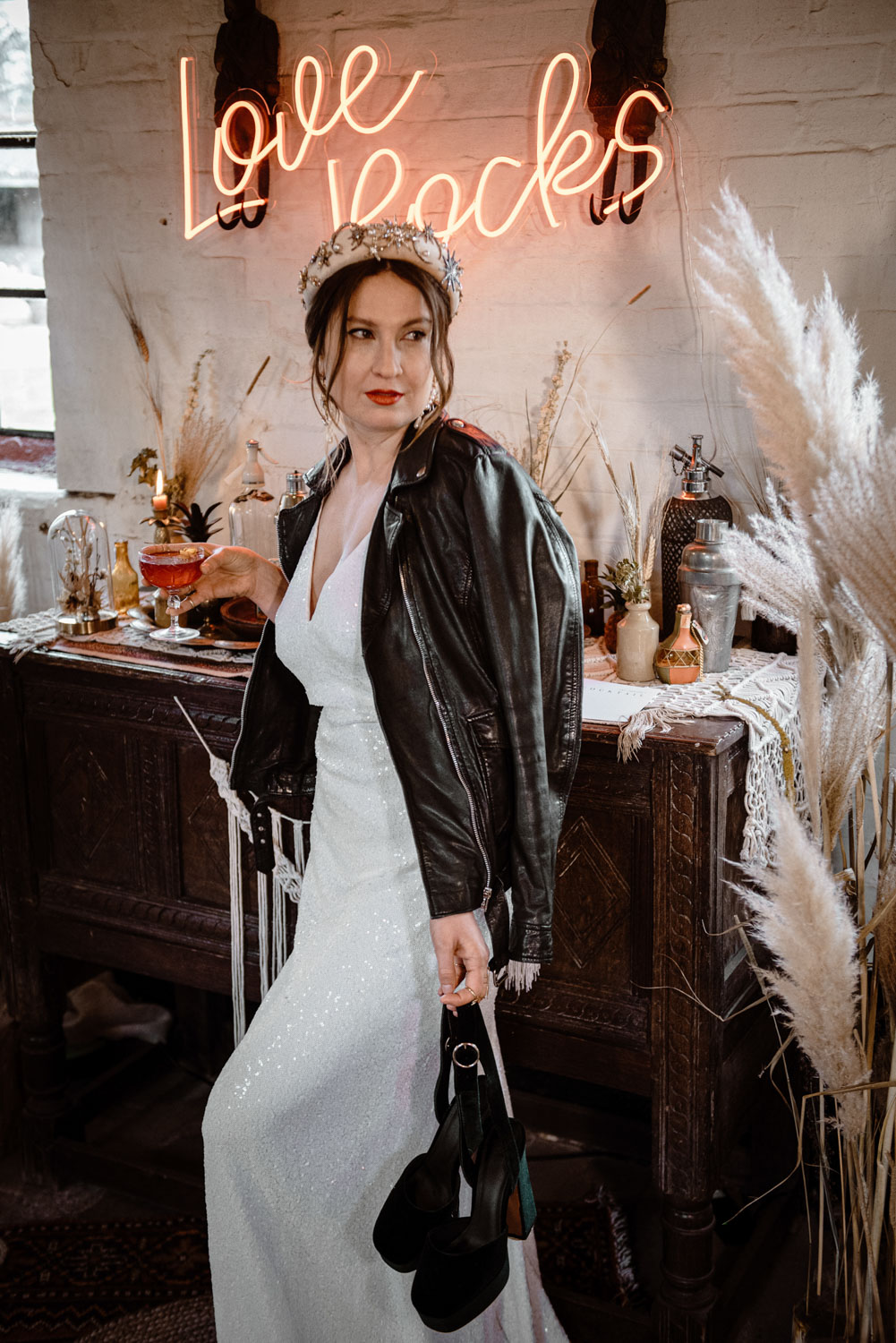 Inspiration
"Our ethos is to re-use and re-style vintage decor. With this shoot, we wanted to create a luxe eclectic shoot showing that you can reuse props and still be sustainable. Our aim when styling is to use as many sustainable props or handmade items as possible. We work with modern suppliers who also share our ethos of sustainability, it's important to us to create something that is both beautiful and sustainable."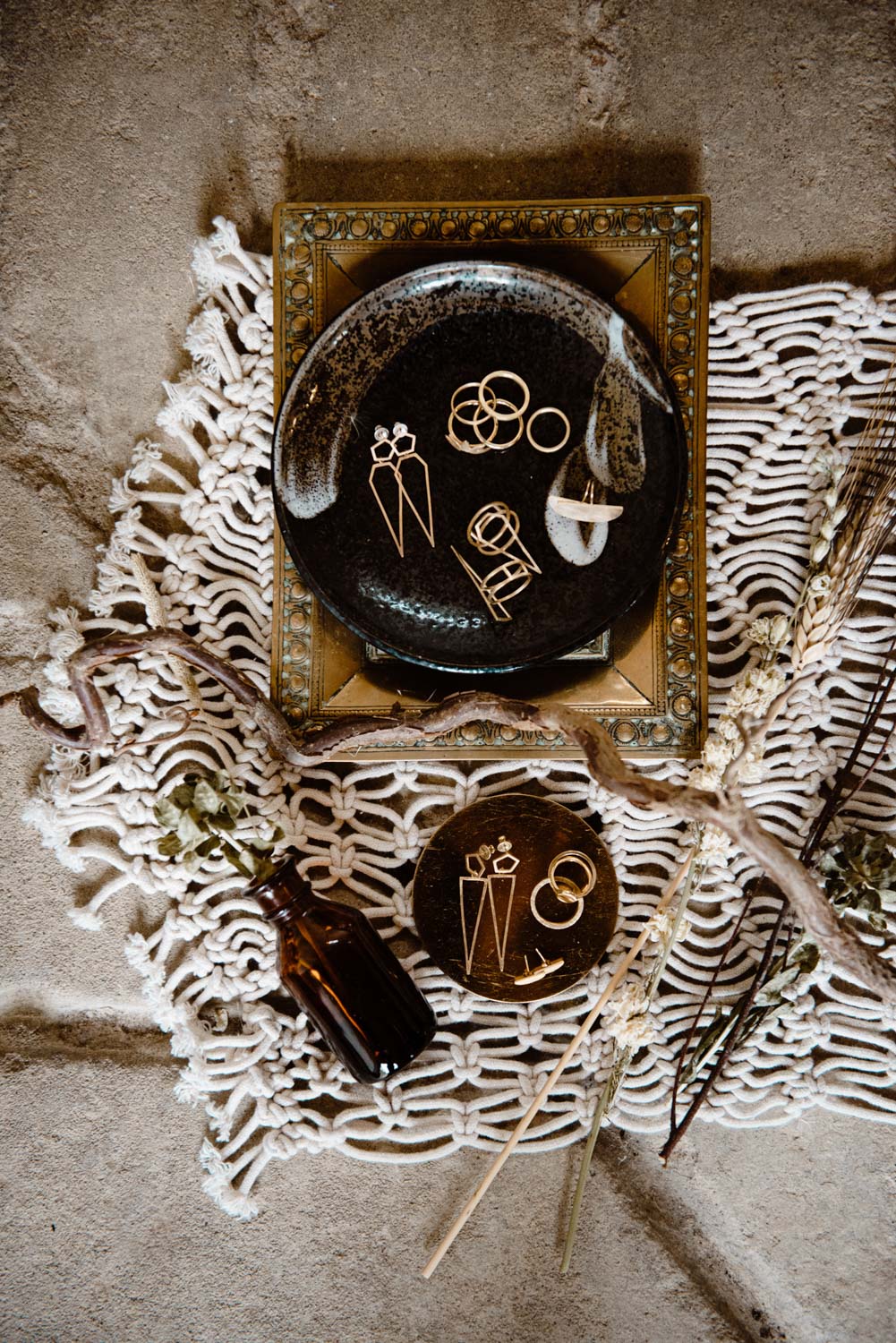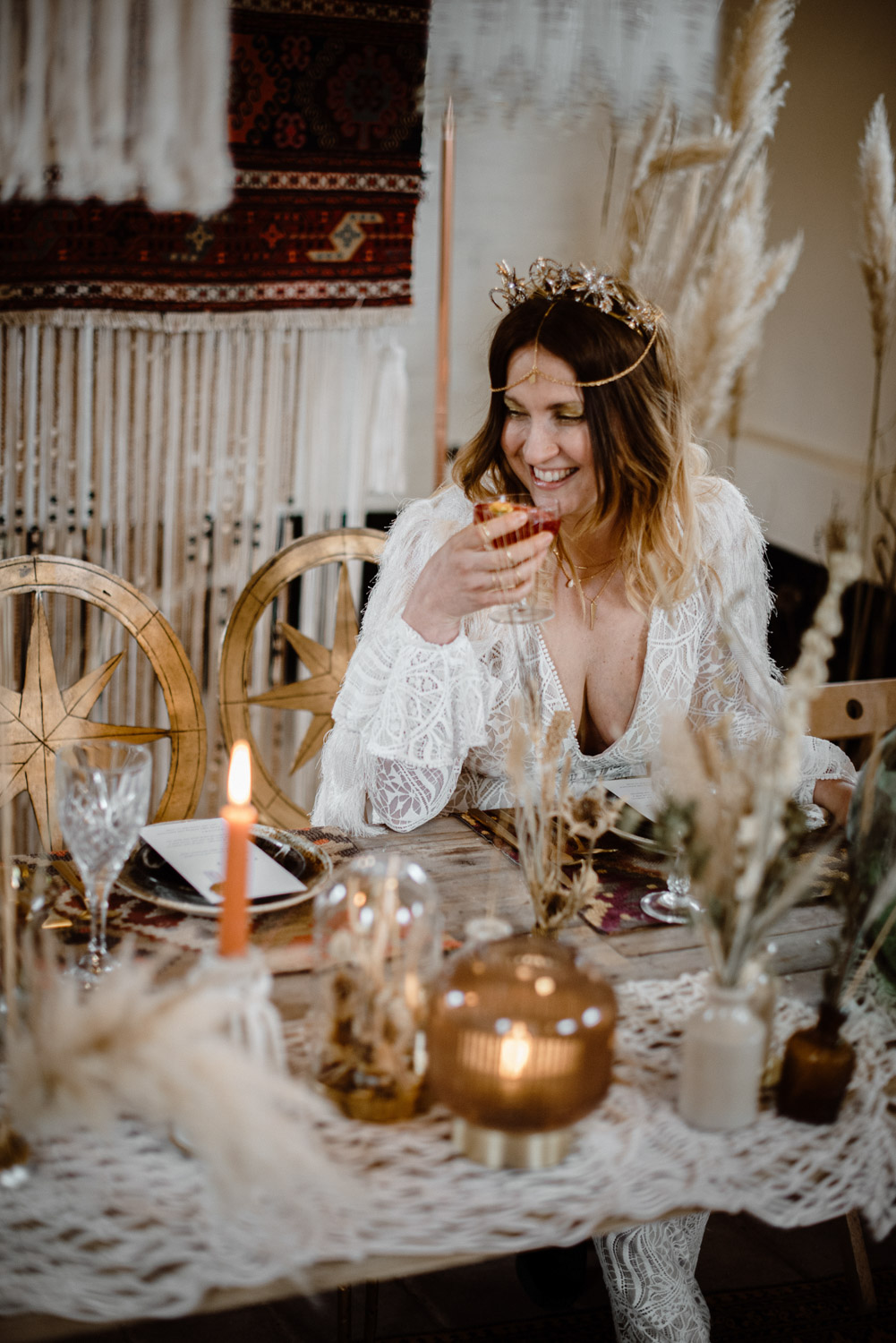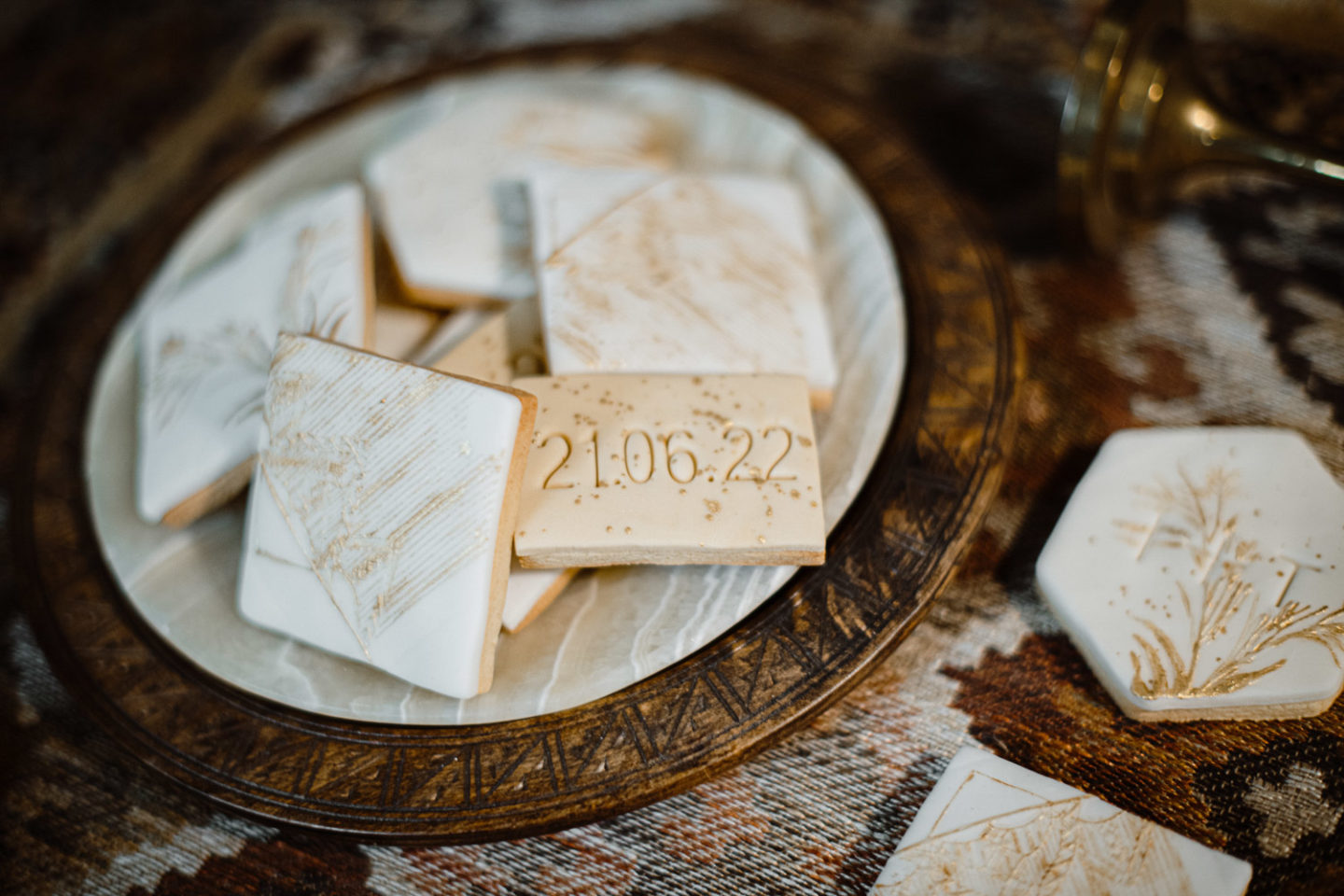 Venue
"Gaddesden Estate is an untouched Gem and the Orchard Barn has never been photographed or styled as we did as it's a farming and forestry estate which has been in the same family name for 500 years. Located in the Chiltern Hills and an hour away from central London this beautiful estate can hold outside weddings. For the shoot we used The Orchard Barn an old stable and hunting lodge."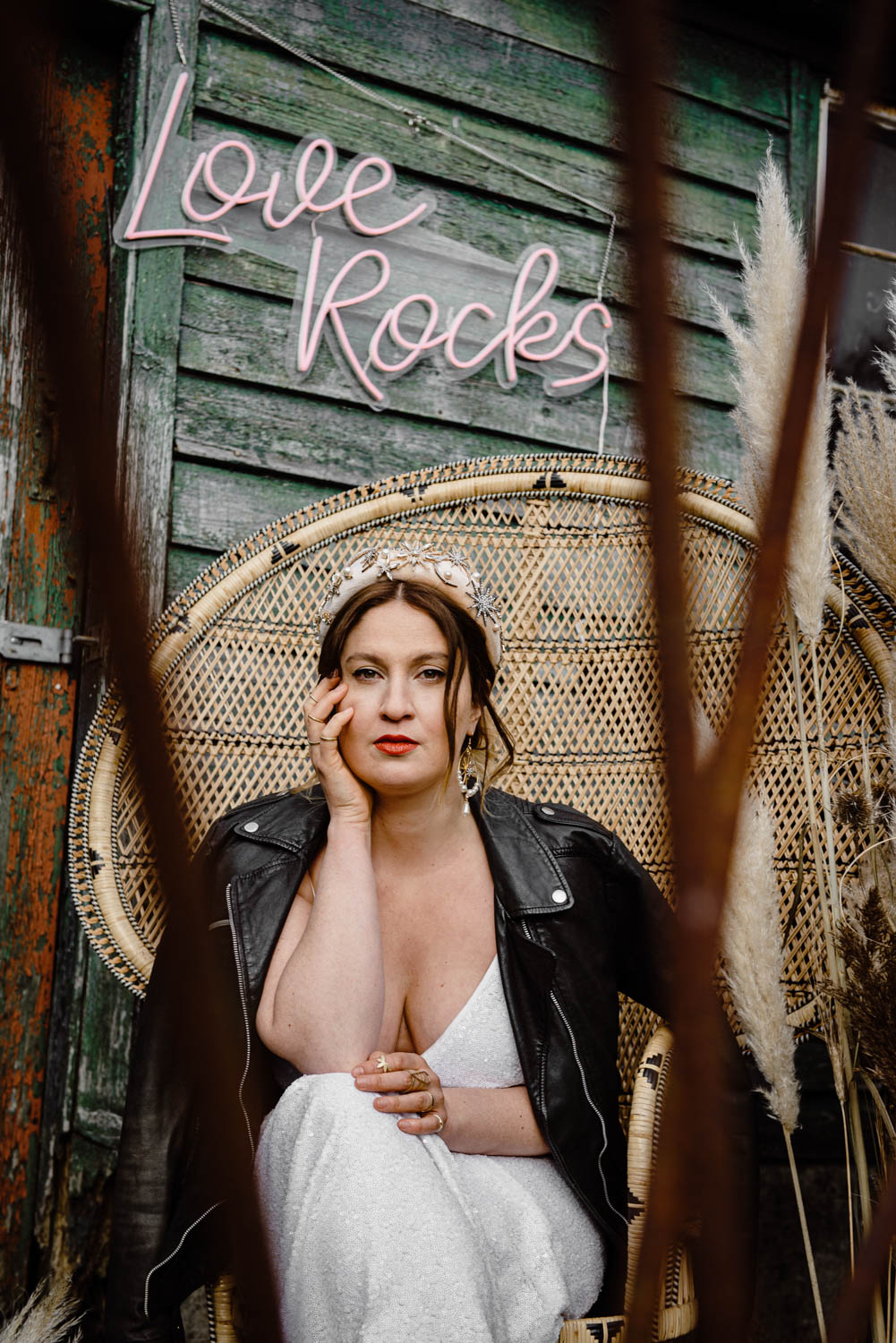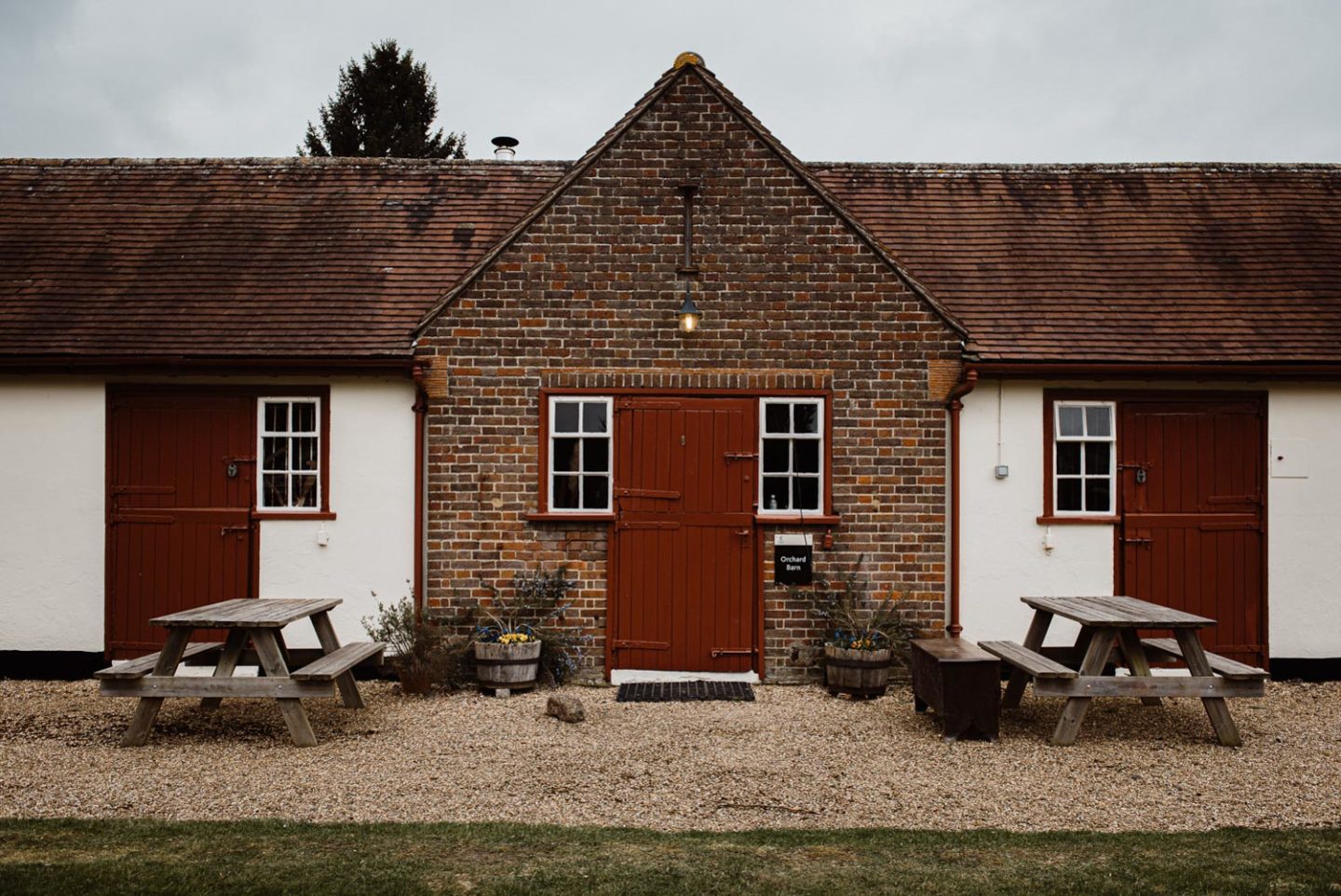 Styling
Stylist – The Boho Shack
"To get this look it's all about the layering of different materials and fabrics using vintage or handmade items. Using dried flowers can create such a beautiful soft and ethereal feel without waste. Find a styling and prop hire company that share the same ethos and visions, or who can turn your inspiration into reality.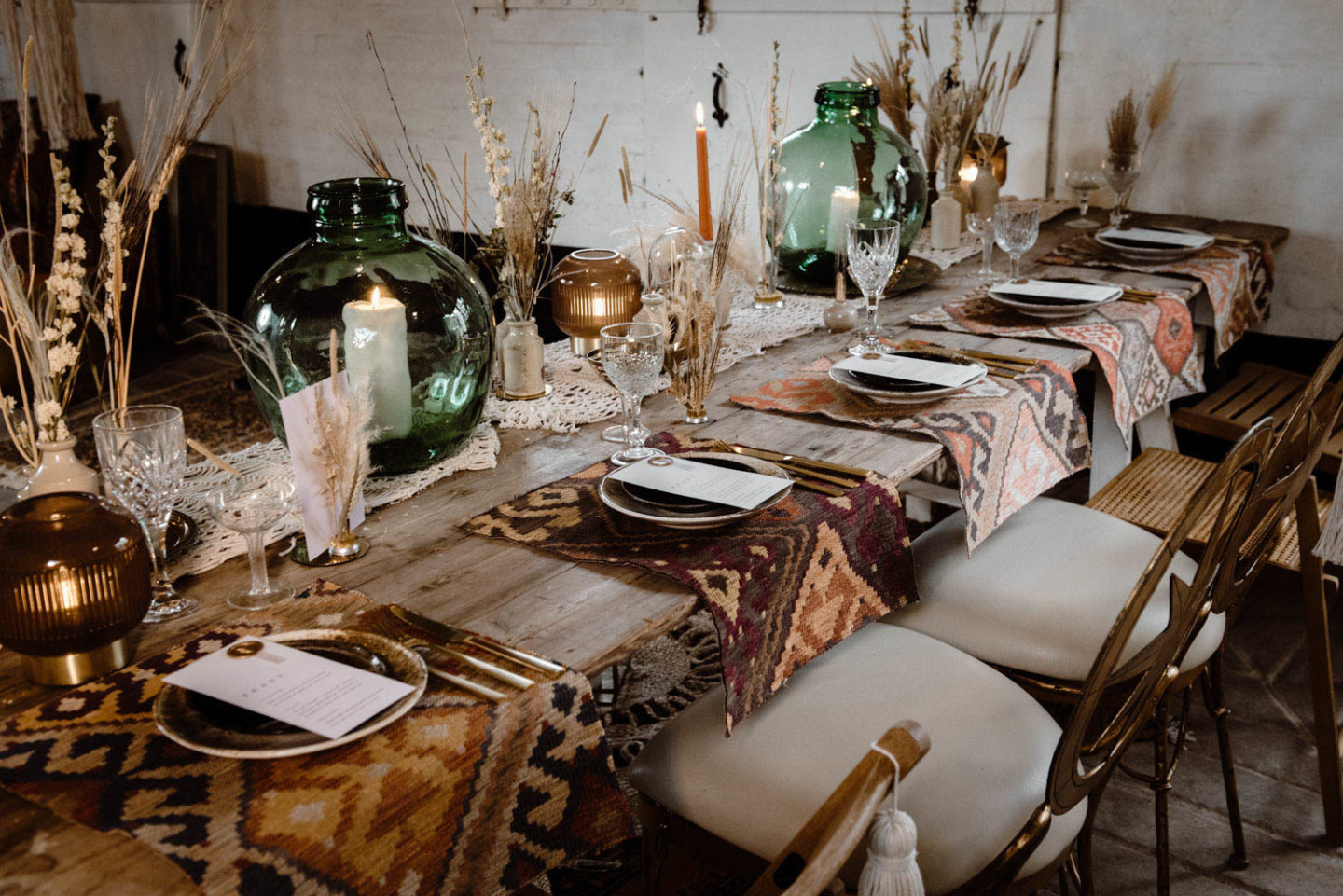 "To get this look it's all about re-using, re-vamping and re-styling vintage props. Layer different materials and fabrics and think outside the box on what can be created. Create boho vibes by using dried flowers like pampas, and add luxe by adding gold elements either by making your own or support small crafters and suppliers. We wanted to have lots of great accessories in our shoot to link in all the layering."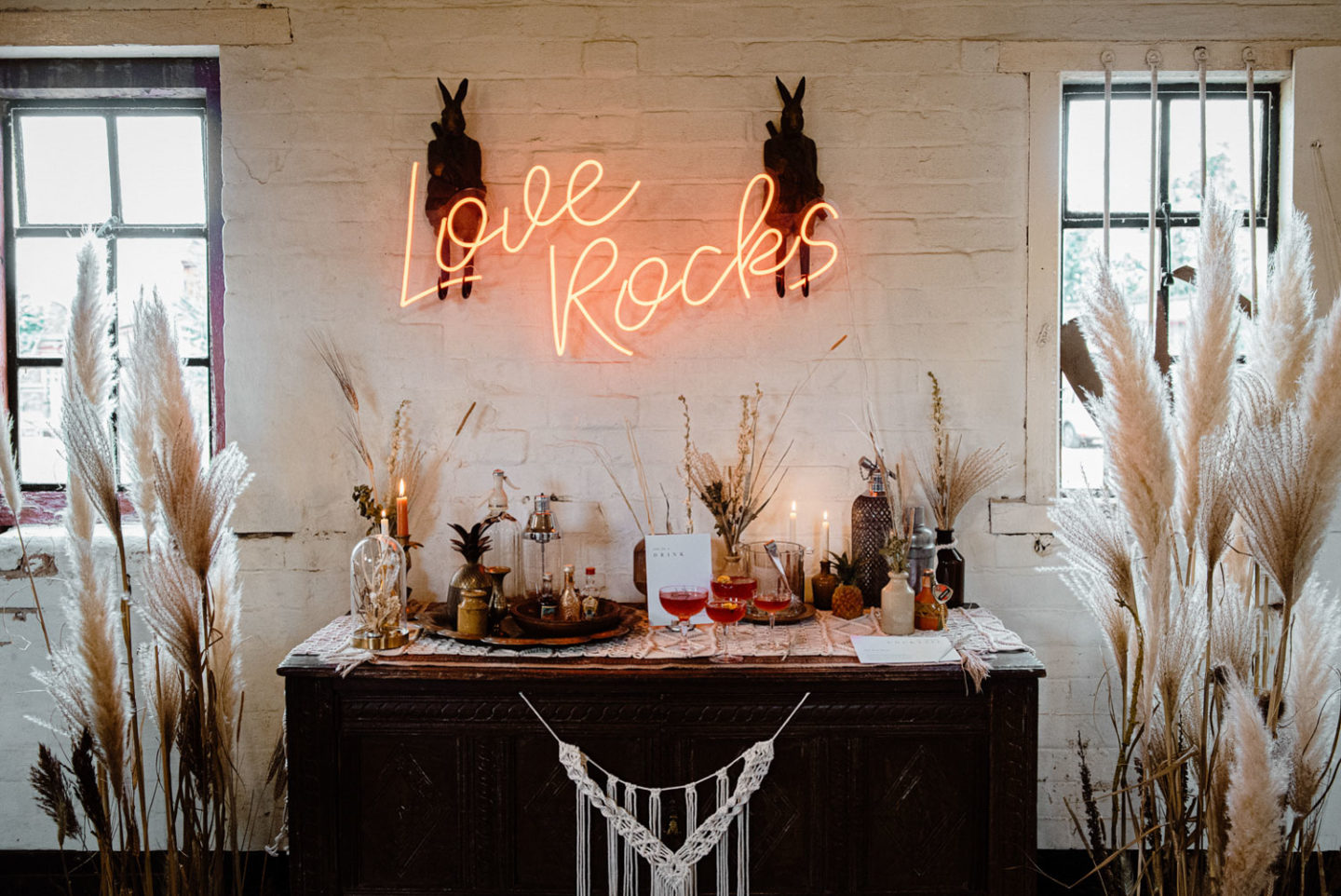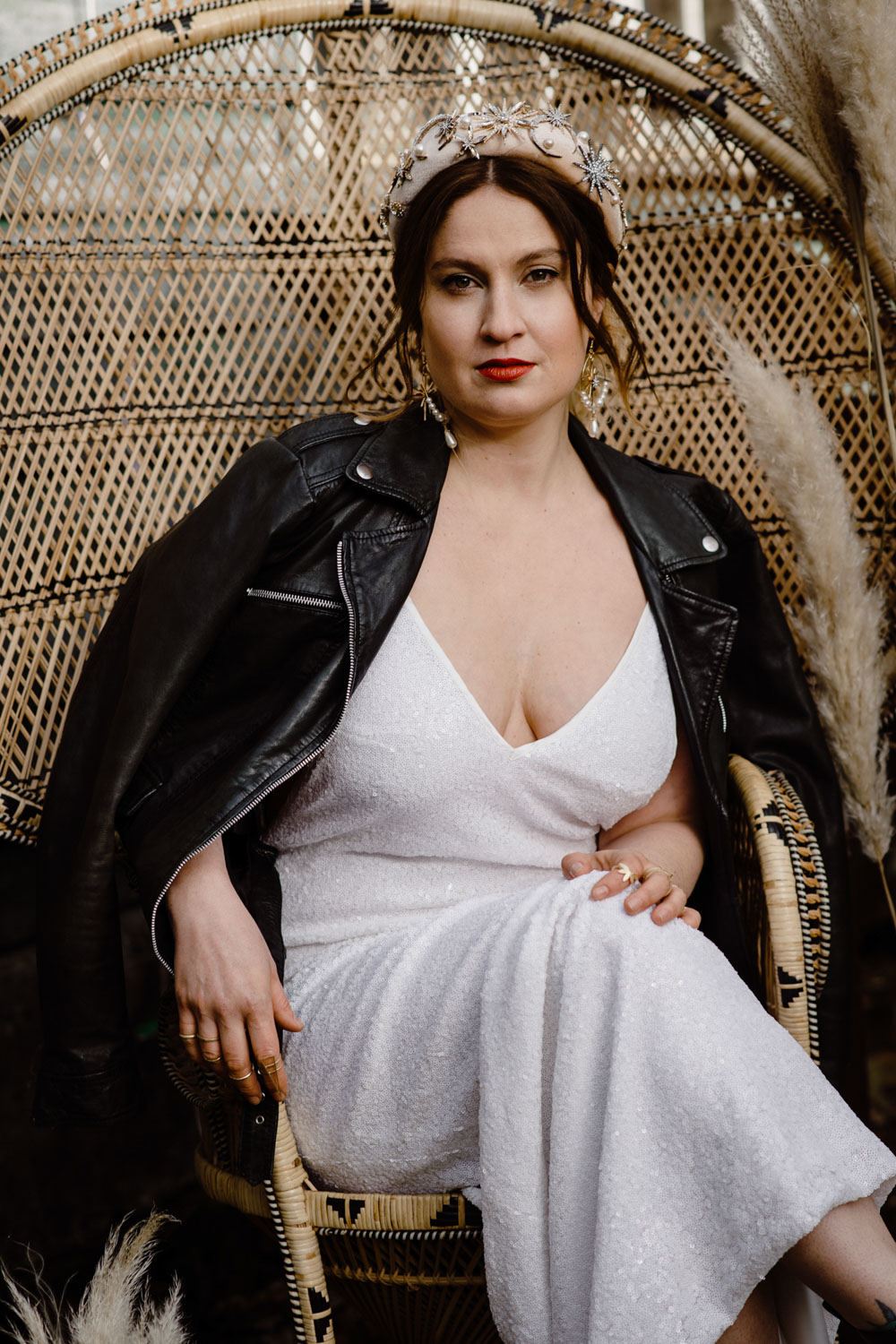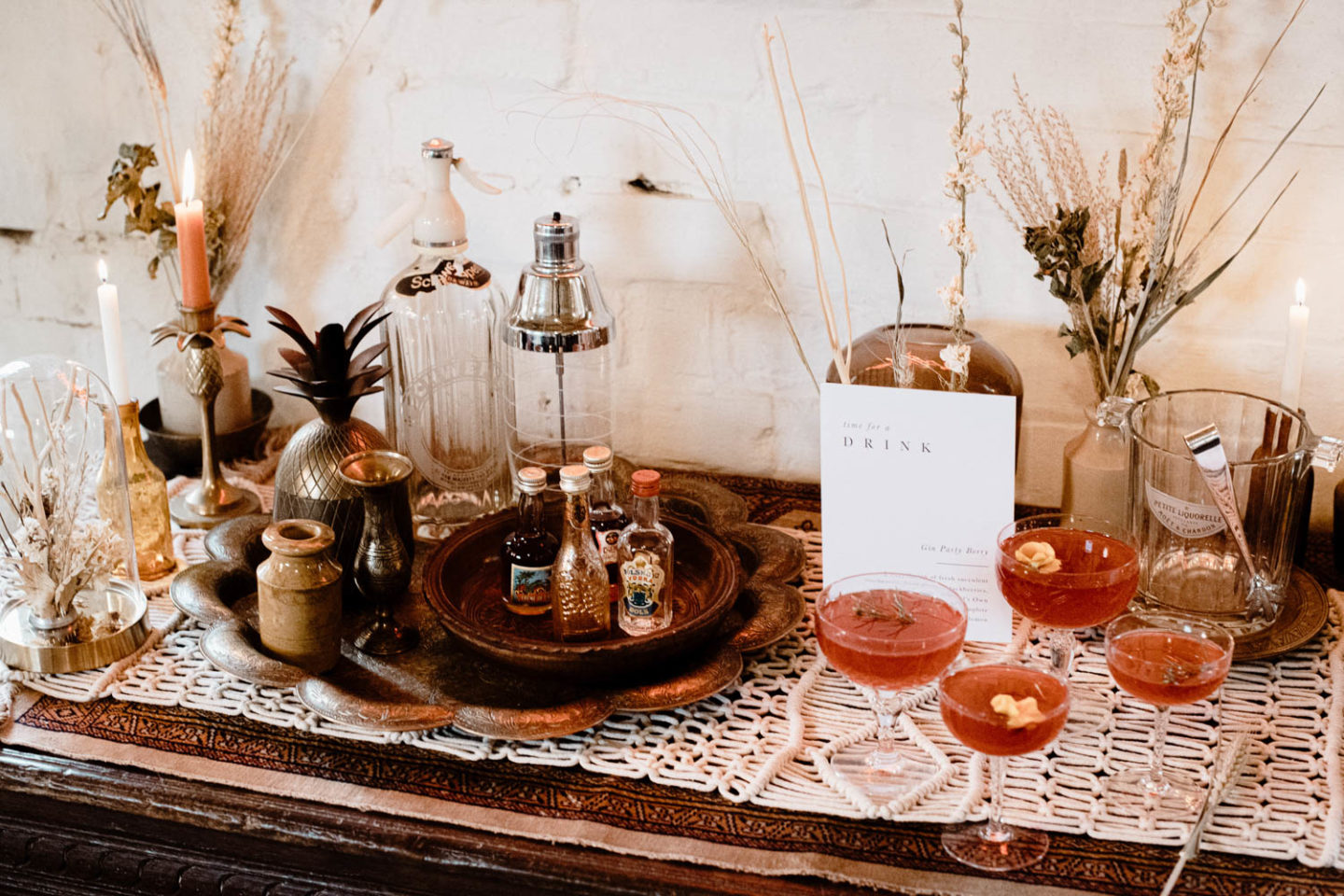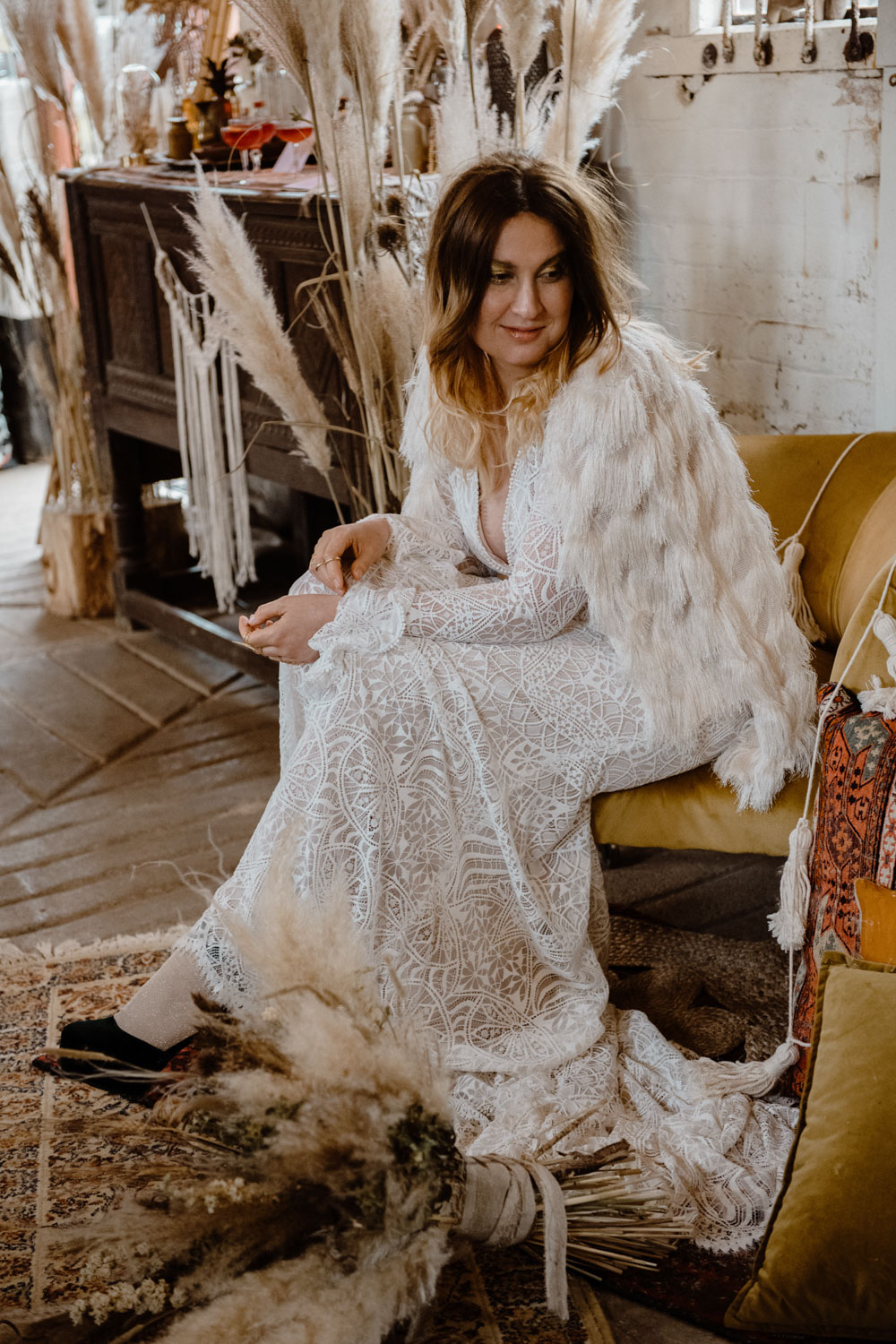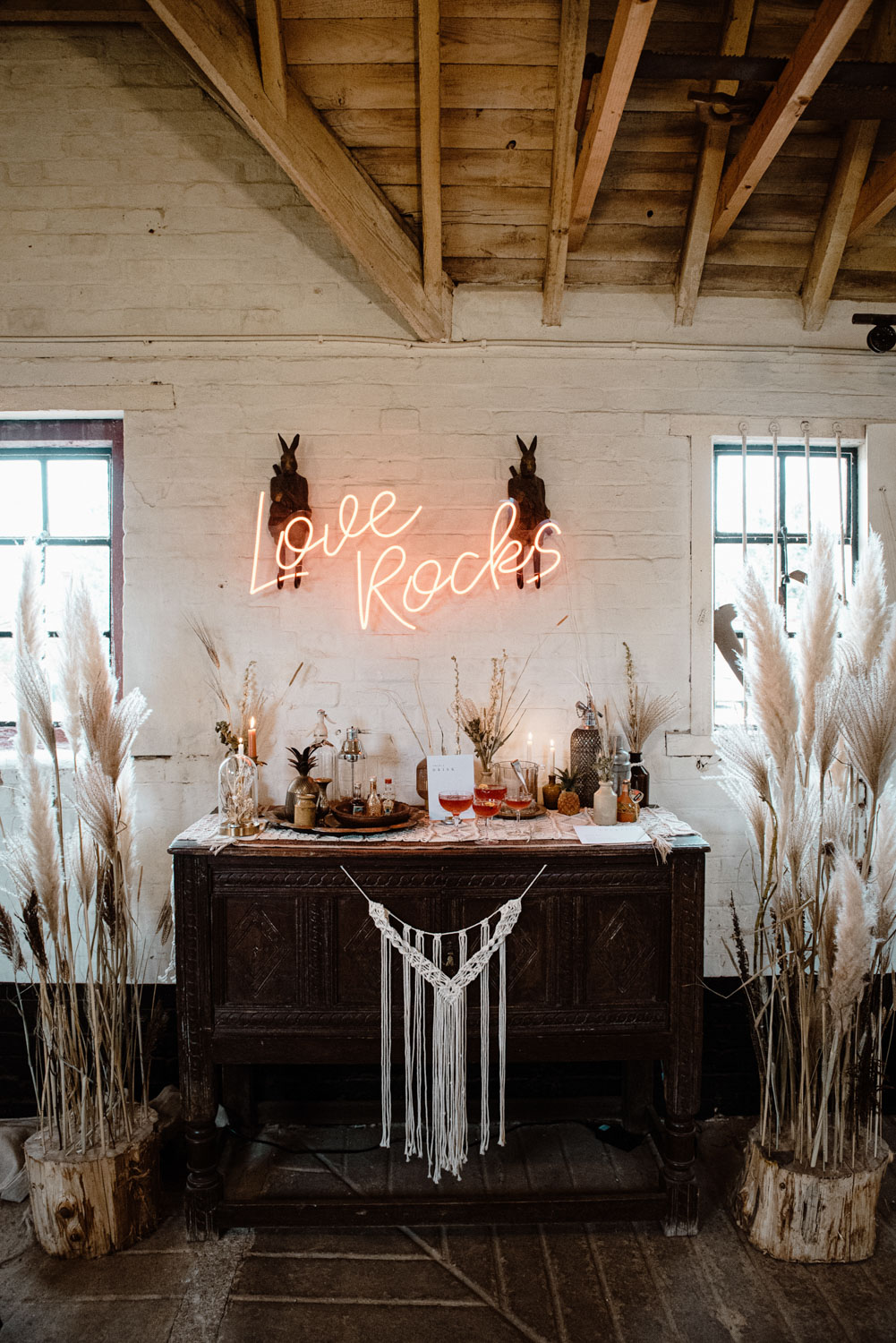 Photography – Marta DeMartini
"When choosing your wedding photographer look at their style and have a chat with them. If they offer a pre-wedding shoot, that would be the best way to connect prior to your wedding. Make sure they are insured and have experience photographing weddings. Ask to see at least 2 or 3 full weddings from their portfolio. Most of all make sure you get a good feeling and that your photographer is passionate about your wedding as much as you are.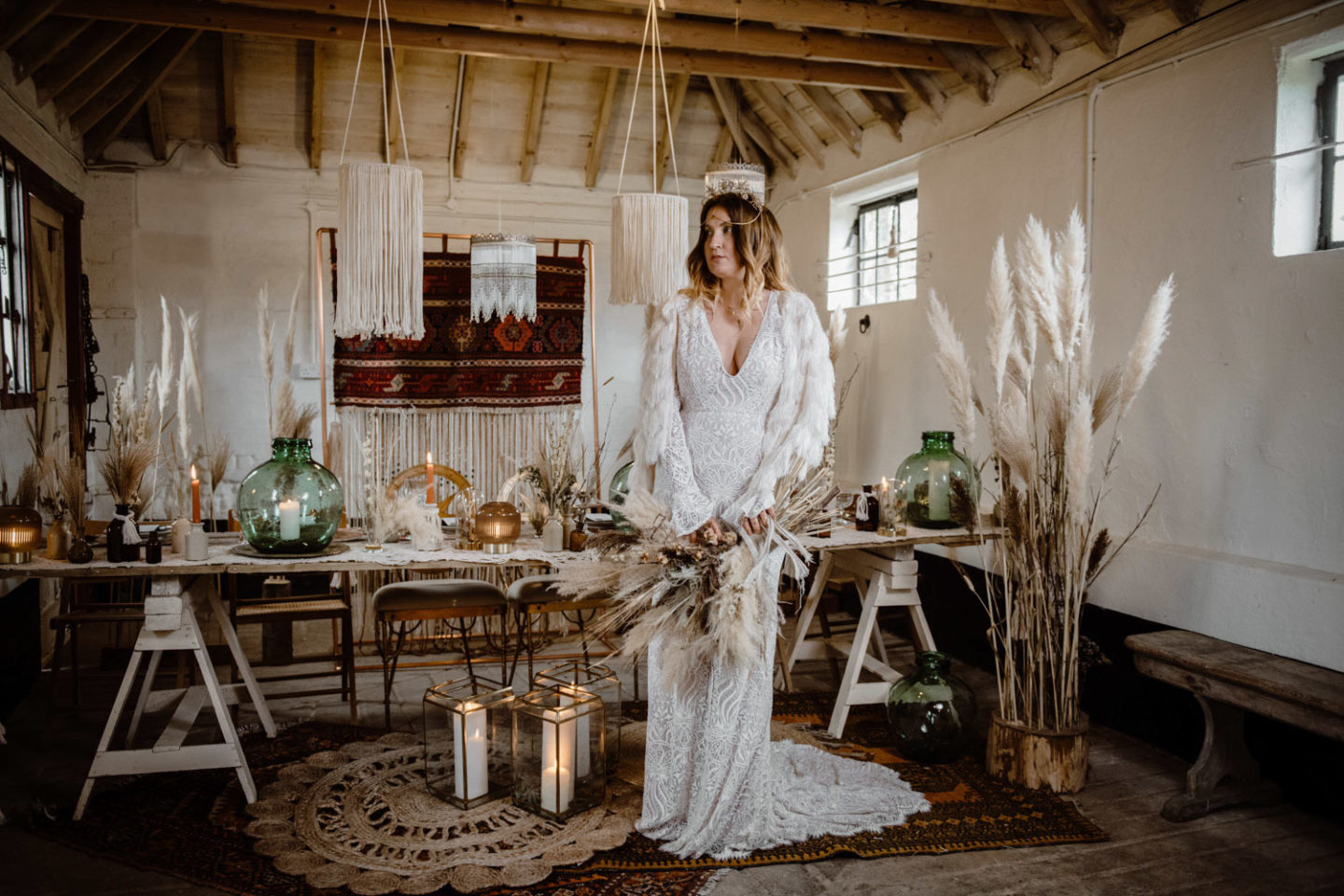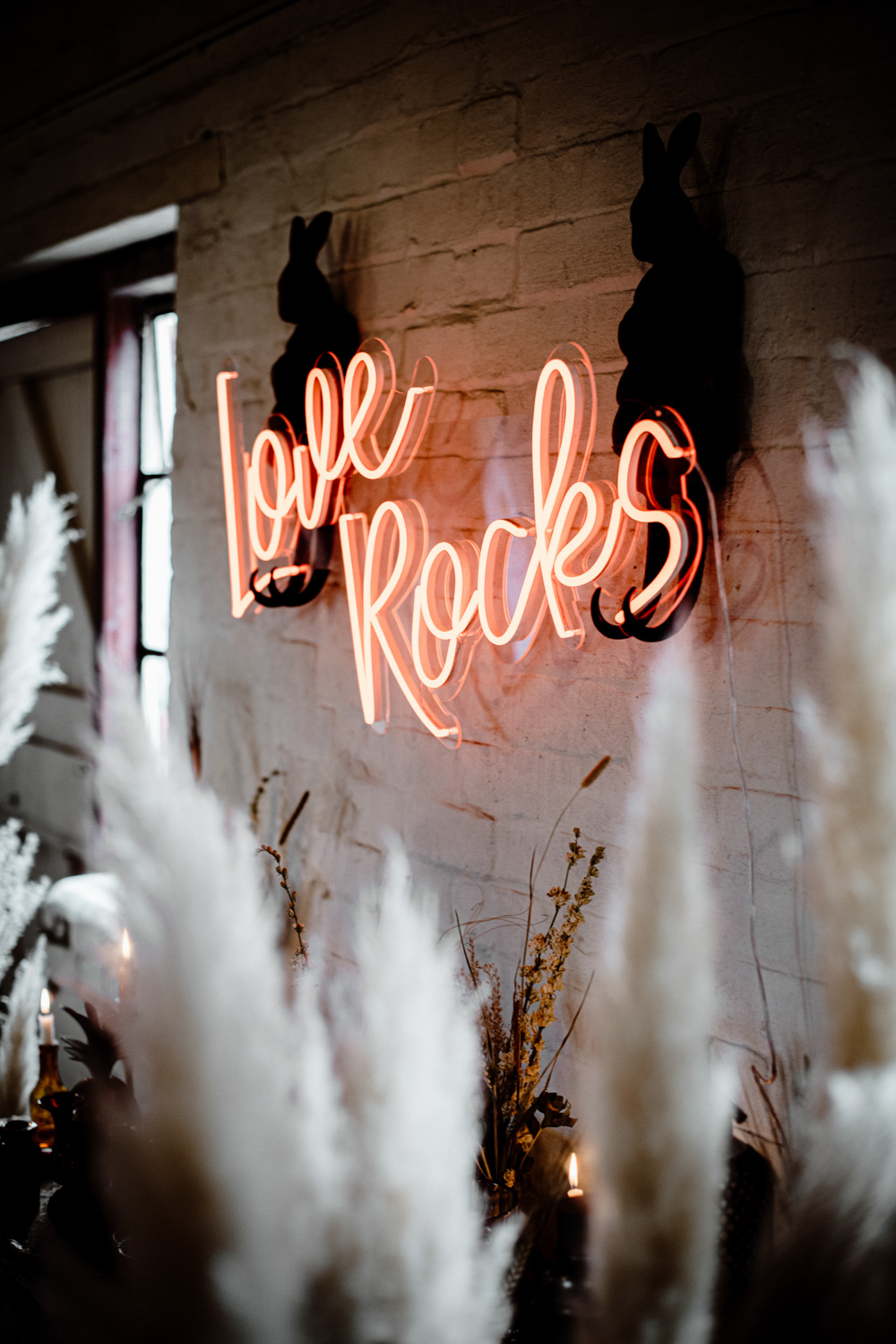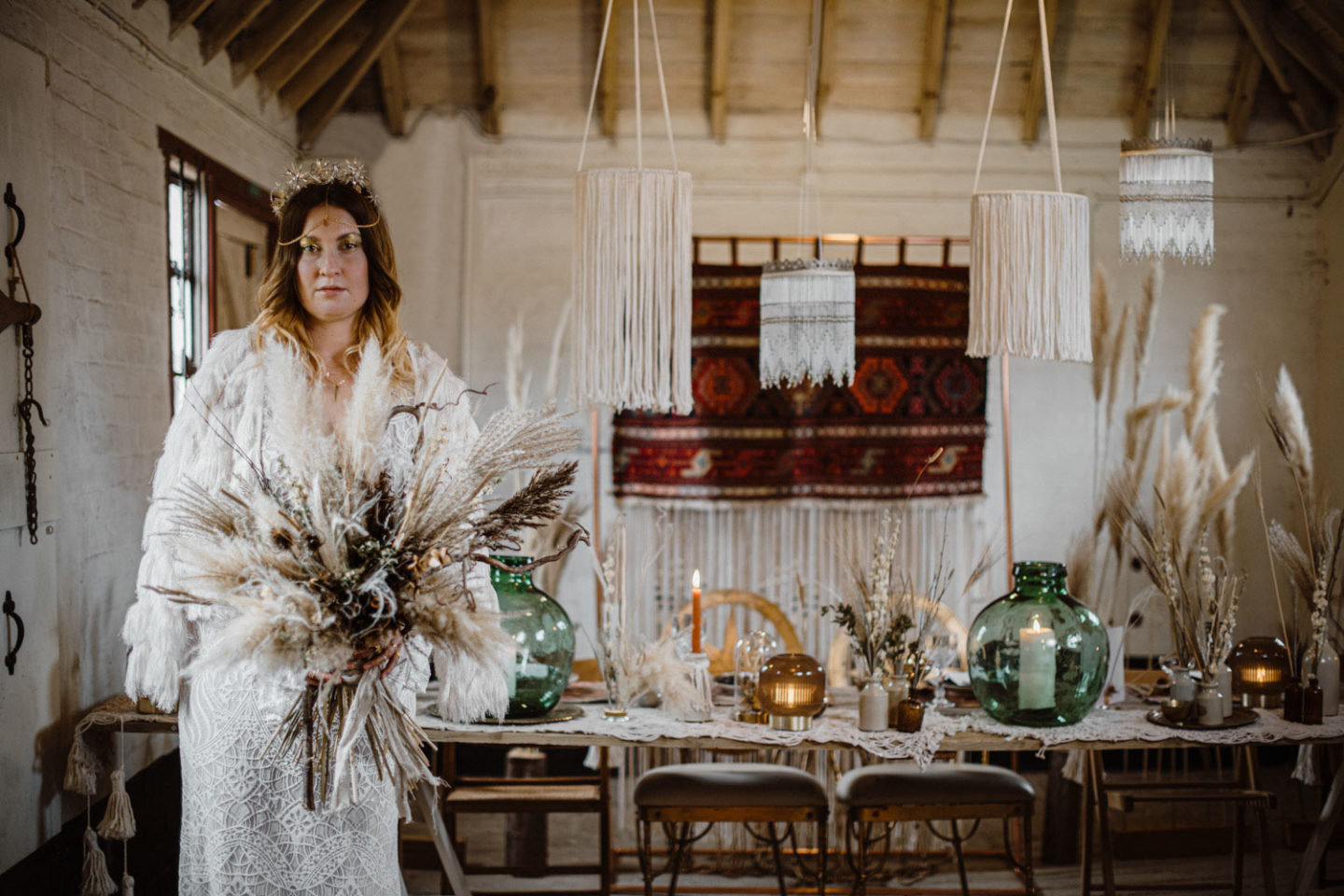 The Bride
The Dress – Halo and Wren
"Jemma at Halo and Wren is one of the loveliest shops around. Her dresses are all so beautiful and unique. Stocking lots of gowns for any style-conscious bride. Her customer service is second to none including every bride in a boomerang "The One"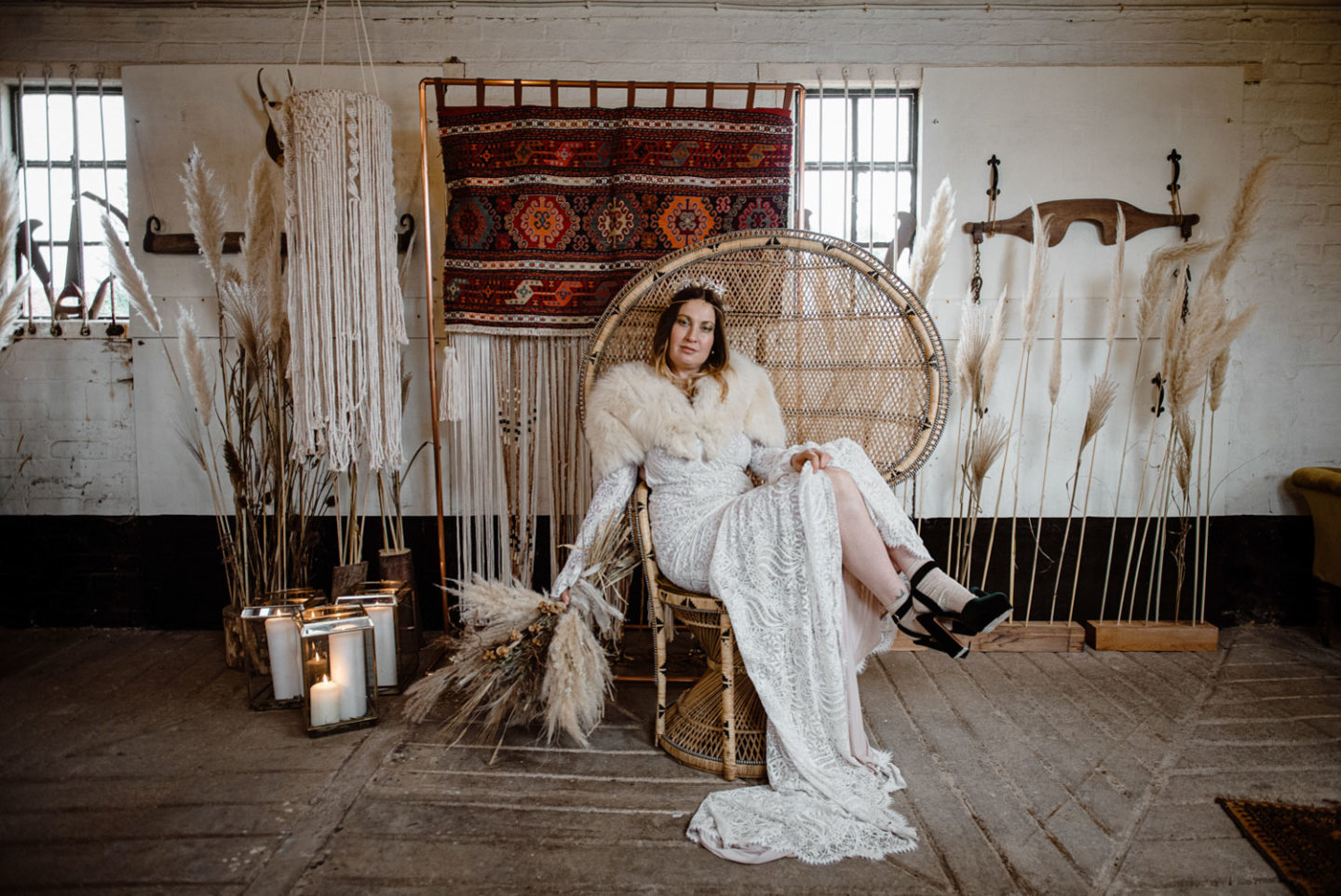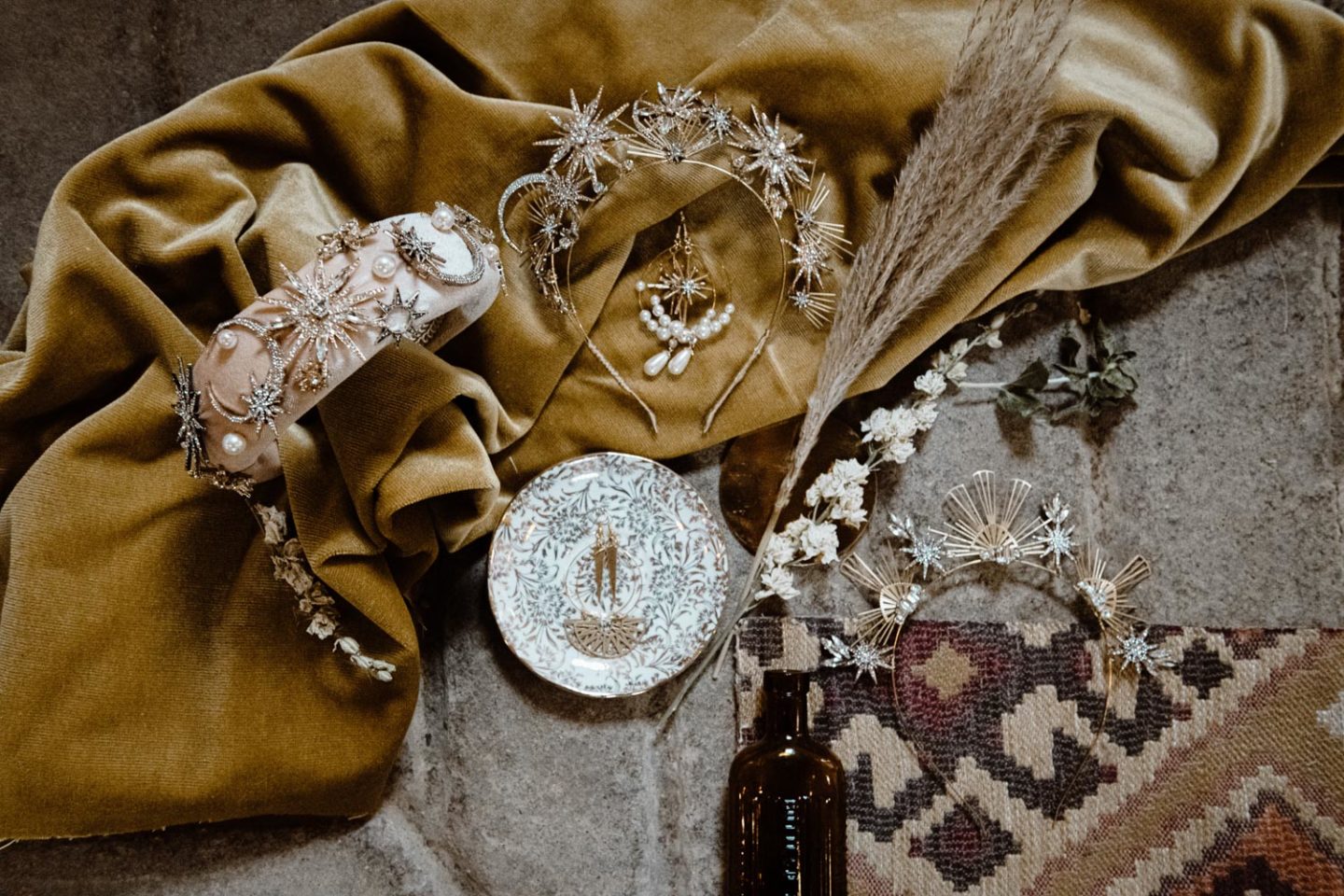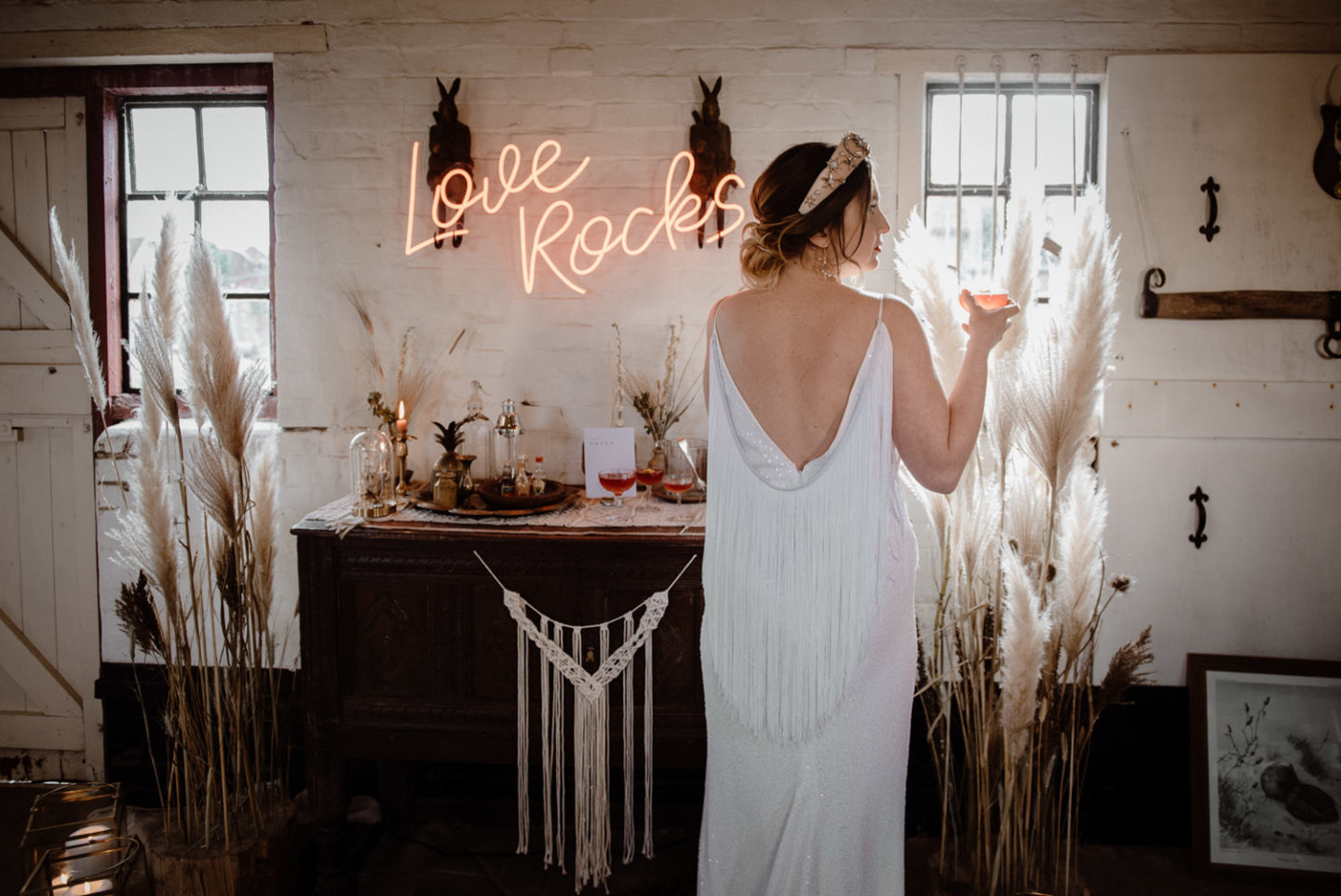 Hair and Makeup – Gemma Fee
"Our first look pushed the traditional bridal makeup incorporating a flash of gold leaf paint on the eyes. A goddess-like feel encapsulated our model adorned with headdress and jewellery in keeping with this rich textured vibe. Our layered approach from the styling linked into the bridal gown with a boho lace vibe dress layered with a fringed tassel jacket. More is most definitely more for this shoot. The second look took our Bride from Ceremony to Disco. Red Lip, Hair up, biker jacket on! Effortlessly cool, kicking back and showing off this gorgeous tasselled back dress. Why bride shouldn't have 2 looks at her wedding!"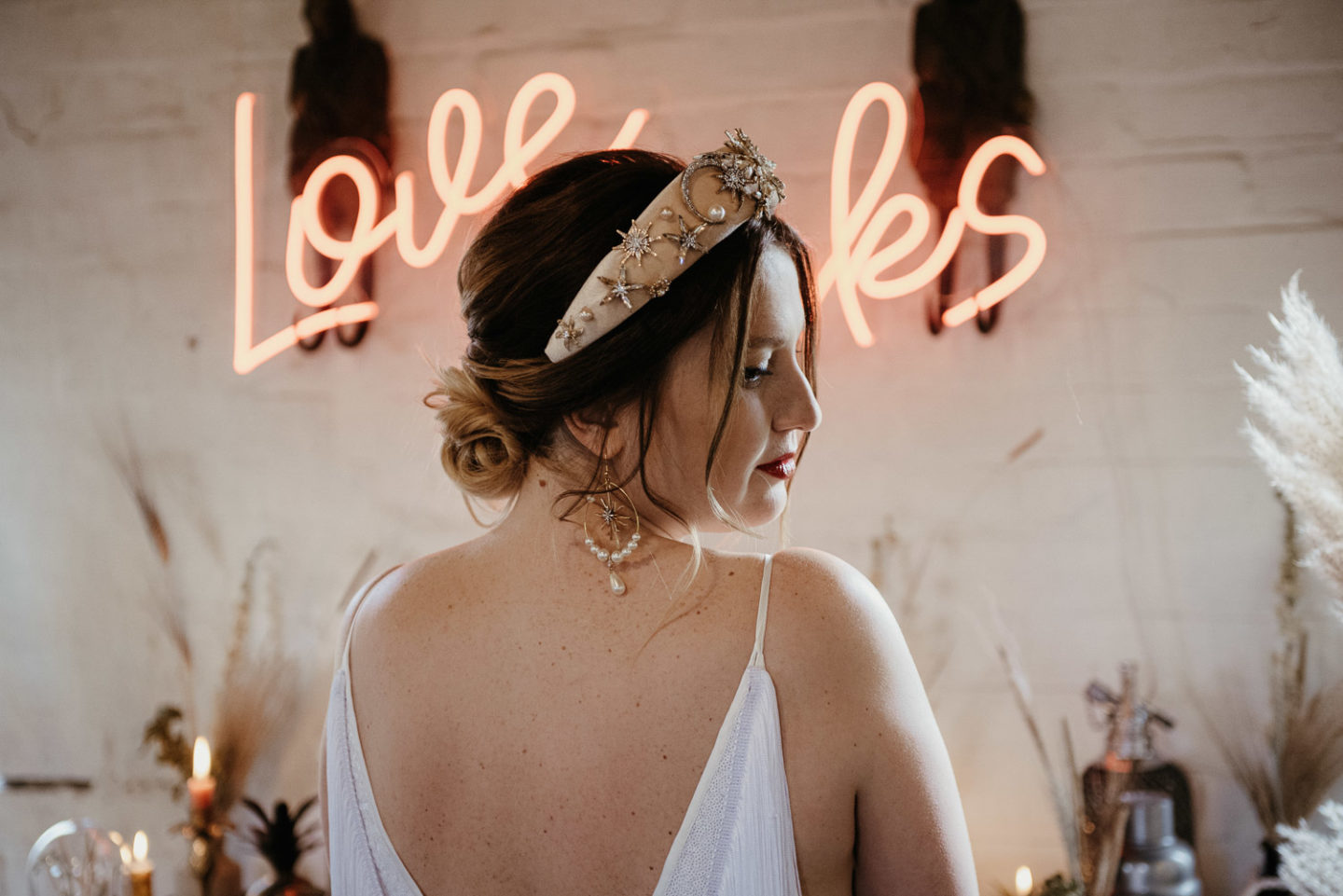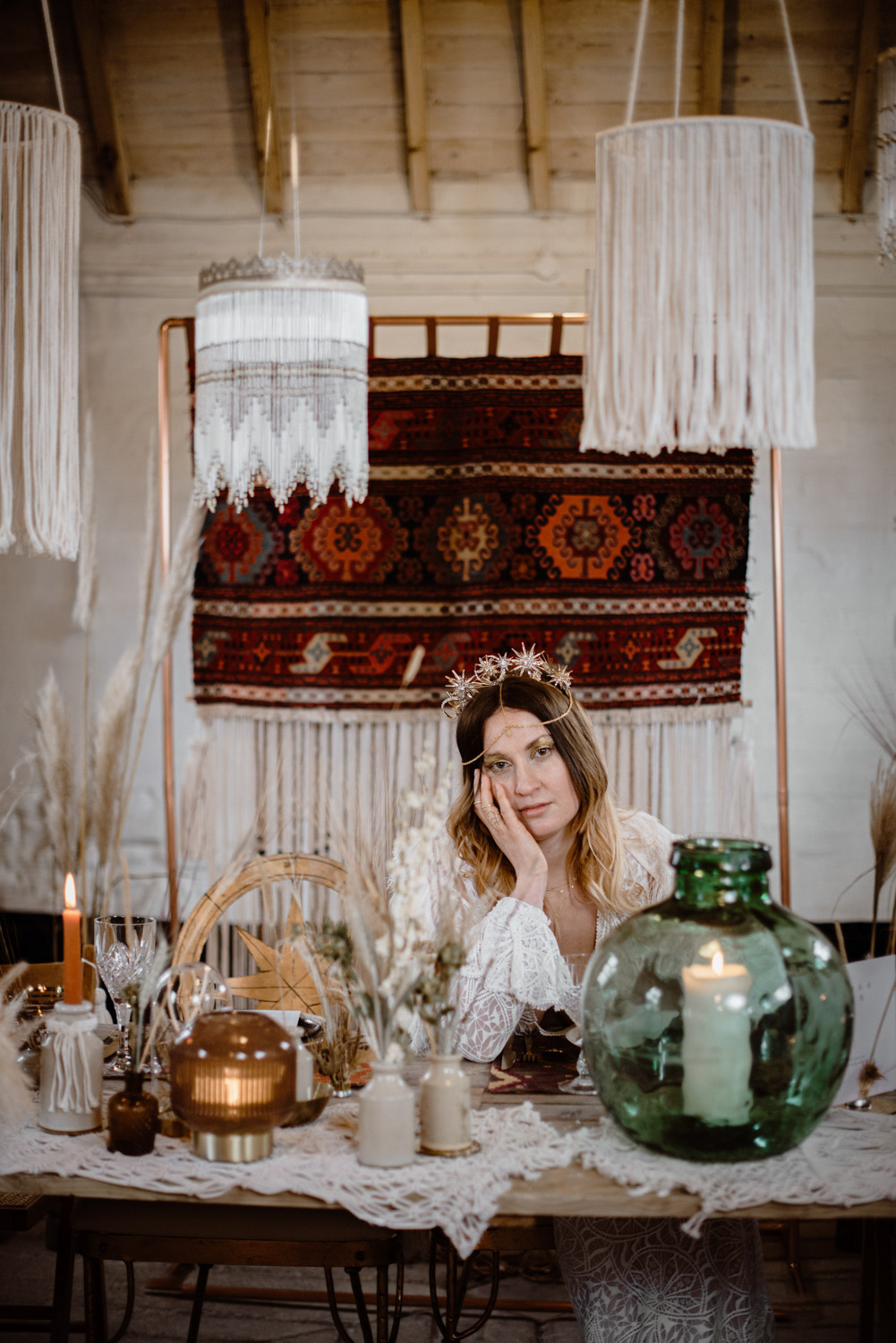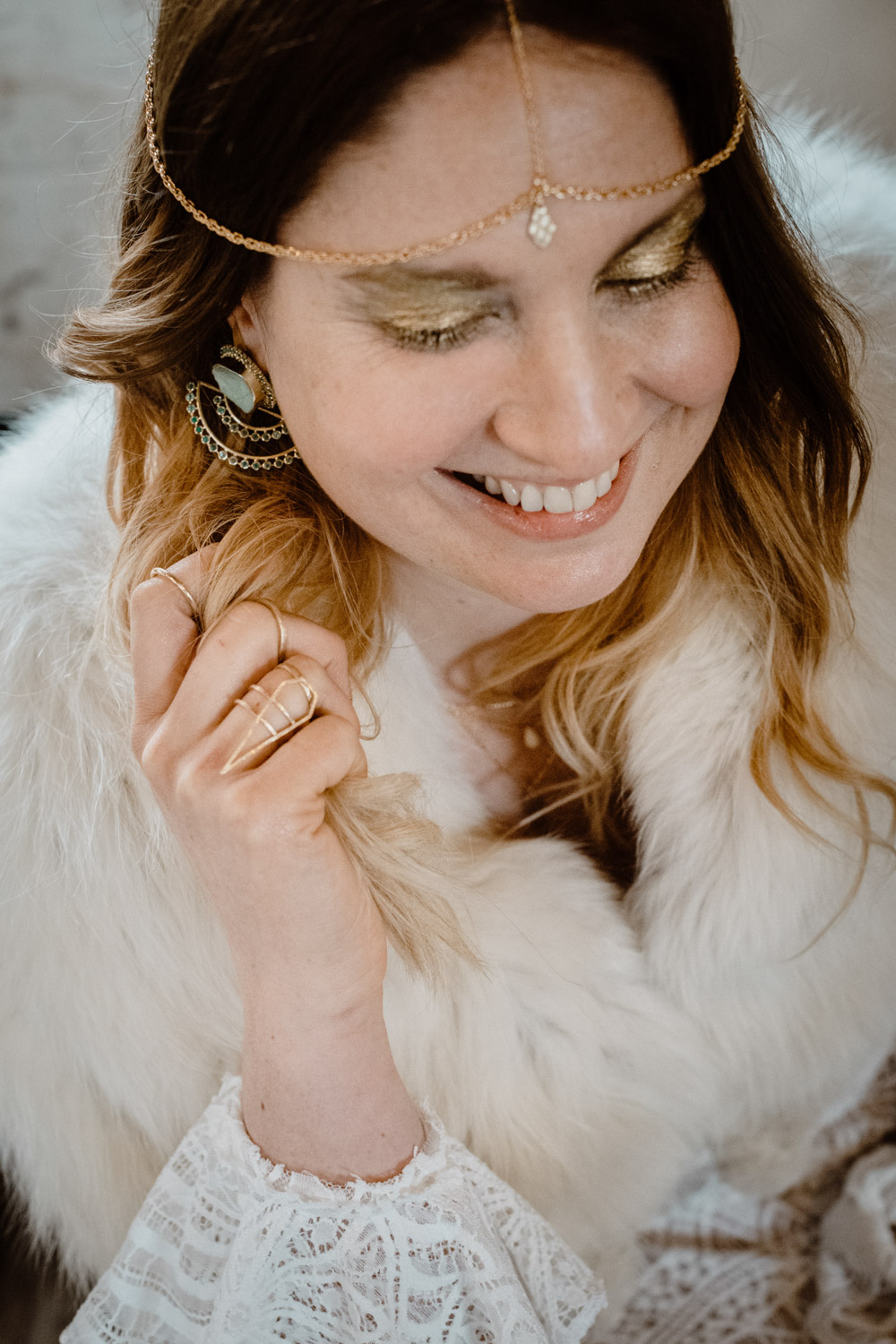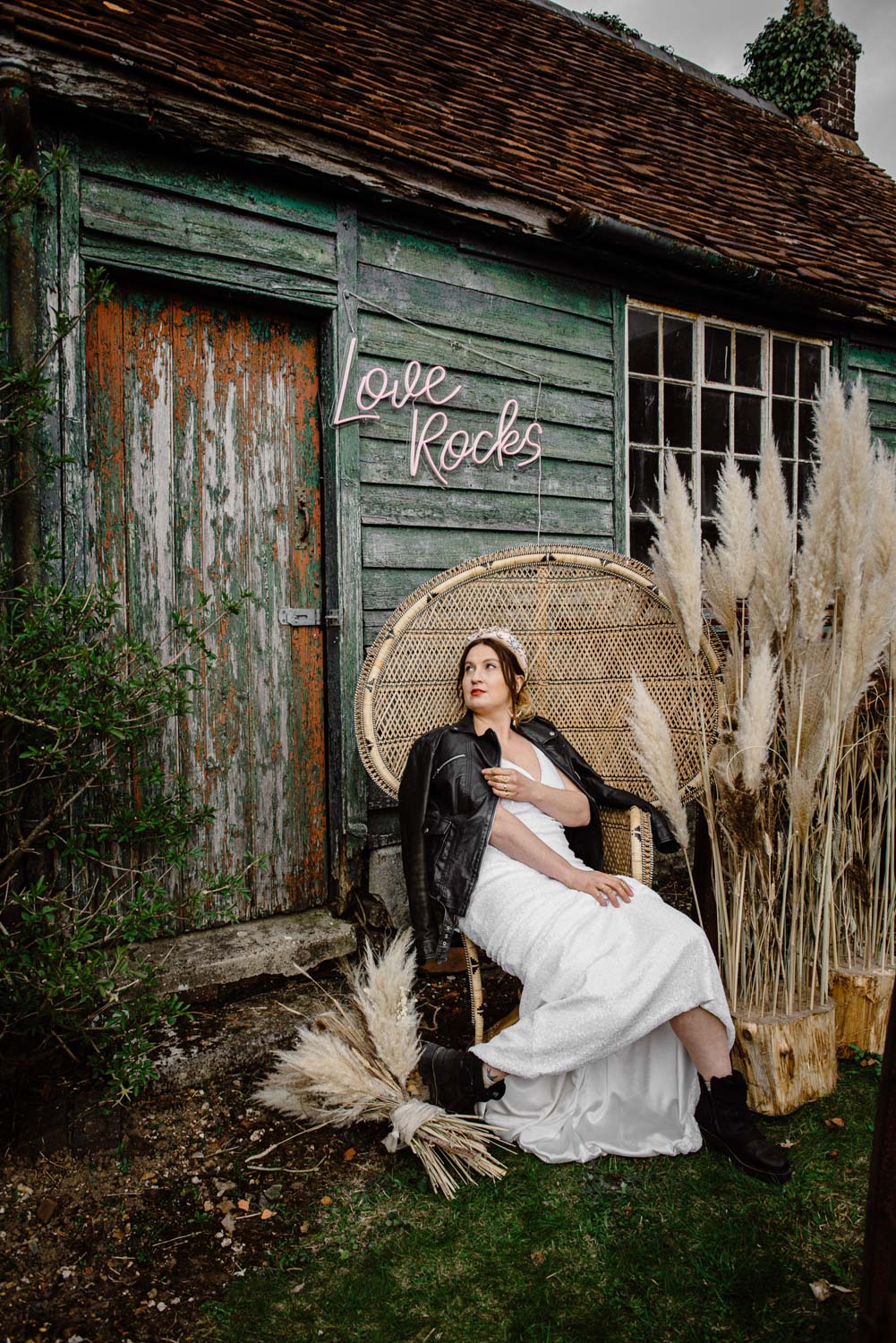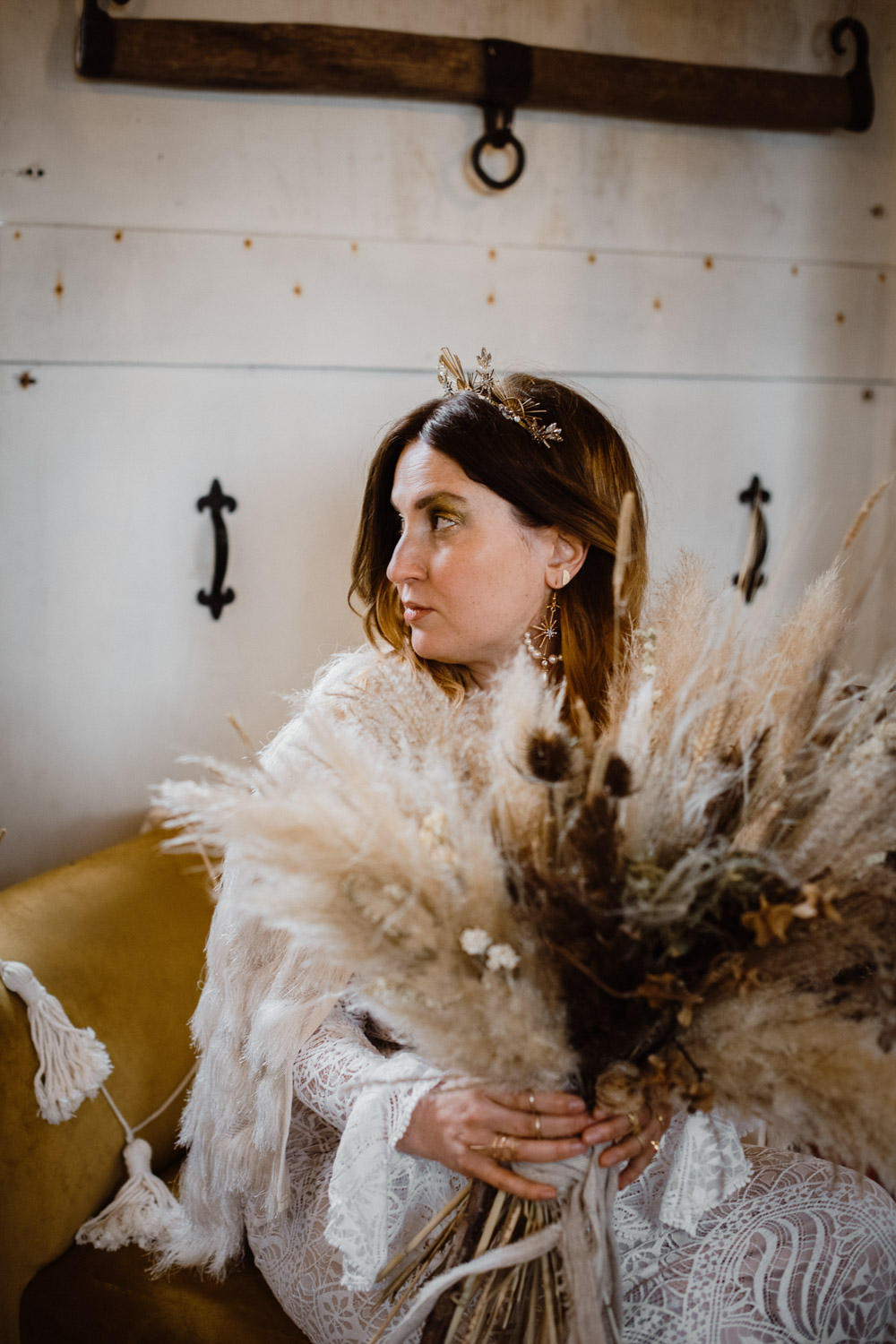 The Details
Flowers – The Nagundo Tree
"Dried flowers are a great alternative to fresh and they give a cool boho vibe to any aisle/table and bouquet. Plus you can make the bouquet a keepsake. We work very closely with Ash at The Nagundo Tree who grows her own flowers she buys and supports local and British too."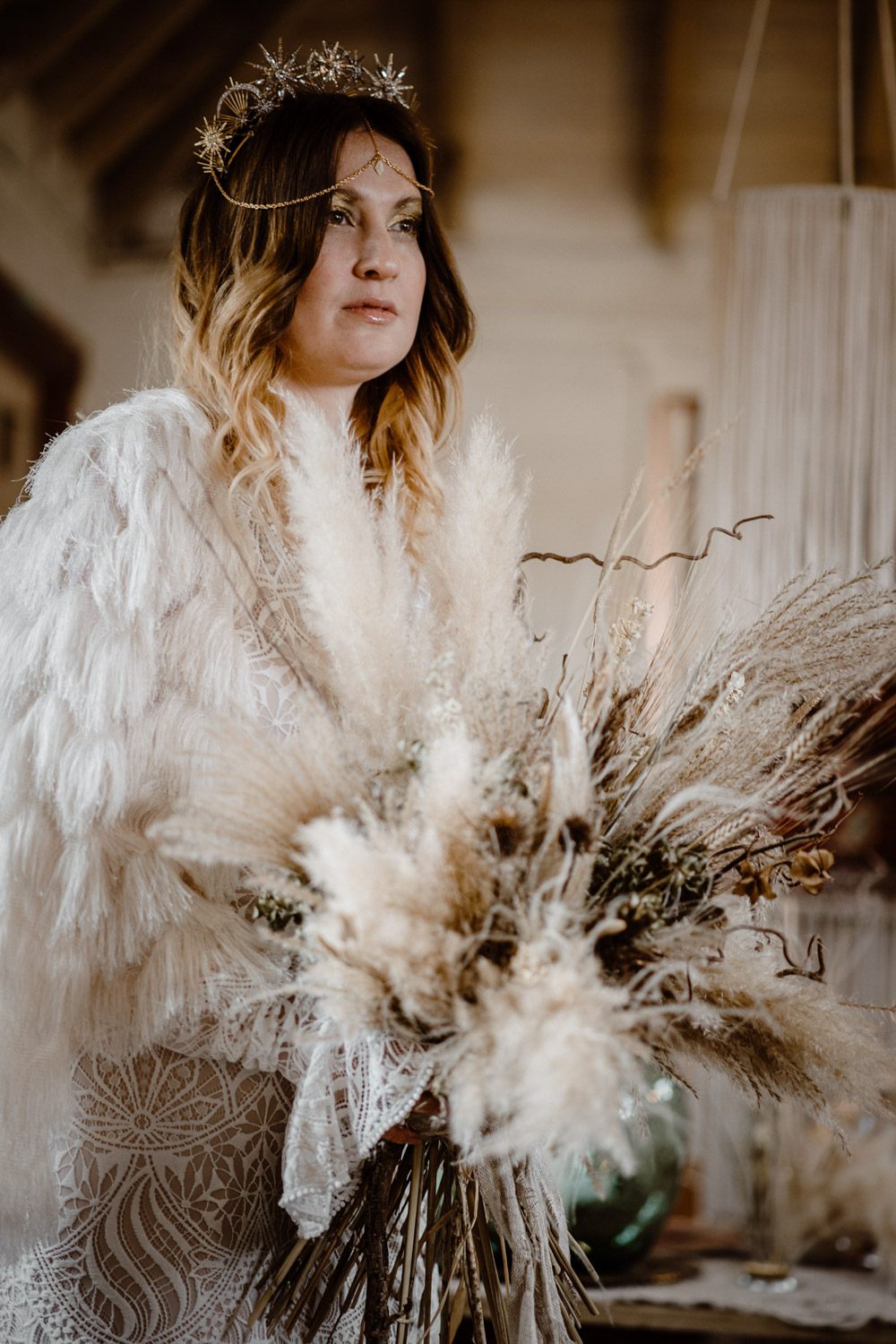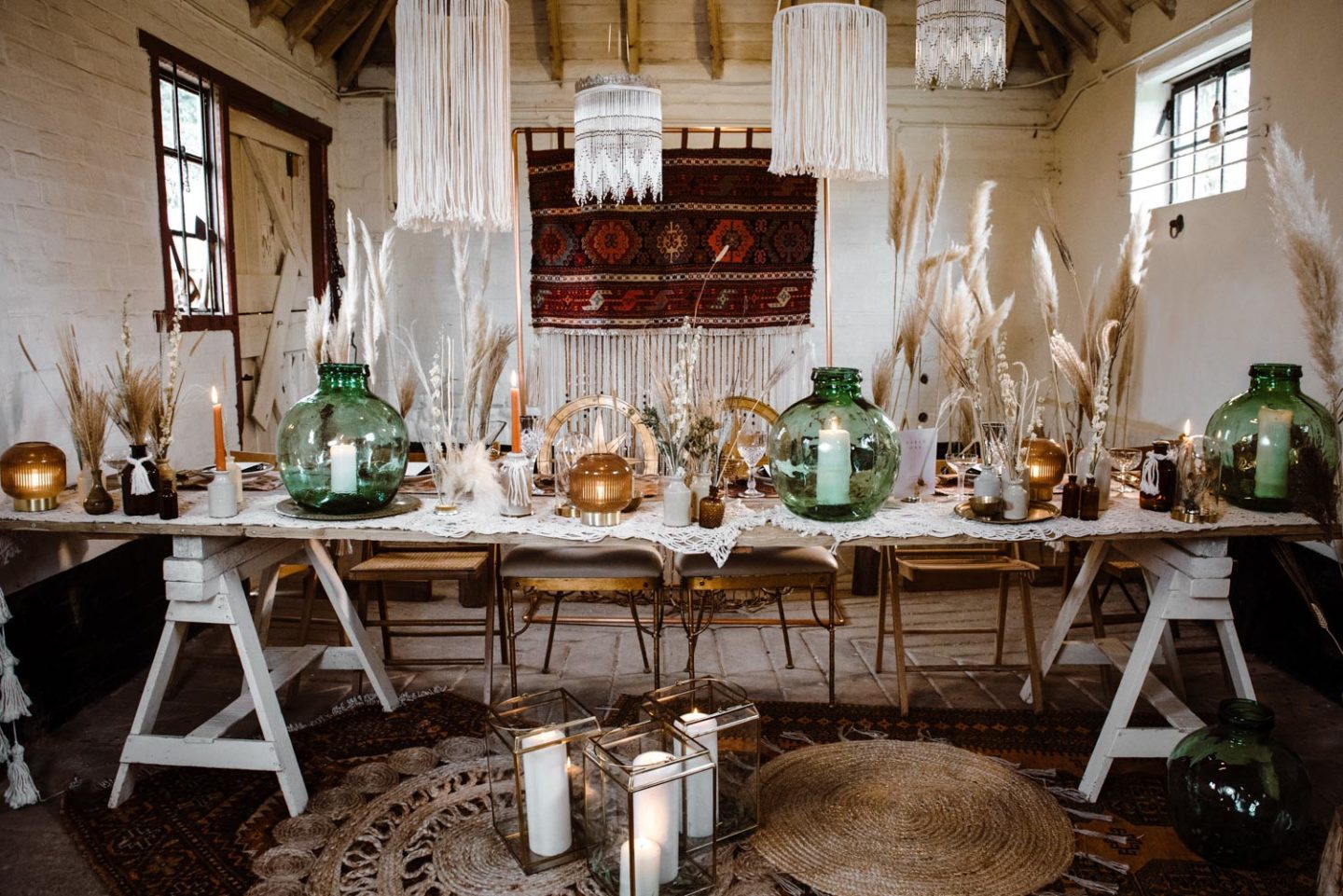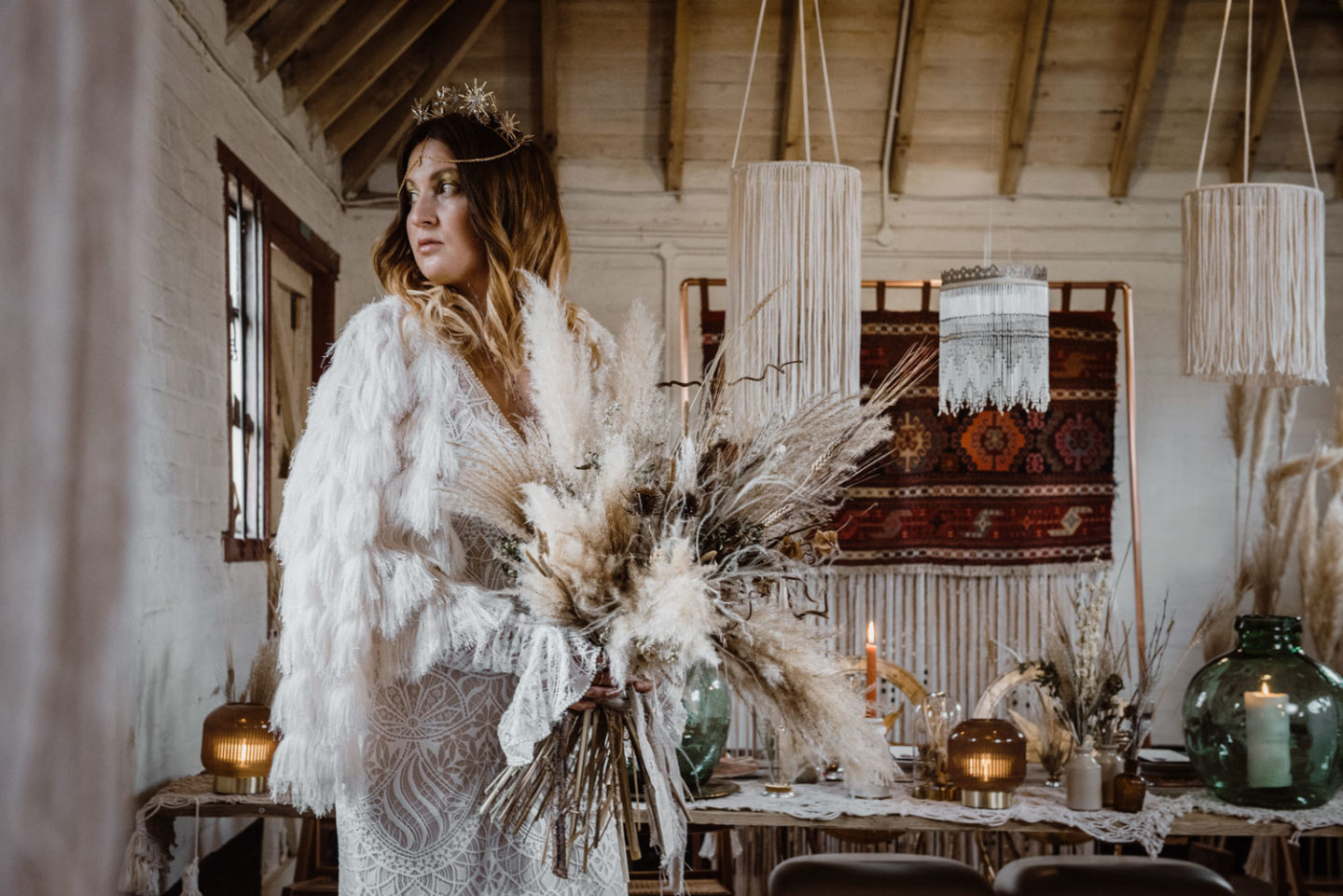 Cake – The Curson Cake House
"We used beautiful handmade biscuits for our shoot, from a local supplier. These were another layered piece to our table settings. They all had individual details from the Bride and Groom's initials, the date of the day, to sprigs of pampas."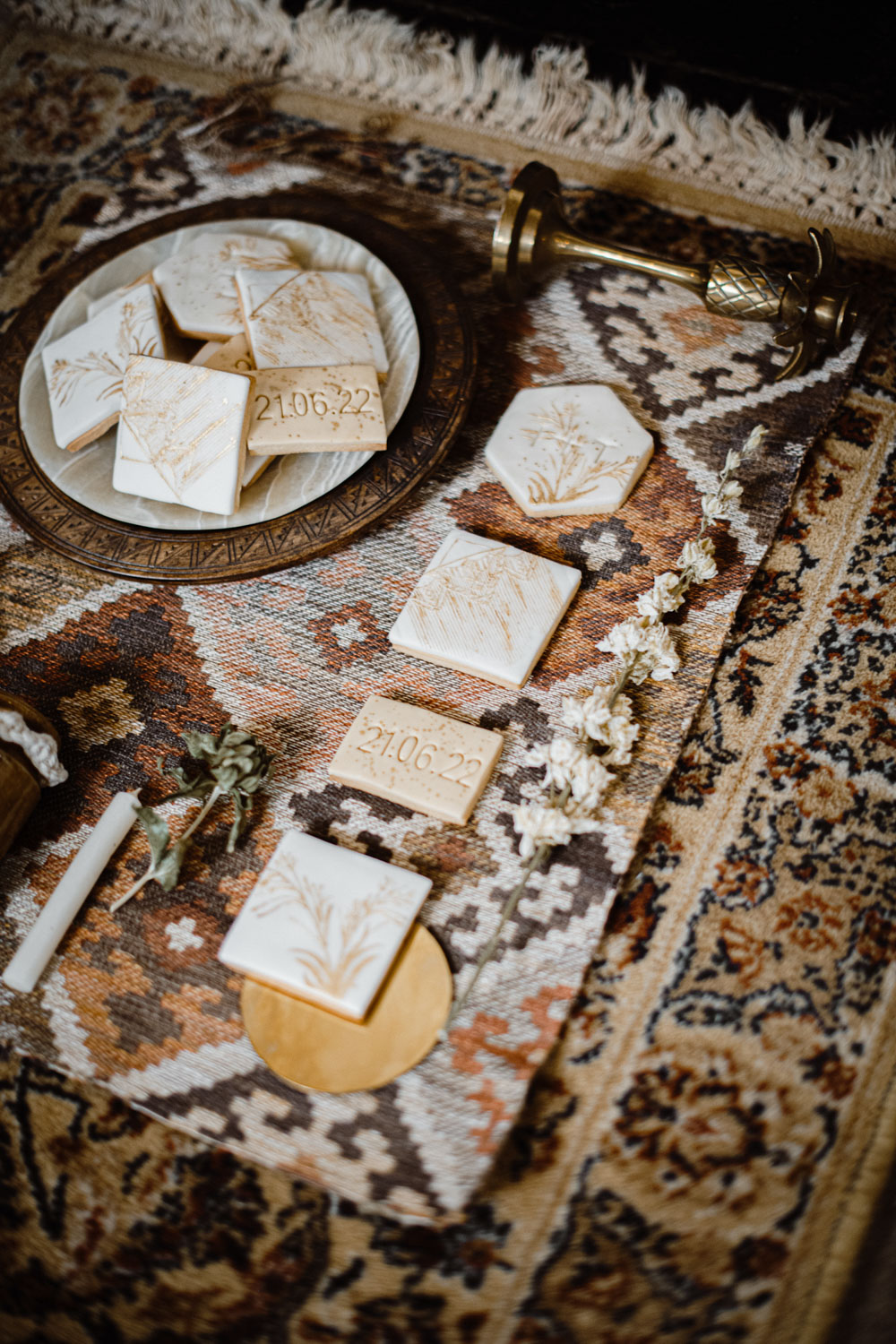 Stationery – Emma Lou Stationery
" The stationery was a contemporary and beautiful design on recycled card and using gold wax seals. It's all in the details when it comes to your sationery and can be truly bespoke to each couple."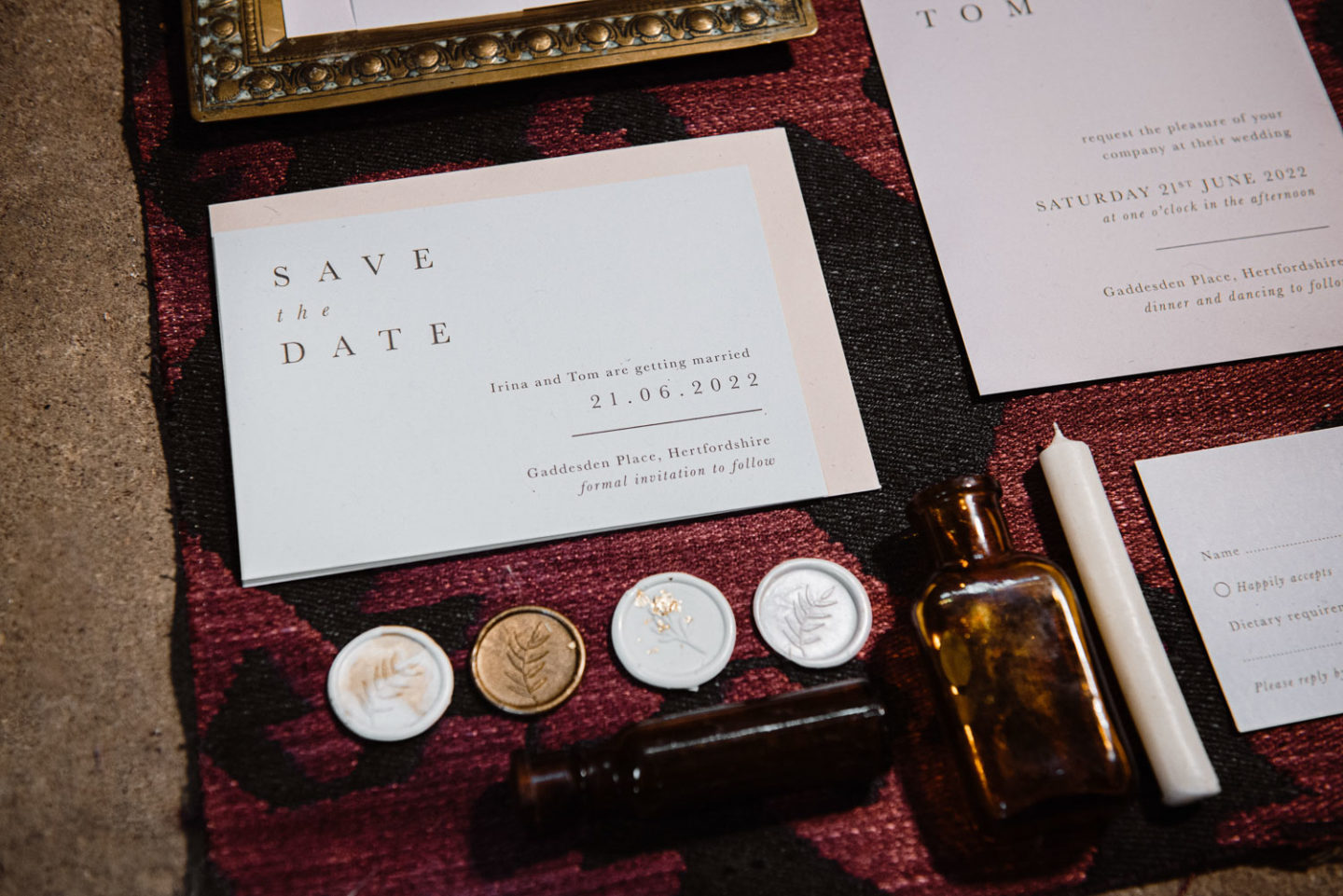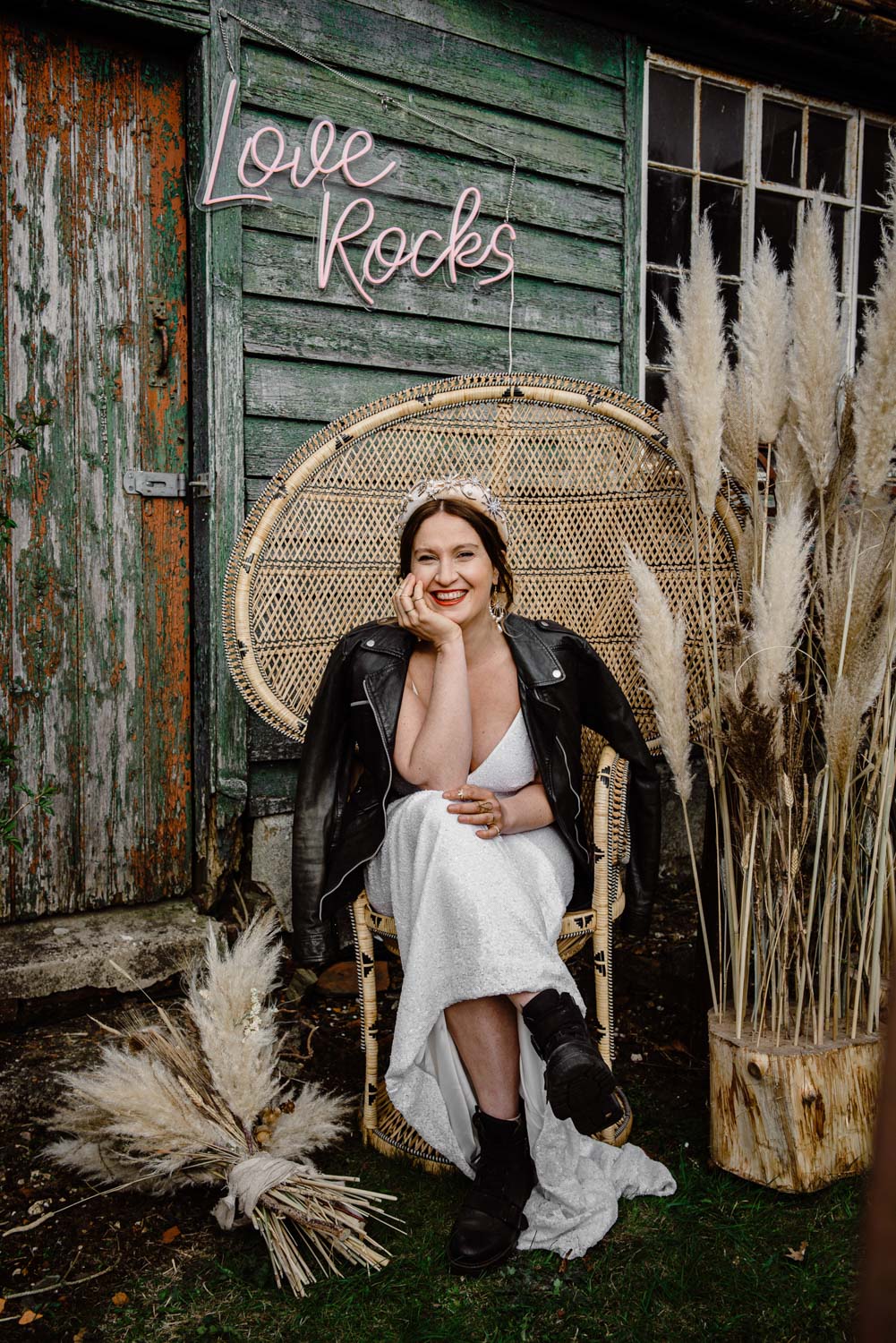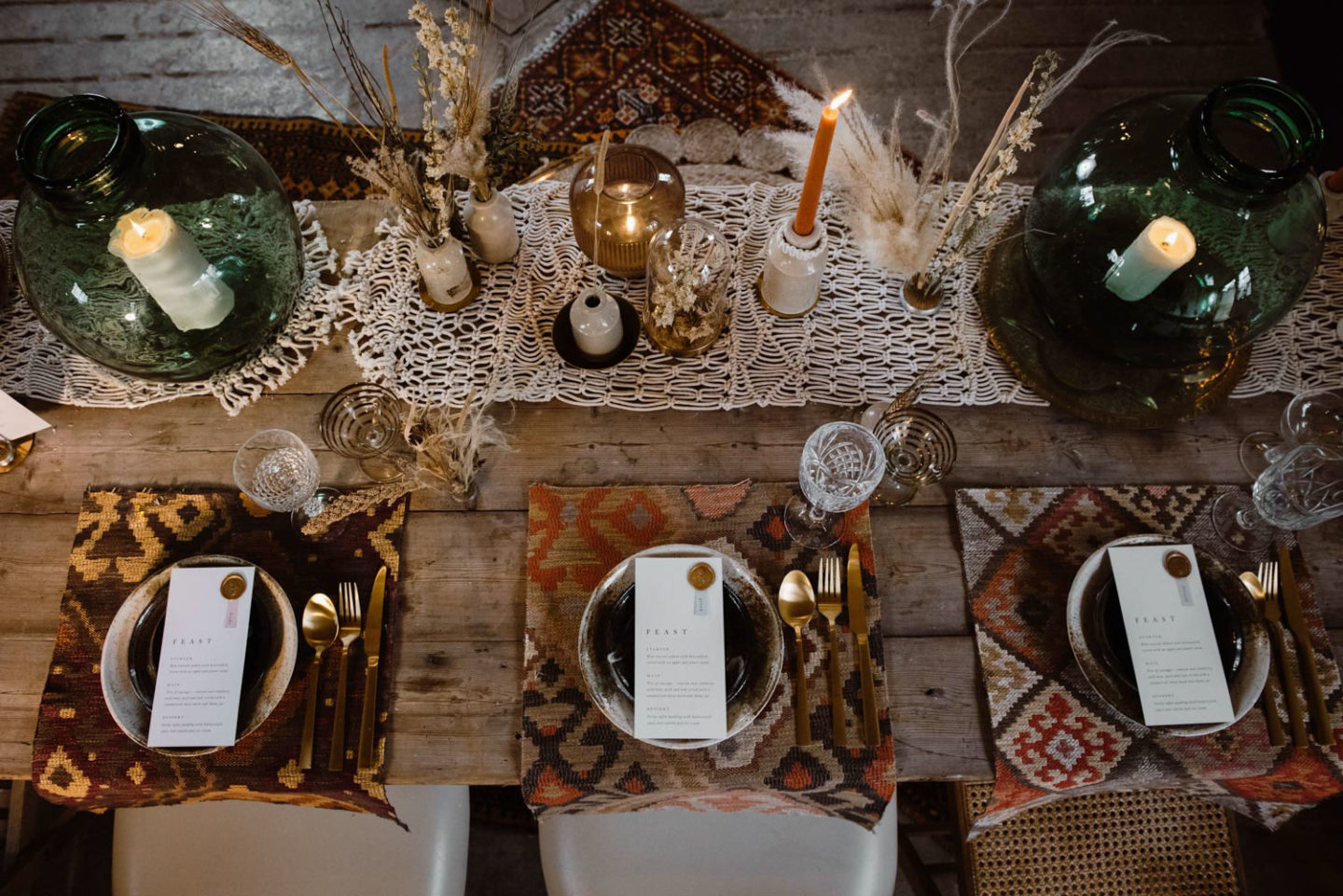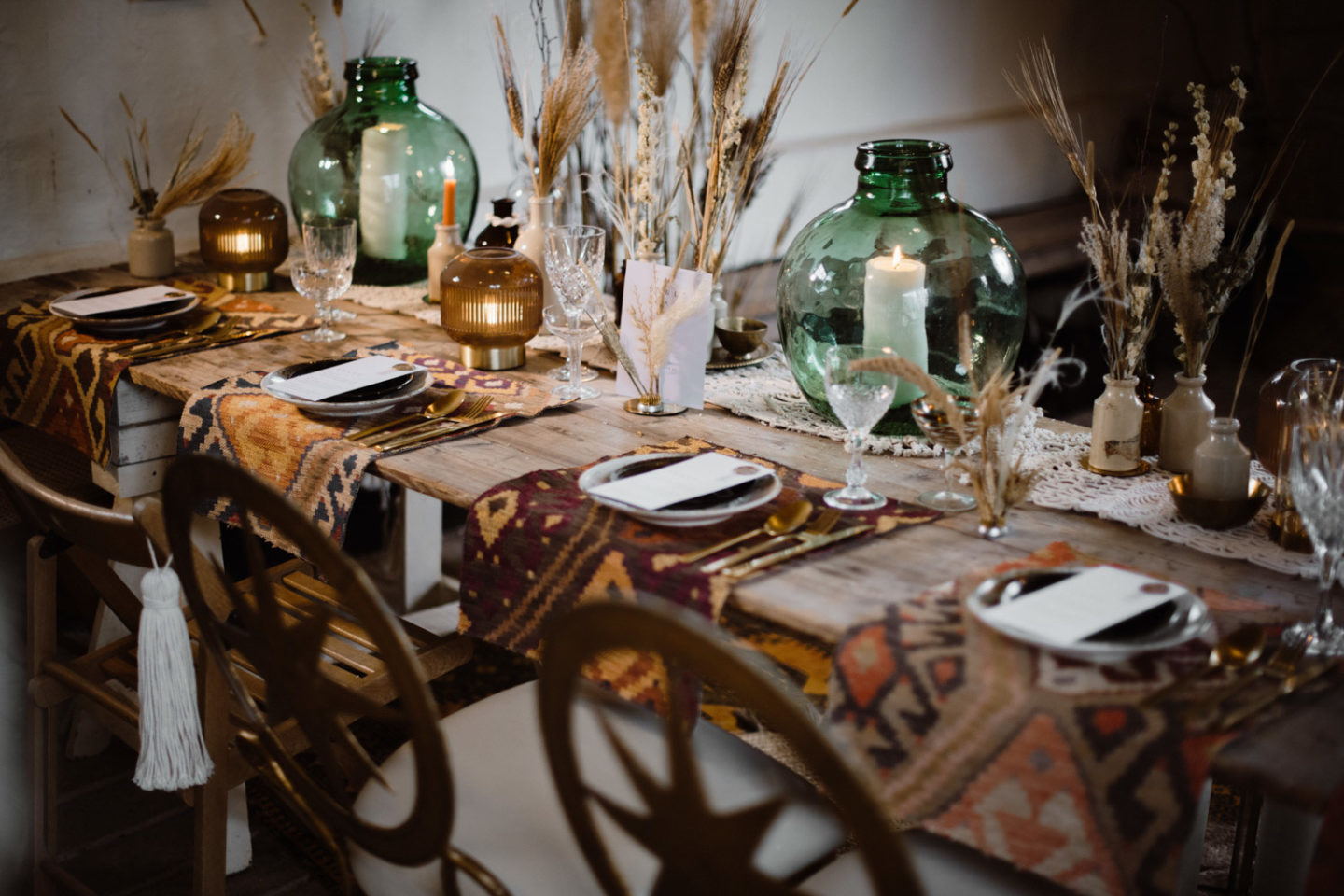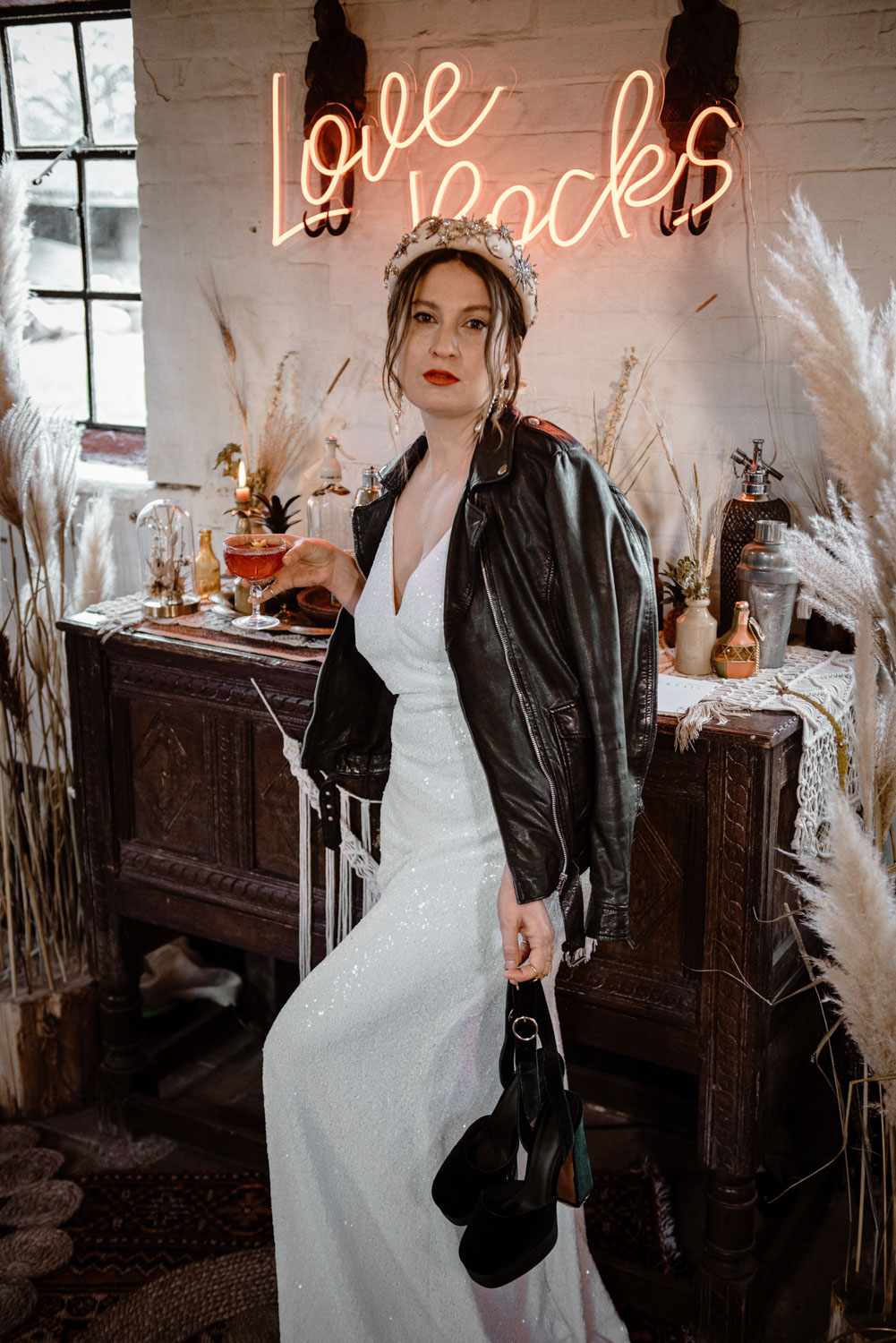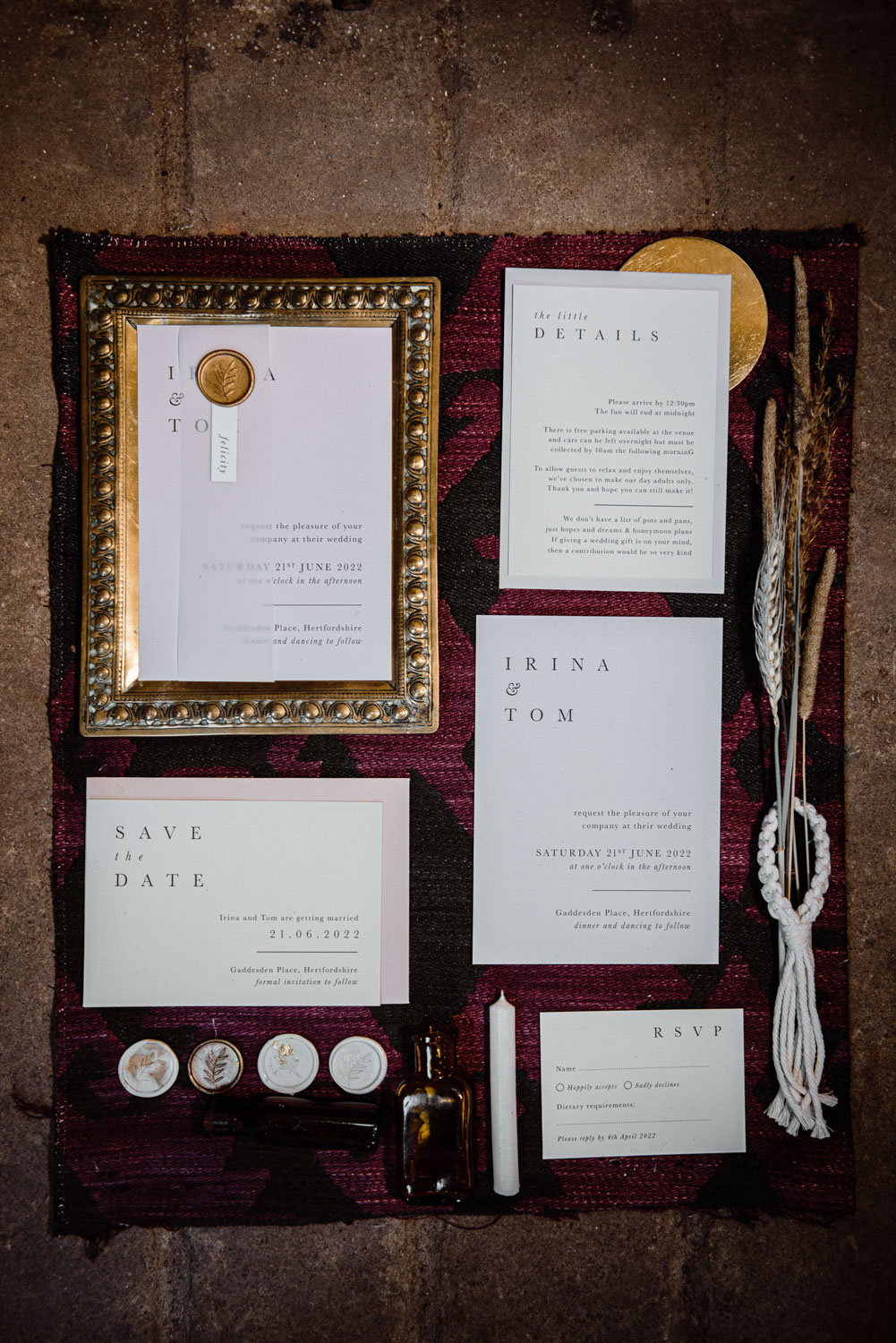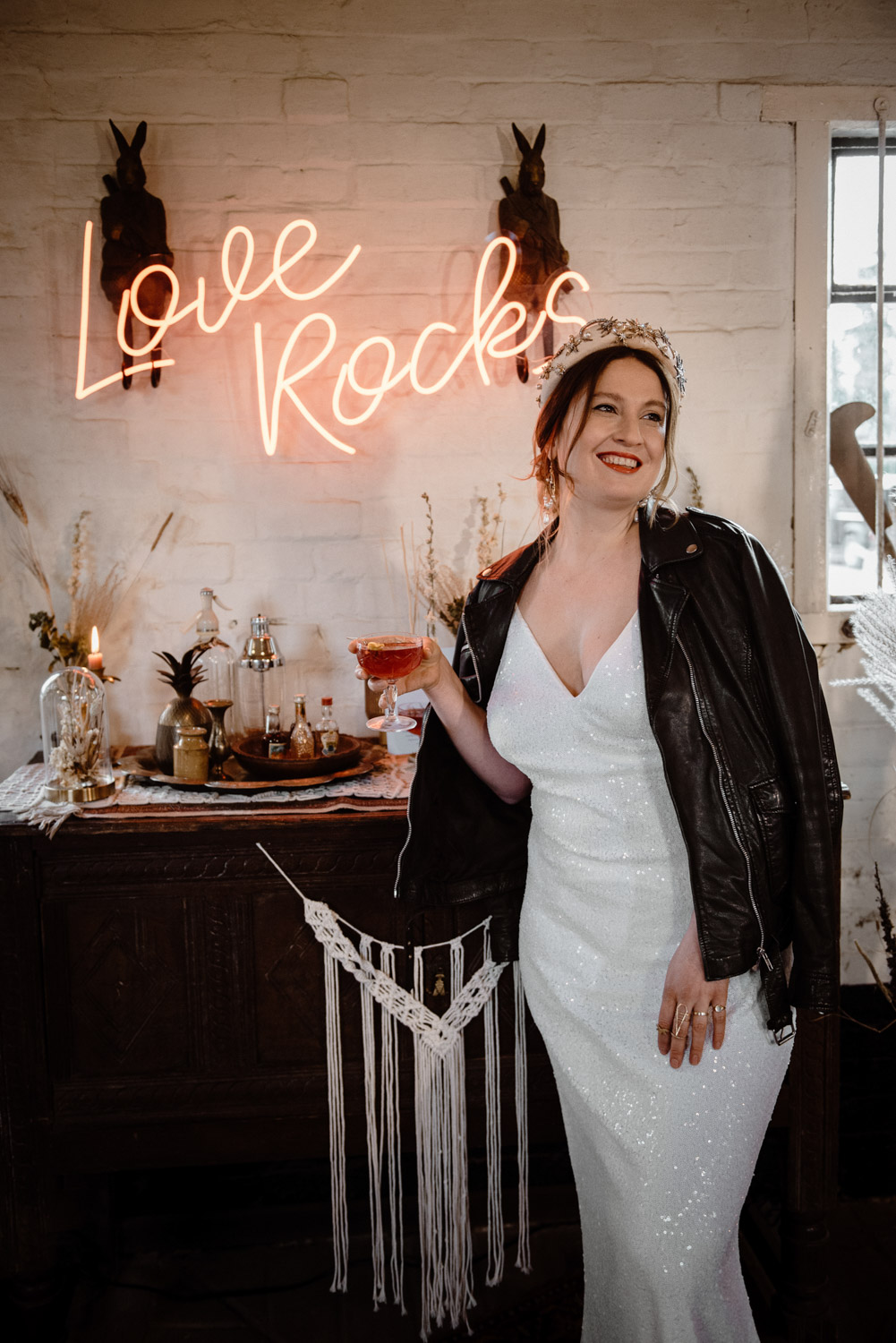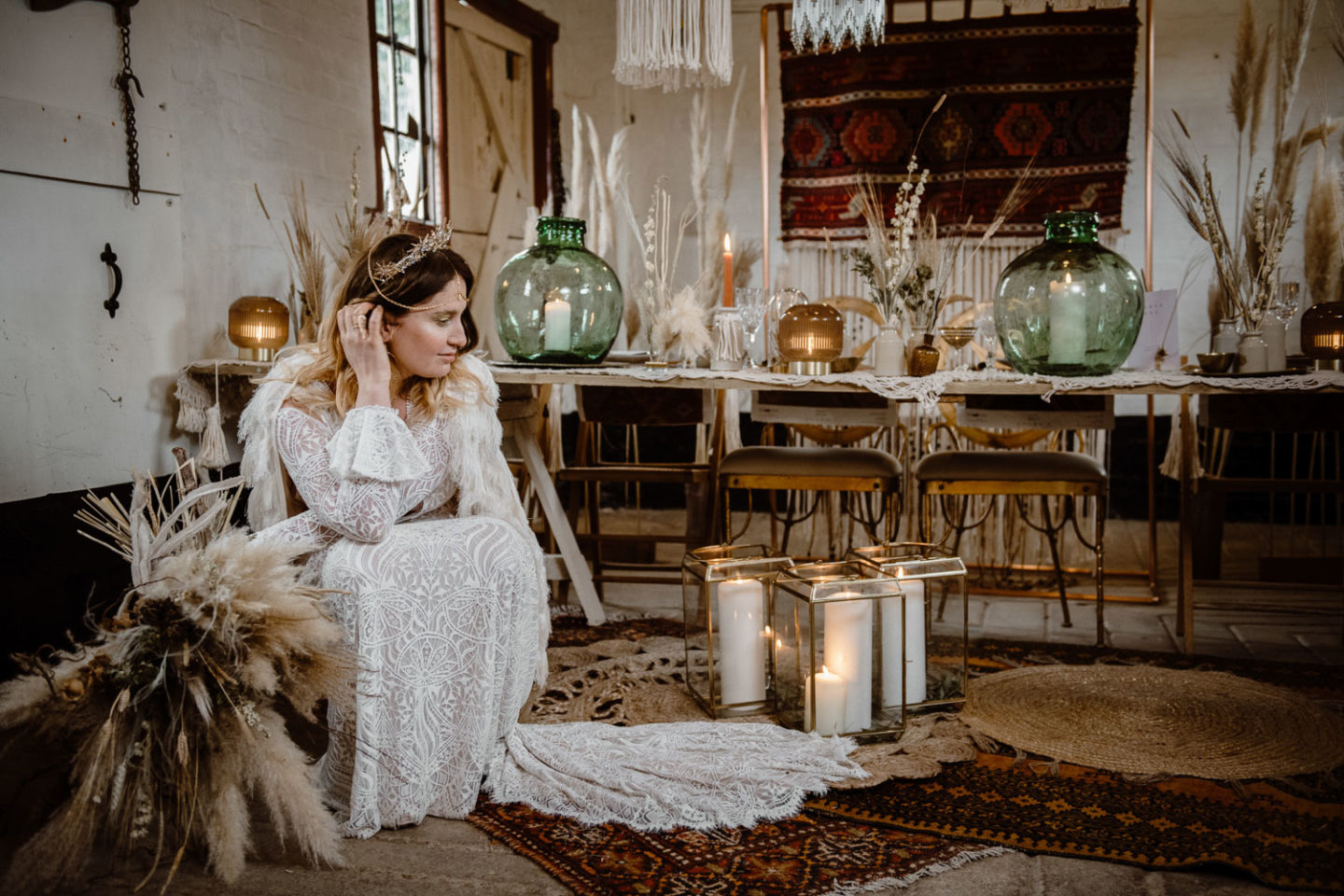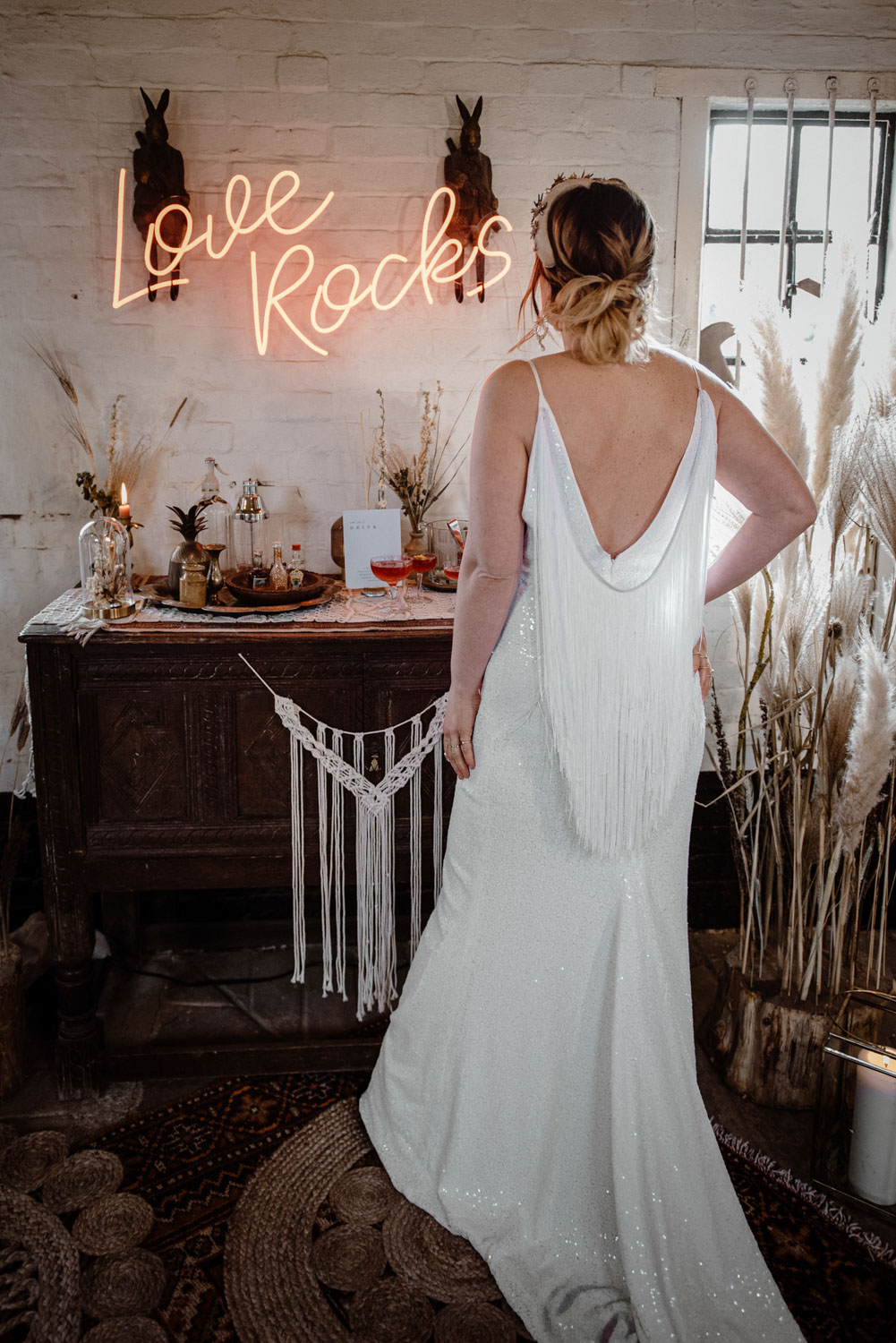 Videographer – Holly Cassidy Weddings
"We worked with amazing suppliers on the day. We have a beautiful video created by Holly Cassidy. Totally encapsulates the look and feel of the day. It was great to work with all the jewellery suppliers whose pieces added such a luxe vibe."
The Team – Moroccan Luxe Wedding at Gaddesden Estate, Hertfordshire
Photographer Marta DeMartini @martademartiniphotos
Gaddesden Estate @gaddesden_estate_weddings / Dress Halo&Wren @haloandwrenbridal / Accessories Amore Headwear @amoreheadwear/ Jewellery Mystic Pearls @mysticpearlsjewelry / Vaessen-Walker @vaessen_walker / Storm Teacup @stormteacup / Styling, Vintage Prop Hire and Concept/ Coordination The Boho Shack @__thebohoshack / Florist The Nagundo Tree @thenagundotree / Hair and Makeup Gemma Fee @gemmafeehairandmakeup / Cake The Curson Cake House @thecursoncakehouse / Videographer Holly Cassidy Weddings @hollycassidyvideography / Stationery Emma Lou Stationery @emmalou_stationery / Neon sign SM Discos @sundown.signs / Cocktail Liquid Mobile Bar @liquidmobilebar / Model Ika Kutateladze Model @ikakutateladze / Lunch @roots_c_f /
IF YOU LOVED THIS WEDDING INSPO AT GADDESDEN ESTATE PIN IT TO YOUR WEDDING BOARDS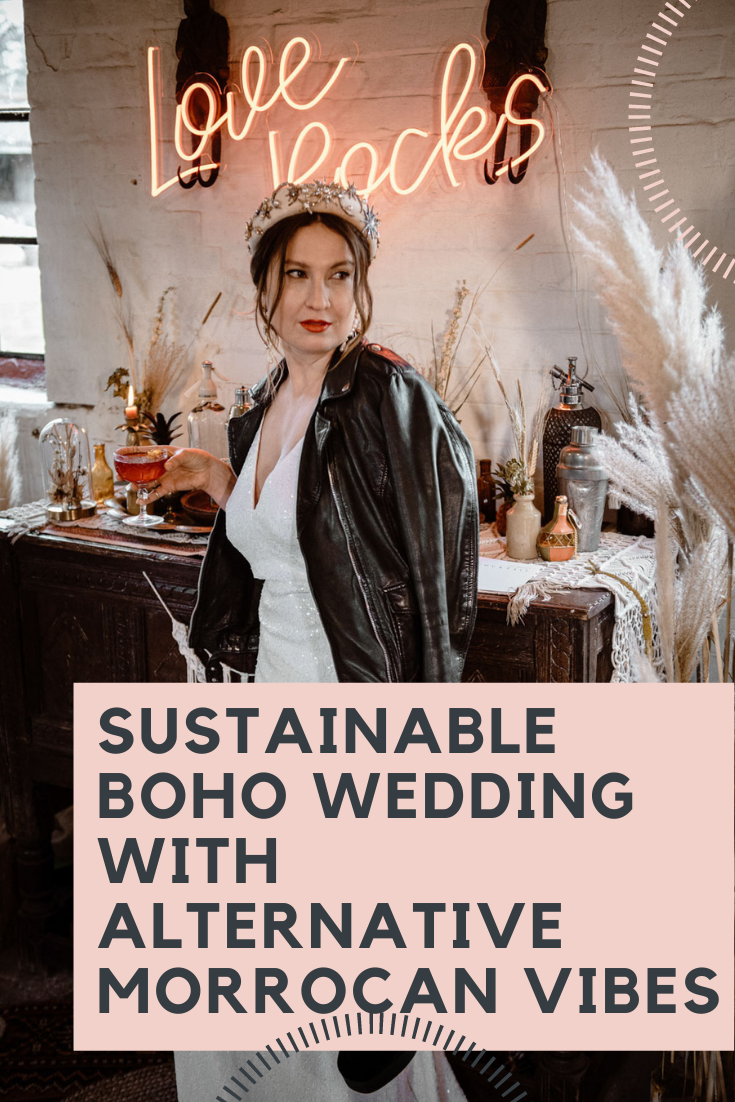 If you loved this Gaddesden Estate Wedding you may also like;
Outdoor Wedding With Boho Vibes At Wasing Park Estate, Berkshire
Relaxed Boho Wedding With Hand Fasting Ceremony at All Manor of Events Suffolk
Boho Summer Garden Wedding Inspiration with relaxed and soft colourful Cuban vibes