A stunning country house, a deep berry colour palette and some vintage touches today for this traditional Christmas wedding inspiration, set in a private house in Cambridgeshire. Chloe of CeeCee Photography & Lisa of Lisa Lyons Bridal created the concept behind the shoot and we catch up with them and the rest of the team, who share their inspiration behind the shoot and their top tips for creating the look for your own big day…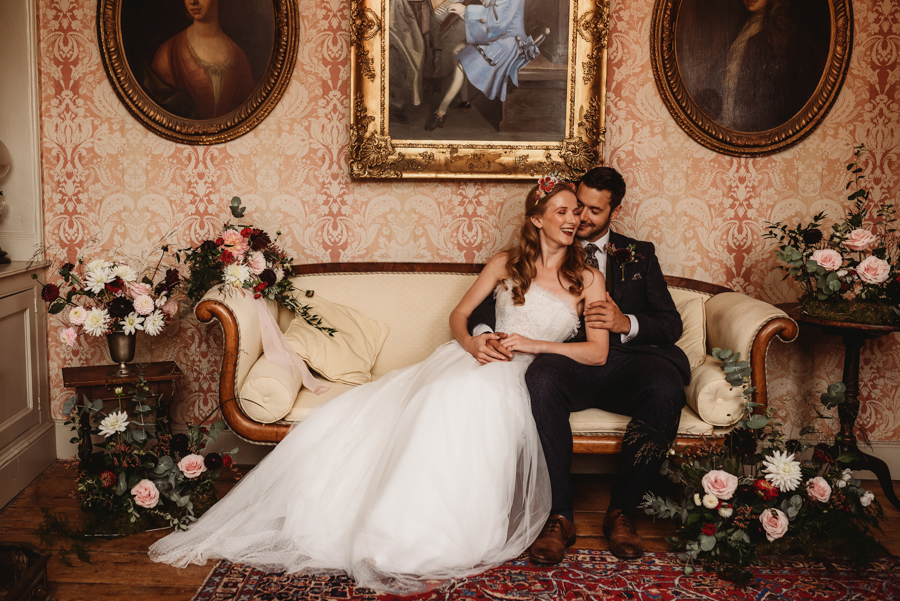 "It was after discovering this beautiful Georgian house that I knew I HAD to photograph in it. The dark wood and berry tones throughout would just make the most stunning vintage and luxe setting for a wedding."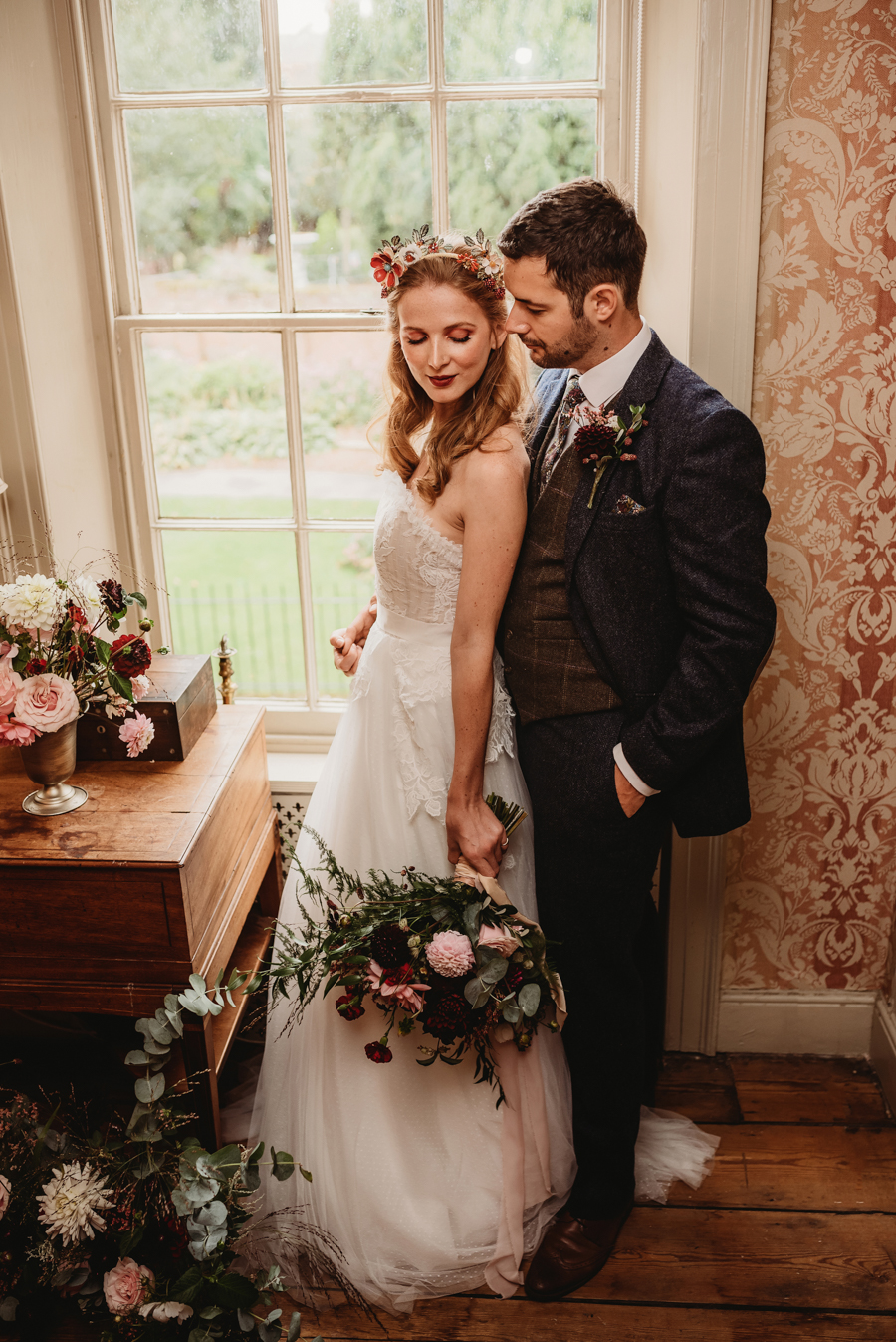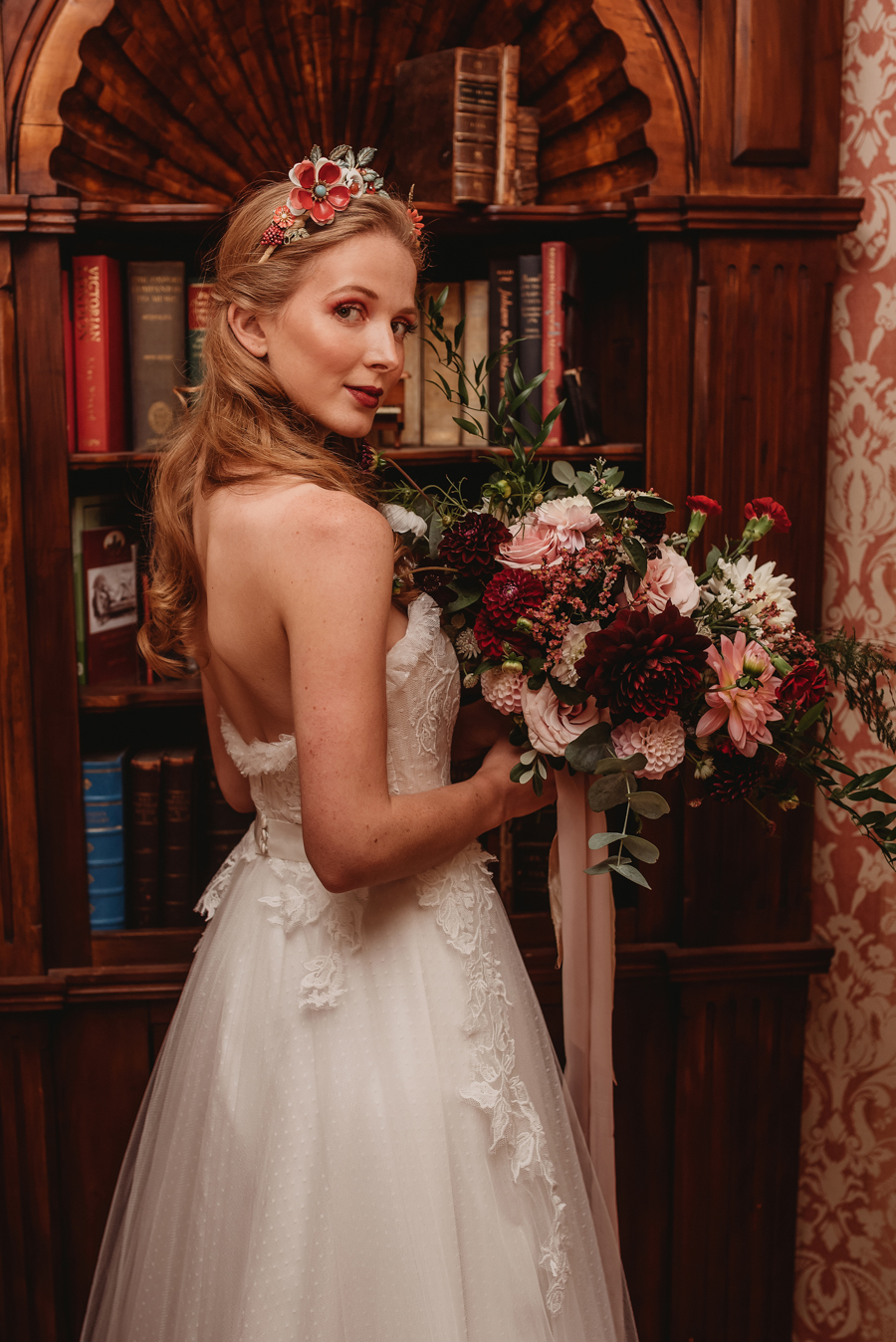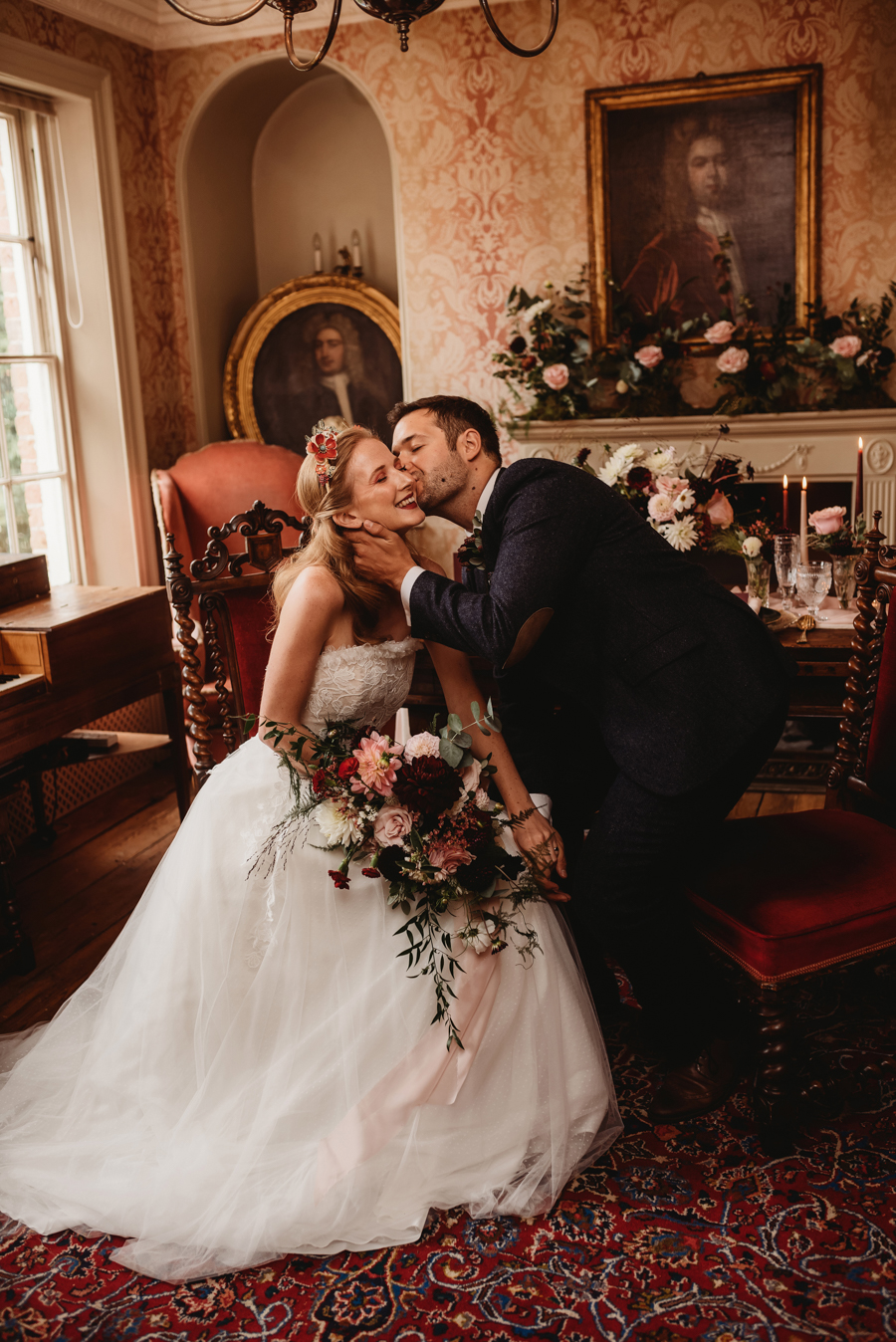 How can a couple turn their theme and ideas into reality?
"Find a couple of things that you want to base your theme around and stick to that theme. Whether this is a colour, a vibe (Classic, Boho, Disney) or the location. This shoot worked so well because we used the room as a basis and this influenced the entire colour scheme of the bridal accessories, flowers and cake etc. It made the planning so much easier having that colour palette to work around along with the idea that we wanted the place to feel luxurious."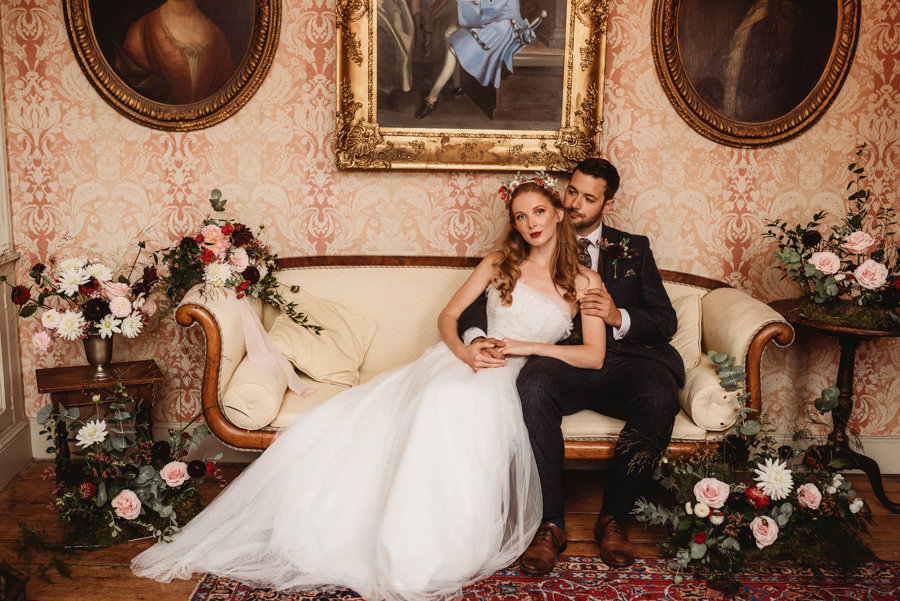 What types of weddings does this venue work for?
"This shoot was shot in my friends home. It is a listed building that he lives in, in my old market town of Wisbech. He is a musician that plays the harpsichord and this has reflected into his home. He has collected vintage paintings, found aged wallpaper and nestled within its walls were of course lots of harpsichords and eclectic finds. This style of wedding would suit a manor house/banquet hall. Anywhere with a luxurious feel to it. Elements of the colour scheme could also be used for a winter wedding with the rich and warm jewel tones."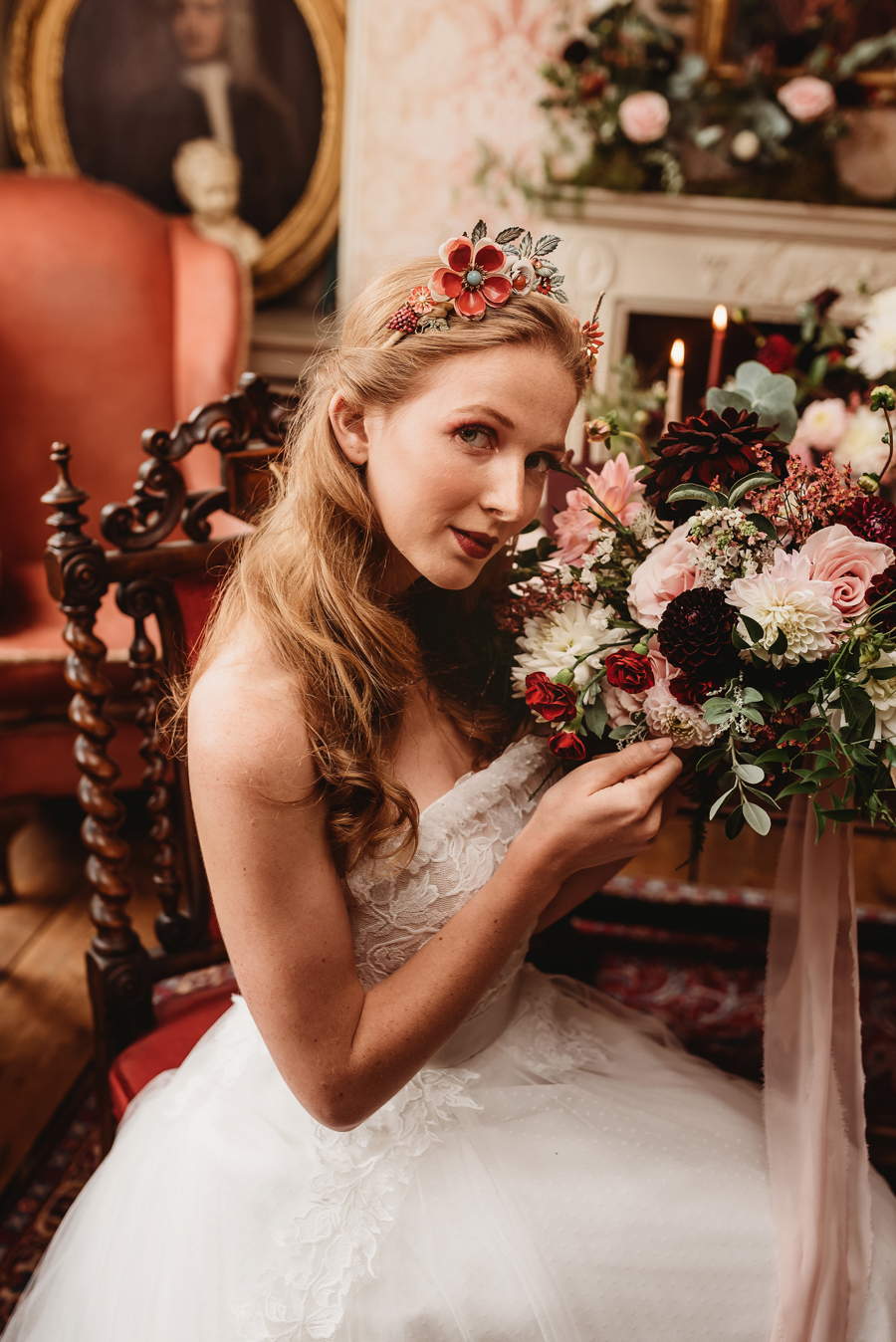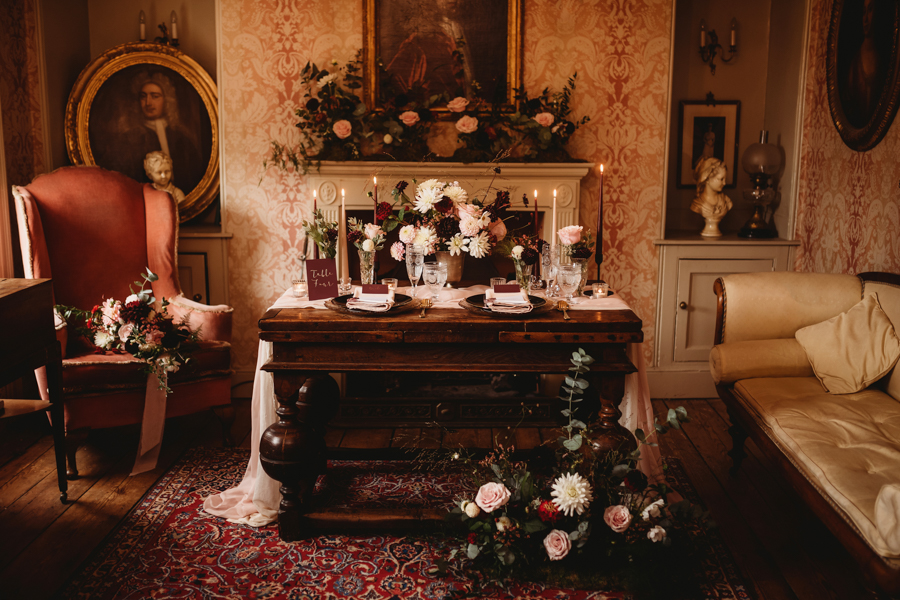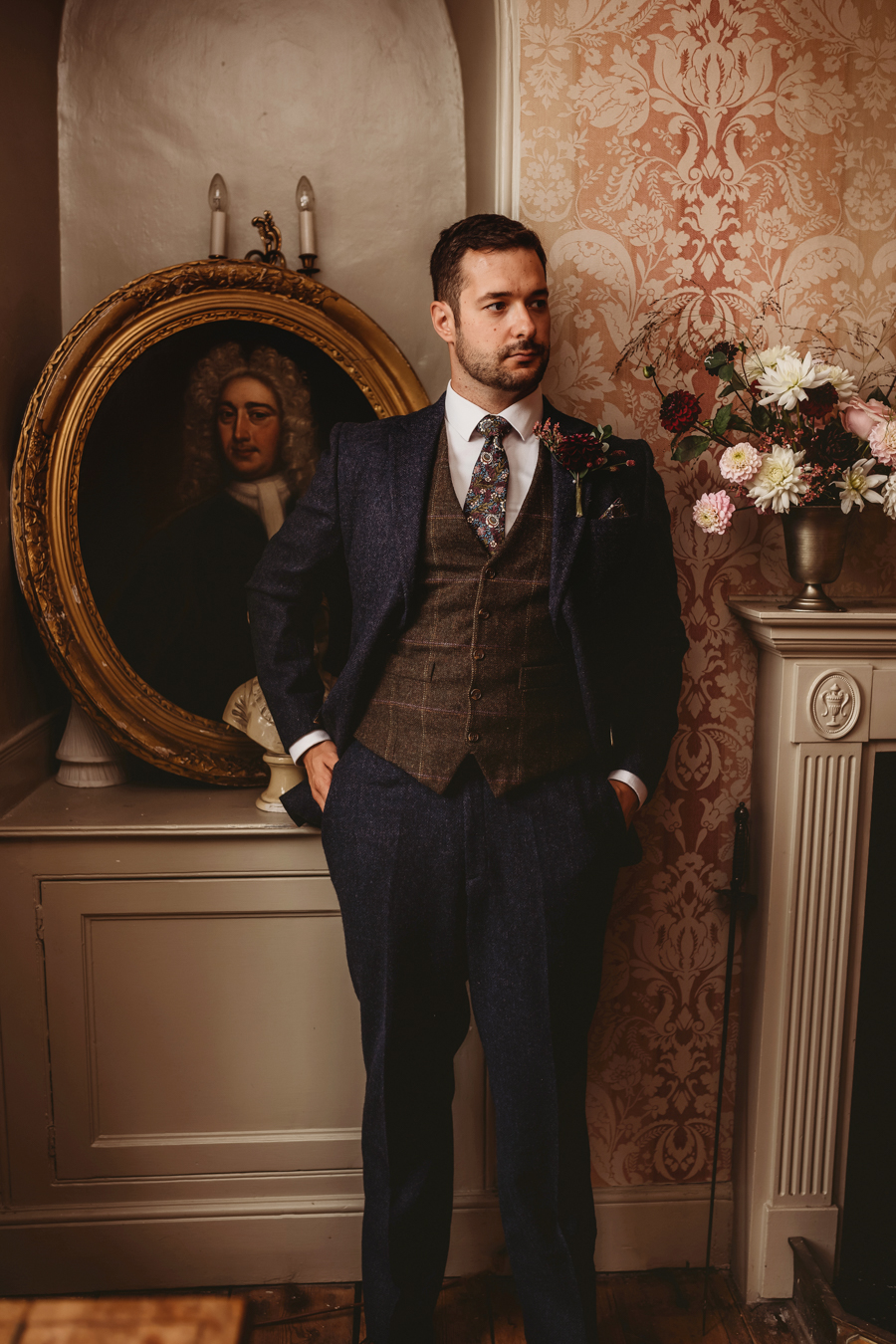 Photography – CeeCee Photography
"With some truly amazing suppliers involved, I wanted to bring this vintage room of my friends house to life. Injecting lots of deep reds and pale blush pinks to give the room a real luxurious feel to it. As we only had the one room to work with I wanted to get as many suppliers on board to really make the most of the location and show brides to be that you don't need a large space to create something jaw-dropping. Every detail came together to make a work of art. It really showed me that by having a strong colour scheme can make the world of difference when planning a wedding and bringing lots of different elements together."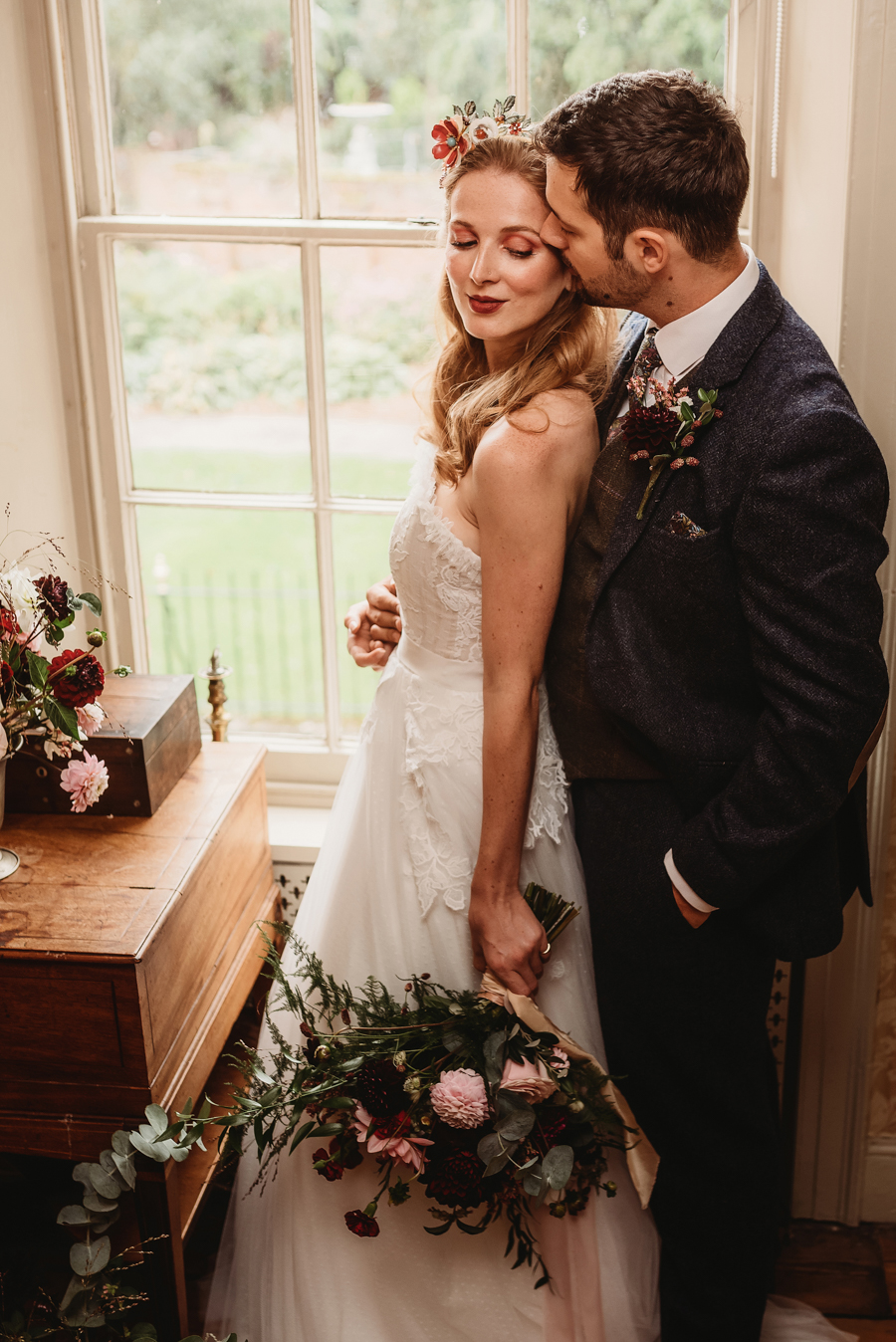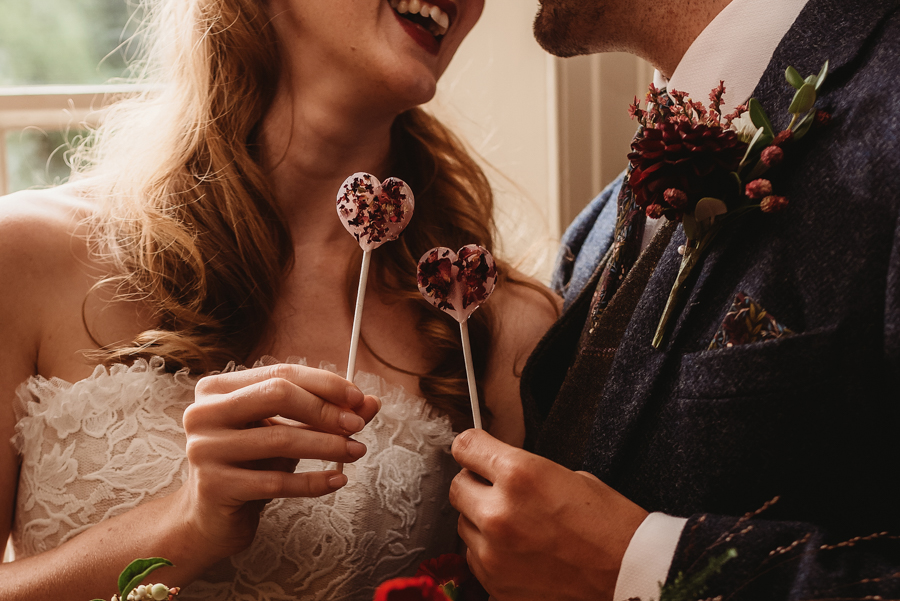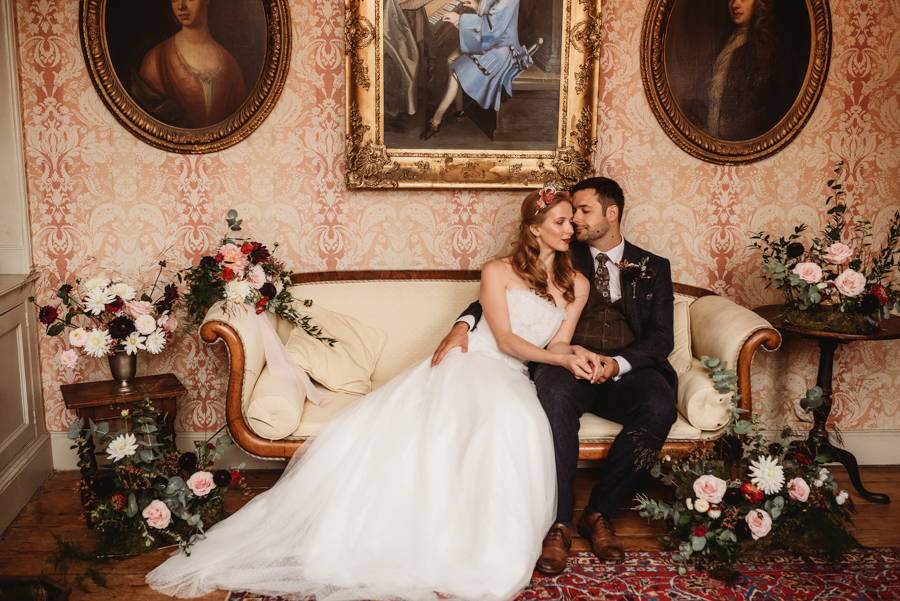 Dress – Lisa Lyons Bridal
"I chose one of my new dress designs from my 'Floribunda' made to measure collection for the shoot. Although the dress was traditional in design, the style felt more modern, with layers of polka dot tulle and a soft winter nude lining that highlighted delicate rose embroidered lace on the bodice. The dress design worked perfectly with the shoot brief, a modern classic with a bygone vibe."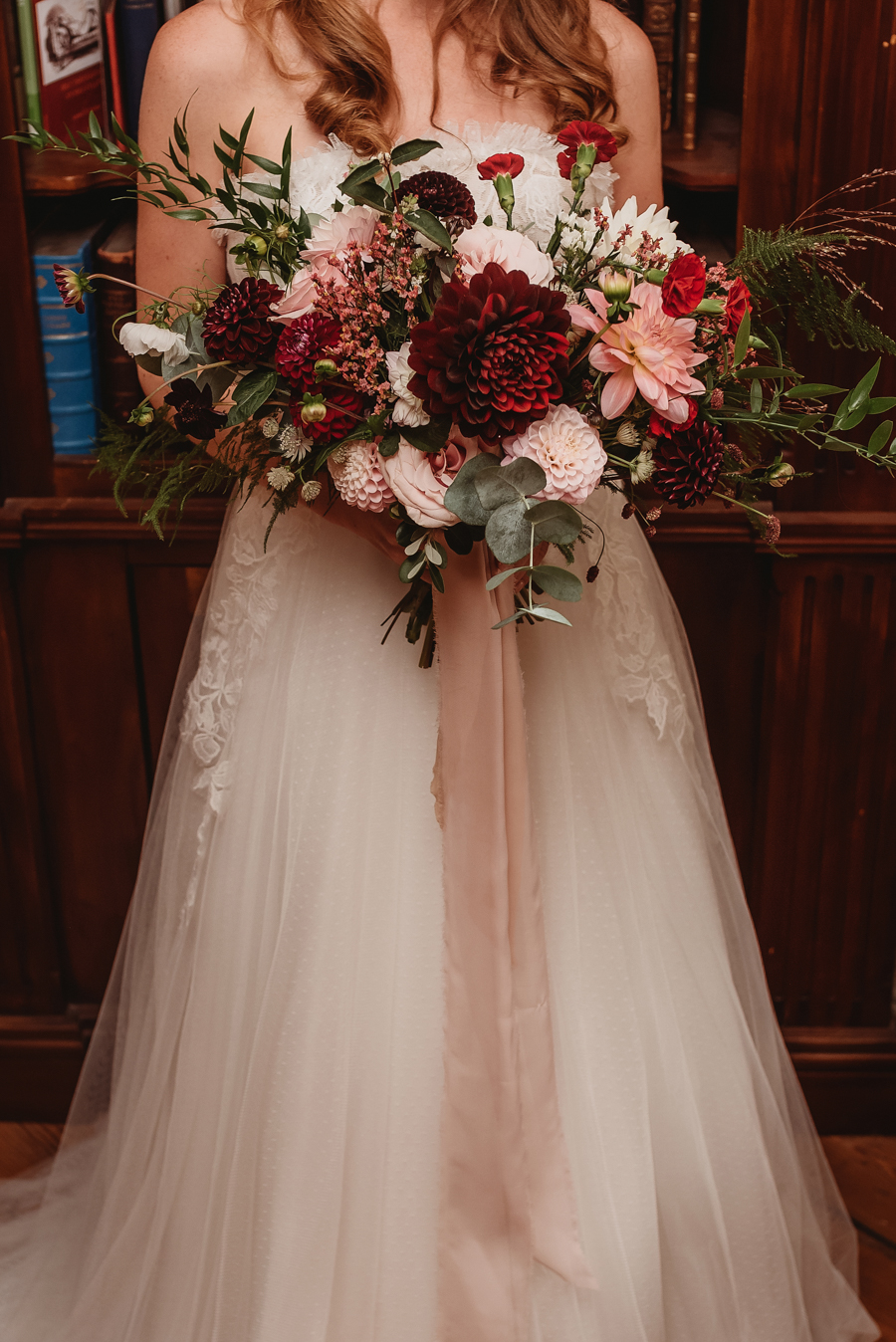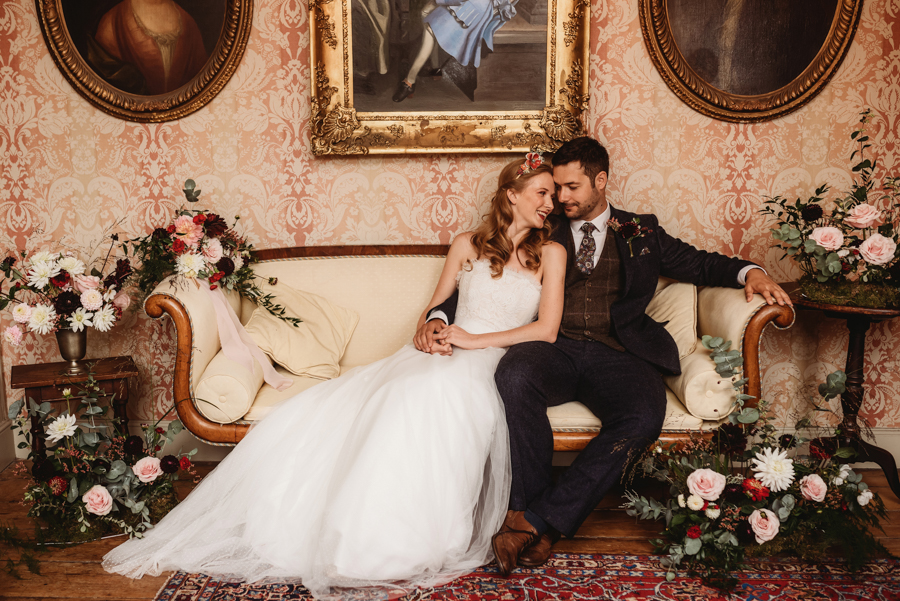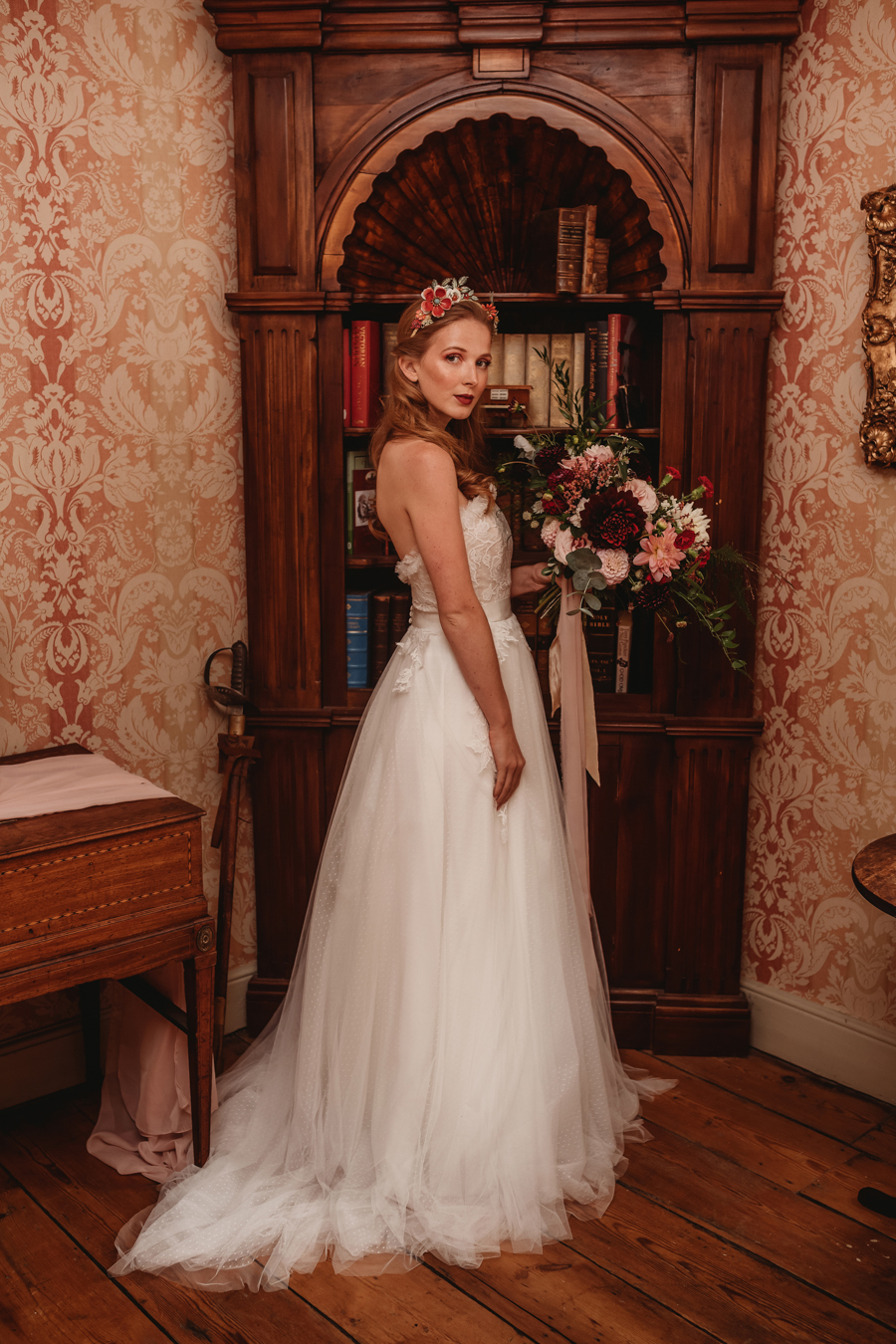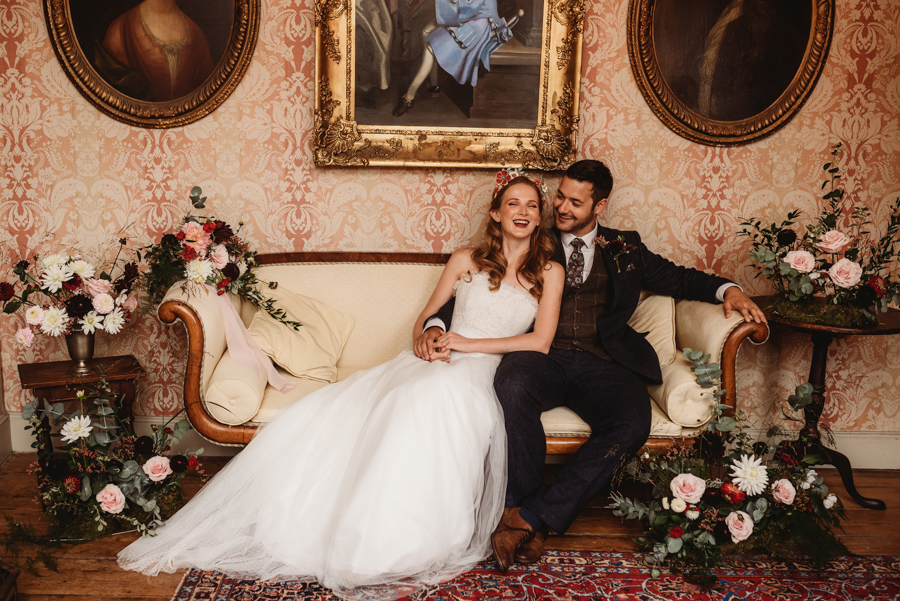 Flowers – Queen and Eden
"The unique style and colours in this gorgeous room were the inspiration behind the flower choice. I used a mix of deep burgundy and red Dahlias. The star of the bouquet was a beautiful Karma chocolate Dahlia that sat alongside pink Wizard of Oz, Dark Spirit and white Water Lily Dahlias all British locally grown blooms from Howbury farm. Dahlias grow perfectly for the autumn weddings. It's great to consider the season in your choice of flowers and to be able to add British grown is very special. I added softness with roses and draping blush fabrics to the styling and romantic candlelight. The table setting oozes elegance with gold chargers, gold cutlery, black plates and beautiful glassware."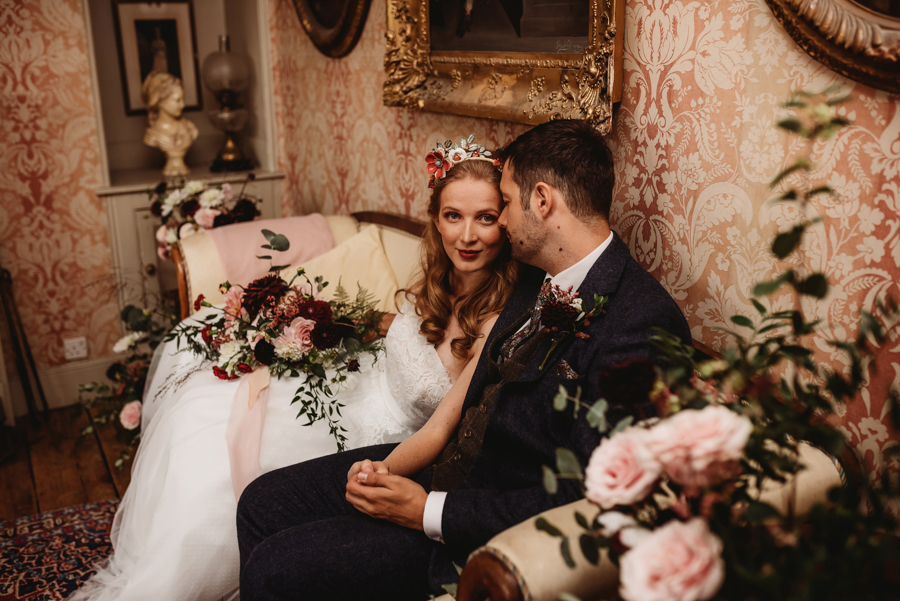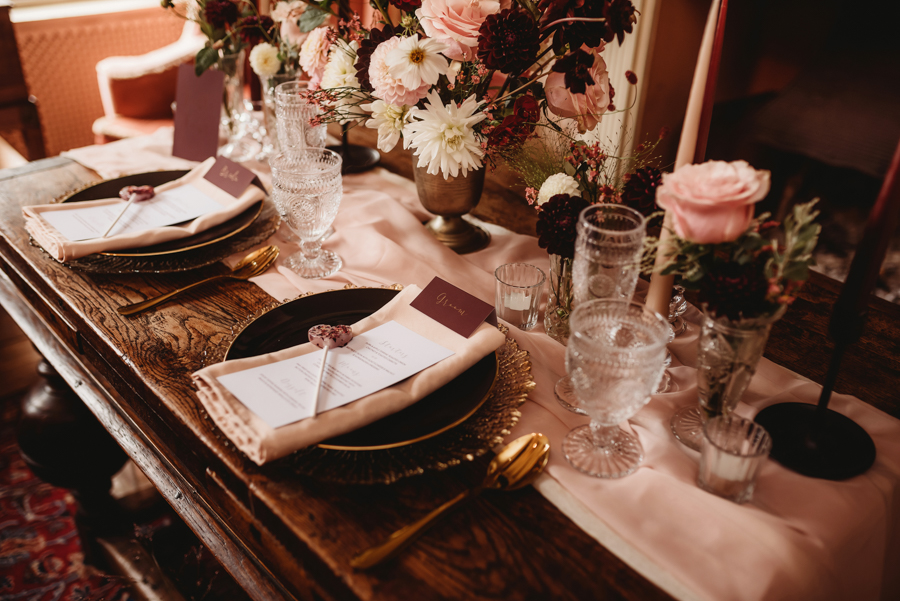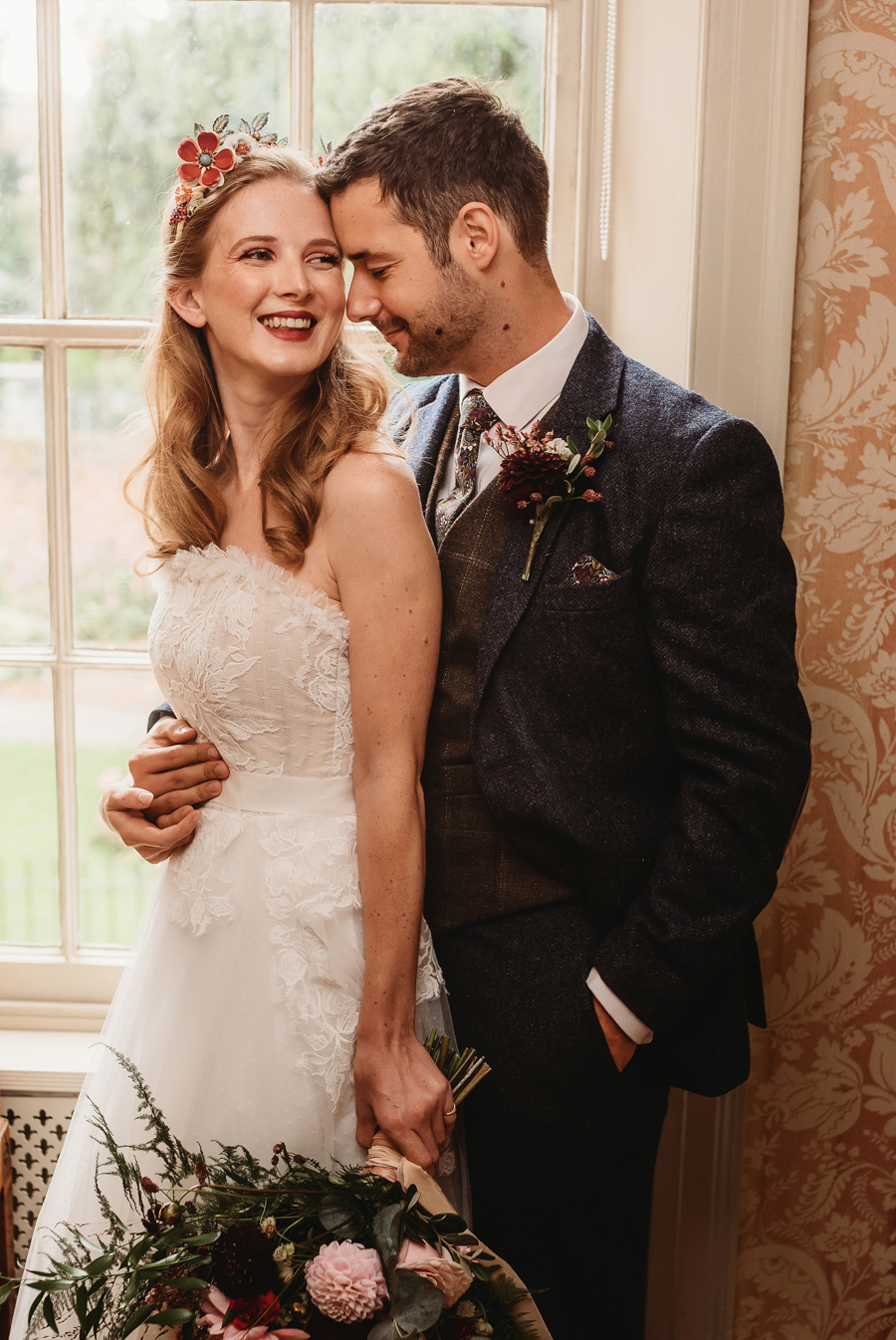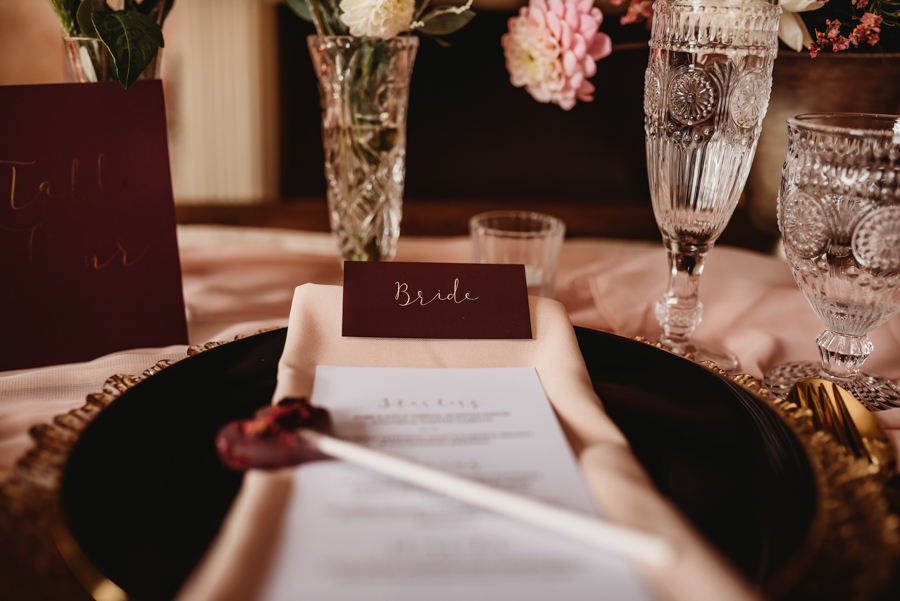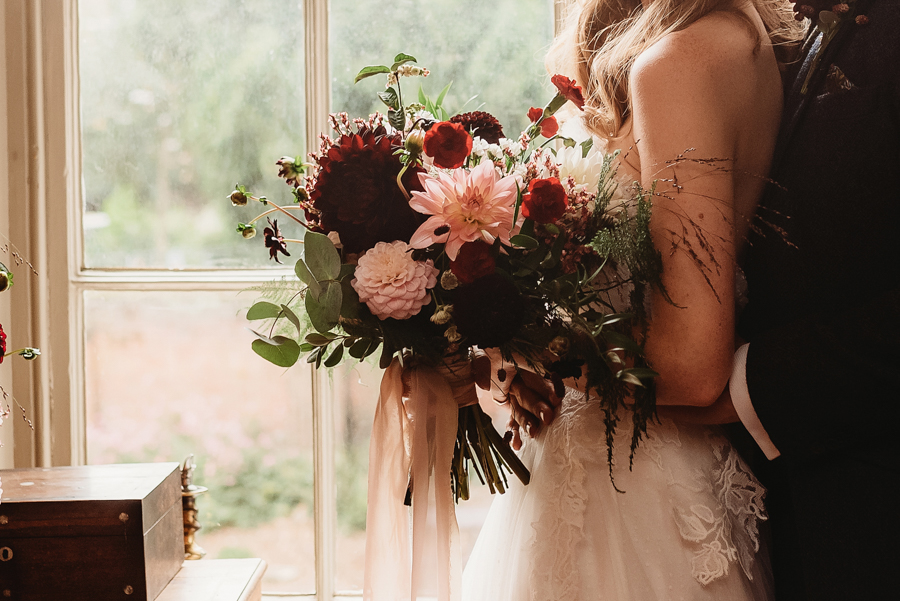 Cake – Cazs Cakes and Sugarcraft
"I wanted to create a classically romantic styled centrepiece cake that really had the wow! factor. With an eye catching sparkly white tier covered in sugar crystals and arrangements of luxurious detailed hand crafted sugar flowers with gold centres and detailing it all came together to incorporate the beauty and opulence of the venue. This design can easily be scaled up or down to suit a wedding of any size whilst still encapsulating the feeling of classic luxury."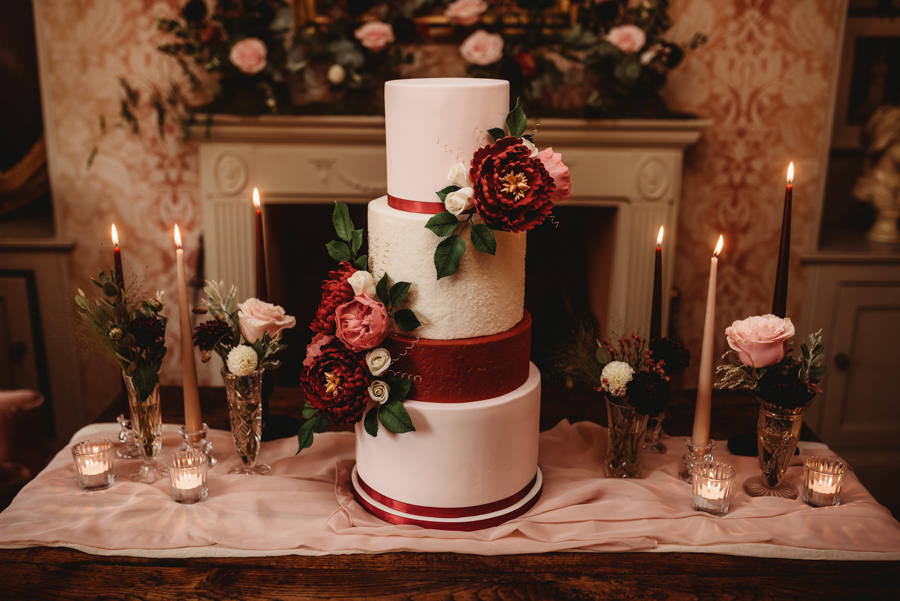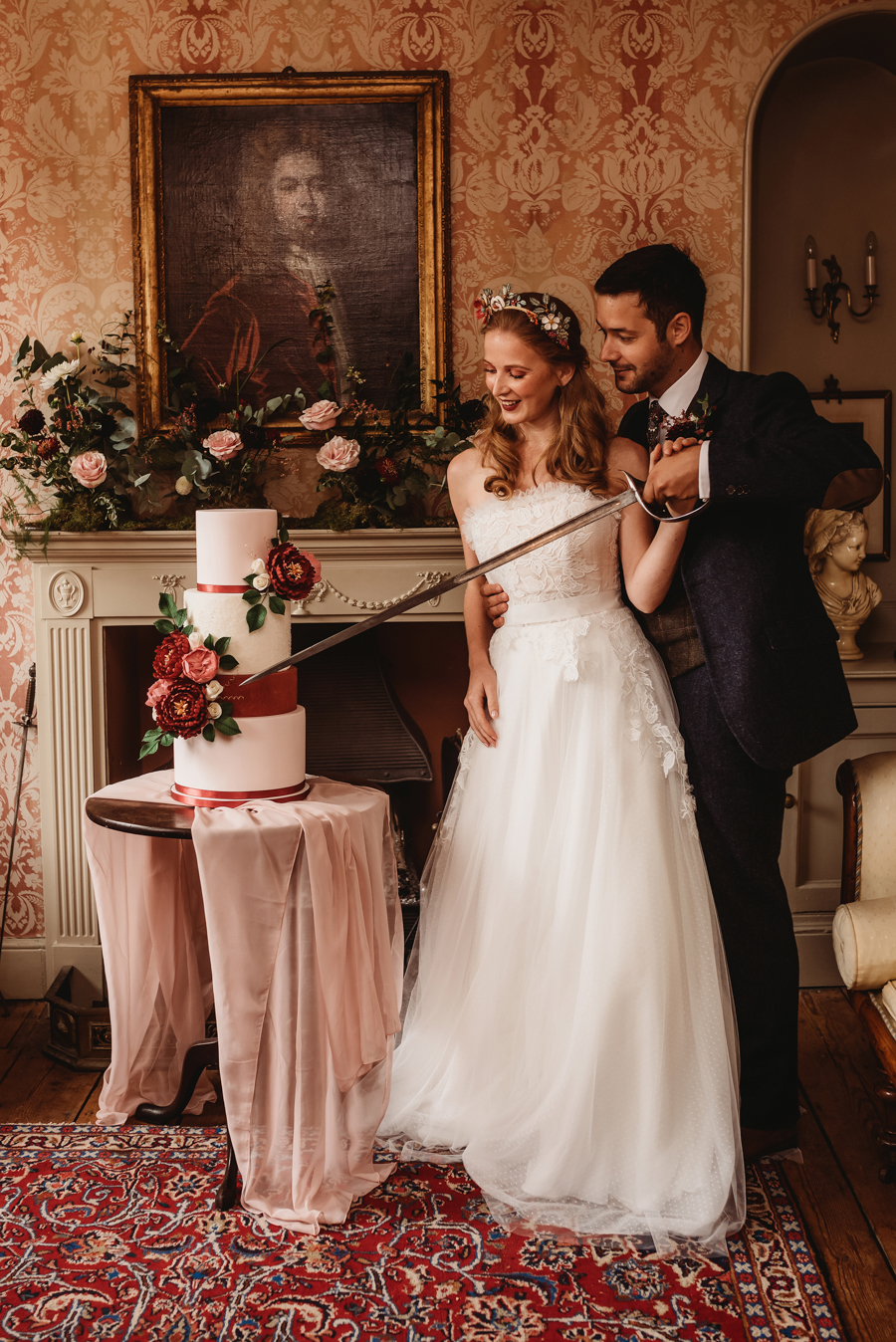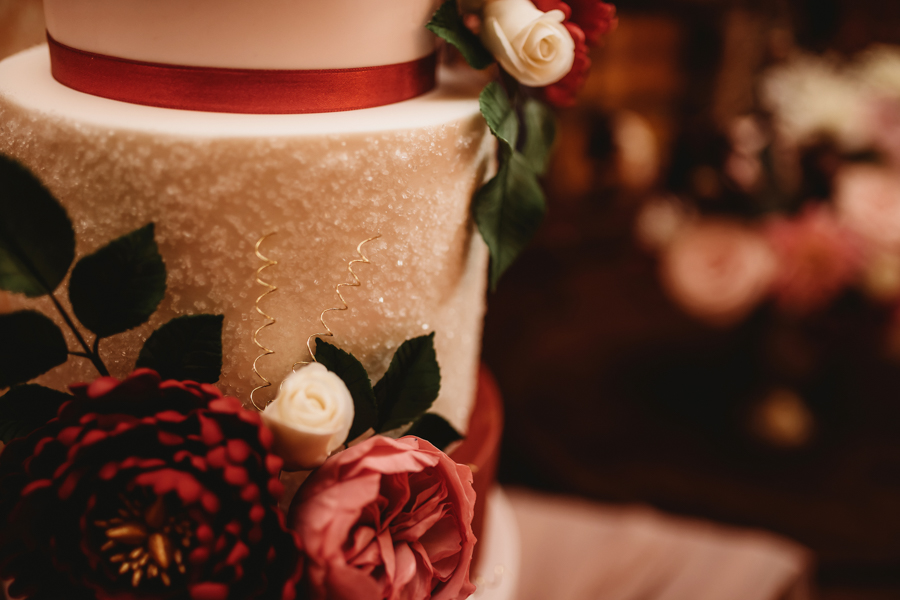 Headpiece – Sixpenny Bride
"When Chloe sent photos of the interior of the incredibly beautiful country house that was to become the backdrop to this shoot I was bowled over. The rich, jewel colours and sumptuous fabrics adorning the mellow carved antique furniture immediately transported me back to an era long forgotten that I knew only a special headpiece would suffice to complement such a delicious colour palette … As luck would have it I had recently created a unique statement wedding crown using vintage brass flowers which I hand enamelled in juicy berry shades and adorned with semi precious stones. Vintage velvet ribbon was wrapped around the wire base for a soft, opulent feel. I felt it was a perfect match for all the other amazing accessories provided by the incredible team of suppliers and Chloe captured everything beautifully!"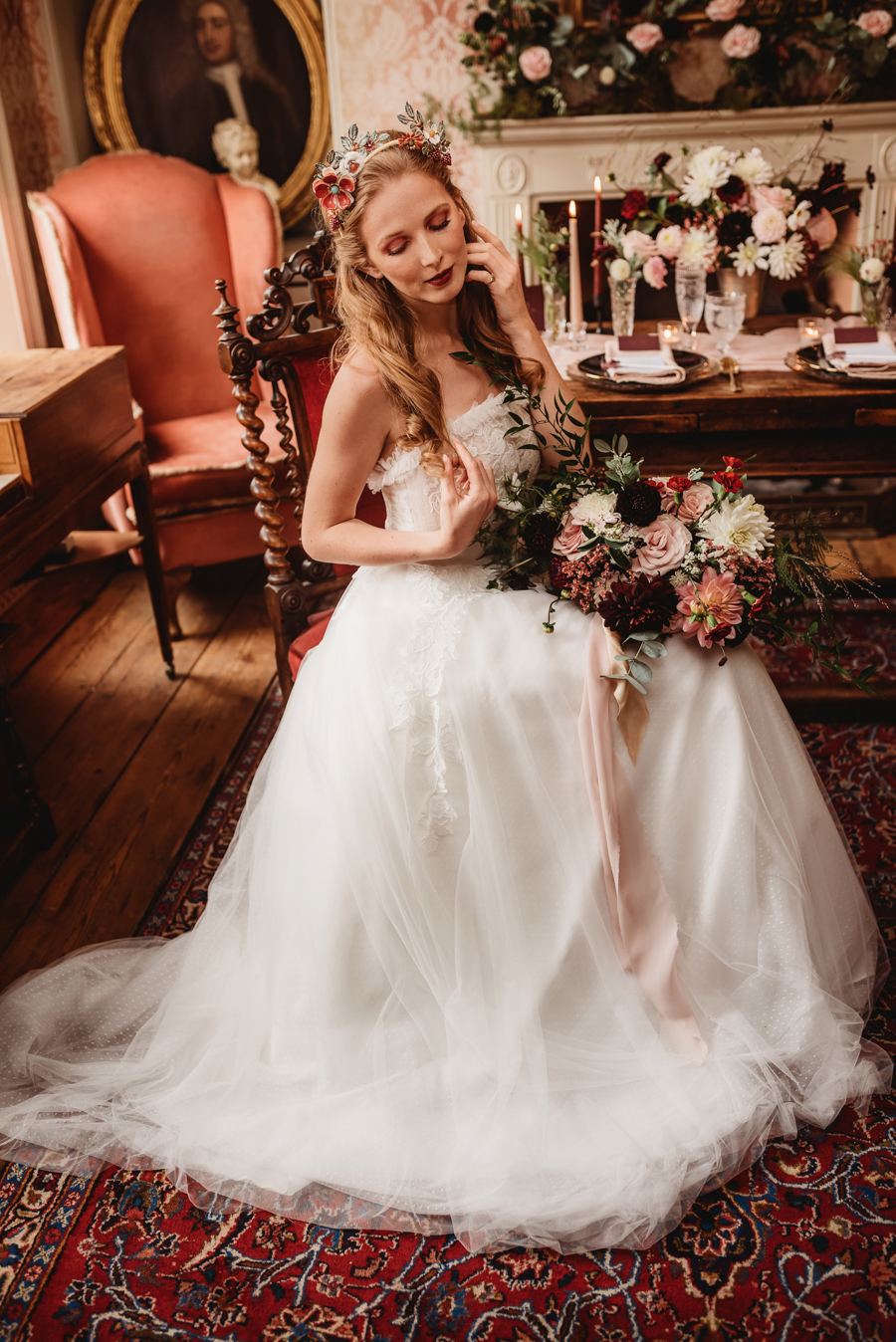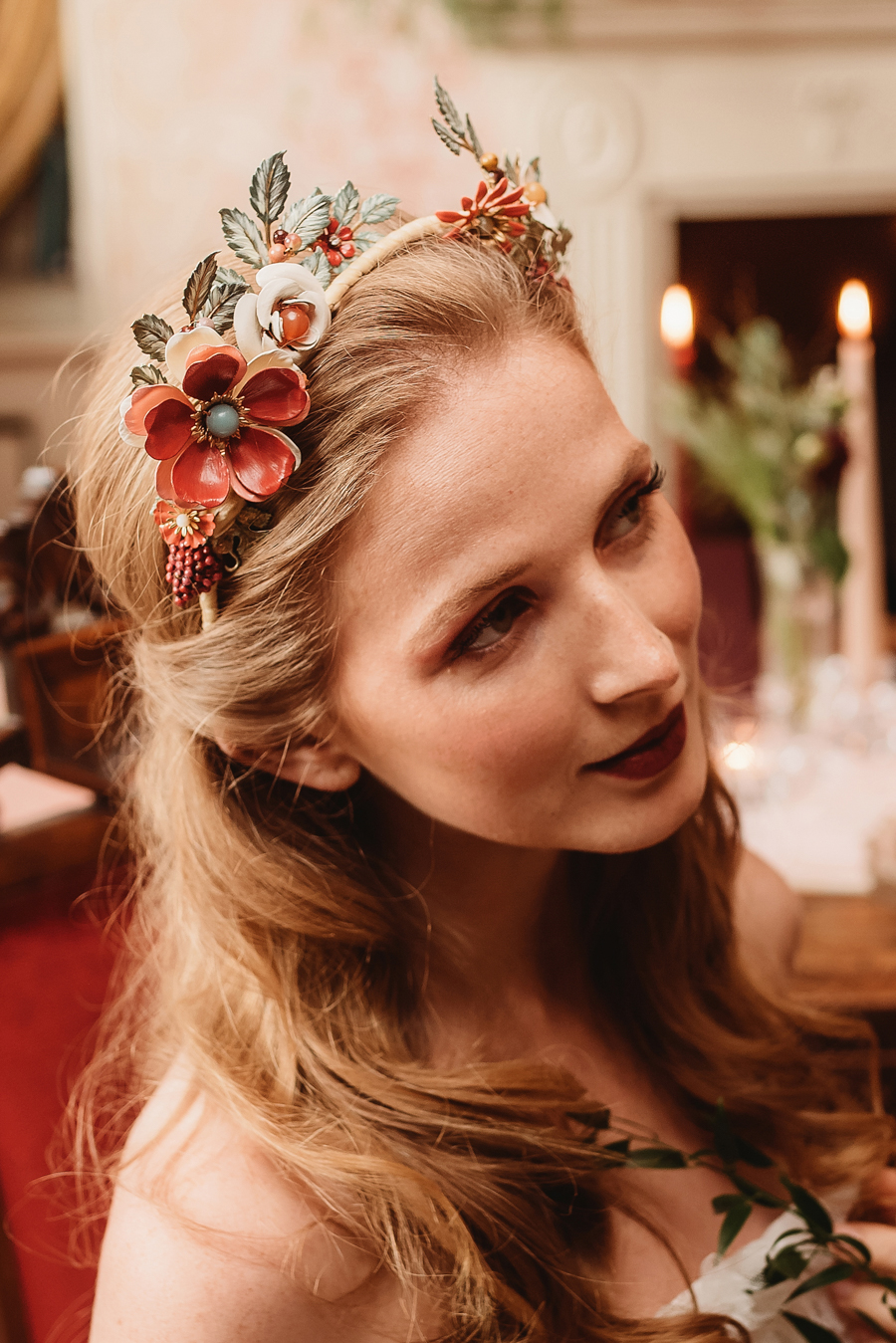 Hair – Kate Atalay Bespoke Hair
"When I was given the brief for this shoot I imagined lots of elegant piled up curls in a soft sophisticated bun. Then I arrived and the shoot and was reminded what beautiful hair Cathy had the length and colour is so gorgeous that it seemed criminal to put it up. The gorgeous statement headpiece made my decision to keep the hair down in soft classic curls. With a hairpiece like this simple is best."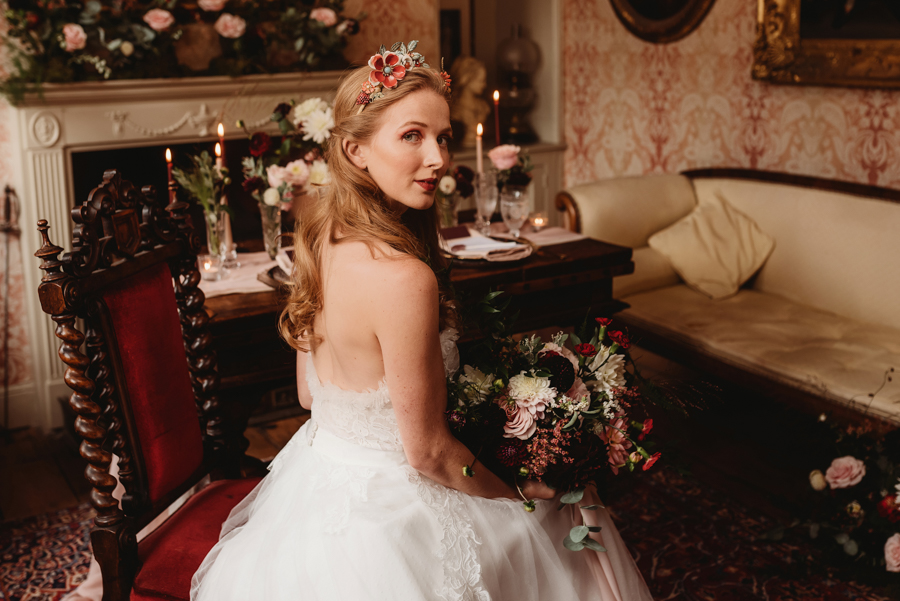 Makeup – Stephanie Alexandra Bridal
"Inspired by the beautiful colour scheme, I used various rouge tones throughout the Makeup look, carving a crease to best suit the eye shape of the model, which enhanced and deepened the socket allowing the eyes to pop! Using these tones also allowed me to create a look that was strong and feminine but still soft enough to be in keeping with a bridal Makeup look. For a natural finish, we used Charlotte Tilbury Light Wonder foundation and added a subtle highlighter to keep a fresh and flawless appearance to the skin, a soft radiance that is a must for any bride to be!"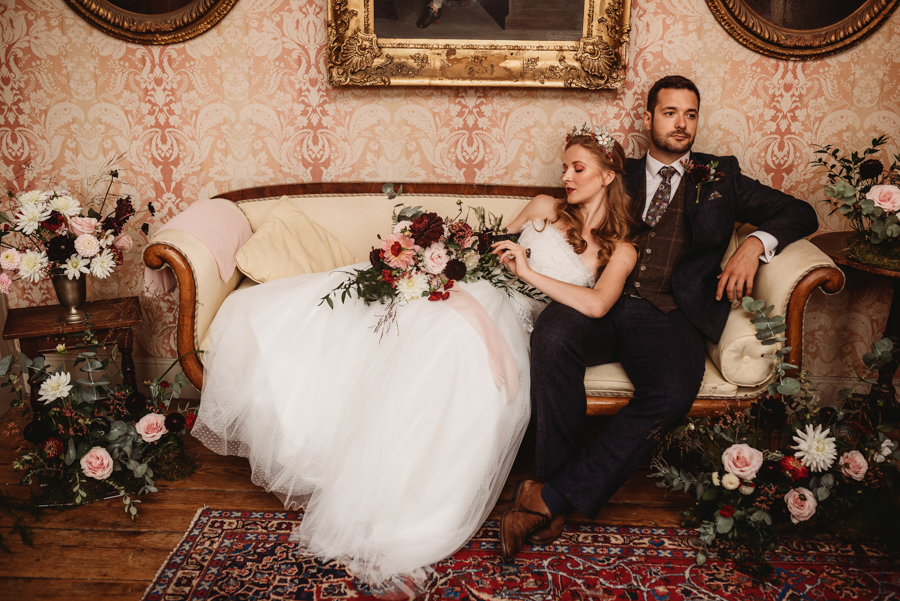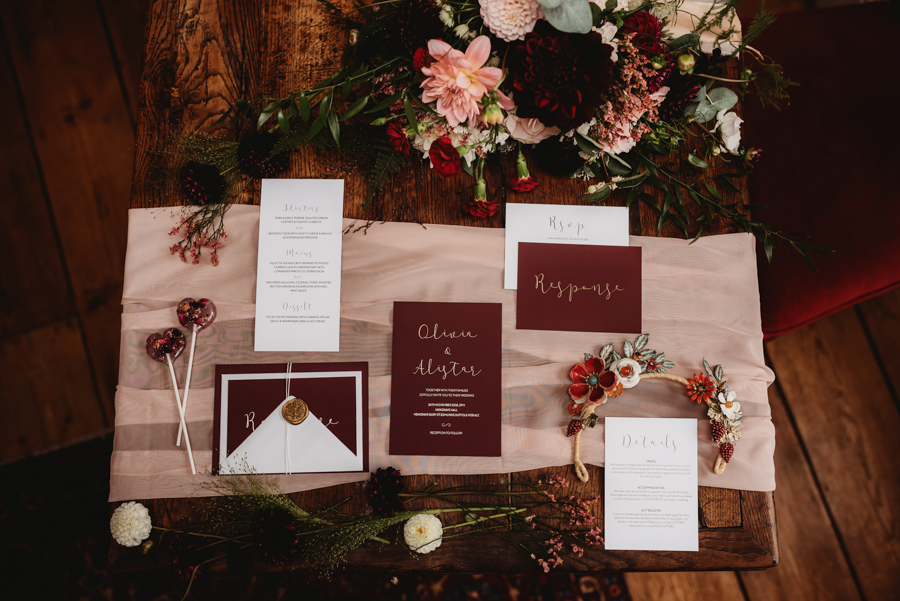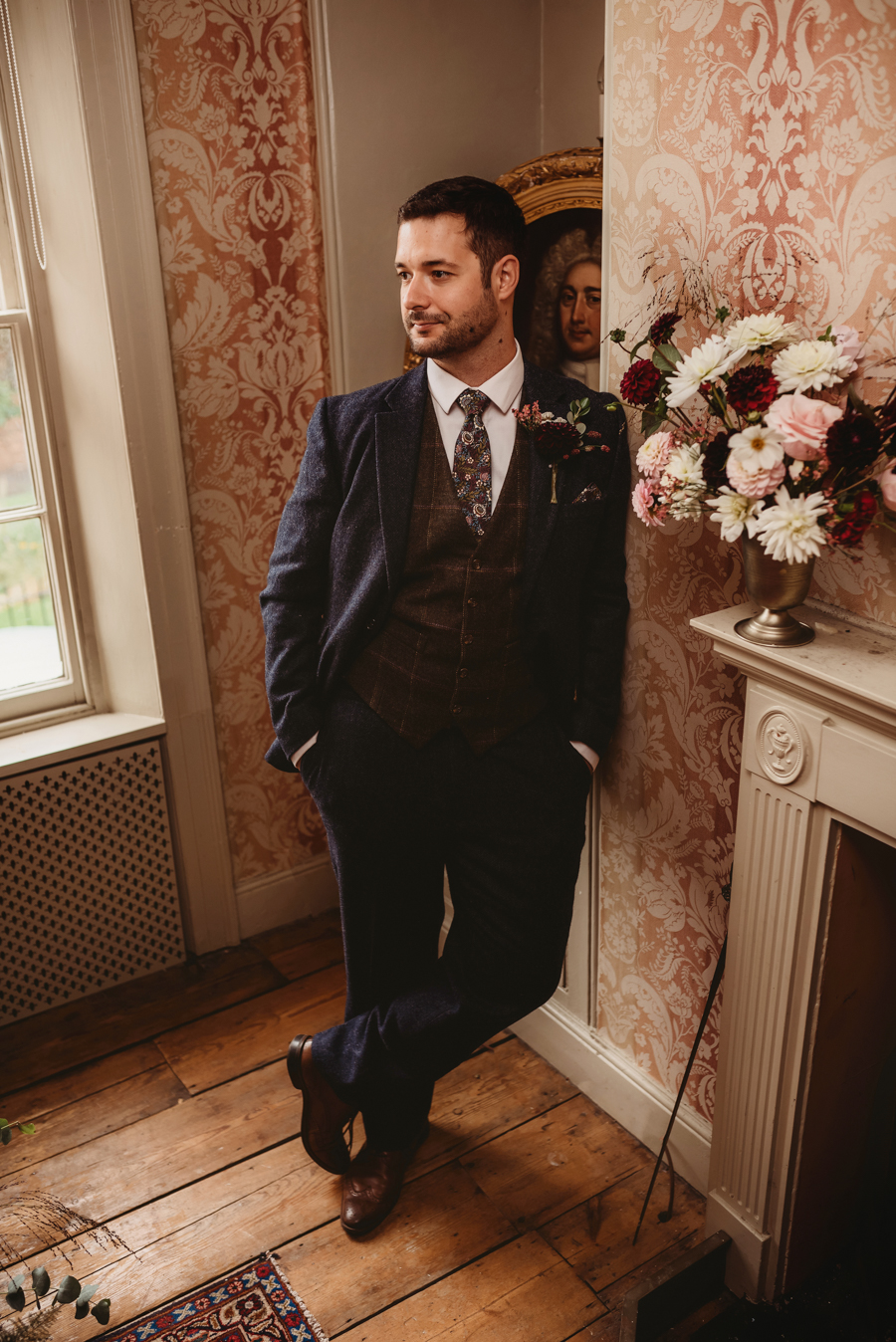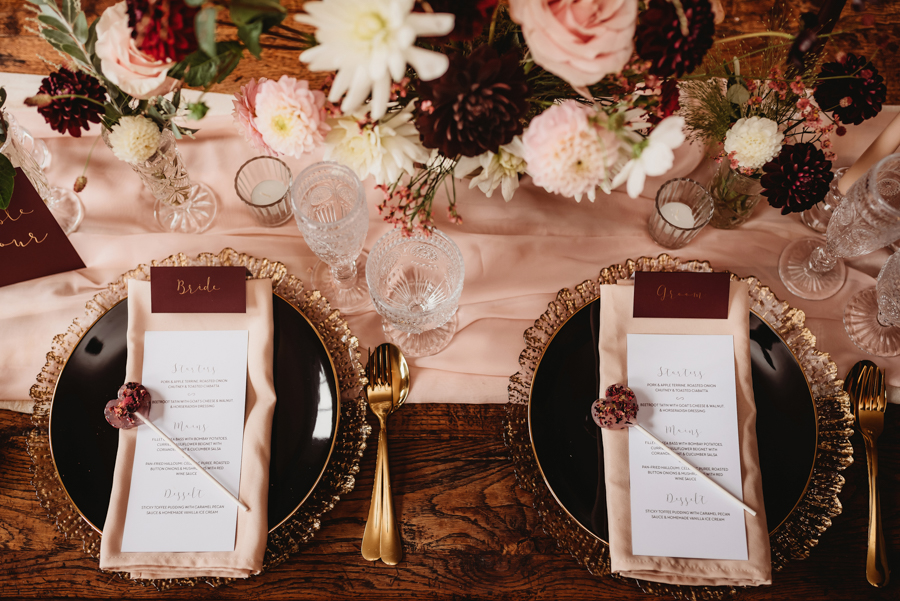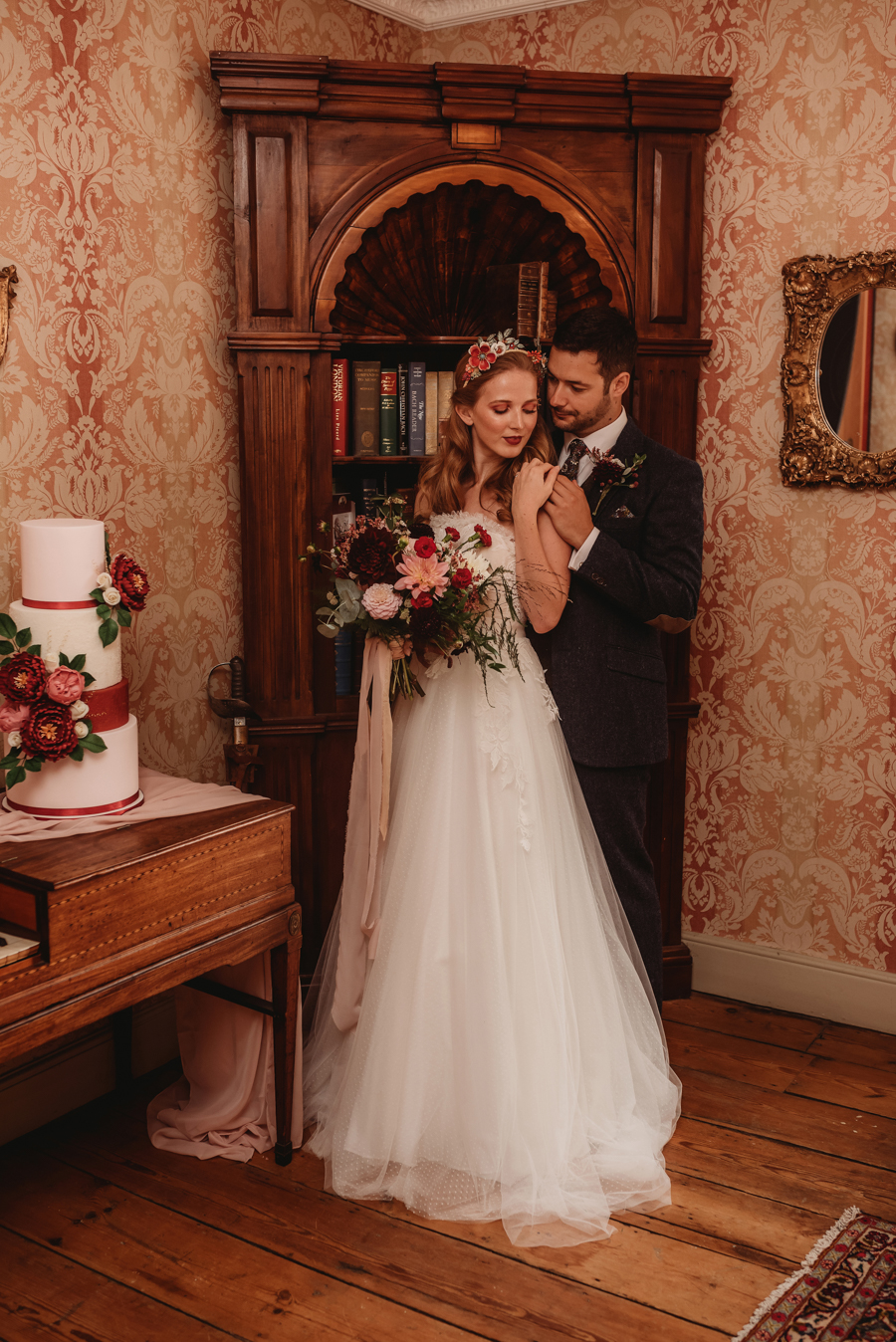 Stationery – PS Weddings
"This stationery design combines sophistication and simplicity. A very 'minimal design' with romantic airy fonts is so subtle but makes such a statement upon opening, especially when teamed with a wax seal. The stationery's gold foil and a soft velvet finish all contribute to its luxurious look and feel, all inspired by art from the mid 1800s. Opt for elegant typefaces and deep regal tones to achieve this wondrous look."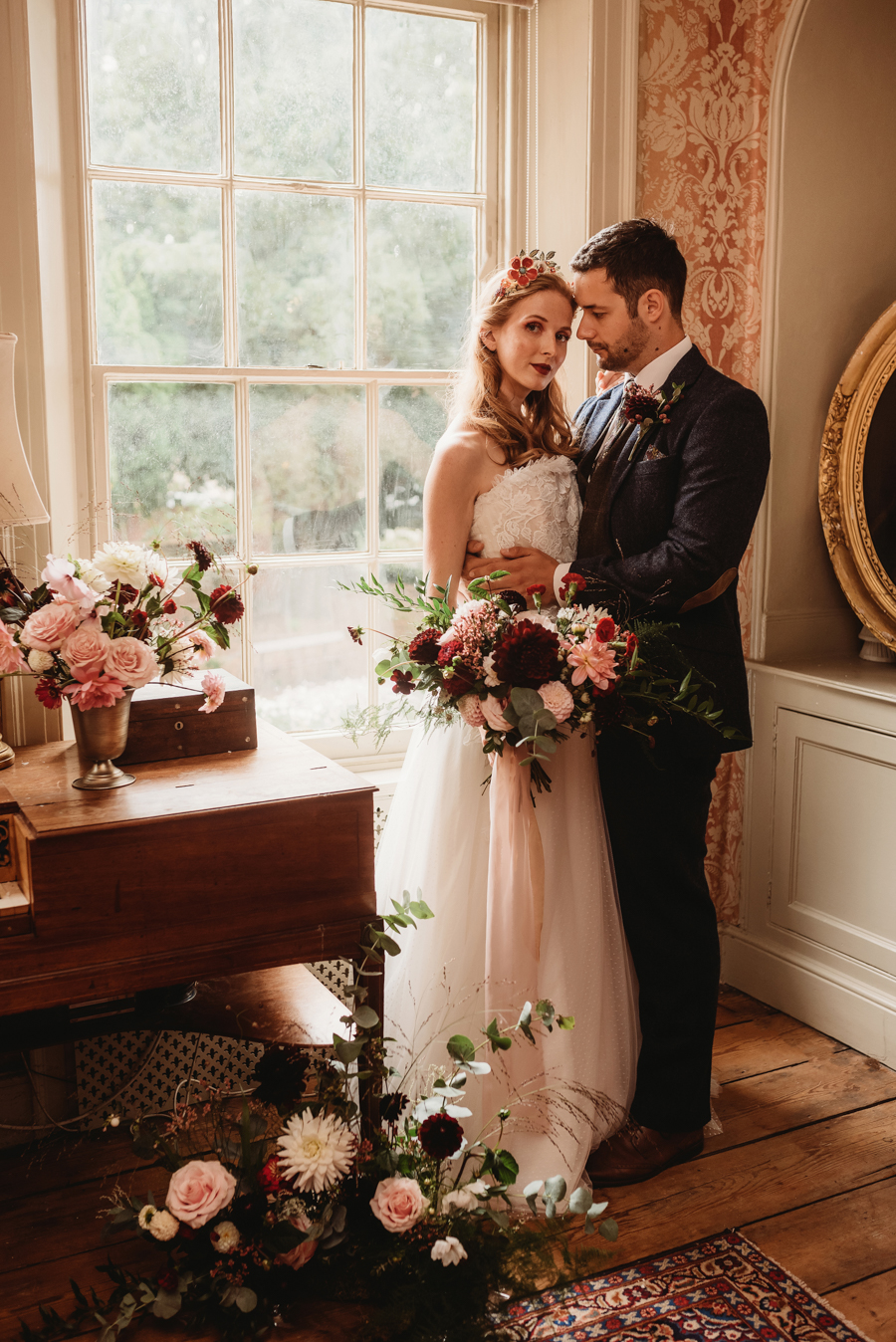 The Team – Country House Traditional Christmas Wedding in Cambridgeshire
Photographer – CeeCee Photography @ceecee.photography / Dress – Lisa Lyons Bridal @lisa.lyons.bridal / Hair – Kate Atalay Bespoke Hair @kateatalaybespokehair / Styling and Florals – Queen and Eden @queenandeden / Make up – Stephanie Alexandra Bridal @stephaniealexandrabridal / Cake – Cazs Cakes and Sugarcraft @cazscakesandsugarcraft / Headdress – Sixpenny Bride @sixpennybride / Stationery – PS Weddings @psweddings_uk / Suit – The Cotswold Tailor @thecotswoldtailor / Favours – Emilys Lollies @emilys_lollies / Model Couple: Cathy & Partner Will @ceemeandtea
IF YOU LOVED THIS TRADITIONAL CHRISTMAS WEDDING WHY NOT PIN IT TO YOUR INSPO BOARD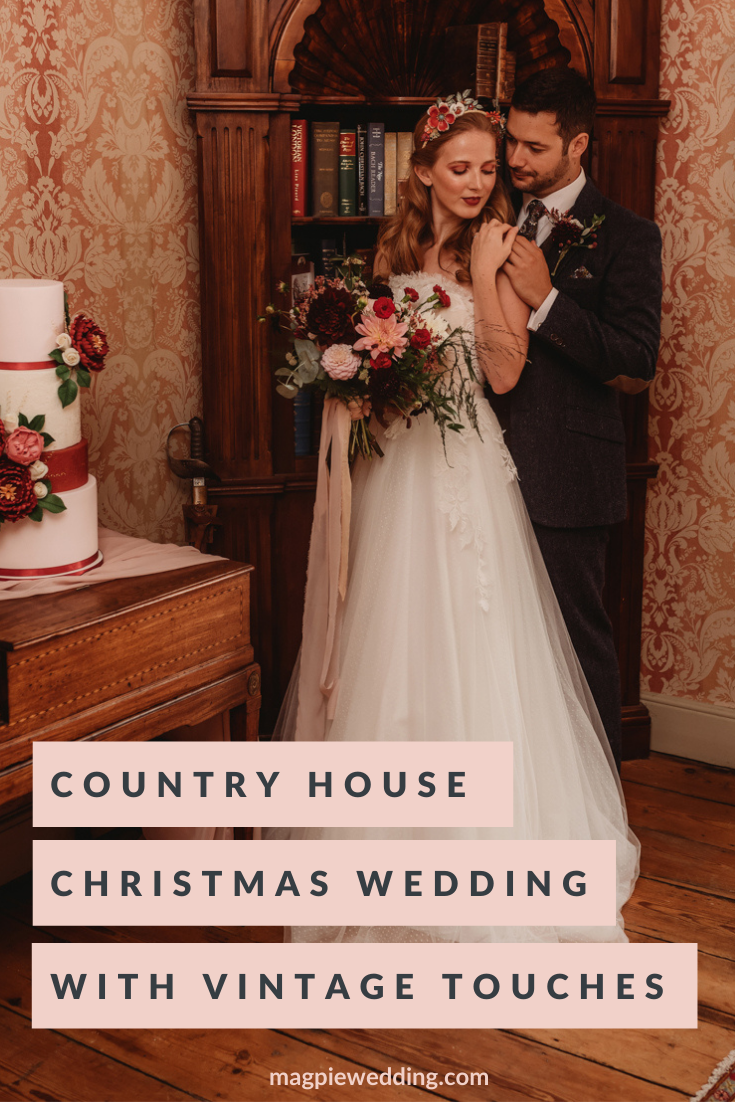 If you loved this traditional Christmas wedding you may also like;
Retro Christmas Wedding With Red and Green Styling at Pop Up Shot Club, USA
How to Get the Best Diamond Engagement Ring for Your Money
Supplier Spotlight: British Wedding Dress Designer Julita London