We have colourful fiesta Mexican vibes with the wedding Claire and Matthew today, set at Five Oaks, West Sussex, it's full of vibrant and bold styling, cute details and tons of personality – exactly what your wedding should be about! We catch up with the couple, who tell us all about their first meeting at 4 years old, the proposal and planning the big day, which was complete with lots of DIY elements…

How Did You Meet?
"We initially met at infant school when we were 4 years old. We went on to primary school together however didn't really cross paths often. We met again in 2014 when out with mutual friends (our Maid of Honour and Best Man no2 – who are engaged themselves!) at a local pub and were inseparable from that day on."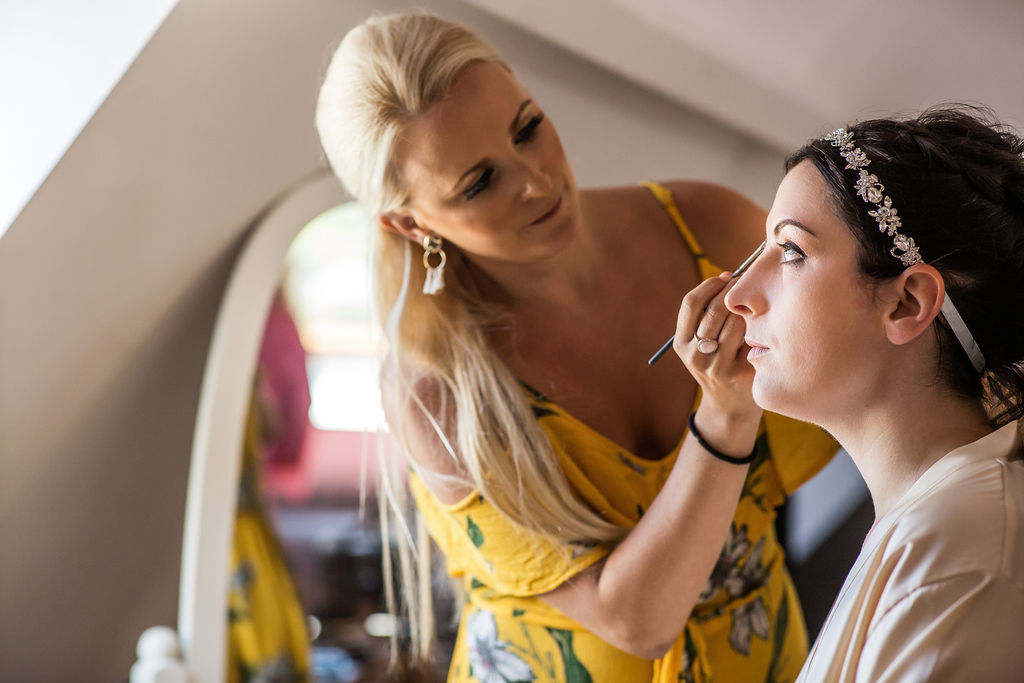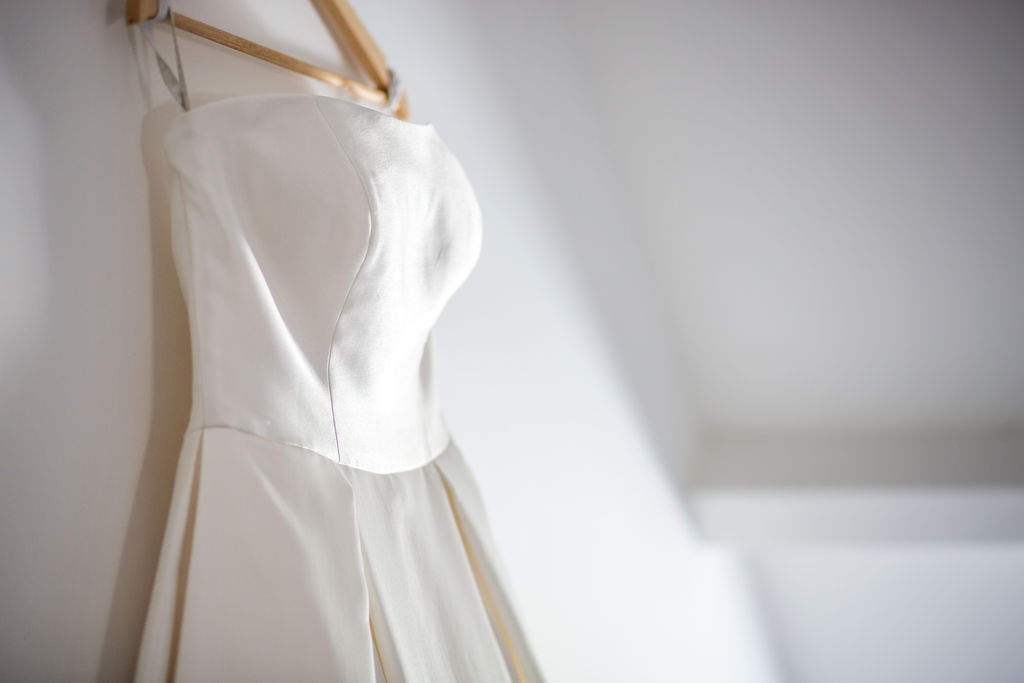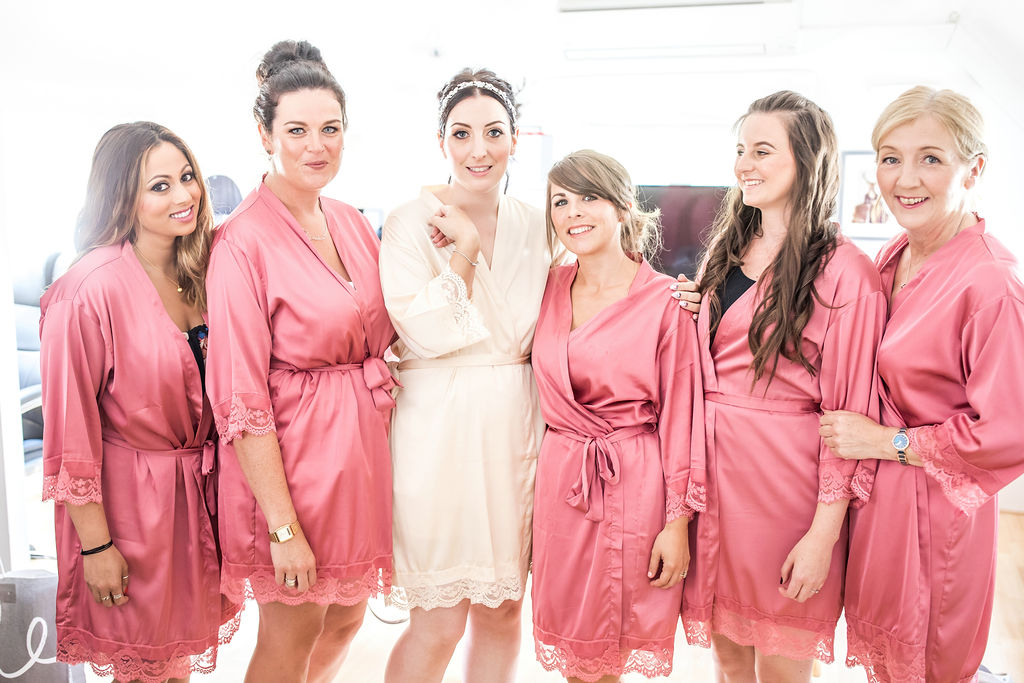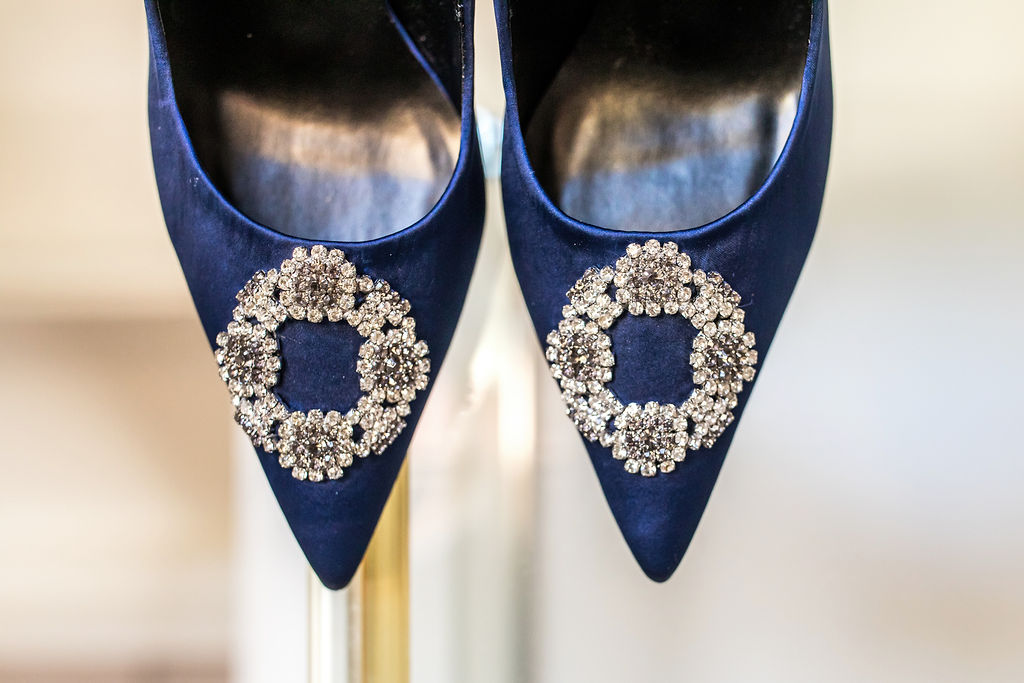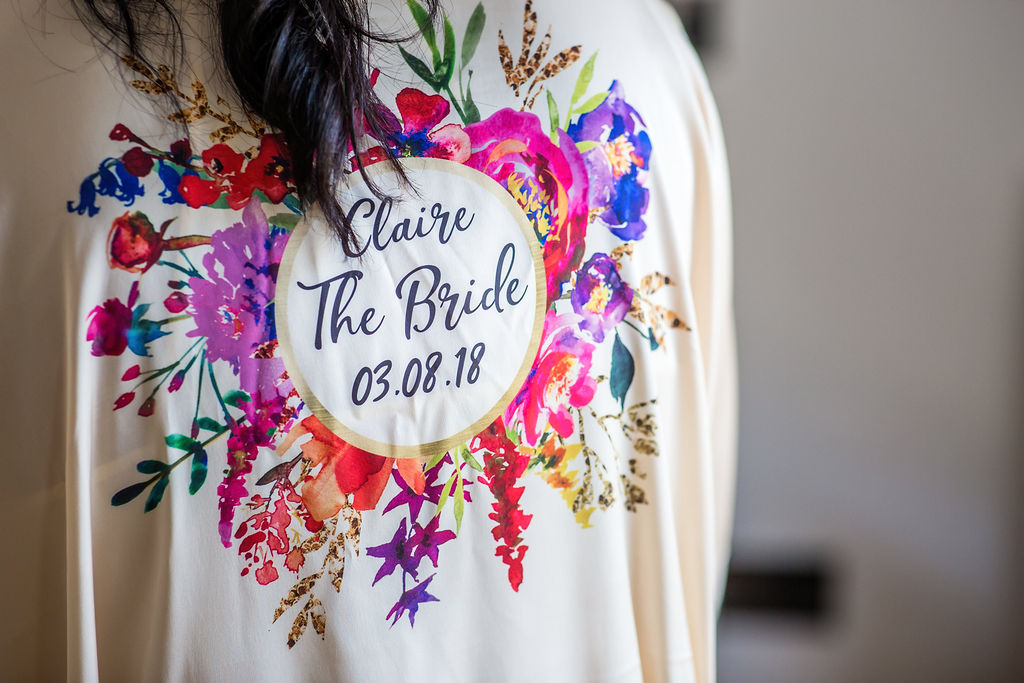 The Proposal
"Matt and I have a favourite place which is Brighton. Our proposal was informal and relaxed like us, and our wedding day. We had discussed marriage for as long as our first date and throughout our relationship. We both agreed we wanted to get married, and when in Brighton on a family day out when the twins were newborn Matt asked me to pick a ring. I didn't believe him at first! He knew I always wanted my engagement ring to be from the Lanes in Brighton and that's where he asked me."
"We went back to the same shop to pick my wedding ring. Matt isn't a jewellery kind of guy so didn't get his ring from the same place. He wanted something unique and special so picked a handmade wooden ring made from recycled skate boards."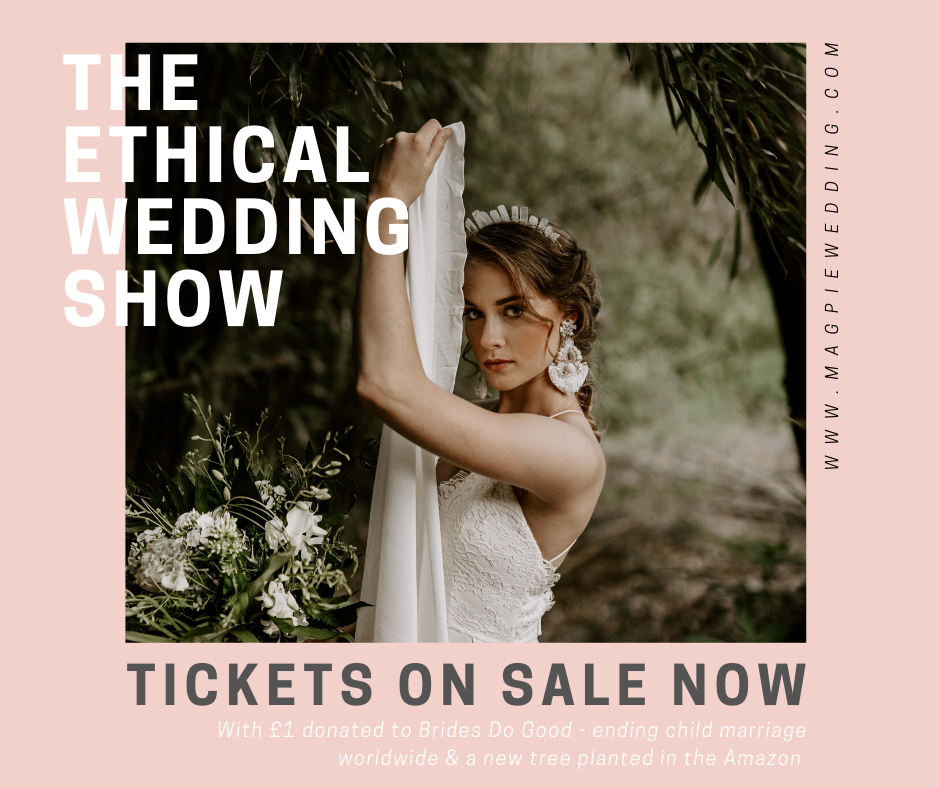 Planning The Wedding
"Planning the wedding was amazingly fun however also stressful. We had twins in June 2017 and booked our wedding in September 2017 as soon as we got engaged, so most evenings, around the twins bedtime routine we have sourced, bought, planned, made most of the decorations. We wanted a DIY wedding to save the budget and to ensure it was different and out of the norm. I made everything, the ribbon arch, 425 pom pom for the isle, 500 metres of ribbon was cut for trees, paper ribbons for the tippees. I designed the signs and seating plans. My mum made the cake. I planted all the cactus and table plants."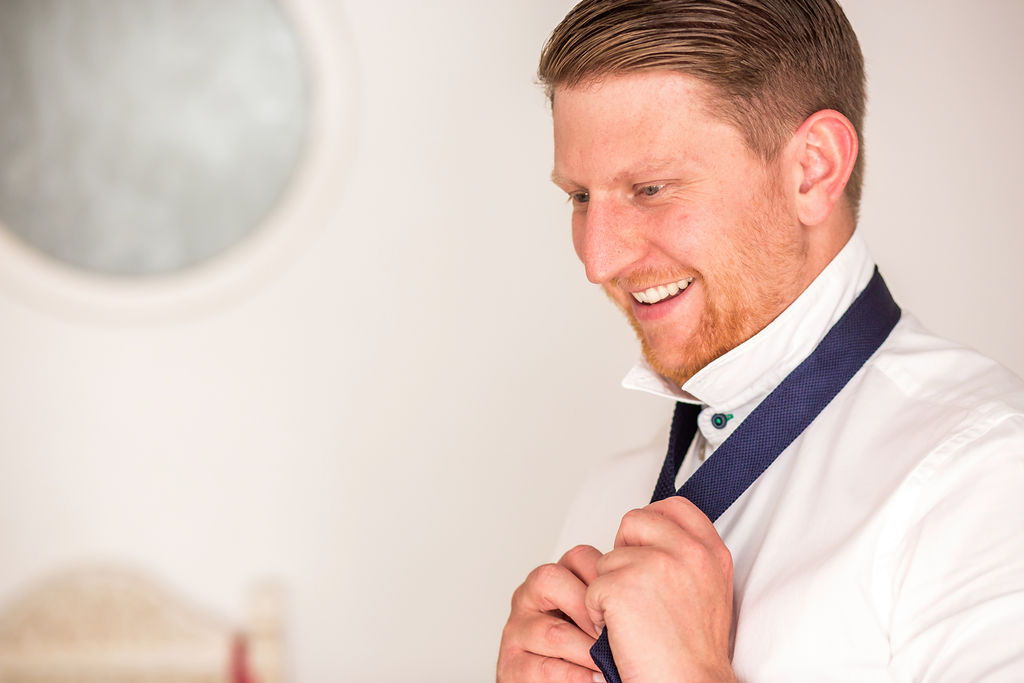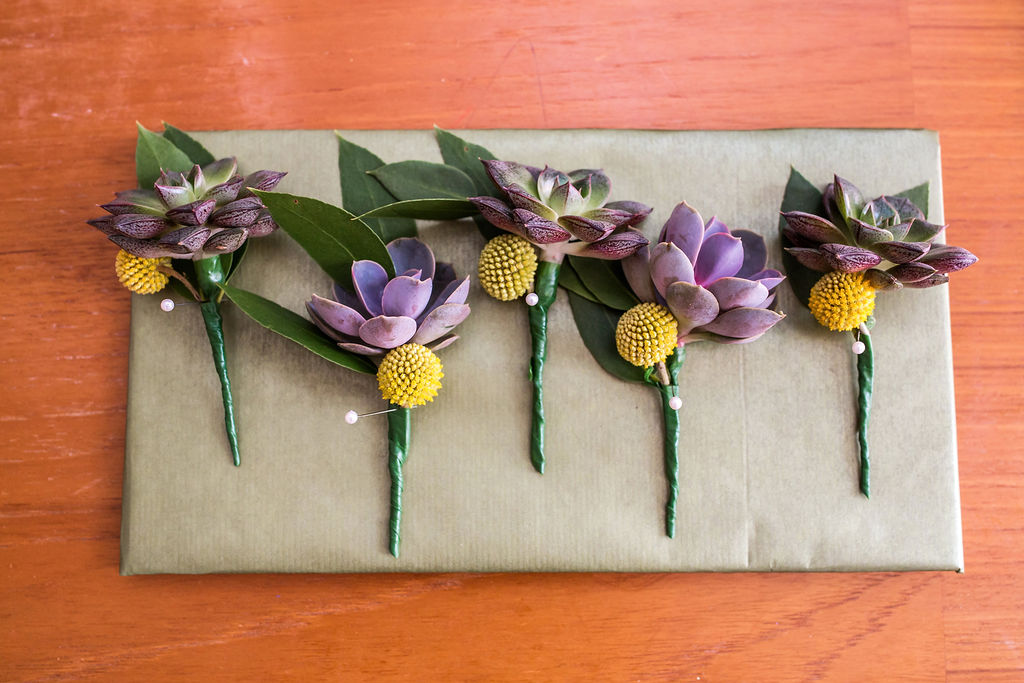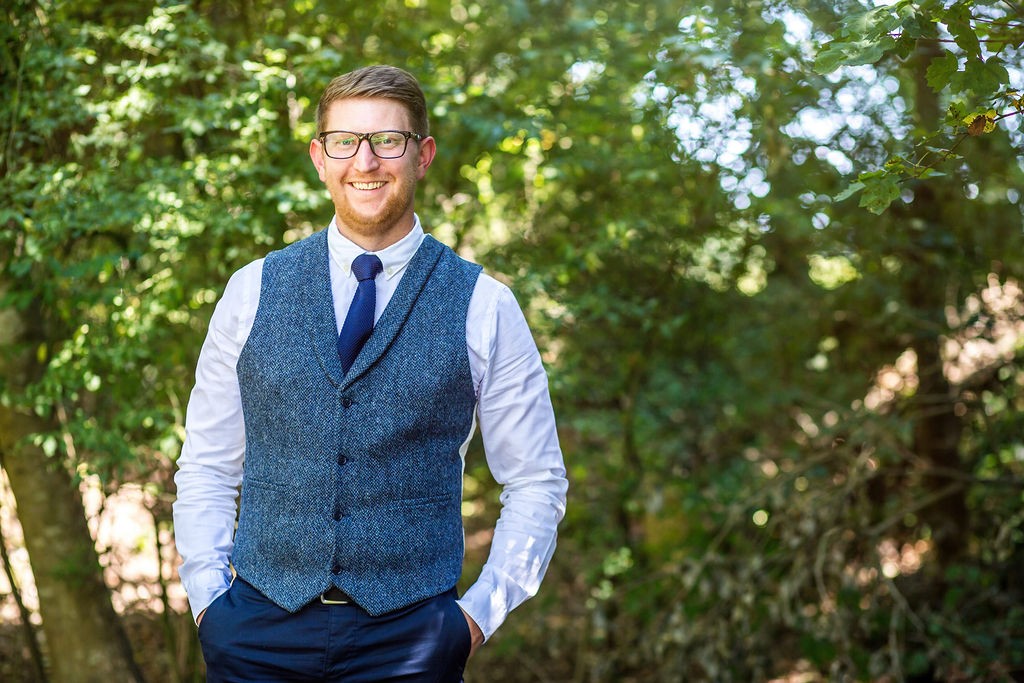 "Luckily Tim at Five Oaks is good friend of ours and had several suggested suppliers, one being Rafe our photographer. Helen of Events by Helen was also introduced to us, Helen helped with logistics of the wedding, creative ideas and she kept us calm! Helen was so helpful throughout the wedding planning process, she could answer any question I had. Whilst I made the decorations, Helen's team put the decorations up (and down) allowing me to enjoy the wedding eve and morning."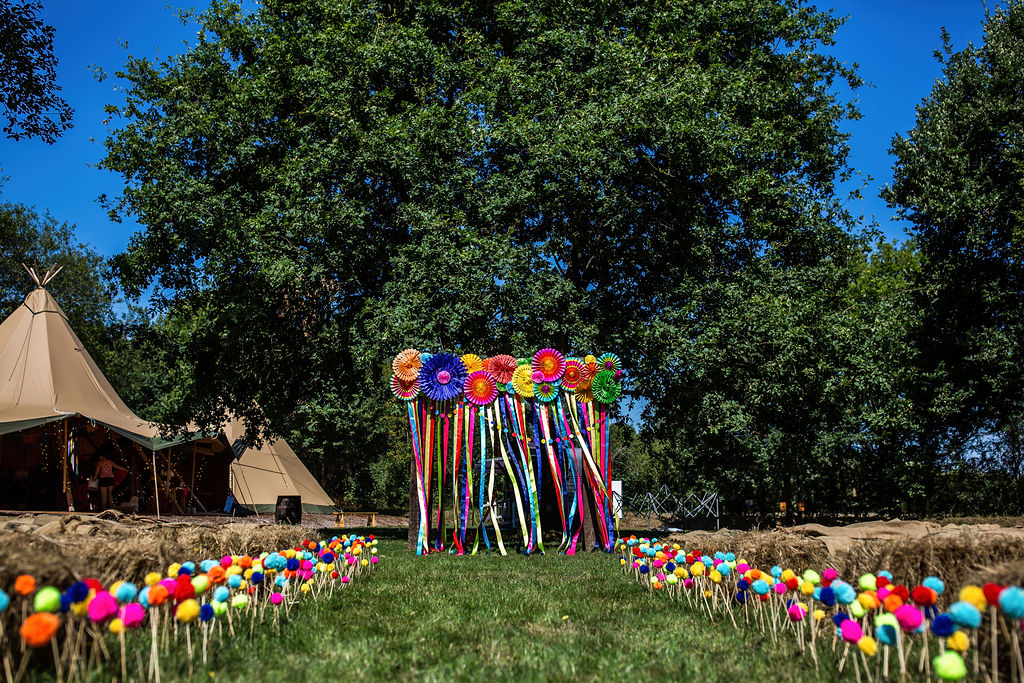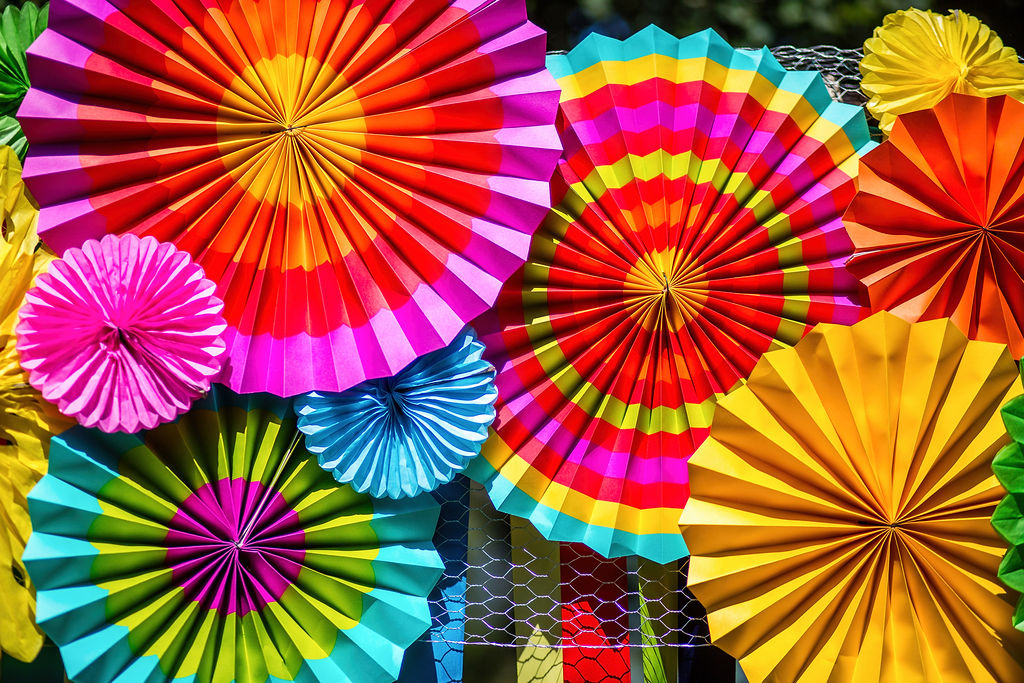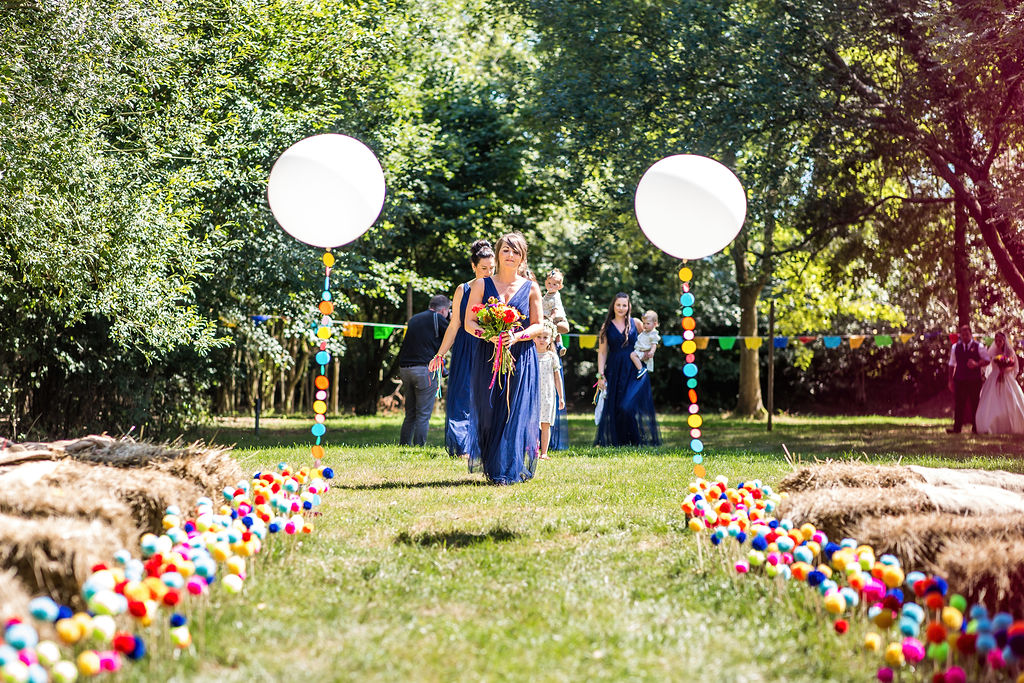 "I'm not a fan of tradition, I don't like to follow the masses and wanted something relaxed and fun and not a pretty formal affair. I definitely did not want Hessian, Lace, Jam Jars or roses."
"Matt and I love Mexican street food and art, we always go to Brighton for Mexican food and sit in the same small corner of the Lanes, we got a lot of our ideas from La Choza with Papel Picado bunting, sugar skulls and rainbow colours. I didn't want to have a Mexican theme so we avoided Mexican food and sombreros, and wanted a nod to mexicana and a fiesta vibe. I wanted to keep the wedding on a low budget so decided to make most of the decorations myself with the help of Pinterest and my glue gun!"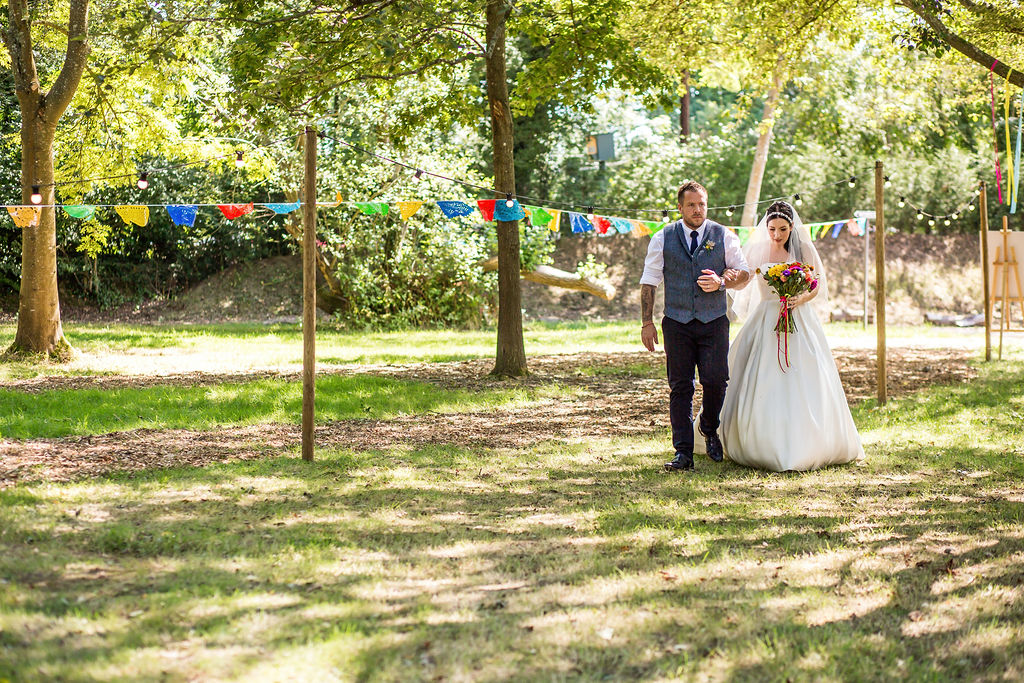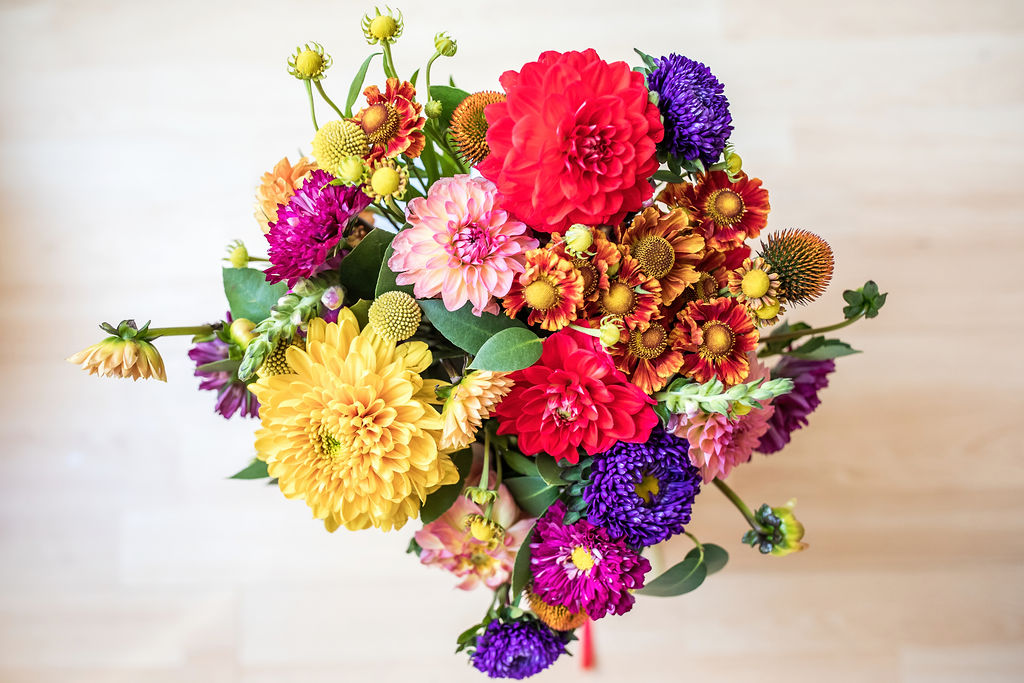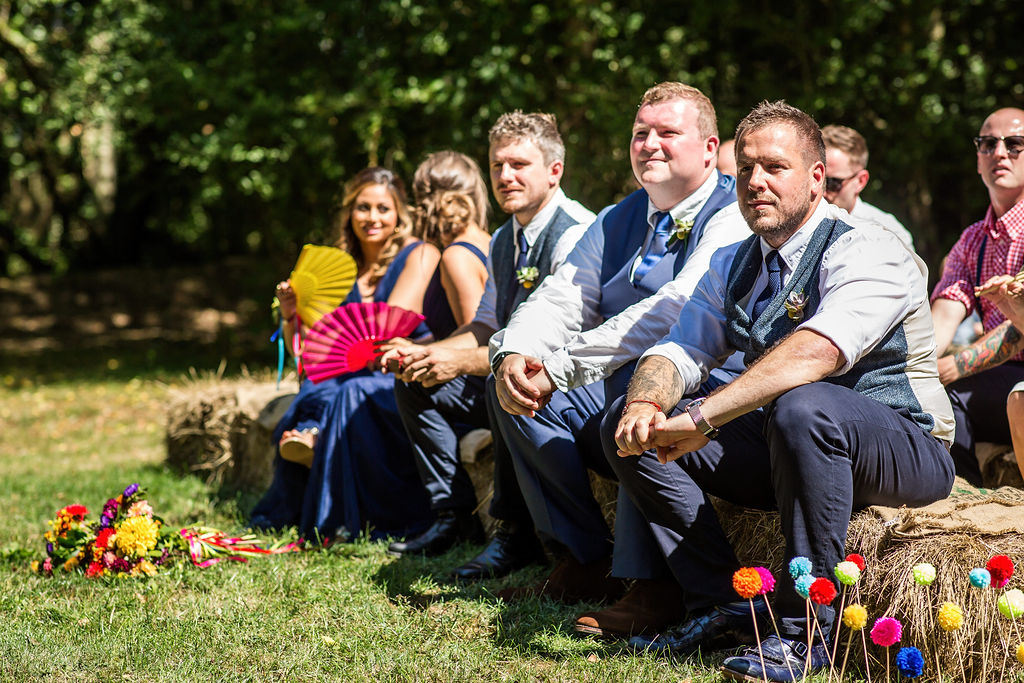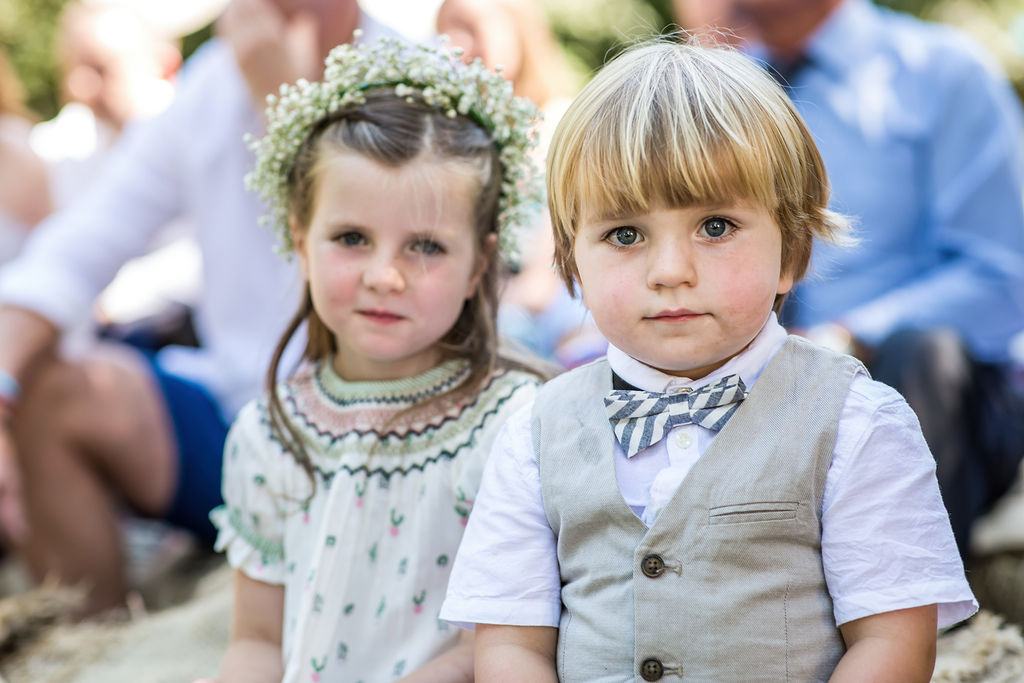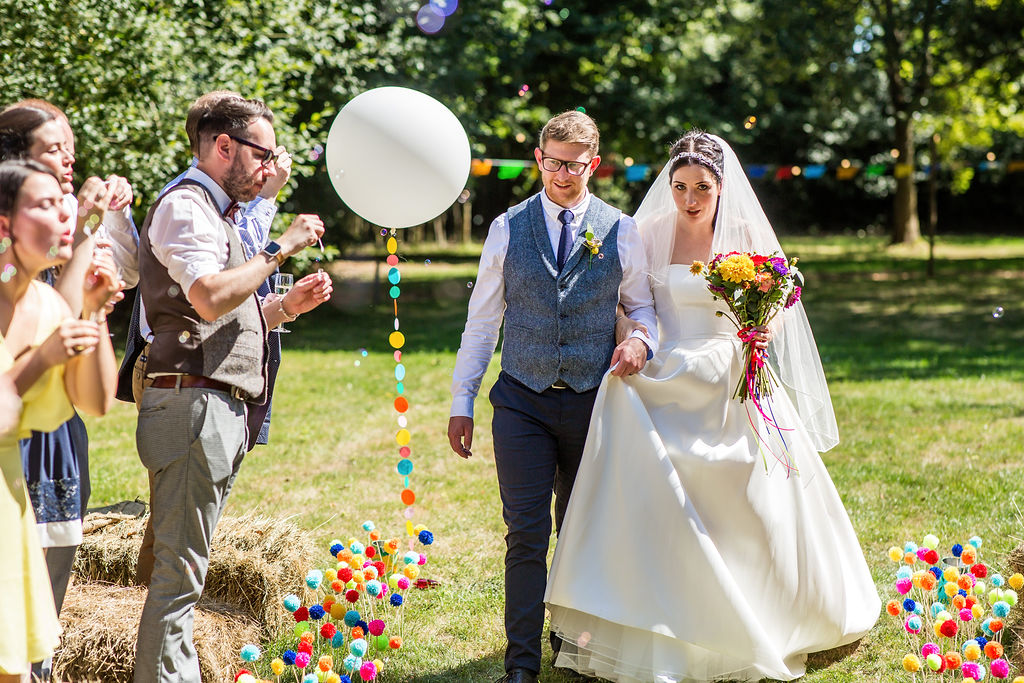 The Location
"Matt's close friend Tim is the owner of Five Oaks and the Mobile Pizzeria so it seemed obvious to Matt and I to ask him to hold our wedding at his venue and have his team cater for us. Matt always wanted to get married outside in the summer so he could spend time outside. He certainly got his wish as the weather was 34 or so degrees on the day! I wanted a blank canvas to make our own and Tim and Five Oaks made this possible."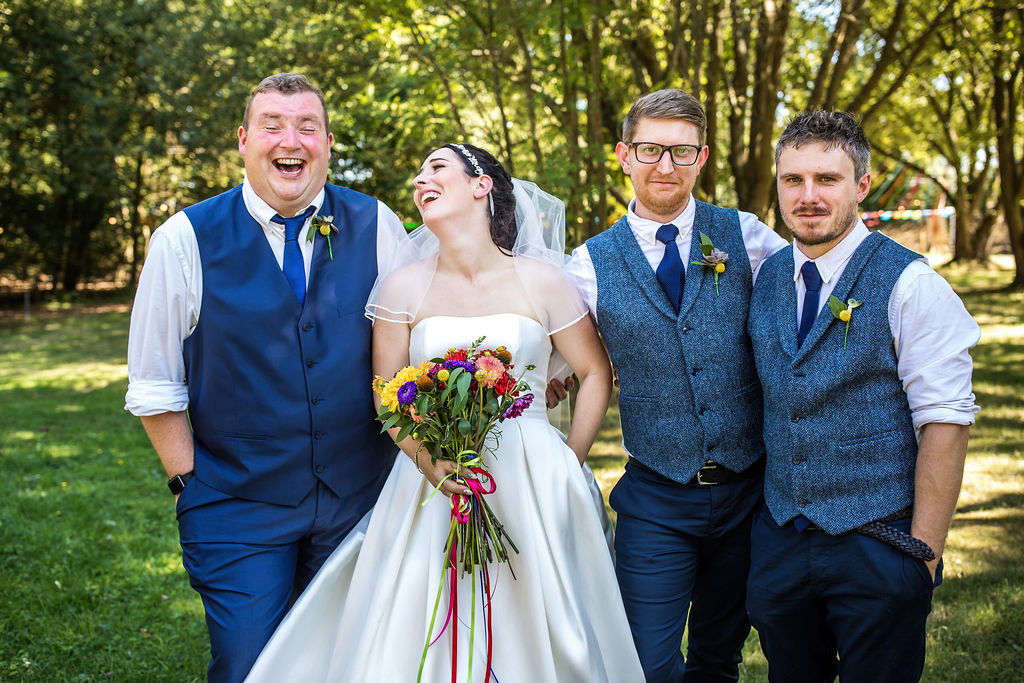 The Dress
"I always thought I wanted Vera Wang, we then got a mortgage and had twins and that visions soon disappeared! Once again I knew I didn't want tradition – lace or fishtail to me it seemed to be every brides go to style. I wanted to find something different, yet classic and chic. I decided to go to Wed2b as lots of friends mentioned it being a bargain boutique and I thought I would go and look for a dress and if they weren't suitable I could then look at traditional shops and widen my budget. The first dress I tried on and I bought! Off the rack for £579.00 by Anna Sorreno! It was funnily enough called Austen and our little boy is Austin! I took it home that day, had a lovely local lady who reminded me of my nan take it up and tried it on every two weeks to make sure it fitted for the day.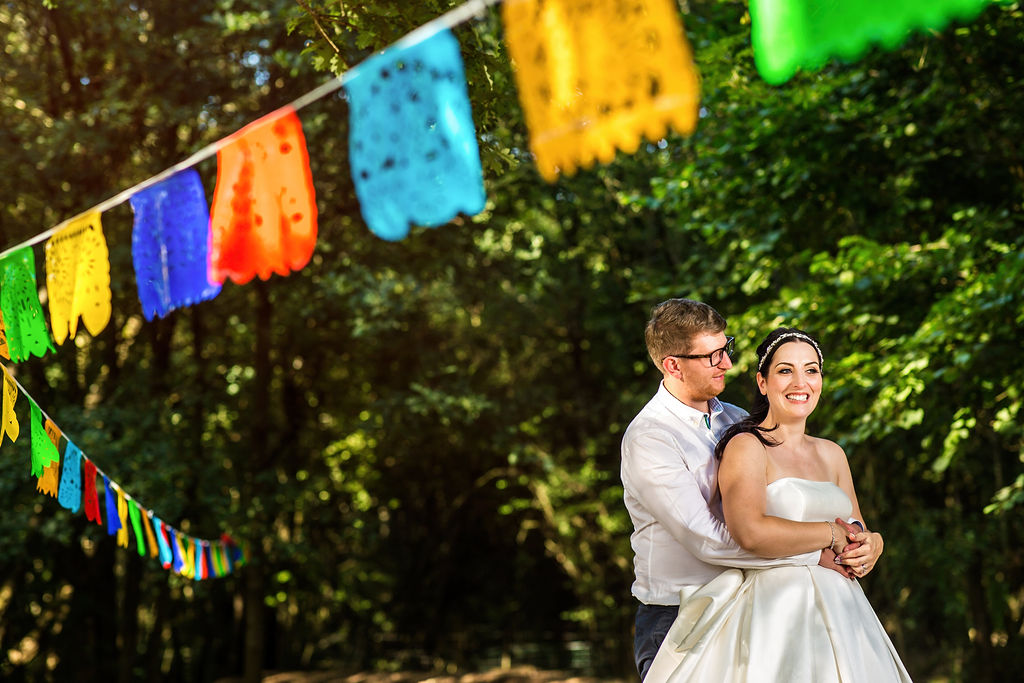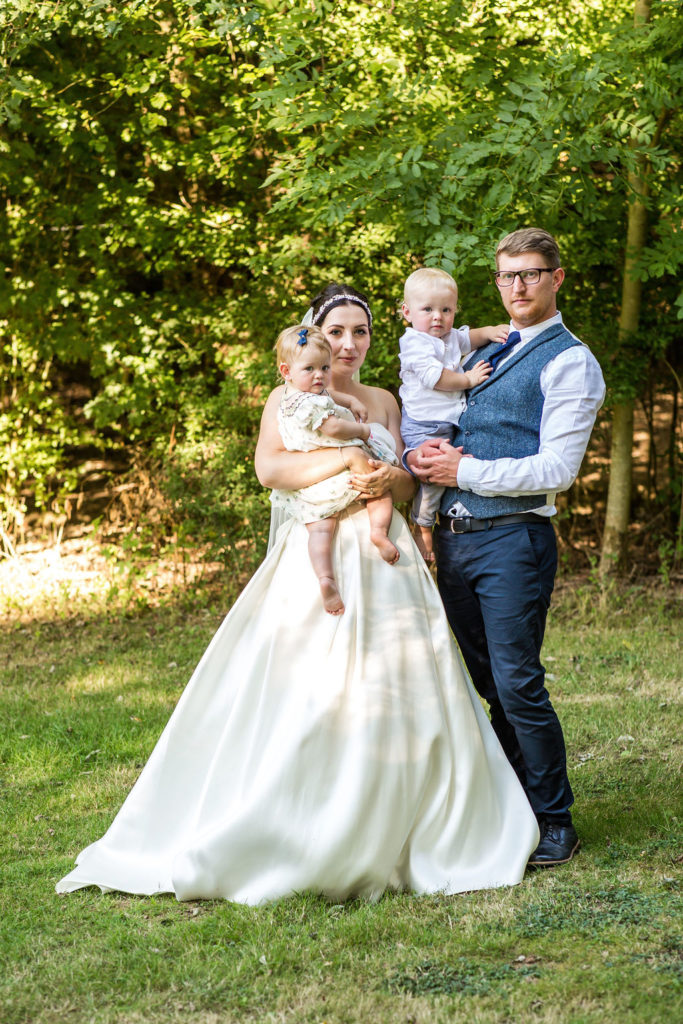 "I have since contacted a charity and plan to donate my dress to them so they can make funeral gowns for still borns, most people hold on to their dress to hand down to their daughter however I don't think they ever get used. Instead I will hand down my veil to my daughter as her something old."
The Suit
"Matt wears a suit every day to work so he wanted something less formal for the big day and something in keeping with the wedding and the venue. He desperately wanted tweed (despite the heatwave!). None of the blazers were worn on the day as it was above 30 degrees, so the look in the end as informal waistcoats. The Blazers and waistcoats were Harris Tweed, purchased along with navy chinos from ASOS."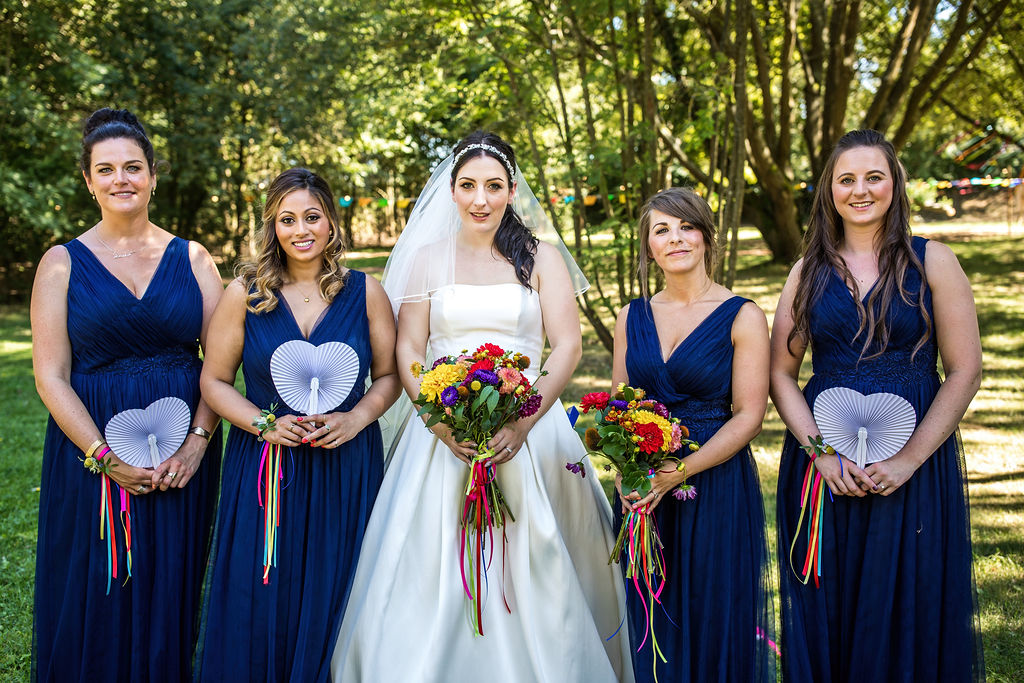 The Bridesmaids
"My bridesmaids were 4 close friends. Flower girls, my daughter (twin 2) and my two nieces. I am not a girly girl and so wanted to avoid pinks and pastels. I chose Navy so it did not clash with the wedding colours and it was my hope that they would make the colours pop. The dresses were from Dorothy Perkins online. They wore crystal/diamante effect sandals to match my headband. The flower girls wore a summer dress from Next with cactus print and Mexican style stitching around the neckline. They were cool and comfortable and again not the traditional flower girl style."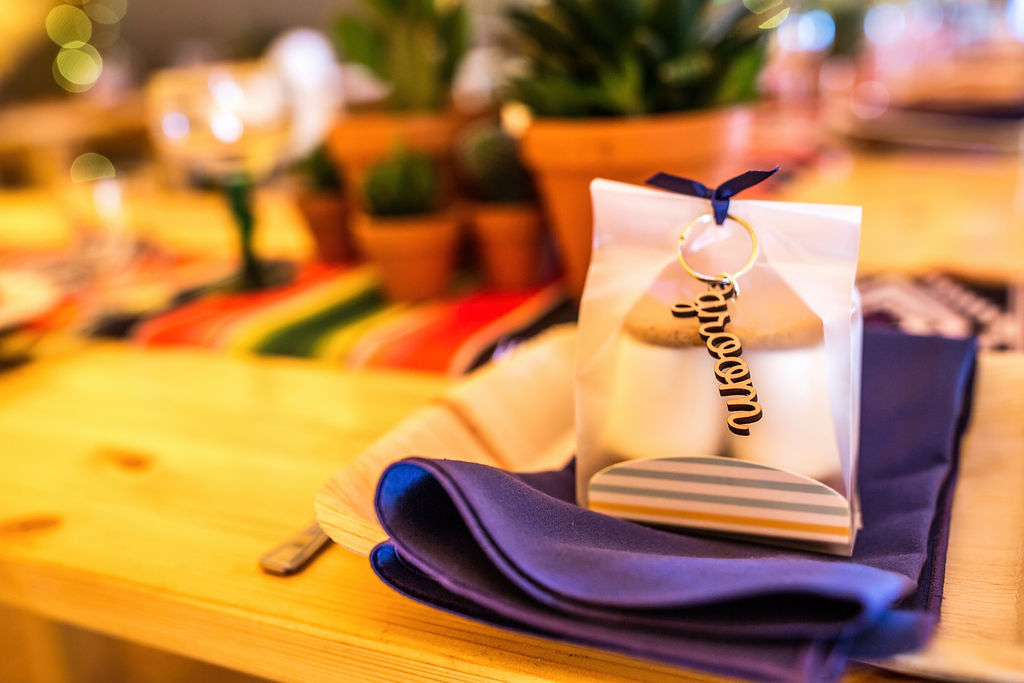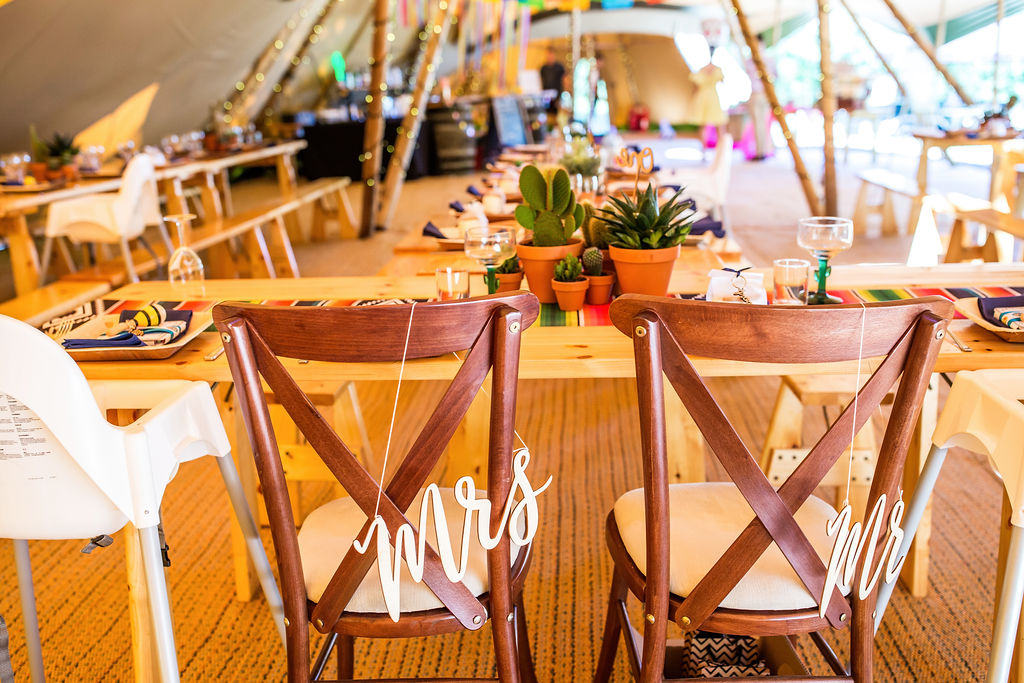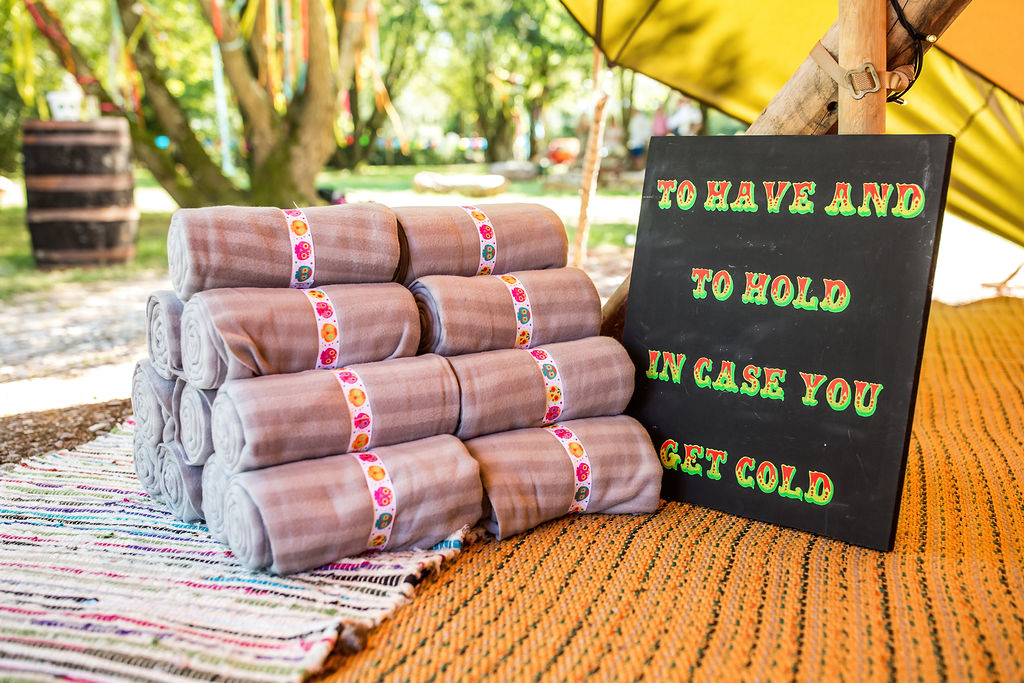 The Details
"My mum made my cake, it was her gift to us. It was chocolate and Victoria sponge layers, decorated with Mexican pattern and flowers provided by below florist. Although these were a tad limp by the time the cake came out due to the heat! Due to our budget we decided to not have a desert course and to have a sweet table with cake, doughnut wall and candy floss pops."
"I didn't want flower centre pieces so chose cactus and succulents. I borrowed and bought over 60 of them and my mum potted them for me. This was such a saving on our budget, it also meant people could take a plant home with them as a moment."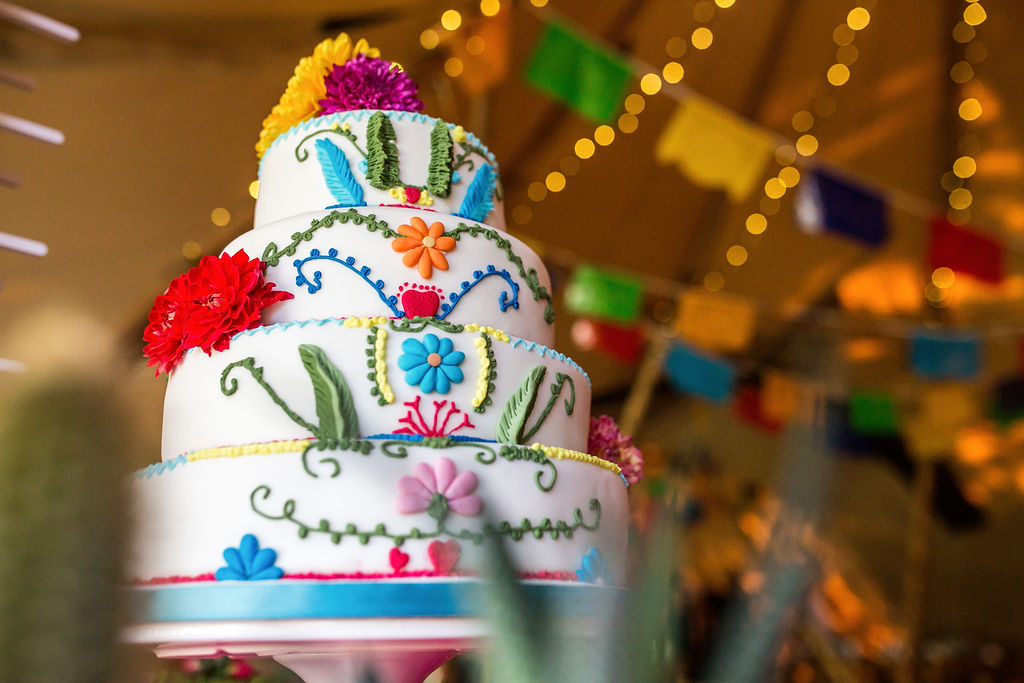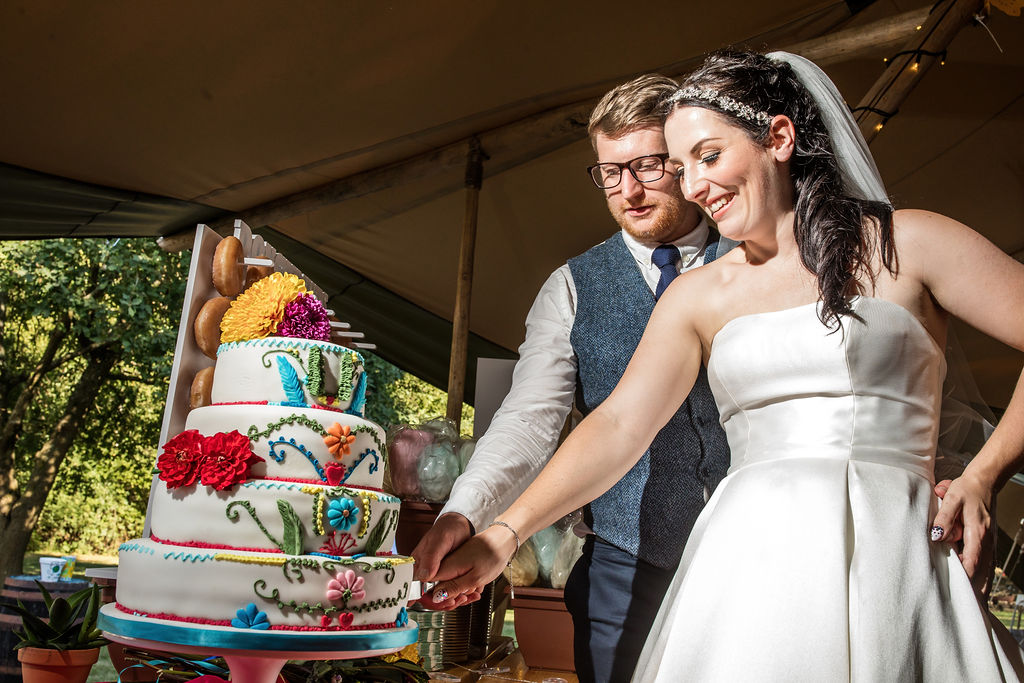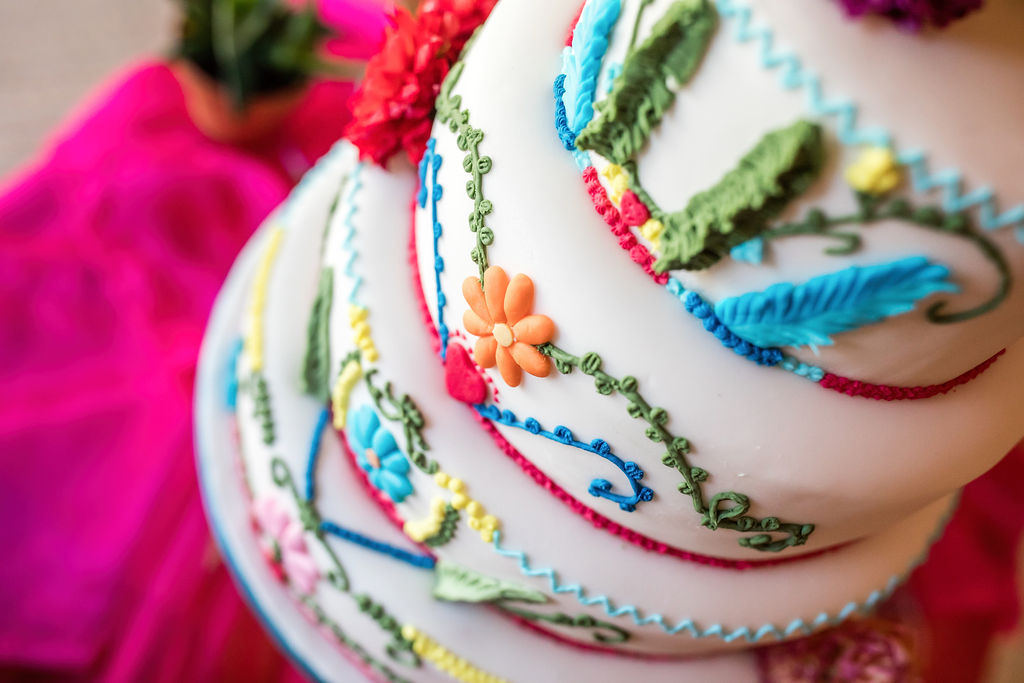 "Blossom Flowers of Horsham did bridal party and groomsmen flowers, as well as a posy for the card table. I requested bright colours with ribbons. As each bridesmaid was walking down the aisle with a flower girl I ordered corsages to be tied around their wrists so that the babies could be carried. These I wanted to be succulents. The groomsmen also had succulent button holes. My flowers were made up of (if I can recall – Dahlia, Solidago, Fennel, Echinacea, Craspedia, rudbeckia, snapdragon, chrysanths.)My maid of honour had a small version of my bouquet. I wanted them to look casual as if they had been handpicked and tied moments before from a meadow."
The Best Part Of the Day
Claire: "It has to be walking down the aisle to Matt, closely followed by Brother's speech and seeing all the decorations we'd worked hard on come together on the day"
Matt: "Seeing Claire in her dress and the wedding breakfast were definitely highlights for me"
We both loved having a small wedding party and knowing that everyone in attendance is really important to us and being able to spend time with each and everyone of them on the day.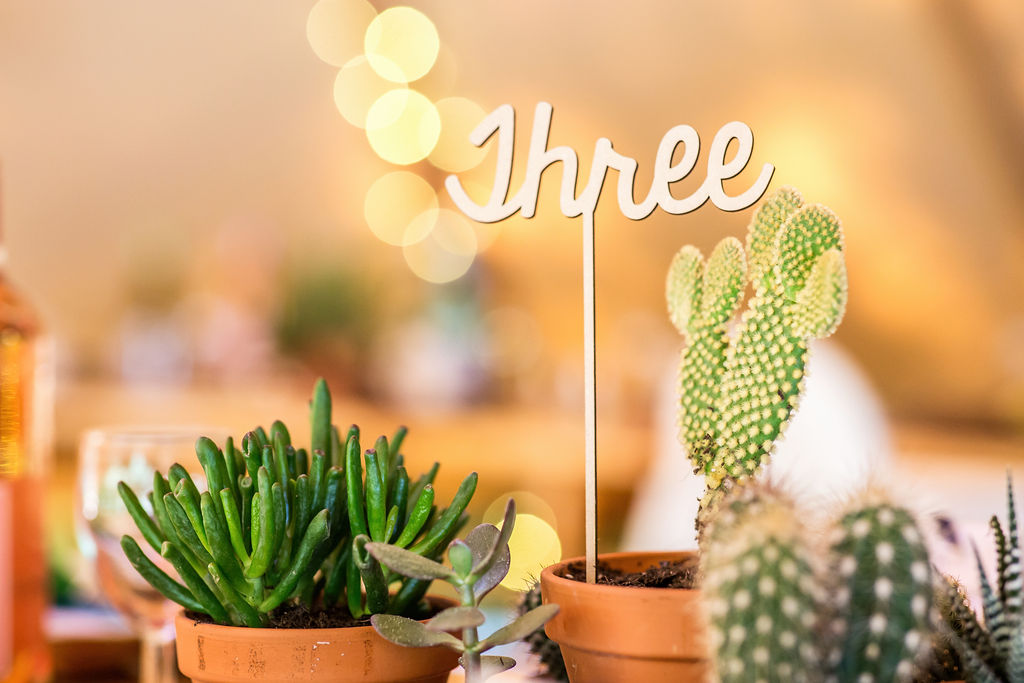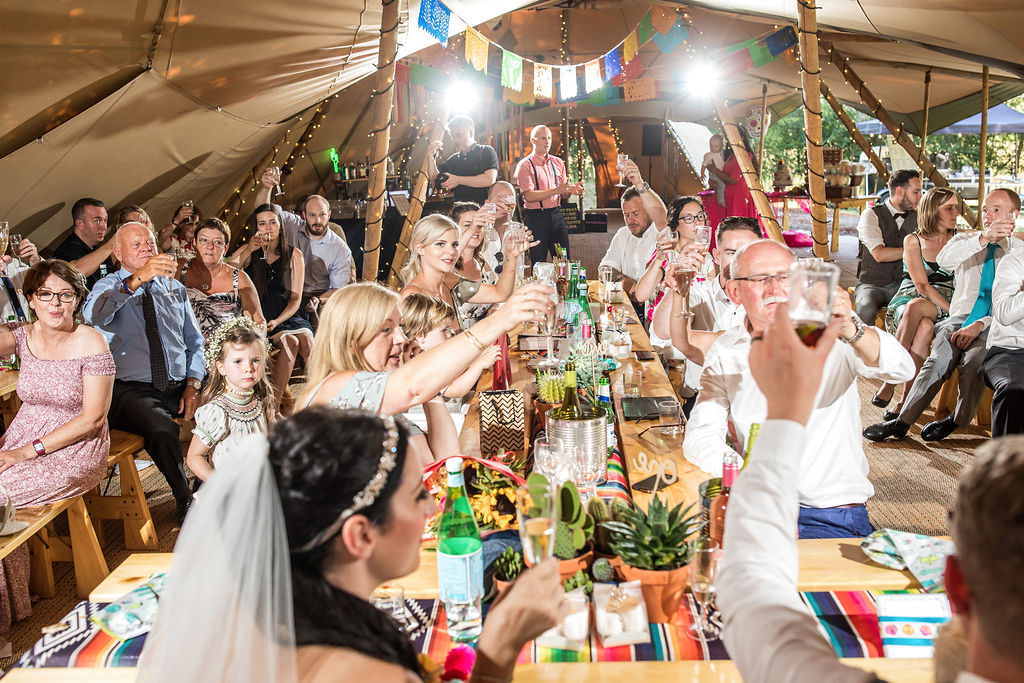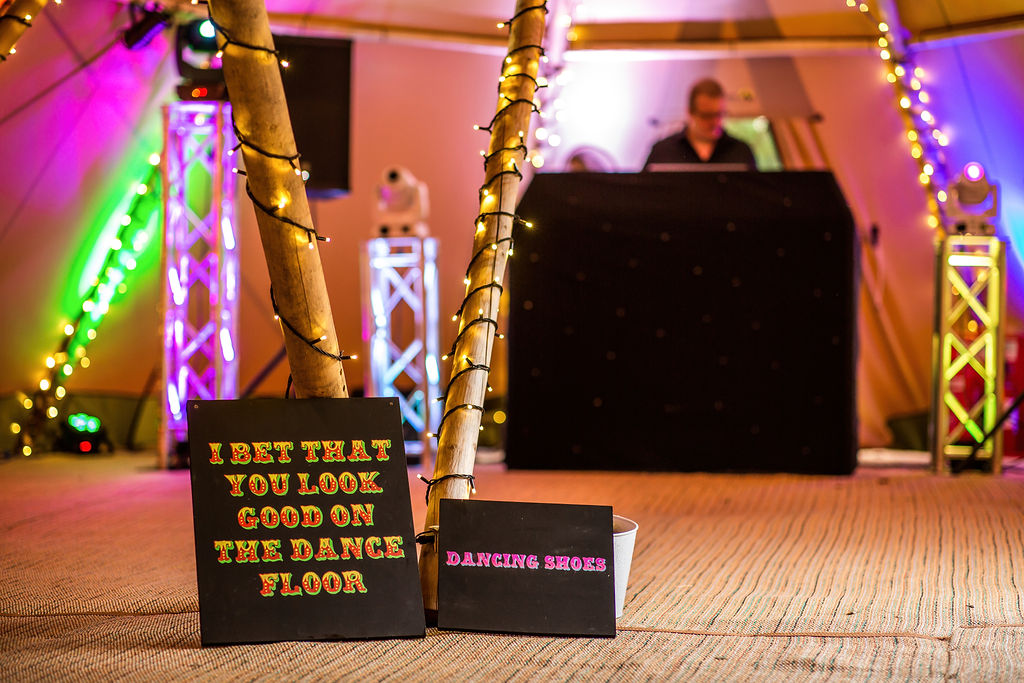 Words of Wisdom
"Remember to enjoy planning your wedding amongst all the stress. Invest in a good photographer, Rafe has literally blown us away we cannot explain, don't plan your seating plan too early as you will end up changing it daily due to illness and unforeseen events, make as much of the decorations as you can and start planning and making earlier than you think you need to so you can enjoy the build up to the big day.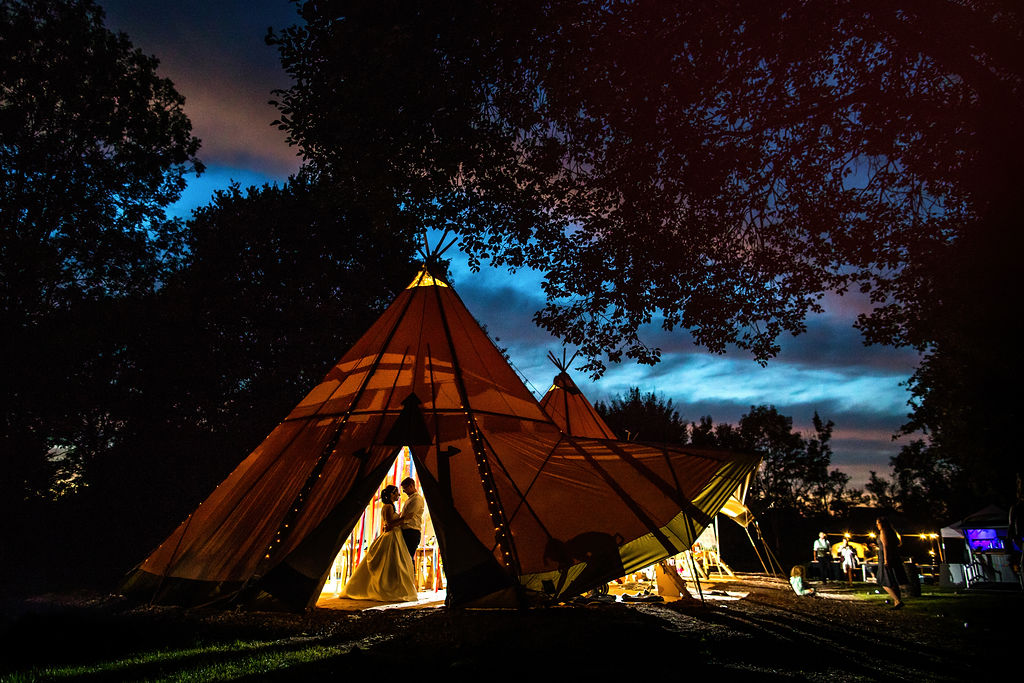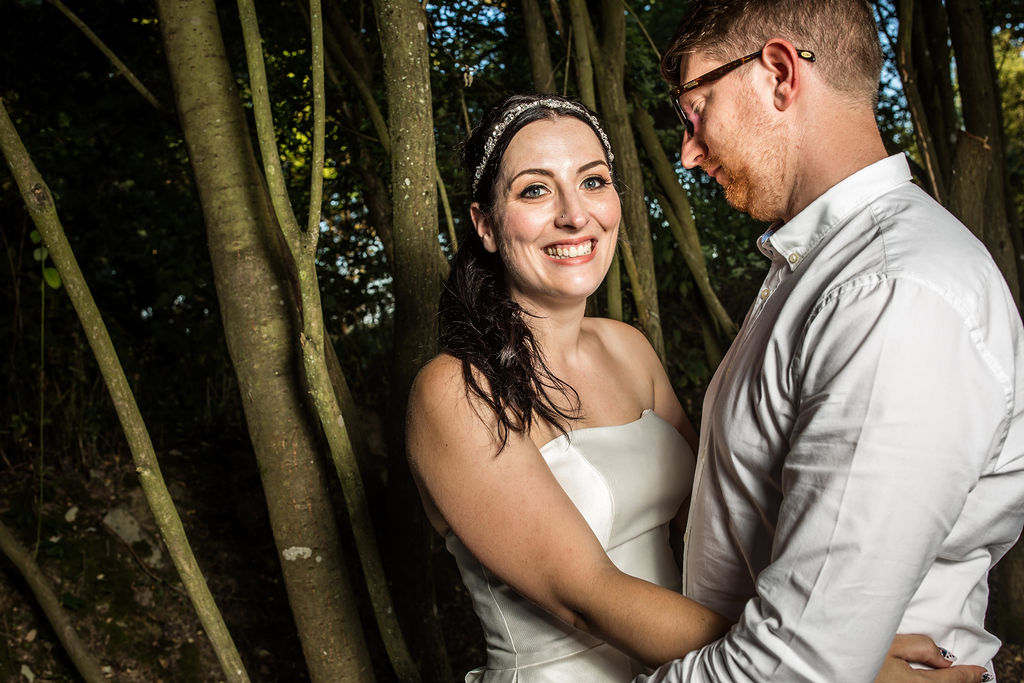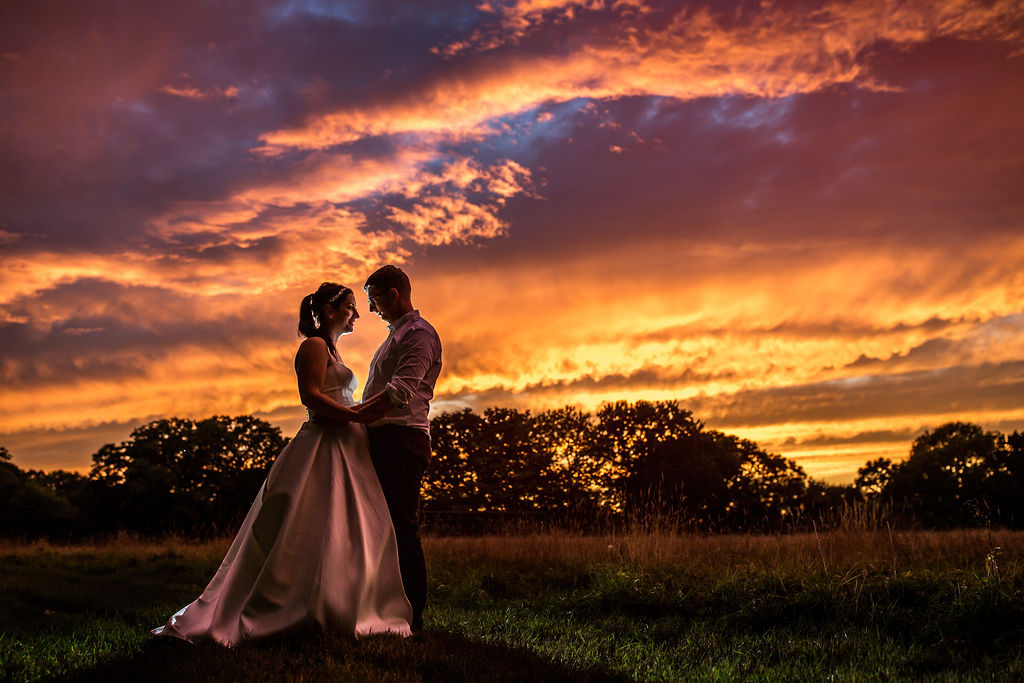 The Suppliers: Fiesta Vibe Tipi Wedding at Five Oaks, West Sussex
Photographer – Rafe Abrook Photography
Dress and Accessories – Wed2b / Shoes – Marks and Spencer / Bouquet – Blossom Flowers of Horsham / Make up/Hair – Melissa Wright Make Up / Grooms suit – ASOS / Bridesmaid dresses – Dorothy Perkins / Venue – Five Oaks / |Wedding Coordinator Events by Helen / Celebrant – Nick Myers / Lighting – Paul Simon / Rings – Camelot Jewellers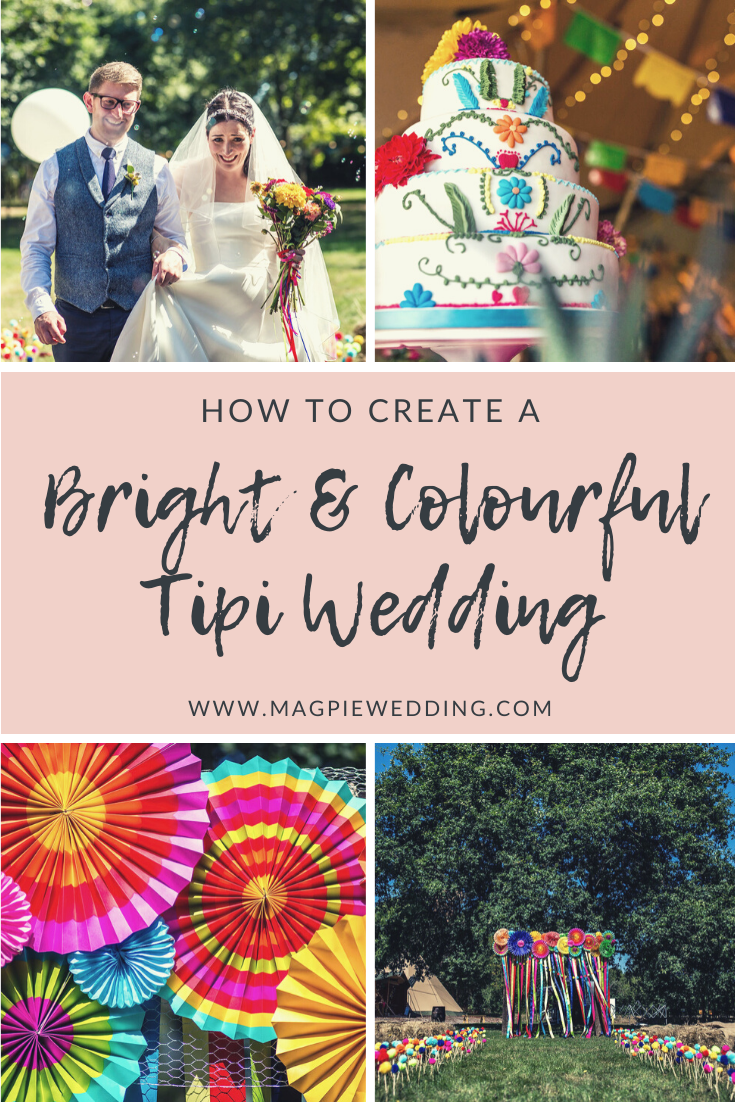 If you love this Five Oaks Wedding, you may also like;
Rustic Tipi Wedding – A Starlit Ceremony with Autumnal Vintage Vibes
Outdoor Ceremony Styling Ideas
Bright Colourful Wedding in Sydney With South American Vibes