I woke up this morning to a blog post by Annabel from Love My Dress sharing the beautiful yet heart breaking story of Laura Caudery. Beautiful because she had experienced real love, beautiful wedding photos, beautiful writing and most of all, beautiful honesty. She is calling for everyone to focus on what really matters for your wedding day: love rather than all the other (beautiful) "stuff" and share your wedding photos using the hashtag #ShareTheHonestLove. We have shared ours on our Instagram page.
Now this has struck a chord with us here at The National Vintage Wedding Fair. Let's face it, our whole business is providing inspiration for your wedding day including flowers, cakes, decorations, photography and of course, vintage wedding dresses. But does any of this really matter?
So today we want to say, that the most important thing for your big day is love.
Never mind if it rains, if it snows or it's an unbearable heat wave, if the cake melts, the caterer forgets something, your bridesmaid rings in sick, or if your mother in law refuses to smile….none of this really matters. You are marrying the person you want to share your life with, someone you trust and someone you, well, love.
Not many of you will know that I have been married before. I married when I was 23 (it seems like forever ago) and our wedding day ticked all the traditional boxes. While everything went to plan, except the marriage ending of course, was the day filled with undying love, was it about "us"? Or were we doing what we thought we should do? What the books and magazines told us to do/buy/plan? After the marriage ended, I always told myself that if I married again it would be very different.
My wedding day to Adam didn't tick the traditional boxes. It was in a meadow 2 summers ago, when it rained and rained and rained some more. For some reason we chose a meadow knowing the chances were high that it would rain. Gosh, did I worry about that! We didn't want a big hall, we didn't want 100 guests, we didn't want a sit down meal, we didnt even have a best man and speeches.
We wanted something that was us. We wanted everyone to feel the love we shared. We wanted it to be honest and true to who we are and what we stand for. We wanted our children to be involved. We wanted humour. We wanted to get married!
I arrived with my 2 children holding my hands. My son had the rings tied on a ribbon round his neck. When we arrived, Adam left the wedding party to greet us and walked in with us, as a unit, as a family, filled with love. The sun shone.
He read a poem that he had written (he does this a lot!). I cried. He cried. Everyone cried.
I couldn't read my vows to him as I couldn't breathe. Ever felt so much love that you can't breathe?
#ShareTheHonestLove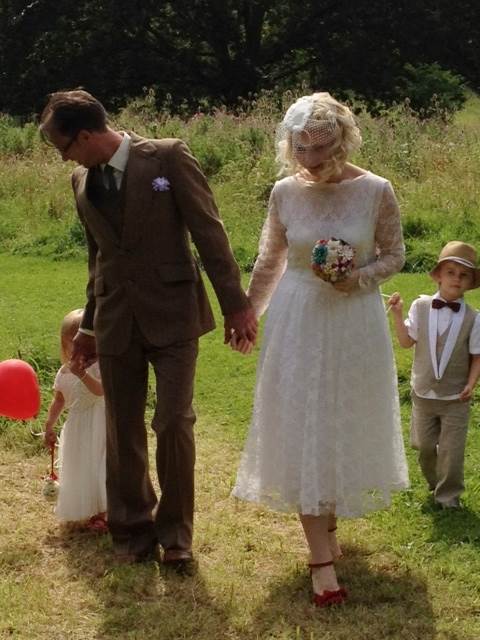 And here is Adam's poem (he uses my real name Eleanor throughout)
Kate, I love you because you smile so sweetly,
Lifting my life so completely.
I love you because, you tidy the house so neatly!
Eleanor, you're elegance dumfounds me
I'm so delighted that you found me.
Eleanor, I'm elated with the bond we've created.
Surely this wedding was fated.
As the sound of the trees, here with the birds and bees,
You put my mind at ease.
Beautiful inside and out,
I love you , and want to marry you, I have no doubt.
So we fit this shoe,
So in love with you,
I'm here today to say I do.
x