The summer holidays are almost over and we are preparing to get cosied up for the winter, which is even better when you have someone to cosy up to. Why not make it official, and spread the love as well as the warmth? Many people choose to propose in exotic destinations in the summer, but a winter proposal in the UK can be just as memorable. You can even have more control over how you do it, as you will likely be in more familiar surroundings. Whether you organise a grand gesture, opt for a Christmas or Valentine's proposal, or cook a nice meal and put some candles or fairy lights on in your own home for an intimate setting, winter is a particularly heart-warming time for a heartfelt proposal.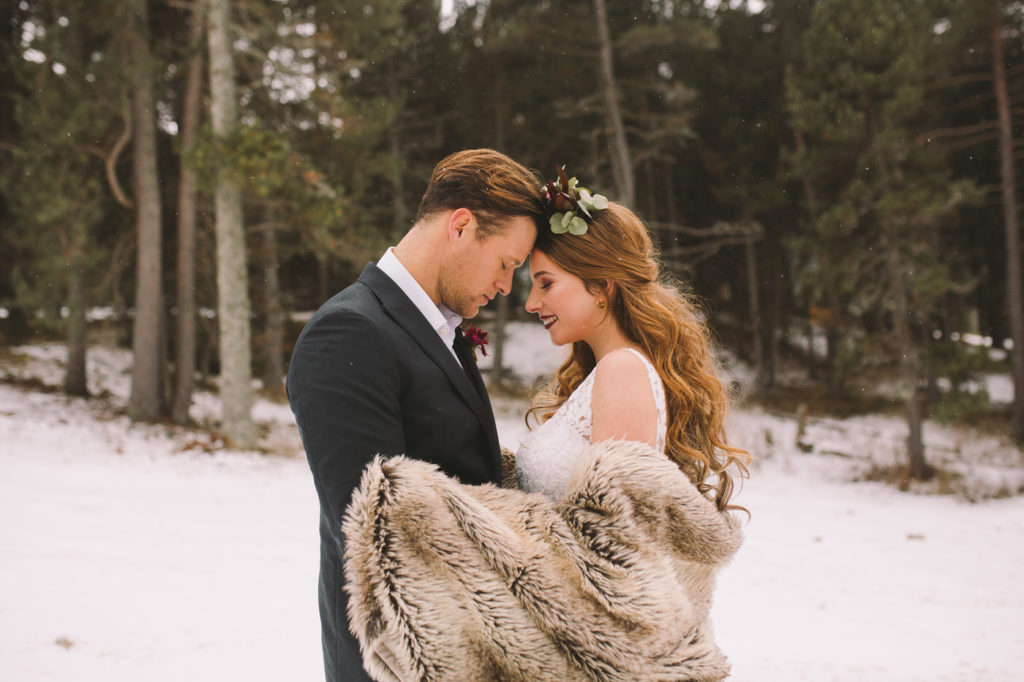 Photographer – Laura Chacón Photography
READ THE FULL BLOG HERE – Romantic Winter Wedding Inspiration In The Catalonian Mountains
Choosing the ring
You may know exactly what your partner will like, and will find it easy to select exactly the ring for them. Don't hesitate to try and consider buying pre-owned engagement rings if you are on a tight budget but don't want to delay it anymore. You can always ask for advice from your partner's close friends and family. But don't be afraid to ask their friends and family for advice; maybe even take one of them ring-shopping with you to help. It is a good idea to take one of your partner's current rings with you too, so you can be sure you get the right size. Although most jewellers will be able to resize your chosen ring up or down a size free of charge if you do get it wrong.
Diamond rings lend themselves nicely to winter, with the clear sparkle reminiscent of an icicle. Pair with a silver or white gold band to up the wintery factor, if you want to go all out. It will still look great in summer too! If you don't want to go with a traditional diamond ring then blue stones like sapphire and aquamarine look quietly elegant whilst also sticking with the winter theme.
Winter warmers
There is nothing more romantic in winter than a roaring fire, some candles, a warm blanket and a cup of hot chocolate – don't forget the cream and marshmallows! Either make your own home relaxed, cosy and intimate or take your loved one away to a wooden cabin for an ultra-romantic stay and pop the question there. Just being the two of you makes the whole thing something to cherish together forever.
Wrapping up warm and going out ice skating – either at a permanent rink or one of the ones that pop up over the winter, like the famous outdoor ice rink at Somerset House in London, is a great day out – and an excuse to hold hands so that neither of you fall over! You may find it tricky to go down on bended knee in ice skates, but the romance of the occasion far outweighs the lack of practicality.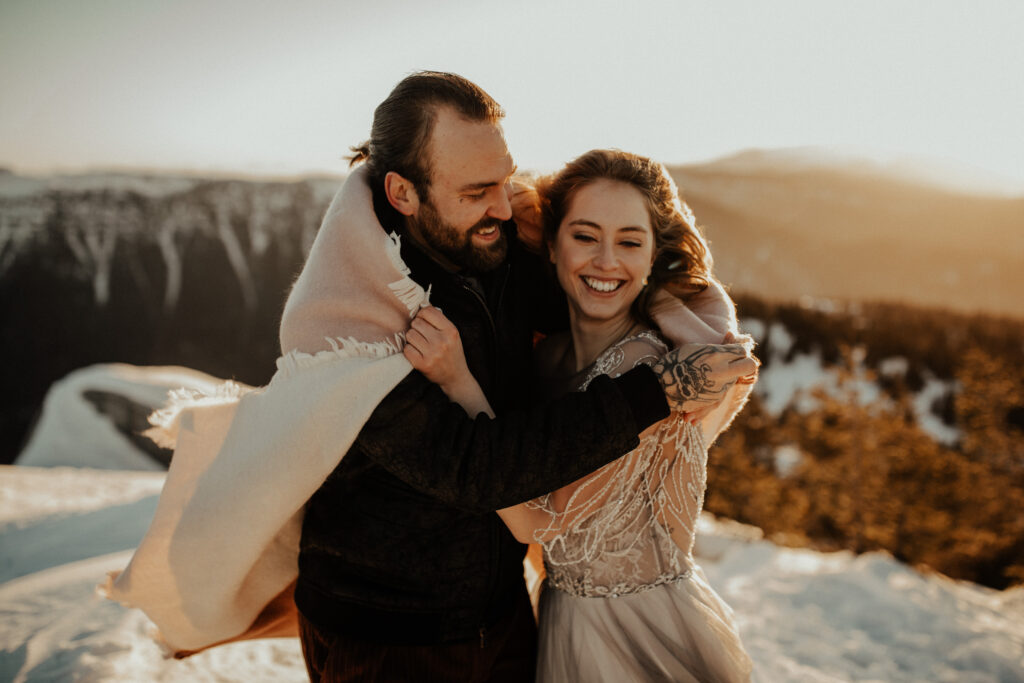 Photographer – Alberto Gobbato
READ THE FULL BLOG HERE – Romantic Winter Wedding Destination Wedding on the Italian Alps
Light up the sky
Fireworks are the perfect setting for a romantic proposal, and make a great background if you have someone primed and ready to take a photograph of the big moment. Let the sparks fly as you have your own colourful encounter, for a night to really remember. Bonfire Night and New Years' Eve are known for their fireworks, so why not make some of your own too? You could even propose by writing 'marry me' in the air with a sparkler. Here are some of the best displays in the UK.
Alternatively, the welcoming sight of glittering Christmas lights either at a tree lighting ceremony or a Christmas market or just strolling through the city or town where you live can up the romance ante. Take a special trip to go and admire the sparkly lights, and then surprise your partner by presenting them with a sparkly engagement ring too. They can't help but be caught up in the moment.
Seasonal dates
Winter is full of notable dates including Christmas, New Year's Eve and Day, Bonfire Night, Valentine's Day, and even Halloween, if you are so inclined! Parties abound, with Christmassy mistletoe hung in just the right place for a kiss and a surprise proposal.
Or, start the new year off right with a declaration of love and many years together to come. Go for a wintery walk – there may even be snow, if you are really lucky – and hold hands and discuss your future, before making it official.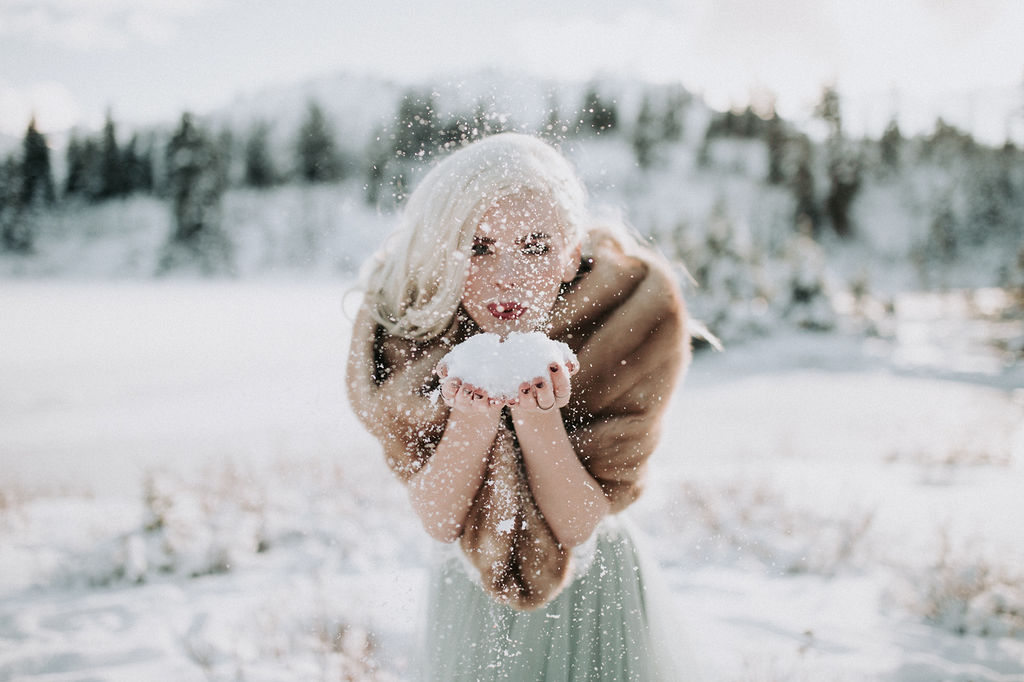 Photographer – Ashley Hayes Photography
READ THE FULL BLOG HERE – Winter Wonderland Wedding with Blue Wedding Dress and Fur Capelet
The Hallmark effect
Several television channels start showing cheesy Hallmark Christmas movies quite early on in the season, so take some inspiration from those if you want to sweep up your partner in the romance of the occasion.
Highly unrealistic as they may be, there is nothing to stop you from deliberately recreating any of the scenes for top boyfriend or girlfriend points. Often they are actually quite simple and inexpensive ideas that are just executed down to the finest detail.
Winter is a lovely time to propose. The dark nights and cold weather provide the perfect excuse for cuddling up together, while the excess of parties and entertainment mean you are never short of destinations to explore with your partner. Snowy backdrops or bright lights create a magical scene that is only matched by the magic of the moment, which will be memorable for many years to come.
IF YOU LOVE THESE IDEAS, WHY NOT PIN THEM?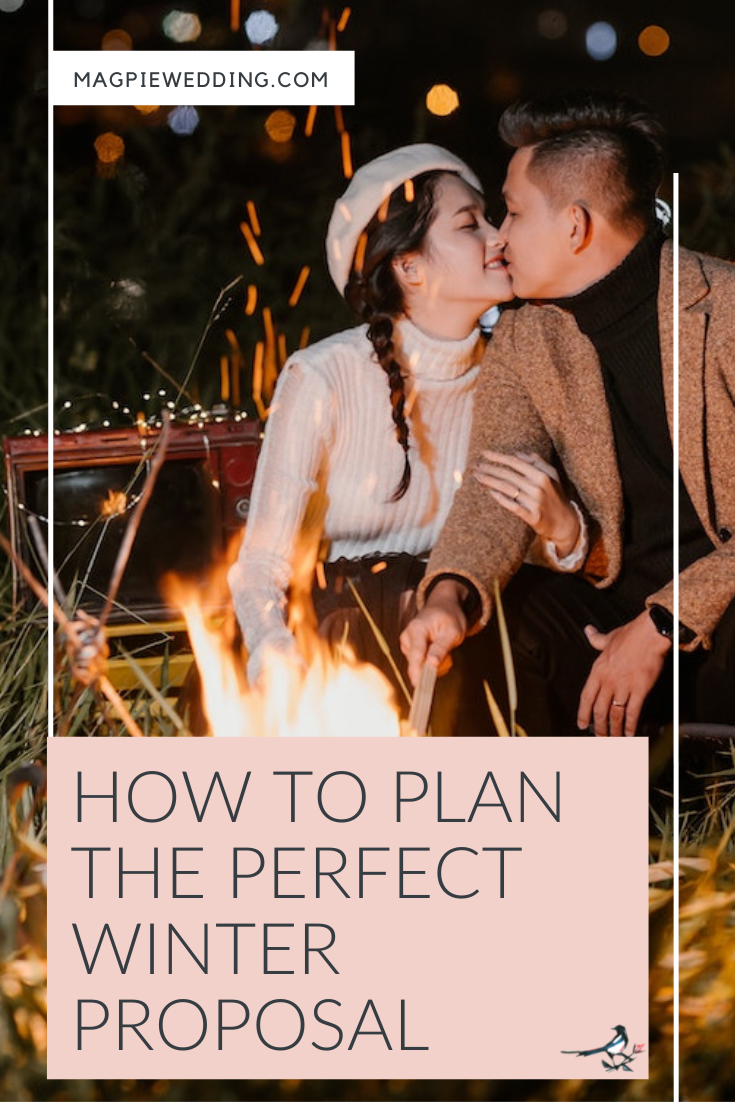 This is a collaborative post