Romantic and intimate vibes today at Manor Farm with this vintage inspired shoot. With intimate weddings on the rise, this team of suppliers wanted to show how you can use this intimate vibe to your advantage, with two beautifully styled intimate tablescapes and a real couple! Stationer Faye of Wild Calligraphy and Caroline of Caroline Goosey Photography were the driving force behind the shoot and with a trusty team of suppliers, they created a style that couples can look to inspiration for when planning their own intimate wedding. We catch up with them to find out all about this Manor Farm shoot…
"In light of the pandemic and how hard Britain has been hit in comparison to other European countries, it's likely that destination weddings (alongside smaller, intimate gatherings and elopements) will be on the rise, and with this in mind, we wanted to create two delicately layered looks with heaps of greenery and foliage that screamed destination romance."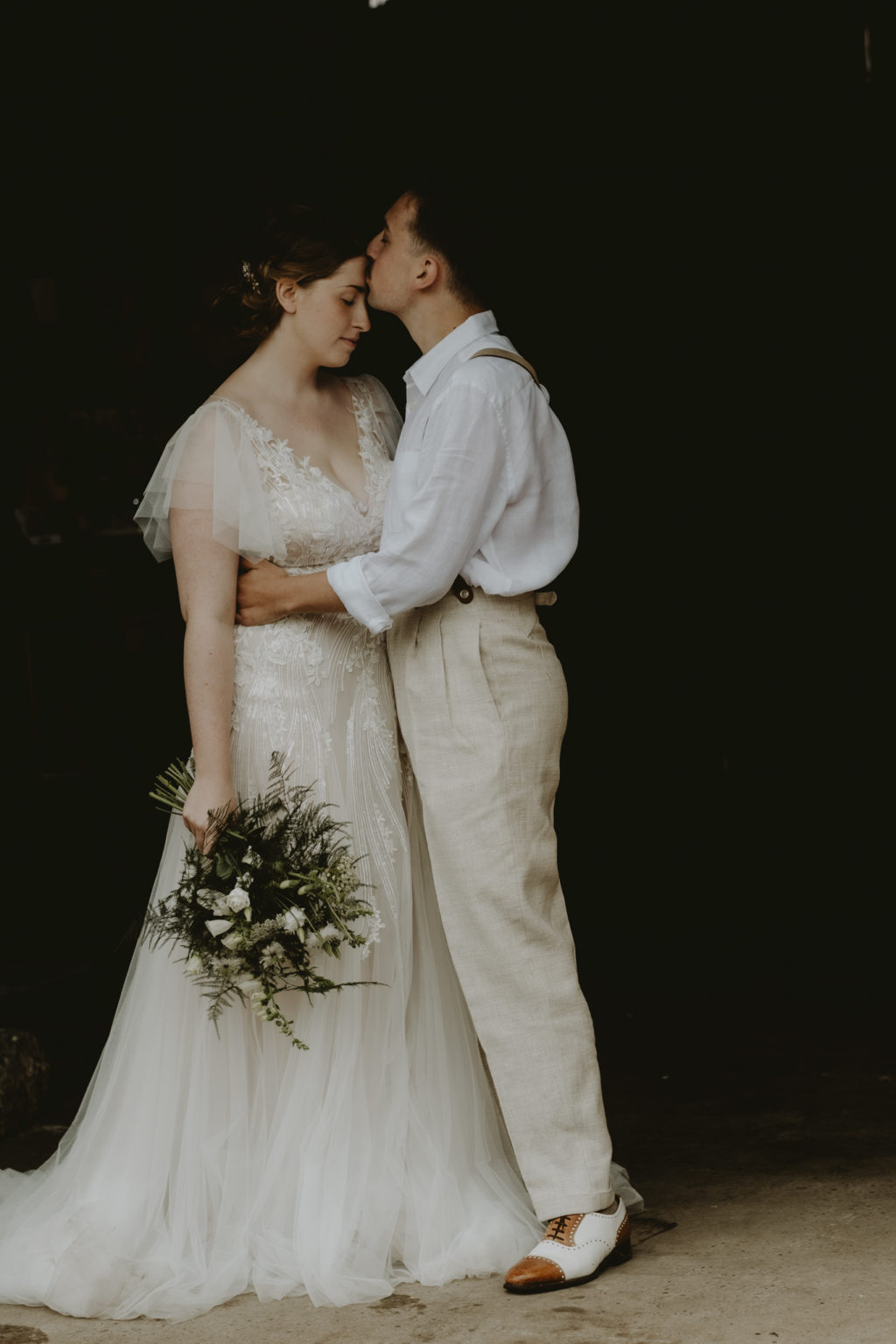 "Our lovely couple Saffron and Callum are childhood sweethearts and lovers of all things vintage. They are the sweetest old souls, so we wanted to tie in the décor with their love for history by incorporating timeless, elegant elements. Klara from Birds In The Attic Styling was the mastermind behind the two inspired looks: Tuscan romance and delicate destination wedding."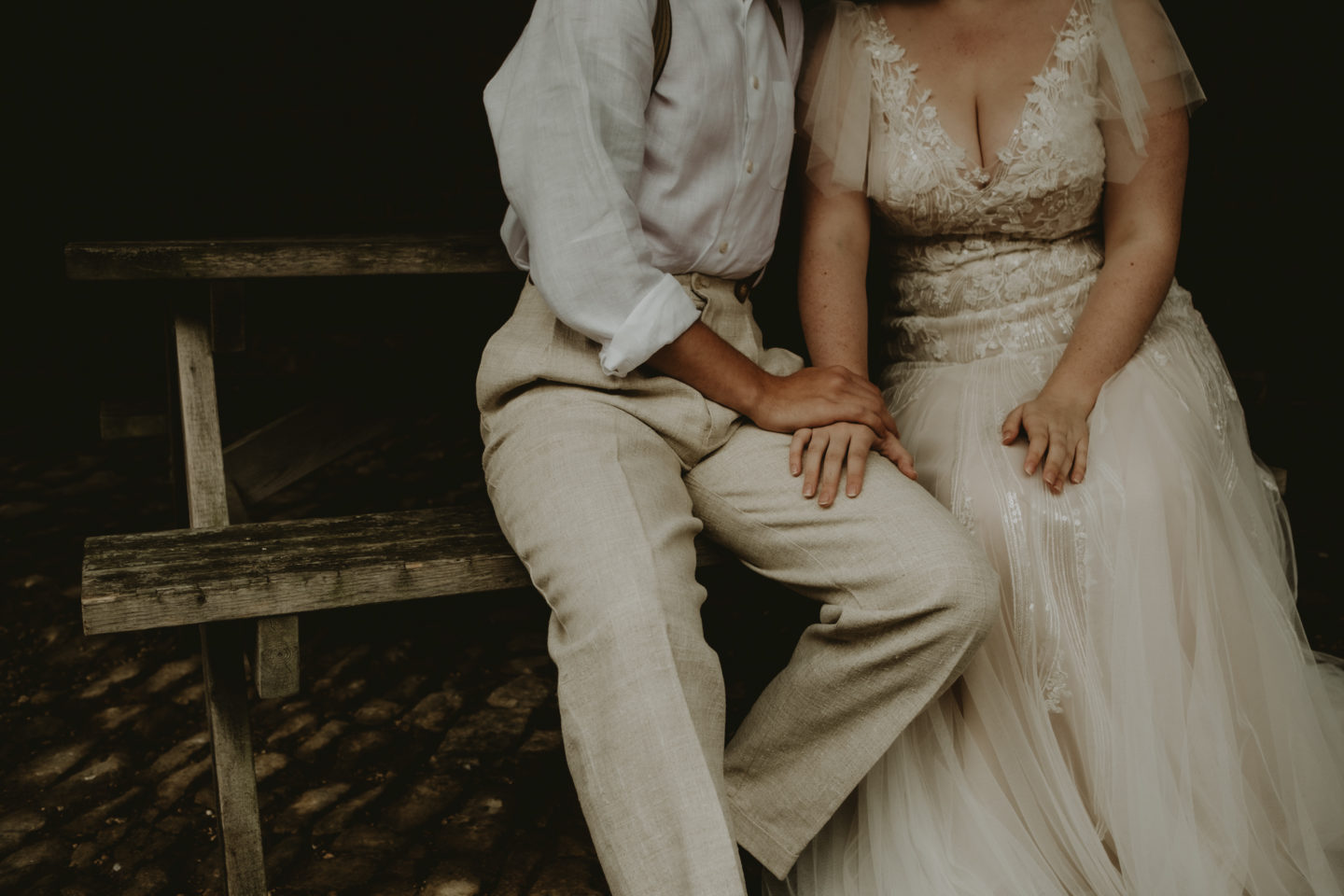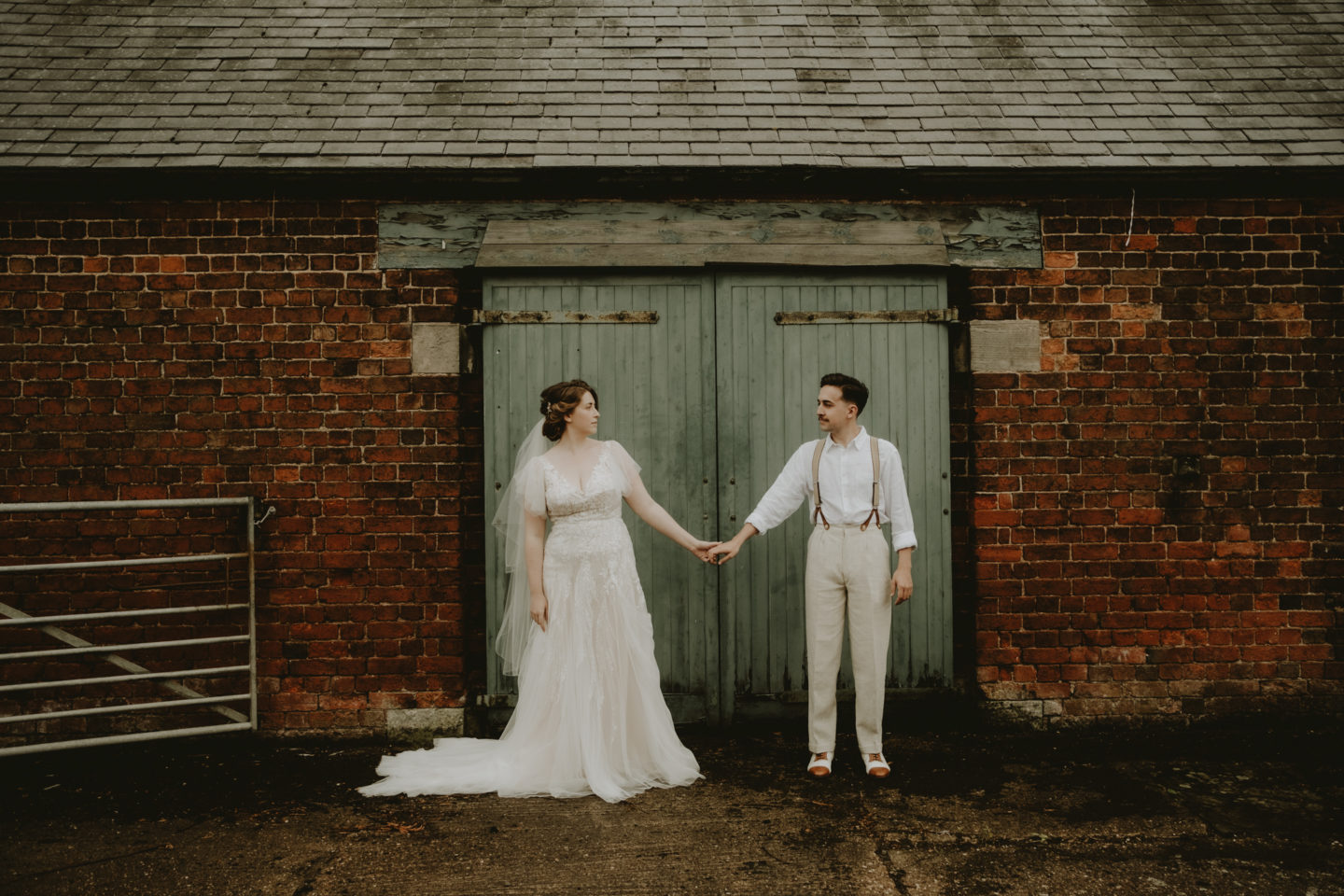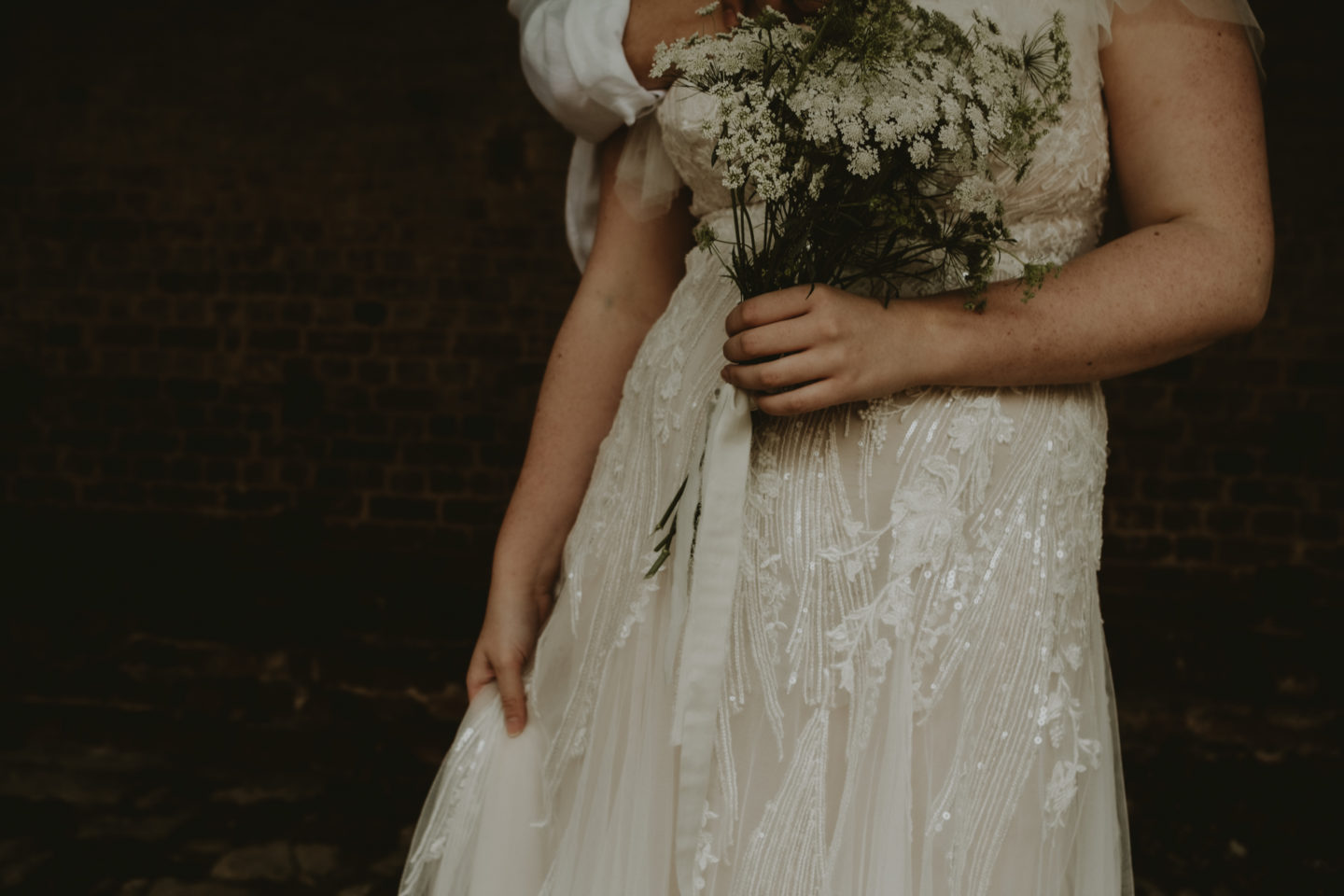 Styling – Birds in the Attic
"For our first Tuscan inspired tablescape, Klara used hand blown green tumblers and flutes to compliment a simple olive foliage runner with hurricane vases nestled between them, before finishing off the table settings with artisan bread wrapped in raw linen. Hurricane candles are a great option for couples; many venues unfortunately don't allow candle sticks due to health and safety, so these are perfect and they also offer simplicity and an alternative ambiance that sets a welcoming tone. For the second look, Klara wanted a stripped back, elegant look with lots of delicate neutral layers."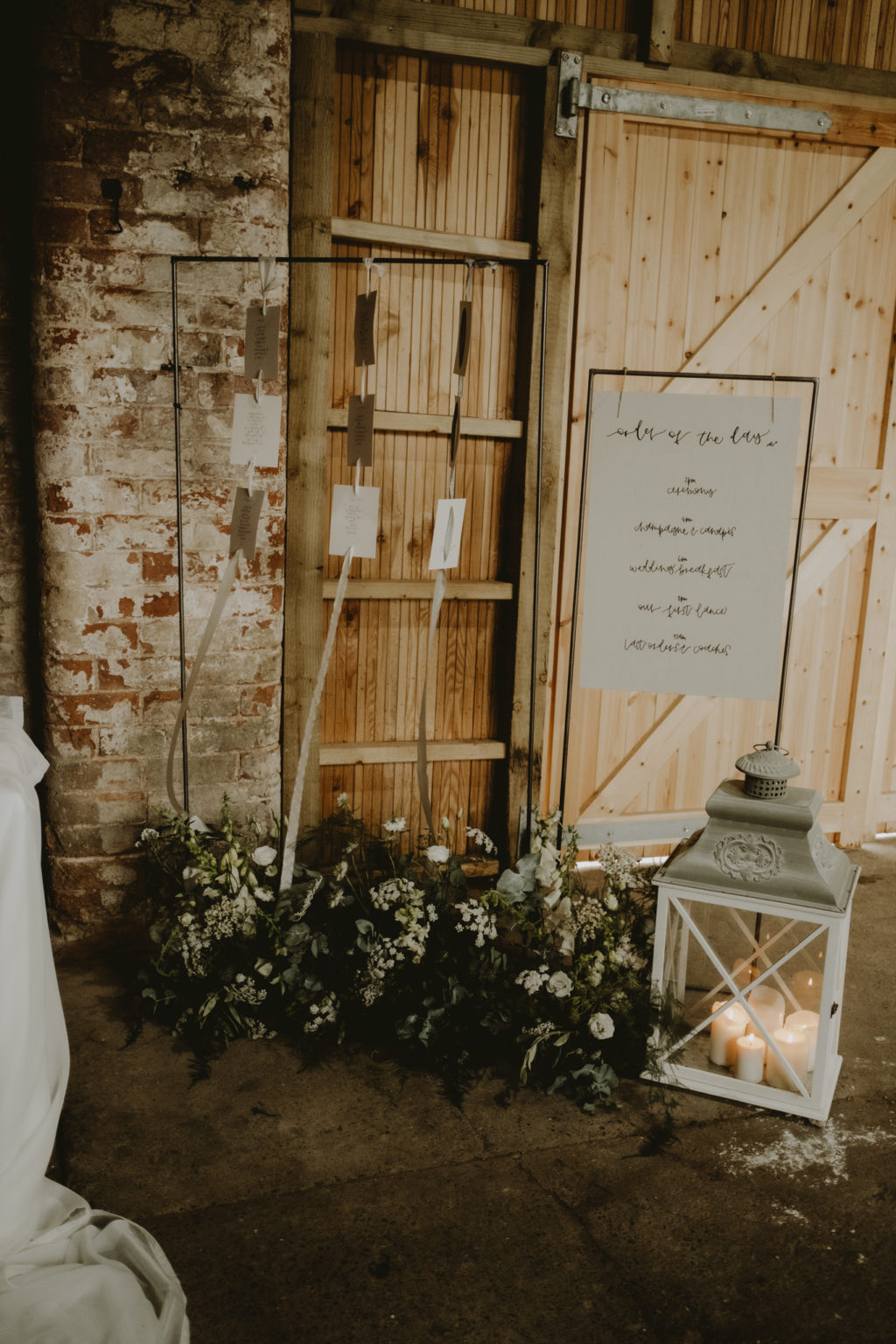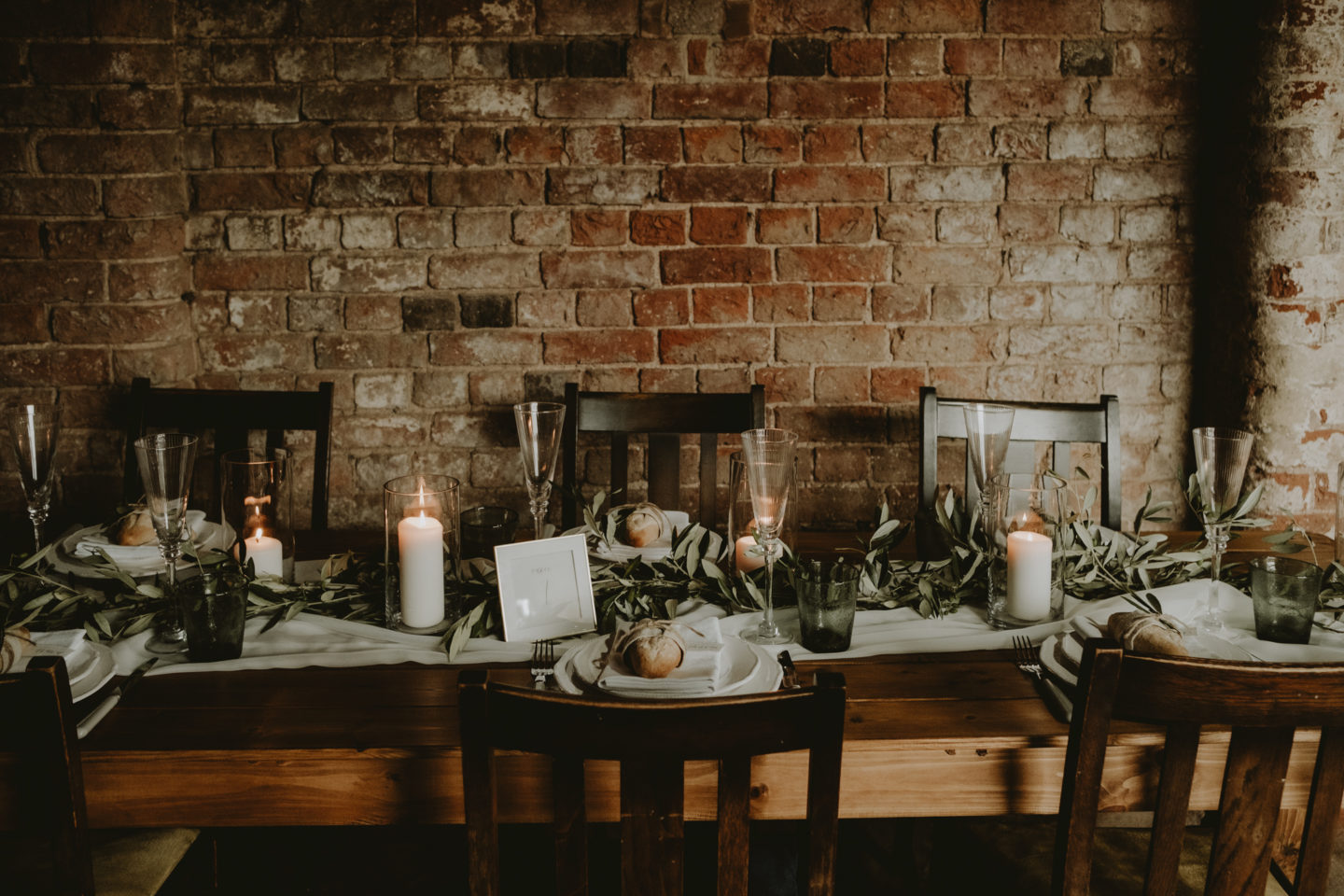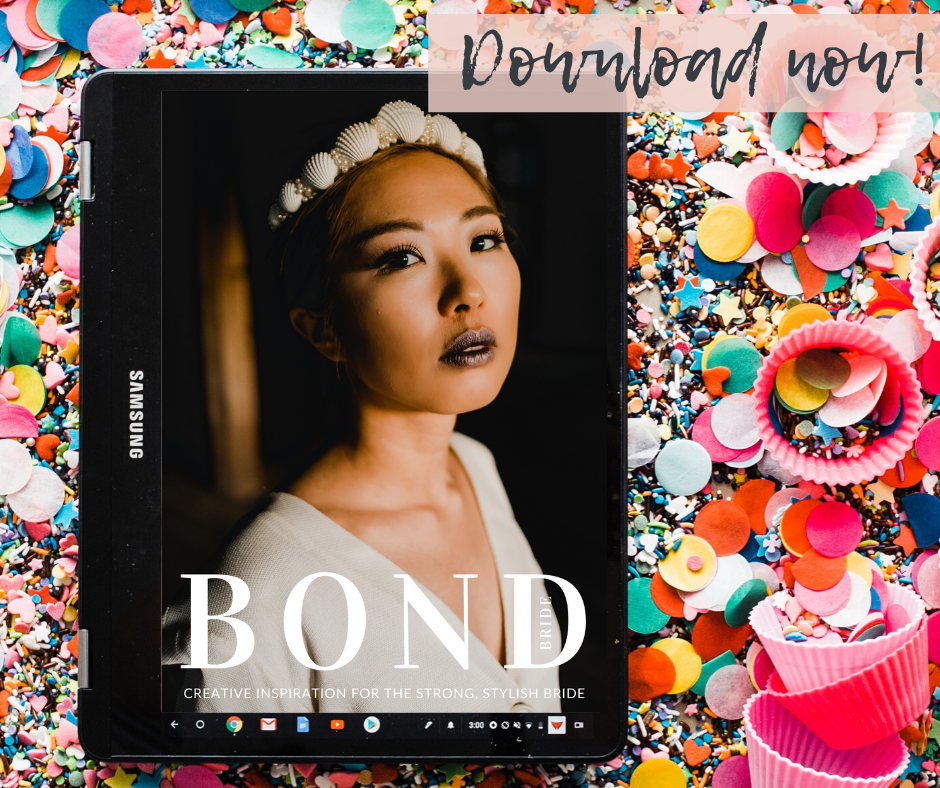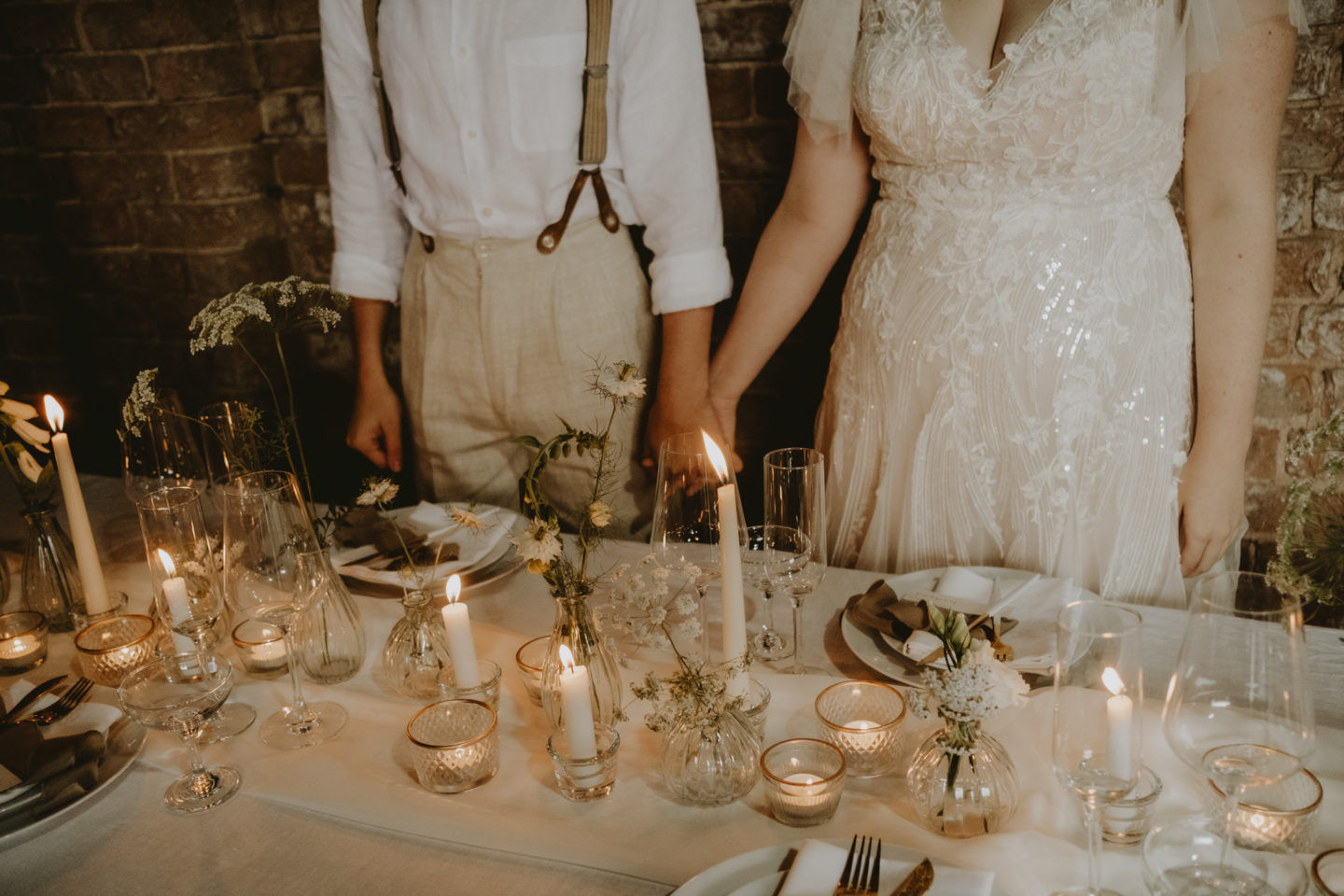 Venue – Manor Farm
"The shoot took place at Manor Farm, Oldcoates in North Nottinghamshire. You can hire various parts of the farm for your wedding celebrations as well as booking corporate events and family holidays. There are so many unique and picturesque corners around the venue, perfect for wedding portraits and escaping the reception for a little just married moment.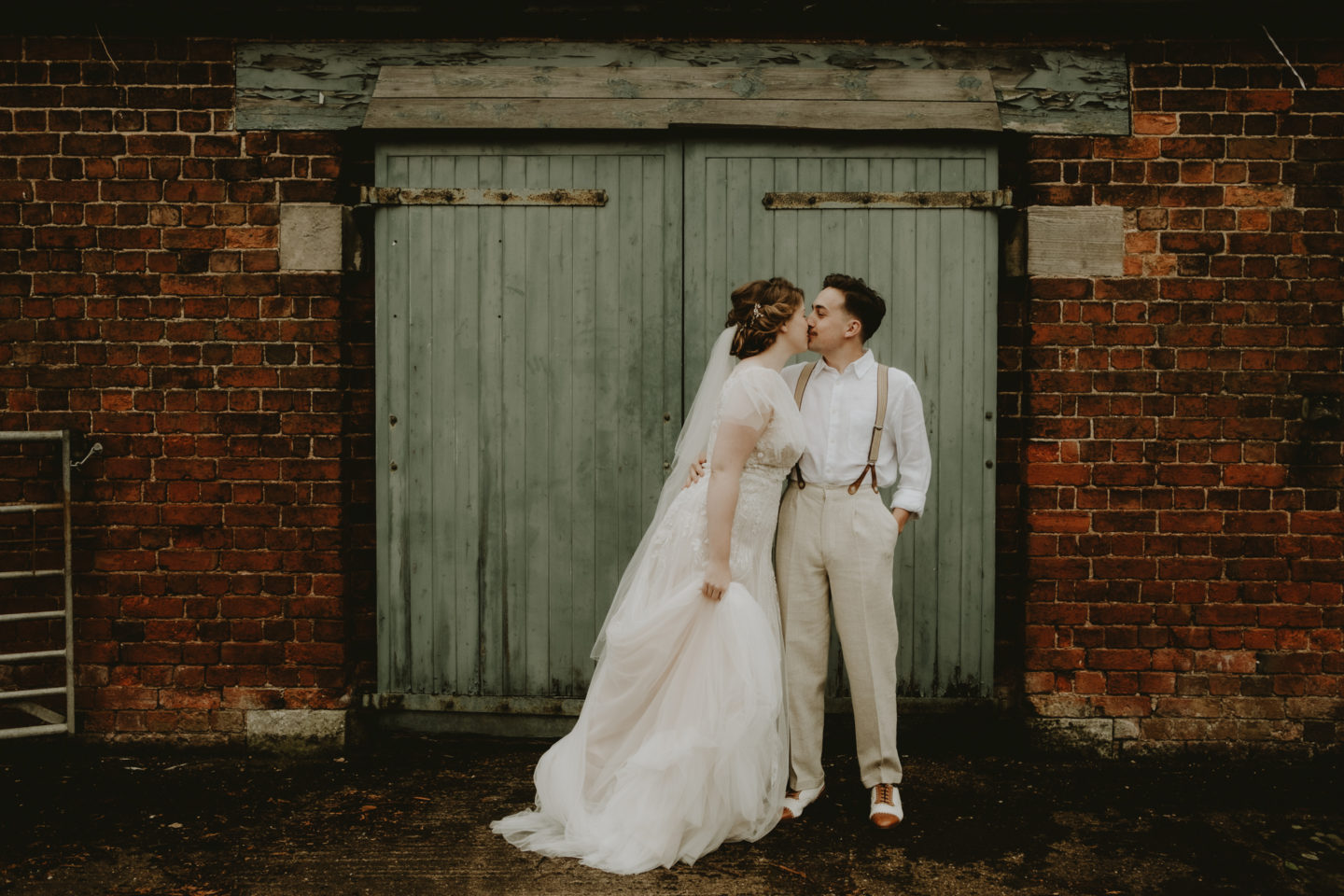 Bridal – Ivory White
"Sophie from Ivory White was instrumental in finding the perfect dress for the shoot. She and Saffron are childhood friends, and had a lovely morning together at her bridal boutique in Duffield, Derbyshire trying on different dresses to find the one."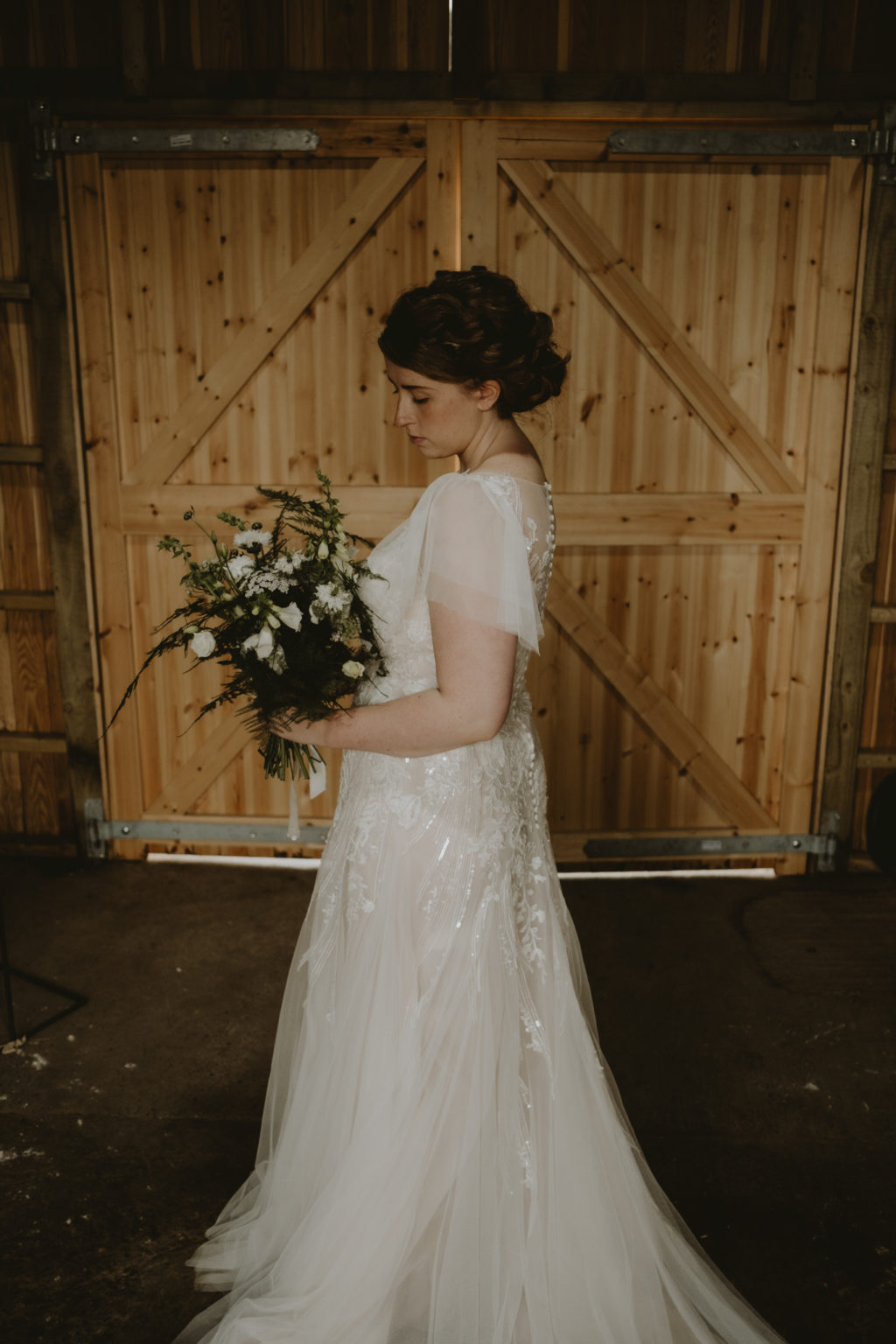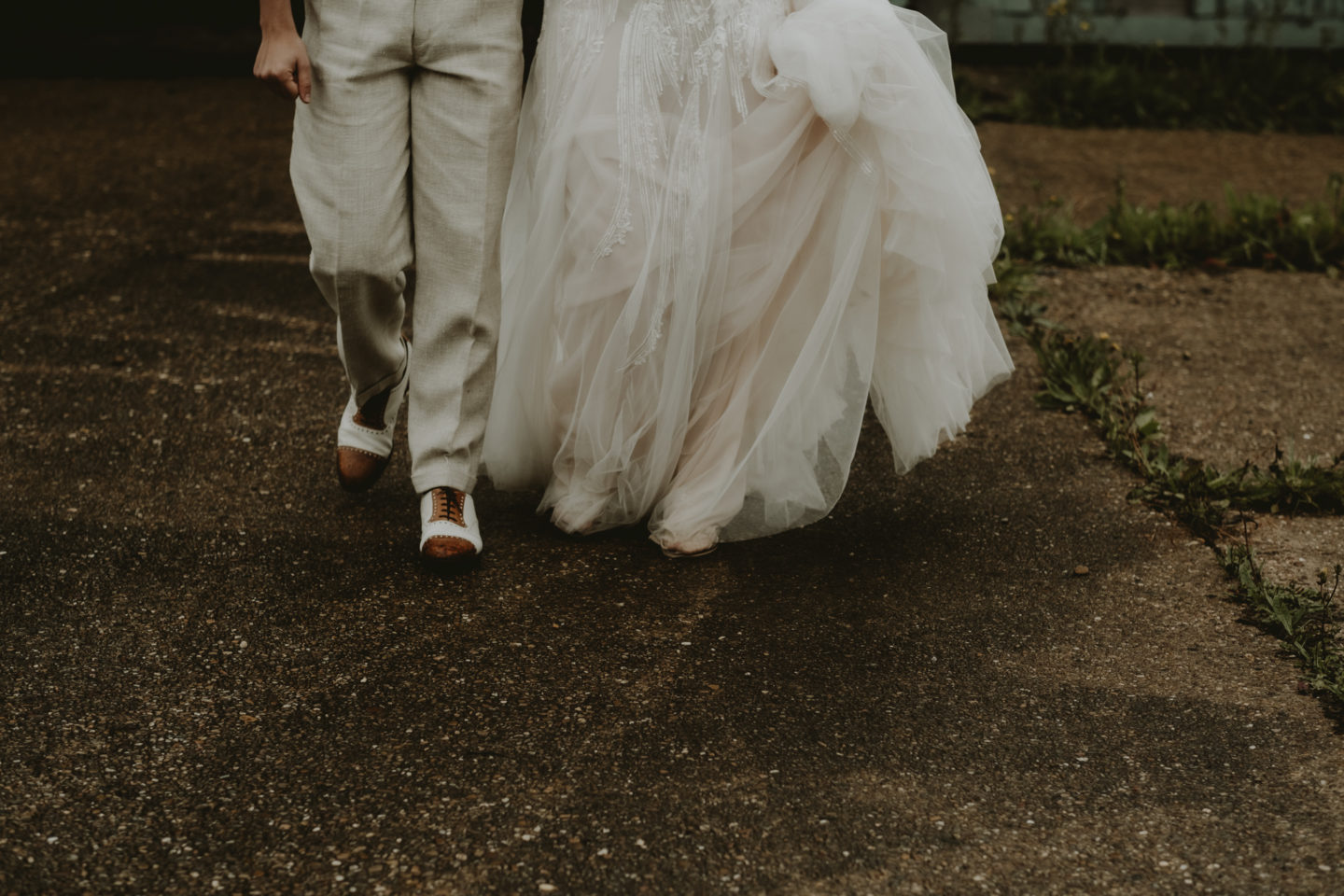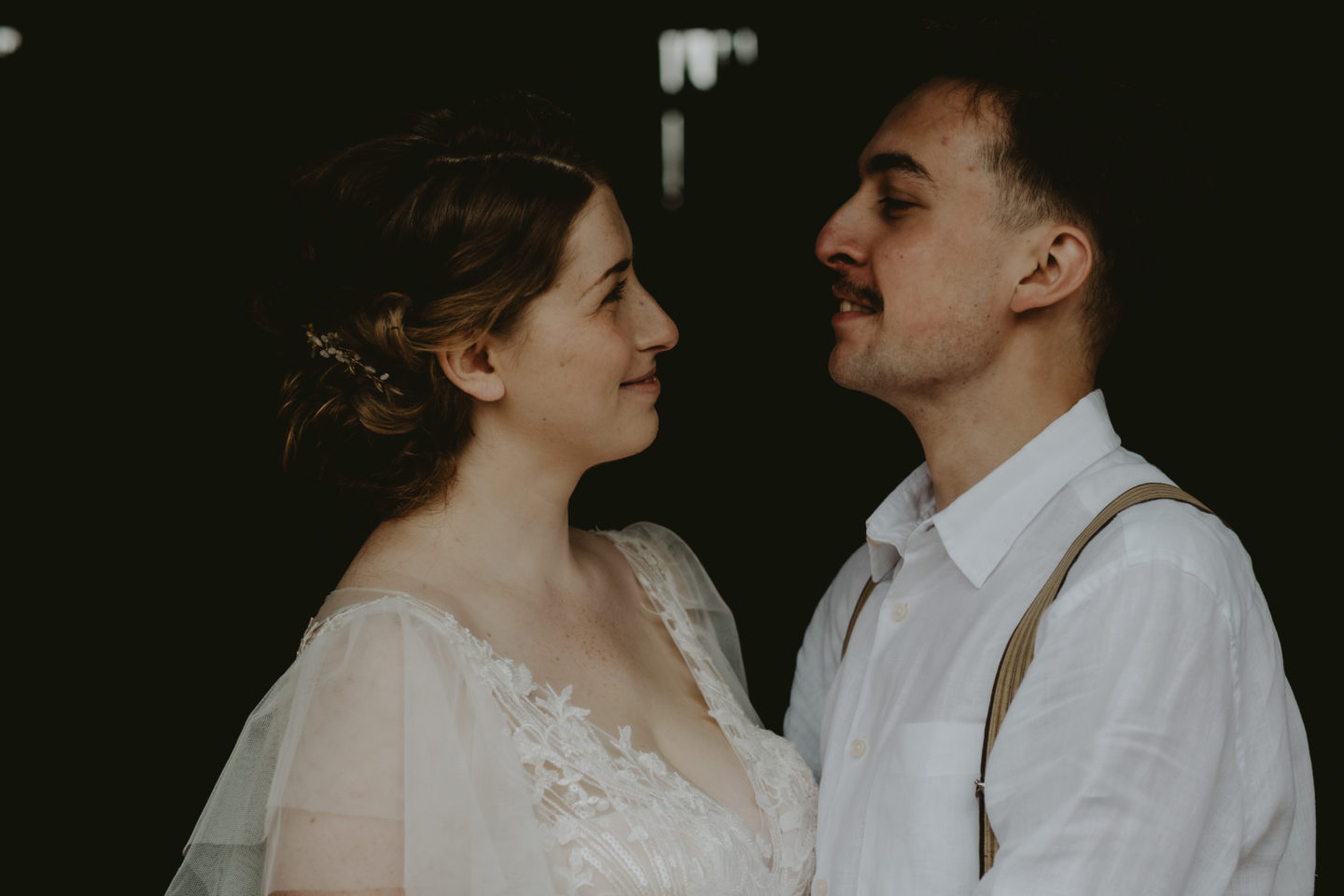 Hair – Sass and Co
"Saskia finished off Saffron's perfect bare faced look with a textured up-do to show off the neckline and details in the dress. Saffron has fairly short hair, but this didn't stop Saskia from pampering her and making her feel amazing. You could really see how confident she felt with the look and this shone through in the photographs. Callum wore a vintage suit in beige, which complimented all other elements so beautifully."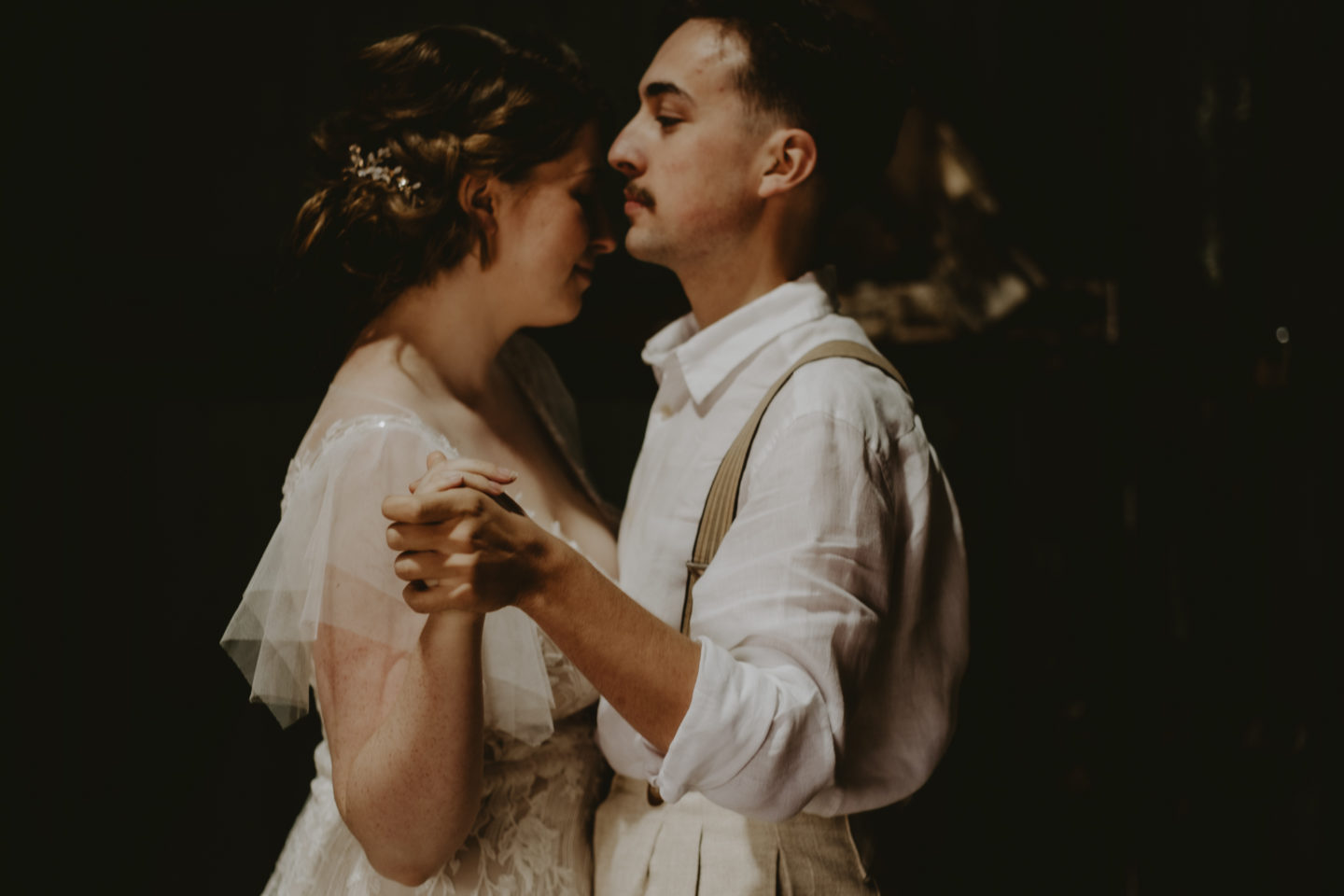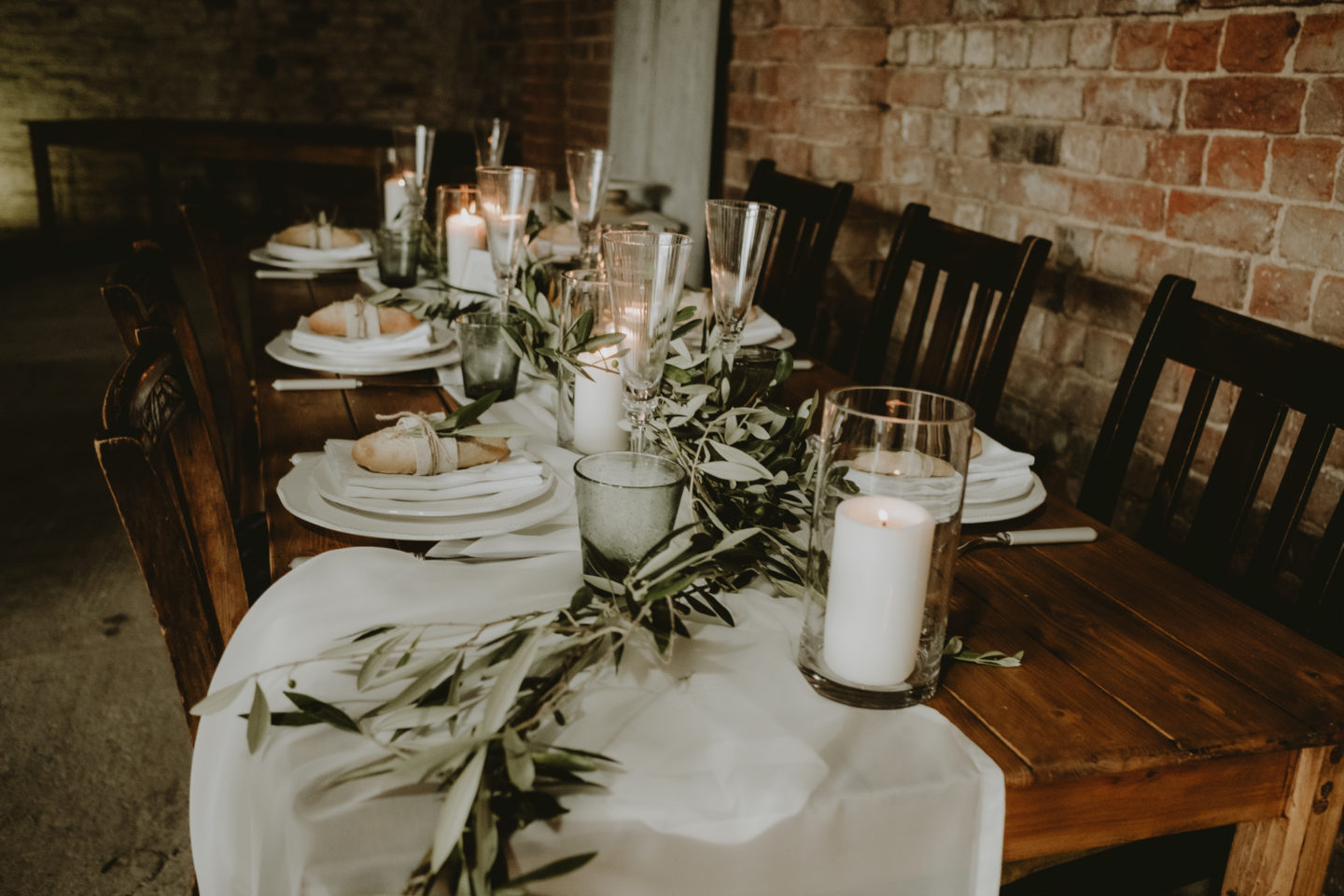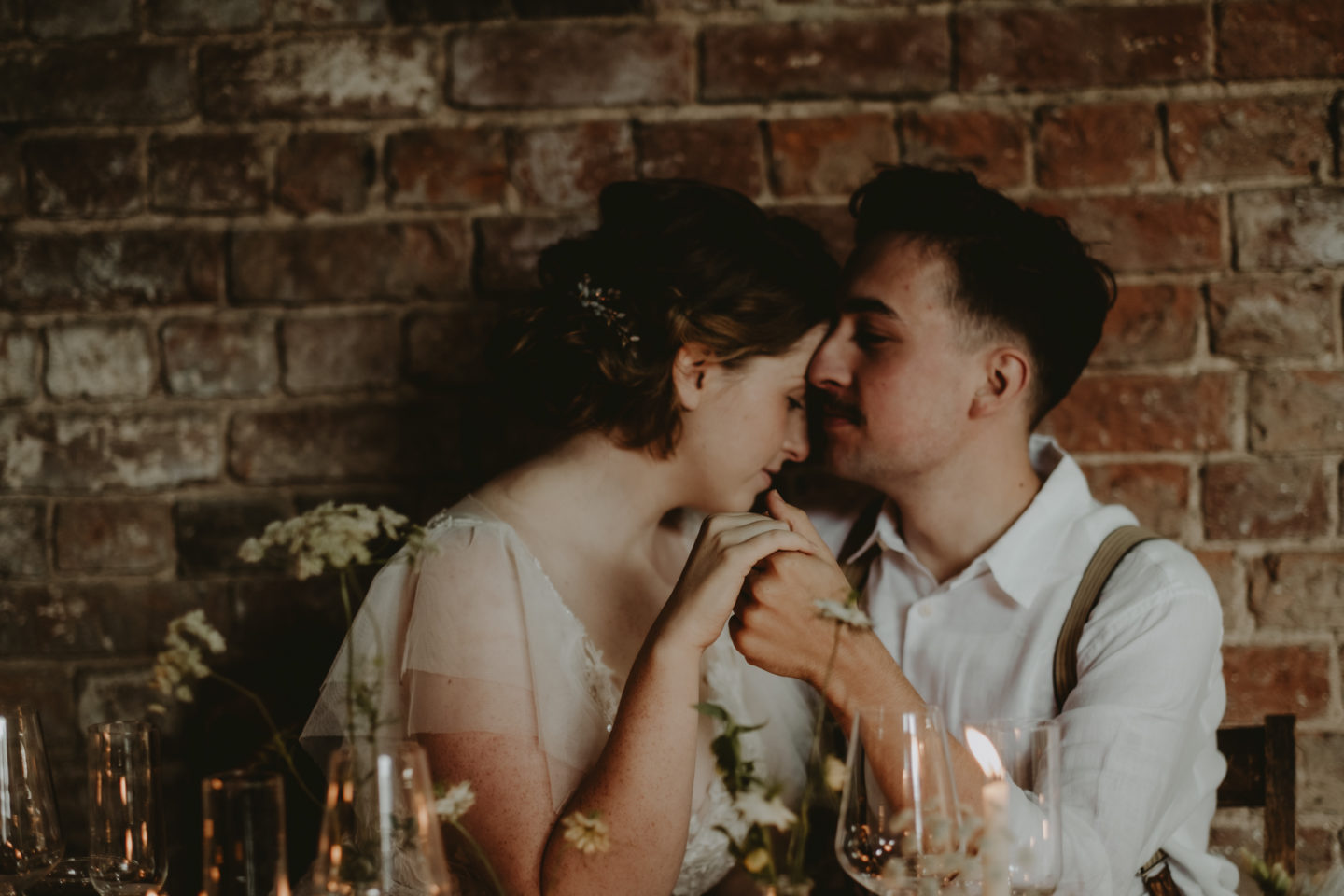 Florals – PolkaDot.The Creative Florist
"The looks were finished off with a delicate foliage bouquet. Foliage is a great option for summer and destination weddings because it won't droop as much as flowers would under the heat. Amy used asparagus fern and layered foliage to create the statement bouquet and meadow which took centre stage and was a real focal point of the wedding décor."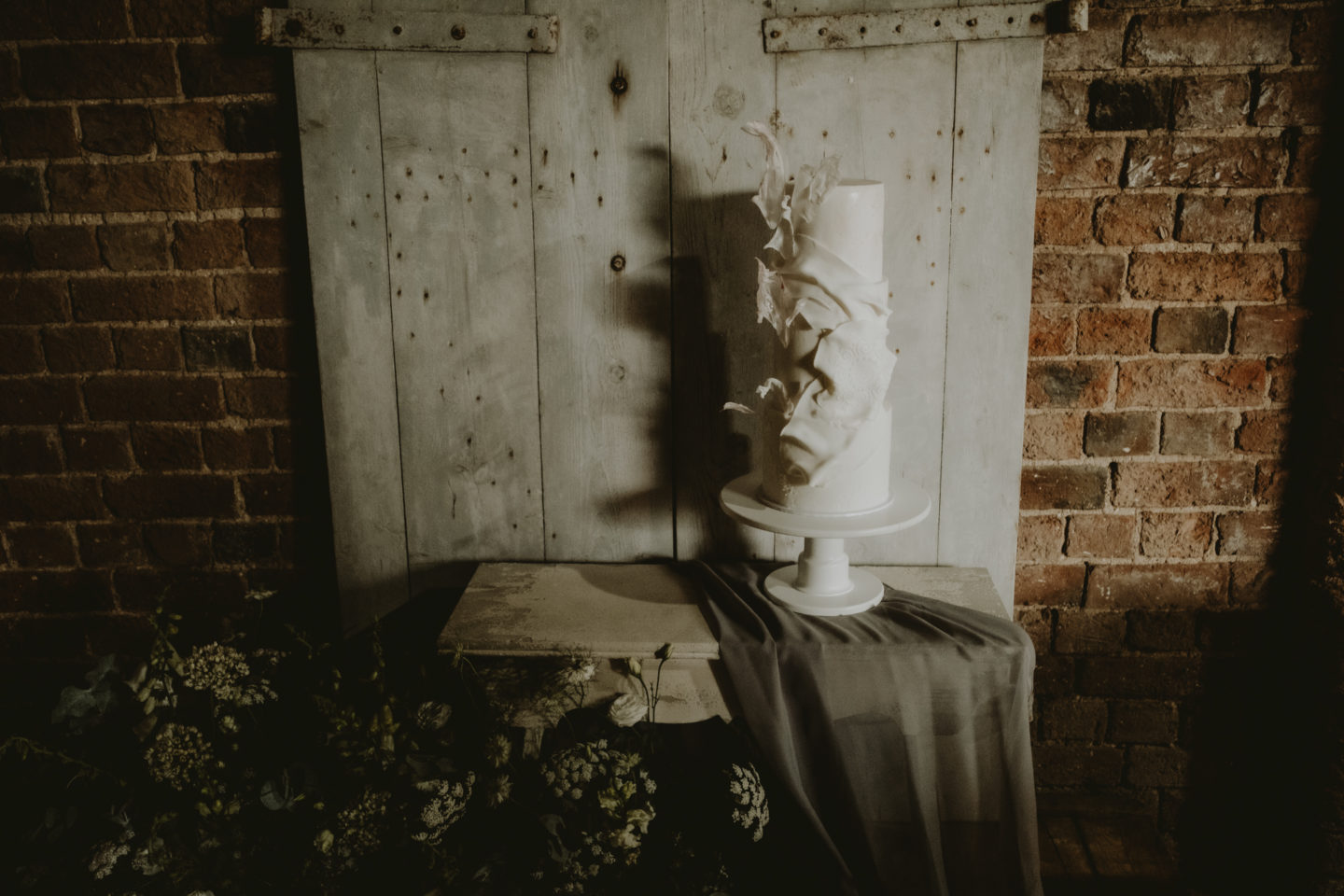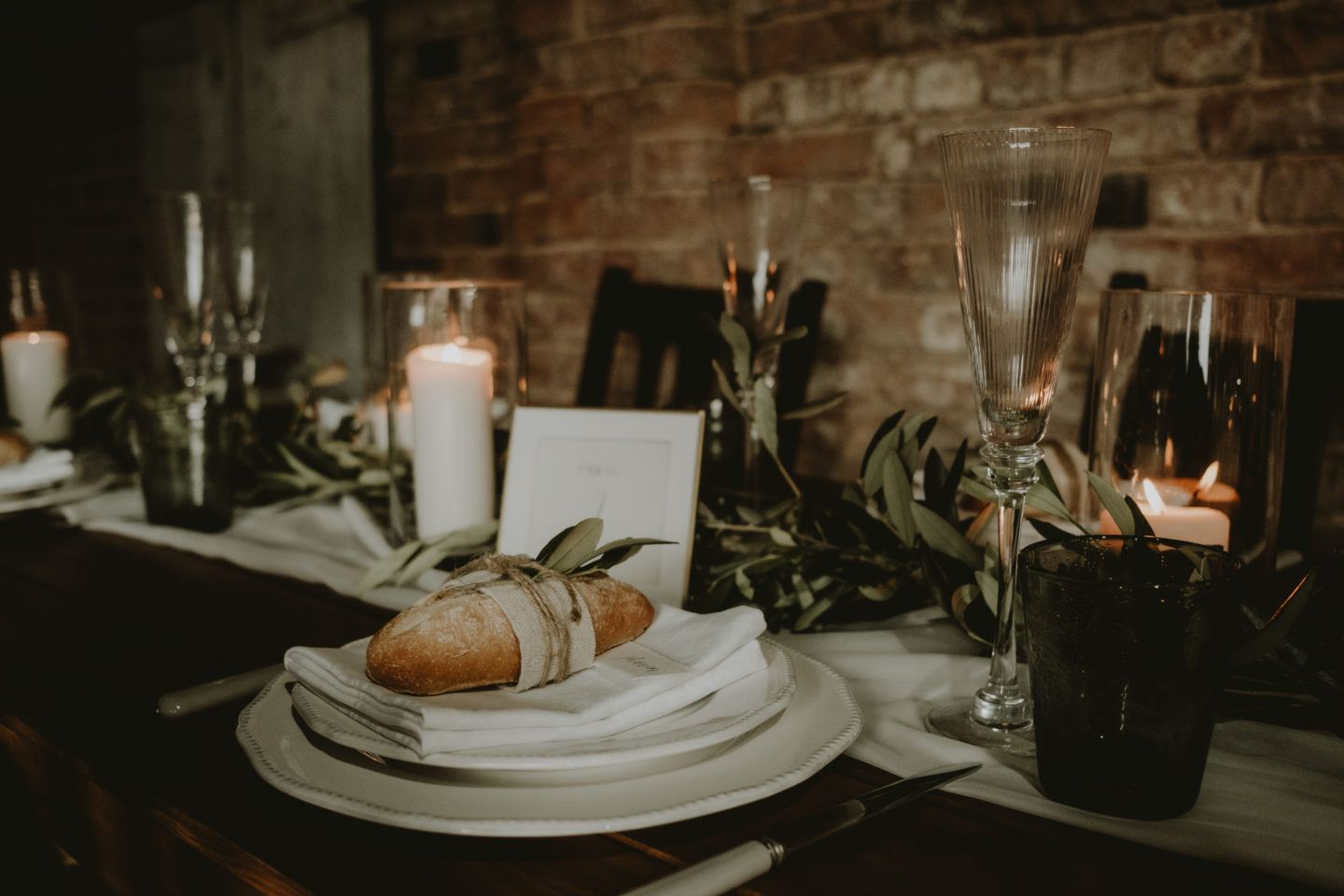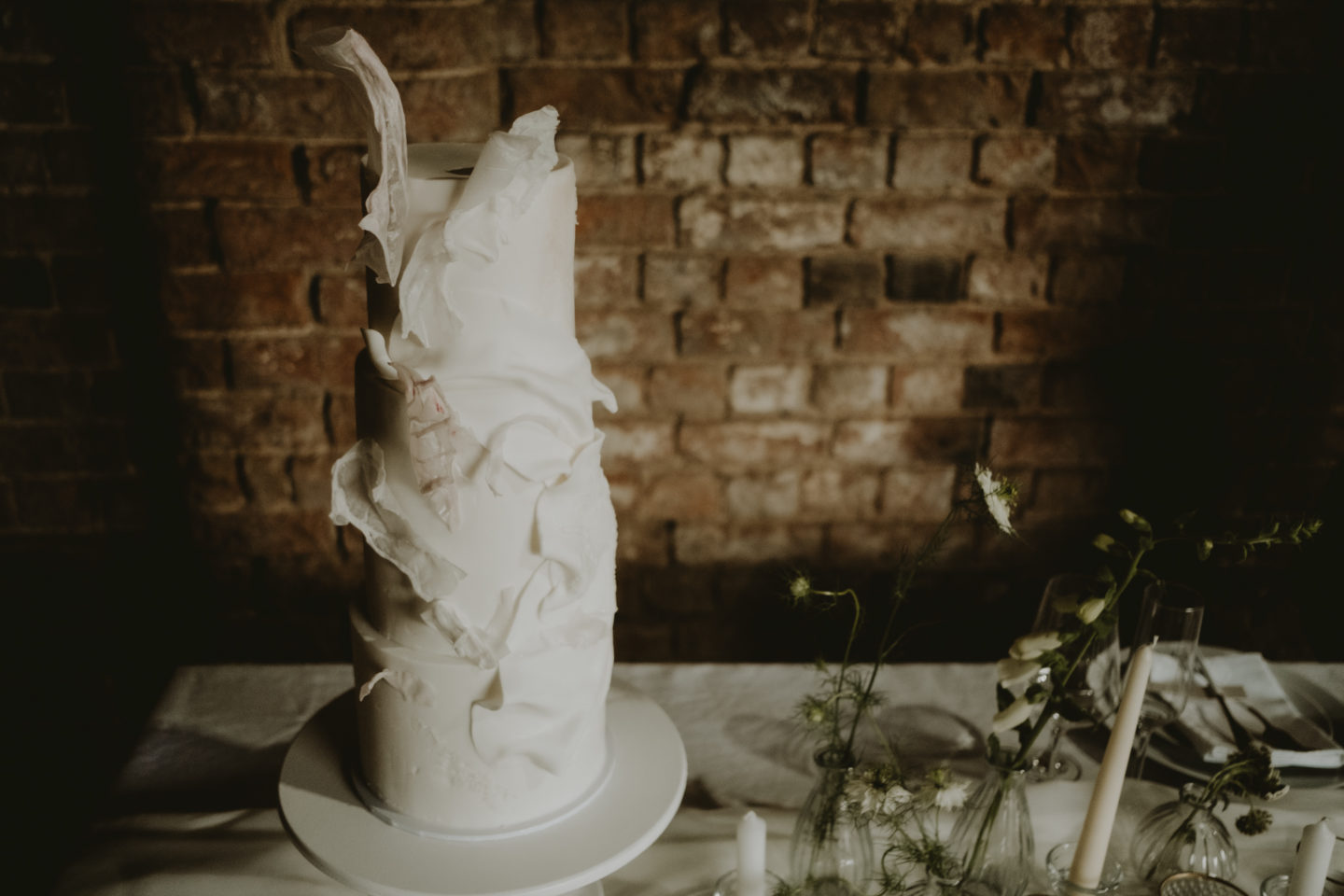 Cake – Taylor Made Bakes
"Clare from Taylor-Made Bakes was the mastermind behind two next level cakes, which Klara styled beautifully. For the first, Tuscany inspired look, Clare designed an elegant terrazzo inspired cake made completely by hand, with brush strokes of antique gold on the lower and top tiers to complete the look. For the second cake, she created a tall statement cake with her signature textured fondant coating, before adding dried and textured wafer paper sails and layers of fondant across the tiers. She also brought the dreamiest coffee and walnut cupcakes for all suppliers involved which I can confirm were an 11/10!"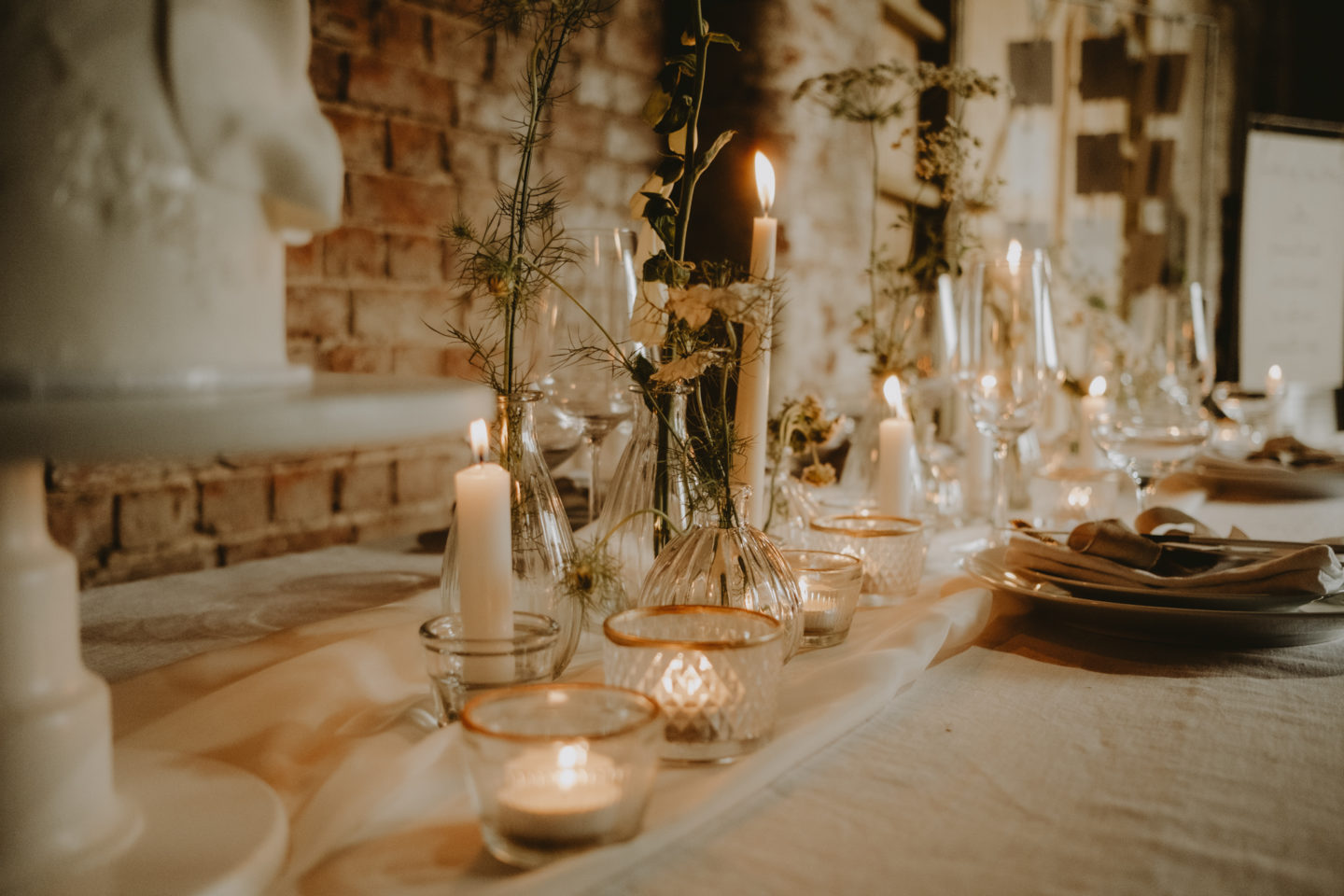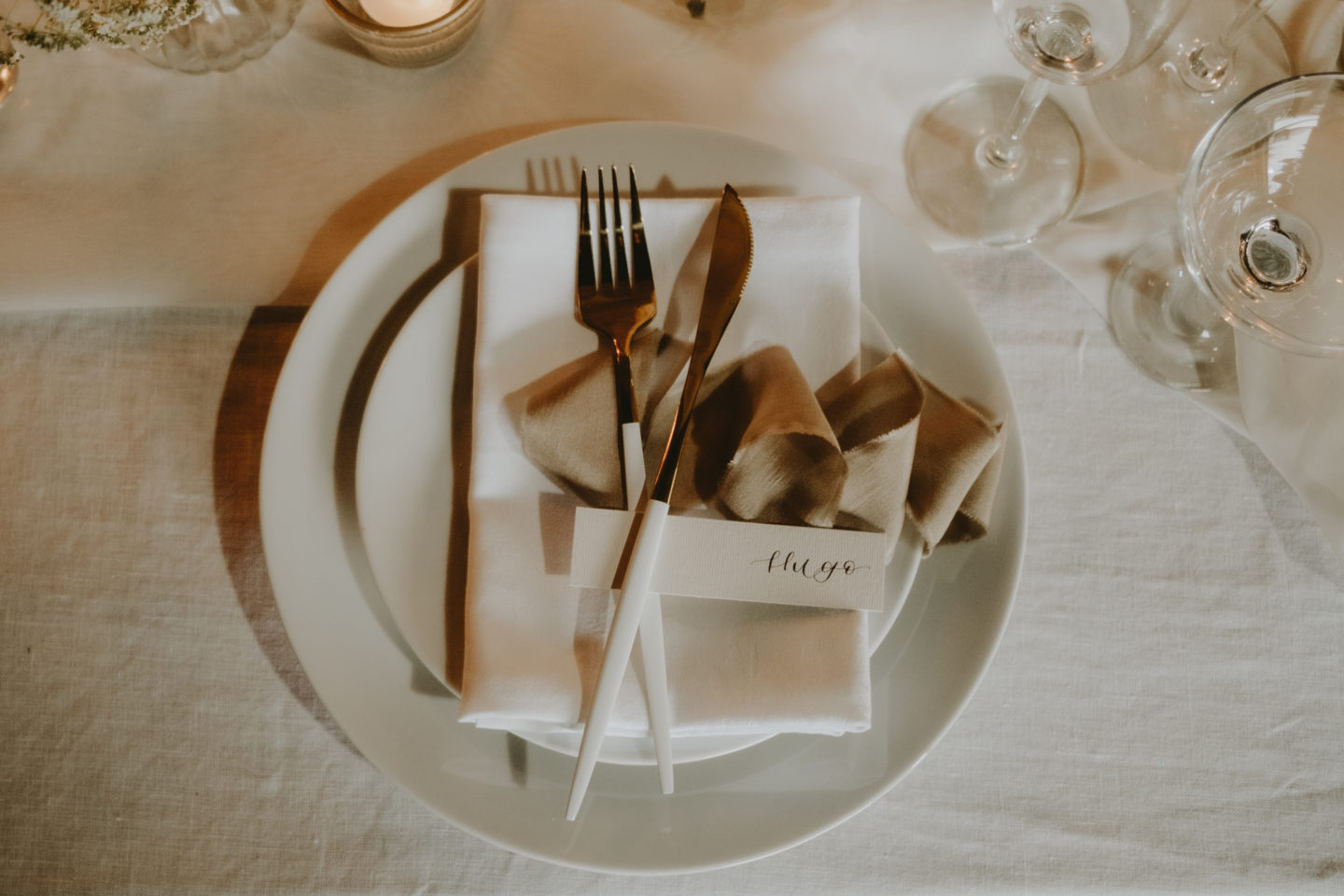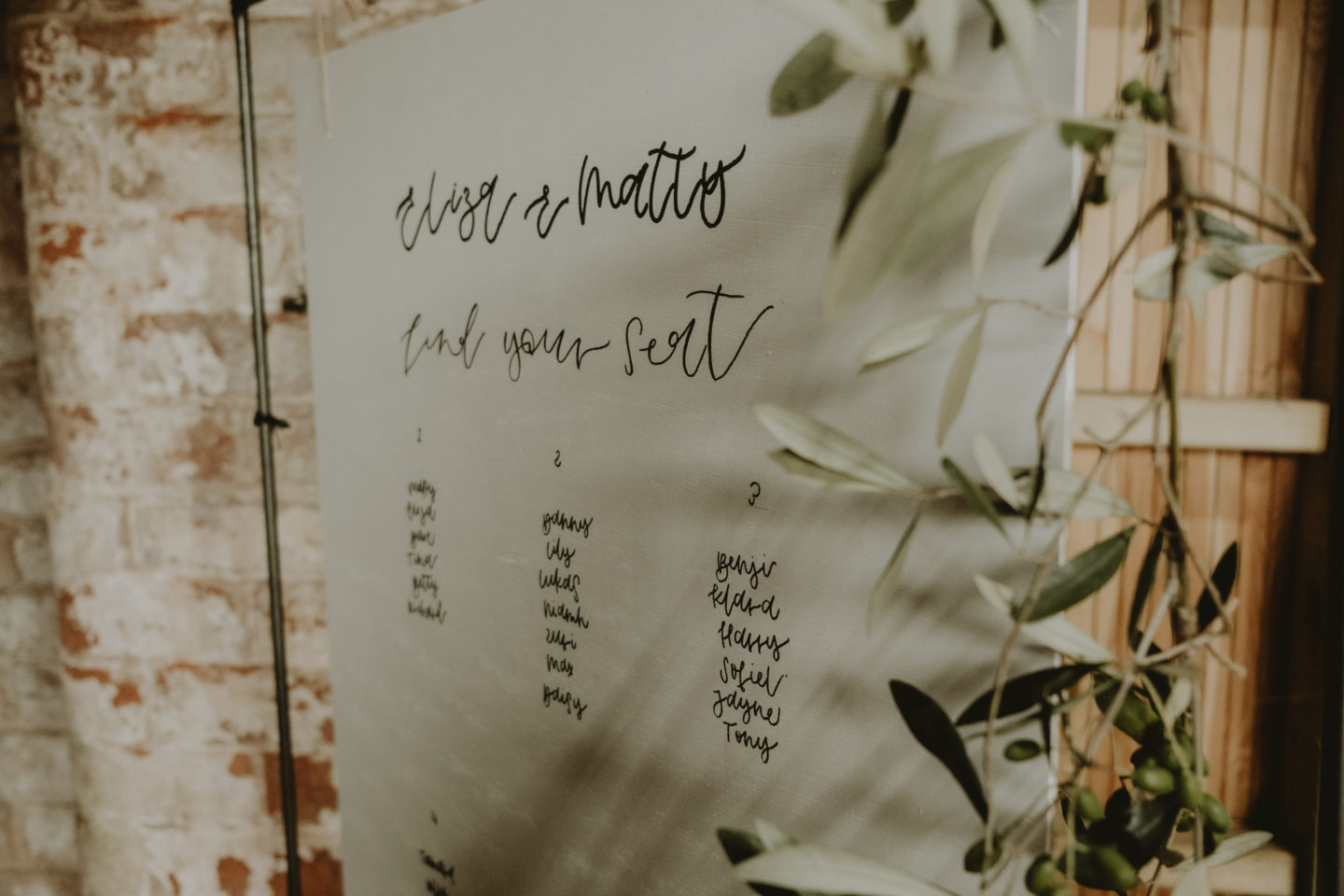 Stationery – Wild Calligraphy
"Wild calligraphy is an eco-friendly brand and I work exclusively with low waste or recycled materials. I also prioritise sourcing materials from other independent businesses to support small while creating dreamy stationery and on the day details that work in a variety of settings. For this shoot, I used recycled cotton rag card stock and created two tone signage in white and oat beige. I live for floral and botanical illustrations but wanted to compliment the layers and details in the tablescape with something minimal.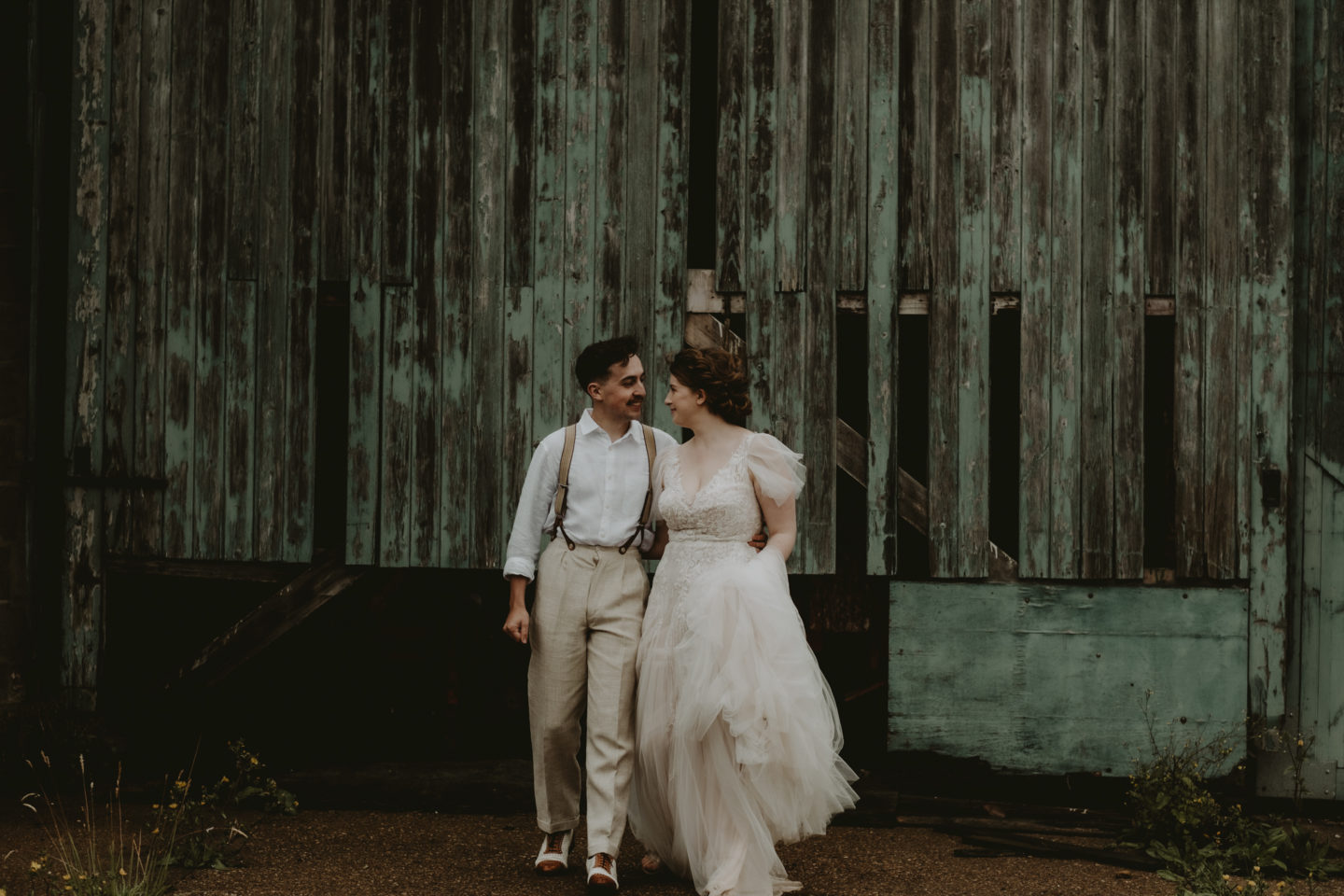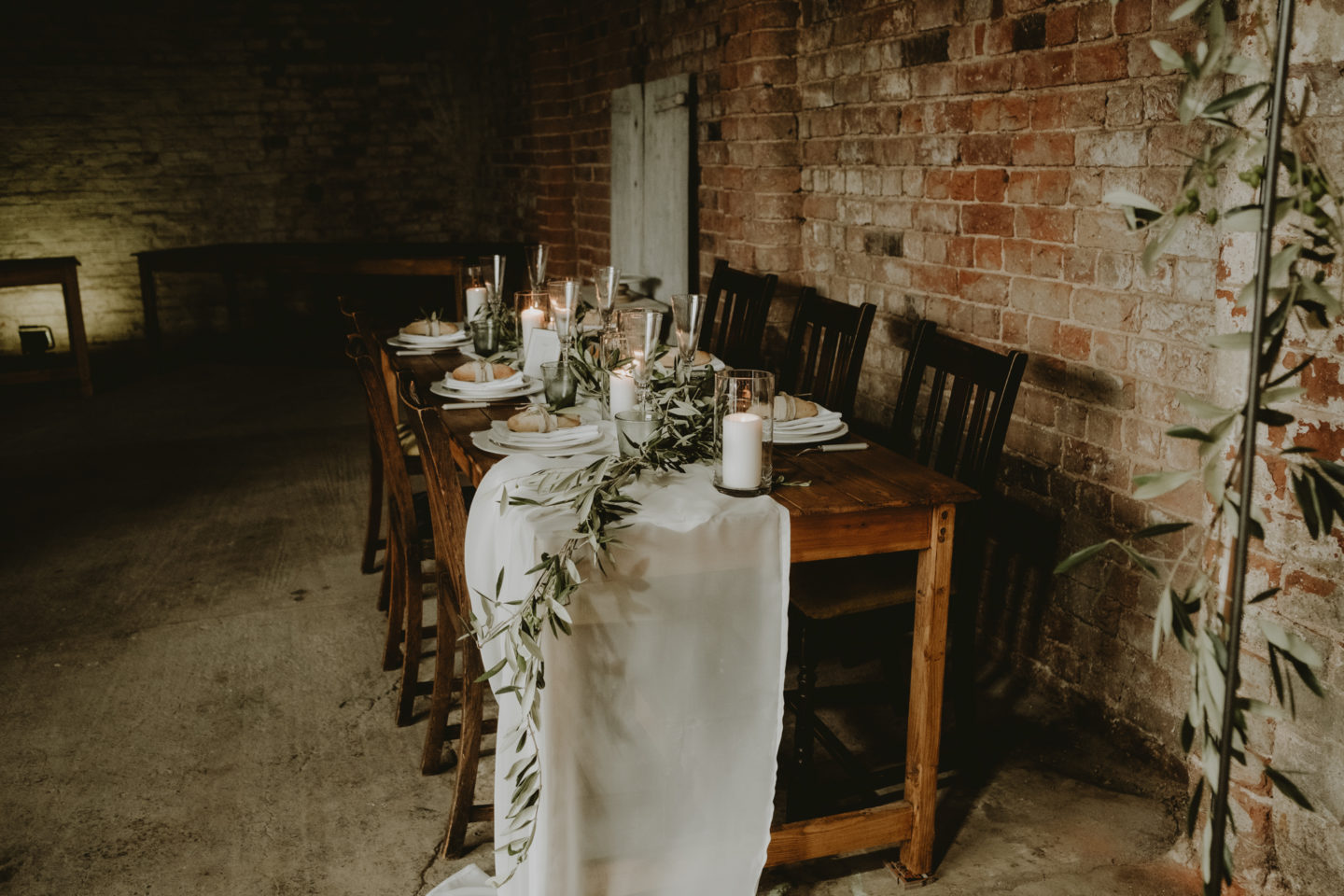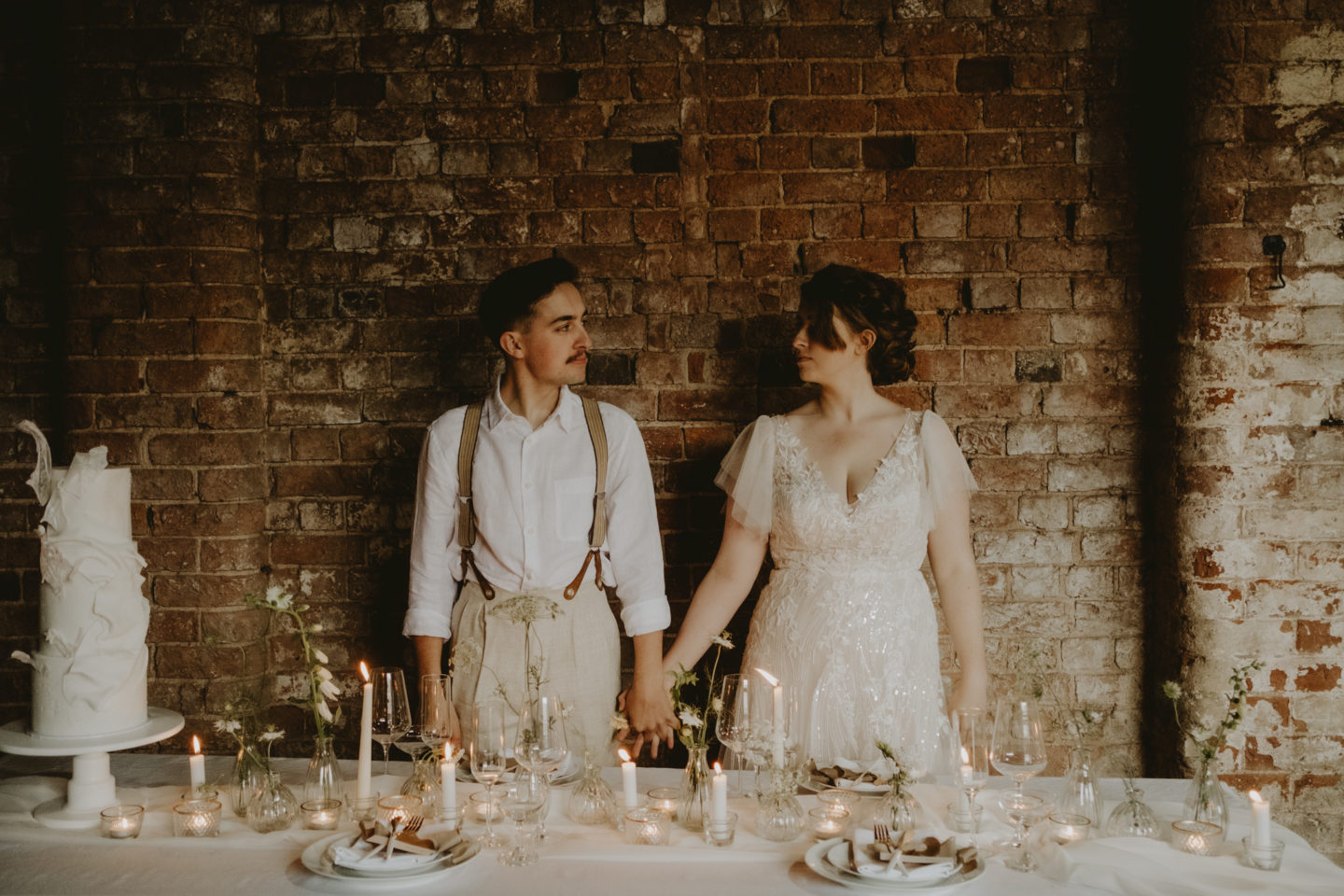 Silks – Silk and Purl
"For the second look, we used hand-dyed silks from Silk and Purl to suspend seating plan cards. Seating plan cards are a fantastic option for people worried about last minute guest changes or table swaps (as it's much easier and cost effective to get a new card made than a new sign). They're also more lightweight and therefore portable for those taking their stationery abroad for wedding receptions."
"From delicious hanging olive leaf to timeless details working together to wow you, this shoot is full of destination wedding inspo. Caroline and Leesha captured all elements perfectly and we had such a lovely day."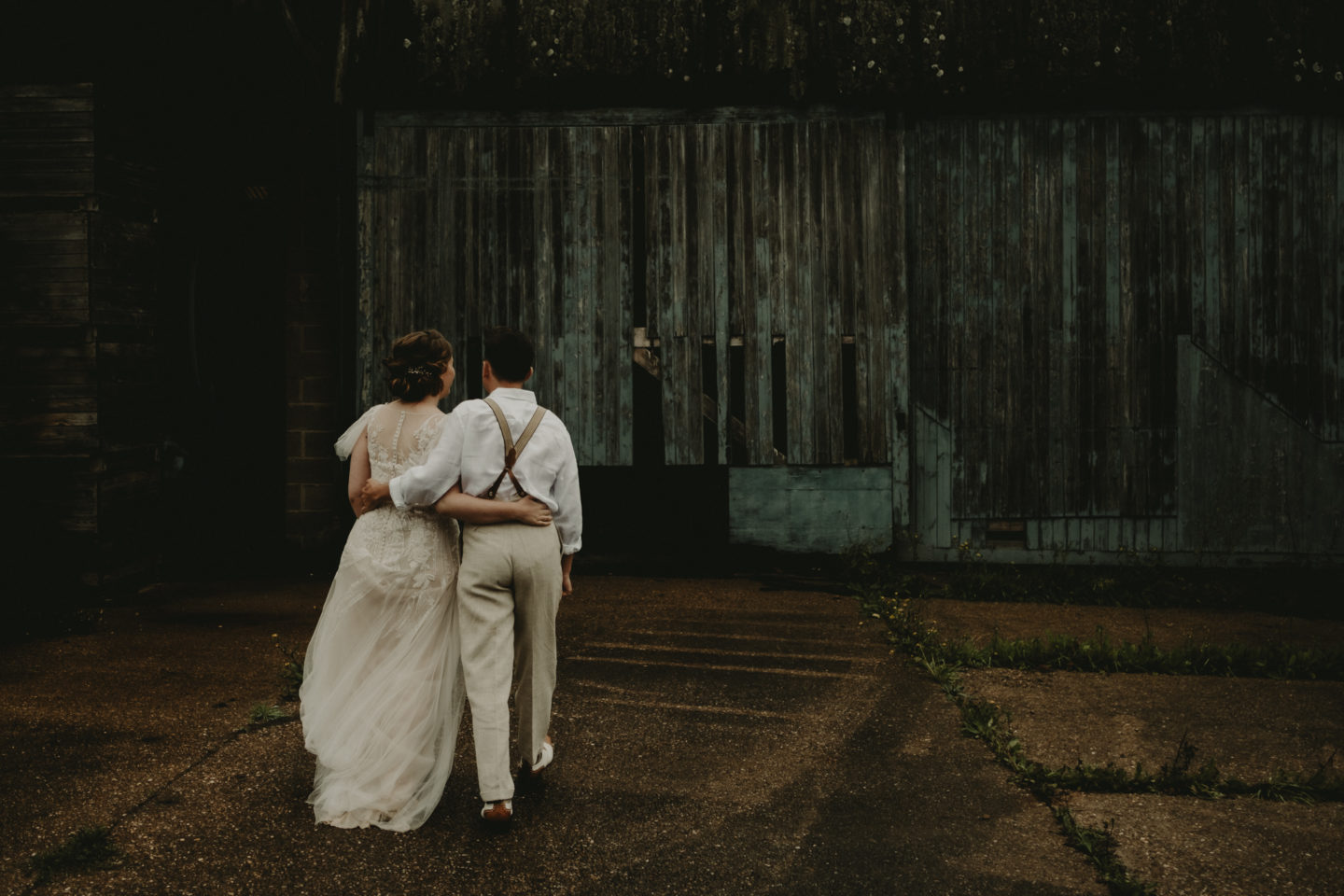 The Team – Romantic Intimate Wedding Inspiration With Vintage Vibes At Manor Farm
Photography – Caroline Goosey Photography @carolinegooseyphotography
Concept, coordination + stationery (including signs) – Wild Calligraphy @wildcalligraphygb / Stylist – Birds in the Attic @atticbirds / Venue – Manor Farm @manorfarmoldcotes / Bridal – Ivory White Duffield @ivorywhiteduffield / Hair and makeup- Sass + Co @Hairandmakeupbysaskia / Cake Designer – Taylor-Made Bakes @taylor_madebakes / Video- Leesha Williams Photo @Leeshawilliamsphoto / Florist- PolkaDot.The Creative Florist @polkadotflorist_ / Silks – Silk & Purl @Silkandpurl
IF YOU LOVED THIS MANOR FARM WEDDING PLEASE PIN IT!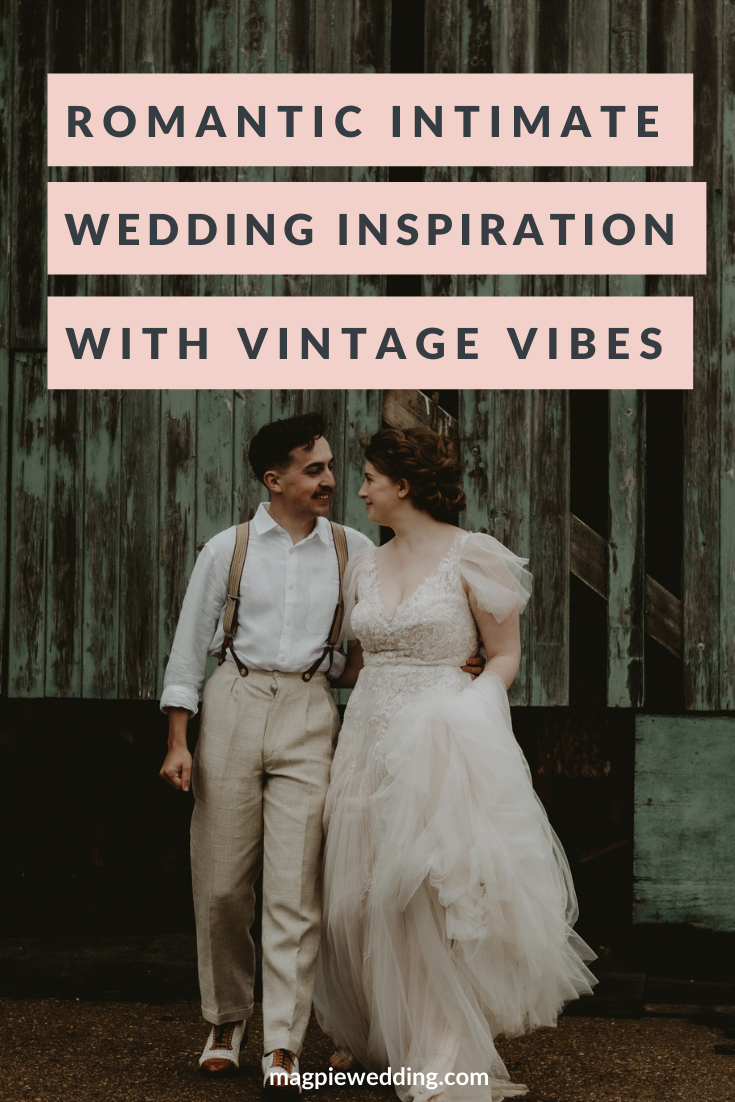 If you love this intimate wedding inspiration at Manor Farm you may also like;
Dreamy Italian Elopement Wedding With Lace Cape at The Lazy Olive, Tuscany
From Sunrise To Sunset; Five Alternative Bridal Looks For Your Wedding Day
Recycled Floral Eco Wedding Accessories For An Avant Garde Wedding Look