To celebrate Breast Cancer Awareness this team of incredible suppliers wanted to create a wedding shoot that represented love and family. Concentrating on a bride/mother relationship they chose different aspects to represent the journey. Titled 'Blossum', this ballet pink wedding inspiration is full of beautiful details which are meaningful to the bride. Set at Gabbinbar Homestead, Queensland, Australia and coordinated and styled by Poppy and Sage Photography, Le Sans Souci and Tyneale Hahn Makeup Artist it's a celebration of life. We catch up with the team to hear all about it.
Inspiration
"The focus of this shoot was heavily based around a 'pink' element – it is the colour that represents Breast Cancer. One of our beautiful vendors was the inspiration – her check-up showed irregularities and there our shoot idea was born. Our shoot is a collection of beautiful moments but also an underlying reminder to always remember to check your body and seek medical advice. So many cancers are going undiagnosed and it is a very frightening reality!"
"Our shoot has so many different aspects – Ballet and Pinks, anything and everything delicate! To recreate this theme (which could easily be transformed with a pastel colour palette) it will be critical to have a layering of colour and florals (arrangements and installations). A knowledgeable and creative florist is a must! Here the mood is created. Every aspect of the day must be cohesive with your palette and vibe – it would even work for those eclectic Brides with pops of colour."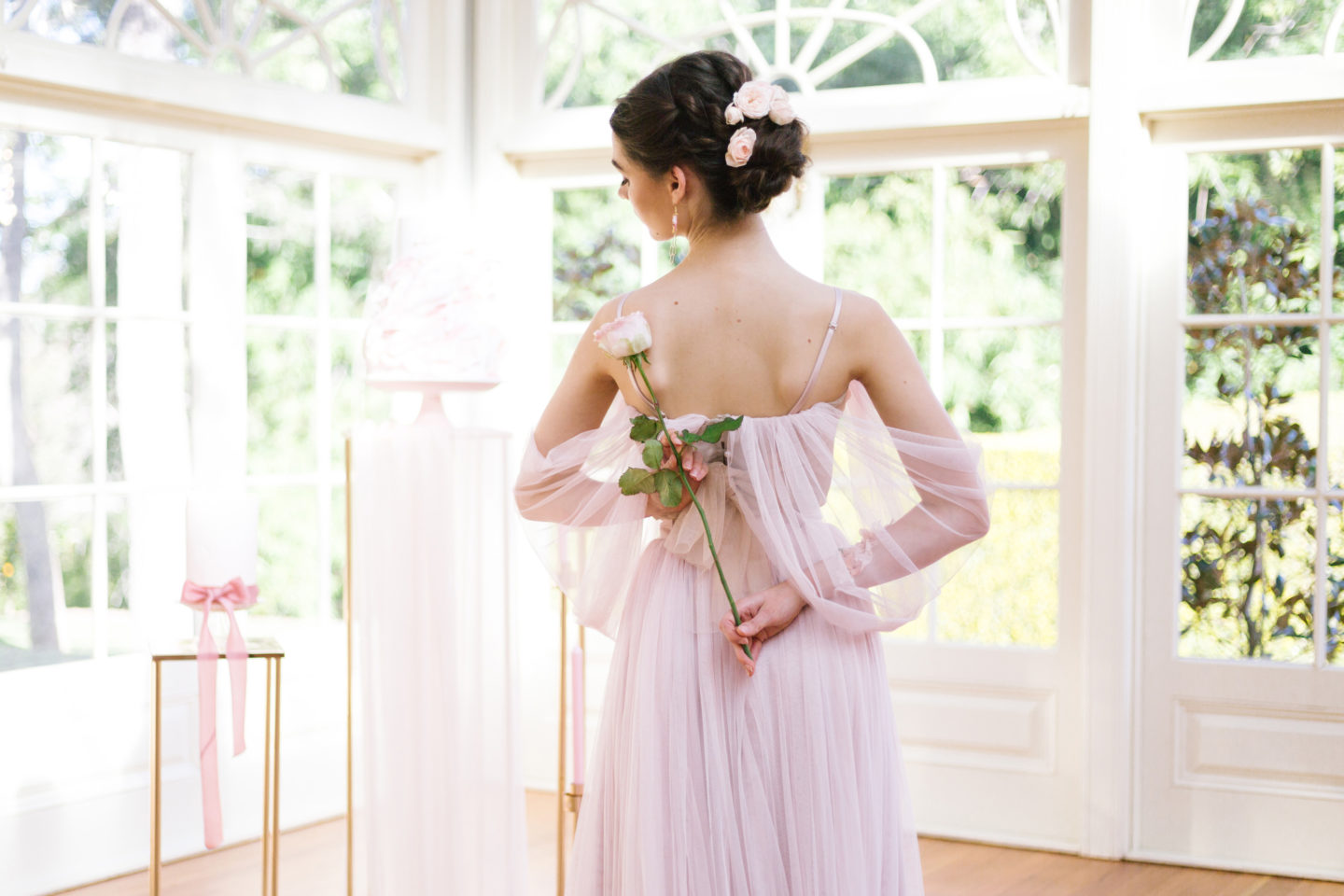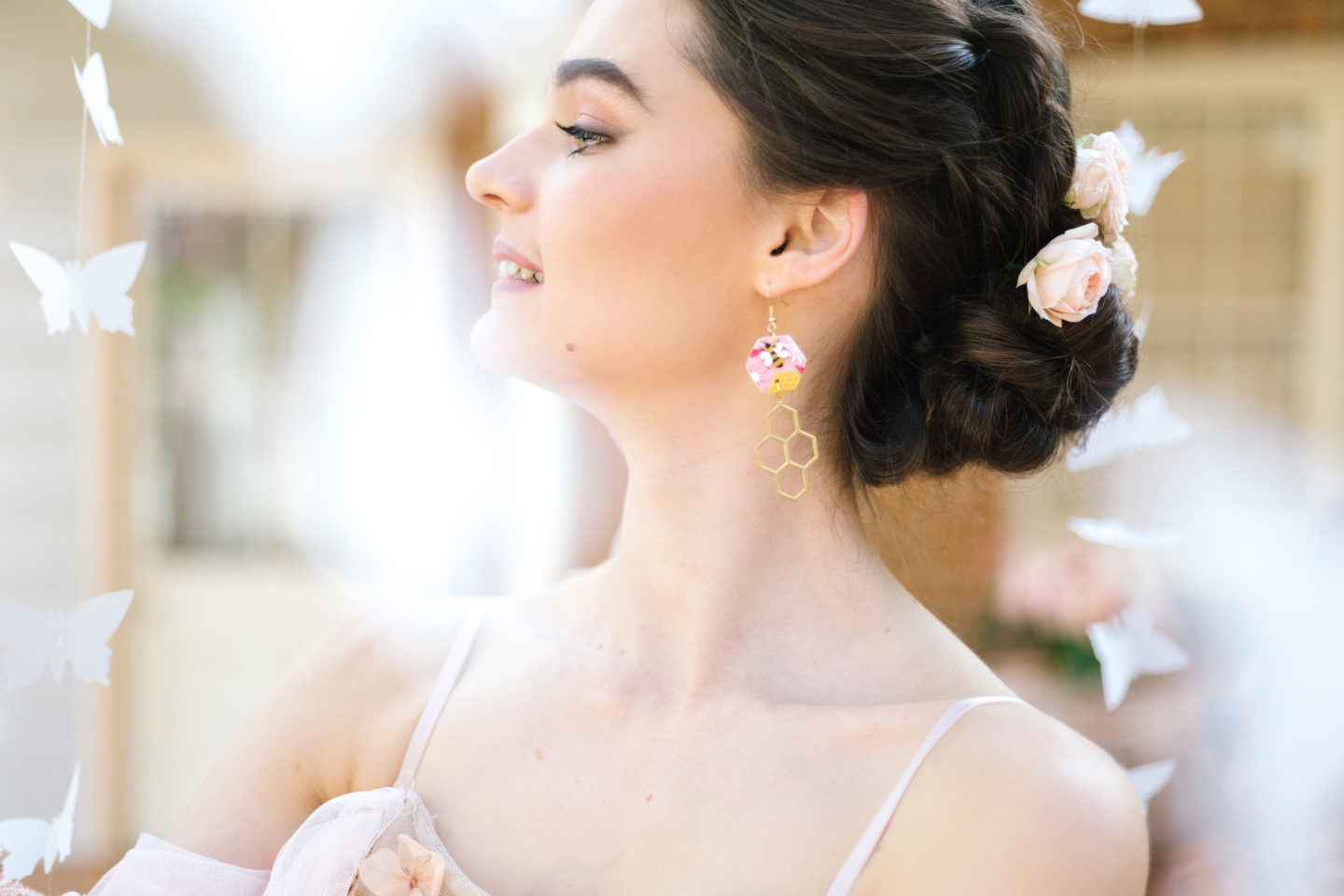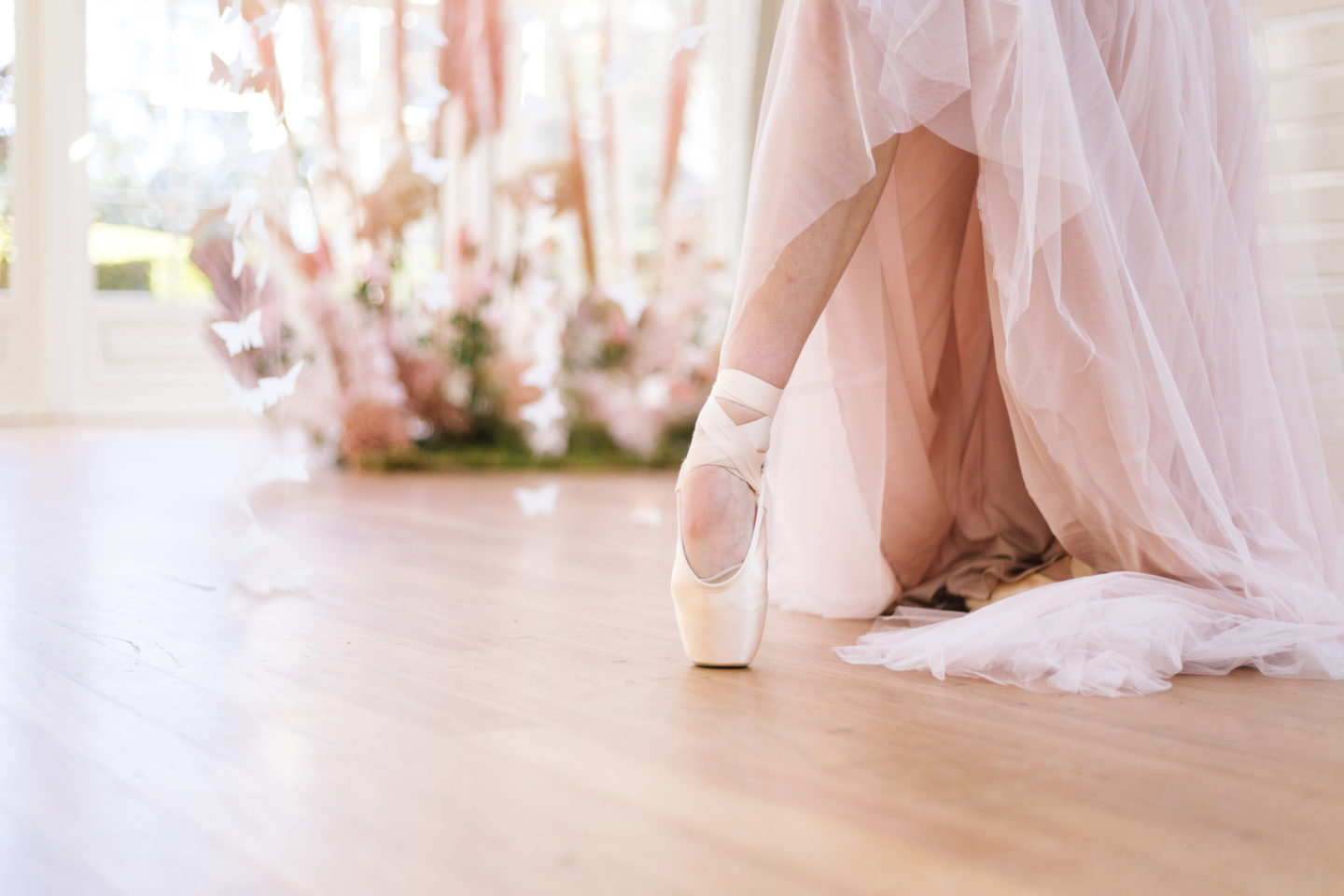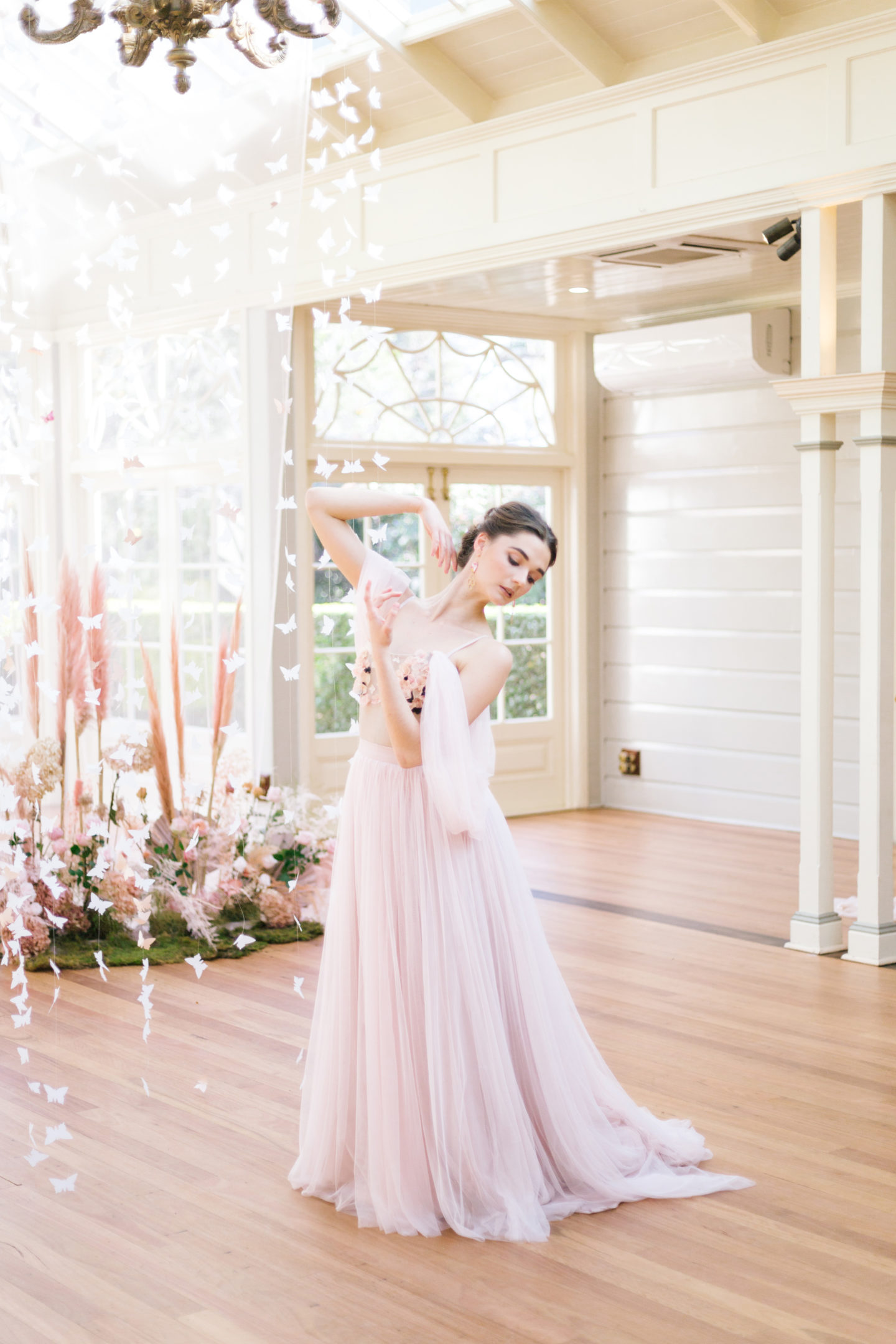 Venue
Gabbinbar Homestead is a heritage-listed venue in Toowoomba, Australia. It is perfectly landscaped and restored to perfection. There are so many locations on the property to host your day – The Woods, The Conservatory, Stables, Governor's Lawn, The Ballroom, a Bridal Retreat, The Library and the Homestead itself.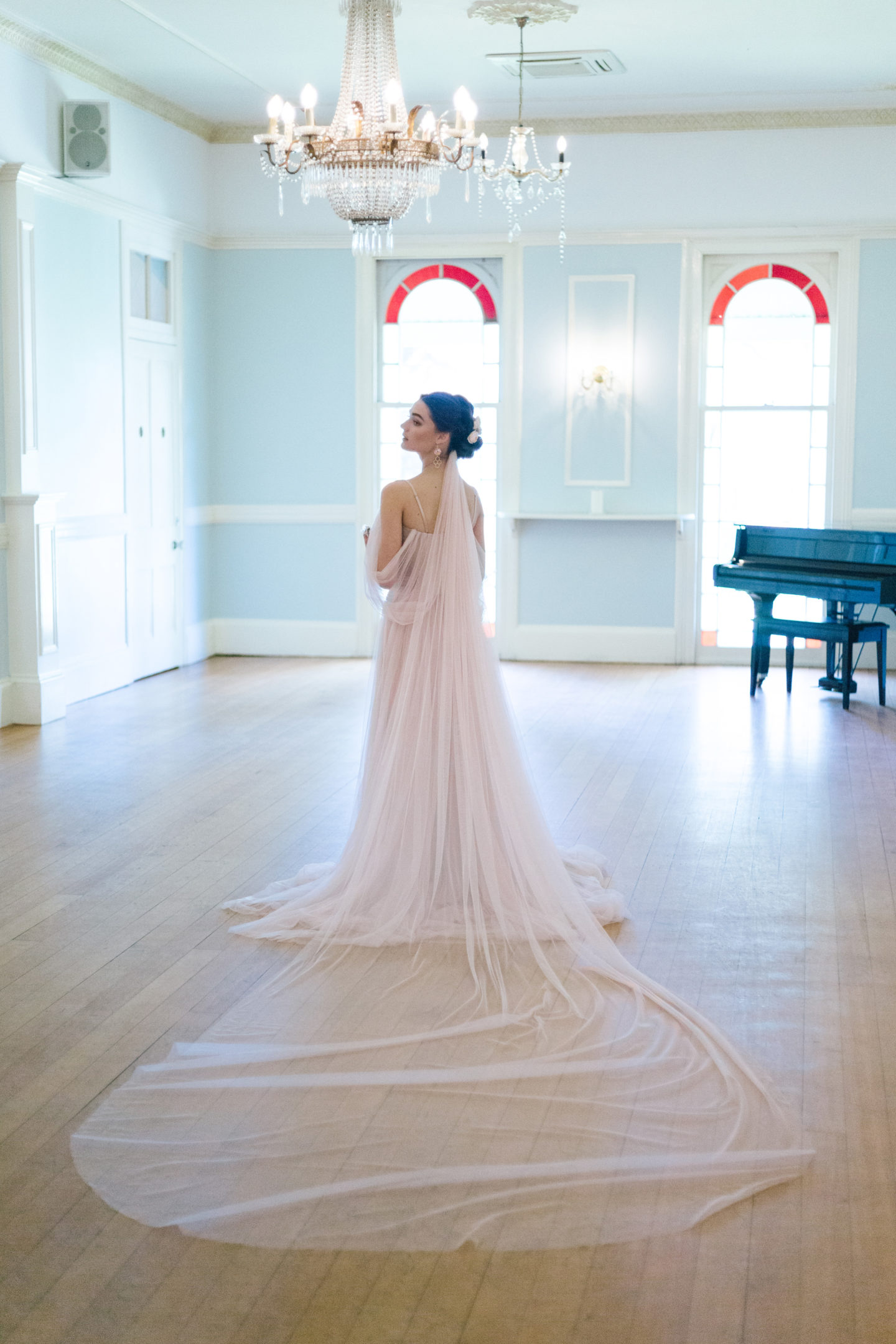 Styling
Stylist – Le Sans Souci
"Combining elegance with a pastel pink inspired wedding theme is perfect for this venue. The bride was surrounded by the beautiful draping sleeve and flowing train of the dress, and the look was completed with a pastel pink veil. The styling added the perfect finishing touch to the look, a hand-stitched bodice of dried blooms. On this day our bride Bella features special moments with her Mum – the pink reference branches much further, her mother – the beautiful smiling and strong woman is a Breast Cancer survivor. The pink is a nod to her journey and happens to be both their favourite colour! …take note of the sweet pink surprise too – care of A Box of Sweets – Yes, both share a love for the sweetest things in life!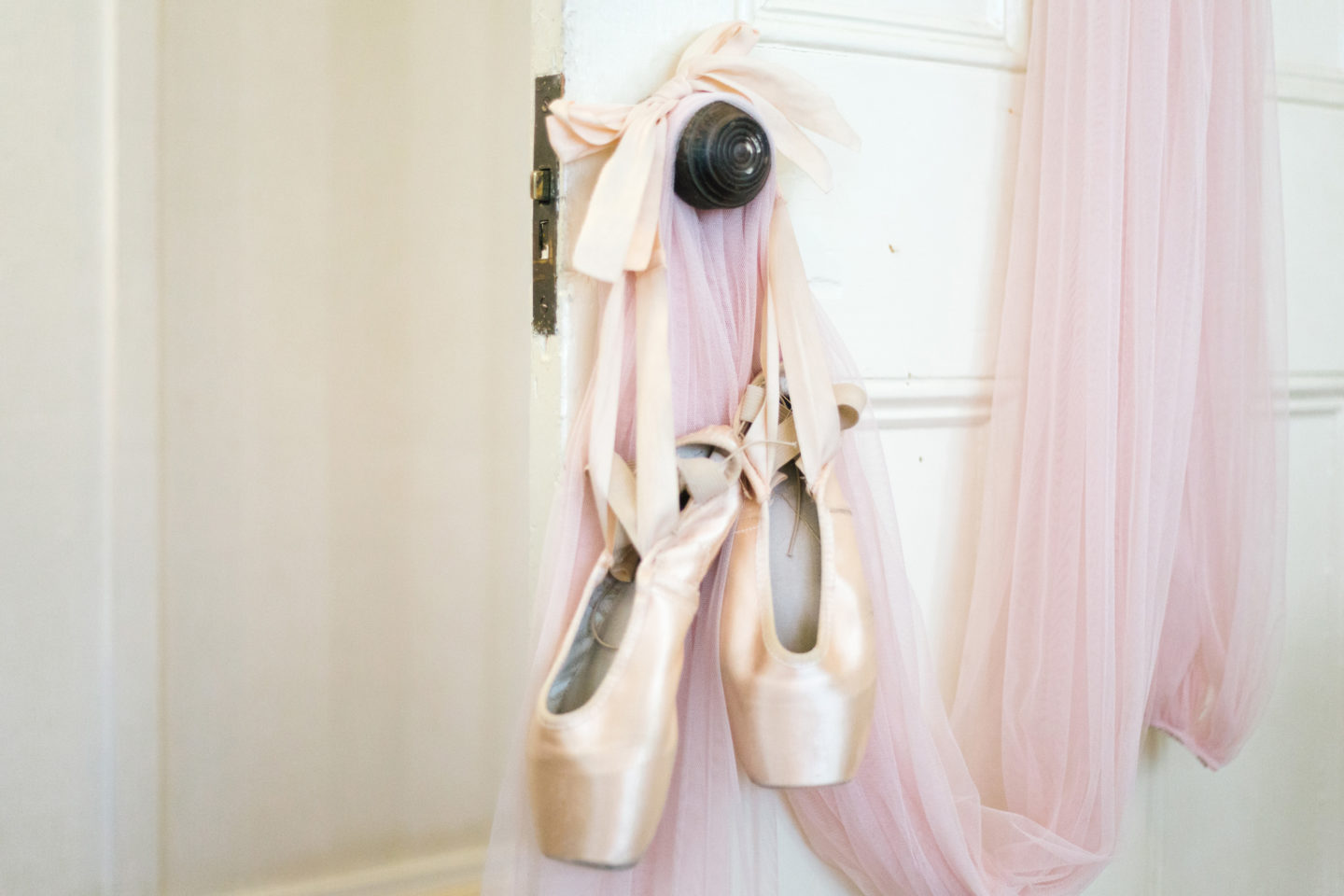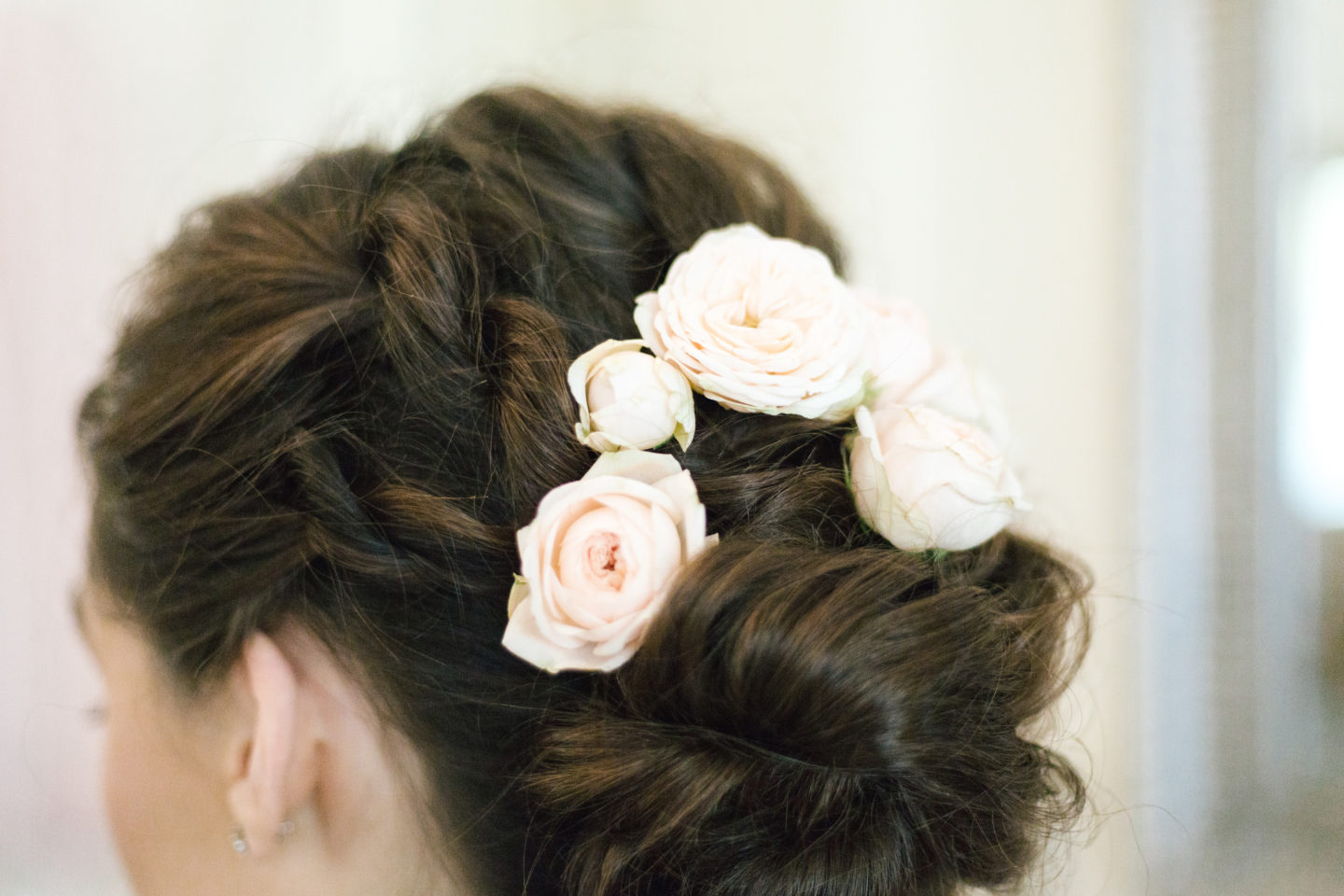 Photography
Photographer – Poppy and Sage Photography
"When choosing a photographer for your wedding day make time to view their portfolio and the styles they excel in. It is so important to book your preferred style, then you will never be disappointed when you receive those special memories of the big day. The entire concept and detail (every detail; great and small) has been perfectly captured in every snapshot by Emily. It is these photographic memories that a couple will treasure forever – she always takes such care to capture every emotion! A theme so close to her heart – her little daughter is also an aspiring Ballerina!"

The Bride
Bridal
"The model bride Bella is a real ballerina herself and her love affair with dancing started as a little girl. After many years of training dedicated to her craft she now dances with the elite at Queensland National Ballet. The dress in our shoot was a couture gown created exclusively with this shoot in mind. If you have the budget and have a vision in mind why not have a one of a kind gown for your perfect day? Make a list of all your 'must have' aspects to your gown, perhaps have a look around first in case your perfect gown already exists!"

Hair and Makeup – Tyneale Hahn Makeup Artist
For the bridal look, we wanted a flawless and detailed finish with the softness of pinks. The hairstyle chosen was a textured inspiration of the ballerina bun, complete with fresh roses created by Artist, Tynedal. The use of fresh florals in the hair is always a beautiful and earthly touch. Many Brides are now choosing a natural and flawless look for makeup – less is more! But that doesn't mean you have to for-go any detail. Just like every wedding professional they will have a style they excell in so make sure you book an artist in your preferred style."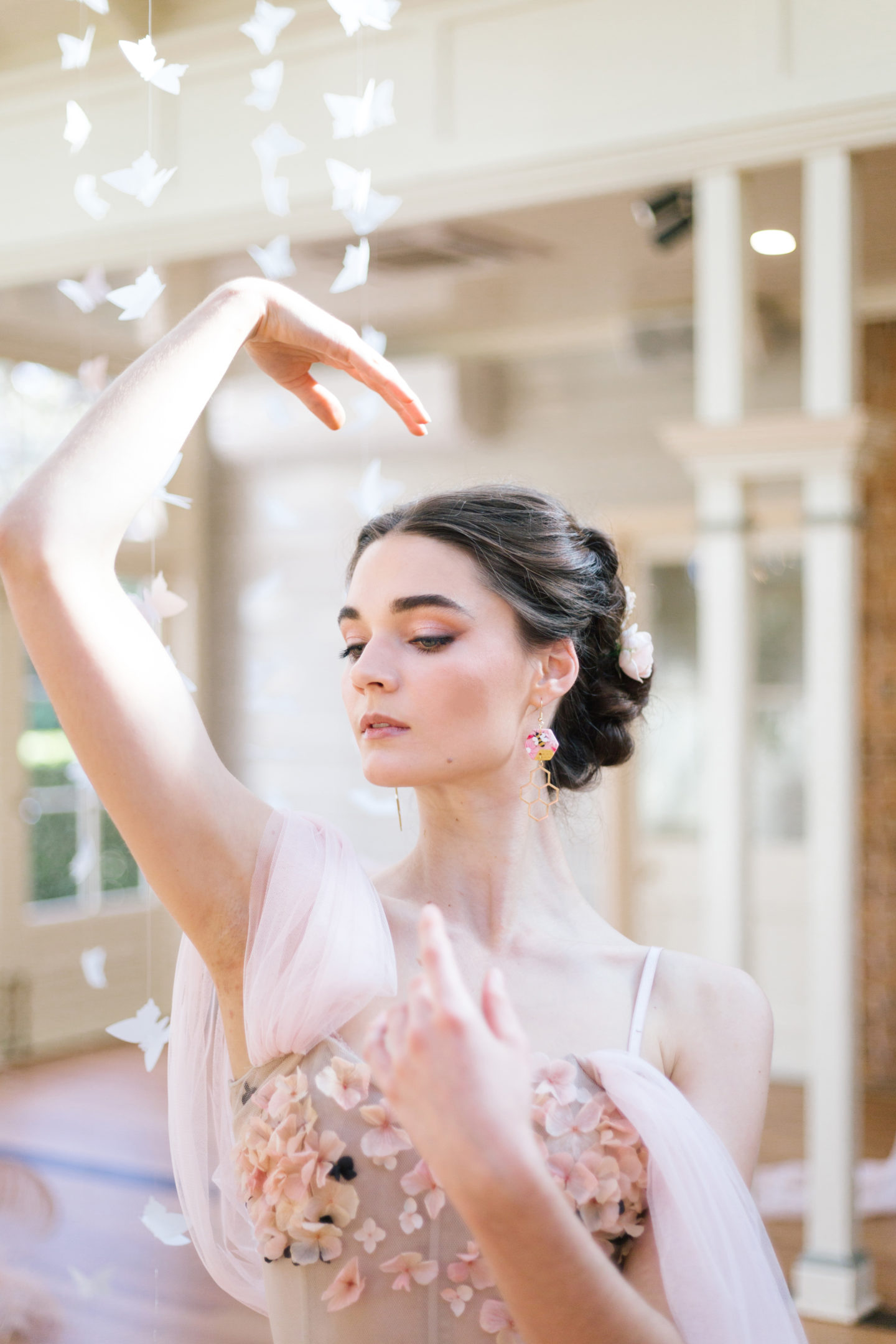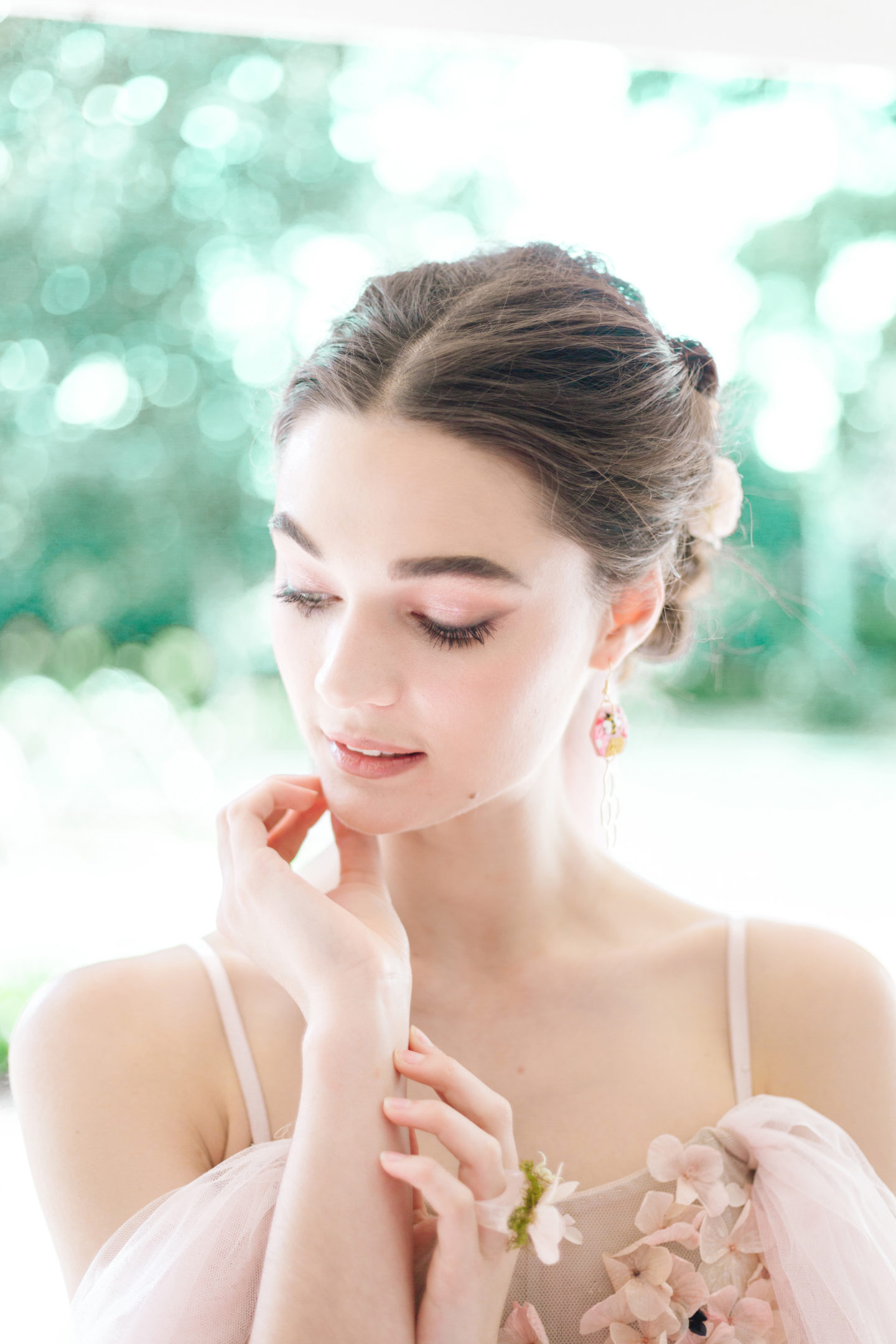 The Details
Flowers – Le Sans Souci
There were so many moments of magic – the 'Alice in Wonderland' moment of floating floral garden that hung above the mini celebration cake and the wedding cake featuring hot pink peonies and soft pink tulips, cascading silks and butterflies falling from the central chandelier. The selection of blooms goes beyond the colour pink – roses and peonies were the main focus as they are the queens of blooms but also that they symbolise beauty, strength and resilience. Did you know that tulips continue to grow even after being cut? As do we grow stronger after each challenge we face. The flowers were chosen to symbolise different aspects of the journey of illness and beyond"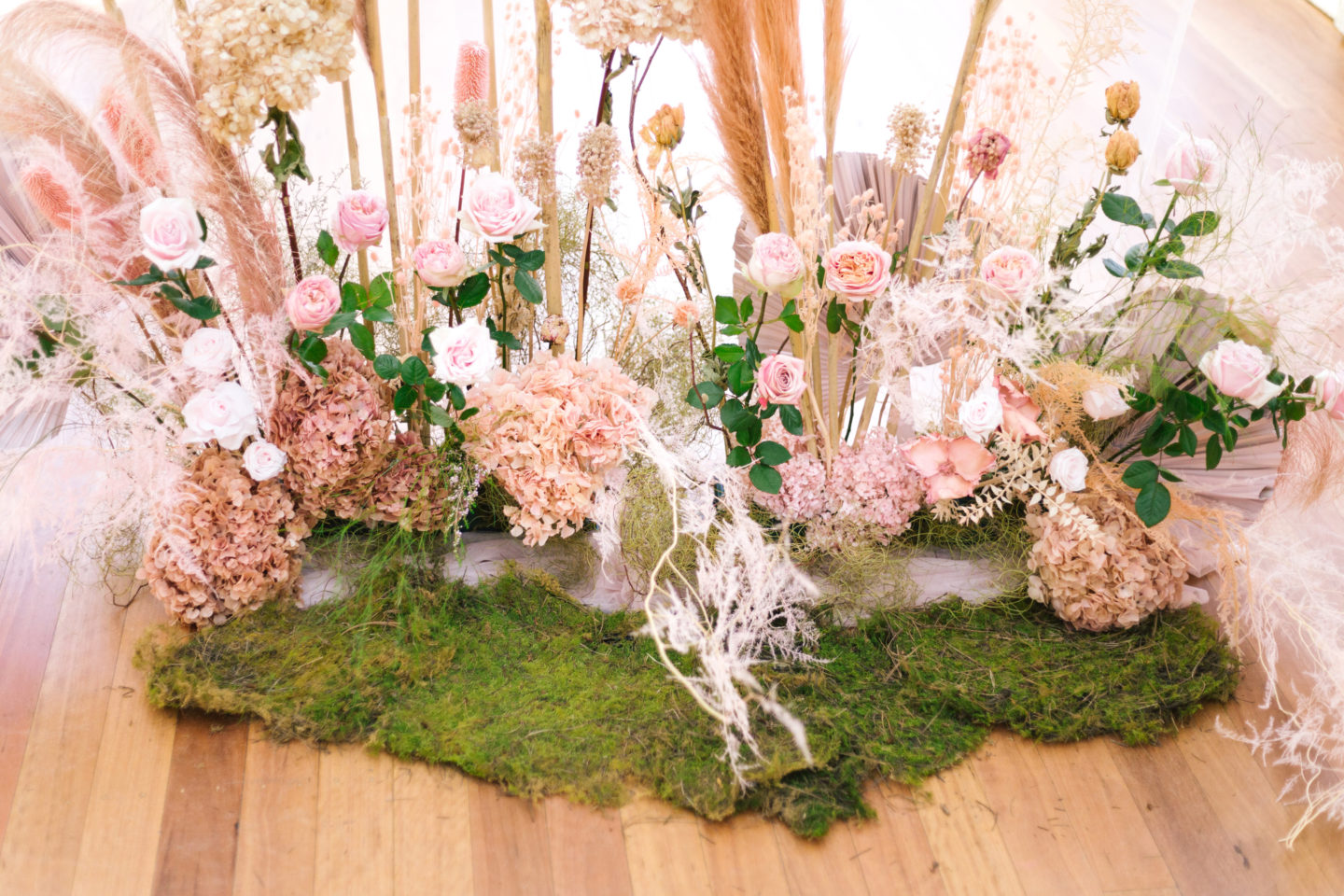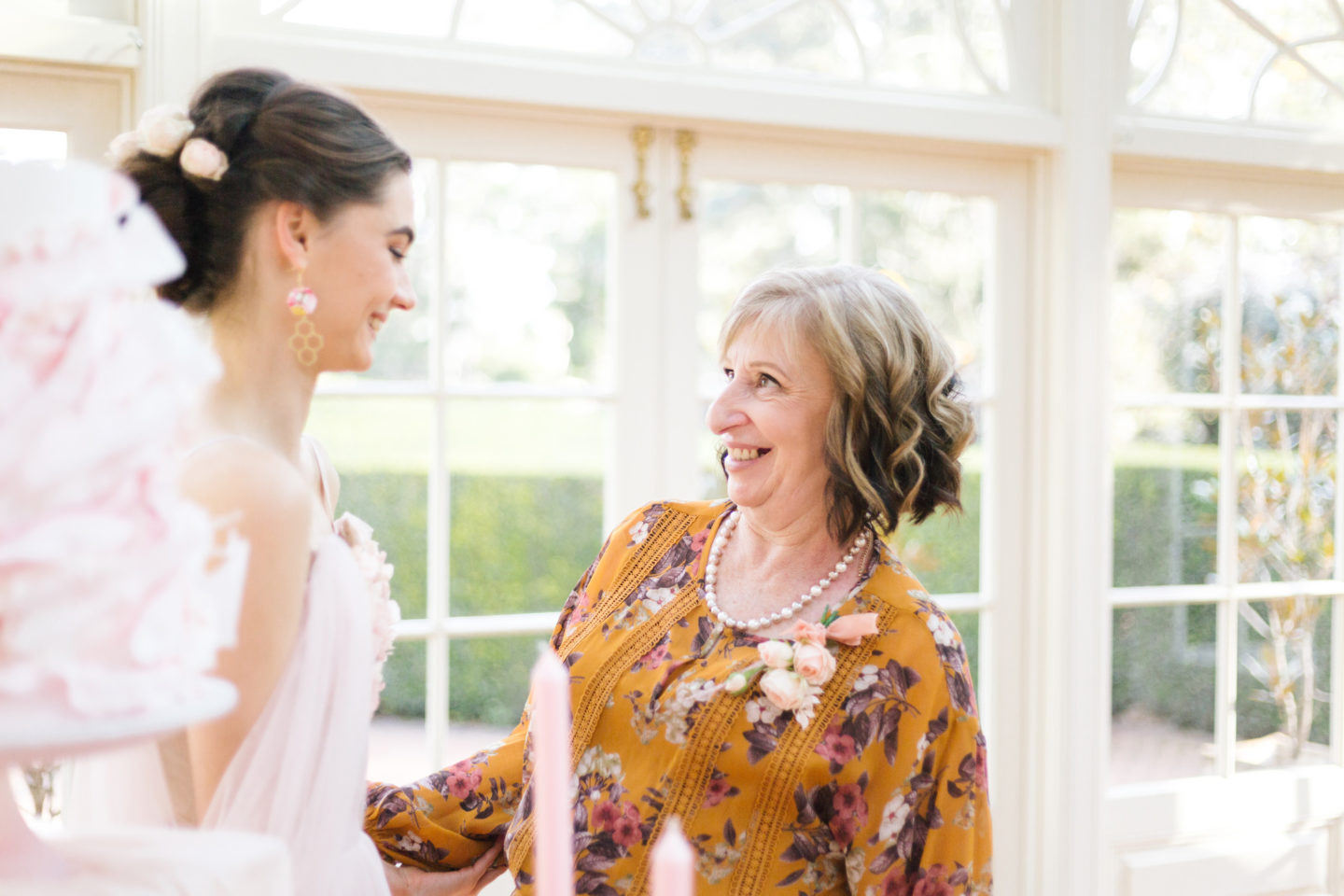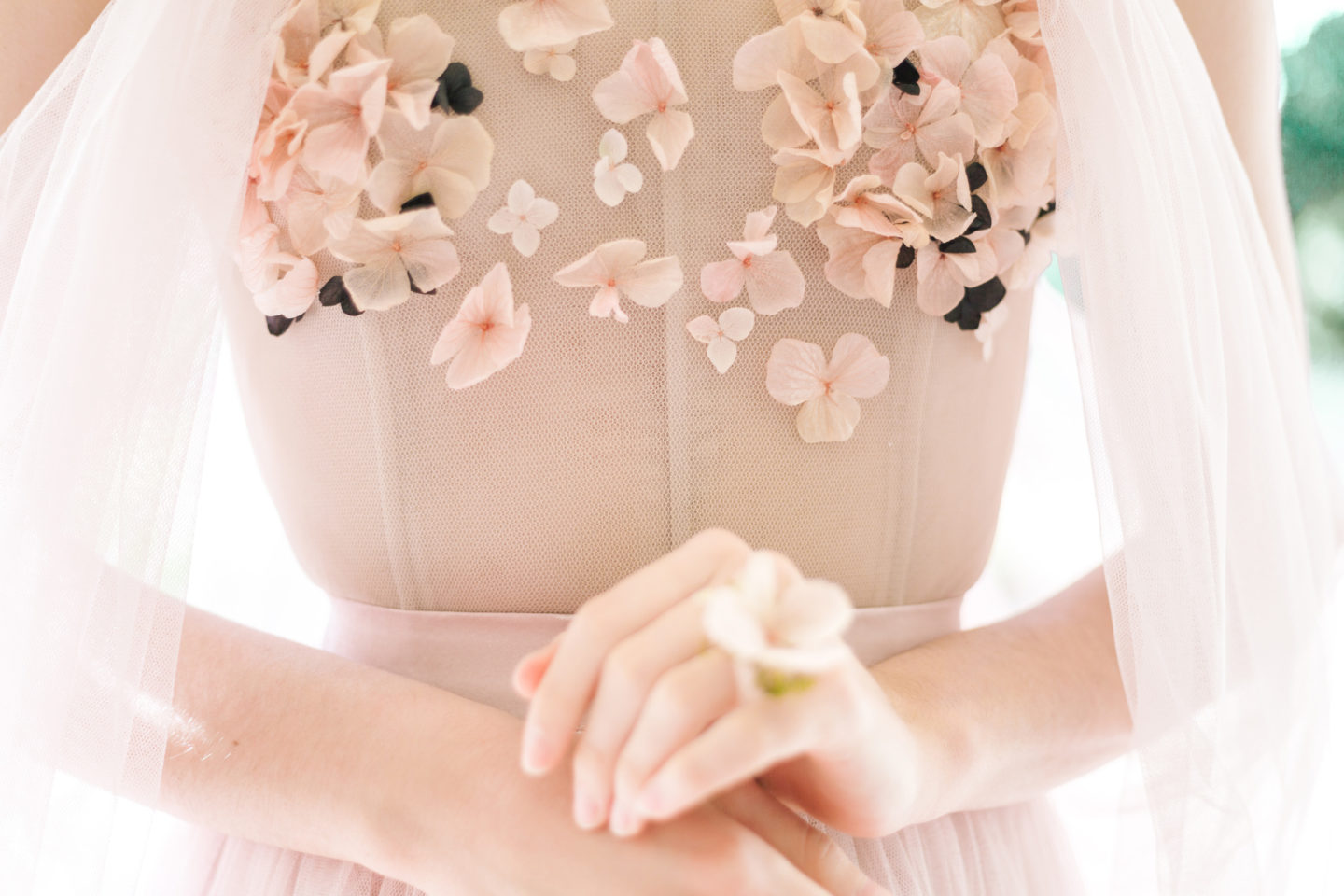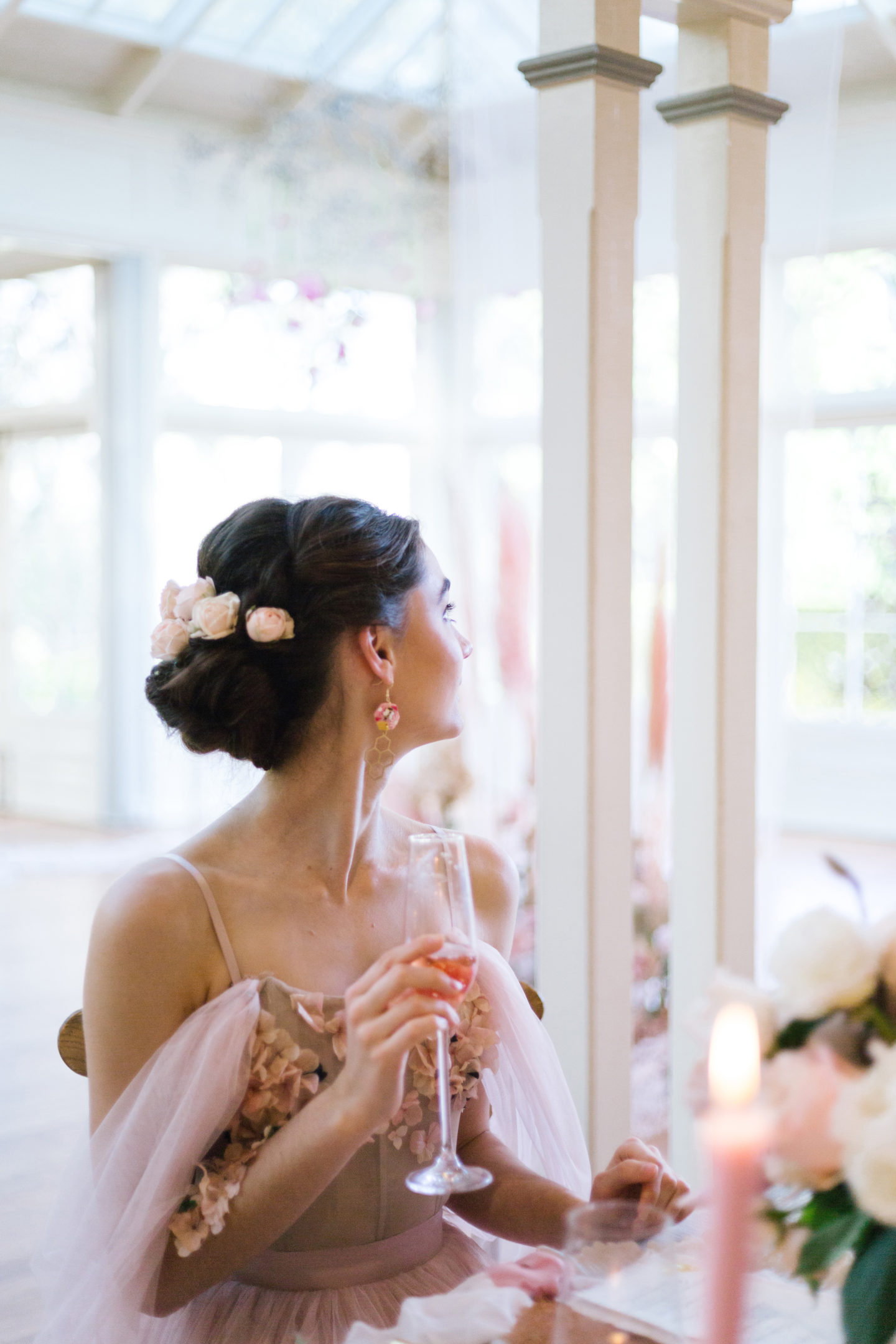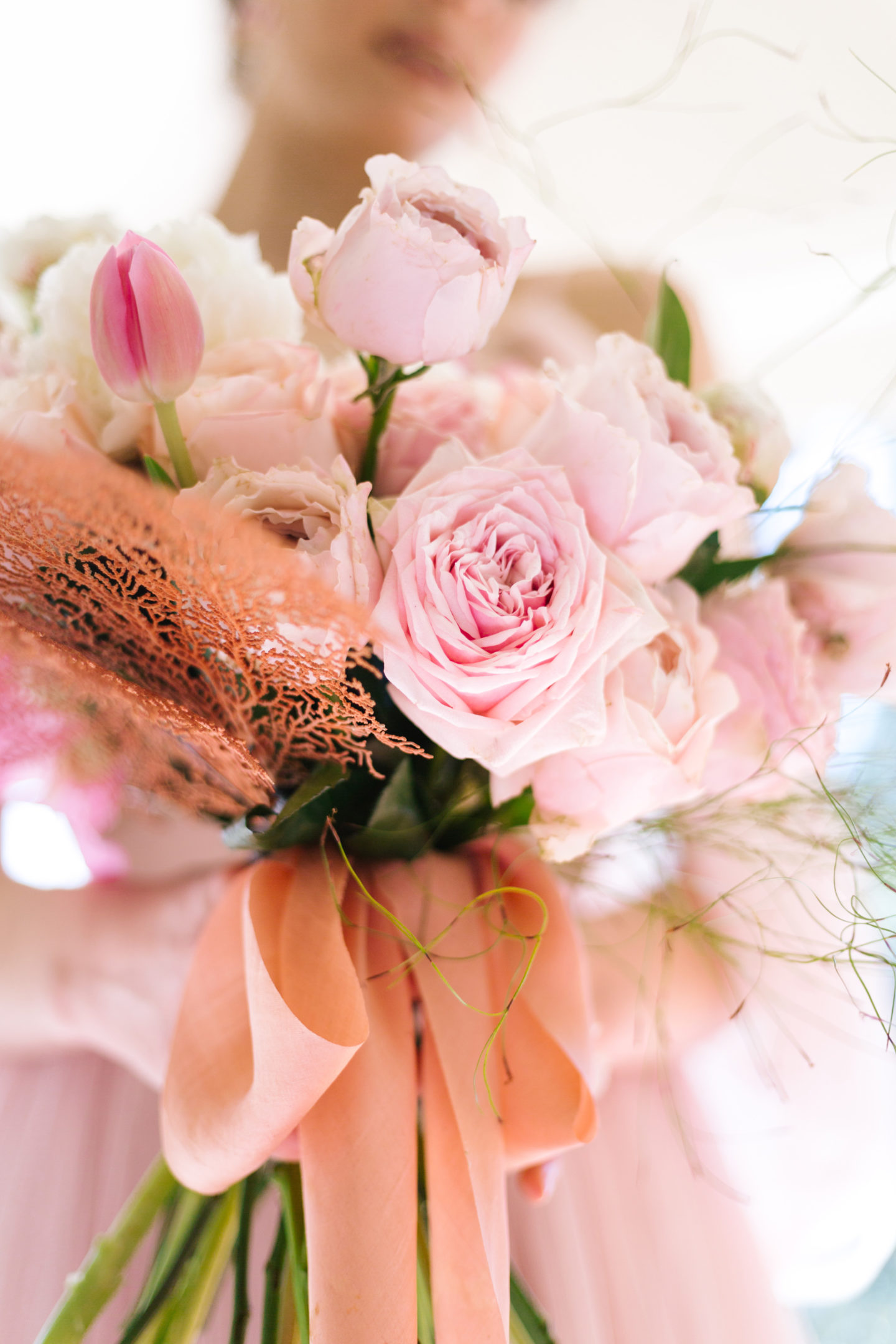 Cake – Jill-i-cious Cakes
"For our shoot Cake Artist, Jillicious created a beautiful mini-celebration cake and a wedding cake for the mother and bride to cut. The featured bow is a tribute to the breast cancer ribbon. Many Cake Artists put together Tasting Boxes – get one! Not only should your cake look amazing and represent you as a couple but it should be your favourite flavours too!"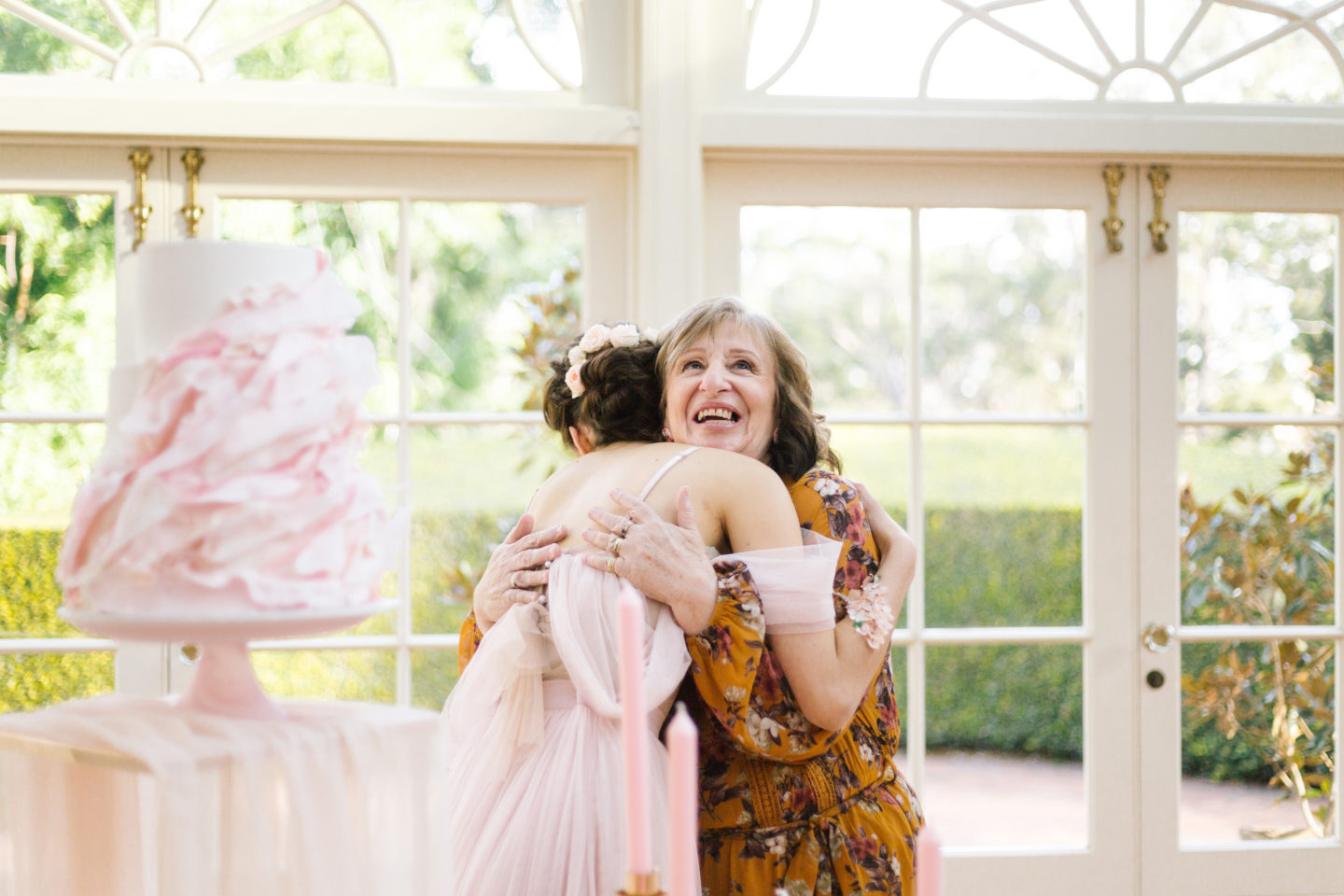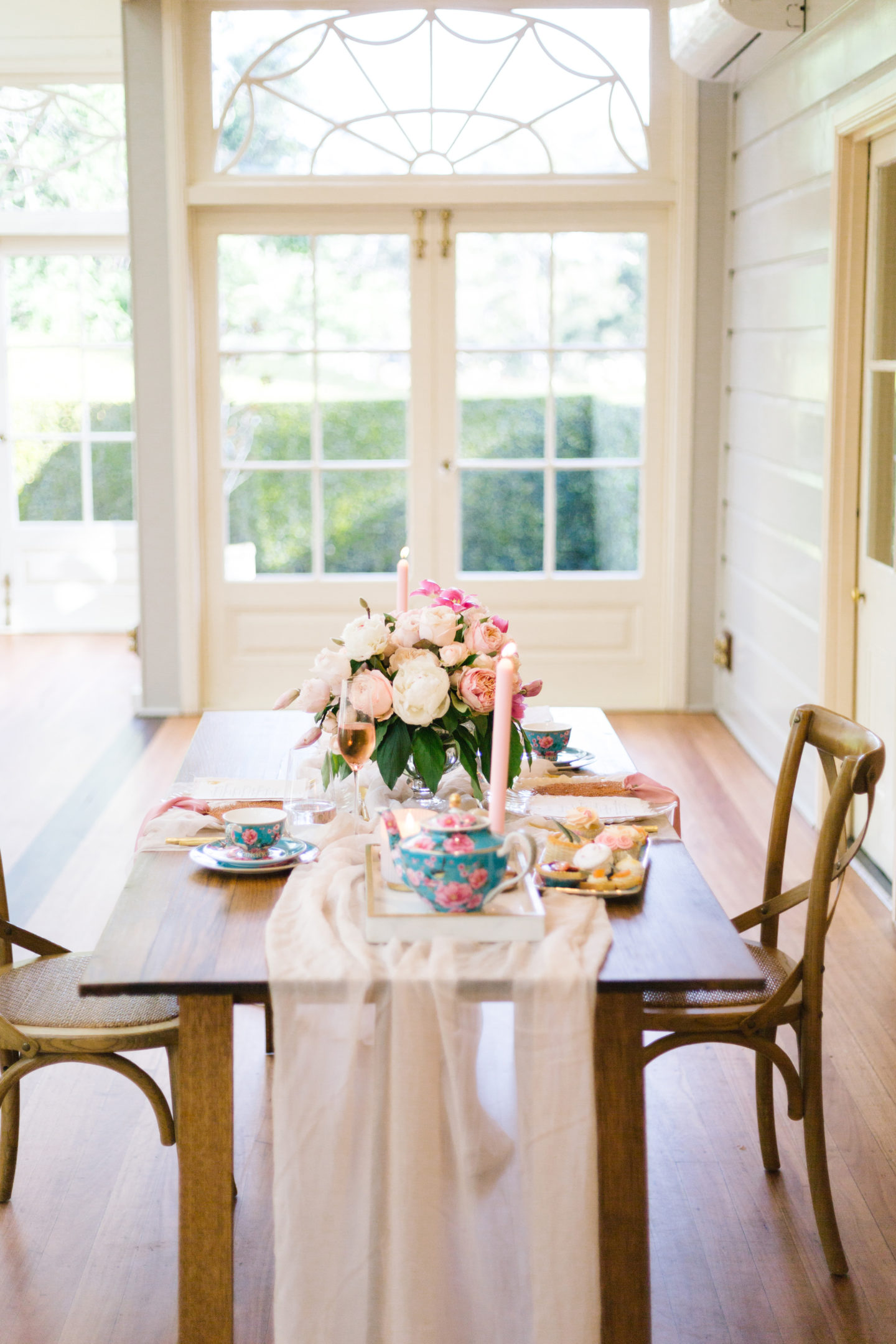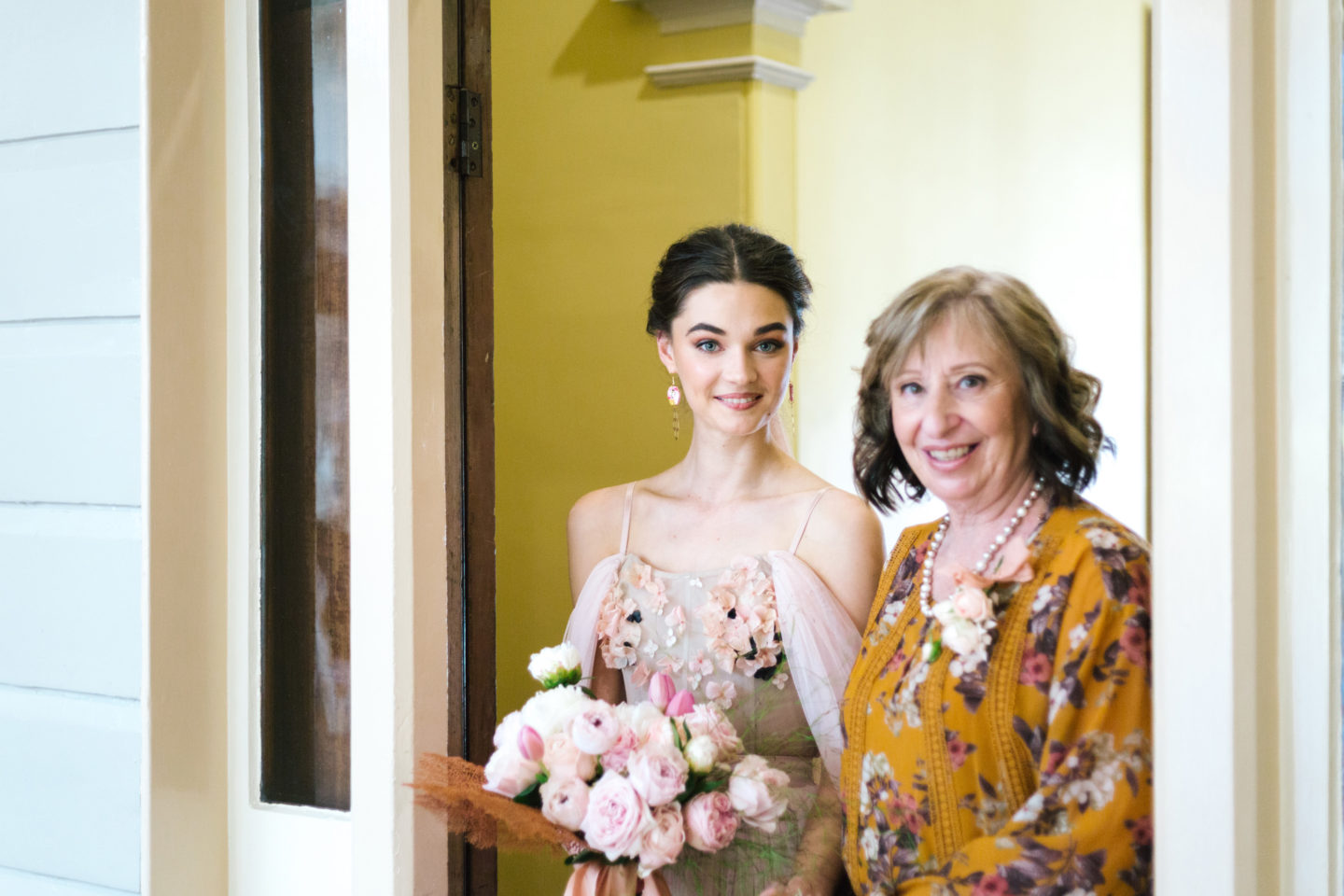 Stationery – Martha Scribes
"The stationery suite included a heartfelt hand-crafted letter from the bride to her mother. It was here that Bella expressed her love and thankfulness that she can share this special day with her Mum still by her side. A stationery suite can add so much detail for your day and further expand on your theme and vibe."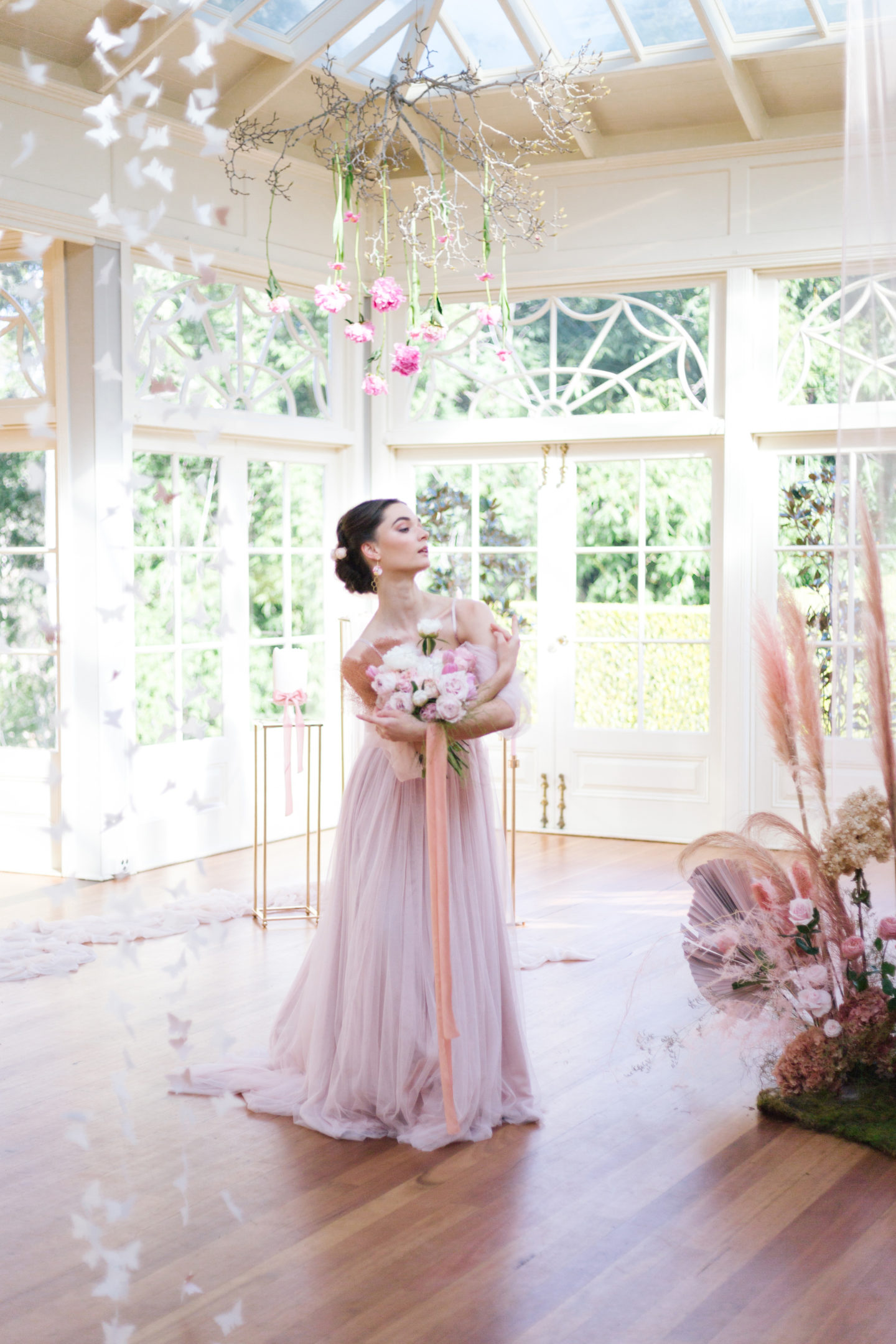 The Team – Ballet Pink Wedding Inspiration To Celebrate Breast Cancer Awareness
Photographer Poppy and Sage Photography @poppyandsagephotography
Venue Gabbinbar Homestead @gabbinbarhomestead / Gown Sew Master Fashions @sewmasterfashions / Earrings Kailie Peters @kailiepeters / Styling and Flowers Le Sans Souci @lesanssouci_flowers / Hair and Makeup Tyneale Hahn Makeup Artist @tynealehahnmakeupartist / Cake Jill-i-cious Cakes @jilliciouscakes / Stationery Martha Scribes @marthascribes / Platters Amour Platters @amour.platters / Cupcakes Cracked Lustre @crackedlustre / Sweets Box A Box of Sweets @a.box.of.sweets / Napkins & Ribbon Silk and Willow @silkandwillow / Decorative Pointe shoes Milibelle Dance @milibelledance / Bride Bella @belleballetrose
IF YOU LOVED THIS BALLET PINK WEDDING PIN IT TO YOUR WEDDING PINTEREST BOARDS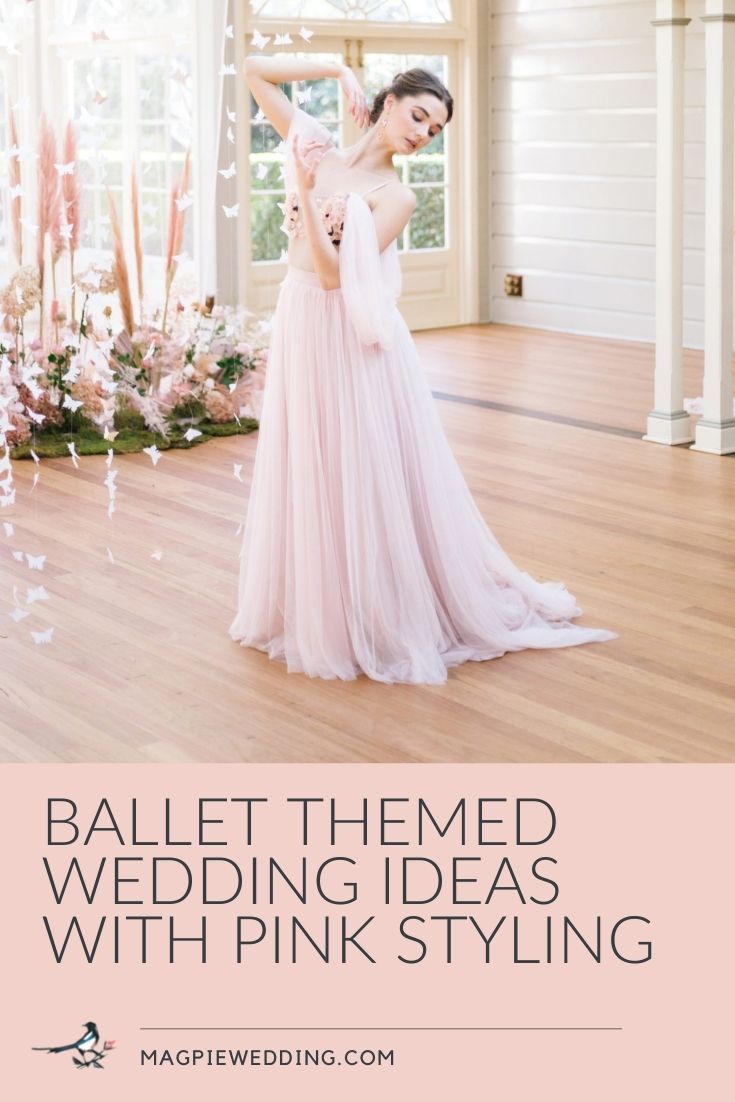 If you loved this ballet pink wedding inspiration you may also like;
Vintage Ballet Wedding With Pink Details Set In The Australian Countryside
Swan Lake Wedding With Romantic Styling and Tutu and Feather Gowns
Romantic Modern Wedding With Pretty Styling and A Pink Wedding Dress