Today we catch up with Claire Phan from the vintage crockery hire company, Vintage Tea Party, who is sharing some ideas for styling a vintage wedding.
Here are just a few of her ideas,showing us that it takes more than bunting to style a vintage wedding.
Conjure up an image of Old World Travel at your card table
Traditionally newlyweds were waved off by their guests as they departed for their honeymoon, often to catch the last steam train or boat. Capturing the romance of travel from a bygone era can be a visually stunning way to greet your guests. This is especially true if you, like many couples these days, have asked for a contribution towards your honeymoon as a gift.
To achieve the greatest visual impact, its best to group complimentary items together. Think of it as layering. Use an old steam trunk as the base, surround with a few wartime leather suitcases. These can be arranged so that one is open, this will offer a very practical place for your guests to leave their wedding cards and gifts.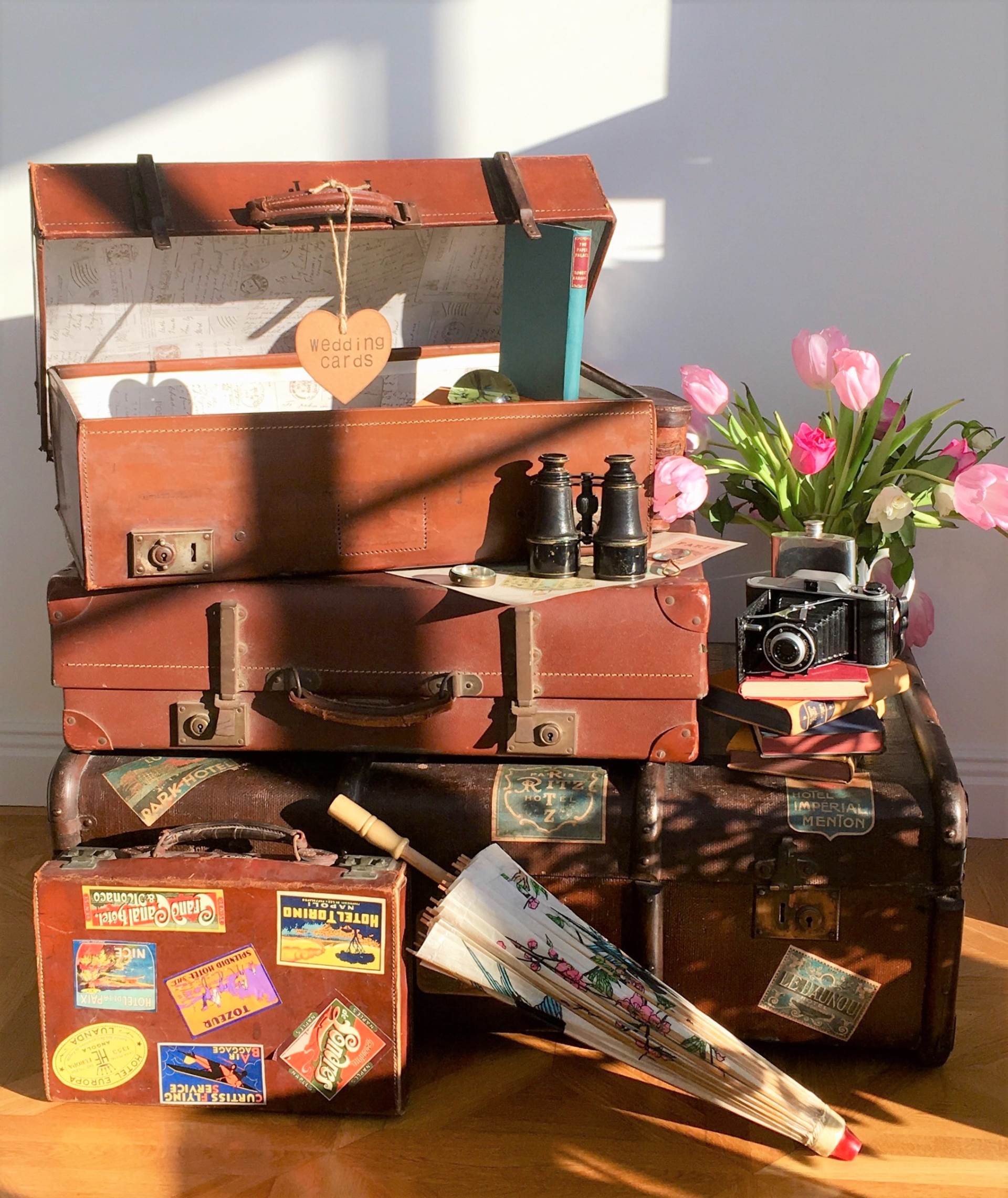 Add smaller items, such as a pretty vintage parasol, a vintage folding camera and a pair of binoculars. To achieve more visual depth, add some personalised items. I suggest a vintage map of your honeymoon destination, held in place by glass paper weights and an old compass. If you're going abroad and can get hold of a vintage translation book that would add to the magic, although a small pile of any vintage books will look great.
For the finishing touches, add objects d'art, such as an old pocket watch and a vintage hip flask.
Embrace the nostalgia of the past at your guest book table
It's very easy to incorporate a guest book into a vintage themed wedding. It's all about layering the display table to create a mini mise-en-scene. Firstly choose a book which you are happy with and then surround it with a few vintage items, such as a vintage typewriter, a pile of vintage books, and an old pair of reading glasses. If possible it's always nice to provide a vintage pen for your guests to use.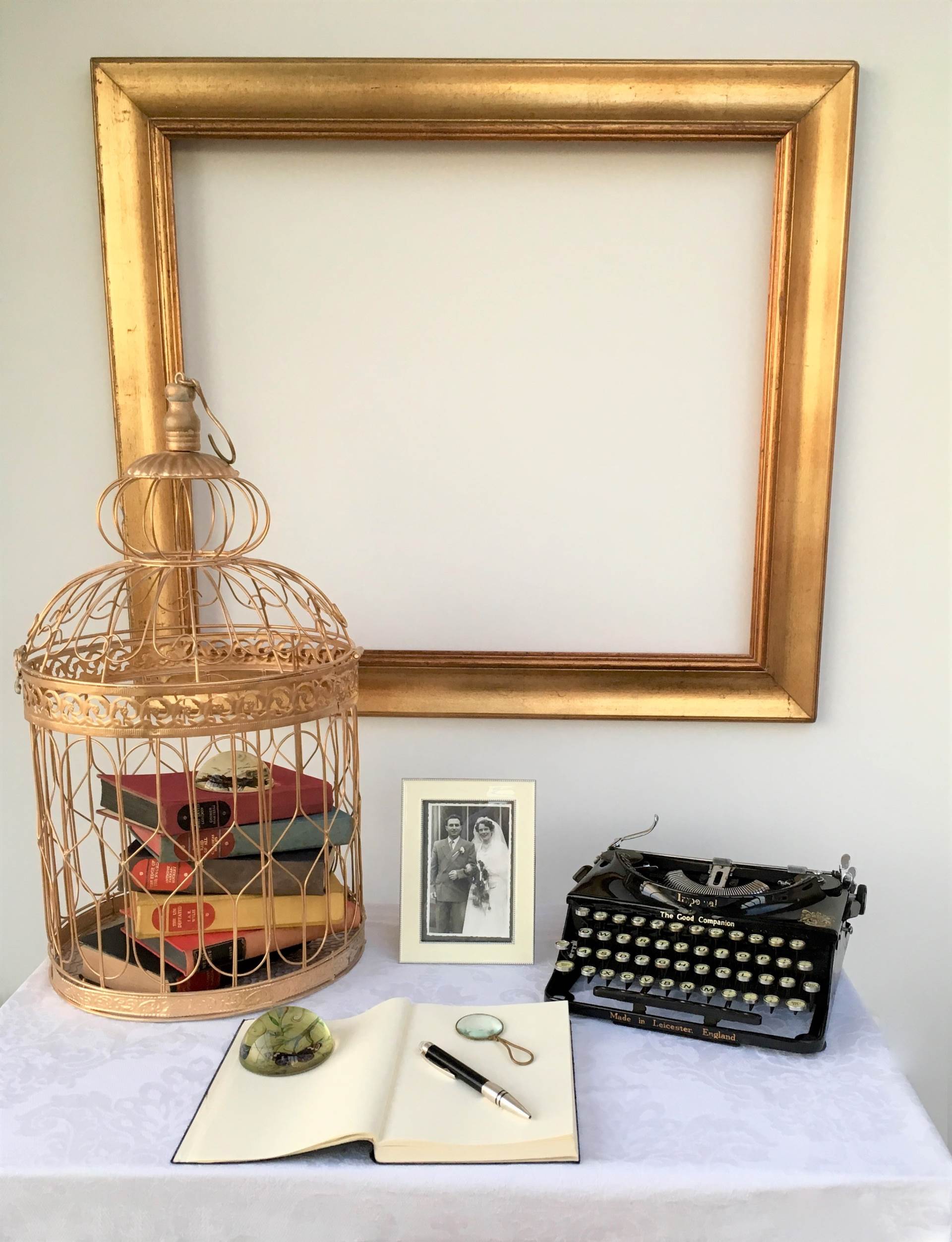 Add an extra layer of detail by incorporating some wedding photos of older relatives, especially if they are unable to make your special day. Make sure you use frames that are aligned to the vintage theme. These are often a talking point and looked on with much love. Place these around your guest book.
Transport your guests to a bygone era of glamour and elegance once seated at your dining tables
There are a number of small details you can include on your tables, which will amplify your vintage tea party theme and increase the overall visual impact. Vintage books for example make beautiful centrepieces, these can be enhanced with candles or flowers. Alternatively, if you are a book lover, you may want to consider giving vintage books away as favours to your guests.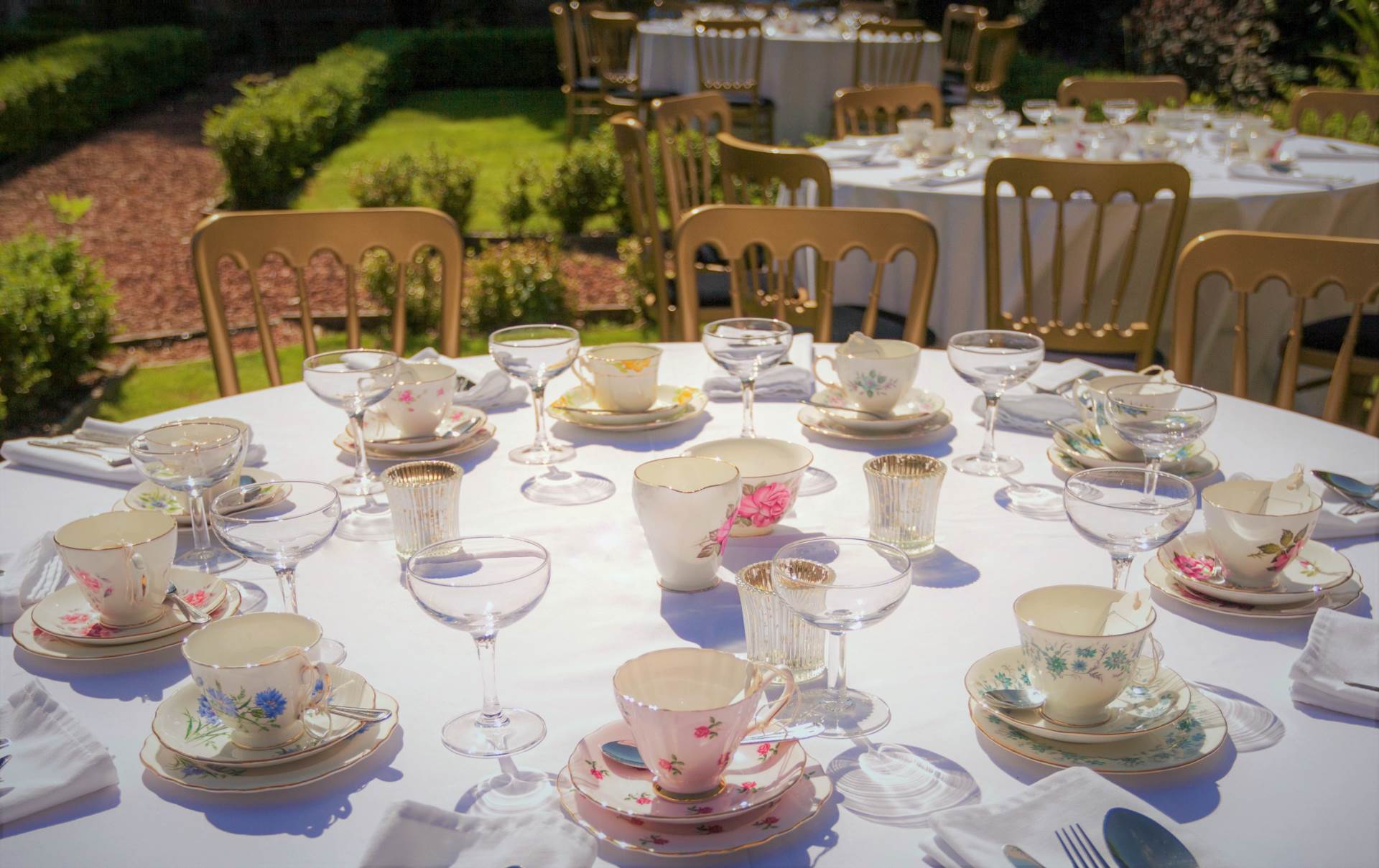 Serving tea and coffee from beautiful vintage china teacups will injecting colour and elegance to your tables, and replacing champagne flutes with champagne saucers will add glamour to your wedding toasts. You can include smaller details, such as silver sugar tongs and linen napkins to achieve further visual appeal.
Thrill your guests with some quintessential garden party drinks
Glass dispensers work really well for serving drinks al fresco. They look beautiful filled with colourful drinks and guests can help themselves. Homemade lemonade or gin and elderflower are always go down well. Serve drinks in jar glasses with stripy straws to complete the look. Add some outdoor games, such croquet, a garden party must to complete the look.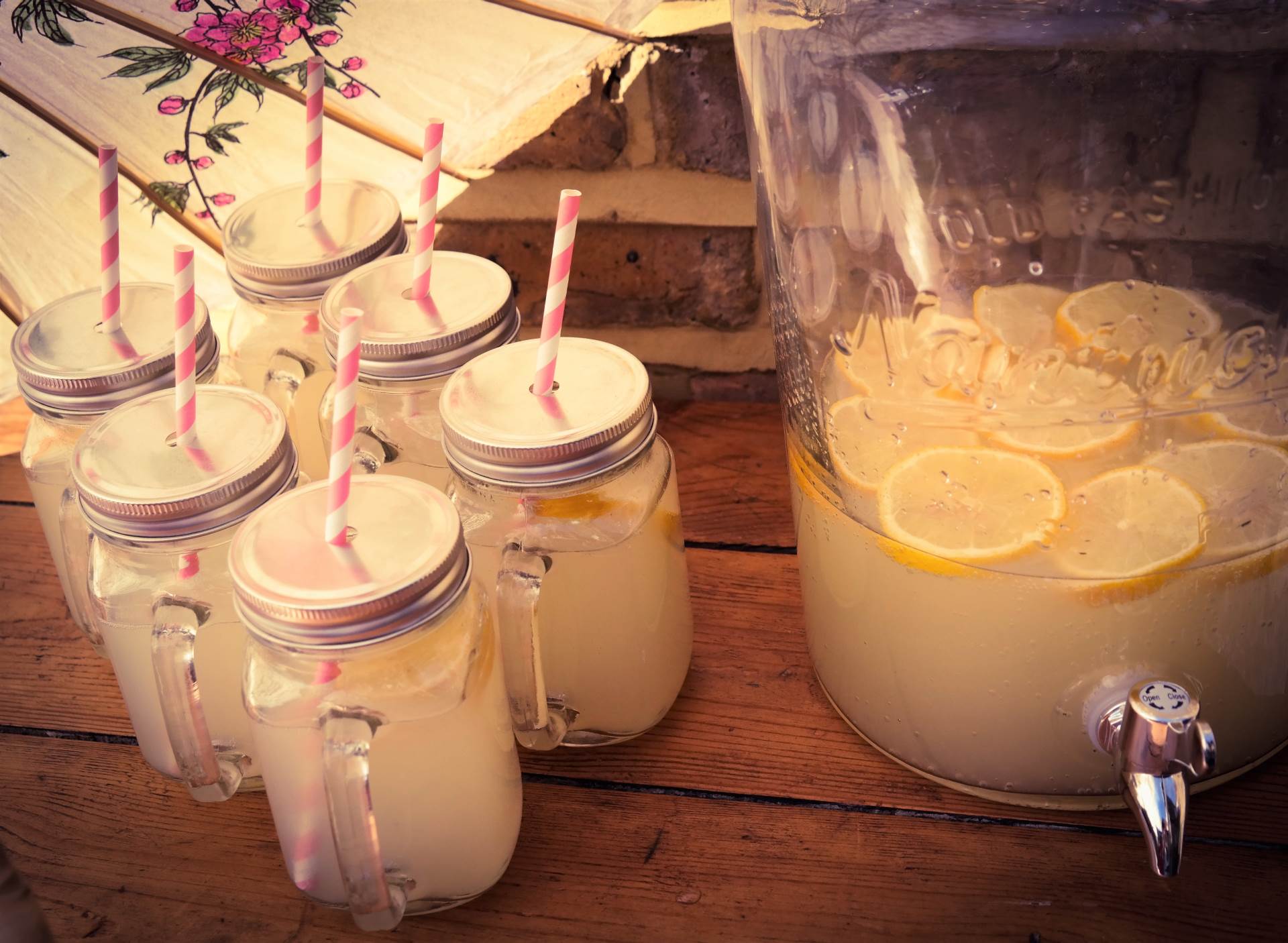 And of course if you are having an afternoon tea wedding, bunting is a must.
Claire offers a fantastic styling service, they have a wonderful collection of authentic vintage props and a beautiful collection of vintage china for hire for your vintage tea party. For further details contact claire@vintageteaparty.co