Bunkers Barn in Bedfordshire is the location for today's wedding inspiration. With a relaxed vibe, simple rustic styling and an alternative burgundy coloured wedding dress, it's full of autumn warmth and romance. Perfect if you're planning a smaller wedding as it has a one tier, hand painted wedding cake, intimate dining and some sustainable elements too! Beth from Miss Carlysle and Co created the concept and her and the rest of the team tell us how it all came together, including giving some advice along the way and some pros to having your wedding in autumn…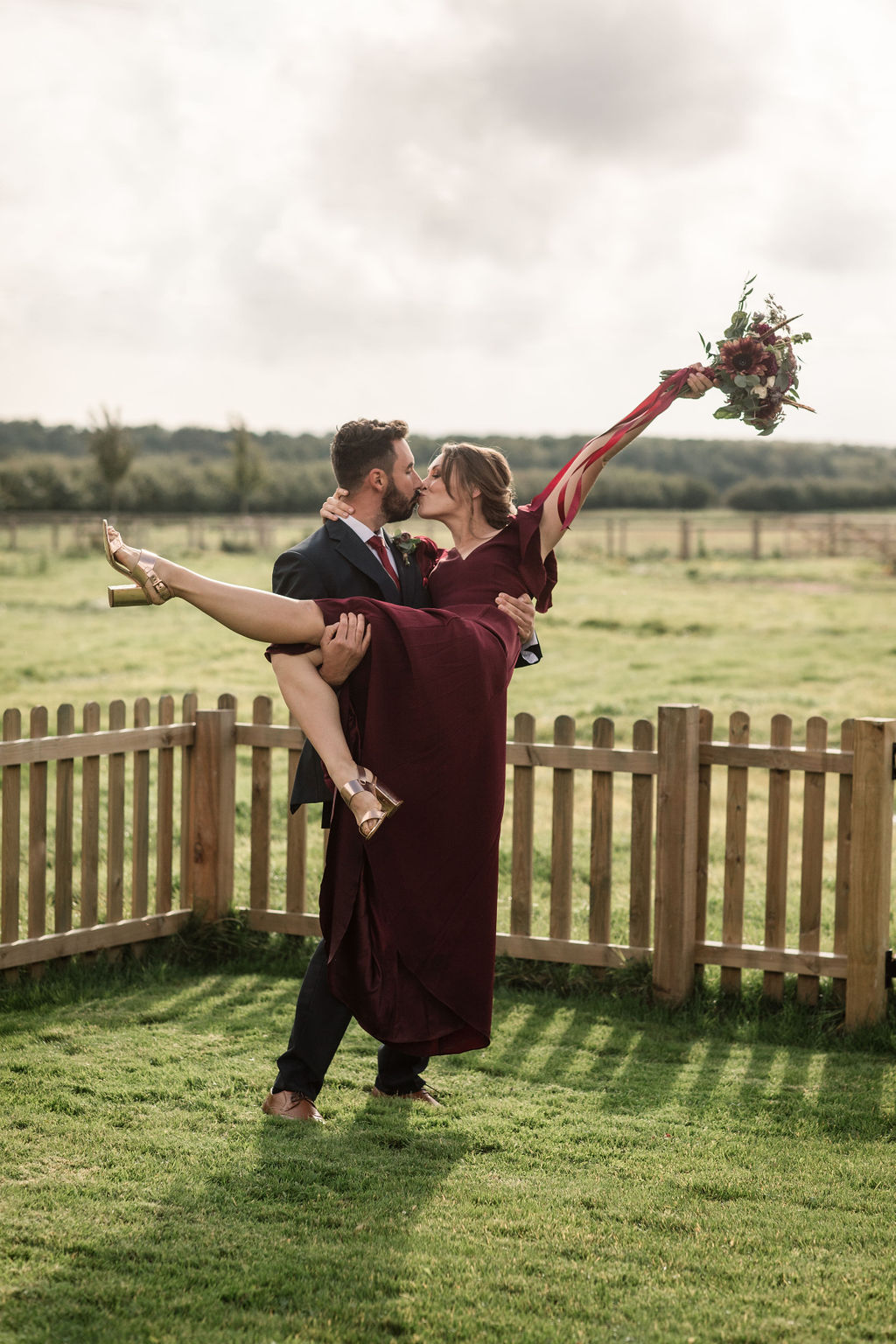 "We wanted to share inspiration with couples getting married, on how to have an autumnal wedding. Bunkers Barn is a traditional 18th century barn that has recently been renovated to become an incredible barn venue based in Bedfordshire. It is exclusively yours for the whole weekend. It's the perfect blank canvas venue, with exclusive hire, meaning you can take your time with setting it up and making it your perfect wedding vision. Bunkers Barn is perfect for a rustic wedding with a burgundy colour. Bringing a stylist into your team for the big day means that they will be able to have a professional who can bring their dream wedding vision to life and make that blank canvas space amazing, from the colour palette, to the theme, to the props and the overall product."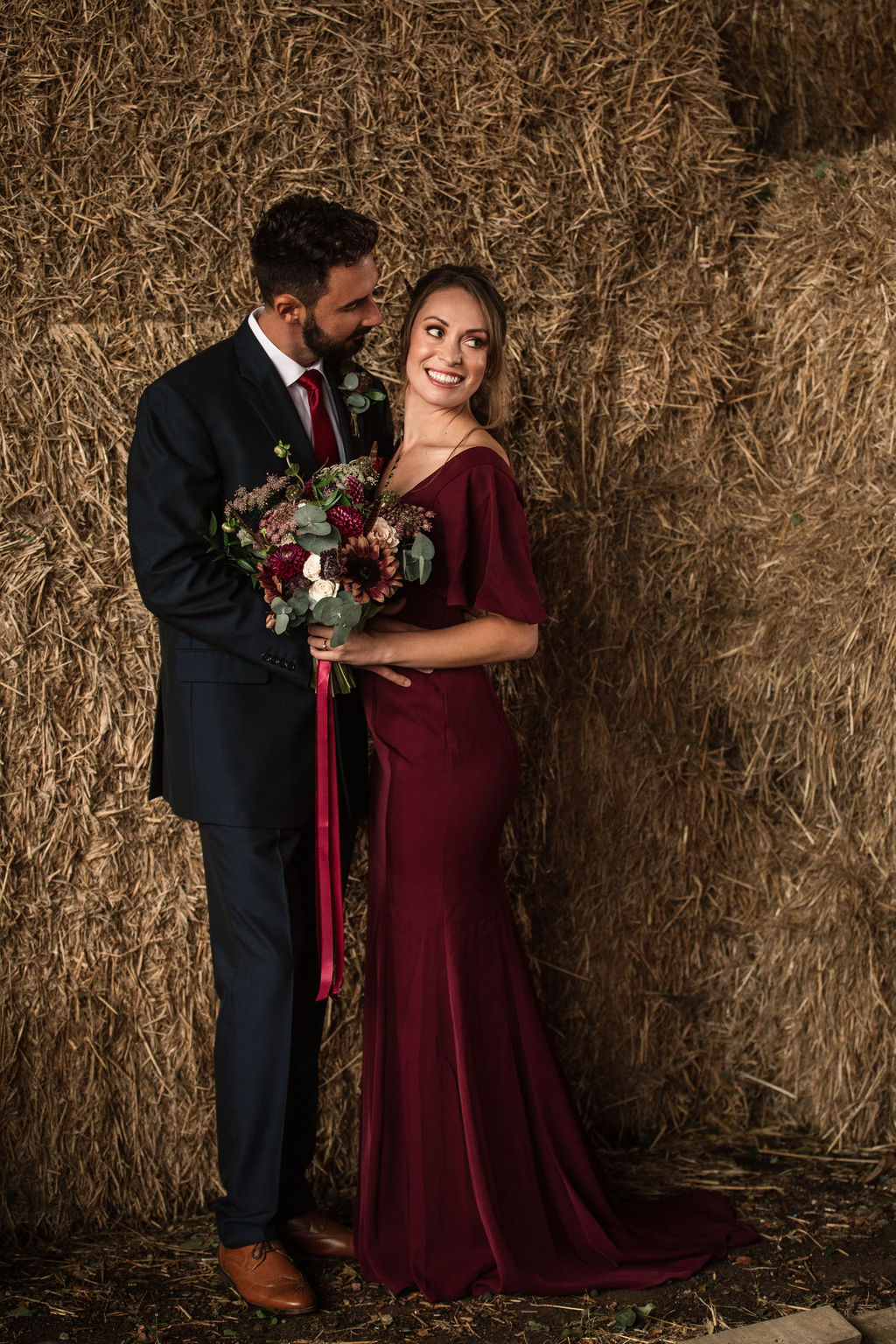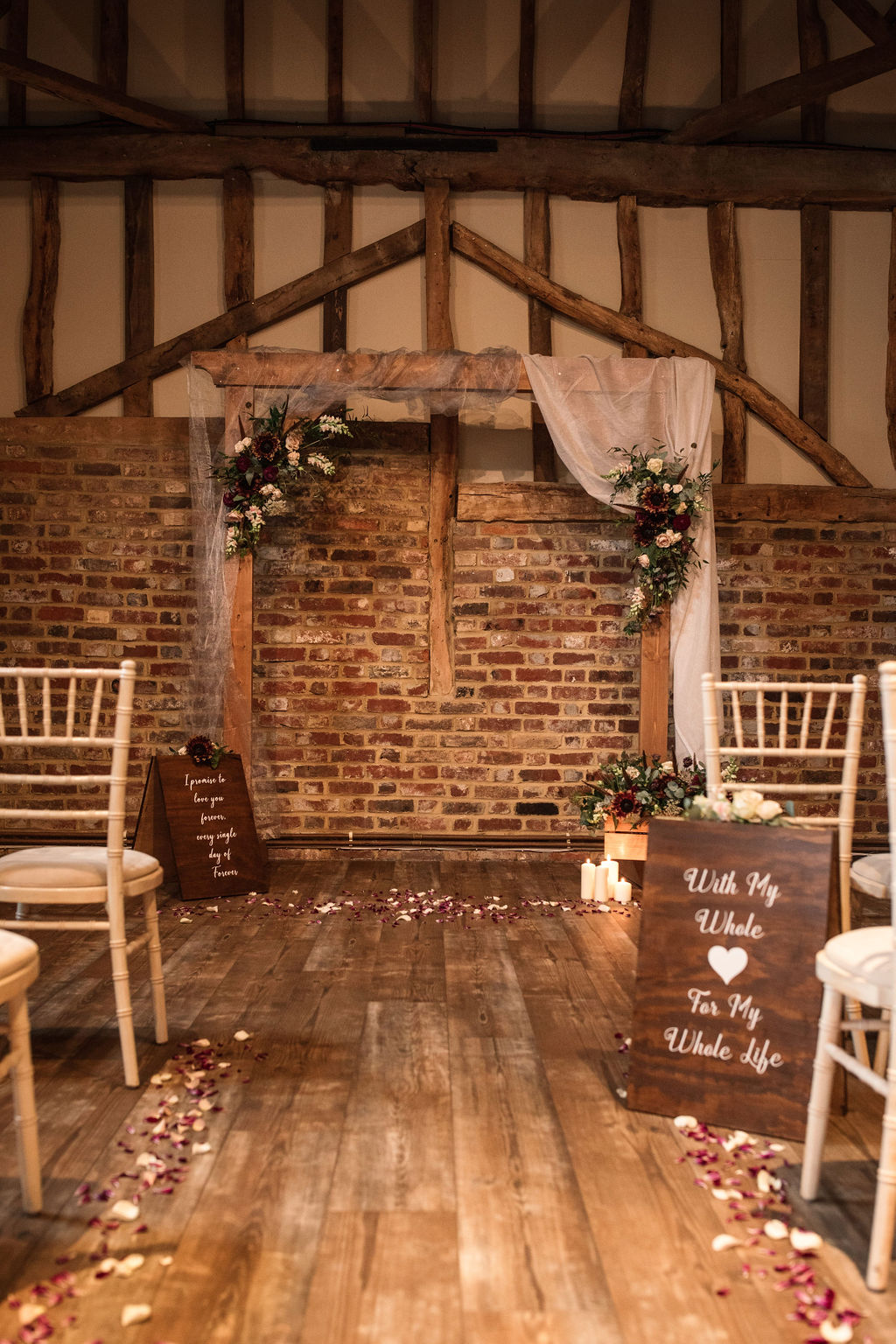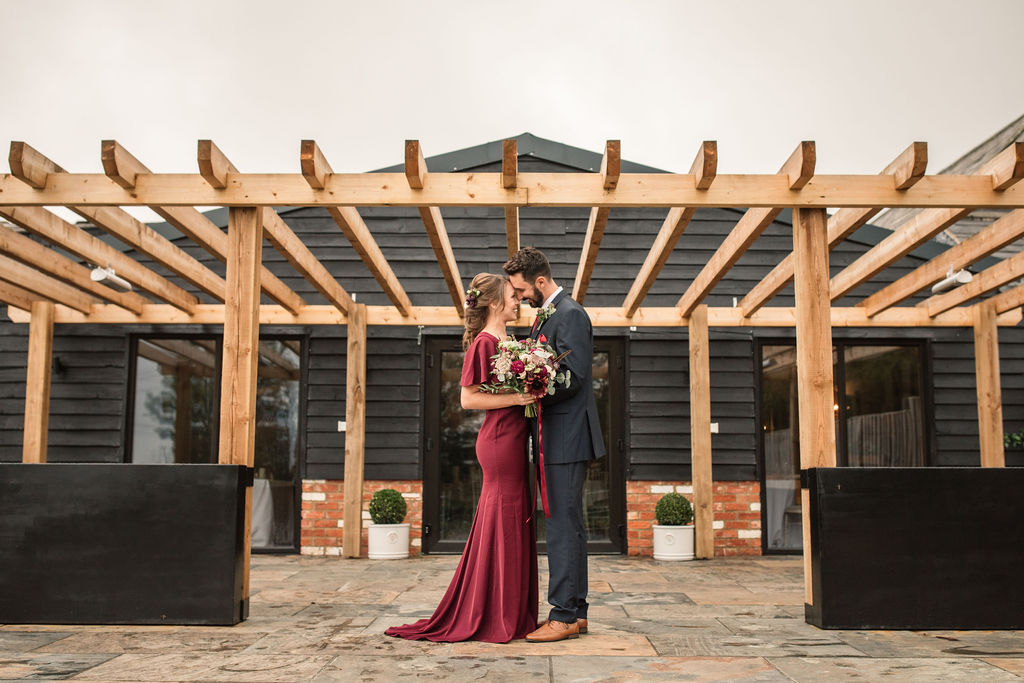 "Beth from Miss Carlysle and Co, worked closely with Amy from Amy Raven Weddings to bring together the two intimate table settings. With an autumnal feel to the shoot, Beth and Amy chose burgundy, burnt oranges, yellows and browns to complete the styling, with black and gold candlestick holders and chargers/cutlery. This brings a completely different feel to the look as autumn is here. Autumnal vibes can create a relaxed atmosphere as the cosier nights are approaching us, nights by the fire, walks with the leaves falling around us. Having these autumnal feels, gives us the chance to bring the outside in."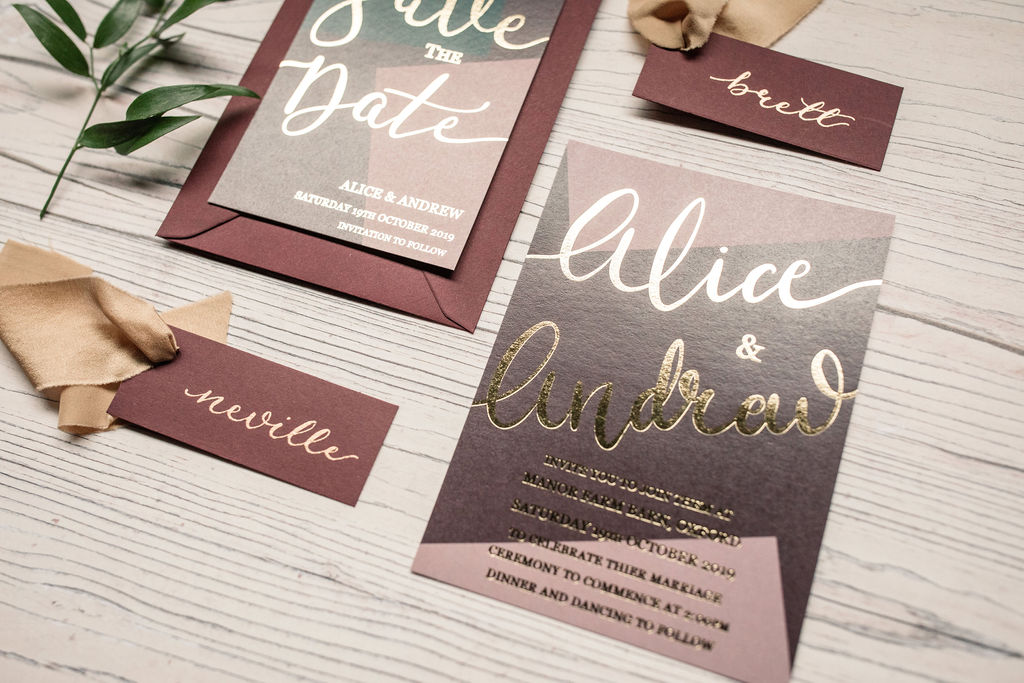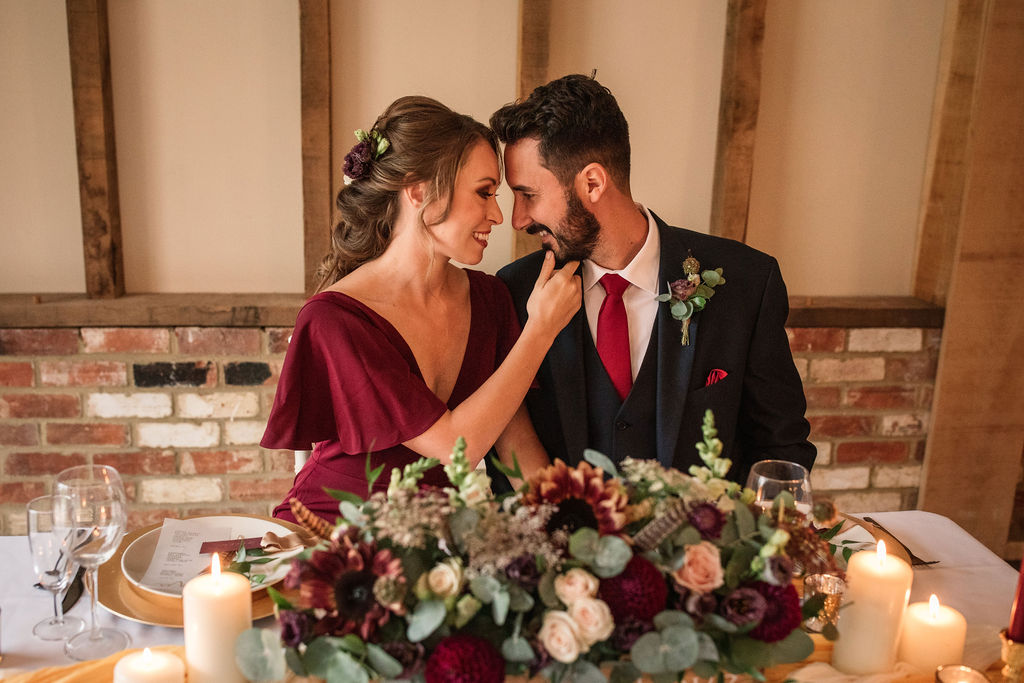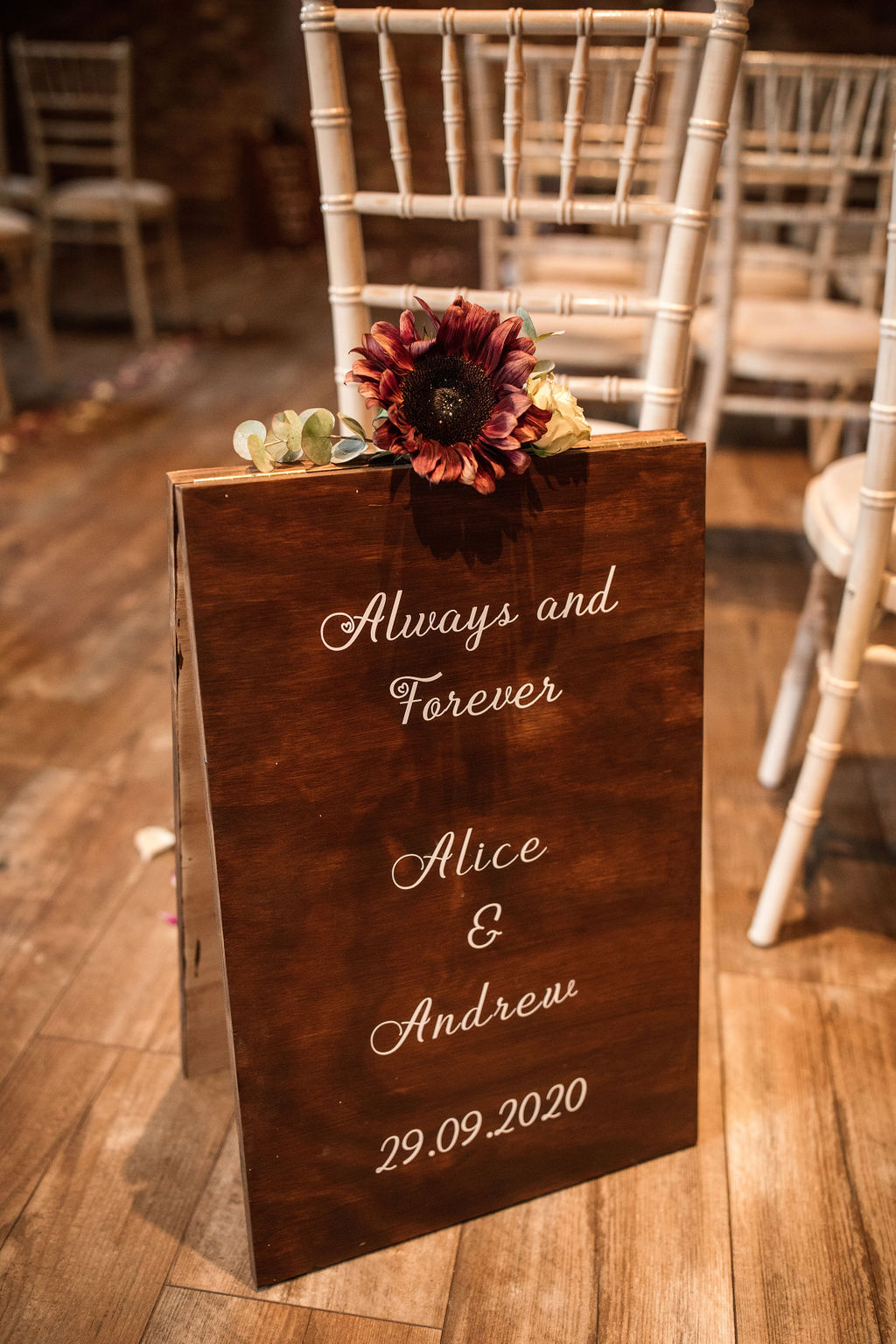 "Autumn means the darker nights, the colder mornings, the changing in the look and feel outside; it is the perfect time for the change in wedding looks with the dress, the make up, having the hair in a more 'down' style" – there are so many reasons to have an autumn wedding! Here are some reasons:
Expect far more attendees and a buzz of constant conversation about the long summer
Beautiful photo opportunities
Cooler evenings
Autumnal tones with the oranges and burgundies
Adding candles creates a more romantic atmosphere
Price (known for the prices being cheaper than the high season of summer)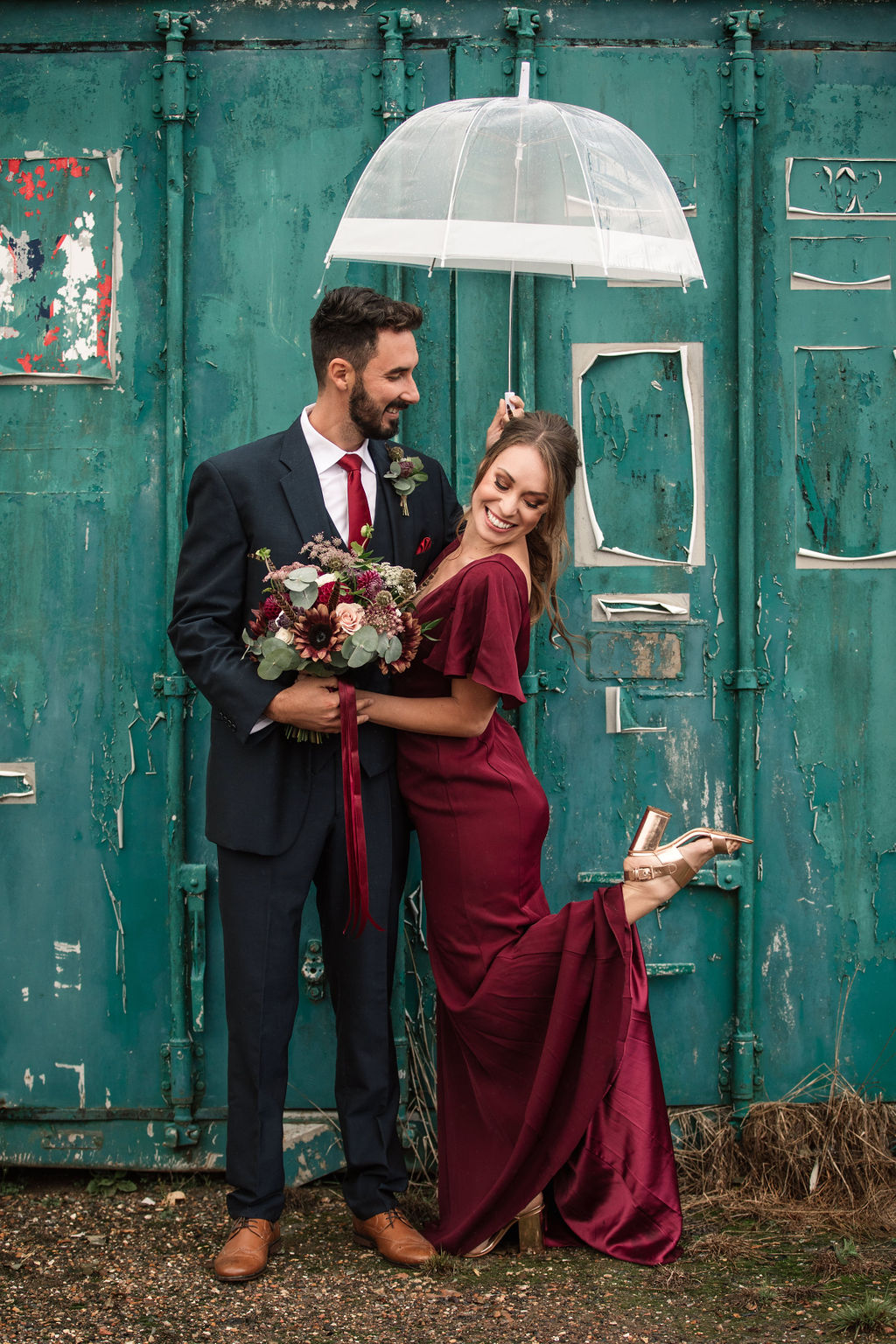 "Becky Harley Photography worked her magic with her personal approach to the shoot, with getting to know the couple and focusing on the little details. We opted for a burgundy wedding dress, the reason for this is to show brides that you can have an alternative wedding dress and that you don't need to go for a traditional dress. That there are a range of alternative dresses that you can wear."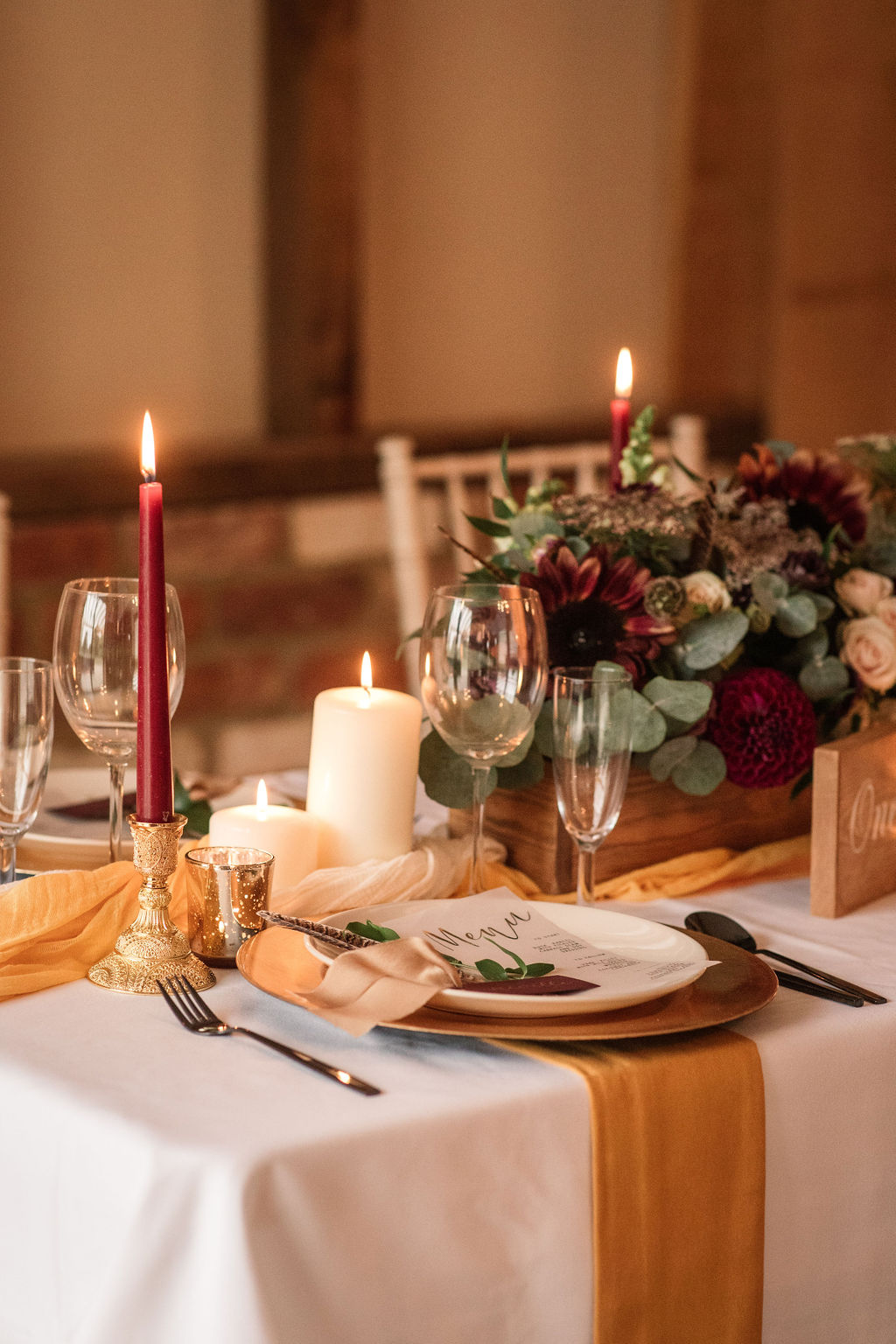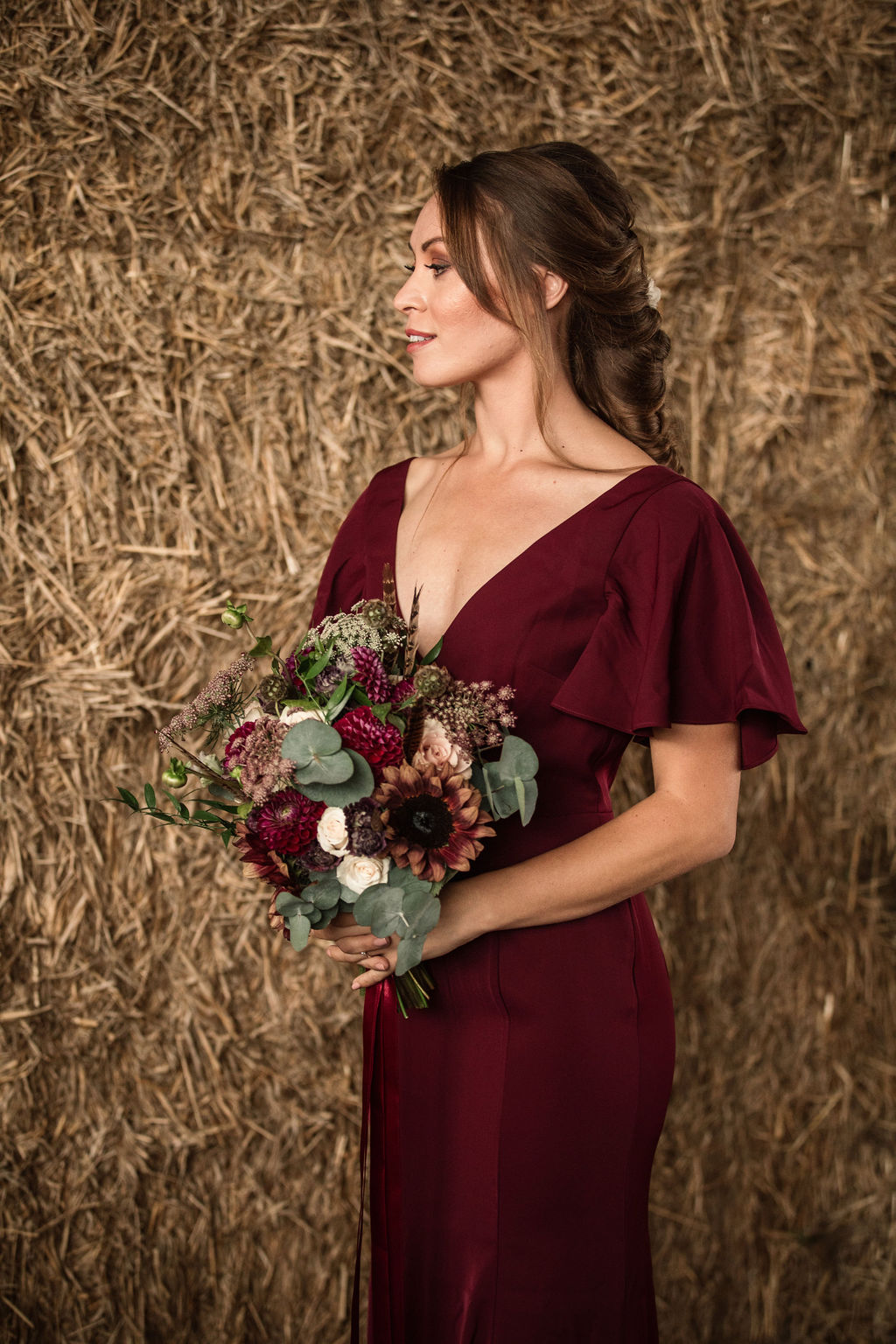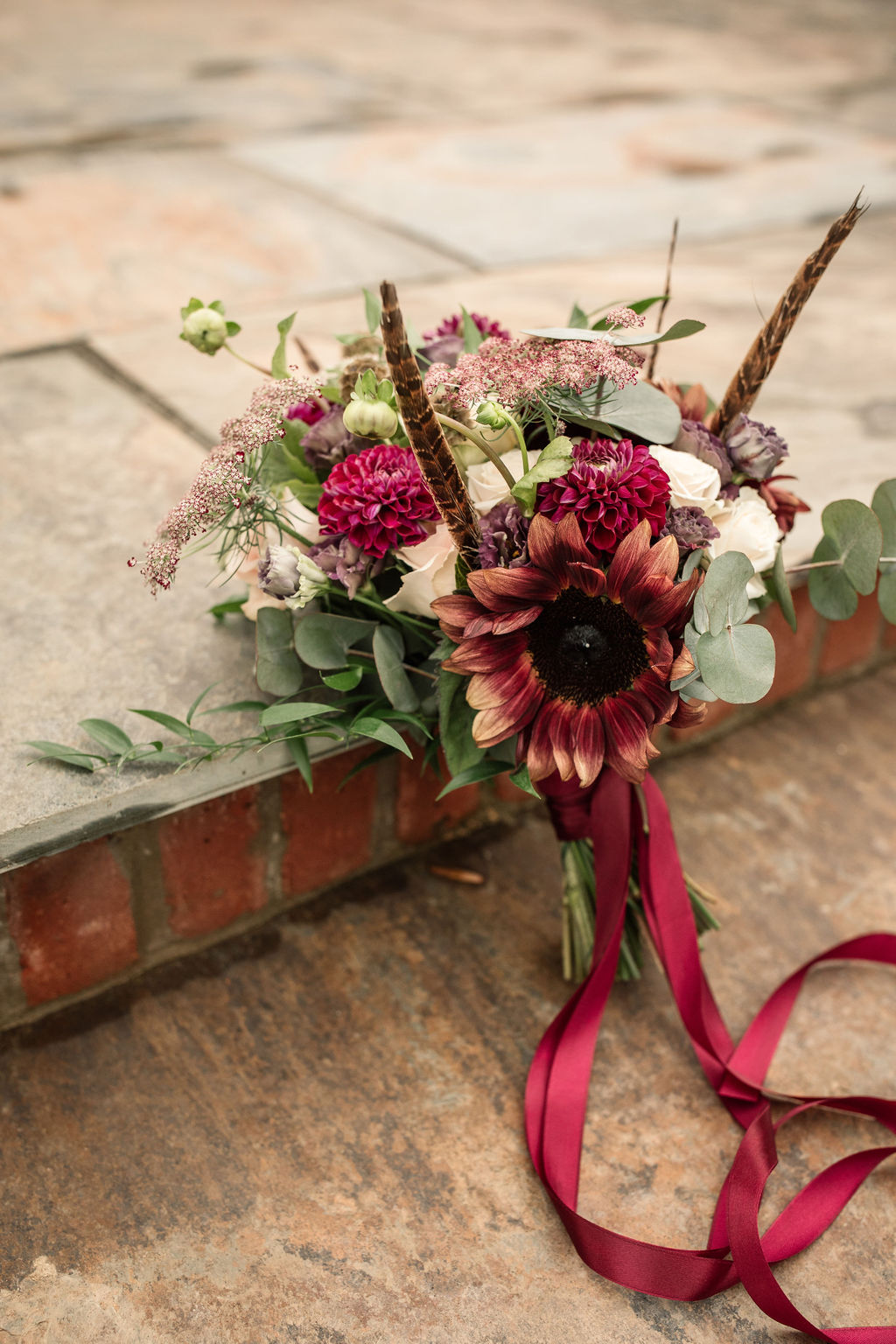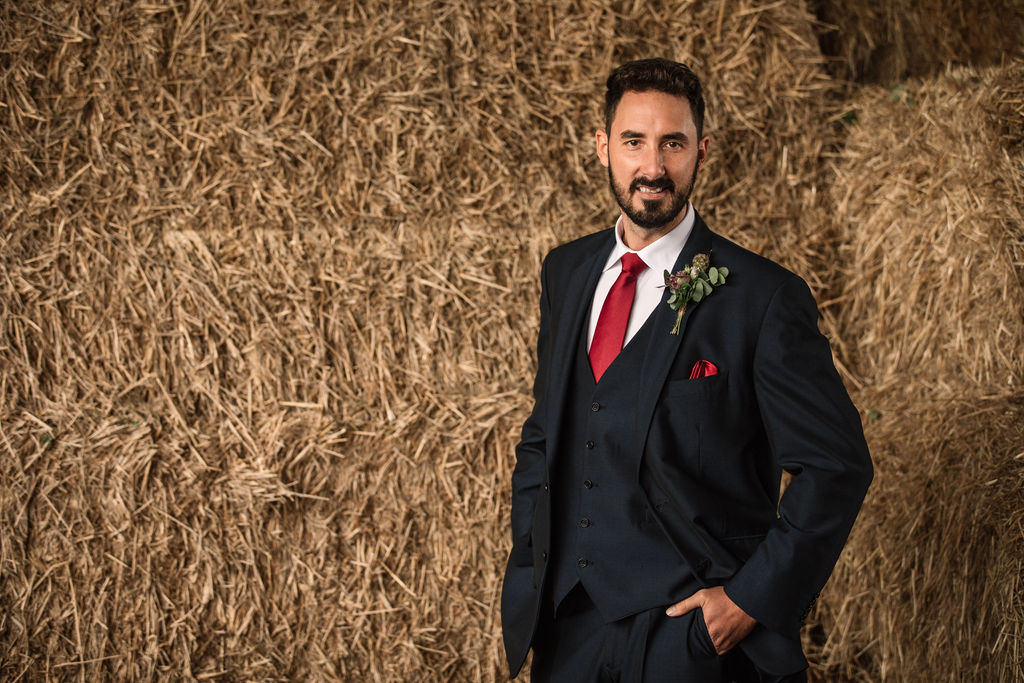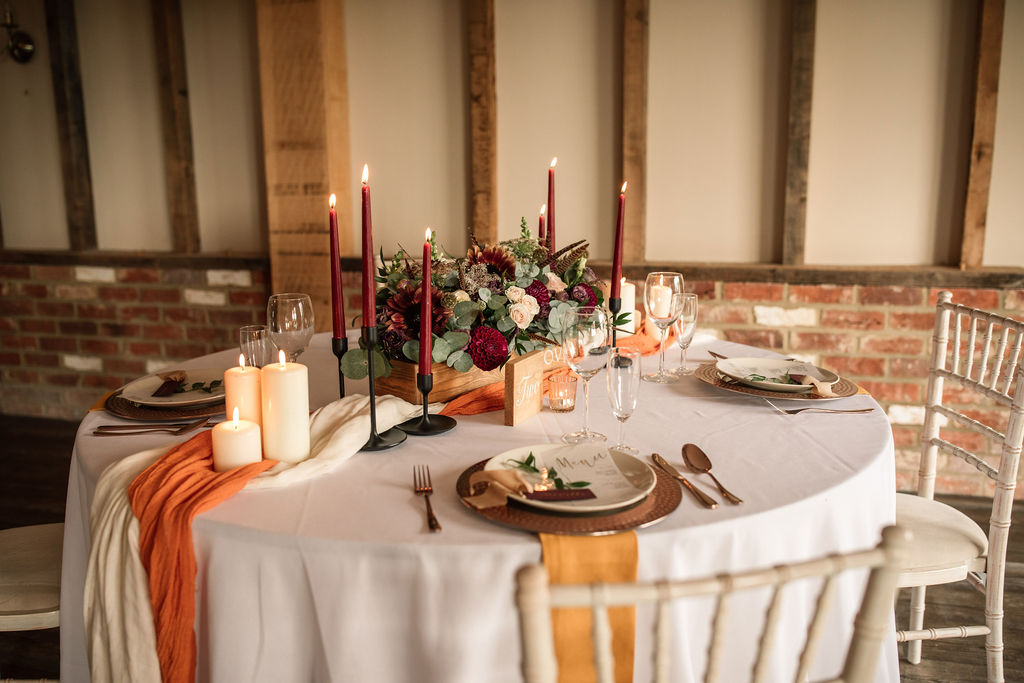 Sophie May Floral says; "For this shoot I went for some gorgeous, rich colours to highlight the autumn theme, with some burgundy dahlias, sunflowers and lisianthus alongside some more blush tones, to bring out some lighter feels. I also mixed a few pheasant feathers to give a different texture and feel to the flowers, trying to be eco-friendly where possible by using moss and chicken wire for the arch, rather than floral foam."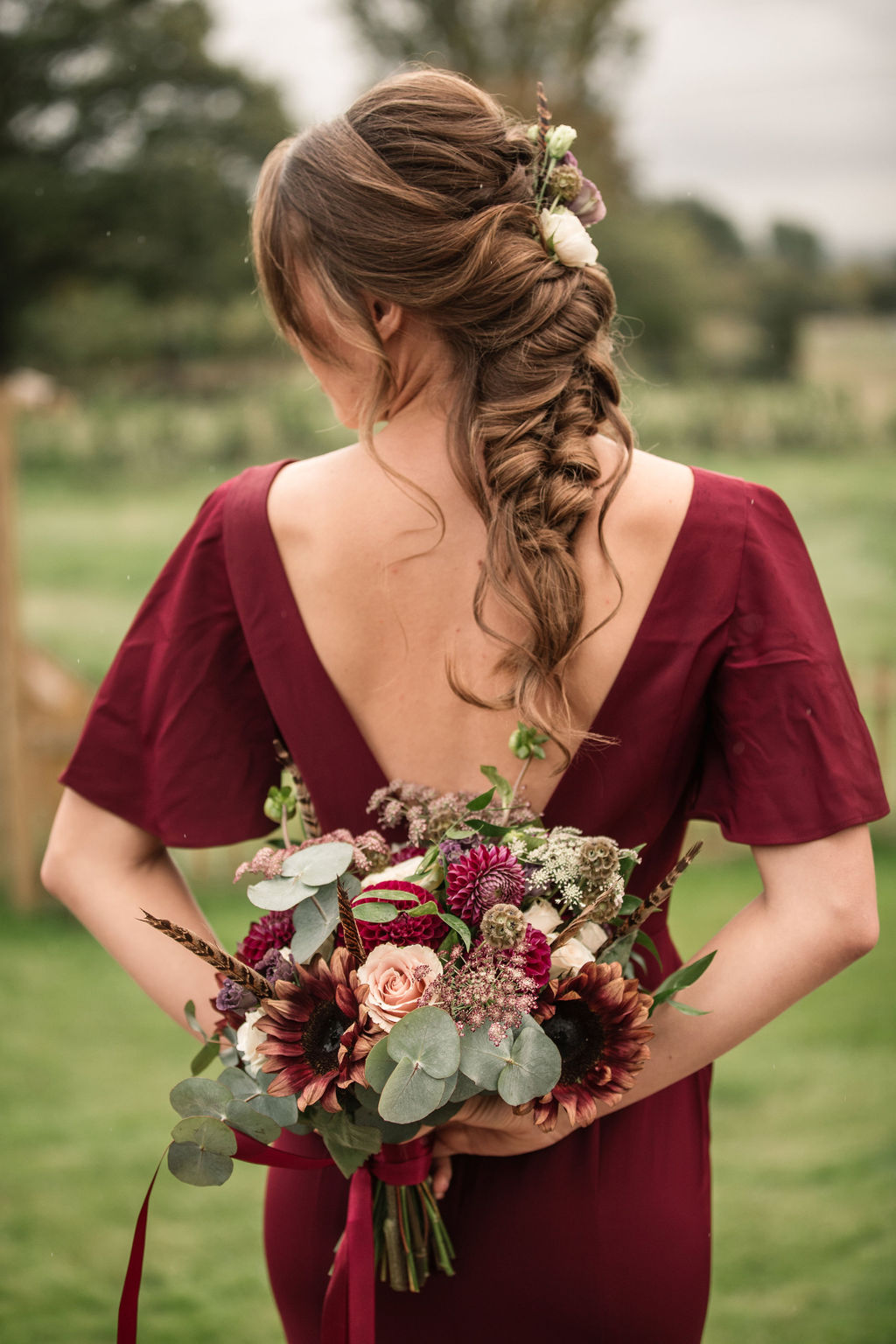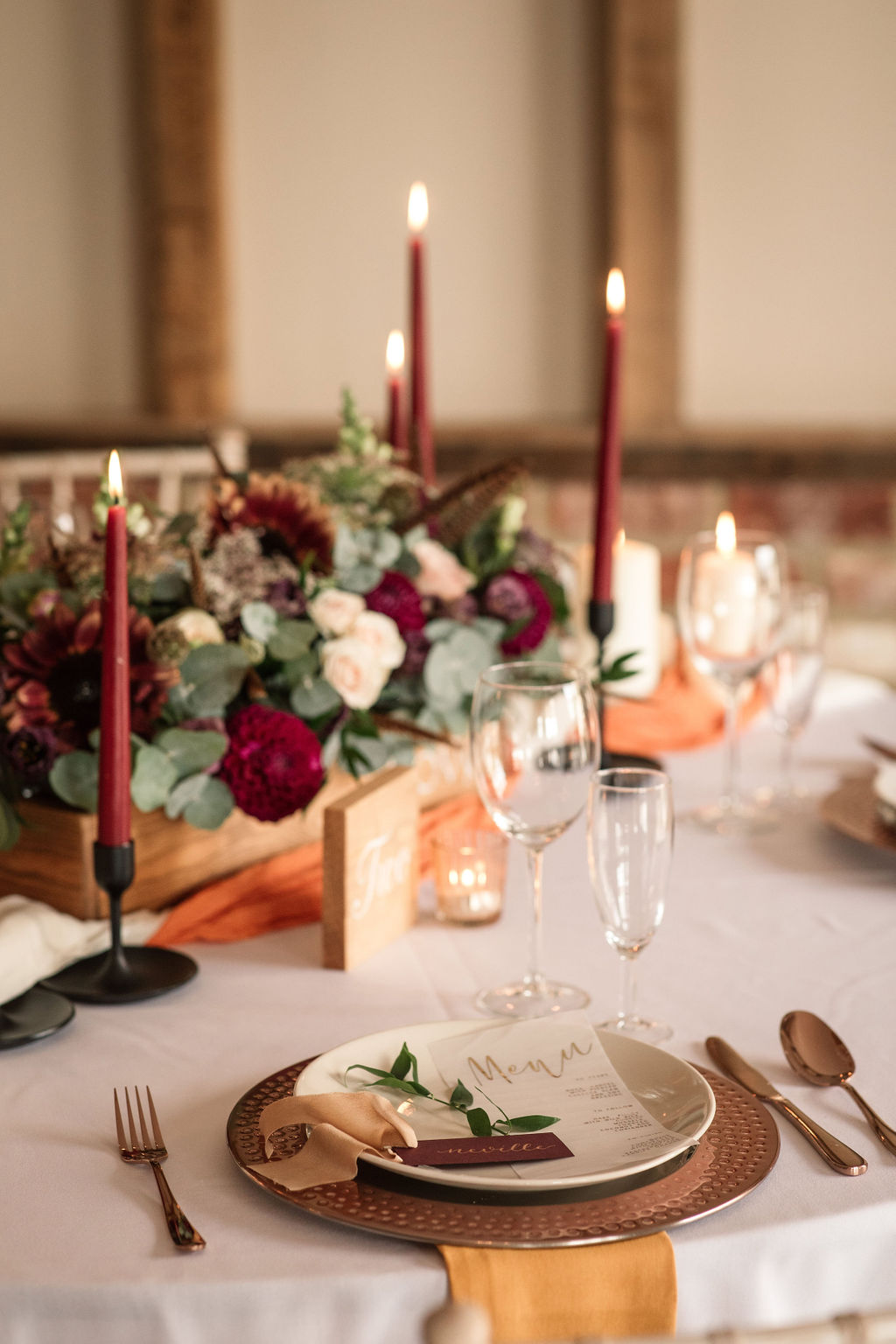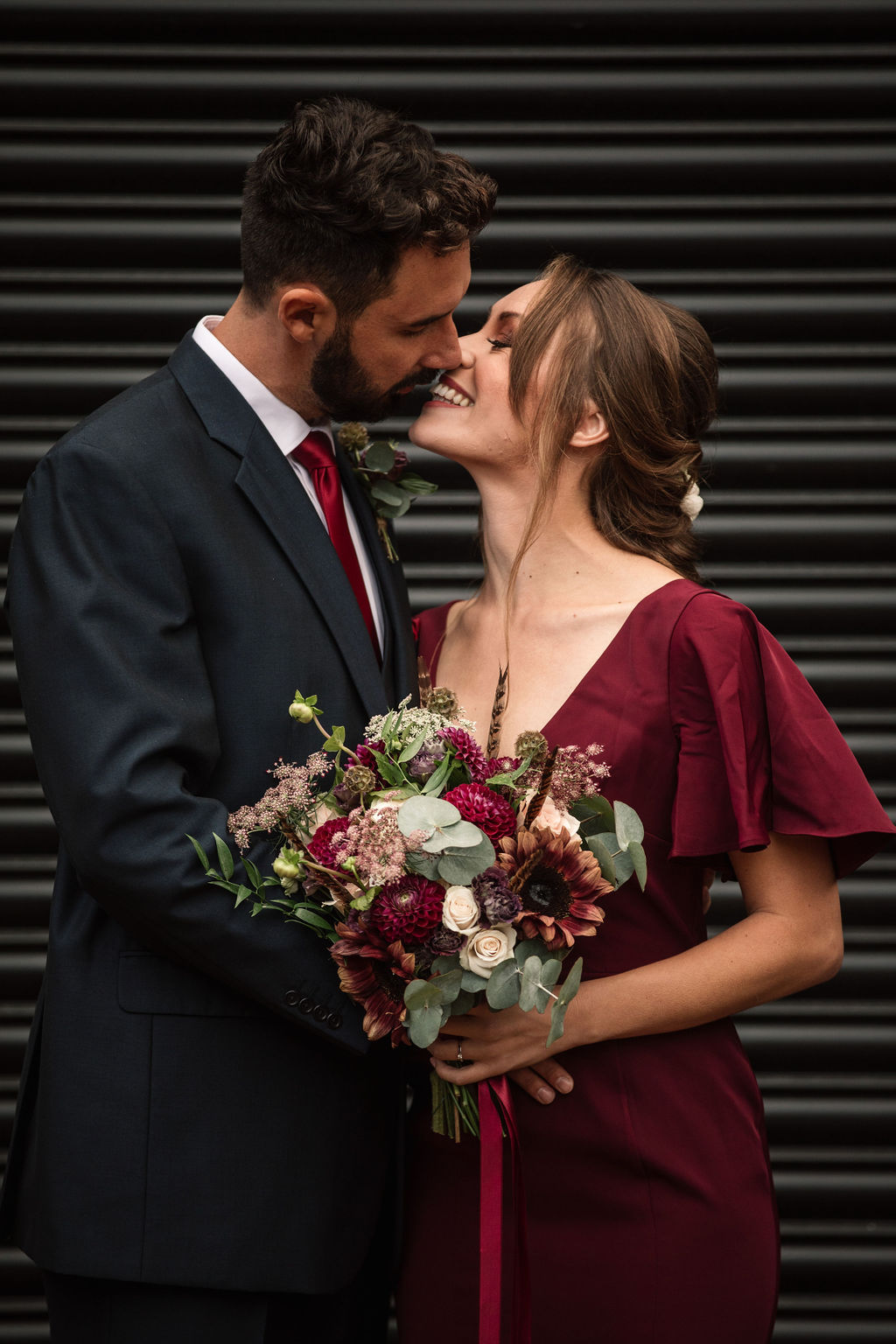 "A beautifully designed cake with hand painted florals, Kelly has worked her magic with her cake skills for this autumnal shoot. Kelly is a talented cake maker from Royston, producing a one tiered cake, showing brides that even if you have a smaller sized cake, it can still be magical."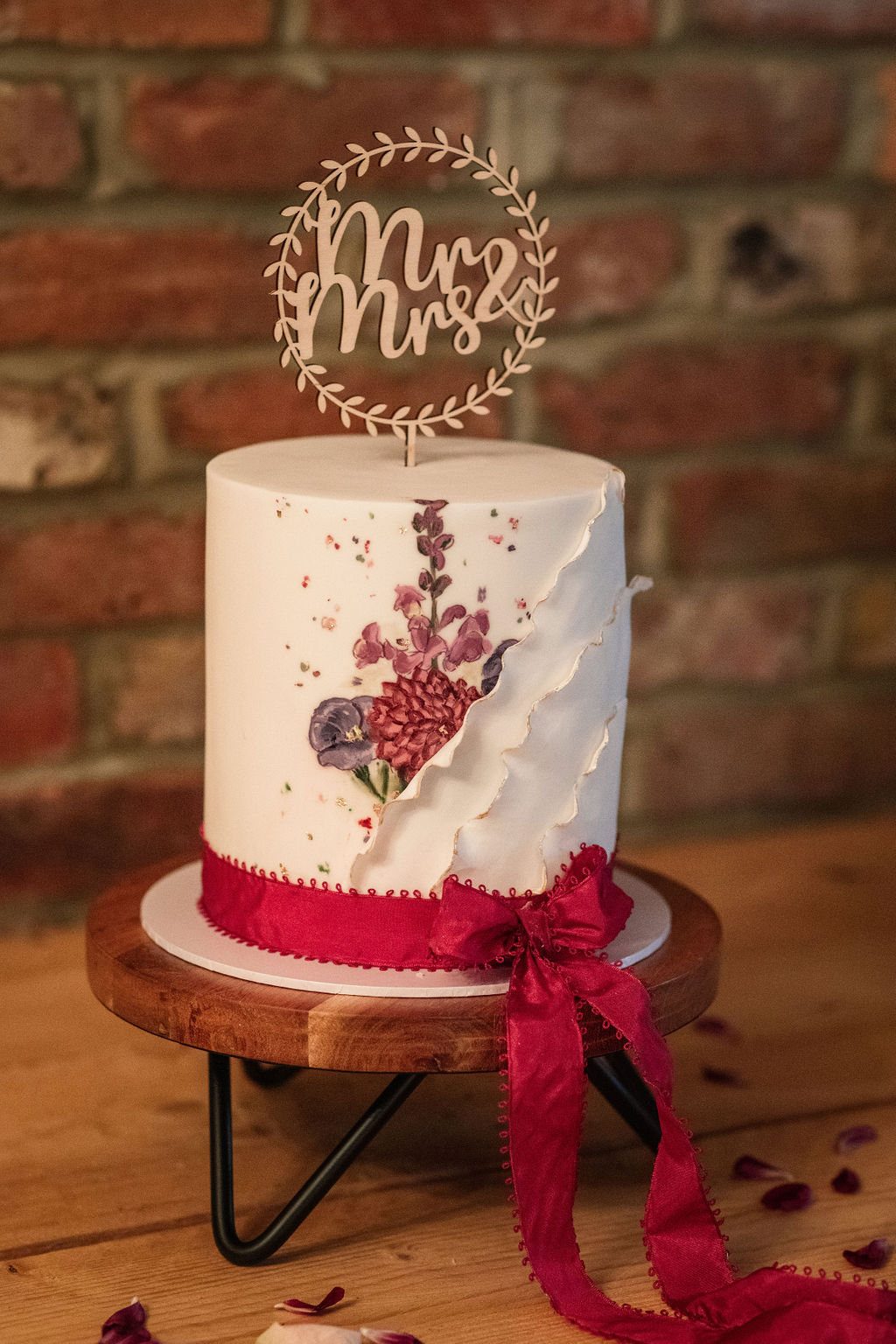 Samsa May says; "For the props for this shoot I wanted to achieve a different look with autumnal colours warm vibes and a seasonal change. Keeping the rustic theme running thought the shoot, I wanted to give it an autumnal feeling of cozy, relaxed and eco. The props, centrepieces, crate, aisle signs, welcome sign are all made from reclaimed wood and materials keeping as eco-friendly as possible too. We wanted to capture the barn's characteristics including the original brickwork eaves and the new copper modern bar."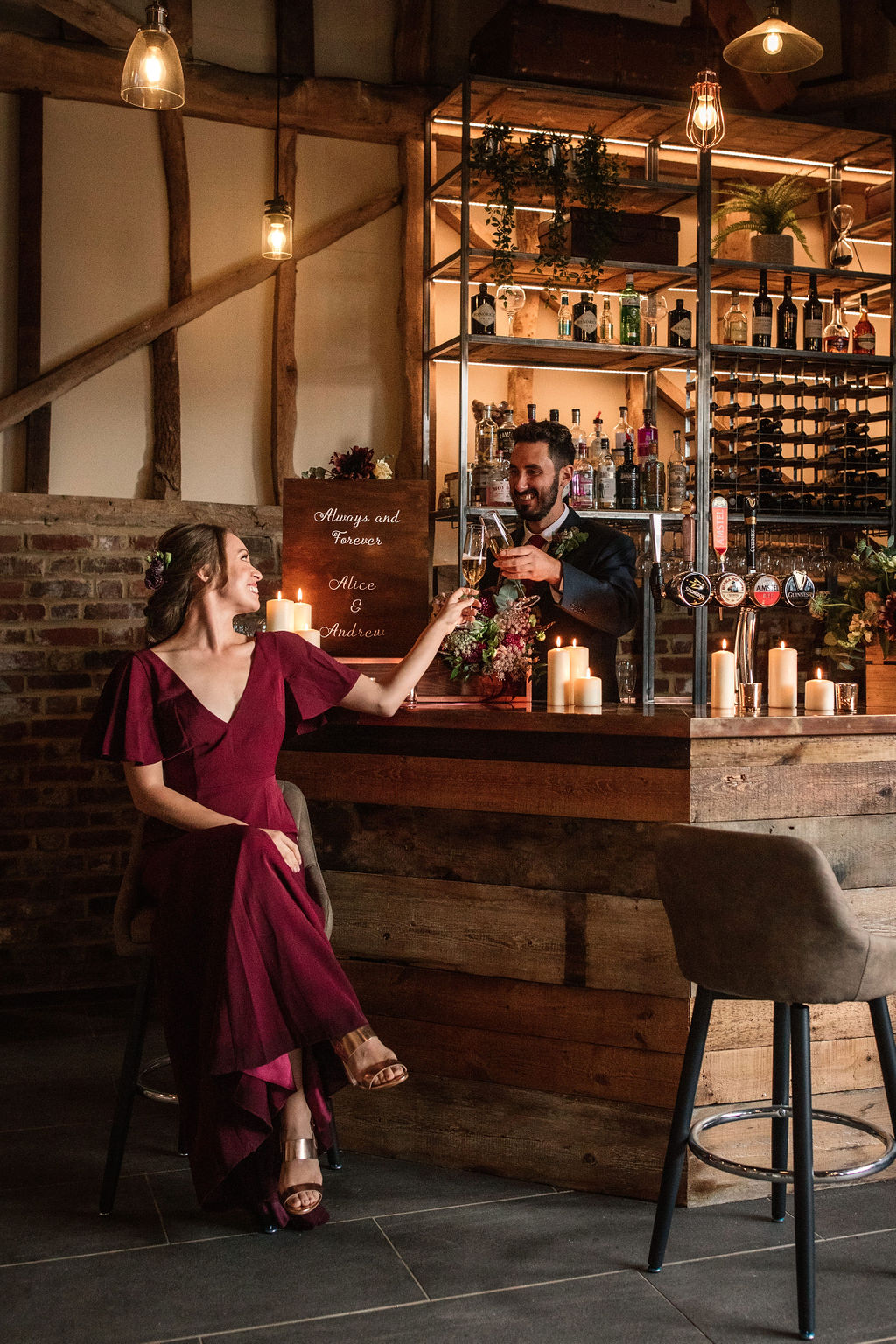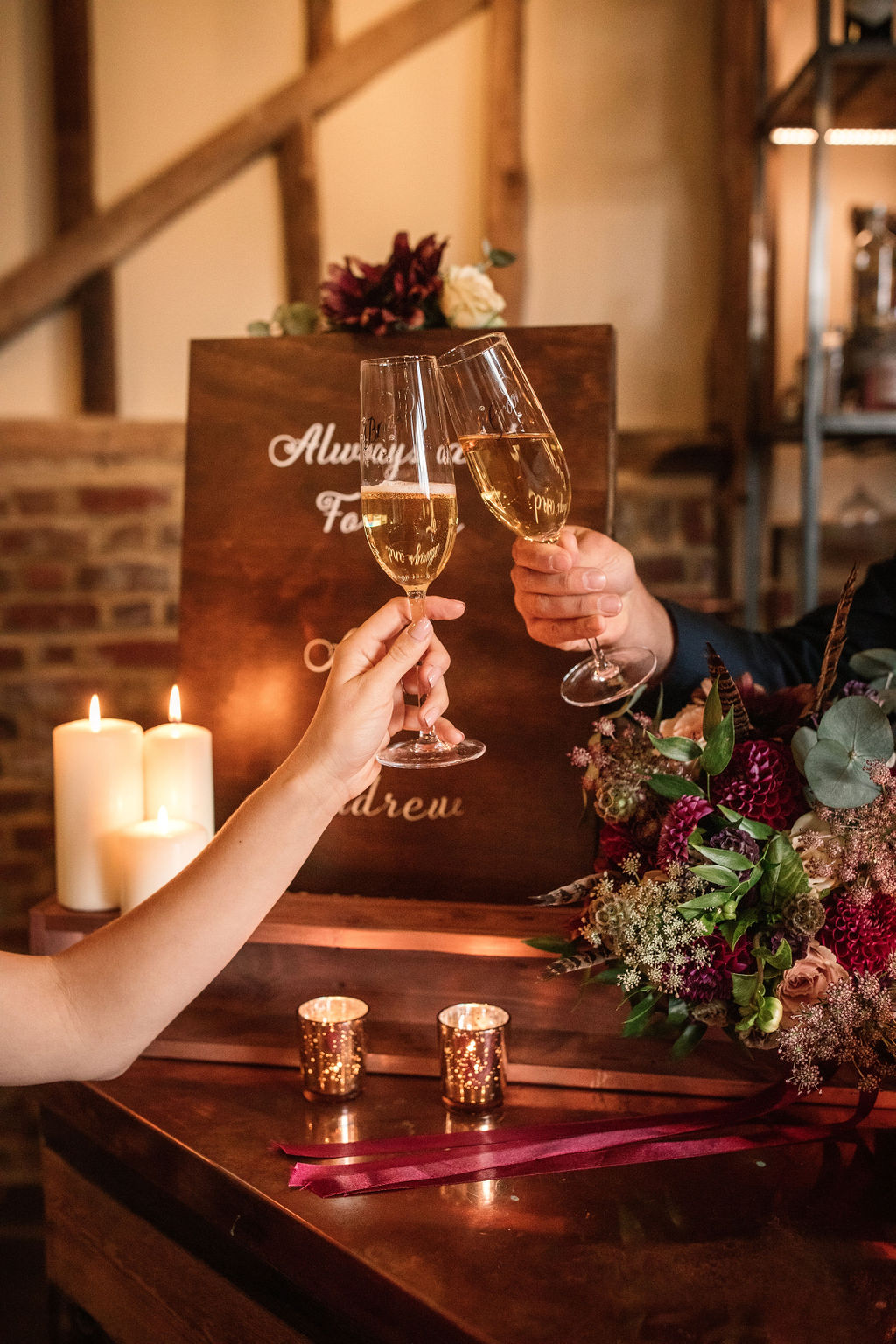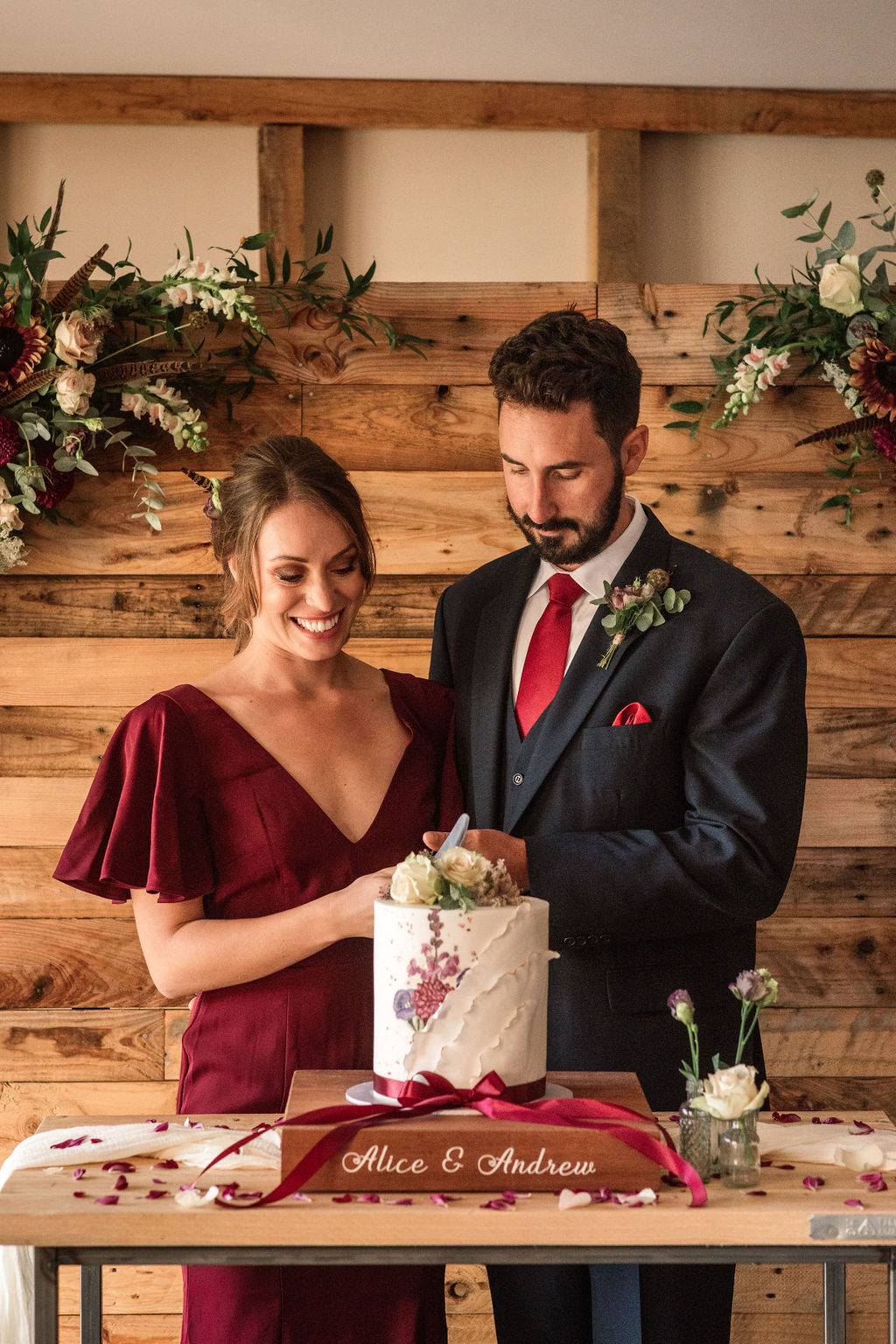 Niki Make Up says; "I took inspiration from autumn colours to create a natural glam' bridal makeup. The colours used were warm toned shades of rust, orange and brown. Glowing skin complimented smokey brown eye makeup and warm berry lips."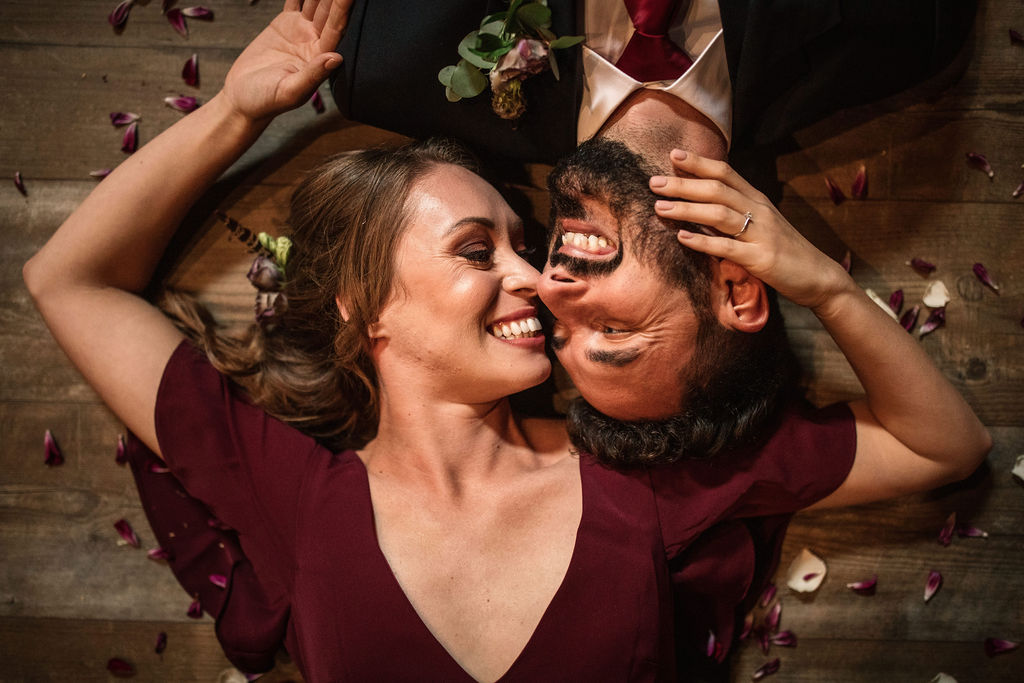 Bespoke Hair By Nicola says; "I wanted to create a romantic flowing look that would hold up well to the ever changing autumn weather, whilst complimenting the gorgeous neckline of the gown and Laura's stunning long locks. Finished off by adding in a small spring of autumnal blooms provided by Sophie May Floral to enhance the romantic style".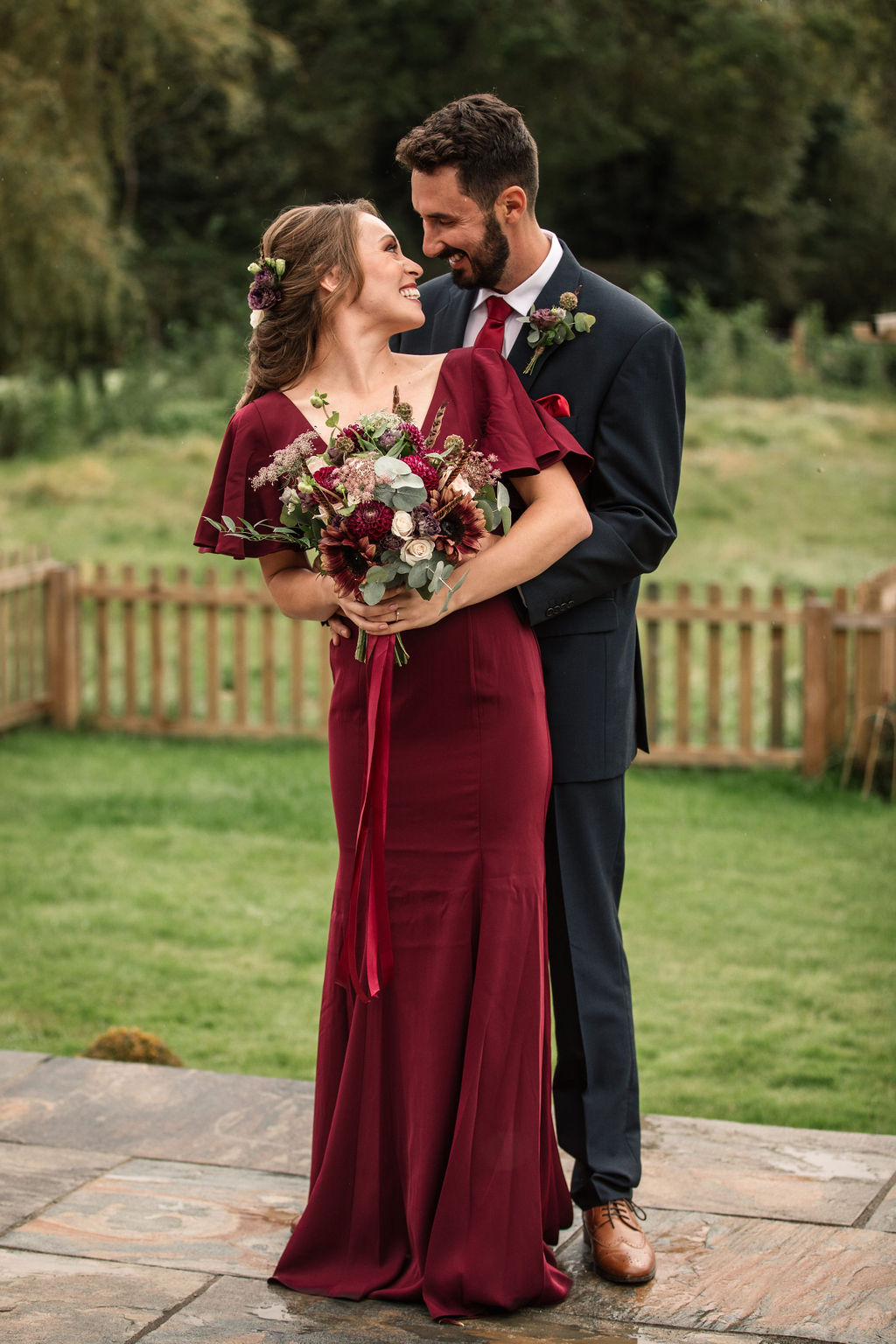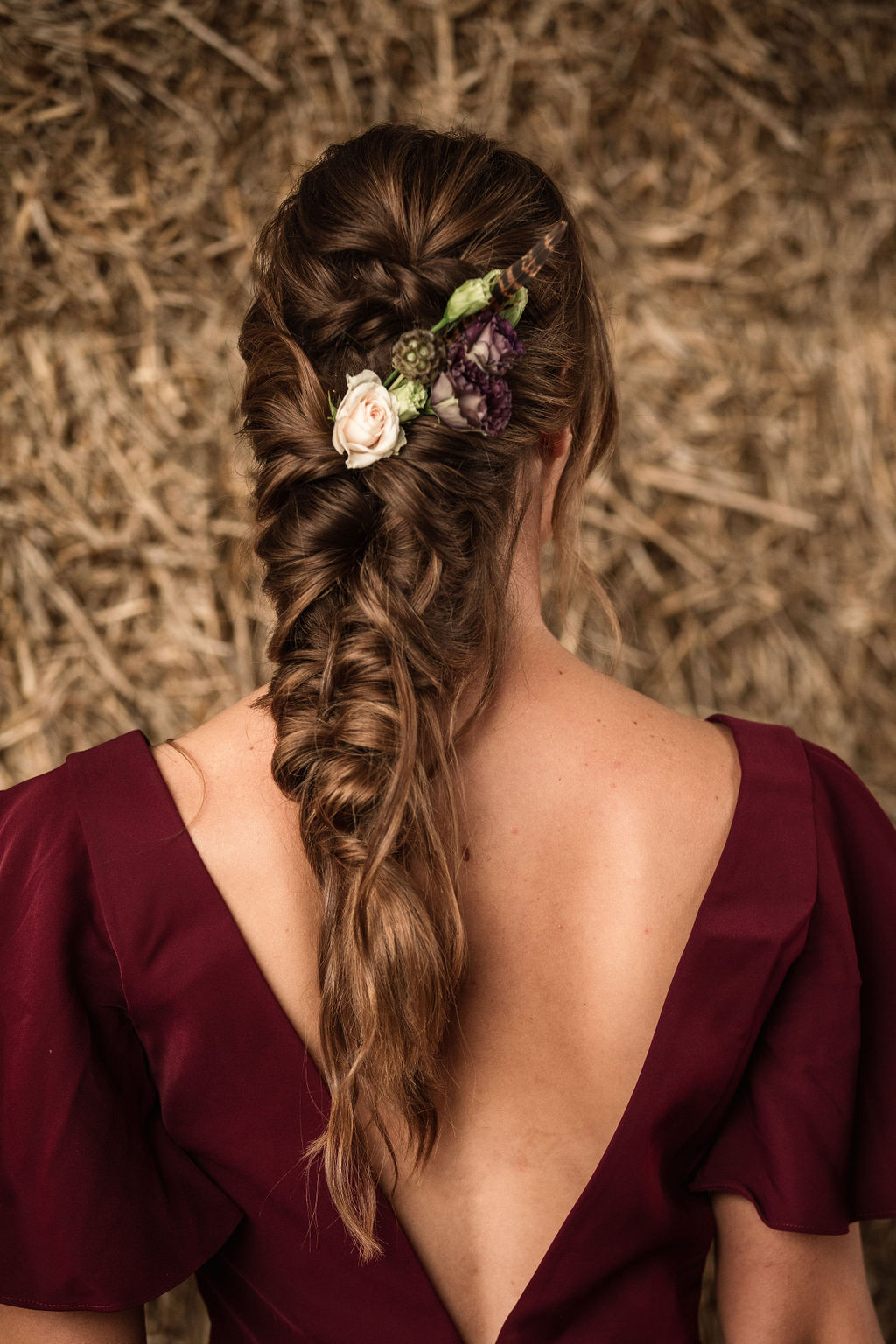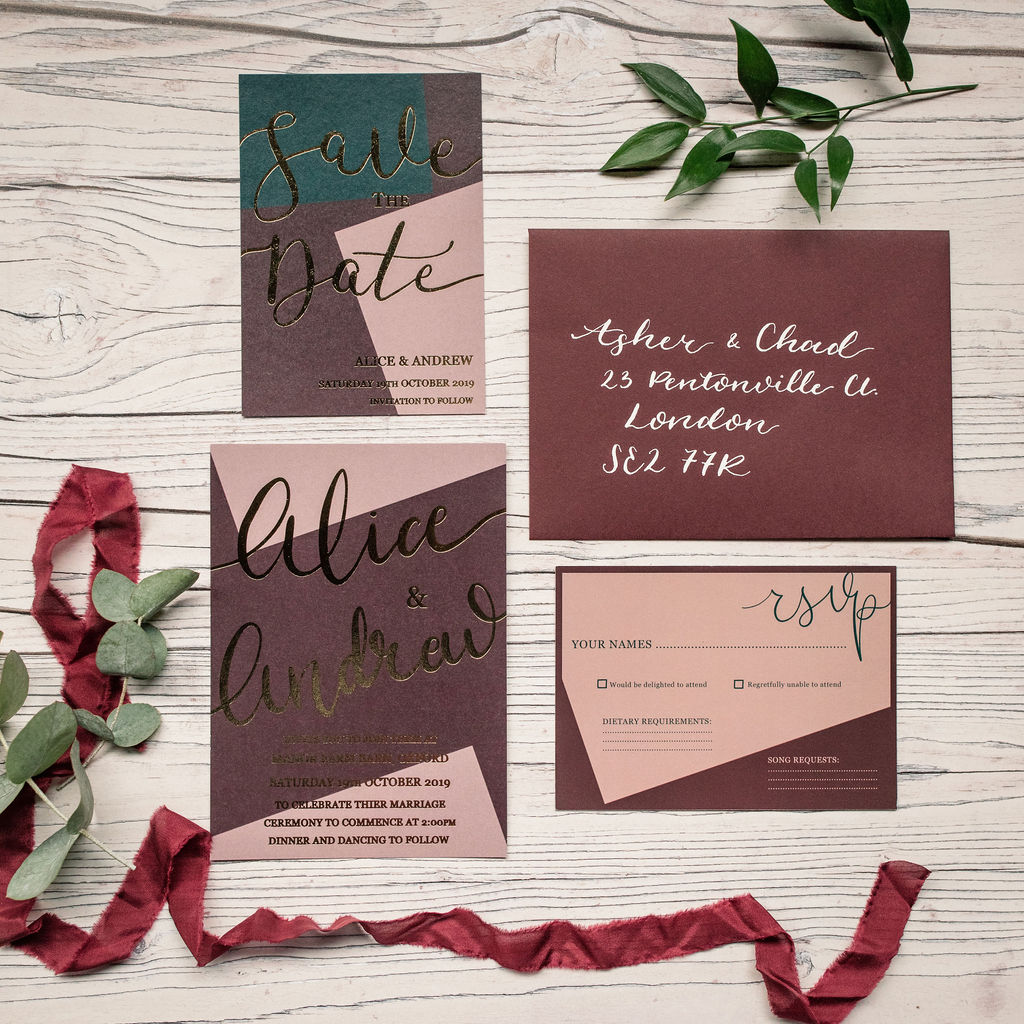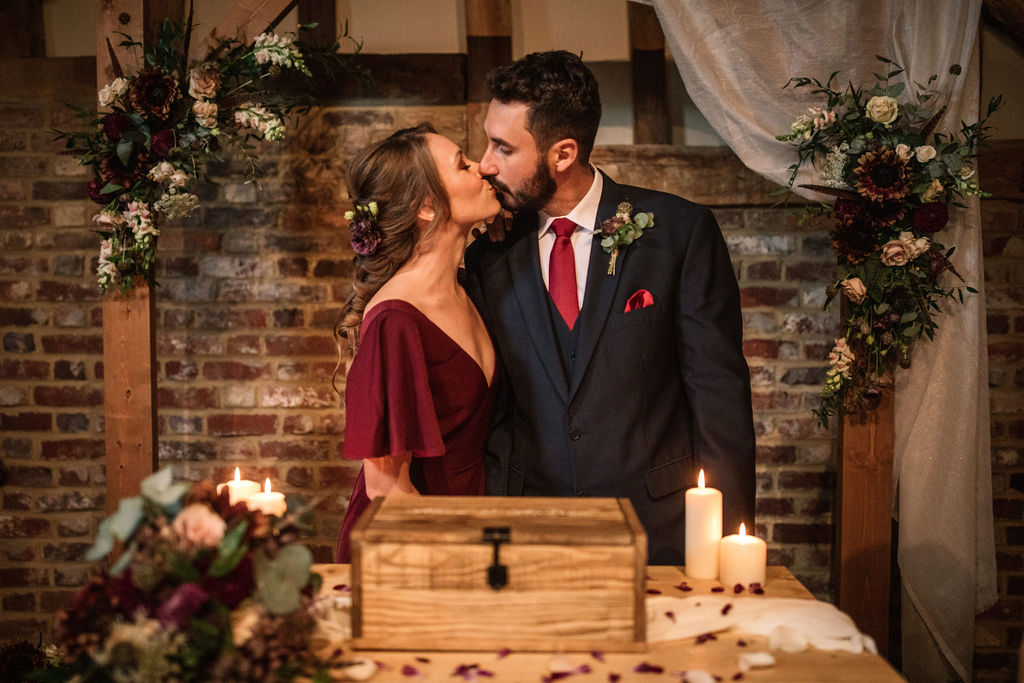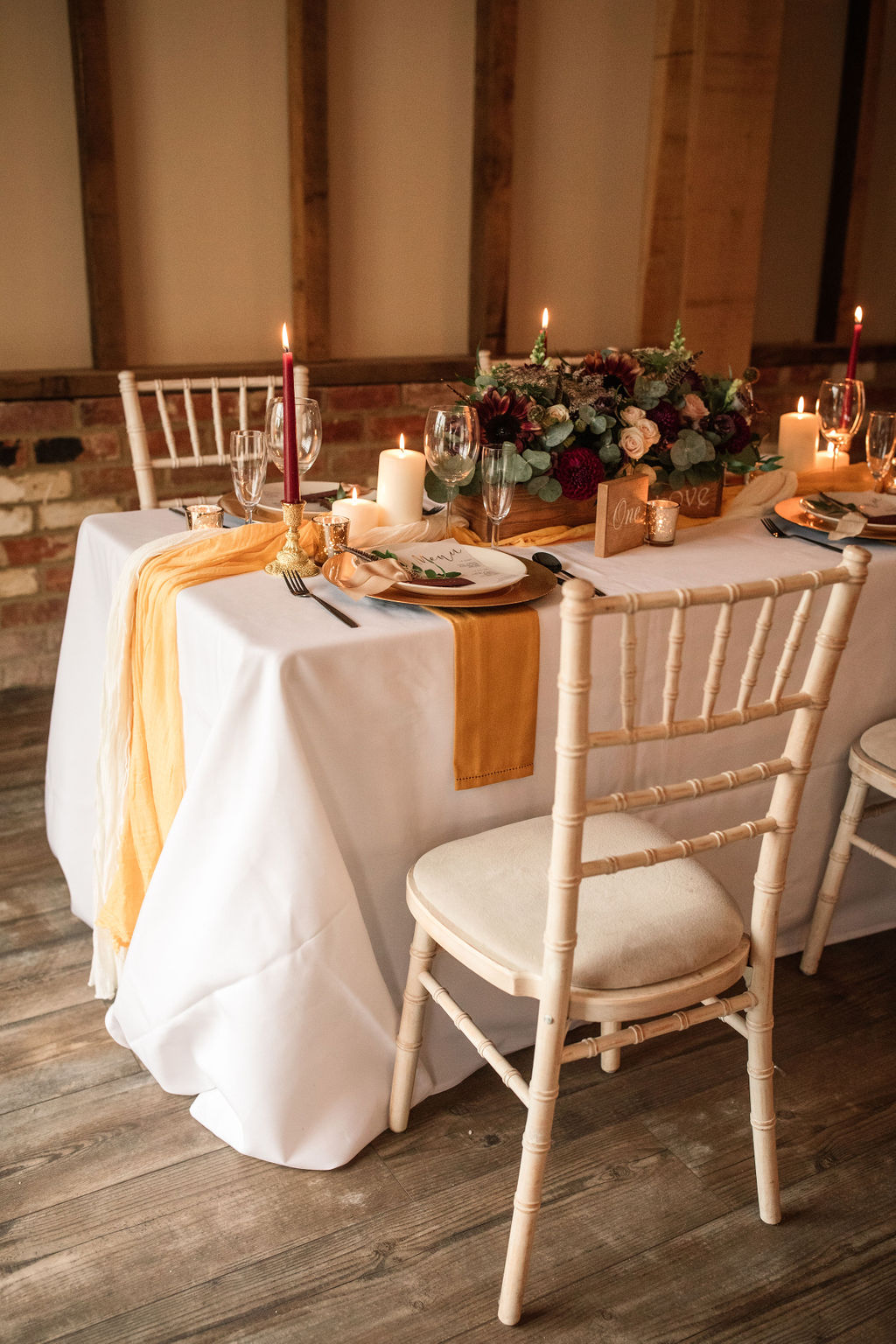 Clare Gray Designs says; "I just love the deep rich reds of autumn, and was delighted to create a burgundy and forest stationery suite for this gorgeous shoot. The deep burgundy is complimented with luxury sparkling gold block foiling for a bit of seasonal bling. The bespoke hand lettered silk tied place cards and calligraphy love letters, added personal, romantic touches to this rustic, cosy autumnal shoot".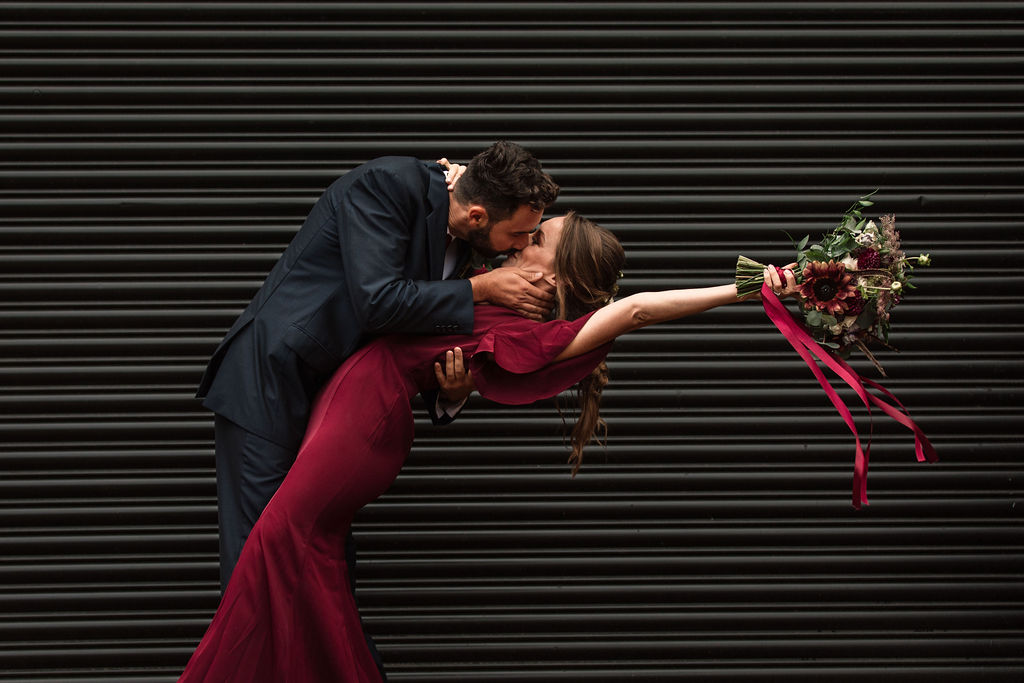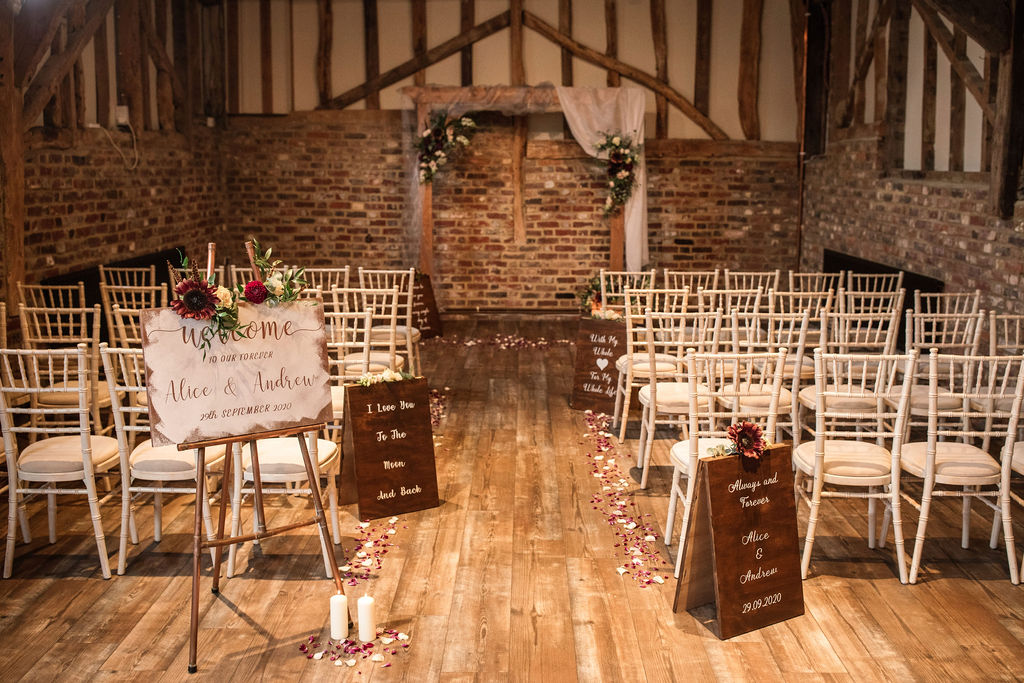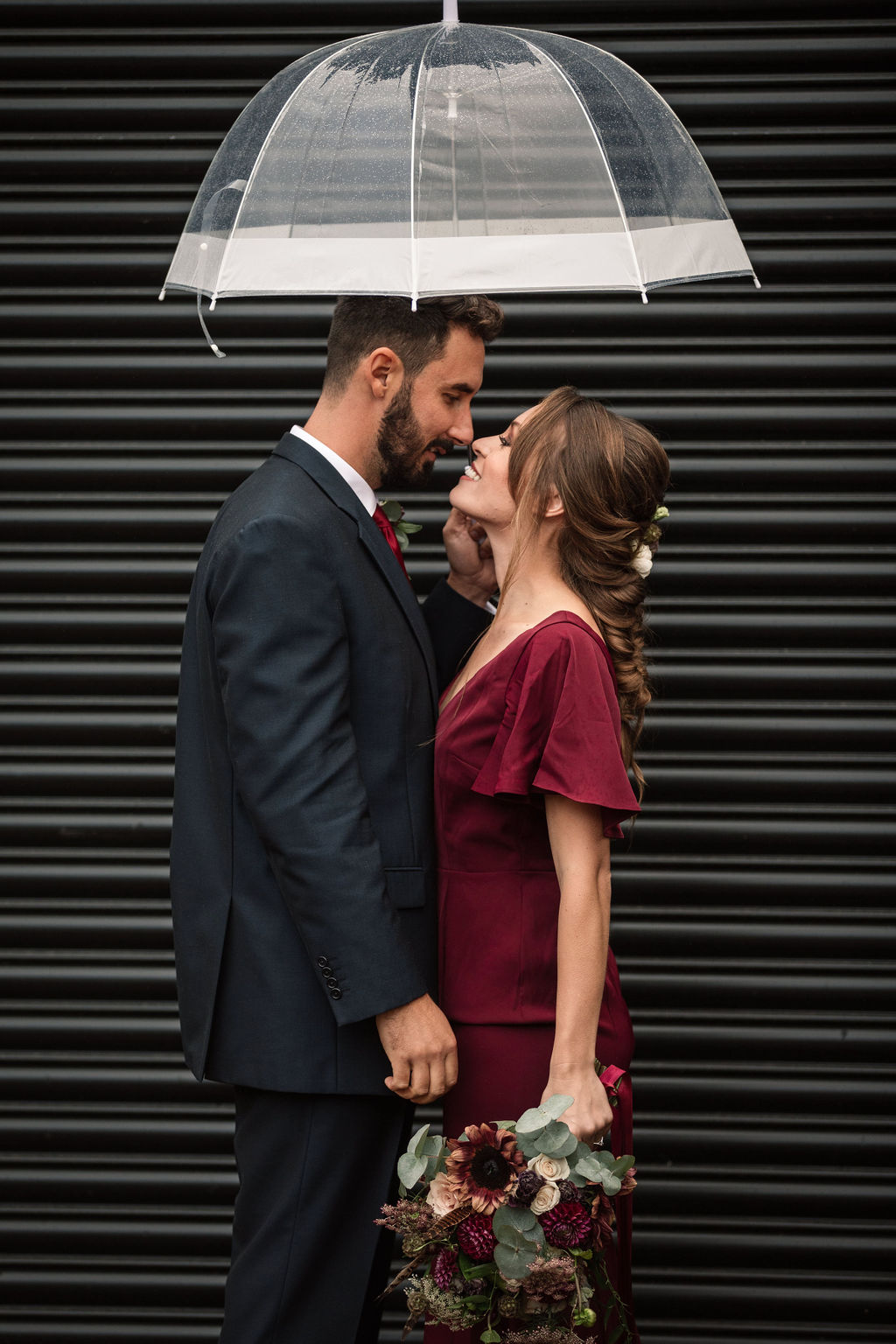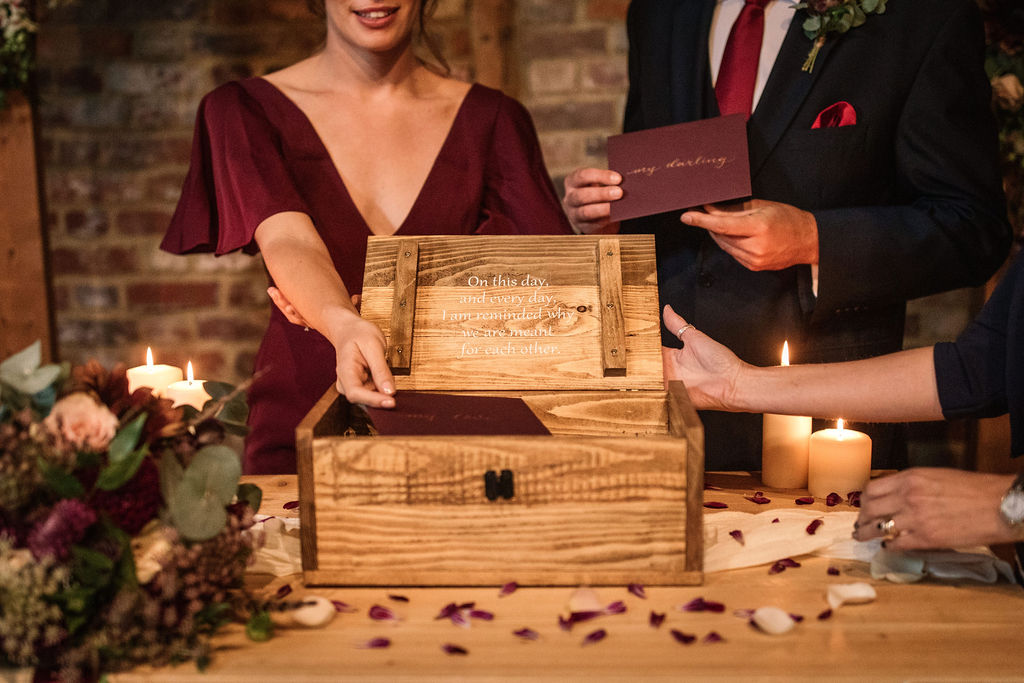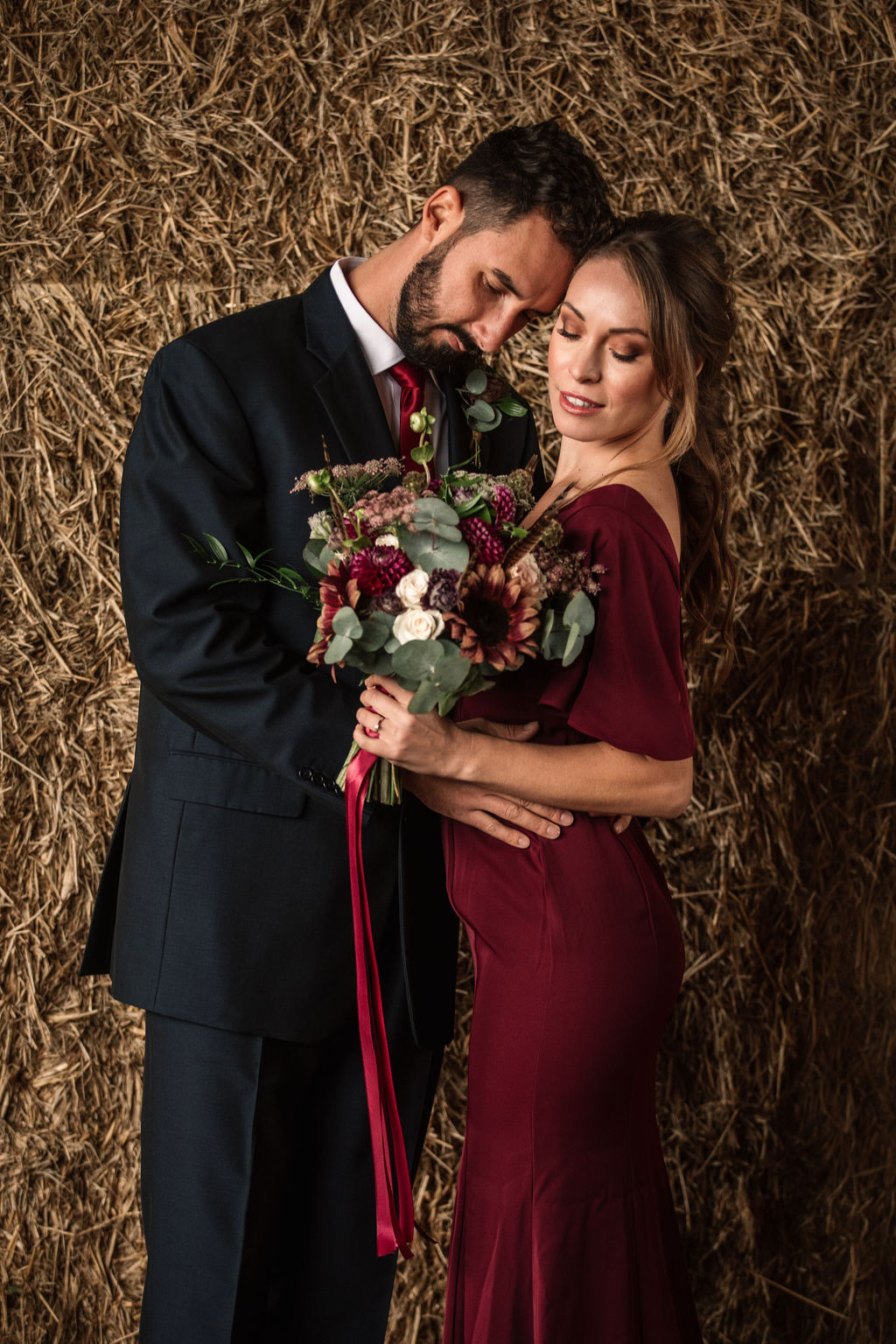 Kelly Hawes Celebrant says; "As a Celebrant I work with couples to create something that totally fits their vision and their personalities. With this shoot I really cranked up the romantic side by creating a love letter ceremony. In this ritual the couple would write a love letter to each other during the week leading up to their wedding day. This is then sealed and presented to each other during the ceremony. I asked them to "seal with a loving kiss" before placing these in the keepsake box. The box has been crafted and personalised by Samsa May's. The idea is that on the couples 1st Anniversary they will open the box, enjoy the wine inside and read their love letters. The box is a great size for adding other memorabilia from the day too such as an invitation, some confetti and some pieces from your table decor as an example".
The Team – Rustic Boho Wedding with Coloured Wedding Dress at Bunkers Barn
Photographer: Becky Harley Photography @beckyharleyphotog
Venue – Bunkers Barn @bunkersbarnweddings / Videographer: Creative Spark Films @creativesparkfilms / Wedding Planner and Stylist: Miss Carlysle and Co – Weddings and Events @misscarlysleandco_events / Assistant: Your Wedding Friend @yourweddingfrienduk / Assistant: Amy Raven Weddings @amyravenweddings / Celebrant: Kelly Hawes @kellyhcelebrant / Prop Hire: Samsa May @samsamays / Hair Stylist: Bespoke Hair By Nicola @bespokebridal_hairbynicola / Make Up Artist: Niki Make Up @nikimakeup.co.uk / Stationery: Clare Gray Designs @claregray_designs / Cake: Kellys Kitchen @kellys_cake_kitchen / Florist: Sophie May Floral @sophiemayfloral / Bridal Boutique: TH and TH @thth_bridesmaids / Suit Hire: Fogarty Formal Hire @fogartyformalhire / Models: His and Her Footprints @hisandhersfootprints
IF YOU LOVED THIS RUSTIC BARN WEDDING WHY NOT PIN IT TO YOUR INSPO BOARD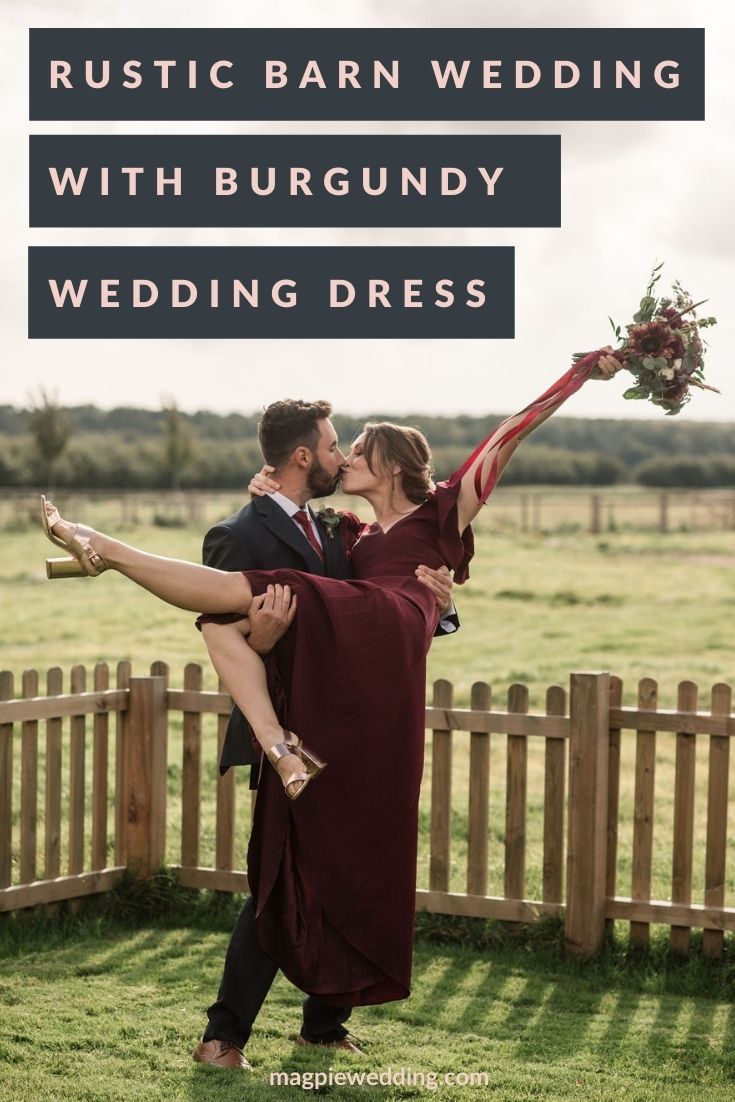 If you loved this Bunkers Barn Wedding you may also like;
Lakeside Boho Wedding With Floral Bridal Jumpsuit At Kentfield Estate, Kent
Where Should People Sit At Your Wedding? Our Top Tips for A Successful Wedding Seating Plan
Boho Gothic Wedding With Black Wedding Dress at Roodlea Barn Ayrshire