Love to travel? Love the vintage vibe or just really set on having a camper van at your wedding? Either way, we're here for it with today's inspiration and ideas! Whether you want to use a camper as a small part of your wedding day or you want to make it all about the camper van (and you of course) we have 10 ways to incorporate a wedding camper van into your big day and some epic inspiration to go alongside it too! We welcome vintage camper van expert Naomi of
Vintage Camperbooths
who shares some quirky and wonderful ideas with us…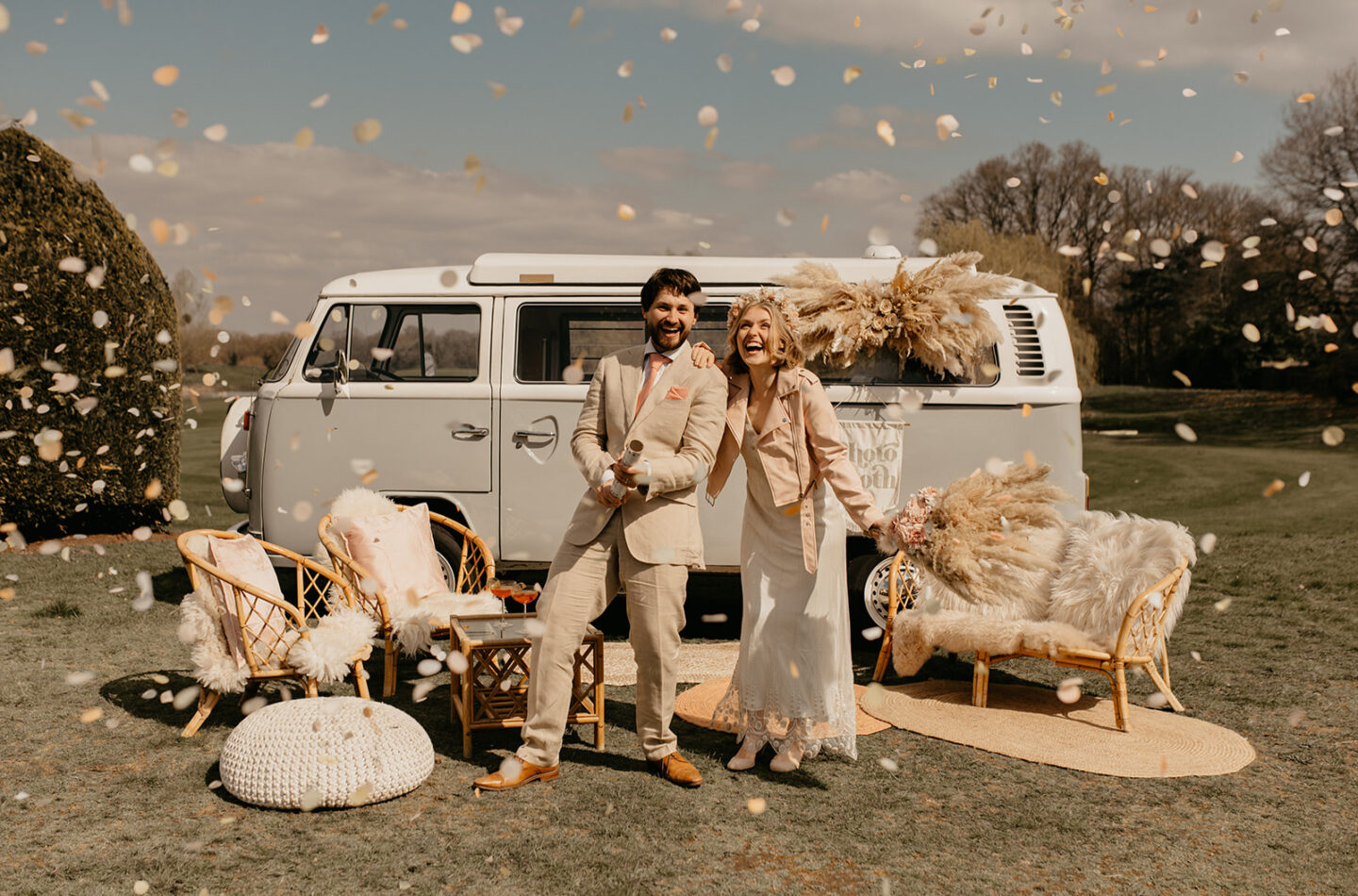 Wedding Morning Prep
What better way to start your wedding morning a little differently than in a decked-out camper van with all things wedding inside? If you're having an intimate wedding and you don't have a huge wedding party then it's a beautiful and quirky option! Naomi says "Create a gorgeous setting in and around the camper van. Make it fun with colour schemes, choosing decor & florals to match your theme and vibe and using personal items that mean something to you". It will not only create a beautiful place for you to get ready in but you'll get some amazing and memorable photos too!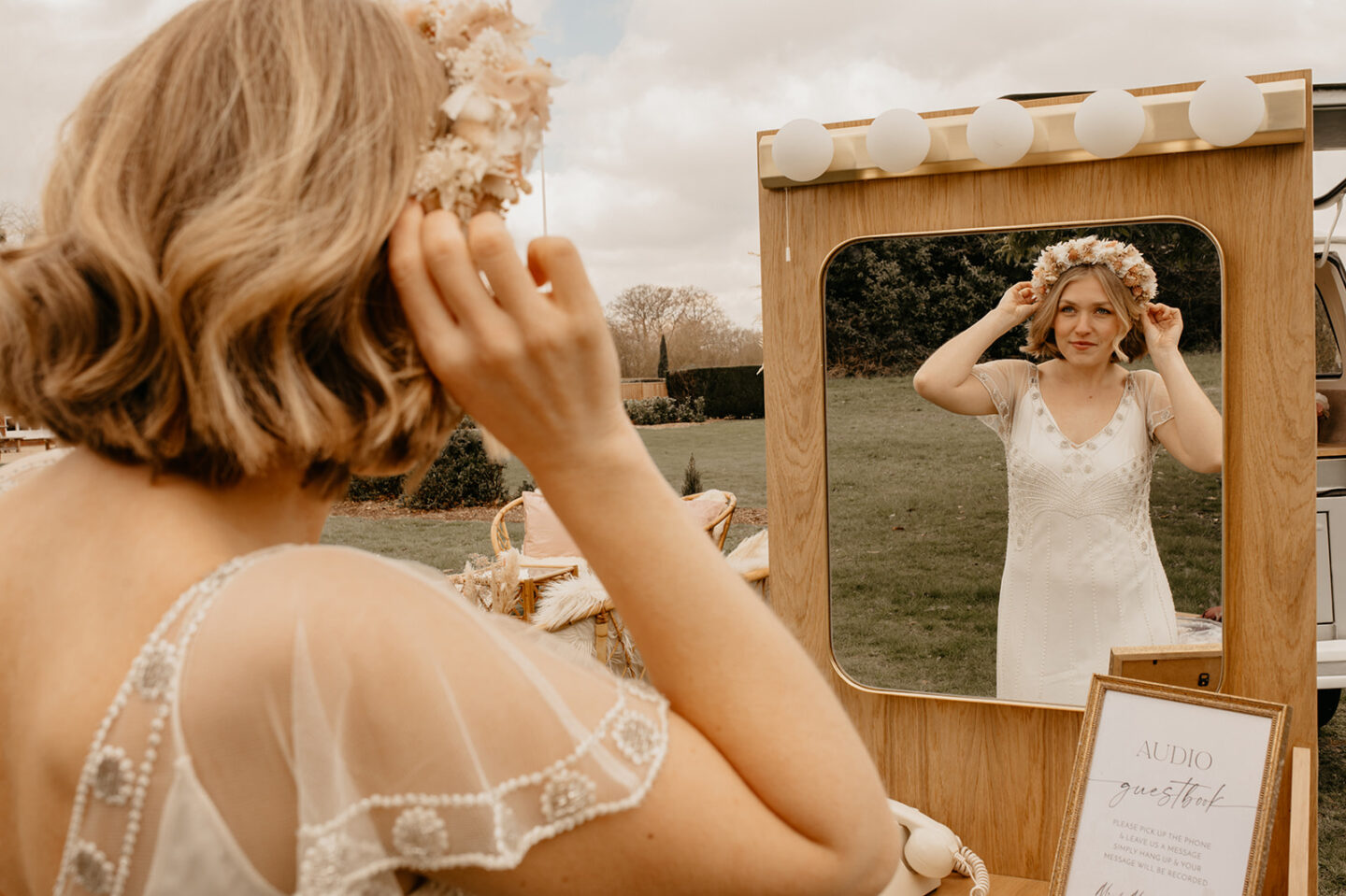 Your Wedding Transport
A simple way that will give you all the vintage vibes you need is by using it as your wedding transport! A camper van can be used to transport you both to the venue or you could both arrive in separate campervans for a cohesive and cool theme! If you're having a church wedding or have different venues for nuptials and reception they could be used to transport a small number of guests too!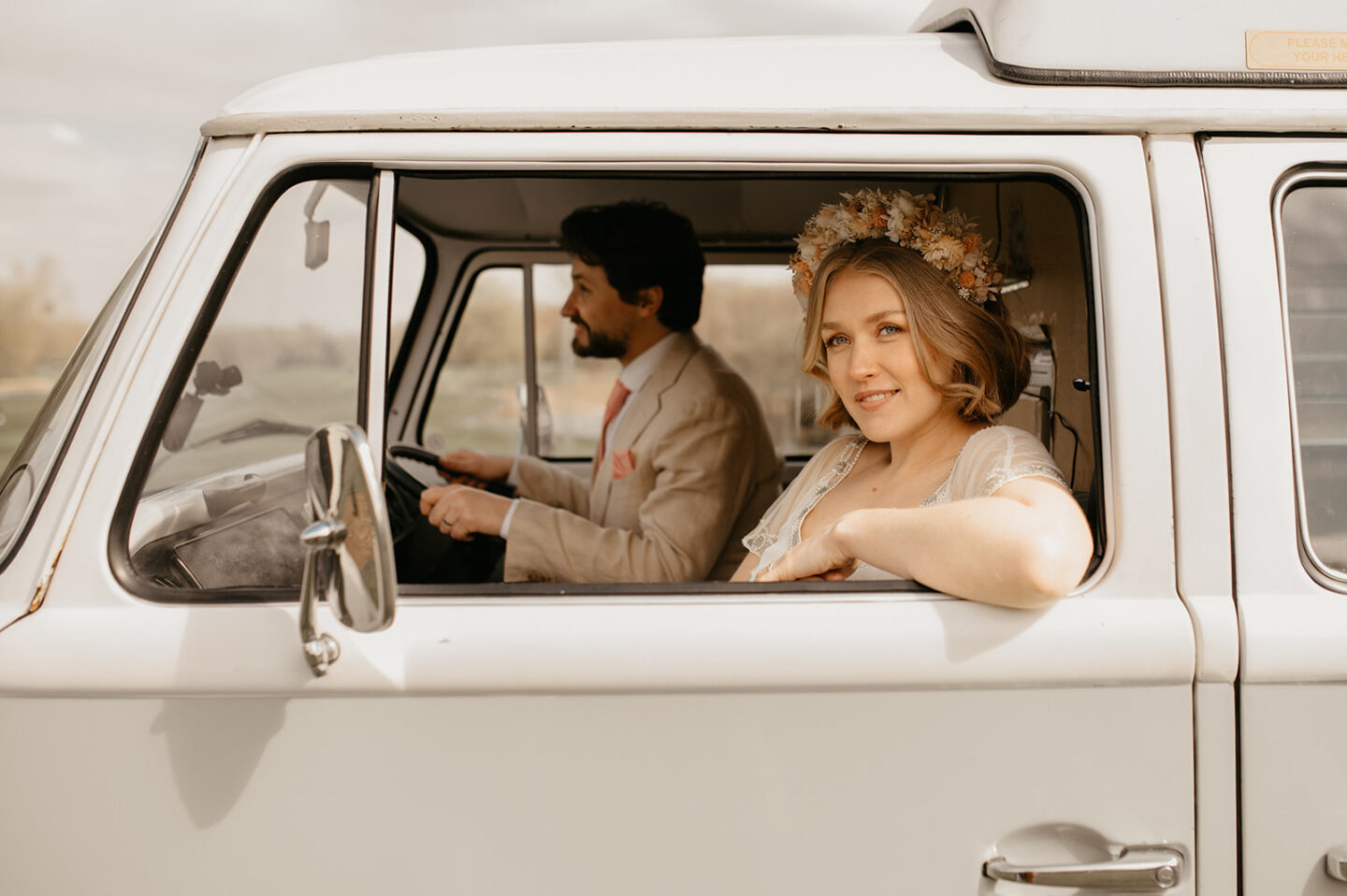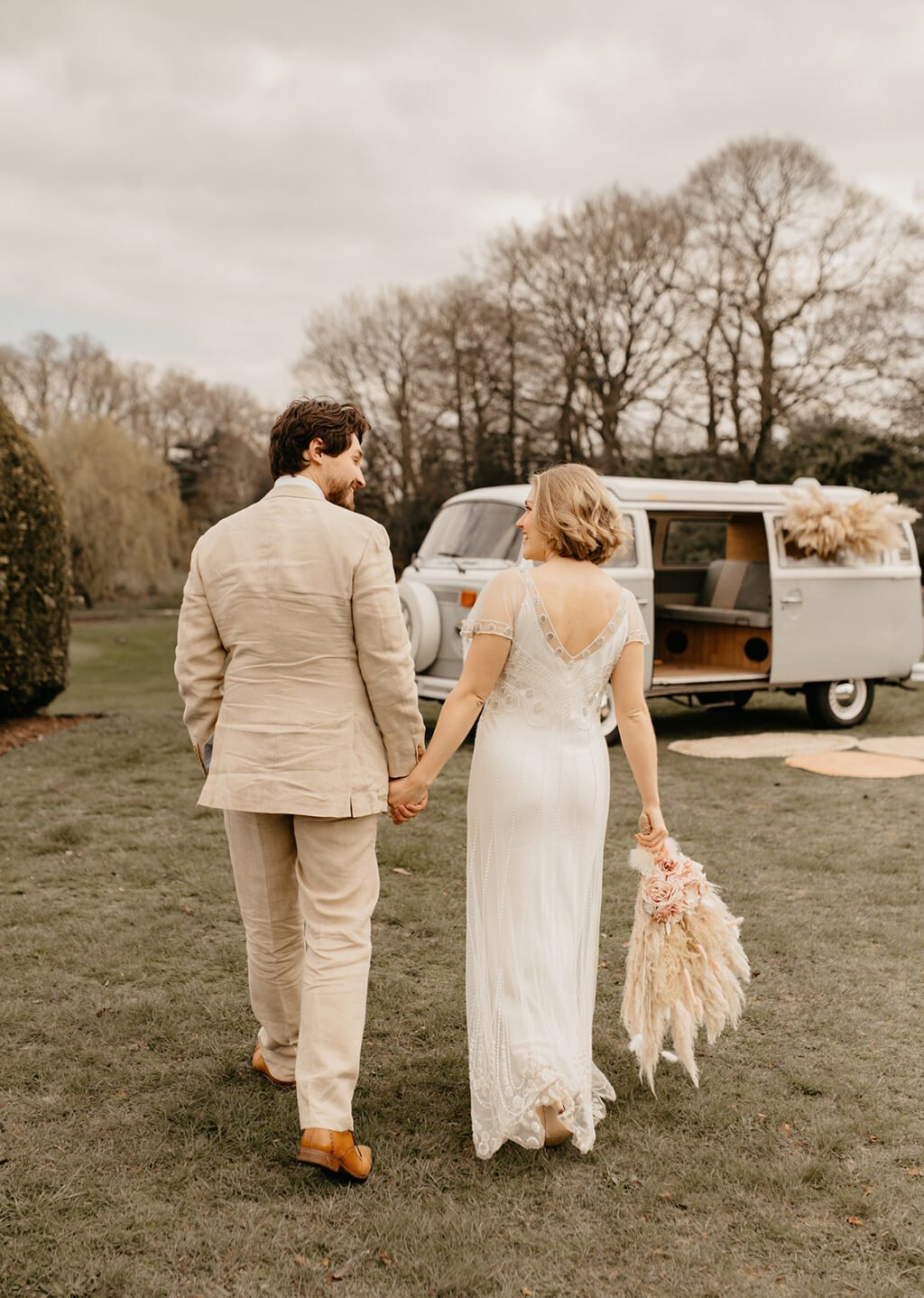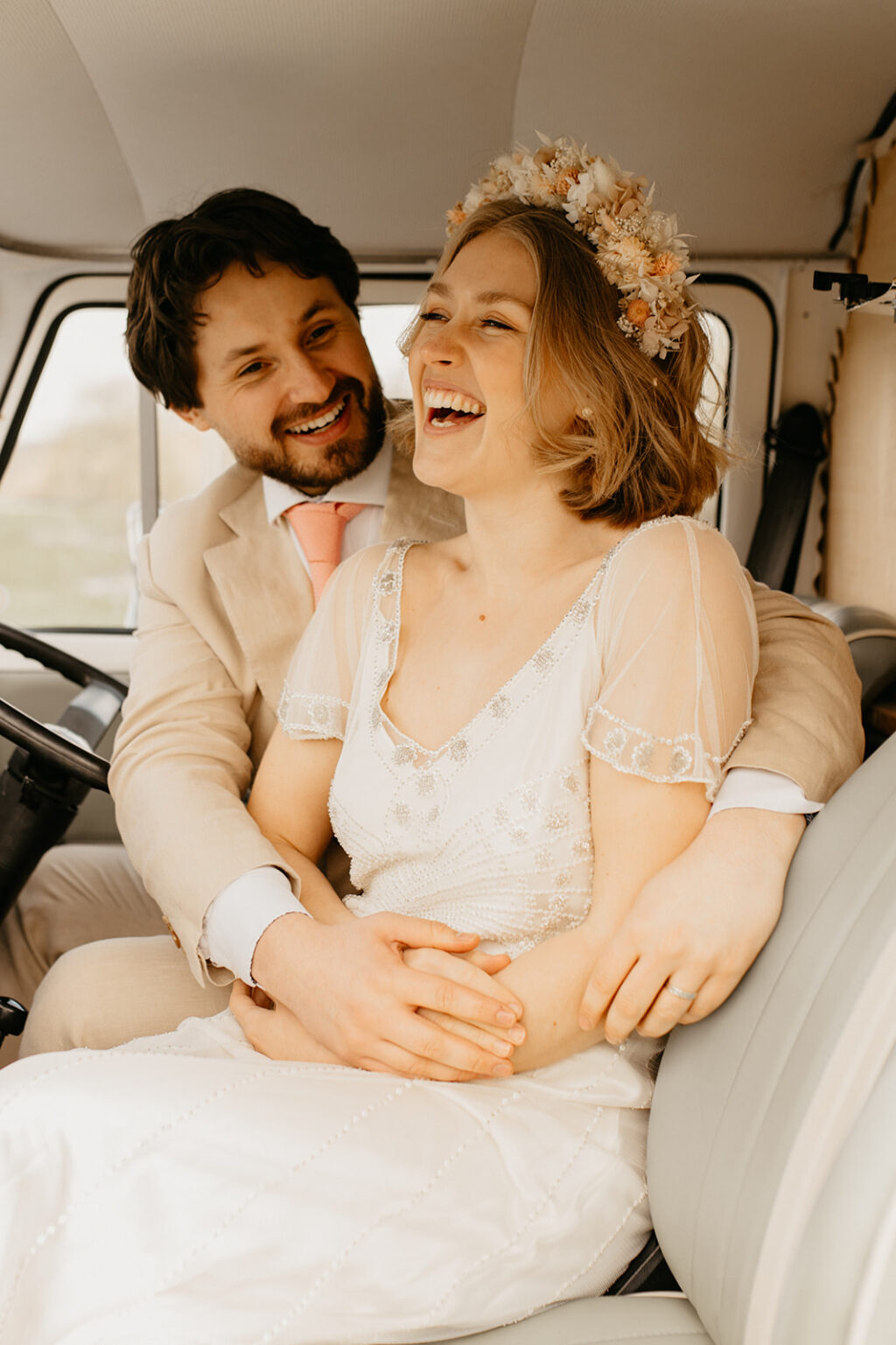 Elope and Get Married
An intimate wedding day for just the two! What's more romantic than driving off to get wed in a camper van? You can make it yours inside and create a beautiful and unique wedding space that you can enjoy to your heart's content! Naomi has some more cute ideas too. "Drive the camper van to your favourite spot, be it where you got engaged, had your first date or a happy place of yours as a couple. If you're eloping just the two of you then perhaps get your friends & family to record messages onto a vintage retro audio telephone guestbook and listen to them on your elopement day."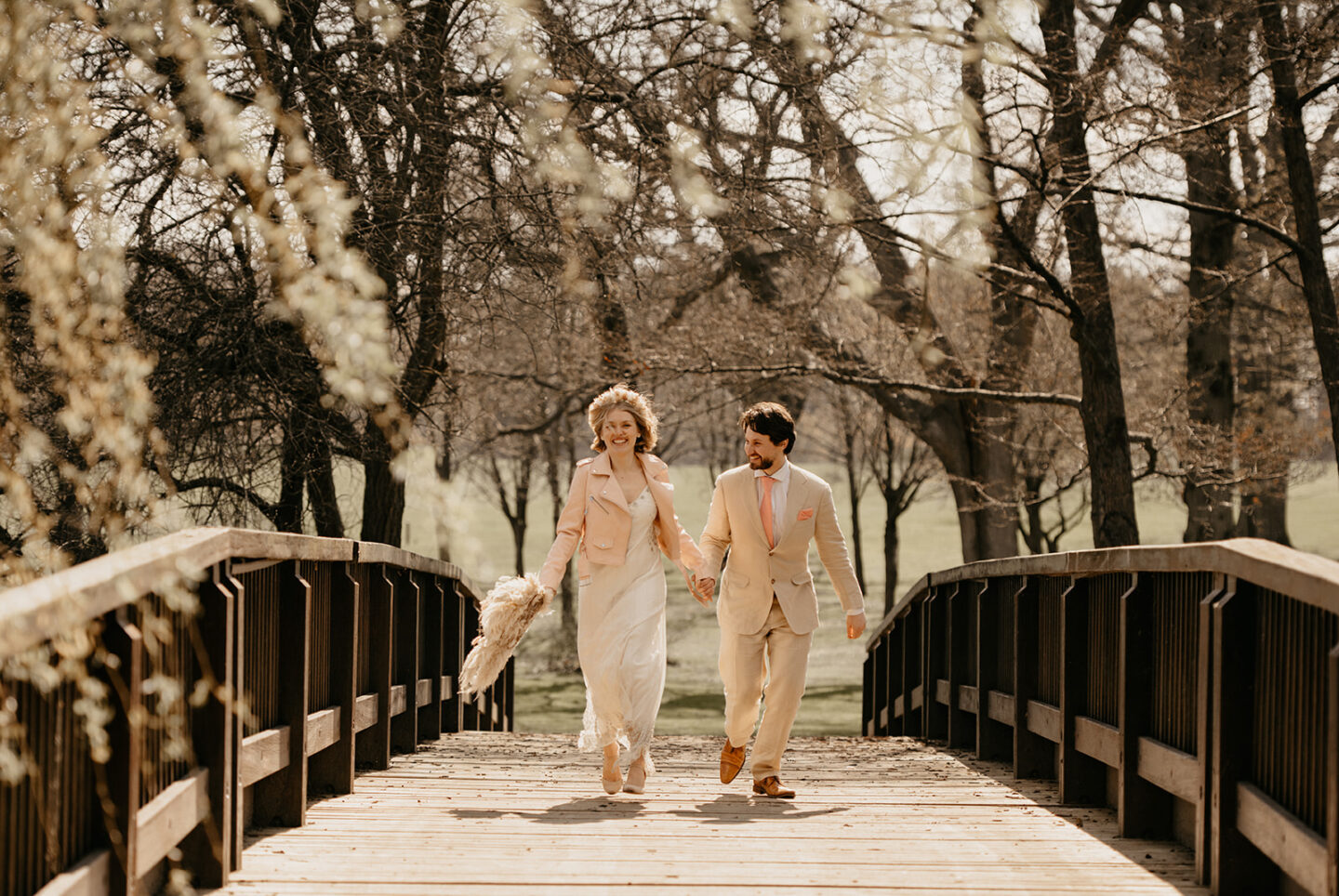 Photography Backdrop
The perfect way to get some epic and unique wedding photography! There are so many ways you can decorate your camper van and use it as a backdrop for your wedding day. Whether it be just for the two of you after you've eloped or for you and your wedding guests too! Naomi says; "You could also use your camper van as a wedding backdrop to say your vows in front of". We LOVE this idea!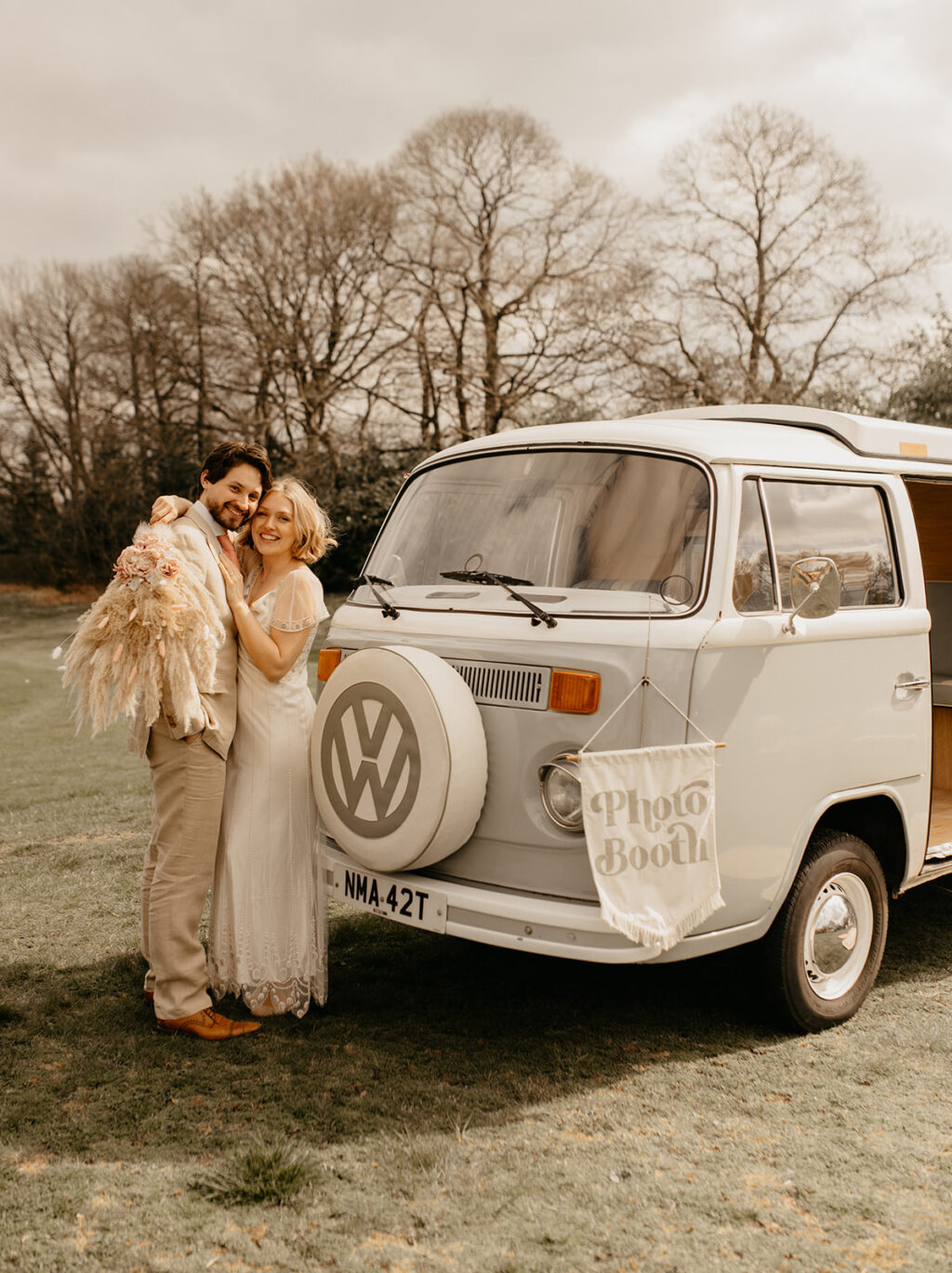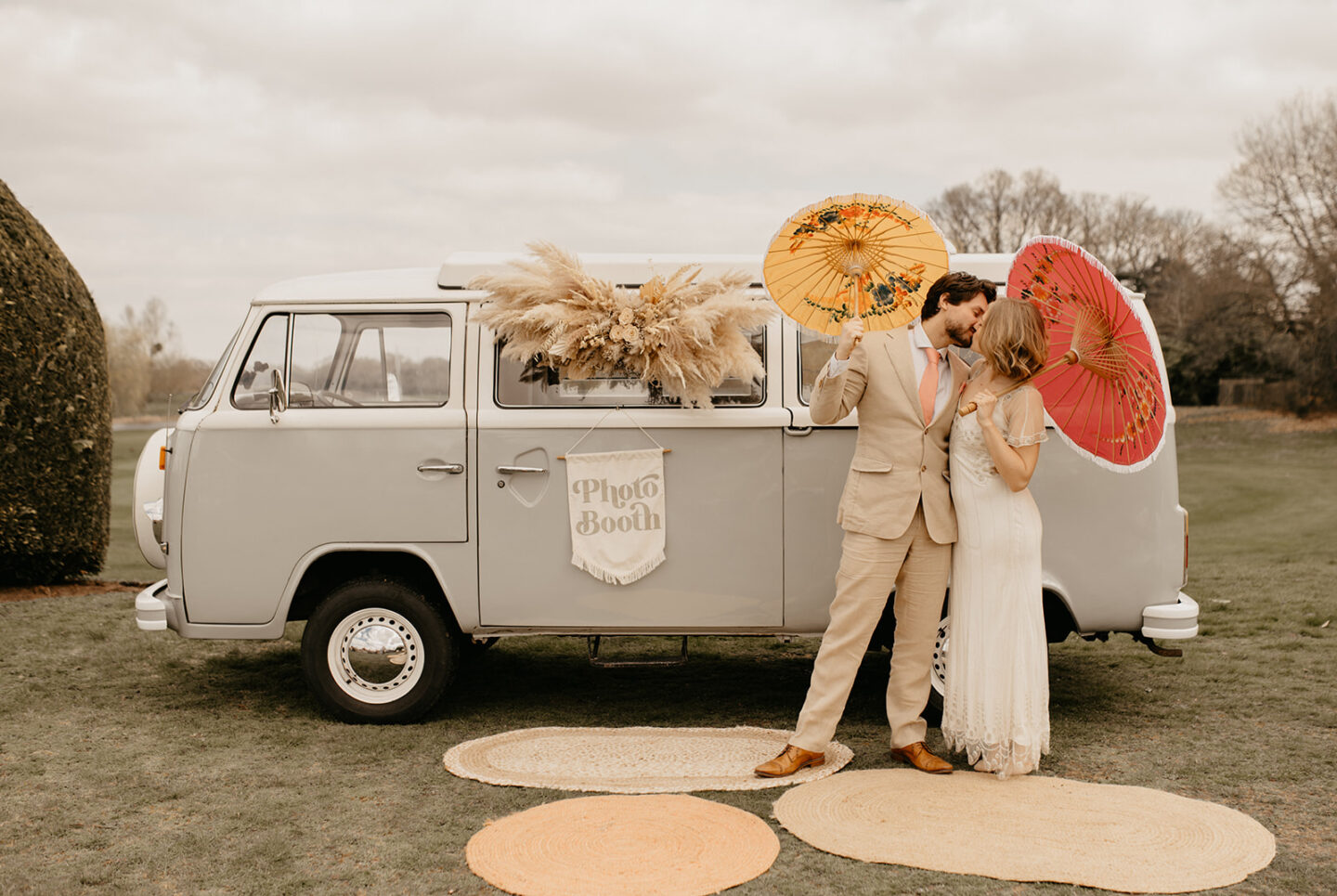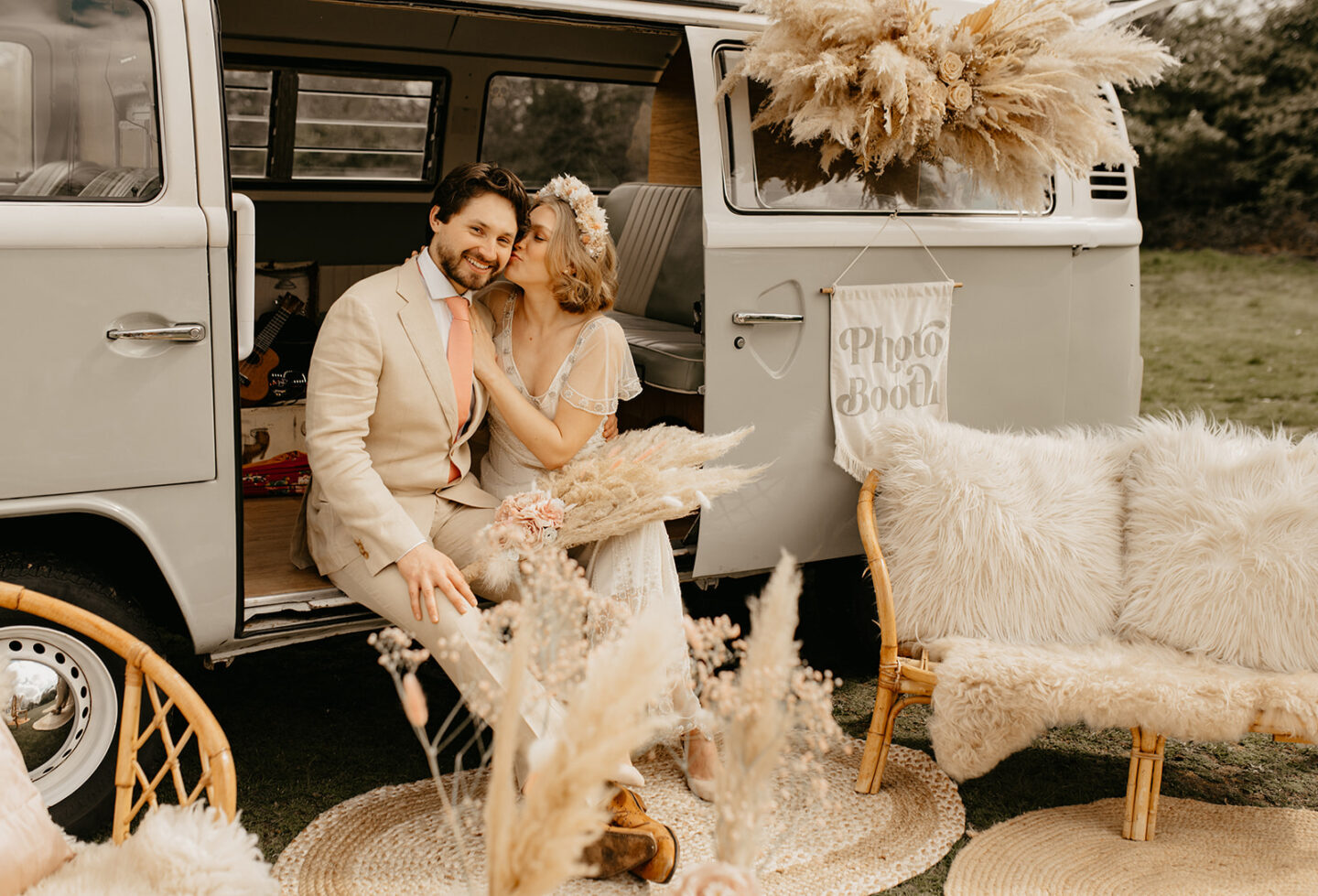 Dessert Station
The versatility of a camper van doesn't stop there! It's the perfect place to cater out of Noami added, "It's great for your sweet indulgent treats for when you are snuggling up around a campfire with hot chocolate or doughnuts". If you're planning a relaxed affair then it could act as a main station for your wedding food, especially if you're eloping or are having a small and intimate laid-back day. You can picnic out of it and create a beautiful space around the camper van to do this in too!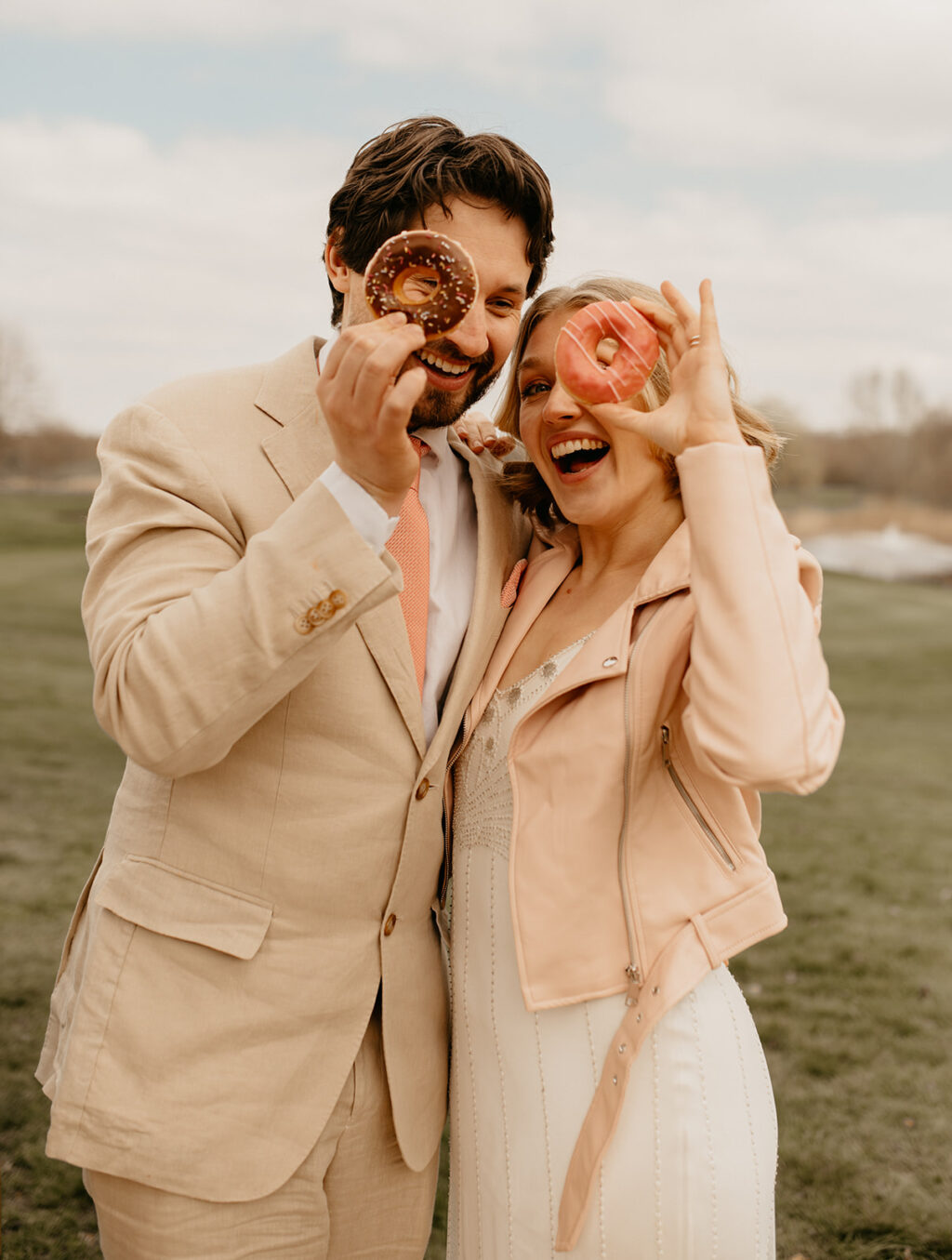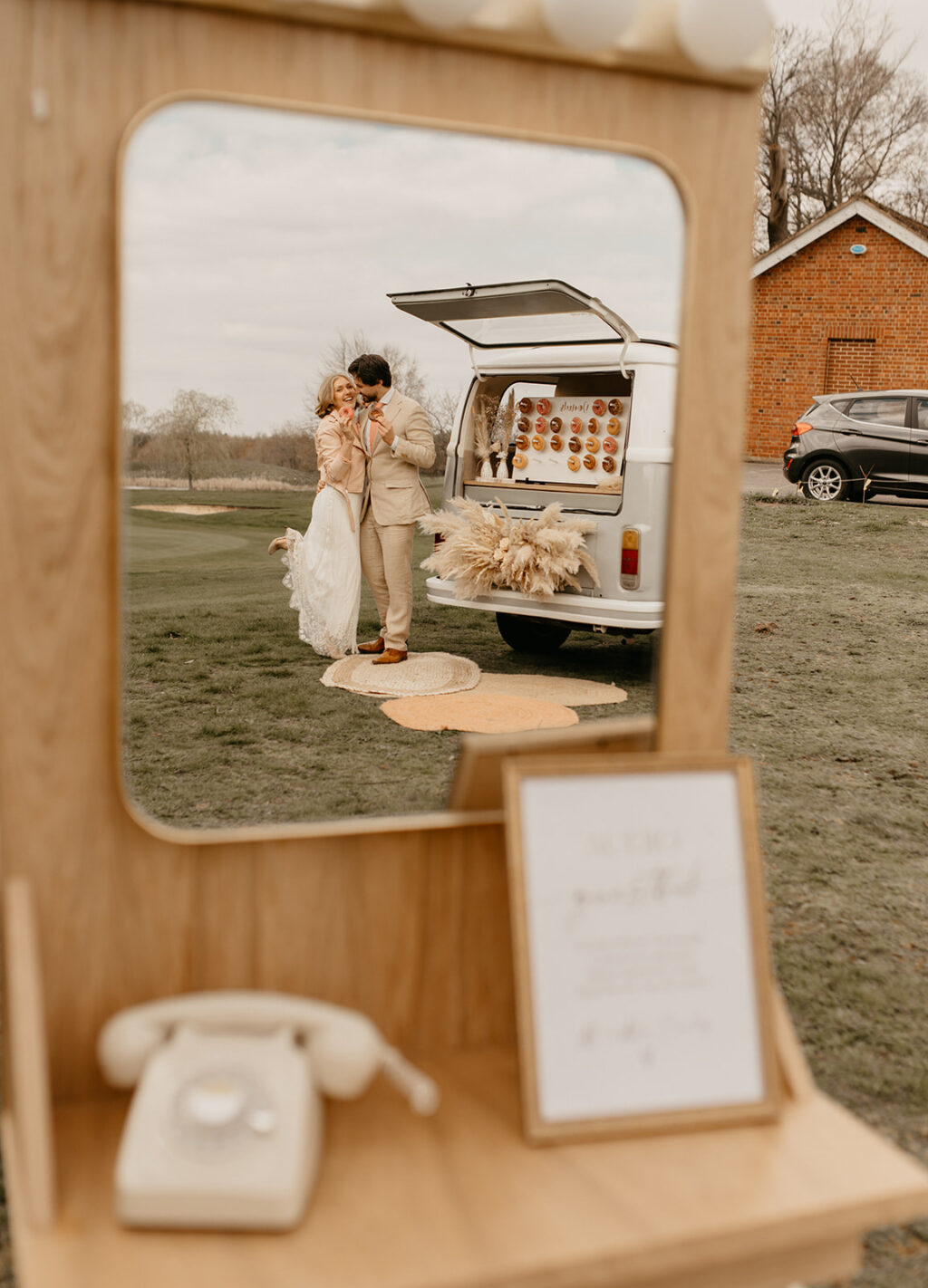 Drinks Station
Use your camper van as your drinks station too! If you're eloping then it automatically becomes your drinks station. Naomi says; "Pop a bottle of champagne to celebrate getting hitched. If you are alone set up your camera or photo to capture photos of you both celebrating". But, you could also chat with your venue and suppliers about turning into a quirky champagne station or a place where people can help themselves to drinks if it's a more relaxed affair!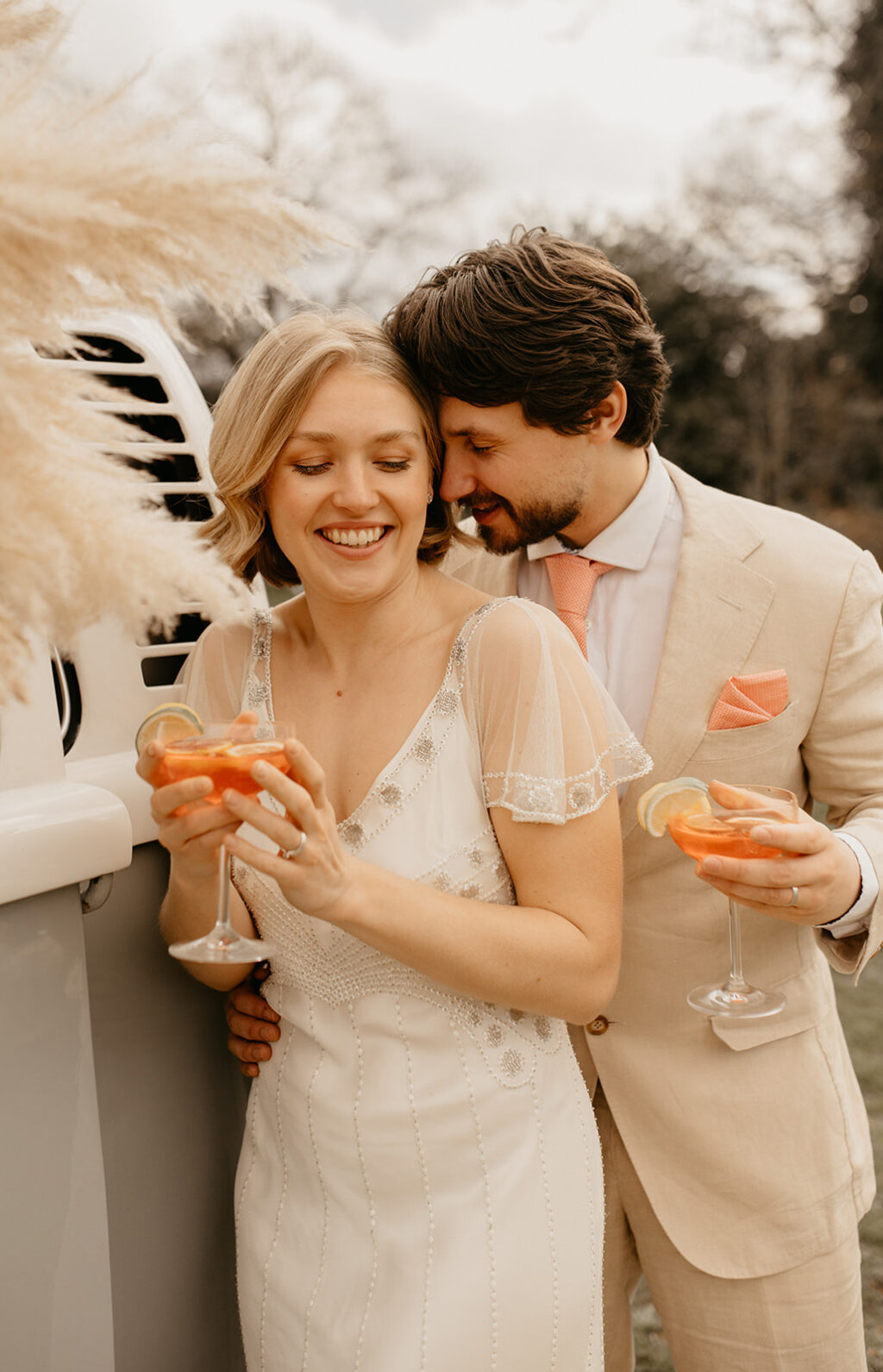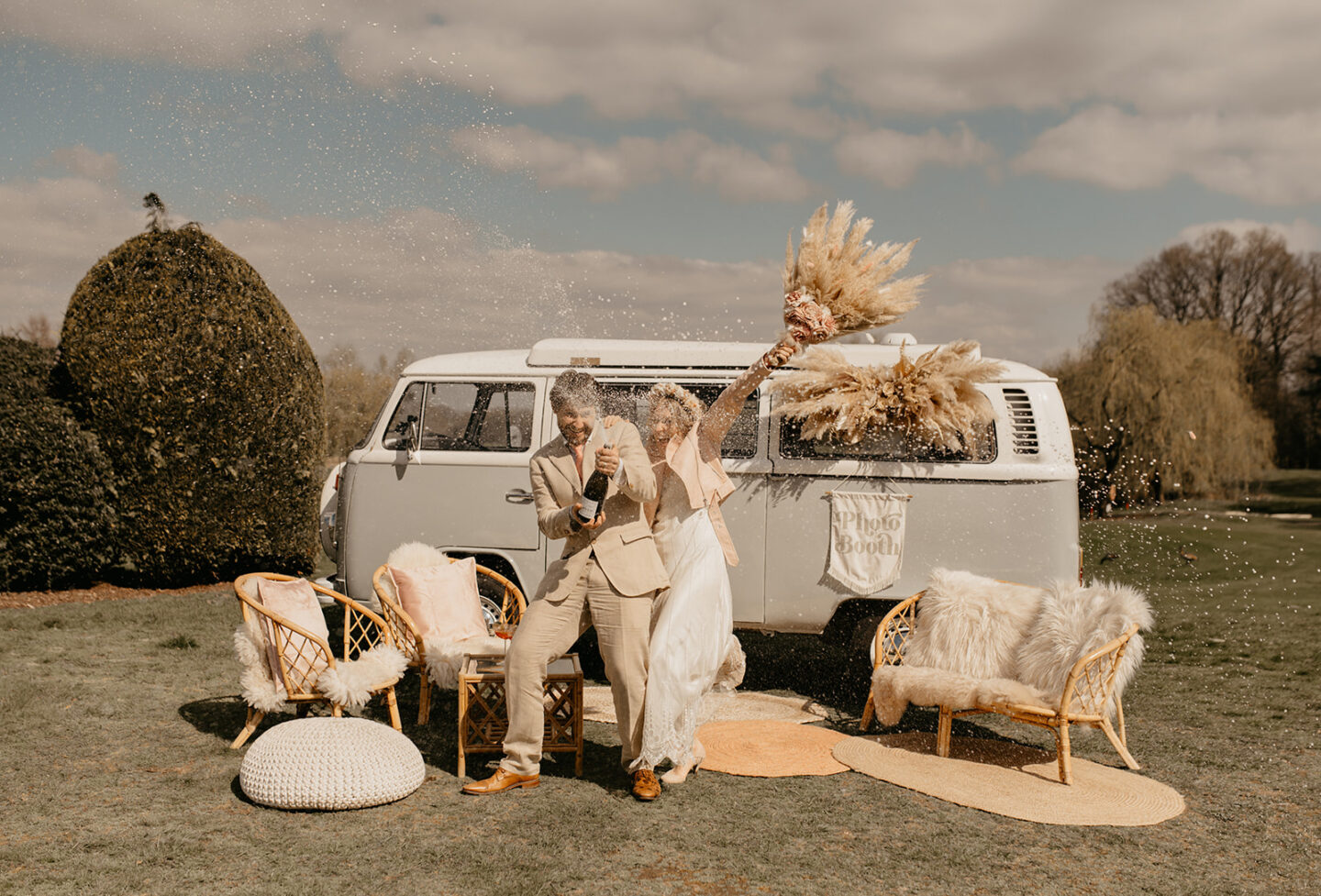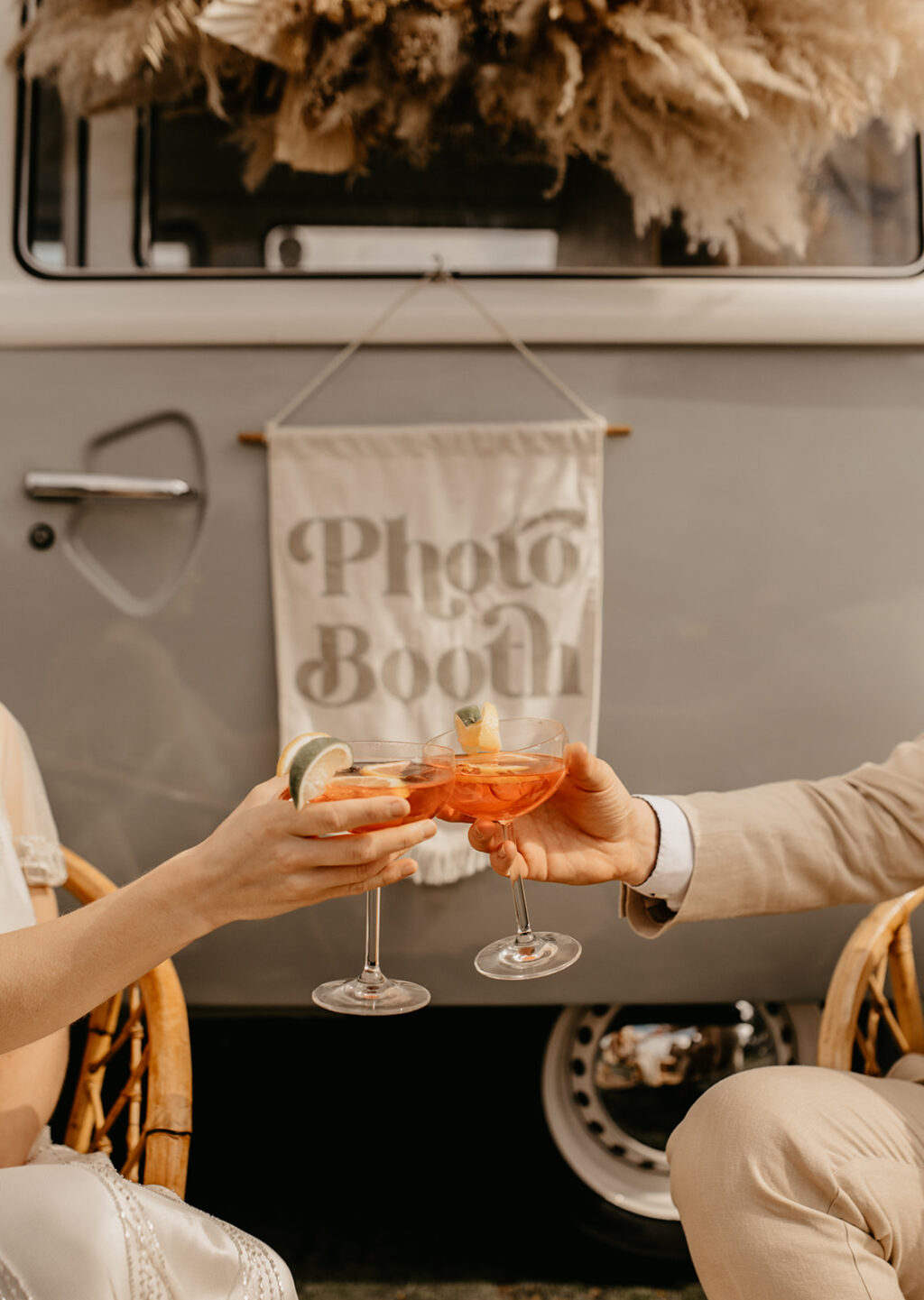 Photobooth
The most fun photos at weddings always come from photobooths! Use your camper van as the station and either use a company to coordinate it for you or collect your own props from charity shops and friends and family to create your own! Anything goes when it comes to props for photobooths, the more weird and wonderful the better!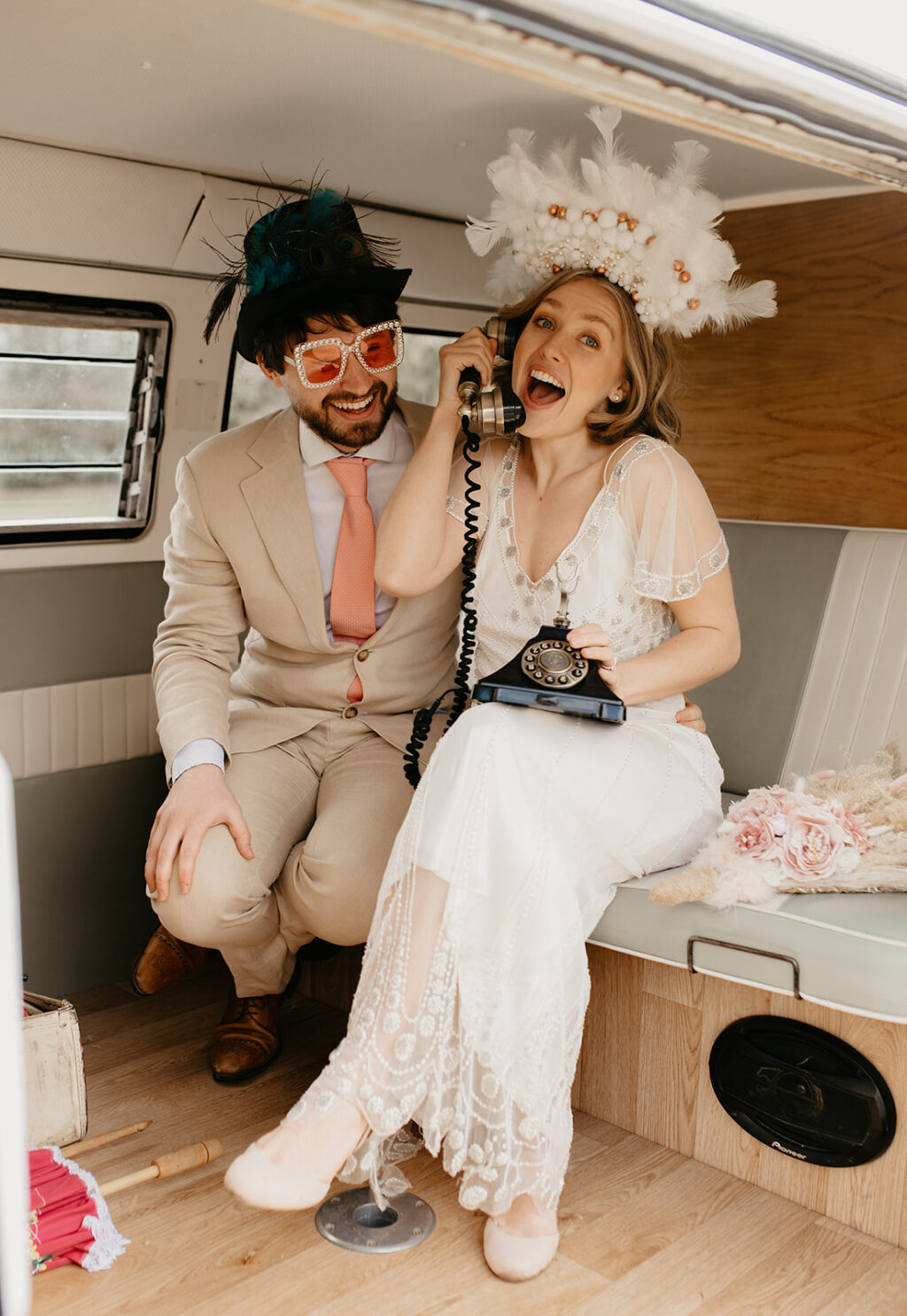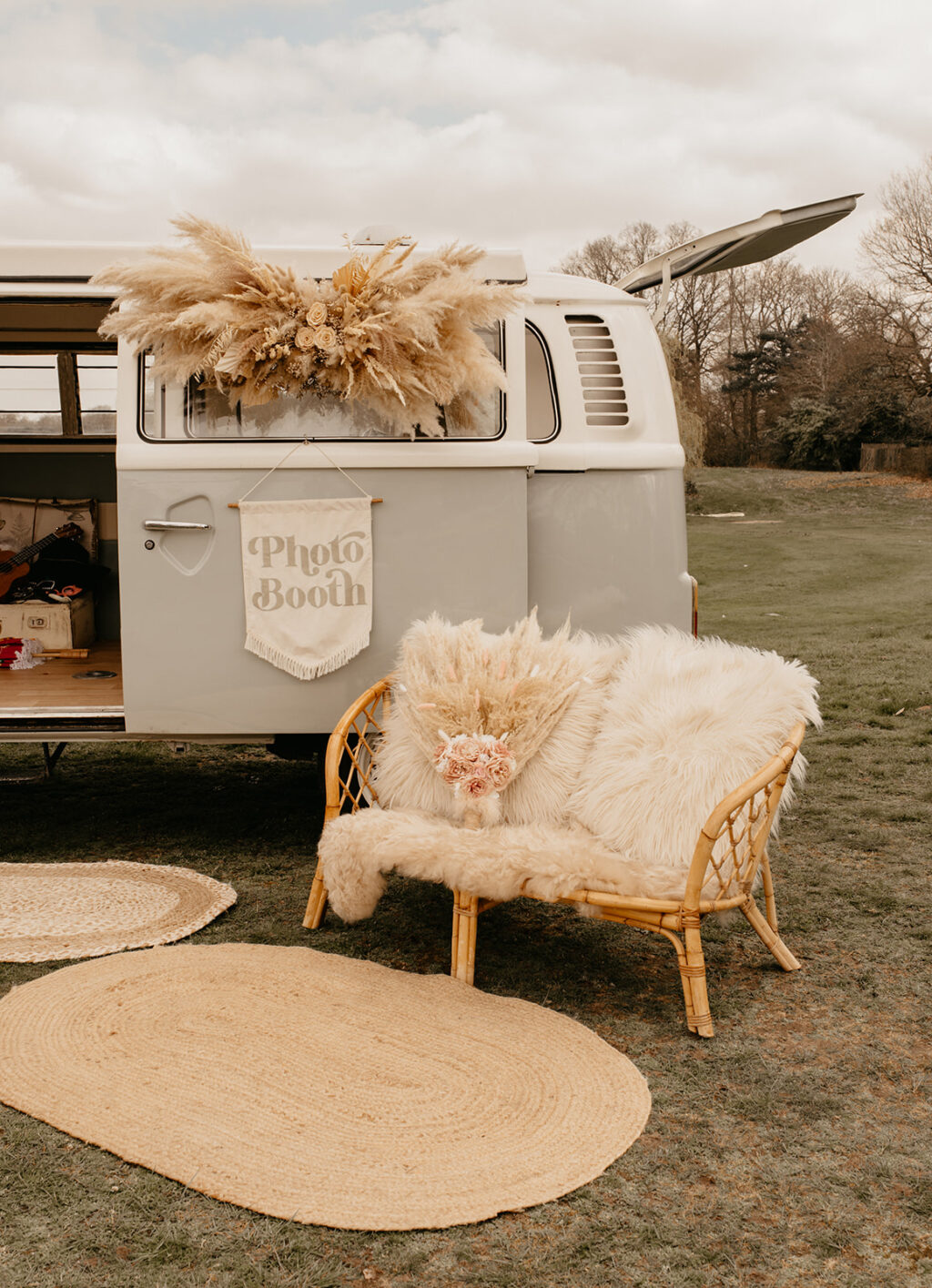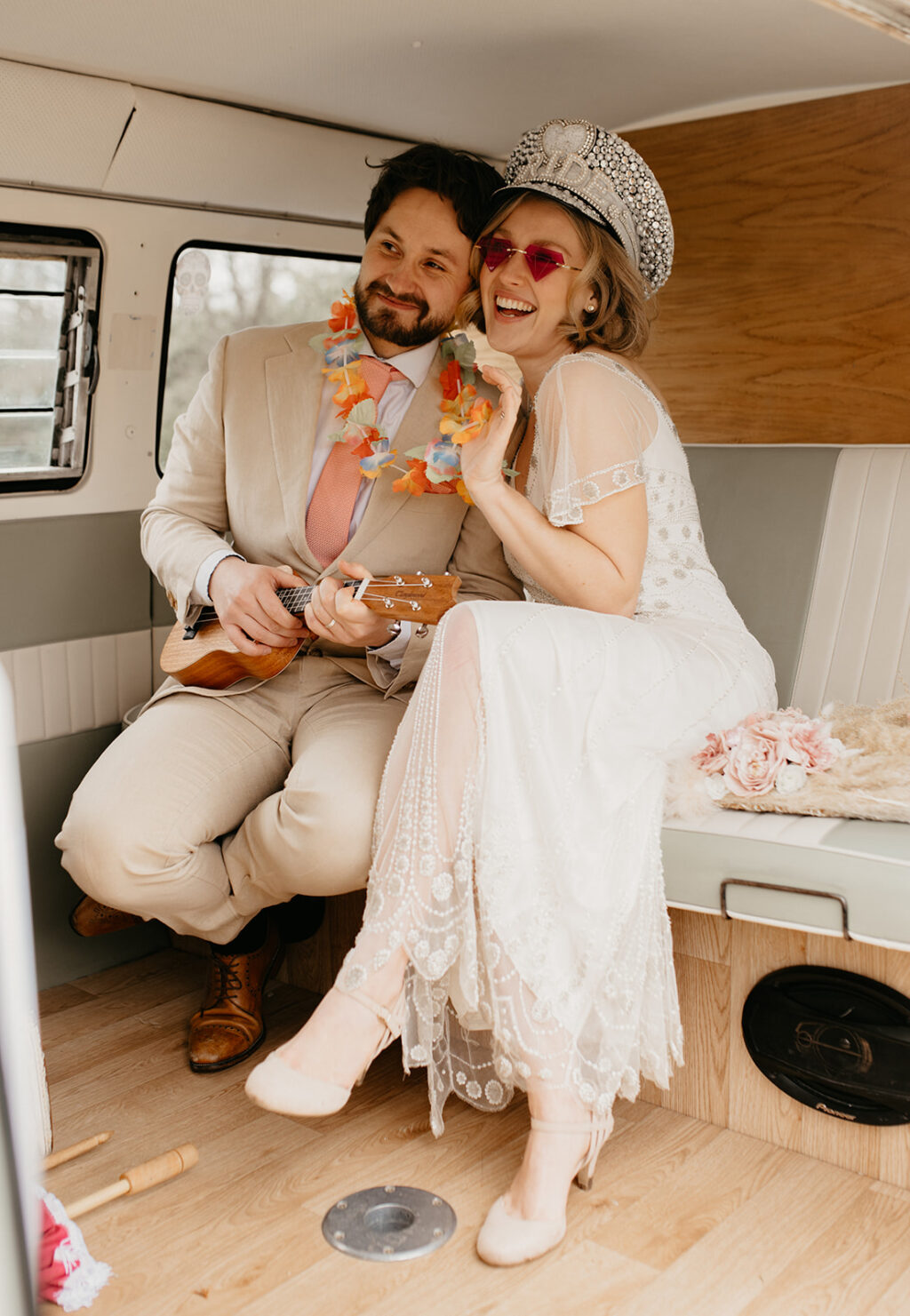 Your Accommodation
Use it as your accommodation and snuggle up together after saying your I Do's and partying the night away! If it's just the two of you Naomi says; "Have a romantic picnic outside the camper van to celebrate getting married with your favourite cuisine, snacks, and drinks before heading to bed to cosy up and start your new life as a married couple!"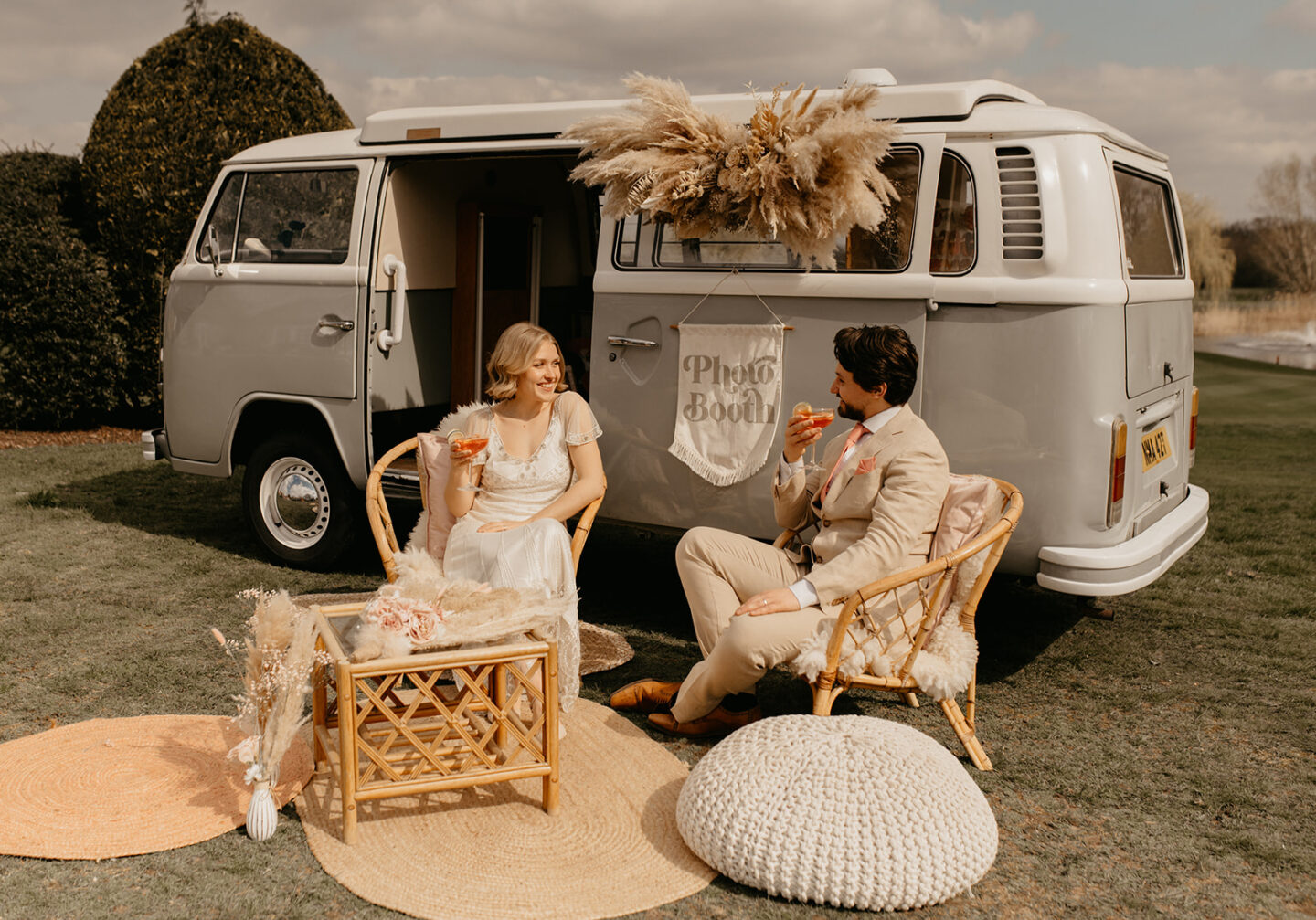 Late-Night Snoozing Station
Ever needed a power nap at a wedding? Or somewhere for the kids to sleep whilst you continue to party? We're all for a little late-night snoozing van! Okay, so this one may need some adapting depending on the type of camper van you have available to you, but it's always a great option in our eyes!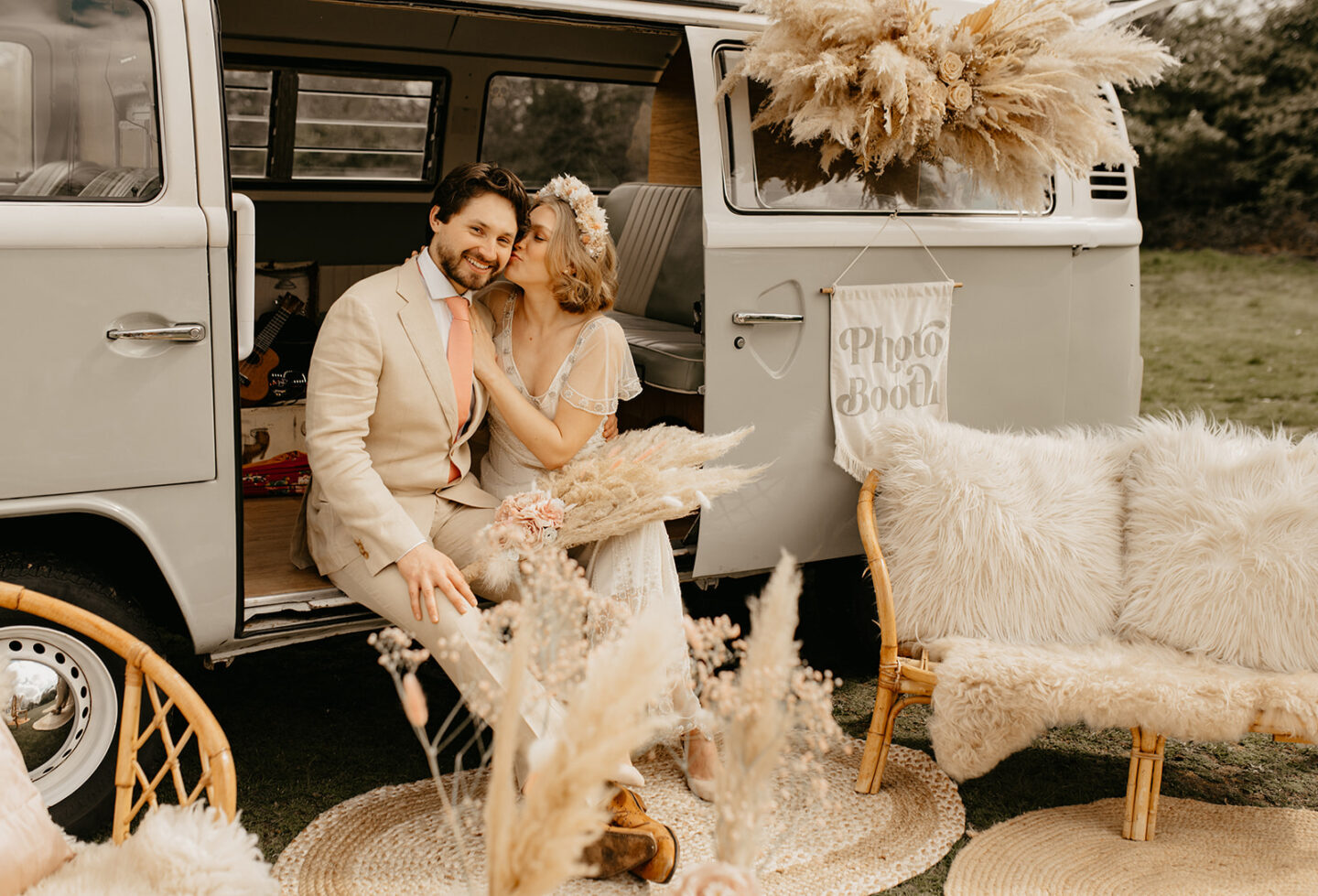 Your Getaway Van
Last but by no means least, your camper van is your getaway van! As Naomi says;
"Drive off into the sunset on a honeymoon road trip together".
We couldn't have put it better ourselves!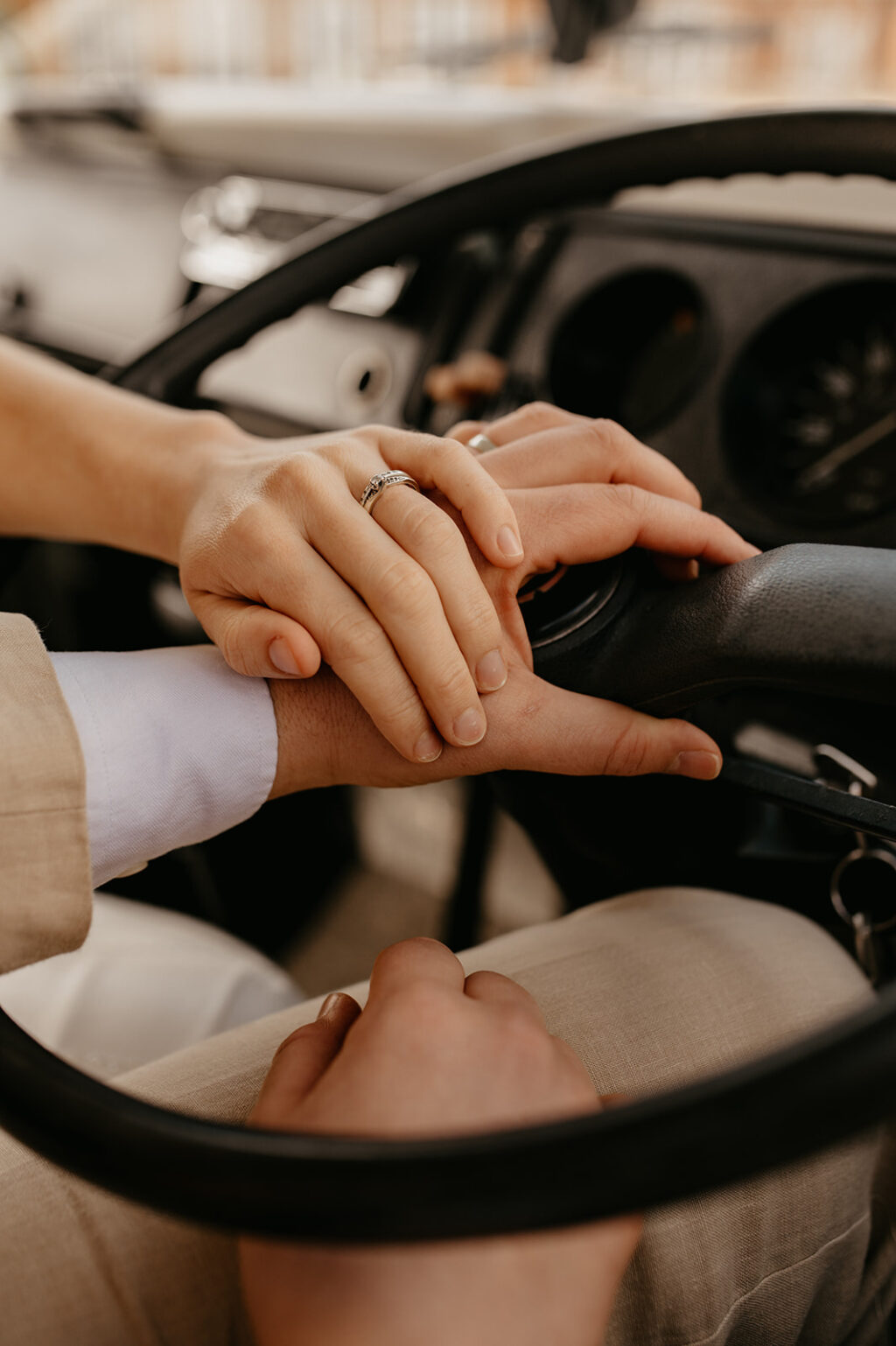 The Team – 10 Ways To Incorporate A Wedding Camper Van Into Your Big Day
IF YOU LOVED THESE WEDDING CAMPER VAN IDEAS PIN THEM FOR LATER!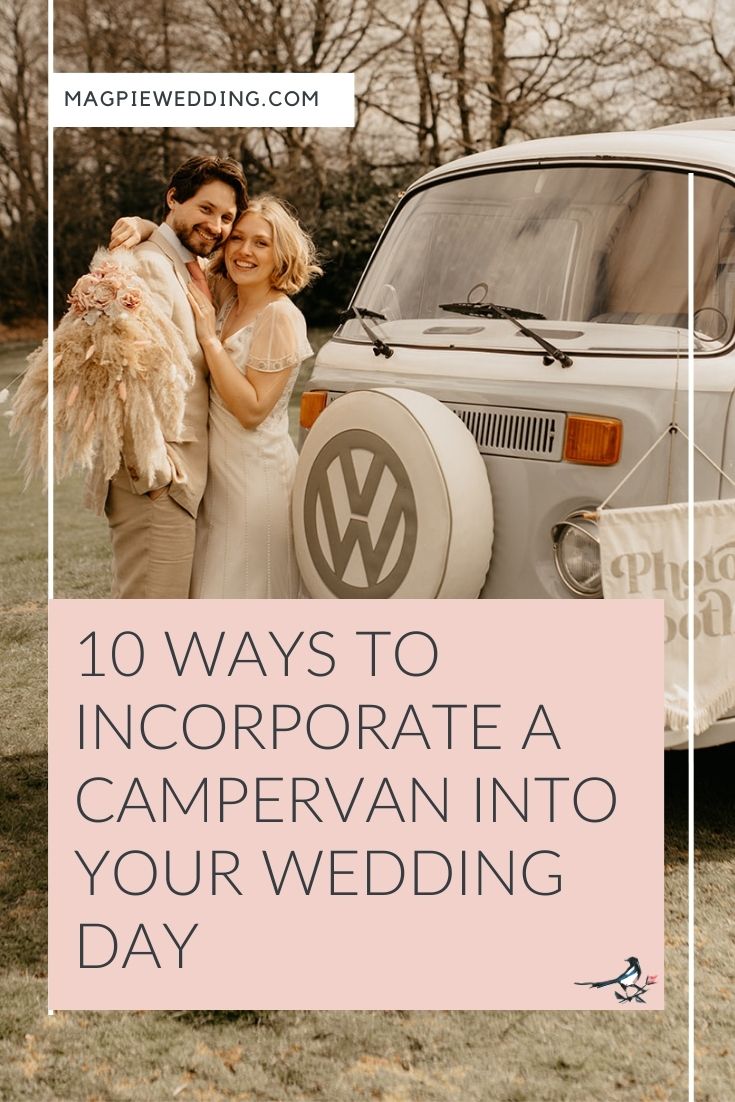 If you loved these wedding campervan ideas you may also like;
Intimate Lake District Wedding With A Vintage Campervan and Folklore Vibe
Alternative Coastal Beach Elopement With Boho Vibes At Eype Beach Dorset
Romantic Intimate Elopement at Saddleworth Moor, Yorkshire