From your bridal fashion to your beauty regime, we know that our couples like to be fully prepared for their wedding day and what you wear underneath is equally important! Thoughtfully chosen underwear will be top of your list when it comes to the fit of your dress for brides and comfort, we imagine, will be top of the list for grooms. Whether you're choosing underwear to wear the whole day or choosing something cheeky for the evening we have some top picks for you. From personalised boxer shorts to sexy lingerie check out our 7 wedding underwear ideas for the big day…
(This post contains affiliate links)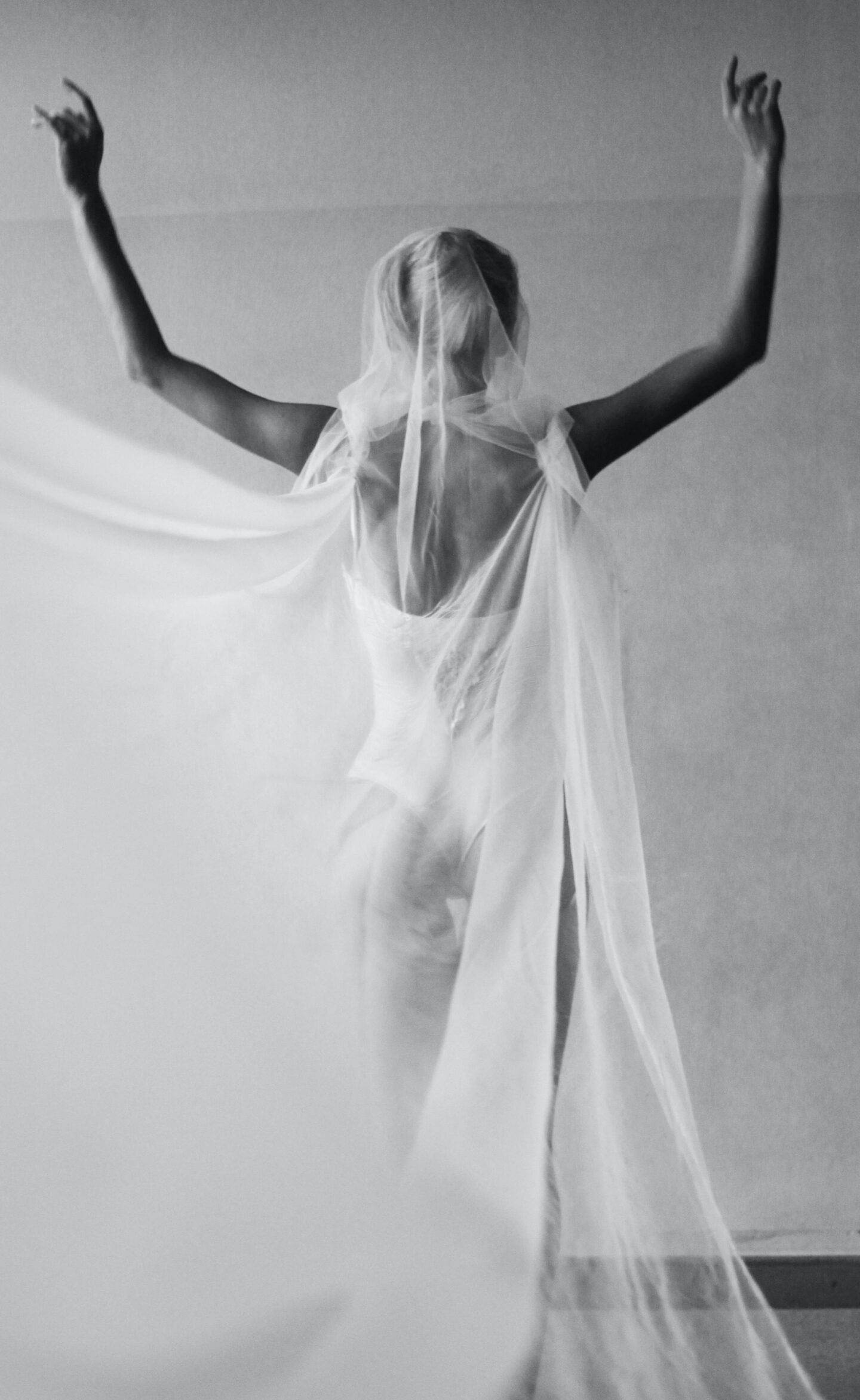 Silk & French Lace Lingerie Set
This Personalised Silk and French Lace Set camisole and brief set is the perfect luxury wedding lingerie or a fabulous surprise for your partner on your honeymoon! This set includes ivory silk satin camisole with an embroidered monogram, and either matching monogrammed briefs, full briefs or French Knickers. It's handmade in the UK and embroidered in an array of colours which you can choose from. The monogram can be designed from the first letter of the couple's name or the first letter of the recipient's first name and surname. It's made from 100% soft silk satin in pale ivory and beautiful French lace. It comes in sizes 10 – 24 and is presented in a beautiful gift box too!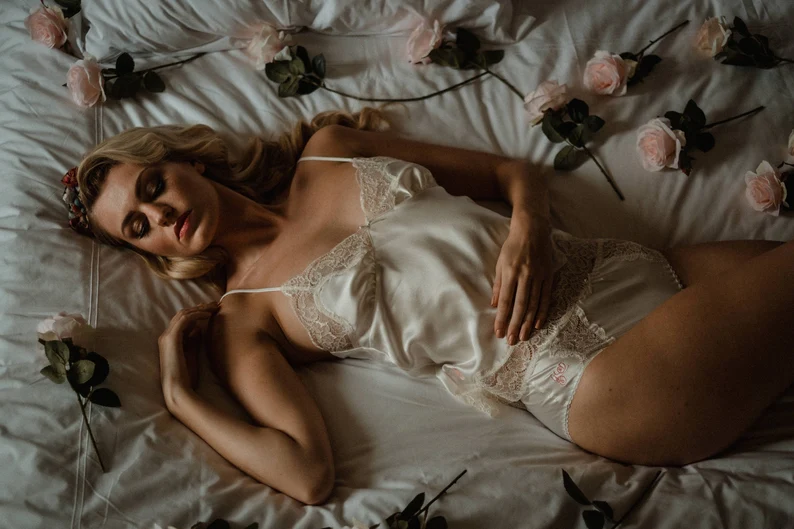 Personalised Boxers
These Personalised Boxer Shorts are the perfect chic yet cheeky gift for the morning of your wedding. Lovingly handmade in the UK these navy silk jersey boxer shorts are comfortable and faltering to wear. Available in Small to XX-Large they can be personalised on the leg with up to two words and come with a choice of navy or black with white embroidery. They're gift-wrapped too!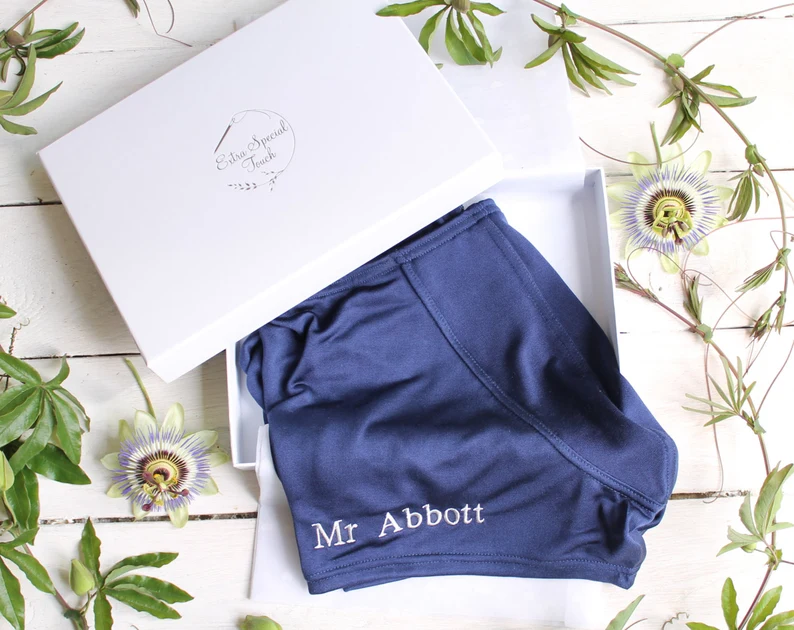 White Flower Lace Babydoll
If you're looking for a super sexy look then this White Flower Lace Babydoll ticks the boxes! With a beautiful polka dot tulle and modesty lace panelling it's the perfect treat for your wedding night.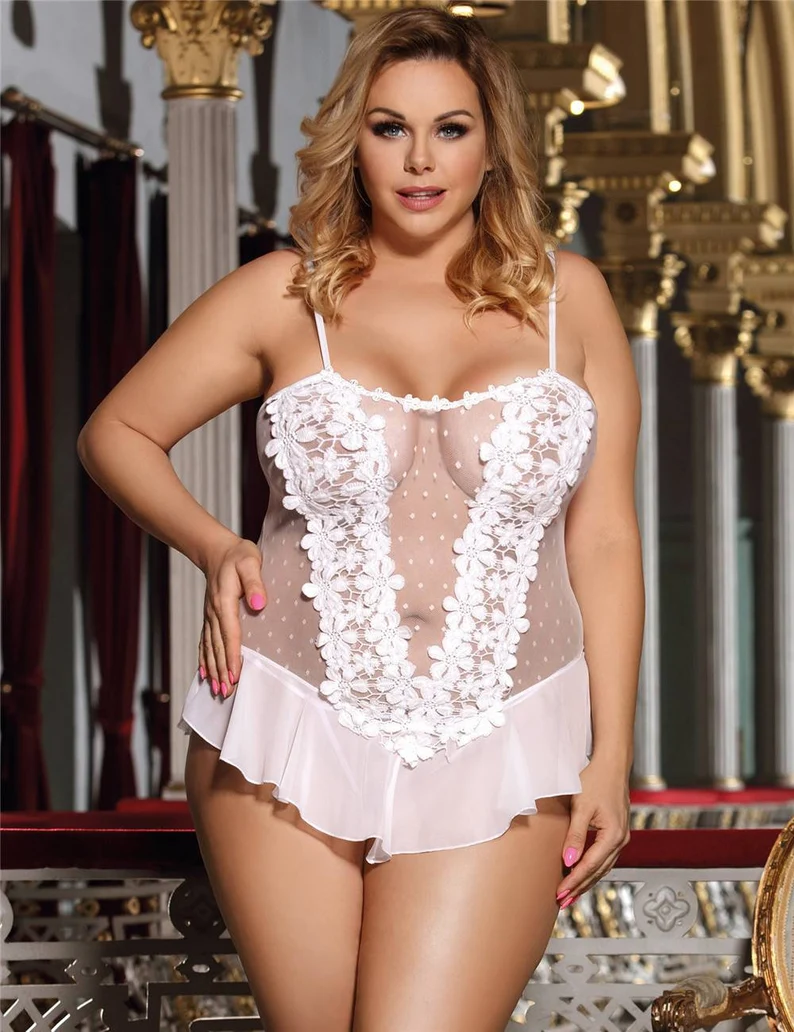 Personalised Knickers
Want to add your new name (if you're changing it) and make it official? These pretty Personalised Knickers are semi-see-through mesh with lace floral embroidery. They have an elastic waistband and low-rise design. Made from stretchy fabric they're flirty, comfy to wear and come in sizes small to large.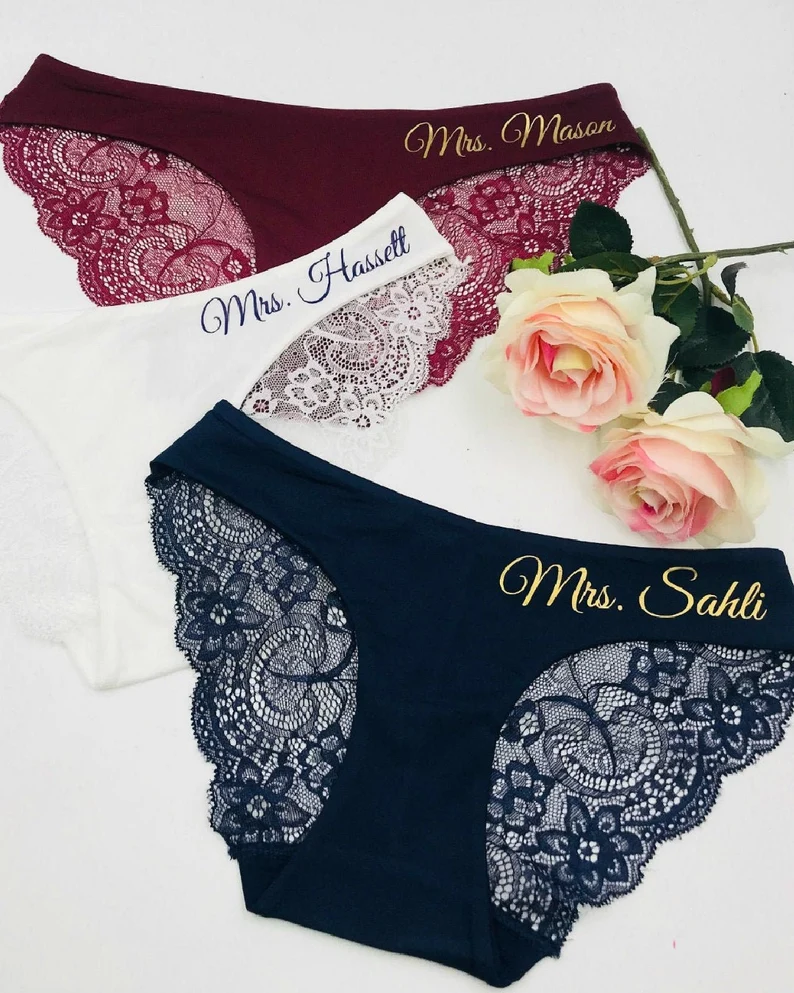 Personalised Silk Robe
Ditch the underwear and go for a robe or use it to cover up whats' underneath, we love this Personalised Silk Robe made from 100% soft silk satin and french lace. It comes in pale ivory and embroidered with a personalised monogram or initials in your own colour choice on each end of the tie belt. A little piece of luxury for your wedding day and beyond!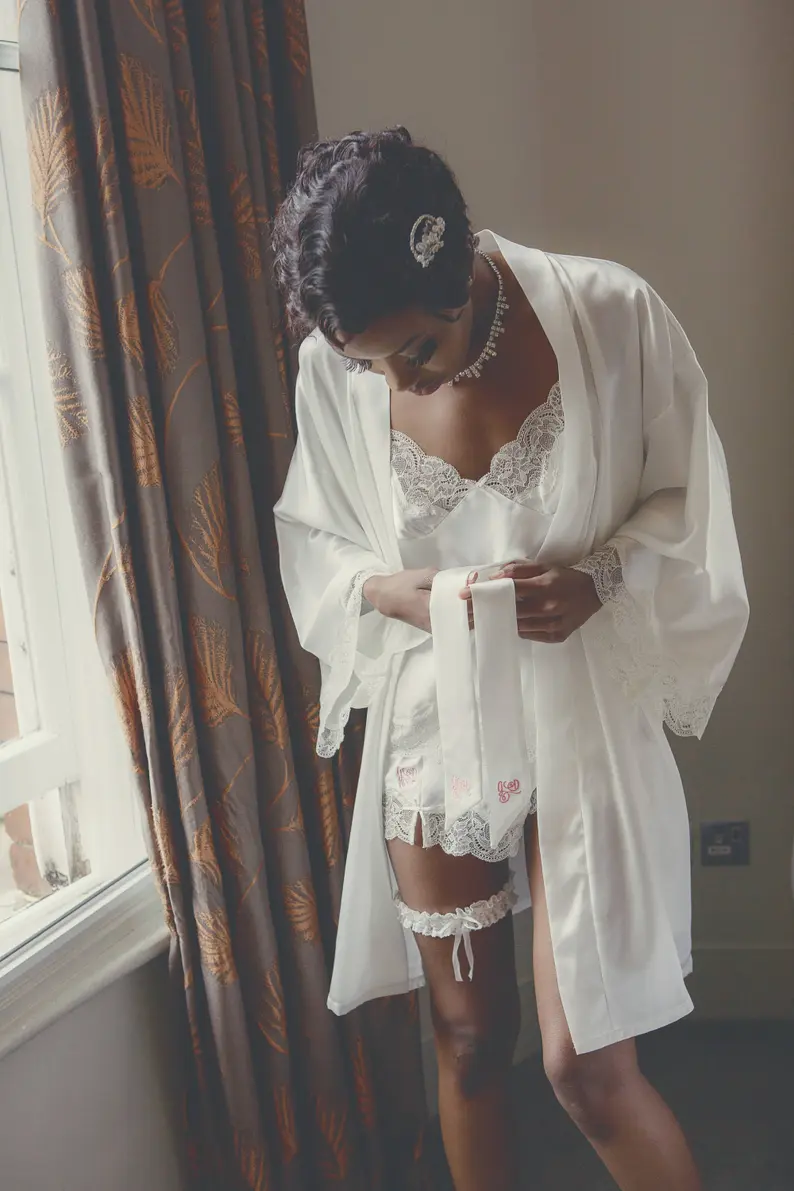 Matching Bride and Groom Underwear
Want a matchy matchy vibe? These Matching Bride and Groom Underwear are personalised wedding underwear that will make your day extra special! You could even get them for the whole of your wedding party as gifts! They come in different set designs or you can request a custom print too!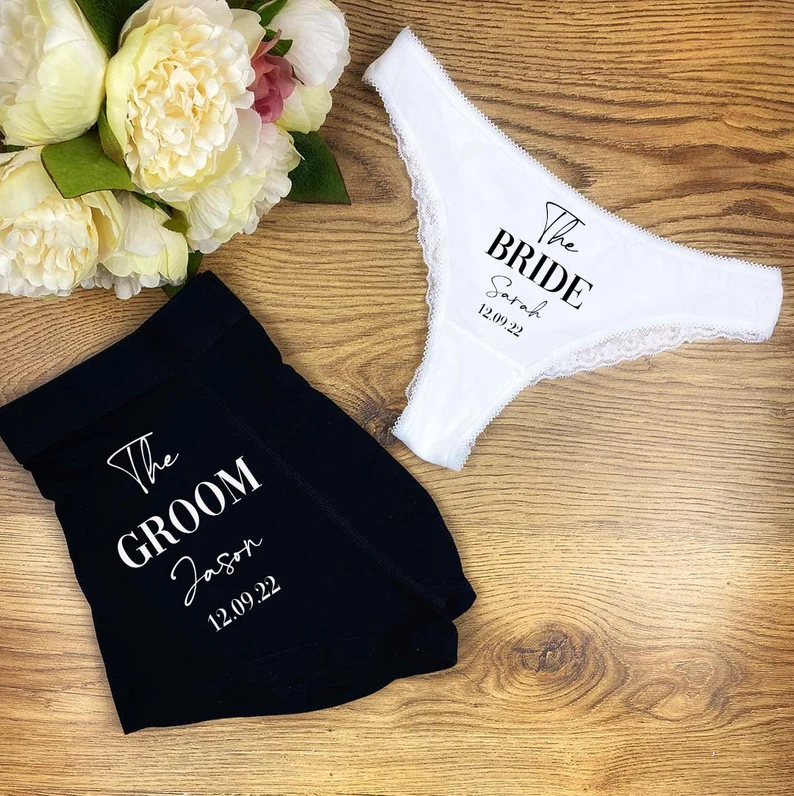 Bridal Lingerie Set
This 4 piece Bridal Lingerie Set comes in incredible sheer white or baby blue mesh and is seriously sexy! With beautiful embroidery & bow detailing it's a romantic floral intimate that is perfect for your wedding night. It comes with complimentary gift packaging too!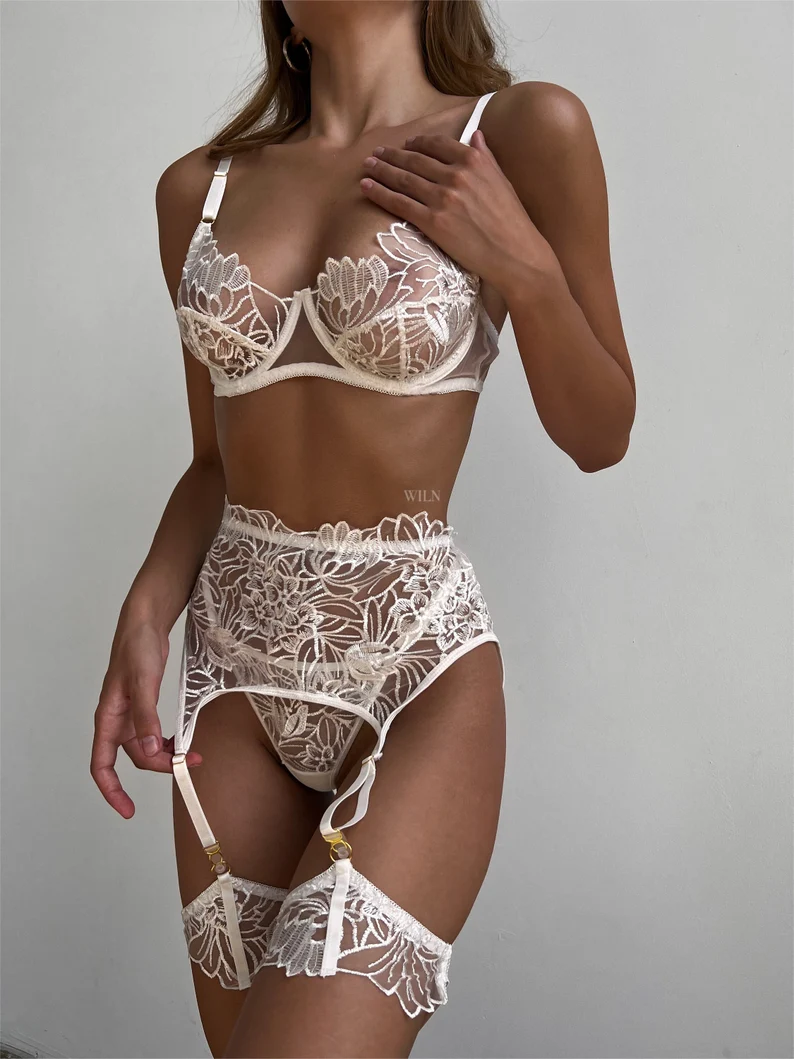 IF YOU LOVED THIS WEDDING LINGERIE PIN IT TO YOUR WEDDING PINTEREST BOARDS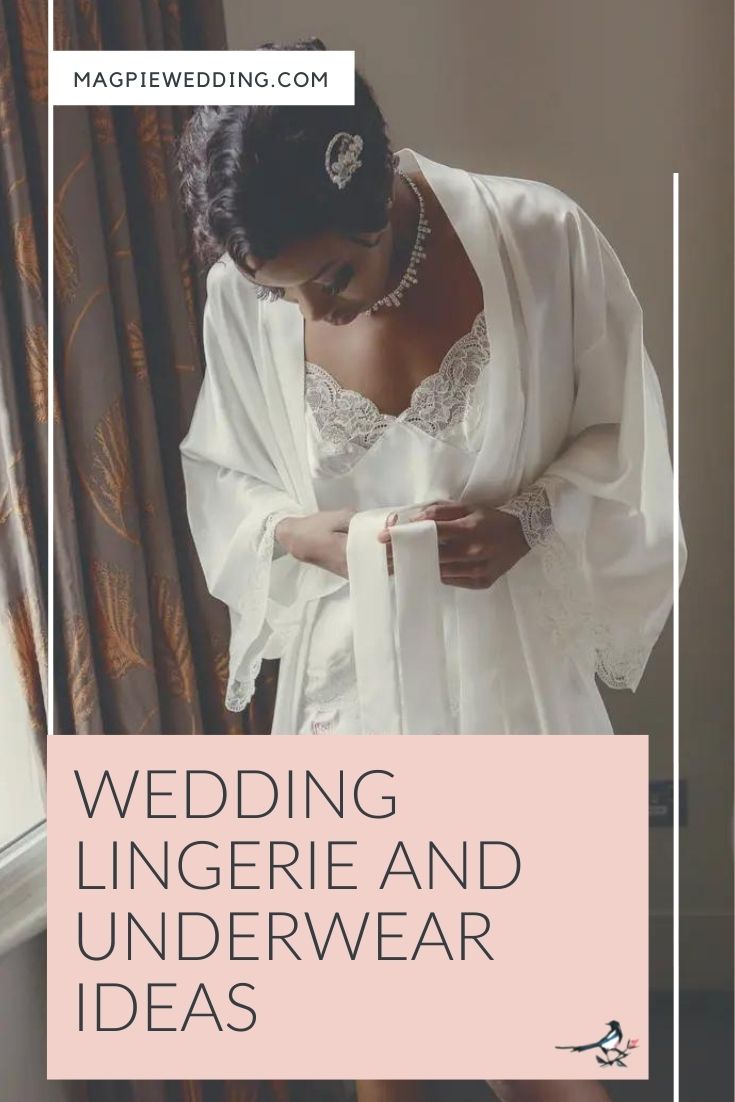 (this post contains affiliate links)
If you loved this wedding lingerie you may also like;
Wedding Lingerie Luxe – A Pin up Girl Boudoir Shoot
Supplier Spotlight: The Underargument, Modern Bridal Lingerie For Your Wedding Day